Finding the best camping hammock to suit your own adventure needs isn't simple, so I'll make it super easy for you: meet the Lawson Blue Ridge camping hammock.
Now let's be clear—there are now more camping hammocks on the market than ever before… but some of those 'camping hammocks' are about as comfortable and practical as sleeping inside a human-sized banana peel.
Choosing the right camping hammock is crucial to your long-term camping hammock happiness…
So in order to help you get properly acquainted with the Blue Ridge camping hammock, I have put together this epic review!
This Lawson Blue Ridge camping hammock review breaks down everything you need to know in order to decide whether the Blue Ridge camping hammock is the right choice and fit for your own style
Lawson Hammocks has been an industry leader in quality for the last 13 years. Since the outdoor industry is dominated by some multi-national giants, I love being in the position to showcase a small company producing a truly fantastic product: The Lawson Blue Ride camping hammock.
Whether you are traveling, hiking or camping, when it comes to the best camping hammocks, Lawson is the cream of the crop, and the Lawson Blue Ridge camping hammock is far and away my favorite camping hammock money can buy.
Let us now take a look at some of the factors that make the Blue Ridge camping hammock such a badass unit…
Price -> $199.00
Weight -> 4.25 lbs
Weight Limit -> 275 lbs
Interior Length -> 90 in.
Interior Width -> 42 in.
Ladies & Gents, It's Time to Step Your GEAR Game Up. 😉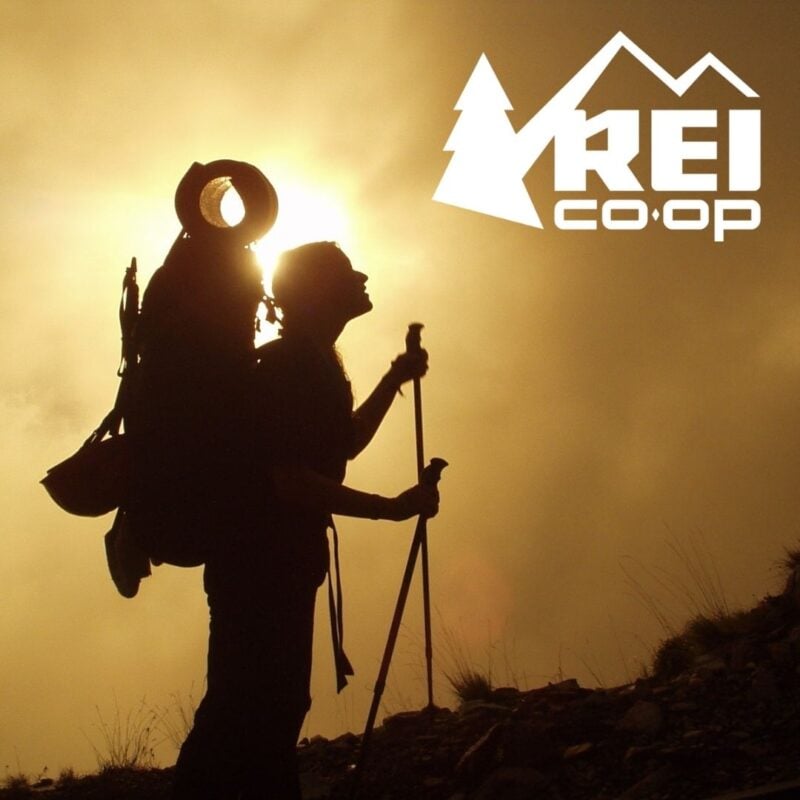 REI is one of America's biggest and most-loved outdoor gear retailers.
Now, for just $30, get a lifetime membership that entitles you to 10% OFF on most items, access to their trade-in scheme and discount rentals.
Join REI Today!
The Lawson Blue Ridge Camping Hammock is Perfect for you if…
You are looking for a high-quality hybrid camping hammock/tent.
You spend a lot of time in the outdoors.
Comfort, durability, livability, and quality are all important to you.
You want the ability to sleep anywhere whether two trees are present or not (as a hammock or as a tent).
Camping with a hammock is new to you.
You are looking for the best camping hammock to take on your next adventure.
A waterproof, bug-proof camping hammock is your ideal sleep system.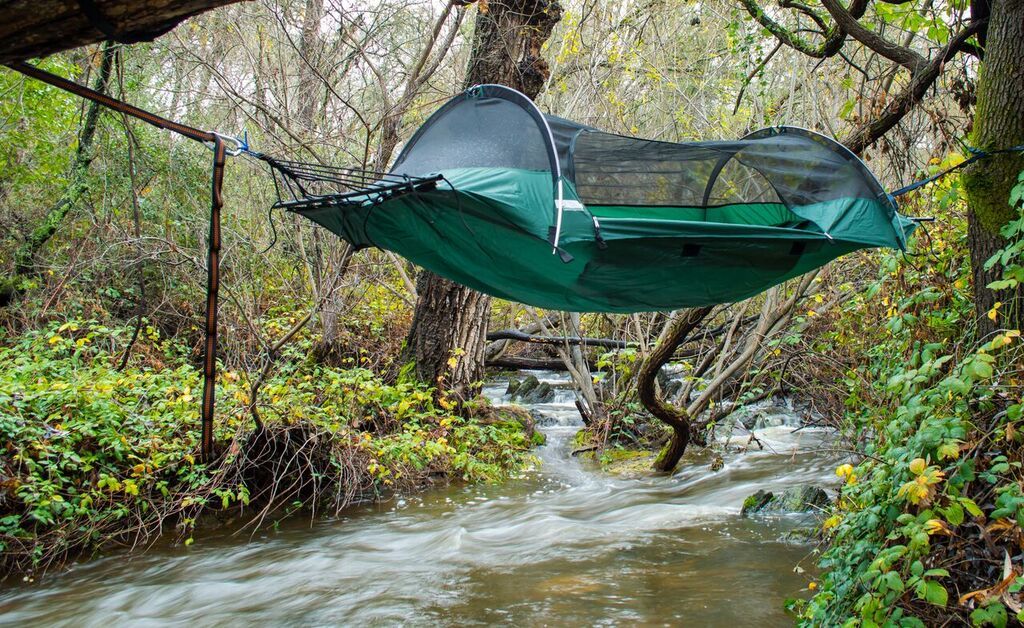 The Lawson Blue Ridge camping hammock is certainly one of the best camping hammocks out there. That said, it is not ideal for everyone. You should consider some of these things before buying a Blue Ridge camping hammock:
The Blue Ridge Camping Hammock is NOT perfect for you if…
You are an ultralight backpacker.
You are a couple looking to both sleep comfortably in the Blue Ridge camping hammock.
Sleeping in a hammock simply doesn't interest you– one needs to be open to the idea!
You are traveling with a super small backpack.
If you are a backpacking couple or an ultra-light thru-hiker, then the Blue Ridge camping hammock probably is not the right fit for you. By design, most hammocks are not super comfy for two people.
For couples, I recommend checking out our in-depth review of the best tents to take backpacking.
The best present of all… is CONVENIENCE!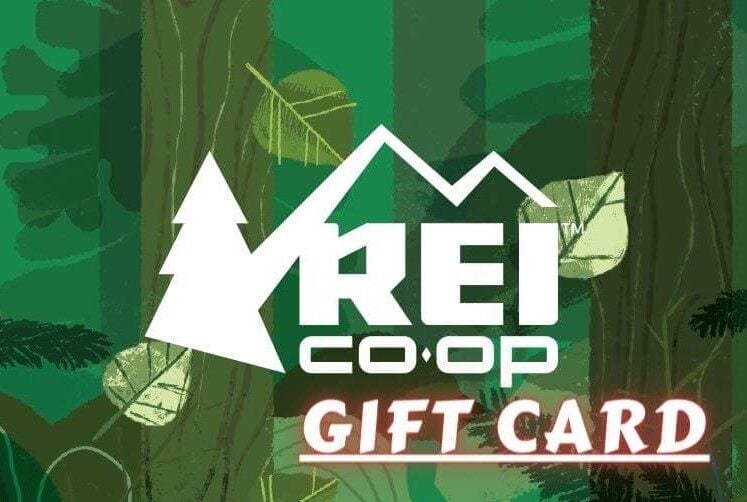 Now, you could spend a fat chunk of $$$ on the WRONG present for someone. Wrong size hiking boots, wrong fit backpack, wrong shape sleeping bag… As any adventurer will tell you, gear is a personal choice.
So give the adventurer in your life the gift of convenience: buy them an REI Co-op gift card! REI is The Broke Backpacker's retailer of choice for ALL things outdoors, and an REI gift card is the perfect present you can buy from them. And then you won't have to keep the receipt. 😉
Buy on REI!
Below, I break down some of the key design elements of the Blue Ridge camping hammock.
Blue Ridge Camping Hammock Interior Nitty Gritty
If you have spent any time in a hammock before, you know that hammocks tend to be narrow and banana-shaped. The thing I noticed after laying down inside the Blue Ride camping hammock for the first time was just how level it felt.
Certainly, there is the hammock sag under your body weight, but your weight is evenly distributed to create a comfortable, relatively flat sleeping base. A good sleeping pad really adds comfort and helps to distribute weight. I use the REI Air Rail 1.5 inside my Blue Ridge camping hammock.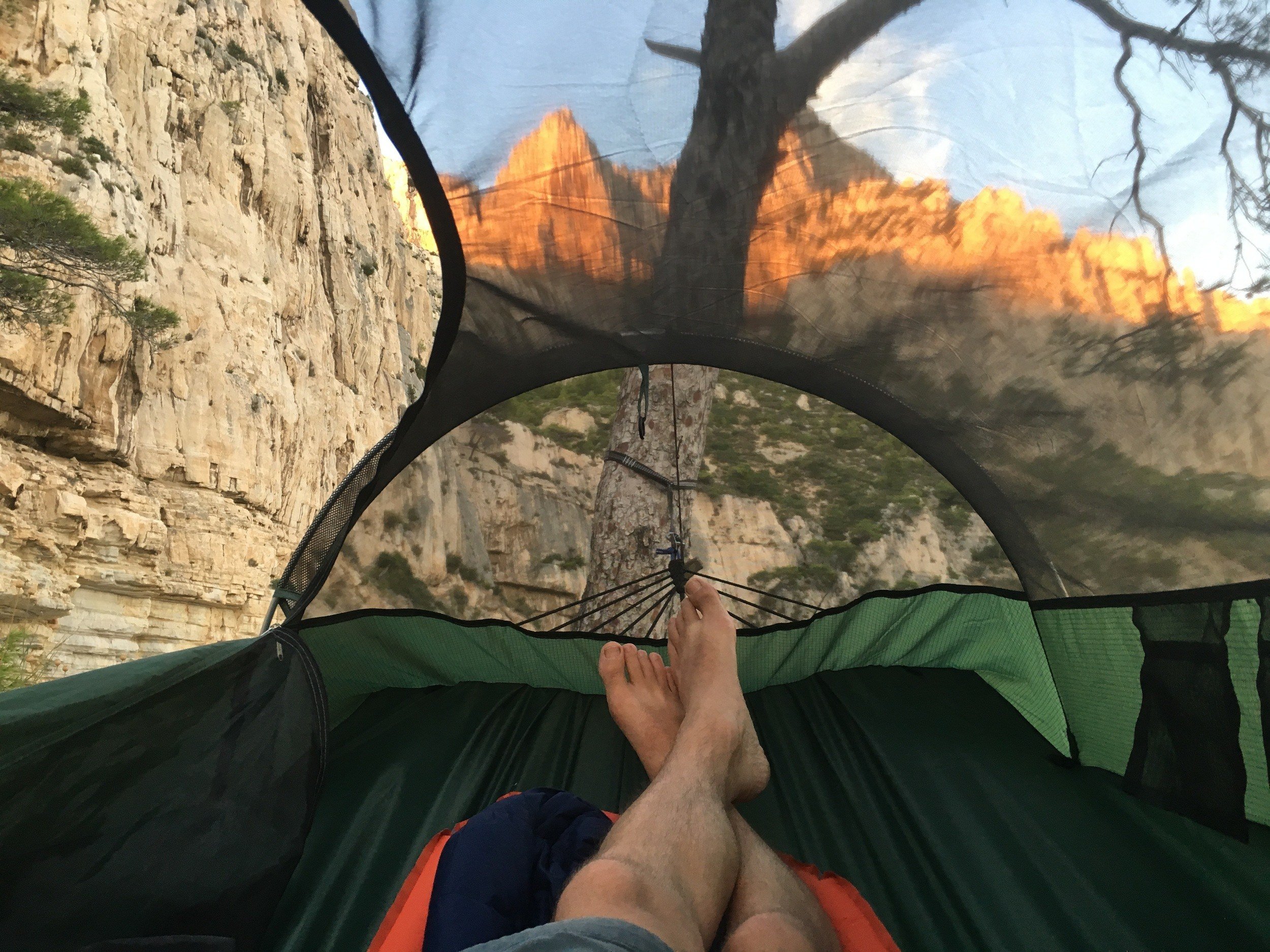 I am 5′ 10 inches and 170 pounds and I have PLENTY of space to stretch out with room to spare on either side of my camping mattress. Once inside the hammock, you are completely encapsulated by the bug netting, yet your visibility is excellent. It truly is the perfect spot to star gaze or catch a meteor shower in the backcountry.
Bonus Points for the Blue Ridge Hammock's Liveability!
Lawson's attention to detail regarding the hammock interior is much appreciated. Two mesh pockets are conveniently located at arm's length. These pockets are perfect for storing your phone, wallet, sunglasses, headlight, toothbrush, etc.
There are two little O-rings located right above your head in the hammock ceiling so you can hang a handy little reading light (not included). These small details may be small but they really boost the hammock's liveability and user experience.
Also, there are velcro tabs lining the bed of the hammock wall. In the early days of the hammock's design, there were clips with the intended purpose of helping to secure a sleeping pad/blanket.
They didn't work well, so Lawson eliminated the clips but decided to leave the tabs for folks who like to tinker and might want to rig something for securing loose gear and/or pad/blanket. I know of some folks who have used elastic cord for this purpose.
Blue Ridge Camping Hammock Weight
In terms of weight, the Lawson Blue Ridge camping hammock is by no means ultralight. At 4.25 lbs the Blue Ridge hammock weighs about the same as a full-sized two person tent.
For minimalist ultralighters, this hammock may be weight-prohibitive. When I hiked the Appalachian Trail, for example, I slept in a 1-person tent weighing less than two pounds.
There are plenty of backpackers out there who are, however, more focused on cool features and comfort and less so on weight. I am certainly one of those people when I am not thru-hiking an absurd amount of miles every day.
There are lighter camping hammocks out there, yes. If saving weight is your primary concern, you'll probably find the Lawson Blue Ridge camping hammock to be too heavy for your purposes.
With regards to the Blue Ridge camping hammock consider this: in terms of a full-performance, versatile, durable (that's key) hybrid camping hammock tent, there is simply not a better option in terms of weight-performance ratio.
If you want to reduce weight/pack size, you can remove the spreader bars. You do this by untying the black ropes where they attach to the hammock grommets and sliding the bars off, then tying them back the same way.
This changes the "lay" of the hammock a bit, but still more flat than most other hammocks. Also, in dry conditions where there is zero chance of rain, leaving the rain fly behind will save you a few ounces as well.
Blue Ridge Camping Hammock Materials and Construction
Each Blue Ridge camping hammock is made from durable, lightweight material that will allow you to keep enjoying that #hammocklife for years to come.
The forest green hammock body made of ripstop-nylon and poly pack cloth. The bug net is sewn into the hammock's edge so that when pitched, the net does not droop or sag.
Especially handy is the waterproof nylon border on the canopy that protects against water blowing up and under the rain fly. The question is not if but when you are sleeping in your Blue Ridge camping hammock and the weather turns bad, you'll be grateful for this well-positioned nylon border!
At either end of the Blue Ridge camping hammock, you have the spreader bars. These serve the hammock in several ways. From what I gathered they are there for proper shape retention, balance, and to avoid banana-shape things from happening. Essentially they do as their name suggests. They are the bars that spread the hammock and keep its nice shape. Simple.
To pitch the hammock, the roof of the body is fitted with sleeves for inserting the shock-corded aluminum arch poles. More about the hammock poles and pitching your Blue Ridge camping hammock later in the review!
Blue Ridge Hammock Durability: Can it handle typical backpacker abuse?
If I drop my hard earned money on a piece of outdoor gear, I have high expectations. Not only do I want it to perform well, I want that performance to last.
The Lawson Blue Ridge camping hammock was built for the long run, and I appreciate the hell out of that. So many cheap hammocks are built the same way the product is priced.
Whilst the Blue Ridge hammock is not the cheapest hammock option on the market, you can have confidence knowing it was built and designed with integrity.
Given the fact that the Blue Ridge camping hammock is rather burly, it can certainly take its fair share of abuse (within reason).
There will be times when it gets dragged over sharp sticks, rubbed against rocks, or scuffed against tree bark. Whilst the hammock isn't bulletproof, it should stand up to the typical abuse that the natural world presents.
I'll be honest with you, I have certainly not had my Lawson Blue Ridge camping hammock for years. That said, a vast majority of Lawson customers have raved about its toughness, so I'm going to have to take their side after experiencing much of the same myself.
The Blue Ridge Camping Hammock Rain Fly: Will it really keep you dry?
When it rains you need protection. Generally speaking, camping hammocks are not going to be as efficient as a ground tent in terms of wind/rain protection. That said, the Lawson Blue Ridge camping hammock is certainly outfitted with an awesome rain fly that makes the hammock 100% waterproof.
Setting up the rain fly is easy and straightforward. In less than a minute you can turn your hammock from being exposed to waterproof using the waterproof ripstop-nylon rain fly.
The rainfly provides a brilliant layer of protection between the hammock body and the weather, so you can stay warm and dry even when it's pissing buckets outside.
Unlike other camping hammock designs, the rainfly is not spread out tarp-style to a bunch of different fixed points. Rather, it "hugs" the tent body to form a cocoon-like all-encompassing waterproof shell. It functions less like an angled roof and more like the taught plastic "skin" that covers a vegetable hoop house if that makes sense.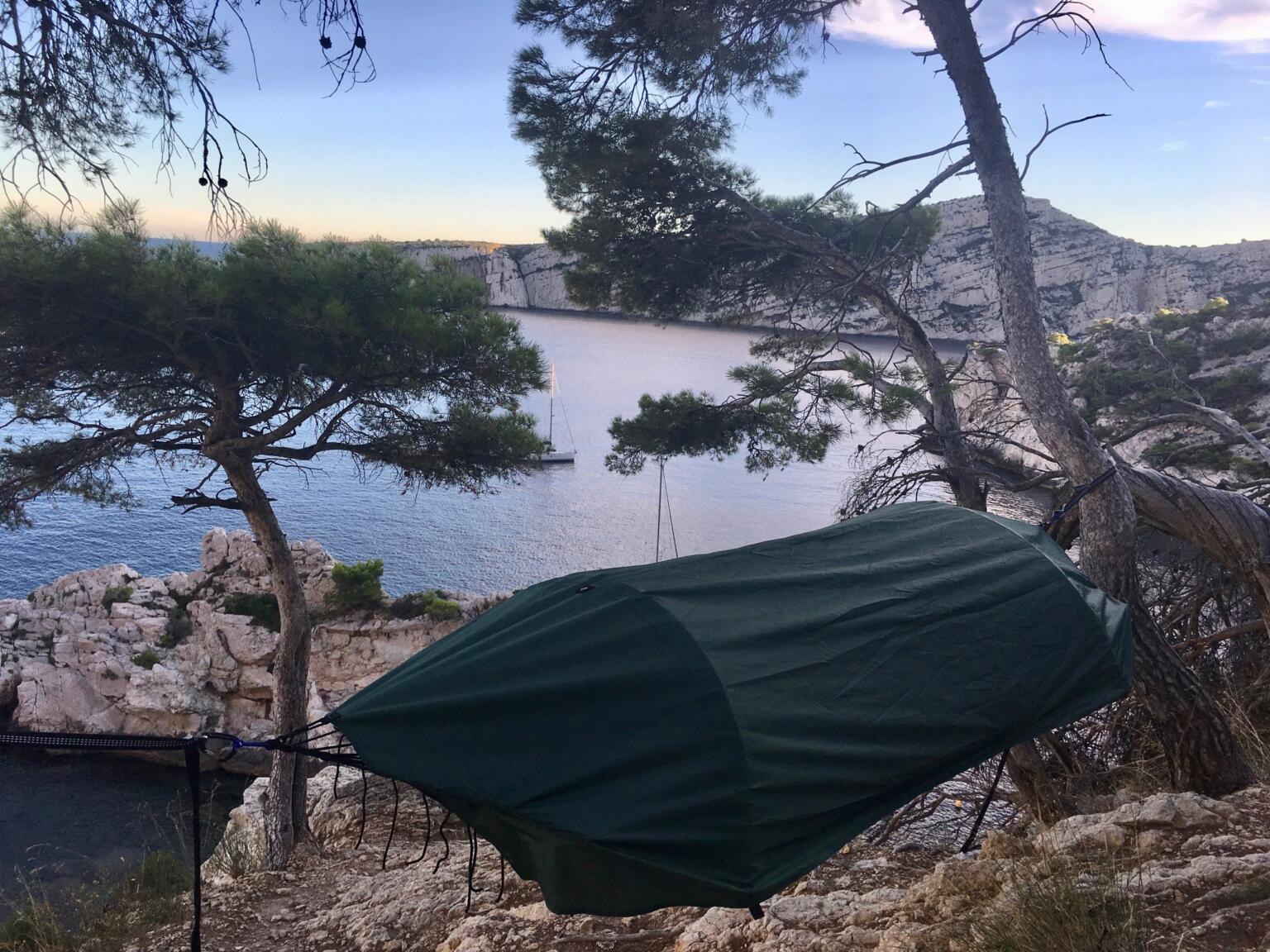 A few users have remarked that getting in and out of the hammock when it is raining isn't easy because of the tightness of the rainfly. I agree with them to a certain extent, however, it really isn't that big of a deal.
The majority of Blue Ridge hammock users (myself included) don't find exiting the hammock under the rain fly to be an issue. A little extra care is needed and that is all.
Trust me, you will much prefer to have a tight-fitting rain fly that actually keeps water out rather than a poor-coverage "tarp-roof" that allows rain to pass underneath when the wind blows. Staying dry is staying happy. That is what the best camping hammock experience is all about.
Camping Hammock Gear Storage: Can you store your gear inside the hammock?
I'd say if you are traveling with a backpack that is 40 liters or less you can bring it inside the hammock. I found there to be plenty of space both at my side and at my feet. If you have a truly massive backpack, I wouldn't recommend bringing it inside.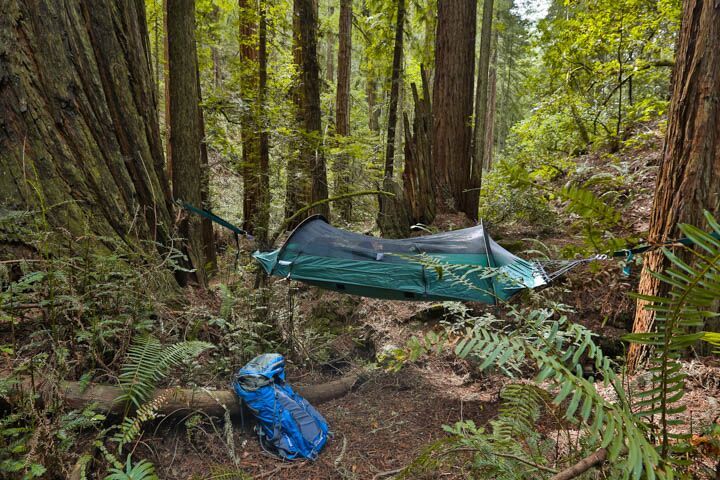 Most people just store their backpack underneath the hanging hammock or on a tree branch. If bad weather is forecasted put you rain cover on your backpack and you should be sorted.
Ideally, you would not bring your backpack inside. All the same, if your backpack isn't too big you do have the option to keep it at your feet within the hammock.
Blue Ridge Camping Hammock Breathability and Ventilation: Delicious Fresh Air
An obvious advantage of going with a camping hammock over a tent is all the fresh air you get to enjoy. When you are lying in the Blue Ridge camping hammock you are surrounded by highly breathable bug netting on all sides.
The openness of the camping hammock mixed with the abundance of fresh air offers up a deeper connection to the natural world around you. You feel like you are floating in nature, not sheltering from it.
In a tent, a majority of the walls are covered in ripstop nylon. Views and fresh air are limited.
With the rainfly on the ventilation is certainly diminished. But, actually, that is a good thing for keeping you warm.
Even with the rain fly a breeze manages to find its way inside.
Relaxing in your camping hammock with a book while a gentle breeze rolls over you is a priceless feeling.
In fine weather, sleeping in a Blue Ridge camping hammock is super enjoyable. For those who love a bit of breeze when they sleep, you are going to love the ventilation performance of the Blue Ridge camping hammock.
Hanging the Blue Ridge Camping Hammock: The Lawson Hammock Straps
For hanging the Blue Ridge Camping Hammock you have several options. For an additional $35 you can buy the Lawson suspension straps and carabiners. Alternatively, you can hang it with whatever rope or straps you have on hand.
For ease and strength as well as causing virtually no impact on the tree, the Lawson suspension straps are the way to go.
These lightweight, tree-friendly straps are the perfect complement to any hammock. You don't have to mess around with tying any knots. Your hammock goes from the ground to being hung in under a minute.
In addition to being super strong and UV resistant, one can easily adjust the tension of the straps to your liking using the cleverly designed buckle, which is also the point where you clip the hammock to the strap using a quick-snap carabiner.
A bonus is that your straps have many other purposes. In camp, they double as a laundry line or as a spot to hang your gear. When you are not using the hammock, there are plenty of other practical uses for awesome hammock straps.
Tips on Setting up the Blue Ridge Camping Hammock
Setting up the Blue Ridge camping hammock is a straightforward affair. All said it should be pitched, hung, and ready to go in just two or three minutes. It takes a little longer of course if you're re putting on the rainfly.
Once you have the hammock body out of the stuff sack (included) you roll it out to full length. The two spreader bars on either end come together in seconds. Make sure the black ropes aren't tangled around the spreader bar. If they are it can create extra stress and cause breakage over time or if there is significant weight applied.
When choosing a position for the straps on a tree, try to keep the straps at about eye level and relatively the same distance from the ground on either tree. After you fit the suspension straps around the two trees you are using, simply clip the carabiner attached to the hammock connection point to the buckle on the strap. Tension the straps to the correct tightness. Voila.
Then you take the arch poles and slide them through the arch-pole sleeves on the outer hammock body. Secure them by putting the tips through the grommets on either end. Attach the length of chord (it is obvious which chord) to the arch poles on each end to keep them upright.
If it isn't buggy or you just want to be in the open air that's an option too. You can take out the arch poles and lay on top of the hammock like a regular/open hammock for blissful lounging. You can either lay on top of the netting or flip the hammock over.
Using the Blue Ridge Hammock Tent as a Ground Tent
This is where the versatility of the Blue Ridge camping hammock is paying off. So, for any given reason you don't feel like sleeping in the Blue Ridge hammock like a hammock eh? No problem.
Follow the same procedure as above minus the suspension straps. Stake the four corners of the tent for tension and you should be all good. Your camping hammock is now a badass ground tent. Few other camping hammocks make the transition so smoothly.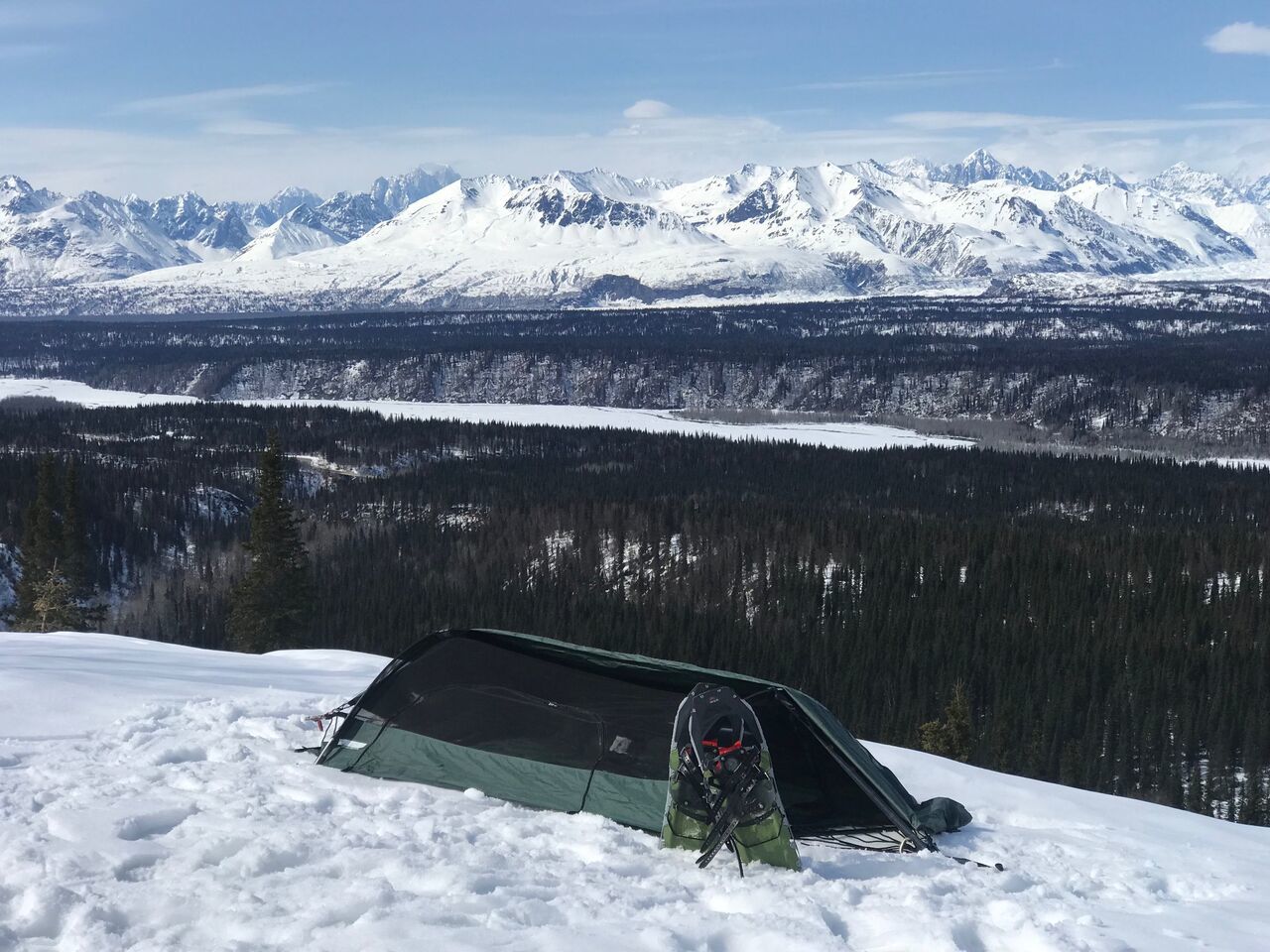 I would say that when the hammock tent is set up as a ground tent, it is not as roomy but even so it's super nice to have the option.
When it is used as a ground tent, I'd say two people could (cozily) sleep inside. It might be tight but it is certainly do-able.
Staying Warm in the Blue Ridge Camping Hammock: The Underquilt
In most mild summer conditions, a good sleeping pad and a lightweight sleeping bag will keep you plenty warm. If you are camping at altitude or in the cold season(s), you'll need some extra protection.
When the temperature starts to turn chilly having something under you for warmth/insulation warm is crucial
For this, Lawson has answers. The Lawson underquilt ($99) features a one-of-a-kind underquilt design that allows for use with both our Blue Ridge camping hammock and gathered-end hammocks like ENO.
The underquilt's temperature Range is between 17-64 degrees Fahrenheit. That is a huge spectrum so I'll make sense of that for you. Every backpacker feels comfortable in different temperatures. In terms of staying warm in the Blue Ridge Camping Hammock, you need to be outfitted with the right gear to achieve that end.
In cold weather, a good sleeping bag (appropriate for the conditions, pad, proper layers, and the underquilt should combine to combat temperatures. For keeping drafts from getting to your back/butt, the underquilt is great.
What is special about the Blue Ridge Camping Hammock?
I think the main factors that set the Blue Ridge camping apart from the competition is its livability and its comfort.
Obviously, sleeping in a hammock is going to offer up inherently less space than sleeping in a tent. That said, you don't have to feel totally confined and restricted inside a camping hammock.
Having the ability to lay flat, stretch out, and rest well is a big win.
Also, the suspension straps are designed in such a way that minimizes (or in theory eliminates) harm to trees. When used correctly, the straps do not peel away or rub the bark of the tree.
As I said before, Lawson Hammocks is a small company that is passionate about the outdoors. Between their ethos of respecting nature and their excellent customer service, Lawson is the exact type of company you should be supporting!
Competitor Comparison: Hennessy Hammocks vs Lawson Hammocks
Another small but mighty titan of the camping hammock world is Hennessey Hammocks. Like Lawson, Hennessy is known for producing quality, affordable camping hammocks for backpackers and adventures.
The Blue Ridge Hammock's closest competitor is probably the Ultralight Hennessy Hammock.
That said, they are very different camping hammocks intended for different applications. Let's take a look at some of the pros and cons regarding the Hennessy Hammock vs Lawson Hammock debate. You want to buy the best camping hammock for your own needs so let's compare the two…
Ultralight Hennesy Hammock
Pros:
Ultralight: 32 oz (2 lbs)
Perfect for long-distance hikers
Packs down small
Durable
comes with hammock straps and snake skins
reliable and trusted within the thru-hiker community
Cons:
Rain fly is angled in such a way that it needs to be pitched perfectly to avoid getting wet.
Rain fly is small and oddly shaped.
Not a lot of extra interior space inside
Not possible to fit even a small backpack inside with a person.
Requires gaining proficiency tying knots.
Like the Hennesy Hammock, The Blue Ridge Hammock isn't perfect. I've spent this whole review covering what I love about the Blue Ridge camping hammock, so it is only fair that we look at its weaknesses.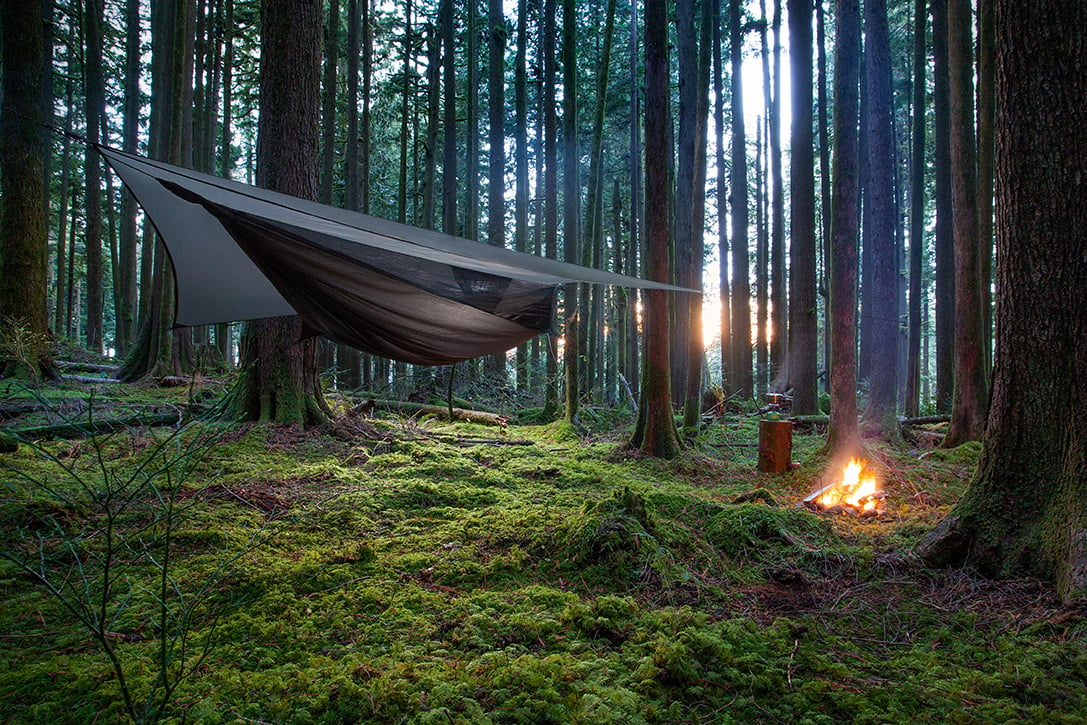 Lawson Blue Ridge Camping Hammock
Cons:
Heavier than the Hennessy Hammock.
Slightly bulky when packed down (though there are ways to make it more compact).
Some users have complained about getting in and out of the Hammock when it's raining.
Not ideal for long-distance hikes.
It is not the most stable hammock if you move around a lot whilst sleeping.
Needs to be anchored properly to avoid tipping over.
All and all, The Blue Ridge Hammock is my personal top pick. I find it to be more versatile, more comfortable, equipped with better rain protection, and all around more practical hammock for backpacking.
Would I take it on a several months long thru-hike? Probably not, though it isn't out of the question.
Point being, the Hennessy Hammock is a truly excellent and badass hammock for its category (ultralight).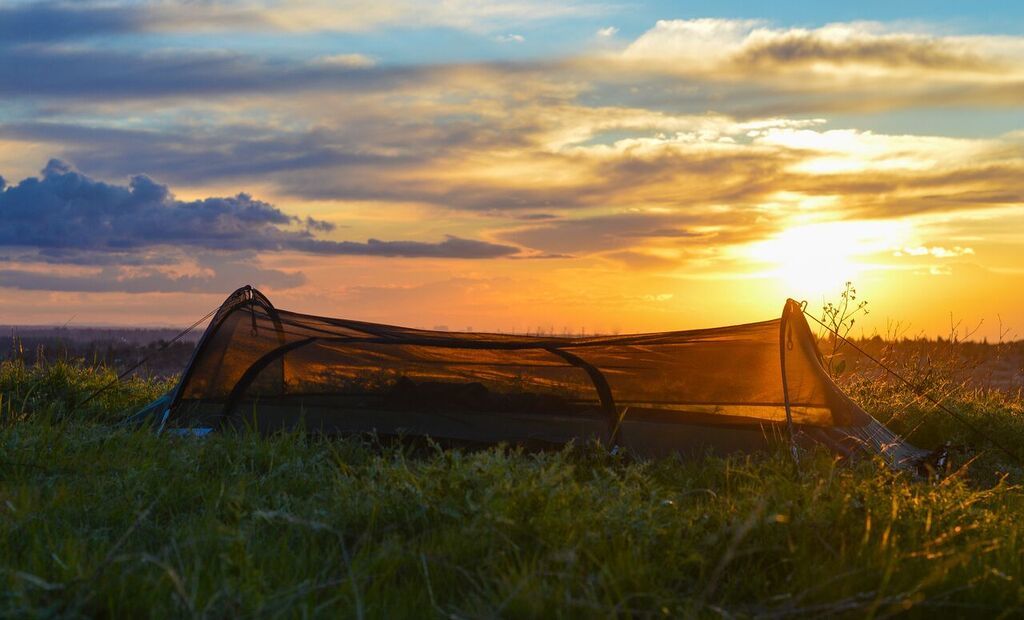 Like any piece of gear you buy, you need to go with the product that will cover your needs for the majority of your intended use. For traveling, casual backpacking, and general adventuring, I'd go with the Lawson Blue Ridge camping hammock every time.
If the Hennessy Hammock has peaked your interest check out this super in-depth Ultralight Hennessey Hammock review. My friend and fellow Appalachian thru-hiker wrote it and she has tons of experience using it on the AT.
Blue Ridge Camping Hammock Price: Is it really worth the money?
For quality backpacking gear, you will hear me say this again like a broken record: good gear requires an investment.
At $199, the Blue Ridge camping hammock is neither dirt cheap nor a total bank breaker. Add in $35 for the straps and the Blue Ridge hammock costs about the same as the Hennessey Hammock or a decent 2-person backpacking tent.
I am a big proponent of investing in quality gear that you will use. When you are on exploring the world wild places you want the very best gear. For camping hammocks, you are investing in the very best if you decide to go with Lawson's products.
A small investment now will result in years of backpacking pleasure. Protect your investment, don't abuse it unnecessarily, and see it thrive for many years to come.
So, long story short, hell yes it's worth the money… ask anybody who owns a Blue Ridge camping hammock and they'll tell you the same.

Our GREATEST Travel Secrets…
Pop your email here & get the original Broke Backpacker Bible for FREE.
Final Thoughts on the Blue Ridge Camping Hammock
Well amigos, that is all I got for now. We have reached the end of my Lawson Blue Ridge camping hammock review.
Choosing the right camping hammock for your own adventures isn't an easy decision. However, after reading this Blue Ridge camping hammock review, you now know everything there is to know about one of the best camping hammocks on the market today.
Now based on all your newfound knowledge regarding the Lawson Blue Ridge camping hammock you can make the informed choice of whether the Blue Ridge hammock is the right hammock for you.
If you are after a super comfortable, durable, stylish camping hammock with excellent weather protection and liveability, look no further. You have arrived.
I hope you have found this Lawson Blue Ridge camping hammock review helpful. When it comes to outdoor gear I am passionate about providing our readers with only the best gear that I have personally used and tested.
At the end of the day, the Lawson Blue Ridge camping hammock is in a class of its own. For all of your adventure needs, the Blue Ridge hammock might just be the camping hammock of your dreams…
See you down the trail my friends…
What is our final score for the Lawson Blue Ridge Camping Hammock? We give it a rating of 4.7 out 5 stars!

---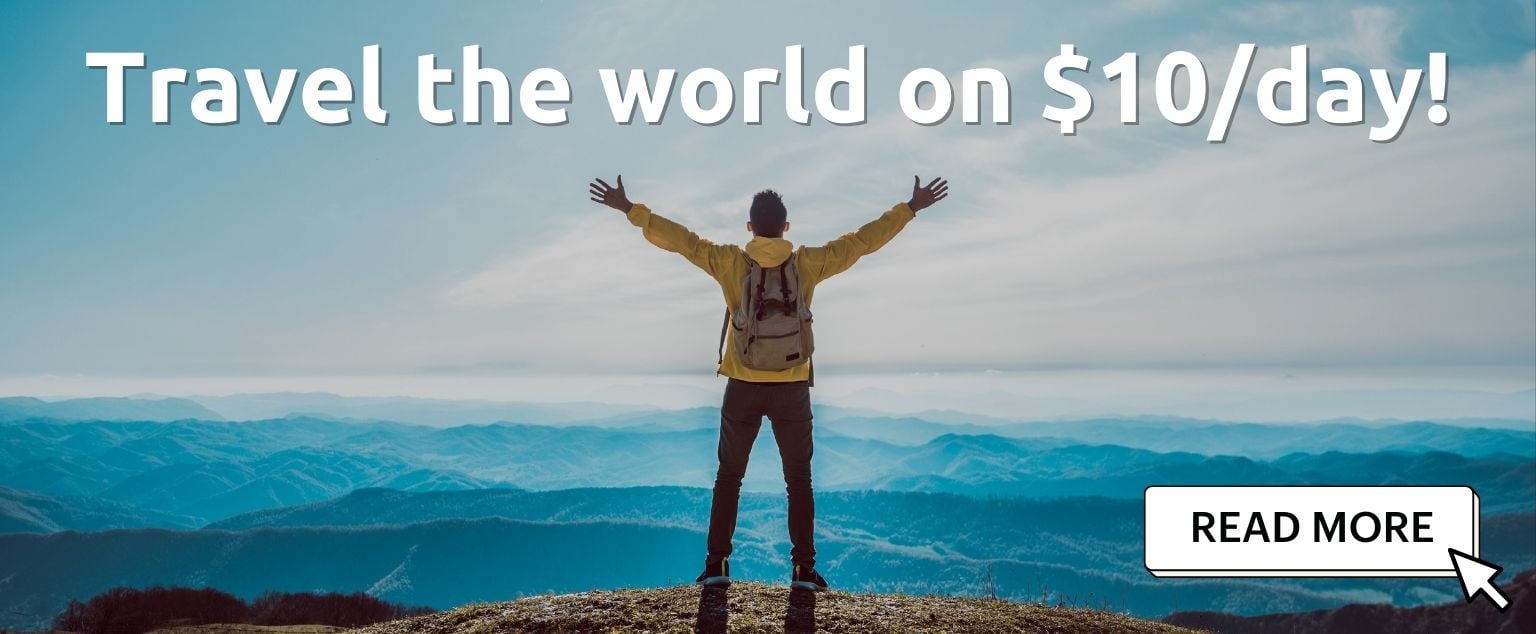 And for transparency's sake, please know that some of the links in our content are affiliate links. That means that if you book your accommodation, buy your gear, or sort your insurance through our link, we earn a small commission (at no extra cost to you). That said, we only link to the gear we trust and never recommend services we don't believe are up to scratch. Again, thank you!