Travel isn't all about reclining on pristine beaches or checking out the great wonders of the world. There is another side to it that can either be whacky and weird, serious, or even a little bit on the 'dark' side.
It may surprise you to learn that many of the most frequented tourist attractions on earth are the sites of tragedies and atrocities, or places dedicated to the macabre and moribund. It may not quite be everybody's idea of a holiday, but for some, the stranger or darker sides of travel are often a lot more compelling than the more obvious stuff. For example, the Eiffel Tower is OK, but the Paris Catacombs (made from a thousand human skeletons!) are sublime.
In this post, we are going to take a look at the phenomena of Dark Tourism. We'll examine what it is and what purpose it serves, as well as taking a glimpse at some unmissable dark tourism sites.
If this all sounds a bit heavy for you, then worry not! We are also going to lighten things up and take a look at some crazy, quirky, batshit insane tourist attractions too.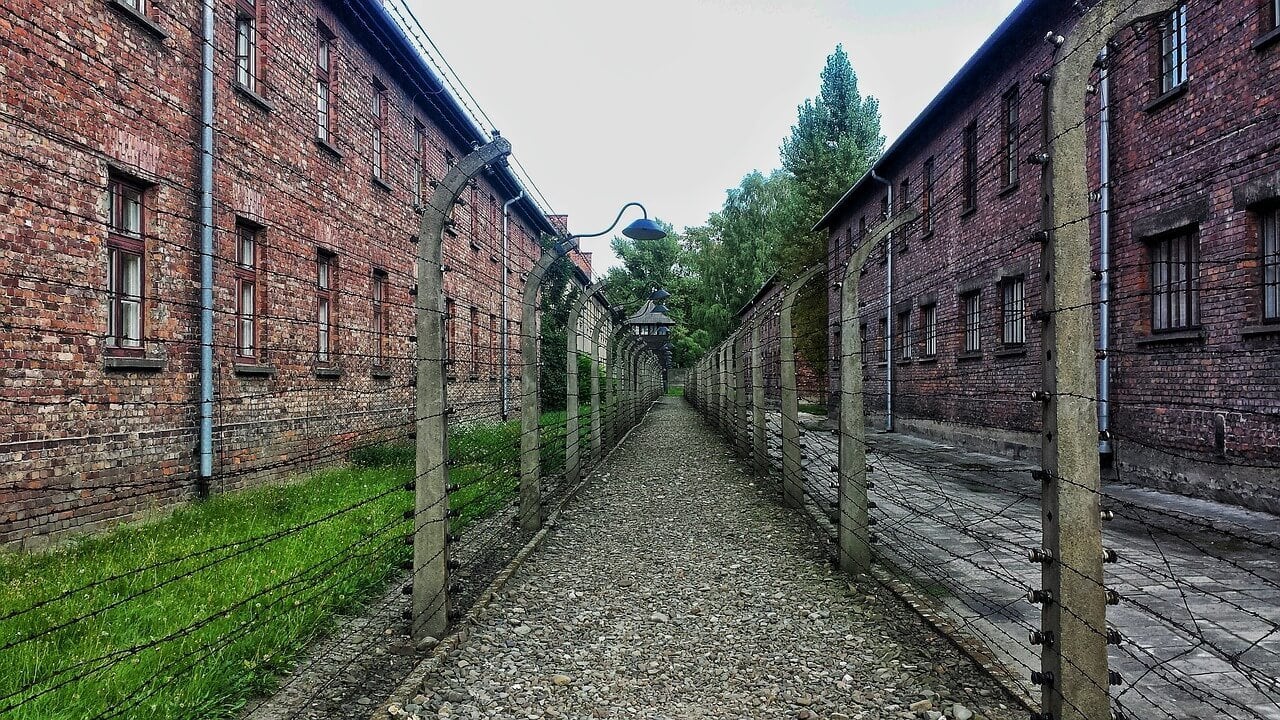 What Is Dark Tourism?
Dark tourism, also known as black tourism or grief tourism, is basically a form of tourism associated with death or tragedy. Dark tourism is considered a little controversial in some quarters and some view it as morbid or even unethical.
Popular examples of dark tourism include Chernobyl, Auschwitz, the Killing Fields of Cambodia, and even cemeteries like the Père Lachaise in Paris.
Whilst the definition may seem pretty clear, its application is not entirely consistent. For example, attractions such as the York Dungeons are not generally considered to be dark tourism and are actually very popular with families. This is perhaps because the horrors that happened there are in the distant past.
Similarly, visitors to the D-Day invasion beaches of Normandy are usually considered to be "paying respects" rather than engaging in dark tourism, despite the colossal and horrific loss of life that occurred.
Is This the Best Travel Pack EVER???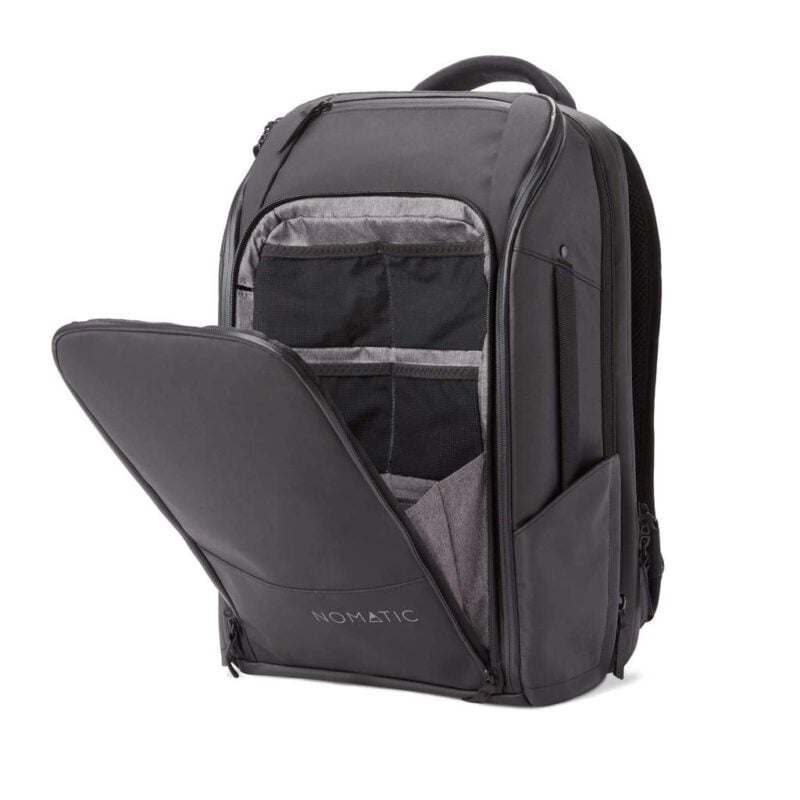 Why Dark Tourism?
Some of you may be wondering why anybody would want to visit dark tourism sites. Indeed, they are not exactly sunshine and selfies and for some of you, I'm sure that even the thought of spending an afternoon wandering around a war grave sends you into despair. But, there are many reasons why dark tourism is very valuable.
Firstly, dark tourism can be educational. The chances are that you know relatively little about the Black Death, the Cambodian Genocide, or even the Holocaust. Therefore, whenever we visit these sites we have the chance to learn about these very important periods of world history.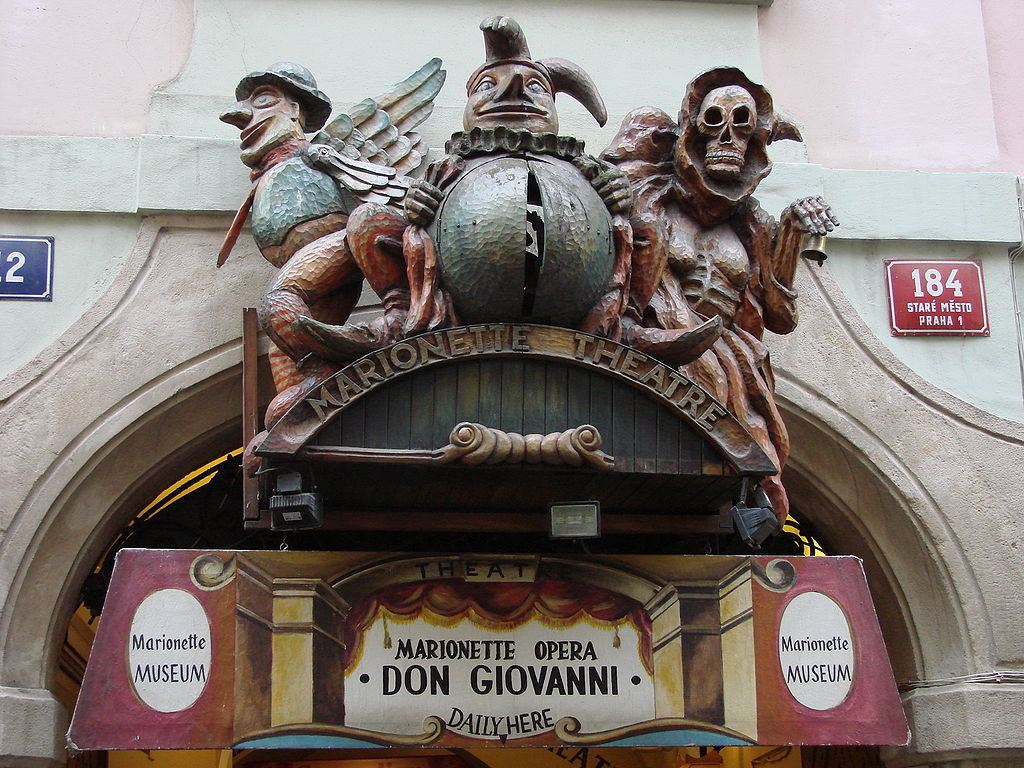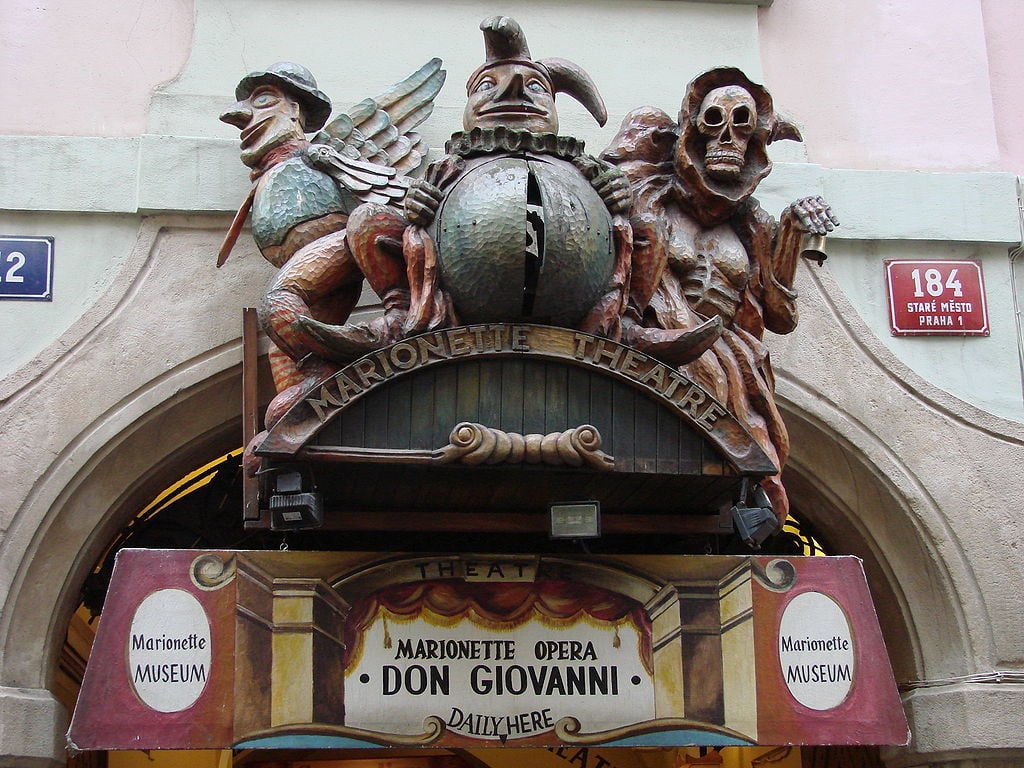 And by education, I don't just mean learning about historical narratives and factual knowledge.
Rather, by visiting a site of dark tourism, you can get a sense of perspective and a feel for history that you will never get from books or documentaries.
When I visited Auschwitz in 2005, I expected that the sense of dread and horror would be almost tangible. I imagined that the sheer levity of the depravity that had occurred there would rise up from the ground and descend from the sky. But in fact, what struck me was how banal and ominous it all felt and that is what really terrified me – the realization that it could literally have happened anywhere, at any time.
Finally, visiting these sites allows us to pay our respects. Even though you may have no personal connection to these places and no connection to what happened, we do share a common humanity.
Dark Tourism – Where To Go and Why
Let's take a look at some amazing dark tourism sites from around the world. As promised, we've included some strange and hilarious entries too.
Chernobyl – Ukraine
The town of Chernobyl, in what is now Ukraine, was the scene of the world's worst-ever nuclear accident. In 1986, the main reactor blew causing a dangerous radiation leak into the atmosphere. Some two days later, the power plant, along with the Soviet "model town" of Pripyat, were hastily evacuated forever.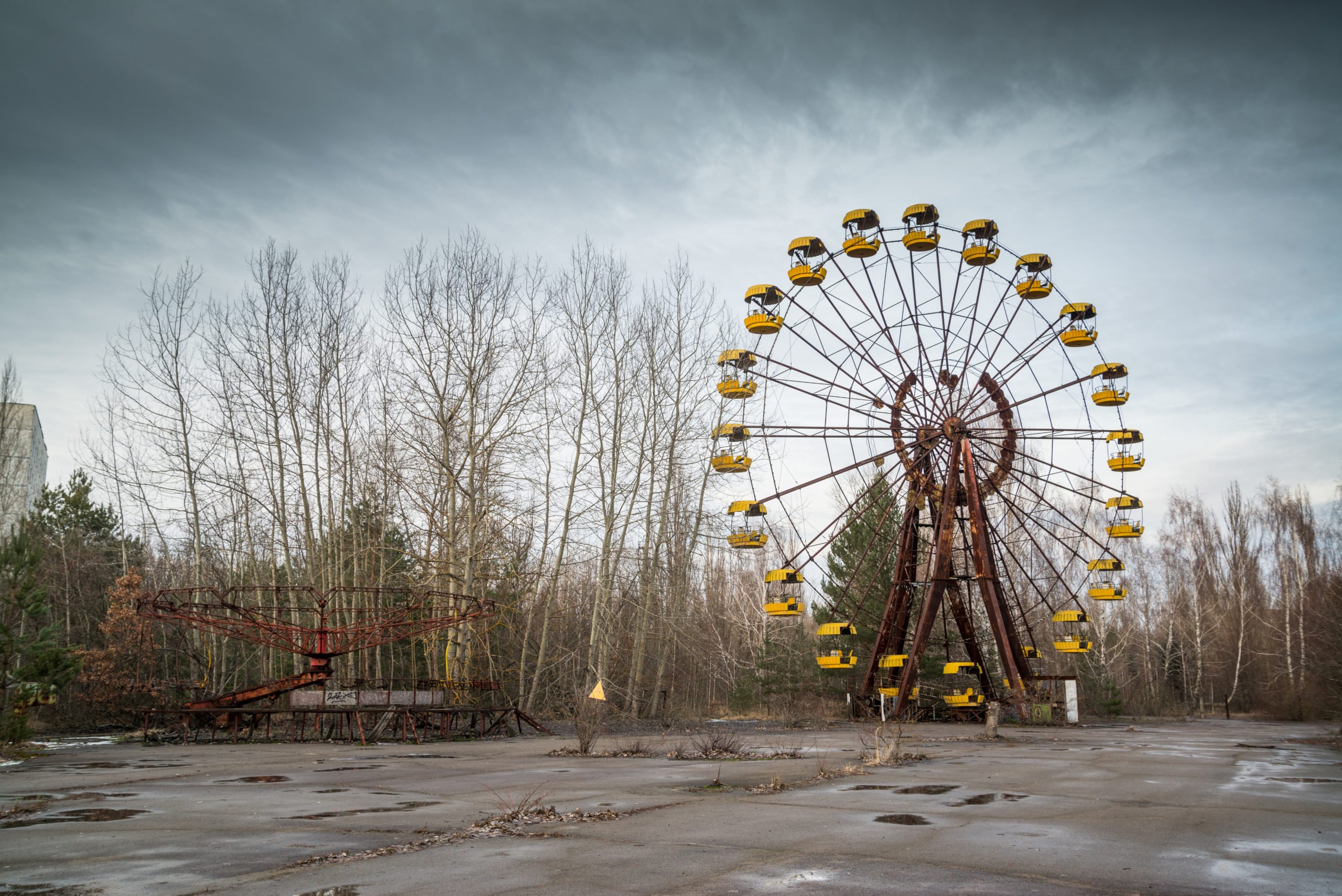 The radiation levels have now subsided so the area is safe to visit as part of a guided tour and take an eerie glimpse into what an apocalypse might look like. You can explore the vacant apartment blocks and watch the fairground wheel morosely twist in the breeze, all whilst learning about the realities of life under Soviet communism.
My visit to Chernobyl forced me to reflect on how humanity's ambition can easily be its undoing. It was also quite refreshing to witness how nature is now reclaiming the site. You can visit Chenorbyl from Kiev as part of a tour for about $70 per person. It is perhaps the definitive thing to do when backpacking Ukraine.
Want to know more, of course, you bloody do! Read our in-depth guide to visiting Chernobyl here.
Last Tree in the Desert – Niger
The sub-Saharan country of Niger is essentially a big orange desert and a fairly harsh environment for humans. As such, you would be forgiven for assuming that the surviving vegetation would be respected and appreciated – but that's not quite what happened…
The famous acacia was the only tree for 250 miles in Niger's Sahara desert. It was used as a landmark by travelers and caravans passing through the hostile terrain. However, despite being quite literally the only single thing amidst an enormous barren wasteland, that didn't stop a drunk driver from somehow managing to crash into it one night in 1973.
The lesson this incident teaches about humankind's flair for stupidity and destruction is simultaneously hilarious and harrowing. The remains of the tree are now kept in the national museum in the capital of Niamey. If you ever visit Niger, then be sure to pop in!
'Hezbollah-land' – Lebanon
Located in Southern Lebanon overlooking the Israeli border, "Hezbollah Land" is an outdoor museum/conceptual art project. It's operated by and dedicated to the Lebanese, Islamic, Militant faction Hezbollah!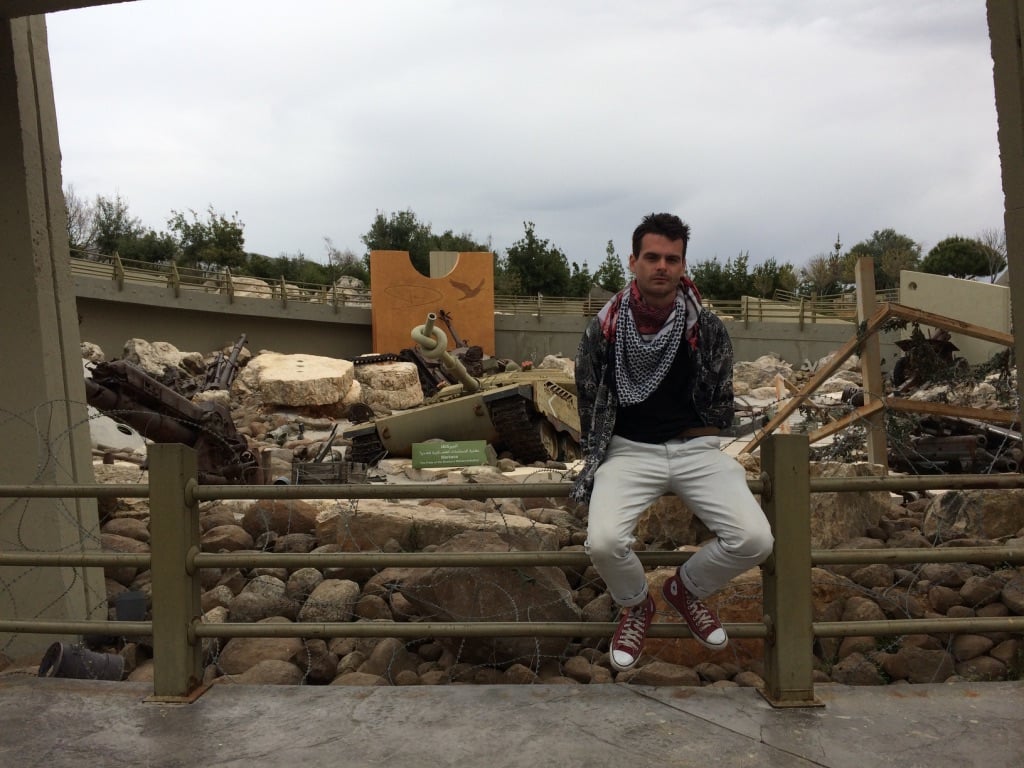 The Mt Mlta site was formerly the front line in an 18 year battle of resistance against the Israeli army, who occupied the region between 1982 and 2000. The siege tunnels and gun turrets are now available for visitors to explore, and don't worry – it's quite safe to visit.
The museum features a short propaganda film and a collection of seized Israeli military equipment. The centerpiece is an utterly bizarre art installation consisting of mangled Israeli tanks and helicopters. The world's weirdest amusement park is staffed by real-life Hezbollah fighters, complete with big beards and bigger AKs. It's both balmy and brilliant. The nearest major city is Tyre, but the country is so small you can visit it on a long day trip from Beirut.
Hiroshima – Japan
For many, there is a morbid fascination with Hiroshima and Nagasaki, the two cities bombed with nuclear weapons during WWII. After visiting the memorial museum in Hiroshima and wandering around its quiet and poignant halls, I can tell you that it's a deeply unsettling but also powerful experience. I got the chance to view the instant and then lasting effects of nuclear weapons up close, and discover how they may indeed one day lead to a planet-wide armageddon.
Visiting is, in my opinion, a really smart move as it educates you about why nuclear weapons should never be used again. For some reason 2021 is threatening to be the dawn of the neo-nuclear arms race, so perhaps certain world leaders should take a trip to Hiroshima sooner rather than later.
Venezuela
Do you like stacks and stacks of money? Then Venezuela is the country for you! With officially the worst inflation in the world, $100 exchanged on the black market will give you a literal pillowcase FULL of cash.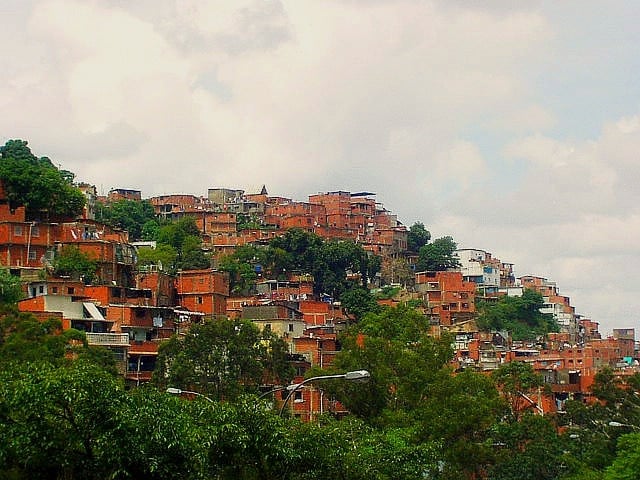 For brave backpackers and foolhardy adventurers, Venezuela is one of the last true raw adventure frontiers. It boasts stunning jungles, Mt. Roraima (the highest tabletop mountain in the world), exquisite wildlife, attractive locals partying on down. Unfortunately, you'll also find a corrupt government, knife-point robberies, the highest murder rate in the world (in Caracas), utter poverty, and desperation…
It's hard to recommend people go and backpack Venezuela. But, it's worth noting that this country is truly one of the most beautiful and varied in the world.

Our GREATEST Travel Secrets…
Pop your email here & get the original Broke Backpacker Bible for FREE.
Nazi Death Camps – Germany & Poland
It is estimated that some 6 million human beings were murdered by the Nazi regime during the holocaust. Jews, Catholics, Slavs, Soviets, the Disabled, and Roma were all persecuted and sent to their deaths in camps across Europe.
Auschwitz-Birkenau was the deadliest Nazi complex of WW2. When you arrive, you'll notice the long train tracks that carted over 1 million men, women, and children through the gates and to their final days. Washrooms, barracks, crematoria, and gas chambers provide chilling reminders of the atrocities that took place here. If you're aware of the history, visiting Auschwitz will be a moving experience, especially if you book a guided tour.
Unfortunately, many tourists visit Auschwitz with no real reverence for the camps' significance. You'll see walls covered in graffiti, and those train tracks have become a selfie hotspot. If you want to avoid this, you're better off visiting Dachau, Neuengamme, Belzec, or Buchenwald.
Hebron – Palestine
The ancient city of Hebron in the Palestinian "West Bank" is a flashpoint in the torrid Israeli/Arab conflict. Hebron's roots date back to the Old Testament and it is the legendary resting place of the Prophet Abraham, as well as some other biblical heavyweights.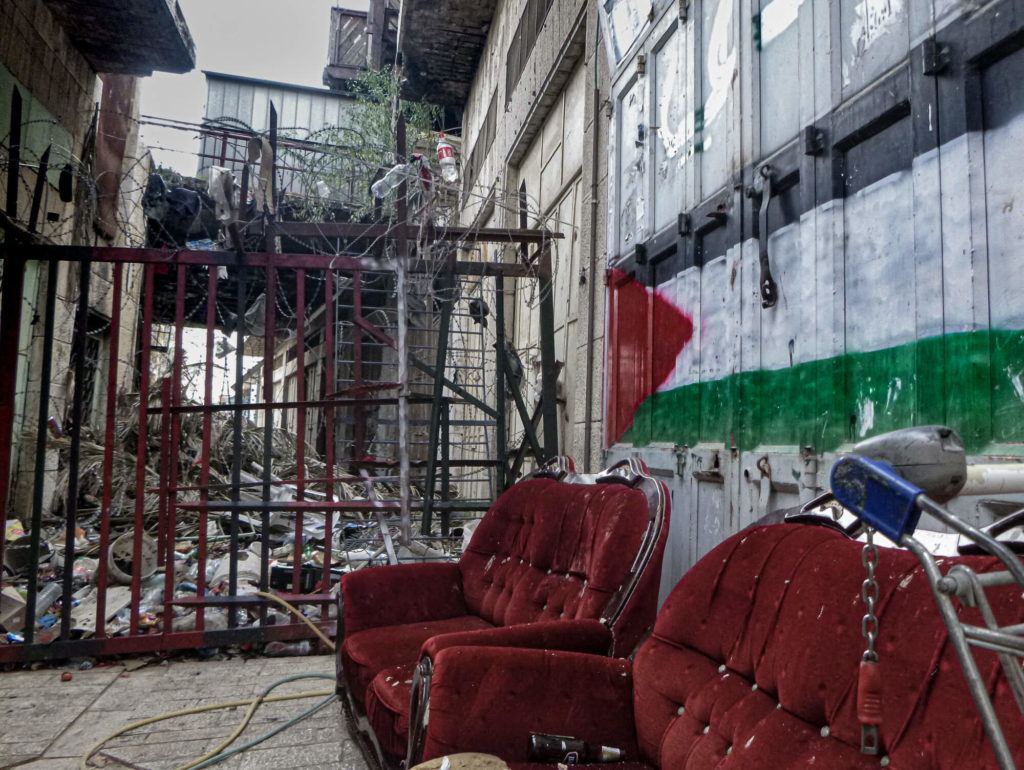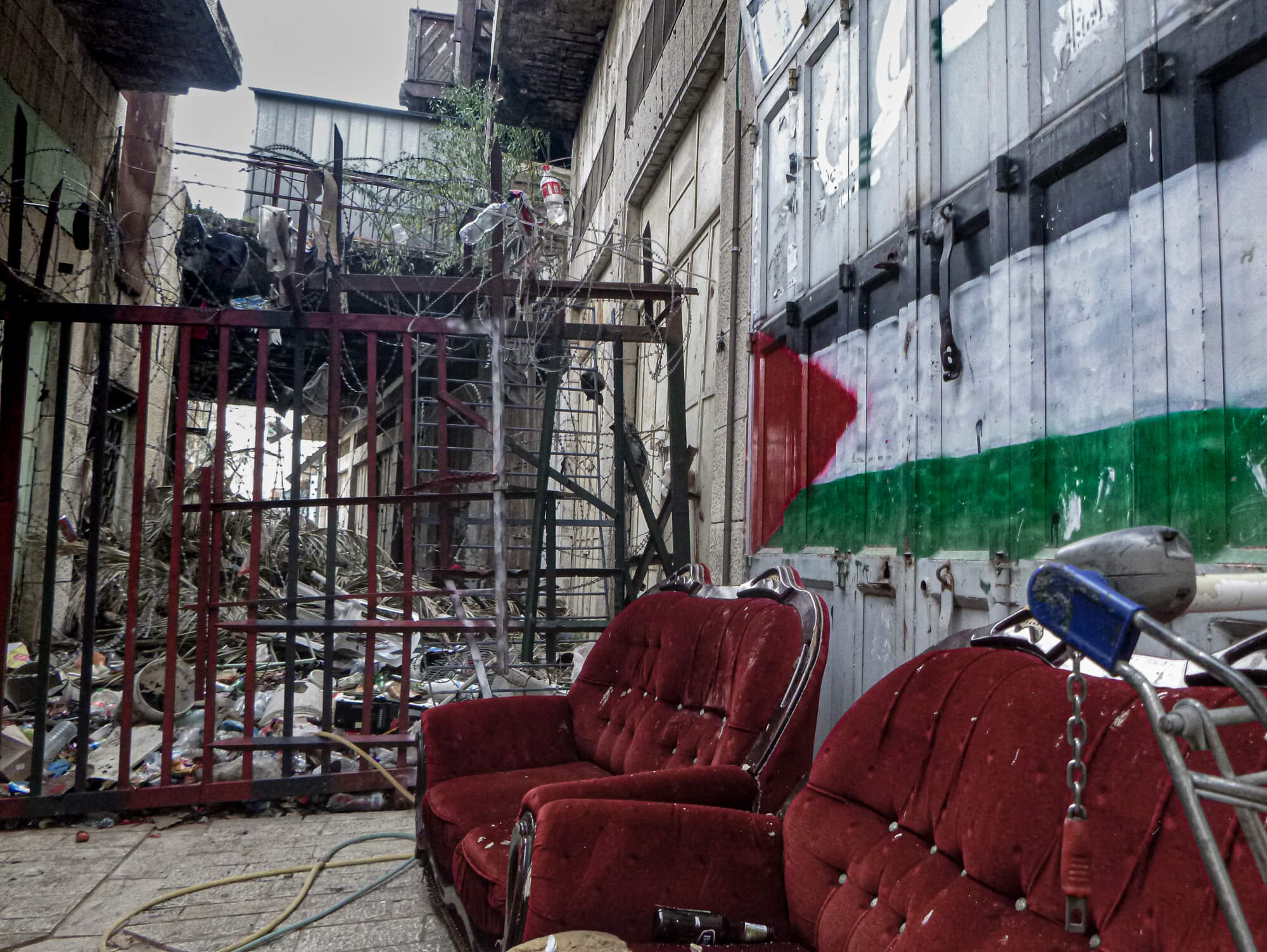 Following the 1967 'Six-Day War', hardline Orthodox Israeli settlers began establishing 'illegal' settlements in the city. Now, the entire city is under martial law and divided by walls, fences, and checkpoints.
Hebron is best experienced as part of a tour where you spend half a day in the Arab part of town and half a day with the settlers. I won't lie, the experience is pretty harrowing but very enlightening to anybody who wants to better understand the tensions in this region. It was a highlight of my backpacking trip to Israel.
Denbigh Asylum – Wales
Denbigh is an abandoned insane asylum in North Wales. The former hospital was home to 1,500 psychiatric patients who were subjected to 'experimental treatments' including toxic medicines, electric shocks, and lobotomies. It eventually became a dumping ground for anyone considered at the time to be mentally ill, including those with learning disabilities, alcoholism, and dementia.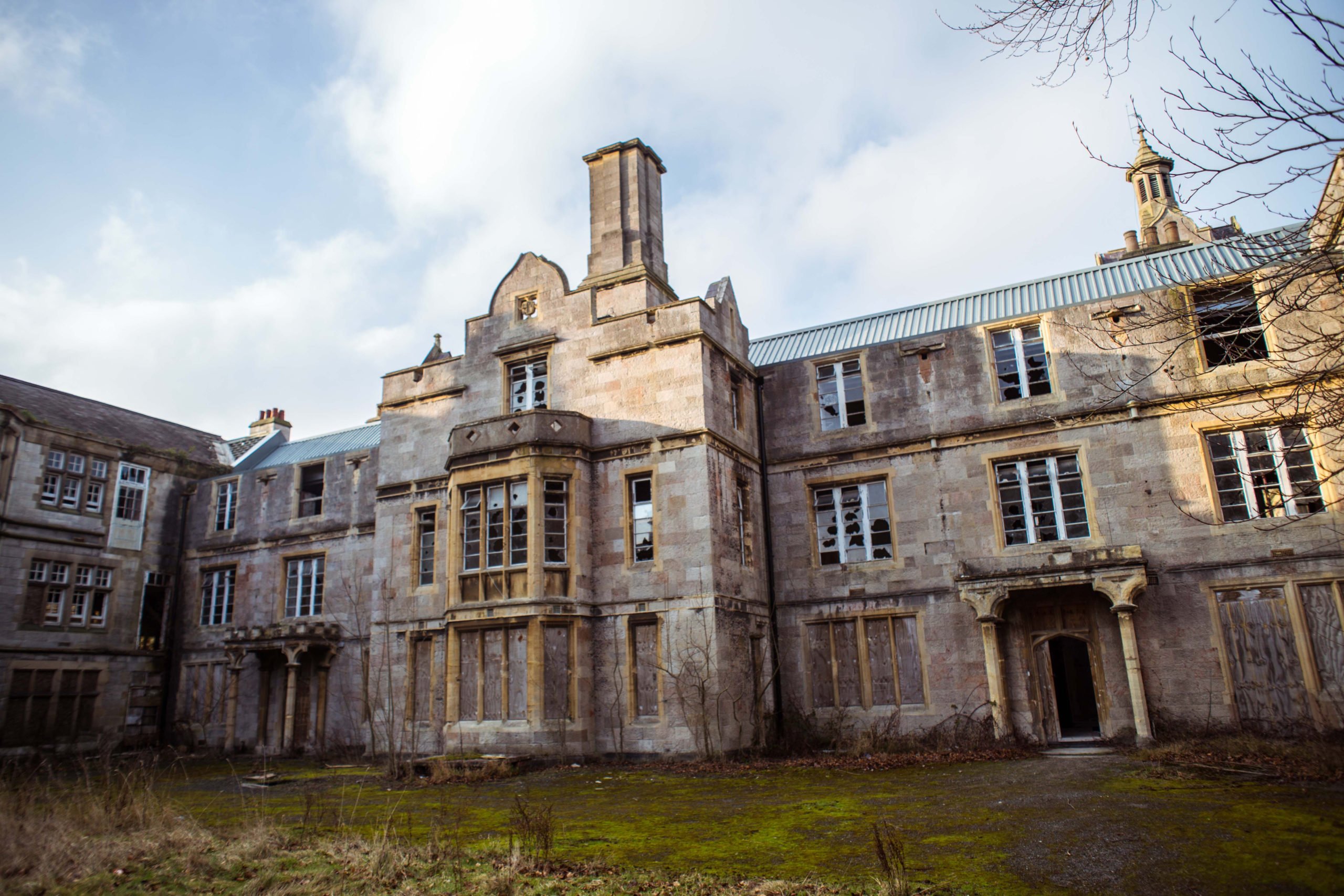 Denbigh has attracted numerous ghost-hunters throughout the years who claim to have found paranormal activity. Whether or not you believe in it, the hospital presents some of Wales' darker and lesser-known history. You'll find old furniture, wheelchairs, wards, and operating theatres.
The building has been empty and in decay since 1995. There's no official way to visit as the building is closed to the public. If you do decide to go, be mindful of asbestos, CCTV, security guards, and ghosts.
The Alcoholic Pig of Tasmania – Australia
This is a good example of how not ALL offbeat tourist attractions are ones you should be visiting. Much like Tasmania itself, Priscilla is a relic of her time.
In the middle of buttfuck nowhere in northwest Tasmania is a pub. A simple pub: The Pub in the Paddock. The kind of place where drink driving (a cultural staple of Tasmania) is the only way you're getting home at the end of the night. And there they have Priscilla the Pig.
Priscilla is an old girl, and for decades, she's been a tourist attraction. "Our pig LOVES drinking beer. Bring your kids – feed her a bevvie!"
No. Don't. Priscilla has subsisted on a diet of alcohol for so long that the docs now say that if she stops drinking, she'll die. To be fair, she's a happy pig; she spends her days swilling pints and rolling in shit. All the same, just because something is quirky, doesn't mean you should entertain it.
Don't engage with animal tourism. But if you're looking for dark tourism, Tassie has it in spades. It's all tales of genocide, cannibalism, and a land poisoned by man.
Sarajevo – Bosnia & Herzegovina
Considering its history, the whole country of Bosnia & Herzegovina can be pretty dark to visit. It's been over two decades since the bloody war in Bosnia, but the country is still completely divided (they literally have three different governments that take turns).
The autonomous Serbian regions still celebrate the military leader who led the genocide of millions of Bosnian Muslims as a hero. (When you check into any Belgrade hotel there, they probably have portraits of Putin hanging at the reception.)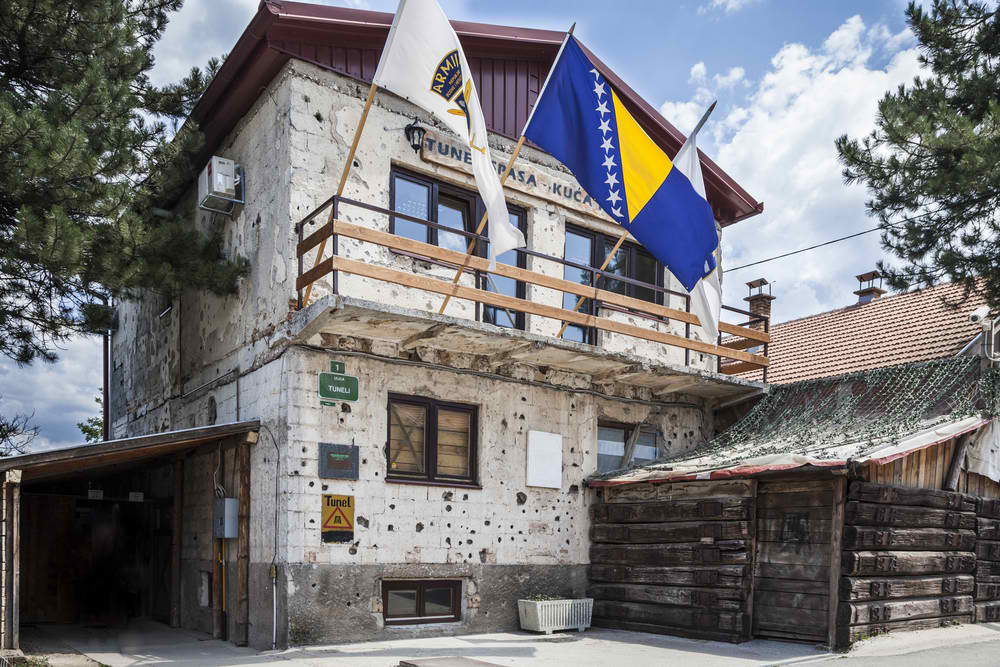 But nowhere else in the country is the tragic history as tangible as in the capital, Sarajevo. The city was besieged for almost four years during the war, and the signs of it are everywhere.
Instead of regular tourist attractions, the walking tours in Sarajevo show all the spots in the city that still bear the marks of war. These include a rose on the pavement where a missile killed 68 people and shrapnel holes on buildings. Many of the guides lived through the war themselves and have first-hand stories of it.
You can also visit a war museum complete with photos and survivor stories, or stay in a unique Sarajevo hostel that is equipped as houses were during the war. Or, check out the place where Archduke Ferdinand was shot, kick-starting the First World War. Turns out Sarajevo has quite a dark past from way before the civil war.
Salem – Massachusetts
You probably recognize the name Salem as one of the prime locations for the American witch hunts in the 17th century. This is even more fucked up since the name of the town comes from a Hebrew word meaning peace. Yikes.
The witch craze had already started to die down in Europe when the witch trials in Salem took place. The reason? Mass hysteria caused by religious (Puritan) extremisms and good old sexism (apparently women are more susceptible to sin…). The trials lasted for about a year and over 200 people were accused of witchcraft. In the end, 20 were executed and five more died in jail. The youngest person accused was only four or five years old.
These days, there's a Witch Museum in Salem, as well as many memorials and a candle-lit walking tour illuminating the morbid history of the town. It's a pretty place to visit on any New England Road Trip.
I don't REALLY believe in ghosts – but if they have them anywhere, it might be in Salem.
The Killing Fields – Cambodia
Following a revolution in 1975, the Marxist Khymer Rouge headed by Pol Pot swept to power and plunged Cambodia into the darkest period of its history. Fearing a counter-revolution, Pol Pot began purging the country of anybody he perceived as being a potential political enemy.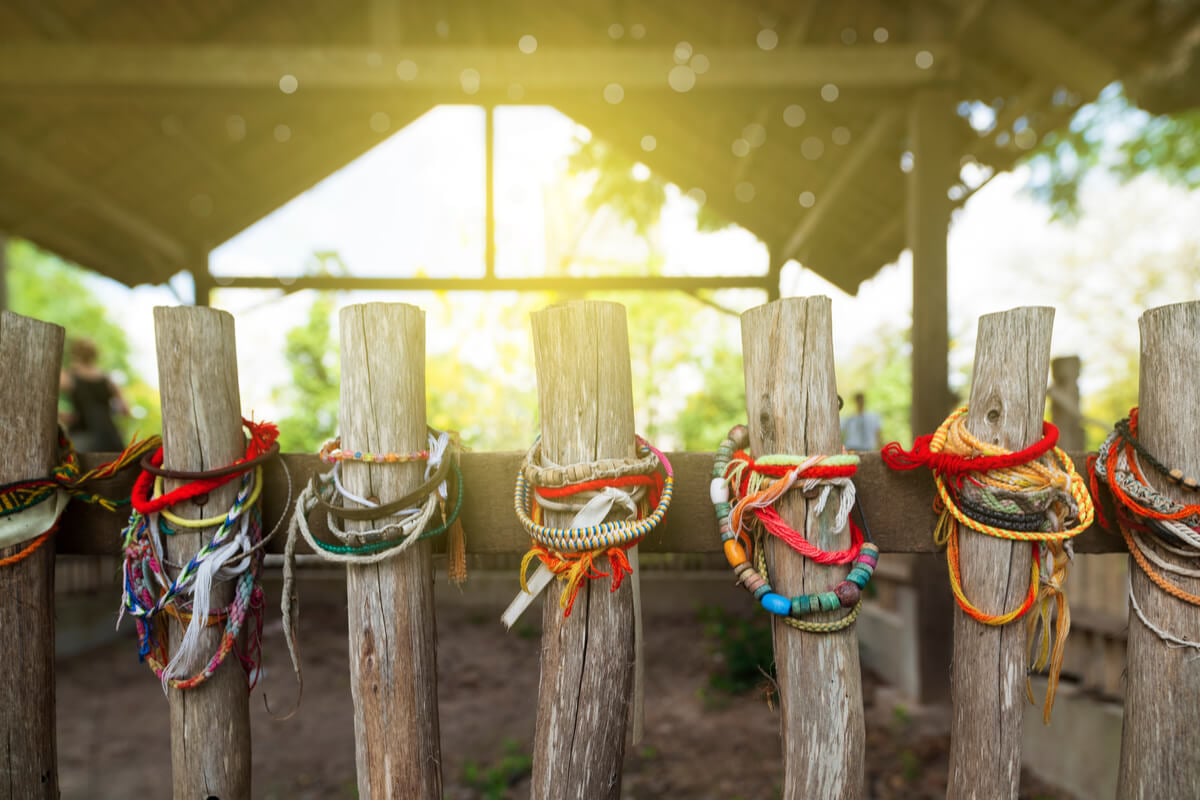 In practice, this meant that anybody considered to be even remotely educated had to go. Lawyers, doctors, intellectuals, people who wore glasses or read books – were brutally rounded up and massacred along with their families in the crudest and most brutal ways.
A visit to the Killing Fields is harrowing, and "the tree" against which countless babies were smashed to death, will stay with you forever.
A heavy but worthwhile stop on any Southeast Asia itinerary.
Pompeii – Italy
One of the biggest tragedies of ye olde world was definitely Pompeii. The whole Italian town was buried in ash and lava when the volcano Vesuvius erupted in the year 79, suffocating and burying all the people living below it. It's been a while since it all went down but that doesn't make the tragedy any less impactful.
The death count caused by the rogue volcano was huge – 2,000, maybe 3,000 people – but somehow that's not the worst part. The people of Pompeii were not aware that they were cozied up to a volcano, so they had had no way to prepare for it when it erupted. Archeologists have been able to make gypsum models of the people and animals and show in great detail how they died. One of the most famous and heartbreaking images from Pompeii is a model of two people embracing each other in their final moments.
They're still digging in Pompeii, so archeologists are continuously discovering more fascinating and dark pieces of history. Pompeii can easily be visited as a day trip from Rome or Naples.
North Korea
North Korea is a truly fascinating country wrapped in mystery, rumor, propaganda, and brutality. This is a place where you can be BORN into the justice system, raised as a slave laborer, and all the while think your leaders are gods… let's be honest, this country is MESSED UP.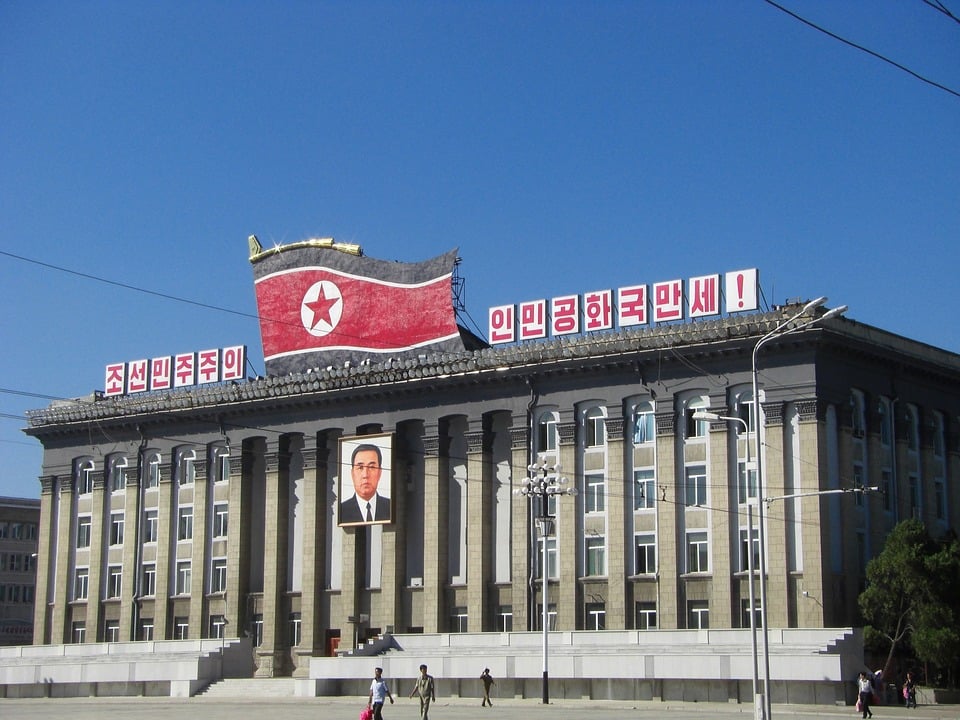 And yet, it's not that simple. Regular people still live fairly ordinary lives here, sometimes in the most unordinary circumstances.
Visiting North Korea is only really possible as part of an organized tour, where you will be shepherded at all times by the secret police and subjected to endless propaganda about how amazing the country is. I know a few people who did the trip; they found it truly eye-opening and absolutely unforgettable.
If you decide to visit a barber in North Korea, remember that you will need to stick to one of the 20 or so "State approved" haircuts – all of which are terrible and all of which more or less resemble the kind sported by Big Little Kim himself.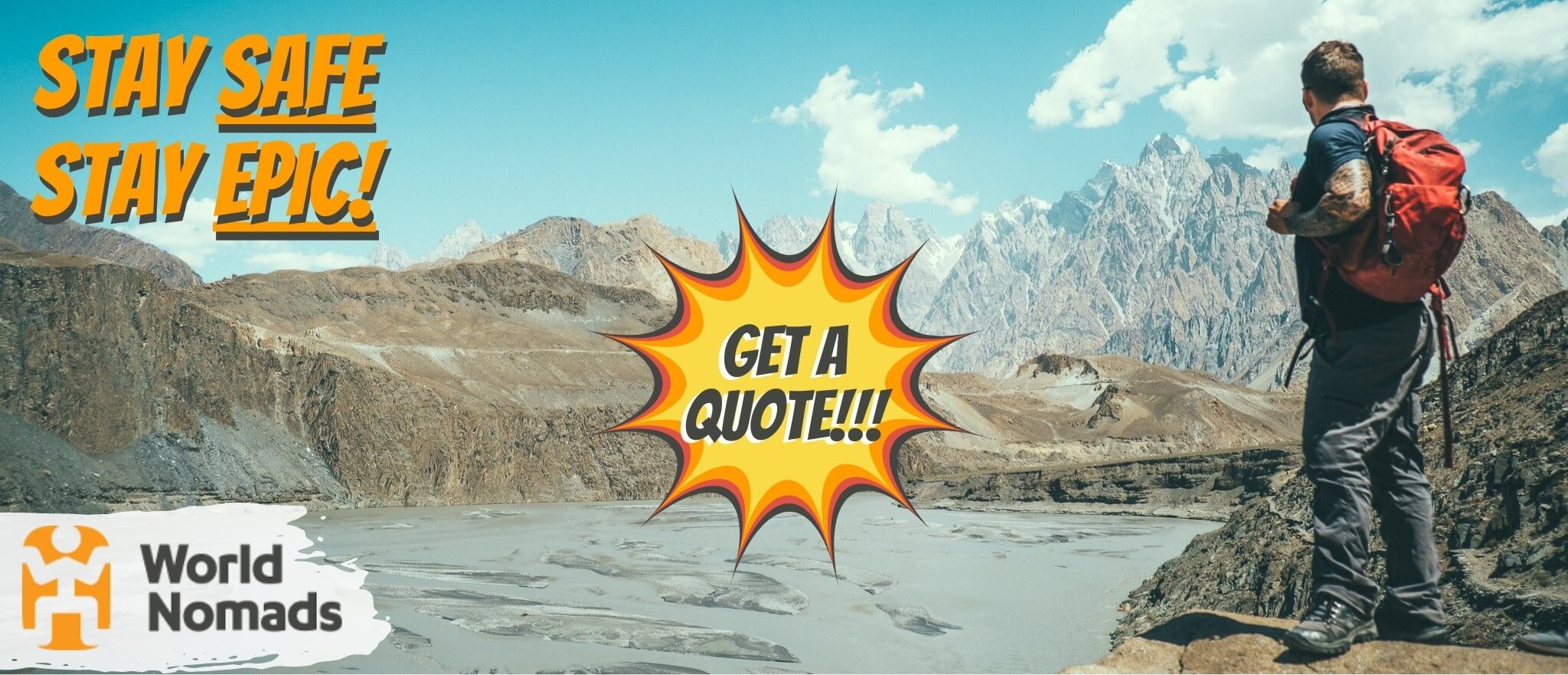 World Nomads' mission is to support and encourage travellers to explore their boundaries. They offer simple & flexible travel insurance, and safety advice to help you travel confidently.
They've been doing it since 2002 – protecting, connecting, and inspiring independent travellers just like you.
Get a quote below or read our in-depth review!
Final Thoughts
I hope you found that insightful, thought-provoking, and inspirational.
Did you find somewhere you want to visit, or did the mere thought of these places give you the willies?! Whatever you thought of this post, do let us know in the comments below – we love to hear from you.
See you on (the dark side of) the road guys!!!
---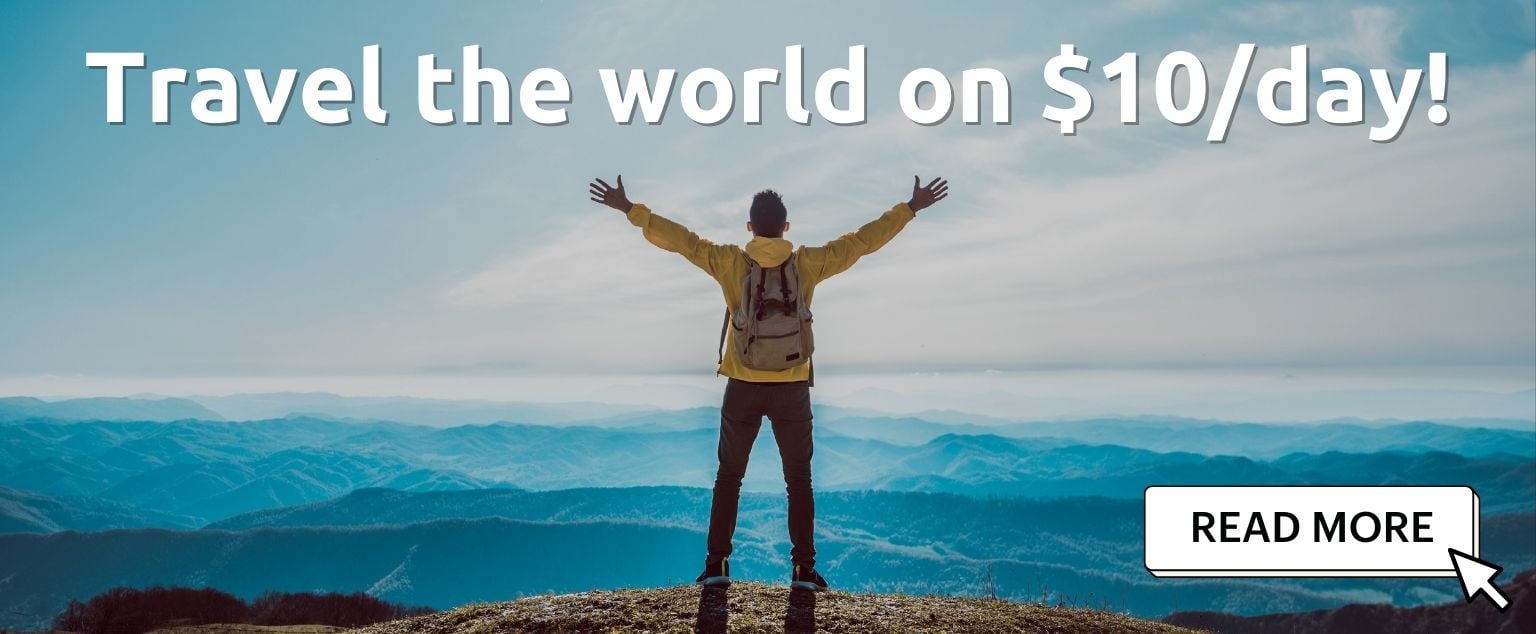 And for transparency's sake, please know that some of the links in our content are affiliate links. That means that if you book your accommodation, buy your gear, or sort your insurance through our link, we earn a small commission (at no extra cost to you). That said, we only link to the gear we trust and never recommend services we don't believe are up to scratch. Again, thank you!