Backpacking Israel is unlike any other backpacking experience you will ever have. It's rewarding, it's eye-opening, and, at times, it's even soul-crushing. For every sunset that adorns the eyes, there is another sight that equally boggles the mind and breaks the heart.
Like all the best relationships, travelling Israel is complicated. And you won't really be able to make sense of your experience until your months outside of it, sitting on some tiny remote island, detoxing the conflicts and reminiscing about eating hummus off her supple naked frame.
Am I still talking about Israel? Who knows.
This is a backpacking travel guide for Israel. It's got the deetz YOU NEED on how to do Israel on a budget (because, yes, Israel is hella expensive). It's also got the usual travel guide tidbits: where to stay in Israel and what to do.
However, it's also an honest travel guide. Here's the other truth of backpacking in Israel: if you're paying attention and not just being a run-of-the-mill tourist, this shit will hurt.
Before I visited Israel, other travellers warned me to guard my heart. It is an almost incomprehensibly complex country and – particularly for travellers unused to the rawness of travelling in the Middle-East – it can send you a bit loopy.
But that's just the nature of Israel. Like all good relationships, basic is boring.
And Israel is anything but basic.
Why Go Backpacking in Israel?
Because, ultimately, complications, conflicts, and craziness aside, Israel is mesmerisingly beautiful. The food is intoxicating, the landscapes are breathtaking, and the people are incredibly warm and hospitable in their own unique way.
And, really, there are so many things to do in Israel! Whether you want to party like a wildcat amongst Tel Aviv's clubs and bars, get all nerdy up in Israel's countless biblical sites, or simply hike the Martian-like terrain, Israel always provides. Plus, the other kicker – Israel is crazy small!
Distances between Israel's numerous regions and destinations are short and generally very well connected. The trains and buses (on the Israeli side of the border) are comfy and quick. Palestine, however, is another story, but we'll get to that.
No matter where you stay in Israel, you can still get around the country easily. And ultimately, the draw of Israel is that there IS a place for every kind of traveller.
Everything and anything a backpacker might be seeking is only ever around the next corner in Israel. Meanwhile, volunteering, hitchhiking, and the other less touristic ways to travel are easily accessible all over the country.
And, of course, for the backpackers in Israel who really like to push the envelope. Those that really like to learn and open their eyes to the reality of the world through their travels… Well, those people can visit Palestine.
Looking for a backpacking route through Israel?
Whether you have a few weeks or a few months, I have assembled several short travel itineraries for Israel to highlight the must-sees of the country. The backpacking routes can easily be combined too, given how small Israel is.
Backpacking Israel 10-Day Itinerary #1: The Northern Hills
Route: Tel Aviv > Netanya > Haifa > Acre > Nazareth
This is a short itinerary for touring the north of Israel. Book into a cool place to stay in Tel Aviv before jetting off for a much different vibe in the quieter cities of Netanya, Haifa, and Nazareth.
There are bonus points for making your way north into the Golan Heights region! It'll be a tight squeeze if you're doing Israel on a 10-day itinerary, but it's well worth the trip. It's a much lusher side of the country.
Highlights:
Partying until dawn in Tel Aviv.
Mediterranean sunsets from the west coast.
Visiting the Baha'i Gardens in Haifa.
Patting kitties amongst the ancient architecture of Nazareth's Old City.
Backpacking Israel 2-Week Itinerary #2: The Southern Desert
Route: Tel Aviv > Jerusalem > The Dead Sea (Metsoke Dragot) > Ein Gedi > Masada > Mitzpe Ramon > Eilat
This itinerary for Israel highlights the quintessential backpacking experience. Elements of Israel's archaic history mix with its stunning natural phenomena and, in true Israeli fashion, an abundance of tasty joints and tastier sunsets.
Romping around Tel Aviv to staying in Jerusalem is a massive cultural swing, but after that, it's all beautiful landscapes! Once you reach Eilat, I'd recommend using it as a base to explore the stunning surrounding area, as Eilat itself is… well… kinda trash, to be honest.
Highlights:
People-watching the Haredi Jews in Jerusalem.
Camping by the Dead Sea for dawn.
Sunsets and smoke over the Makhtesh Ramon (crater) at Mitzpe Ramon.
Visiting the Sinai region in Egypt from Eilat (if there's time).
Backpacking Israel 7-Day Itinerary #3: Backpacking Palestine
Route: Tel Aviv > Jerusalem > Ramallah > Nablus > Jericho > Bethlehem > Hebron
Some may suggest that a travel guide for Israel shouldn't include Palestine. However, if you're one of those people, then this travel guide is not for you!
The Israeli-Palestinian conflict is, for better or worse, an integral part of the experience of backpacking around Israel. Regardless of politics, travel is about the celebration of diversity.
We'll delve further into the topic later in the guide, but for now, let's talk about travelling Palestine AKA the Palestinian Territories AKA the West Bank. From Tel Aviv, head to Jerusalem as that's the best access point into the West Bank.
A visit to Ramallah is a good jumping-off point fo Palestine. A 7-day itinerary is squishy, but travel to Nablus and Jericho afterwards if you can – Nablus is one of the more chill Palestinian cities.
After that, fortify your heart because you're going to Bethlehem and Hebron. If ever there was a place where the impact of the conflict will flatten you, it's there.
Highlights:
A dip in the Turkish bathhouses in Nablus.
Enjoying Arabic coffee and desserts pretty much anywhere.
Surveying the wall of Bethlehem.
Having your head split apart (metaphorically) like a coconut in Hebron.
Now on to the must-sees and dos of the Holy Land! No matter what your reason for travelling to Israel is, there are simply some beautiful must-visit places that aren't to be missed!
Sunsets, shwarma, and shaloms: the backpacking Israel life.
Backpacking Tel Aviv
Unless you are border-hopping from a neighbouring country, your adventure in Israel will begin in Tel Aviv. Tel Aviv is Israel's second-largest city and very much the Yang to Jerusalem's Yin. Much like the Ultra-Orthodox Jews congregate in Jerusalem, so do the secular Israelis in Tel Aviv AKA 'The White City' (aka the Gay Capital of the Middle East).
Blessed by a stunning coastline and always-happening nightlife scene, Tel Aviv is a fun-loving and safe city that never seems to sleep (except maybe on Shabbat). Drugs and clubs, Tinder and Grindr, dyed hair and skinny jeans – that's the Tel Aviv you've heard so much about!
Truthfully, it wasn't much my vibe. There's an overarching level of pretence and materialism that accompanies the opulent espresso-soaked Tel Avivian lifestyle, and outside of the dodgier neighbourhoods, you won't find too many of my beloved feral-types. But between the pumping nightlife, hordes of wild-spirited Israelis, and its rather notorious reputation for being an international hub of hedonism, most travellers visiting Israel will have an absolute ball in Tel Aviv.
There is a truly endless list of cool things to do in Tel Aviv. You can easily spend a few days backpacking around Tel Aviv soaking up its highlights or just letting loose for a few nights.
The beaches around the city are admittedly gorgeous. Rent a bike (Lime rent-a-scooters are everywhere in Tel Aviv) and go catch an insane Mediterranean sunset with a cold brew and hot zoot. Jaffa Beach is gorgeous, however, the beaches north or south outside of the centre sprawl are much quieter.
Or to escape the parties, visit the Old City of Jaffa – the old area of Tel Aviv filled with historic architecture and marketplaces brimming with endless delights for the senses. It's probably the best place to visit in Tel Aviv (outside of the 6 shekel falafel place anyway; Falafel Razon – look it up!).
Ultimately, Tel Aviv is a massively popular destination in Israel and for good reason. Except arguably for Eilat, you won't find the Tel Avivian vibe anywhere else in Israel except for Tel Aviv and in no way is the city representative of the whole. It's safe to say that if you visited Israel and only stayed in Tel Aviv, then you didn't really travel Israel…
But you probably got high!
Backpacking Jerusalem
And now we're jumping to the complete opposite end of the spectrum! Hardly even an hour's drive from Tel Aviv, visiting Jerusalem is like ending that drive with a spectacular head-on collision. Jerusalem is a planet in of itself and a cultural shock to the system is a near-guarantee.
Possibly no city in the world stirs up emotion in the way that Jerusalem does. During its long history, Jerusalem has been destroyed at least twice, besieged 23 times, attacked 52 times, and captured (and recaptured) 44 times. You can't have that much blood spilled on your streets without leaving something more ephemeral behind.
Jerusalem is a striking and, often, bewildering juxtaposition of ancient and modern life; sometimes, it co-exists, while at other times, it clashes. Ancient neighbourhoods of limestone architecture meet Jerusalem's bustling city centre marked by slick eateries and even slicker public transport. From the American communities to the French quarters, Arabic hubs, and, of course, the Ultra-Orthodox neighbourhoods, Jerusalem is a trip in every sense of the word.
Despite its reputation as the 'Holy City', modern Jerusalem does cut loose with its own unique vibe of nightlife and multitude of activities to keep backpackers entertained. There's no shortage of social hostels in Jerusalem, craft breweries, and delectable street eats to accompany the history and old-world goodness.
The Mahane Yehuda Market, often referred to as "The Shuk", is the top place to go in Jerusalem for a feed. It's a twisting shantytown of vendors peddling spices, souvenirs, and all manner of delicious cuisines. When night falls, the markets truly come alive; Ultra-Orthodox trawl the crowds for loose change, buskers perform for theirs, and the whole energy surges with electricity.
Or if you prefer a more placid sundowner, climb the Mount of Olives over in East Jerusalem for absolutely killer views. When the sun sets and the streaks of orange and red light up the primeval stones of Jerusalem's cityscape, that's when the city truly feels hallowed.
Backpacking the Old City of Jerusalem
As if the sheer complexity of Jerusalem wasn't enough, then you have its inner sanctum. There is quite possibly no place on earth brimming with as much spiritual significance for so many religions as the Old City of Jerusalem.
I feel it can go one of two ways: some people will really vibe with the Old City's historic sites and attractions of deep cultural significance. History buffs and bible bashers will love it for the obvious reasons.
However, I personally (and other travellers I've spoken to) found it rather overwhelming. It's a bustling labyrinth of divisive cultural attitudes, literal hordes of tourists, and truly savage touts to rival anything that India can throw at you – a place full of religion and void of spirit.
Still, the Old City is a constant intertwinement of a breathing cultural landscape. It's a chance to see a truly unique place in both Israel AND the world as a whole. Stepping through the Damascus or Jaffa Gate already feels like a portal into another world.
A visit to the Western Wall – the holiest site in the Jewish faith where Jews are permitted to pray – is very intriguing. Expects throngs of crowds as both Jews on-pilgrimage and inquisitive tourists are permitted to approach the wall, however, be respectful if doing so. Dress modestly and respect the segregated gender areas.
The same rules apply for visiting the Temple Mount. The Temple Mount, or the Haram Esh-Sharif in Arabic, is widely considered the third-holiest site for Sunni Muslims across the world. Inside the Dome of the Rock (the big-ass gold-topped building) is the Foundation Stone where it is believed that God created the world and the first man, Adam.
The mythos of this area's significance for the Abrahamic religions is crazy interesting and shows just a sliver of the infinite complexity of Jerusalem. Ultimately, there are a lof beautiful things to see in Jerusalem.
However, there's a reason people lose their minds in Jerusalem: it's a sharp energy. Usually, I'm not all up in the energetic hippy tosh, but Jerusalem is an exception. Those who are sensitive to these things will feel it.
As my friend said to me after I'd spent a week-and-a-half exploring Jerusalem and having my brain contorted in all directions-
"I'm sorry – I should have warned you. Jerusalem is a very hard city to be in."
Backpacking Nazareth
Nazareth is the third place I visited in Israel. I delayed my visit until after travelling to Tel Aviv and Jerusalem as I was told by locals that "There's not much in Nazareth". I regretted that decision almost immediately after stepping off the bus.
Tel Aviv and Jerusalem were not relaxing in the slightest. The experience of backpacking around Tel Aviv was a pretentious and overcrowded city built on an unnecessarily luxurious lifestyle. Visiting Jerusalem was a cultural TKO on my poor brain still trying to decipher the intricacy of Israel.
Meanwhile, Nazareth is a quiet and pretty city where strangers nod and smile at each other in the street. And it's filled with cats! I was home.
Nazareth is a very famous place to go in Israel, however, it's more with the Jesus-y tourists. Probably, because it's where Jesus lived. You'll still find some backpackers in Nazareth, however, they tend to shoot through on a quick itinerary touring Israel's major destinations.
It's also colloquially referred to as the "Arab Capital of Israel" given it's the largest Arab city in Israel. Both Arab Muslims and Christians divide the demographics and there is a noticeable difference in the vibe of the people you meet. You can expect your handshakes to be much more drawn out.
But you don't have to be religious to appreciate all that Nazareth has to offer. Stay in the Old City of Nazareth – 100% no-questions-asked. The architecture is beautifully calming and the streets are so narrow that it's almost entirely limited to foot traffic.
There are some religious tourist attractions in Nazareth, but personally, I just enjoyed soaking up the tranquil vibes. Head to Abu Ashraf for what is quite possibly the best knaffeh (an Arabic dessert) in all of Israel. Take some photos, pat some street cats, and practice some Arabic – the slow traveller's life.
Once you feel like you've gotten your fill of Nazareth, take a day trip into the surrounding countryside for a mad hike. The hills around the city are pretty damn beautiful as well as as a potential stomping ground for the Messiah. Mount Tabor nearby is believed to be the location of the Transfiguration of Jesus; regardless, it's just a dope-ass looking mountain!
Oh, and avoid visiting Nazareth on Christian holidays (like Christmas or Easter). Unless you're there for the Jesus-y reasons, it's just not worth the crowds in the slightest.
Backpacking Haifa
We've had a Jewish city, an Arab city, and a ridiculously contested city. So how about a harmonious city? Yup – Israel has that too!
Israel's third-largest city, Haifa is built on the slopes of Mount Carmel and tapers down to meet the Mediterranean Sea. The views and sunsets from Haifa are always tantalising (as are your cheap eats from HaZkenim Falafel).
Interestingly, it also stands as Israel's most demographically mixed city. Israeli Jews, Arab Christians, Muslims, and even a smattering of Druze and those of the Bahá'í Faith all live here in relative harmony. There is some tension, but comparatively to everywhere else, Haifa is regarded as one of the most peaceful cities in Israel.
Haifa's most popular point of interest is the Bahá'í World Centre and the accompanying (and frankly exquisite) gardens. The combination of marble features and gold trimmings framing the finely-manicured garden all sloping down to the Mediterranean is a beautiful piece of sightseeing.
I'm also a fan of Haifa's beaches. They're much quieter than Tel Aviv's while being no less beautiful and fun for a stroll.
Or, for ma homeboy hikers, Mount Carmel National Park is easily accessed from Haifa. Israel's largest national park, Mount Carmel National Park extends over most of the Carmel mountain range and is chock-a-block full of sweet walking and bicycle trails!
If you are travelling to Haifa, don't make the mistake of skipping over Acre (Akko) either. Acre is a rad little town just a stone's throw north of Haifa.
It's also got a mixed population, some surprisingly intact Crusade-era architecture, and Acre's own Old City markets complete Arab pastries, coffee, and tobacco… i.e. breakfast! It's like a 30-minute train ride from Haifa and the result is some sweet historical throwbacks, inquisitve art galleries, and mean-ass street food!
Backpacking the Golan Heights
Much as Tel Aviv and Jerusalem play counter to each other, so too does Israel's northern and southern areas. Standing in contrast to the southern expanse of the Negev Desert, the Golan Heights is a verdant and hilly landscape abundant with greenery.
Occupied and annexed from Syria in the Six-Day War, the Golan is internationally recognised as illegally obtained territory by Israel (Trump notwithstanding). A number of Jewish settlements have taken root in the area, however, there are still people of Syrian descent living in the Golan too, particularly Syrian-Druze.
Irrespective of politics, the Golan is astounding. In spring, the wildflowers bloom into life and create lushly painted landscapes of radiant colour. And in winter, it can even snow!
Pack your hiking boots, because the Golan Heights is chock full of hiking opportunities! With weaving trails through the hilly pastures and tucked away waterfall oases, there are a lot of cool places to explore in the Golan (just watch out for landmines – legit). Nahal Jilabun is a particularly choice day hike.
For where to stay in the Golan, I'd recommend either Odem or Madjal Shams. Odem is a Jewish moshav settlement in the north of the Golan. It's crazy pretty and also has a habit of drawing in some of the more kooky backpackers exploring Israel (courtesy of the rather excellent hostel there).
Madjal Shams, however, is a Druze town sitting in the foothills of Mount Hermon. Despite being annexed more than 50 years ago, the people have maintained their cultural heritage, so the vibe is a bit different. It also gets bloody cold!
Oh, and there's a ski resort on Mount Hermon! How you feel about skiing on an occupied mountain in a ludicrously expensive country with rather mediocre snowfall is up to you, but at least the option's there!
Backpacking the Dead Sea
When I was a kid, I dreamt of visiting the Dead Sea – the sea so salty that gravity loses its meaning. It's one of the first adventures I embarked on at the start of my backpacking trip to Israel, and what a goddamn adventure it was! What's a lifelong dream for a boy from Oz is just a regular day at the beach for Israelis!
To be fair, my friend took me to Kalia Beach which is essentially a tourist beach on the northern end of the Dead Sea (and very close to Jerusalem). You pay get to get in – around $17 dollars (yeesh) – and you're rewarded with the full shebang.
A day at the Dead Sea means beach bars, souvenir shopping, Israelis flaunting their perfectly-sculpted bronzed beach bods, and even a spot of frisbee! (I hit a 7-foot obese Russian man in the face who then proceeded to threaten a violent end upon me in a language I didn't understand).
For the true Dead Sea experience, you'll want to seek elsewhere: it's a big region. There isn't much civilisation around owing to the barrenness of the area, so finding a place to camp is super possible!
I suggest packing some camping gear and going to a little nowhere spot on the map called Metsoke Dragot. We were told by the locals, "Go camp out there! That is where all the hippies are."
Wherever you do camp though, make sure to look out for sinkholes. And take plenty of water too – both drinking water and for rinsing off post-dip. By the way, that water will burn any open wounds like a mofo!
Camping is one of the best ways to visit the Dead Sea and sincerely indulge in its desolate reverence.
The emptiness of the surrounding desert and the solitude of the Jordanian mountains on the opposite bank result in a destination of quiet reflection (something I found almost impossible to do on Israel's well-trod tourist trail).
The dinky-ass photo-ops of you reading a book while floating in the water is cool and all, but the actual feeling of weightlessness as it stills the mind under the dawn light is what makes this such a truly unique place to visit in Israel (and Jordan but shhh).
Backpacking Ein Gedi
If all that salty water is getting to you, your cuts, or your suffering eyeballs, then perhaps a freshwater dip is in order! All over Israel, you'll find plenty of 'eins' (springs), but the nature reserve at Ein Gedi (near the Dead Sea) is one truly special place among them.
Unfortunately, Ein Gedi is also stupidly popular. Avoiding weekends (remembering that means Fridays and Saturdays in Israel) is a must. Even then, you're going to have to put it a bit more effort to escape the crowds.
Hike up the track towards Dodim Cave. After roughly an 1 hour of hiking, you're suddenly going to find the trail a lot quieter! Before long, you'll be surrounded by pristine waterfalls and vibrant pools of pure water calling for some overheated backpacker to jump in.
The entry fee for Ein Gedi Nature Reserve is about $8.50. Camping isn't allowed within the reserve, however, you could possibly pop a sneaky if you're quiet (and leave no trace). Either that or just book some nearby accommodation in the Ein Gedi kibbutz.
Backpacking Southern Israel and the Negev Desert
Mmm, Southern Israel, holy shit! Usually, I aim my travels to land me in the mountains or highlands, but Southern Israel is absolutely mindblowing. As I hitched my way through its Martian landscapes, I felt a tingling sense of contentment I hadn't felt since arriving in Israel.
Beginning at roughly Be'er Sheva – the administrative capital in the north of the region – to Eilat in the south – the Negev Desert accounts for roughly 55% of Israel's total land area. Craterous canyons and spiring structures of complex eroded earth define the terrain. But it's far from an empty landscape; within the arid facade lies a deeply complex ecosystem.
There are a lot of places to visit in Sothern Israel. Cities and towns are much further apart, but the landscape is peppered with some cool kibbutzim as well as numerous anicient artefacts:
Masada ($10 entry fee) – One of Israel's most popular historical tourist destinations, Masada is an archaeological site of towering proportions. Perched atop a mesa-like plateau, the ruins of Masada originally served as an ancient fortress.
The ruins themself are certainly impressive, however, the near-uninterrupted views of the desert landscape from the top is what really sticks with you. Make sure you hike up! There is a gondola, but the price of entry is hardly worth the ride.
Timna Park ($13.50 entry fee) – Crazy close to Eilat is this rather magnificent specimen of the Negev's landscape. Towering sandstone pillars dot the terrain which is weaved by numerous hiking trails.
Samar – A desert kibbutz north of Timna that, regrettably, I didn't go to. However, people all over Israel told me I should! Apparently, it's super traveller friendly, total alt-hippy-vibes, and you should go and correct my mistake.
It's also worth noting that there are lots of places to hike and camp in the desert of Southern Israel, from beginner day hiking up to some long-ass trails. Mileage varies, especially considering the military uses large regions of it for training excercises. But what is a guarantee is that the night sky will blow your goddamn mind wide open.
Backpacking Mitzpe Ramon
Mitzpe Ramon is the traveller hub and haven for backpackers exploring Southern Israel. Pure goddamn dirtbag vibes through-and-through! I rocked up in town on a hitch through and in less than an hour, I was hotboxing in some shoeless and dreaded Rainbow hippy's bomb-ass ride.
For a small town out in the middle of the desert, Mitzpe Ramon has a lot going for it. A groovy little arts scene, friendly locals, some cool places to eat, and, of course, the absolutely mesmerising landscape that surrounds it.
Mitzpe Ramon hovers on a ridge above the phenomenal Makhtesh Ramon – a gargantuan crater weighing in at 40 kilometres long, 2 kilometres wide, and a whopping 500 m deep! Watching the sunset from the cliffs overlooking the crater is the evening ritual in town, and it's nearly always accompanied by a succulent smokable too.
The vibe in Mitzpe Ramon is mega-chill. The people are super open and friendly and finding a crew to jam out with is a cinch.
It's not just hippy shenanigans either! There are countless hiking opportunities to be had in the hills (and crater) surrounding Mitzpe Ramon. Stock up on water and info before you leave and then go see what makes this area just so damn special.
And give yourself enough time to explore Mitzpe Ramon properly. It's one of those places; slow travellers might just find it… sticky.
Backpacking Eilat
Eilat can suck my farts through a straw. If you thought Tel Aviv was materialistic, overpriced, and kinda dumb, Eilat will just make you cranky. It's been months since I visited Eilat and I'm still cranky!
It's not a big city, but it feels big. Israel's own resort-y Las Vegas perched on the banks of the Red Sea. Truly, Moses is spinning in his grave… probably to some trashy EDM blasting over the water until the early hours of the morning. >:(
The worse part is that it wasn't even always that way: it's my hometown all over again. What started as a beautiful beachside locale famed for its alternative community and dirtbags sleeping on the shores is now Israel's premier holiday destination complete with an overdeveloped hotel industry and too many twelvie-Israelis staunching the place with an excess of makeup and cologne.
Ok, rant over: what's good about Eilat?
There's some bangin' scuba diving in Eilat. It's not best diving you'll find in the Red Sea, but it is the best diving you'll find in Israel.
There are still good and grungy folk who sleep out in Eilat. You have to head south outside of the town a few kilometres (on the road towards Taba), but eventually, you'll start seeing the pitched tents.
The Red Sea is downright-shitting-magnificent. Even Eilat can't ruin that.
Otherwise, what is there to do in Eilat? I don't care – leave Eilat. It's not backpacker-friendly, and as you may have guessed, the accomodation in Eilat is hella expensive too. Eilat better serves just as a base for exploring the south topped off with a swim.
And no, you're not allowed to sleep on the beach to wake up for dawn over the Red Sea. But I did it anyway.
Fuck you, Eilat.
Backpacking Palestine (The West Bank)
There are some Israelis that refer to the West Bank area as Palestine and there are those that disagree or are even perplexed by the denomination. However, I'm writing this Israel travel guide and I call it Palestine, so poops to you!
I do so because it is. Once you step over the border between Israel and Palestine, the whole game changes. The language changes, the culture changes, the attitudes change, and even the experience of backpacking changes. Backpacking Israel is akin to travel in a highly-developed and, often, Americanised country: backpacking Palestine is pure South Asia rules through-and-through (albeit with Arabic spices).
There'll be time to unpack the conflict later (whoopee), however, here is simply to talk about the travel experience:
Palestine is safe – Whatever you've been told, wipe the slate clean and walk in without those biases. While you have to follow the rules of backpacking in a developing nation, Palestine is safe for tourists. Just be smart.
You will talk about the conflict – Israelis love to talk about it, but Palestinians yearn to talk about it. It's hard for the persecuted to find a voice, so when someone is willing to listen, they are always willing to talk.
It will hurt – Unless you lean very deeply into conservative politics, or are legally blind, that's unavoidable.
You will be the centre of attention – Again, think India rules. Not many tourists visit Palestine, particularly independently. For men, this is a genuine curiosity and excitement. It's the same for women but, well, India meets Arabic customs… Be extra smart, ladies.
You are allowed to travel there – If anyone says otherwise, politely tell 'em to suck eggs.
Otherwise, prepare for a whole new travel experience! Conflict aside, that's the beauty of backpacking Israel: you're really getting two countries for the price of one!
Put your haggling hat on and prepare your tastebuds for some bombastic delights because we're going in! And the added bonus of travelling Palestine…
Everything gets cheaper.
Places to Visit in Palestine
Environmentally, Palestine isn't hugely different to the Israeli side: magnificent stretches of desert landscape dotted by surprising bursts of greenery. There are chaotic larger cities, a multitude of dusty villages, and areas where illegal Jewish settlements (illegal as deemed by international law) have cropped up.
These kibbutzim tend to have much higher living standards and are considerably lusher. The Israeli government heavily restricts water allowances to Palestinians while giving these settlements ample amounts of water. So on that note, please be very water-conscious when travelling Palestine – it really matters.
Due to the occupation and crackdown by Israeli forces, tourist accommodations and services tend to be sparser in Palestine. They are there though. Personally, I'd recommend finding accommodation in the West Bank through Airbnb; finding homestays and other family-run accommodation is going to give you the most authentic experience and insight.
While I wasn't enamoured by the tourist attractions in Palestine, the experience of travelling off the beaten track and interacting the Palestinian culture and way of life is what drew me there. Still, there are a few standards destinations in the West Bank too.
Backpacking Bethlehem
Bethlehem is the first place in Israel and Palestine where the gravitas of the conflict really settled on my shoulders. This is due to the occupation wall.
The Israeli West Bank barrier is the separating factor that runs the length of the Israeli-Palestinian border. It serves to annex the West Bank, however, in Bethlehem, it also annexes Rachel's Tomb – a key site of cultural significance to the Abrahamic religions.
The wall towers overhead and looms as a symbol of oppression. It alone boggles the senses, but once you start paying close attention to the jaw-dropping street art and stories plastered across the length of the wall, it takes on a whole new meaning.
The photo-ops at the wall are certainly abundant. So too are there plenty of hallmark religious sites in Bethlehem, particularly the Church of the Nativity (housing the alleged birthplace of Jesus).
Still, put all that aside and take a moment to really pay attention to Bethlehem. Look beyond the tourists snapping basic-beach shots for Instagram at the wall and listen what to what is being said. You'll probably need a stiff drink and stiffer spliff afterwards.
Backpacking Hebron
Last up in our tour of Palestine, we're talking about Hebron. It's coming last because… well… you'll see why.
It's hard to not talk about the conflict and chaos when discussing Hebron because ultimately, that's the main reason for visiting Hebron. The only real tourist attraction in Hebron is The Tomb of the Patriarchs – the alleged burial site of Abraham, his son, his grandson, and their respective wives. The mosque side of the tomb is very pretty, but that's not why most backpackers in Israel travel to Hebron.
Hebron is not a light place to go to in Israel and Palestine. It's a place to go to experience Palestine and the conflict in its full weight, even more so than Bethlehem or Ramallah. I haven't met a soul yet for whom that wasn't a heavy weight.
Hebron is, arguably, the most contested city in the Israeli-Palestinian conflict and it shows. One side of the city is open to Israelis (H2), but it's still not a place many would visit. The cordoned-off section H1 – roughly 80% of the city – is the area controlled by the Palestinian Authority and it's here that the true gravity of the conflict is felt.
A step from H2 to H1 through the Israeli military checkpoints and assault rifles is a step from the First World to the Third in a blink. Everything feels so far removed from Tel Aviv and Jerusalem. Trash litters the nets above the souk, dilapidated buildings crumble over into the street, and when it rains here, the sewage overflows and the stench is palpable. The air of oppression lays thick and dense.
So why go to Hebron? To see it for yourself.
Bethlehem is where the cracks in my psyche started to show, but Hebron broke me, and I mean that. All this time later, it still disturbs me on a regular basis. And I'm so damn grateful I went. If I hadn't, I couldn't really say that I travelled Israel.
While you're backpacking around Israel, people are going to want to talk about this stuff – Israelis, Palestinians, and everyone else. I've had good conversations both hitchhiking out of Tel Aviv and sharing coffee and cigarettes with the locals in Hebron.
Israeli or Palestinian, there are good people everywhere. Israel is safe for tourists and so is Palestine. The people inside Hebron are welcoming, warm, and simply excited to talk. If you're willing, it's important to see this stuff; it's important to find your own truth.
Getting Off the Beaten Path in Israel
Because Israel is such a small country with an economy so hinged on tourism, it often feels crowded. But with a little motivation, you can be out experiencing parts of Israel with little to no other backpackers easy-peasy!
Many parts of the Negev Desert and the Golan Heights are sparsely inhabited. Furthermore, in that typical Asian manner (and possibly because of the nature of kibbutzim and moshavim), you can wander most directions in Israel without worrying too much about being slapped as a trespasser. Just be respectful, don't go traipsing through crops, and if anyone does have a go at you, just play the stupid tourist card.
If it's not so much the feeling of the cities you're looking to escape but rather Israel's tourist trail overall, volunteering at a kibbutz or moshav is definitely the way to. It's a slower life, but it's also a cheaper life! (Actually, it's an excellent antidote to the high cost of travel in Israel.) Volunteering is a fantastic way to travel and is certainly going to provide you with a very new cultural perspective too.
And if you really want to step off the beaten path in Israel, visiting Palestine is your best bet. It's a very jarring contrast to backpacking around Israel, however, you'll also find that the locals won't carry the same jaded disposition for tourists found in Israel's overdone tourist spots. It feels much closer to an adventure in a lesser-explored country than just a trip of bussing it between the itinerary stop-offs.
There are a lot of things for backpackers to do in Israel; a lot about this country draws travellers in.
Now, while this is far from a complete list of what to do in Israel, I've put some of my personal faves down below. A few may surprise you – sometimes, it's the little oddities that help us connect with a country the most.
1. Lehitkelev – Dirtbag the Holy Land
Lehitkelev – to "dog it". It's a phrase in Hebrew that means to rough it… to live as a dog… to budget travel. To dirtbag.
Travelling without spending much money and employing all the tricks of that trade is what truly led me to connect with Israel and its people. The tourist trail in Israel burnt me out hard, but as soon as I was out on the road travelling again as I know best, I fell in love with the country.
This is my personal number one thing to do in Israel. Hitch the Holy Land, sleep rough, eat what you find, and volunteer kindly. Truly, the Israeli people are good to the lowly dirtbag.
2. Hiking in Israel: A Wandering Pilgrimage
From kick-ass beginner day hikes to the monumental Israel National Trail (INT) – a 1015 kilometre trek taking you from right across the country – Israel is a land simply built for wandering pilgrimages. Make sure you know what supplies to take hiking because you'll often be waltzing into the desert extremities, but with water, sunscreen, and a big floppy hat, you'll be fine!
The Golan Trail (125 kilometres) is a much shorter multi-day hike for anyone not keen to just walk across the entire country. Day hikes are pretty much anywhere you go in Israel, but you can also just hike the INT in sections!
3. A Grand Hummus Tour of Israel!
Look, every Israeli in every corner of the country is going to want to show you their hummus. They'll insist that their hummus haunt is "sooo super super amazing – the best hummus in Israel". And the only way to be sure is to try every single damn one of them!
Truthfully, you'd have a hard time finding hummus in Israel that isn't mindblowing; even the supermarket goods will knock your block off! But Abu Adham in Tel Aviv was the one that had me coming back daily… probably because they give you free hummus refills. (Yes, plural.)
4. Actual Tours of Israel
Snacking your way across the Levant is one thing, but how about an actual tour? I did a whole stint reviewing some of the best tours in Israel and while some of the things I learned hurt more than stepping on LEGO, I'm grateful for the things I now know.
Given the overwhelming depth of the culture and history, touring Israel on a guided excursion – at least in part – might be one of the best activities for tourists looking for a crash course.
5. Observe the Ultra-Orthodox
Speak of the devil, I know the perfect guided tour for learning more about the cultural king-hit that is Ultra-Orthodox Judaism! The Haredi Jews (or Ultra-Orthodox) are the members of Jewish sects that adhere most strictly to halakha (Jewish law). As with any form of extreme and esoteric religion, the culture is fairly impenetrable (hence why booking a tour is smart).
Despite only amounting to roughly 10% of the total population of Israel, the Ultra-Orthodox Jews are also one of the greatest sources for political discontent and civil unrest within the country and have defined how the country is structured.
It's a helluva rabbit hole and one supremely interesting for anybody curious about the topic, but I can't possibly unpack that Pandora's Box here. I'm not a tour guy in the slightest, but this is one I wholeheartedly recommend.
6. Par-tay!
So, the Ultra-Orthodox Jews may live rather sheltered lives, but the secular Israelis do not. Drugs, sex, boogies, bouncin' booties, and more shaloms than you can shake a stick at!
Whether it's the indulgent nightlife of Tel Aviv where your shekels pave the way to an easy lay or the opportunity to throw down in the desert heat with Israel's finest doofrats to some pumping bass, go hard.
7. Indulge in Some Matkot
The Italians get football, the Poms get cricket, the Ozzies also get cricket (except we're better at it), and the Israelis get matkot. What's matkot? It's basically beach tennis if tennis had no court, no rules, no win-state, and no real point whatsoever!
Head down to any beautiful beach in Israel and you'll be treated to the benevolent sound of scores of Israelis playing with their balls. The only things you need to play matkot are two paddles, a ball, and, seemingly, extremely tight and revealing swimwear.
8. Explore Neve Sha'anan
The Upside Down of Tel Aviv and, coincidentally, my favourite neighbourhood to explore. Regarded as the 'Underbelly of Tel Aviv' (though it's hardly dangerous), it's a bustling hive of activity and a den of debauchery for the homeless, harlots, and haggard of Tel Aviv's proletariat.
Given the huge number of African refugees and cheap Asian labourers basing themselves in Neve Sha'anan, this neighbourhood is hugely diverse presenting some of the finest cuisines in Tel Aviv at some of its best prices. Sudanese food rocks my world!
If you'd like to explore Neve Sha'anan but aren't so comfortable amongst wandering the streets solo, I know a kick-ass tour just for that too!
9. Get Your Ass Kicked in Shesh Besh
Have you ever actually watched a couple of Israelis go toe-to-toe in shesh besh (backgammon) in a hostel? Who knew backgammon could be such a bloodthirsty sport!
Literally, every single backpacker hostel in Israel you stay at will have at least one board. Go to a cafe in an Arab town and you'll see the old men smoking cigs and squaring off. Chances are, you'll start off getting your ass creamed, but practice enough and you'll be blitzing the board in no time.
10. Respect Shabbat
Shabbat is the Jewish day of rest and something to keep in mind when travelling around Israel. From dusk on Fridays to dusk on Saturdays, things shut down – shops, public transport, and even the hummus joints. It's kind of a pain in the ass, however, then the concept clicks.
The desolate streets of the cities are eerily beautiful in their ghostly silence. Seeing people opt to put their work and phones down for one day a week, gather with their loved ones, and feast and jam around the fire as the night grows long is something the whole world could use more of right now.
Maybe your Shabbat isn't Saturday; mine are sleepy stoner Sundays. Either way, the point is the same. Shut off the screens for a day and forget the noise of the world for just a little bit. Respect Shabbat.
You're not short of quality backpacker hostels in Israel. The prices vary across the board, but in general, they're not cheap. $20 US seems to be the running average across the country, however, I've seen them stretch from a cool $15 a night to an excruciating 'I just peed a little' $40 a night.
To be fair, the standards are high. Israel's hostels tend to be super clean, plenty comfortable, and decked with all the modern trimmings. It's just a matter of staying in areas around Israel where the prices are cheaper.
Airbnb and the alternative sites like it – rather surprisingly – is also a useful backpacker tool in Israel. Finding a private room in somebody's apartment for about the same price as a hostel dorm is not particularly difficult. Splash a bit extra, and you can often find a seriously sweet pad!
But if you're looking to go cheaper than the hostels, you'll have to go the volunteering route. A lot of hostels take on volunteers in exchange for board, and, of course, you have Israel's famous kibbutz and moshav scene. There are still options for travellers who don't want to blow out their daily budget in Israel on accommodation.
Booking in advance isn't always necessary, however, the popular (and cheaper) hostels do book up fast. Plan ahead – particularly if you're visiting Israel in the peak season. And as a backup option, pack a solid travel tent.
Then you can sleep anywhere!
The Best Places to Stay in Israel
Hot diggity damn, Israel is fucking expensive! I've already mentioned it numerous times, but I really can't reiterate it enough. If you're backpacking Israel on a shoestring budget, you do really have to dog it.
Food costs are manageable provided you like hummus and tahini. If you don't, probably just go to a different country instead (or region of the world). On a vego diet, eating for less than 15$ (or even $10) a day is certainly possible.
Similarly, the transport costs in Israel are surprisingly manageable. The buses and trains actually aren't criminally expensive (though perhaps kinda overpriced relative to the distance). Intercity transport by bus or train is usually less than $10 except in the occasional exceptional circumstance (eg. travelling to Eilat).
It's everything else in Israel that eats up your travel budget. Activities, attractions, and tours are expensive – souvenir shopping is pissing money into the wind, and accommodation is… groan.
You'd be hard-pressed to find accommodation in Israel – hostel or otherwise – for less than $15 a night. I found the average to be closer to around $20-$25 a night. Camping and finding hosts with Couchsurfing are near-necessities in Israel for long-term budget backpackers as paying nightly fees is just not sustainable.
I would say, however, that it is entirely realistic to travel Israel for as little as $30-$40 a day. People that prefer a more comfortable style of travel (complete with untethered nights on the town) are looking more at a $50-$70 level, but those savvy with their cash will spend less.
Meanwhile, those more equipped in the art of budget backpacking and the finest forms of dirtbaggery could swing $10-15 a day, but you're going to have to crunch hard. Camping, volunteering, hitchhiking, and perhaps even a touch of dumpster diving are all essential to travelling Israel on a budget.
Fortunately, Israelis are very kind to celebrators of the dog's life.
A Daily Budget in Israel
Money in Israel
Real talk – I love the currency in Israel! I'm well used to colourful money, but the notes even feel nice in your hand and there's just a little bit of mystique to the coins. Plus, they're called shekels; that's just a fun word to say!
Israel's currency is the New Israeli Shekel (ILS). As of writing this (Janurary 2020), 1 ILS = 0.31 USD. For the simplest math, I just regard it as 1 ILS equals 30c or 10 ILS (a much more common denomination) is $3.
ATM machines are widely available pretty much everywhere (though are rarer and a tad sketchier in Palestine). Major credit cards are widely accepted too, however, always carrying a bit of cash on you is best as Israel is a tipping culture (again, groan). Oh, and buskers and beggars are somewhat common to so having some loose sheks in your money belt never goes astray!
Travel Tips – Israel on a Budget
Some of the best ways to travel Israel cheap are also some of the best ways to travel it period! Some of the best conversations I've had on the road occurred while rummaging through trashcans like a wayward raccoon:
Camp: Sleeping out is easy in Israel, particularly in rural areas; people are chill about it.
You'll just need to make sure that you're carrying the right backpacking gear and necessities fit for the purpose of sleeping outdoors!
Couchsurf: Israelis will most definitely put you up and chances and – in typical Israeli fashion – they'll want to show you the world. Couchsurfing is an excellent way to make a local friend quick. I didn't actually try it on the Palestinian side, however, I heard the story is much the same.
Volunteering: I'll expand in the volunteering section later on, however, it suffices to say that volunteering is a classic method to save on travel costs in Israel!
Hitchhike: Where appropriate, hitchhiking is a great way to save money on transportation costs. Where is hitchhiking appropriate in Israel? Everywhere! (We'll get to the elephant in the room soon.)
Pick fruit from the trees: The kibbutzim, moshavim, and even just random locales have abundant fruit trees growing. Is it ok to pick them? I dunno, but the kibbutzim were built on socialist ideals… I'm sure no one will miss a couple of oranges.
Dumpster Dive: Look, I know it's not everyone's style, but I can tell you dumpster diving works in Israel. I replaced nearly my entire wardrobe in Tel Aviv and I found more bread in the streets of Jerusalem than I did Jews.
Why Should You Travel to Israel with a Water Bottle?
Plastic washes up on even the most pristine beaches… so do your part and keep the Big Blue beautiful!
You aren't going to save the world overnight, but you might as well be part of the solution and not the problem. When you travel to some of the world's most remote places, you come to realise the full extent of the plastic problem. And I hope you become more inspired to continue being a responsible traveller.
Tl;dr – STOP USING SINGLE-USE PLASTIC! If you'd like some more tips on how to save the world.
Plus, now you won't be buying overpriced bottles of water from the supermarkets either! Travel with a filtered water bottle instead and never waste a cent nor a turtle's life again.
Since Israel is blessed with a Mediterranean climate, the country enjoys fantastic beach weather throughout the year. Mostly…
Winter (December-February): You'd think winters in Israel wouldn't get cold (or rainy) because of that whole desert thing, but somehow, it gets both. The far north in the Golan will snow, I had torrential rain close to the Sea of Galilee over Christmas and New Year's, and the winter winds in Jerusalem can suck my uncircumcised penis.
Summer (June-August): On the other hand, summers in Israel are EXACTLY what you would expect (given that whole desert thing). They're hot as balls.
The average summer temperature in Israel hovers between 27°C and 32°C (80-90 Fahrenheit) which is kinda basic to an Australian, but spikes and heatwaves are also common. The highest temperature ever recorded was 54°C (130 Fahrenheit), at Tirat Tzvi!
Peak tourist season is in the summertime, and it's also the kind of peak season you don't want a bar of. Israels's economy is very much built on tourism and it's not just the cool backpacker-types either. The beaches are slammed, accommodation is packed-out, prices go up, and the combination of heats and tourists can make the locals a bit cranky(er).
I would strongly recommend visiting Israel in the shoulder seasons instead – autumn or spring. Winter too, if you don't mind the weather, has a certain charm to it.
Festivals In Israel
Sweet Mama Bojama, Israelis party hard! I mean, hell, Palestinians party hard too. Maybe all that unbridled insanity leaves you with some pretty serious emotions to boogie out!
Every year in Israel, there are a ton of different festivals – both religious and renegade – happening throughout the country. I'm not even going to list the religious shindigs because that's just a list of holidays from the three major Abrahamic religions. Instead, let's talk about the fun festivals in Israel!
The ones where you get to stick something tasty under your tongue. 😉
DOOF Festival (April): Doofs – i.e. psytrance festivals – are crazy popular in Israel. Sadly, that also means they're kinda mainstream and you're not always looking at the most authentic crowd. On the other hand, the music and drugs are on-point!
DOOF is one of Israel's largest trance music labels, and they're yearly non-stop 72-hour music festival gets wild. Bring a budget tent and get ready to party with some of the weirdest and most wonderful humans from all over Israel!
Menashe Forest Festival (May): Not a psy fan? Then instead, Menashe Forest Festival – a wicked 3-day festival in north-central Israel – brings live performances from a huge array of Israeli bands from across all kinds of genres.
Midburn (May-June): Burners rejoice – Israel has a burn too! Midburn is basically Burning Man but with more hummus and shaloms. Prepare yourself for 6 days of untethered madness taking place in the extraterrestrial sands of the Negev Desert.
Zorba The Buddha Festival (May and October): Israel's resident hippy festival, the Zorba Festival happens twice a year at the Desert Ashram in the Negev – once in spring and once during the Jewish holiday of Sukkot. It's five days of spirituality, dance, meditation, and music, or in other words… hippy shit!
Oh, and one last tip for getting down for the least amount of money: usually if you volunteer at a festival, you can score a free ticket!
What to Pack for Israel
Whether it's for a short trip or a 3-month stint on a kibbutz, know what to pack for a backpacking trip in Israel! On every adventure, there are five things you should never go travelling without:
Ohhhhh noooo, now we're getting into thin ice territory. This is about the only section of this travel guide where you'll see me properly unpack the Israeli-Palestinian conflict, so strap in, grab some hummus, and let's do this!
First, to the crux of the issue: Israel is a safe country to travel. Tourists rarely, if ever, find themselves coming to any harm.
Violent crime is low and extremely uncommon. Security measures and police/military presence is everywhere. Most conflict is of the ethnic/religious variety and as a foreigner, you get to thankfully stay out of it.
But I have to be honest: there is constant tension and volatility. Whatever your political leanings might be, the looming threat of violence is always real.
A week before I arrived in Israel, Tel Aviv was hit by missiles. A day before I visited a friend in Sderot (a student town very close to the Gaza border), there were missiles. The buses running from Jerusalem to Hebron (an occupied city in the West Bank) are heavier than the regular buses… because they're bulletproof.
Sometimes, I meet other travellers who ask me in hushed whispers if I "experienced the conflict in Israel" to which I answer: how the fuck could I not? It's unavoidable; it slaps you in the face the moment you exit the airport terminal.
Israel is obsessed with national security to an almost fetishistic level. It has the Iron Dome – Israel's missile defence system with an alleged 85%-90% rate of effectiveness at countering missile fire. Everywhere you travel in Israel, you meet soldiers – 18 to 21-year-old boys and girls donned in battle gear who were (essentially) conscripted. It's a good day in Israel if you don't see an assault rifle, and those days are rare.
However, the truth is that it has to be that way. Clashes between Israeli soldiers and Palestinian rebels – and civilians – do happen, sometimes on a weekly basis. And while very few rational individuals can argue that the Palestinian people don't cop it much, much, much worse.
The reality is that if those national security measures weren't there and the walls came down, the country would erupt into full-scale war overnight. It would be a bloodbath for both sides.
It's not fair, it sucks, and it shouldn't be that way. Countless young Palestinian AND Israeli people – hell, teenagers – are fighting and dying in a war for the sins of their fathers, and that's the reality of daily life for the people of Palestine and Israel.
But for a traveller backpacking Israel?
Yeah, they'll be totally safe. Stick to the standard rules of safe travel, use your commonsense, and listen to your gut – you'll be fine.
However, I say this: safety is not just about your physical wellbeing. I'm writing this travel guide for Israel particularly because I want people to understand the reality of the situation and guard their heart and their mental wellbeing accordingly.
I came into Israel a stupid and arrogant (but still kind-hearted) Australian almost entirely oblivious to the geopolitics of the Middle East; back in 2018, I regularly confused Palestine for Pakistan (while backpacking in India).
After one month of backpacking in Israel reviewing "dual-narrative" tours, visiting places like Hebron and Bethlehem, and experiencing something completely different to anywhere I'd travelled before (or my blissful little bubble at the bottom of the planet), I was on the cusp of a full-blown mental breakdown. It was affecting my work, my relationships, and my sanity. It's only thanks to one very beautiful Israeli friend that – after hearing me on the phone – demanded I immediately come and stay with her, that I was able to bounce back… slowly.
I'm not trying to say "don't go to Israel". On the contrary, go to Israel.
Some tourists don't even seem to notice what's happening around them. I envy them. Guaranteed, they have a damn good time.
And for everyone else? Regardless of how many positions your brain gets taken in, you will learn. You will grow and you will come away with a whole new level of understanding of the human condition that simply wasn't there before. That's the whole point of travel: growth through hardship.
I'm ending this rather long and heartfelt section with a quote because I want it to make it into the guide and nowhere else will it be relevant. It's something (slightly paraphrased for the sake of broken English) that a soldier told me when he picked me up while I was hitchhiking on the Green Line – the border between Israel and the Palestinian West Bank. He was a kid – 19-years-old – and he said to me:
When the ride was finished and he'd dropped me off on the side of the road, I cried.
Sex, Drugs, and Rock 'n' Roll in Israel
Ok, back to our regular scheduled programming: drugs, sex, and backpacker things! Woo!
Finding drugs on the road in Israel is doable. If you are looking for a cheeky smoke whilst backpacking Israel, it shouldn't be too difficult to find. EVERYBODY smokes in Israel. As that beautiful friend said to me over a long-into-the-night discussion on the conflict and, later, the stoner culture in Israel…
"Of course, it hurts. Why do you think everybody smokes?"
Hash and weed are everywhere, good quality, and ridiculously easy to find. If you're really struggling, you can just download Telegram; search "weed" and the name of the city you're in, and boom, Yahweh! Delivery just like a pizza!
Hash and weed is expensive, so expect to pay top shekel if you want to get ripped. From a purpley-hazy memory, I think we paid around $110 for 10 grams, however, that was in Tel Aviv. It's cheaper everywhere else in the country.
(Psst – pro-tip: you can buy the scraps and dust of the bud super cheap, however, it's sadly not the dankest of the danks. It does the job though!)
Harder drugs are much the same story; accessible, expensive, and a lot of fun. I've heard differing accounts of the penalties for people caught with drugs, but it is the worst-kept secret of the Holy Land – just don't get caught! And be safe with your consumption too.
And yeah, like any good lurvin in any self-respecting backpacking destination, sex is hella common too! Secular Israelis bone and Tinder just as much as any Western country. I'd be more concerned if you couldn't get a lay in Tel Aviv playing the exotic foreigner card (unless you're American – that card doesn't really work in Israel).
Oh, and one last tip: ciggies and tobacco are stupidly expensive… on the Israeli side. Smokers will want to hightail it to Palestine or even just the markets in an Arab town and stock up there.
Travel Insurance for Israel
I mean, as safe as Israel is, you'd have to be pretty daft to head anywhere in West Asia without some sort of coverage. I'm pretty sure there were around 200 missiles flung their direction in the two months I backpacked Israel alone.
Travelling without insurance is risky; please, consider getting good travel insurance sorted before you head off on an adventure. Your mum shouldn't have to pick up your medical tab.
Several members of The Broke Backpacker team have been using World Nomads for a long-ass time and made several claims over the years. They're one of the first crews that started taking care of us itinerary-less vagrants and they still are all these years later.
ALWAYS sort out your backpacker insurance before your trip. There's plenty to choose from in that department, but a good place to start is Safety Wing.
They offer month-to-month payments, no lock-in contracts, and require absolutely no itineraries: that's the exact kind of insurance long-term travellers and digital nomads need.
SafetyWing is cheap, easy, and admin-free: just sign up lickety-split so you can get back to it!
Click the button below to learn more about SafetyWing's setup or read our insider review for the full tasty scoop.
For anyone flying into Israel, you will land at Ben Gurion International Airport in Tel Aviv. Alternatively, Israel borders several countries, however, you'll only be able to access Israel by travelling from Jordan or Egypt. Lebanon and Syria are level-10 no-nos.
If you have stamps from any Arabic or even Muslim countries (eg. Malaysia or Indonesia) in your passport, be prepared to answer questions. And prepare your patience too as Israeli officials – security officers in particular – aren't exactly renowned for their kindly demeanour.
Take a breath, be polite, and don't be too jarred by their resting bitch face either. That's just how entering Israel works.
Entry Requirements for Israel
Currently, passport holders from a fat chunk of countries can enter Israel without having to obtain a visa in advance. Everyone else will have to apply for a visa – specifically, a B/2 Visitor's Visa.
Visas or visa waivers are generally for 3 months, however, the security officers do have the power to reduce (or entirely rescind) the travel allowances on entry. I rocked up looking like a hippy, got asked a couple of questions, and in I went no problems! BUT my passport name is extremely Jewish.
Also, Israeli customs officials no longer stamp your passport due to the complications that having an Israeli stamp can create in many other parts of the world. Now, they print a little piece of paper with your details on it. For the love of Elohim, DO NOT LOSE IT! This is your proof you were legally permitted into the country.
There's one last thing that also needs mention no matter how contentious it may be. It's a sad yet evidentially-supported truth of Israel, that racial and ethnic profiling is applied, particularly at the borders. It isn't just Arabic people either.
I met a German woman with an Islamic last name who was detained for several hours, and, similarly, an English woman of Pakistani descent with an English name (and accent) who was also detained. I also met a Chilean man who was heavily interrogated over his funds for travelling in Israel and was ultimately allowed to only be in the country for two weeks.
Israel really has an excellent public transportation network. Frequent buses and trains connect most cities and towns and even link to some destinations in Palestine. The cost of public transport in Israel isn't cheap, however, it's also not nearly as expensive as I expected considering the cost of everything else.
Travelling Israel by Bus and Train
Is mega-easy! Google Maps probably has your back or download the app Moovit (as I did) for an incredibly easy time getting around Israel. It's actually an Israeli app so it won't lead you astray, and there's even an online web-based app too!
You'll also need a Rav Kav card – Israel's tap-on-tap-off cashless transit card. You can still catch the train without one, but for buses, you need a Rav Kav card.
There's a minimum top-up as well as a 5 shekel fee for purchasing the card, but on the plus side, the credit lasts ages. Hold onto your card for your second trip to Israel! You can top-up at train stations, major bus terminals, and select shops.
Outside of that, it's really simple: first-world fineries on timely transport. The trains and buses in Israel are slick and I never experienced crowded carriages (although I'm sure rush hour is a pain).
But something VERY important thing to keep in mind whilst backpacking Israel is the lack of public transit on Shabbat. Except for some lines in Haifa, there is NO public transportation operating on Shabbat, even to and from the airport. On these days, your choices include hitchhiking, expensive taxis, or you can find a camel.
Oh, and don't be alarmed by the general feeling of sharp urgency amongst passengers when catching public transport in Israel. As an Israeli man told me…
"You have to catch the train like an Israeli. Push and shove as much as you want, but do it with a smile!"
How to Get Around Palestine
Getting around the West Bank isn't much more difficult; it just operates on different rules. As I always say to people visiting Palestine, once you step over the border, put your backpacking India cap on.
There are buses running from Jerusalem to a few major destinations in the West Bank including Bethlehem, Hebron, and Ramallah, among others. They're cheap and slow, but the roads in Palestine are thankfully in good nick (comparative to India anyhow). They do usually wait for the bus to fill up though, so you may want to stick to the faster form of public transport – shared taxis!
Shared taxis, service taxis, or just servees (make sure to really Arab-ify the pronunciation) are faster than the buses and still pretty damn cheap!
They generally congregate at a shared station in the centre of town and run on fixed prices. Some are nicer looking yellow mini-vans and some are just crappier vehicles with black stripes on them, but if it's packed to the rafters like a clown car, it's probably a shared taxi!
You can also flag them down from the side of the road hitchhiker-style. Jump in, pay the man, let everyone else sort out your change. It's a much more chaotic way to travel than in Israel – particularly when six Palestinians start frothing when a whitey jumps onboard – but in many ways, it's more fun too!
Hitchhiking in Israel
Hitchhiking in Israel is definitely an option for those who want to save a few bucks on their travel costs. Hell, it's the BEST way to travel Israel period (in this stingy author's humble opinion).
Hitchhiking is what taught me how to stop worrying and love Israel. Suddenly, I was travelling again – for real. I was meeting real people and having real conversations about real things while being shown a level of kindness and hospitality that I hadn't experienced since Japan.
Wait times are not long in the slightest, particularly outside of urban areas (and even in urban areas), and people will certainly go the extra mile to help you out. The rules are pretty simple too:
Find a decent spot.
Thumbing it works but pointing at the ground is more widely understood.
Tracing a sign from the internet (or asking a local to write it) doesn't go astray.
Smile! 😀
Hitchhiking in Palestine, while hairier, is no less possible. How much hairier? It's much more akin to the experience of hitchhiking in a developing country i.e. a lot more challenging, a lot slower, and, at times, downright infuriating.
Jewish settlers in the West Bank hitch regularly. You'll often see queues at trempiada (designated hitchhiking posts) in Jewish areas complete with their own priority queuing etiquette.
Palestinians are known to hitch as well, however, it's much less common. Racial tensions in Palestine towards illegal Jewish settlers are extremely high and there have even been kidnappings of hitchhiking teenage settlers in the past. As a traveller you're fine, but it helps to look foreign (or, more specifically, not Jewish).
Also, when hitchhiking in either Palestine or Israel, prepare to talk about the conflict. Your ride may subtly steer the conversation there or they may approach the topic as subtly as a brick hurled towards your face, but chances are people will want to talk about it. Usually, this desire comes from a genuine place of wanting to talk and share their experience.
Have an open mind, be honest but tactful, and above all, listen. No matter where they stand on the subject, you may learn something.
Onwards Travel from Israel
Lo and behold, Israel does not have the best relationships with its neighbours – who'da thunk? Israel has four countries bordering it – Lebanon, Syria, Jordan, and Egypt – and currently, it's only possible to enter two by land:
Egypt – Just south of Eilat, you can cross into Taba, a vacation destination perched on the Red Sea. Most nationalities can obtain a permit at the border to visit the Sinai Region, however, to carry on independently to Cairo and the rest of Egypt, you'll need to pre-obtain a visa for Egypt at the Egyptian embassy in Tel Aviv.
Jordan – There are actually three border crossings between Israel and Jordan: the King Hussein Bridge Border Crossing, the Jordan River Border Crossing, and the Yitzhak Rabin Border Crossing. Currently, sources suggest the only crossing you can't get a visa on arrival for Jordan is at the King Hussein Bridge.
I say seemingly because let's remember this is the Middle East. Borders are volatile, rules change all the time, and often, not even embassies seem to have a clear picture of what's happening.
So on that note, prepare for a grilling when travelling onwards from Israel, whether it's by land or air (and from either side of the border). I got a mild shakedown when I left at the airport and they were very interested in what I'd written about Israel and where I'd been. Ears were burning when I mentioned I'd visited Palestine; sometimes, it's best not to mention these things.
Currently, it's not possible to travel to Lebanon overland from Israel but it is worth jumping on a flight and spending some time in this beautiful country. The hash is cheaper!
As for Syria. Ehhhhh… Maybe one day.
It's not a strong recommendation. It's not even a light recommendation. Is it a recommendation at all?
Eh.
The problem with working in Israel is simply that the cost of living is extremely high. Living the digital nomad – unless it's a lucrative job – is not particularly viable. It's POSSIBLE, and Tel Aviv is absolutely something of a hub for the kitschy espresso-slamming, skinny-jean-donning millennial-life, but it's far from an ideal working destination.
You could also work a regular ol' day job, however, work permits are given very selectively. Even most Israelis struggle to make ends meet given how low the minimum wage is, and it's unlikely many places would opt to hire a foreigner over a local anyway.
You still could totally do the digi-nomad thing there; I did for two months! The internet is reliable, free WiFi hotspots are all over cities, and if you buy an Israeli SIM card (but not at the airport – it's a rip-off), data is plentiful and fairly cheap too (relative to Israel).
It is possible to live cheaper in Israel if you want to work there. The Palestinian areas, in particular, are much more affordable. It's just not the ideal destination for someone living on a digital nomad's income.
You'll be eating a lot of hummus in Israel to stay on top of your travel budget. Which, come to think of it, actually sounds perfect.
Volunteering in Israel
So what can you do in Israel? Volunteering. Without a shadow of a doubt, volunteering in Israel is an incredibly rewarding experience.
I could write a whole deep dive on the culture of the kibbutzim. Originally founded as communal agricultural communities based on socialist ideals, the kibbutz system has, sadly, changed substantially over the decades.
Still, despite waves of increasing privatisation, kibbutzim (and their less socialistic counterpart, moshavim) have a long-standing tradition of taking in road-weary travellers in exchange for some hard yakka. They are an excellent point of connection for travellers in Israel!
Now, while volunteering platforms such as Workaway make finding gigs in Israel a breeze, it's also pretty easy to sniff 'em out yourself. Israel has that similar 'one big village' mentality that New Zealand does and making one friend in one section of the country can suddenly have you networked to several more opportunities a couple of hundred kilometres away.
I will say that the expectations of volunteers in Israel are pretty skewed relative to other places that I've travelled. While most countries expect perhaps 20-25ish hours of work a week, a lot of places in Israel are going to expect closer to full-time hours.
That aside, it's still an awesome experience. There's a certain magical element to working at a kibbutz that is hard to find elsewhere in the world. It's a wonderful little mix of the Asia-style lack-of-personal-space, the Arabic family values, and the communal ideals imported from Eastern Europe with the Jewish people.
You're guaranteed to make friends. There'll be some rad adventures too! And, almost undoubtedly, joints shall be boomed. If you're interested in volunteering in Israel, joining a cheap platform for volunteering abroad is a fantastic method.
Much like Workaway, Worldpackers is a kickass organisation connecting travellers to meaningful volunteering positions all over the planet. In fact, it's The Broke Backpacker's #1 pick of ALL the Workaway alternatives.
Not only do they make the process so much simpler and come stacked with a slew of cool community features, but Broke Backpacker readers also get a sweet discount on the signup fee just by using the code BROKEBACKPACKER! You can save money when you signup and then you can save money again by skipping the unholy accommodation costs in Israel!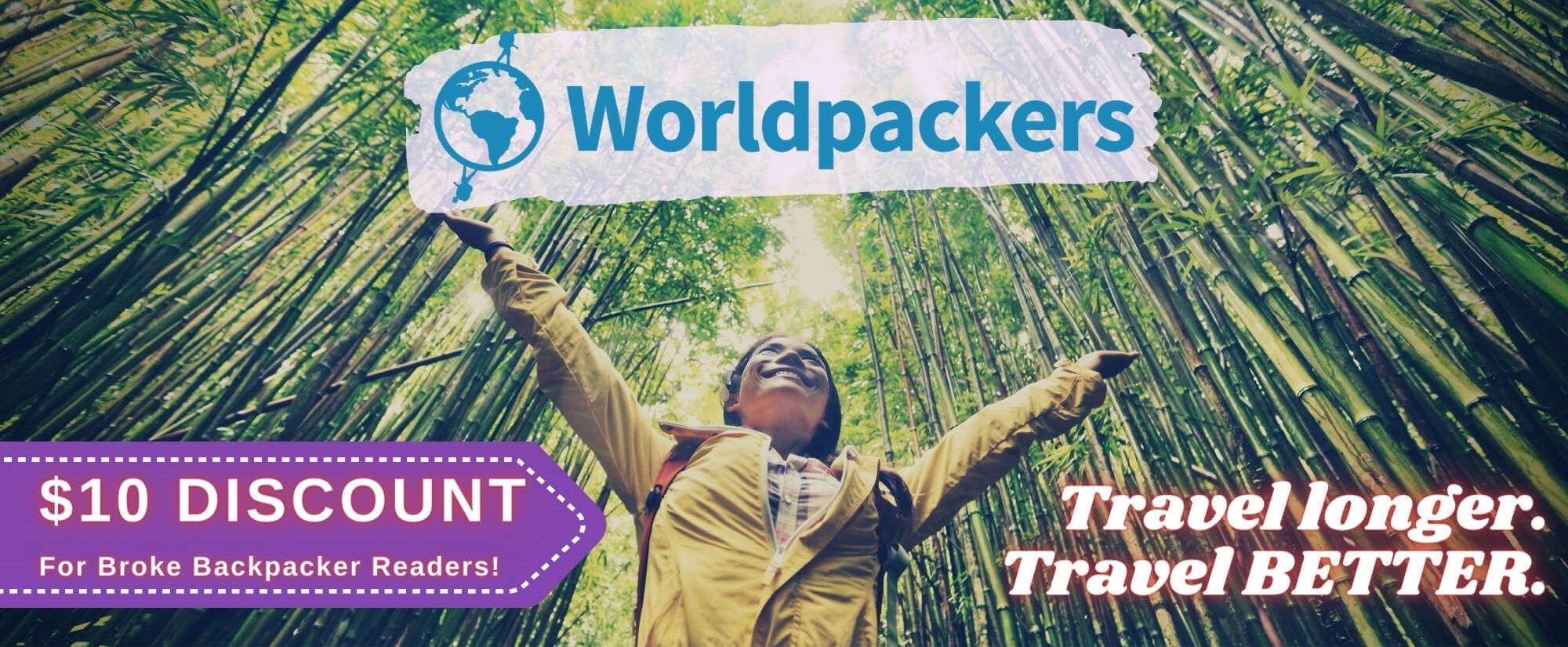 Worldpackers: connecting travellers with meaningful travel experiences.
Backpacking Israel provides the opportunity to taste some of the best food money can buy! Why do you think Israelis carved a hummus trail right through South and Southeast Asia? Because nothing can compare to the food from home.
Why's it so good? Probably for the same reason the Israeli genepool is so damn seductively beautiful: it's a supreme mix of the best of everything from right around the world.
Classic Arabian spices (za'atar is my homeboy) and Middle Eastern dishes of the region meet a whole bunch of imported Jewish cuisines that developed independently courtesy of the numerous diasporas. Imported foods, spices, and cooking styles have continuously arrived from North Africa, Eastern Europe, and the Mediterranean regions.
Top this off with numerous other cuisines due to Israel's high number of refugees as well as the influence of the ever-growing international culinary scene, and it's safe to say that 'what to eat in Israel' is everything you lay your damn eyes on! Put simply, Israelis do not screw around when it comes to food.
Oh, and the agricultural products? Olives, pickles, citrus fruits… it's all to die for.
Look, ancient history, a vibrant and complex culture, and traditions rooted in the Abrahamic divine – these are all valid reasons to visit Israel. But if you went backpacking in Israel purely for the food alone after eating a shakshuka once in India, well… you wouldn't be alone.
Popular Israeli Dishes
Popular Israeli Drinks
There are a lot of truly special people in Israel, but in some cases, it doesn't always come across. Many Israelis – particularly in the metropolitan centre – have a certain manner about them (some would argue rightfully so, given the history) that can come across as cold, rude, or sharp.
While backpacking Israel, I often found underneath that exterior was a lot of genuine warmth and sincere kindness. Think of a roasted marshmallow that you left in the fire too long; once you get underneath the charred outside, it gets all sweet and gooey and delicious. That said, there are also many perfectly roasted marshmallows in Israel too.
It would, however, be disingenuous to suggest that there are only Israelis in Israel. There are a large number of Arabic people too. While many are Israeli-Arabs (and some are even Jewish), there are also Christians, Muslims, many people who would not refer to themselves as "Israeli", and, of course, the Palestinians.
There is also a number of Bedouin tribes living in Israel, an ancient nomadic Arabic people. Some have taken to neighbourhoods offered by the Israeli government, but many still live in a nomadic style throughout various shanty towns across the country.
Then, there are the Druze people, Arabic in their own right, but also possessing a very unique culture. Many Druze possess Israeli citizenship, however, there are also many Syrian-Druze living in the occupied area of the Golan.
Lastly, Israel has a long history of migration. Primarily, Jews from right around the world seeking to make Aliyah (return/ascend to Israel). It's this process of a near-century-long migration that lends itself to Israel's deep multi-culturalism.
Western and Eastern Europe, West Asia, North Africa and beyond, plenty of Jewish Americanos, and an ungodly number of Russians all make the pilgrimage to the land they believe to be their promised home. Non-Jewish refugees regularly arrive seeking asylum, there are cheap labourers brought in from right around Asia, and even people of Jewish descent from places you'd never expect like Ethiopia or India.
As you may have noticed, Israel is one hell of a melting pot. What are all these people like? Well, that's a separate thesis altogether so instead, I guess you'll have to get out there and find out for yourself! I'll give you a hint though: they're all complicated – they're people.
Useful Travel Phrases for Israel
While Hebrew is the official language of Israel, roughly 20% of the population – the Arab Christians and Muslims – speak Arabic. Once you incorporate Israelis that speaks some Arabic, that figure climbs higher.
English is also plenty common, particularly with younger Israelis. While learning a new language for travel is always a blast, Hebrew is not the strongest recommendation.
It's a stupidly difficult language and most Israelis will switch to English the moment they realise you're foreign regardless. Attempting to fumble your way through Hebrew can often just be ill-received as 'wasting time'.
Truthfully, though it's less fun, the best way to travel Israel is simply coasting by on the Hebrew phrase for "In English, please?" (listed down below). I found it to be the most favourable and polite way to switch the conversation into English when someone starts speaking to you in Hebrew (i.e. all the time) with a much warmer reception.
Here are a few useful phrases in Hebrew AND Arabic for your backpacking Israel adventure. You're gonna meet Arabs too, and they really do appreciate the effort:
*Directly translates as "peace".
**Directly translates as "peace be upon you".
***Habibi is a fantastic casual term of endearment but don't cross the genders. Men say it to men and women to women.
Books to Read About Israel
If you wanna read up on the country before visiting Israel, there are entire archives on the topic. Of course, there are the classic traveller reads too, but the only thing more complex than quantum mechanics is the history of Israel!
A Brief History of Israel
I can't even begin to condense Israel's archaic past. Israel's ancient history spreads into times long gone and mixes historical accuracy with biblical narrative. Conquests, exoduses, ancient kings, and the divine presence of God all intertwine into the story of Israel's past.
It's these biblical components that largely underpin Israel's claim to the region, and, in many ways, the conflicts that define it now. The ever-shifting borders of Israel have always been fraught with conflict: the only difference from then to now is that our guns got bigger.
May 14th, 1948 – the day that David Ben-Gurion officially established the state of Israel with the recognition of the US president Harry S. Truman and the Soviet leader Joseph Stalin. That is the birth of the country we now recognise as the State of Israel in modern times.
The following morning on May 15th, 1948, a newly-formed coalition consisting of the Arab states of Egypt, Syria, Lebanon, Iraq, and Transjordan (Jordan) marched their forces into the region now dubbed "Israel". They opposed the UN partition plan for the region of Palestine in the conflict we now know as the First Arab-Israeli War.
Large numbers of Jewish immigrants, many of them World War II veterans and Holocaust survivors, resumed a life of conflict. In many ways, this conflict never ended – it just bled into new ones.
Throughout modern times, Israel has seen a timeline marked by active warfare and lulled instability. Major events include…
The Six-Day War of 1967
The Yom Kippur War of 1973
The Invasion of Lebanon in 1982
The First Palestinian Intifada (Uprising) of 1987
And that doesn't even encapsulate everything
Since the First Intifada, things really haven't gotten much better. There have been more uprisings, peace talks, expansions into Palestinian territory deemed illegal by most of the international community, and an uncountable loss of life for both sides. War atrocities have been frequently committed with Palestinian civilians and adolescents targeted as well as Jewish settlers within the West Bank and, of course, the deaths of both Israeli and Palestinian soldiers.
The constant interference from despots such as Trump and Putin has not helped as well as the seemingly unending regime of the Israeli Prime Minister Benjamin Netanyahu, a man indicted on numerous corruption charges.
2020, Netanyahu's corruption, and the coronavirus pandemic has led to a massive shift in the narrative of Israel; numerous Israelis – particularly of younger generations – are now beginning to strengthen and unite through political demonstrations. How this plays out remains to be seen, but what can be said is that in the greater scope of Israel, its position in the Middle East, and the Israeli-Palestinian Conflict, nobody wins.
Enjoy it.
This was not an easy travel guide to write – splitting Israel apart for dissection is much like splitting the atom. The quantum complexities just keep coming.
And, in many ways, that's what makes Israel – and the Israeli people – so beautiful. It's in the darkness that the light shines brightest.
When you're backpacking around Israel, remember to enjoy it. Remember that no matter where you fall on the political spectrum, there is a level of understanding you can never have. Because you're not Palestinian and you're not Israeli and true empathy comes from shared experience.
So, if I could give one piece of advice… One final travel tip for Israel to myself from way back before I even landed in the country, it would be to take a chill pill and remember to enjoy it.
Yeah, it hurt. And yeah it permanently shaped my worldview and my relationship with travel itself.
But guess what? So it bloody well should! We all gotta grow up sometime, and some of us have to grow up a lot sooner.
So please, travel to Israel. Have an amazing experience in a deeply flawed yet captivatingly beautful land. And find your own truth.
And on the days that it's all just getting a bit too much to handle, roll up a doobie, grab a falafel, and go find a kitty to pat. Sometimes, it's the smallest things that make travel so grand.
---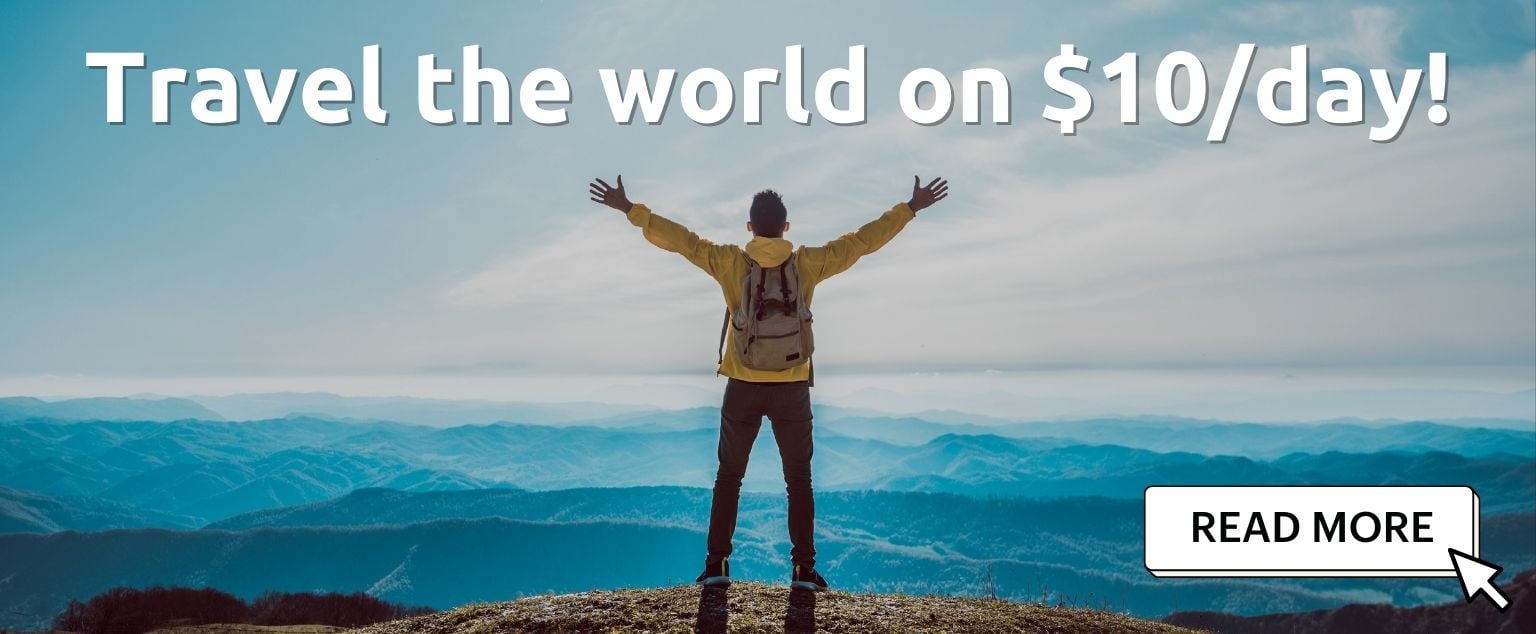 And for transparency's sake, please know that some of the links in our content are affiliate links. That means that if you book your accommodation, buy your gear, or sort your insurance through our link, we earn a small commission (at no extra cost to you). That said, we only link to the gear we trust and never recommend services we don't believe are up to scratch. Again, thank you!