Today, we're talking about the top things to do in Israel, and I'm really excited to! Partly, that's because there is a lot of dope stuff in Israel. It's not just that though.
There's also a lot of tourism in Israel. People already know the score: Jerusalem, parties in Tel Aviv, Bethlehem, Nazareth, floating in the Dead Sea, Jericho… You get it. These are the big draws.
That's why I'm really excited to write this list. Because the famous Israel ancient sites and typical itinerary hits aren't the part of Israel that I enjoyed. The part that I enjoyed was everything that fell in between. The nuances and complexities that tie all of it together.
I'll cover some touristy attractions and destinations in Israel, of course, but what you're more going to find here is more a homage to my two months in Israel. A homage to those wonderful little nuances that I found and a tribute (and statement) to those complexities.
These are my best things to do in Israel. I can assure you there'll be no other list on the interwebs like it. Consider this your jumping-off point for writing your own uniquely-you story in Israel.
Because today you are you and that is truer than true.
Opening the list, we have the top of the top! What constitutes "top"? Well, I figured there are some things that everyone planning a trip to Israel is going to do, so let's smash 'em out real quick. These may not strictly be my best things to do in Israel but you're probably gonna do them anyway so let's hop to it!
1. Eat Hummus
I lied! That's called subverting expectations! I just manipulated your emotions – muahahahah.
This is, without a shadow of a doubt, the top thing to do in Israel. Zion be damned: forget the breathtaking southern landscape and put Jesus back on that cross because all of that is meaningless! Hummus is the best of Israel and don't let anyone tell you otherwise.
It's cheap, it's plentiful, and it's everywhere, so put on your hat, take off your pants, and get to gorging. Aim for local; forget the fancy restaurants – hummus was made to be eaten in dank hole-in-the-walls.
Looking for a romantic thing to do in Israel? Well, it's time for a dinner date! Buy some takeaway hummus, head back to the room, and slather each other up.
Did I go too far? There's no such thing – it's hummus. Nothing is sexier than hummus.
2. Lose Your Mind in Jerusalem
Perhaps Jerusalem is like coriander. You'll either be astounded by the (frankly, gorgeous) architecture and wealth of varying cultures residing in one city, or you'll take one step inside the Old City and want to spew as some insidious feeling surges in your gut.
If I can be hippy-dippy-bo-bippy for a moment, I genuinely believe that you can't have so much blood shed in one place without leaving something energetic behind. People lose their mind in Jerusalem.
So, maybe it'll be a fabulous and historical destination in Israel for you. Conversely, maybe it'll be your first foray into dark and alternative tourism. Either way, Jerusalem is an unmissable must-see in Israel.
Top tip: If the touristic and over-crowded vibe of the Old City isn't cutting it, there are plenty of other cool neighbourhoods in Jerusalem to check out all around. A long walk through the city is going to take you from one extreme to the next.
This is, naturally, a must-do in Israel. I'd very much be so bold as to say that if you travelled to Israel and DIDN'T go to the Dead Sea, ya dun fucked it!
There are spots around for what can only be described as a 'day at the beach'. You lounge about in sun chairs, maybe grab a beer, try not to hit the 7-foot angry Russian man in the head with the frisbee again: all-round excellent fun! Kalia Beach is one spot for this style (entry fee: $17).
Option two is to dirtbag it. Camp out, catch the sunset, presumably the sunrise, and, best of all, it's free! Metsoke Dragot is one place you can do this but there are also spots in the southern area of the Dead Sea which you'll have to go find yourself – it's an adventure!
As for what to do at the Dead Sea itself. It's pretty simple. Like back and lose all sense of gravity.
4. The Tel Aviv Thing
If you're backpacking Israel, you're going to stay in Tel Aviv: it's a given. Visiting Tel Aviv, by virtue of itself, is a thing to do in Israel.
So what is there to do in Tel Aviv? Take your pick. It's got Israel's nightlife up the wazoo, so if you're seeking techno and Tinder, you're in the right city.
Jaffa is the old area of Tel Aviv, and it's here you'll find a higher concentration of cultural goodness and Arabic vibes. If you really want to see something off Israel's beaten track, the neighbourhood Neve Sha'anan is still one of the most interesting places I visited in Israel. Everywhere you turn in Tel Aviv you'll uncover a new piece of street art or some hidden element.
Other than that, I expect you'll be living the Tel Avivian life. It's nothing unique; comparable to most other modern, hipster, sort-of-progressive-but-not-really cities. It is, however, the only place to go in Israel that offers this vibe.
Top tip: Tel Aviv is "whoa mama" levels of pricey so book yourself a budget hostel that feeds you a free breakfast, and eat cheap! Abu Adham is the best hummus I had in Tel Aviv (and makes the shortlist for all of Israel) and Falafel Razon has 6 shekel falafel which quite frankly turned me on a little bit.
5. Explore Israel with Abraham Tours
Ya-hah, this is for the ones who like taking tours! You know who you guys are.
I worked rather extensively reviewing the Abraham Tours company and man oh man was it a journey. Was it a whimsical and heartwarming journey to the centre of the goodness of humanity? I wouldn't say that… it was more like a spiralling decay into the centre of my own nihilistic despair but hey, welcome to Israel! (You know exactly what I'm referring to; don't worry, we'll get it.)
So, yeah, Abraham Tours (based on what I experienced first-hand) offer some of the best tours in Israel. It doesn't have to be all the dark depressing shit either; they also do pretty sunset shit!
I wouldn't strictly say tours are going to give you the immersive and authentic experience of travelling Israel away from the tourist mishaps, but they are going to give you an incredible level of insight and they do offer some level of shelter from the "rawness" of backpacking in the Middle East (as my colleague so sublimely put it). It's also what to do for a week in Israel if you're running short on time.
For a few recommendations, here are my favourites of the tours I did:
Looking for a dope spot? This is the best area in Israel for traveller vibes!
Moving along to the fun stuff now! These are some activities in Israel you can do while blissfully frolicking and gallivanting with gay abandon.
Conflict? What conflict? I don't see any conflict. Now gimme some sugar!
You will party in Israel. Unless of course, you like your Friday nights (well, Thursday nights in Israel) filled with sewing, Antiques Roadshow, and decaf tea because you don't want the caffeine to keep you up. In that case, stop reading my articles, Mum!
Parties are everywhere and they are hectic. Israelis really get loose: whether it's under the stars, in a pool, or partying in the streets of Tel Aviv, the gloves are coming off and so are the shirts! (Hopefully the pants too.)
You'll find most any types of music at least somewhere in the country accompanied by most any type of delicious substances to complement it. Better yet, there's psytrance – like good, proper, dugga-inducing, bass-wobbling psy.
A lot of the doof scene in Israel is, sadly, pretty mainstream and far removed from the feral-hippy goodness that I know and love. That said, look hard enough and you'll find some proper underground throwdowns. Either way, partying is a thing you can fully expect to do in Israel.
Israel may be a relatively small country but what it lacks in size, it sure as heck makes up for in sights! Boasting spectacular scenery, Israels draws millions of tourists each year, many with the intention of learning the Holy Land's history and enjoying the many outdoor activities on offer.
Outdoor fans absolutely have it made with various types of landscapes encompassing hot springs, crashing cascades, beautiful hiking trails, and gently gurgling streams cutting through chalky canyons. Making visiting its National Parks a popular choice when backpacking Israel.
8. Befriend the Kitties
This may not necessarily be a fun thing to do in Israel for you depending on where you fall on the cat-dog spectrum. For me, however, I have more cat pictures backdropped by old limestone architecture than I'd care to admit. (That's a filthy dirty lie; my untold gigabytes of cat pictures bring me no shame.)
Believe it or not, there are a lot of parallels that can be drawn between India and Israel – West Asia is still Asia after all. So what if you took all the stray dogs in India and transfigured them into kitty cats? Well, you'd have a lot of kitties to pitty-pat!
So the real question is… why are you even still reading this? I just told you that there's a whole land of cheap hummus, extremely bangable strangers, and stray cats needing cuddles. Get yo' ass to the Holy Land!
9. Hit the Beach
What's one benefit of being situated on the Mediterranean Sea? The beaches! Israel gets some good beaches and they're definitely super pretty destinations (in the right places).
Ideally, get out of Tel Aviv's overpriced madness and start heading north or south (but not too far south; you'll hit Gaza). You don't necessarily have to go too far, however, the best beaches in Israel I found (best meaning chill) was in Haifa… granted, it was winter.
So what are cool things to do on Israel's beaches are there? Well, prepare yourself for the pseudo-national sport of Israel and the ultimate beach activity anywhere in the world – matkot! It's like tennis if tennis had no courts and no rules and no real point whatsoever. It raises many questions – mainly, why?
Outside of that, there are a few interesting things to do on Israel's beaches but nothing too adventurous. Surfing is around but the waves are super meh. The beaches in Israel are mainly for cooling off and chilling to the sweet sweet sounds of men in speedos whacking their balls back-and-forth.
Oh, and the sunsets. It's the west coast on the Mediterranean and those sunsets are absolutely fucking mesmerising.
It may sound counter-intuitive given the whole missiles thing, but Israel is safe – at least for tourists. Statistically, crime is actually very low (possibly due to the high prevalence of assault rifles) and regarding my personal wellbeing (muggings, thefts, surprise wet willies, etc.), I never felt concerned
That said, there still is that whole missiles thing… You should always consider travelling with insurance and that goes double for going to Israel, especially if you'll be getting off the beaten track (and in certain cardinal directions, i.e. any of them).
So make sure you're keyed in and making the smart choices when you're travelling around Israel:
Read up on our travel insurance company reviews.
Refresh your brain with our tops tips for travelling safely.
And, as a side note, I always travel with a money belt because they're just so damn handy!
This is what to do in Israel if you're a cool cat that wears sunglasses inside and snapbacks with offensive slogans on them! If you floss, you may want to skip this section because you're clearly not rad enough.
That was a joke. You should always floss. Flossing is one of the best things to do in Israel for your dental hygiene.
10. Skiing at Mount Hermon
Get it?
Right so skiing on Mount Hermon isn't exactly the unrivalled legendary powder adventure of Canada or Japan, but it is definitely a cool thing you can do in Israel. The Mount Hermon Ski Resort is only open for skiing during the winter snowfall (generally, January to March). However, outside of these months, you'll still find a bunch of other nature activities like hiking and mountain biking.
It isn't a destination in Israel worth chasing for the powderhounds, and it's expensive too, but it's still worth the consideration to scratch that skiing itch. It's a thing to do in Israel in winter and, also, I just find it funny that your skiing in an occupied territory a stone's throw from Syria on a mountain that's technically in three countries. Crazy life, man!
11. Get Stuck at Mitzpe Ramon
Mitzpe Ramon is a spectacularly beautiful place in Israel to visit and just one fine example of the wonders of the southern Negev Desert. And, bonus points, it's a mega-hippy place! Mitzpe Ramon is easily where to go in Israel to smoke joints, watch-breathtaking sunsets, and then probably smoke more joints.
There's also no shortage of awesome hiking trails around Mitzpe Ramon, and I really can't do justice to the majesty of the landscape with words alone. If you've got the money to get stuck, or the appropriate dirtbag skillset to make it work, this is a point of interest in Israel that you may find slows you down. Good people float in – travellers and Israelis – and there is a lot of niche little things going on firmly accompanied by dreadlocks and funny pants.
One way or another, watching the sunset from the cliff edge over the crater is a must-do in Israel and not to be missed.
12. Find the Dirtbags in Eilat
Speaking of the normal people!
Now, listen, Eilat can eat my farts – it's super dumb. Hotels, casinos, and crappy club "bangers" spoiling the splendour of the Red Sea with everything being overvalued beyond recognition… perhaps more so than Tel Aviv.
BUT it's the Red Sea – that shit is so gorgeous! Israel's south is a spectacular thing to see and no less unmissable than Mitzpe Ramon. So here's what you do?
You go to Eilat and you keep walking south several kilometres. Before long you'll be at the beaches where all the grungy folk set up their camping gear on the beach and sleep for free! From there, you'll have an excellent base to start exploring Israel's south (that section is coming up soon) and for some Red Sea adventures too.
If that's not your vibe, well… maybe you'll really enjoy what things to do there are in Eilat proper.
13. Pick Fresh Fruit
Oh, yes. Fresh oranges, mandarins, this other type of citrus fruit that I forget the name of, and a whole host of other treats depending on the season. They're yummy too!
You'll find fresh fruit in a lot of places. You'll see trees when you're hiking or passing through some kibbutzim or moshavim fields or hanging over the fence from peoples' gardens. Even in Tel Aviv, I stumbled across a few trees! Is it ok to pick the fruit?
Well, considering the kibbutzim and moshavim were founded on socialist ideals, I'd say so! Regardless, if you see a tree with such an abundance of fruit that they're falling on the ground and going to waste, it's free game. So, not only is this one of my personal best things to do in Israel, it's a free feed!
Free!
14. Learn About the People in Israel
Cool cats show an interest in the culture and people! From Israel's ancient biblical history to its modern Zionist saga worthy of any anime epic, there's a lot to learn.
Visiting Israel's top historical sites is obviously gonna teach you some things, but I'd say it pales in comparison to just talking to people, asking questions, and, most importantly, listening with an open heart. I'd also say, candidly, that learning about what's happening in Israel now is infinitely more important than the things that may or may not have happened 2000-4000 years ago (though it's still all connected).
Of course, I'm not just referring to Israeli people here, am I?
The scope of people in Israeli is simply mind-boggling: Israelis, Arabs, Israeli-Arabs, Palestinians, Bedouin, Druze, North and East African refugees, cheap labourers from Asia… The list is huge and I'd say learning and listening is one of the most interesting and important things to do in Israel.
To be further candid, a lot of this stuff is going to hurt. I've never been somewhere where I can get culture shock just by catching the bus for an hour but that's Israel. There is a lot that is going to shatter your worldview, and that makes it all the more important to see these things in Israel.
Finding a place to stay in Israel is easy. Everywhere you travel to, there will be a bed for rent be it one of Israel's many hostels, hotels, Airbnbs, and other more unique accommodations.
However, this is Israel and travelling in Israel is notoriously expensive. There are ways to live cheap but generally, the accommodation in Israel is a real budget killer, even including the backpacker accommodation. There are cheaper places to stay than others though.
There are decently(ish) priced hostels in Jerusalem or Airbnbs in Tel Aviv that while not strictly cheap, are better value for money. There is also a blessed alternative-living scene in Israel, farms ahoy, and no shortage of hippy and grunge-muffins that prefer the less-affluent life. Keep your eyes peeled and your ears open and you'll find something manageable.
Although Fauzi Azar is not cheap in any sense, it is a gorgeous guesthouse (with a killer breakfast to accompany) and easily my personal top hostel in Israel. The building itself is spectacular and the staff are mega-friendly. It also just feels really far removed from the tourism sector of Israel, tucked away from the madness in the old city of Nazareth.
Close to Tel Aviv's beaches, Savoy Sea Side Hotel is a good base for a one-week splurge trip to the White City. From Savoy, you can check out the markets, drink yourself silly at the beaches, or go join the speedo-men for a round of Matkot (that never ends beacuse Matkot has no win-state). Oh, brekky is included too!
Man, that is one hell of a pad for less than you'd get a 10-bed dorm for on the Israel side! There's a lot of sexy amenities here plus it's a proper opportunity to get a window into Palestinan life. Nablus overall is one of the comparatively more chill places to visit in Palestine.
Best Hostel in Israel for Chillers: Me'ever, Mitzpe Ramon
I already said Mitzpe Ramon was a hippy haven so you can probably guess what you'll find at Me'ever: joints, solo backpackers, and a decisive lack of shoes! Being in the south of Israel means you're further away (relatively speaking) from a lot of the tourist destinations, but I'd say that's kinda the point of coming to Me'ever. It's a traveller thing.
Yep, we're doing this. I'd say the last thing to do in Israel I wrote about was ample priming but before we start, a note.
Visiting Palestine is important. Even if you're just wondering what to do in Israel for a week, travelling to Palestine is still important. The big question, however:
Is Palestine safe?
It's more dangerous than Israel in that Israel is highly-developed first-world Americanised country. Palestine, conversely, is pretty clearly far from highly-developed and a system shock for anyone, especially those unused to travelling in a developing country.
That said, Palestine is safe for tourists. It's simply a matter of putting on your 'backpacking India hat' (or any other similar comparison) and knowing how to open your heart to some truly good people without simultaneously lowering your guard.
Okiedoke! Note over; let's do this.
15. The Wall of Bethlehem
Bethlehem itself is one of Palestine's and Israel's top attractions. Naturally, there's a bunch of Jesus stuff there but the wall is what truly astounds.
It's the wall that annexes Rachel's Tomb and divides the West Bank (Palestinian Territory) from Israel. For some, it's a sign of Israel's steadfast defense; for others, it's testament to the ungodly occupation. Regardless, the wall at Bethlehem is a must-see in Israel and Palestine.
So why see the occupation wall? Because of what it represents. Israel has its own 'Upside Down' and this is a strong introduction.
The wall is plastered with graffiti (including works by Banksy) from some true artistic marvels to thought-provoking ideas to vitriolic statements. Selfies and Instagram culture is a given, but if you slow down, wander the wall, and really take in what it offers, you'll be left with impressions that will last your entire lifetime.
16. Stay with a Local Family
The above accommodation recommendation is just one example of all the many places to stay in Palestine. Airbnb has heaps of listings (cheaper than Israel too) and there are plenty of other accommodation options as well.
So what's the recommendation for a thing to do in Palestine? Stay with a local or locals. Be it through Airbnb, a homestay, or being hosted through Couchsurfing (also super possible in Palestine), stay with a local and learn and listen.
You'll be getting the grade-A Arabic hospitality treatment (pro tip: if you don't want more food, don't finish your plate), and you're going to learn a lot about Palestinian life in the process too.
17. Party in Palestine
That's right! Palestine has got a crazy party scene too; maybe there's just something in the water in the Holy Land?
Yup, there's raves in Palestine among other shindigs, and it's when all the kids smuggle in booze and let loose! (Remembering that this is a predominantly Islamic culture.)
So why not rock up and party with the Palestinians? I can guarantee you that you'll be the most popular person at the party. As a starting point, head to Ramallah and scope out Radio on a Thursday night. Make some friends and the rest will happen like magic.
18. Visit Hebron
Hebron is one of the most contested points of interest in Israel (competing with Jerusalem for top-dog) and it shows. Nothing in my life could have prepared me for visiting Hebron.
I can't stress this enough: Hebron is dark and it is heavy. Travelling to Hebron broke my heart – it's still something I think about every day. For me, it's a personal recommendation that backpackers that go to Israel make the effort to see Hebron. That said, I can't fault anyone for opting to not go; it's a choice.
Hebron is a step from the comfortable (albeit raw) security of Israel into the heavy reality of Palestine and then again into a beast of some wordless description. The air is oppressive, however, the people are good. You will come away from Israel with a whole new depth of understanding and, more importantly, something to say and teach others.
I can't say it's the best thing to do in Israel. I can say, however, that it is a must-do in Israel. Masks should be peeled back.
19. Shopping!
Whoa, holy tonal shift, Batman! Let's go shopping!
Everything gets cheaper in Palestine. New shoes, spices, counterfeit watches, replacement headphones, tobacco, soap from the Dead Sea (is actually ridiculously cheaper weirdly): let's say you want to buy toothpaste and shampoo but don't want to spend something stupid on toothpaste and shampoo in Israel, just cross the border to Palestine!
As a bonus point, you'll be spending money at a market or local shop most likely, which is always good. You ain't in Israel anymore, however, so remember your haggling hat (within reason).
To summarise: when your toothbrush gets ratty or your shoelace snaps, travel to Palestine!
This is more what to do in Israel in a traditionally adventurous stream. These things are not so much about defying societal and media expectations and spitting in the face of xenophobic attitudes as they are about delicious yummy nature and not thinking about all that above stuff.
Expect a lot of walking, so they're perhaps not the best things to do in Israel with toddlers.
20. Hike the Israel National Trail
You could just walk across the entire country. How's that for a goddamn adventure! Jesus did it! (More or less.)
Israel isn't exactly big so walking across it isn't exactly hard. It is, however, super beautiful (plus, if you do it barefoot, you may find some sort of spiritual enlightenment).
The Israel National Trail is, as the name suggests, the trail or collection of trails that covers Israel from top-to-bottom (or vice-versa). You can hop on-and-off as you wish or just walk the whole damn thing!
Generally speaking, Israel has an abundance of hiking trails plus many farms and fields you can just cut through (again, socialist ideals). The most convenient way to keep up with all this is, as always, Maps.Me (I do really love Maps.Me).
21. Get Lost in the Negev
And we're talking about things to do in southern Israel again because it's just simply the best. I've already mentioned Mitzpe Ramon and Eilat but I really, truly can't explain just how wonderfully serene the Negev Desert is.
You're so far removed from the rest of Israel (at least, considering the size) and so far from all the heartbreak and chaos. It's quiet, it's significantly devoid of life, and it's so damn pretty. At times, it looks like Mars.
So yeah, there are a couple of Israel's major attractions in the south, the Red Canyon and Timna Park coming to mind, but there's a whole damn desert too! Take a top-notch travel tent, just start walking, and be like the Bedouin.
That said, take water. Oh, and do be specific about where you walk; areas of the Negev Desert are a firing zone for the military on weekdays. Yay, adventure!
22. Get Lost in the Golan
Hummus and tahini, cigarettes and coffee, socks and sandals: some things were simply meant to be together. Ok, maybe not that last one.
The Golan is the opposing force of the Negev. Two star-crossed lovers divided by Israel's crowded urban centre and those whole silly old occupation disputes. (Who even needs peace in the Middle East?) For what the Negev Desert brings in astounding sunsets and arid landscapes, the Golan Heights returns with expanding vistas and verdant green slopes.
The Golan is the other place to get away from the bustle in Israel and disappear into nature. There are still places to stay (check out The Golan Heights Hostel in Odem for a good traveller vibe), but places and people are way more dispersed. You'll also find some illegal Israeli settlements but primarily, a lot more Arabic people, Druze in particular.
Getting lost in the Golan is the 'off the beaten track' adventurous thing to do in northern Israel (slash Syria) for the nature lovers. Oh, and it snows in winter!
The last little piece about Eilat before I stop talking about Eilat. The good thing about being situated on the twinkling Red Sea is you get a lot of bangin' water activities! Swimming with dolphins, beach chills, paddleboarding – most anything that doesn't need swell.
Of course, that lack of swell thing also means super clear water which also means crazy pretty diving! Diving in Eilat is, naturally, pricey and, much like the skiing, it's not a world-class destination. It is, however, easy and a good warm-up for newbies getting into the game. It's also a good thing to do for anyone visiting Israel who just gets that nagging feeling to be a fish for a day.
Lastly, it's also the Red Sea. C'mon; you're literally scuba diving between Asia and Africa!
Now, here are my personal top things to do in Israel (except eating hummus; that's always number one). These aren't strictly the mostly touristy activities in Israel – not even remotely actually – but they are the things I did in Israel that brought on some feeling of respite. It was while doing these things that I felt the most sincere connection with Israel and the people.
24. Hitchhike
Hitchhiking is a treat in Israel. It's Western country rules; it's known – albeit not necessarily common – and people are more than happy to help. In fact, the people that picked me up were insanely kind to me and more than willing to help a dirtbag who just wanted to camp under the stars.
Outside of Israel's centre, hitchhiking is easy and even in the centre, people picked me up in some really awkward spots. People I wouldn't have expected too with some truly insightful conversations to follow; let people surprise.
Hitchhiking in Palestine is also doable though the rules change to more non-traditional hitching (think India again). It isn't strictly safe (though we are talking hitching) but it isn't dangerous. Just make it abundantly clear that you're not a Jewish settler (hand tattoos help in this regard).
Overall, hitchhiking was a real gem for me and one of the best things to do in Israel. So go thumb it! (And by "thumb it" I mean point at the ground and smile seductively).
25. Camp on a Kibbutz
The tahini to hitchhiking's hummus! These two go so well together. Pack a tent and a comfortable sleeping bag and when you're out hitching, just ask to be dropped in a pretty place!
The kibbutzim and moshavim are usually surrounded by pretty fields accompanied by springs, or forests, or the aforementioned fruit trees. Whenever an Israeli recommends a place you should visit in Israel, you'll often get handed a list of dope little kibbutzim or moshavim. So, what better way to see them than to just camp a night!
People nine times out of ten will be totally chill with this – just be respectful. For that whole "pick fruit thing", I do mean in moderation and smartly but furthermore, always leave no trace. You're a mother-haunting ghost!
26. Work on a Farm
Speaking of kibbutzim, and moshavim, what better place to get your hands dirty! Truth be told, the reputation for Israel's kibbutz scene to take in hardworking budgeteering travellers has changed significantly. That said, there are definitely still places to volunteer and live for a time.
If you're looking to volunteer in Israel, Workaway is the gold standard. There's also Worldpackers for finding volunteering, but while they're a very reputable organisation, their volunteering pickings are always slimmer.
I'd say this what to do in Israel when you're looking to mitigate the costs of backpacking there and take a step away from the tourist trail. Volunteering on a farm in Israel is going to give you a much more earthy sense (excuse the pun) of a different way of life for many Israeli people. Perhaps, it's not a thing to do in Israel when it rains though; drought-stricken desert or not, when it rains in Israel, it pours.
27. Order Pizza and Weed
Download yo' ass Telegram, log yo' ass in, and type in Telegrass. It's like ordering a pizza except that after you've ordered your ganja like a goddamn pizza, you're gonna order an actual pizza and that pizza is gonna be da bomb! I am salivating!
Prices get cheaper for both outside of Tel Aviv.
28. Respect Shabbat
Sleepy Saturday Shabbat; at first, Shabbat gave me the shits. Why is everything closed? Why is there no public transport? Why is this a thing when a massive chunk of the country isn't even Jewish?
But then I learnt how stop worrying and love sleepy Shabbat. A walk around a city – Jerusalem or Tel Aviv in particular – gives an underlying sense of quiet awe. It's like a ghost town.
If you're with the right people, it's wonderful to see how things just stop. Work stops, the mind stops, fires are lit after sundown, and people reflect – life is put on pause.
So for a thing to do in Israel on Shabbat, respect Shabbat. Soak up the vibe. I think in a world where we're all moving too fast to some indeterminate goal, working weekends for penalty rates (if we're lucky), and generally racing against ourselves, maybe this is a page we can take from Israel's Torah.
Sometimes, it's good to pause.
Books to Read in Israel
Can you take a 'day trip' from Israel? Well, sure you can! There are two countries bordering Israel that have peace agreements and some pretty stunning natural attractions close to the border…
Number one is Jordan – the land half as old as time itself. For more majestic desert landscapes and unbelievable starscapes, Bedouin culture, and truly ancient marvels, you're travelling from Israel to Jordan. Both Petra and Wadi Rum are spectacular and a must-see for those backpacking in Israel or the Levant.
Jordan itself deserves time and exploration and not just a quick trip, so I'd highly recommend checking out our backpacking Jordan travel guide. That said, if you're stretched for time or aren't feeling equipped for that raw Middle-East experience, there are some brilliant tours in Israel that will zip you across the border and back again.
Man, Israelis love Sinai. I had so many Israelis tell me I should go to Sinai which seems kind of counterintuitive because they were actively recommending that I leave Israel. Of course, that's because Sinai is magnificent; many Israelis go there just for a weekend off.
Same as above applies: slow travellers should read our backpacking Egypt travel guide (there is a lot of cool stuff to find in Sinai including alternative-living, believe it or nor). Otherwise, you can find some sweet tours that run from Israel to Sinai either quickly or as a multi-day adventure.
Don't forget your travel insurance for Israel
ALWAYS sort out your backpacker insurance before your trip. There's plenty to choose from in that department, but a good place to start is Safety Wing.
They offer month-to-month payments, no lock-in contracts, and require absolutely no itineraries: that's the exact kind of insurance long-term travellers and digital nomads need.
SafetyWing is cheap, easy, and admin-free: just sign up lickety-split so you can get back to it!
Click the button below to learn more about SafetyWing's setup or read our insider review for the full tasty scoop.
Here are some quick answers to common questions about what to do and see in Israel.
That's the whole list! Is it a complete list of things to do in Israel? Na, not by a long shot. It is, however, more than enough to get you started on your own adventure in the Holy Land.
To be honest, navigating the tourist trail in Israel was exhausting for me. The tourist spots in Israel feel almost cynical. That paired with other realities can create a lot of challenge (at least internally).
That's why I wanted to write this list the way I did. I've given it a fair scope; some of Israel's tourist attractions for sure but also it's finer nuances away from the pretty biblical sites and Jerusalem. Things to do both in Israel and Palestine. And things you'll only learn by slowing down in Israel and learning how to stop worrying and appreciate what there is to appreciate.
That's how I feel about this list. It's a love letter to what I did love about Israel. And it's a love-letter to the things I saw in Israel that I'm grateful I saw.
So it's about time you wrote your own love-letter! Go find your own things to do. Don't worry, she'll only break your heart.
---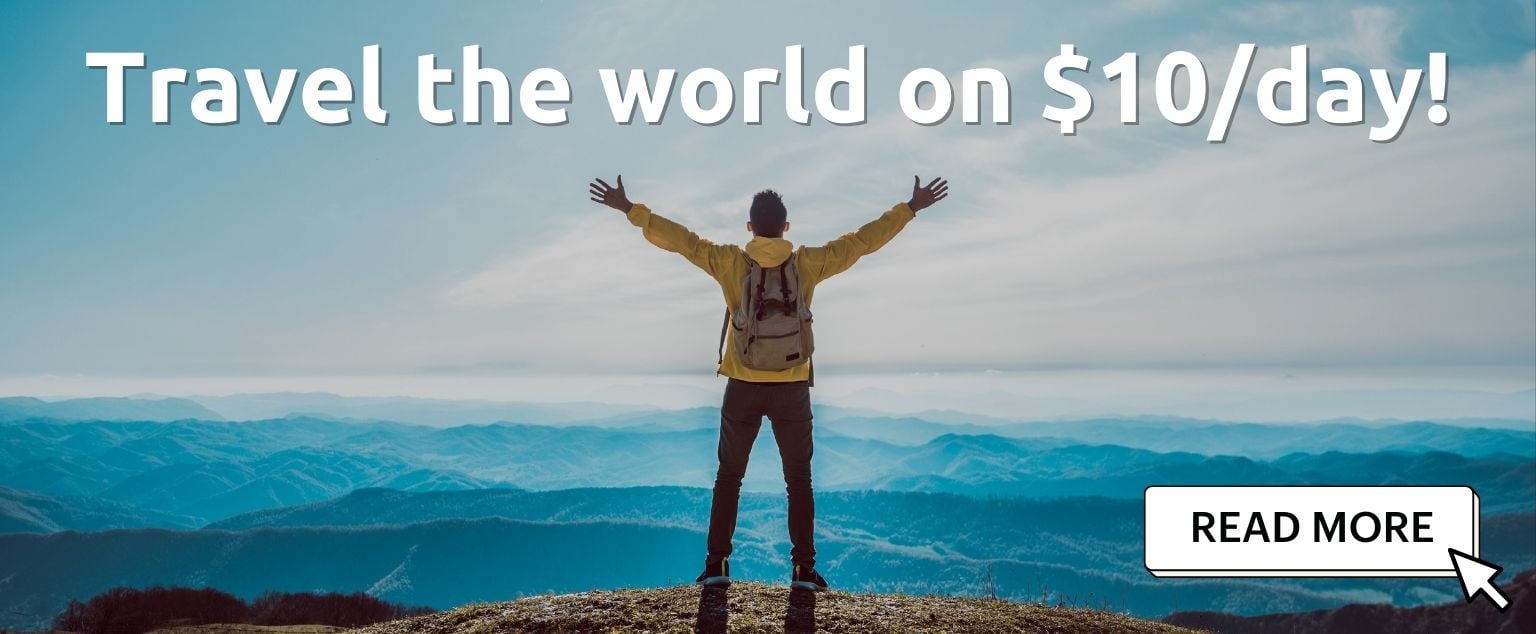 And for transparency's sake, please know that some of the links in our content are affiliate links. That means that if you book your accommodation, buy your gear, or sort your insurance through our link, we earn a small commission (at no extra cost to you). That said, we only link to the gear we trust and never recommend services we don't believe are up to scratch. Again, thank you!