Look beyond the politics of Israel and you'll find a truly stunning tourist destination. The tiny nation boasts some of the top beaches on the Mediterranean Sea, ancient fortresses overlooking picturesque landscapes, not to mention the holiest city on earth. And these are just SOME of the tourist attractions you have to look forward to!
But what about deciding where to stay in Israel? The country can be quite expensive so budget backpackers can forget hostels. Instead, we highly recommend looking at hostels in Israel. They offer you a chance to not only save money, but to meet fellow travellers.
In this post, we're going to take you through more than 20 of the best hostels in all of Israel. We've cast our net far and wide to find your perfect hostel, taking into account personality, travel style, and most importantly: budget!
Our expert travel writers have curated this list with you in mind and with this list, you'll always have a great place to stay at hand. So, let's take a closer look at the best hostels in Israel!
Quick Answer: What are the Best Hostels in Israel?
The Top Hostels in Israel
Choosing where to stay in Israel? Well, let's start with this list with three of the best hostels in Israel. They offer way more than just a place to stay – these hostels will provide lasting memories. You'll be telling your friends and booking a return trip before you've even left!

Do You Want to Travel FOREVER??
Pop your email in below to get a FREE copy of 'How to Travel the World on $10 a Day!'.
Best Hostel for Solo Travellers in Israel – Rob's Place Jerusalem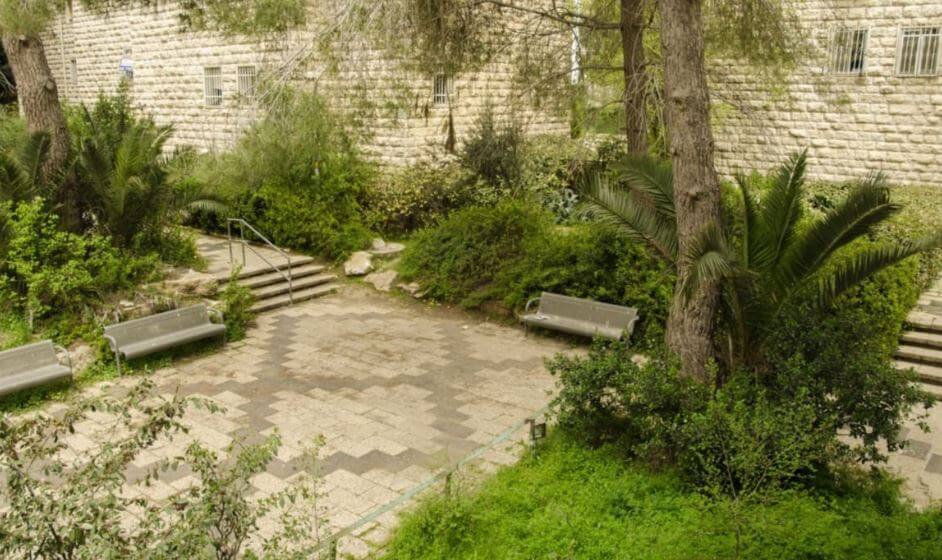 Well equipped kitchen
Free shisha
Low cost excursions
Great vibes
When travelling solo in Israel, you want to be somewhere that you can get to know fellow travellers without overwhelmed. The atmosphere at Rob's Place makes it not only the best hostel for solo travellers in Jerusalem but in the whole country! One of the big perks of staying here is low-cost excursions, so it's not hard to discover more of this beautiful country with your new pals. Free shisha, a lovely common room, and a lack of TV mean you'll be spending time getting to know people rather than in front of screens!
The Overall Best Hostel in Israel – Little Tel Aviv Hostel – Tel Aviv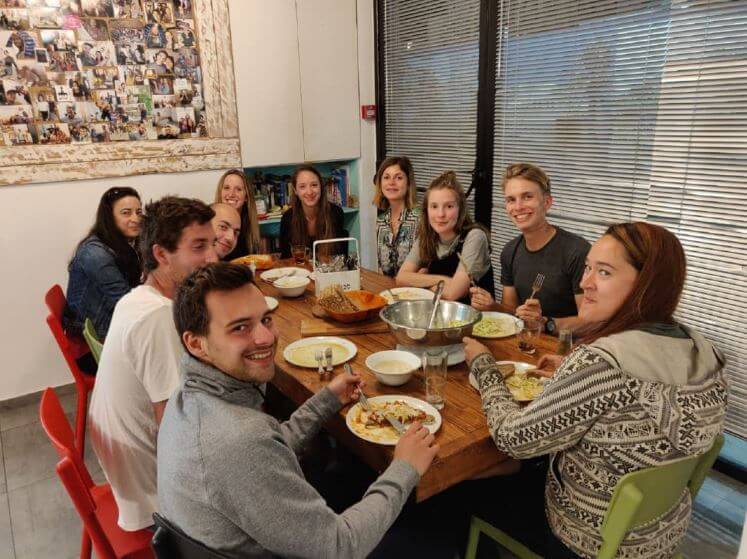 Award winner
Great location
Daily events
Friendly staff
Little Tel Aviv hostel is the overall best hostel in Israel. Out of three of the last four years, it's been a country winner at the Hoscars. It's set in a great location – well within walking distance of top attractions such as Rothschild Avenue and Carmel Market. If you're travelling solo, get involved in one of the daily events to meet new people and make friends. Whether you prefer the hummus workshops, bar crawls, or Shabbat dinner is up to you!
Little Tel Aviv Hostel is one of our favourites in Israel but they're not taking guests right now. We're not sure if they're closed for good but we hope they'll come back soon.
Best Cheap Hostel in Israel – Florentine Backpackers Hostel – Tel Aviv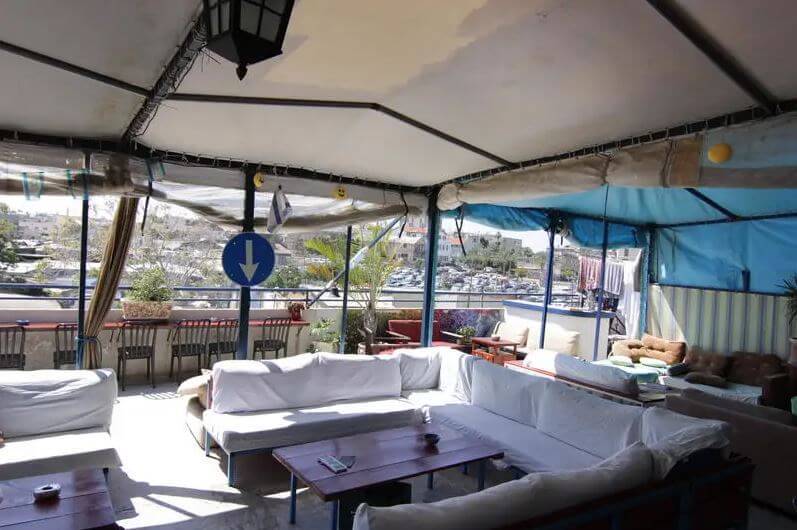 Free breakfast
Rooftop terrace
Free daily walking tour
Award winner
For our top cheap hostel in Israel, we're staying in Tel Aviv. Look out from the roof terrace over the hippest neighbourhood in town, Florentin! Your free breakfast is including here in the morning, which is great fuel before enjoying a daily walking tour – that's also free. In the evening, come back to enjoy drinks at the bar or play one of many board games. There are blankets to keep you warm and the atmosphere is fun and friendly. Florentin won the most popular hostel in Tel Aviv 2020 – you really can't go wrong here!
Florentine Backpackers Hostel is one of our favourites in Israel but they're not taking guests right now. We're not sure if they're closed for good but we hope they'll come back soon.
From the depths of the hostelsphere, we bring you… the Hostel Card!
HostelPass has spent years & years looking for the best places to stay in Europe, and they just came back with something GREAT.
The Hostel Card is a hassle-free solution with up to 25% discount at the most amazing hostels, tours, and experiences. Any-where-you-go.
Don't sleep on the ultimate budget travel card — use code "brokebackpacker" at checkout for 25% off!
Get the Card
In our view. Tel Aviv is one of the best cities in the world. The weather is perfect with a Mediterranean warmth day and night, most of the year. In the day time, explore its world-class museums and markets or just lounge on the beach; afterall there are 14km to choose from! In the night, come take advantage of some of the best nightlife in the Middle East!
One of the best party hostels in Israel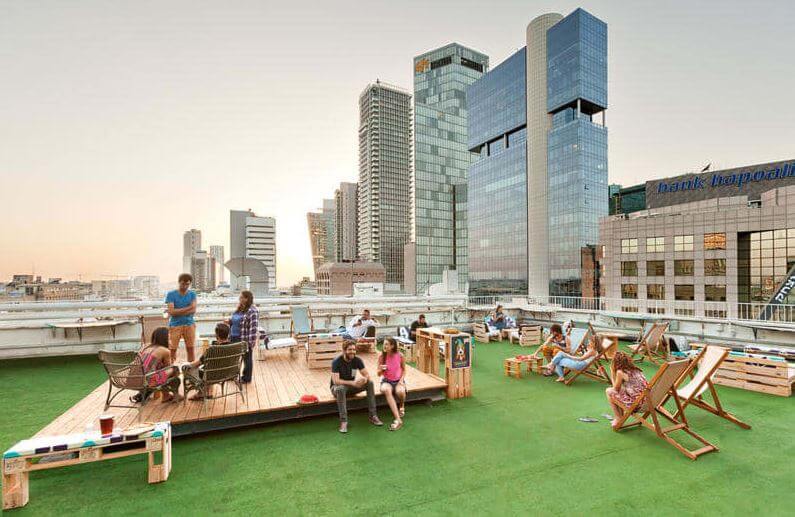 Rooftop Terrace
Great location
Daily events
Award winning
The popular Abraham hostel & tour chain is a reliable name to look out for when you travel to Israel. There's always something going on, and although it's not a party hostel per sé, it's a great spot if you're travelling solo as there is bar and a very sociable crowd. There are some great pub crawls starting here which can get messy and keep you out late. There are also hummus making workshops, yoga, and jam sessions! It's not hard to see why this place has won so many awards! In my view, it is THE best hostel in Tel Aviv.
A top cheap Israeli hostel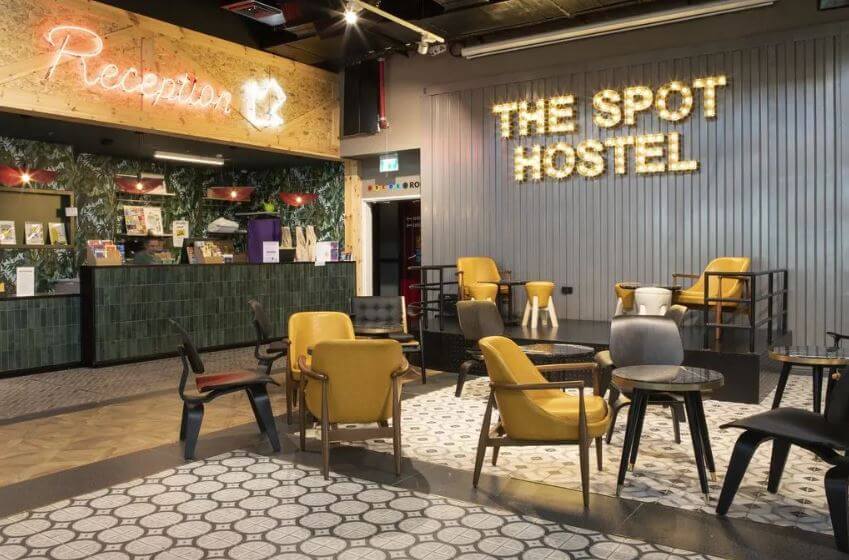 Free breakfast
Awesome location
Restaurant and Bar
Vibrant atmosphere
Tel Aviv can be quite an expensive place to travel. So, if you want to make savings, it makes sense to tighten your belt when it comes to accommodation. Thankfully, backpackers in Israel can save their shekels without having to compromise on quality at The Spot Hostel. Not only does it offer one of the cheapest beds in Tel Aviv, but you get breakfast included in that price! The location is pretty sweet too – you've got all of the city's top attractions within a stone's throw. If you don't fancy eating out nearby, stay in and enjoy the restaurant and bar!
A great Israeli hostel for solo travellers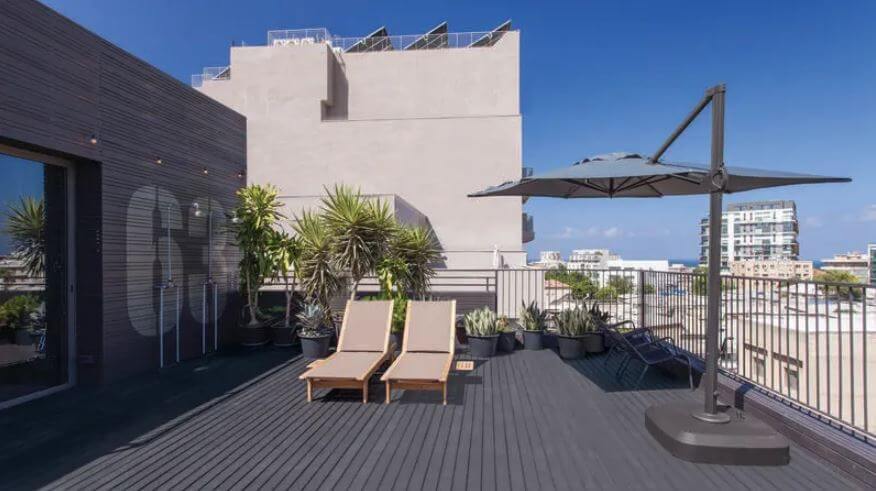 Live music
In the Neve Tzedek district
Group events
Outdoor Terrace
This modern property is another of the coolest hostels in Tel Aviv in one of Tel Aviv's coolest areas. We know you probably don't need any help breaking the ice with fellow travellers, but if you do, there are group events here that you can throw yourself into! As well as group events, there is live music on-site, perfect if you want to chill out and experience the city's nightlife but you're utterly shattered from a day of sightseeing and exploring!
Crown Sea Hostel
A great small Israeli hostel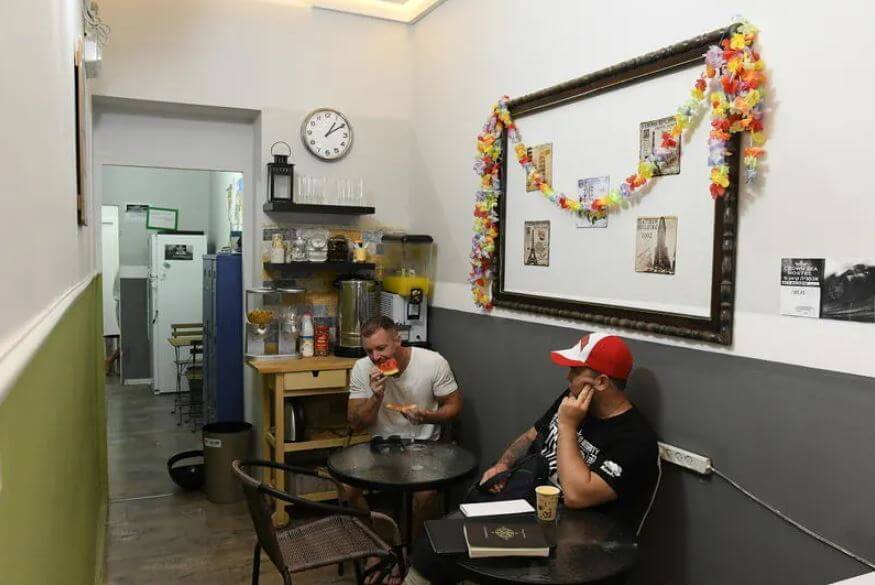 Fully equipped kitchen
Front yard
Parking
Tea and coffee
A lot of the entries on our list of the best hostels in Israel (especially in the main cities) are pretty big. Crown Sea Hostel is a little more cosy- and could suit your more introverted traveller. It packs a lot into a small space though – there's still a fully equipped kitchen where you can prepare your meals. There is also free on-site parking.
Crown Sea Hostel is one of our favourites in Israel but they're not taking guests right now. We're not sure if they're closed for good but we hope they'll come back soon.
Is This the Best Backpack EVER???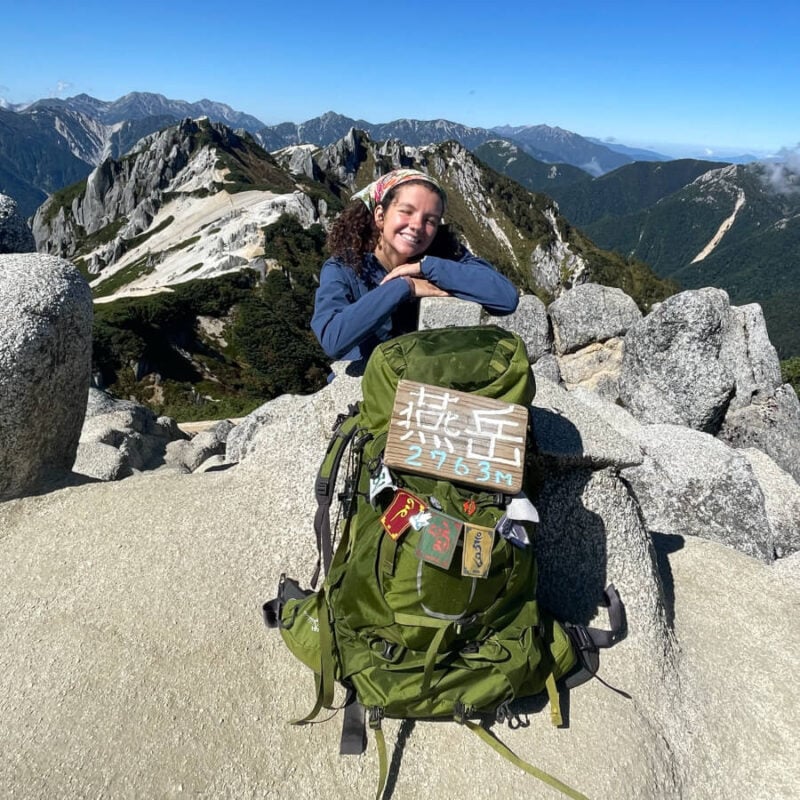 There's more to Jerusalem than the Old City, (made up of Muslim, Christian, Jewish, and Armenian quarters) but it's not a bad place to start! As well as some of the world's most important religious sites, you can get lost in history and enjoy picking up a bargain at one of the many markets. Oh and there are some great Jerusalem hostels to stay in too.
One of the best hostels in Israel
Outdoor rooftop terrace
Recreation and movie room
Help with tours
Open lounge area
Jerusalem boasts several of the best hostels in Israel, but this one stands out just a little above the rest. This modern property boasts many features which will make your stay not only more comfy, but fun too! There are several places to hang out, so meeting fellow travellers couldn't be easier.
Choose from the rooftop terrace, and an open lounge area, and a recreation or movie room. When you want to get out of the city (or even just find out the best places to visit in it), just head to the front desk for the best travel advice!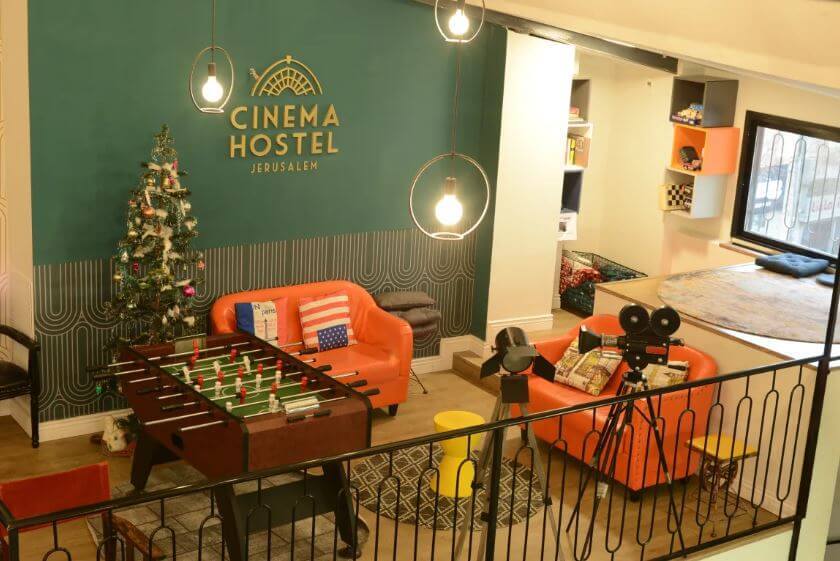 Cocktail bar
Movie filmed rooms
Top location
Tours and activities
Sometimes themed hostels can be a bit tacky and disappointing… luckily that's not the case with the Cinema Hostel – easily one of the best hostels in Israel! Film buffs will love the rooms – if you're with your other half, check out the Grease private room… you might even get some summer lovin' if you're lucky! Not only is this a top place to stay in Jerusalem, but it boasts one of the best cocktail bars in town! What could be better, it's certainly a contender for the best hostel in Jerusalem.
A legendary Israeli party hostel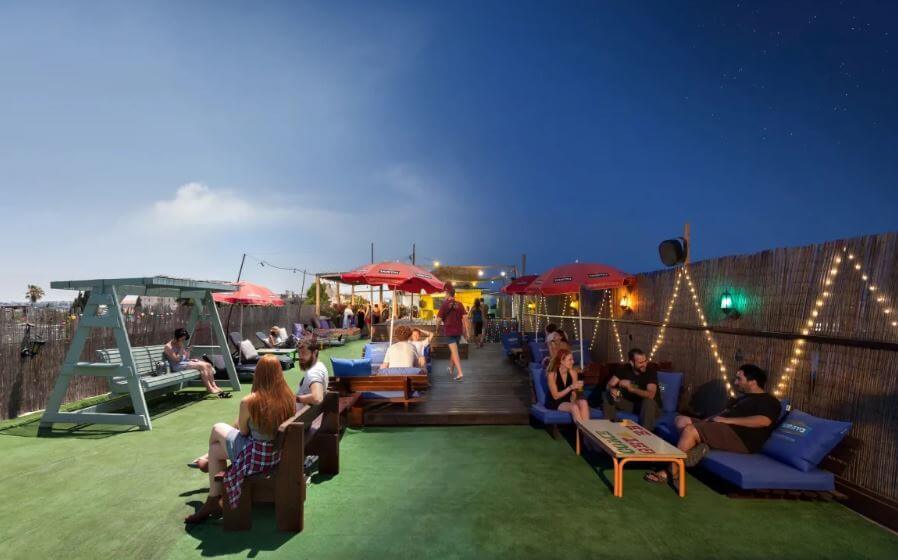 Daily events
Bar and café
Pub quizzes
Lots of communal space
The eagle-eyed among you will notice that we've already had an Abraham hostel Tel Aviv as one of the top party hostels in Israel! Well, this large and sociable hostel offers sociable and fun-loving travellers a similar, albeit quieter, experience in Jerusalem. Exploring the Holy City can be exhausting, so why not come back and cool off at the bar and cafe where you can take part in a pub quiz or one of the other nightly events! Discover the best nightlife in Jerusalem on an Abraham bar crawl and recover the next day with a yoga class!
On the shores of the Red Sea, Eilat is massively popular among Israelis for their family holidays. If you're into scuba diving or snorkelling, you must put a diving trip to Eilat on your itinerary on account of the spectacular coral reefs and marine life. Back on land, there's awesome hiking too – what more could you want?!
Great cheap hostel in Eilat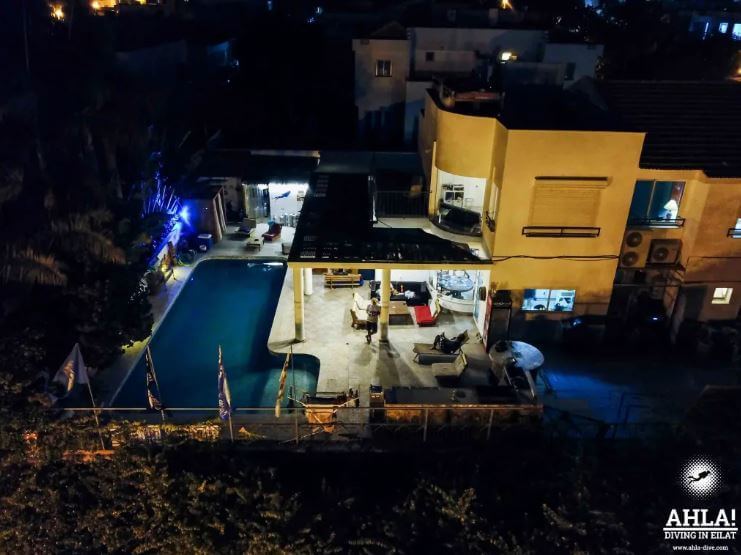 BBQ facilities
Swimming pool
Diving courses
Spacious common lounge
Sacrificing a roof over your head in order to save money may sound a bit drastic right?! However, here at Ahla Diving Center Villa, where it rarely rains, you say thank you very much and probably book an extra night. One of the cheapest hostels in Israel, there are bunk beds outside so that you can fall asleep under the stars. There's also a swimming pool and a spacious common lounge. Don't be fooled by that low price, this is a treasure.
A great Israeli hostel for solo travellers
Friendly staff
Vinyl player and records
Excursions available
Incredible views
This modern villa is owned by the same people as the hostel above, but it offers a slightly different experience. It's one of the best hostels in Israel for solo travellers. The chill-out zone here totally lives up to its name – there's even a vinyl player and you're welcome to choose LPs from that collection. Are you a Scuba diver? Ask here about lessons – no matter what level of experience you already have!
The Shelter Hostel
One of the top chillout hostels in Israel
Outdoor terrace
Book exchange
Children's play area
Quiet and chilled
Whether you want to hike in the Negev Desert or scuba dive in the Red Sea, Shelter is the best place to stay in Eilat! This awesome Israeli hostel has a chilled out vibe and an outdoor terrace where you can easily make friends and share travel stories. However, if you'd prefer to have a bit of me-time out there, just pick something out of the book exchange and curl up in a hammock.
Not only is this place great for solo travellers, but it's also one of the best hostels in Israel for families with small children, who can relax as the kids enjoy the play area!
The Shelter Hostel is one of our favourites in Israel but they're not taking guests right now. We're not sure if they're closed for good but we hope they'll come back soon.
Haifa in North Israel is the "capital of the North", Israel's industrial hub and the spiritual home the strange, fascinating Baha religion. Haifa has a lot going on in its own right and is also a useful jumping off point for Nazareth, Acre & Galilee.
Top recommended hostel in Haifa
Top location
Bicycle rental
Security lockers
Coffee and tea station
It might be in a historical Templer building, but this modern hostel has all the up to date features a traveller could want and more! Backpackers in Israel's 3rd largest city can take advantage of a central location from which it's really easy to visit all the top attractions. If you don't want to explore them on foot, why not rent a bicycle? After all, you can do it at the hostel! As well as keeping yourself hydrated with free coffee and tea, you can whip up your favourite dishes in the hostel's kitchenette!
An awesome hostel NEAR Haifa
Near the beach
Guided tour on offer
Off the beaten track
Board Games
Okay, so this one isn't actually in Haifa, but it's nearby. And sometimes, the best way to learn more about a country and its culture is by getting off the beaten track. To stay in this awesome Israeli hostel, you'll be heading to the only Arab village on the Mediterranean coastline. It's a traditional fishing village too, so you can expect some great food. It's not too far away from everything though, you'll get a unique experience while still being near to the Sea of Galilee and Caesarea!
Backpackers Nest Hostel
A top budget hostel in Israel
Fully equipped kitchen
Lounge and rooftop
Old Ottoman House
Fun and friendly atmosphere
One of the highest recommended hostels in Israel just happens to be one of the cheapest too! Backpackers Nest is hidden away in a beautiful old Ottoman building, which just adds charm and character to an already awesome place to stay! This small hostel offers a home away from home, and a truly intimate experience while exploring Haifa. Enjoy views of the city from the rooftop, or chill with the other guests in the friendly lounge!
Backpackers Nest Hostel is one of our favourites in Israel but they're not taking guests right now. We're not sure if they're closed for good but we hope they'll come back soon.
The lowest point on earth has to be on every traveller's Israeli itinerary. Not only is it absolutely stunning, but you get to float on the surface and read the newspaper!! As well as the sea itself, you simply can't miss the incredible Masada fortress – a rewarding sunrise hike and Israeli rite of passage.
HI Massada
The best hostel at the Dead Sea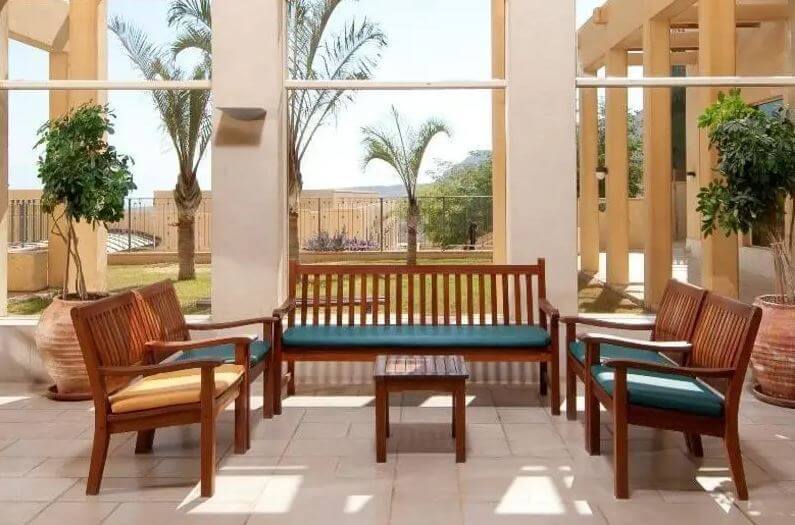 Free breakfast
Private swimming pool
Common room
Overlooking the Dead Sea
Plenty of hostels in Jerusalem and Tel Aviv offer sunrise hikes to Masada (pack some good hiking gear). But even better is to stay right at the foot of it, in one of the most spectacularly located hostels in Israel. When all of the tourists have left Masada for the day, you can stay here, making use of the private pool and the common room. It'll be a lot easier to swim here than in the Dead Sea… although you obviously shouldn't miss that!
HI Massada is one of our favourites in Israel but they're not taking guests right now. We're not sure if they're closed for good but we hope they'll come back soon.
Dead Sea Adventure Hostel
A great budget hostel near the Dead Sea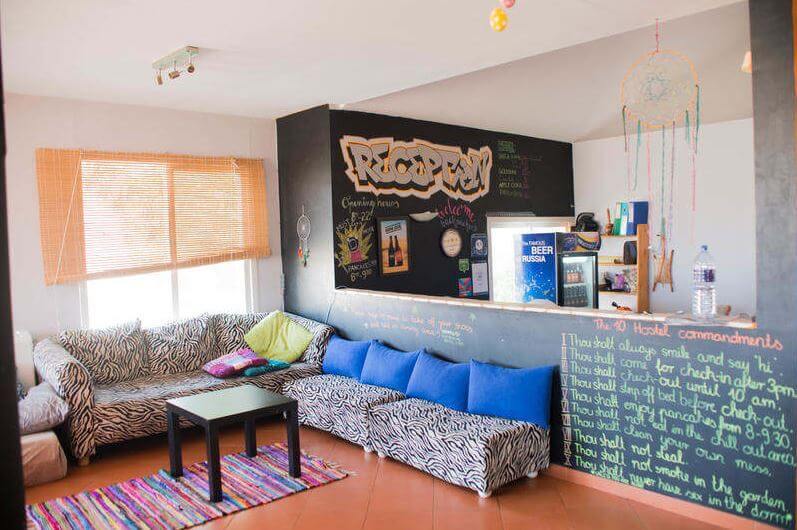 Fully equipped kitchen
Dead Sea and Masada shuttle
Vegetarian Hostel
Tourist information stand
If you can't stay right at the base of Masada, this is your next best bet! OPne of the top cheap hostels near the Dead Sea just happens to offer a shuttle to Masada AND the Dead Sea! But that's just the start… , you can also take advantage of rappelling and canyoning tours, and Bedouin experiences too. This place definitely lives up to the adventure tag in its name!
Dead Sea Adventure Hostel is one of our favourites in Israel but they're not taking guests right now. We're not sure if they're closed for good but we hope they'll come back soon.
HI Ein Gedi
A chance to stay at the lowest point in the world!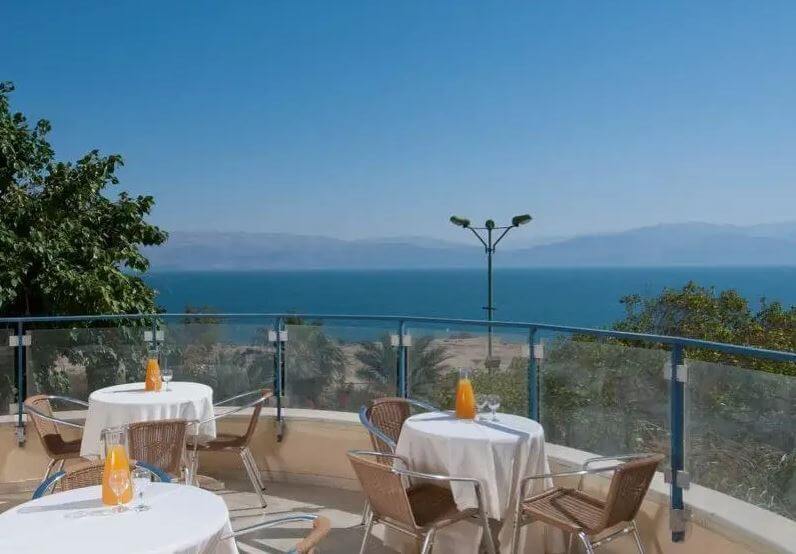 In a kibbutz
Lowest place in the world
Breakfast included
Kosher food
Ein Gedi is probably the most famous kibbutz in Israel, and it's a great place to base yourself if you want to explore the Dead Sea and Masada. You'll be pleased to know that breakfast is included in the price, and the food served is kosher. If you're lucky, you might just get one of the rooms that has a balcony overlooking the Dead Sea. Make sure you have a camera because you'll want to remember that view!
HI Ein Gedi is one of our favourites in Israel but they're not taking guests right now. We're not sure if they're closed for good but we hope they'll come back soon.
Nestled on the shores of the Sea of Galilee, Tiberias is one of the four holy sites of Judaism and a great place to visit in Israel. There are plenty of historical sites nearby – as well as hot springs and beaches! It's not blessed with a lot of hostels, but the two that we're about to show you are highly recommended!
One of the best hostels in Israel
Rooftop terrace
Bike rental available nearby
Chill out lounge
Big kitchen
For one of the coolest hostels in Israel, you have to head to Tiberias! Not only is it a great place for exploring the North of Israel, but you're likely to come away with a few new people to keep in touch with. This sociable place has daily events, including daily music nights at the rooftop bar! If you don't fancy the music, head inside and enjoy the chillout lounge. During the day, you can take part in an excursion or just rent a bike from a nearby office and discover the Sea of Galilee!
Two equipped kitchens
Garden and patio
Luxurious living room
BBQ evening
If you're looking for another great hostel in Tiberias, check out David Hostel. It's a little more on the expensive side as it just offers private rooms, so this is more likely to suit couples or families than a solo backpacker on a tight budget. Although you won't find dorms, you'll still find a sociable atmosphere that hostels are so famous for! Whether you enjoy that on the patio in the garden or in the luxurious living room is up to you!

Our GREATEST Travel Secrets…
Pop your email here & get the original Broke Backpacker Bible for FREE.
The hometown of possibly the most famous person ever, Jesus Christ, nowadays is the largest Arab city in Israel. It's moved on a lot since those times though, and the bustling old town is being held up as a top cultural and culinary location!
Another of the best hostels in Israel
Free breakfast
Free cake and fruit
Fully equipped kitchen
Intimate and relaxed
Abraham Hostels… now where have we heard that before…? Formerly an Arab mansion, this member of the Abraham Hostel family is a great place for a long term traveller to have a little bit of a treat away from the usual hectic dorm lifestyle. Once in Lonely Planet's top 10 hostels in the world, you don't just have to take our word for it that this is one of the best hostels in Israel. Oh, we almost forgot to mention all the free food on offer – breakfast, cake, and fruit!
A fabulous cheap hostel in Israel
Great location
Arabian style lobby
Free breakfast with Arabic coffee
Bar, café, and restaurant
Are you looking for an authentic Israeli hostel experience? That might just be what you'll get at this antique and traditional Nazareth guest house. Enjoy views of the city from the roof terrace, as it boasts a great location right in the centre of town! In the morning, you'll be treated to a complimentary breakfast with traditional Arabic coffee. If you're feeling hungry later in the day, just head to the bar/cafe/restaurant which serves up traditional local food.
Simsim Guesthouse
Top Israeli hostel for solo travellers
Right in the market
Fully equipped kitchen
Travel advice
Bar and café
Last but not least on our list of the best hostels in Israel, we have one more place in Nazareth for you. Simsim guesthouse will delight solo travellers – especially if they are foodies! Why's that? Well, it's right in the centre of the city market. From here, you can buy the freshest and tastiest fruit and veg, before whipping up a delicious recipe in the fully equipped kitchen. You might even want to share it with the friends you make here in one of the cool outdoor spaces.
Not sure where to travel next? The front desk will be able to give you some advice on that!
Simsim Guesthouse is one of our favourites in Israel but they're not taking guests right now. We're not sure if they're closed for good but we hope they'll come back soon.
Before You Book Your Hostel in Israel
So what are the essential need to know facts about visiting Israel? Let's take a look!
Currency – New Israeli Shekel (known simply as Shekel or Nis) – $1 – 3.67NIS
Language – Hebrew & Arabic. English is widely spoken to the point where it is a default first language and many Israeli's are perfectly fluent. You will have few problems communicating.
Visa – Many visitors can get a 3 month Visa on arrival. Note that you may be questioned/interrogated about your reasons for visiting Israel and your travel history. If you are have visited any Islamic countries, expect to be asked about these.
Anything Else? – And now the elephant in the room. The political situation in Israel is complicated and I advise not talking about it during your stay (good luck with that though…). These hostels are all in Israel but no trip to the region is complete without a trip to Palestine, which Israel refer to as "The West Bank". Our backpacking Israel & Palestine Guide provides information about visiting Palestine.
Despite heightened tensions across the region, Israel does remain very safe for tourists.
Map of Where to Stay in Israel
What to Pack for your Israeli Hostel
Pants, socks, underwear, soap?! Take it from us, packing for a hostel stay is not always quite as straight forward as it seems. Working out what to bring and what to leave at home is an art we have perfected over many years.
Check out our definitive Hostel Packing list for our top packing tips!
Why You Should Travel to Israel
So, that concludes our list of the best hostels in Israel. We're sure you'll agree that there's a whole lot of choice in this small country! Whether you want to float in the Dead Sea, see some of the world's most important holy sites in Jerusalem, or just immerse yourself in the nightlife on Tel Aviv, there's a hostel in Israel for you! Just make sure that you pick a safe and pleasant area.
Staying in hostels in Israel won't just save you money, it'll leave you with memories (and maybe friends) that will last a lifetime! Maybe you've only got time for one hostel during your Israeli holiday. If that's the case, go for our favourite hostel in Israel: Little Tel Aviv Hostel. It offers budget accommodation with plenty of character in one of the coolest cities in Israel!
Now that you've finished our extensive list of the best hostels in Israel, we hope that you feel a little more relaxed about your upcoming trip. And that's our cue to be off – but not before we wish you an amazing vacation!
Do you own or run a kick-ass hostel? Want to be featured on this list? Get in touch at [email protected]
Don't Forget Travel Insurance for Israel
ALWAYS sort out your backpacker insurance before your trip. There's plenty to choose from in that department, but a good place to start is Safety Wing.
They offer month-to-month payments, no lock-in contracts, and require absolutely no itineraries: that's the exact kind of insurance long-term travellers and digital nomads need.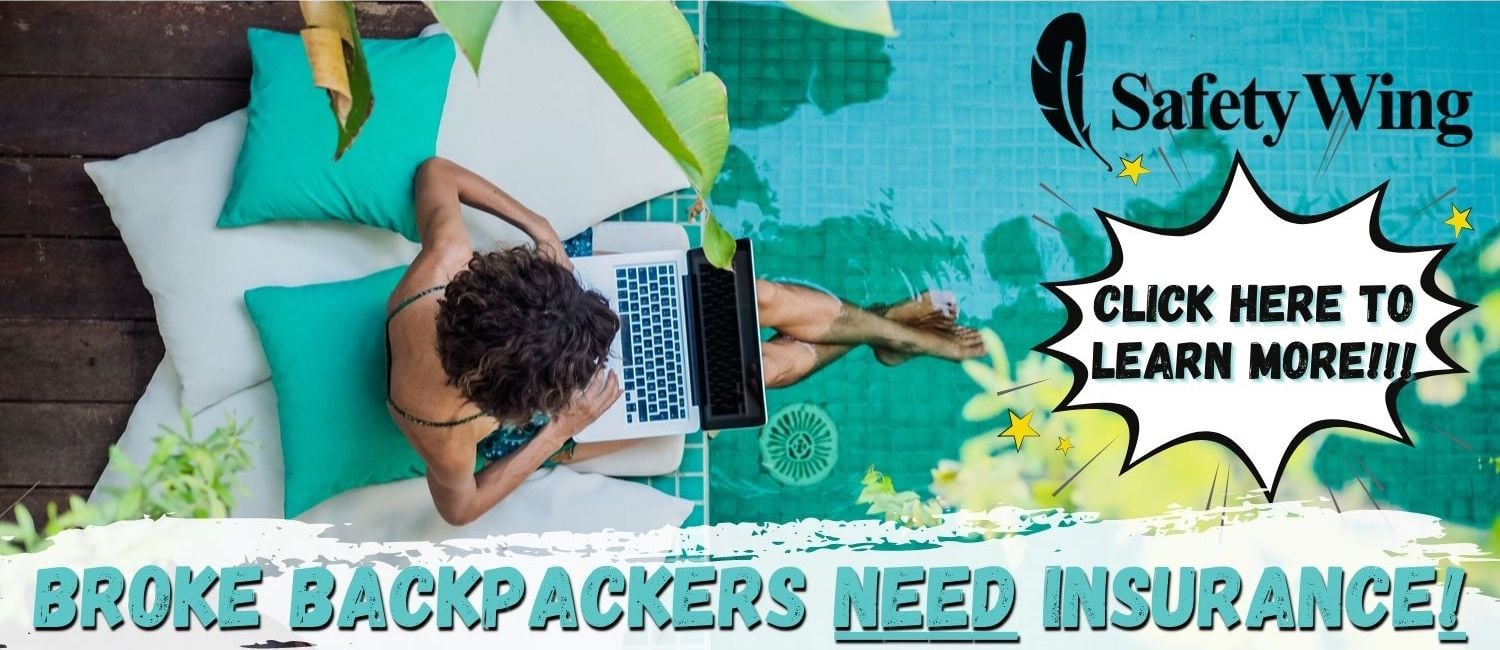 SafetyWing is cheap, easy, and admin-free: just sign up lickety-split so you can get back to it!
Click the button below to learn more about SafetyWing's setup or read our insider review for the full tasty scoop.
---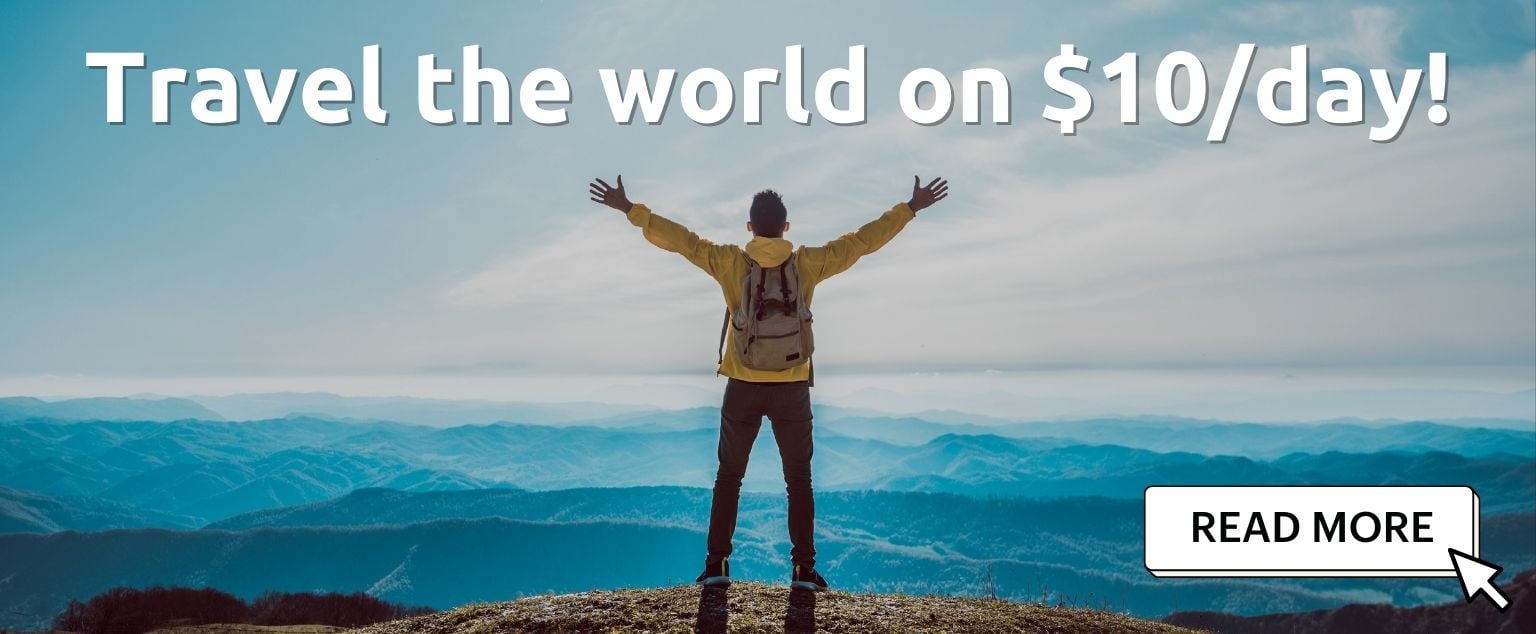 And for transparency's sake, please know that some of the links in our content are affiliate links. That means that if you book your accommodation, buy your gear, or sort your insurance through our link, we earn a small commission (at no extra cost to you). That said, we only link to the gear we trust and never recommend services we don't believe are up to scratch. Again, thank you!