Scuba diving in Eilat, Israel…. Eilat is kinda like Israel's Las Vegas – a ritzy and kinda over-lit party place – except that it's perched on the Red Sea!
You know the Red Sea, right? The place where Moses flicked his wand and brought the parted waves crashing in on Voldemort. It's a classical biblical tale.
And now you can scuba dive in the Red Sea… at Eilat… in Israel… Yay! It's a party place for Israelis, the gateway to Sinai for travellers, and a proverbial paradise for divers and everyone else.
Eilat is a brilliant spot for beginner divers wanting to get shown the ropes and find their diving flow. Dives are rewarding but never extremely complex and conditions are consistently great. Consider scuba diving in Eilat to be your stepping stone to the rest of the Red Sea, both for freshies in the water and for experienced divers just hitting a brand new territory.
And what a territory! After Eilat, you can continue on to Jordan, Egypt, Sudan, and, hell, you can even go diving in Yemen. So start your damn diving holiday in Eilat right!
Choose a good place to stay in Eilat, the right time to visit for the Red Sea's best diving season, and most importantly, hit up all the best dive sites. Plan out the perfect diving trip to Eilat before you move on to bigger, wetter, and redder things.

Unlock Our GREATEST Travel Secrets!
Sign up for our newsletter and get the best travel tips delivered right to your inbox.
The Best Scuba Diving Sites in Eilat, Israel
To square with you, Eilat's dive sites are not examples of some of the best scuba diving in the Red Sea. It's a warm-up!
You still get a taster of the incredible visibility and phenomenal underwater-life that you'll find throughout the Red Sea. However, Eilat's dive territory is more muted, compact, and there's very little in the way of highly-technical dives. Most deepwater dives in Eilat range from 20-40 metres in depth and are accessed from the shore.
So, what's good about scuba diving in Eilat's territory of the Red Sea? Well, you're travelling in Israel, and that means two things:
High prices
Top-notch facilities
Say what you want but Israel doesn't mess around in the efficiency department and that extends to their tourist diving destinations. Safety, facilities, equipment, and even just how the show is run – nothing is overlooked, and these are easily the best scuba dive sites in Israel. If you're continuing on for more diving elsewhere in the Red Sea, you won't find this level of organisational capabilities again.
Eilat is also a tremendous spot for beginners and novices to practice their techniques. There are heaps of diving schools in Eilat well-accustomed to dive-noobies. Furthermore, the large presence of shallow dives, the great variety of diving available, and with most sites in Eilat being accessed from the shore, it shifts the focus from getting technical with your dives to simply soaking up the wonderful and wet underwater world of Eilat.
Underwater Restaurant
Bow-chicka-wow-wow!
Depth: 14-metre maximum
Level: Beginners+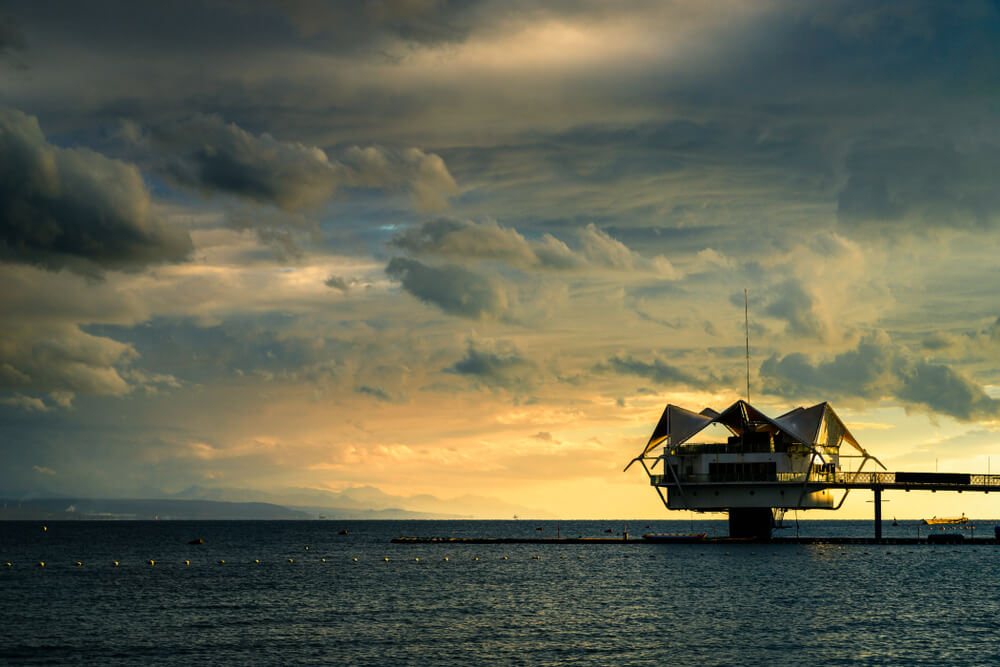 Let's start the roundup with one marvellous and eccentric oddity. The name of this dive spot has nothing to do with the potential evening meals you'll encounter. Rather intriguingly, the location of this site is actually a disused aquarium-style underwater restaurant.
Immediate Update: Upon further research, this derelict "underwater restaurant" was actually an underwater strip club. How is that anything but fantastic!
Anyway, welcome to the weirdness of Eilat! This ex-gentlemen's club is a fan-favourite dive site in Eilat but mostly for introductory dives. The coral formation that's grown on the structure, though beautiful, has sadly taken a beating from tourist activities in recent years. The underwater restaurant is no longer popular with more advanced divers.
All the same, it's a choice spot for quickly jumping into an introductory dive. Plus, it's an abandoned underwater strip club hanging ghostly in the depths: I just had to mention it!
Coral Beach Nature Reserve
The best site in Eilat to start your diving holiday.
Depth: 4-35 metres
Level: Beginners+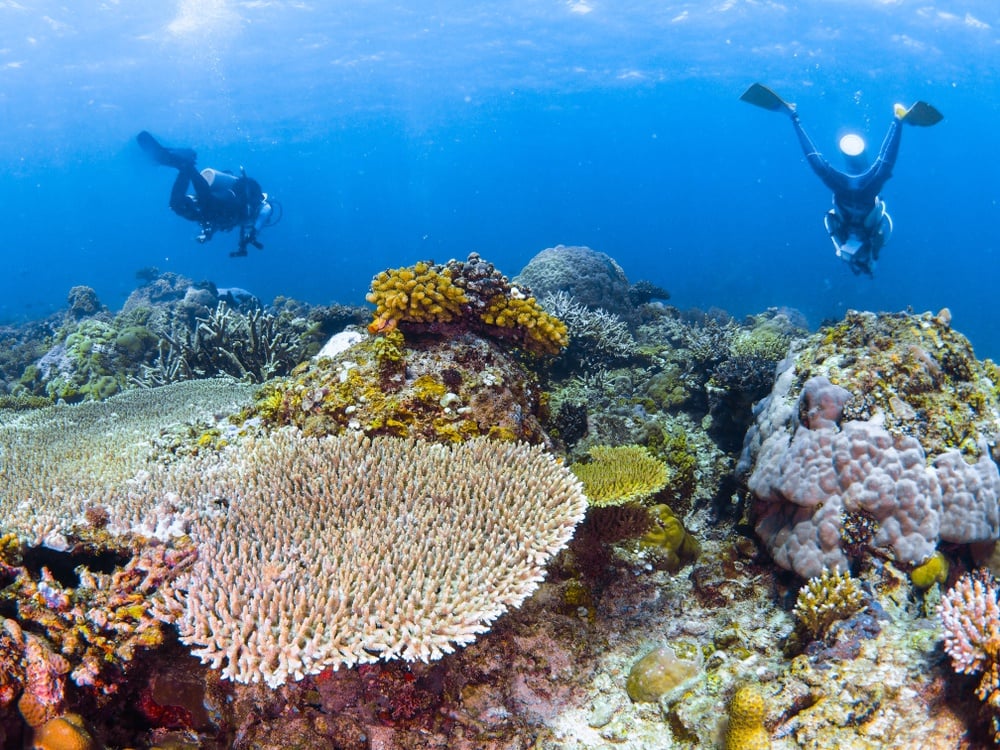 The Coral Beach Nature reserve is both one of Eilat's dive sites (and a damn pretty one at that) as well as something of a dive territory. There are heaps of underwater goodies here – which I'll cover momentarily – and a lot of them merge together despite being individual sites.
It's also one of the best scuba diving sites in Eilat for beginners. Starting from the Satil Wreck dive site and stretching to Egypt's border town of Tabat, Nature Reserve's shallow reef only dives as deep as 4-6 m. Here you'll find some cool reef formations – canyons and backwaters – as well as a selection of shellfish, sea-hedgehogs, and fish.
To the east, there's wide a sand strip with colourful coral formations and more critters before sloping off to a maximum depth of 35 m. Past the slope, you'll find heaps more coral but not much in the way of sea life.
Nature Reserve isn't the most complex or jaw-dropping example of scuba diving in Eilat that you'll find, however, it's a good starting point for your aquatic adventure. Plus, with the compact diving territory of Eilat, there are more interesting dives to play with in the area…
Moses Rock
For a holy diving site in Israel.
Depth: 8-9 metres
Level: Beginners+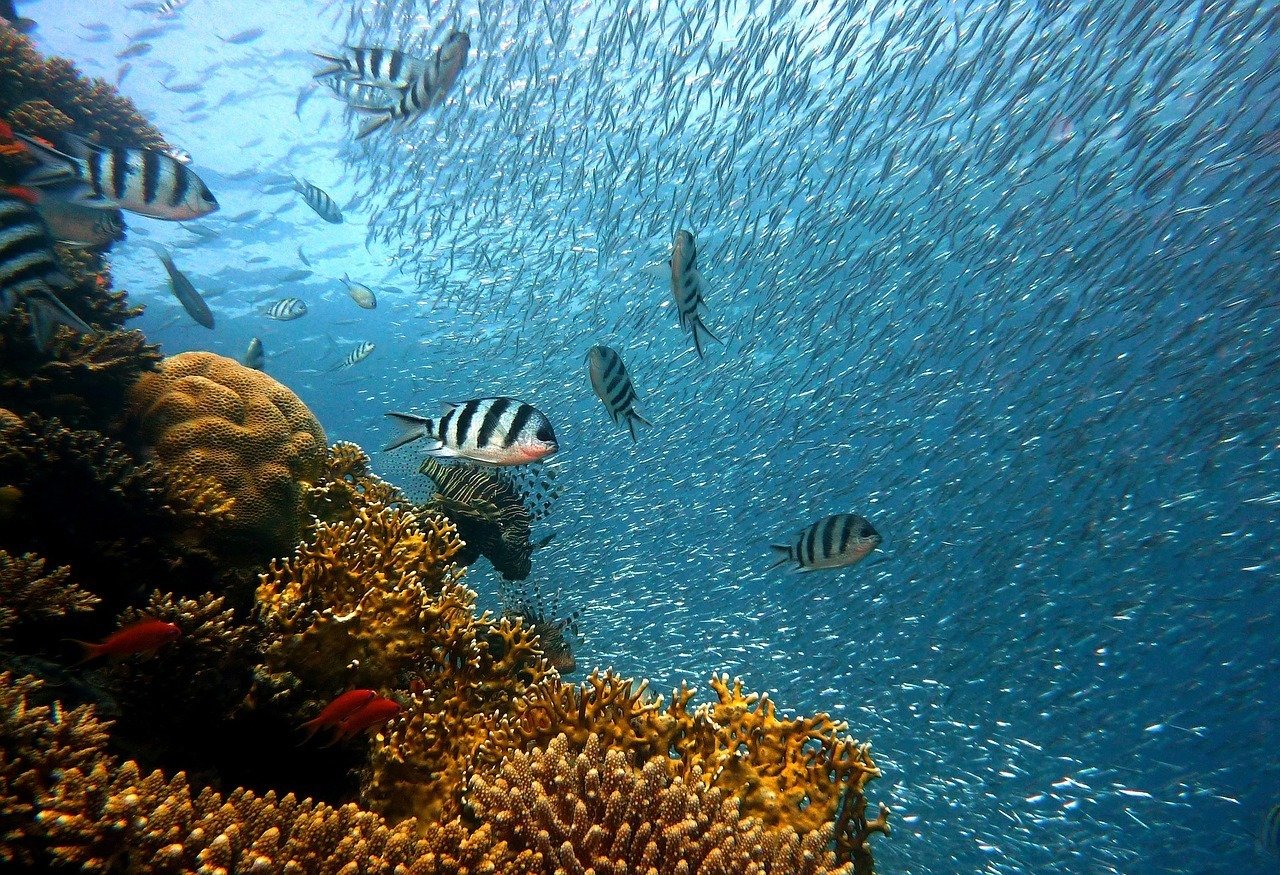 Moses Rock is super yummy and not to be missed! On the edge of Nature Reserve's sandy area, sitting at about 8-9 metres deep and almost touching the surface, is the magnificent rock and underwater cliff formation bequeathed the name of the "Lawgiver of Israel" himself.
It's definitely a spot of diving in the Red Sea not to be missed – both for beginners scoping out Nature Reserve and for experienced divers wanting to explore some spectacular submerged structures. Around Moses Rock is an incredible ecosystem of beasties: barracudas, scorpionfish, lobsters, and turtles roam the rocky outcrops.
You've also got Joseph Rock right nearby. It's not as impressive as Moses Rock per se, however, how often are you diving in the Red Sea at Eilat? Might as well knock 'em both out!
Japanese Gardens
Getting deeper…
Depth: 8-60 metres
Level: Beginners+
On the south side of Nature Reserve is the Japanese Gardens. Unlike Nature Reserve, however – which can be reached from a choice of two piers – you'll need a boat to access this dive spot.
No worries though – that's just more fun! It's a good mix; there's still some diving appropriate for the beginners visiting Eilat here who are wanting to test their mettle. The shallow beginner section of the Japanese Gardens only dives down 8 metres and is filled with coral reef with a topography similar to the Nature Reserve.
The deepwater section is where it gets really fancy though. Advanced divers can head out to this more technical section for the 60-metre cascading coral wall brimming with all kinds of cuties. You've even got a chance of seeing some reef sharks, moray eels, and unicornfish (which don't look nearly as majestic as the name would imply).
Neptune's Table
Pull up a chair.
Depth: 12-25 metre
Level: Intermediate+
Sorry, newbies, this scuba dive spot in Eilat is reserved for divers who are Open Water Certified. With the proper certs though, oh boy, you're in for a treat. Lemme paint the scene for you.
You dive down into the painted fairytale world of the corals and shoals, schools of fish darting around you. Down through the coral forests you head – like Alice going down the rabbit hole – until you reach a clearing. In the clearing is a square coral formation, flat and with an elegant mystique, like the dining table of a god.
Boom Neptune – enjoy your Krabby Patty.
You've also got the Gardens of Eels in this area too. It's a lesser-known spot for enjoying the Red Sea while scuba diving in Eilat, but it's still got some goodies.
At both sites, you'll get a wide range of denizens of Neptune's kingdom, especially early in the morning. The early bird gets the… eel?
Satil Wreck (Sufa Missile Boat)
The best wreck dive in Eilat and Israel.
Depth: 18-25 metres
Level: Intermediate+
Let's talk about an Israeli wreck dive! We haven't talked about a wreck dive yet… Wreck dives are great; it's like the rusted carcass of human engineering returning back to nature.
In this case, it's the rotting husk of an ex-missile boat. That's even more poetic! A pew-pew shoot-y death-boat has now become the underwater home for a whole new universe of life. Whimsical.
On the north side of Nature Reserve is this magnificent sunken specimen. Seventy metres off-shore, the 40-metre vessel sits horizontally on the seafloor – still wonderfully intact – cutting an eerily impressive sight.
The local citizens of the Red Sea have made this dive site their home too. A huge variety of different fish, eels, octopus swarm in an out of the exoskeleton.
You can even go inside! (For those who are appropriately certified.) The Satil Wreck was intentionally sunk in Eila to be a dive site for both training purposes and as an attraction for tourists in Israel. It's a proper diver's playground.
Katza
Dive and swim with Dolphins in Eilat… Russian dolphins!
Depth: 18-30 metres
Level: Intermediate+
The Katza site stands as some of the best scuba diving in Eilat. If not, it's certainly one of Eilat's most popular scuba sites. It's got some definite advantages to be sure.
The Katza dive site is directly adjacent to Dolphin Reef – another tourist attraction in Eilat. It's a "swim with the dolphins" type attraction, however, the kicker is that the dolphins aren't captive; they were born into captivity in the Soviet Motherland, sent to Israel (presumably as KGB sleeper agents), later freed, and now still loiter around for feeding like a couple of adorable sea-punks.
Irrespective of your feelings on semi-domesticated Russian gangster dolphins, the Katza site is still one of the best scuba dive spots in Israel. It dives down to a maximum depth of 30 metres, but that's really not necessary for the full effect.
You've got some cool coral formations – particularly on the submerged section of the port watchtowers – but the real treat here is the opportunities to open-water dive with dolphins out of captivity. Your best bet to see dolphins in Eilat is by hitting up this dive site early in the morning. There's a damn good chance at least one the cuties will want to satiate its curiosity and come say shalom… or privet.
The Caves
Beginner scuba diving in the Red Sea with caves… plural!
Depth: 6-metre maximum
Level: Beginners+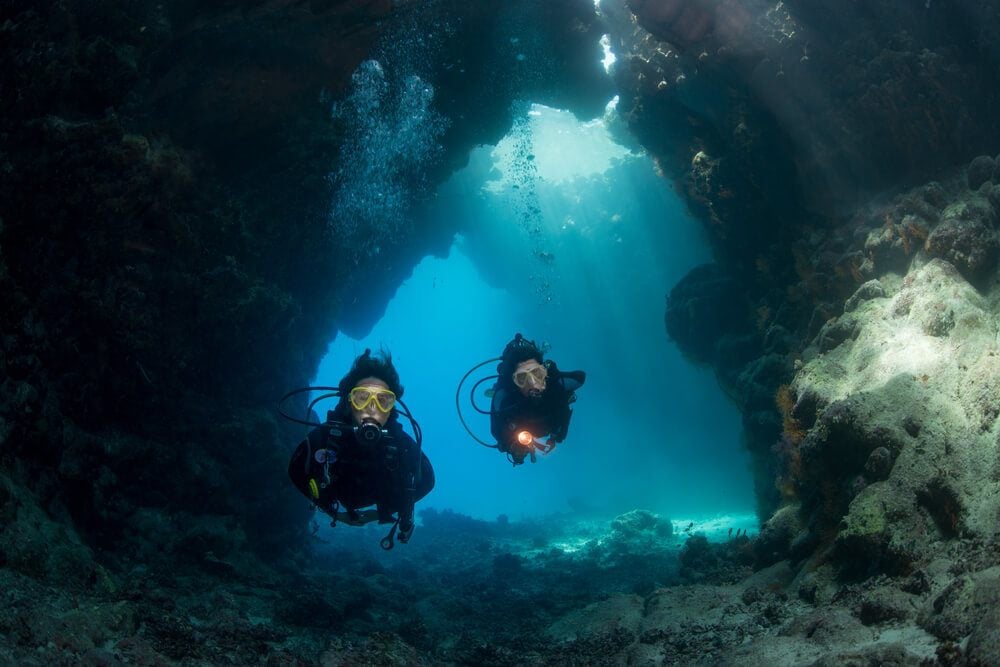 A tremendous beginner's site for scuba diving in the Red Sea: how often do beginners get to explore caves? There are two underwater passages here to navigate, but since it's at such a shallow depth, it's also a brilliant place to go diving in Israel to earn your gills.
One of the caves is actually closed to divers due to the risk of environmental damage. The other cave, however – a much wider arch-like structure – is perfectly roamable.
It's a choice spot for introductory diving in Eilat. Not only do you get to experience some underwater passage-structures, but there's a huge amount of coral and sea life living amongst the rocks too!
Veronica
Veronica rocks.
Depth: 7-metre maximum
Level: Beginner+
The Veronica site is another choice spot in Eilat for introductory scuba diving. As a result, it's popular with tourists. However, the astounding coral formations here means it's also a favourite with more experienced divers in Israel.
Beginning almost immediately with a vibrant coral wall, the structure continues creating a route until you reach the impressive Veronica Rock itself. The colours on display here create a picturesque underwater display of coral-scapes detailed by the critters playing within.
At such a shallow depth, it's a good dive in Eilat for beginners who want to see an awesome spread of the Red Sea's underwater world but aren't ready for more technical dives.
Three Sisters
Did somebody say drift diving in the Red Sea?
Depth: 7-metre maximum
Level: Beginner+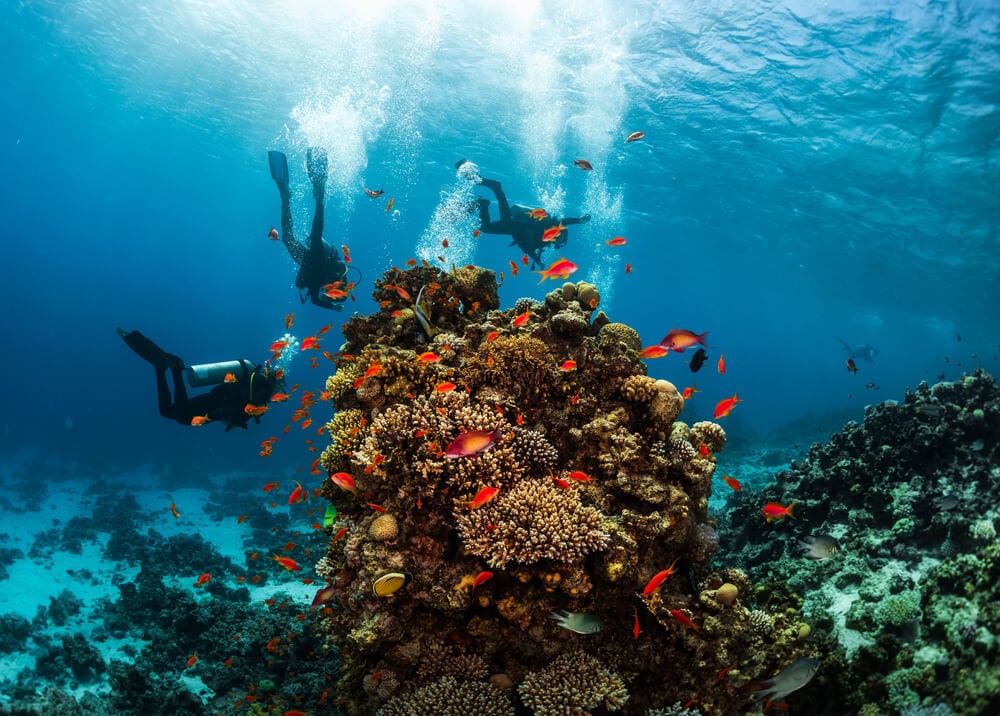 Located close to Midgalor Beach, this is another shallow water dive in Eilat with a twist – currents! Although not incredibly technical, the currents here are suitable for a spot of Red Sea drift diving. In fact, more technically skilled divers will be able to ride the drift right over to The Caves to finish off the dive. Isn't Eilat's dive territory grand; good things do come in small packages!
The namesake of this Israeli scuba spot comes from the coral formations found here: there's three to be exact. Three glorious coral structures individually standing apart and stretching up to 5 metres high!
Although the Three Sisters isn't necessarily the best scuba dive site in Eilat, it's still worth a mention if you got the technical knowhow to link it with The Caves.
Yatush Wreck
Wreck dive #2 in Eilat!
Depth: 24-32 metres
Level: Intermediate+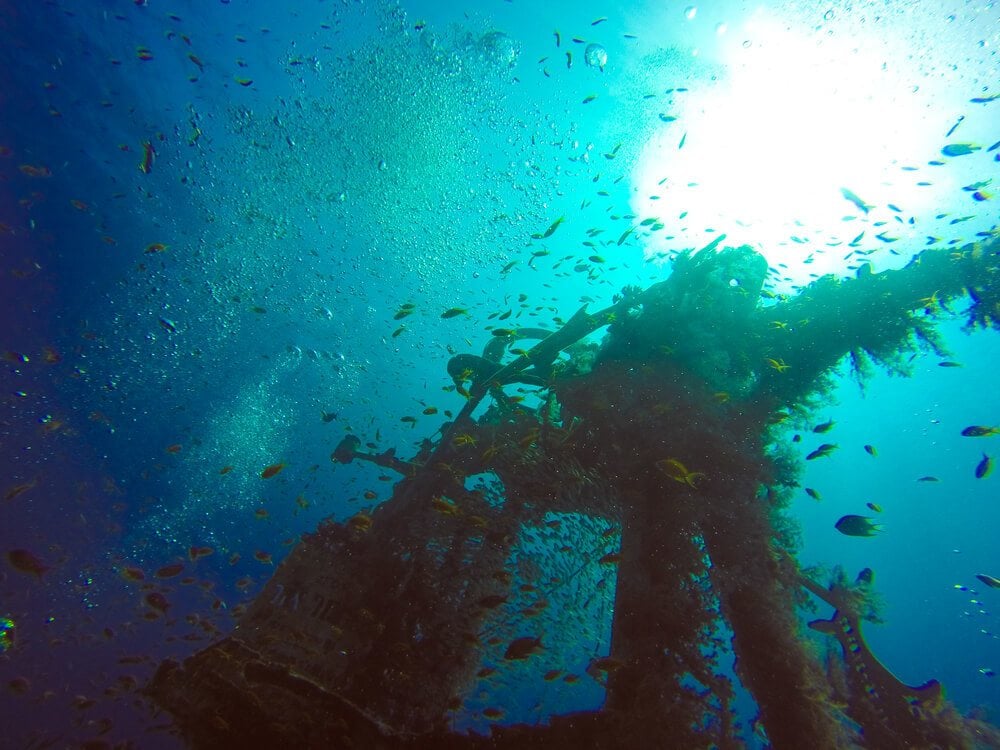 It's another wreck – yay! Starting life as a Vietnamese patrol cruiser, the Yatush (which was gifted to the Israeli army) met it's blissfully pretty underwater grave in Eilat sometime in the 1980s. Shortly thereafter, the wreck was turned over to local scuba diving centres in Eilat for use by certified divers.
Well, lucky you because she is magnificent! Although not too different from the Satil Wreck, the approach is gorgeous. You begin with an underwater slope generally dotted by countless eels waiting in the sand. As you continue down the slope, you'll eventually sight the tilted stern of the vessel staring right back at you from the depths.
The Yatush Wreck itself is grounded on an underwater slope leading to varying depth along the vessel that changes with the tide. Having some diving experience and a knowledgeable level of what's going on is absolutely recommended!
Amphitheatre
Welcome… to the arena!
Depth: 30-45 metres
Level: Experienced+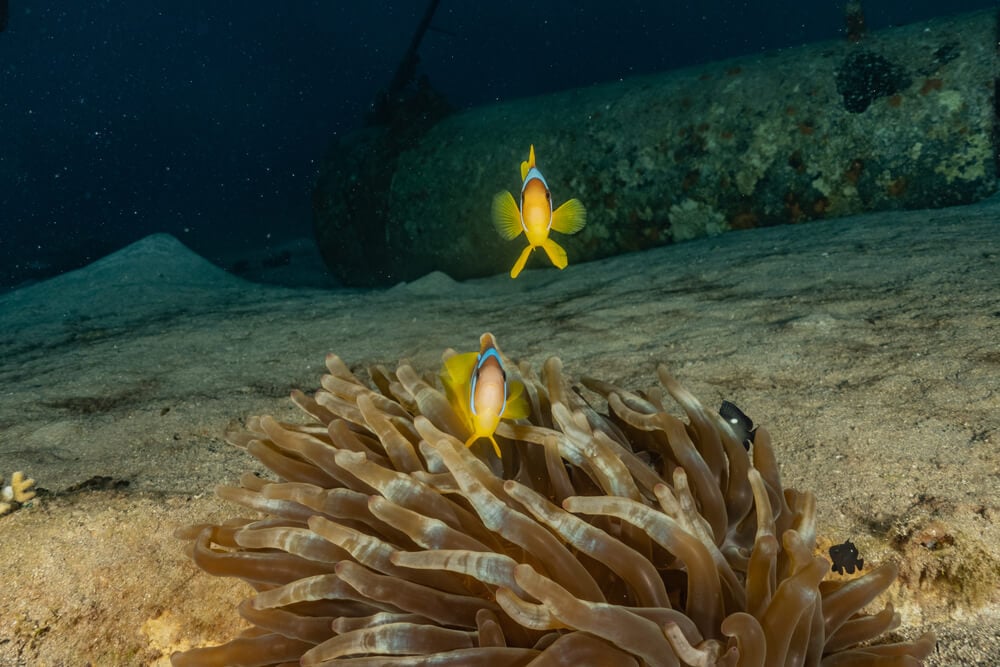 Because of the depth of this dive spot, you'll need to have your Deep Diving Certificate. The payoff is damn well worth it though!
Close to the Yatush Wreck – on the north and east sides of the ship – are heaps of underwater routes marked by dramatic coral scenery. The routes here all sit deeper than 30 metres, and there's plenty in the area to explore.
The main attraction of the Amphitheatre dive site is the natural amphitheatre that dominates the space sitting at 45 metres below sea level A natural bowl of sand on the floor surrounded by coral formations gives the effect that you've just walked into some aquatic variant of the Colosseum surrounded by bloodthirsty spectators. It's also just one in a chain of natural amphitheatre-like settings, so go nuts!
University
The esteemed educational institute for all things scuba diving in the Red Sea.
Depth: 8-25 metres
Level: Beginner+
This dive site takes the name due to the neighbouring University of Eilat. It's a centre of study for all things aquatic in the Red Sea with a massive diversity in flora and fauna that draws in both marine specialists and diving adventurists alike.
With the range of depth, there's diving here to suit both beginner divers and experienced sea-folk. There are a number of constructions here purpose-built for homing coral ecosystems, and the wildlife here, accustomed to the curiosity of researches, are suitably curious and friendly themselves. Among other wonderful oddities, you'll find a whole host of eels, barracudas, some octopuses, and even massive flatfish dominating the seafloor!
Paradise
A little slice of Eden…
Depth: 22-30 metres
Level: Intermediate+
How could I finish this list off with anything but the Garden of Paradise itself? It's close to the Satil Wreck, but it's a more complex dive. You'll be needing certs and training for this: underwater navigation skills are a must!
There's not much in terms of sea life here, however, for lovers of topography and crazy colourful coral reef formations, it's the perfect spot. It's also a site in Eilat fit for nitrox diving if you do care to indulge in the good gas.
Paradise is a big site with a few different directions to follow. It's also possible to link to the Satil site on the ascent, so watch your air consumption!
On a final note, the compactness of Eilat's diving area is perfect like that. It's often possible to link dives provided you got the skills and ingenuity required. I outlined a few opportunities here, but keep your eyes open and get creative!
Eilat Diving Holidays – Travel Tips
Right, so that's the best places to dive in Eilat. It's also the best scuba diving scene you'll find in Israel. There are other cool dives sites elsewhere in Israel, but in terms of facilities and conditions, they don't really compare.
So, now that you know where to dive in Eilat, let's talk about the deetz: dive seasons, prices, and safety.
The Best Time to Visit Eilat and the Red Sea Diving Season
Eilat is a year-round destination both for its dive season and for general shenanigans. The weather in Eilat tends to stay beautiful in all seasons – though you may catch some (extremely minimal) rain in winter – and the water is never going to be unpleasantly cold.
It's still definitely going to be a lot cooler in winter (but days are still very warm), but the crowds die off as a result, and it's kinda nicer for it. Things chill out a lot more and there are fewer adult-sized teeny-boppers woo-ing in the streets.
In summer, however, Eilat packs out – hard. Crowded beaches and, naturally, crowded dive sites. The warmer waters do mean you'll get more vibrancy from the underwater-scapes, but it's not really worth the trade-off of visiting Eilat in full swing.
The shoulder seasons are easily the best time to dive in the Red Sea at Eilat – September to November in particular. The closer to August it is, the quieter it'll be, however, the closer to December it is, the warmer the waters will be
Oh, and no matter what time you decide to travel to Eilat, always dive early for maximum abundance. There is no such thing as over-abundance of abundance.
The Prices of Scuba Diving in Eilat
Travelling Israel is mighty expensive, but travelling to Eilat takes it to another level. It's easily one of the ritziest places to visit in Israel. My friend got two sundaes and a small fries from Maccas for the grand spanking total of $20! He was also displeased with the sundae.
The good news, however, is that the prices of diving activities in Eilat aren't cripplingly expensive. They're definitely expensive! But relative to Israel-standards, it's all fairly priced.
For most scuba dive centres in Eilat, you're looking at prices roughly of:
Introductory dives (for uncertified beginners): 210 ILS – 310 ILS ($60-$90) depending on the centre and length of the dive.
Guided dives (for certified divers): 120 ILS – 150 ILS ($34-$43) in a group setting. A private guide will run you more.
Dive packages: Booking a two or three-tank dive (two or three dives in a day) will net you a better price overall.
Refresher dive: Any certified divers who haven't dived in 6-months are required to take a refresher course (a basic theory, regulations, and skills check). Some dive schools in Eilat will be kind enough to throw it in complimentary with a dive, otherwise, it'll cost you about 150-200 ILS ($43-$57).
You can't solo-dive in Israel either (legally), however, if you have a dive partner and certs but you're just lacking the appropriate swimwear, hiring dive equipment from centres or dive shops in Eilat will roughly cost you:
100-175 ILS ($29-$50) for a full day rental of equipment.
A tank may be included in the price, however, tanks are usually around 20 shekels ($6) apiece.
You should also be able to rent pieces gear individually or rent for half-days at a cheaper price.
On a final note, Israeli law also requires all active certified divers in Israel to have diver's insurance. If you don't have insurance, some dive shops in Eilat can cover you 4-5 days for about 100 ILS ($29). Alternatively, here's the link to purchase some diving insurance for Israel online.
Staying Safe When Diving in Eilat
Look, staying safe when scuba diving in Israel – or anywhere – is super important. It kinda comes with the territory of being 30 metres underwater poking around the wreckage of an expiring Israeli gunboat. Staying refreshed on your diving skills is always a necessity!
There's no shortage of safety tips on diving, however, the number one safety tip for any and all adventure travel is to really think hard about being insured!
ALWAYS sort out your backpacker insurance before your trip. There's plenty to choose from in that department, but a good place to start is Safety Wing.
They offer month-to-month payments, no lock-in contracts, and require absolutely no itineraries: that's the exact kind of insurance long-term travellers and digital nomads need.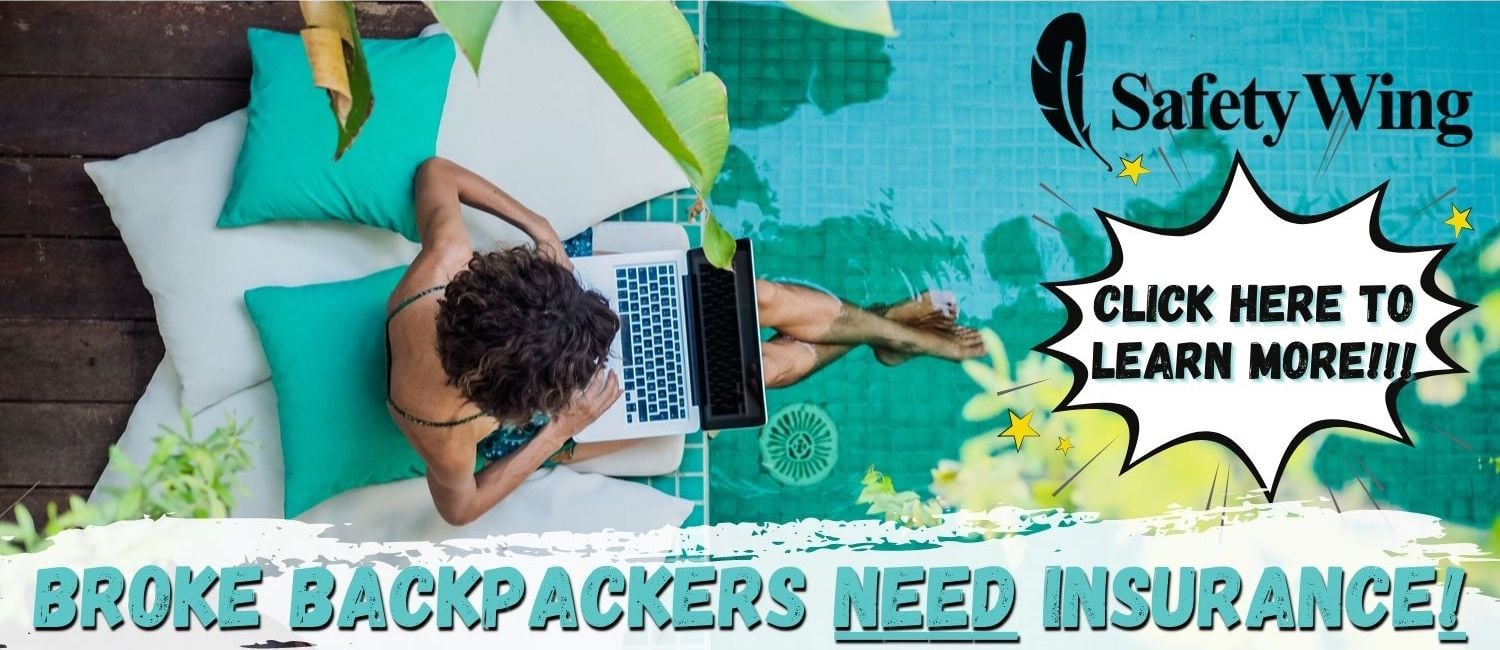 SafetyWing is cheap, easy, and admin-free: just sign up lickety-split so you can get back to it!
Click the button below to learn more about SafetyWing's setup or read our insider review for the full tasty scoop.
Also, Be Cool, Homeslice
The Red Sea is super pretty, and we'd like to keep her that way! Whether she's blue, red, or a tender shade of lilac, keep her clean. Be a responsible diver in Eilat.
When you're scooting around the Red Sea's dive sites, just be aware. Be aware that you're in a fragile ancient environment. Every movement you make could unintentionally eradicate 2000+ years of ancient coral lineage.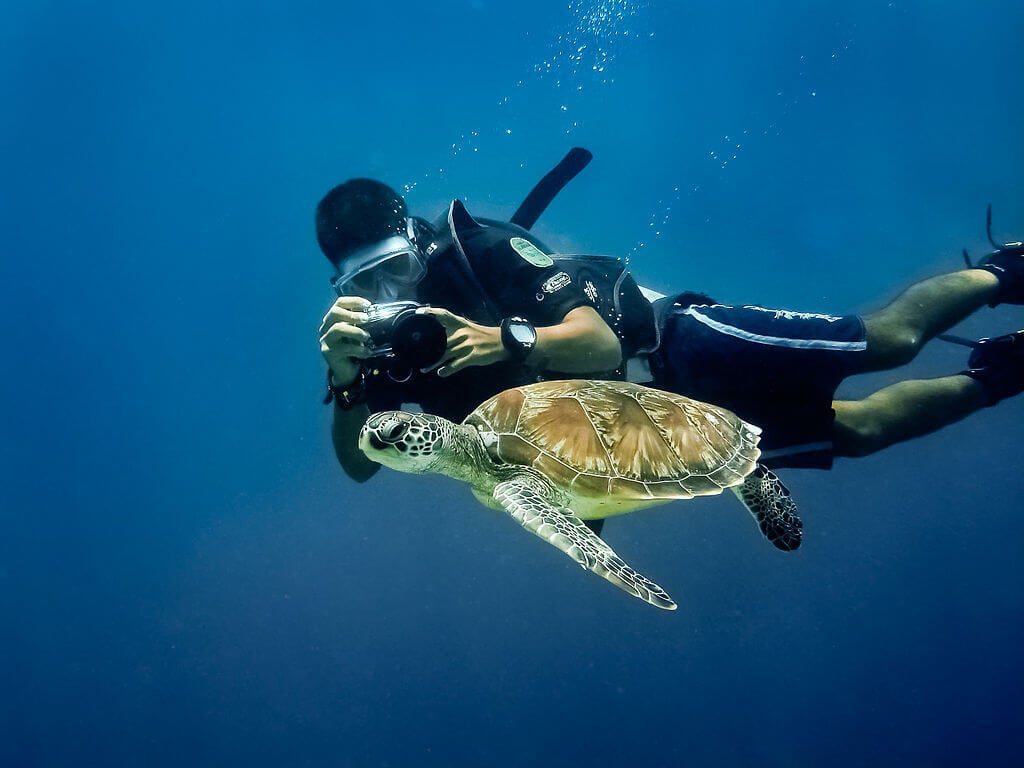 So just… be chill, homie:
No Touching – The corals, reefs, unexploded Egyptian torpedoes – nope. Hands stay in your pockets (figuratively speaking).
Maintain Good Buoyancy Control – It'll keep you from accidentally touching the reef or anything else to stabilise yourself.
Don't Feed the Critters – Except maybe the Russian dolphins. I wouldn't withhold your snacks from those guys…
Travel With a Reusable Water Bottle – Yup, no drinking from plastic at Neptune's Table. The Grayl Geopress is not only a water bottle but acts as a purifier too.
Leave No Trace – Take nothing but photos, leave nothing but bubbles.
Overall, just be cool to Eilat and the Red Sea. Boat activity, tourists, monstrous neon-lit resorts bellowing ungodly deep house beats until the break of dawn…
These things add up over time.
Save $$$ • Save the Planet • Save Your Stomach!
Drink water from ANYWHERE. The Grayl Geopress is the worlds leading filtered water bottle protecting you from all manner of waterborne nasties.
Single-use plastic bottles are a MASSIVE threat to marine life. Be a part of the solution and travel with a filter water bottle. Save money and the environment!
We've tested the Geopress rigorously from the icy heights of Pakistan to the tropical jungles of Bali, and can confirm: it's the best water bottle you'll ever buy!
View on REI
Read the Review
Where to Stay in Eilat
Look, for the backpacker life, Eilat is sorta dumb. Different strokes and all that, sure, but truly, Eilat is not primo traveller vibes.
It's criminally overpriced – even by the standards of accommodation in Israel – pumped with resort-hotel tomfoolery, and the music sucks. The hummus is still super cheap though!
I'm not saying Eilat isn't pretty. It's super pretty! You're perched on the twinkle of the Red Sea, sandwiched between the mighty Sinai Peninsula and the Mars-like folds of the Negev Desert. It's rad.
I just wanted to set the scene first for choosing your accommodation in Eilat. Furthermore, I wanted to give context for the next section. I'll cover where to stay in Eilat for people with disposable income momentarily, however, first, I gotta speak to my fellow smelly and humble backpacker tribe.
The Best Place to Stay in Eilat for Free (Dirtbags Rejoice!)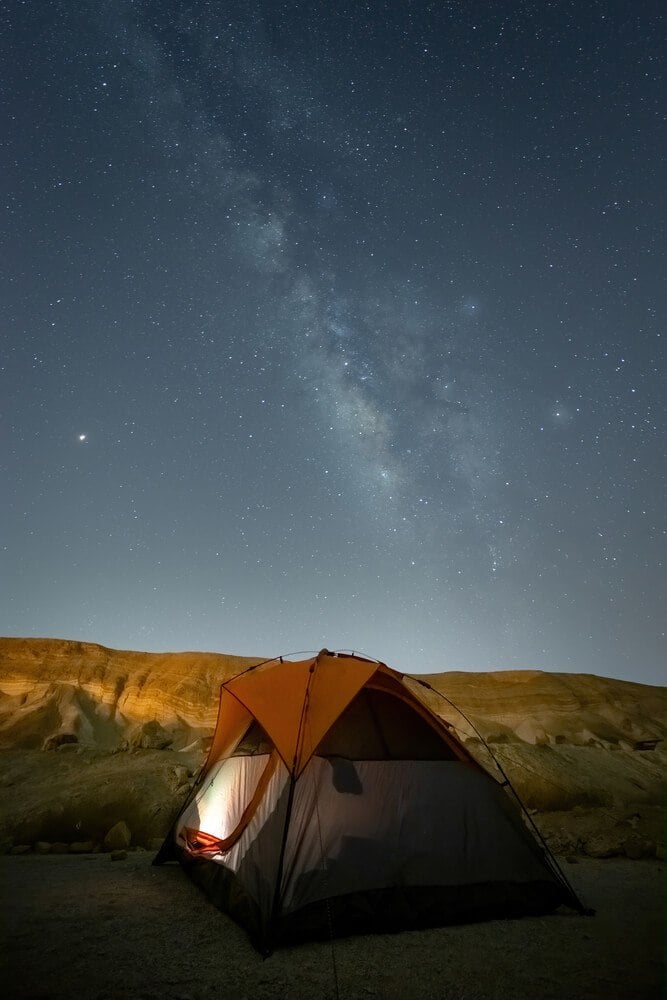 Ask most Israelis and they'll tell you that Eilat is "so so super beautiful"… and they'd be right! They'd also tell you that it used to be cool. Now, they may not say it exactly like that, but that's basically what they're saying.
Before Eilat exploded into Las Vegas with more kippahs, it used to have a nice little traveller, hippy, 'sleep wherever suits' vibe going on. That's all moved to Mitzpe Ramon now, but there are still pockets keeping the dirtbag torch aflame in Eilat…
Head south from Eilat following the road to Taba, The further away from Eilat's central sprawl you get, the more you'll start finding opportunities to just crash out on the beach. Head south far enough (it's not that far) and you'll start finding beaches where hippies, broke-ass backpackers, and lovable strange ones are pitching their backpacking tents – for free, of course.
Waking up to sunrise over the Red Sea with a joint and a good crew… Sounds perfect, right?
The Best Hostel in Eilat for Diving Backpackers: Ahla Diving Centre Villa
I mean, you could just stay somewhere in Eilat that's both a hostel and dive centre! It's expensive, however, it's still one of the cheapest places to stay in Eilat. Flash and with some swanky private rooms, Ahla Diving Centre Villa also has dorm rooms for saving some much-needed shekels for Eilat's diving prices.
Not only is it a dope pad with the chill traveller vibe of Israel's hostel scene to accompany, but they'll set you up for your diving adventures during your stay in Eilat. Beginner or veteran – doesn't matter! And, as an added bonus, stay with Ahla and you'll get 5% off any dives. Trust me, that counts.
Although a simple space, it's clean, minimalistic, and considerably more local and better-value than most of the kitsch accommodation in Eilat. It's also in a brilliant spot – close to the beach and city centre!
You'll get all the facilities you need here – plus there's plenty of free parking on the premises – but the real kicker is the view. You can wake up early for a dive, or you can just stuff the whole thing and watch the dawn sun climb over the Red Sea and Jordanian mountains.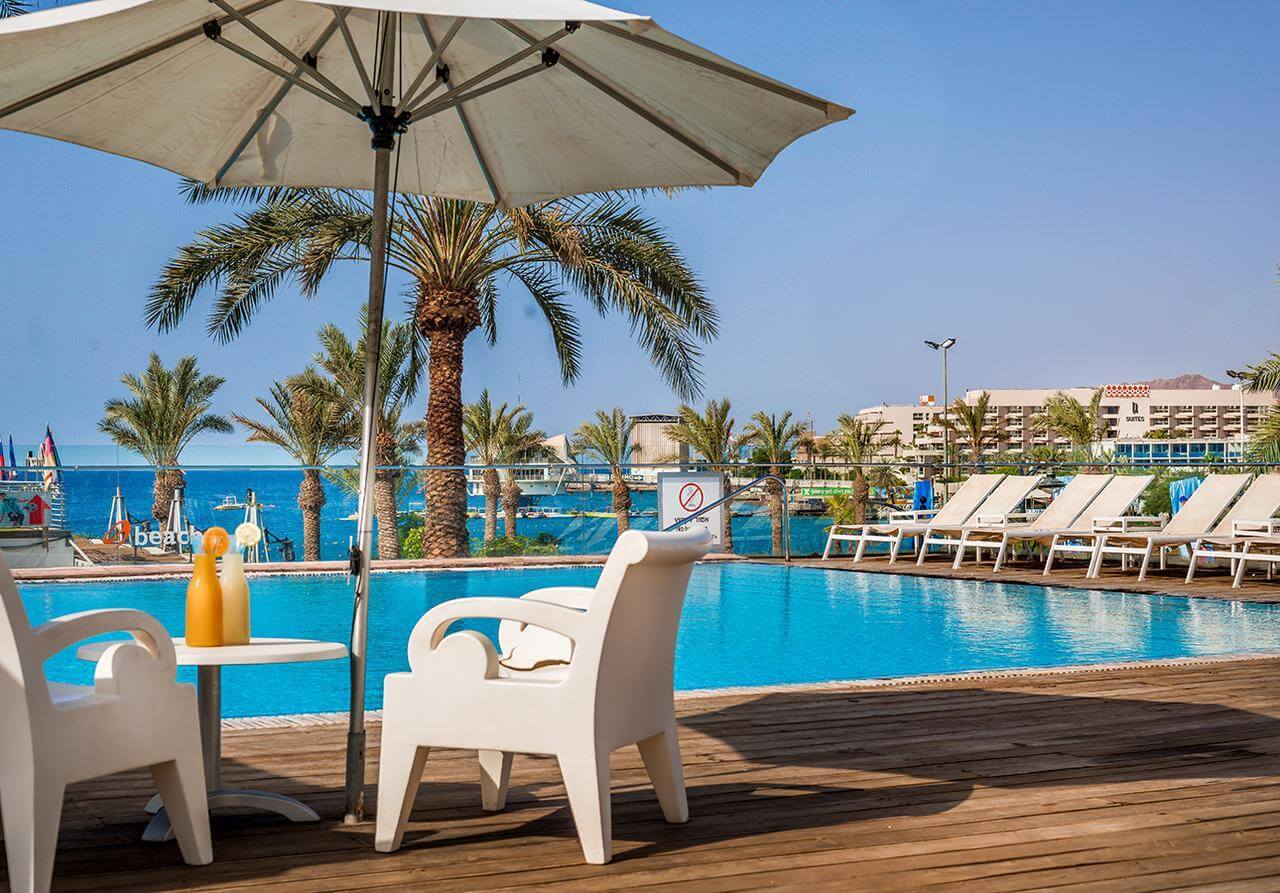 Maybe I was wrong; maybe you do want the ritzy experience of Eilat? Then this is the hotel for you! To start, it's smack-bang beachfront and centre, and that's a good start!
It's also crazy flash: all rooms get air-con, plasma TV, and most have a balcony with the appropriately jaw-dropping view. If that's not enough, there's even an on-site bar, concert hall, and synagogue. So not only is it the best hotel in EIlat, it's the holiest!
Scuba Diving in the Red Sea, Eilat, Israel, and Beyond
I mean, Aqaba and Jordan are right next door and there's more awesome Red Sea diving there. Travelling south over the border to Taba starts the beginning of Egypt's where there are more sick dive sites alongside a whole new backpacking adventure. Hell, just keep going south – Egypt to Saudi Arabia to Sudan to Eritrea to Yemen!
What's my point? Diving in the Red Sea is bloody magnificent: it's a world-class diving adventure! There's a very good chance that you'll catch the dive-fever after sampling Israel's scuba diving offerings in the Red Sea, and there's only one cure…
More diving!
So let's talk about advancing your diving career for and after Eilat. From scuba noob to scuba dude, this is how ya do it!
On the Certifications Required for Diving in Eilat
So, certifications for diving is a whole other topic to submerge into. Although there are some sweet spots for introductory dives in Eilat, for the most part, being certified is always going to lead to a better diving experience. The same goes for diving in Eilat and Israel.
The dive centres in Israel all follow PADI certifications, and finding a diving course in Eilat is easy. Most centres offer a whole range of courses from your basic PADI Scuba Diver and Open Water certificates right down to speciality courses.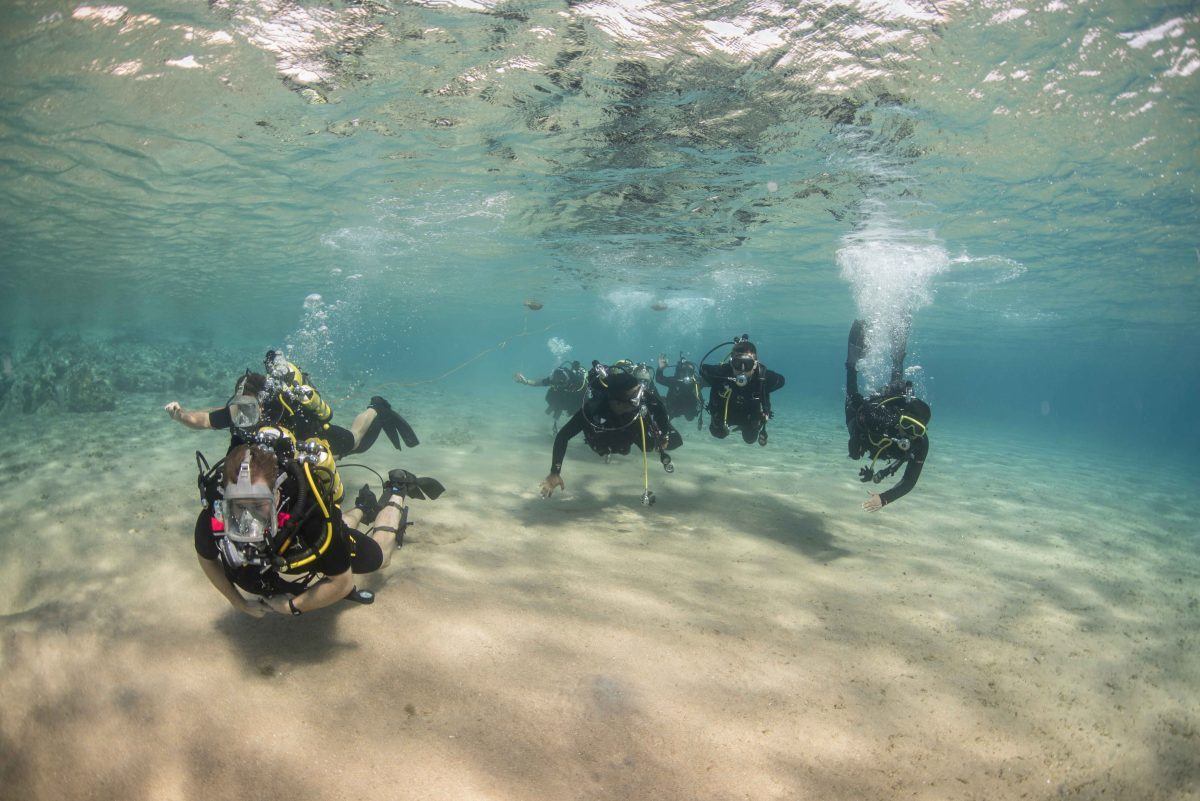 An Open Water Diver course in Eilat will cost you about 1500-2000 ILS ($428-$570) and will leave you able to both dive to a depth of 18 metres with a buddy as well as do guided shore/boat dives. It's the top recommendation for experiencing the best scuba diving in Israel to its fullest. Other more advanced or speciality courses are priced accordingly.
Diving the Red Sea from a Liveaboard
Have you heard about liveaboards? They're kinda the dream for all students of the scuba diving arts. Living on a boat is the goddamn dream.
Imagine, if you will, a floating Batcave. It looks and feels like a swanky boat with nice rooms and excellent feeds, but actually, it's a secret water base. It's your base-of-operations from where you live your daily routine: eat, sleep, dive, repeat!
Diving from a liveaboard is the best way to set up a consistent routine and really further your diving skills and career. It's also a fantastic way to experience diving; there are incomprehensibly beautiful dives sites all over the world and often the best way to experience them is diving from a liveaboard, bright and early, at the crack of dawn.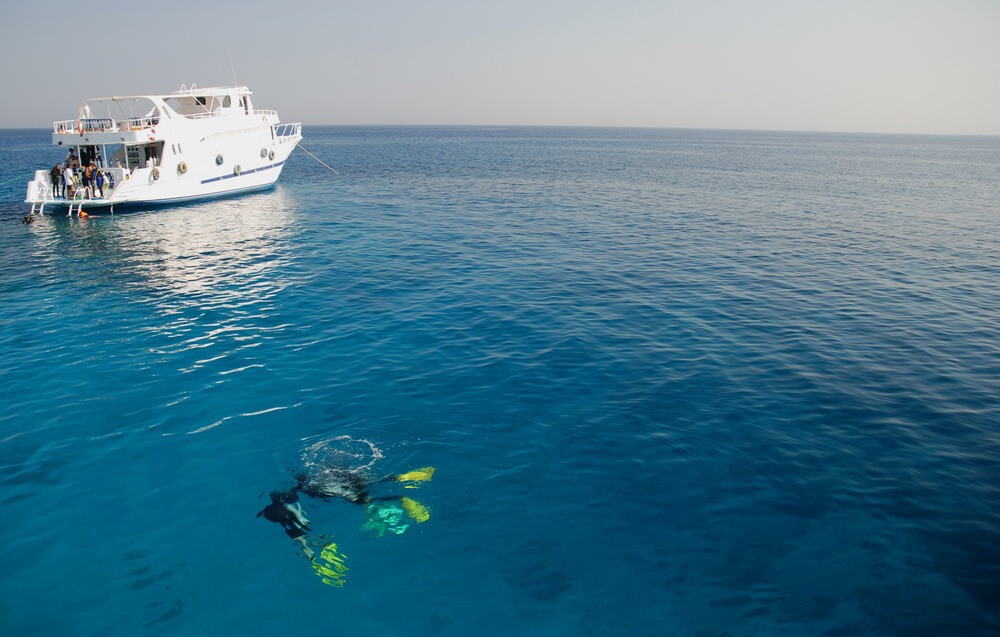 And diving the Red Sea from a liveaboard is no different. There are heaps of choices for liveaboard diving in the Red Sea and, without a doubt, it will be one of the most unforgettable diving experiences of your life.
Just gotta find your Batcave first. Book a diving trip with liveaboard.com and start living the liveaboard life today!
The Best Sites for Diving in Eilat: Recap
A quick recap, a round-off, and we're out! So, do you remember the best dive site in Eilat for you?
For…
Dive Sites
Notes
Beginners
-Underwater Restaurant
-Coral Beach Nature Reserve
If I had to pick one site for an introductory dive, it'd be Nature Reserve.
Wreck Dives
-Satil Wreck (Sufa Missile Boat)
-Yatush Wreck
You could reasonably link the Satil dive with the Pardise site, and the Yatush dive with Amphitheatre.
Underwater Structures
-Moses Rock
-The Caves
Introductory dives at the Caves site is mint.
Crazy Corals
-Japanese Garden
-Neptune's Table
-Veronica
-Three Sisters
-Amphitheatre
-Paradise
The Japanese Gardens is one of the few boat dives in Eilat and one of the deepest dives you'll find there.
Abundant Sea Life
-Katza
-University
Katza has dolphins!
Go Part the Red Sea
It's been a long time since Moses defeated Dumbledore in the Sinai War of 1956-and-three-quarters. A lot has changed in Eilat since then; there's a giant neon-glowing pyramid now!
What hasn't changed, however, is the reverent majesty of the Red Sea. It still sits as magical and entwining as it was several thousand years ago. Only now, we have the required apparatus to breathe underwater and explore it!
The Red Sea is a true paradise for divers. There's something for everyone and every skill level to be found from the Red Sea's countless dive sites. Beginners rejoice as they paddle and play in the colourful shallows, while advanced divers will find a whole manner of haunting wrecks and technical deep-dives to enjoy.
And scuba diving in the Red Sea at Eilat in Israel? Well, think of it like your gateway drug. You start somewhere with an easily navigatable dive territory, top-of-the-line facilities, and what can only be described as a sample taster of the Red Sea's magnificence… Six months later, you're living in a liveaboard off the coast of Yemen, bronzed and carved like Neptune.
Give diving in Eilat a shot. Once you're really hooked, you can start heading south for the real adventures!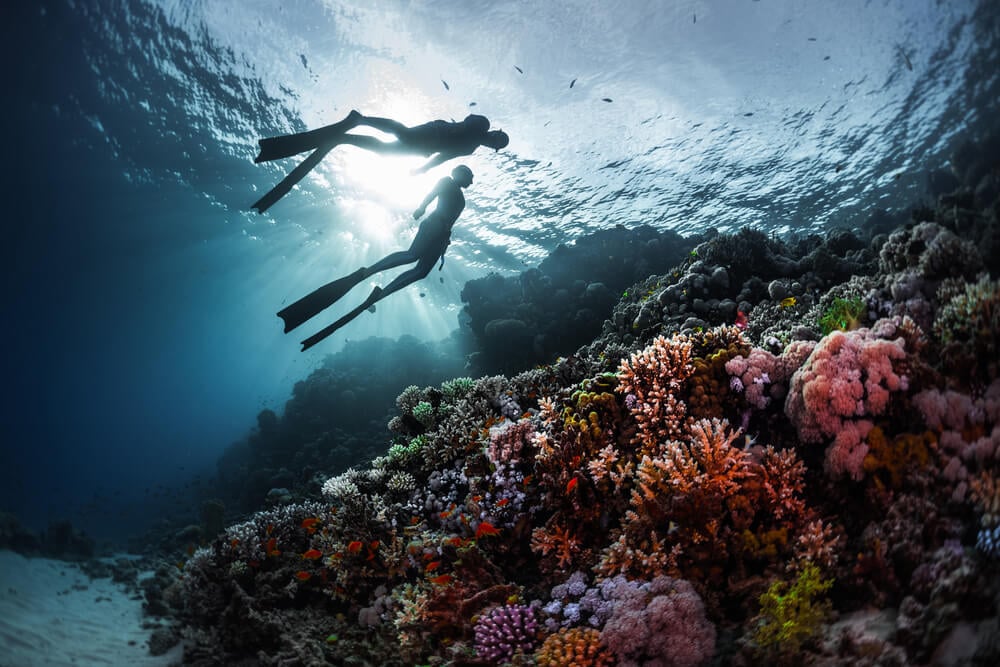 ---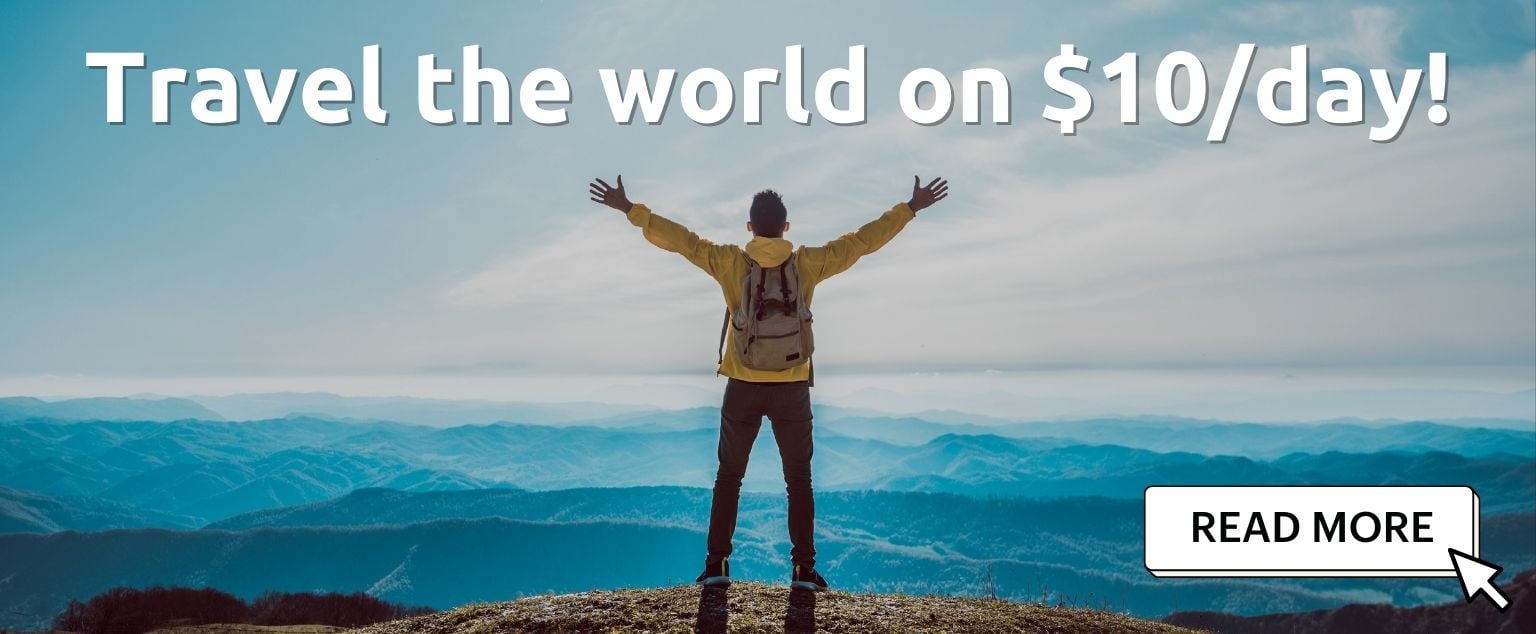 And for transparency's sake, please know that some of the links in our content are affiliate links. That means that if you book your accommodation, buy your gear, or sort your insurance through our link, we earn a small commission (at no extra cost to you). That said, we only link to the gear we trust and never recommend services we don't believe are up to scratch. Again, thank you!