If you're looking to embark on the scuba diving holiday of a lifetime, you should seriously consider a liveaboard (aka dive safari/dive tour).
What the hell is that? It's where you live… aboard… a boat for anywhere from a few days to a couple of weeks as it tours around the best dive sites in the region. They're usually all-inclusive, which means that all of your needs will be met while aboard.
Maybe right now you're sitting here, reading this and assuming that such a feat must be a wealthy divers' sport. Nope. There are liveaboard options for every budget – from luxury yachts with spas and private balconies to cheap backpacker hostels on water with beanbags and dorm-style cabins!
Choosing where to embark on a dive safari can be tricky though. Different countries offer unique experiences – whether it be coral gardens or shipwrecks; scores of sharks or whacky critters like sea horses and frogfish. Some places are entirely suitable for beginners whereas others are for experienced divers only.
Worry not dear diver, we've got you covered. Read on to discover the five hands-down best places to dive in the world this year, with links to detailed reviews of the very best scuba diving tours in each destination. Let's dive in!
What is a liveaboard exactly?
As mentioned before, a liveaboard is essentially an organized diving trip where you live solely on a boat. You'll eat, sleep, dive, and perhaps drink on the vessel for most of your diving trip. The quality of these liveaboard packages range from basic, with simple vessels and fewer amenities, to floating Roman palaces. Regardless of budget, there is a liveaboard catered to just about the type of diver.
The best part about liveaboards is what they can unlock. Knowing how to live on a boat opens up many doors for seafaring-types and even more for the under-the-seafaring-types.
Being on a liveaboard means that you can travel to more distant locations and more remote places. Often these dive sites are so remote, you'd be unable to reach them in any other way, which means you won't have to share all that incredible marine life with any other god-damn humans.
The easiest way to book your liveaboard trip is – who would've thought – through the liveaboard.com platform. It pretty much works like any other accommodation platform. You put your destination in and choose from the listed options. There are over 500 liveaboards on the site that you can choose from, so there are plenty of epic trips you can plan.
Everything is arranged for you by the liveaboards crew. All you have to do is enjoy the ride, marvel at the dives and partake in extra activities like viewpoint treks, water-sports and BBQ beach parties! Could be worse.
So where are the best places in the world to be a part of liveaboard? Let's see below.
Has the greatest marine biodiversity in the world
A truly off the beaten track destination – few people have heard of Raja Ampat, fewer have ventured there.
An experienced diver's playground. Most dive safaris that operate here require you to already have your advanced open water certification.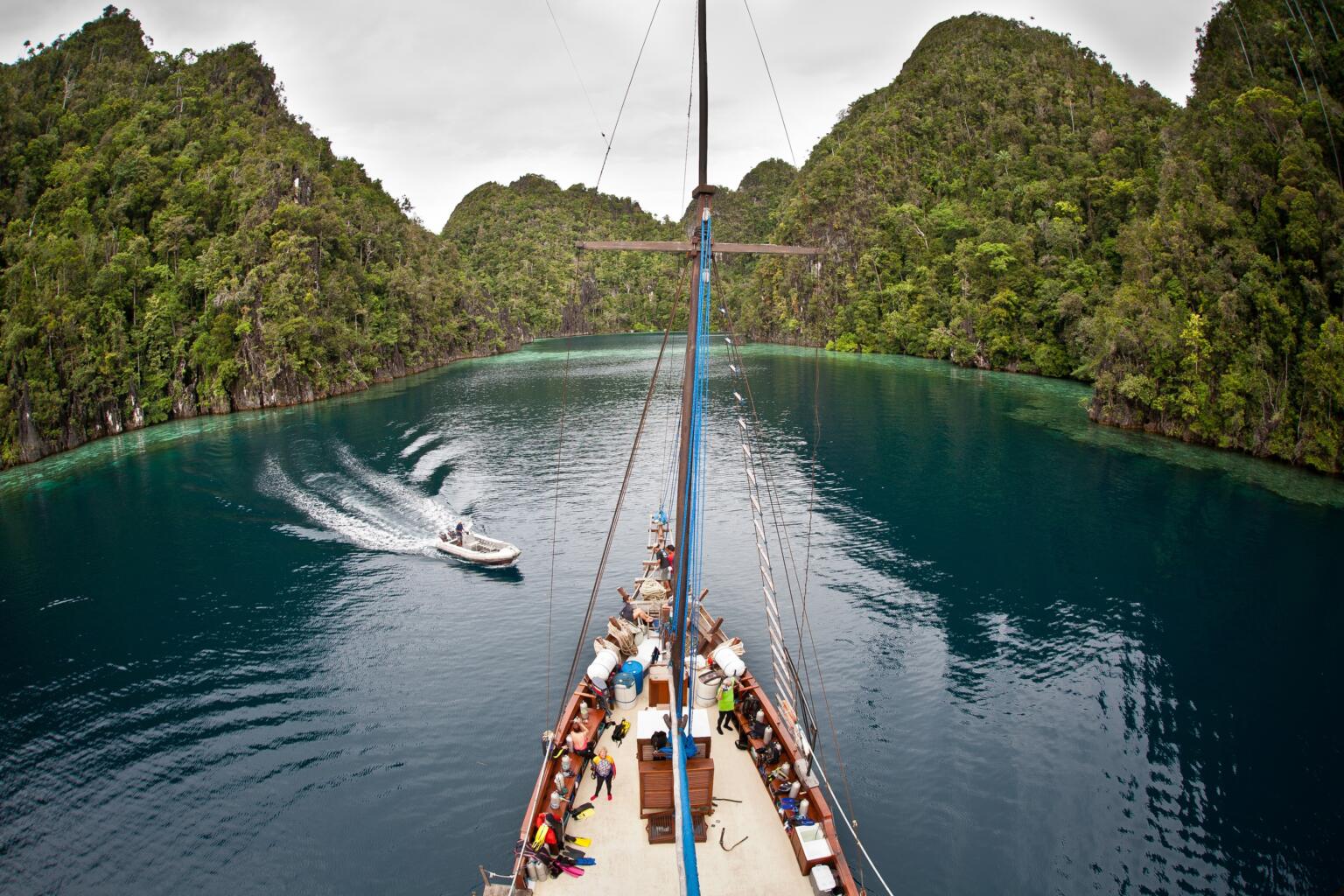 What's Diving Raja Ampat Like?
Shattering away from the northwest tip of New Guinea, Raja Ampat is an East Indonesian regency comprised of four main islands: Misool, Salawati, Batanta and Waigeo. Surrounding them are over 1500 smaller islands, cays, and shoals. Most of the small population here lives in simple fishing villages; the majority of the smaller islands are uninhabited altogether. Lush green towers of jungle rise up from them instead of skyscrapers, whilst crystal clear waters slice through the countless islets.
Raja Ampat lies within the Coral Triangle – a tropical marine region that boasts the highest marine biodiversity on earth. But what truly makes this place exceptional is the fact that it has the highest marine biodiversity within the Coral Triangle, as shown by data from the conservation international! It's marine biodiversity overload.
Little surprise that Raja Ampat has some of the best diving in the world. 75% of all known hard coral species are found here as well as over 1000 species of reef fish. It's not uncommon to spot several hundred species of fish in a single dive for those with a trained eye (or two well-trained eyes if you're not a pirate).
Raja Ampat is also a fantastic place to see sharks! In addition to the usual suspects like white, grey and blacktip reef, one can spot more bizarre species like the iconic Hammerhead Sharks and even the rare Tasselled and Ornate Walking sharks aka Wobbegong Sharks! Hey look, there's one: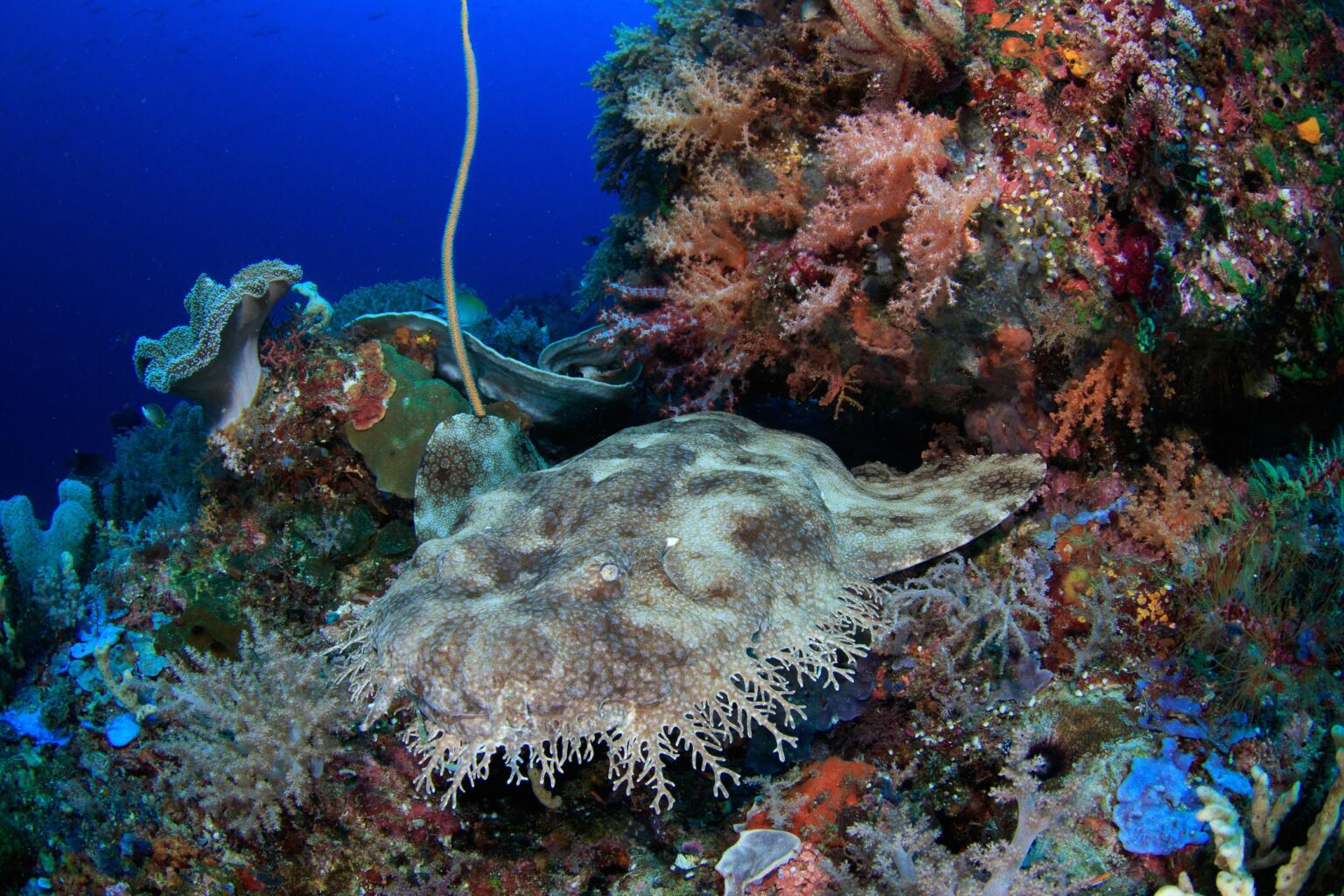 On top of this, Raja Ampat also gets 13 species of sea mammal including the elusive dugong aka sea cows plus 5 marine turtle species, 700 species of mollusk including 6 species of giant clam, countless crustaceans…daaaayum! I'm going to stop bombarding you with stats though; to truly appreciate Raja Ampat's' insane marine biodiversity, you'll have to go there yourself.
Right now, Raja Ampat is pretty much universally accepted as being the very best place to dive in the world. This isn't just because of the epic marine biodiversity. It's also the timing. Currently, infrastructure there is minimal, which means no water pollution – and very few people. But things won't always be this way.
Tourism is growing, the local population is increasing and more people are hearing about Raja Ampat each year. There. Did you feel that? Someone else just heard about it. If you want to clock a legendary scuba destination under your dive belt in its prime day, that place should be Raja Ampat, and the time should be now.
How To Have a Great Dive Trip to Raja Ampat
When to go: October – April. It's not possible to dive during the other months due to high levels of wind and rainfall.
How to get there: Fly to Sorong airport. If you were headed to a dive resort, you'd have to stay the night in Sorong City (bleug…you'll see why I said that when you get there)…then get up super early the next day to catch the cramped and regularly cancelled ferry to Wasai…
…then find some random dude with a motorboat to take you to whichever tiny island your dive resort is on, all for an extortionate amount of money. (I've been through this ritual and it was a total ball-ache!)
However, if you sign up with a diving liveaboard then the rest of your journey will be seamlessly arranged for you by the crew from the moment you reach Sorong airport.
Why you need to dive there with a liveaboard: Many of the smaller islands that make up Raja Ampat are uninhabited; lacking so much as a hut let alone a dive resort! It is around these uninhabited islands that the very best and most pristine dive sites are. The only way to reach them is via a liveaboard experience.
Think about it: if you make it all the way to Raja Ampat, you deserve to experience the absolute best scuba diving highlights there.
Diving safaris vary immensely in terms of the boat's vibe, size, and facilities as well as price, trip length and additional activities. To discover more check out these hand-picked Raja Ampat liveaboards.
Offers a rare chance to dive the waters off Central Asia, in the Arabian Sea.
Great place to practice cave diving and tunnel diving.
Has well-known cleaning stations that are a great place for spotting turtles, whale sharks, and reef sharks. (May is the best month for mantas and whale sharks).
What's Diving in the Maldives Like?
Some 1000 kilometres south of the Indian subcontinent lies the minuscule nation of the Maldives; Asia's smallest country by both land area and total population. It's comprised of some 1200 tiny coral islands and sandbanks grouped into 26 atolls. Barely known to the outside world until the early 1970's, the country's primary source of income now lies in tourism; specifically scuba diving.
That's because the Indian monsoon sweeps along the Maldivian island chain, carrying with it plentiful nutrients that feed the vibrant coral reef here. These bountiful currents also attract vast numbers of reef fish and large pelagics like whale sharks and turtles.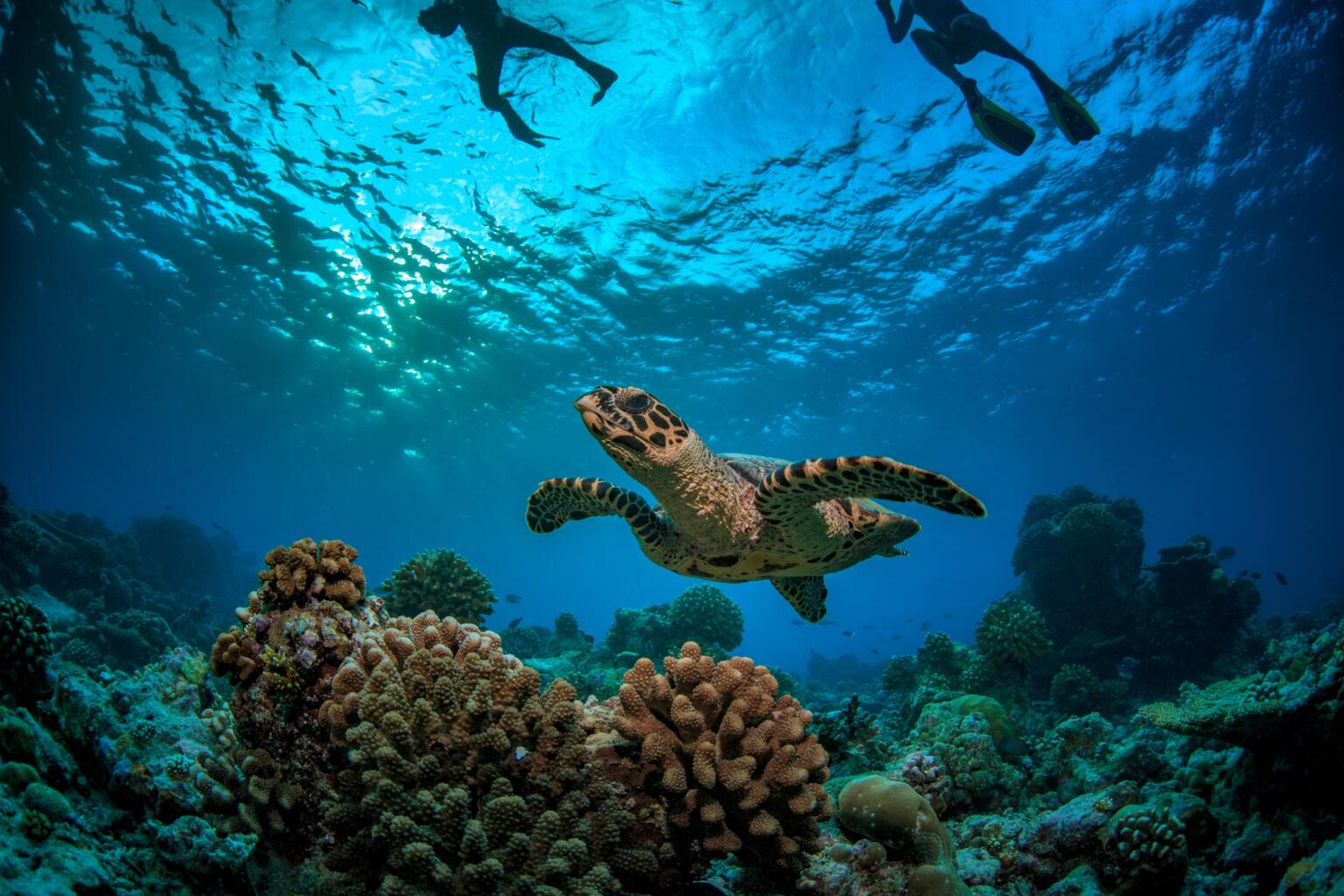 Between the atolls, rocky pinnacles rise up to scratch the water's surface and in doing so create an intricate network of caves, caverns, and swim-throughs. These are coated with rich pickings of sessile marine life including colourful mollusks and crustaceans.
Historically, these submerged rocky pinnacles have also made sailing here a dangerous activity before the invention of GPS. Consequently, there are several decent shipwrecks to explore.
In deeper waters, there are a number of well-known cleaning stations where divers can witness sharks, turtles, and rays stopping by to rid themselves of pesky parasites via hungry cleaner fish.
For anyone who is staying around Central Asia and wants to embark on a nearby diving holiday, staying in the Maldives is the obvious choice. Relatively affordable and offering a little bit of everything, it is a great alternative diving destination and one of the only viable ones in the Arabian Sea.
Whilst many people flock to Southeast Asia, the Caribbean or Oceania, the Maldives is a little more out there and offers a great variety of challenging and rewarding experiences. For those who want to experience a little bit of everything in their diving holidays, this is the place to go diving.
How to Have a Great Dive Trip in the Maldives
How to get there: You have to fly to Velana International Airport, located on Hulhule Island in North Male Atoll, near the capital island of Male. Your liveaboard will collect you from here and transport you to the ferry for your scuba diving adventure.
When to go: Late December – early May is diving high season, characterized by calm water conditions and superb visibility of up to 100ft. It's also possible to dive between July – November, which is the low season.
This means fewer divers but also choppier seas and reduced visibility. The other months of the year – late-May, June, November, and mid-December – mark the diving offseason. Thanks, monsoons!
Why you need to dive there with a liveaboard: Because the Maldives is split up into many small islands, if you stay at a diving resort you'll end up doing one of two things:
You'll either limit yourself to a tiny fraction of the full scope of variety the Maldives has to offer. OR…
You'll end up island hopping – essentially touring the Maldives as you would have with a liveaboard, but at a much more expensive rate. Resorts in addition to the separate fees of travelling between them are usually costly.
The variety of locations to dive in the Maldives is insane! Read more about Maldives diving trips and how to find the best one for your level of experience.
#3 Great Barrier Reef – Most Beginner Friendly
Variety. An Australia backpacking trip has it all: every type of dive and marine habitat – from micro to macro, strange to iconic – can be encountered here.
This is one of the best places to learn to scuba dive with a liveaboard.
Marine mammals – this is an excellent place to spot dolphins, whales, and dugongs.
It's possible to dive here all year round!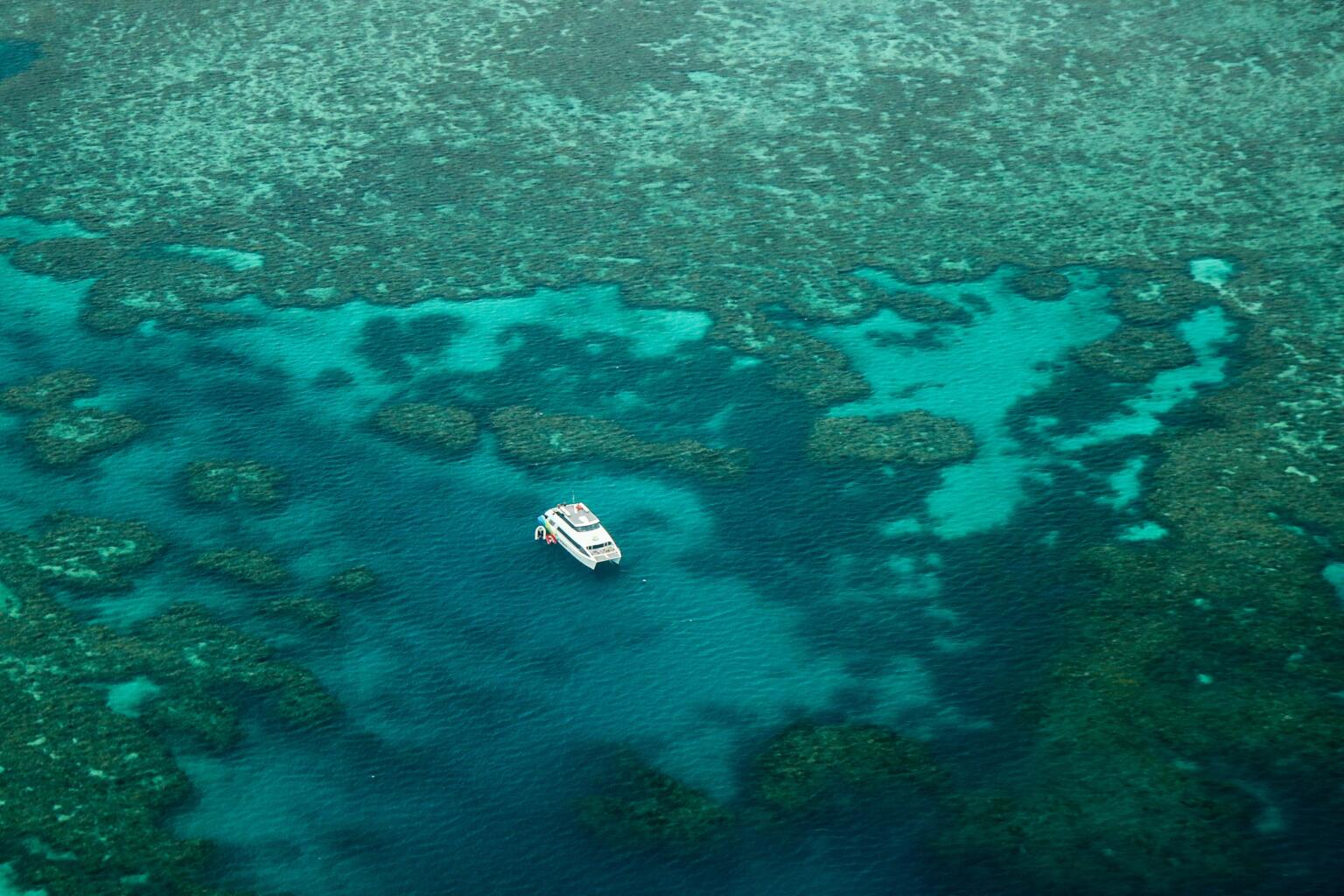 What's Diving at the Great Barrier Reef Like?
Australia – it's a place famous for epic landscapes, whacky creatures such as wombats, cassowaries, and Australians, amongst other things. Most importantly to divers: the Great Barrier Reef – the world's largest coral reef system.
Formed of over 2,900 individual reefs and 900 islands, this gigantic living structure is over 2,300km long and can be seen from outer space. Little surprise then, that every type of dive imaginable can be enjoyed. Rich coral gardens, caves, shipwrecks, drift dives, cleaning stations – the Great Barrier Reef has em' all.
More than 360 species of hard coral are found here as well as over 1,500 reef fish species, 6 marine turtle species, cetaceans like dugong and whales, and numerous shark species including silky sharks, hammerheads, tiger sharks, and whale sharks. There are plenty of otherworldly creatures as well, from colourful jellyfish to sea snakes that could ignite an underwater photographer's wildest dreams.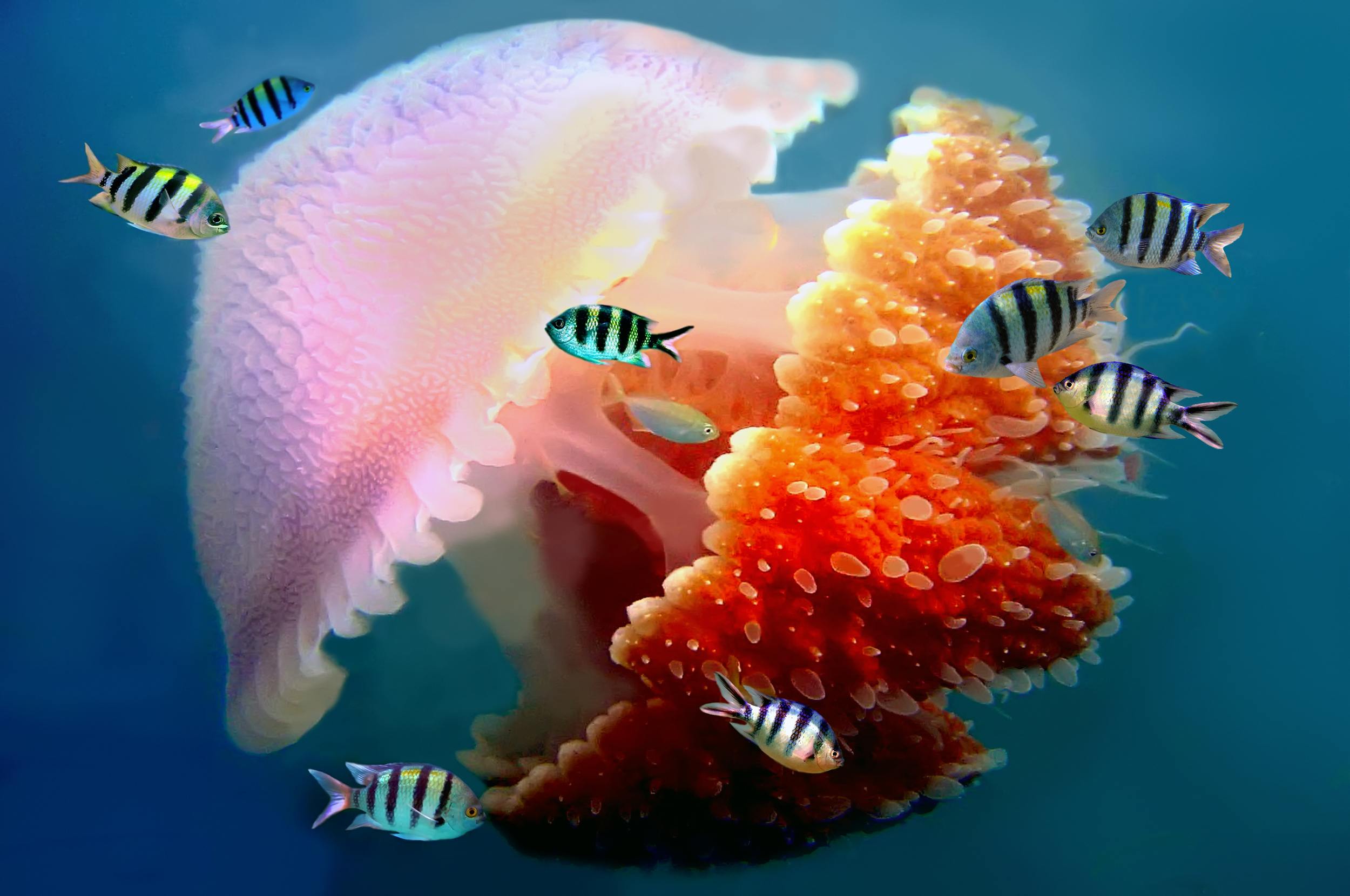 Australia offers more marine variety than anywhere else in the world. It's also one of the few places where you can learn to dive on a liveaboard, during your scuba safari, with some liveaboards offering free intro dive courses and even introductory night diving courses!
It's also worth mentioning that very close by is my favourite diving destination of all time – Raja Ampat. This means you have the exciting opportunity to combine multiple liveaboard experiences for the ultimate scuba odyssey.
How to Have a Great Dive Trip at the Great Barrier Reef
When to go: You can dive Australia year-round, with different seasons offering totally unique experiences. For example, June to August is the best time to spot minke whales whereas September to December is turtle mating season and also offer the calmest water conditions.
For more information on these periods as well as what other periods in the Australian year have to offer, refer to the guide, linked to below.
How to get there: If you're going to dive the Great Barrier Reef you'll want to fly to Cairns airport and from here the crew of your dive tour will arrange the rest.
Why you should dive here with a liveaboard: Although it's technically possible to dive the Great Barrier Reef on a (long) day trip, you'll only reach the outer western perimeter, where endless barrages of other scuba divers usually await. Liveaboards, however, take you much further out, to the true frontier of the Great Barrier Reefs' most pristine dive sites.
Also, if you want to learn to dive at the Great Barrier Reef, you'll have to do this with a liveaboard – there wouldn't be enough time to do it on just a day trip. If you're truly pushing the boat out, Rowley Shoals and Ningaloo Reef can only be accessed via dive safari.
Many of the dive sites here are suitable for beginners. Read more about liveaboards around Australia and how to acquire certification whilst being a part of one.
Some of the best drift diving in the world, over incredibly healthy coral.
Komodo is close to the legendary travel destination Bali as well as the gorgeous Gili Islands, Lombok, and East Nusa Tenggara.
Scuba diving at Komodo generates revenue to continue protecting and maintaining the national park.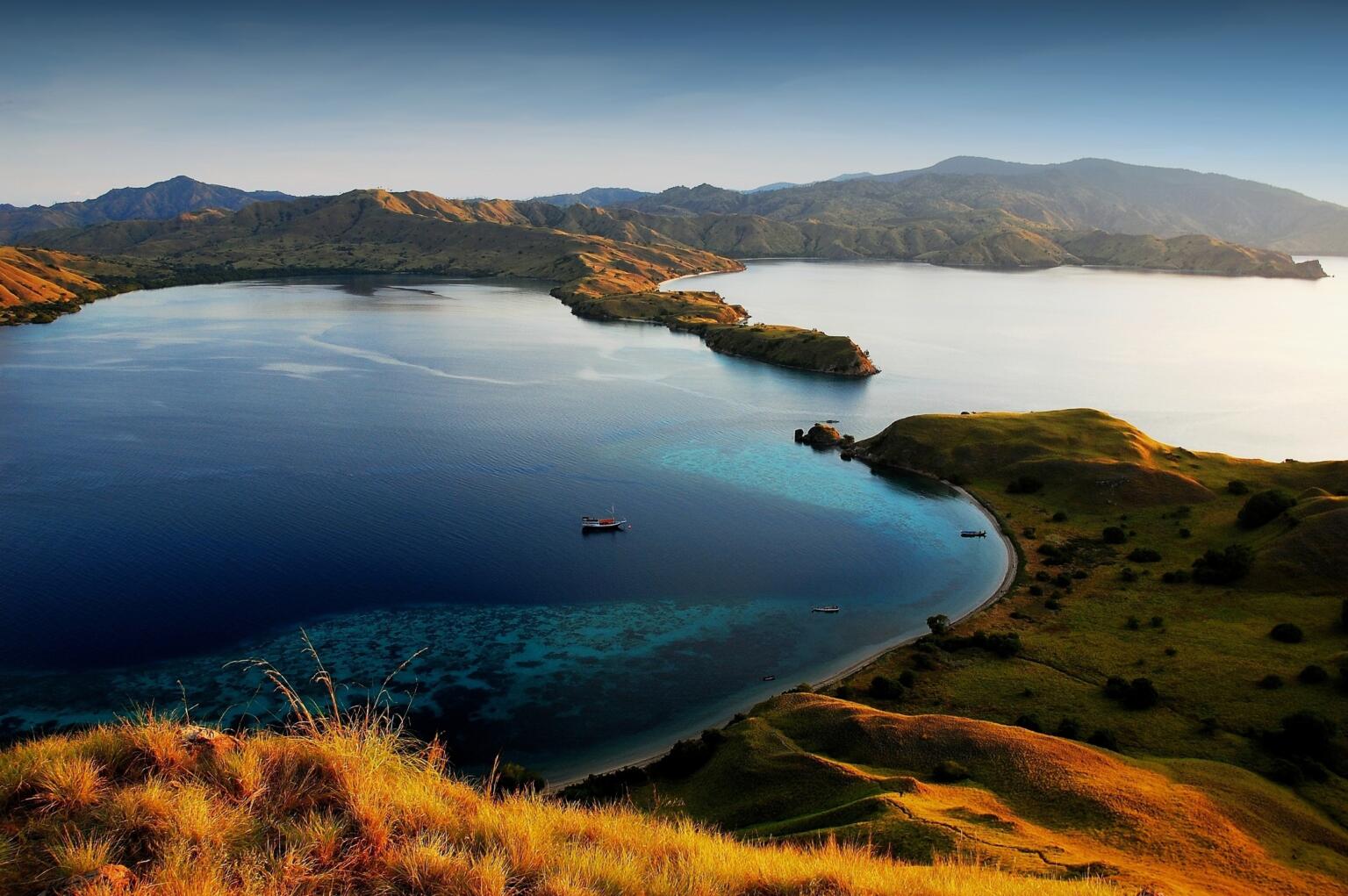 What's Diving in Komodo National Park Like?
To experience South Indonesia's Komodo National Park is a sacred rite of passage for scuba divers. This 1,733 km squared area, consisting of the islands and surrounding waters of Komodo, Padar, and Rinca plus 26 smaller islands, are given special protection, which means that the reef here is in spectacular condition.
Slithering, crawling, and oozing across and between the vibrant (and sometimes even bioluminescent!) coral, are all manner of weird and wonderful critters: clown frogfish, nudibranchs and scorpionfish, pygmy seahorses, arrow crabs, and octopus. These are just a few of the rich pickings.
Situated within the Coral Triangle, the heart of marine biodiversity on earth, Komodo is renowned for being one of the best places in the world to spot large pelagics like dogtooth tuna, trevally, and whale sharks. But most of all: Manta Rays. Between November and May every year these graceful giants appear in huge numbers.
I remember my first dive in Komodo – within twenty minutes I had already spotted no less than five manta rays! By the end of the dive, I was absolutely sick of the bloody things. Kidding – you will never grow tired of these incredibly majestic and charismatic animals.
There are two species that you can spot here – Reef Manta Rays and Giant Manta Rays, the latter of which have a whopping wingspan of 5 to 8 meters long and weigh up to 3000 pounds!
The waters around Komodo are subject to strong currents making this a drift dive enthusiast's dream come true. However, this does mean that virtually all the best dive sites here are only suitable for divers who hold an advanced open water certification.
Komodo island is also famous for Komodo dragons – the world's largest lizard, measuring up to ten feet long. No wonder they were mistaken for literal dragons by the first Europeans to spot them. You can actually visit Komodo island for a few hours to see these dragons yourself.
As well as this, Komodo is a mere stone's throw away from Bali, the current digital nomad, yoga, and alternative ex-pat capital of the world. The scuba diving in Bali ain't too shabby either. It's therefore easy to combine a Komodo dive safari with exploring the rest of Indonesia.
Another great thing about diving at Komodo National Park is that most of the funds which go toward protecting this area come from eco-tourism, mainly through scuba diving. By diving, at Komodo National park you are directly helping to keep this very special area protected. Some Komodo liveaboards actually donate their entire proceedings towards local marine conservation.
Before the Indonesian government realised that manta rays were worth far more alive than dead, they were actually hunted. Now though, manta rays and large areas of their habitat are protected because people like you are interested in witnessing them in their natural splendour.
How to Have a Great Dive Trip in Komodo National Park
When to go: It's possible to dive here year-round, but the weather is calmest from May to October. This is also the best time to spot reef sharks, turtles, and sea horses.
November to April marks the monsoon period which can result in choppy waters and reduced visibility. That said, this is also the best time to see Manta Rays, with the absolute best months for that being from December to February.
How to get there: You'll need to fly to the nearest inhabited island: East Nusa Tenggara also known as Flores. Maumere is the main international airport and can be reached within less than an hour from Bali. From here, the crew of your diving tour will collect you.
Why you need to dive there with a liveaboard: You can't stay on any of the islands of Komodo National Park. This is actually a very good thing as it means there is no human pollution or sewage runoff from the islands of the national park into the surrounding sea, resulting in exceptionally healthy coral and incredible water visibility.
However, what this does mean is that the nearest inhabited island is Flores which is some 20 kilometres away from Komodo Island. If you stayed here instead of embarking upon a dive safari, you would have to take long (several hours) day trips to Komodo National Park to dive – each way, every day! This will be on a small and simple boat without any of the space or amenities found on a liveaboard.
You can find out more information about what it's like to dive in Komodo as well as read reviews of the very best liveaboard options, for all budgets, in this informative article by Diving Squad.
Egypt's north Red Sea is one of the best places to scuba dive for beginners. It is also the wreck diving capital of the world.
Egypt's south Red Sea has pristine coral reef and countless sharks as well as dolphins and dugongs. It is perfect for experienced divers in search of pristine dive sites and exciting drift dives.
Diving liveaboards in the Red Sea are some of the cheapest in the world and you can easily add this to your backpacking trip through Egypt.
What's Diving in the Red Sea Like?
Admit it. When you hear the word Egypt the first images you conjure to mind are ones of ancient pyramids, mighty red mountains, and dust demons blowing across deserts. Somewhere a camel is probably groaning into the wind.
It's true – Egypt has all of this, but for divers, the real gem is the Red Sea off Egypt's eastern coast. Hailed as one of the best scuba diving destinations of all time, the Red Sea is easy to reach from Europe and also offers some of the cheapest diving safaris in the world.
Interestingly, the species of coral found in the Red Sea are highly resistant to climate change meaning they're astonishingly vibrant and healthy. Plus, due to calm, non-stormy water conditions, the hard coral species have been able to form extremely intricate structures over many hundreds of years, that would have been destroyed in other places.
You can divide Egypt's Red Sea into two broad regions, each with their own charms:
Egypt's northern Red Sea
The Northern part of the Red Sea is famous for being the wreck diving capital of the world. Seriously – the range of shipwrecks to be dived here is next level. There are modern yachts sunk in the last few decades, steamships that were sunk in the late 18th century, and countless WW2 navy ships.
Among these is the SS Thistlegorm. Considered to be the best wreck dive of all time, it's a whopping 128m long British navy ship that was sunk by German bombers in 1941.
Now it lies on the sea bed complete with its cargo of armoured vehicles, bikes, and whole armouries' worth of weapons. Egypt's Northern Red Sea is also one of the best places in the world for beginners to learn to scuba dive.
That's because of the calm water conditions and the fact that many of the best dive sites here are in shallow waters, including most of the shipwrecks.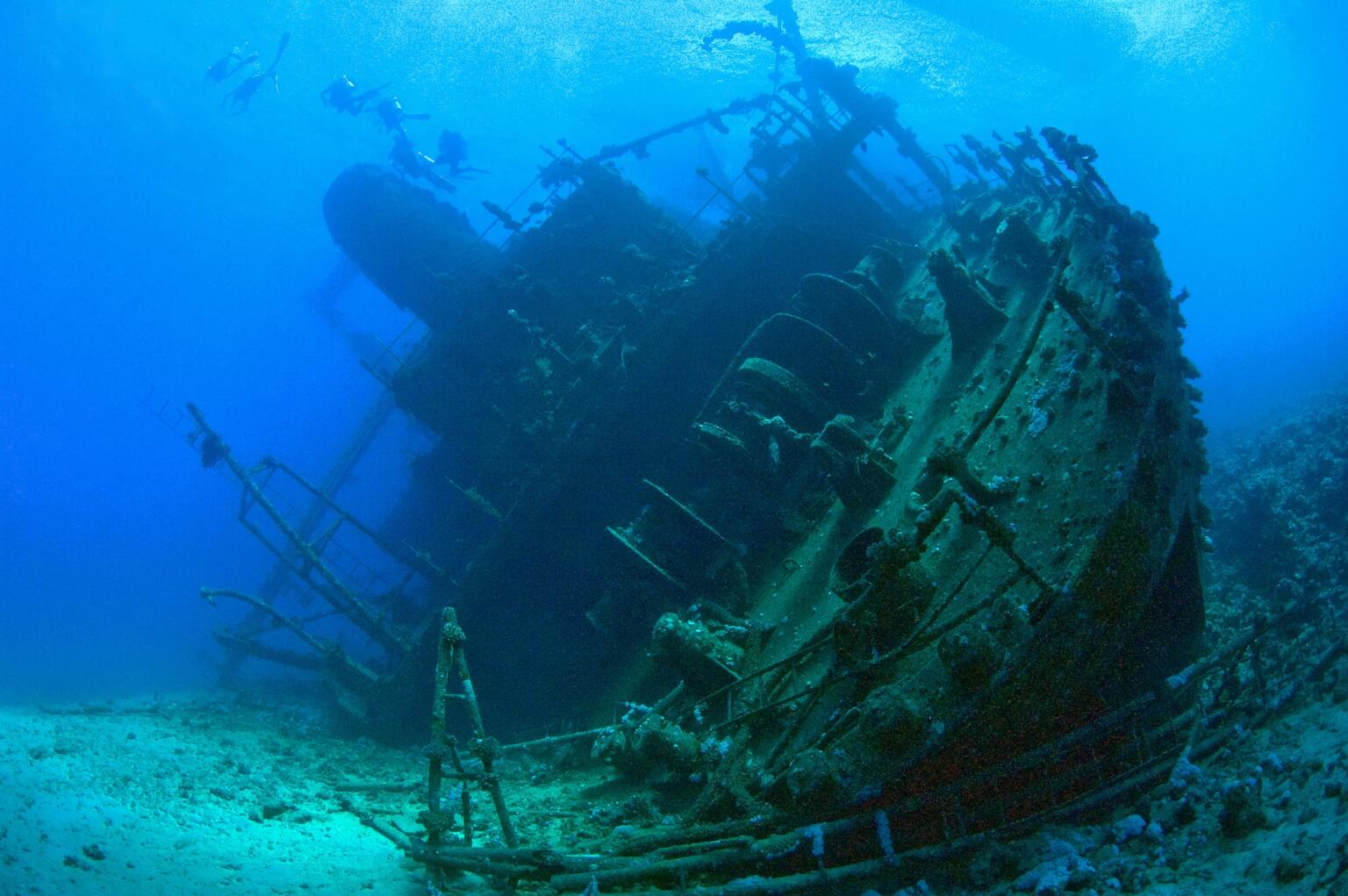 Egypt's Southern Red Sea
The Southern Red Sea is seldom visited due to strong currents, which make most of the best dive sites here suitable only for experienced divers. But for those up to the challenge, the rewards are immense. Spectacular coral gardens, caves, caverns, and mighty wall dives await the boldest of divers.
This region is also a shark lover's paradise, with over 8 species of shark being regularly sighted – more sharks then you can handle! These include hammerhead sharks, the rare guitar shark, oceanic whitetip sharks, whale sharks, blacktip reef sharks, thresher sharks, grey reef sharks, and silvertip sharks.
Dugongs and dolphins are also commonly seen in the Southern Red Sea. There is one famous dive site, in particular, called Dolphin House, that is especially known for its resident pod of friendly spinner dolphins that you can snorkel or dive with!
How to Have a Great Dive Trip in Egypt's Red Sea
When to Go: You can dive the Red Sea all year round with different species appearing at different months. For more information on this, consult the main guide, linked to below.
How to get there: If you embark on a dive safari that cruises the Northern Red Sea, fly into Sharm El Sheikh International airport and your crew will arrange a pick up for you from there. If you want to explore the Southern Red Sea, then fly to Marsa Alam airport. Your crew will organise the rest.
Why you need to dive there with a liveaboard: If you don't – and instead stay in one of the coastal towns – then accessing the best dive sites of the Northern Red Sea will be more difficult. You will have to make long day trips on small boats with minimal amenities. It will be several hours in either direction and you'll have to do this every damn day.
The situation's the same for the few dive sites of Egypt's Southern Red Sea. Some can be reached via coastal town, although the majority of the best dive sites in the south can only be reached via liveaboard.
Also whereas diving resorts in Egypt are expensive, diving safaris are cheap and include the cost of meals and accommodation. So, not only do you get access to all the best dive sites with a liveaboard, including exclusive dive sites that you can only access this way – the journeys between are much more comfortable and all in all, everything costs less. It's a total no brainer!
Wrapping Up
And there you have it! The hands-down 5 best places to scuba dive in the world this year. With no two even remotely alike, there's an entirely unique scuba diving adventure to be had at each destination. Stay safe, stay cool and have a blast/splash.
Diving Squad Out!

---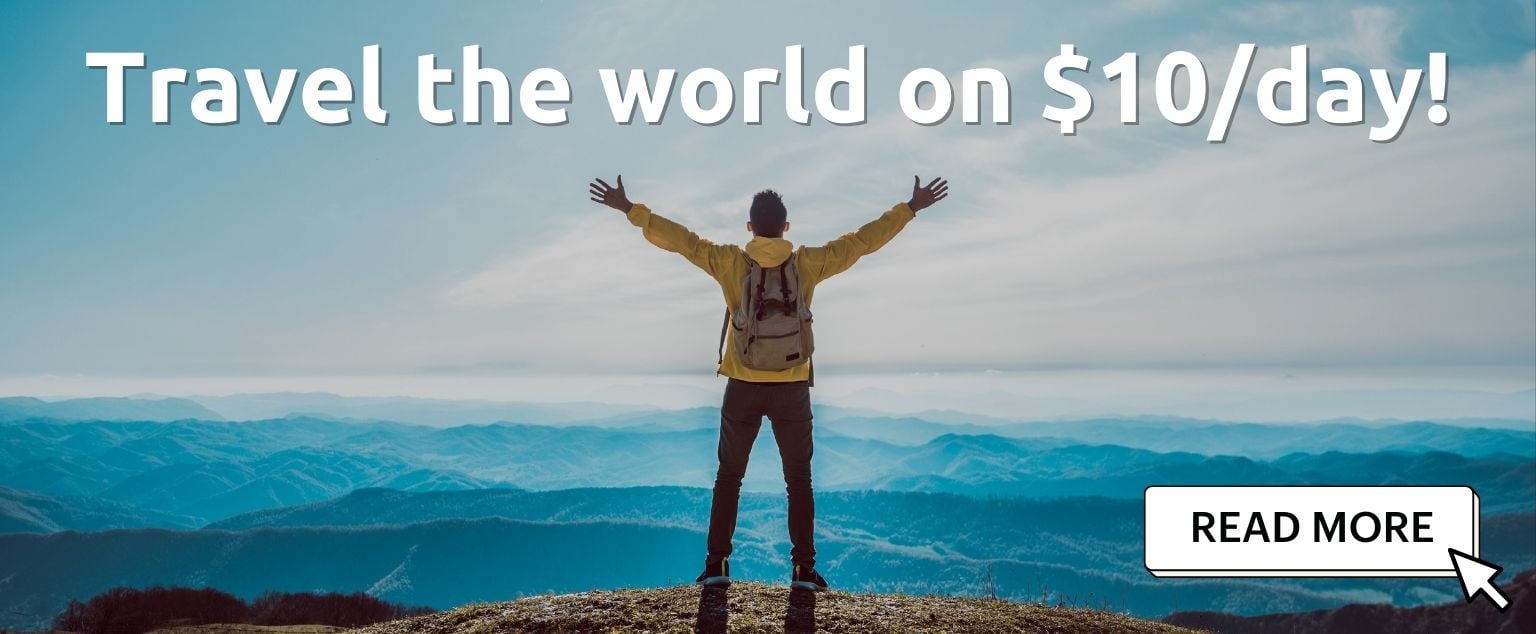 And for transparency's sake, please know that some of the links in our content are affiliate links. That means that if you book your accommodation, buy your gear, or sort your insurance through our link, we earn a small commission (at no extra cost to you). That said, we only link to the gear we trust and never recommend services we don't believe are up to scratch. Again, thank you!