As a vast archipelago nation composed of over 17,000 islands, Indonesia is one of the most fascinating countries in the world.
Somehow they all come together across a vast distance to form one nation. (The country's motto is Bhinneka Tunggal Ika, meaning "Unity in Diversity," and there's perhaps no better way to summarize Indonesia.)
With such unique cultures and landscapes, each island feels like its own country. Honestly, with so much to do and see in Indonesia, it's difficult to narrow down an itinerary while backpacking Indonesia, which is why we're here to help!
Backpacking Indonesia is an adventure like no other. For starters, you can climb active volcanoes, encounter orangutans in the jungle, visit ancient temples, and enjoy world-class diving. All along the way, you'll be welcomed in by some of the most friendly people out there while you enjoy the varied and delicious cuisine. Best of all,  you can easily backpack Indonesia on a budget.
I've spent nearly six months traveling in Indonesia now (four months of that I was living in Bali) so I have plenty of knowledge bombs to drop your way!
Let's get to it.
Why Go Backpacking in Indonesia?
While Bali has been attracting tourists en masse for decades, there's so much more to Indonesia than this one most famous island. Bali is popular for a reason – and you should most definitely visit Bali – but backpacking Indonesia is all about getting out there and discovering the other islands.
You can't see it all in one trip though, so it's best to view your first trip to Indonesia as exactly that. Trust me, you'll be planning your next one before it's even over. After reading this in-depth Indonesia travel guide, you'll be ready for the trip of a lifetime.
As I mentioned earlier, Indonesia is made up of 17,000 islands, so there's no shortage of things to do in Indonesia. I've broken down some of Indonesia's best and most popular places to visit below.
Below I have mapped out 5 epic itineraries that are meant to be added on to one another. Since many people only have a week or two to visit Indonesia, I have mapped out how to spend your time the most efficiently. Many backpackers receive a 1-month visa on arrival, so I also have an itinerary for how to spend 4 weeks in Indonesia.
Finally, it is possible to get an 8-week visa ahead of arrival. If you are lucky enough to have 2 months, check out the fifth itinerary! With thousands of islands, you can truly spend a lifetime exploring Indonesia. These itineraries will at least keep you busy for weeks on end.
Backpacking Indonesia 10-Day Itinerary #1: Exploring Bali
If you've got 10-12 days for Indonesia, you're best sticking to one island. There is plenty to do. Many people spend their entire month-long visa on Bali and it's never enough – the island is pretty big and there's a ton of variety!
I'd recommend spending your first couple of nights exploring the Canggu area and enjoying the beach and nightlife. Many backpackers get stuck here, and never leave, but don't neglect the rest of beautiful Bali! From there, head up to Ubud for a few nights and be sure to include some adventures, like climbing Mt. Batur for sunrise, exploring the rice plantations, visiting the Monkey Forest, and getting your yoga on.
Add a couple nights in Amed for diving and snorkeling, and then loop back around to the south. Chill out in the laid-back town of Sanur. Uluwatu's surfing beaches are the best breaks in Bali for more advanced surfers and boasts a stunning coastline and pretty good, yet chill, nightlife.
Many a flight has been missed and many a visa extended by travelers visiting Bali. It's the kind of place that just sucks you in and makes you never want to leave. I should know, as I ended up moving there for a year on my third visit since short trips just weren't cutting it!
Backpacking Indonesia 2-Week Itinerary #2: Java + Bali
Many people will fly into the capital, Jakarta before backpacking Indonesia. Rather, you can immediately catch a flight to Bali, travel to Yogyakarta to explore for a couple of days. Here you can visit the famous Borobudur Temple and Prambanan Temple. Make sure to explore the volcano Mt Bromo too.
With an extra week, head to Bali and complete the first itinerary!
Backpacking Indonesia 4-Week Itinerary #3: Bali to Flores
After 2 weeks exploring Bali, travel to the beautiful area of Lombok and the Gili Islands too, just a couple hours by boat away. Each of the three islands has a totally different vibe. You can reference the Lombok section below.
Next, we head to Flores, where you can arrange trips to Komodo National Park to see the infamous komodo dragons.
Backpacking Indonesia 8-Week Itinerary #4: Indonesia Highlights
If you are able to snag an 8-week visa for Indonesia, the world is your oyster. You can start by following the Bali itinerary and merging with the Flores route. You can also catch a flight to Sumatra.
Here, visit the orangutan sanctuary in Bukit Lawang and the stunning Lake Toba.
Also on tap here is world-class diving at Pulau Weh. This tiny island is located at either the beginning or end of Indonesia, depending on which way you're looking at the map. You'll have to pass through the town of Banda Aceh to reach here, which is the only place in Indonesia that has Sharia Law in place. This definitely isn't the place to come party while backpacking Indonesia, but the juice is worth the squeeze if you get to Pulau Weh.
Psssst…. Searching for your Tribe?
Tribal Hostel – Bali's first purpose-built co-working hostel and perhaps the greatest hostel in the world!
An ideal hub for Digital Nomads and backpackers, this very special hostel is now finally open…
Come on down and enjoy amazing coffee, high-speed wifi and a game of pool 😉
Backpacking Bali
Let's start out with the crown jewel of backpacking in Indonesia – Bali. The Island of the Gods has been drawing in tourists by the thousands for decades now, who flock here for waves, spirituality, beautiful scenery, and epic nightlife. This makes for an interesting mix of surfers, yogis, gap year travelers, digital nomads, honeymooners, retirees, and party animals.
Although it may look tiny on the map, Bali is actually quite a large island with many different areas to explore. There's much more to it than the beaches, including terraced rice fields, several lakes, and a couple of active volcanoes. Some choose to base in one town and take day trips to see more of the island, while others prefer to bounce around and stay in a few places. Whatever you do, make sure you get out of that beach chair to see more of the island than the super touristy areas.
You've got so many options for things to see and do that you could easily spend all 30 days of your visa-free stay exploring Bali and do something different on every one of them. Go surfing down on the Bukit peninsula, balance your chakras in Ubud, dive in Amed, party in Seminyak, or take a yoga course with the Santosha Institute on Nusa Lembongan.
Above all else though, you will want to chill out in my favourite spot for backpackers – Canggu.
If you are keen to get, or stay fit on your holiday – check out WanderFit Retreats in Bali – these are run by my friend Will Henke – one of the best coaches I've ever trained with. WanderFit are pretty different from other fitness retreats in Bali in that you get insane bang for your buck…
One of the best places to base yourself for your Bali stay is Canggu. This beach town just north of Seminyak has been gaining in popularity in recent years, especially amongst the surfer and digital nomad communities. Here you'll find smaller crowds than the other beach towns, so you won't have so much competition for the waves. There are countless options for accommodation, yoga, dining, and nightlife, and a whole bunch of other awesome things to do in Canggu.
Luxury villa accommodation, daily training from awesome coaches, surf lessons, snorkelling with manta rays, hikes and plenty of excursions to check out Bali's best-known attractions and best kept secrets – what's not to love!
Canggu is fast establishing itself as the ultimate fitness destination of Bali and is lined with awesome yoga studios, Crossfit boxes (I work out at Crossfit Wanderlust – come say hey), quality massage parlours and an insane variety of healthy restaurants and cafes – my favourites are: Motion Cafe, Bali Buda, Nude and Savage Kitchen.
Tribal Bali – is hands down one of the coolest hostels we've ever seen. With epic food, legendary coffee, awesome cocktails and a dedicated co-working space, this is the place where you want to be when visiting Bali. Forget hunkering down in a quiet cafe, stop by for a day of working in a spacious and breezy tropical space filled with other nomads. You can even book a hostel bed or private room to have business, adventure and sleeping all in one place!
There are three smaller islands off the southeast coast that are a part of Bali. A short boat ride can bring you to the Nusa Islands – Lembongan, Ceningan, and Penida. Here you'll find some absolutely stunning viewpoints, chilled out beaches, and some amazing snorkelling/diving opportunities. It's the perfect place to wind down your Bali trip in style.
If you find yourself in booking a stay in Kuta, Bali and you're feeling a beach break, where should you turn to cool down?
Waterbom Bali is the place to go if you fancy epic waterslide plunges from fierce heights. Channel your inner-child and go all out on 22(!) world-class water slides. You might forget you're actually in Bali until you realize the jungle isn't too far away.
If you are planning a trip there, Voyagin is currently offering a discount for readers, using the code backpackerwaterbom. Follow the link if you're interested in a waterpark adventure extravaganza.
Backpacking Lombok
While Bali really is an incredible place, you can't visit a country of 17,000 islands and see just one of them. For those on a time crunch, the best bet is to add one of Bali's neighbors to your backpacking Indonesia itinerary. Far and away, the most popular choice is Lombok. This is thanks mostly to the Gili Islands, three tiny specks of sand that are free of motorized vehicles and home to some of the best snorkelling and scuba diving in the world.
Of the three Gili islands, Gili Trawangan is known as the party island, Gili Meno as the honeymooner or family-friendly option, while staying in Gili Air is a nice mixture of the two. Thanks to the boats that bounce between them, it's totally feasible to visit all three in just a few days and see for yourself which one you like the best.
Since Lombok is a prime scuba diving destination, you might have come here just for amazing dive sites. In addition to diving in normal daylight hours consider going on a UV-light-assisted night scuba dive. A whole other set of sea creatures are active at night. This is your chance to see them in action.
Gili T definitely has the most options for accommodation, dining, and nightlife, so you may want to just base there. However, you'll still find lots more awesome hostels around the Gili Islands
While traveling on Lombok, you can also climb Indonesia's 2nd tallest volcano. Trekking Mt. Rinjani is an incredible experience that should be high on your list when backpacking Indonesia. These treks can be done over 2-5 days depending on whether or not you want to get to the summit and how quickly you want to move.
Down south, you'll find what I like to call the "good Kuta." Kuta, Lombok is way better than its tourist trap of a cousin over on Bali, and it's the perfect town to base yourself for a few days of beach hopping, surfing, and chilled out nights between the days of exploring Lombok's attractions. Lombok is also home to several epic waterfalls, so ignore TLC's advice and do go chasing waterfalls!
Backpacking Java
With over 140 million residents, Java is home to over half of Indonesia's population. It's also the most populous island in the world. Here you'll find the chaotic capital city of Indonesia, Jakarta (which is often jokingly referred to as the Big Durian). Just like the infamous stinky fruit, it takes a bit of getting used to.
There's enough to see and do in Jakarta to warrant a couple of days on your itinerary, but the real fun lies outside of the big city. The best place to call home in the Indonesian capital is Six Degrees Hostel. The best feature of this hostel is its rooftop garden, where you can do sunrise yoga and enjoy sunset cocktails.
Perhaps the most popular trip for backpackers on Java is visiting Mt. Bromo and Kawah Ijen. While all tour guides and travel agents in Indonesia can set this trip up for you, it's much more fun and rewarding to do on your own. Try several modes of public transportation, fly across the Sea of Sand on the back of a local's motorbike, and get up at 3 AM to take in the sunrise about Mt. Bromo.
From Mt. Bromo, a few more rides and another middle of the night hike brings you down into the crater at Kawah Ijen to see the amazing blue fire burn and the impressive sulfur miners hard at work. It truly is the adventure of a lifetime.
If the prospect of doing all of this on your own is too much to contemplate or your are simply short on time hiring a guide is certainly easier. If you actually want to meet some of the miners and learn about what life is like working on the mountain going with a guide is a good way to do that.
While traveling across Java, you'll definitely want to spend a few days of your travel itinerary visiting Yogyakarta and the surrounding area. This city is considered the cultural and artistic heart of Java and is a fascinating place to visit. Here you can visit a palace and water castle, see a traditional wayang kulit shadow puppet shows, and shop for some fly batik shirts.
Within just an hour outside of town, you can visit the world's largest Buddhist temple at Borobudur, as well as a 9th-century Hindu temple at Prambanan. Base yourself at the Patio Yoga in Yogyakarta which is set in a beautiful Dutch colonial house and even has a plunge pool.
Backpacking Flores
The name of this island means "flowers" in Portuguese, and it's not the only influence remaining from the 16th-century colonists. It's the one place in Indonesia where a majority of the people are Catholic, meaning you'll see a church in most villages rather than temples or mosques. Most backpackers come here to chase dragons – Komodo dragons, that is.
The town of Labuan Bajo is the most touristy part of Flores, as it's home to an airport and is the launching point for multi-day trips around Komodo National Park. In town, you'll want to stay at the excellent Ciao Hostel. Thanks to its hilltop location, this place has amazing views from their terrace.
As far as the tours go, it's easy to book a trip in town, which should include snorkeling, stops at several beaches, and of course a visit to the home of the famous Komodo dragons. While this trip may put a dent in your backpacker budget, it's one worth splurging on. How much you pay depends on a lot of things, like whether or not you get a cabin on board or are just sleeping on the deck.
Prices for a 3-day tour usually run around $150-175 at the lower end of the spectrum. It's not necessary to book anything in advance. Just show up in town and pop into a few agencies to compare prices and quality.
Rather than simply flying right out of Labuan Bajo, you should stick around and see what else this gorgeous island has to offer. Near the town of Ruteng, you can explore the amazing spider-web rice fields and visit a real Hobbit Cave. Bajawa is a great place to begin trekking trips to isolated villages such as Wae Rebo.
Here, you'll also find the three-colored lakes of Mt. Kelimutu, which are best viewed at sunrise. On the other side of the island, you can wind down with some fantastic snorkeling and diving in Maumere.
Backpacking Sumatra
Wild and rugged are two words that come to mind when describing the massive island of Sumatra. Here you'll find one of the world's richest ecosystems. If you're backpacking Indonesia to get out in nature, you should travel in Sumatra.
Perhaps the most popular thing to do in Sumatra is visit the orangutan sanctuary in Bukit Lawang. (Did you know that their name is actually derived from Indonesian? It's a combination of the words orang (person) and hutan (forest) – "person of the forest.")
Also on tap here is world-class diving at Pulau Weh. Under the water, you'll find tons of marine life, shipwrecks, and even underwater volcanoes.
This tiny island is located at either the beginning or end of Indonesia, depending on which way you're looking at the map. You'll have to pass through the town of Banda Aceh to reach here, which is the only place in Indonesia that has Sharia Law in place. This definitely isn't the place to come party while backpacking Indonesia, but the juice is worth the squeeze if you get to Pulau Weh.
Another highlight of Sumatra is the stunning Lake Toba. This is the highest volcanic lake in the world, and it's the perfect place to relax amongst beautiful surroundings for a few days. In Sumatra, make sure you sample the famous Masakan Padang (Padang cuisine). You could definitely dedicate an entire trip just to this fascinating island.
While there isn't a hostel scene on Sumatra, there are plenty of guest houses and hotels where you can stay.
Getting Off the Beaten Path in Indonesia
As a majority of travelers only visit Bali, it's not hard to get off the beaten path while backpacking Indonesia. As soon as you hop on that ferry to Java or Lombok, although they still have fantastic hostels, the numbers of tourists rapidly decrease and your experience becomes far more local. Leave the tourist hubs on these islands (Yogyakarta and the Gilis, respectively), and you'll barely see another bule ("foreigner" in Indonesian).
In fact, don't be surprised if locals suddenly want to take your picture or greet you with a cheerful smile, and a "Hello, Mister!" Once you're off Bali, you're definitely somewhat of a novelty in Indonesia.
Even on Bali, it's really not hard to escape the crowds. Most tourists tend to stick to the Kuta-Legian area or Ubud, leaving these places to feel a bit Disney-esque. With your trusty motorbike, you can be at a deserted beach or wander amongst the rice fields in no time.
Many like to bemoan Bali as being "too touristy," yet never leave the tourist bubble. That means there's still plenty of incredible places basically devoid of tourists here. You've just got to poke around!
Those really looking to get off the beaten path can travel to some of the lesser-known islands. Visit Sulawesi, Sumbawa, or Papua and you may go days without seeing another tourist.
1. Explore Bali
There's a reason Bali is Indonesia's most popular island. The Balinese culture is amazing, plus you have beaches, surf, diving, and beautiful scenery right at your door step.
2. Go Scuba Diving
Indonesia is home to some of the best scuba diving in the world. Hard-core divers will want to make a trip to Raja Ampat and you can expect crystal clear waters as you'd find if you've been backpacking in the Philippines.
3. Check Out the Last Remaining Dragons
You can see komodo dragons in the wild from Flores/Komodo National Park area.
4. Chill out or Party on the Gili Islands
These beautiful beaches are conveniently close to Bali, but have a completely different atmosphere since no cars are allowed on the islands! There is great diving here as well!
5. Trek in the Sumatra Jungle
Sumatra, part of Borneo is home to some of the last remaining orangutans in the world.
6. Chase Waterfalls
Every island has some seriously impressive waterfalls. Just ask around and go on an adventure!
7. Join a Yoga Retreat
Yoga is especially popular in Ubud, but you can find fitness classes and yoga retreats all over Bali.
8. Climb Mt. Bromo
This epic volcano is located on Java.
As with so many things in Indonesia, accommodation really depends on the island. You're obviously going to have far more choices on Bali than you will on Papua, for example. On Sumatra, Java, Bali, Lombok, and Flores, you have plenty of choices for hostels. In tourist hotspots such as Legian and Ubud, you can't swing a dead cat and not hit a hostel.
A bed in a dorm typically goes for between $10-15 a night.
Just because you're backpacking Indonesia doesn't mean you have to cram into a room with ten strangers, though. There are tons of great locally run guesthouses and hotels if you'd like a little more comfort and privacy.
For the most part, you can just wing it and find accommodation on arrival. The only time you may want to book something in advance is if you're visiting Bali over Christmas and New Year's, as this is an incredibly busy time. indonesia
Where to Stay in Indonesia
Backpacking Indonesia can certainly be done on a shoestring budget thanks to its low costs of living. Once again, it all depends on where you go and what your style is. If you're trying to cram a lot into one trip by hopping around to several islands, your biggest expense will most definitely be transportation. All of those flights, local buses, ferries, motorbike rentals, and cab rides eventually add up.
You'll want to do a bit of research into the potential costs for transportation before planning a trip that covers several islands.
If you visit just one or two islands, get around with a rented bike, stick to hostels, and eat local food, you can definitely pull off backpacking Indonesia on around $25-30 a day. Those looking to see and do a bit more, stay in private rooms and add some big ticket items like diving or trekking may want to budget more like $75 a day.
A Daily Budget in Indonesia
Money in Indonesia
The official currency of Indonesia is the Rupiah (IDR). As of January 2018, the exchange rate is about 13,300 IDR for $1. It has been floating between 13,000-14,000 rupiah to the dollar for the last couple of years.
One obnoxious thing about money in Indonesia is that the largest Rupiah note is only 100,000, or about $7. When making big purchases, you'll end up handing over a massive stack of bills!
ATMs are generally easy to find in Indonesia, especially in Bali where they want you to have plenty of money. You'll also find plenty of currency exchange places here and in other tourist hot spots. A word of caution – avoid the money changers in Kuta like the plague. They're notorious for scamming tourists, and there are plenty of legit money changers out there. No matter where you change your money, make sure that you're the last one to count it.
When using ATMs, try to stick to ones that are actually attached to a bank. Random ATMs on the street or in convenience stores have been known to skim people's information.
Thankfully, it's quite easy to use a credit card in the big cities and popular tourist destinations in Indonesia. Just be sure to notify your bank before traveling and find out if there's any fee associated with using your card abroad. That being said, if you're really backpacking Indonesia and are going to more remote destinations, cash is very much king.
Tips for Visiting Indonesia on a Budget
To keep your spending to an absolute minimum whilst backpacking Indonesia I recommend sticking to the basic rules of budget adventuring:
Why You Should Travel to Indonesia with a Water Bottle
Plastic washes up on even the most pristine beaches… so do your part and keep the Big Blue beautiful
You aren't going to save the world overnight, but you might as well be part of the solution and not the problem. When you travel to some of the world's most remote places, you come to realise the full extent of the plastic problem. And I hope you become more inspired to continue being a responsible traveller.
STOP USING SINGLE-USE PLASTIC!
Plus, now you won't be buying overpriced bottles of water from the supermarkets either! Travel with a filtered water bottle instead and never waste a cent nor a turtle's life again.
Generally speaking, there are two seasons in Indonesia – wet and dry. In most parts of the country, the dry season lasts from May to September. Of course, this is also the most popular time to visit. Consider visiting in either May or September if you want to try and avoid the massive summer crowd, especially on Bali.
Most of the rain in Indonesia falls from October to April, with some regional variations. Those looking to do some serious trekking or diving may want to try and plan a trip in the dry season. There's no need to let a little rain spoil your trip, though. Rain usually comes in quick downpours and you'll still enjoy several hours of sunlight.
Indonesia is one of the most ethnically diverse countries in the world with A TON of different kinds of celebrations. We're talking traditional, cultural, religious, and even tribal festivals!
Remember that Indonesia is a predominantly Muslim country, which means that Islamic holidays will be widely recognized. Bali is of course the most notable exception: on account of being mostly Hindu, there is a completely different set of festival celebrations in Bali. But the same could be said for every other island in Indonesia!
Pasola Festival (March) – Knights in Indonesia! Grand jousting tournaments held on Sumba Island. Less armor though and more spear throwing.
Nyepi (March/April) – Celebrates the New Year and expulsion of evil spirits from Bali. On the eve of the festival, there is a parade of colorful, paper mache giants, an event referred to as the Ogoh-Ogoh. On the actual day of the new year, everyone is silent and remains in their home as a means of escaping the evil spirits.
Waisak (April) – National celebration of Buddha's birth. The largest gathering is organized at Borobudur.
Galungan (date varies) – Festival dedicated to the triumph of good over evil. Celebrated in Bali with locals installing elaborate bamboo flags on the streets. Follows the Balinese calendar (Pawukon), which is 210 days long.
Ramadan (May/June) – The great fasting of Muslims. Food and drink are only consumed at night. Dates change every year in accordance with the Muslim calendar. Ends with another celebration, Eid Al-Fitr.
Baliem Valley Festival (August) – Taking place in Papua, a very unique festival that is meant to expose outsiders to remote and local tribal cultures.
Yadnya Kasada (date varies) – The Tenggerese, who are a minority people that practice Hinduism in East Java, pray to Mt Bromo and its neighbors for good luck and not to explode.
What to Pack for Indonesia
For plenty more inspiration on what to pack, check out my full backpacking packing list.
Generally, Indonesia is a safe country to visit, and you shouldn't have any problems. As always, be wary when you're out late drinking, but this advice should be practiced in any country.
Speaking of drinking, there have been fatal incidents of tourists drinking straight methanol versus alcohol, especially on party islands like Gili. Because Indonesia is predominantly Muslim and alcohol is expensive, many bars have been caught making their own alcohol, which ends up poisoning its drinkers. You safest bet is to drink beer instead.
For more safety tips for travelling Indonesia, you should:
Sex, Drugs, and Rock 'n' Roll in Indonesia
It's no secret that Indonesia is not down with the drugs. The country has some of the strictest penalties, with life in prison for possession, and death by firing squad for convicted traffickers. Bali's notorious Kerobokan Prison (often referred to as "Hotel K") is full of foreigners busted for minor amounts of drugs.
Even so, you'll get plenty of offers for mind-altering substances while walking around Kuta/Legian. The chances that these guys are working with the police are high, though, so it's best to just stick to booze in Indonesia.
One exception to the rule has long been the Gili Islands, where mushrooms and weed are readily available and for some reason not punished. It's not Hamsterdam though so you should still be cautious when partaking.
In a predominantly Muslim country, drinking is a bit frowned upon as well. In fact, some hardliners in the government have been trying unsuccessfully in recent years to ban alcohol altogether. Let's hope that their efforts continue to be shot down, as Bali would be a whole lot less fun without all the awesome bars and clubs.
A very common sight in Indonesia (especially Bali) is an old white guy with a young Indonesian woman. Say what you will about this, but it's quite common and people are used to it. That's not to say that younger people can't or don't hook up with locals because it definitely happens.
Just beware, guys. There's a good chance that lady flashing looks your way is actually a lady of the night. For women traveling alone, don't be surprised if the men in Bali try to hit on you. This is not so common elsewhere in Indonesia, where people are more conservative.
Chances are you won't be picking up many chicks at the bar in places like Bandung or Makassar. It's more likely you'll end up having a fling with a fellow backpacker. If the bunk bed's a rocking, don't come a knocking!
Travel Insurance for Indonesia
Traveling without insurance would be risky so do consider getting good backpacker insurance sorted before you head off on an adventure.
I have been using World Nomads for some time now and made a few claims over the years. They're easy to use, professional and relatively affordable. They may also let you buy or extend a policy once you've started your trip and are already abroad which is super handy.
World Nomads' mission is to support and encourage travellers to explore their boundaries. They offer simple & flexible travel insurance, and safety advice to help you travel confidently.
They've been doing it since 2002 – protecting, connecting, and inspiring independent travellers just like you.
Get a quote below or read our in-depth review!
World Nomads provides travel insurance for travelers in over 100 countries. As an affiliate, we receive a fee when you get a quote from World Nomads using this link. We do not represent World Nomads. This is information only and not a recommendation to buy travel insurance.
Due to its vast size and sprawling nature, chances are you'll be flying into Indonesia. Most travelers are in a hurry to get to Bali and book round-trip flights out of there.
One thing to be careful with is that the airport in Bali is actually called Denpasar after the island's capital city. If you start typing "Bali" into a flight search you'll end up with Balikpapan, a port city on Indonesian Borneo. Don't make the same mistake that a buddy of mine once did by booking a flight to the wrong Indonesian city!
If you've got more time to spend in Indonesia, you may want to consider flying into one airport and out of another. Some of your best choices for international flights are Jakarta, Yogyakarta, and Surabaya on Java, Medan on Sumatra, and Lombok. Thanks to budget airlines such as AirAsia, you can often score super cheap one-way flights to and from Indonesia out of regional hubs such as Kuala Lumpur, Singapore, and Bangkok.
Those deadset on traveling by land and sea don't have quite as many options. There are ferries from Singapore and Malaysia to Batam, where you have several options for connecting ferries to other points in Indonesia.
Entry Requirements for Indonesia
Citizens of 169 different countries can now visit Indonesia visa-free for 30 days.
Your passport must have at least six months validity and at least one blank page for entry into Indonesia. This visa-free entry applies to most major airports, as well as some seaports and land crossings. Definitely check to make sure it's an option before you depart.
One thing to keep in mind about this visa-free entry is that it cannot be converted or extended. Once your 30 days are up, you have to get out of Indonesia.
If you'd like to spend more than one month backpacking Indonesia, you've got a few options. The easiest is to ask for a visa-on-arrival rather than the visa-free entry. This costs $35 and can be extended once for another 30 days. Doing so will require a few trips to an immigration office or paying an agent to do it for you, but it's really not that difficult.
Indonesia covers nearly 2 million square kilometers and is composed of over 17,000 islands! As you can imagine, backpacking Indonesia can be a bit complicated. Getting around Indonesia all depends on how much time you've got, your budget, and how many islands you're trying to visit.
A lot depends on the particular island, as some are far more developed than others. For example, taking the train is a great option on Java and a small part of Sumatra, but not anywhere else. There is beautiful scenery on the train journey across Java, so definitely consider this if you've got the time.
When traveling between neighboring islands, you can choose between the local ferry or short flights. For example, between Bali and Lombok you can choose to take a speedboat to the Gili Islands (2 hours), the local ferry (4 hours), or a flight (about 30 minutes).
The main company operating inter-island ferries is called Pelni. They even have an English language website you can use to search for times and prices of the ferries. If you've got a bit more Rupiah to burn, you can also take some epic multi-day liveaboard trips. The most popular is to go from Lombok to the Komodo Islands with plenty of diving along the way. You've got tons of options for moving around when backpacking Indonesia.
On most of the islands, you can find plenty of local buses to get you in-between cities. Although it's the most touristy island in the country, there isn't a great bus system on Bali. Your best bet is the Kura Kura bus that travels between some of the most popular towns. It's comfortable and much more affordable than taking a taxi. On most of the other islands, the bus will be your go-to for traveling between cities and towns.
Of course, there are several uniquely Indonesian methods of transport across the vast archipelago nation. There are angkot (shared minivans), ojek (motorbike taxi), cidomo (horse-drawn carriage), and so much more. While these are all well and good, the best way to explore Indonesia is with your own two wheels.
In some cases, you can actually make reservations online for transport in and out of Indonesia. By using an online resource, like Bookaway, you can save yourself a whole lot of stress and maybe even some cash. Check it out!
Travel by Motorbike in Indonesia
Few things in life beat the feeling of the wind on your face as you cruise a motorbike up to a postcard-worthy beach in Indonesia. While it's not easy to find a proper motorcycle for rent, you can find scooters everywhere. This is especially true on Bali, where the image of a backpacker hauling a surfboard on a scooter is quite common. Other places where it's possible to rent a scooter include Yogyakarta and Kuta, Lombok.
One of the most popular motorcycle adventures while backpacking Indonesia is to travel from Bali all the way to Flores. This requires you to take a couple of ferries with the bike, and you'll want to make sure you get the necessary paperwork from the rental shop in order to do so.
You'll need the originals of your license and the bike's registration. It's a good idea to make copies of each as well; just know that you need the originals to actually get on and off the ferry. This legendary trip takes you across four islands with a lot to see and do along the way, so it's best done over a period of around two weeks.
Hitchhiking in Indonesia
Hitchhiking in Indonesia is usually very easy for foreigners (Bule), but it might be hard to get a free ride at times if you can't communicate in Bahasa Indonesia that you actually do want to hitchhike.
The thumb isn't used in Asia for hitching and a sign isn't really necessary. Instead of sticking out a thumb, wave down each car with your right hand. It is important to use you right hand to signal drivers to stop as the left hand is considered dirty/offensive and would take longer for someone to stop.
Onwards Travel from Indonesia
As far as land crossings go, there are only a few choices. You can travel to Malaysia via the Indonesian side of Borneo, cross to East Timor from West (which is part of Indonesia), or get to Papua New Guinea over from Papua at the border crossing near Wutung.
Unless you've got lots of time and patience, your best bet is to just fly to your next destination. Chances are you'll actually end up spending more on sea and land crossings, and visa matters are always more complicated if you're not going by air.
If you're thinking about working or being a digital nomad in Indonesia, then you've probably already picked out your base: Bali.
Bali is arguably THE hottest digital nomad hub in the world right now.
It's relatively easy to be a digital nomad in Bali: the community is vocal, there are copious co-working spaces, and regular events and conferences held around the island
Luckily, the internet coverage in Bali is great. If you're looking for a place to try out the remote work lifestyle, Canggu and Ubud are some of your best bets. There are several co-working spaces in both towns and more cafes than you can count, giving you tons of options for places to be productive.
Elsewhere in Indonesia, it's a bit more hit-and-miss. As with just about everything, the status of the internet in Indonesia all depends on where you are. You'll find great WiFi in the big cities of Java and the tourist centers of Bali, but don't expect to be able to watch Netflix from a village in Sulawesi.
Most hostels you'll stay in should offer WiFi, and it's never hard to find a cafe or a 'net bar for other online needs. To stay connected, you can easily pick up a SIM card from Telkomsel for a few dollars and purchase a data package.
The further you travel from the Western hotspots, the less working opportunities you will find. If you're in the rural parts of Sulawesi, Kalimantan, or any of the other 10,000+ islands for that matter, you'll more likely be working as a volunteer.
Volunteer in Indonesia
Volunteering abroad is an amazing way to experience a culture whilst giving something back. There are loads of different volunteer projects in Indonesia ranging from teaching, to animal care, to agriculture to pretty much everything!
Indonesia is full of opportunities to volunteer – no matter what your skill set. Teaching and other forms of social work are some of the more common areas where backpackers can offer up some time and give something back to the community. More unique opportunities include helping out with eco- and permaculture projects, among others. You'll need a KITAS and a work visa to volunteer in Indonesia.
Want to find some awesome volunteering opportunities in Indonesia? Then signup for Worldpackers, a platform that connects local hosts with volunteer travelers. As a Broke Backpacker reader, you'll also get a special discount of $10. Just use the discount code BROKEBACKPACKER and your membership is discounted from $49 a year to only $39.
Programs run through reputable work exchange programs, like Worldpackers, are generally very well-managed and highly reputable. However, whenever you are volunteering do stay vigilant especially when working with animals or children.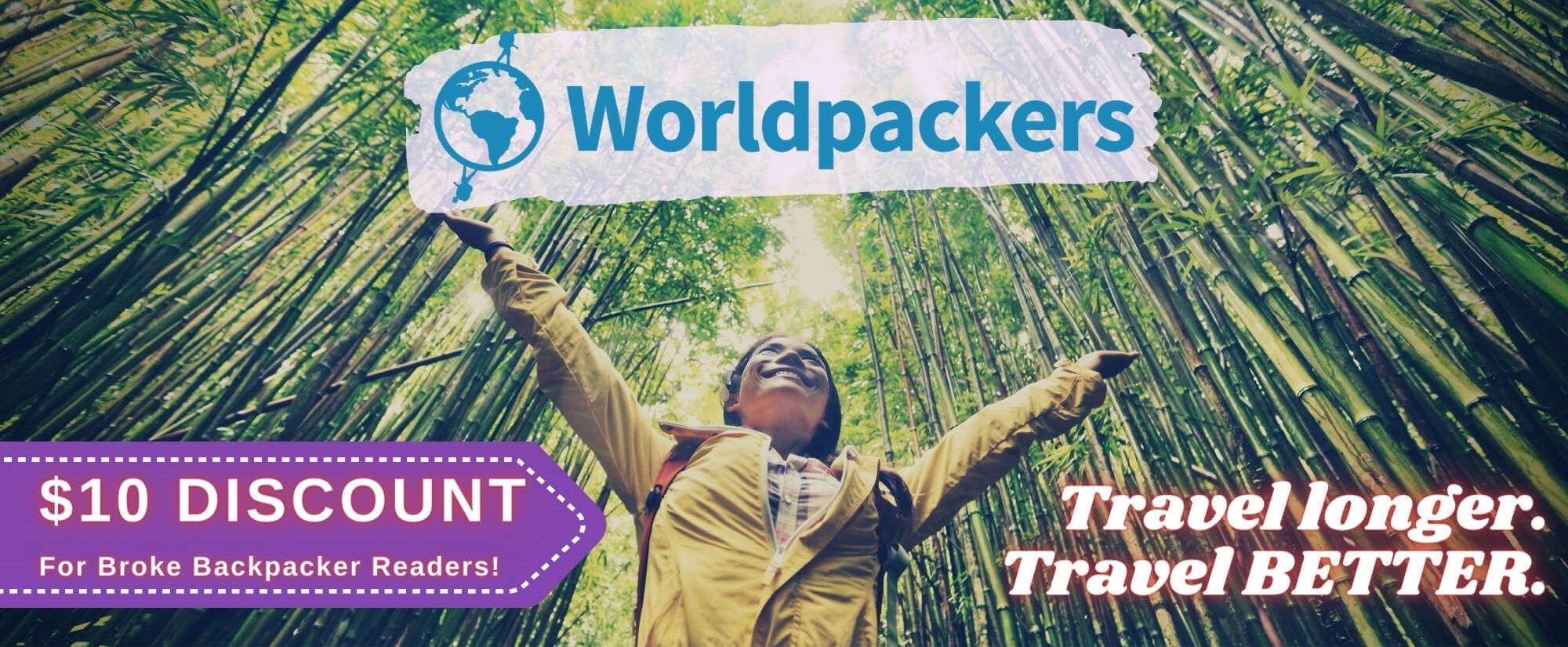 Worldpackers: connecting travellers with meaningful travel experiences.
Below I have listed some of the best dishes in Indonesia:
Indonesia is home to around 260 million people. This makes it the 4th most populous nation on Earth. Spread out across a vast distance and several thousand islands, it should come as no surprise that the people of Indonesia are quite diverse. Each island has its own unique customs, food, and even language.
While a majority of Indonesians are Muslim (about 87%), the Balinese are Hindu, and people on Flores are mostly Catholic.
Wherever you are in Indonesia, the people are extremely friendly. Respect the local culture and show some interest in it, and Indonesians will be very welcoming and hospitable.
Useful Travel Phrases for Indonesia
The national language is Bahasa Indonesia, or simply Indonesian. This is what you'll hear on TV and read in the newspapers, and it's the language of government, education, business, and just about everything else in Indonesia.
But Indonesia is an EXTREMELY diverse nation. There are hundreds of indigenous languages across the country as well, such as Balinese and Sundanese. Here are some useful Indonesian phrases to get you going:
If you're interested in learning more Indonesian, you can follow the Indonesian Language & Culture Blog. There are tons of free lessons that will at least get you to a survival level if you put in some time studying them.
Books to Read About Indonesia
A Brief History of Indonesia
The recent history of Indonesia is a turbulent one. The Portuguese were the first Europeans to arrive in Indonesia in 1512, seeking to dominate the spice trade and extend the influence of the Catholic church. While they had some success, their efforts paled in comparison to the Dutch. In 1602, they established the Dutch East India Company (VOC) and soon had a major foothold on Java. They established a capital in Batavia (now Jakarta), which became the center of their massive trading network.
Despite gaining a monopoly on several valuable spices and also introducing new cash crops like coffee, tea, sugar, and even opium, the VOC went bankrupt in 1800. Shortly thereafter, the Dutch government nationalized its holdings in Indonesia as the Dutch East Indies.
For the next century and a half, however, Dutch control over this area was tenuous at best. They were met with resistance several times, leading to bloody wars and crushed rebellions. A nationalist movement started to gain ground in the early 1900s, but the Dutch strongly oppressed any attempts at change.
Brief History of Japanese Occupation in Indonesia
Dutch rule finally came to an end, but only as a result of the Japanese occupation during World War II. They were welcomed as liberators at first, but this sentiment soon changed when the Japanese turned out to be far more oppressive than the Dutch. A UN report estimates that 4 million people died in Indonesia during the Japanese occupation.
Following the surrender of the Japanese in 1945, nationalist leaders Sukarno and Mohammad Hatta went on to declare Indonesian independence. Not surprisingly, the Dutch tried to reclaim their former colony, resulting in four years of struggle and bloodshed. Facing mounting international pressure, the Dutch finally recognized Indonesian independence in December 1949.
Indonesia after Independence
Sukarno became the first president of an independent Indonesia and quickly began moving the country towards authoritarian rule. A failed coup to overthrow him in 1965 was blamed on the Indonesian Communist Party, leading to an anti-communist purge. It's estimated that between 500,000 and one million people were killed during this time. Sukarno was weakened as a result, and he eventually transferred power to General Suharto. He became the country's 2nd president and began his New Order administration.
While Suharto's new administration was supported by the US and attracted a lot of foreign investment in Indonesia, it was rife with corruption and the suppression of political opposition. Despite this, Suharto managed to hold onto power for 30 years.
It wasn't until the financial crisis of 1997 – which hit Indonesia especially hard – that he was driven from office by massive protests. Following his ousting, East Timor declared its independence from Indonesia after 25 years of oppressive rule.
Indonesia in Modern Times
Suharto's replacement was his deputy Jusuf Habibie, but that wouldn't last long. He failed to win enough support before elections took place, which Abdurrahman Wahid won in October of 1999. Although he was the first elected president of Indonesia, his days were numbered as well. Just a few years later, he was ousted amidst charges of corruption and incompetence.
Control was given to his VP Megawati Sukarnoputri, who attempted to keep the presidency in the country's first direct presidential election of 2004. He lost to Susilo Bambang Yudhoyono, who would go on to win a 2nd term in the 2009 elections.
In the most recent presidential elections of 2014, Joko Widodo stunned high-ranking general Prabowo Subianto. As the governor of Jakarta, he became the first president of Indonesia without a top-level military or political background. Although his victory was celebrated, he has had a hard time establishing a coalition in the government and many of his policies have been criticized. He's serving a 5-year term, and will most liekly seek re-election in 2019.
Trekking in Indonesia
While backpacking Indonesia may be famous for its beaches and amazing diving, there are also plenty of opportunities for adventures on land. Located in the Ring of Fire, Indonesia is home to well over 100 volcanoes. Trekking these volcanoes to the summit is one experience you won't want to miss when backpacking Indonesia. In addition to the aforementioned Mt. Bromo and Mt. Rinjani, you can also scale Mt. Agung on Bali or Mt. Egon on Flores.
There are also plenty of choices for great multi-day trekking trips to isolated villages that don't require you to climb all the way up a volcano. Some of the most popular options include a visit to Wae Rebo on Flores and the Baliem Valley in West Papua. These villages were completely cut off from the outside world until just a decade or so ago, meaning they're incredibly unique.
Scuba Diving in Indonesia
Indonesia is one of the best places to go scuba diving in the world. If you're not already certified, a great place to start is on the Gili Islands. There are several dive shops here, and open water courses are very reasonably priced. Once you're finished, there are nearly 30 dive sites for you to start exploring. Around the Gilis, you'll see black and white-tipped reef sharks, manta rays, and tons of turtles.
There are also several places to go diving on Bali. Off the island's north coast, you can dive at Menjangan Island and a few other sites near the towns of Pemuteran and Lovina. On the east coast, you'll find dive shops in Sanur, Padang Bai, Candidasa, and Amed. One of the island's most popular dive sites is Tulamben, where you can explore the USAT Liberty wreck.
If you still need more diving, pop over to Nusa Lembongan or Nusa Penida for even more world-class sites.
We're just getting started when it comes to scuba diving in Indonesia. Serious divers may want to consider doing a liveaboard trip from Lombok to Komodo National Park to experience some of the best diving the country has to offer.
If you've got the time and resources to make it all the way there, both Alor and Raja Ampat are famed to be absolutely epic diving locations.
Scuba Dive Indonesia on a Liveaboard Trip
Obviously, Indonesia is a land mass defined by its Islands. A majority of these islands are remote and very difficult to independently access.
If you truly want to up your scuba diving game whilst exploring Indonesia's remote islands I recommend joining a Liveaboard trip. There is simply no better way to cram in heaps of diving in some of the country's best spots.
Liveaboard trips are awesome because they take you to dive sites you would otherwise never get to experience.
Dive all day, chill at night, and fall asleep to the sound of the sea lapping against the boat. For many divers, this is a dream come true.
Ah the possibilities we have in this life…
Sounds pretty epic, right?
For more information check out Liveaboard scuba diving trips in Indonesia here.
Surfing in Indonesia
Bali has been drawing in surfers for many years now, and for good reason. Whether you're a beginner or a pro, there's a wave for you on the Island of the Gods. Newbs will want to start out in the popular beach towns of Kuta, Legian, or Seminyak where there are plenty of boards for rent and teachers for hire.
More seasoned surfers are better off heading up the coast a bit to Canggu or even further to Medewi. Down south on the Bukit peninsula, you'll find some of the best waves at places like Uluwatu. Another great choice are the black sand beaches on the east coast just north of Sanur. You won't find the crowds that come with some of the other places, but you will find some ridiculous waves.
Kuta, Lombok is another great surfing town to hit up while backpacking Indonesia. Rent a motorbike for a few days and bring your board along as you visit the numerous beaches up and down the coast.
Get even more off-the-beaten-path by heading east one island to Sumbawa. Here you'll find super cheap accommodation, friendly locals, and some great surfing opportunities.
Joining an Organized Tour in Indonesia
For most countries, Indonesia included, solo travel is the name of the game. That said, if you are short on time, energy, or just want to be part of an awesome group of travelers you can opt to join an organized tour. Joining a tour is a great way to see a majority of the country quickly and without the effort that goes into planning a backpacking trip. However—not all tour operators are created equal—that is for sure.
G Adventures is a solid down-to-earth tour company catering to backpackers just like you, and their prices and itineraries reflect the interests of the backpacker crowd. You can score some pretty sweet deals on epic trips in Indonesia for a fraction of the price of what other tour operators charge.
Check out some of their awesome itineraries for Indonesia here…
Generally speaking, the people of Indonesia are super friendly and welcoming. They're also quite soft-spoken and won't always tell you when you're doing something offensive. The biggest thing you'll want to be aware of is your dress and behavior in places of worship. You probably wouldn't show up to church in a Bintang singlet, board shorts, and flip-flops, so why would you do that at a Hindu temple on Bali?
When visiting temples, you should at least have your shoulders covered and be wearing a sarong and sash. If you don't have your own, most temples in Bali will rent them. The same goes for visiting mosques on other islands or the ancient Buddhist temples – cover up and dress respectfully.
Speaking of dressing respectfully, you may not like it, but you should dress conservatively on most of the islands in Indonesia. The Balinese are used to seeing half-naked foreigners – and a lot of them used to walk around naked, too – but people on Java and Lombok will likely be offended by women wearing booty shorts and spaghetti straps. Yes, it's hot here, but you should still cover up.
When visiting these religious sites, it's also important to be aware of the dos and don'ts. This should go without saying, but don't climb on statues, take offensive pictures, or go into rooms that are off limits. You'd think most people would be able to figure that out on their own, but for some reason this remains a problem with travelers in Indonesia.
One of the biggest complaints with backpackers in Indonesia is that they drive motorbikes recklessly, oftentimes drunk, without helmets. This is just plain stupid and gives travelers who don't drive like morons a bad name. Wear a helmet, use common sense, and take a taxi if you're going to be crushing beers all night.
I hope you found this travel guide helpful! Indonesia really is one of the most beautiful, adventurous, and fun countries you could visit. There's a reason people come here year after year, and even choose to live on Indonesia instead of go home.
---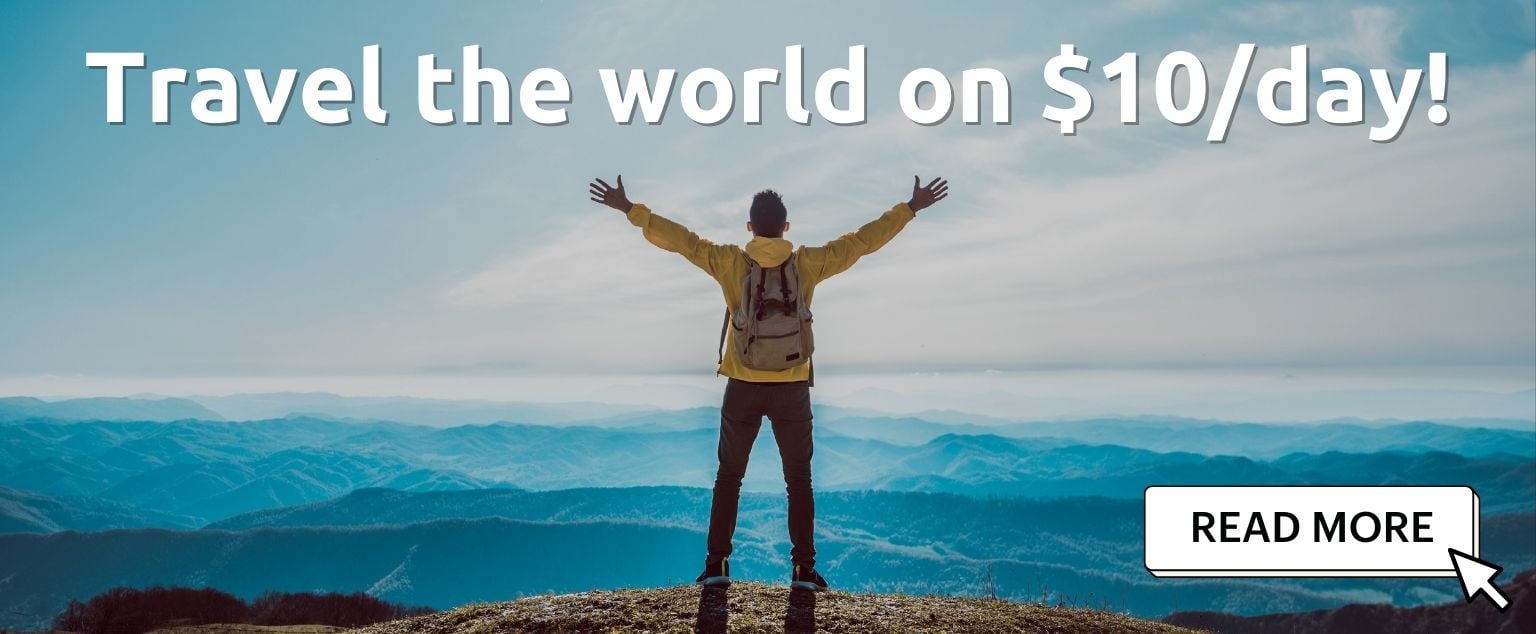 And for transparency's sake, please know that some of the links in our content are affiliate links. That means that if you book your accommodation, buy your gear, or sort your insurance through our link, we earn a small commission (at no extra cost to you). That said, we only link to the gear we trust and never recommend services we don't believe are up to scratch. Again, thank you!