The Indonesian Bali is nicknamed the Island of the Gods for many good reasons. The glorious temples, exciting water sports, unique culture, pulsating night scene, beautiful beaches, and stunning scenery could easily make you feel as though you were in heaven.
There's plenty to do outdoors and indoors and, with something for all weather conditions, ages, and interests, there never needs to be a dull moment in Bali.
The island is, however, fairly big, so knowing where to start can give you grief when making your travel plans. You don't want to move across the island to find out you missed out on a real gem.
That's where we can help! Our expert team have put together the ultimate list of the best places to visit in Bali to make sure that you don't miss a thing.
Have a fabulously diverse vacation and add these best places to visit in Bali to your bucket list. We're sure you'll thank us later!
Need a place quick? Here's the best neighbourhood in Bali:
BEST AREA IN BALI
Canggu
Flanked on almost all sides by rice fields, the scenery in Canggu is less developed than the other beach towns. The black-sand beaches have more fisherman than bars and visitors will experience a much more laid-back vibe.
Places to visit:
Dance to live music while enjoying a cocktail at one of the weekly parties at Old Man's Bar or Deus.
Fit in a workout at Crossfit Wanderlust;
Any one of these awesome activities in Canggu!
These are the BEST Places to Visit in Bali!
Scoring the island to bring you the best of Bali is not the only task our team of ragtag travel connoisseurs have set upon ourselves. We've also got the low down on the most epic places to stay in Bali. Be sure to check it out before scrolling into the fun below!
#1 – Besakih Temple – Possibly one of the most important places to visit in Bali
Known as the Mother Temple;
Biggest and holiest Hindu temple in Bali;
Located on mountain slopes;
Spiritual vibe.
Why it's awesome: Besakih Temple (also called Pura Besakih) is the most sacred Hindu temple in Bali and has a presence in every backpacking Bali travel guide for good reason. An important place of pilgrimage for devotees, the magnificent temple sits on the slopes of the volcanic Mount Agung. Split between six terraced levels, the complex is made up of more than 20 individual, but associated, temples. A spiritual Hindu site for at least 2,000 years, it is widely believed that the area has been a holy place since the prehistoric period. There are many fascinating shrines throughout the stunning complex along with a wealth of interesting architecture. Some 70 religious festivals take place at the temple every year.
What to do there: Climb the stairs up the holy mountain, stopping to explore the spiritual buildings and statues on each level and admire the sweeping vistas. Don't miss the three temples dedicated to the Hindu Trinity: Pura Kiduling Kreteg (dedicated to Brahma, the creator), Pura Penataran Agung (dedicated to Shiva, the destroyer), and Pura Batu Madeg (dedicated to Vishnu, the preserver). See the representations of the levels of the universe, according to Hindu beliefs, at Pura Penataran Agung.
Pura Pangubengan is the mountain's highest temple and you're sure to be impressed by the splendid views. Watch pilgrims clad in white making their way to different important shrines and praying to various deities. Tour the huge complex with an official guide to gain greater insights and understanding. Do remember to dress modestly to visit the highly revered Besakih Temple.
#2 – Sacred Monkey Forest – Certainly one of the most exotic places to see in Bali!
Wild and rugged atmosphere;
Home to many monkeys;
Air of spirituality;
Popular tourist attraction.
Why it's awesome: Located in Ubud, the Sacred Monkey Forest is a natural forest where many macaque monkeys swing through the trees and scamper across the ground. There are shaded paths leading through the forest, where you'll spot an array of other fauna and flora. Sacred temples of old are scattered throughout the forest, and there are many interesting statues and sculptures too. Although generally well preserved, many of the old structures are covered in moss and slightly overgrown, adding to the wild and mysterious atmosphere. You can explore the site independently or walk around with a knowledgeable guide to learn more about the monkeys and the forest's significance.
What to do there: Secure all loose items (the monkeys love to snatch and run!) and enter the green and leafy macaque-filled forest. While the monkeys are inquisitive and playful, one of our top recommendations for staying safe in Bali is beware the monkeys; don't touch the creatures or encourage them to climb on you because of the risks associated with wild animals. Observe the monkeys' antics and take lots of cool photos. Soak up the pretty views as you stroll through the nutmeg forest and absorb the sense of spirituality at ancient sites like the 14th-century Pura Dalem Agung Padangtegal, the bathing temple of Pura Beji, and Pura Prajapati, which is used for local funeral rituals.
#3 – Tanah Lot Temple – One of the most amazing places in Bali!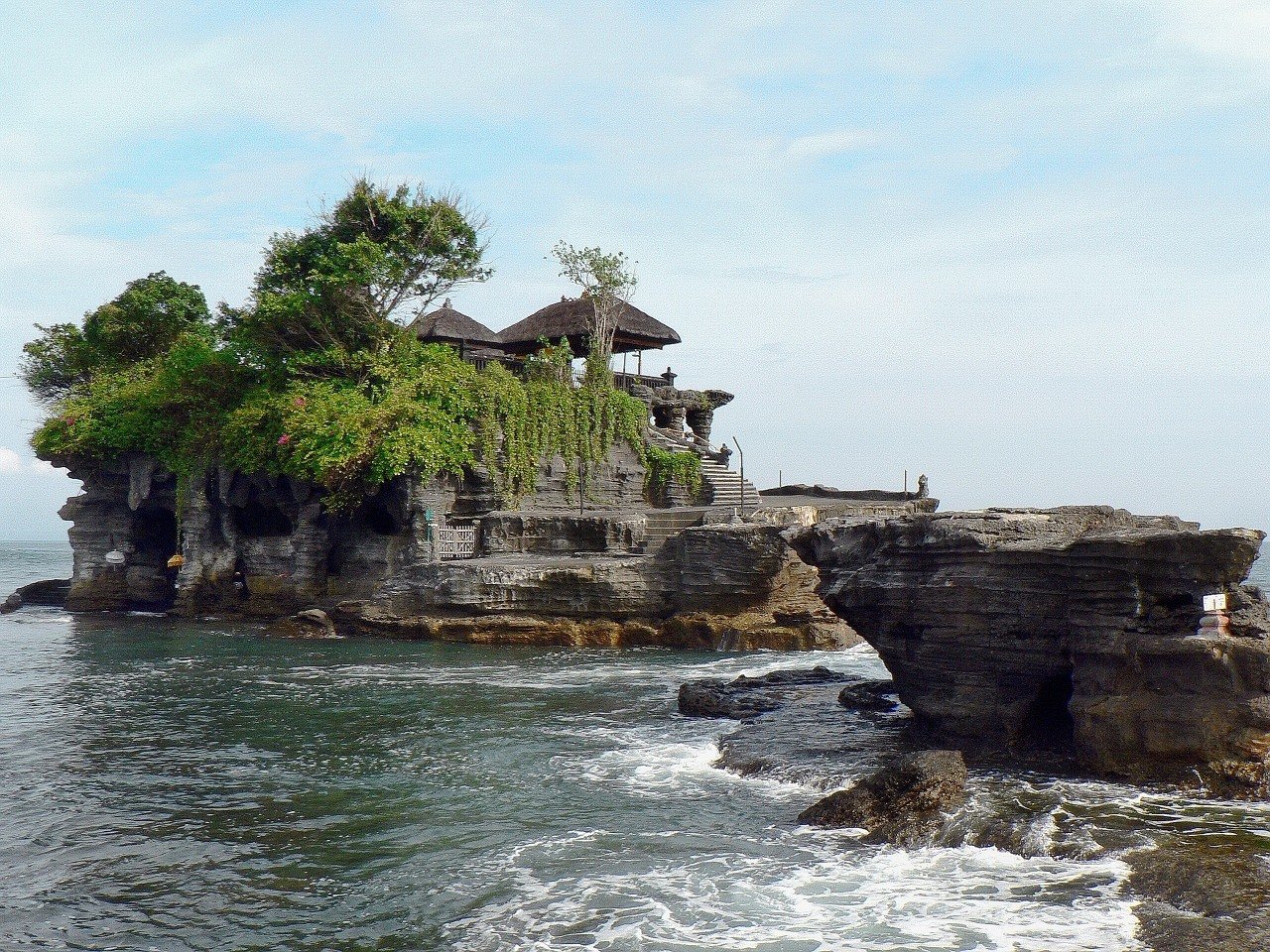 Striking ocean-side landmark;
Fantastic place to watch a stunning sunset;
Source of holy water;
Interesting legends.
Why it's awesome: Tanah Lot Temple sits on a craggy rock in the sea. Tanah Lot means Land in the Sea in the local language, and the temple is an interesting site with the waves crashing around it and the deep blues of the ocean stretching far into the distance behind. Dating back to the 16th century, it is said that a shrine was built on the rocks to honour the gods of the sea. The site grew into the temple that stands there today. There are both elements from Hinduism and from local Balinese mythology within the site, and poisonous sea snakes are said to protect the temple from malevolent spirits and trespassers.
What to do there: Admire the striking temple from the mainland, perhaps calling into one of the clifftop restaurants to enjoy the views for longer over a traditional meal. Try and spot sea snakes in the foamy waters and appreciate the fine details that have gone into creating the impressive sea temple. There are many art and souvenir sellers along the pathway leading to the temple where you can pick up local gifts. Remember to dress conservatively when visiting Tanah Lot Temple and other places of worship around Bali.
#4 – Bali Treetop Adventure Park – Cool place to see in Bali with friends!
Adventurous activities;
Beautiful natural setting;
Activities suitable for people of all ages;
Fun and thrilling.
Why it's awesome: Set within the lush Bali Botanical Garden, Bali Treetop Adventure Park offers fun for people of all ages. Old and young alike can complete various challenges in the trees, with different courses available. There are seven circuits at different heights; yellow is for smaller kids while black offers the most adrenaline-inducing fun. All safety equipment is provided.
The views from the ropewalks and high activities are beautiful too, and you can take time to relax in the scenic surroundings. There are more than 70 exciting challenges, ranging from nets and swings to balancing blocks and jumps. The ziplines let you admire the views as you soar through the air.
What to do there: Listen to the safety briefings and get fitted for your harness and then take to the trees for a fabulous adventure. Start on some of the easier circuits to gain confidence and build up to the big thrills and spills. Clamber your way up spider nets, teeter across high rope bridges, swing across gaps holding onto ropes, grip onto trapezes, and whizz through the skies on several flying foxes. See nature all around you and enjoy picturesque views.
#5 – Nusa Dua – Great place to visit in Bali for couples!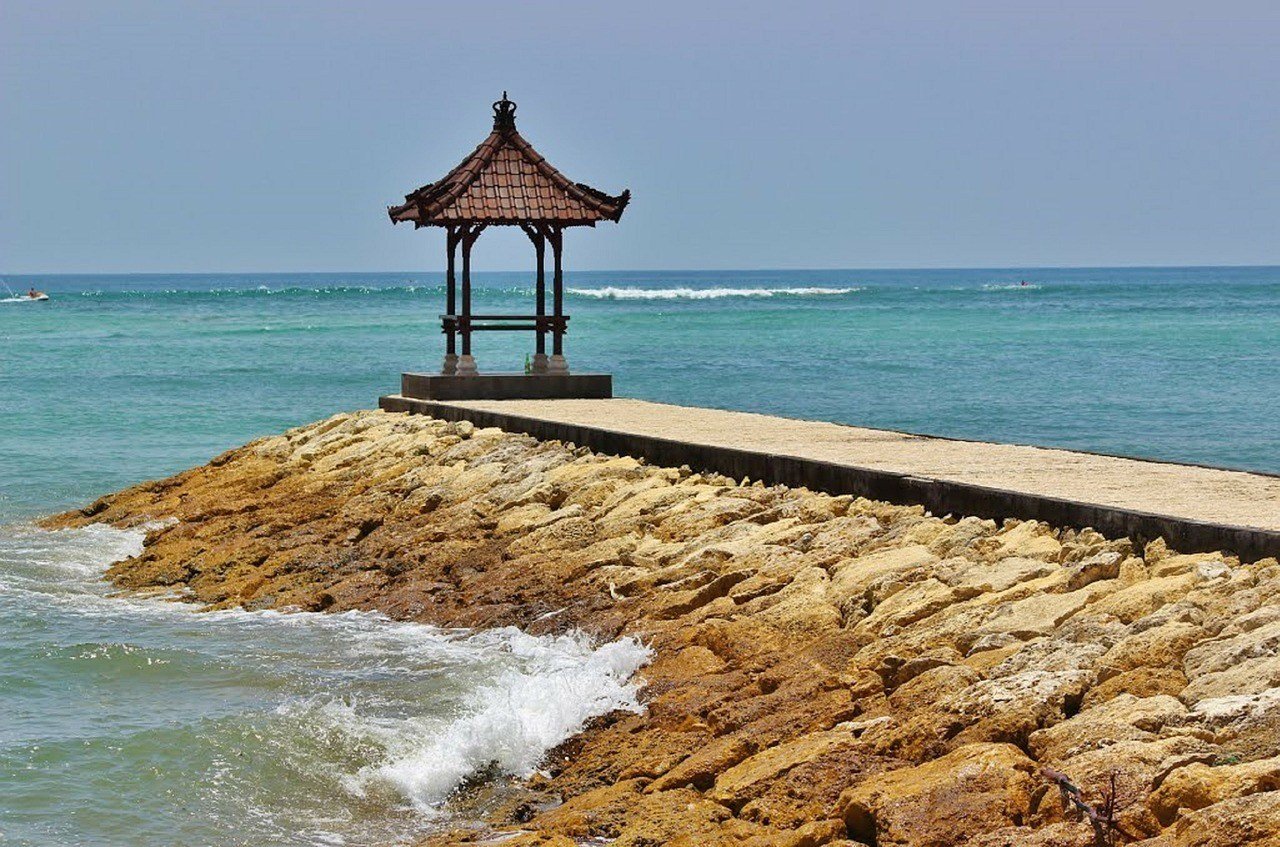 Glamorous and luxurious air;
Romantic ambience;
Pretty beach;
Diverse attractions and activities.
Why it's awesome: Located in southern Bali, Nusa Dua is a lovely beach resort with a stylish and sophisticated vibe and it's home to some of the best beaches in Bali. Couples can fall under the area's spell while making many happy memories together. The soft sands and clear waters are ideal for lazy beach days and swimming in the refreshing sea, and nearby attractions include temples, unusual natural features, viewing points, museums, a golf course, and shopping centres. There's definitely enough to keep you busy in Nusa Dua!
What to do there: Hit the beach for a day of relaxation, top up your tan as you sunbathe on the soft sands, and cool down with a dip in the sea. You can take a camel ride along the beach and dine on fresh and tasty seafood, and water sports like banana boat rides, snorkelling, diving, and jet skiing are also popular. Visit Geger Beach to see where local fishermen grow seaweed and take a walk around the bustling Benoa Port. Admire art in the lesser-visited Pasifika Museum and tour the area's diverse temples and mosques.
Don't miss the water blowhole, one of the area's more unusual natural attractions. Watch as gigantic waves crash against pale limestone cliffs and wait in anticipation as the pressure builds to release in a high spray of water. Stroll hand in hand with your love along the pretty promenade, get in touch with your inner child at Pirate's Bay and play a few rounds of golf.
Is This the Best Travel Backpack EVER???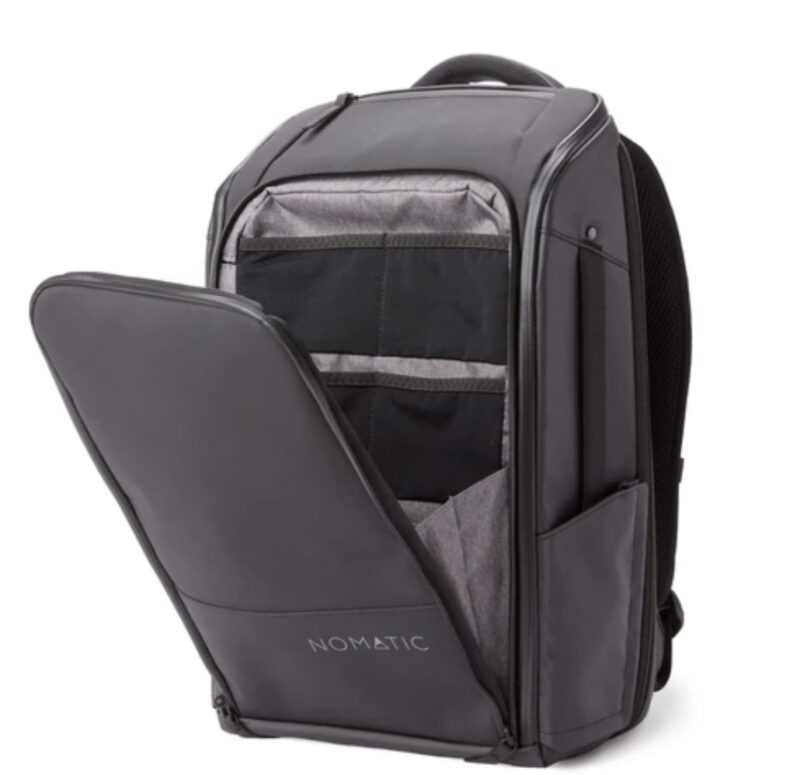 #6 – Kuta – Easily one of the most fun places to check out in Bali
Great place for surfing;
Lively night scene;
Many restaurants catering to global tastes;
Popular holiday resort.
Why it's awesome: Kuta is one of Bali's premier tourist destinations and it offers a wealth of experiences and activities for people of all ages and for different interests. There are loads of great backpacker hostels in Kuta and generally, plenty of accommodation to suit different travel budgets, and you'll find an array of eateries serving local and international cuisine. The area is famed for its energetic nightlife, and the beaches are known for their terrific surfing opportunities. There are many surf shops where you can get kitted out for a day on the waves, and instructors are available for beginners and for people wanting to improve their skills. The beaches are also great for swimming and sunbathing.
What to do there: Bask in the sun on Kuta Beach and enjoy a refreshing dip in the ocean. Try to harness the power of the sea and ride the waves with a spot of cool surfing. Want to practice before hitting the open water? Check out Armada Flow House. Pick up surf goods and memorabilia in the many surf shops. You can also hunt for souvenirs at the same time. Take tons of awesome photos in the quirky Upside Down World Bali and Dream Museum Zone, inject a little culture into your trip at Museum Kain, visit the Chinese Buddhist temple of Vihara Dharmayana, and watch a spell-binding traditional dance show. Enjoy tasty food from all over the world and spend fun-filled nights partying hard in Kuta's legendary bars and clubs.
#7 – Sidemen – A nice non-touristy place to visit in Bali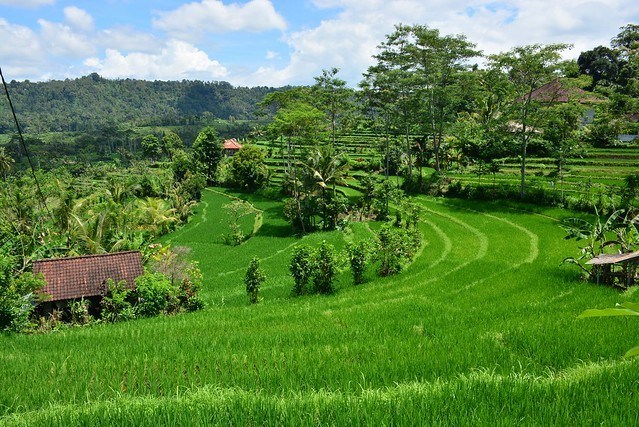 Picturesque views;
Outdoor activities;
Escape the tourist crowds;
Sample a rural way of life.
Why it's awesome: Sidemen is a scenic village in the eastern part of Bali. The lush and verdant countryside boasts pretty rice paddies and palm plantations, with local homes speckled across the landscapes. The area is known for being a leading producer of palm wine and palm toddy, and local villagers are great at weaving. The vibe is tranquil and relaxed and it's a top place to move away from the beaten track, escape the masses, and spend some time in rural Bali.
What to do there: Enjoy long walks or bike rides through the pretty countryside, stopping to take plenty of photographs of the blanket of green rice fields that stretch out before you. Cross small rivers and see rich plantations, sample the locally produced tuak (palm toddy) and arak (palm wine), and enjoy a traditional meal in a simple restaurant. Purchase locally made woven products, which feature colourful and intricate designs. For a more hands-on experience head to Agung Silver, where you can make your own beautiful jewellery. Lap up the peaceful vibe, feel refreshed, and enjoy a blissfully chilled out and calm time in Sidemen.
#8 – Sanur – A must-see for foodies!
Famous for seafood delicacies;
Pretty beach;
Relaxed vibe;
Excellent night market.
Why it's awesome: Sanur is one of Bali's oldest beach resorts, though it still manages to retain an air of tranquillity when compared to many of the island's newer resorts. The atmosphere is peaceful and unhurried. There are several cultural, historical, and natural attractions, and you'll find a wealth of terrific food options to satisfy your appetite. The area is especially known for its tempting seafood dishes. There's a great night market where you can sample an array of tasty and affordable dishes, and there are also plentiful restaurants where you can enjoy a sit-down meal while looking out over the ocean.
What to do there: Follow the boardwalks through the wildlife-rich mangroves at the Mangrove Information Centre and take a boat trip to Serangan Island, home to an excellent turtle conservation centre. Take a walk along the beachside path and spend a few hours (or longer!) at the beach swimming, sunbathing, and playing beach games. Glimpse into early expat life and see interesting artworks at Le Mayeur Museum and learn about an ancient Javanese king's visit to Bali at the attractive Blanjong Temple.
Don't miss the night markets, with their wealth of dining options and photo opportunities. Watch as vendors cook up an array of dishes, and relish the sights, sounds, smells, and tastes. Take a cooking class to learn how to replicate your favourite dishes and impress your friends back at home. Feast on delectable seafood in the many beachside restaurants, with menus featuring fresh local catches.
#9 – Bratan Lake – A beautiful and scenic place to check out in Bali
Interesting temple;
Water-based activities;
Scenic vistas;
Nearby waterfalls to discover.
Why it's awesome: Bratan Lake (also known as Lake Baratan) is a picturesque crater lake close to Bedugal in Bali's central highlands. The higher altitude means that temperatures are often somewhat lower than close to the coast, and it's a great place to beat the heat and enjoy refreshingly cool conditions. Various water sports can be enjoyed on the lake, including boating, jet skiing, parasailing, and rides in speedboats. The nearby mountains offer great opportunities for scenic hiking, and you'll find waterfalls, hot springs, and other attractions close to hand. For many, a highlight is a visit to the hauntingly beautiful temple of Pura Ulun Danu Bratan.
What to do there: Soak up the views of the pretty lake and have a go at a variety of water sports. Visit the 17th-century Shaivite water temple of Pura Ulun Danu Bratan, a majestic temple that seems to float right on top of the sparkling water. Watch as people pay their respects to the Balinese water goddess and admire the interesting architecture. Go hiking in the mountains and visit the nearby waterfalls of Banyu Wana Amertha Waterfalls and Munduk Waterfall.
#10 – Tirta Empul – One of the most religious places to see in Bali
Site of a holy mountain spring;
Sacred religious building;
Spiritual atmosphere;
Long history.
Why it's awesome: The Balinese water temple of Tirta Empul attracts local Hindus who want to perform holy bathing rituals and spiritual cleansing. The name itself means Holy Spring, and the spring is the start of the Pakerisan River. A temple was built at the site, around the spring, in the 960s, and today it features several areas complete with pools and showers. Devotees also pray to the Lord Vishnu, the temple's main deity, on a visit. The surrounding mountain scenery is attractive and there's a strong air of spirituality and serenity.
What to do there: Dress modestly to visit the sacred site and watch as devout Hindus come to bathe in the holy waters. Do note that non-believers shouldn't take to the waters. Admire the architectural features and decorative details as you explore the ancient religious site. See the nearby presidential palace, built to accommodate the first president's visit to the area. You can learn more about local beliefs and myths as you view an array of religious items and artefacts throughout the temple complex. Pause at the stalls outside to peruse a variety of souvenirs and knickknacks and try local snacks and meals.
#11 – Canggu – One of the most incredible free places to go to in Bali
Stretching black-sand beach;
No charge to enjoy the beach;
Laid-back vibe;
Surfing hotspot.
Why it's awesome: The coastal village of Canggu boasts lots of cool activities and a beautiful beach that stretches for around ten kilometres (6.2 miles). While Bali is blessed with many pretty beaches, few are as appealing and attractive as the Canggu Beach. The black volcanic sands create a cool contrast with the blues of the ocean and the greens of the trees that line the beach. There are challenging surfing spots to tackle too. Fishing boats bob on the waves and fresh catches are served in local restaurants. The village retains a traditional way of life and the rural surroundings are pretty.
What to do there: Stroll along the black sands and admire the views, and laze in the sunshine, take a swim in the sea, or have a go at surfing. Alternatively, cover more ground with a horseback ride along the beach. Pop into a local warung (restaurant) to dine on delectable fresh seafood and watch fishermen returning to shore in the charming fishing village. There are plenty of hip and trendy cafes too. Be seduced by the unhurried pace of life and recharge your soul. For even more bliss, book a treatment at one of the spas. Visit the beach in the evening to watch a splendid sunset. If you're so inclined, Canggu is a great place to work on your summer bod at a fitness retreat.
Psst! While you're in Canggu, stay or simply come hang out at Tribal Hostel Bali. With epic food, legendary coffee, awesome cocktails (Tribal Tonics are the best signature cocktails you've ever had in a hostel – I guarantee you that!) and a dedicated co-working space, this is the place where you want to be when visiting Bali. Bali's first custom-designed co-working hostel is the epic brainchild of Will Hatton, the OG Broke Backpacker, so if you love the site and want to support Will, swing on by next time you're in Bali 😉
Wondering how your Bali travel budget should look like? We've collected all insider tricks and put them into an epic guide so you know exactly how much money you need to put aside for your next Bali adventure. No need to empty your pockets completely!
#12 – Waterbom – Awesome place to visit in Bali with kids!
Large and fun water park;
Ideal for people of all ages;
Watery fun without the sand;
Well-maintained attractions that comply with international safety standards.
Why it's awesome: Waterbom is Bali's main water park, providing a family-friendly fun day out. There are water rides and other attractions suitable for old and young alike, with tamer rides for younger visitors and adrenaline-inducing rides for thrill seekers. Close to Kuta, the water park has been pleasing guests since 1993. Attractions are spread across beautiful tropical gardens, and there are areas where you can rest and relax too. Food and drink outlets are scattered throughout the park.
What to do there: Climb the steps up the towering Smashdown 2.0, take a deep breath, and feel the ground give way as you hurtle through a trapdoor to make a splash at the bottom. Brave the speedy Climax and plunge down a nearly vertical dip. Grab a pal and have fun on the Twin Racers, wind your way down Python, and experience a rush on Boomerang. Try stand-up or lie-down paddleboarding at the Flow Rider Double, drift along the Lazy River in a tube, and let kids have heaps of fun and giggles at Funtastic.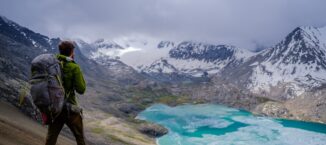 Do You Want to Travel FOREVER??
Then pop your email address in below and we'll send you a FREE copy of 'How to Travel the World on $10 a Day!'
#13 – Ubud – A great place to visit in Bali if you are alone/traveling solo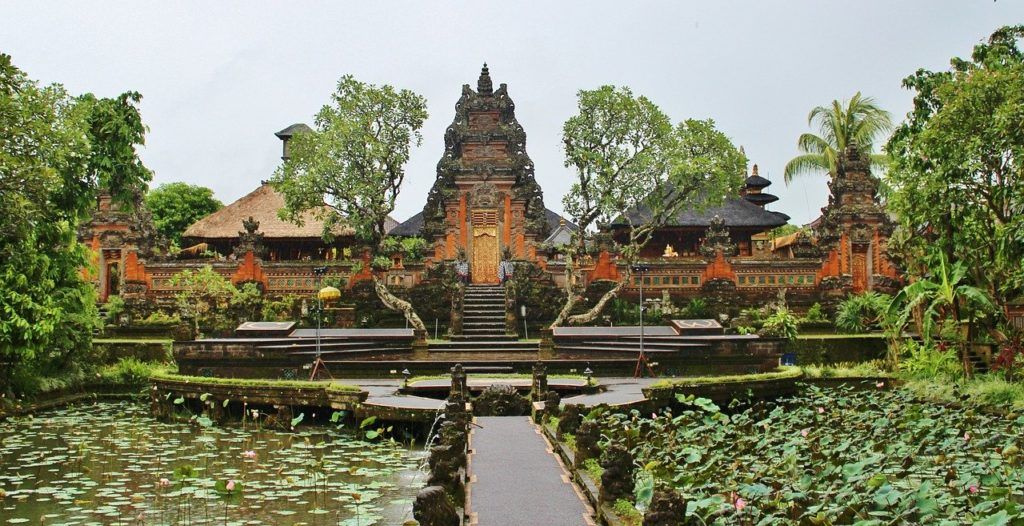 Watery fun without the sand;
Well-maintained attractions that comply with international safety standards.
Great place for yoga and meditation;
Lots to see and do.
Why it's awesome: Ubud is a highly popular tourist destination… and for plenty of good reasons! There are many things to see and do, with something to appeal to almost any taste and some of Bali's best hostels are located here. The island's centre of the arts, Ubud is sure to please creative souls. There are historical and cultural sights aplenty, and natural beauties are just a stone's throw away. You can also enjoy a variety of active adventures. The vibe is relaxed, and there are plenty of ways for people to channel their spiritual energy and feel inner peace.
What to do there: Visit the 11th century Pura Puseh Batuan Temple and admire its five-tier gateway and ornate details. Other religious places nearby include Yeh Pura, Pura Gunung Kawi, Tirta Empul, Pure Kehan, and Goa Gajah. Hop between the diverse museums and art galleries, including Blanco Renaissance Museum, Naka Art Museum, Museum Rudana, Museum Puri Lukisan, and Agung Rai Museum of Art. See a fascinating assortment of puppets from across the globe at Setiadarma House of Masks and Puppets. Join a workshop for creative inspiration, and learn skills like painting, batik, and dance. Alternatively, channel your inner Master Chef with a cooking class. Feel calm and peaceful at a yoga or meditation workshop or retreat, stroll through the green rice fields, and shop for local souvenirs in Ubud Market.
If you want to ramp up the feel-good factor, call into Villa Kitty, a rescue home for cats where you can play with the cute felines and take part in various volunteering opportunities. For outdoor adventures, try white water rafting, canyoning, ATV riding, cycling, and hiking. Bali Bird Park and the Botanic Garden are also pleasant additions to your itinerary. Don't miss taking a trip to Petalu in the evening to watch as thousands of white birds flock home to roost.
Need to travel to Bali on the cheap? Use Bookaway to find the best deals on bus, plane, train, and ferry tickets. It's easy to use and saves you time and money. Once you've arrived, why not use what you've saved to treat yourself to a cold beer and a bite to eat?
Book your transport on Bookaway now to guarantee your seat and for the right price.
#14 – Aling-Aling Waterfall – A beautiful outdoor place to visit in Bali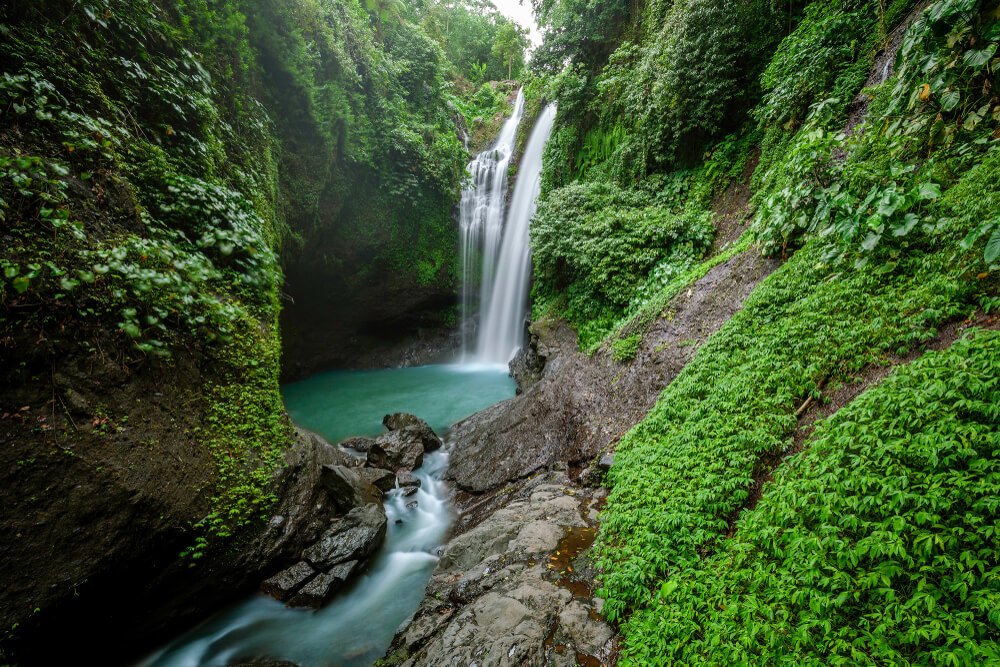 Breathtakingly beautiful waterfall;
Adventure activities;
Stunning scenery;
Amazing photo opportunities.
Why it's awesome: Located in the north of the island, Aling-Aling Waterfall is one of Bali's prettiest waterfalls. Water crashes some 35 metres (114 feet) over a steep cliff, thundering down to splash into the pool below. The surrounding jungle is home to varied flora and fauna and there are opportunities for hiking close to hand. Diverse activities are available at the falls, some of which are sure to get your heart racing and your blood pumping!
What to do there: Follow the path and steps for around ten to fifteen minutes to reach the stunning Aling-Aling Waterfall. There are viewpoints along the way where you can admire the natural beauty and take great pictures. The route passes through rice terraces and pastoral land too. Take a guide with you if you want to try outdoor activities. You can swim in the natural pools, whizz down a smooth natural stone slide, and jump from high into the water. Do note that, for safety reasons, swimming is not permitted without a guide.
#15 – Uluwatu Temple – A great place to see in Bali if you love architecture
Striking vistas;
One of Bali's six major temples;
Daily dance shows;
Traditional Balinese designs.
Why it's awesome: One of Bali's most famous landmarks, Uluwatu Temple is a spectacular clifftop temple with a rich legacy. Sitting at the edge of a 70-metre-high (230-foot-high) cliff, the elevated positions provides splendid views too. Located on the site of a former religious building, the present temples dates back to the 11th century. Ancient sculptures are dotted throughout the complex and there are many rich and ornate traditional Balinese details. Elephant-headed human-like statues stand near the entrance gates and a Brahmin statue gazes out over the Indian Ocean. Unusual for the island, the temple features a winged gate from the tenth century.
What to do there: Pass through the small forest at the bottom of the mountain, taking care to keep your eyes open for the cheeky monkey residents—the monkeys are not averse to snatching belongings and running away! Climb up to the temple, stopping to admire the views on the way. The climb takes around an hour. Explore the ancient site and learn more about local legends and spiritual beliefs. Try and visit Uluwatu around the afternoon, and linger to see the traditional kecak dance that takes place every evening at the edges of the cliff. Afterwards, watch a spectacular sunset.
#16 – Bali Provincial State Museum – A fascinating educational place to visit in Bali
Biggest collection of historic and cultural artefacts in Bali;
Peek into the past with exhibits that span the ages;
Aim of preserving local culture and items;
Close to the airport.
Why it's awesome: Located in Denpasar, Bali Provincial State Museum is a must-visit for anyone wishing to learn more about Balinese life, culture, and history. Established in 1910 by Dutch expats, the museum seeks to preserve traditional items and educate people about the island's rich heritage and traditions. Spread across three main buildings, the museum houses a wide assortment of interesting artefacts. The complex also has a temple and pretty gardens.
What to do there: Gain greater insights into Bali's past, present, and culture as you walk around the various exhibitions and displays. You'll see things like old weapons, ceramics, tools, art, statues, musical instruments, shadow puppets, and religious artefacts. Appreciate the pretty gardens and pay your respects in the temple.
#17 – Lovina – An awesome place to visit in Bali for half a day!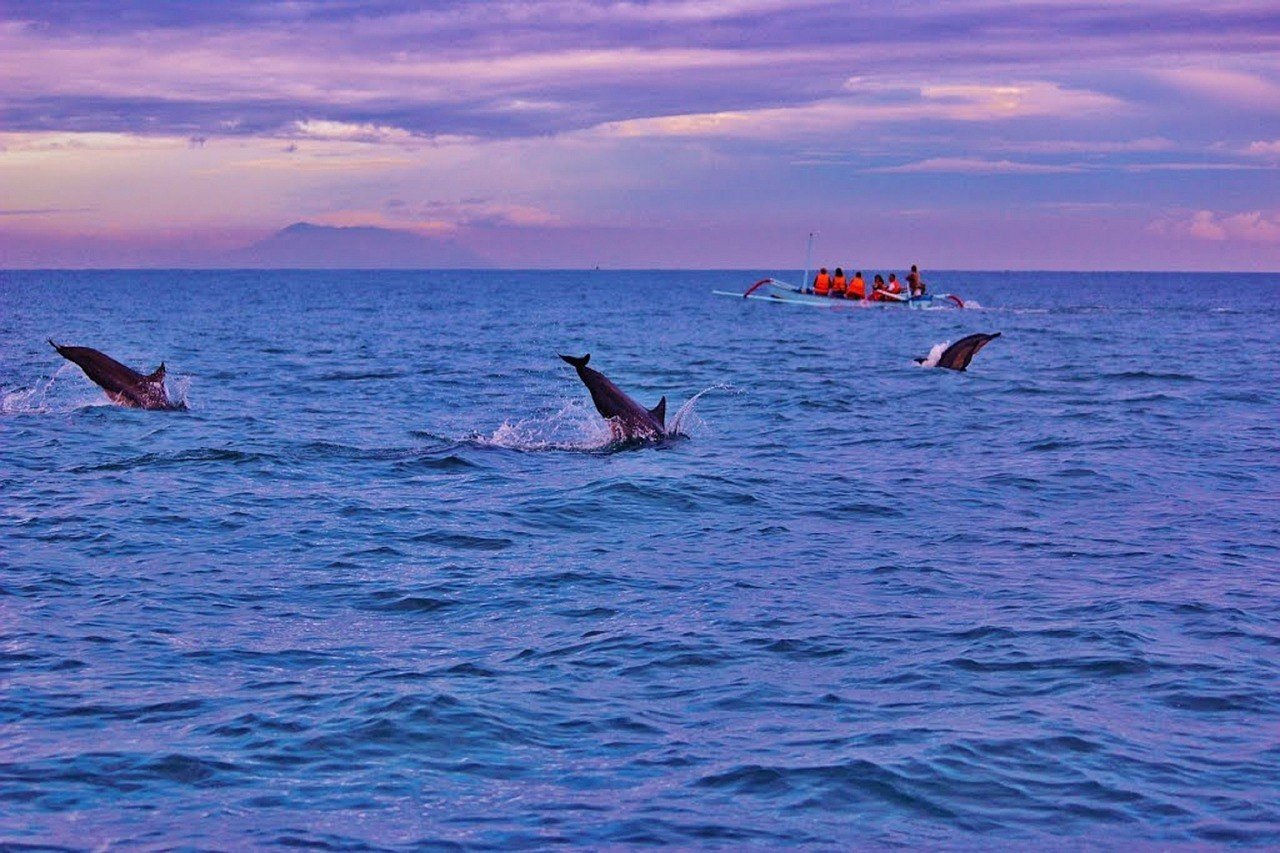 Pleasant beach;
Great place to see dolphins in their natural habitat;
Perfect activity for families;
Low-key and rural atmosphere.
Why it's awesome: The peaceful coastal town of Lovina is located in northern Bali. It has a long black-sand beach and the waters are safe for swimming. The area still has the vibe of a rural fishing community. Lovina is famous for the dolphins that swim in the ocean just a short way from the shore. Numerous operators offer boat rides to get up close to the graceful and playful creatures. The nearby highland scenery is easy to access and there are several cultural places of interest close to hand too.
What to do there: The main thing to do in Lovina is to take a dolphin-spotting trip. While the chances of seeing wild dolphins are usually high, do remember to manage your expectations and keep in mind that, as with any sightings of wild animals, seeing the creatures can never be guaranteed. Pose for a selfie in front of the large dolphin statue close to the beach and pick up dolphin-themed trinkets in the local stores. Get even closer to the underwater world with a diving adventure. Visit the biggest Buddhist monastery on the island – Brahma Vihara Arama—and contrast Buddhist practices with the prevalent Hindu beliefs. Soak away any aches and pain in Banjar Hot Springs and explore the traditional villages and orchards of Lovina Hills.
#18 – Taman Festival Bali – Quite the quirky place in Bali!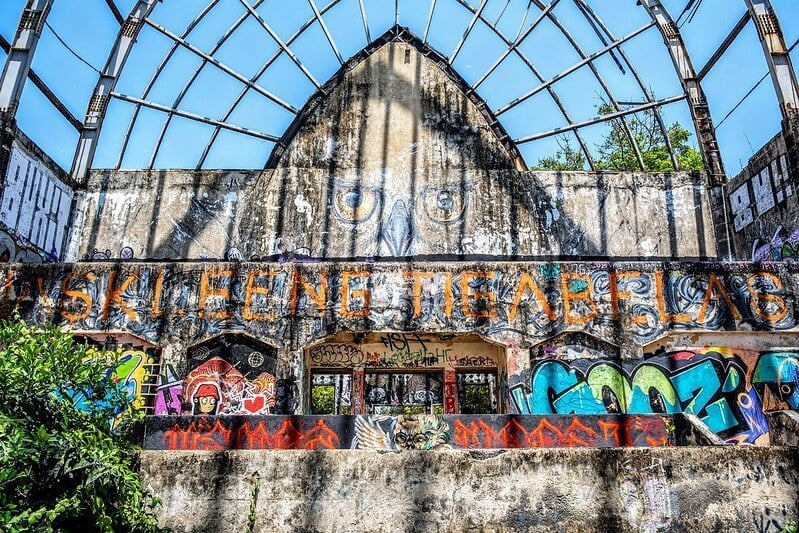 Eerie abandoned site;
One of the most unusual places to visit in Bali;
Jungle location;
Surrounded in urban legends.
Why it's awesome: Arguably much more interesting as a spooky relic than it would have been when open to the public for fun and frolics, Taman Festival Bali is an abandoned and decaying amusement park. A great place for some urban adventuring, deserted trails littered with fragments of glass, rubbish, and rusty metal lead through the overgrown old theme park. Closed since 1997, you can only imagine what the amusement park would have been like in times gone by. Local legends abound, with spooky stories of abandoned crocodiles that turned to cannibalism to survive and eerie buildings filled with bats.
What to do there: Pluck up the courage (though do take care!) to pass through the long-deserted entrance, passing the disused ticket booths and almost hearing whispers from the past. Roam through the rather sinister abandoned grounds, seeing what's left of carnival-like games stalls, rides, theatre, and other buildings, and see how the effects of time have taken their toll. Graffiti covers many of the still-standing walls and forgotten statues stand forlornly in the tangle of weeds. Spot various creatures (though hopefully not crocodiles!) in the wild overgrown surroundings. Add some diversity to your Bali trip and your photo album. Do take care when exploring as many of the structures are now unsafe.
#19 – Pasar Badung – A great place in Bali if you love to shop!
Main shopping area in Bali;
Wide assortment of items;
Day and evenings markets;
Experience local life.
Why it's awesome: Pasar Badung, situated in Denpasar, is Bali's biggest market. A popular shopping spot with locals, it is also the island's main place to purchase a huge selection of fresh produce. A remnant from times when a more traditional way of life prevailed, the market offers enchanting glimpses into local life and ways of old. Although the market is known for its fresh goods, there's also a large selection of clothes, textiles, homewares, and other goods across the stalls and in the large shopping centre. Depending on your negotiation skills, prices can be really reasonable.
What to do there: Wander around the fresh fruit and vegetable market, seeing many colours, shapes, and textures—there will likely be some products that you've never seen before! This is a great place to pick up supplies if you're staying in self-catering accommodation. There are several traditional eateries throughout the market too, known as warungs, where you can try varied local cuisine. Go up a floor and you'll find traditional outfits and other clothes. See locals purchasing a range of ceremonial objects and browse the selection of arts and crafts. If you plan to buy anything, don't forget to practice your haggling skills!
#20 – Mount Batur – A very cool place in Bali to go for a day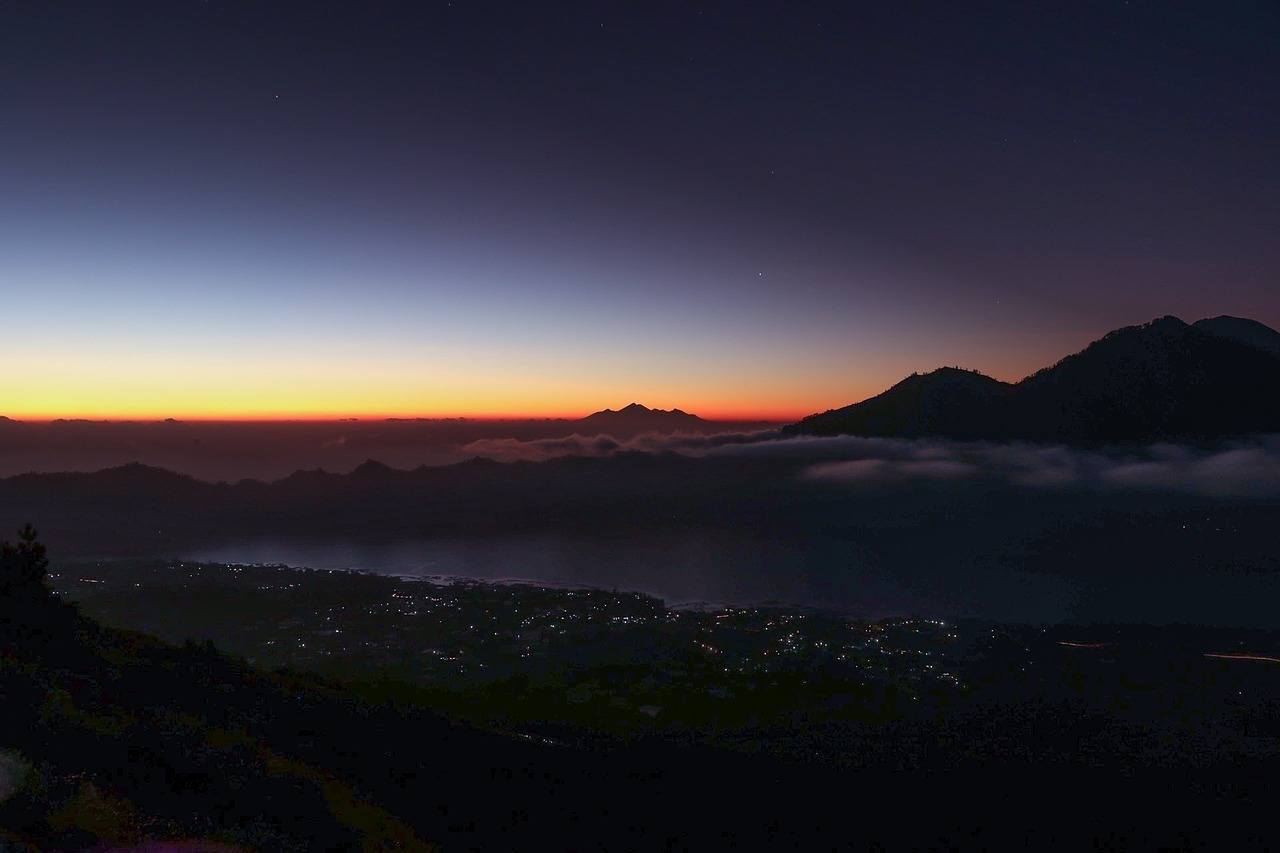 Active volcano;
Excellent hiking opportunities;
Great place to watch a stunning sunrise;
Incredible vistas.
Why it's awesome: The volcanic Mount Batur sits between two circular craters, one of which has filled with water to create a scenic lake. The still-active volcano has erupted many times over the years, with the nearby lava field bearing testament to the volcano's power. A number of villages are scattered around the volcanic landscapes. It is possible to climb the UNESCO-listed mountain for brilliant views and the thrill of having scaled a volcano.
What to do there: Wake up early to hike Mount Batur while it's still dark to reach the top in time to watch a magical sunrise. Expect the climb to take around two hours (don't forget your sustainable travel water bottle!). It's highly recommended to hike with a guide, particularly when going up the mountain in darkness. Watch as an orange glow starts to spread through the skies, and then, as the light gets brighter, be wowed by the splendid views of the lush surroundings and shimmering volcanic lake. Stop to admire the views from various vantage points as you descend the mountain and look out for local flora and fauna.
#21 – Seminyak – A great place to visit in Bali at night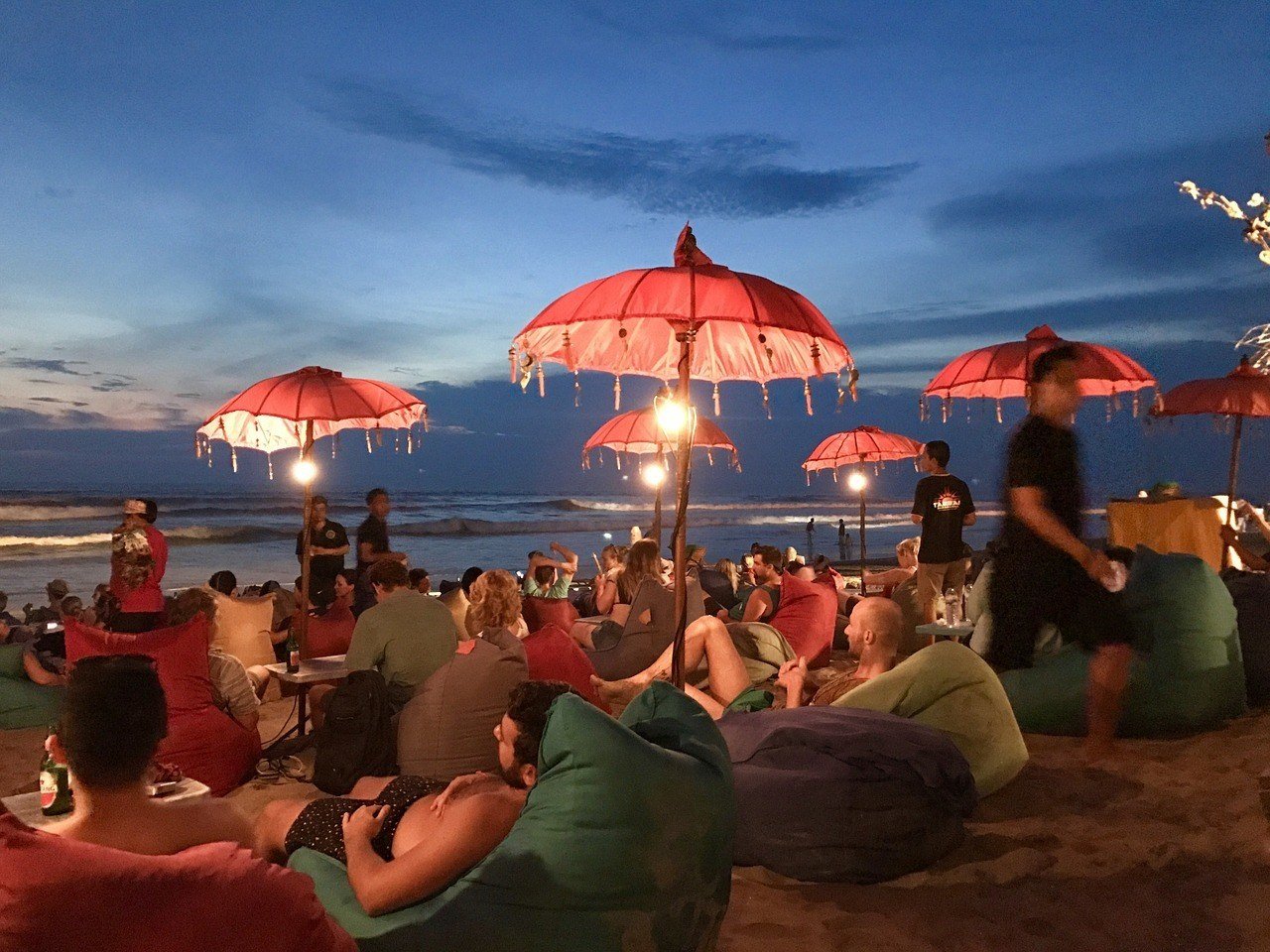 Excellent nightspot;
Diverse bars, clubs, and restaurants;
Why it's awesome: Seminyak is a great place for party animals and night owls who want to escape the frenetic activity and frantic crowds of nearby Kuta. The atmosphere is a bit more stylish and there are bars and clubs to cater to different tastes. There are also many places to enjoy a wide range of global fare. Close to the beach, Seminyak is also a top place for shopping, particularly clothes and other fashion items, and for taking it easy in a spa.
What to do there: Spend time lazing on the peaceful beach and enhance your wardrobe with a shopping trip to the area's many boutiques. Enjoy a delicious top-class meal in some of Bali's finest restaurants before getting ready for a night of fun and revelry. Hop between Seminyak's cool bars, listen to live music, sip cocktails and cool beers, and bust out your best moves on the dancefloor of a trendy nightclub. After a night on the tiles, rest again on the beaches or visit one of the excellent spas for a little TLC.
#22 – Nusa Lembongan – A must visit place to visit in Bali on the weekend!
Small island near Bali;
Relatively undeveloped and little commercialisation;
Idyllic island vibe;
Excellent water sports.
Why it's awesome: The small island of Nusa Lembongan is easy to reach from Bali. The chilled-out atmosphere, peaceful way of life, smaller crowds, and fewer developments make the island seem worlds apart from its larger neighbour. The waters teem with aquatic life and there are great opportunities to explore more with different water sports. The island also boasts nice beaches, natural attractions, mangrove forests, and a traditional village.
What to do there: Catch an early ferry over to the island and spend the day exploring Nusa Lembongan by foot or by rented bicycle. Chillax on pretty beaches like Mushroom Bay, Jungat Beach, Sunset Beach, and Dream Beach, relaxing on the soft sands and swimming in the sea. Spot an assortment of fascinating marine creatures with a snorkelling or diving trip. If you're feeling brave, muster up the courage to try the exciting cliff jump at Dream Beach. Don't miss seeing the unusual natural feature known as Devil's Tears; water builds to spurt forth with a crash, with the blowhole said to look like the Devil himself is crying. Visit the traditional Lembongan Village to see how locals live.
Nusa Penida is Lembongan's more rugged neighbor and is ridiculously beautiful. If you don't mind some rough roads and lack of infrasctructure, then consider visiting Nusa Penida instead!
#23 – Bengkala – An unknown (but awesome!) place to see in Bali!
Off the typical tourist trail;
Unique sign language used by locals;
Rural community;
Experience kindness, compassion, and tolerance.
Why it's awesome: Bengkala is a village in northern Bali. It is often known as the Deaf Village because of the large number of residents who are hard of hearing. Home to around 3,000 people, approximately 50 locals have been born deaf. In the past, villagers believed this was because of a curse on the homes. Today, the community seeks to be as inclusive as possible, with a large proportion of locals (both deaf and people with full hearing) using a unique sign language to communicate. The sign language, known as kata kolok, is only used in this village. Tourists are welcomed into the village as a way to raise awareness, create more opportunities for locals, and to boost the local economy.
What to do there: Experience a completely different method of communication and way of life in the amazing village of Bengkala. Interact with locals with the help of an interpreter and learn more about life in the community. Watch an enchanting dance show (called janger kolok), made all the more incredible when you realise that the dancers cannot hear the music or thudding drum beats. Support the community and buy attractive local handicrafts, and appreciate the beauty of tolerance and acceptance in this small, rural Balinese village.
#24 – Goa Gajah – One of Bali's coolest historical sites!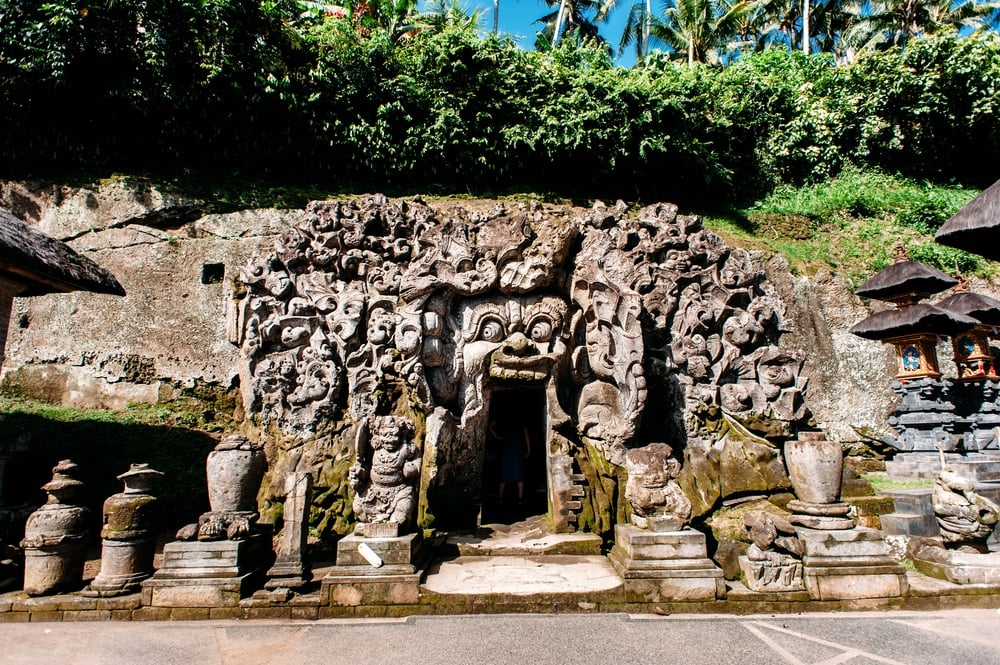 Spiritual site
Interesting cave
Long history
Detailed rock art
Why it's awesome: Goa Gajah, also known as the Elephant Cave, is situated just outside Ubud. The spiritual complex dates back to the 9th century and is thought to have been built as a centre for meditation. There are pools where devotees take to the waters for ceremonial cleansing and the cave features ancient rock carvings. There's a cave for meditation and there are many statues throughout the courtyard.
What to do there: Walk down the steps to reach the courtyard, where you can see a variety of Hindu and mythological statues alongside ancient stone carvings. Watch as locals perform bathing rituals in the pool and take note of the water spouts that look like angels in the Hindu beliefs. Go into the cave and see cloth-wrapped statues and rock art. It's interesting to see the difference between the Buddhist sections of the complex and those that are Hindu focused. Soak up the views across the rice fields and have a quick look at the souvenir stalls that line the walkway out of the site.
#25 – Pakudui – One of the nicer places in Bali to sightsee!
Countryside views;
Breezy and cool;
Great place for nature lovers;
Holy associations.
Why it's awesome: The village of Pakudai can be found close to Ubud. One of the area's main attractions is the stunning Tegallalang rice terraces. Rice grows across the picturesque terraces, using a traditional irrigation system that is said to have been given to local farmers by a holy man. Even when the area is teeming with tourists, it's still easy to enjoy the views and timeless ambience. The village is also well known for its crafts.
What to do there: Feast your eyes on the verdant valley and marvel at the stretching rice terraces that seem to defy the imagination. Savour the cooler conditions, a welcome break from hotter parts of the island. Watch as farmers tend to their crops too. It's a top place to whip out your paint brushes and paint a beautiful picture, and it's also a great place for countryside photography. See local craft workshops, appreciating the skills needed to create such intricate pieces, and perhaps pick up a few souvenirs and gifts to take home with you.
#26 – Amed – A nice quiet place to see in Bali
Sleepy fishing village;
Excellent place for diving;
Away from the tourist crowds;
Delicious seafood.
Why it's awesome: Amed is a quiet fishing village that also doubles as an exceptional diving destination in Bali. As well as a plethora of fish and other sea creatures, divers have the chance to explore eerie old shipwrecks hidden beneath the water's surface. There are many places where visitors can treat themselves to a sumptuous seafood feast, and the calm atmosphere is sure to make you feel at ease. The sunset vistas over the ocean are beautiful and there are terrific views of Mount Agung in the distance.
What to do there: Walk across the sandy beach, savouring the peaceful vibe, and maybe pause for a while to enjoy sunbathing and swimming. Slip on your snorkelling gear to explore the nearby reefs, spotting a captivating array of marine life. Explore even more of the underwater domain on a diving trip. You might even spot sea turtles and reef tip sharks. There are several diving operators in the area. Discover the wreck of a Japanese patrol ship, and take a trip to nearby Tulamben to dive amid the wreck of a US cargo ship. Add something different to your trip and visit a salt farm, learning more about the salt harvesting process and buying salt-related items. Watch small fishing boats bobbing on the waves and enjoy a seafood meal in one of the area's restaurants.
Check out our roundup of the coolest attractions and activities during a holiday in Amed!
#27 – Balangan Beach – One of the most romantic places to visit in Bali!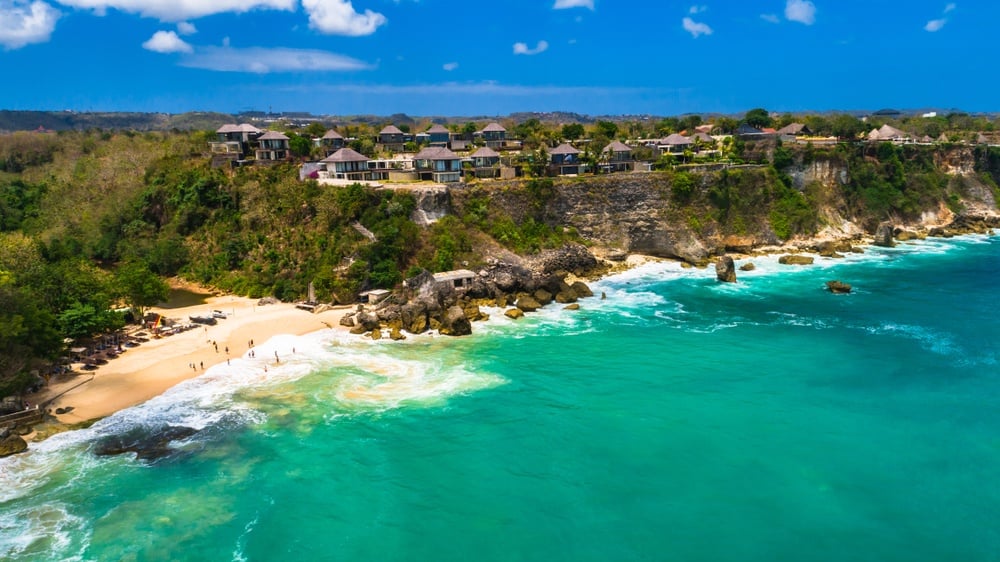 Glorious white sandy beach;
Stunning sunset views;
Perfect conditions for surfing;
Scenic cliffs.
Why it's awesome: Also known as Pantai Beach, Balangan Beach is one of the loveliest beaches in Bali. Green vegetation clings to dramatic limestone cliffs behind golden sands, with a reef and the shimmering waters of the Indian Ocean in front. The beach has a romantic air and it's also a world-famous surfing destination. There's a top-quality golf course close by too. The views from the beach are picturesque, with the clifftops offering even more excellent vistas.
What to do there: Walk hand in hand with your sweetheart along the golden sands of Balangan Beach as you admire the stunning views. Watch surfers riding the waves in the distance, and perhaps rent a board to have a go yourself too. Paddle in the refreshing waters and soak up some sunshine from the beach. Prefer shade? There are parasols available to rent.
Climb the cliffs for even more amazing views and watch spectacular sunsets. Call into a local eatery for a traditional meal, savouring dishes like suckling pig, mixed rice, satay, the vegetable salad of urab, lawar, which consists of chopped meat, vegetables, and coconut, chicken rice, tempe, and the spicy stuffed duck of betutu. Of course, there are myriad of seafood options too.
Get insured for your trip to Bali!
Remember, when you are traveling you may need insurance! World Nomads are our go-to Travel Insurer; we have used them ourselves for years now.
Getting an estimate from World Nomads is simple – read the review or click below, fill out the form, and you're on your way!

Visit many incredible places in beautiful Bali
Bali never fails to please, with its dramatic landscapes, lush countryside, splendid beaches, and outdoor adventures. Gorgeous temples, interesting museums, and cool art galleries add to the appeal, and there's a wealth of fun things to do to keep everyone engaged and interested on a vacation in Bali.
Whether you're looking for the ideal place for a romantic getaway with your loved one, a place to make many happy memories with your family, an exciting destination to explore on your own, or a vacation spot for plenty of fun with your mates, Bali truly knows how to excel.
With cultural highlights, historic spots, nightlife, shopping, theme parks, and more, work your way through this list of the best places to visit in Bali for a magical Indonesian holiday.
---
Find out how YOU can support the site.
We work hard to put out the best backpacker resources on the web for free! It's all about helping out our tribe of awesome backpacker readers (that's you!). Please visit the link to find out how you can help keep the site going 🙂
For the sake of transparency, some of the links in our content are affiliate links. This means that if you book your accommodation, buy a piece of gear, or sort your insurance through our link, we earn a small commission at no extra cost to you. We only link to stuff that members of the Broke Backpacker team has actually used and never endorse products or services that are not up to scratch. Thanks for your support!