When you think of Bali, do you think of paradise beaches and lush green jungle?
I don't blame you – that is most people's first image of this tropical paradise. And granted, most people don't actually come here to hike. Bali attracts surfers, yogis, and hippies – and I'm not any of the above.
So, when I found myself stranded on the most popular island in the world (or at least on Instagram), I was a little at loss. I was ready to hang up my hiking boots before I learned that YES, Bali has mountains. And YES, you can totally climb them!
Hiking in Bali, Indonesia? What a world.
Bali might not be the most amazing destination in the world for hikers, I'll give you that. But this island is full of surprises. There are more trails to explore than you could take on in one short holiday.
Whether you're serious about hiking or just want to add a couple of the most iconic hiking trails in Bali to your itinerary, you've come to the right place.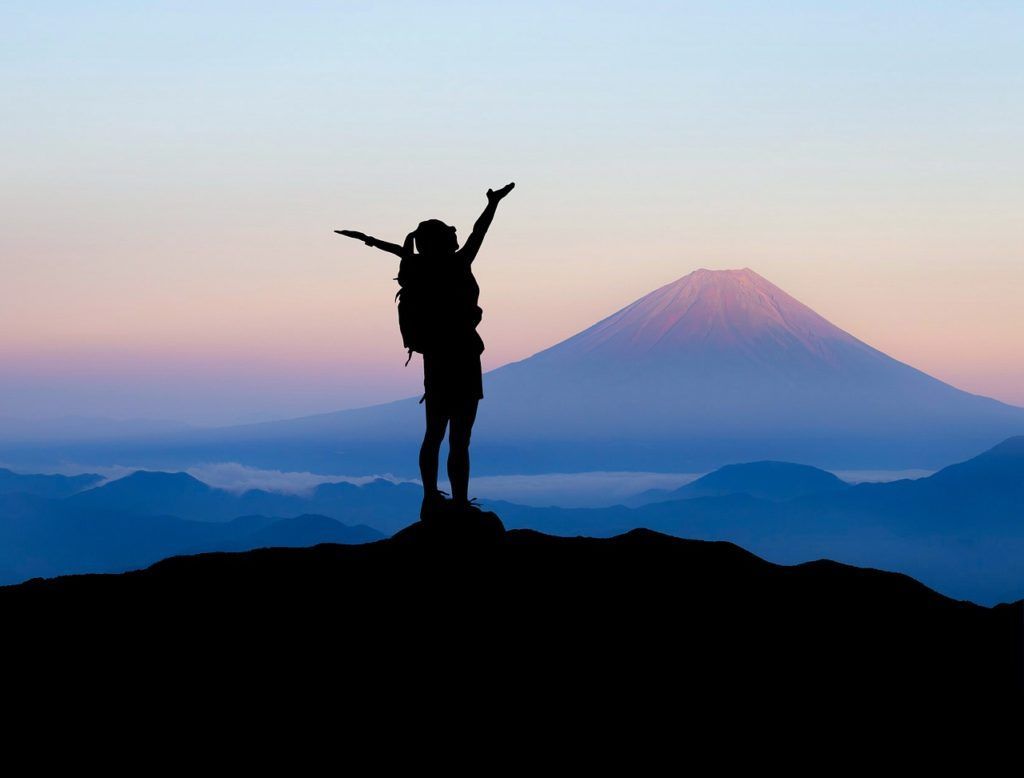 10 Best Hikes in Bali
Wondering where to hike in Bali? Wonder no mo'!
Contrary to maybe-popular belief, Bali indeed has some trekking both for beginner hikers and more experienced mountaineers.
If you've already peeked at some of the Bali trail lists, you might recognise some names on my list, too. No worries, I have all your usual suspects rounded up.
But when I was browsing other blogs to see what others had written about Bali hikes, I quickly noticed that they listed some… barely hikes as hikes. The Botanical Gardens? A flight of stairs to a waterfall? That's a stroll, at best.
As you probably know, here at The Broke Backpacker we don't like to do whatever's the easiest 😉 Adventurers push their boundaries and grow with their comfort zone.
So, you'll see some popular hikes on this list – and you'll find some more obscure ones too, that are gonna get your legs shaking.
Time to get off the beach chair and add some hiking while travelling in Bali.

Do You Want to Travel FOREVER??
Pop your email in below to get a FREE copy of 'How to Travel the World on $10 a Day!'.
1. Mount Batur
Duration: 6.8 km (4.2 miles), 2-4 h
Difficulty: Moderate
Type: Loop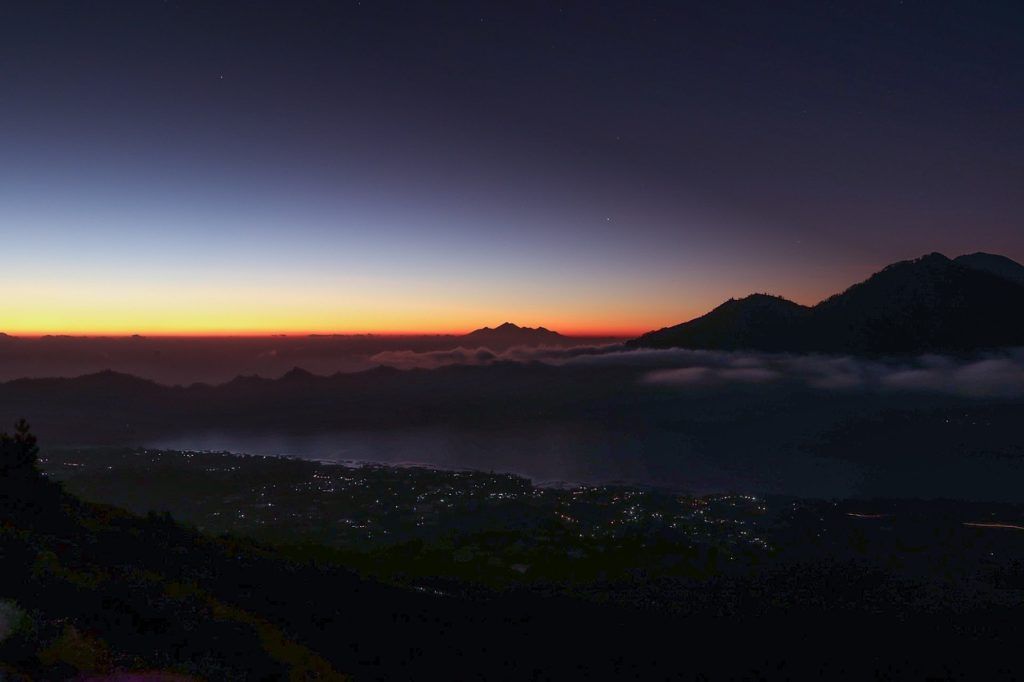 Mount Batur sunrise trekking is THE hike to do in Bali. It's on top of all Bali itineraries and not just one of the best hikes in Bali but also one of the best things to do OVERALL in Bali.
Trekkers usually start in the dark to get to the top by sunrise. Getting a shorter sleep is 100% worth it! Make sure you've got warm clothes though, since it's usually VERY cold at the top. Nothing like Bali's normal sweltering heat!
The Mount Batur hike rises to the rim of the caldera, then follows a beautiful path along the ridge with views over black lava fields and volcanic steam vents. You slide down a steep and slippery gravel slope on the other side, then loop back to the village where you started.
The initial ascent takes about 45 minutes. If you haven't done your burpees while you're keeping fit on the road, it might feel a little tough for you. I'm a pretty experienced hiker and if you are one too – or at least reasonably fit – the hike isn't that difficult.
How to get there: Spend the night in the village of Toya Bungkah by Lake Batur before starting the hike in the morning.
2. Campuhan Ridge Walk
Duration: 3.5 km (2.2 miles), 1-2 h
Difficulty: Easy
Type: Return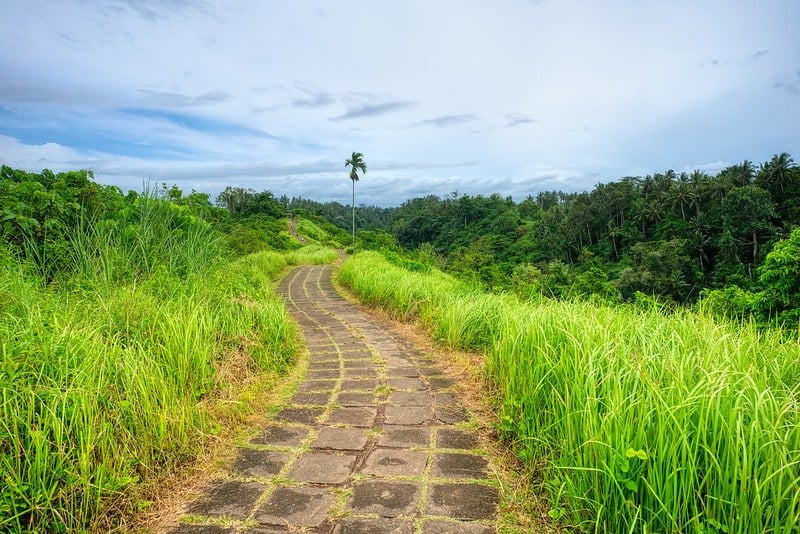 Serious hikers will groan and casual walkers will rejoice when it comes to the Campuhan Ridge Walk. This walk is one of the most popular things to do when you're staying in Ubud but it is definitely just an easy walk, not a real hike.
Still, it's a beautiful, green path overlooking lush rice fields that are pretty much synonymous with Ubudian nature. If you're already in town, walking the ridge is a great way to kickstart the day. Surrounded by greenery, there is definitely more hiking in Ubud – but this track's the easiest to take on.
And I would definitely recommend that you do hike it early in the morning before the hordes of tourists hit the streets. Around sunrise you'll mostly be jostling for space with occasional, wannabe Insta influencers. But you know, you gotta pick your battles.
How to get there: The starting point is next to the Gunung Lebah Temple in Ubud.
Psssst…. Searching for your Hiking Tribe?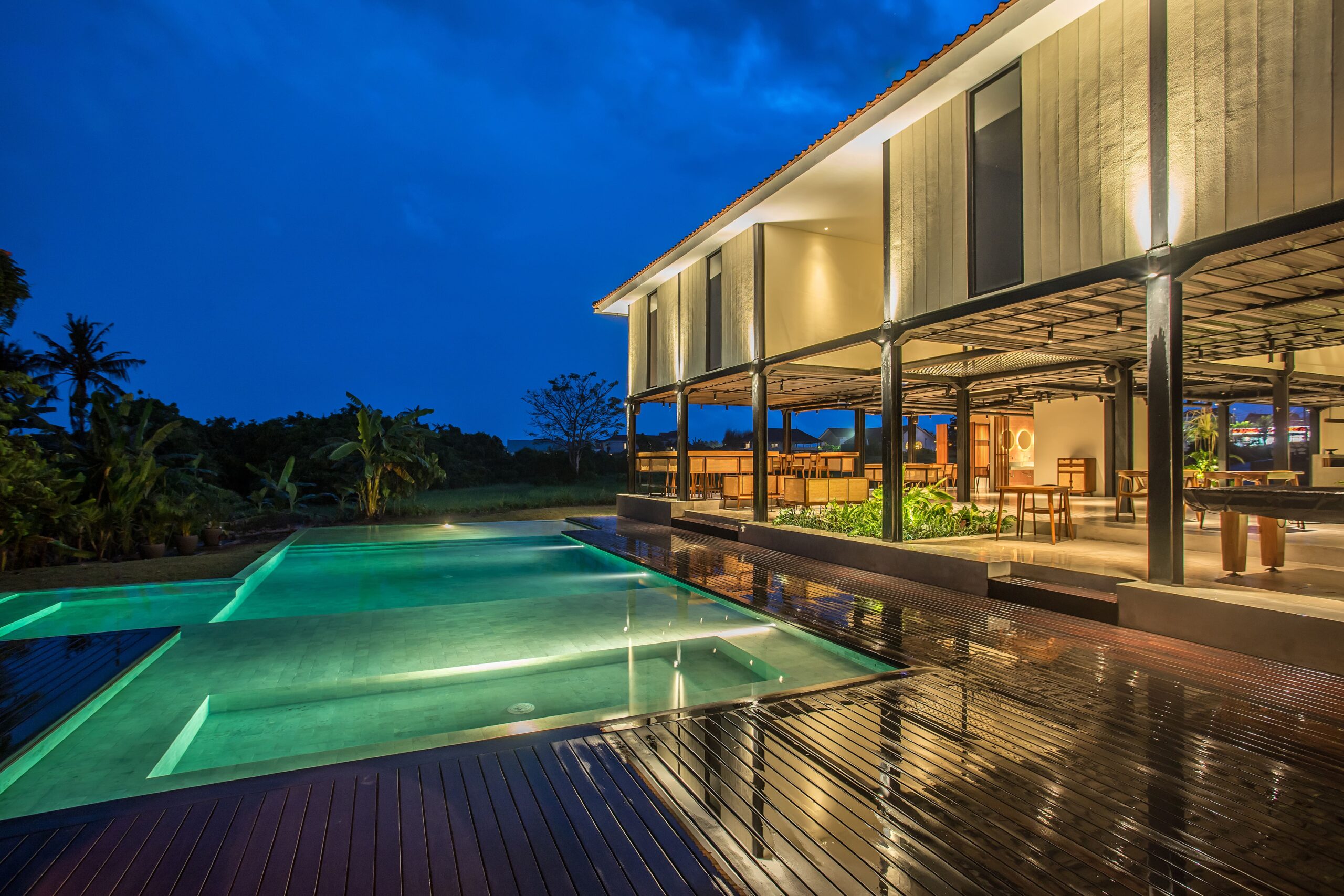 Tribal Hostel – Bali's first purpose-built co-working hostel and perhaps the greatest hostel in the world!
An ideal hub for Digital Nomads and backpackers, this very special hostel is now finally open…
Come on down and enjoy amazing coffee, high-speed wifi and a game of pool 😉
3. Mount Agung
Duration: 14.6 km (9.1 miles), 8-10 h
Difficulty: Hard
Type: Return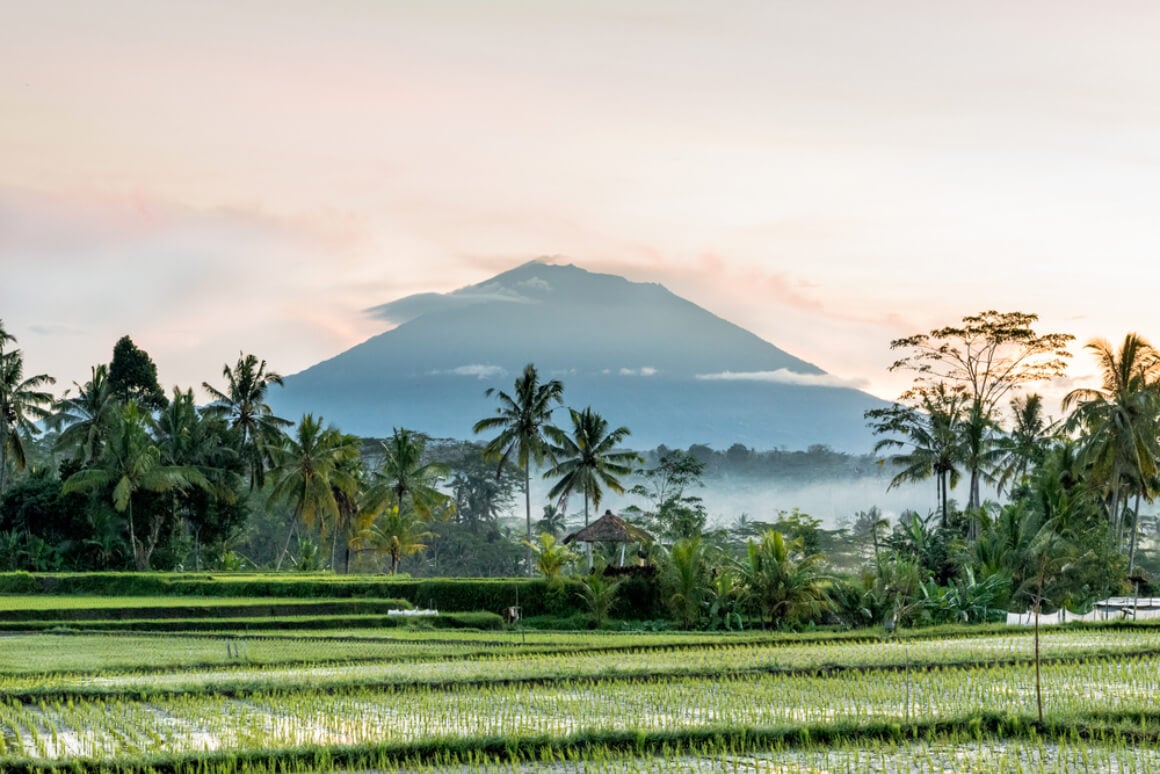 The highest mountain in Bali is also maybe the best volcano hike in Bali. Tough? You bet your ass.
Worth it? Absolutely.
You usually start the Mount Agung hike at around 2.30 am. Yikes! It's all to experience the glorious sunrise on the top of Bali, though. And you get the bragging rights for conquering an active volcano. Make sure you're wearing good hiking boots.
Officially, hiking Mount Agung is currently forbidden. It erupted in 2017, and while it hasn't puffed out any new smoke since, it's still closed for safety reasons.
However, because this is Indonesia, regulations are more like recommendations than hard-set rules. So you can definitely still hike it… but you didn't hear this from me.
For the hike, you need to hire a guide that carries a seismometer and makes sure the hike is safe.
How to get there: There are two trails that lead to the summit. Most people start from the Pasar Agung Temple since it's way shorter and easier than the other one – only 4-5 hours to the top versus 8 hours from the other direction.
4. Twin Lakes Hike
Duration: 2-6 hours
Difficulty: Moderate
Type: One-way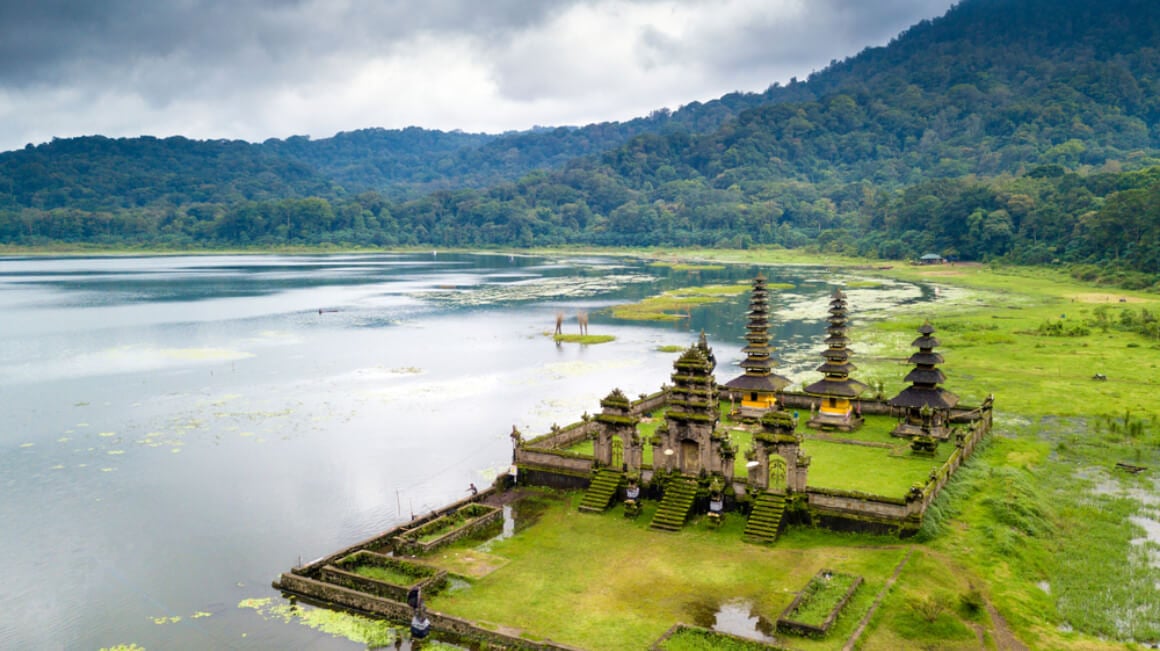 The twin lakes in question, Buyan and Tamblingan, are a gorgeous duo guarding the gateway to Munduk, Bali's best mountain area.
The hike starts at Tamblingan Lake Temple and follows the southern edge of the lake. You can cut the hike short after you've reached the other edge of the lake and climbed the steep steps to the lake viewpoint, or continue following along the coastline of Lake Buyan. If you continue, you should eventually end up in a camping spot on the other end of Lake Buyan.
Whatever you do, make sure you do stop by the lookout at some point. The view is beautiful!
On the hike, you'll get first-hand views of fishermen in traditional canoes casting their nets. Many hikers also cross the lakes in these canoes.
I've seen conflicting stories of whether you can do this hike by yourself or not. I'd say it's definitely possible but you might get harassed into getting a guide! In either case, you'll have to pay an entrance fee to get to the hiking trail.
How to get there: The lakes are about 1.5 hours north from Ubud. An even easier way to visit is to base yourself in Bedugul (where most visitors checking out the famous Ulun Danu Temple stay) or in Munduk village.
5. Lempuyang Temple Hike
Duration: 6 km (3.7 miles), 4 hours
Difficulty: Moderate
Type: Loop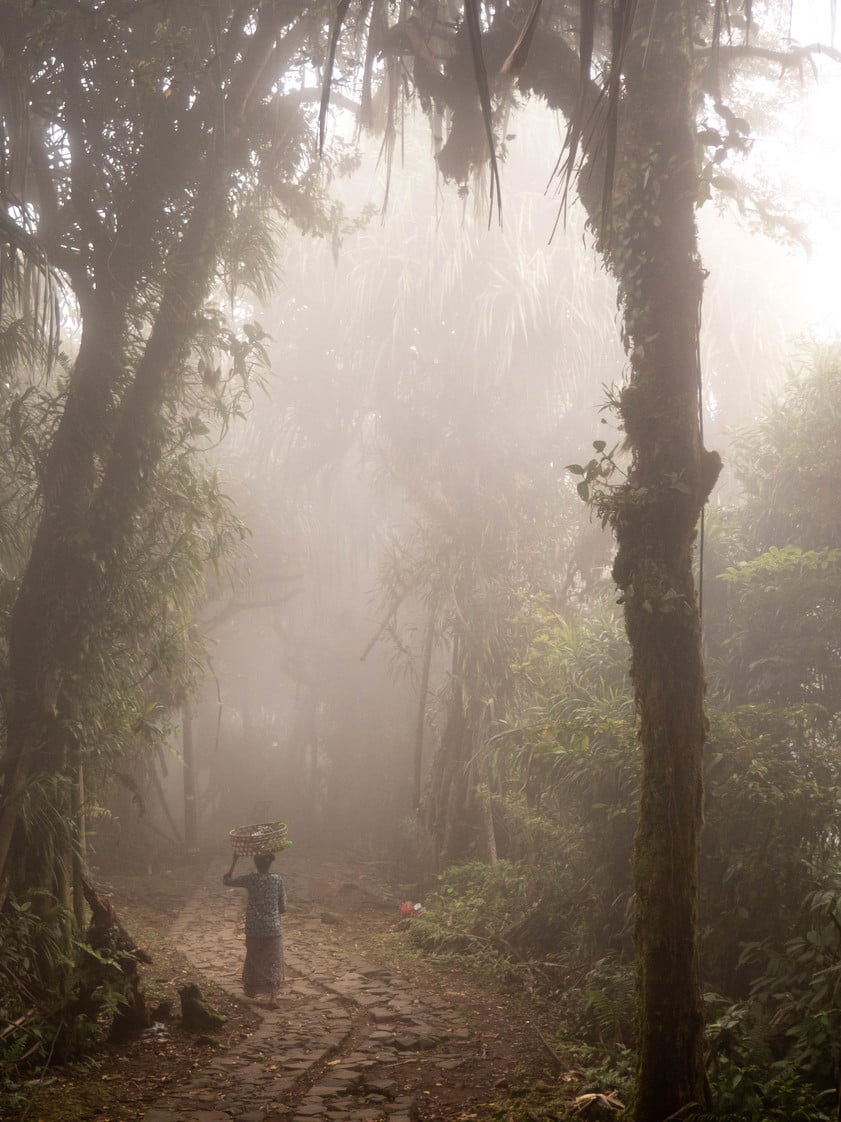 You have for sure seen those pictures of the Balinese gates in front of a mountain, reflected in what looks like water. Well, those pictures are a lie: the mirror effect comes from a guy holding a mirror under a camera, and usually, you have to wait at least an hour to get your photo taken. It's a totally overrated experience. Hard pass.
Once you walk past the first temple where all these infamous photos are being taken, you'll actually get to a really nice hill hike. It takes you past multiple Balinese temples – until finally reaching one on the summit.
The peak is usually shrouded in mist, so you might not get views. But trust me, the mist just makes the trail even more magical.
The trail is not super tough but there are a lot of stairs so warm up those glutes!
There is a small entrance fee to the temple area and you're required to wear a sarong over your legs even when hiking. You can borrow one from the temple entrance. And it really doesn't get in the way of hiking 🙂
How to get there: There are some villages around the temple, but the easiest way to visit is on a day trip from Amed. It's about 45 minutes driving from there.
Small Pack Problems? 😉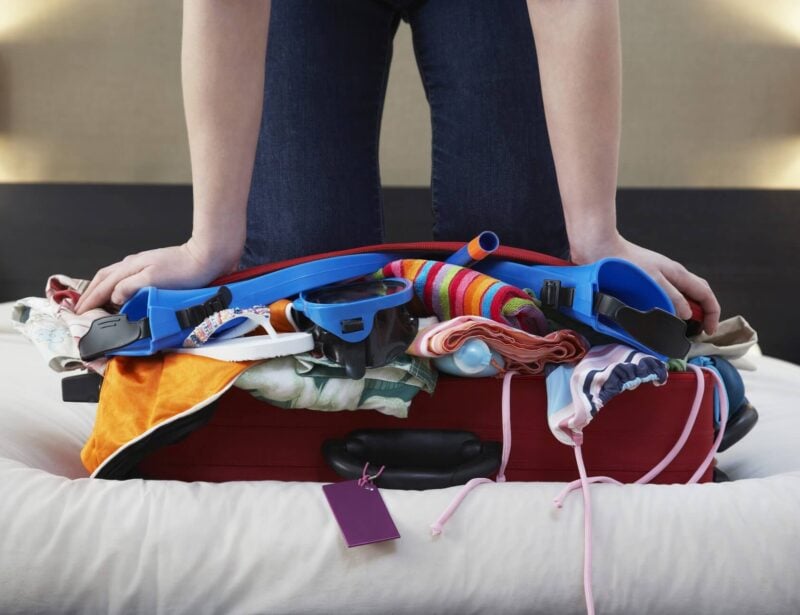 Wanna know how to pack like a pro? Well for a start you need the right gear….
These are packing cubes for the globetrotters and compression sacks for the real adventurers – these babies are a traveller's best kept secret. They organise yo' packing and minimise volume too so you can pack MORE.
Or, y'know… you can stick to just chucking it all in your backpack…
Get Yours Here
Read Our Review
6. Mount Catur
Duration: 8 km (4.9 miles), 7 hours
Difficulty: Hard
Type: One-way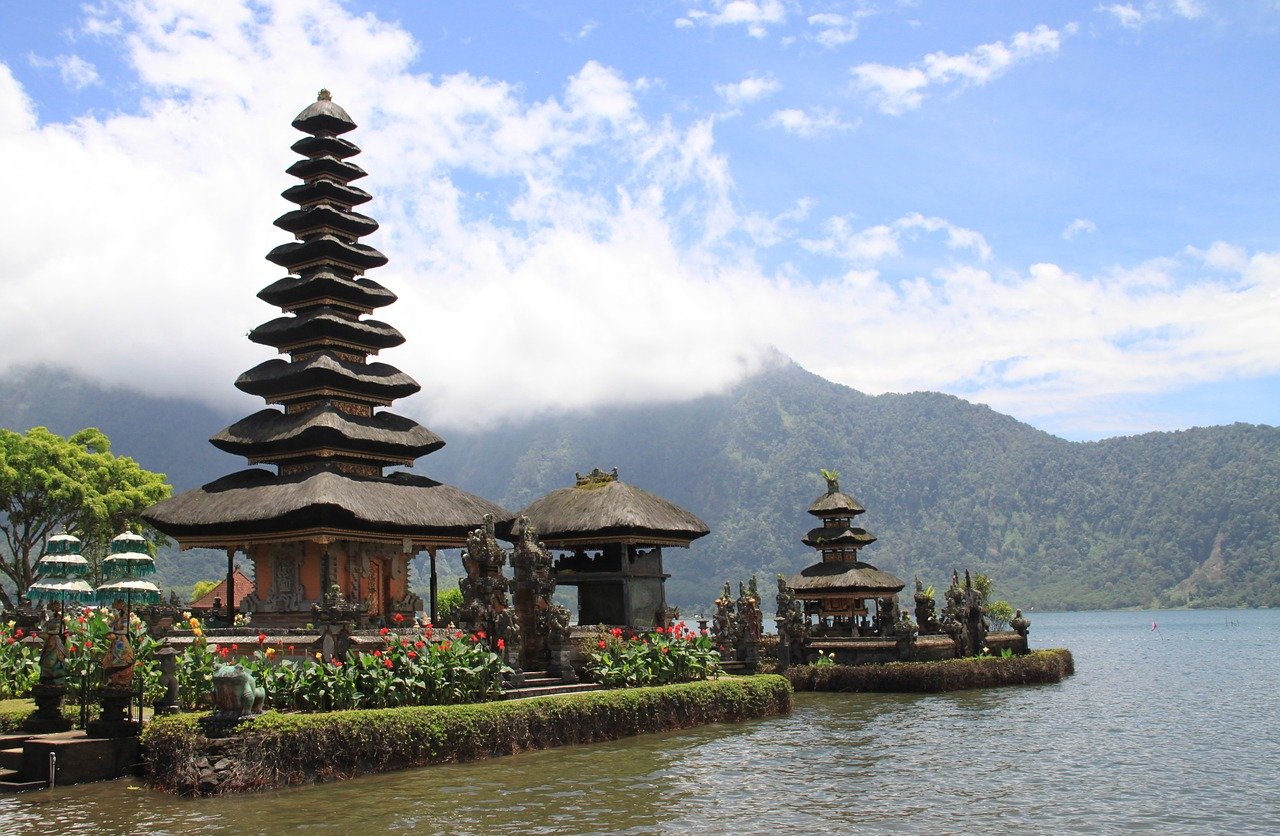 Mount Catur is an awesome hike next to one of the most emblematic attractions in Bali, the Ulun Danu Beratan Temple and Beratan Lake.
The trail follows the ridge of the mountain by the lake uphill until reaching the summit where, if you're lucky, you'll get grand views over the lake, village, and the other mountains. I highly recommend starting the hike early. It runs in the jungle, so you won't have to worry about sunstroke. But if the clouds roll in – which happens most afternoons – you won't see anything by the time you reach the endpoint.
I've marked the trail "hard" but if you're fit and not packing your daybag with more stuff than you need, the 3-hour hike steep uphill isn't that bad. Get ready for some scrambling though: some parts of the trail REALLY are steep.
How to get there: Mount Catur is located next to Lake Beratan. Because the famous Ulun Danu Beratan temple is located on the lake, there are tons of guesthouse and hostel options in Bedugul and adjacent villages. The trail starts from the eastern side of the lake. (It's a bit confusing but search for Gunung Pucak Mangu on Maps.me to find the right summit.)
7. Red Coral Waterfall Trail (Munduk Waterfall Trek)
Duration: 6 km (3.7 miles), 3-4 hours
Difficulty: Easy
Type: Return
This has been one of my favourite hikes in Bali – not just because it's delightfully easy but also because it's gorgeous!
If you're trying to fit as many waterfalls into your itinerary as humanly possible, then definitely add this trail to the holiday plans.
Munduk is one of the top hiking areas in Bali, and this trail is one of the most popular ones. You can take a swimsuit and dip in and out of the multiple waterfalls on the way if going gets too hot.
The trek runs between the Laangan Melanting waterfall and Munduk Waterfall. You can walk the trail either way.
How to get there: Getting to Munduk is easy, for example, from Ubud. Stay overnight in the Munduk village or in my favourite guesthouse/hostel Ekommunity. The hostel is right at the start of the trail and on top of normal dorm rooms. They also have gorgeous private tents overlooking the jungle.
8. West Bali National Park – Gunung Klatakan Trail
Duration: 8 hours
Difficulty: Moderate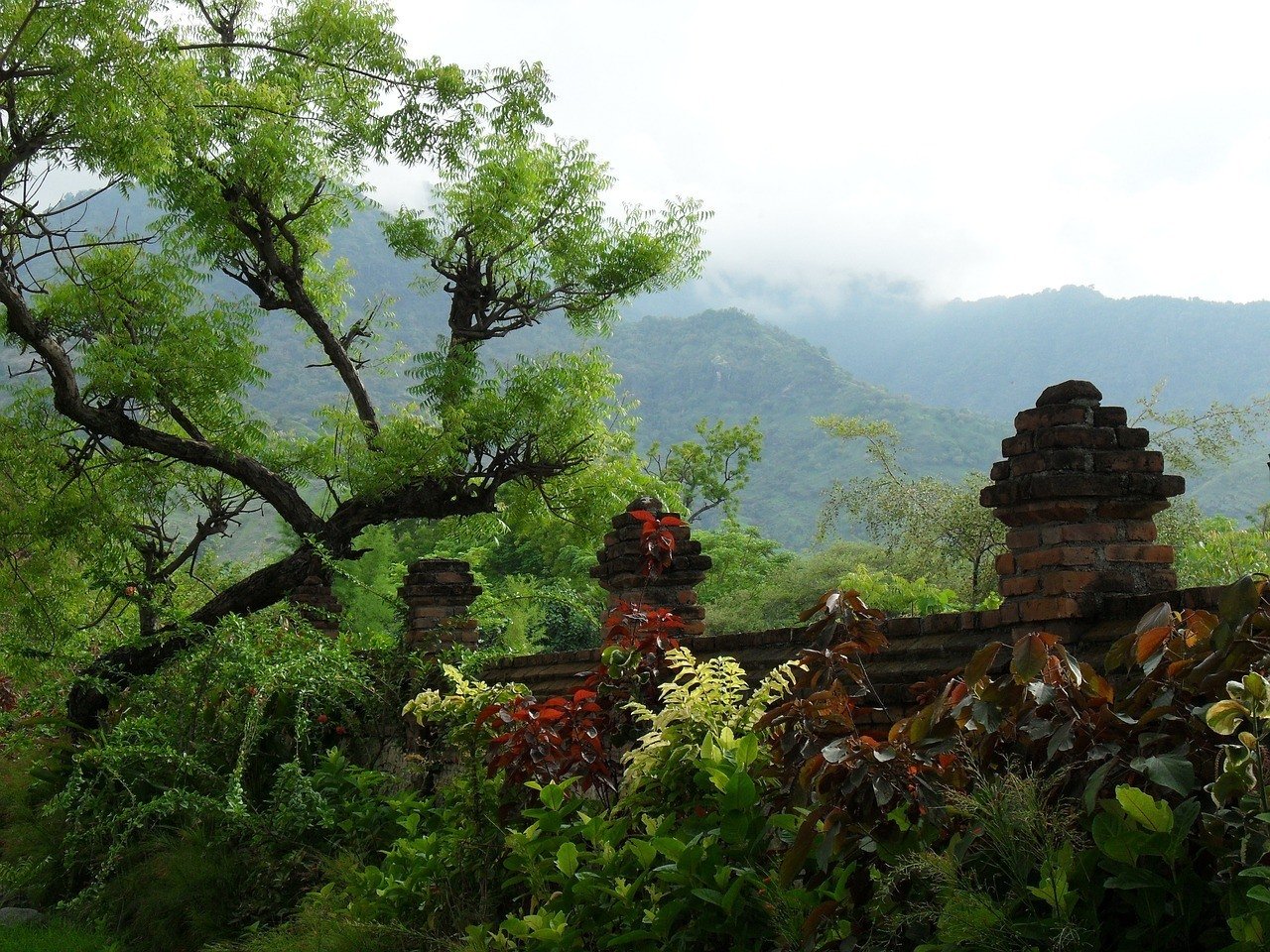 The West Bali National Park is gorgeous and has some of the most unique nature in Bali – a real off-the-beaten-path gem.
I haven't yet made it to West Bali and there is very little information online about the trails there. Luckily (or unluckily?) you have to hire a guide when you're hiking there, so the chances of getting lost are zero.
For hikers, the best trail is Gunung Klatakan Trail. It takes about eight hours and traverses through some beautiful jungle before ending on Mount Klatakan/Kelatakan.
The most popular trail is way easier, though. Tegal Bunder Trail only takes about 2 hours and is especially popular with birdwatchers. The third noteworthy trail is Prapat Agung Peninsula Trail which is rumoured to be one of the most beautiful coastal walks in Bali.
How to get there: Getting there is a little tricky, considering how far it is. It takes about 1.5 hours of driving from Lovina along the north coast or 4 hours from Canggu. Most travellers stay in Permuhan or Gili Manuk. Gili Manuk is also the place to take a ferry to Java so it's a gateway to more backpacking adventures in Indonesia.
At the park itself, you have to enter through villages Labuan Lalang or Cekik where you arrange guides and permits.
Is This the Best Backpack EVER???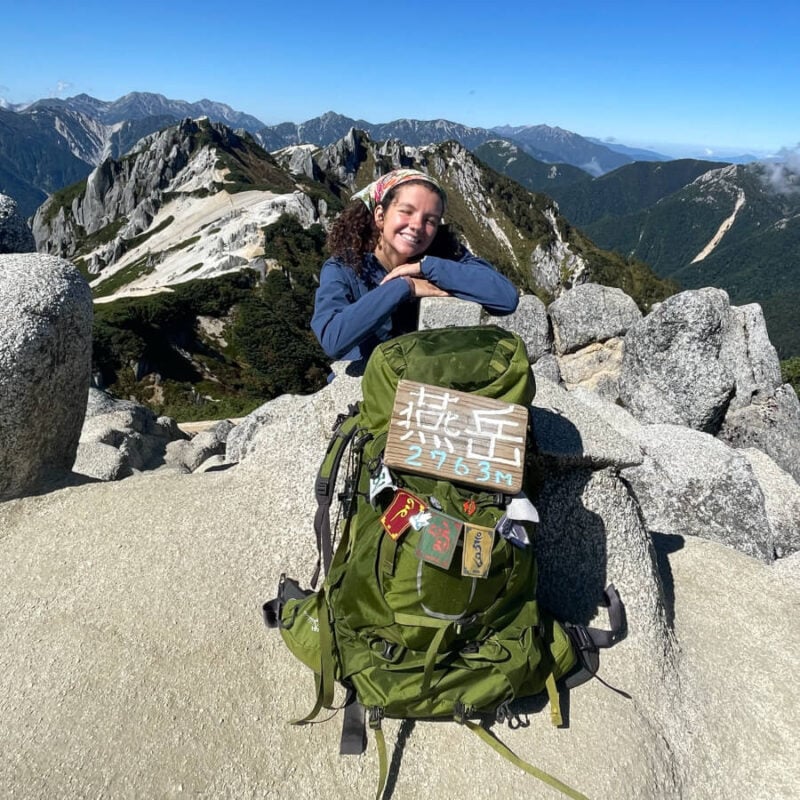 9. Mount Abang
Duration: 14 km (8.7 miles), 6 hours
Difficulty: Hard
Type: Return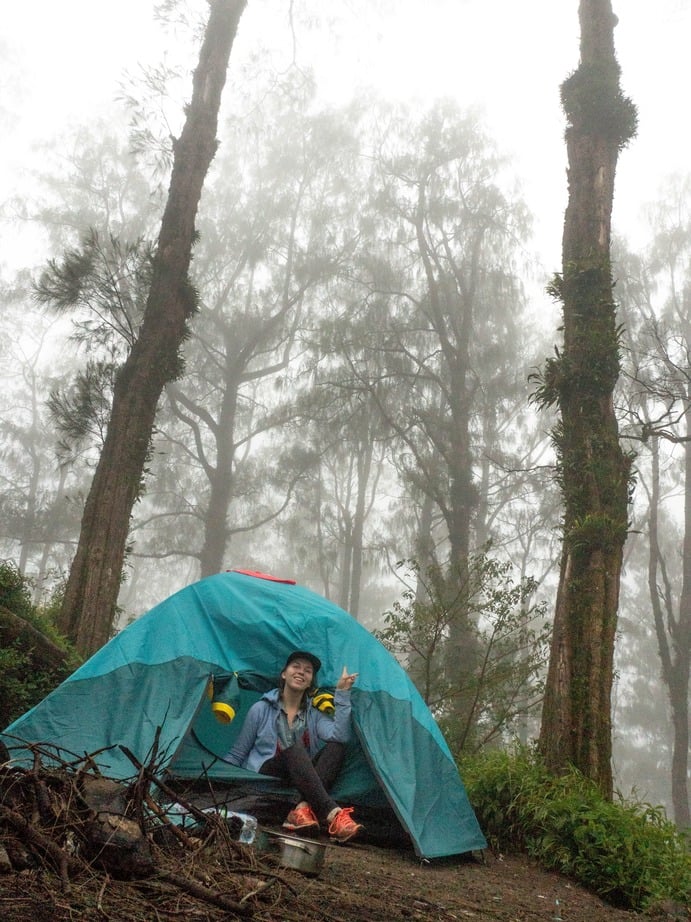 Mount Abang stands on the other side of Lake Batur, meaning you'll have dope views over the famed Mount Batur (see trail #1!) all the way up. The best way to do this hike is to make your way up in the afternoon, camp overnight, and get up in time to see the sunrise. In clear weather, you can see Mount Rinjani in Lombok from the top!
At 2,152 m, Abang is the third highest mountain in Bali. You'll notice this during your hike – the climb is motherfucking steep. The first few kilometres of the trail are nice and moderate before the path turns all the way uphill. So don't let the short distance fool you – it takes about 3 hours to hike the 7 km to the summit.
Mount Abang has an entrance fee of 150,000 IDR for foreigners, so bring cash. They arrange organised sunrise trekking but the trail is super easy to follow so you can definitely do it independently.
How to get there: Abang is located in the Kintamani region – opposite to Batur, actually. There are some accommodation options on Lake Batur. But the start of the hike is just about an hour's drive from Ubud. So you don't necessarily need to stay overnight in the area.
10. Mount Batukaru
Duration: 10 km (6.2 miles), 9 hours
Difficulty: Hard
Type: Return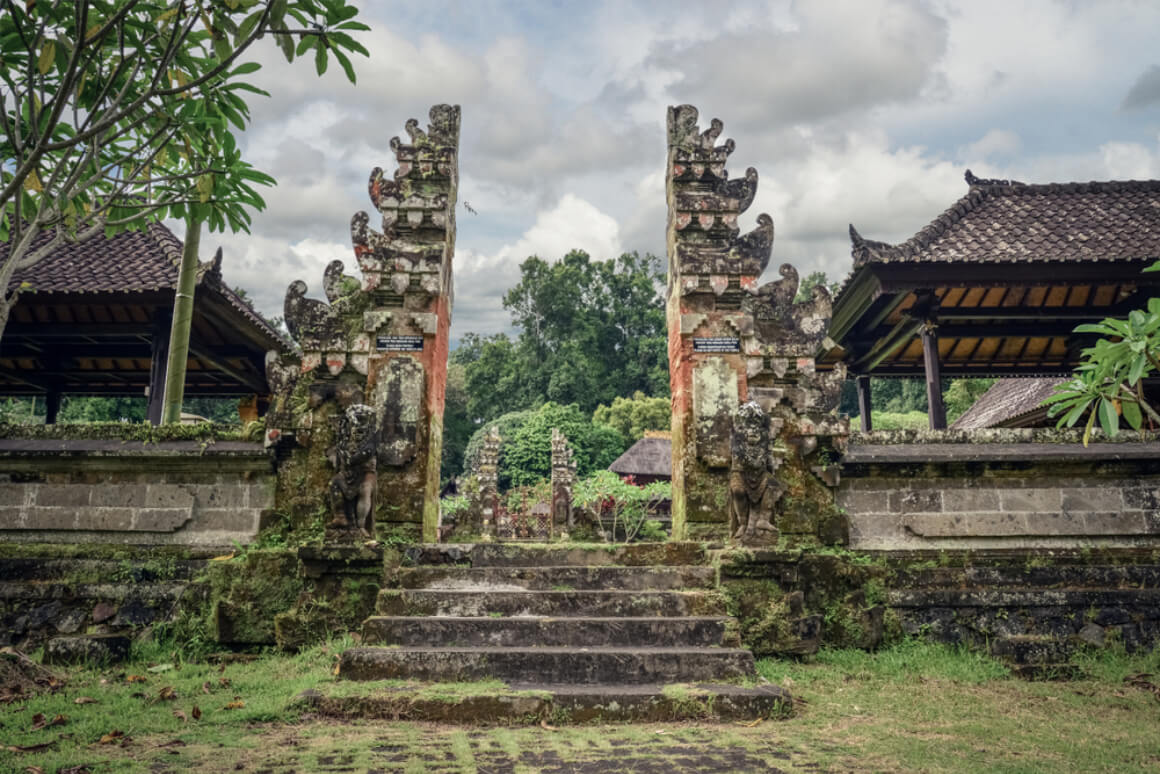 Mount Batukaru is the second-highest mountain in Bali at 2,276 meters. Definitely a respectable feat – but hikers rarely find their way here. Ding ding ding, you've just unlocked a true off-the-beaten-path hiking trail in Bali!
The reason this Bali mountain hike might not be super popular is that the climb is very steep and tough. This hike is for the fittest hikers that really want to challenge themselves.
It's worth it, though. The forested trail doesn't offer much viewage, but the summit does. You'll also get to check out Luhur Batukaru Temple, a super beautiful and very sacred Hindu temple on the entryway to the hike.
There is a small area suitable for camping on the summit but it's also possible to do the climb as a day hike. A long, long day hike…
How to get there: There are two main starting points. The most popular one is the Luhur Batukaru Temple one but apparently, it's teeming with aggressively touting guide candidates. If you want to avoid the hassle and hike independently, the easier starting point would be Luhur Bhujangga Waisnawa temple. The two temples are connected by a path so you could climb up one trail and take the other one down.
Some Words of Wisdom for Hiking in Bali
Hiking in Bali is a real dope way to spend some time in the island nature and get a perspective of Bali that honestly, most tourists overlook almost completely. It's also a great way to stretch your butt – all that sitting on a scooter gets to ya after a while.
Exploring Bali mountains is not always quite as simple as hiking abroad in Portugal or elsewhere with a super-good infrastructure. Here are some special features of Bali hikes that you should know before hitting the trails!
Fees, Guides, and Gear
For independent hikers, this might be a bit of a bummer. Hiking in Bali without a guide can be at times tricky. Hiring a guide is still a very common practice in Bali's mountains.
Is it mandatory? Some say it is, some say it isn't. But the bottom line is: if you show up to a popular hiking spot like Mount Batur without a guide, you will get endlessly harassed to hire one.
Usually hiking guides in Bali are not super expensive. For Mount Batur sunrise trekking, it costs about 100,000 IDR (roughly $6 USD) per person to hire a guide.
A guide can be very helpful for more inexperienced hikers. Trails are not marked, so there's no chance you'll get lost. If you're somewhere like West Bali National Park where the flora and fauna are the biggest pull for visitors, it's nice to get some insight into the local wildlife.
Joining a trekking tour in Bali can also be useful if you want to camp out overnight and you left your camping tent at home. Trekking companies can provide everything you need.
If you still prefer to hike alone, I recommend joining a couple of expat groups on Facebook and asking about gear rental. There's always a camping gear guy. There's a "guy" for everything in Bali.
Even if you're not hiring a guide, you'll still probably be asked to pay an entrance fee to many of the mountains. It's usually around 100,000-150,000 IDR ($6-10 USD) for foreigners which, sure, it's kind of a lot. There are usually ways to sneak around that if you're so inclined. But the fee goes to maintaining the trails and paying the rangers, so I don't mind paying it.
Tips for Hiking in Bali
When you're hiking, you gotta take extra cuddly care of your safety. There are obviously some universal safety rules as a hiker, but here are a few special considerations for Bali hikes.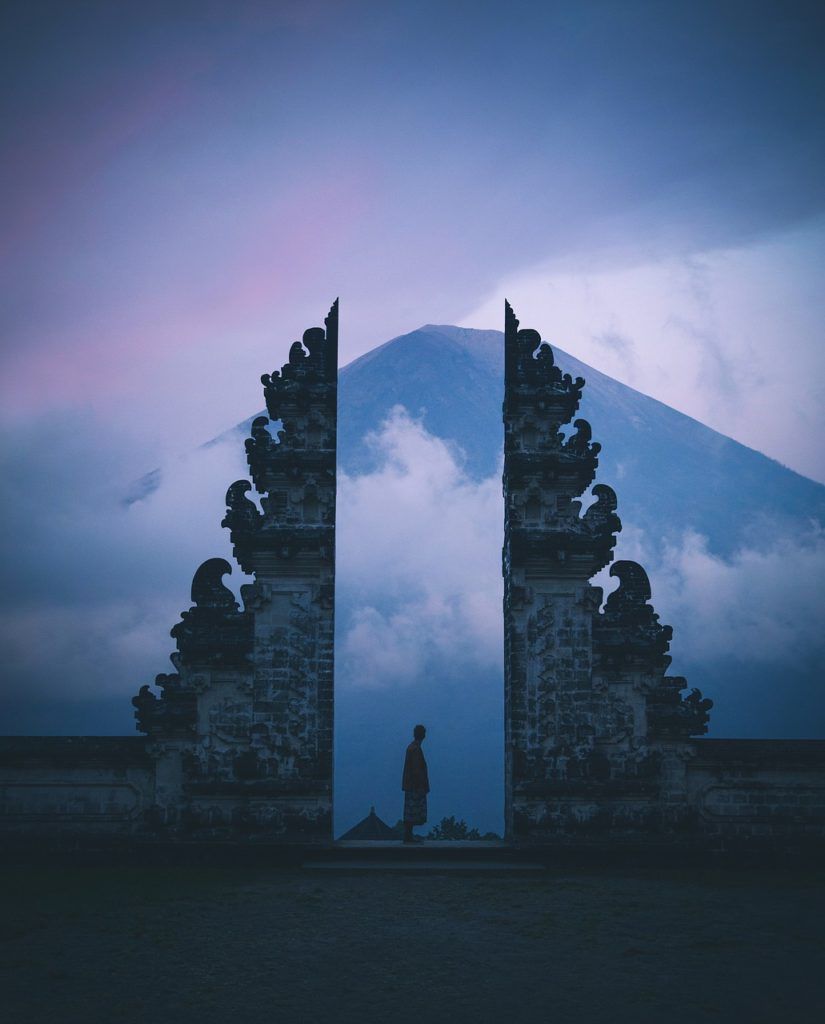 Camping is allowed, HOWEVER: don't pitch your tent in front of an altar. Yep, there are altars even on the top of the mountains, and it's very bad form to camp right outside one. Even if you don't believe in being hunted down by angry Balinese spirits, you'll still get the disapproval of the Balinese people – and that's almost worse.
Don't expect anything fancy. Bali's hiking trails have very little infrastructure, so you won't find outhouses, waymarkers, or even proper parking lots on the trails.
Mind the season. The rainy season in Bali runs officially from November to March. However, in the past couple of years there's been steady rain from October all the way to April. When it rains, it POURS, and the tropical thunderstorms are something to shake your bones out of your skin. Hiking in the rainy season can be risky since mountainsides become super slippery. Plus, leeches, which are not exactly dangerous, just really gross. That's why we reckon it's one of the best destinations to visit in September and the few months leading up.
Watch the trail. Trails in Bali are unmarked. Most of them are still super easy to follow because it's very obvious where they go, and you can follow your route on a travel map app like Maps.me, but you know – don't stray off the path.
Don't fuck with the heat! Outside of the rainy season, Bali gets HOT. Climbing Bali mountains is sweaty work, and there won't be anywhere to fill up on water. Bring lots, and don't forget sun protection.
Learn a few words of Indonesian. Many hiking spots in Bali ask for a fee if you're hiking independently. This fee is hugely larger for foreigners than for Indonesians. But if you can speak to the ranger in Bahasa Indonesia, you might get a sizable discount… Speaking from experience.
Get a scooter. Driving in Bali is definitely an Experience – with a capital E. But getting a scooter is the best way to be independent and flexible. Public transportation on the island is severely lacking and definitely won't take you anywhere mountain-shaped.
The Most Important Safety Tip… Get Insured
Hiking is never without its risks, and while Bali is by no means dangerous, there are a few more tricks waiting to trip you than in most places. Steep slopes, slippery mud, and snakes can all ruin your tropical holiday.
On top of that, healthcare in Bali is VERY expensive. You can risk it but I personally never travel without a good travel insurance policy.
ALWAYS sort out your backpacker insurance before your trip. There's plenty to choose from in that department, but a good place to start is Safety Wing.
They offer month-to-month payments, no lock-in contracts, and require absolutely no itineraries: that's the exact kind of insurance long-term travellers and digital nomads need.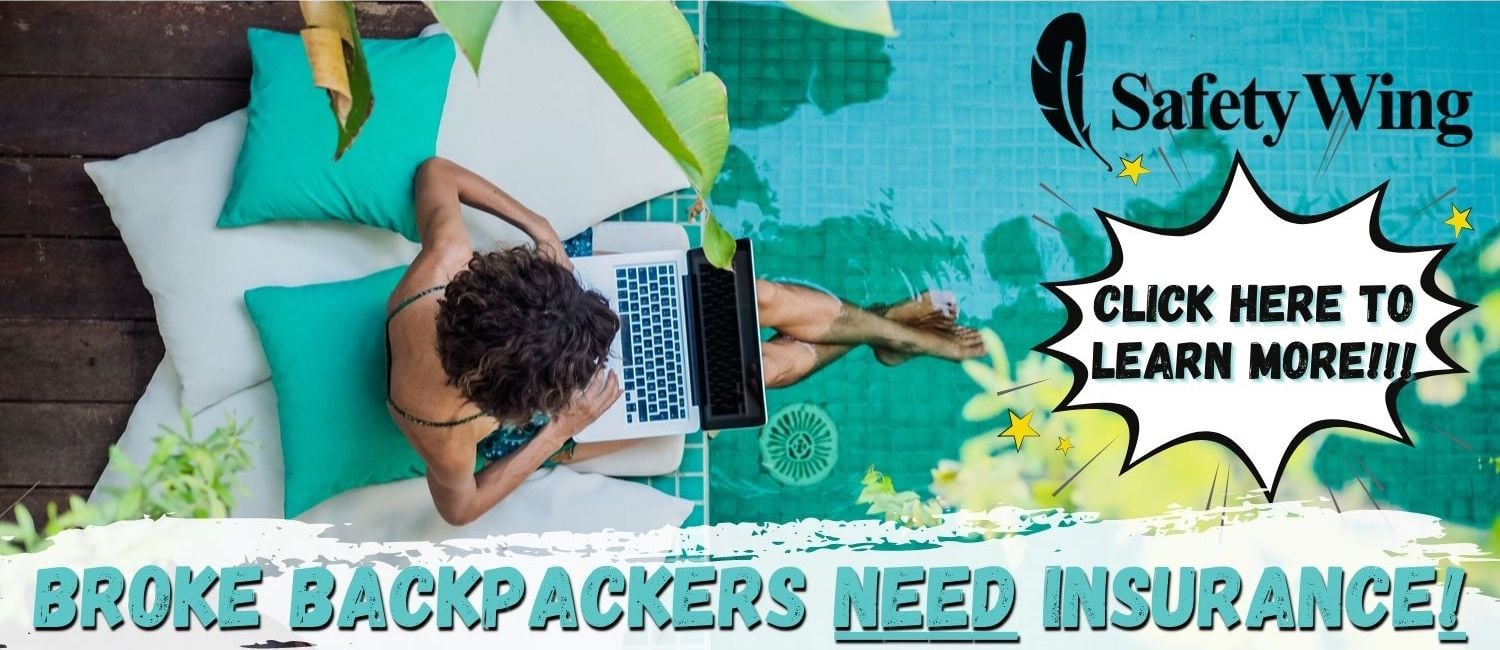 SafetyWing is cheap, easy, and admin-free: just sign up lickety-split so you can get back to it!
Click the button below to learn more about SafetyWing's setup or read our insider review for the full tasty scoop.
So, there they are, the best hiking trails in Bali!
For an island this green, it would be surprising if these were the only trails. They aren't.
Hiking in Bali is different to the kind of trekking that I'm used to. I'm more of a mountain gal – whereas most of Bali's secrets are hiding in its lush jungles. Some trails you have to blaze yourself.
There are many trails that are not marked on maps but that you'll discover by talking to local outdoor crazies and other wild beasts of the forests. I'm talking hot springs, ravines, forgotten waterfalls, endangered species… A tiny slice of the lost world is hiding between all the selfie-takers and Insta influencers.
And this is exactly why I'm not sharing any more details here. If you discover something new and cool, I recommend that you also think twice about what you want to share. Bali is a notorious tourist trap; most of its attractions are overrun by travellers. If you want to take your picture in front of a popular waterfall, you might need to wait in line for an hour – and that's not an exaggeration.
So, if you're going to be hiking on Bali and discovering any of its less-explored trails… be mindful of what you share. You can follow the advice I got from a one-time friend: if you find something cool, don't tell people about it; show it to them in person.
And if you still haven't hiked all the miles out of your system, head next to Mount Bromo in Java or Mount Rinjani in Lombok. Both are some of the most spectacular hikes in Indonesia!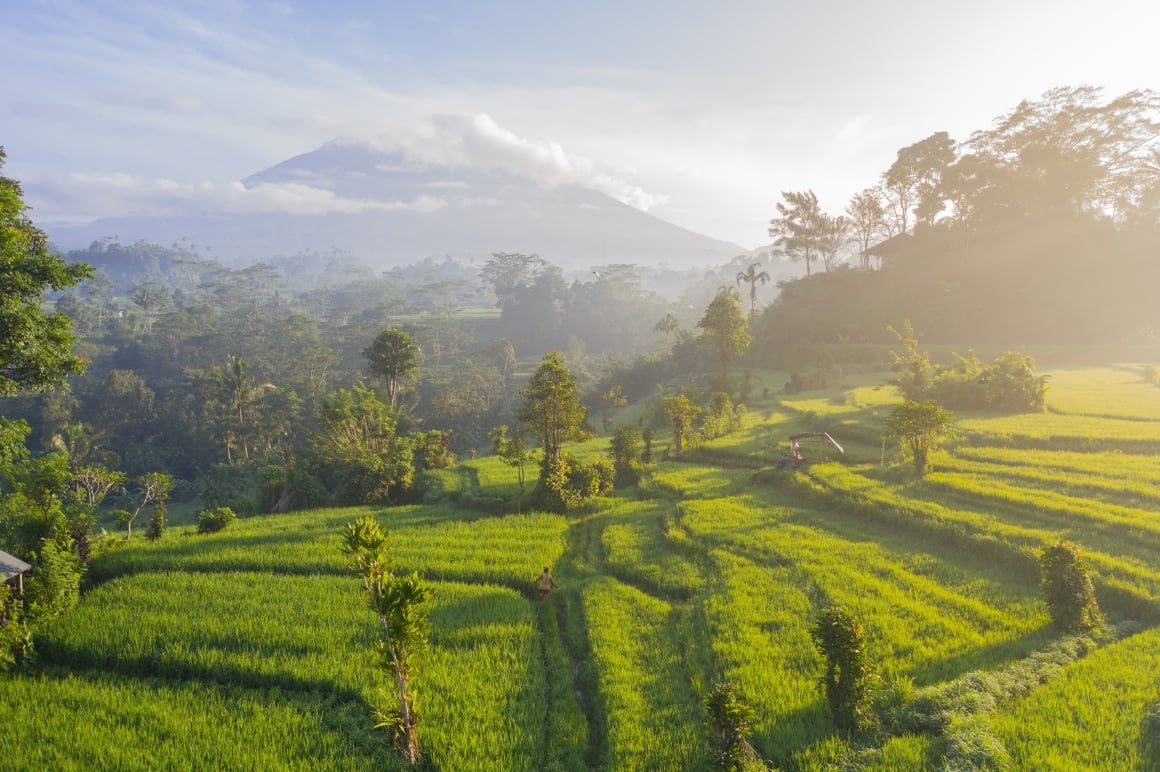 ---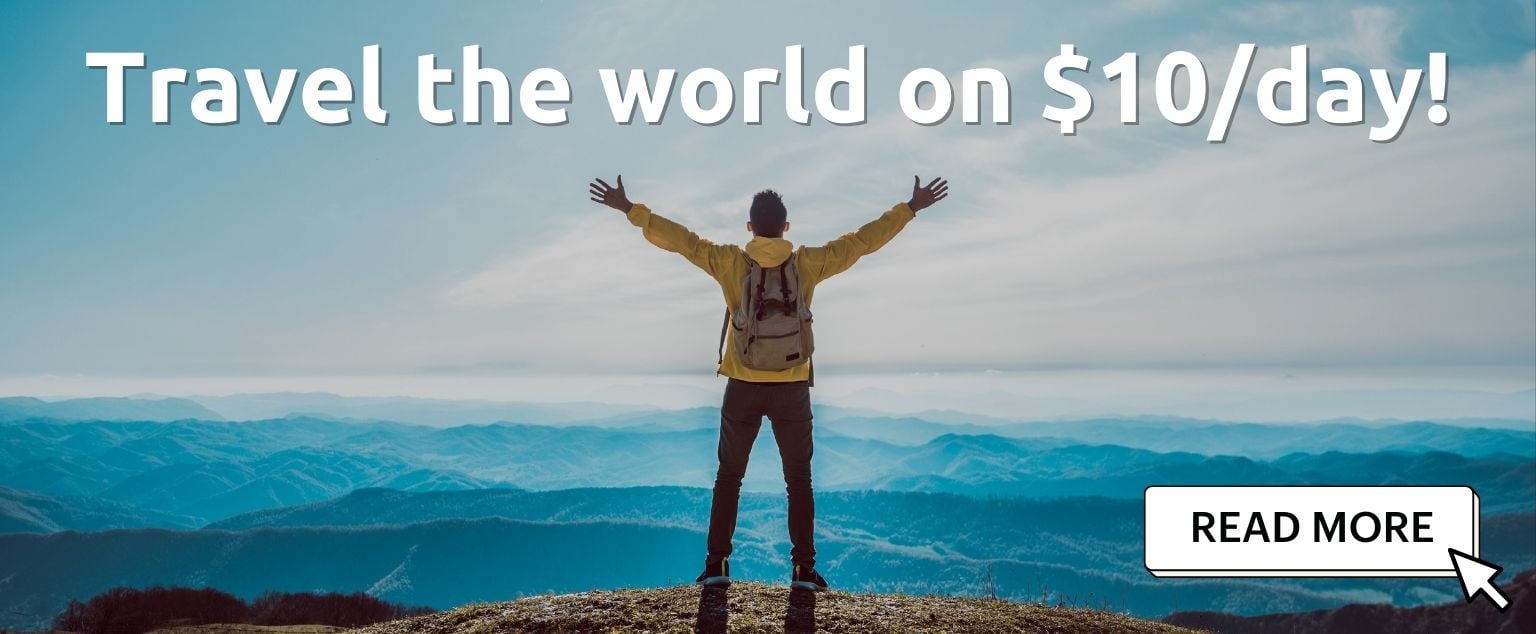 And for transparency's sake, please know that some of the links in our content are affiliate links. That means that if you book your accommodation, buy your gear, or sort your insurance through our link, we earn a small commission (at no extra cost to you). That said, we only link to the gear we trust and never recommend services we don't believe are up to scratch. Again, thank you!