Amed is one of the most underrated destinations in Bali. Most people just visit to go diving for the day or maybe as a means to reach the Gili Islands. They don't know what they're missing out on!
Whilst the diving is admittedly amazing and worth the trip alone, there's heaps more to do in Amed. A burgeoning craft cafe scene, excellent location, and an amazing sense of community make Amed more than just a day trip. And did we mention the black-sand beach as well?
Amed is totally worth staying in for a few days. Hell, some people have ended up getting stuck here for months at a time after discovering how wonderful it is here.
So what are the absolute best things to do in Amed? What must you experience while visiting this chilled-out Balinese town?
We've created this brief travel guide for Amed to help you better answer that question. Several of The Broke Backpacker staff have visited Amed and together we've assembled what we think are the must-dos in town.
Take our advice and use this article well – you're sure to have a blast in Amed if you do!

Unlock Our GREATEST Travel Secrets!
Sign up for our newsletter and get the best travel tips delivered right to your inbox.
All those luxurious Bali villas that you hear so much about; you won't find many of those in Amed. This town is way less developed than many other tourist destinations on the island, which means it has less accommodation options.
That being said, there is still plenty of vacancy for travelers. Business is booming at the moment and new lodges popping up all the time in this town. When I was there in May 2019, I think I saw a construction site every 5 minutes.
For backpackers, there are only a couple of hostels in Amed at the moment. Some of them resemble classic hostels while others are dormitories attached to a local dive center.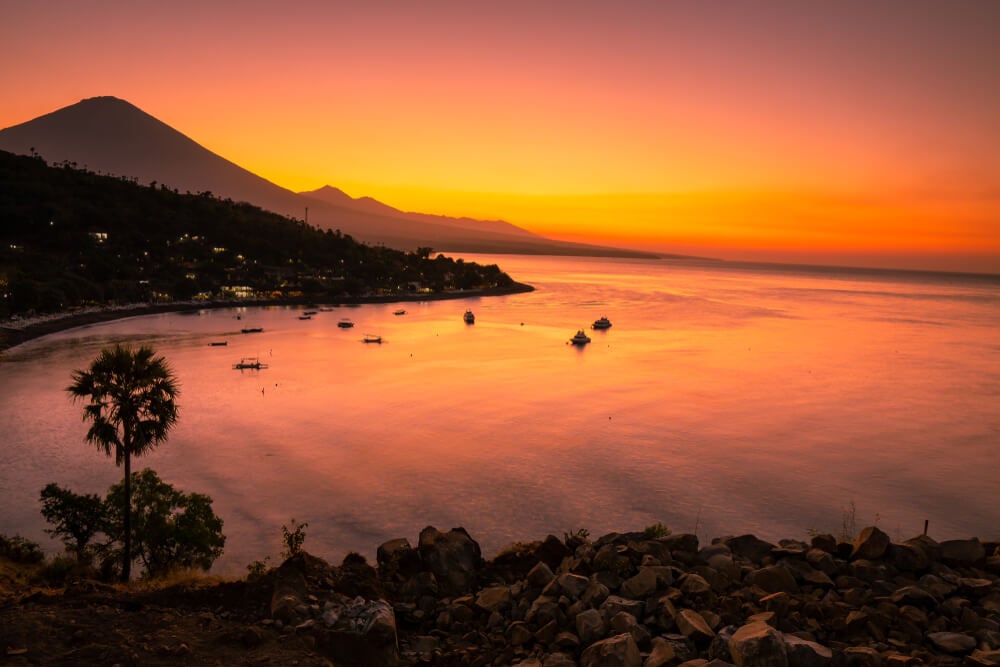 If for some reason all of Amed's hostels are full, there are plenty more guesthouses in town. You can book them ahead of time if you like but you could easily find something on the spot when you arrive in town.
To get the ball rolling, check out one of these backpacker lodges and hotels in Amed:
This excellent Bali hostel features several wooden huts built in the traditional style of the island. Prana is located very close to one of Amed's best beaches but is not actually located on it. Has a pool on-site that can be used for practice dives and organizes real dive trips as well.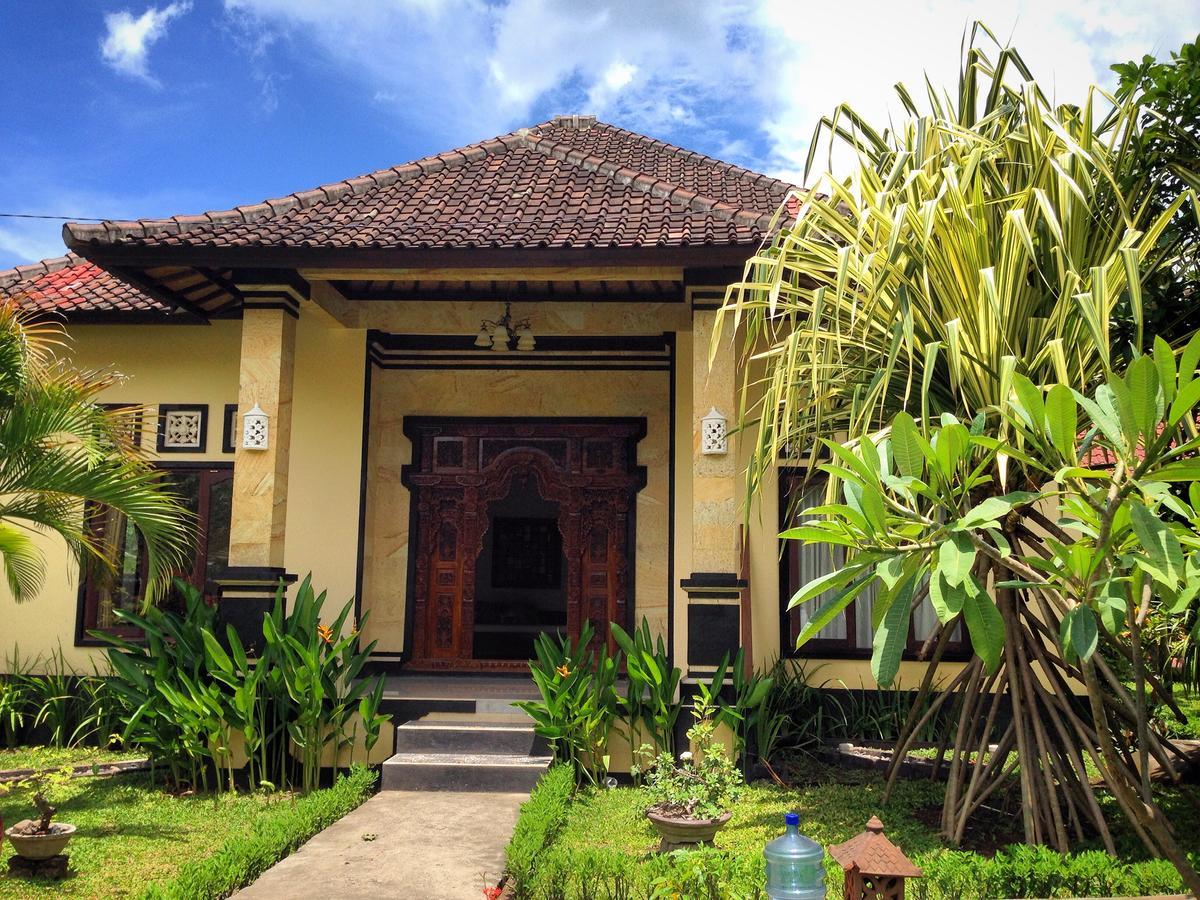 A very clean and charming guesthouse located in the center of Amed. For what you get, this place is an amazing deal. Not connected to any actual dive shop but the staff can easily connect you with a good local operator.
A semi-luxury hotel located right on Amed Beach. Offers gorgeous views of the ocean and of Mt Agung. There's also a pool and lounging area on-site for when you need a break from that scorching black sand.
Let's get to it and start talking about what there is to do in Amed! Check out these 13 ideas and then go see Amed for yourself!
1. Enjoy some of the best diving in Bali
First and foremost, you have to go diving in Amed. Just off the coast of Amed are some of the most impressive dive sites in Bali; so much so that this town could arguably be called the dive capital of the island.
Amed is most well-known for its superlative macro diving. The amount of marine life hidden in the coral and calm waters around Amed is absolutely astounding. If you visit one of the many epic sunken ships, like the Japanese Wreck, you will definitely have your mind blown.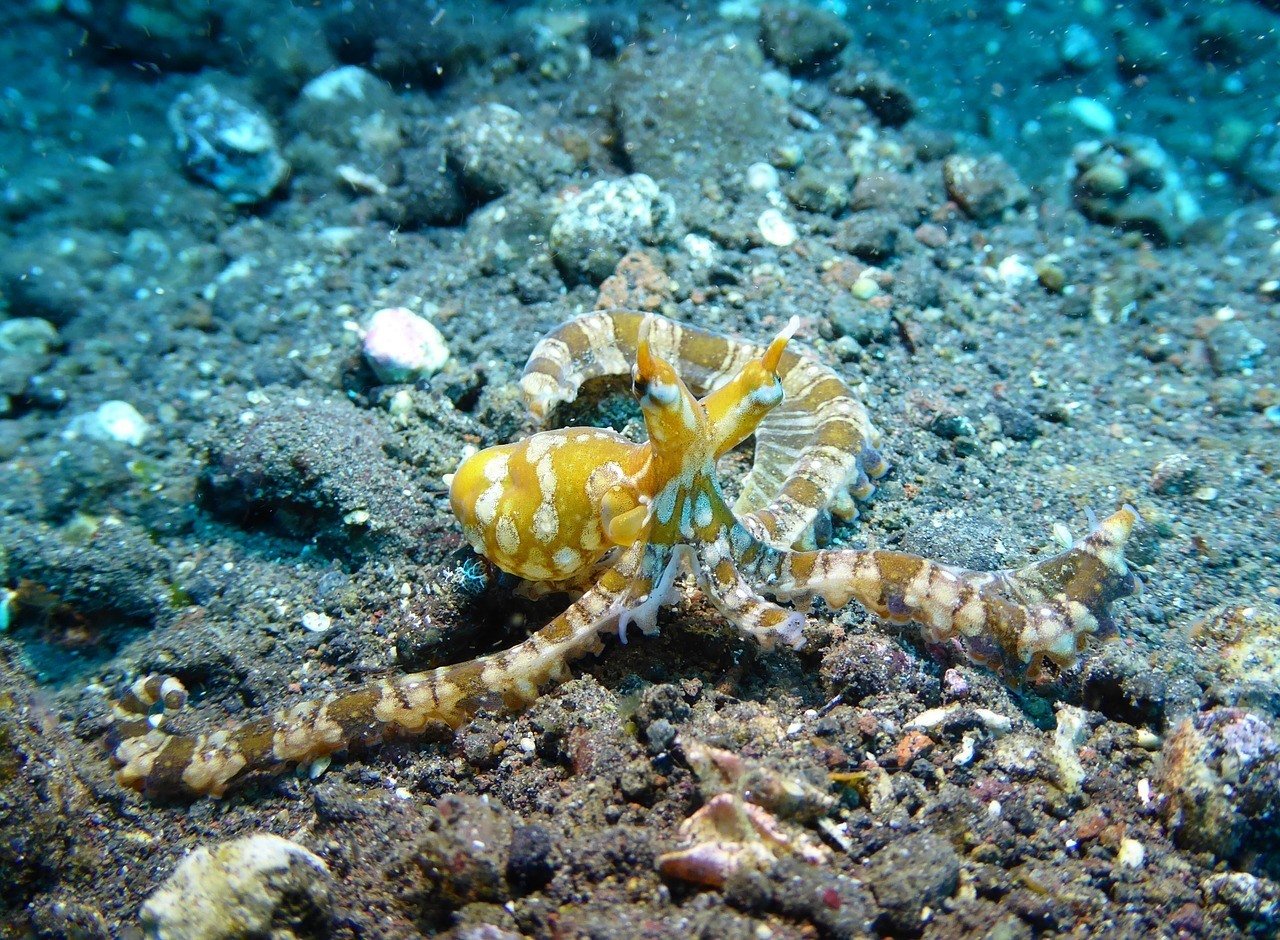 Amed also offers a lot of night diving opportunities as well. Granted, the night diving here is not as good as some other places in the world, but the chance to swim with bio-luminescent plankton more than justifies giving it a shot.
For more information and scuba tips, head over to our in-depth guide covering prices, the best dive sites in Bali, and more!
2. Grab the best breakfast in Amed at Tropikal Cafe
This is literally the first place my girlfriend and I went to in Amed. Call us suckers for the bamboo bungalow look and the open kitchen, but we were immediately captured by the Tropikal Cafe.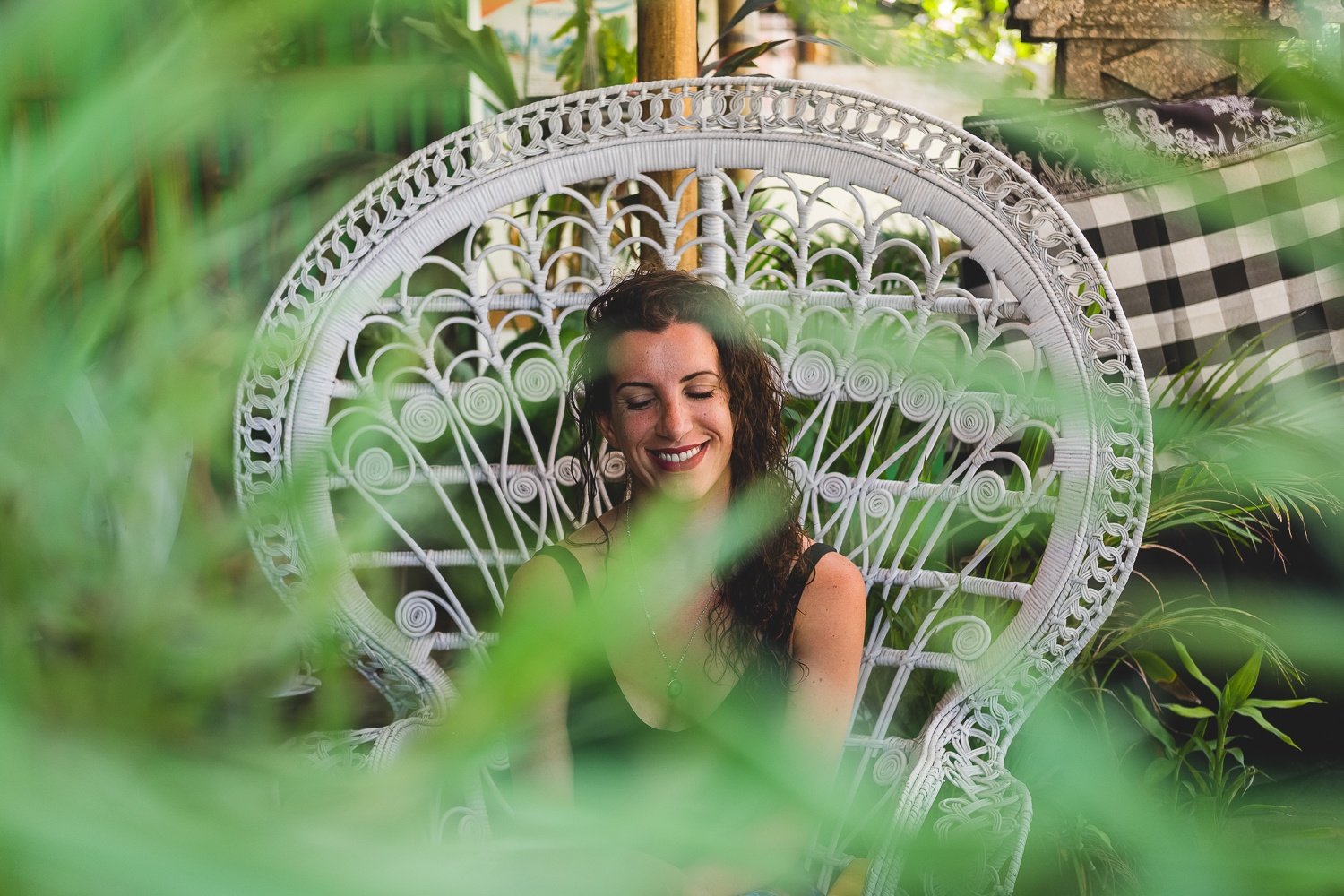 The Tropikal Cafe, hands down, has the best breakfast in Amed. The food is of a high quality, which is probably a result of the business insisting on making homemade products.
All of the usual suspects that you'd find elsewhere in Bali, like smashed avocado on toast and smoothie bowls (massive eye-roll), are here and they are admittedly delicious. The baked goods are the real showstopper though! Order the fresh banana bread and you won't be disappointed.
3. Catch the sunset at Jemeluk Viewpoint
Everyone knows that the best place to catch the sunset in Amed is at Jemeluk Bay. Hell, it's the most reviewed attraction in Amed on Google for a reason.
There are several ways to watch the sun go down over Jemeluk Bay:
From Jemeluk Viewpoint aka Sunset Point: As the name implies, this is a point located above the bay that offers panoramic views. Mt Agung is, of course, visible as is the bay itself and whoever may be in it. The viewpoint is easy enough to find – just head towards 'Sunset Point.' Bring your own beer and skip the local warungs while you're at it.
While stand-up paddle boarding in Jemeluk Bay: There are few things to do in Amed more satisfying as chilling on a paddle board in the middle of the bay. The water is calm, the sounds of the island are distant, and it's just you with the sun. Rent a board from a local resort or hotel.
Psssst…. Searching for your Tribe?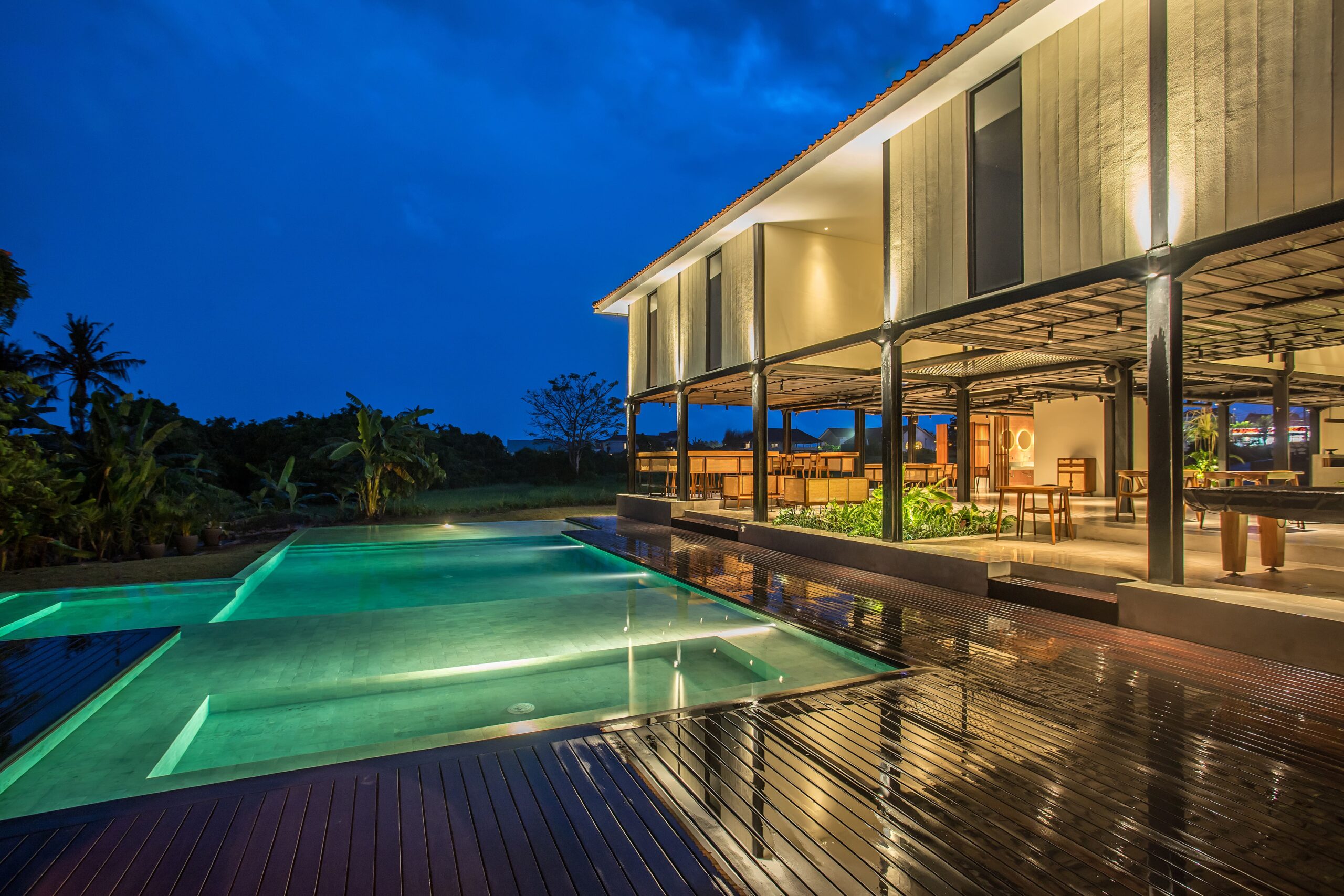 Tribal Hostel – Bali's first purpose-built co-working hostel and perhaps the greatest hostel in the world!
An ideal hub for Digital Nomads and backpackers, this very special hostel is now finally open…
Come on down and enjoy amazing coffee, high-speed wifi and a game of pool 😉
4. Explore the countryside with a scooter
You can't visit Amed – or any itinerary destination in Bali – without renting a scooter and going for a joy ride! Luckily, there is plenty of pastoral beauty and nature surrounding Amed and experiencing this side of town is a relatively easy activity.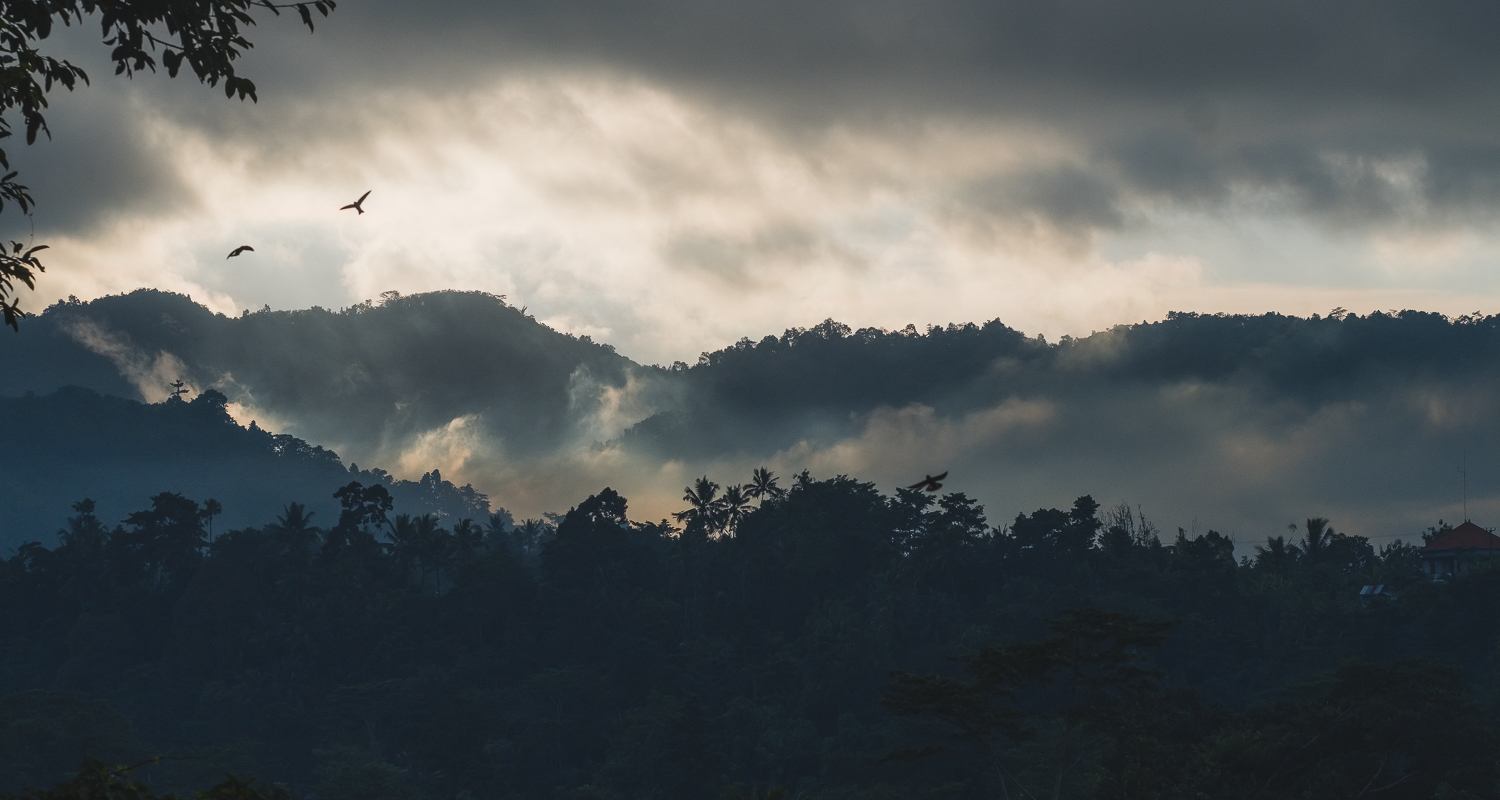 You can rent a scooter from many different places in the village. Lots of hotels in Amed offer rentals. If you strike out at any of these, there are lots of little shops and stalls around that can rent out a scooter as well. Daily rates vary between 50k-70k. (Make sure to haggle!)
Whilst what you do on a scooter adventure is 100% up to you, I highly recommend zipping around the local rice paddies – they're an iconic sight in Bali and totally worth seeing.
Riding a scooter can be a great and inexpensive way of traveling around Amed. Although you don't need a license to rent a scooter, most travel insurance companies will ask for a valid motorbike license to be able to claim if you crash! Always make sure that you have travel insurance with a motorcycle-riding coverage.
5. Get some more diving in at Tulamben
Already visited the dive sites in Amed, perhaps twice over? Then head north to nearby Tulamben! This region is even more down-tempo than already chronically laid-back Amed and offers some equally impressive scuba options as well.
The most famous place to go diving in Tulamben is hands-down the USS Liberty Wreck. This shell of a colossus host an enormous array of marine life and many divers have stated that no one could see the entire site in one go. It is often considered one of the best wreck dives in the world and, for that matter, one of the coolest things to do in Bali as well.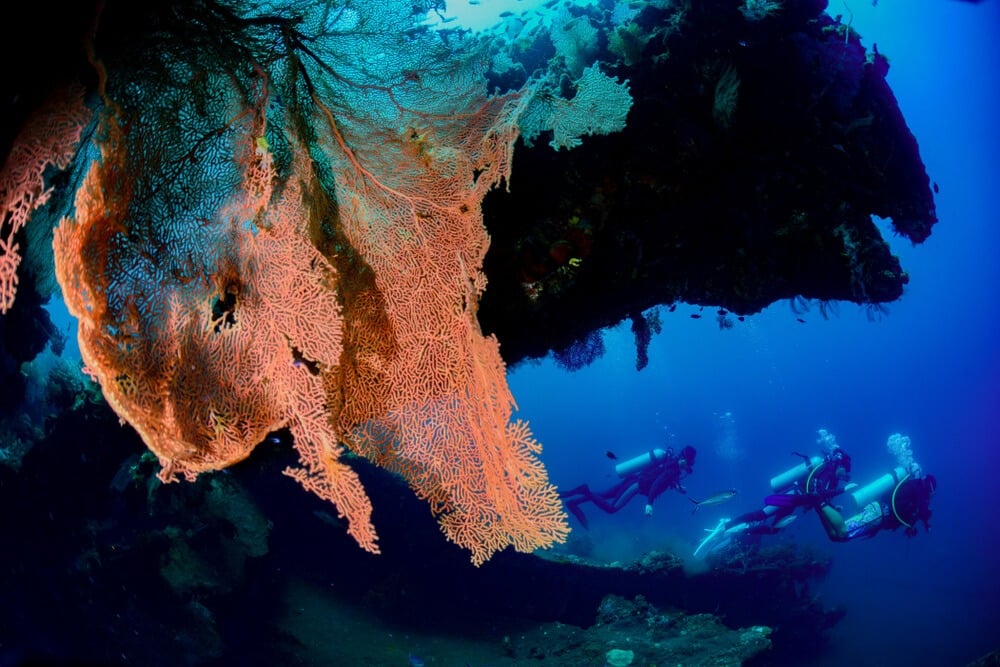 If the USS Liberty is just too busy for your taste (it often is crowded with other divers), there are plenty of more dive sites around Tulamben. Be sure to check out the Coral Garden and Drop-Off when you're ready.
6. Practice your French
Alright, I admit that this one is a bit of a joke and not really a legitimate thing to do in Amed…
BUT I can't write this article in good faith and not mention the fact that there a ton of French people in Amed. Seriously, you can't walk 5 minutes in this town without hearing an "allez" or "puton" ushered from the mouth of some Francophile. In fact, I'd say that almost 50% of the tourist population here is from the European nation.
If you had any desire to learn a bit of French while visiting Amed, you certainly wouldn't have any problem doing so.
On another note, a lot of the dive shops in Amed are also run or owned by French expats. You'll have plenty of opportunities to practice your French at one of these and you may even score a crepe or two (if you go to Abyss).
Small Pack Problems? 😉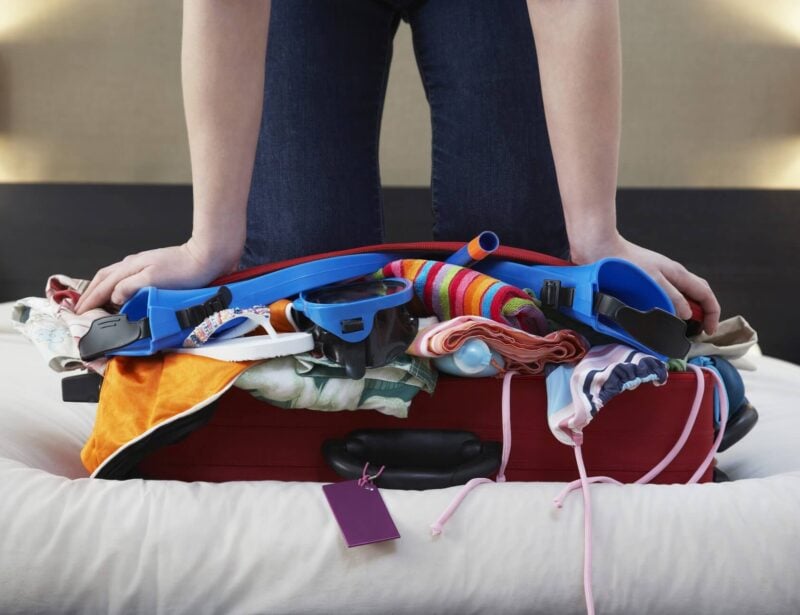 My missus travels with all her clothes in ziplock bags: don't be like my missus. UP YOUR PACKING GAME!
Packing cubes for the globetrotters and compression sacks for the real adventurers – these babies are a traveller's best kept secret. They organise yo' packing and minimise its volume too so you can pack MORE.
Or, y'know… you can stick to ziplock bags.
View Our Fave Cubes
Or Check Out the Sacks!
7. Relax on a volcanic beach
Bali is already famous for its volcanic beaches but Amed Beach is about as volcanic as they come. The sand here is almost pitch-black, which is probably due in part to the proximity of Mt Agung. It's kinda trippy to see at first and, for a moment, it may feel like you're in a tropical version of Iceland!
Fair warning: the black sand at Amed Beach does get really hot in the middle of the day (it's black, after all) and I guarantee that you will be hopping around during peak heat. Seriously, bring a pair of sandals.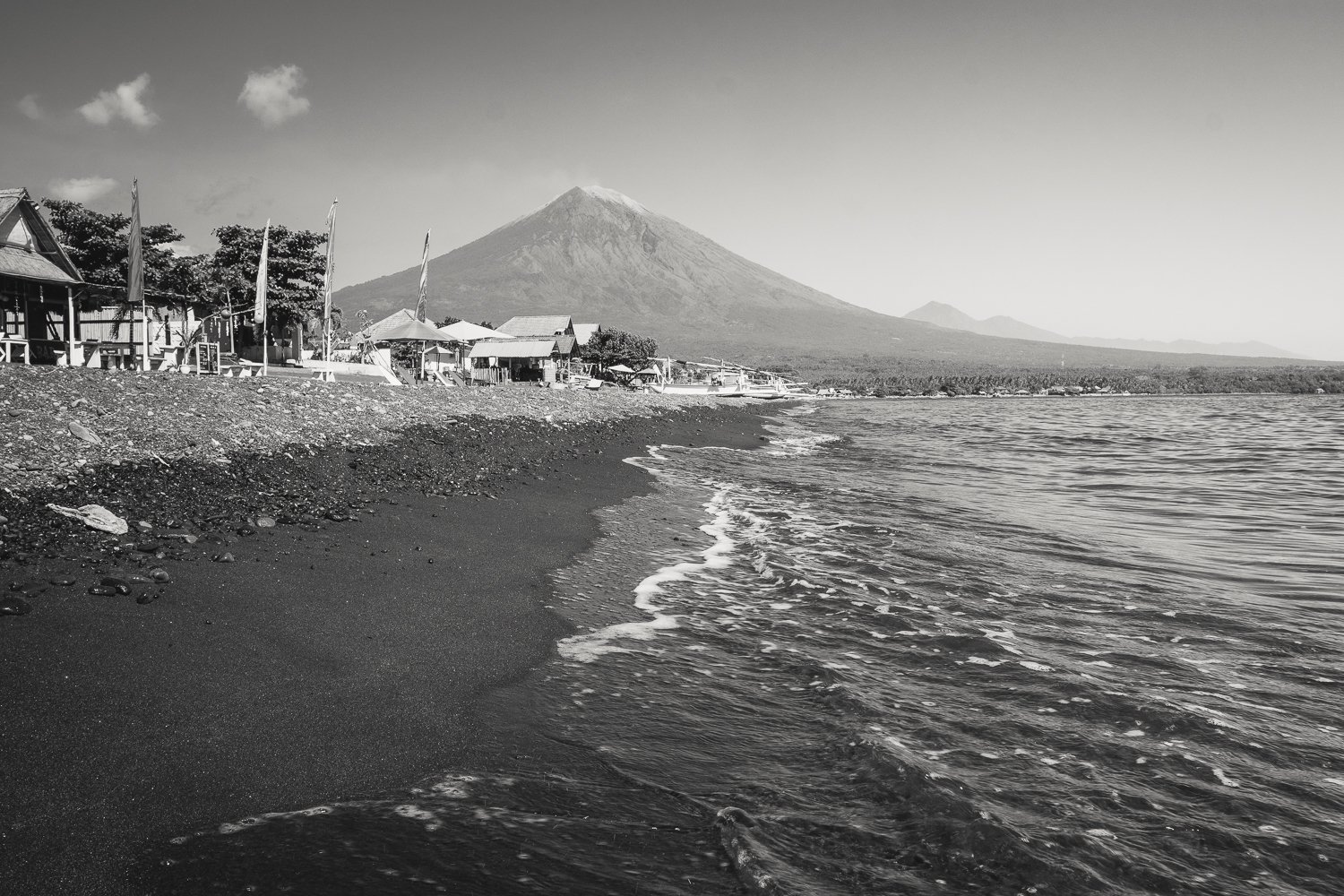 If you'd like to go snorkeling in Amed, just rent a kit from a local and jump in the water. There's good coral very close to the shore. Just remember to put sunscreen on before you get in the water. I saw way too many with sunburned backs and they kinda looked like a piece of walking nigiri.
8. Take a day trip to Tirta Gangga
Tirta Gangga (meaning "water from the Ganges") is a former palace and one of the most well-known cultural attractions in Bali. It was one the epitome of lavish and would make any noble (or distant relative of yours) jealous.
Titra Gangga is full of intricate stone carvings, statues, fountains, and pools. Most people visit Tirta Gangga to grab a snapshot of themselves around the pools – there are little stepping stones that make for good Instagram material.
If you're feeling a little pent-up or are just looking to escape the heat, Tirta Gangga makes a great day trip from Amed. The palace is only about 30 minutes away from Amed, which makes it very easy to reach.
9. Instead of suiting up, try out free-diving
If you're not a fan of wearing a diving suit (like me) and want to try something a little different, why not give free-diving a shot?
Free-diving is essentially diving without any sort of equipment – just a pair of flippers and some goggles. Many people describe it as more therapeutic (including our very own Ana Pereira) than scuba diving. The act of holding your breath for extended periods of time and regulating your body while underwater can be an enriching experience, but make no mistake it takes practice.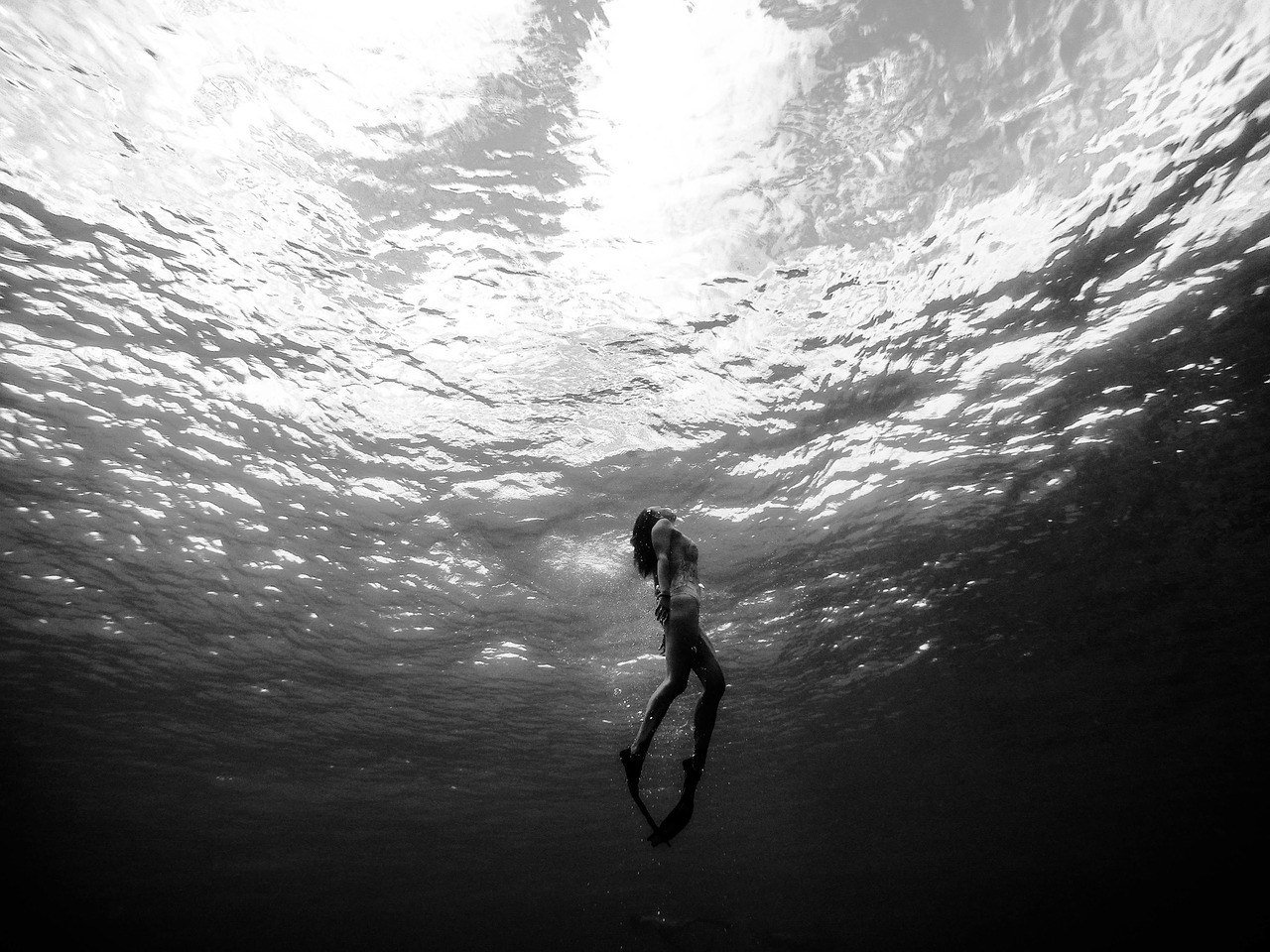 There are several free-diving schools in Amed. In fact, many of them are among the only ones in Bali.
Apneista Bali is an excellent option that is run by a great team of instructors (shout-out to Bernard!).
10. Catch the sunrise at Lempuyang Luhur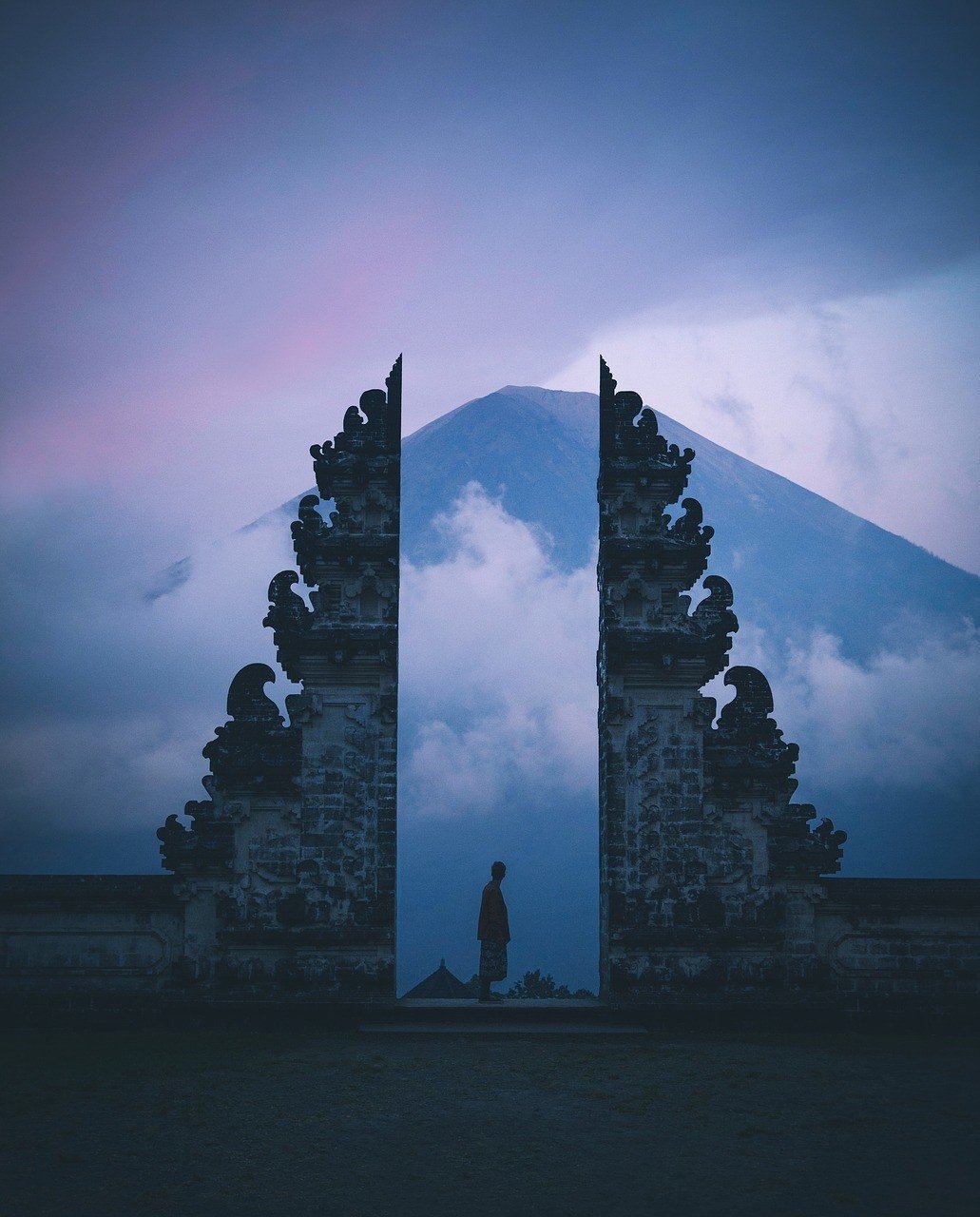 Lempuyang Luhur is probably the most famous viewpoint in all Bali at the moment. People flock from all over the island for the chance to get a photo of Mt Agung, which is framed almost perfectly between the temple gates.
Lempuyang Luhur is beginning to become overrun though. Bali Instagram Tours (the latest in horrible vacations on Bali) frequently include this attraction on their itinerary, which means that viewpoint may be flooded with people looking for selfies.
If you want to skip the crowds, try to visit Lempuyang Luhur as early as possible. You'll still have to deal with some crowds but thankfully fewer tour buses. Sunrise also affords the best views of Mt Agung.
INSIDER TIP: There are several photos of Lempuyang Luhur circulating online that include a reflection pool. There is, in fact, no pool at this temple – just a bunch of entrepreneurial locals with mirrors. Some people who were expecting water have expressed disgust over such a ploy but, hey, you gotta give it to those savvy Balinese photographers.
11. Visit the tiny Gili Selang
Gili Selang is a little island south of Amed that is barely on anyone's radar. (Full disclosure: I didn't actually make it to this location myself, it came highly recommended by the locals.)
As mentioned before Gili Selang is a tiny rock that is often glossed over by people traveling between Amed and Padang Bai. Actually, Gili Selang is more well known among divers and snorkelers as the coral here is exceptional.
Supposedly though, you can actually walk onto Gili Selang when the tide is low. At this time, there is a sliver of earth that allows you access to the island. Whilst I have no idea what could possibly be on this island, I imagine that it could only be hidden treasures and traveler's loot 🙂
12. Extend your stay
A lot of people end up staying in Amed longer than they expected. Most of the expats that I talked to had already been living in Amed for several months. When I asked them what happened, they simply replied "well I was just passing through and then I just got stuck here."
Who knows what it is about Amed that makes is so appealing. Blame it on the chilled-out vibes, the amazing diving opportunities, the rasta parties, or emerging cafe scene. Any way you look at it, there's a lot to love about Amed.
So maybe book a one-way ticket to Bali and consider spending some extra time here. You certainly wouldn't be the first person to set up shop in this tropical paradise.
13. Nurture yourself at Blue Earth Village
On an island that already promotes eco-responsibility, Blue Earth Village manages to have a leading role. Their ethos, which holds collaboration, sustainability, and reusability above all else, helps it stand out from many other businesses and frankly we have no problem spending our money here.
Make no mistake either: there are lots of awesome activities at the Blue Earth Cafe that you can spend your money on. Delicious meals are served up – from breakfast to dinner; there's a yoga studio on-site; plus, Blue Earth also works closely with Apneista Freediving School as well (there's a diving pool at Blue Earth).
So if you want to eat some great organic food, practice a little vinyasa, and maybe engage in an enlightening conversation, Blue Earth Village is a no-fail.
Need some extra information for planning your trip to Amed, Bali? Here are some more things to consider before visiting.
How to Get to Amed
Amed is located on the eastern shores of the island, which is a little far from the usual backpacking route in Bali. The nearest towns are Candidasa and Sidemen (both 1.5-hour drives). If you wanted to travel from Ubud to Amed, it would take around 2.5 hours of driving.
If you are self-driving via motorbike, the road to Amed is good quality and quite scenic. You'll be driving on some lazy mountain roads and through villages for a while. When you begin your descent to Amed – around Chulik – you'll be driving through some really pretty rice paddies and get some great views of Agung.
Most people will travel to Amed using a private driver or taxi. Rates obviously depend on where you're coming from but you can expect to pay at least $30 if you're traveling from the airport or Ubud.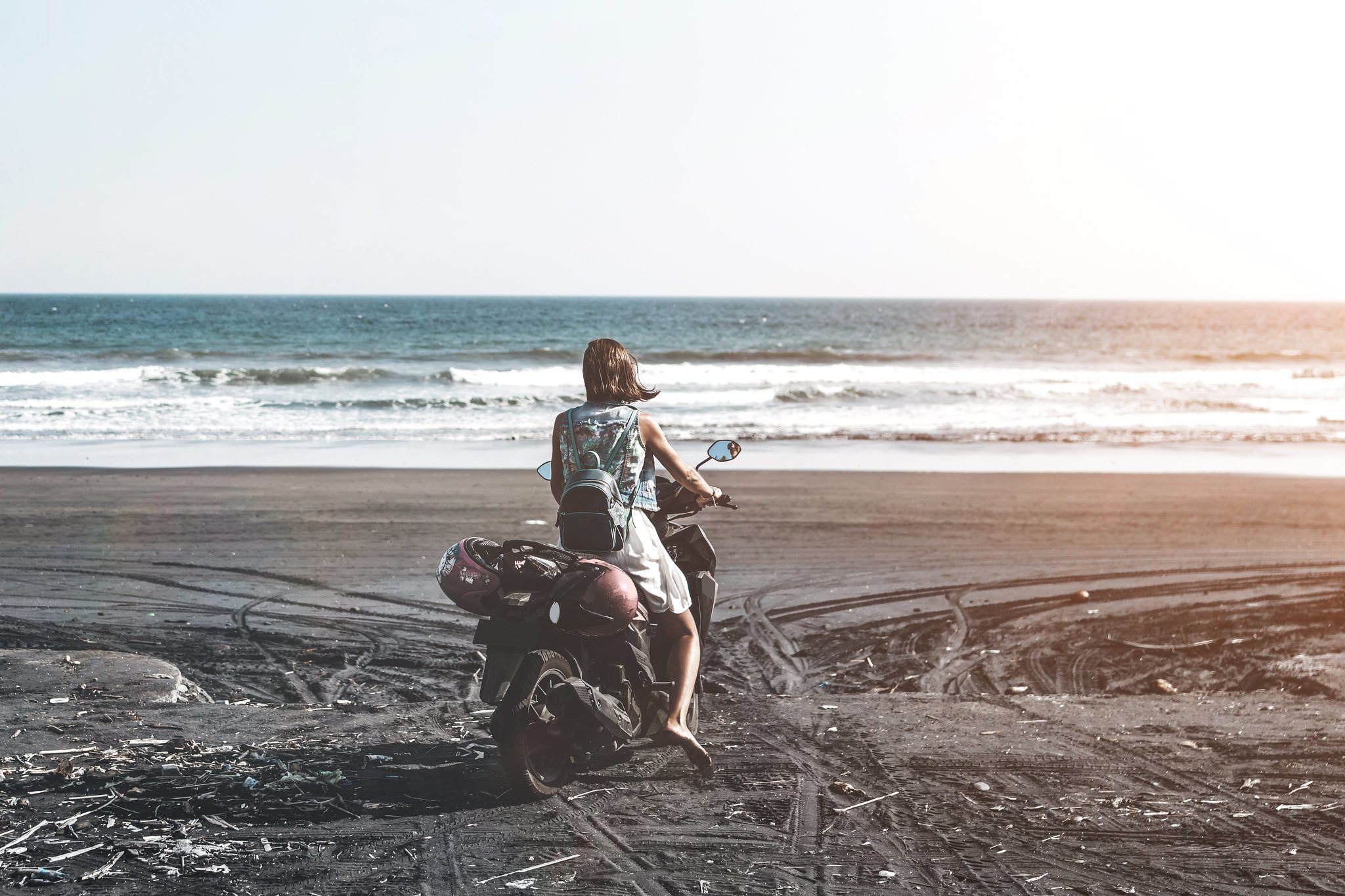 There are some shuttle buses (perama) to Amed but they are a little difficult to find. Due to the fact that these are often run by some local with a van, schedules are almost never set. There are regular peramas between Lovina, Amed, and Candidasa though – if you're in one of these towns you should find more success.
By Bali standards, Amed is kind of in the middle of nowhere and somewhat off the beaten path, but that's not necessarily a bad thing. A lot of people end up falling in love with Amed precisely because it is away from all the craziness that you'll get while traveling Canggu or Uluwatu.
Amed is remote and quiet – people come here to decompress and to take a break from the madness. Even if you don't go diving in Amed, it's still a great place to visit if you're looking for some peace and quiet.
Restaurants and Nightlife in Amed
Amed is becoming more and more popular every day, which means there are lots of new places to eat! There are traditional warungs, charming coffee shops, and full-blown restaurants in Amed these days. There's even an organic cafe or two in town, which may or may not appeal to you.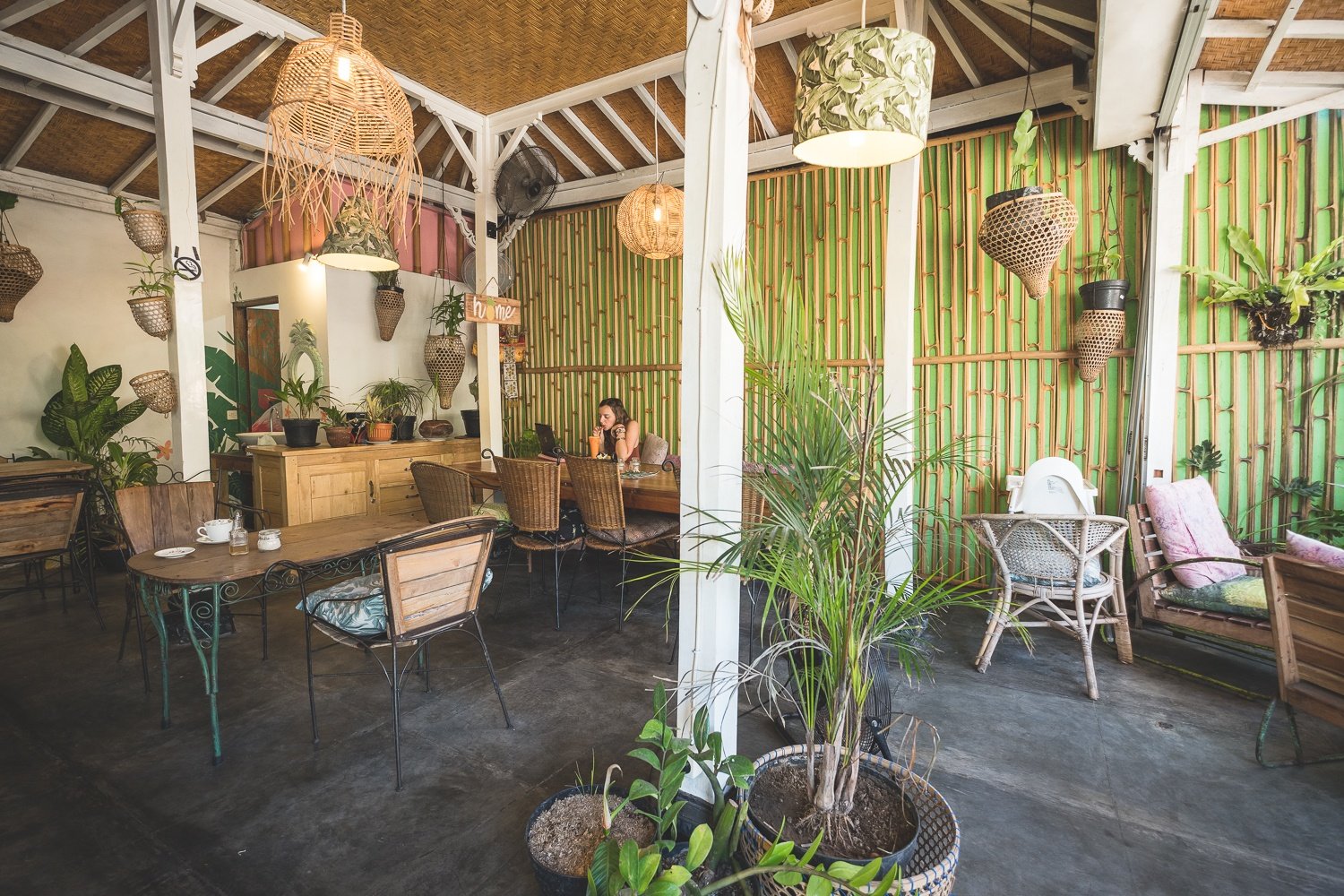 Want to grab some food? Check out one of these awesome restaurants in Amed depending on the time of day.
Tropikal Cafe (Breakfast): A super cute little cafe that serves homemade products. The baked goods are particularly tasty (get the banana bread!)
Galanga (Lunch): A tiny little restaurant that serves up amazing Indonesian-fusion cuisine. The free Turmeric Tonic shot that they give you when you arrive is a nice added bonus.
Blue Earth Village (Dinner): After catching the sunset at Jemeluk Viewpoint, head over to this ambitious business. They believe in 100% organic products and hit the vego options hard. Moreover, they are much better than the Sunset Point warungs, which are tourist traps.
In terms of nightlife in Amed, there's not a whole lot going on. If you're expecting Legian or Canggu vibes here, you will be sorely disappointed. But if you like a good kickback or maybe a chill session, you'll have plenty of fun in Amed.
The most popular bars in Amed are reggae and/or rasta-themed. Live music is quite common at these and there lots of DJs throwing down reggaeton and rasta vibes. Both the Reggae Bar and Rasta Bar (don't get them twisted) are two places where you can drink and listen to some good music.
Diving is Amed's most well known attraction and for good reason – the diving here is absolutely stupendous. From enormous sunken ships to a living rainbow of coral and aquatic life, diving in Amed can be a once in a lifetime experience.
In particular, Amed is most admired for it's muck, macro, and night diving opportunities. The water here is usually calm (which is a nice respite from the monster surf spots in Uluwatu) and visibility can be very good. Contrary to some talk, you cannot see mantas or migrating whales around Amed though; they're more common when visiting Nusa Penida.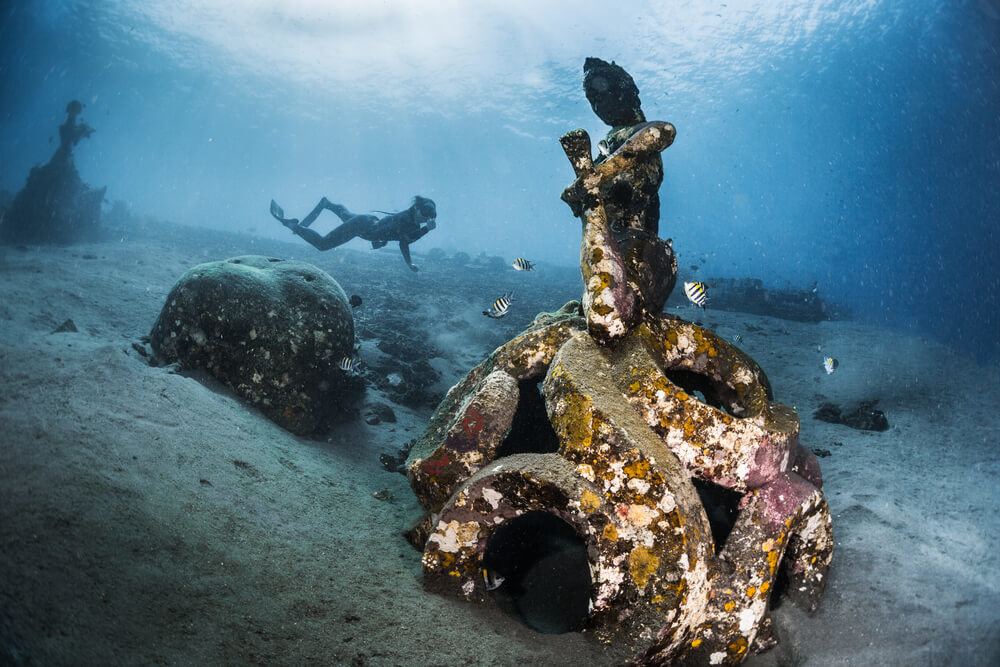 Diving in Amed is appropriate for all sorts of divers, from novices looking to gain their first certifications to pros looking to add another notch to their dive belt. It's no wonder so many people are beginning to visit Amed – everyone's welcome!
To give you a better idea of what to expect, here are some of the most famous and well-known dive sites around Amed:
Japanese Wreck: an old patrol ship that now hosts a thriving reef. Colorful coral, sponges, and lots of parrotfish.
Gili Selang: a less visited dive site in Amed but no less stunning. A large array of creatures that includes turtles, morays, rays, and much more. Some local divers also said they saw hammerhead sharks while I was there!
Amed Wall: located very close to the bay. Home to some epic gorgonians and reef sharks. Dive deeper down and you may even see and elusive pygmy seahorse.
Ghost Bay: an artificial reef set up by some local divers. Great muck opportunities and the chance to see mimic octopus!
Best Dive Centers in Amed
Amed's dive centers offer a multitude of services; they can organize day trips, live-aboards, dive trips, and diving lessons. That final activity, in particular, is quite popular in Amed and most dive centers can hook you up with some level of certification (if you put in the work of course).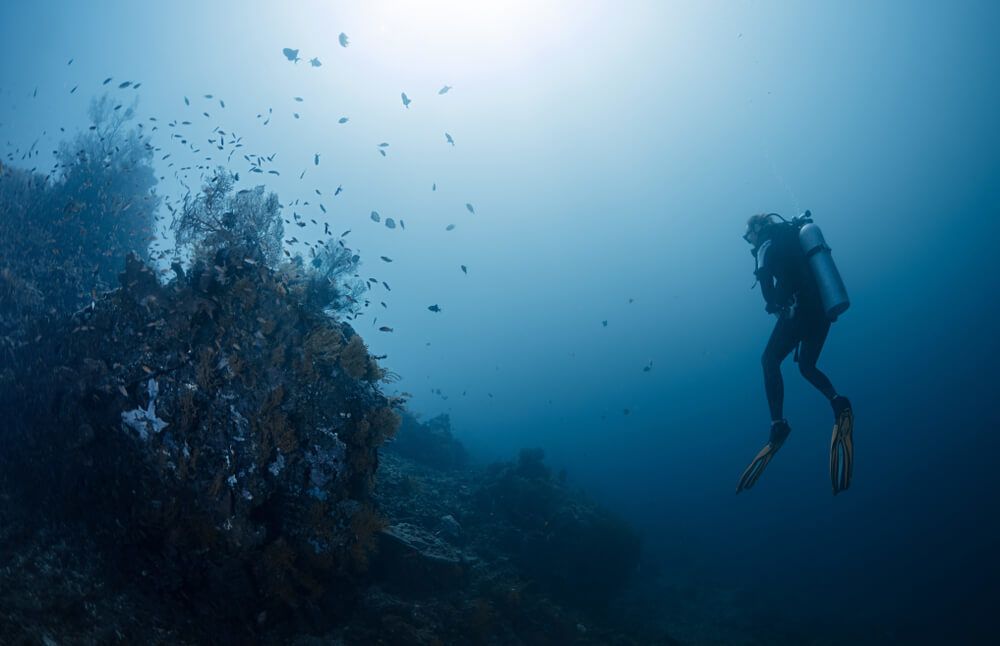 There are almost 30 different dive schools in Amed these days; an exorbitant number compared to 5 years ago. Choosing one may seem like an easy task but one small detail may have an overarching effect on your overall diving experience.
To help you out, here are some of our favorite dive shops in Amed at the moment:
Abyss Dive Center: A very friendly dive center run by French expats. The only French certified program with the Balinese government. Offers very personal dive trips and authentic crepes! (The latter is a great source of pride for them.)
Evolution Diver: Another French (sacre bleu!) dive center located down the street. Offers try-before-dive sessions in a local pool, which makes them great for beginning divers.
Of special note is the amount of camaraderie you'll feel around Amed's dive centers. The diving community here is extremely close-knit and everyone seemingly knows everyone else.
That is not to say that the local divers won't accept you; quite the contrary! The schools here will take you in with open arms and bring into their homes whenever possible. Regularly, you'll see masters and their clients sharing beers after a good dive and the vibe is very positive. This is one of my favorite parts about Amed and a reason to go back one day.
FAQ on Things to Do in Amed
Here are some quick answers to common questions about what to do and see in Amed.
Don't forget your travel insurance for Amed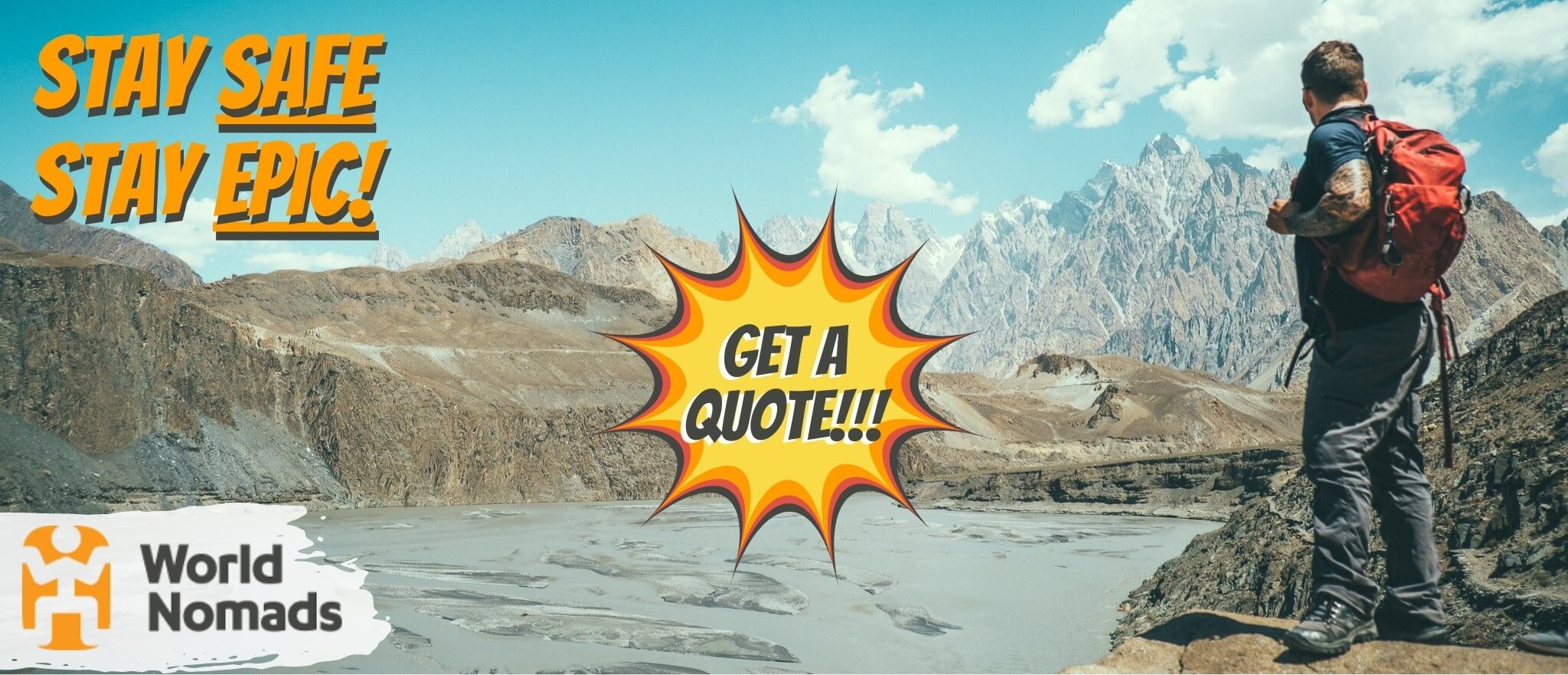 World Nomads' mission is to support and encourage travellers to explore their boundaries. They offer simple & flexible travel insurance, and safety advice to help you travel confidently.
They've been doing it since 2002 – protecting, connecting, and inspiring independent travellers just like you.
Get a quote below or read our in-depth review!
World Nomads provides travel insurance for travelers in over 100 countries. As an affiliate, we receive a fee when you get a quote from World Nomads using this link. We do not represent World Nomads. This is information only and not a recommendation to buy travel insurance.
Before I sign off here, I would like to remind everyone visiting Bali to be very careful when it comes to drinking. There is a lot of bootleg alcohol on the island – mixed sometimes with dangerous amounts of methanol – and you DO NOT want to drink the wrong batch.
Buy liquor from trusted vendors and don't accept drinks from random dudes. Go to legit bars in Bali and not to roadside shacks. Sticking to bottled Bintang beer is a sure way to avoid this shit as well.
---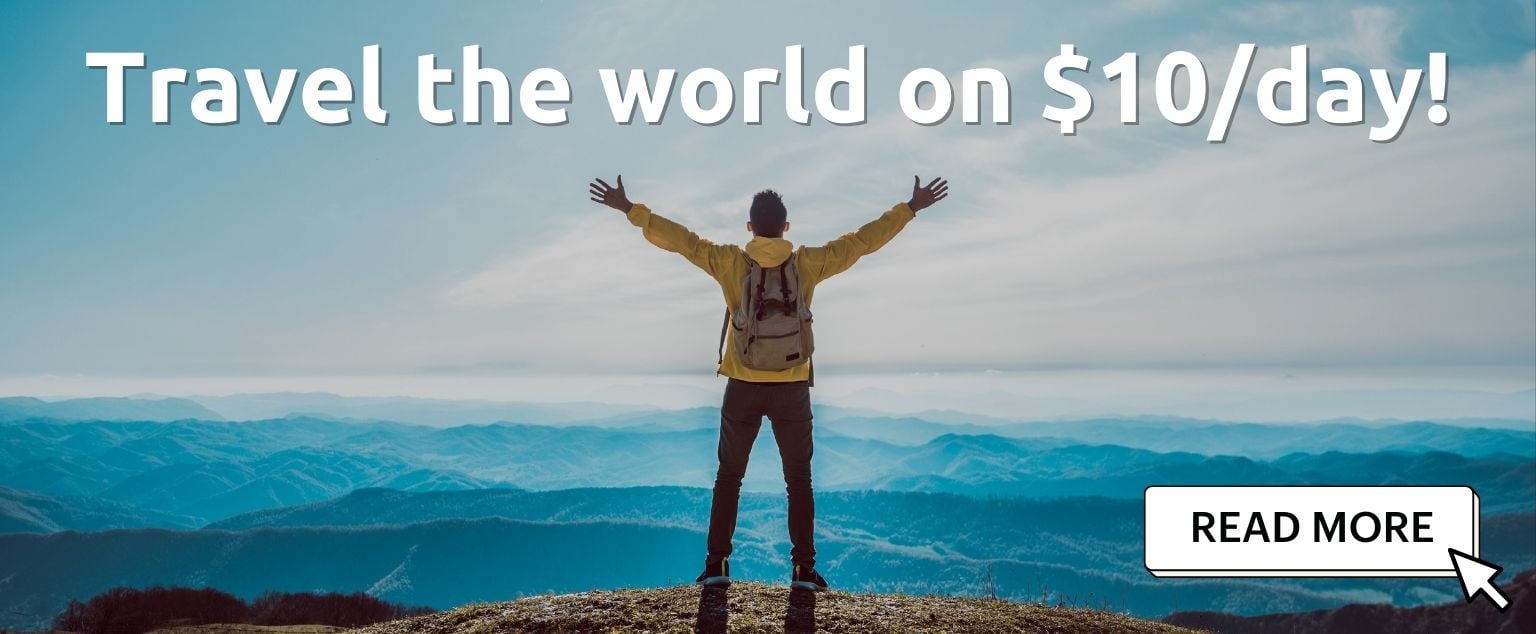 And for transparency's sake, please know that some of the links in our content are affiliate links. That means that if you book your accommodation, buy your gear, or sort your insurance through our link, we earn a small commission (at no extra cost to you). That said, we only link to the gear we trust and never recommend services we don't believe are up to scratch. Again, thank you!