In Balinese Hinduism, Nusa Penida is considered an extremely holy place. Known as the "Island of Black Magic," Nusa Penida attracts pilgrims from all over Bali who wish to achieve balance (between good and evil) in their life. For these pilgrims, a journey to this wondrous and foreboding island is a must.
For regular travelers like you and me though, a tour of Nusa Penida is just as enthralling. This one of the most spectacular and beautiful places in not only Bali but all of Indonesia. A trip to Nusa Penida should be on everyone's bucket list, whether they've actually heard about this island or not.
Join me as I share with you everything that I have learned about this magical. Over the course of this guide, I'm going to talk about how to get to Nusa Penida, where to stay, how to get around the (bad but no so horrible) roads. By the end of this article, you'll know just about everything that there is to do on Nusa Penida and will be chomping at the bit to go there yourself.
So let's get to it then!
There are plenty of places to stay on Nusa Penida, particularly around the north of the island. Here, you'll find all the usual forms of accommodation, like guesthouses, hostels, homestays, and a number of resorts. The area around Toyapakeh actually looks very similar to some places on the mainland of Bali at times, which is a sign of its ongoing development.
That being said, the grand majority of the island is very under-developed. Outside of Nusa Penida's top attractions, there really isn't a lot in the way of lodging. There are some lone guesthouses here and there but they can be far and few in-between.
Finding the right base on Nusa Penida is imperative to explore the island. You will need to stay somewhere well-connected, convenient, and near a warung or two if you plan on acing this trip. I suggest you stay mobile and sleep in multiple locations.
For more epic hostel options, be sure to check out our in-depth review of Nusa Penida's best backpacker accommodation.
Definitely the best hostel on Nusa Penida at the moment. Nuansa Hostel features several dormitories, a pool area, and free breakfast every morning. Being located on Nusa Penida, Nuansa is quite laid back and the hostel itself claims that life here is "like Bali 30 years ago."
I found this place randomly while exploring and it turned out to be one of my favorite places to stay on Nusa Penida. The amenities are somewhat standard but the hosts are really nice and the grounds are really clean. The best part was the location though: Kelingking Beach, Banah Cliffs, and Tembeling are all 20 minutes away.
Our Favorite Place on the Mainland?
Tribal Hostel – Bali's first purpose-built co-working hostel and perhaps the greatest hostel in the world!
An ideal hub for Digital Nomads and backpackers, this very special hostel is now finally open…
Come on down and enjoy amazing coffee, high-speed wifi and a game of pool ?
Nusa Garden Bungalow – Best Budget Lodge on Nusa Penida
A pretty basic budget hotel on Nusa Penida that doesn't really give you a lot besides four walls and a roof. There's no air-con and the staff reportedly pretty passive. But it's the best deal on Nusa Penida so we can't complain.
How to Get to Nusa Penida
People travel to Nusa Penida in one of two ways:
By boat/tour from Nusa Lembongan.
By boat/tour from Sanur (Bali).
If you plan on visiting the island independently, then you can catch a ferry from Nusa Lembongan to Nusa Penida at the famous Yellow Bridge. Public boats leave when full and will run from sunup to sundown, which is around 7 am-4 pm. Note that the many boats to Nusa Penida will not disembark at peak low-tide.
Tickets for the Nusa Penida-Nusa Lembongan public boat will cost 50,000 rupiah. Travel time is 10-15 minutes.
Most people travel from mainland Bali to Nusa Penida by catching a fast boat at Sanur. From Sanur, there are a dozen ferry companies offering transfers throughout the day so you shouldn't be lack of options. Tickets should cost around 200,000-300,000 rupiah.
It is possible to travel to Nusa Penida from Padang Bai but this transfer is a bit more difficult. There's a slow ferry that takes over 2 hours or a fast boat that is much smaller and much less comfortable. Both depart Padang Bai early and infrequently.
Ferries from both Nusa Lembongan or Bali will drop you off at the main harbor on the island at Toyapakeh. Upon leaving the boat, you will receive the usual welcome of "Scooter?! Scooter?! Scooter?!" from locals. More on dealing with these guys and renting a scooter on Nusa Penida later.
If you want some peace of mind, then book your ferry ticket to Nusa Penida ahead of time. Use Direct Ferries to check for prices now!
Getting Around Nusa Penida
Nusa Penida is a much larger island than neighboring Nusa Lembongan and will definitely require some means of transport to see. Most do so in one of the following ways:
By tour – The overwhelming majority of people take a day trip to Nusa Penida with a local tour agency. These tours last all day long, provide everything that you could need, and will take you to the most popular attractions on Nusa Penida. While these trips are convenient, they do not do justice that is the epicness of this island. Nusa Penida island tours require several days minimum.
By renting a scooter – For the truly adventurous type, this is really the only way to visit Nusa Penida. With your scooter, you will be able to go where you want and when you want without having to worry about drivers. Also, there are certain areas on the island that are only accessible by scooter i.e. Saren Cliffs, Tembeling Forest. That being said, you have to be extremely careful while motorbiking on Nusa Penida – for reasons that we'll discuss next.
By private transport – A lot of people choose to not deal with the shitty/dangerous roads themselves and instead hire a driver for Nusa Penida. For those who have never driven a motorbike before, this is definitely the best choice. Drivers on Nusa Penida can be hired with a car for around $25/day. Check to see if they will be covering their own room and board before hiring them.
Whichever way you choose to get around Nusa Penida, be prepared for a bumpy ride. The roads on this island, although fine in some places, can be absolutely horrendous. Patience is key here and it may be slow going on some routes.
Renting a Scooter on Nusa Penida
Scooters can be rented at most lodges and hotels on Nuda Penida. Daily rates start at around 80,000 rupiah per day though you can lower this price by bartering or renting the bike for a longer period of time. Try shooting for 60,000-70,000/day.
Penida is not for beginning motorists. The roads here are rutted, broken, treacherous, and sometimes non-existent. If you want to leave this island without a scratch, you will need to be on your A-game when it comes to driving.
Consider these driving tips for Nusa Penida:
Drive slowly on broken roads and be careful of giants holes.
Don't gas it on corners or on gravel-strewn road.
Do not grab the front brake unless you are jamming on the rear already.
Beware of reckless drivers on paved roads.
Use your horn on blind corners.
Stay vigilant and don't steely – driving nervously is a sure way to crash.
I will end this section with a sobering story. In early 2019, a Russian girl died while riding her motorbike on Nusa Penida. She was driving on top of an unprotected cliff, lost control of the bike, and plummeted over the edge to her death. Whilst these sort of things don't happen very often, that is not to say that you will not be presented with a similar situation.
PLEASE do not be a daredevil on a motorbike. You are not a member of the Red Bull X-Fighters (then again, maybe you are…) and you are not as skilled on that bike as you think you are.
If a road or path looks too intimidating, then, for the love of god, please don't risk it – just get off and walk. Doing sensible things like this could mean all the difference between leaving Nusa Penida happy or in pieces.
Riding a scooter can be a great and inexpensive way of traveling around Nusa Penida. Although you don't need a license to rent a scooter, most travel insurance companies will ask for a valid motorbike license to be able to claim if you crash! Always make sure that you have travel insurance with a motorcycle-riding coverage.
Below are some of the best places to visit in Nusa Penida! Note that the most popular of these actually cost money to enter (usually 2,000-10,000 rupiah) so be sure to bring cash with you.
Crystal Bay
If you're exploring Nusa Penida in a counter-clockwise direction, then Crystal Bay will most likely be your first stop.
Crystal Bay is a nice little strip of white sand and is tucked away in a naturally protected cove. The waves are nice and easy, the vibes are generally pretty laid back, and there are more than a few beach bars. The bars provide lounge chairs and those ubiquitous Bali beanbags for lazy sunbathers. Overall, the place exudes a lot of chilled-out vibes.
Because of the calm waters, Crystal Bay is also one of the most well-known places to go snorkeling on Nusa Penida. A lot of people will stop by here on tours from Nusa Lembongan and some of the bars can rent out equipment to you as well.
If you wanted to stay at Crystal Bay, there are a number of bungalows located in a village behind the beach. I didn't stay there myself but there appeared to be a lot of good and varied accommodation there.
Angel's Billabong and Broken Beach
Not gonna lie, Broken Beach and Angel's Billabong were probably the biggest disappointments on my Nusa Penida tour. This is because:
The road to these is absolutely horrendous and seriously one of the worst on the island.
The locations themselves are nice, but not that special.
Firstly: the road. It's rutted, it's rocky, and it's a fuckin' mess in places. At first, it was tolerable but after 20 minutes of bumping up down on my already weathered bike, I was over it. Combined with the fact that you have to deal with a lot of vans transporting tourists around, and overall it was an annoying journey.
Broken Beach itself, which is essentially a giant, roofless sea cave with a natural arch going over it, and Angel's Billabong were just ok. They were cool, particularly the arch, but not worth the hellish ride. The fact that Angel's Billabong is closed half the time due to rough seas, made the place even less appealing.
Basically, I'd cut out these two out of my Nusa Penida itinerary first if I was short on time.
Kelingking Beach
Kelingking Beach is probably the most famous place in Nusa Penida and for good reason. It's most well-known feature, the Jurassic-shaped promontory, locally referred to as "T-Rex," is amazing to behold. The way down to the actual beach – a pathway guarded by ramshackle bamboo cages – will leave you breathless. The beach itself is probably the best I've ever seen.
If you're wondering if this place is probably overrun with tourists, than you're on the right track. During the afternoon, Kelingking is just a madhouse as day trippers are usually fighting one another for a chance to get a photo with the T-Rex. It's enough to turn-off any traveler, seriously.
BUT, if you can visit Kelingking at sunset or sunrise, it's pure magic. The light is ethereal, the crowds are way less hectic, and you actually have room to move around. In my opinion, Kelingking should only be visited during these times.
So is it touristy? Yes.
Are the afternoon tourist crowds maddening? Definitely.
Do I want to shove every Instagrammer of the cliff? Of course.
Is Kelingking Beach still one of the best things to do on Nusa Penida? Abso-fucking-lutely.
Banah Cliffs and Seganing Waterfall
Seganing Waterfall is essentially a stream running down the side of a cliff face into the ocean. At least, that's how it was described to me…
Unfortunately, I was unable to make it to Seganing Waterfall on account of a sudden illness, but I had heard very good things about it. A pair of German's actually compared it to Kelingking in that both featured thrilling and harrowing pathways down to their respective beach or waterfall.
I did make it to the Banah Cliffs in the evening though and was very impressed. The cliffs have a perfect view of the horizon and you'll have an uninterrupted view of the sunset. People will often brings beers with them to enjoy the sunset and there are even some makeshift benches around the cliffs (be careful).
If you explore a bit, you should also find a secret pathway down the cliffs. As you walk down, you'll be afforded glimpses of some sea stacks and there are a number of viewpoints that have become popular with Instagrammers.
The small trail continues around the cliff-face, but ends at a dead-end.
Tembeling Forest
Tembeling Forest is essentially a series of pools located in the woods on the edge of a beach. It's a popular place with locals and is a nice place to just chill out.
There's actually an amazing rock garden as well located in a sea cave near the final pool. This garden hosts a very large and impressive collection buddha towers and I think I was more interested in it than the actual pools! 😀
The road to Tembeling Forest has a pretty bad reputation and is known for causing a lot of scooter accidents. Many people choose to either get off their bike and hike down to the pools or enlist the help of a local to taxi them down.
In my own experience the road wasn't so bad. Yes, it was really, really steep but it was also sealed and not that rutted. A competent motorbike driver could handle this road if they took it slowly but they'd have to make absolutely certain their brakes were working.
Note that Tembeling is partially considered a water temple so you'll be asked for a donation at the entrance.
Saren Cliffs
The Saren Cliffs are located very close to Tembeling Forest and are pretty similar to Banah Cliffs. There's a little less land to explore but they are no less spectacular!
I went to the Saren Cliffs for sunrise and they were completely devoid of anyone or anything except the wind and some shrubbery. With the sounds of grass blowing and the waves, the mood was quite peaceful.
I also noticed an old fire pit while there as well, which made me wish that I'd camped there the night before! (If only I hadn't had left my tent on Nusa Lembongan.)
Peguyangan Waterfall
Peguyangan, or just "Guyangan," is one of the most important temples on the Miss Penida. It is located at the bottom of a grueling 720 steps and is perched somewhat precariously on a cliff overlooking the sea. It's pretty rad place and an extremely wet one at that (the humidity alone left me soaked in 5 minutes).
Peguyngan is not technically a waterfall per say but rather a place where lots of water is pumped, which then overflows into pools. It's not really what you'd expect at first but you'll quickly forget about any previous expectations. The whole area, the temple and bathing pools combined, are pretty damn cool to see and you wouldn't be crazy to want to jump in the water here.
So find your favorite spot, purify yourself, chill out, and watch the waves crash against the rocks. Just try not to think about those 720 steps you'll have to take to get back to the top.
Manta Point
DEFINITELY drop by Manta Point after you've wrapped up Peguyangan Falls. For one, the views here are excellent and you'll get to see all the way to Nusa Lembongan. Even better, you'll get to see manta rays without even getting wet!
On a clear, calm day, you can look 100 meters down into the ocean and actually see mantas swimming around. They're enormous creatures, a fact that is made more apparent when the diving tours show up. When you see a manta ray next to a person, you'll see just how big they are and will probably realize why you should definitely go snorkeling with them later.
Bukit Teletubbies
Yes, this is a reference to the children's television program and, yes, it is an actual point of interest on Nusa Penida. Bukit Teletubbies is a viewpoint in the eastern highlands of the island that affords views of the surrounding countryside.
Now, there is a specific point on Google Maps that is supposed to be Bukit Teletubbies but I do not think it is correct. In reality, I think that Bukit Teletubbies refers to the general vicinity, which is quite scenic, and not just one viewpoint. So be sure to walk around and explore the entire area.
But then again, I may be wrong and there may, in fact, be a specific Bukit Teletubbies viewpoint. In this case, you may need a guide or local to point it out to you. Maybe they could also tell you why the hell the place is called "Teletubbies."
Suwehan Beach
This is arguably my favorite beach on Nusa Penida for several reasons:
The sand is probably some of the purest on the island.
There beach itself is beautiful and there's a cool stone tower near the shore.
There's never seems to be anyone here.
When I went to Suwehan Beach, it was totally empty. Seriously, there wasn't a soul in sight, which is crazy considering how gorgeous this beach is.
Getting to Suwehan Beach can be a little tedious because the road kinda deteriorates but it's nothing that you shouldn't be used to by now. You'll also have to walk down quite few steps (as usual) to reach the beach so be sure to bring a decent pair of shoes.
Note that the beach doesn't have a whole lot of shade until late-afternoon when the sun dips behind the cliffs. There is a nice little grove of trees at the far end of the beach that does offer a little cover though.
"The Tree House of Nusa Penida" and Thousand Island Viewpoint
So these two places, which are essentially the same, are two of the most famous landmarks on Nusa Penida. The Thousand Island Viewpoint is located on a small promontory that is easily reached via a 10-minute walk from the car park and the tree house(s) are literally right next door. Both offer one of the best views in Nusa Penida, without question.
As the name implies, the Thousand Islands Viewpoint gives a spectacular view of the coast and a handful of natural stone towers. There are not quite 1000 islands to speak of but the view is no less stunning. The sunrise from Thousand Islands is particularly good.
The famous tree houses of Nusa Penida or "Rumah Pohon" are literally next to Thousand Islands Viewpoint. They are pretty basic but considering they have probably the best view in Bali, I've never heard anyone complaining.
You can actually book one of the tree houses (there's now 3-4 on-site) on Airbnb though, fair warning, you'll need to do so months in advance. You'll also have to deal with incessant tourists walking around and taking pictures of the tree houses but maybe you can give them something to look at 😉
Diamond Beach
A lot of people say that Diamond Beach is there favorite beach on Nusa Penida. The beach itself is quintessential Penida with perfect sand, gorgeous sapphire water, and dramatic cliffs framing it all.
I think that the best part about Diamond Beach though is the walk down. The stairs are literally carved out of the cliffs and are this blazing shade of white in the sun. If we're being honest, I think I spent more time running up and down the steps taking photos than actually laying on the beach.
The beach itself is beautiful albeit a little small. There's a singular warung here that offers basic wares and a couple of chairs for lounging. You can sit in one of those ubiquitous wicker pods at Diamond Beach although it's hard to climb in. A generous local will help you into it but will ask for a generous donation in return.
Fun fact: the stairs to Diamond Beach were only completed at the end of 2018!
Atuh Beach
Atuh Beach is most easily identified by the unique rock formation that lies offshore. Said rock, which, if you look at it from the north side of the beach, looks like the head of a fantastical monster (maybe a kaiju from Pacific Rim), is pretty hard to miss. It goes without saying that this one of the most frequented photography spots on Nusa Penida.
Atuh Beach itself is not a wild beach though. There are a number of bars and warungs set up here and even more lounge chairs to go with them. It feels like a typical Balinese beach, complete with umbrellas and beanbags, except there's a giant fucking rock in the ocean that everyone is staring at.
If you're really feeling adventurous, you can actually swim out to the rocks, climb up them, and then go cliff jumping! I saw a few guys doing this while I was there and got pretty amped to try it myself. Unfortunately, I wasn't able to on this trip 🙁
Goa Giri Putri Temple
Visiting Goa Giri Putri is supposed to be one of the coolest things to do on Nusa Penida, yet I missed it, which sucks. Alas, it was my final day and I had a motorbike owner blowing me up about returning his baby to him.
From what I heard Goa Giri Putri is really interesting to experience. The temple is set in a cave, a spectacular one at that, and there are times where you're required to crawl through tiny spaces to go further. I've heard people describe it as a "surreal" sight and a "really amazing" one at that too.
The next time I travel to Nusa Penida, I will not make the same mistake twice and will definitely visit Goa Giri Putri.
Pura Dalem Ped
Remember how I said that Nusa Penida was an important pilgrimage destination for Balinese Hindus? Well this is the most important religious site on the island.
Supposedly, Pura Dalem Ped is the nexus for all the evil spirits that inhabit Nusa Penida. These spirits, when left unchecked, escape to Bali, where they cause disaster and disease. Their master, Macaling or Ratu Gede, was considered one of the most sinister figures in Balinese mythology and is kinda treated like Voldemort around these parts.
Balinese pilgrims travel to Pura Dalem Ped to pay tribute to the evil spirits and appease them. The Balinese believe that by making offerings to the demons, they will be made content and will not bother the people.
The temple itself is nice and its walls are made from pure limestone. If you've seen lots of Balinese temples before though, you may not be interested in it aesthetically. But the story of the temple alone makes the visit worthwhile.
Definitely don't miss out on these activities while visiting Nusa Penida!
Make the descent down to Kelingking Beach
Every tour of Nusa Penida features a visit to this legendary spot and it's easy to see why: the views are absolutely out-of-this-world and the beach is arguably the best in Bali. Even with the crowds, I'd still highly recommend coming here; just try and do so in the morning/evening.
Stay in a treehouse on Nusa Penida
If you can score a reservation at the Rumah Pohon next to Thousand Islands Viewpoint, it may just take your Nusa Penida trip to the next level. At $30 per night as well, this has gotta be the greatest deal on the island.
Go diving with manta rays
If you've never swam with manta rays before, then you really should plan on doing this. Swimming with mantas is a once in a lifetime experience and just really fucking cool. They may look like they're going to eat you but they just want to swim around and be chill.
Find the secret beaches of Nusa Penida
There are a number of hidden spots on Nusa Penida that only adventurous backpackers will be able to discover. Try and find your own slice of paradise!
Catch the sunrise at the Thousand Islands Viewpoint
The Thousand Islands Viewpoint is spectacular on its own but at sunrise it's ridiculous. Definitely plan on doing this as no Nusa Penida itinerary is complete without doing so.
Chillout at Atuh Beach
Take advantage of that sweet weather on Nusa Penida and just laze at Atuh Beach. Grab a beer, take some cool pictures, and let the world go by.
Check out the (not so rough) Diamond Beach
Once you've visited Thousand Island Viewpoint, head over to Diamond Beach! It's a short 5-minute bike ride away and is definitely one of the best beach places to visit in Bali. The stairway alone makes this place worth visiting.
Bath in the holy waters of Peguyangan or Tembeling
Nusa Penida is a very important pilgrimage site for the Balinese and lots of people travel here to bless themselves in the holy pools. Feel free to join in the ritual; just make sure to bring a sarong with you.
See all the cliffs
Around every corner, there is seemingly a different viewpoint on Nusa Penida. Obviously, the ones near Kelingking and Thousand Islands are great, but try visiting Saren Cliffs, Banah Cliffs, and Manta Point as well!
Admire the natural bridge of Broken Beach
At the end of a harrowing road is the stone arch of Broken Beach. Walking around the rim of the beach and over the natural bridge, you'll be humbled by the power of the ocean and its ability to shape such places. Just be ready for a bumpy ride.
The rest of this Nusa Penida travel guide is dedicated to covering the island in more detail. Refer below for subjects like getting around, diving, and more.
When to Travel to Nusa Penida
The weather in Nusa Penida is pretty much the same as southern Bali, which means wet summers and dry winters. Temperatures are consistently warm throughout the year though the summer humidity does make the island feel "stickier" and more hot.
Nusa Penida is actually a bit more arid compared to it's neighborhood, Nusa Lembongan. Like Uluwatu and the Bukit Peninsula, which is about the same latitude, Nusa Penida usually receives leftovers from the northern rainstorms. In recent years, this aridity has become more of a problem as increased tourism is leading to more water consumption. You should always be doing this while on vacation in Bali, but please avoid wasting water on Penida.
Whilst a lot of Bali is still accessible during the rainy season, I do not think that traveling to Nusa Penida during this time would be ideal. For one, the boats from Bali to Nusa Penida will often be interrupted by storms and rough seas. For another, I can't even imagine what the already shitty roads on Penida may be like after heavy rain.
If you do make it to Penida during the wet season, you will reap the benefits of cheaper accommodation prices. Just make sure that there are hotels on Nusa Penida that are still open.
If you want to go scuba diving in Bali, there is definitely a right to time to visit. Nusa Penida's two most popular marine animals – mantas and mola mola – come out during winter season. Peak months for mantas are April/May and mola mola is August/September.
Nusa Penida Essentials
Make sure you bring these important items with you when you head to Nusa Penida!
For more ideas on what to take, be sure to check out our packing list for Bali!
Why You Should Travel to Nusa Penida with a Water Bottle
Plastic washes up on even the most pristine beaches… so do your part and keep the Big Blue beautiful
You aren't going to save the world overnight, but you might as well be part of the solution and not the problem. When you travel to some of the world's most remote places, you come to realise the full extent of the plastic problem. And I hope you become more inspired to continue being a responsible traveller.
Plus, now you won't be buying overpriced bottles of water from the supermarkets either! Travel with a filtered water bottle instead and never waste a cent nor a turtle's life again.
Diving in Nusa Penida
Nusa Penida is famous for more than just its scenic beauty. It's also renowned for being one of the best places in the world to see underwater mega fauna, like manta rays and the elusive mola mola fish.
Due to the local ocean currents, Nusa Penida is like a buffet for marine animals. During peak feeding season, the waters are absolutely swarming with wildlife and there are times where you are almost guaranteed to see something epic.
In fact, Nusa Penida has one of the highest success ratings of spotting manta in the world. If you haven't been interested in swimming with these gentle giants up till this point, let me tell you that you haven't lived yet.
Diving in Nusa Penida is often organized on Bali or Nusa Lembongan though there are no shortage of outfitters on the island itself. Prices can fluctuate depending on the services provided and I recommend in this case going with the expensive choice. There have been a number of diving accidents around Penida so make sure the one you choose is up to par.
The best dive sites on Nusa Penida are:
Manta Bay – lots of manta rays, obviously.
Crystal Bay – well-known for being a good place to spot the elusive mola mola. Also, a great spot to go snorkeling on Nusa Penida.
Gamat Bay – a neighbor of Crystal Bay. Equally amazing dive site on Penida.
Start looking for dive trips to Nusa Penida now if you'd like. You may find a better deal when you get there but, then again, it may not be worth the extra stress.
Secret Beaches of Nusa Penida
Nusa Penida's beaches are fantastic; even the crowded, touristy ones are worth the line up. That being said, there are still plenty of hidden beaches on this island and many of them are completely devoid of anything.
If you have the desire to see some Nusa Penida's secret spots, then start with some of these:
Contrary to its overwhelming reputation of being raw and remote, there are still plenty of places to eat on Nusa Penida. Admittedly, they can be far and few in-between, not to mention basic at times, but they are still surprisingly good.
The vast majority of restaurants and nightlife on Nusa Penida are the northern part of the island where infrastructure is greatest. Here, you will find many little cafes and beach-side warungs and the overall vibe is very similar to Nusa Lembongan. I will admit that I didn't spend a whole lot of time on this part of the island but I still wouldn't hesitate to eat there.
Most of Nusa Penida is sparsely populated though, which means that restaurants can sometimes be hard to find. There are a couple of roadside stops here and there but most of the warungs will be found either near Nusa Penida's main attractions or in hotels.
In the more remote parts of Nusa Penida, restaurants are usually pretty basic and typically serve typical warung food. Gado gado, mie goreng, satay ayam, all of the other usual local food staples of traveling in Indonesia are on offer; sometimes that's all you'll get as well.
If you can find fresh seafood, by God, order it then and there. Not only is it a welcome change from the usual fair, but it's often very delicious. You can expect higher but fair prices but nothing like the ripoffs you might encounter back in Bali. (I'm looking at you, shitty nameless warung back on Thomas Beach…)
ATMs on Nusa Penida
Whilst there are several ATMs on Nusa Penida's northern shore, I'd still advise bringing your own cash with you. The ATMs frequently break and run out of cash and the banks seem less than enthusiastic about getting them refilled. If you run out of money on the island, it would put a big hitch in your plans. (Remember: you need to pay cash to see Nusa Penida's biggest attractions.)
I always suggest you bring an emergency stash of money with you when you travel. US dollars, pounds, and euros are always useful to have as there's always a money changer nearby.
Nusa Penida Day Trip or Overnight Stay?
90% of people visit Nusa Penida on a day trip from Bali. For them, Nusa Penida is just too far out of the way, too limited in its lodging/culinary scene, and too hard to get around. They think that the likes of Kelingking Beach, Diamond Beach, and Broken Beach are worth cramming into a single day and they are entitled to that opinion.
But there is no doubt in my mind when I say that settling for a day trip to Nusa Penida would be huge injustice. The 8 or so hours that you would have on the island are not nearly enough time to really appreciate it. Hell, you'll probably be spending most of your time in the car (and we all know how fun the roads are here…)
What's more, the island is much, much better in the early-morning and late evening as well. Once the day trippers finish their island tour of Nusa Penida, the place becomes much, much quieter and you'll actually have room to breath. Mark my words, there are few things more radiant than the sunset at Kelinking Beach, especially when you're one of a dozen people watching it.
Is is still worth going if you can only make a day trip to Nusa Penida? Yes. Spending any amount of time on this island is a blessing.
But is it still better to tour Nusa Penida over the course of several days? Unequivocally, yes. Fuck. Yes.
If you're still on the fence about how to tour Nusa Penida, then refer below for some pros and cons:
Nusa Penida Day Trip
Quick, efficient, and enough time to visit the top points of interest on Nusa Penida.
You'll still get to sleep in that amazing villa in Bali.
Operators do all the heavy lifting and driving for you.
Nusa Penida's hotels, or lack thereof, may be a turnoff for some.
Staying in Nusa Penida for Several Days
You'll have plenty of time to see all of the best places on Nusa Penida.
The island is much more magical in the morning and evening.
You'll get to hang with the locals, which are among the best in Bali.
You'll have to deal with poor infrastructure and not so many things to do on Nusa Penida, outside of nature.
Nusa Lembongan or Nusa Penida?
Choosing between Nusa Penida or Nusa Lembongan comes down to one simple distinction: do you want comfort and amenities or do you want rugged, wild nature?
Nusa Penida is a raw destination; we've already concluded as much from this travel guide. Nusa Penida is not what I'd call a kush place, nor a sexy one. There are few if any beach clubs, 5-star hotels, or restaurants on Penida. For some people, these luxuries are why they travel to Bali in the first place .
For those who want to get away from mainland Bali but don't want to go off-grid, visiting Nusa Lembongan is the better choice. It still has a lot of what makes Bali famous – like the beach bars, the organic cafes, yoga studios, etc – and a sprinkling of nature as well. The surfing on Lembongan is far more accessible than Penida as well.
Better yet, Lembongan is still very close Penida and the latter could easily be visited on a day trip from the former. A lot of people do make Lembo their base for tours to Nusa Penida and if they wanted to do several, that's easy enough.
But if you want unfiltered, untouched, and epic scenery, the likes of which can be no where else in Bali or Southeast Asia, Penida is the clear winner. The landscape of this island is just unrivaled and I can honestly say that I have visited a few places like it. If you can it handle yourself and don't mind roughing it a bit, then you'll love Penida with all your heart and soul.
How to be a Respectful Backpacker in Nusa Penida
The Balinese have to deal with a lot of shit from horrible people: half-naked photo shoots in front of temples, shit-faced groups wandering into the rice paddies. This kind of behavior reflects poorly on travelers and isn't anywhere near the best way to experience Bali.
Get Insured Before Traveling to Nusa Penida
The first thing that most Balinese people say to is "hello;" the last thing that they say is usually "be careful."
Bali is a safe destination, but accidents do happen all the time. Whether it's a scooter accident, complications from diving, or a case of Bali belly, there are lots of ways that your trip can be derailed.
Traveling without insurance would be risky so do consider getting good backpacker insurance sorted before you head off on an adventure.
I have been using World Nomads for some time now and made a few claims over the years. They're easy to use, professional and relatively affordable. They may also let you buy or extend a policy once you've started your trip and are already abroad which is super handy.
If there's one insurance company I trust, it's World Nomads.
World Nomads' mission is to support and encourage travellers to explore their boundaries. They offer simple & flexible travel insurance, and safety advice to help you travel confidently.
They've been doing it since 2002 – protecting, connecting, and inspiring independent travellers just like you.
Get a quote below or read our in-depth review!
World Nomads provides travel insurance for travelers in over 100 countries. As an affiliate, we receive a fee when you get a quote from World Nomads using this link. We do not represent World Nomads. This is information only and not a recommendation to buy travel insurance.
Before I sign off here, I would like to remind everyone visiting Bali to be very careful when it comes to drinking. There is a lot of bootleg alcohol on the island – mixed sometimes with dangerous amounts of methanol – and you DO NOT want to drink the wrong batch.
Buy liquor from trusted vendors and don't accept drinks from random dudes. Go to legit bars in Bali and not to roadside shacks. Sticking to bottled Bintang beer is a sure way to avoid this shit as well.
---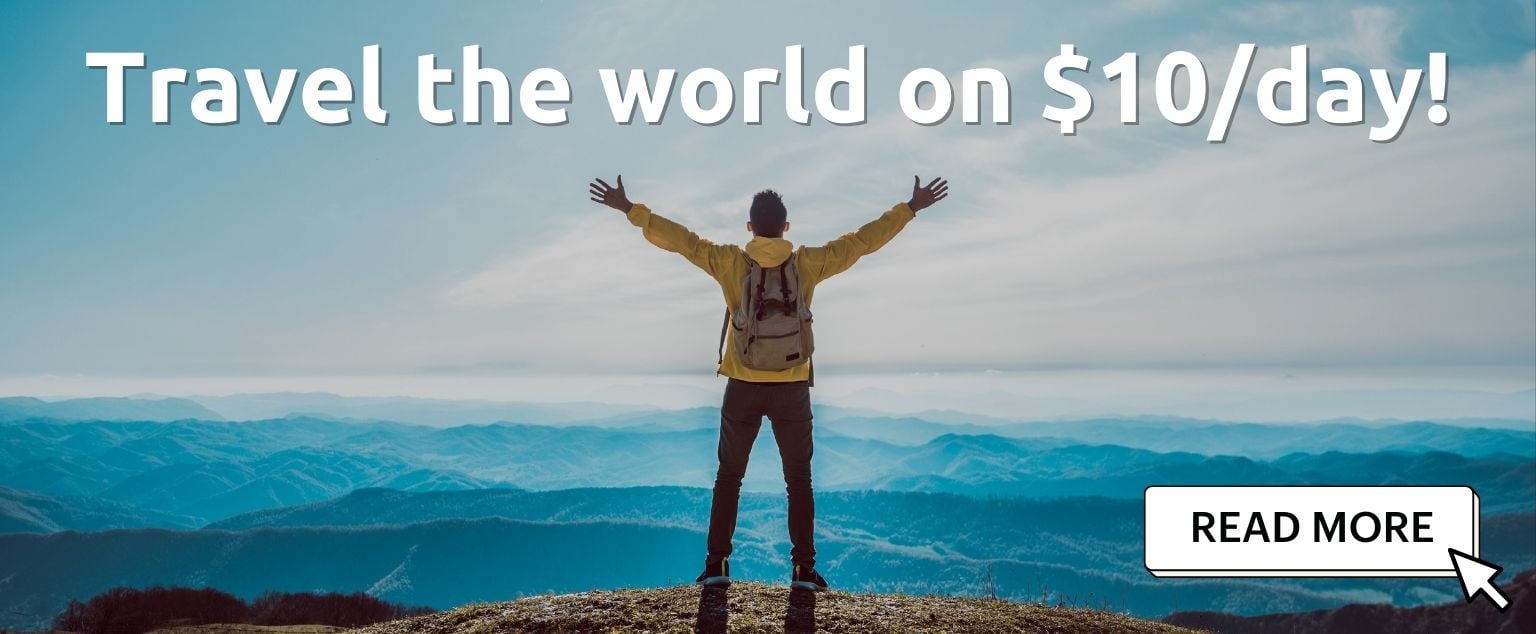 And for transparency's sake, please know that some of the links in our content are affiliate links. That means that if you book your accommodation, buy your gear, or sort your insurance through our link, we earn a small commission (at no extra cost to you). That said, we only link to the gear we trust and never recommend services we don't believe are up to scratch. Again, thank you!