Looking for a real stunner of a destination? Then you should definitely be checking out the Nusa Islands. Just off the Balinese mainland, these islands offer a supremely laid-back alternative to the bustle of Bali and its upscale resorts.
The less developed islands, the main ones being Nusa Lembongan and Nusa Penida, are a chance to truly unwind and chill on a real paradise beach getaway.
But being less developed, are the hostels here… um… nice? Are they all dingy beach shacks or are there decent places for backpackers to stay on these islands?
Don't worry! There are loads of nice hostels here. And we've done the hard work for you and sorted through the best hostels in Nusa Lembongan and Nusa Penida to help you find the hostel that's right for you.
So peep our handy list below!
Quick answer: The Best Hostels in Nusa Lembongan & Nusa Penida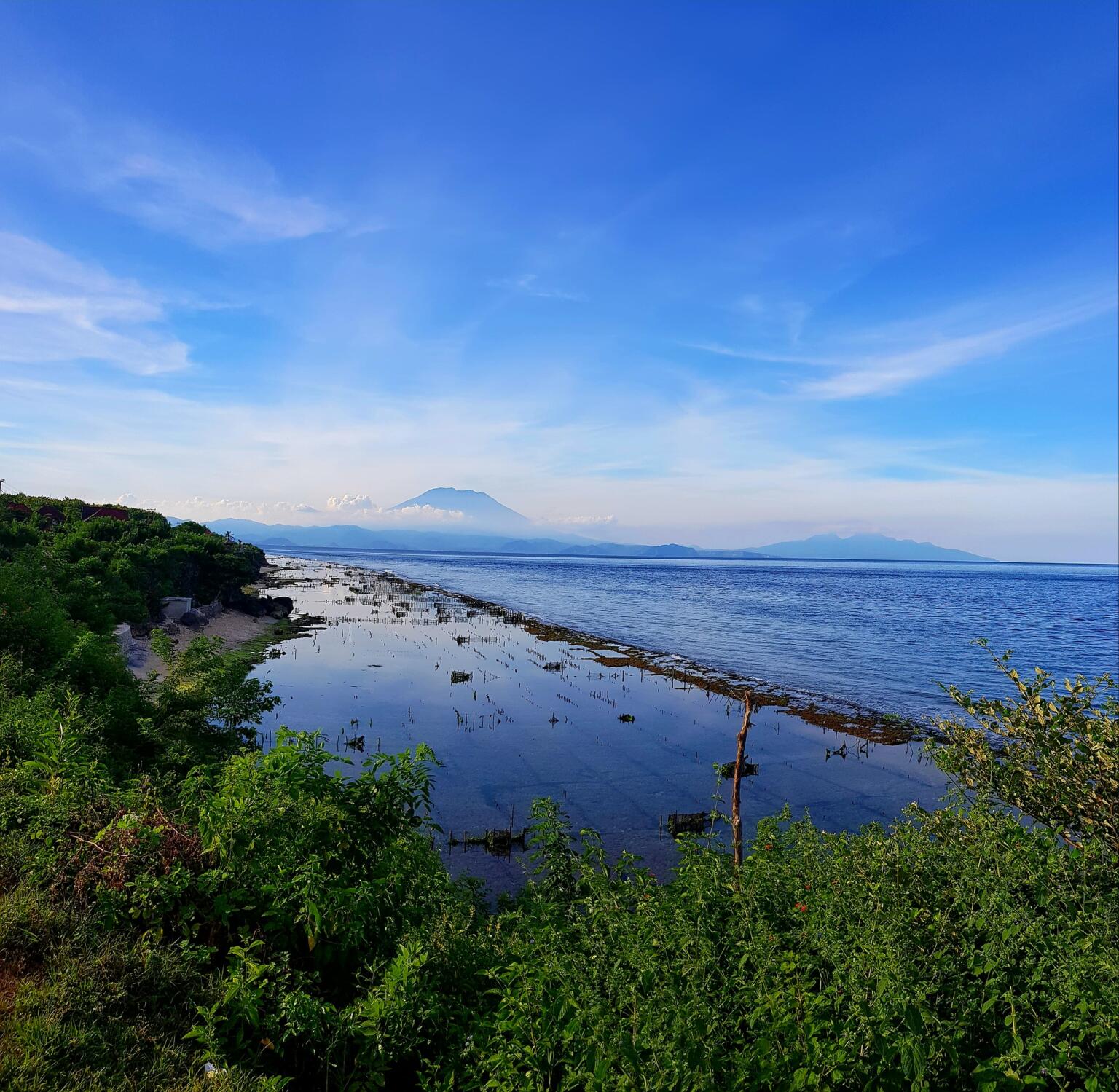 Best Hostels in Nusa Lembongan & Nusa Penida
Do You Want to Travel FOREVER??
Then pop your email address in below and we'll send you a FREE copy of 'How to Travel the World on $10 a Day!' – make travel your LIFE.
Best Overall Hostel in Nusa Lembongan & Nusa Penida – Lembongan Hostel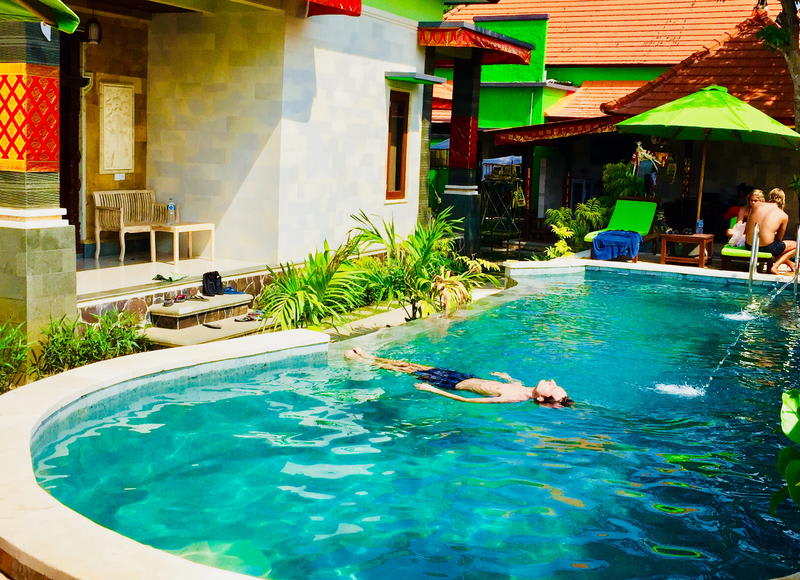 $$
Free Breakfast
Swimming Pool
Security Lockers
If you're looking for the best overall hostel in Nusa Lembongan, well, here's the one. Set literally just moments away from Dream Beach, plus a lil' stroll to Mushroom Beach (and Sandy Bay Beach) – all the beaches basically – this top hostel in Nusa Lembongan is one for beach lovers.
This sure is one beautiful Balinese hostel. It's that classic design that just makes everything feel that little bit more luxurious. Plus this place is run by a warm and welcoming family you'll make you feel right at home. Sound good to you? Then go!
Best Party Hostel in Nusa Lembongan & Nusa Penida – Suba Homestay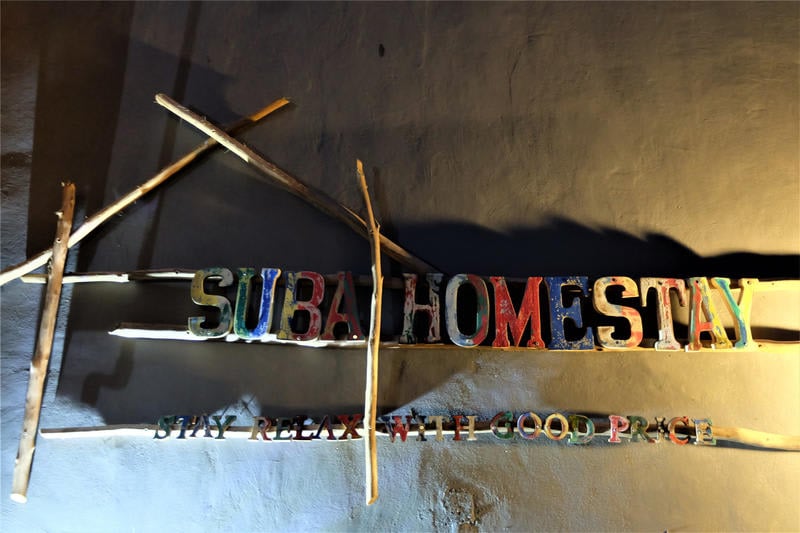 $
Air Con
Outdoor Terrace
Cafe
For fun times in Nusa Lembongan, we'd recommend heading over to Suba Homestay. Sure, there's not a load of party time fun happening at the hostel itself, but it's a 2 min walk from loadsa beaches and restaurants (and the all-important bars), so it's our choice for the best party hostel in Nusa Lembongan.
The owner at this place makes all the difference – he's super friendly and helps to make a lively atmosphere, which is what you want to get you hyped for a night of drinking and stuff when you hit the town. This top hostel in Nusa Lembongan is also easy for meeting new peeps.
Best Hostel for Solo Travellers in Nusa Lembongan & Nusa Penida – Nyuh Gading Home Stay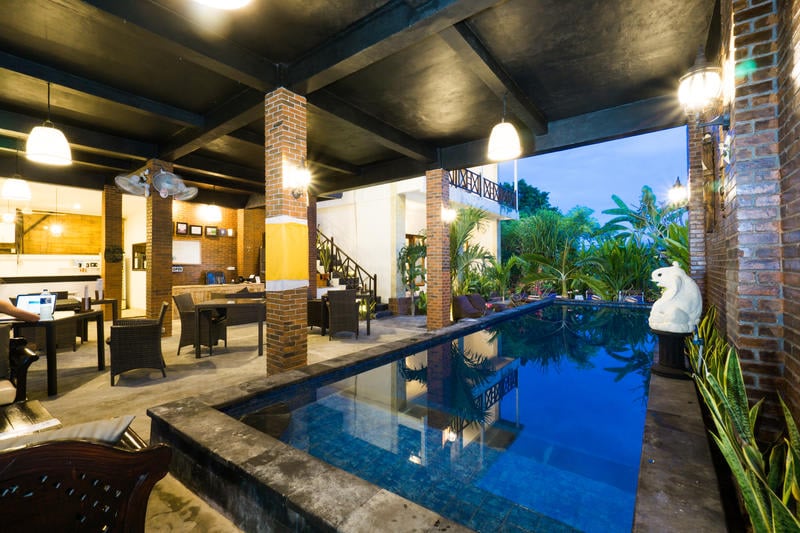 $$$
Swimming Pool
Air Con
Restaurant
Simple, chilled, and owned by a super lovely family, this Nusa Lembongan backpackers hostel has a swimming pool and basically a typically Balinese design aesthetic that makes it just… perfect to hang around in.
It's modern and stylish, too, so you might be paying a little more staying at this place, but you get more for your money we'd say. Comfy mattresses, drying racks for your clothes, tours, cheap food, and a nice environment where everybody gets to know each other really easily. So, yep, definitely the best hostel for solo travellers in Nusa Lembongan.
Best Cheap Hostel in Nusa Lembongan & Nusa Penida – Naradas Homestay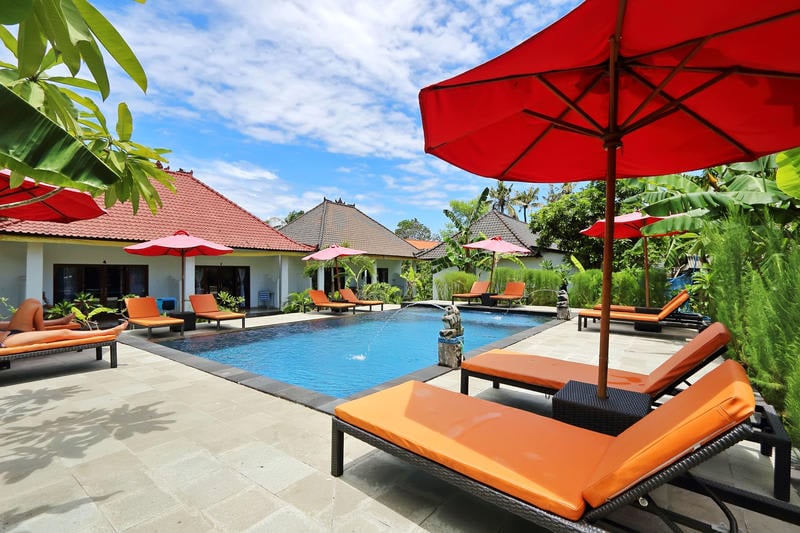 $
Free Breakfast
Swimming Pool
Restaurant
Just 2 mins from Mushroom Beach, this budget hostel in Nusa Lembongan is great value for money if being near a beach is your thing. It's also pretty beautiful: the hostel itself is surrounded by lush tropical gardens.
The onsite restaurant serves up cheap Balinese food, which combined with the room rates, easily makes this the best cheap hostel in Nusa Lembongan. But yeah… that garden really is a chill place to hang out. The free breakfast also helps backpackers on a budget for sure.
Is This the Best Backpack EVER???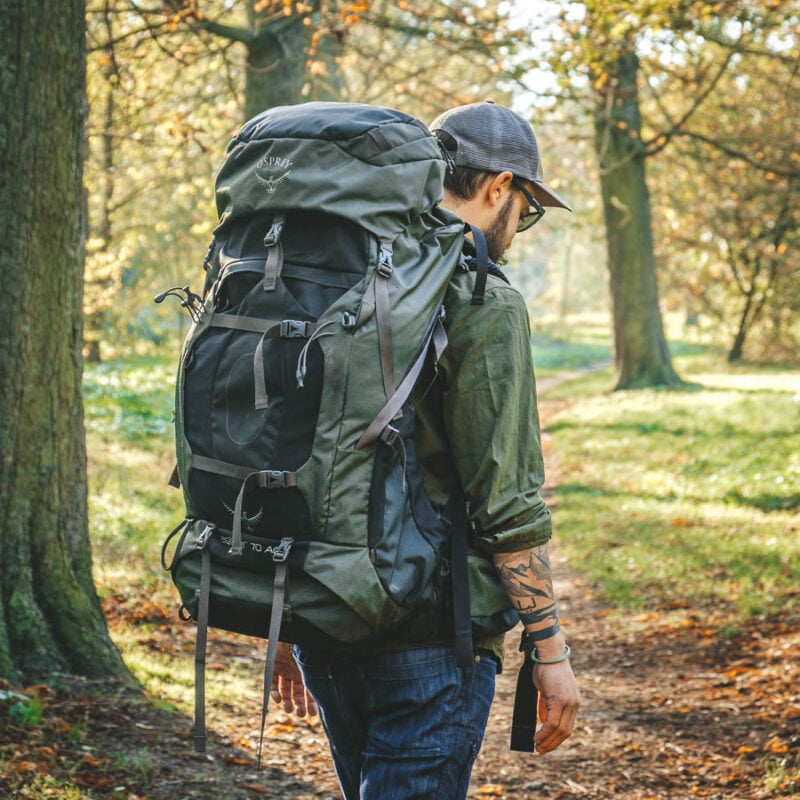 Best Hostel for Couples in Nusa Lembongan & Nusa Penida – Pange Hostel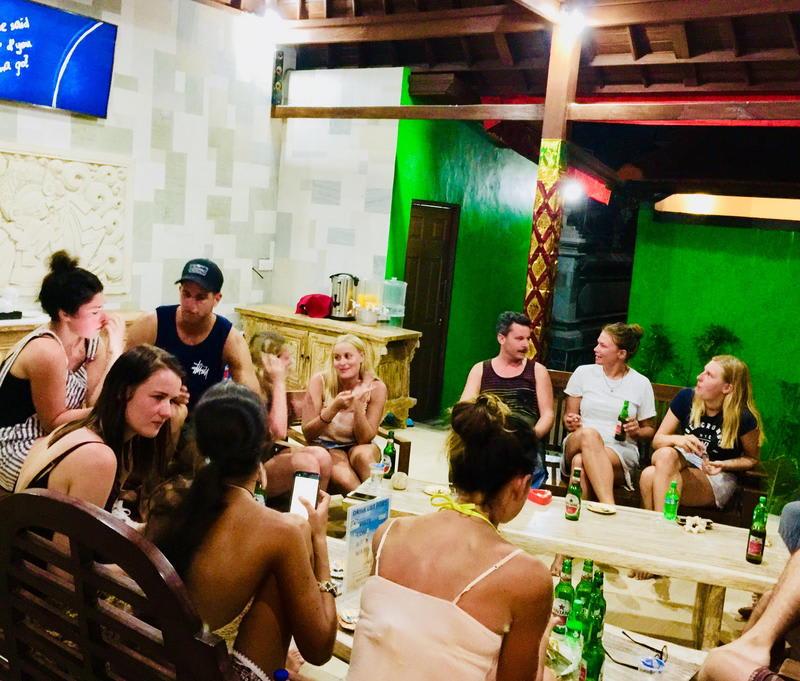 $$
Free Breakfast
Outdoor Terrace
Tours/Travel Desk
This recommended hostel in Nusa Lembongan is super well designed – in fact, we might even call it the coolest hostel in Nusa Lembongan. It's not chic exactly, but the beachy Balinese aesthetic really goes down an absolute treat at this place.
It's easy to get into the island lifestyle here… and the family who runs this place will help you get the most out of your trip. It's our pick for the best hostel for couples in Nusa Lembongan because, well, it's SUPER NICE. Seriously. Plus there are loads of restaurants and stuff nearby to go out for romantic meals or whatever it is couples do.
Best Hostel for Digital Nomads in Nusa Lembongan & Nusa Penida – Nusa Penida Hostel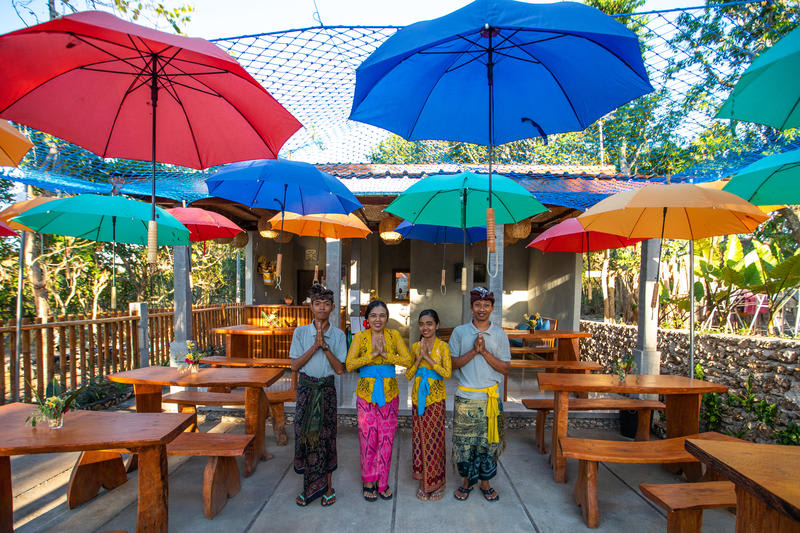 $$
Free Breakfast
Wi-Fi (Important)
Moped Hire
If you've been working hard or you just fancy a little bit of paradise while you get on with some remote working, then this is easily the best hostel for digital nomads in Nusa Penida. This small boutique hostel is where it's AT when it comes to that.
Owned by a very happy family and located in a quiet part of the village, you'll be able to get some work done easily here. But the best part about it is how the hosts want to show you what Bali was like 30 years ago, which makes a change from a lot of other backpackers places here. A (or even THE) top hostel in Nusa Penida, that's for sure.
Best Hostel with a Private Room in Nusa Lembongan & Nusa Penida – Sunset Villa & Cafe Lembongan
$$$
Free Breakfast
Swimming Pool
Restaurant
For the best hostel with a private room in Nusa Lembongan look no further than this sweet little hostel. It's seriously nice. This is like an island getaway with a bit of luxury added for good measure.
The rooms here come with four poster beds, with crisp white curtains and white linen… dreamy, huh? The views from these look out across over the pool (yep) or the lush garden. The restaurant here serves up TASTY food and it overlooks the sea. How nice is that?!
More Best Hostels In Nusa Lembongan & Nusa Penida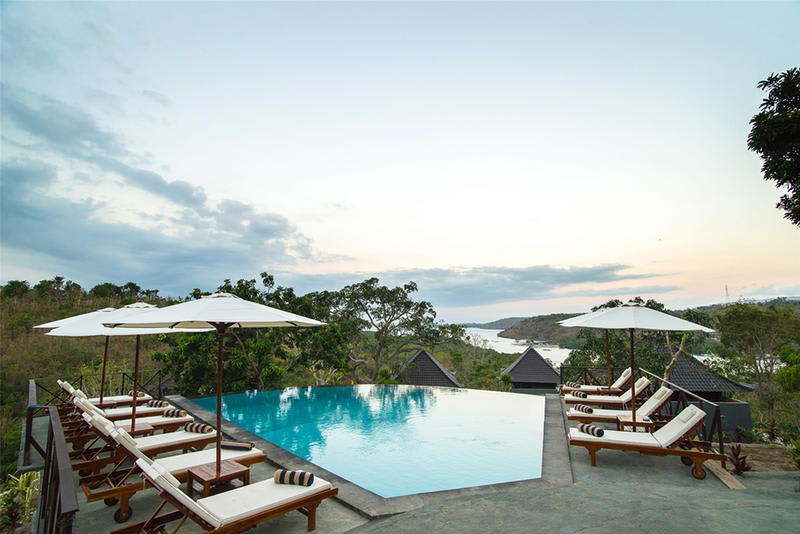 $$
Swimming Pool
Bike Hire
Free Breakfast
This top hostel in Nusa Lembongan sure is a super friendly place to stay. It's a little bit different to a dorm, in that you stay in a beach hut which is pretty cool if you ask us. Beats a dorm any day tbh!
So if you're looking for somewhere to really unwind and relax for a few days… this is it. Plus this Nusa Lembongan backpackers hostel isn't too far from a lot of lovely beaches either, so if you fancy exploring that's pretty easy to do using this hostel as a base.
$$$
Free Breakfast
Swimming Pool
Restaurant
Laguna Reef Hut features quaint thatched huts (how did you guess) that have air con and private bathrooms and nice lil' terraces where you can watch the sunset and stuff like that. Pretty luxurious for a Nusa Lembongan backpackers hostel, we reckon.
And the luxury doesn't stop there. The restaurant here overlooks the sea, which is perfect for sunset drinks and a little bit of tasty local food for dinner. Hire a car from this top hostel in Nusa Lembongan and explore for yourself or get a shuttle bus. They also offer things like diving tours, regular land tours, and even a babysitting service (if you got one of those).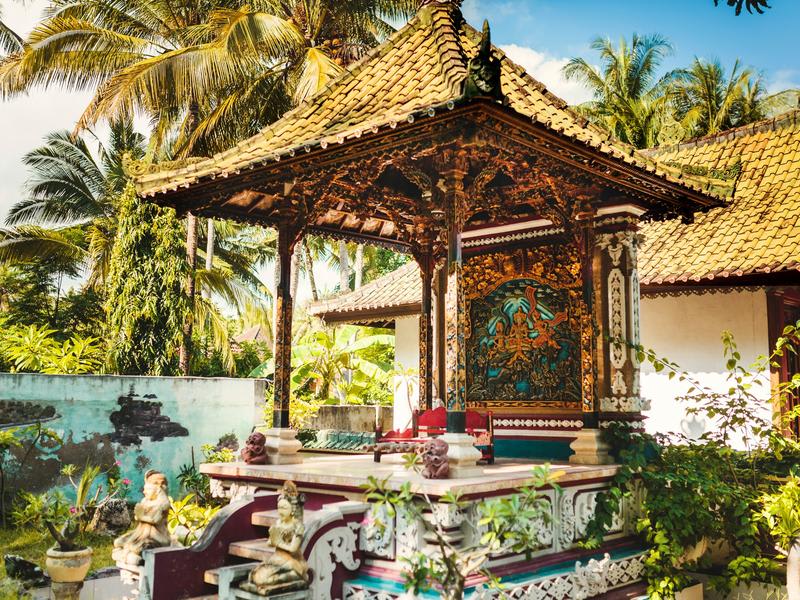 $
Restaurant
Outdoor Terrace
Bicycle Hire
This budget hostel in Nusa Penida features bungalows that are either private or have a few beds in them dorm style. There's fans in the rooms (not air con) so there's that to consider if the heat REALLY gets to you.
A lil' bit rough around the edges, and the staff aren't exactly the most well organised we've come across, this Nusa Penida backpackers hostel is great if you're just looking for somewhere to sleep after spending all day chilling the F out anyway. Don't expect too much and you'll be happy here.
Best Budget Hotels In Nusa Lembongan & Nusa Penida
If the selection of the best hostels on Nusa Lembongan & Nusa Penida just isn't doing it for you, or perhaps you want to stay somewhere a little more special with a little more privacy, here's a roundup of the best budget hotels on the paradise islands.  From boutique Balinese bungalows to guest houses with private bathrooms and beautiful outdoor pools, here are the best budget hotel in Nusa Lembongan & Nusa Penida (and they really are budget friendly too!).
$
Garden
Outdoor Terrace
Daily Maid Service
Just down the street from Mushroom Beach, and also very close to restaurants and bars, this budget hotel in Nusa Lembongan is the ideal place for anyone who wants to be close to fun things to do – and, most importantly, the beach. But also bars.
The local owners of Soka Homestay are kind and helpful and will make your stay pretty much hassle-free, which is what we like to hear. The beds here are literally so comfy and the atmosphere itself is super comfy too. It's so nice that you won't wanna leave.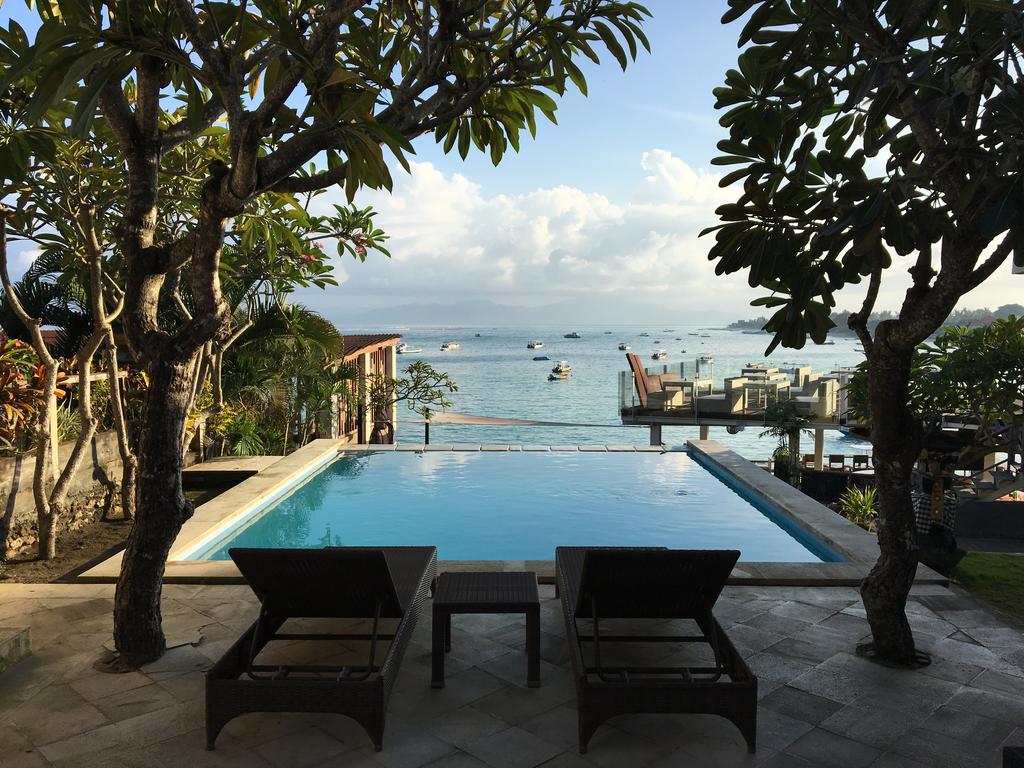 $$$
Daily Maid Service
Swimming Pool
Luggage Storage
This place calls itself a backpackers hostel in Nusa Lembongan, but it's more like a hotel. It's run by a really kind lady who'll make your stay amazing – think tips on where to go, how to get around, and serving up a mean breakfast every morning.
Location wise, this budget hotel in Nusa Lembongan overlooks the sea, which is great if you like staring at a sunset every evening. It's in a bit of a quiet area, so it might be a good idea to hire a moped from these guys to explore further afield. Swimming pool, yes please.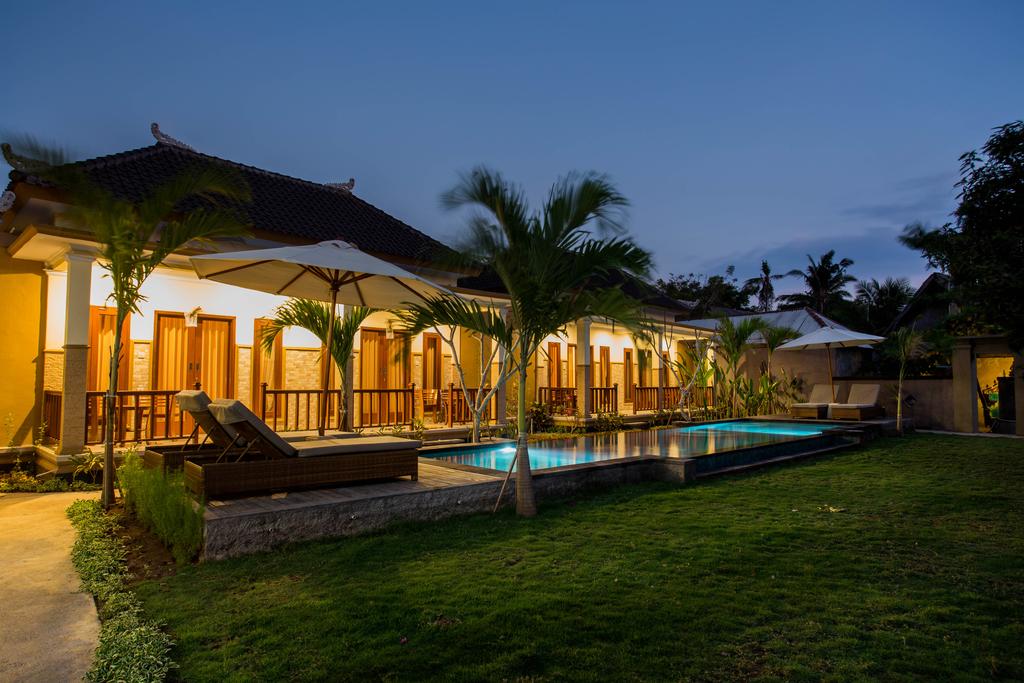 $$
Swimming Pool
Daily Maid Service
Air Con
Literally, just a 1 min walk from Mushroom Beach, the greatly named Walet's Paradise (is that because it's cheap?) is one of the best budget hotels in Nusa Lembongan. The staff here can arrive for a load of different trips and travel options to make life easy for you.
They'll also give you things like plug adaptors and help you get a decent deal on renting a scooter, too. The setting of this place is pretty romantic, with views of the sea and a pool to use – plus the rooms on offer here are cheap, clean and cosy. Definitely a solid budget option.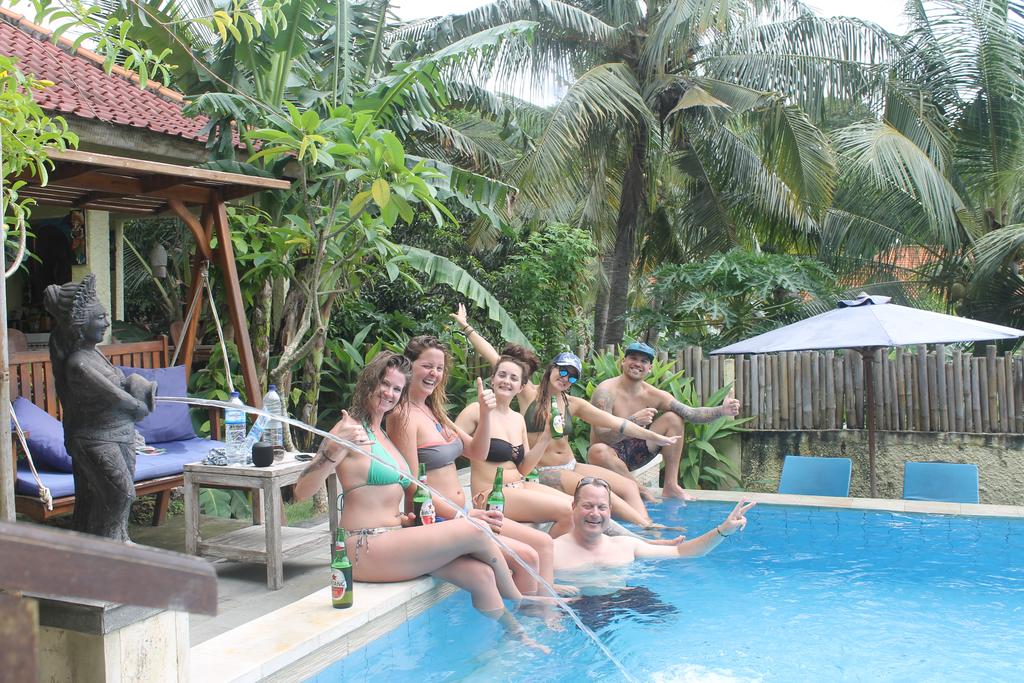 $$
Free Breakfast
Outdoor Pool
Bike Hire
Breeze Villa is run by super helpful staff who put in a lot of effort to make everything really nice here, plus it's just over 1km from the beach. There's a charming outdoor pool here surrounded by sun loungers, palm trees and lush gardens.
Sounds good right? Homemade food is on offer in the onsite restaurant, which is a great chance to try some ultra tasty local food without having to venture from the safety of the hotel, either – if that's your thing anyway.
$
Laundry Service
Car Hire
Outdoor Terrace
The name of this budget hotel in Nusa Lembongan is the coolest thing about it – makes it feel proper adventurous. Um, yeah, but apart from that this place is simple and clean and offers up a pretty nice hotel to stay in on a backpacker's budget.
The rooms here have private bathrooms and have views of the central garden, a lil' slice of tropical paradise. Everything's clean and well maintained. Plus you can get to the nearest beach in just a couple of minutes on foot. How's that for convenient?

Unlock the The Broke Backpacker's GREATEST Travel Secrets!
You pop your email here, and we promise to send you only travel content that's actually relevant — sounds like a pretty good deal to us!
What to Pack for your Nusa Lembongan and Nusa Penida Hostel
Pants, socks, underwear, soap?! Take it from us, packing for a hostel stay is not always quite as straight forward as it seems. Working out what to bring and what to leave at home is an art we have perfected over many years.
Check out our definitive Hostel Packing list for our top packing tips!
Why you should travel to Nusa Lembongan and Nusa Penida
So that was that – the best hostels in Nusa Lembongan and Nusa Penida.
And as you can see, there are plenty of super nice places to stay on both these islands, though you'll find lots more options while visiting Nusa Lembongan.
Some of them feature some of that unique Balinese design that makes 'em feel like truly luxurious getaways; others are run by some of the most friendly and helpful families you could ever meet!
And if all that is too much for you and you can't make a decision, don't you worry.
There's always Lembongan Hostel. It's our top choice for the overall best hostel in Nusa Lembongan and Nusa Penida area.
Get ready to have your beach chill levels raised to over 9,000 on these incredible islands!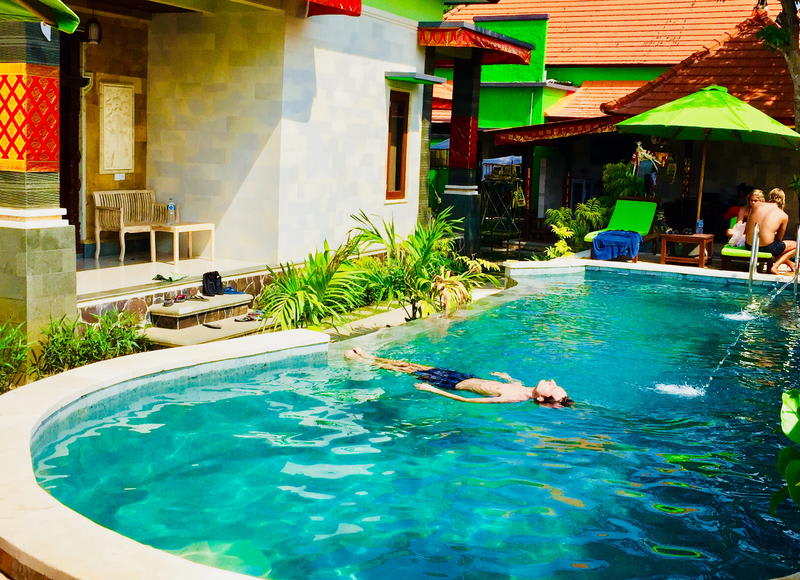 FAQ about Hostels in Nusa Lembongan and Nusa Penida
Here are some questions backpackers ask about hostels in Nusa Lembongan and Nusa Penida.
Travel Safety Tips for Nusa Lembongan and Nusa Penida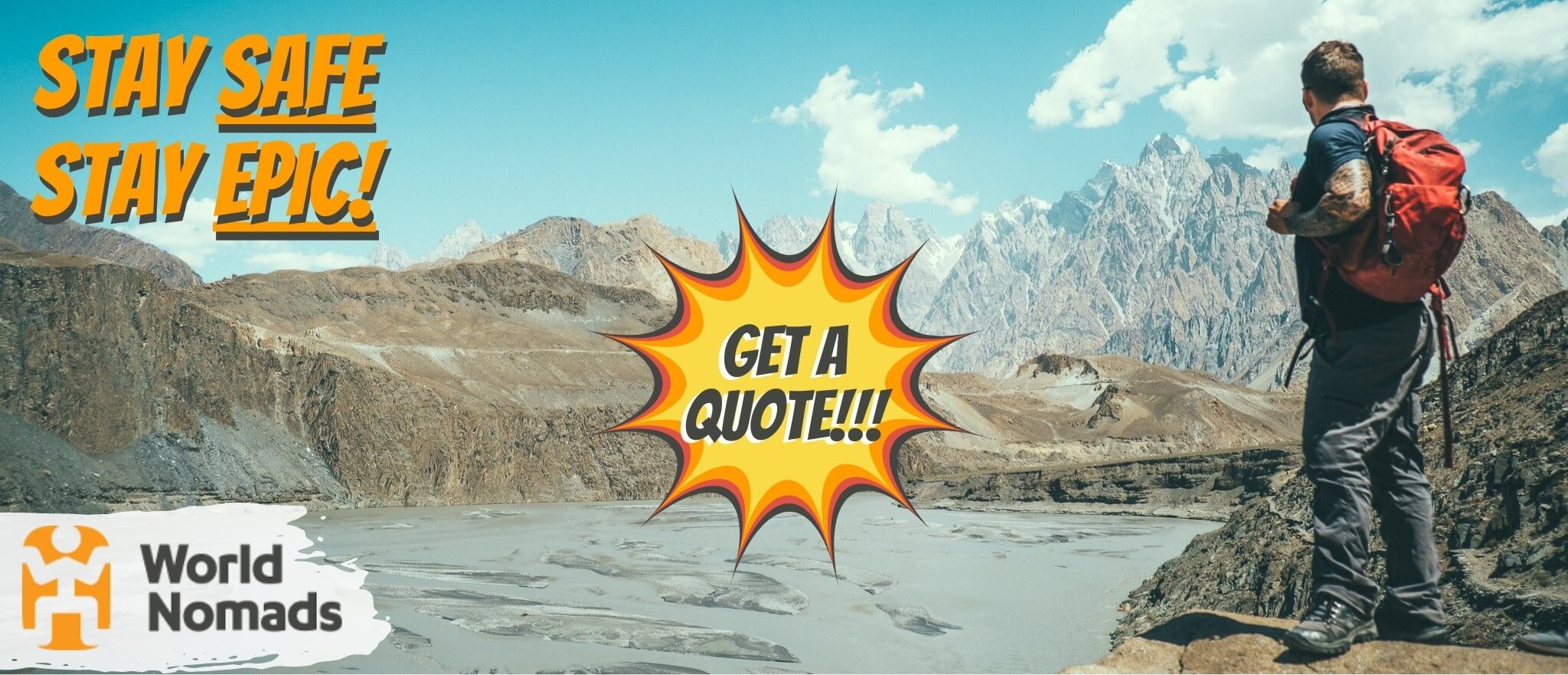 It's good to get lost sometimes, but it's also good not to get too lost. There are people that want you home in one piece.
There's one travel insurance provider The Broke Backpacker trusts for all his wildest shenanigans… World Nomads!
Click the button below to get a quote on your insurance or read our in-depth review of World Nomads' coverage. And then… let the shenanigans begin. 😉
More Epic Hostels in Indonesia and Southeast Asia
Hopefully by now you've found the perfect hostel for your upcoming trip to Nusa Lembongan and Nusa Penida.
Planning an epic trip all across Indonesia or even Southeast Asia itself?
Don't worry – we've got you covered!
For more cool hostel guides around Southeast Asia, check out:
Over to you
By now I hope our epic guide to the best hostels in Nusa Lembongan and Nusa Penida has helped you choose the perfect hostel for your adventure!
If you think we've missed anything or have any further thoughts, hit us up in the comments!
---
Thanks for reading – that was fun! 😀
We bring you epic FREE content!
Find out how YOU can help support us.
We're a big site with a big team and this job isn't always easy. But we do it because we love it – we love providing epic and free content. We love the knowledge that our content keeps you adventuring. We don't ask for money, but if you'd like to find out how you can help the site in more organic ways, click the button below.
Thank you for your support 🙂
---
Bye for now, but not forever!
If you want MORE top-tier Broke Backpacker content like this, then sign up for our weekly newsletter below to get the latest and greatest!
And for transparency's sake, please know that some of the links in our content are affiliate links. That means that if you book your accommodation, buy your gear, or sort your insurance through our link, we earn a small commission (at no extra cost to you). That said, we only link to the gear we trust and never recommend services we don't believe are up to scratch. Again, thank you!