Sitting at the top of bucket-lists around the world, Bali is one of the most famous holiday destinations for its paradise status, incredible accommodations and earth-shatteringly good food. From its turquoise ocean and white and black sand beaches, to the bright lush greens of the rolling rice paddies, Bali has a diverse landscape that's waiting to be explored.
For the budget-backpackers and luxury-travellers alike, the island is packed with beautiful Airbnb accommodations that will have you contemplating extending your stay.
Promising a tropical adventure you will never forget, we have picked out all the best Airbnbs in Bali for a magical stay.
Quick Answer: These are the Top 5 Airbnbs in Bali
Overall Best Value Airbnb in Bali
Overall Best Value Airbnb in Bali
Cozy Bungalow
> $$$
> Stunning Design
> Shared swimming pool
> Loft Style
Best Budget Airbnb in Bali
Best Budget Airbnb in Bali
Mano House in Ubud
> $
> 2 Guests
> 10-minute walk from the centre of Ubud 2 Guests
> Comfortable private bedroom
Best Airbnb for Couples in Bali
Best Airbnb for Couples in Bali
Happy Together in Seminyak
> $
> 2 Guests
> Ideally located in the centre of Seminyak
> Fun and vibrant design
Best Airbnb for Families in Bali
Best Airbnb for Families in Bali
Villa Kinara in Seminyak
> $$$
> 12 Guests
> Billiard table
> Central Seminyak location
Over-the-Top Luxury Airbnb in Bali
Over-the-Top Luxury Airbnb in Bali
Villa Longhouse in Jimbaran
> $$$$
> 16 Guests
> Private home theatre, gym and spa
> Beautiful hilltop location overlooking expansive views
What to Expect from Airbnbs in Bali 
Whether you are looking for an authentic Bali bungalow or want a glamorous luxury villa, Airbnb Bali has something for everyone. Starting from as little as USD$15 a night, you can find a quaint and cosy bedroom or private villa right in the heart of one of Bali's bustling towns with easy access to restaurants, shops and tourist sights. 
Depending on your budget and style preference, Airbnbs are some of the most well-priced and lovingly cared for accommodations on the island!
Looking out over expansive lush rice paddy views or on the cliffside with views of the ocean, there is every different type of accommodation to suit every different budget. 
Here are some of our favourite types of Airbnbs in Bali.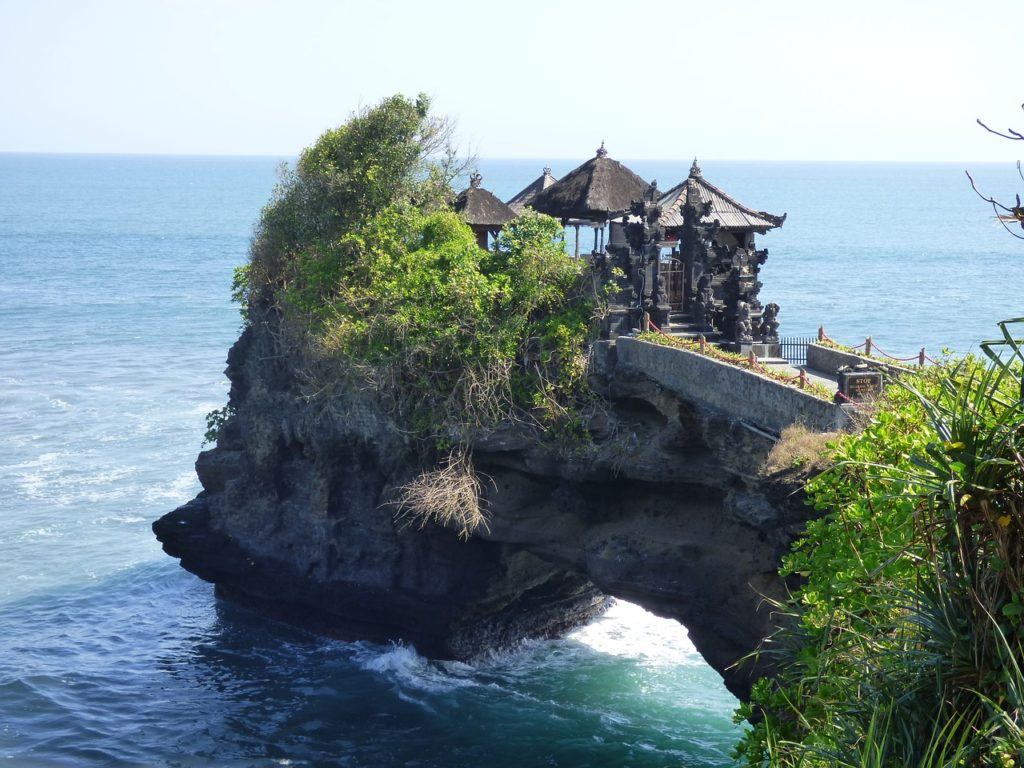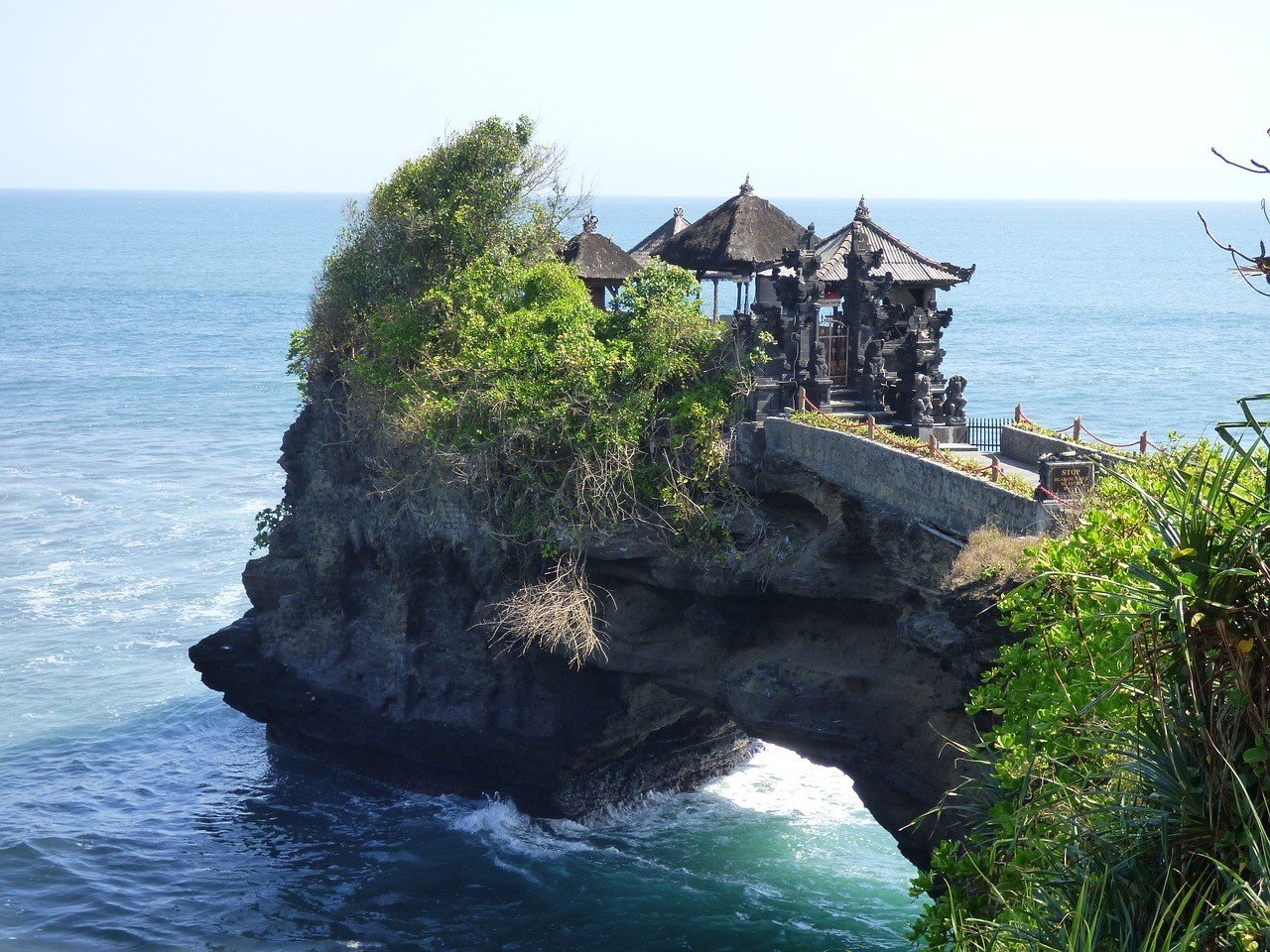 Private Villas in the Jungle
Many people travel to Bali to disconnect from the real world and find their own centre, or the meaning of life – where better to do it than away from hectic crowds in the jungle.
Escape the honks of bikes and yelling market-sellers to find your own piece of paradise among the towering trees and tropical greenery of Bali's jungle. These Bali Airbnbs are the most sought-after by love-struck honeymooners who are looking to spend quality one-on-one time with their new partner. 
From chic and bright modern villas, to more traditional wooden bungalows, there are many types of private villas in Bali that boast the incredible scenic views and private pools. 
Step back from the hustle of your day-to-day life and spend time in nature surrounded by clicking crickets and singing birds. 
Traditional Balinese Wooden Joglos
If you are looking for a touch of traditional Balinese style with a luxurious edge – or perhaps a minimalist vibe – the island is packed with these Joglo-style accommodations that will leave you in awe. 
Perched on the edge of rolling rice paddies, in the heart of Canggu or along the beachside of Sanur, Joglo villas are far from your typical Airbnb. Usually featuring recycled or restored wood, simple antique furnishings and towering ceilings, you can enjoy Balinese style in a comfortable and lavish way. 
Ranging from shabby chic to ultra-decadent and extravagant, Joglos in Bali are some of the most unique and interesting places to stay. 
A Private Room in a Guest House
With the rise of Airbnb providing access to stunning luxury villas at an affordable price, the old-faithful and simple guesthouse has been left behind – but we don't believe they should be forgotten! 
Perfect for those traveling on a budget who want a homey space to call their own, a private room in a guesthouse is the perfect middle ground between a hostel and a hotel. You have your own private room and bathroom, but will share a kitchen, tropical garden and common lounge areas with the other guests. 
Dotted around the island, guesthouses are great for solo-travellers who want to make some travel-buddies and keep an eye on their money. 
Often equipped with a shared pool and lush gardens, you can enjoy spending days lazing around the guesthouse just as much as you enjoy exploring the landscapes of Bali. 
Why Stay in an Airbnb 
There are so many reasons why choosing to stay in an Airbnb in Bali can add something special to your trip. Here are some of ours:
Privacy: By booking a private room in a guesthouse or completely private villa on Airbnb, you get the added luxury of having your own peaceful space to relax and unwind. Apart from some friendly housekeepers, you will be left alone to your own devices. Escape into your own paradise haven without any interruptions or bothersome bunk mates.
Affordable: Compared to the staggering prices of Bali's most renowned hotels, an Airbnb in Bali offers the same amount of luxury and services for a fraction of the price. Save some bucks on accommodation for epic experiences on the island.
Beautiful hidden gems: A quick search of your preferences on Airbnb Bali will pull up hundreds of beautiful accommodation options that you may never have considered before! Joglos, lofts, guesthouses – the options are endless.
Local experience: With the help of the local, or experienced expat, accommodation owners, booking an Airbnb gives you the chance to immerse into the culture of the island. Ask for advice and recommendations from someone in-the-know to see the real hidden gems that Bali has to offer.
Safety: Airbnbs in Bali are super safe, perfect for solo travellers or female-travellers. Money is transferred from you to the owner through the website, so you don't need to carry cash to be handed over. If you have any problems throughout your stay, just reach out to the customer service team and they will do anything and everything they can to make sure you are happy or set-up an alternative accommodation. 
Keen to make some friends instead? Stay in Bali's coolest hostel…
Come visit Tribal Bali – Bali's first specially designed, custom-built hostel… 
Bali's most special backpacker hostel is finally open…. Tribal Bali is a custom-designed, purpose-built hostel – a place to work, rest, play and stay. A place to find your tribe and hands down the best place in Bali to hustle hard and make new friends…
Best Airbnbs in Bali 
And, here you have it! Our selection of the best Airbnbs in Bali for your getaway – no matter your budget. 
Modern and Chic Bungalow | Cozy Bungalow in Canggu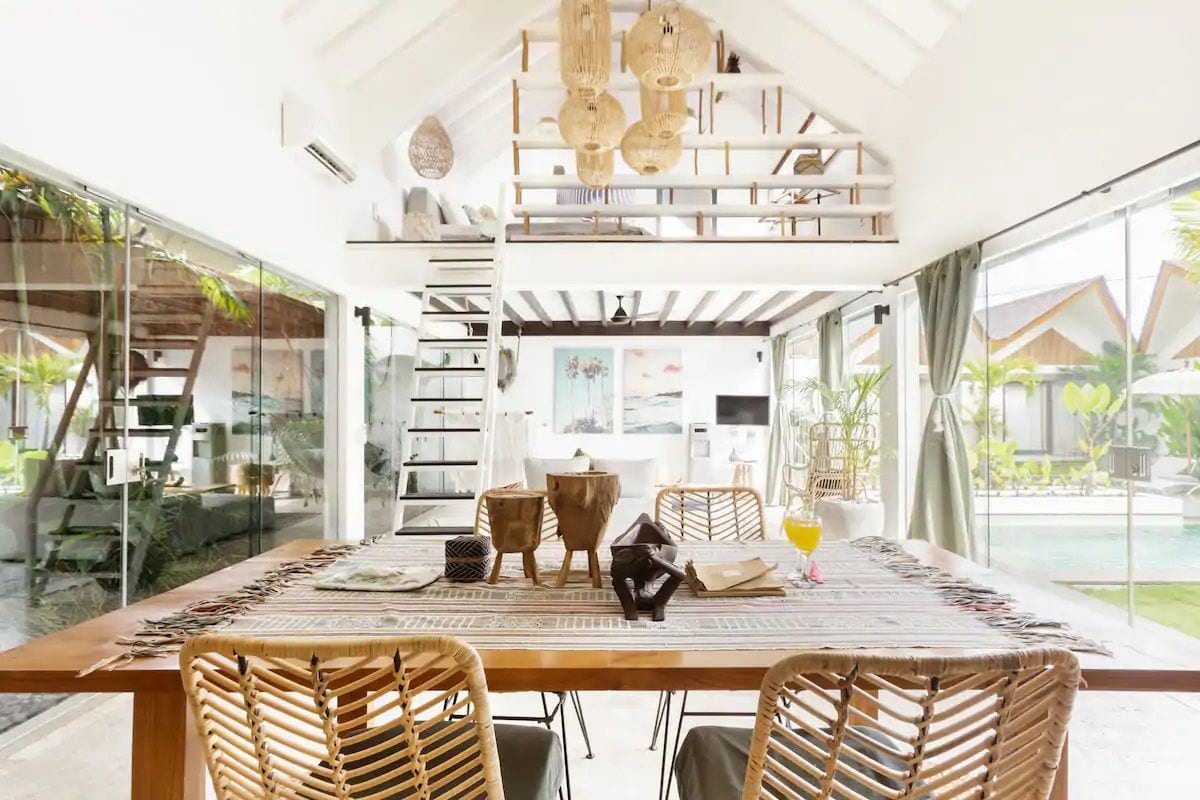 3 Guests
Bright and modern bungalow design
Cozy Bungalow is a perfect island home-away-from-home with comfortable furnishings and a huge shared swimming pool. Adding an extra touch of safety to the Airbnb, the detached bungalow is located within a shared complex. You have neighbours to look out for you, but still a large private space. 
The open-plan space is filled with natural light from the encompassing large windows and the sweet mezzanine 'second floor' holds the bedroom. You are still able to separate living and sleeping, despite the smaller size. This unique loft style villa is incredibly convenient and beautiful.
Ideal for a remote worker, Cozy Bungalow has everything you need for a long stay in Canggu. 
Affordable and Chill Airbnb | De Gus Guesthouse in Ubud 
2 Guests
Private en-suite bathroom
Perfect for a traveller on a budget who wants a cosy island home, De Gus Guesthouse is a cheap and cheerful guesthouse where you will have your own private bedroom, en-suite bathroom and kitchen as well as a shared swimming pool and garden. 
You can mingle as much or as little as you want with the 3 other bedrooms within the guesthouse. Spend lazy days soaking up the sun around the pool, and head for a beer with your neighbours in a nearby restaurant. 
De Gus Guesthouse is perfectly located in the peaceful village of Sayan, away from the hectic crowds of central Ubud, yet close enough to have easy access to all the amenities. 
Is This the Best Travel Pack EVER???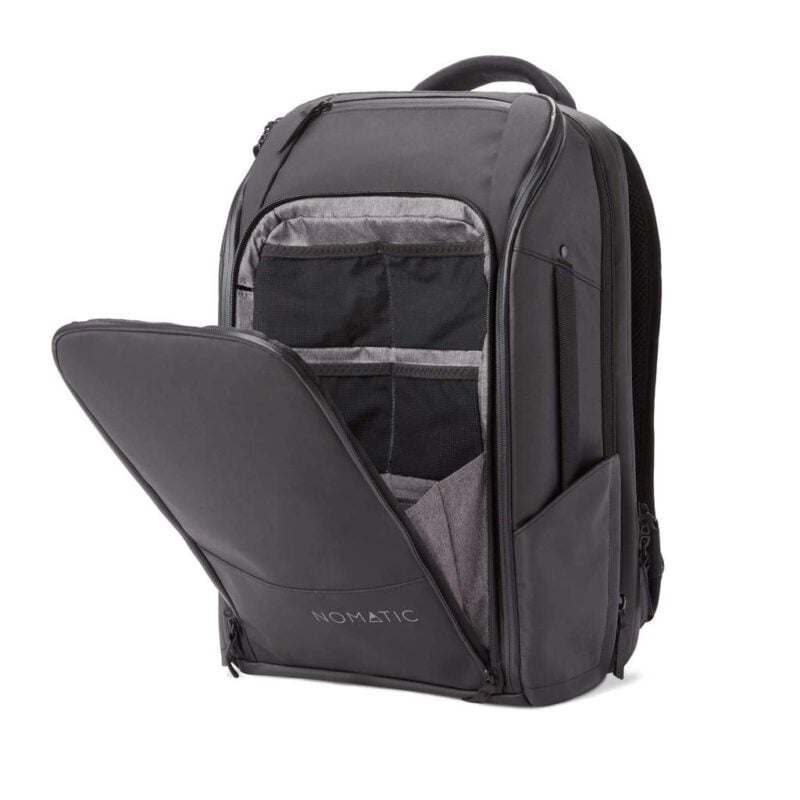 Stunning Rice Paddy Oasis | Villa Luna in Ubud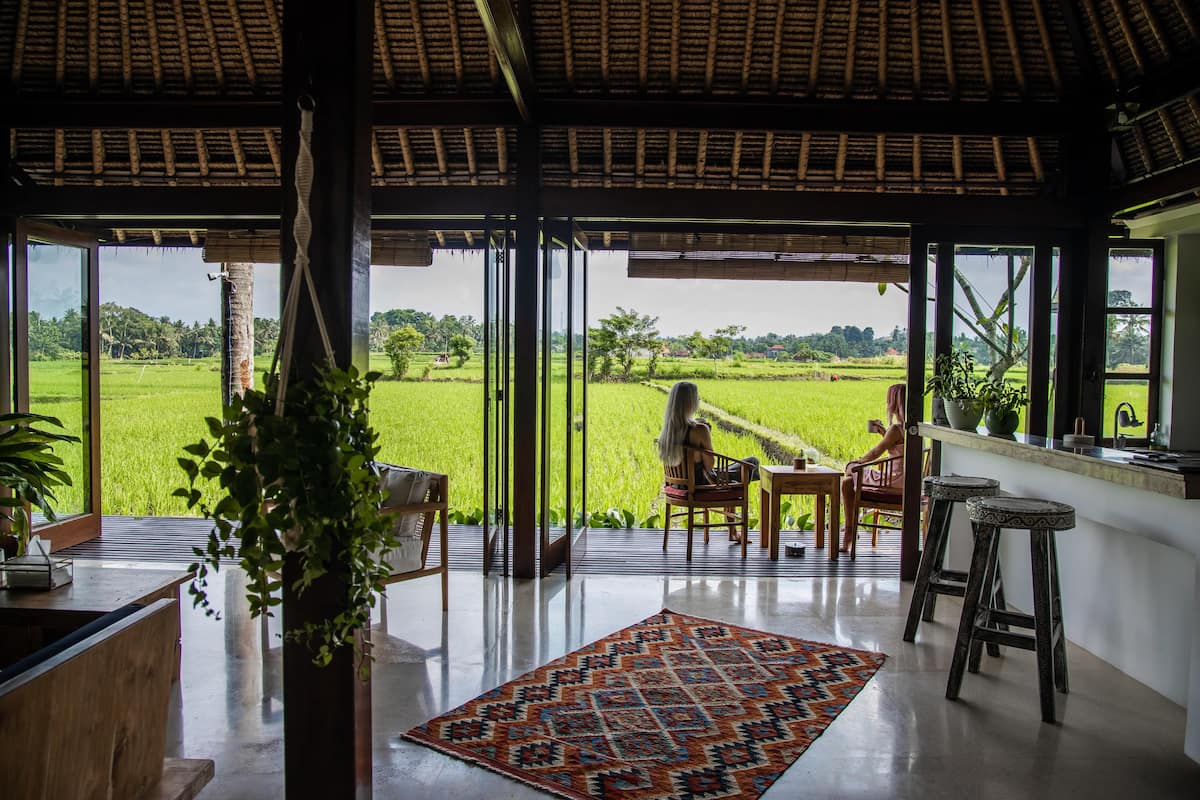 $$
Unrestricted Rice Paddy Views
4 Guests
Peaceful but central location
Forget your worries and retreat with your loved ones to this idyllic exquisite villa on the outskirts of central Ubud. It exudes beauty and tranquillity on top of the picturesque panoramic views of the surrounding rice paddies right from balcony.
Ideal for a quiet weekend away, or romantic escape, you can spend your days lounging in the spacious breezy living areas, overlooking the endless lush rice paddies and dipping into the shared swimming pool. For your own piece of paradise, Villa Luna is the perfect setting.
Traditional Javanese Beachfront Heaven | Beach Cabin in Canggu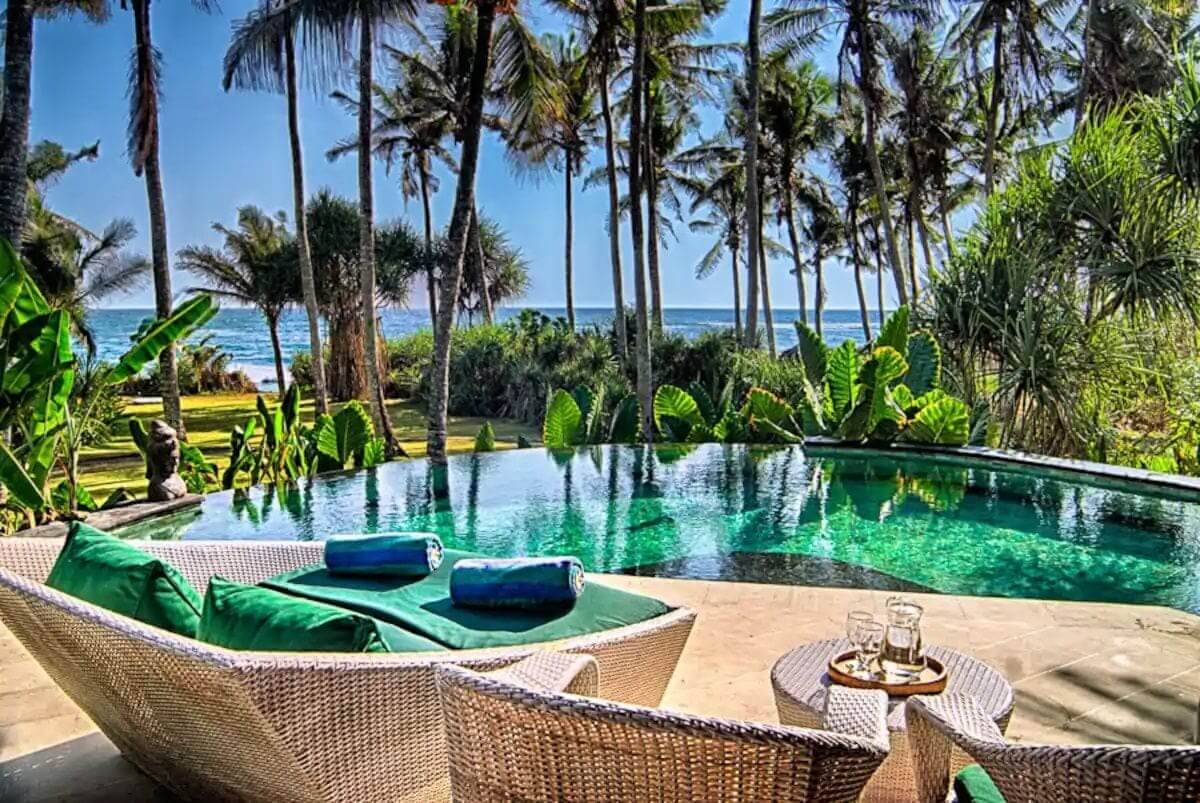 $$
Access to an on-site beach club
4 Guests
Tropical ocean views
Overlooking sprawling lawns and towering palm trees with hints of the ocean crashing in between, Beach Cabin is a peaceful and serene spot to spend a Canggu getaway. 
Made up of a traditional Javanese Gladek house, there are a lot of restored wooden furnishings, antiques and touches of Javanese style throughout the cabin – even the bathrooms have wooden fixtures. 
If you want a place where you can escape and spend time close to the ocean, this Airbnb is a great option! 
Minimalist Paradise Beachside Bungalow | Kubu Bingin in Uluwatu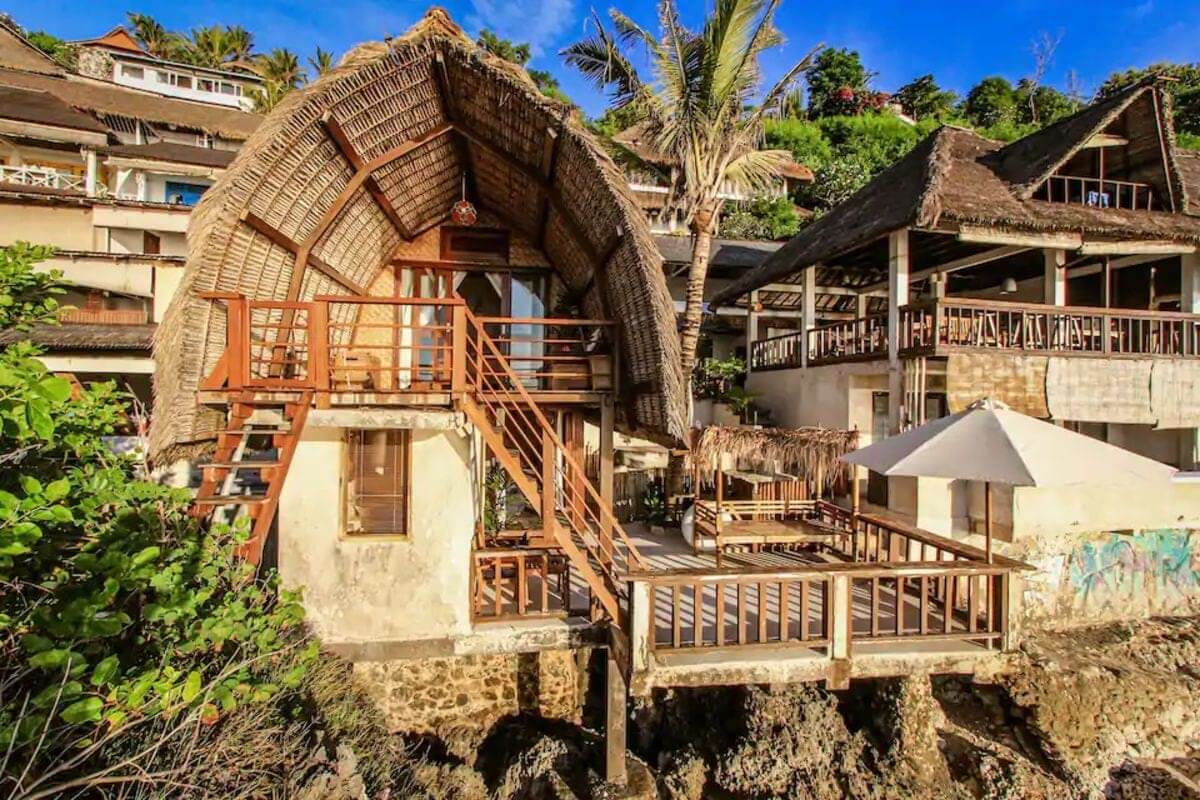 $
A moment's walk from Bingin Beach
2 Guests
Perfect undisturbed sunset views
Down the steep steps of Bingin Beach (one of the best beaches in Bali), Kubu Bingin sits on the cliffside just meters above the sand with incredible expansive views out over the turquoise crashing waves. 
The 1 bedroom bungalow has a beautiful thatched roof and wooden interior with plush furnishings – perfect for a surfer, yogi or someone who wants a relaxed escape. Watch the sunrise over the cliffs and catch an incredible sunset on the horizon, from its seafront position with a sunny terrace you have a front row seat to the scenic landscape. 
Tropical Private Villa Guest Suite | Villa Vayu in Seminyak 
$
Ideal central Seminyak location
4 Guests
Sunny private swimming pool
Your own private island getaway, Villa Vayu is an affordable Bali Airbnb for a small family or group of friends. 
Featuring its own 8m sunny private pool, lounging sun beds and tropical gardens, you can bask in the beauty of Bali in your own relaxed space. Soak up the sun and enjoy cool evenings in the open living airs sipping ice-cold beers and spending time with your loved ones. 
In a quiet street just off of popular Eat Street Villa Vayu has easy access to restaurants, shops and bars – as well as being just a short walk from the beach. If you love staying in Seminyak, this beautiful villa should be top of your list!
Private Pool Villa Fit for a Celebrity | Domicile Villa Bali in Jimbaran
$$$$$
Ultra-modern and lavish design
16 Guests
Private home theatre room
Domicile Villa Bali is one of the most luxurious and decadent Airbnbs in Bali. It has ultra-lavish facilities, an incredible modern design and exclusive private location. A getaway fit for royalty, this 4 bedroom villa is a magnificent escape with an idyllic atmosphere. 
Each of the spacious bedrooms acts as its own suite with an en-suite bathroom and lounge area. With free-standing bathtubs, romantic lighting and cosy king-size beds, each room is a paradise in itself. 
Located up on a hilltop, overlooking expansive views of Jimbaran as far as the ocean, Domicile Villa Bali is a super extravagant accommodation. 
Peaceful and Beautiful Joglo | Joglo Wooden Villa in Ubud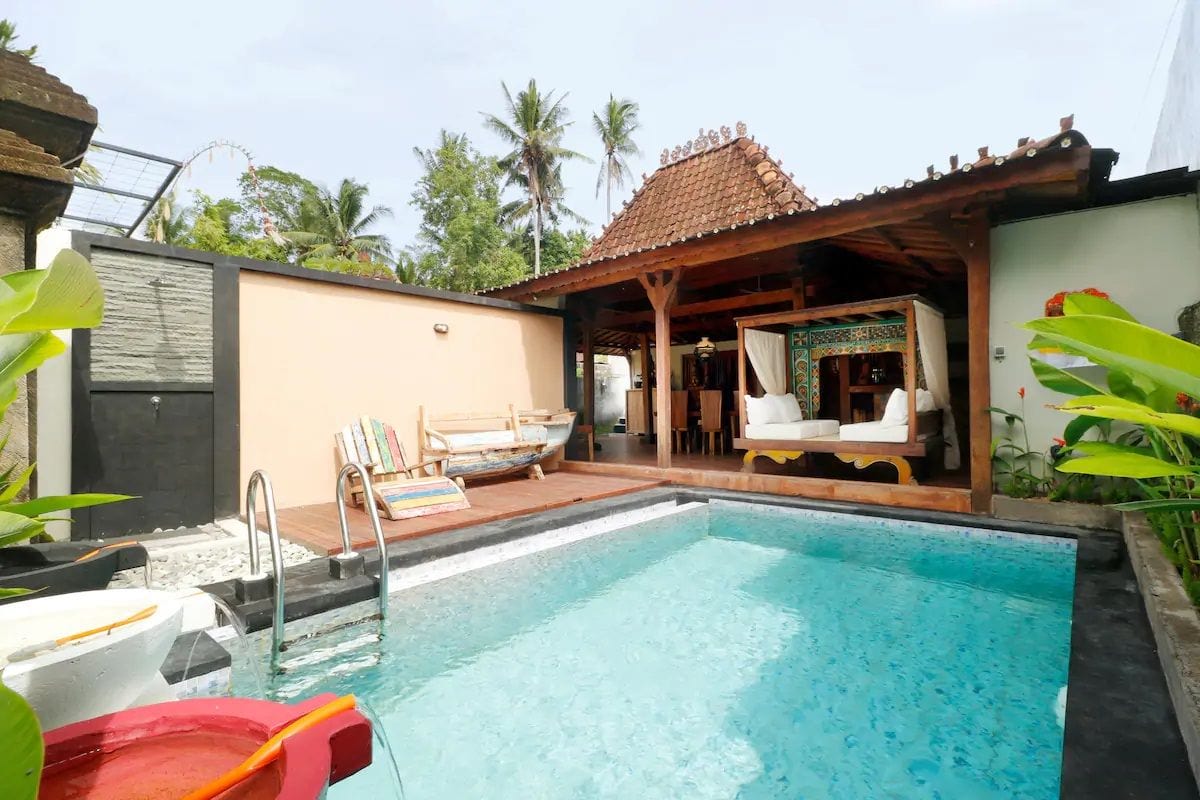 $
Few minutes drive from the heart of Ubud
4 Guests
Traditional wooden interiors and furnishings
Joglo Wooden Villa has huge breezy living areas with towering wooden ceilings and traditional-style furnishings, giving a calm and serene vibe. It's everything you would expect from a traditional Balinese villa! Ideal for a romantic escape or quiet getaway with friends, the joglo is located away from the heart of Ubud for a peaceful stay. 
Each of the 2 spacious rooms are clean, comfortable and spacious with en-suite bathrooms fitted with free-standing bathtubs – an extra luxury. 
You can grab your favourite book and cosy up in the poolside bale for a quiet day of reading and napping, and dipping into the lovely pool. 
Coming in at less than US$40 a night – you can't pass this by. 
Tropical Family Airbnb in Bali | La Cabane in Uluwatu
$
Mediterranean-style shared swimming pool
4 Guests (including 2 children)
Wooden bunk beds for children
La Cabane is a spacious 1 bedroom villa located within a lush island resort. With 1 king-size bed and a set of bunk beds, it is a great Airbnb in Bali for a family with young children (up to four guests). 
Enjoy ocean views from the Mediterranean-style infinity pool, relax in a cool evening breeze on your private terrace and explore the nearby beaches. Fitted with air conditioning and easy access to the sprawling tropical gardens, La Cabane promises a serene stay to enjoy quality time with your loved ones or a luxurious solo retreat. 
Bright and Stylish Private Guesthouse Room | Happy Together in Seminyak
$
Ideally located in the centre of Seminyak
2 Guests
Fun and vibrant design
Happy Together is a cosy and comfortable villa in Kerobokan bedroom with a clean and beautiful design. The mezzanine room has a spacious living and kitchen area with geometric patterns and a small terrace. Ideal for a solo-traveller or couple, the safe and stylish guesthouse has everything you need for a long stay.
Perfectly located close to the beach, restaurants and shops of Seminyak, Happy Together is an amazing spot at an affordable price. This tropical paradise home will be your favourite place to relax after a long day of exploring the town.
Best Luxury Private Pool Villa | Villa Longhouse in Jimbaran
$$$$$$
Private home theatre, gym and spa
16 Guests
Beautiful hilltop location overlooking expansive views
A picturesque combination of traditional Balinese style and modern luxuries, Villa Longhouse is filled with incredible facilities and cosy furnishings that will make your tropical family escape comfortable and memorable. 
Featuring a home cinema, private gym, yoga bale, infinity pool and spa – what more could you need?! 
Just a short drive from the GWK Cultural Park and Jimbaran Bay, you can explore Uluwatu and Jimbaran in just a short drive – or simply spend all day lounging around the ultra-sumptuous villa. 
There are 6 spacious bedrooms, air conditioning, a fully equipped kitchen and, well, all those previously mentioned extras. Villa Longhouse is a gorgeous villa!
Sprawling Tropical Island Villa | Villa Samadhana in Sanur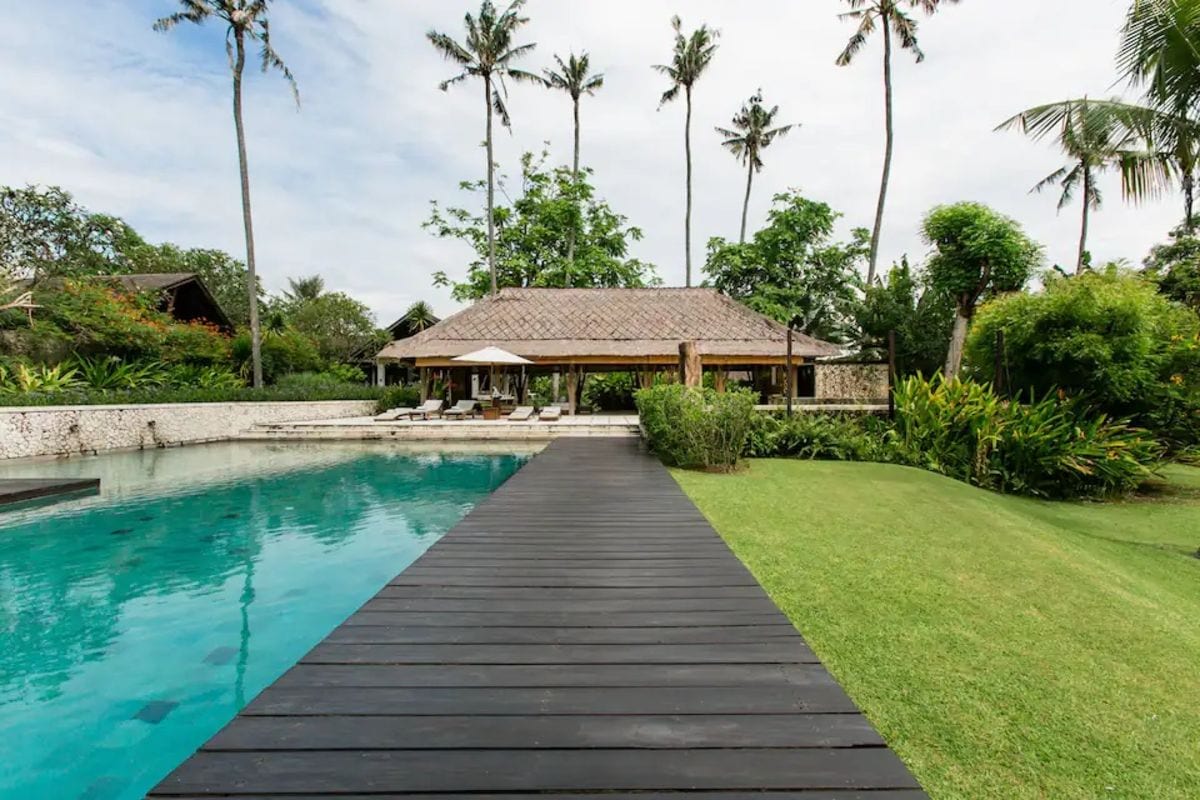 $$$$
Huge 25m private swimming pool
10 Guests
Sprawling lush tropical gardens
Villa Samadhana is a stunning example of an ultra-sumptuous and luxurious, Balinese style villa. One of the most beautiful Airbnb Bali Luxe accommodations, this sprawling property is surrounded by luscious tropical gardens, ocean views and open-air bales. 
The master bedroom is set in its own private pavilion with a relaxation room, 2 en-suite bathrooms and ocean views – the lucky occupants are in for an incredible stay! 
Featuring an impressive 25m swimming pool, alfresco entertainment spaces and spacious living areas, it would be a beautiful setting for a special occasion or celebration. The villa manager will be on hand throughout your stay to ensure you have the most extravagant stay! Don't miss out on this gorgeous villa.
Stylish Jungle Bungalow | Muda Living in Ubud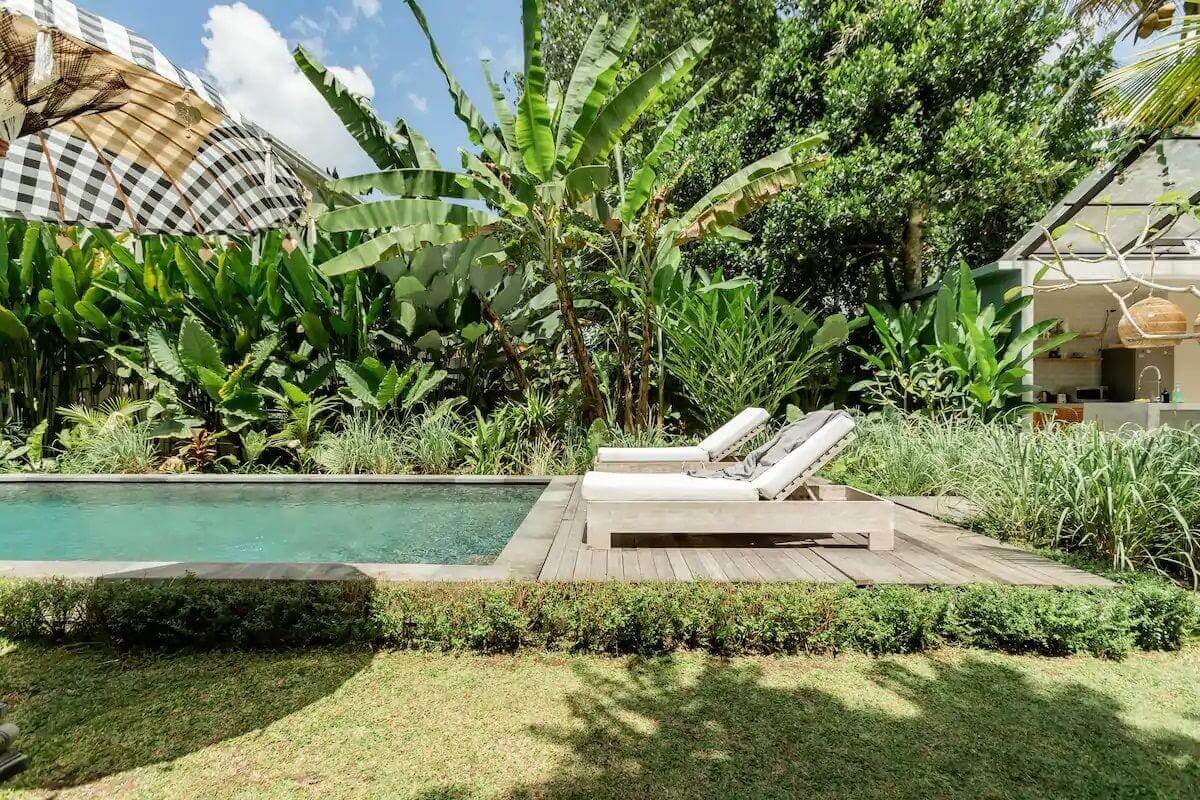 $
Alfresco dining area in the luscious gardens
2 Guests
Boho-chic tropical vibes
Surrounded by green private gardens and towering plants, Muda Living is a chic and modern private bungalow with just 1-bedroom. For a solo-trip or Ubud adventure with your partner, the bungalow is a super affordable tropical paradise. 
Dine alfresco among the singing birds, and relax down into a sumptuous warm bathtub with chilled music playing in the background. This Bali Airbnb is a mixture of traditional Balinese style and modern luxuries. 
Also with a swimming pool and sprawling lawns, Muda Living has it all. 
Oceanview Contemporary Private Loft | Sea View Loft in Canggu
$$
Shared swimming pool and gardens
5 Guests
Super central location
Situated within a shared complex, Sea View Loft combines modern design with traditional Balinese style elements for a comfortable and relaxed accommodation. 
Located close to the beach, and a moment's drive from the heart of Canggu, its very central location is perfect yet serene. Spend the days working, or sunning around the shared swimming pool, before heading out for a night on the town at some of Canggu's best known bars and clubs. 
With only 1 bedroom but able to accommodate up to four guests, it is ideal for families with young children or a group of friends. 
Luxurious and Sleek Cliffside Private Villa | Hedonism Villa in Uluwatu
$$$$$$$$$
Close by to all of Uluwatu's popular beaches
12 Guests
Perfect cliffside location overlooking the ocean
A 6 bedroom cliffside haven, Hedonism Villa is a place for relaxing and gathering with loved ones in absolute luxury. Soak up every ounce of opulence from the breezy open living areas looking out over crystal blue views of the ocean mingling into the clear sky. 
Hedonism Villa has an expansive garden with a lush green lawn, sparkling private infinity pool, poolside bale and sunny wood-deck with reclining sun beds. If you love the sun and want to spend your Uluwatu getaway soaking up the rays, Hedonism Villa is an idyllic atmosphere. 
One of the most lavish and beautiful Airbnbs in Bali, Hedonism Villa promises an unforgettable stay. 
Private Bedroom in a Sprawling Shared Penthouse | Spacious Penthouse in Seminyak
$
Just minutes from Oberoi street
2 Guests
Private bedroom within a shared penthouse
For a solo-traveller, exploring a new town alone can be daunting. Staying in a shared accommodation where you can make travelling buddies takes away some of the fear factor. Spacious Penthouse in the heart of Seminyak is a huge accommodation where you can have your own private space as well as shared areas to relax with your roommates. 
With an ornate, boho-chic design the comfortable apartment will quickly feel like home. Lounge around the living areas, soak in the terrace jacuzzi and enjoy unwinding in the sumptuous cosy bedroom. 
Spacious Penthouse is a safe and luxe place to stay.
Ideal Family Airbnb in Bali | Villa Pancaloka in Jimbaran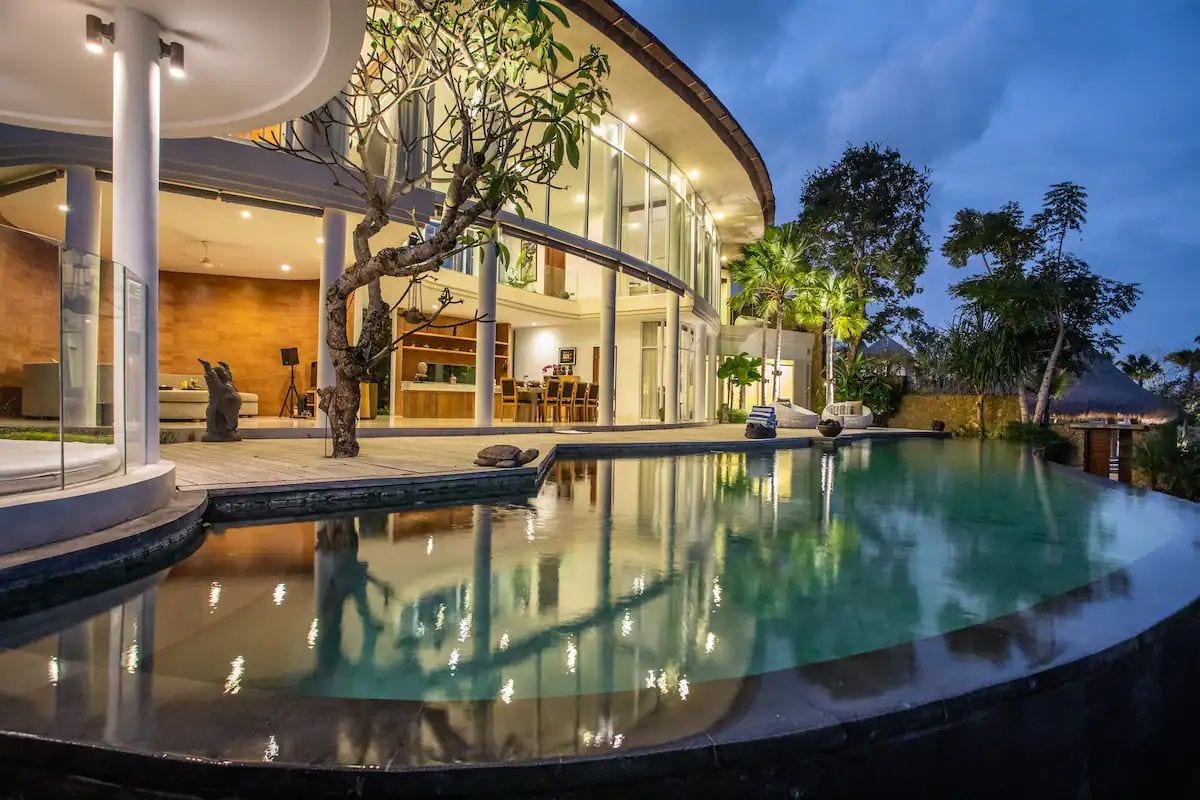 $$$
Sparkling private infinity swimming pool
6 Guests
Combination of modern and Balinese styles
Villa Pancaloka has a modern and bright design with sprawling open living areas that look out over the private pool and gardens. Surrounded by towering glass windows, the space is filled with natural light throughout the day, and is romantically lit in the evenings with garden and pool lights.
Featuring 3 large bedrooms with cosy beds and bathrooms, each guest will have their own space to relax and unwind. 
Ideal for a family with young children, the parents can easily supervise them playing in the pool from the shady and cool sitting room. 
Enjoy watching amazing sunsets retreat into the horizon from your own private island home. 
The Most Unique Airbnb in Bali | Nautilus Treehouse in Ubud
$
Surrounded by towering trees and jungles
16 Guests
Unique treehouse style villa
Like something out of The Hobbit, Nautilus Treehouse is one of the most unique and incredible Airbnbs in Bali. With swirling staircases, impressive tree trunks, a private infinity pool and spacious bedrooms, it is a place to be adored and enjoyed. 
A memorable getaway for a family or group of friends, Nautilus Treehouse is definitely worth checking out for a stay in Ubud. 
Check out more places like this in our treehouses in Bali post!
Most Instagrammable Airbnb – The Young Villas in Canggu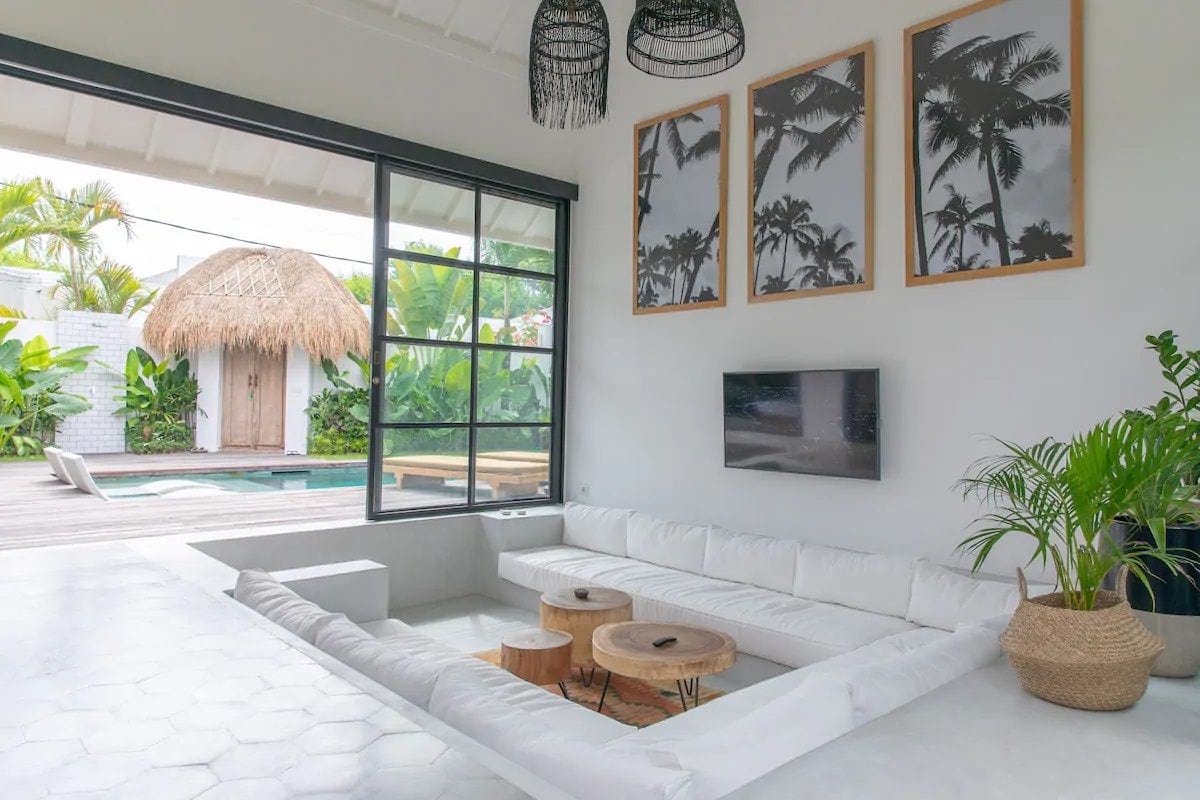 $$
Perfect for photoshoots!
6 Guests
Modern and minimalist tropical style
Appearing on Explore pages worldwide, The Young Villas has already taken Instagram by storm with mentions on interior design pages and even Airbnb's own Insta! Well, get ready for it to be the highlight on your page. 
The Young Villas is a super sleek and cool accommodation with a clean modern design full of natural light, cosy furnishings and minimalist style. If you are a photographer or model, this is one of the best Airbnbs in Bali for shoots and imagery. 
This collection of villas deserves every accolade it has achieved! 
Lavish and Modern Clifftop Bali Airbnb | Villa Hamsa in Uluwatu 
$$$$
Overlooking vast views of the ocean
8 Guests
Lavish and modern cliffside villa
One of the most luxurious and exclusive villas on Airbnb Bali, Villa Hamsa is where all your dreams can come true. Like a picture from a magazine, the villa is filled with sumptuous luxury that makes you feel at home. 
All of the bedrooms are stylish and beautiful with views out to the ocean and bathrooms. Soak in a relaxing warm bathtub after a day of lounging in the sun, and exploring the nearby beaches. You can dine alfresco as the sunsets into the ocean and sip ice-cold cocktails with your friends and family, Villa Hamsa is a stunning setting for a magnificent stay. 
With access to a shared gym, nice private pool, private driver and chef, you will never want to leave. 
Best Family-Friendly Airbnb | Villa Kinara in Seminyak
12 Guests
Central Seminyak location
Packed with incredible entertainment facilities and a fusion modern-traditional design, Villa Kinara is a sprawling Bali Airbnb that promises to keep the kids entertained and the adults happy. 
The open living areas flow seamlessly out to the private pool with a billiard table and huge seating area. Enjoy spending time soaking up the sun from the sunny poolside decking, and supervising the children playing in the water from the shaded terrace. 
With 6 bedrooms and a very central location, Villa Kinara superb accommodation.
Coolest Airbnb in Bali | Alpha House in Ubud
$$$
Encompassed by jungles away from any crowds
8 Guests
Stunning architectural design
Alpha House is one of Ubud's most incredible hidden accommodation gems. Conceptualized and designed by the island-renowned architect, Alexis Dornier, the home is a truly spectacular piece of art. 
Alpha House is located in the quiet and peaceful village of Mas – famed for its local artisans and wood carvings – this stunning Bali Airbnb stands out among the jungles with a distinctive waving roof design, sprawling open-plan living areas and gardens that seem endless. 
You can bask in mega-luxury whilst still being immersed in nature and Ubud's beauty. 
If you have a decent budget and want to stay somewhere totally extravagant and opulent, Alpha House is the place for you! 
Incredible Backdrop for an Event | Villa Batujimbar in Sanur
$$$$
Located on the beachfront of Sanur
14 Guests
Impressive traditional Balinese villa
Villa Batujimbar is one of Sanur's oldest and most established luxury villas residing on the beachfront just steps from the sand. The famous setting for Mick Jagger's wedding to Jerry Hall, it is an accommodation suitable for A-List stars. 
With a traditional Balinese design, 7 grand bedrooms, towering palm trees and sprawling gardens it is a huge space where you can enjoy time with your loved ones for an extravagant holiday or special occasion. 
Battle it out on the tennis courts, soak up the sun around the pool and enjoy evening meals in the breezy dining bale. Villa Batujimbar is luxurious from beginning to end. It is one of the best places to stay in South Bali.
$
Lush tropical gardens and private pool
6 Guests
Just a moment's walk from the beach
Only a moment's walk from the beach, The Hidden Tree is a cute and tropical hideaway between Seminyak and Berawa. Accommodating up to 6 guests in 3 bright and breezy bedrooms, it is an ideal escape for those wanting a piece of solitude close to the action. 
The whole space is bright and minimalist with island-style decor and cosy furnishings. 
A great family space, this lovely villa is ideal for a memorable and cosy stay, The Hidden Tree has everything you need. 
Boho-chic Beachfront Airbnb | Bingin Cliff House in Uluwatu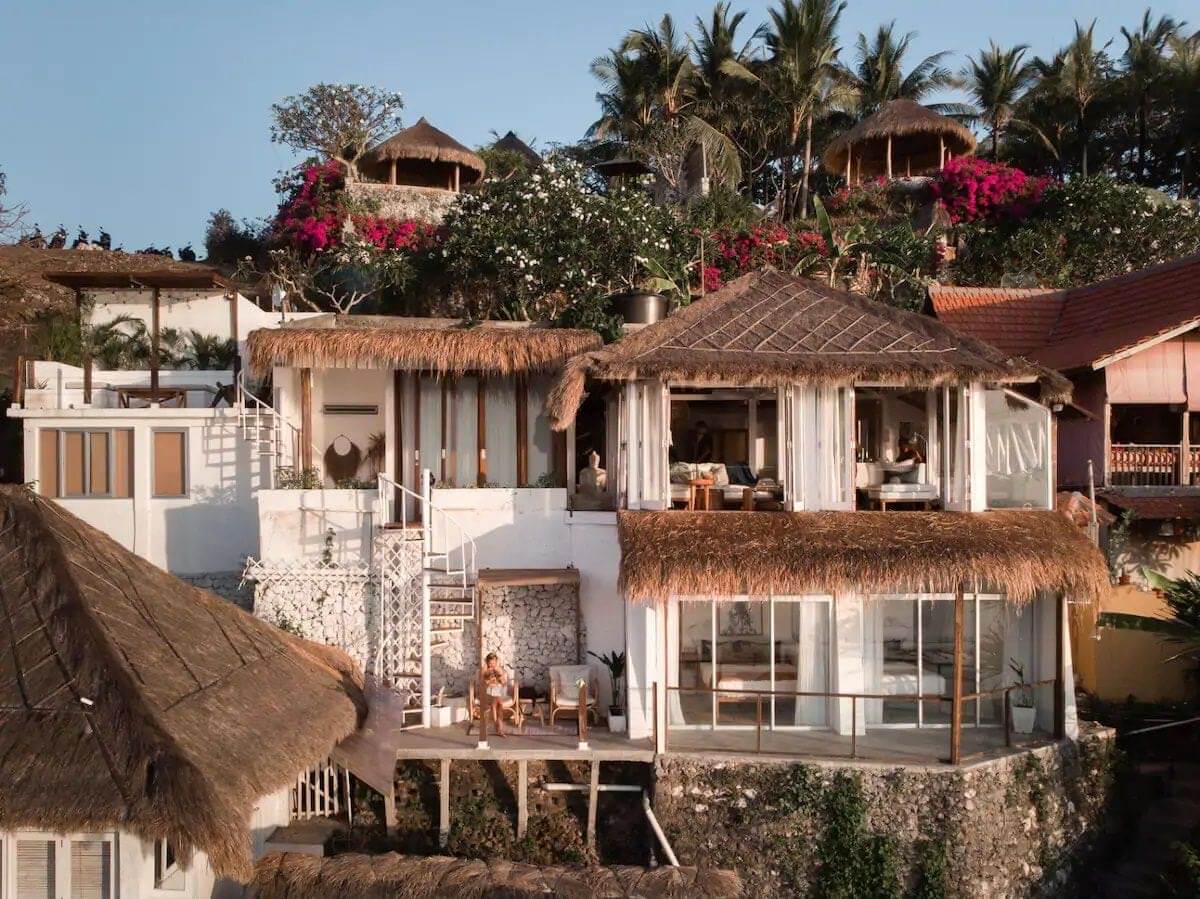 8 Guests
Perched on the cliffside of Bingin
Etched onto the cliffside above Bingin Beach, Bingin Cliff House is an island-chic paradise with a thatched roof, clean wooden design and a cosy decor that will have you quickly settling in to tropical living. The towering ceiling and open windows keeps the space breezy and cool with killer views out over the ocean. 
Just steps from the beach, this 4 bedroom villa is perfect to celebrate a special occasion with your friends and family, or a calm beach escape. 
Sit on the sunny terrace and soak up the hot island sun with the sounds of waves crashing below. Bingin Cliff House is another instagrammable Bali Airbnb.
4 Bedroom Tropical Paradise Villa | Villa Metisse in Seminyak
8 Guests
Central Seminyak location
Villa Metisse is the height of bright Mediterranean style filled with restored wood fixtures, cactuses, large artworks and breezy living areas. Accommodating up to 8 guests in 4 spacious bedrooms, it is a chilled villa where you can relax and unwind in a beautiful setting. 
The glistening pool is lined with reclining sun beds and a poolside couch for optimal sun soaking time with your loved ones. 
Right in the centre of Seminyak, Villa Metisse is just a moment's walk from the beach, shops and restaurants of the town. At a desirable rate, you can have your own beautiful island escape in a perfect location. 
Easy and Safe Guesthouse | Mano House in Ubud 
$
10-minute walk from the centre of Ubud
2 Guests
Comfortable private bedroom
Giving a chilled and easy hotel vibe, Mano House is just a 10 minute walk from the centre of Ubud – perfect for those who want to explore the town! 
Featuring cosy amenities and shared gardens, the guesthouse is a perfect way to enjoy a touch of traditional Balinese life but still have your Western home comforts. You will get to see local life taking place around you, giving you the opportunity to learn more about Balinese culture and make life-long friends with the friendly locals. 
For less than US$15 a night, Mano House is a great Airbnb in Bali for budget-travellers. 
Private Traditional Wooden Joglo | Le Chateau Berawa in Canggu
2 Guests
A few meters from Berawa beach
Le Chateau Berawa is a traditional Javanese joglo guesthouse located just meters from Berawa beach. Surrounding a glistening shared pool, the guesthouse has 2 private joglo bedrooms each with their own en-suite bathroom and mini kitchenettes for early morning coffees. 
The space is also available for private rental if you are travelling with friends and want both joglos!
Picturesque Bungalow Airbnb in Bali | Bamboo Bungalow in Uluwatu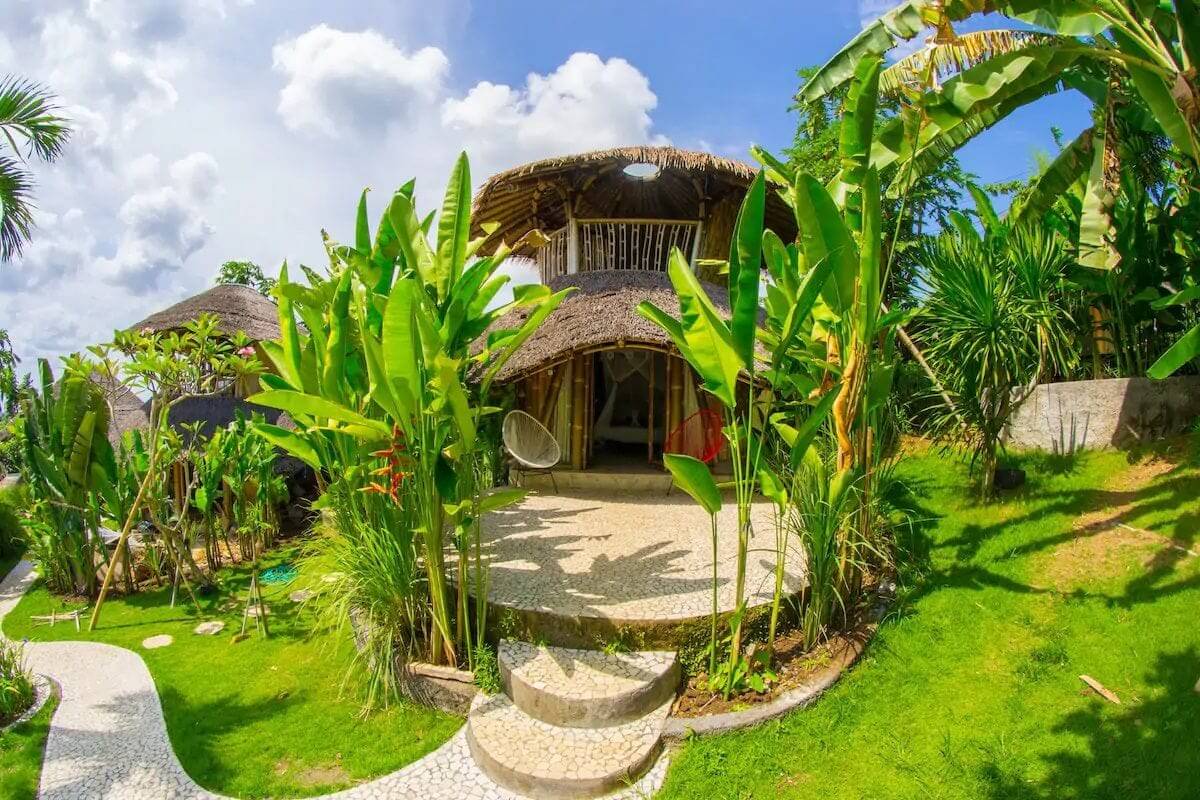 $
Close by to Padang Padang beach
3 Guests
Chill hammock overlooking the tropical gardens
Bamboo Bungalow is a multi-level thatched home located among lush surroundings just a short drive from the most popular beaches of Uluwatu. Within a small resort with a shared pool and restaurant, Bamboo Bungalow is a unique and cool Bali Airbnb. 
The second floor has an Insta-worthy hammock that hangs over the edge of the private bungalow for a chill and breezy spot to read a book, catch the sunset or have a photoshoot with friends. 
For those searching for something new and different, Bamboo Bungalow is a beautiful island accommodation. 
Incredible Luxe Central Villa | The Jendela House in Seminyak
$$$
Located away from crowds but a short walk to amenities
10 Guests
Bright and open modern villa
Encompassed by towering bright windows throughout the ultra-luxury villa, The Jendela House is a lavish holiday home where you can bask in the sun in style. 
An Airbnb Plus accommodation, the expansive villa has all you need for a lazy, lounging sunny getaway. With a lush green lawn, tropical greenery and a sparkling private pool, spending time in the gardens will be one of your favourite things to do. 
Located just a short walk from the beach between Seminyak and Canggu, this 5 bedroom villa is an ideal place to base a Bali island adventure. 
Don't Forget Your Bali Travel Insurance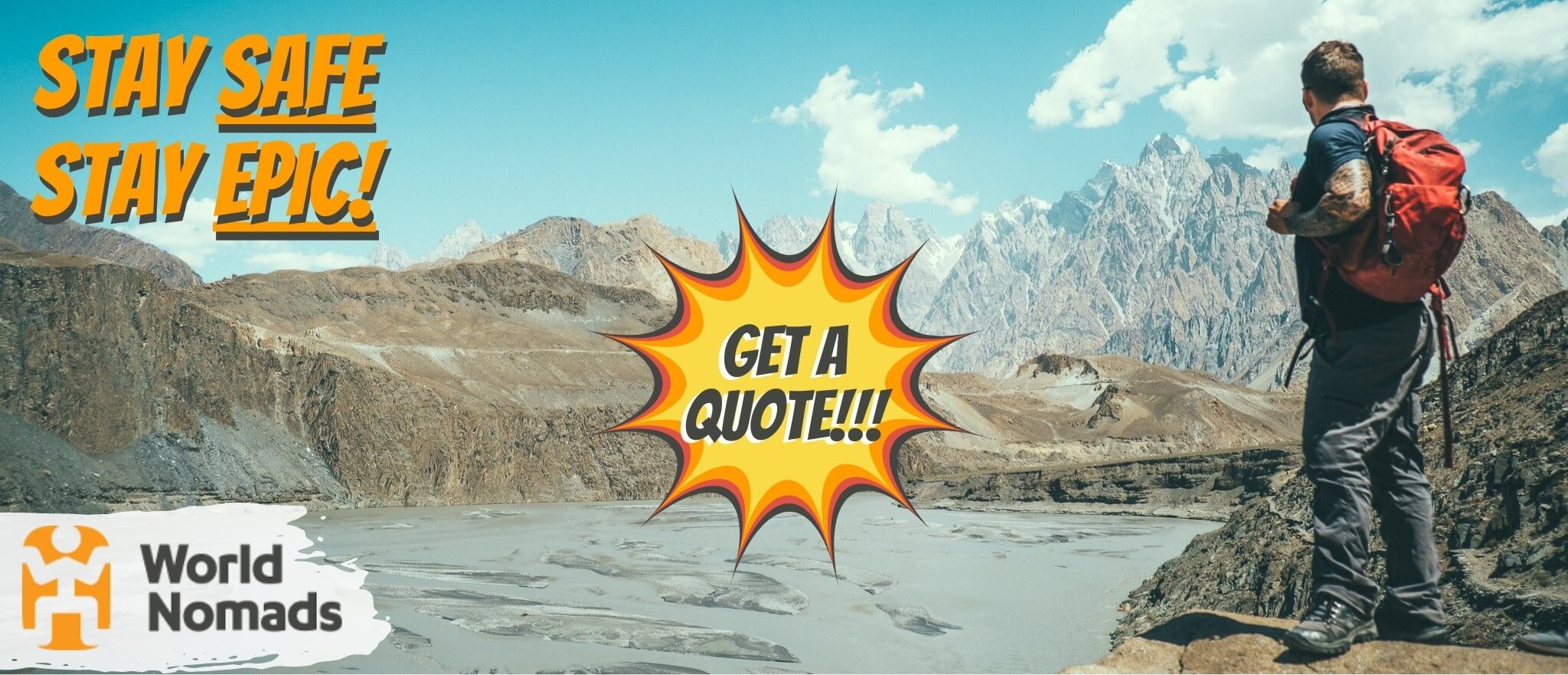 It's good to get lost sometimes, but it's also good not to get too lost. There are people that want you home in one piece.
There's one travel insurance provider The Broke Backpacker trusts for all his wildest shenanigans… World Nomads!
Click the button below to get a quote on your insurance or read our in-depth review of World Nomads' coverage. And then… let the shenanigans begin. 😉
Final Thoughts on Airbnbs in Bali 
Bali has rightfully deserved its position as one of the most incredible destinations in the world. Dotted with magnificent accommodations from the beaches to the hills, there is a place where everyone will be able to enjoy their own side of paradise. 
Pick a town and spend your time exploring the scenic streets and local restaurants, fully immersing in island life. Or, simply lounge the days away around your own private pool. 
Bali is packed with culture, luxury and beauty – pick the right accommodation for you and discover the magical wonderland for yourself.
---
Bye for now, but not forever!
If you want MORE top-tier Broke Backpacker content like this, then sign up for our weekly newsletter below to get the latest and greatest!
And for transparency's sake, please know that some of the links in our content are affiliate links. That means that if you book your accommodation, buy your gear, or sort your insurance through our link, we earn a small commission (at no extra cost to you). That said, we only link to the gear we trust and never recommend services we don't believe are up to scratch. Again, thank you!