Canggu is where everyone wants to live these days: it's hip, beautiful, interesting, and still relatively cheap. For those who are seeking sun, fun, and a good place to base themselves in Southeast Asia, Canggu may be the holy land.
But Canggu is awesome to visit as well! There's certainly plenty to do here; from spending a morning drinking coffee in an airy cafe to watching an epic sunset at one of the many beach clubs, there's something for everyone in Canggu.
But where does one start when first arriving? How can one be expected to now what to do in Canggu with all those confusing streets and zooming motorbikes?
Look no further! This Canggu travel guide was written to help you understand what's going on in town and what it is you need to do first. It's full of useful insider knowledge, provided by people actually LIVING in Canggu, and is an invaluable tool for having the best possible time. You'll learn about where to stay, where to go, and, crucially, how to save a buck in the process.
Read this guide carefully, my friends, and then go have the times of your lives!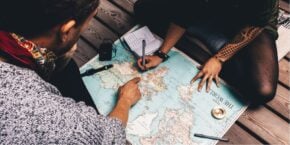 Heading Off-Grid? • Download This Guide as a PDF!
Sign up to The Broke Backpacker's EXCLUSIVE VIP AREA below and download our top backpacking guides as PDFs – go offline with peace of mind!
Backpacking Bali offers every possible comfort and Canggu has everything that one could possibly need: high-quality services, a wide range of accommodation, fine weather, and a huge array of bars and restaurants. There is something for everyone here and depending on your style, Canggu, or or your travel costs in Bali, can be more or less as expensive as you want it to be.
For the average traveler, the daily budget in Canggu will be something like $50-60. This includes a dorm or private room in a cool hostel, basic groceries, a restaurant meal, and some beer money.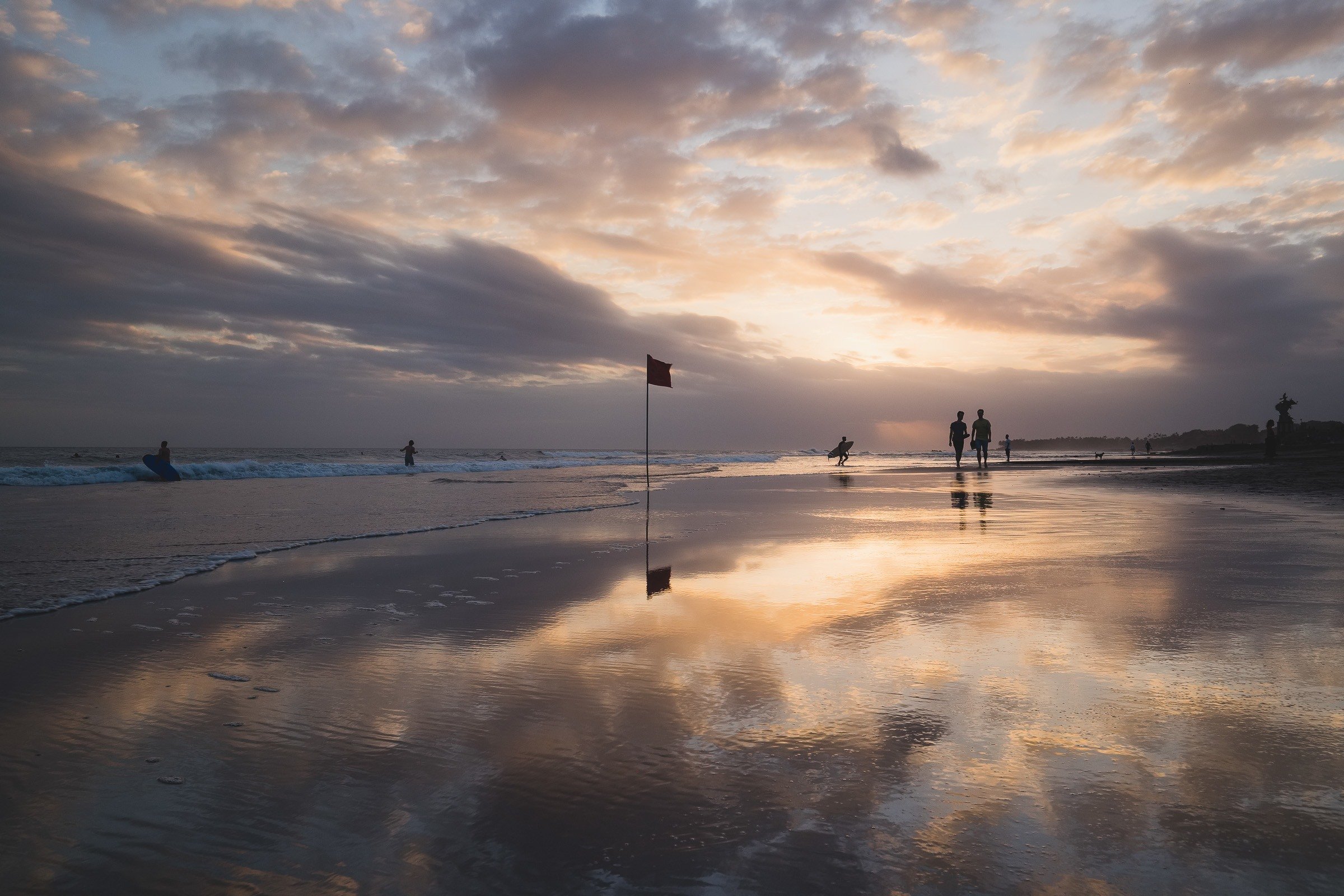 For those on a very tight budget, it is possible to do Canggu on the cheap – say, around $25-$35 per day – but they will need to have very strict habits. No epic clubs nights or lavish meals for you, broke backpackers.
When allocating your budget for Canggu, consider the following expenses:
Accommodation: There are lots of different forms of accommodation in Canggu that range in price. Expect to pay around $15 for a dormitory and $25 for a private room in a guesthouse. People who want to stay in Canggu long term can usually find discounts on lodging as well.
Food/Drink: The average meal in Canggu cost about $10 including a drink. You can find roadside nasi goreng for as low as $2 though and, conversely, 5-star meals for a whole lot more. To save on food, buy some basic groceries and prepare your own food from time to time.
Transport: A scooter rental will cost around $5/day. If you opt to take rideshares, you will probably spend around the same amount. Riding a scooter can be a great and inexpensive way of traveling around Canggu. Although you don't need a license to rent a scooter, most travel insurance companies will ask for a valid motorbike license to be able to claim if you crash! Always make sure that your Bali travel insurance coverage extends to motorcycle accidents.
Attractions: Entrance for cultural attractions e.g. Tanah Lot will be reasonably priced ($5). Otherwise, some activities in Canggu, like ax throwing or traditional shows, will be quite a bit more expensive.
Canggu Budget Breakdown
Below is a breakdown of a daily budget in Canggu including average costs of each expense.
Hostel Dormitory: $10-$15
AirBnB/temp apartment: $20-$25
Cost of scooter rental per day: $4-$6
City-Airport transfer: $6-$8
Average meal: $4-$6
Fancy meal: $15-$25
Beer at a bar: $2-$3
Good coffee: $2-$3
Surf lesson (hour): $15
Yoga session: $10
Why You Should Travel to Canggu with a Water Bottle
Plastic washes up on even the most pristine beaches… so do your part and keep the Big Blue beautiful
You aren't going to save the world overnight, but you might as well be part of the solution and not the problem. When you travel to some of the world's most remote places, you come to realise the full extent of the plastic problem. And I hope you become more inspired to continue being a responsible traveller.
Plus, now you won't be buying overpriced bottles of water from the supermarkets either! Travel with a filtered water bottle instead and never waste a cent nor a turtle's life again.
Save $$$ • Save the Planet • Save Your Stomach!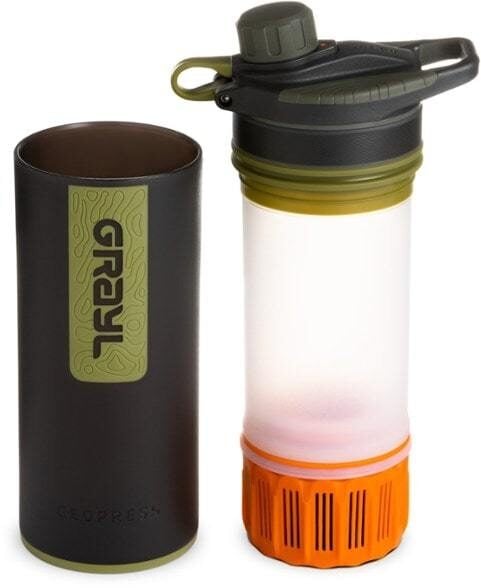 Drink water from ANYWHERE. The Grayl Geopress is the market's leading filtered water bottle protecting your tum from all the waterborne nasties. PLUS, you save money and the environment!
Single-use plastic bottles are a MASSIVE threat to marine life. Be a part of the solution and travel with a filter water bottle.
We've tested the Geopress rigorously from the icy heights of Pakistan to the tropical jungles of Cuba, and the results are in: it WORKS. Buy a Geopress: it's the last water bottle you'll ever buy.
Buy a Geopress!
Read the Review
Accommodation in Bali is plentiful, varied but generally of a high standard. Every day, there are more and more guesthouses and hotels in Canggu. Once a sleepy fishing village, Canggu has now taken off as a tourist destination is slated to be the next big destination in Bali.
There are a ton of different types of lodges in Canggu. Hostels, hotels, homestays, villas, resorts; you name it, Canggu has it. For this reason, travelers should have no trouble finding the perfect type of lodge for themselves while visiting.
Of course, there are many backpacker hostels around Canggu and these will most likely be the best deal in town. A couple of turds aside, most backpackers in Canggu will have a really good atmosphere, arguably the best in all of Bali.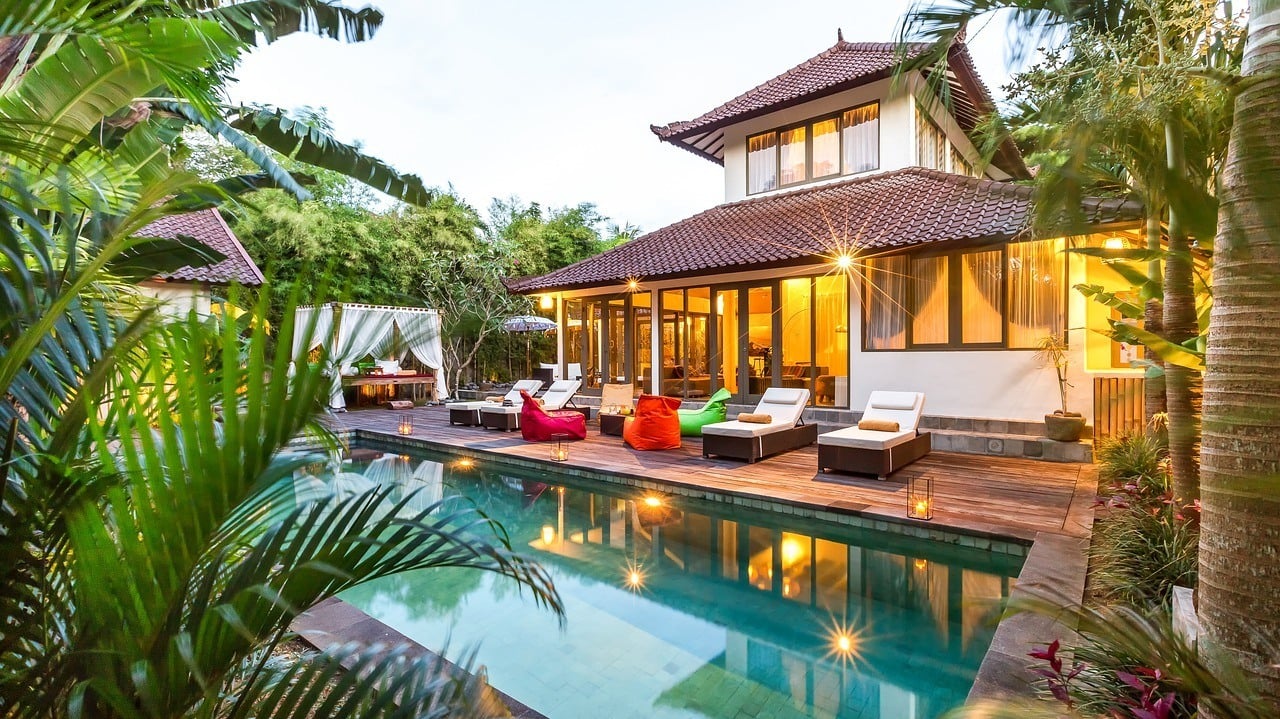 If you'd like something more private, then I suggest booking an Airbnb. The apartments around Canggu that you can rent are very nice and will be like a home away from home for you. A lot of hotels and resorts in Bali advertise their properties on Airbnb these days anyways, so you won't be lacking for selection.
Here are some of our favorite places to stay in Canggu:
The Best Hostel in Canggu – Tribal Bali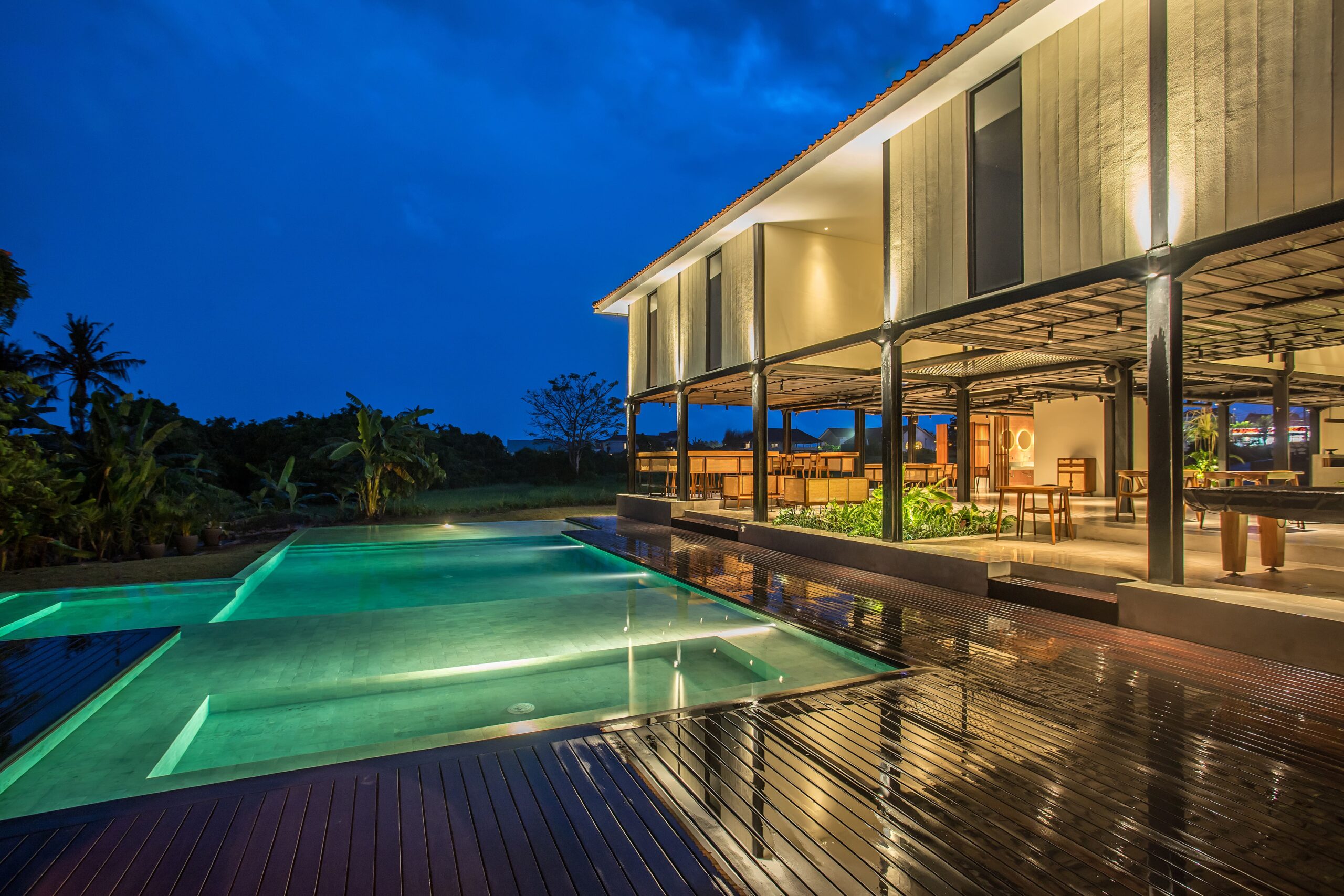 Looking to find the perfect place to hustle, work, rest and play? Welcome to Tribal Hostel, the world's best co-working hostel… Bali's first custom-designed, purpose-built digital nomad friendly hostel is now open! Mingle, share inspiration and find your tribe whilst working in the TREMENDOUSLY HUGE co-working space or soaking in some sun in the garden or bar… There's a gigantic pool as well so it's always time for a refreshing dip to break up the day's hustle. Plus: epic food, legendary coffee and awesome cocktails! What are you waiting for? Check it out…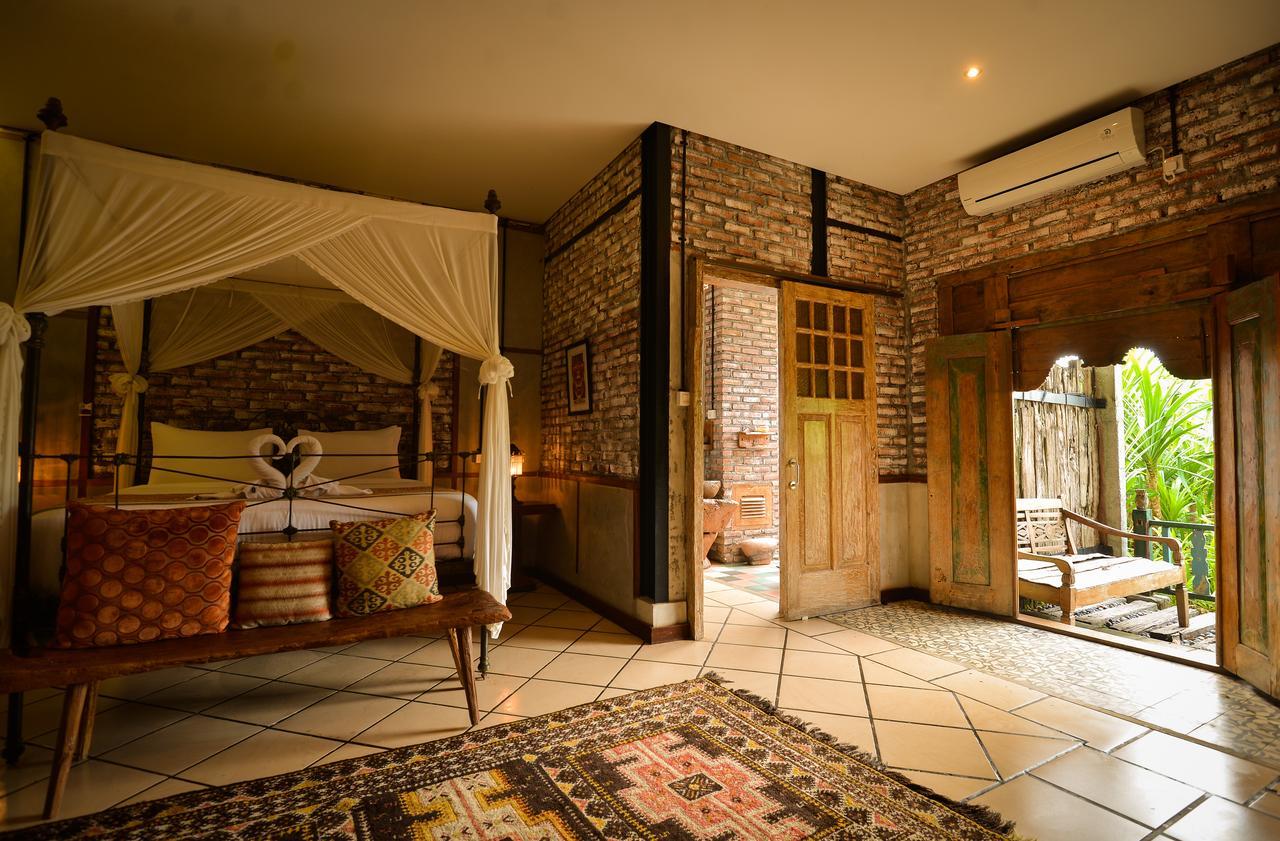 A tranquil hideout in the middle of Canggu with a 180 degrees view of rice fields and greenery, a truly unique and romantic place to stay. With a mixed asian and western restaurant in house, damn good coffee, and daily yoga classes (and coconut oil making classes) to keep you active. Hands down one of the best location boutique guesthouses in Canggu and a great choice for a romantic stay.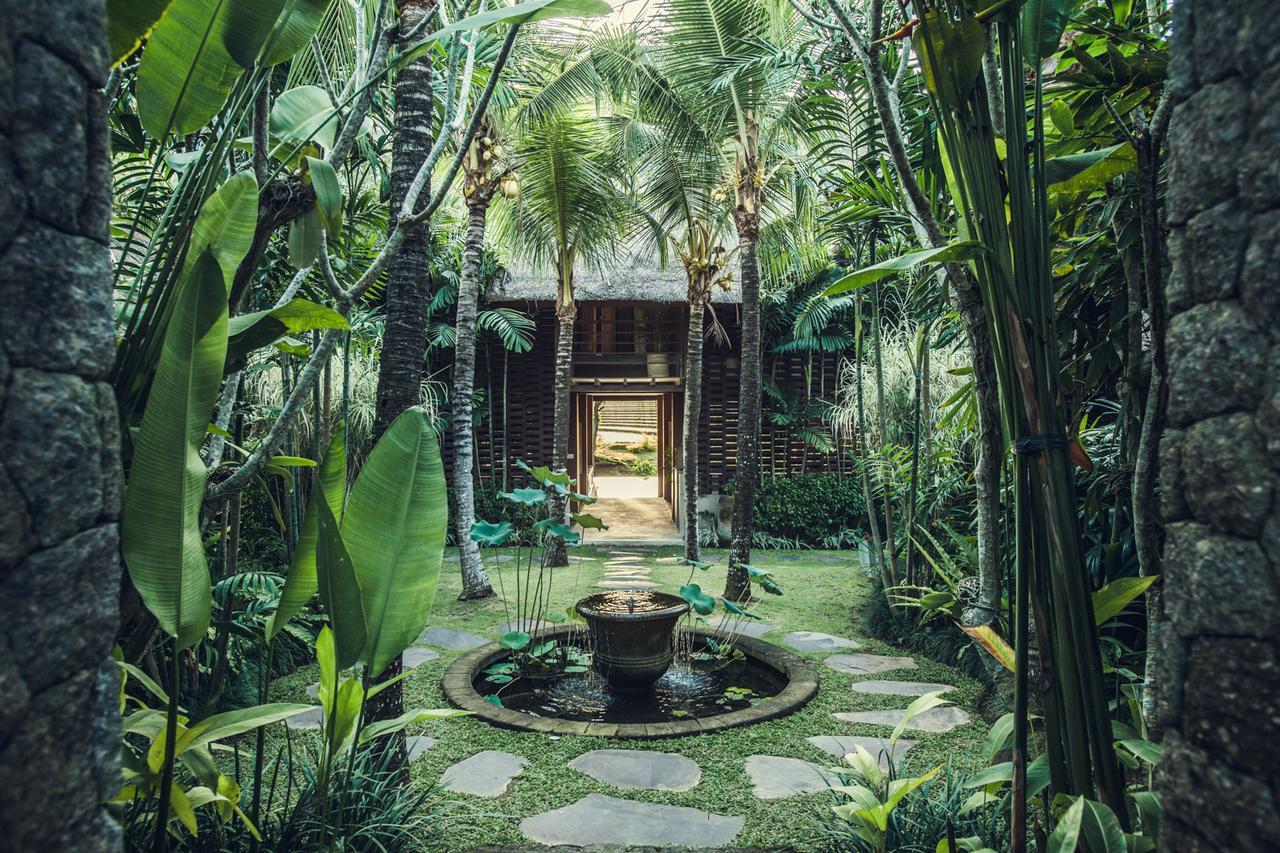 RedDoor Bali Villa is a beautiful hotel located slightly off the beaten path. Tucked away into the jungle settings outside of Canggu, RedDoor is a very peaceful experience. You'll get all of the usual 5-star amenities – including WiFi, shuttles, great food, and a pool – without any of the chaos.
Best (Small) Villa in Canggu – Domus Villa
This Canggu villa is pretty hard to beat. Meticulously designed, cleaned daily, a great location away from the traffic, and pool to go along with everything; this place screams "serenity." You can use this place as a base to see much of Canggu, but chances are you'll never leave it.
Canggu, Seminyak, or Kuta?
Canggu is located just north of Seminyak. Below Seminyak, you will find Legian and afterward Kuta. Together these four areas constitute one large tract of development that attracts most of Bali's tourism.
Each one of these places has its own character and personality. Some are more infamous than others…
Kuta is notorious for being overdeveloped, sloppy, and frequented by the worst kind of tourists: the all-expenses-paid, no inhibitions holidayer (may they choke on their own margaritas). To add more shit to the pile, Kuta is also packed, ugly, and more hectic than usual. Some of the best surfing in Bali is here though and the infrastructure is well built so kudos to Kuta for that.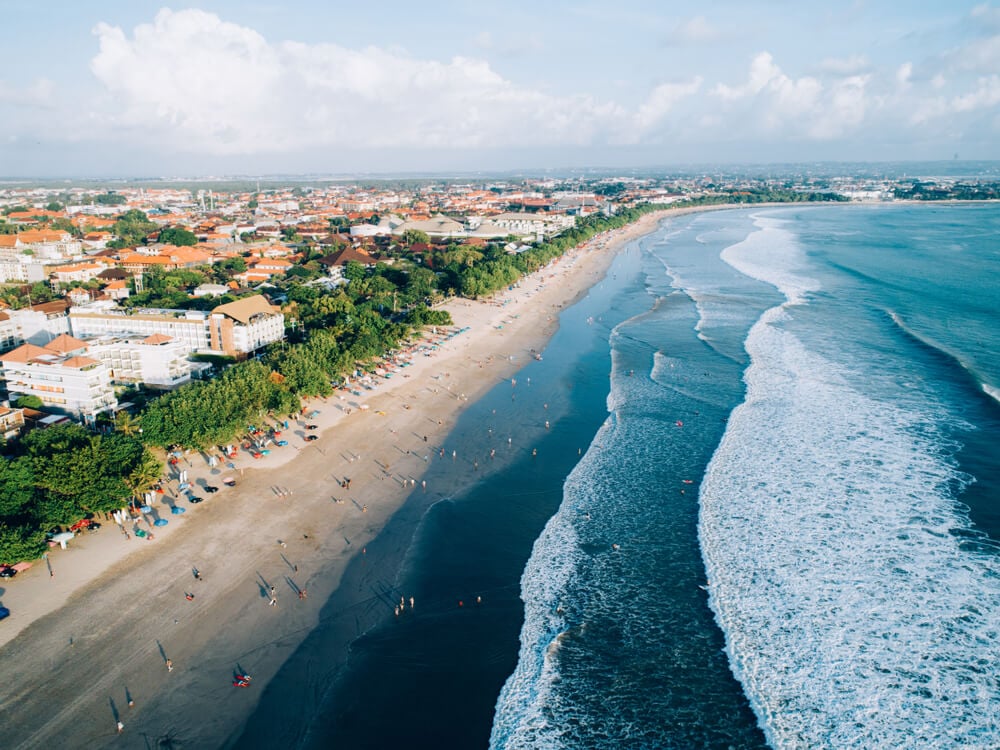 Moving up, Legian is a bit less crazy than Kuta but still manages to hold onto some seediness. This neighborhood is packed with bars and nightclubs, which tend to lean in the divey direction. Regardless, many people remark that this is one of the best areas to party in Bali.
Finally, Seminyak is the ritzy part of the stretch. Many of the most expensive nightclubs and luxury villas in Bali are located in this neighborhood so you can expect a lot of fancy folks, many retail outlets, and a lot of high price tags.
In conclusion, choosing Canggu over its neighbors comes down to your own character. If you want to stay somewhere in Bali that is more elegant, go for Seminyak. If you want to stay somewhere that's good for surfing, try Kuta.
But if you want to spend your time in a place that is up-and-coming, diverse, and not crazy, Canggu is an excellent choice. It is my preferred spot on the western shores and, in my opinion, will be the next "it" place on the island.
These are the absolute must do activities and must see attractions in Canggu! If you want some more inspiration, then be sure to check out guide for the 18 coolest things to do in Canggu as well!
1. Get fit
There is an enormous fitness and health community in Canggu, one that is currently thriving. Many people choose to live in Canggu specifically because of the presence of this. Join one of the many CrossFit gyms, yoga studios , or perhaps the Bali Bouldering Gym and take care of that body.
2. Work brunch into your schedule
Brunch is serious business in Canggu. People need a nice lazy breakfast after a long night out. And whilst the brunch spots in Canggu are numerous, only a few deserve shout-outs. Be sure to visit Lifescrate , The Shady Shack , and Nude and maybe bring some hair of the dog with you.
3. Watch the sunset from a beach bar
The beaches of Canggu face the west almost perfectly, so it goes without saying that the sunsets at these are particularly good. Head down to one of the many beach clubs, like La Brisa or Old Man's , and enjoy a sundowner, or just grab a Bintang a sit on the beach with friends.
4. Go graffiti hunting
There are a ton of talented artists in Canggu that regularly paint murals in town. If that wasn't enough, lots of international street artists visit Canggu to contribute as well. Walk around town and find your favorite piece.
5. Party your way
Unlike Kuta and Seminyak, there is actually a great diversity of bars in Canggu. Whether you're a skater, a beach bum, a clubber, or a lounger, there's a seat in a local bar just for you.
6. Enjoy the cafe culture
Canggu has fully embraced the cafe life. Lining the streets are more coffee shops, organic delis, and laid back bars than one can count. I doubt one could see all of them in a single trip to Canggu but you wouldn't be wasting your time if you tried.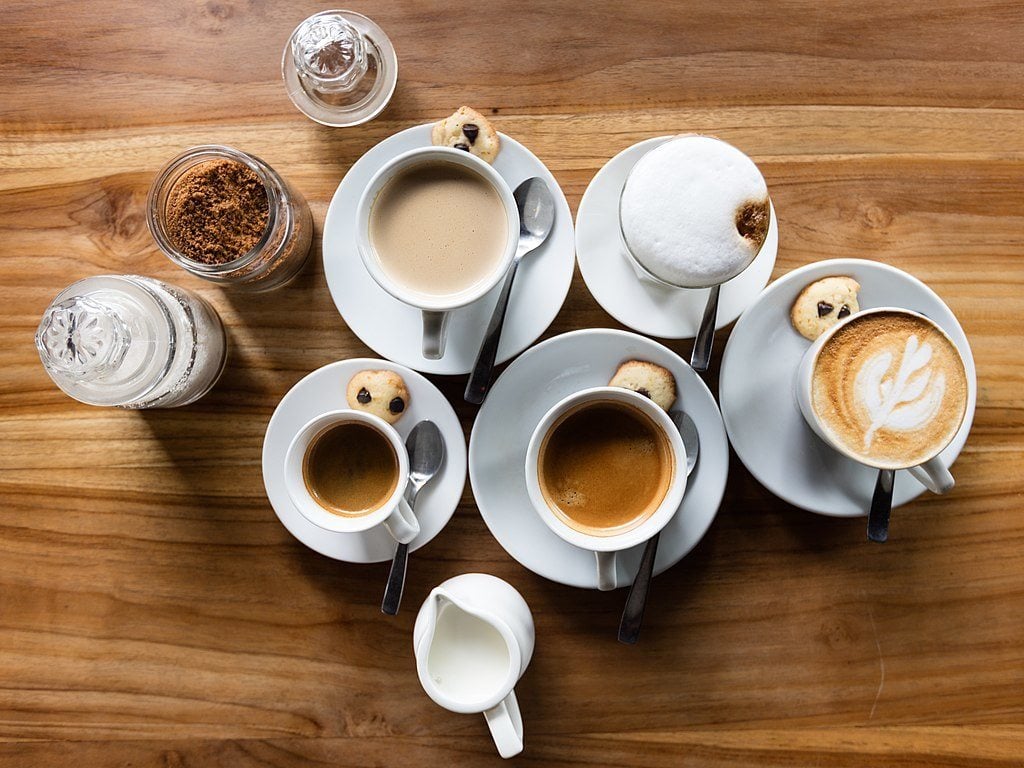 7. Embrace the hipster
Whether it's graffiti hunting, sipping craft brews, or wearing some locally-made clothing, hipsterism is readily apparent in Canggu. Whilst hipsters do get a bad rap sometimes, you can't deny that the array of conscious, high-quality products found in Canggu are still worth your attention. Embrace the culture and buy that knitted beanie! You'll be glad you did.
8. Make a day trip to Tanah Lot
Visiting Tanah Lot is one of the most popular things to do in Bali and for good reason: located directly on the sea, it is a very beautiful and impressive temple complex. If you're planning on going, just make sure you leave early – this place gets very busy later in the day.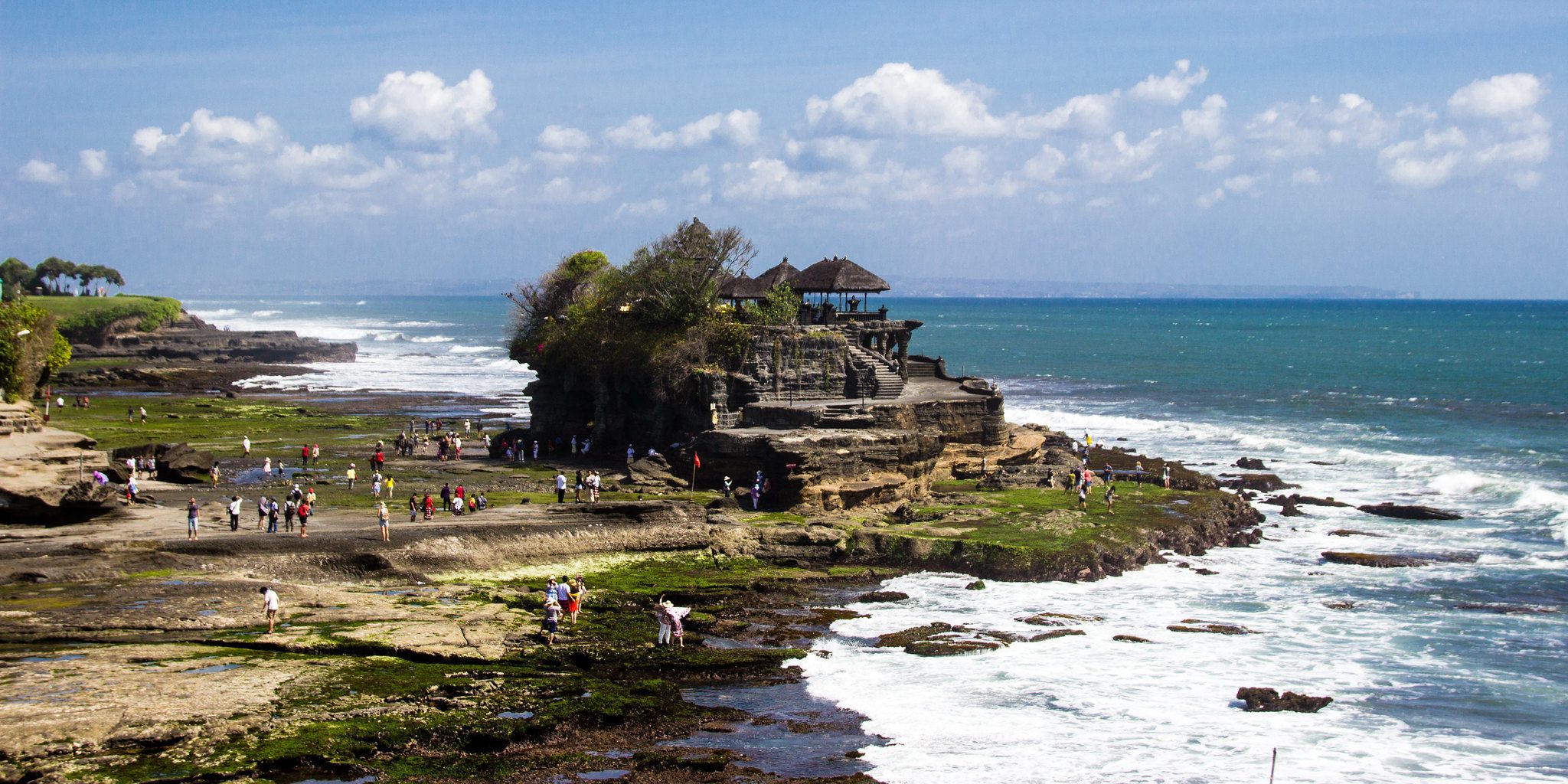 9. Join a co-working space
Bali digital nomads love Canggu and new business ventures are sprouting up here all the time. To get into the thick of it, join a local co-working space, like the Tribal Hostel Bali, and start brainstorming the next revolution.
Introducing the Best Coworking Hostel – Tribal Bali!
Come visit Tribal Bali – Bali's first specially designed, custom-built hostel… 
Bali's most special backpacker hostel is finally open…. Tribal Bali is a custom-designed, purpose-built hostel – a place to work, rest, play and stay. A place to find your tribe and hands down the best place in Bali to hustle hard and make new friends…
10. Hit up a local market
There are lots of little markets spread throughout Canggu and each has a different theme. For example, the Love Anchor Market mostly deals with babbles and souvenirs whilst the Samadi Market is more about local craft goods. Drop by on Sundays and see if anything catches your fancy.
Is This the Best Daypack EVER???
Trying to plan the perfect holiday in Canggu? Try using our suggested itinerary!
Day 1 in Canggu
On the first day of our Canggu itinerary, we're going to hit the ground running; literally! Beat that jetlag and get a good workout in before you spend the rest of the day eating and lounging. The day will slowly wind down and, trust me, there will be plenty of drink opportunities later on.
Wakeup: Get a workout in at CrossFit Wanderlust. Make sure you do a Movement class and follow it up with a Bulletproof coffee
Morning: Get a big breakfast in at Lifescrate. Order the Kiss (french toast), Veto (smashed avo toast) or anything that involves their wonderfully hearty bread. Be sure to browse their in-house gallery – curated by local artists – while you're there.
Mid-Afternoon: Chill out on one of the many beaches of Canggu. Grab a Bintang and take a power nap after that workout. Batu Bolong or Perancak will do just fine.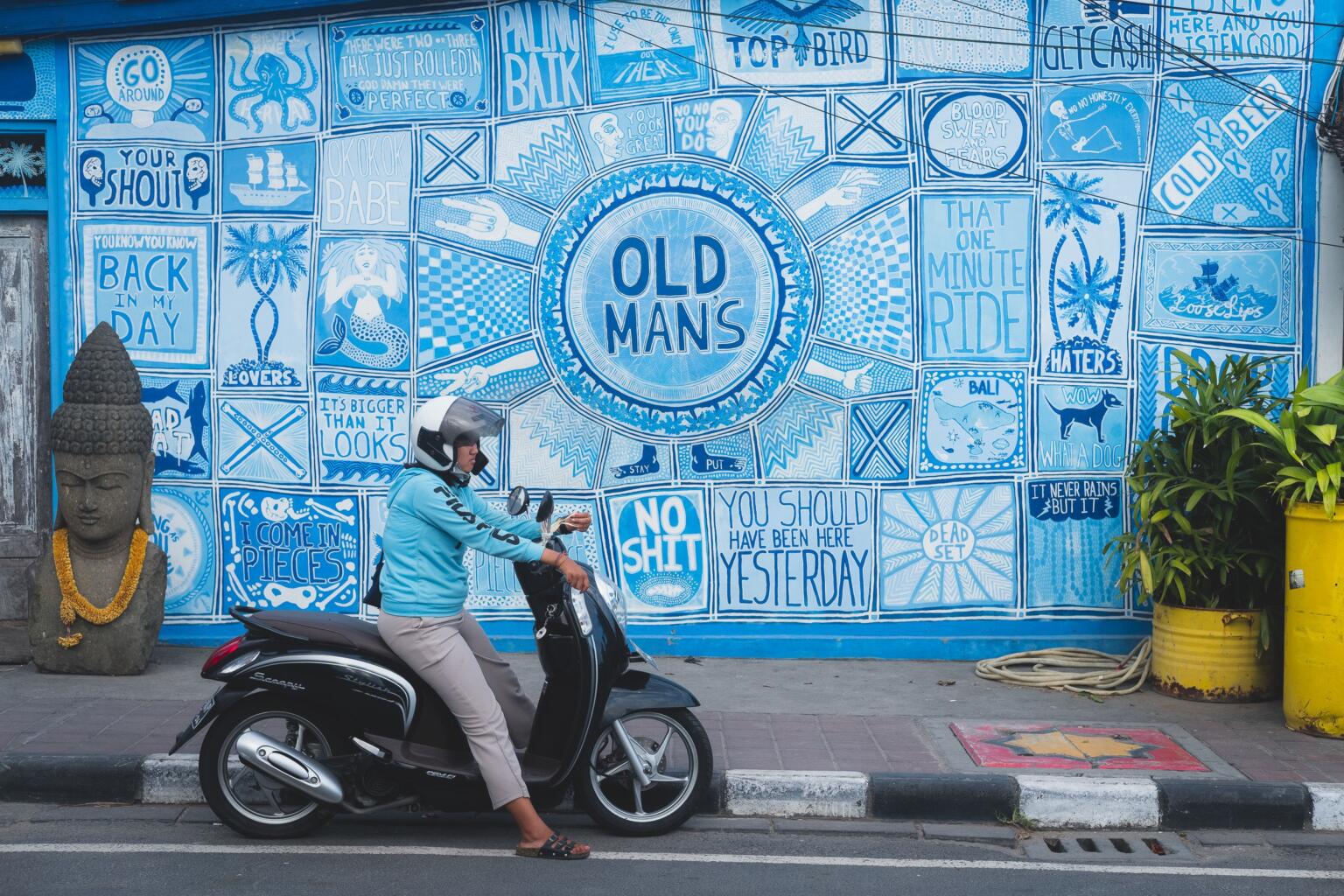 Late-Afternoon: Head to one of the many beach shacks for a bit of lunch. Old Man's and COMO are both popular spots with great menus and views.
Evening: Dress casually for a nice dinner and even better cocktails at Macan. Order their special wasabi drink; just remember to swirl it occasionally.
Night: If you still have energy, grab some after-dinner drinks at Grass Terrace Cafe. They offer happy hour all night long and the venue never gets too busy!
Day 2 in Canggu
Hopefully, you saved yourself from partying the night before and are ready to have another active day today! You'll continue your Canggu itinerary with some surf lessons, some shopping, and, as always, more good food. At the end of the night, you'll also take part in one of my favorite activities in Canggu!
Wakeup: Get a surf lesson in bright and early when the temperatures are cool and the water is calm. Be sure to check the tides first and maybe book your lesson ahead of time. I suggest contacting Surf Bali Adventure and organizing a lesson with one of their instructors.
Morning: Head over to Zin Cafe for some brekky and some quality WiFi. Answer some emails, do some work, post some photos, have a meeting; get some productivity into your trip.
Mid-Afternoon: Walk around town and do some shopping. On Sundays, there are lots of craft markets around town. Otherwise, there are plenty more handicraft and souvenir stores in Canggu.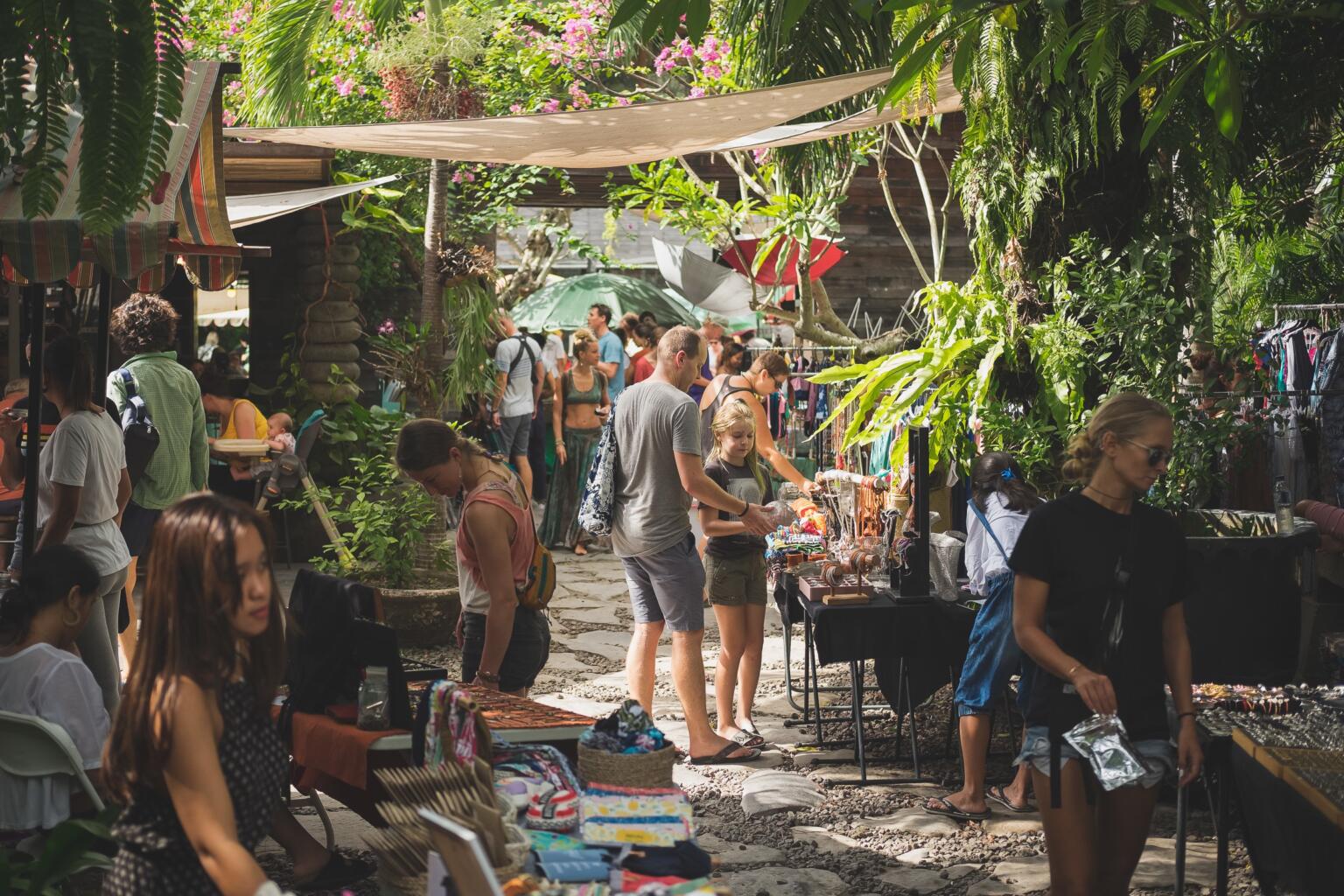 Late-Afternoon: Have a late-ish lunch at local legend The Shady Shack. This is a favorite among vegos though carnivores will enjoy a break from their usual diet.
Evening: Go local and get a taste of some real Indonesian food at Warung Ramadan. It may not look like much but the food here is excellent, not to mention a great deal.
Night: End the night with some epic ax throwing at Muther Huckers. Don't feel concerned if you want some beers to go with those axes – the staff are very attentive and do their best to keep things safe.
Late-night (optional): If you wanted to have a later night, this is the time. Head back to the center of Canggu to drop by Deus Ex, which is a great place to have a kickback.
Day 3 in Canggu
If you decided to burn the midnight oil and stay out late, then I have good news: today is going to be a relaxing one. There will be a crucial nap scheduled followed by a possibly epic sunset set at a beach club. As always, you will not be lacking for quality food either.
Wakeup: If you're feeling a bit rough around the edges, grab some coffee and Hungry Bird Coffee Roaster. Try and get there early before the crowds show up and the headache gets worse.
Morning: Have a nice relaxing breakfast at Cinta. Order the hearty Country Breakfast and enjoy the tranquil views. Maybe a nap afterwards is called for?
Mid-Afternoon: Have a nice clean, light lunch at Manggi's. The smoked tofu here comes highly recommended as it's flavorful but still not too heavy.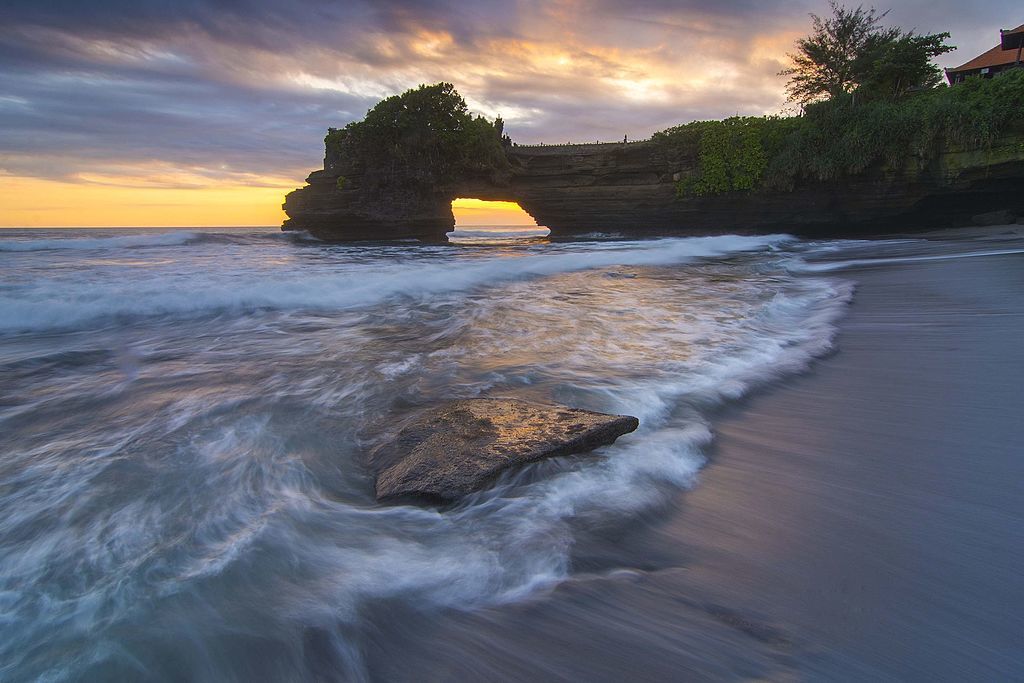 Late-Afternoon: Make a day trip out to Tanah Lot. Sunset is the most popular time to visit the temple but it can be a bit of a madhouse. Arrive a bit earlier and then catch the sunset elsewhere…
Evening: Head to La Brisa for an epic sunset and a drink. If you grab some appetizers, you'll get to sit in one of the comfortable bean bag chairs on the deck area. Otherwise, it's the bar for you.
Night: Have a late meal at one of our absolute favorite restaurants in Canggu – Koloni. Get the beef redang or Jimbaran red snapper, both of which are divine.
Looking for some more detailed information for your next holiday in Canggu? There lots more useful advice located just below!
How to Travel to Canggu
Canggu is well-connected with most popular places to visit in Bali, and reaching here shouldn't be too much of an issue.
Most arrive in Canggu via some sort of private transport, be it a taxi, rideshare, or shuttle. These are essentially the only way to transfer to Canggu as there is no regular public transport going here.
Depending on where you're coming from, I suggest booking a ride-share like Gojeck or Grab . They offer good rates and are safer than normal taxis. The problem will be getting the ride-share to come to you – Gojek and Grab are not available in every part of Bali, especially in the more remote corners of the island.
If you can't get a rideshare, then have your hotel or guesthouse book a ride for you. This method is more reliable as the driver should arrive promptly at the pick-up time and you may score a better deal.
If you're coming from the airport, definitely pick up a SIM card while you're there so you can get a ride-share. Otherwise, you'll have to deal with the taxi mafia and those guys will definitely rip you off.
Refer below for a list of routes to Canggu and estimated prices:
Kuta: 60,000 rupiah ($4) – 40 minutes
Ngurah Rai Airport: 80,000 rupiah ($7) – 45 minutes
Sanur: 100,000 rupiah ($7) – 50 minutes
Ubud : 120,000 rupiah ($8) – 1 hour
Uluwatu: 120,000 rupiah ($8) – 1 hour
Padang Bai: 250,000 rupiah ($15) – 1 hour 40 minutes
Amed: 460,000 rupiah ($32) – 3 hours
Lovina: 400,000 rupiah ($28) – 2 hours 30 minutes
How to Get Around Canggu
Canggu is a deceptively big place. The winding alleyways, hidden streets, and confusing layout can make getting around Canggu a slightly stressful experience. That being said, there is a method to the madness.
To make Canggu more digestible, it's best to break Canggu into individual pieces. There are four main roads that run through Canggu – Jalan Pantai Batu Mejan*, Pantai Batu Bolong Street, Jalan Raya Semat, and Jalan Pantai Berawa. Most of the time, you'll probably be hanging around these streets so try and have some awareness of where they are on the map.**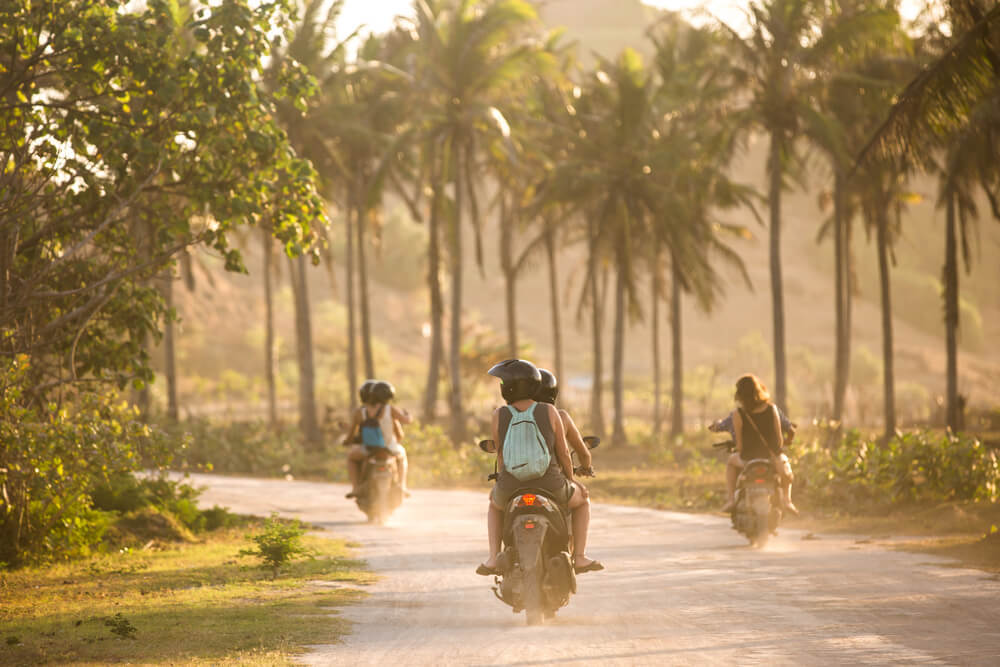 Now the question of how to actually get around Canggu is a different story. Essentially, you have three different options:
By foot
By taxi or ride-share (Gojeck, Grab)
By scooter
Walking in Canggu is doable but I wouldn't recommend it. The distances are longer than many expect, especially if they're considering seeing all of Canggu.
Walking in Canggu is also not very safe . Sidewalks are very uncommon and those do exist usually end without warning. Traffic is also thick and usually doesn't show much regard for pedestrians. While I was visiting Canggu recently, I actually got clipped on the arm by a passing car (dickhead).
Ride-share services can be a good way of traveling around Canggu, depending on how lucky you are. Sometimes there are lots around; sometimes they are mysteriously absent.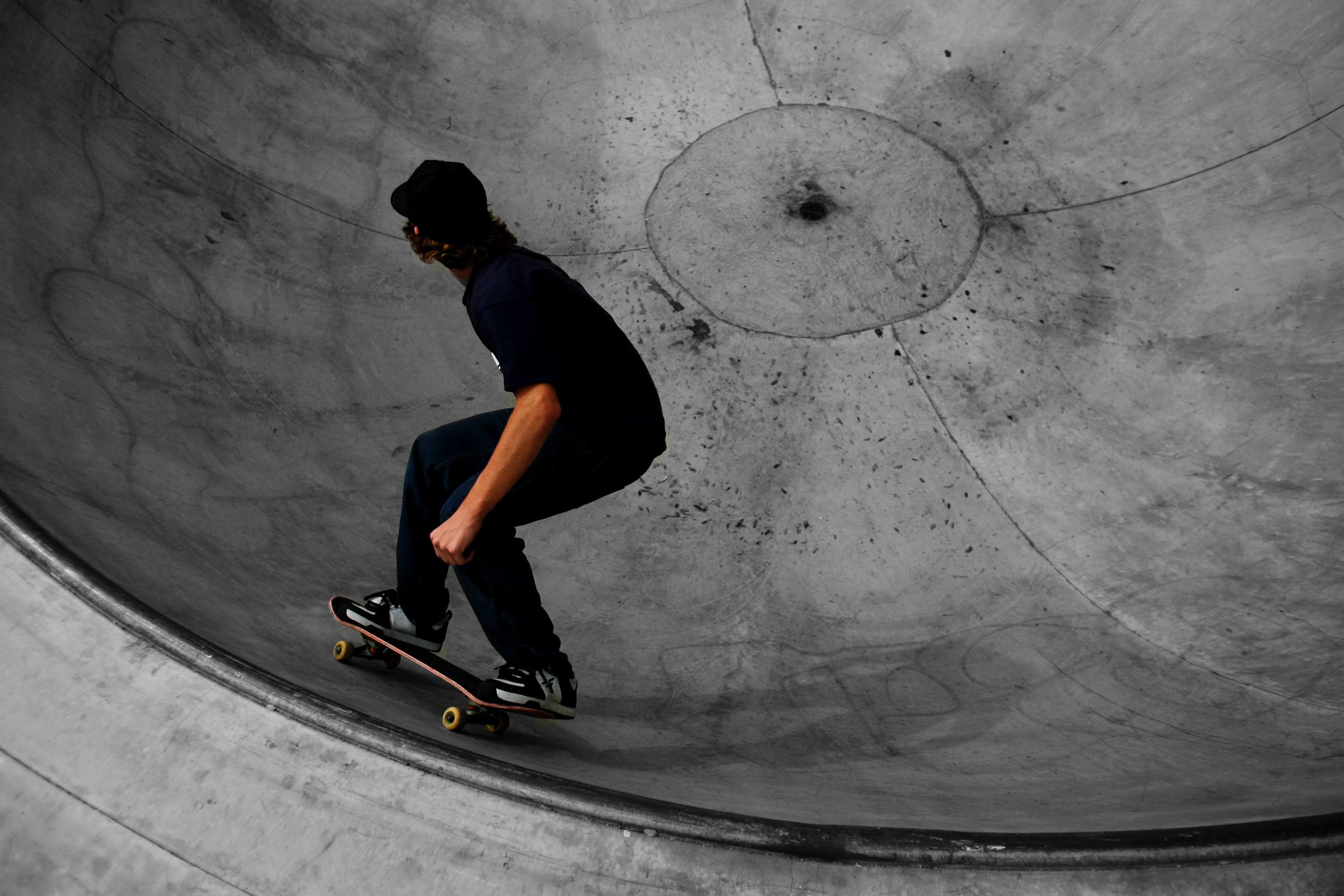 Be aware that some rides hare drivers may show up with no uniform at all . This is because Gojek and Grab are supposedly targeted by the local taxi mafia and then beaten up. It's a fucked-up situation but one that will rarely affect tourists directly.
* Jalan means street in Indonesian.
** While some maps may say otherwise, most people consider everything west of Jalan Batu Belig to be a part of Canggu.
Use Bookaway to find the best deals on transport – buses, planes, trains, and ferries. It'll save you a load of time when organising transport and you'll probably nab an EPIC DISCOUNT too!
Book your transport on Bookaway NOW. Get the best price for the best ride… then use those savings to buy the best feed in town!
Book Your Transport Here!
Renting a Scooter in Canggu
In Canggu, scooter rentals are without a doubt the most popular means of getting around. Scooters are affordable, allow lots of freedom, and are (somewhat) easy to use. Everyone in Canggu has a scooter, which will be obvious from the moment you arrive.
Most hotels in Canggu will be able to organize a scooter for you. Most charge around 50,000-70,000 rupiah per day. If for some reason, your accommodation can't arrange a scooter for you, there are plenty of independent dealers around town that will hook you up.
Whilst driving a scooter in Canggu can be convenient, it can also be a huge headache. As mentioned before, the streets are packed here and often hectic.
It's important to remember that Canggu is still a village and that it was never designed for mass vehicular travel. This inefficiency leads to confusion, congestion, and inevitable accidents.
Enter: The Shortcut. This is perhaps the most notorious 2-foot precipice that you will encounter in all of Bali; maybe even Southeast Asia, for that matter. Though it's literal height pales to exploring rugged parts of Bali, like the nearby island Nusa Penida, its edges are no less intimidating and have caused numerous accidents.
Hyperbole aside, a lot of people fall from the road while driving on The Shortcut. So please, be careful. Also avoid driving on it in the afternoon, when intense traffic causes massive backups.
For that matter, you should be very careful when driving anywhere in Canggu. If people insist on doing things like driving drunk and not wearing a helmet, they're only asking for trouble.
Always wear your helmet and always be cautious. Just because you may think you're a good driver, doesn't mean that everyone else is. You could easily be involved in an accident that wasn't even your fault.
When to Travel to Canggu
Canggu (and most of Bali for that matter) is subject to a tropical climate. Summers here are more hot and rainy while winters are drier and slightly less hot. Temperatures in Canggu are pretty consistent year-round and usually hover around 82 degrees Fahrenheit or 28 degrees Celsius.
The best time to travel to Canggu is really a matter of preference. If you're looking for the best possible weather, the winter months (May-October) will be perfect for you.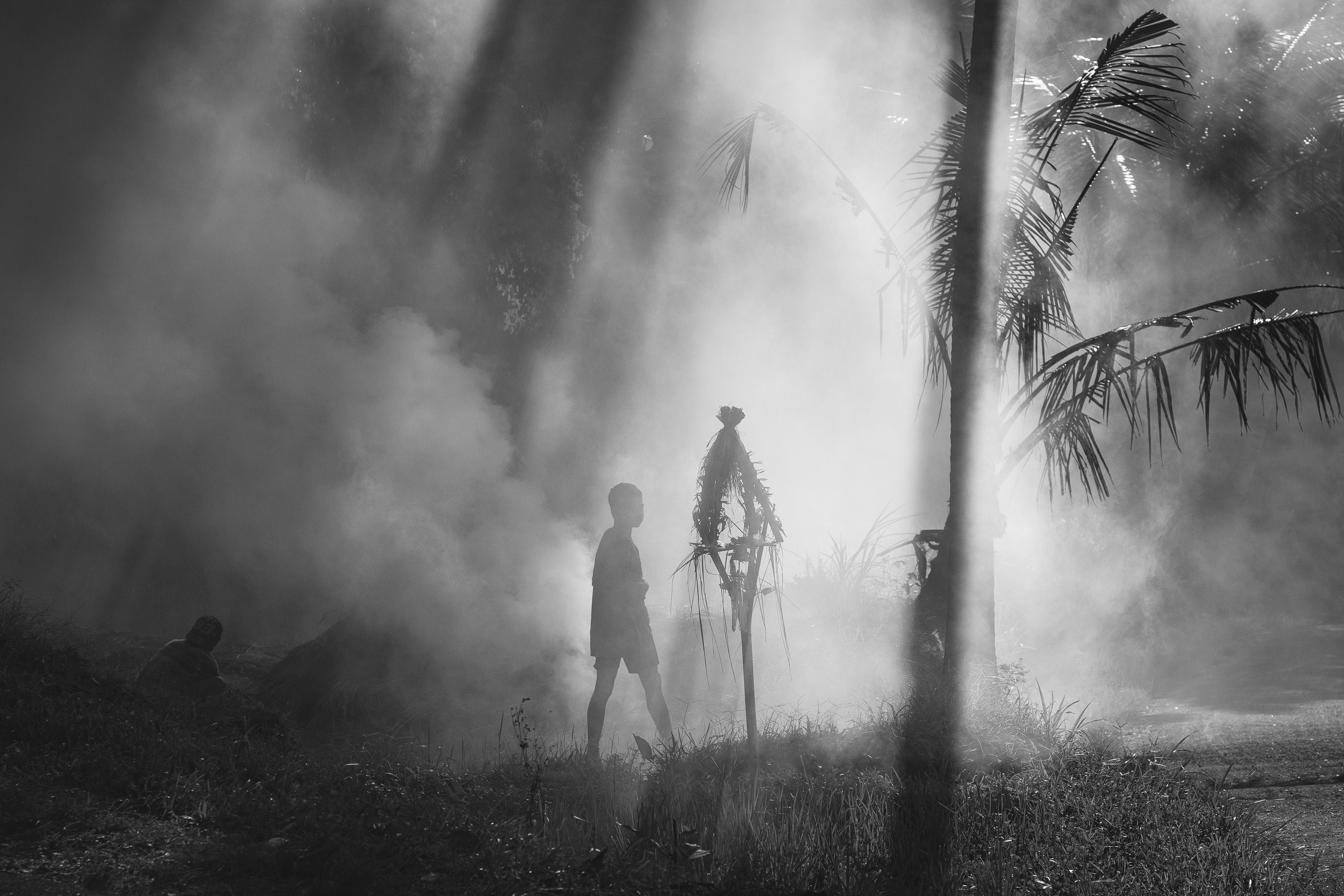 If you don't really care about the rain in the summer – it usually appears as afternoon thunderstorms anyways – or some Australians on Christmas holiday, then you could honestly visit Canggu at any time of the year.
There are a number of holidays and events happening around Canggu throughout the year and attending one of these could possibly become the center of your Bali itinerary. Hell, they could even be the highlight of your trip as well!
If you're curious about what's going on in Canggu, I suggest checking the following websites for upcoming events:
Eventbrite – A well-rounded collection of festivals, holidays, and cultural events around Canggu.
Dojo Bali – The original co-working space in Bali. Offers regular events geared towards entrepreneurs and digital nomads.
Hubud – One of the largest digital hubs in Ubud. Offers its own series of events and is worth the drive.
The Essential Canggu Packing List
Make sure you bring these important items with you when you head to Canggu!
Waterbottle – Reduce your plastic footprint and bring your own water bottle with you. Bali is currently in the midst of an environmental crisis and it's only getting worse as more people visit here. Be a part of the solution.
Adapter – How annoying is it when you pack all of your electronics and then can't plug them in to charge?! Avoid this common oversight and remember to bring a power adapter with you.
Imodium – Bali belly doesn't affect everyone but if and when you do catch it, you'd better be prepared for a rough night. It may not be a cure, but Imodium is one of the best ways to help remedy an upset stomach.
Waterproof Phone Case – These are great for not only keeping water out but sand and other pieces of grit. These are super helpful when you're at the beach or out playing on the boat.
First Aid Kit – You never what could happen in Bali. You could fall off your motorbike, cut up your leg on some coral, all that and then some. Make sure you have a first aid kit in case of emergency – it's one of the most items you could possible pack.
For more ideas, be sure to check out our comprehensive list of essential packing for visiting Bali!
Best Beaches in Canggu
Of course Canggu has beaches! The beaches here are very similar to those you find in Kuta with black sand, lots of surf, and even more beach bars.
There are many different beaches in Canggu but they all look kinda the same. One seemingly blends into the other and the only feature that really distinguishes them are the local bars.
You'll need to be mindful when swimming at Canggu's beaches. The ocean can be ferocious here and the currents can easily rip away unsuspecting swimmers. Stay out if the conditions look too dangerous and be aware of red flags.
As previously mentioned, there are plenty of opportunities to go surfing in Canggu. As previously mentioned, the sea can be a bit anxious around this part of the island though. Most of the waves I saw were really big and broke really early.
Below is a list of the most popular beaches in Canggu:
Batu Belig Beach – On the southern edge of Canggu and practically in Seminyak. One could easily pop into the famous Potato Head Club from here.
Kayu Putih Beach – A lowkey beach that is more well-known for hosting the "Wooden Bridge."
Perancak Beach – A very quiet beach in Canggu where all the fishermen moor their boats. These seacrafts are often painted bright colors and are good for photos.
Batu Bolong Beach – Probably the busiest beach in the area but still way less crowded than anything down south. Lots of beach bars, like Old Man's, and surf instructors.
Echo Beach – Not a beach per se but a popular venue that has lead to a misnomer. Nearby La Brisa is the best beach club in Canggu.
Munggu Beach / Seseh Beach – Where Canggu ends and the private villas begin. These are pretty out of the way and calm.
Health and Fitness in Canggu
For all of Canggu's hedonistic tendencies – overeating, drinking, late-nights, etc – there's an equal focus on health and nutrition. Canggu has a thriving fitness scene, one that attracts and ensnares all kinds of health-conscious travelers. The scene is so prevalent here, that I'd even go so far as to say that personal health in Canggu is just as important if not more than partying.
There are many, many places to exercise in Canggu. These include CrossFit gyms, weight rooms, yoga studios, rock climbing areas, and much more. Most function in the same way that your personal gym back home would as well. You can either drop in for a quick session or apply for a longer membership at most of these.
If you aren't a fan of lifting weights, calisthenics, or any of those or organized workouts, then there is always surfing . Surfing is a lot tougher of a workout than most people think and it really hits the core and shoulders. Just be careful of the powerful surf in Canggu – the waves here are more violent than in Kuta.
It must also be said that, generally speaking, the food in Canggu is of a higher quality. There is a heavy emphasis on organic, vegetarian, and clean eating here, the likes of which is often sorely lacking when one travels. For those who have been backpacking Southeast Asia long, the healthy food in Canggu will be a more-than-welcome respite (more on that later though).
Money in Canggu
There are plenty of ATMs around Canggu so withdrawing cash shouldn't be a problem. The banks will be your best bet for finding working ATMs, followed by larger convenience store chains. There are some machines randomly strewn throughout Canggu but these may be unreliable.
Where there are tourists there will always be private money changers as well. I usually don't suggest using one of these services unless you absolutely had to – most of these businesses will give you a shit deal on your dollar.
On a slightly more serious note, there will always be thieves where there are tourists with money as well. Though the odds of being outright attacked are low, pickpockets are still common enough to warrant attention. Be aware of your surroundings, especially at night, and keep your money in a safe place.
If you're looking for advice on where to eat, drink, and settle down in Canggu, refer to the following sections!
The Best Cafes and Restaurants in Canggu
There is no question about it: the best part about Canggu is the culinary scene. Everywhere, there are places to eat in Canggu and these come in all sorts of varieties.
Fancy some seafood? Then go to MAITAI , which serves up some great Polynesian food.
Need to cure a hangover with some grade-A coffee? Satu-Satu has your back.
Ready to try some French fusion? Then don't miss out on Folie Bali.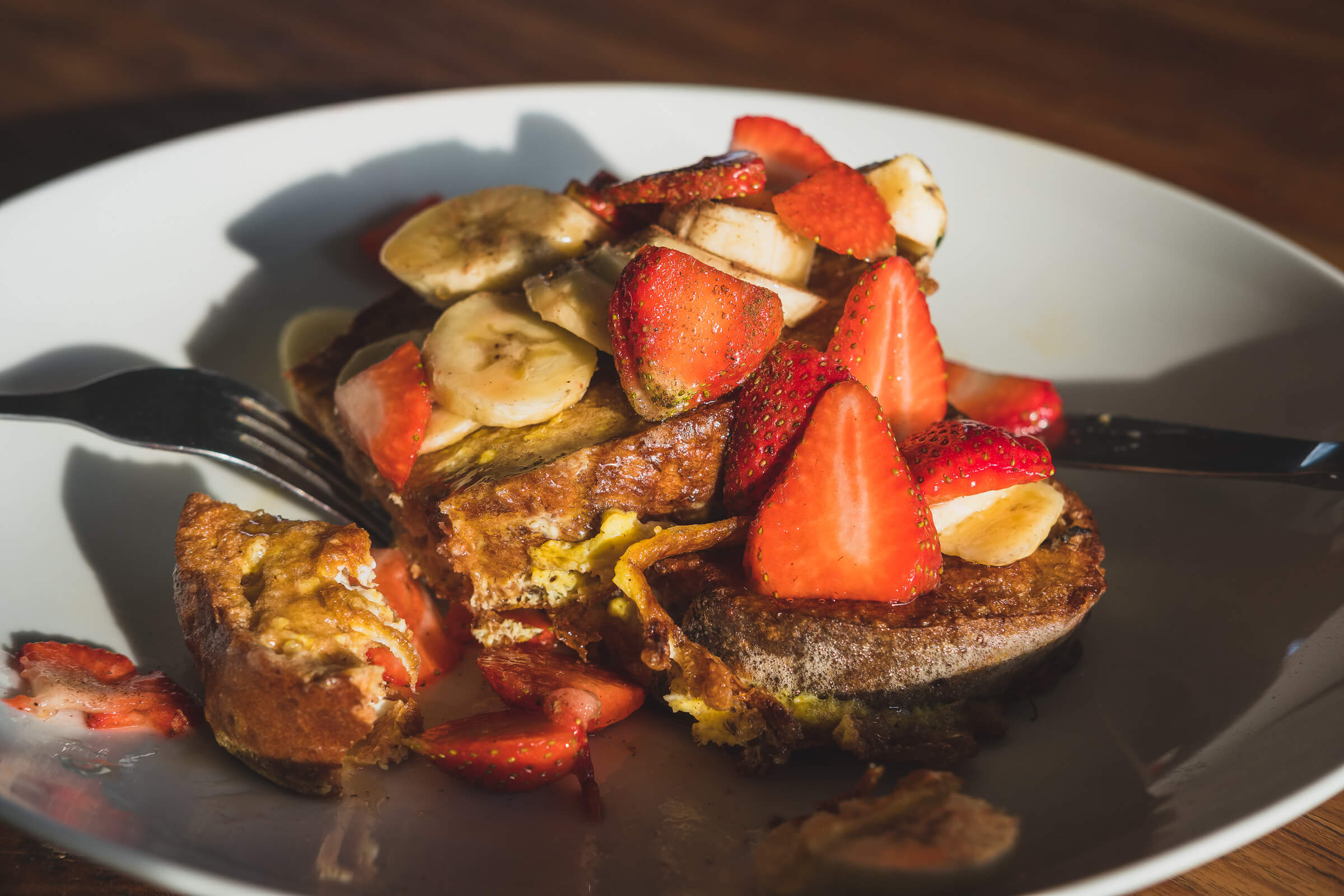 These are only the tip of the iceberg as well – there are so many restaurants in Canggu that I couldn't even begin to categorize them all.
It must be said as well that the coffee culture in Canggu is also very strong. Cafes can be found in abundance on almost every street and these are usually packed with digital nomads and holidayers looking for a cure for some extra energy.
So as not overwhelm you, I'm just going to present some of The Broke Backpacker's favorite restaurants and cafes in Canggu. We highly recommend that you check these out when you visit as they will be a highlight.
Warung Ramadan – best Indonesian food in Canggu
Lifescrate – best breakfast in Canggu (get there early!)
Shady Shack – best brunch in Canggu (yes, it's different from breakfast)
Manggis – best vegan food in Canggu
Hungry Bird Coffee Roaster – best coffee in Canggu
Luigi's – best pizza in Canggu
La Baracca – best overall restaurant in Canggu
Cinta – for food with a view
Zin Cafe – best restaurant for business and work
Nightlife in Canggu
Bali and partying are pretty synonymous terms these days. Most of us have heard of the wild parties in Legian or the extravagant beach clubs that line Seminyak. Many people travel to Bali just to drink and go hammy with complete disregard.
The bars in Canggu can definitely compete with any other on the island. Like the cafe scene, the drinking culture in Canggu is pretty full-on and it certainly has its own style and flair.
Luckily, there is a place to drink for everyone in Canggu! The bars here come in all sorts of varieties, from beach clubs to watering holes to skater bars to hipster hideaways. Granted, the biggest venues are still down south in the likes of Kuta and Seminyak but, that being said, Canggu's nightlife is still some of the best in Bali.
Check out these bars in Canggu next time you're planning a big night out:
Sunny Cafe – for hipsters
Pretty Poison – for skaters
Grass Terrace Cafe – for kickbacks
Savage Kitchen – for happy hour
The Lawn – for classy folk
La Brisa – for the sundowners
Macan – for cocktails
For those who want to score some party favors in Canggu, we have some special advice…
It is possible to find many of the most popular drugs here, like coke, weed, and ecstasy, BUT we must remind you that possessing such substances is HIGHLY ILLEGAL in Indonesia. If you're caught with any sort of narcotic in Bali, the resulting criminal charges can be immense.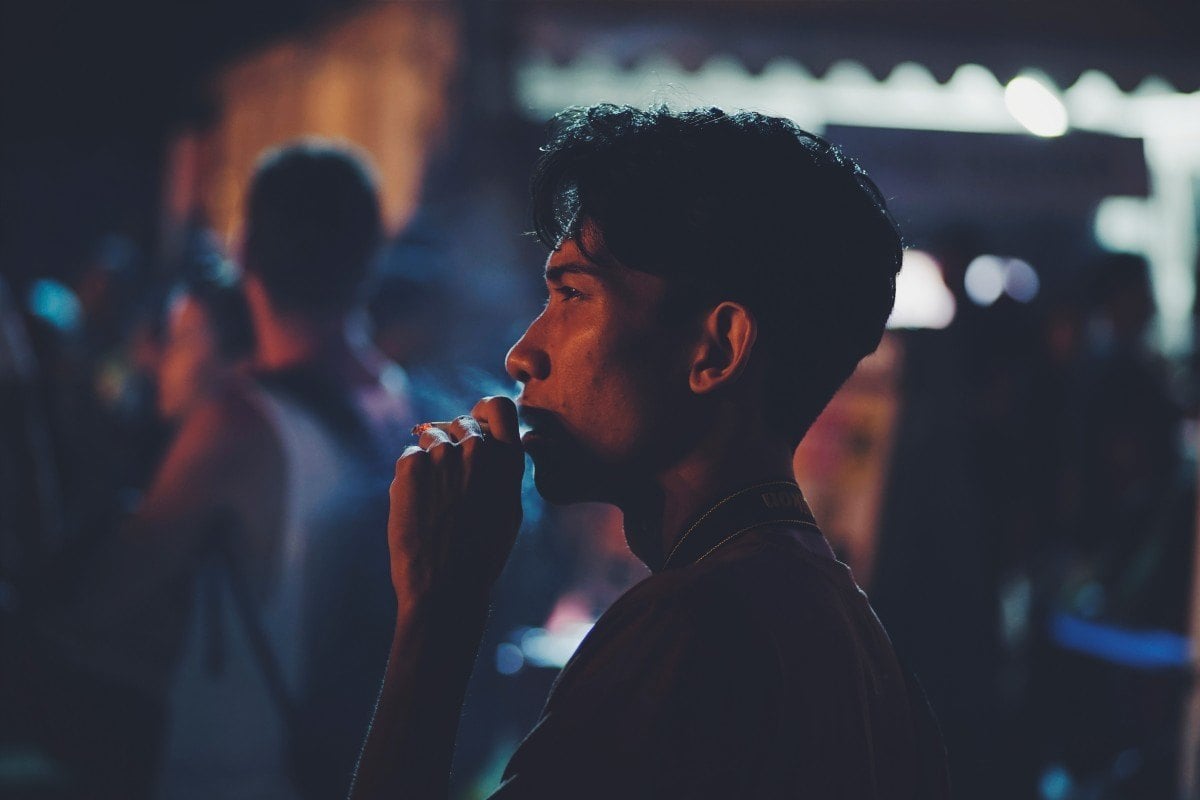 If you really want to do drugs in Bali, please be extra smart. Enlist the help of locals that you can trust and keep that shit under-the-radar. DO NOT attempt to buy directly from a potential dealer – it's a well known fact that plain clothes cops love to sting tourists on the island.
The Hipster Guide to Canggu
I'd like to think that I know a thing or two about being a hipster: I grew up in Portland , lived in several increasingly "trendy" areas in Denver , and have visited many more of the most hipster cities in the world.
I know how to distinguish by now the difference between the real hipster shit – the love of homemade products, secondhand clothing, craft everything – and the fake stuff. As such, there will be no mentions of pseudo-hipsterness in this Canggu travel guide.
And I got to hand it to Canggu – it doesn't hold back in its hipster department. Re-purposed woodwork, musty old wallpapers, barbers that offer straight-razor shaves and whiskey; enough stuff to make any hipster curl is finely-oiled mustache with glee.
An excellent example is Sunny Cafe. This place has so much old, vintage paraphernalia that you can actually smell the mothballs when you walk in. And you know what? I fuckin' love that.
Another example is Mother Huckers , which is Bali's one and only ax-throwing range.
But the most hipster thing to do in Canggu has got to be taking part in Deus Ex Machina's "Tacos and Tattoos" weekly event. Every Tuesday, you can receive a beer, a taco, and a brand new tattoo, all for the low price of 150,000 rupiah. If such a thing were to exist in Portland, the line would go out the door, around the corner, and all across the bridge to Washington.*
So good on ya Canggu for embracing the counterculture. As a former hipster myself, you can color me impressed.
*Deus Ex Machina knows that it would be ridiculous to give everyone tattoos and tacos, so they've made this a ticketed event. Only the first 16 people who arrive will be able to participate.
How to be a Respectful Backpacker in Canggu
The Balinese have to deal with a lot of shit from horrible backpackers: half-naked photo shoots in front of temples, shit-faced groups wandering into the rice paddies. This kind of behavior reflects poorly on travelers and isn't anywhere near the best way to experience Bali.
Being a Digital Nomad in Canggu
Canggu is touted as being the new "digital nomad capital of the world." The town is currently ranked as the #1 place to live for digital nomads on Nomadlist and it seems that every wanderluster knows about this by now.
What has made Canggu so appealing to remote workers and digital nomads? There are several reasons:
A relatively low cost of living that is comparable to some Western standards.
An excellent fiber-optic network.
A huge selection of bars and restaurants, not to mention a very enjoyable lifestyle.
A large and active community of fellow digital nomads, which makes collaboration and new ventures easy to drum up.
All of these factors have contributed to Canggu's ascension as a remote working haven.
Finding the perfect coworking space is a crucial part of settling in a new spot for nomads. It needs to have the right vibe, amenities, and the right group of likeminded people. The Bali based folks of TBB love Tribal. Its open, breezy and ridiculously comfortable.
BUT, it's not a complete paradise in Canggu for digital nomads.
With increased attention has come increased prices. As more people move to work and live in Canggu, rental prices are steadily climbing. It's not prohibitively expensive yet, but it could be in the near future.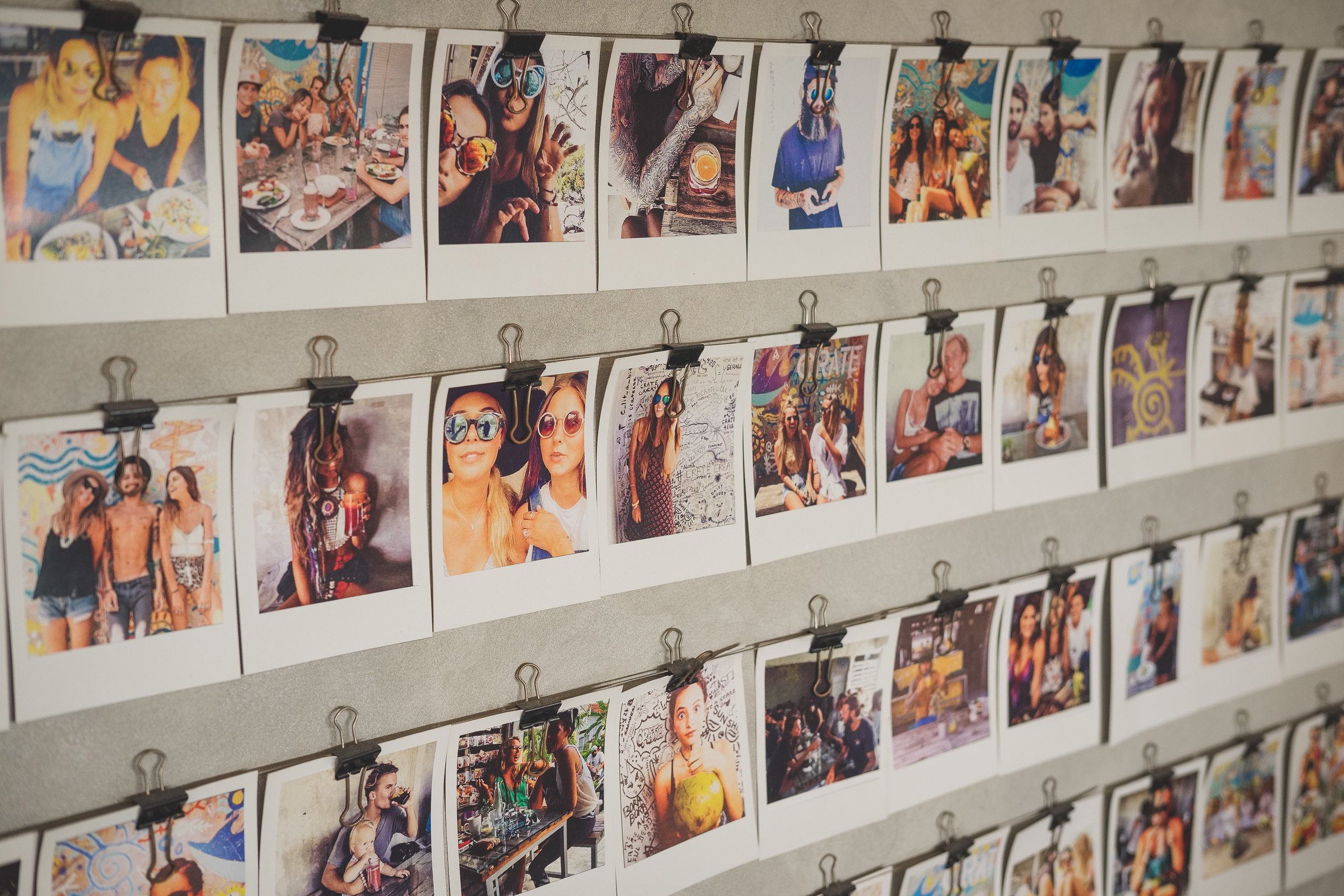 On another note, productivity in Canggu is reportedly down. It seems that a lot of people are more interested in the lifestyle and Instagram posts than actually doing work. Certain remote jobs are over-saturated in Canggu as well, which means work will be harder to find.
So if you plan on living in Canggu as a digital nomad, just remember to put your time in first before having too much fun. Work hard and play hard and don't forget the order of the two.
Get Insured Before Traveling to Canggu
The first thing that most Balinese people say to is "hello;" the last thing that they say is usually "be careful."
Bali isn't a dangerous destination, but accidents do happen all the time. Whether it's a scooter accident, complications from diving, or a case of Bali belly, there are lots of ways that your trip can be derailed.
Traveling without insurance would be risky so do consider getting good backpacker insurance sorted before you head off on an adventure.
I have been using World Nomads for some time now and made a few claims over the years. They're easy to use, professional and relatively affordable. They may also let you buy or extend a policy once you've started your trip and are already abroad which is super handy.
If there's one insurance company I trust, it's World Nomads.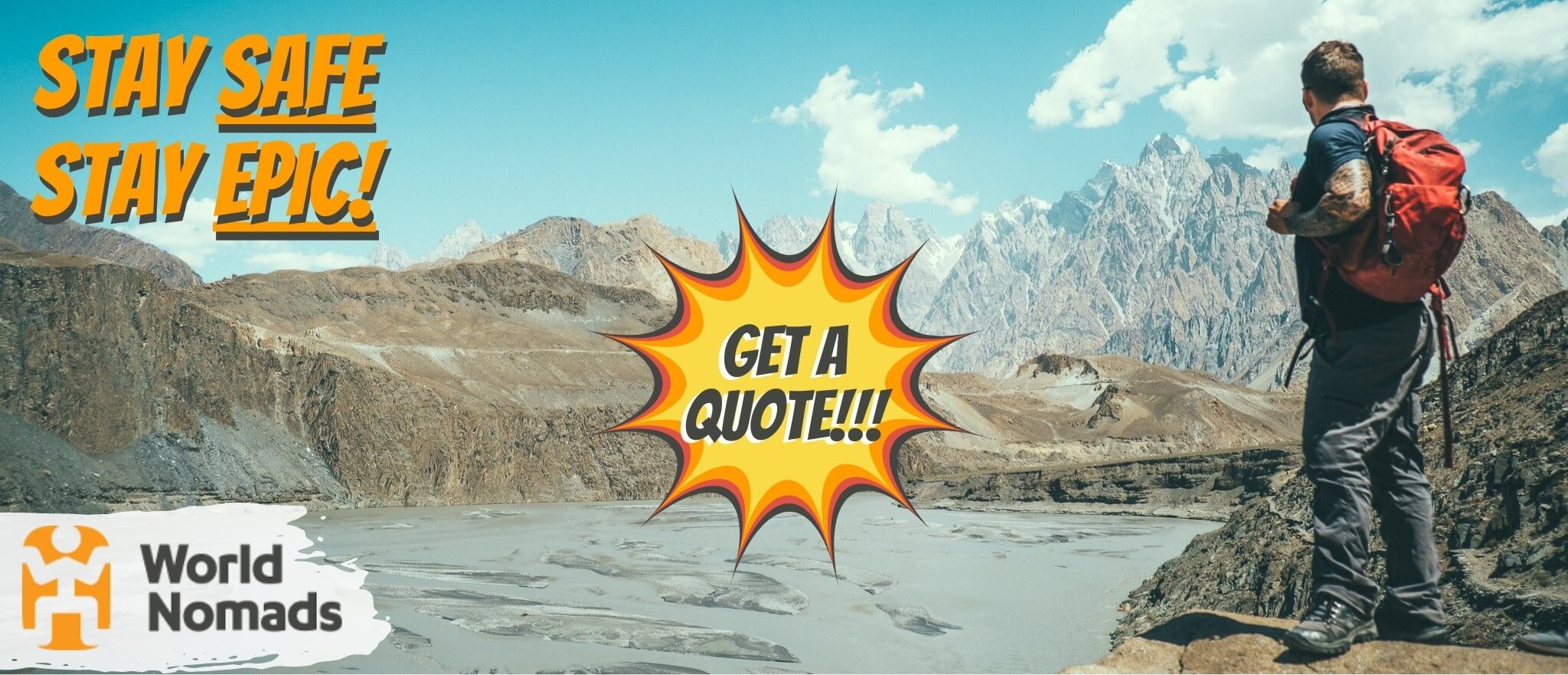 World Nomads' mission is to support and encourage travellers to explore their boundaries. They offer simple & flexible travel insurance, and safety advice to help you travel confidently.
They've been doing it since 2002 – protecting, connecting, and inspiring independent travellers just like you.
Get a quote below or read our in-depth review!
World Nomads provides travel insurance for travelers in over 100 countries. As an affiliate, we receive a fee when you get a quote from World Nomads using this link. We do not represent World Nomads. This is information only and not a recommendation to buy travel insurance.
Before I sign off here, I would like to remind everyone visiting Bali to be very careful when it comes to drinking. There is a lot of bootleg alcohol on the island – mixed sometimes with dangerous amounts of methanol – and you DO NOT want to drink the wrong batch.
Buy liquor from trusted vendors and don't accept drinks from random dudes. Go to legit bars in Bali and not to roadside shacks. Sticking to bottled Bintang beer is a sure way to avoid this shit as well.
---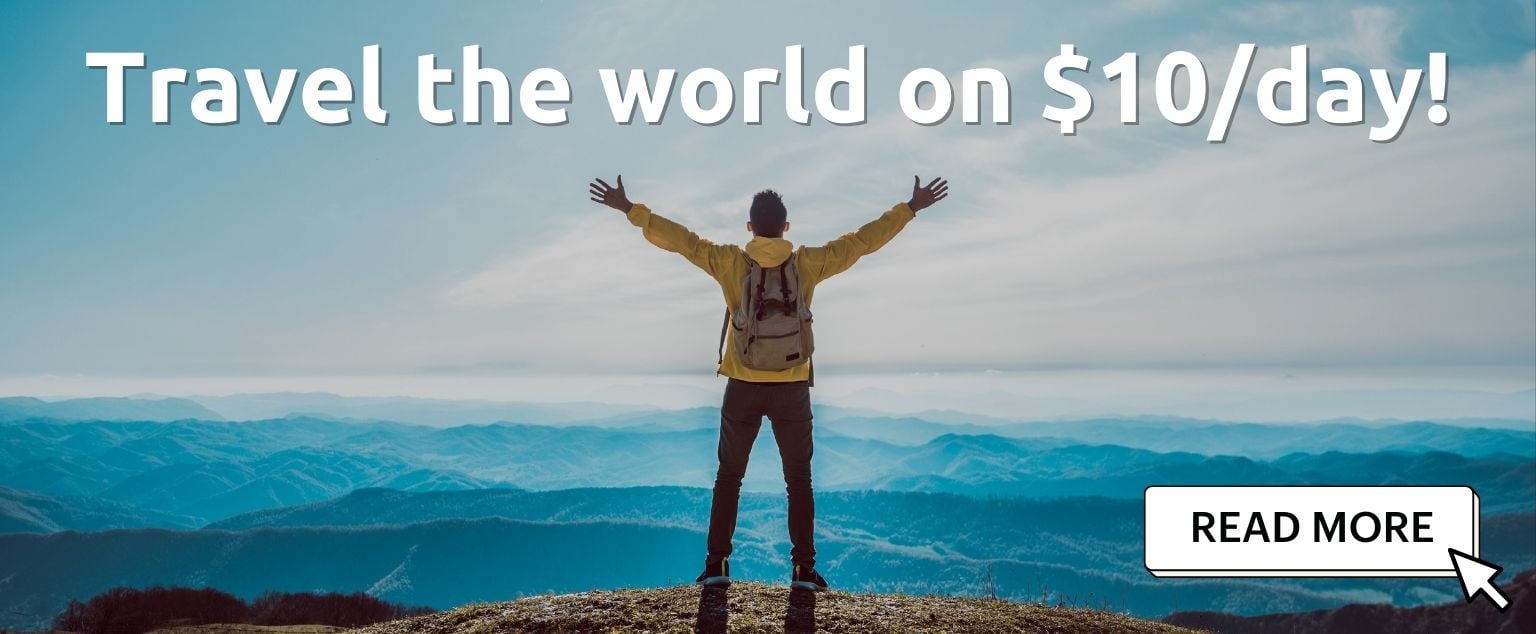 And for transparency's sake, please know that some of the links in our content are affiliate links. That means that if you book your accommodation, buy your gear, or sort your insurance through our link, we earn a small commission (at no extra cost to you). That said, we only link to the gear we trust and never recommend services we don't believe are up to scratch. Again, thank you!