In case you didn't know, Canggu is Bali's central hub for surfing, partying, and for digital nomads. Offering some of the best waves and stretches of coastline on the whole island, as well as the craziest parties, little Canggu Bali offers the full Bali experience wrapped up into one small rice paddy covered neighborhood!
Choosing where to stay in Canggu can be tough as there are SO many options to choose from. There are hotels, homestays, villa's & even the odd treehouse all vying for your attention.
And then there are trusty old backpacker hostels. If you are looking to stay in a hostel in Canggu you've come to the right place.
Without any further ado, here are the top hostels that Canggu has to offer.
Our Top 3 Picks For The Best Hostels in Canggu
In case you're in a bit of a hurry, here are the top 3 hostels Canggu;
The Farm Hostel – Best Overall Hostel
Lay Day Surf Hostel – Best Party Hostel
The Hideout Hotel – Best For Solo Travellers
Quick Introduction to Canggu
Canggu is amongst the most popular parts of Bali and with good reason! Whether you want to surf, chill, eat or party, Canggu has you covered. There are loads of things to do in Canggu whatever you're into, from enjoying a sundowner at a beach club, to taking a swim in the ocean. Berawa Beach is also accessible from Canggu.
Like the rest of Bali, the best time to visit Canggu is from April – October which is the dry season. The rainy season is still OK but is, well, rainy!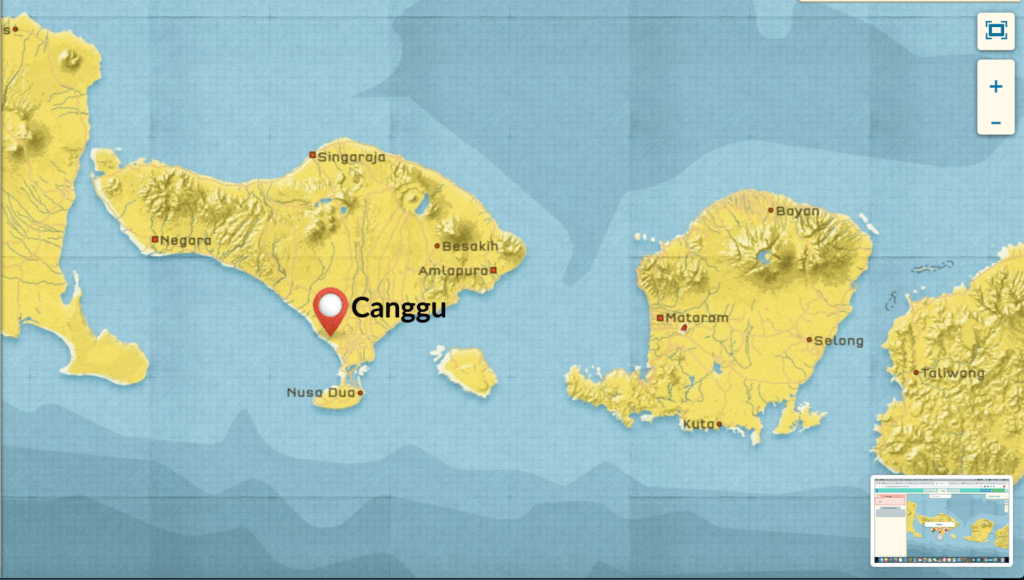 Canggu is not quite as cheap as it once was but is still affordable and one of the best places for budget backpackers. Meals in low budget restaurants (local Warung's) start at $5 and hostel dorms can be picked up from as little as $5 – obviously, private rooms cost more. That said Canggu accommodation prices do vary as you will see from this post.
Once you have finished exploring Canggu, we suggest heading inland towards Ubud to experience a different, more serene side of Balinese life. And yes, we do have a hostel guide for Ubub too because we are awesome!
1.Best Overall Hostel in Canggu – The Farm Hostel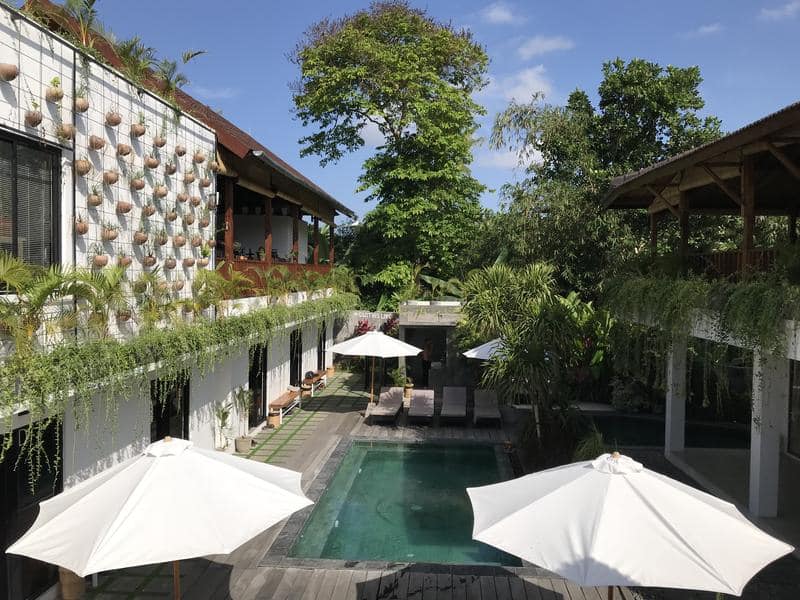 Plop yourself down in a beanbag chair and make yourself at home. Even though you will be surrounded by the lush, breathtaking fields of Canggu, this place almost feels like a backpackers resort.
Take a dive into the pool or grab a cold beer to beat the heat. Getting a bit hungry? The Farm Hostel also has all the best deals with local restaurants including free pizza on Mondays!
No matter if you are looking a meet new people and other travelers, lounge by the pools, or take to the waves, The Farm Hostel is one place that ticks every box. This hostel has grown massively which is testament to its' success.
There are 6 mixed dorms and 5 female only dorms to choose from. Dorm's accommodate 6 people.
$$
Spacious Lounges
Pizza and Beer!
 Pool
Free Wifi
Anything Else?
The reviews on this one are through the roof, guests love it here and this is why it is our top pick for the ultimate hostel in Canguu. We guarantee you will love this place!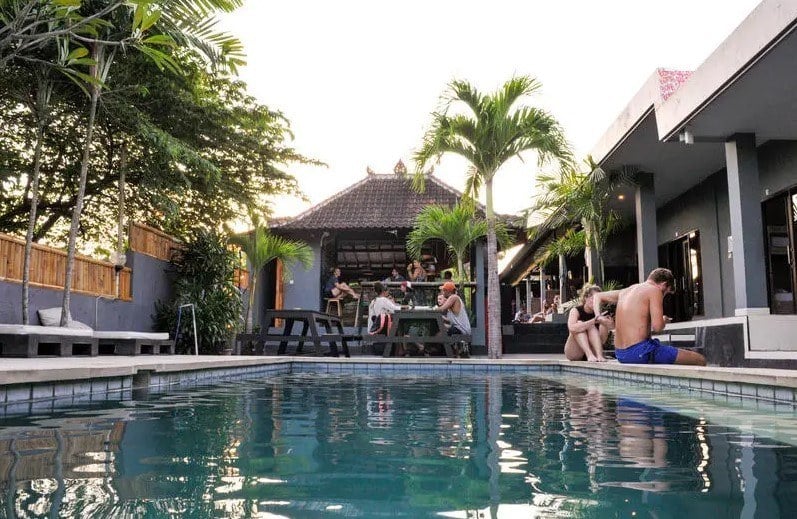 Even though Canggu is known as Bali's surfers' paradise, you don't have to know how to glide across the waves to join in at the party at Layday Surf Hostel! It's like a beach club minus the beach!
After you pick one of the four pools to jump into, it won't be long until the party comes to you! With nightly music, dancing, and beers, this is a place where the fun and music never stops.
You will have cozy lounges to hang out in, pools to cool off in, and staff who will show you how to have the most fun in and outside of the backpacker's hostel.
The dorms here accommodate 6. Mixed dorms and female only dorms are available.
$
4 Pools (Yes you read that right)
Beanbag Lounges
A Bar and Parties every night
Free Wifi
Anything Else?
The hostel is well situated, it's a 6-minute walk from Taman Segara Madu waterpark and a 6-minute drive to Batu Bolong Beach for surfing. Batu Bolong is well worth a visit by the way. Private rooms are available and the friendly staff can arrange luggage storage.
3. Best Option for Solo Travelers in Canggu – The Hideout Hostel
Traveling solo is sure to get lonely after a while. Nothing is worse when you are checking into a backpackers hostel and find that there are no guests to be found. At The Hideout, you will find where all your fellow travelers have been hiding!
Lucky for you, it is not only in the two lounges located around the youth hostel where you can break the ice, but try your hand in some yoga or surfing to mix with other backpackers!
With an onsite garden and swimming pool, The Hideout is the place for those looking to get out there and socialize!
$
Yoga Studio
Outdoor Swimming Pool
Lovely Garden
Free Wifi
Anything Else?
Air-conditioned dorms with lovely custom beds, each one comes with a night light and charging points. You also have the option to book standard or capsule dorms.
The friendly team are on hand to help you get the most of your stay and pass on their local knowledge
Basically, it's the perfect home away from home for those looking for sun, surf and yoga.
More of the Best Backpacker Hostels in Canggu
In case you didn't quite connect with our top picks (or they were booked solid) here are some more awesome Canggu hostels. Enjoy!
$
Surf Lessons
2 Terraces
Scooter Rentals
Free Wifi
Looking to stretch out that last rupiah while traveling on a shoestring budget through Bali?  Looking for the cheapest per night price possible? We have all been there, and there is no better place to both save money and have the time of your life than at Beachbums! This backpackers hostel has two outdoor terraces, a lounge, and even a fully equipped kitchen!
After spending the morning learning how to surf at one of Beachbums surfboarding classes, explore Canggu's nightlife! Beachbums is a hostel located in the heart of Canggu, meaning all the best bars, restaurants, and clubs are just a short walk away. Ask the friendly staff for insider picks.
Best Hostel for Couples in Canggu – Clandestino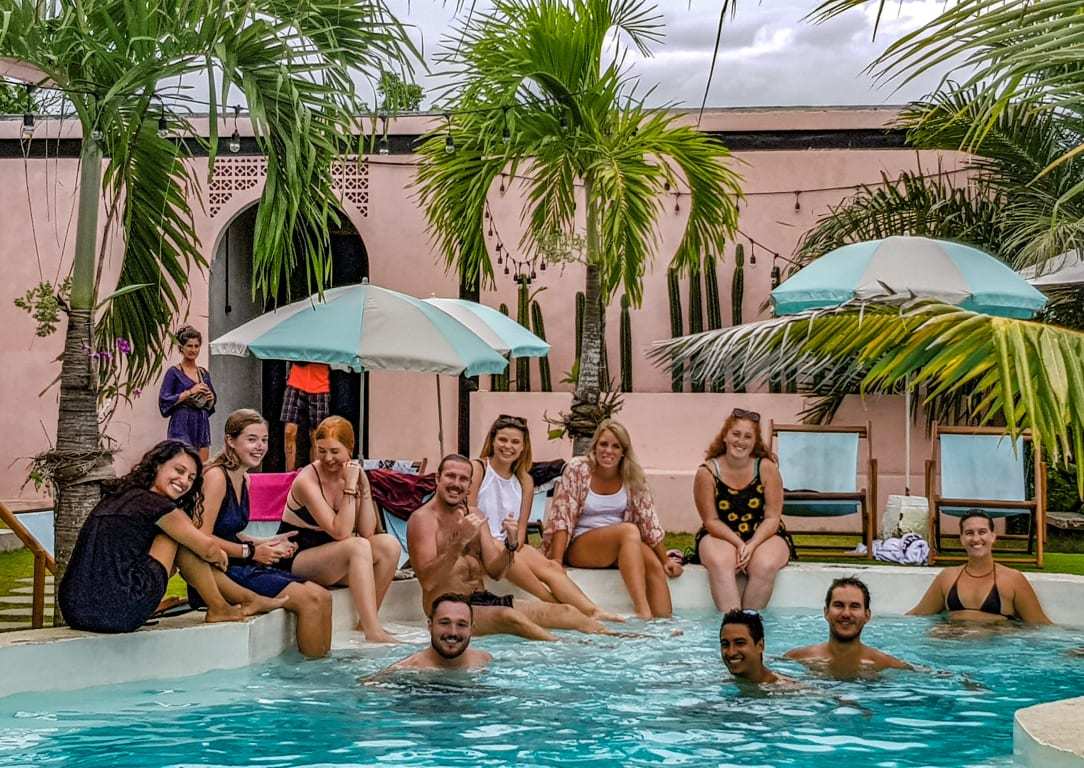 $
2 Bars
Swimming Pool
Cafe
Free Wifi
Even though you are a couple on a backpackers budget, that doesn't mean you can't find a romantic hostel to cozy up into. With both private and dorm rooms, Clandestino is so much more than just a fancy name. You and your special travel buddy can swim up to the poolside bar for a drink or flirt at the tiki bar for a little added atmosphere.
If you thought the hostel was great, what until you see the scenery. Clandestino is set in a tropical Balinese garden, with lush palm trees and views of the surrounding rice fields.
Best One for Digital Nomads in Canggu – Draper House
$
Lounges
Start-up Events
Community Board
Free Wifi
Bali has made a name for itself as a hub for digital nomads and traveling entrepreneurs. While visiting Canggu, the Draper House (formerly Tribe Theory) will provide you with everything you need to get that next blog post or video up, while still enjoying all the beauty of Indonesia.
With startup events, a community board, lounges, and even a dedicated working space, Draper House goes above and beyond to make sure you can get your work done in peace. Ensuring you with a steady wifi connection & air conditioning, it won't be long until you close that laptop and get back to exploring Canggu!
Best Hostel with a Private Room in Canggu – Terracotta Guesthouse
$$
2 Spacious Lounges
Outdoor Swimming Pool
Shared Kitchen
Free Wifi
We all have those moments when we want to just lock ourselves up in a private dorm and finally get that good night's sleep. At Terracotta Guesthouse, you spend just a couple extra rupiah to have that added comfort.
Even though you are going to be in a private room at a guesthouse, Terracotta still has the heart of a backpackers hostel. With an outdoor swimming pool surrounded by lounge chairs and 2 lounges around the guesthouse, it isn't too hard to get out there and meet other travelers when the mood strikes you! Or, you can just abuse the Free Wifi and stream Netflix.
Psst!
Heading to a hostel? Don't forget to pack a
padlock
! It's well worth having one so you can secure your locker and protect your stuff!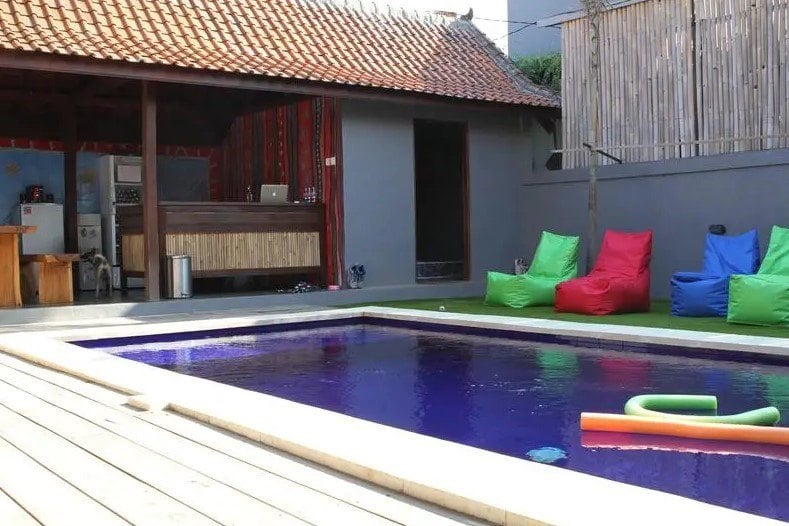 $
Surf Lessons
Bar
Scooter Rentals
Free Wifi
Some of those hostels out there are so incredibly massive that you will find it difficult to run into other travelers. The Tipsy Gypsy is a small intimate backpackers hostel which creates this cozy atmosphere that makes everyone who walks through the door feel like family – it's a great place to stay.
Regardless if you are wanting to pick up a surfboard or just hit up the bar and enjoy the air conditioning, you are sure to make some of the best friends you ever had on your travels here! It's also in a great location.
Want to save the world? Single-use plastic bottles are a huge threat to Marine Life - Be a part of the solution and travel with a
filter water bottle
.
The GRAYL GEOPRESS water bottle is the ONLY all-in-one filter water bottle setup you'll need. Whether you need to purify the water from a hostel sink in Kathmandu or a stream trickle in the Andes, the Geopress has got you covered.
$
Swimming Pool
Rooftop Cafe
Live Music
Air conditioning
This Canggu backpackers hostel is a great place to stay. It's one of the few places in Bali that hooks up their guests with Japanese pod-style dorm beds. Each of The Escape Hostel's bunks includes a privacy curtain and walls surrounding 80% of your bed. It is almost like you are in your very own private room!
Just because your dorm bed is secluded doesn't mean you can party and chat up other backpackers. With a swimming pool and a rooftop cafe, there are tons of places to just kick back and relax. Oh, we almost forgot. The Escape Hostel also has music and DJs to get the party started every night!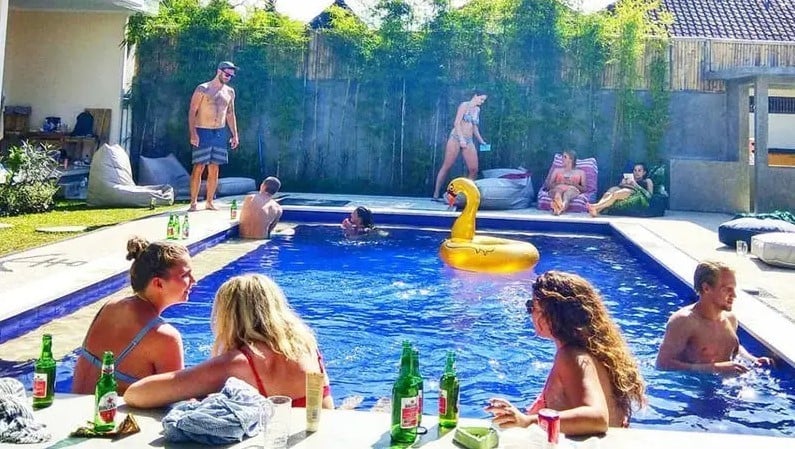 $$
Poolside Bar
Gardens
Free Wifi
Take a dive and swim your way over to the poolside bar for a nice cold Balinese beer. No, this isn't a fantasy, this is Castaway Hostel! This backpackers hub will make even the cheapest traveler feel like a king as they are lounging next to the pool with palm trees overhead!
It's not just the bar, pool, and free BBQ that makes Castaway a great youth hostel, but even when you are taking a night on the town just mention you are staying with Castaway and you will be hooked up with VIP seating in clubs, discounted drinks, and even free pizza! If you are not feeling pizza, check out some of the other best places to eat in Canggu.
The Best Travel Backpack?!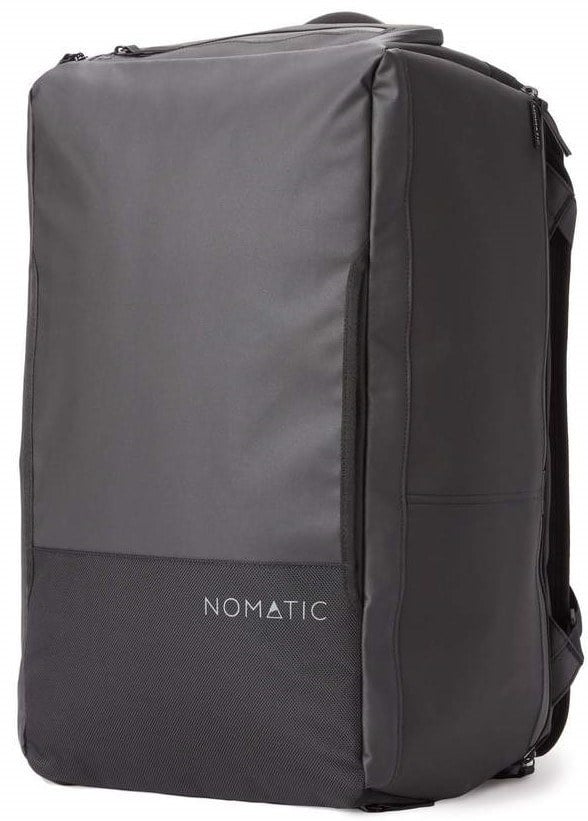 Pssssst! Not picked the perfect travel backpack yet? The Broke Backpacker team has tried out over thirty backpacks this year! Our favourite carry on backpack is the Nomatic Travel Bag.
Read our full review!
What to Pack for your Canggu Hostel
Here's some gear our editors take hostelling.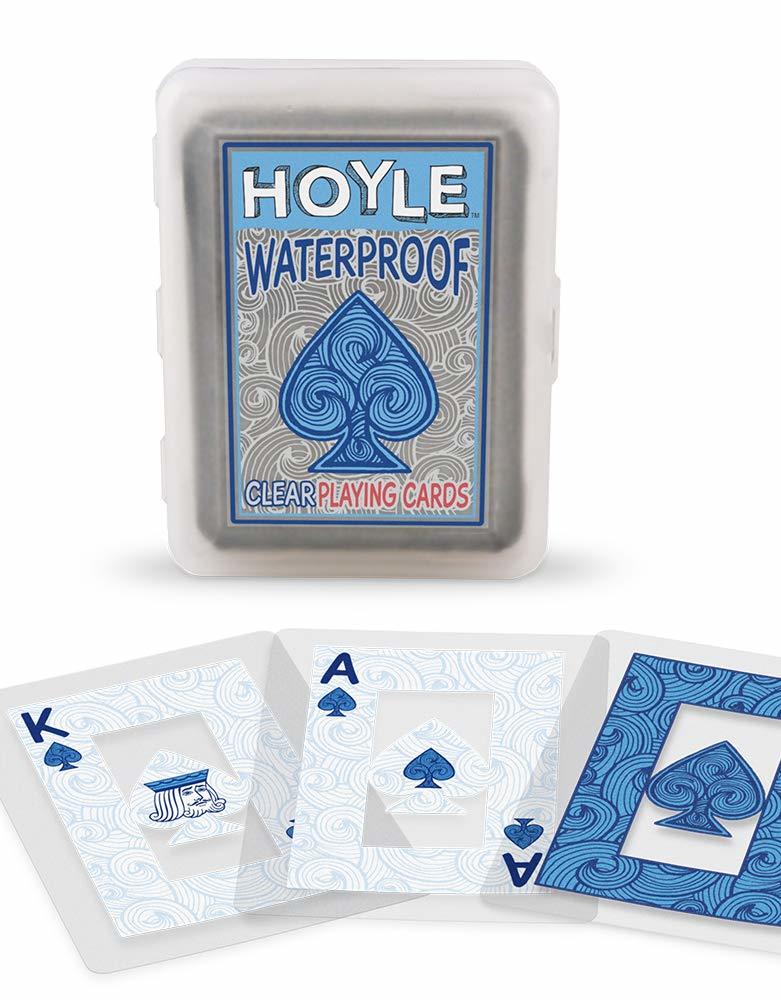 1. Playing Cards: These waterproof cards are essential kit for every backpacker. Play by the pool, beach or at your hostel after a long day with travel buds, without your cards breaking or getting soaked. And once you pull out those cards, the chance that you'll be the hero of the night is pretty high (no promises though).
2. Power Bank: Everyone knows the mini heart attack when your phone is about to run out of power. Surviving long bus rides without charging stations can be agonizing, which is why every backpacker should have this Anker Power Bank. You can charge your phone up to 5 times, or plug in two devices simultaneously. With high-speed charging and enough power to keep you going for days, you can conquer even the biggest adventures without a problem.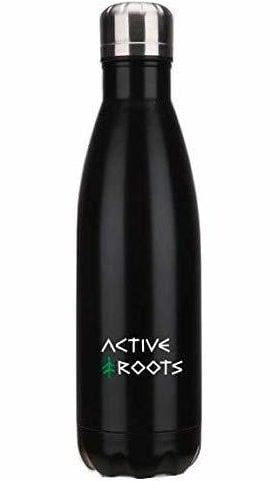 3. Active Roots Water Bottle: Sturdy and durable, the Active Roots water bottle survives the roughest adventures while keeping your drink cold or hot for at least 24 hours. Vacuum-sealed and made from stainless steel, the bottle can fit 25oz, which is plenty to keep you hydrated. Super cool bonus: the bottle isn't just super useful, it helps to reduce the single-use plastic waste –  save the planet by filling up your bottle.
4. Active Roots Toiletry Bag: Keep your bath-and-beauty items organized and in the right place with this water-resistant bag. With large compartments, mesh and enclosed clear sections, you can fit everything you might need inside. Hang it up or let it stand on its own – this bag is a must-have for dorm-lifers.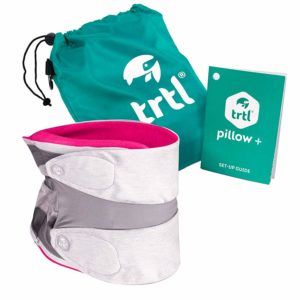 5. TRTL Travel Pillow: Get rid of the red eyes and yawning with this TRTL travel pillow. It's not just a normal neck pillow (I mean, look at it!), the ergonomic design gives your neck and head so much comfortable support that you'll actually be able to have some decent rest.  Super easy to carry and clean, it takes up so little space compared to a traditional travel pillow.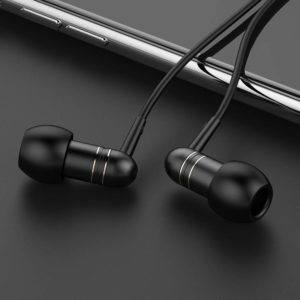 6. Noise-Cancelling Earbuds: You'll have some pretty sorry roommates – it happens from time to time. These noise-canceling earbuds help mitigate the damage. The comfortable and ergonomic design won't hurt your ears while sleeping no matter how long you keep them in. Increase the quality of your sleep by listening to some relaxing music at night or just enjoy the silence.
Conclusion
While in Canggu, you have so many ways to take in the beach culture of Bali. From being hooked up to the wifi to partying on the best beach in Canggu, depending on how you like to travel, Canggu has a hostel for you!
If you are looking to cover all the bases while exploring Canggu, we have the perfect hostel for you. The Farm Hostel is sure to leave you with that ideal Bali experience and is our pick for the top hostels in Canggu Indonesia with it's great location.
No matter if you want to be nursihng that beer or whizzing around on the back of a motorbike, these Canggu hostels are the start to the perfect adventure!
And don't forget to sort your travel insurance before heading to Canggu! We've put together a roundup of the best travel insurance for backpackers – check it out here, or if you're low on time, get a quote from World Nomads, our favorite travel insurance provider.
Getting an estimate from World Nomads is simple – just click the button or image below, fill out the necessary info, and you're on your way!

Do you own or run a kick ass hostel? Want to be featured in this list? Get in touch at [email protected]
Yay for transparency! Some of the links in this post are affiliate links. This means that if you book your accommodation, buy a book or sort your insurance, I'll earn a small commission at no extra cost to you. I only link to stuff I've actually used and never endorse crap. Your support helps me keep the site going. 
---
Need More Inspiration?
Like this post? PIN ME!!!