Canggu is quickly becoming one of the most talked-about places in Bali. An abundance of cool cafes, street art, trendy bars, and youthful inhabitants makes Canggu feel more like a western city than anywhere else on the island and every day there is more and more going on.
There is a ton of things to do in Canggu! From sampling some of the best food in Bali to axe throwing to simply laying on the beach; there will be no lack of interesting activities available to you when you visit.
To help you have the best time possible, we've assembled this comprehensive list covering what to do in Canggu and where. Use it as inspiration when planning your next vacation in Canggu and find out what makes this town so awesome.
There are lots of places to stay in Canggu! From hip backpacker lodges to local homestays to lavish villas, Canggu has a little bit of everything. No matter what kind of traveler you are, you're sure to find the perfect accommodation while visiting.
Canggu attracts a relatively young clientele (the geriatrics hang out in Seminyak). As such, guesthouses and hostels are particularly popular in Canggu because they're a) social and b) affordable. For a young traveler, Canggu may be the ultimate area to stay in Bali and, as you will see, there's plenty to do here for them!
That does not mean that there is no luxurious accommodation in Canggu. Hotels are still present and there is an increasing amount of exclusive resorts popping up outside of town. If someone wants to be spoiled on a Canggu vacation, there is nothing stopping them from doing so and I'm positive that they will have a wonderful time!
To get the ball rolling and inspire you a bit, check out some of these places to stay in Canggu. If you want to learn more, we also have an epic neighborhood guide for Canggu that is chalked full of info!
The Best Hostel in Canggu – Tribal Bali
Looking to find the perfect place to hustle, work, rest and play? Welcome to Tribal Hostel, the world's best co-working hostel… Bali's first custom-designed, purpose-built digital nomad friendly hostel is now open! Mingle, share inspiration and find your tribe whilst working in the TREMENDOUSLY HUGE co-working space or soaking in some sun in the garden or bar… There's a gigantic pool as well so it's always time for a refreshing dip to break up the day's hustle. Plus: epic food, legendary coffee and awesome cocktails! What are you waiting for? Check it out…
RedDoor Bali Villa is a beautiful hotel located slightly off the beaten path. Tucked away into the jungle settings outside of Canggu, RedDoor is a very peaceful experience. You'll get all of the usual 5-star amenities – including WiFi, shuttles, great food, and a pool – without any of the chaos.
Best (Small) Villa in Canggu – Domus Villa
This Canggu villa is pretty hard to beat. Meticulously designed, cleaned daily, a great location away from the traffic, and pool to go along with everything; this place screams "serenity." You can use this place as a base to see much of Canggu, but chances are you'll never leave it.
A tranquil hideout in the middle of Canggu with a 180 degrees view of rice fields and greenery, a truly unique and romantic place to stay. With a mixed asian and western restaurant in house, damn good coffee, and daily yoga classes (and coconut oil making classes) to keep you active. Hands down one of the best location boutique guesthouses in Canggu and a great choice for a romantic stay.
These attractions are what you travel to Canggu for: Excitement! Parties! Tacos! Tattoos! Tacos and tattoos at the same time! All that and then some! Canggu will be one of the most entertaining places on your itinerary for Bali
1. Get the best breakfast in Bali at Lifescrate
I made it my mission to find the absolute best breakfast in Canggu. Not just any breakfast either; I was not interested in another ubiquitous smoothie bowl or chia seed muesli. No. I wanted a big breakfast in Canggu, the kind that makes you take a nap at ten in the morning.
I searched high and low for the best place; listened to every bit of advice I could and followed every lead I gathered.
I went to the beloved Shady Shack and was whisked away by their light and conscious offerings. Their poached eggs with lemon shavings and greens was thoroughly satisfying.
I dropped by Copenhagen Cafe and was transported to a strange land where the people put everything in vinegar and eat cinnamon rolls all day. I believe they called their homeland "Scandinaauuvvia."
But my favorite place to eat breakfast in Canggu was hands down Lifescrate. This voluminous restaurant, which looks to have been built from an empty garage, is a dream. The bread here – an ingredient that is usually not so good in SE Asia – was amazing. The coffee: perfect. I got the French Toast, but all of the dishes here looked worthy of devouring.
Lifescrate also doubles as an event venue and an art space. Many people come here just to socialize. Given how many people Lifescrate attracts, this place is almost always buzzing with conversation.
Watch out for: The lines at Lifescrate – they are usually long by 9 am.
Insider tip: Our glorious leader, Will, swears by Kolone for breakfast, lunch, and dinner for that matter. Check it out!
2. Embrace the coffee culture
Canggu loves cafe culture. In every nook and cranny of this town, there is some sort of coffee shop or roaster pumping out hot, black medicine for digital nomads and hungover holidayers. The cafes are practically and attraction unto themselves and finding your favorite is absolutely a mandatory thing to do in Canggu.
Make no mistake, there are A LOT of coffee shops in Canggu; perhaps too many. How can a newbie possibly know where to go first?
Why don't you start with one of these!? These cafes are among my favorite places in Canggu and I love coming to them no matter what the reason:
Hungry Bird Coffee Roaster – Hands-down my favorite cafe in Canggu. Good food, good people, amazing coffee. A+
Satu Satu – Excellent coffee but digital nomads be warned: there are very few if any charging outlets.
Cinta – Great views and chill vibes, the happy hour is pretty good too.
3. Splurge on an affordable Balinese villa
Bali is one of the most desirable places in the world to travel to, that much is known. Everywhere you look, there are opulent beach clubs and lavish resorts full of beautiful people.
But Bali can also be one of the most affordable luxury destinations in the world as well. Seriously, the villa rentals in Bali are not that expensive, especially around the Canggu area. For a reasonable price, you could get the works: we're talking private pool, mani/pedis, a cook, all that and then some.
Consider booking a villa next time you go on holiday in Canggu. The price is almost always right and you'd be surprised at how much get. Even chronic shoestring backpackers will be shocked at how far their dollars go when booking one of these.
Watch out for: The fine print because some villas have additional fees.
Insider tip: To save cash, forgo the personal staff if possible.
Introducing Bali's Best Coworking Hostel
Tribal Hostel – Bali's first purpose-built co-working hostel and perhaps the greatest hostel in the world!
An ideal hub for Digital Nomads and backpackers, this very special place is now finally open… Make use of the massive open-air coworking space and network with other travellers all day.
Come on down and enjoy amazing coffee, high-speed wifi and a game of pool 😉
4. Watch the sunset from one of Canggu's beaches
It may be obvious by now but Canggu does indeed have a beach. It has several in fact although you wouldn't be able to tell the difference between all of them. They all kind of blend together into one another.
Canggu's beaches are pretty standard for Bali: black sand, powerful tides, lots of eager surf instructors, and plenty of beach bars. I certainly wouldn't call the beaches in Canggu the best in Bali (that title belongs to the beautiful island of Nusa Penida), but they are still good for lounging around. It's never too hard to find a beer and, better yet, the beaches here aren't hectic like in Seminyak and Kuta.
If you want to get in the water, be very aware of the red safety flags. The presence of these means that the ocean is too rough for swimming. If you decide to go in, it's all on you baby because I don't think I saw a single lifeguard around.
If you just want to relax and sip a Bintang: more power to ya. I'll meet you there soon!
Watch out for: The ocean because, again, it can be rough here.
Insider tip: Batu Bulong Beach is generally the most popular beach in Canggu. It's big and there are several beach clubs nearby.
5. Watch daily life (slow down) in the rice paddies
At the end of the day, Canggu is still a village. If you had visited this place a decade ago, you probably wouldn't have even recognized it. It's only in the last couple years that Canggu has really transformed into the hipster haven that it is now.
There are still some remnants of the old Canggu though. Rice paddies, which were once much more common, are still cultivated in back alleys and along the side of the roads. Most of these are still used for practical agricultural purposes. Others have actually been absorbed into the modern framework and double as a pretty view for some bars in Canggu, like Cinta.
Visiting these points of interest in Canggu can be a very relaxing activity. You'll get a glimpse of local life and hopefully be spared a bit more peace than you would back in the center of town. Chilling in the rice paddies is one of my highlight activities in Bali whether it be in Canggu or in the highlands.
Watch out for: The gap between the road and rice paddy. It can be wide and deep sometimes.
Insider tip: There are lots of rice paddies around Fam Resto near the edge of town.
6. Find your inner peace with some yoga
Whether you're recovering from a long night out or are just a little frazzled from the chaos of Bali, yoga is an excellent way to unwind. Some hatha will fix that hangover right up and, if you want a workout, vinyasa can really do a number on your muscles.
Given the saturation of health-nuts and spiritually-inclined here, there are plenty of places to do yoga in Canggu. In fact, I'd say that, outside of common practitioner places like Ubud and Nusa Lembongan, Canggu is actually one of the easiest places to join a yoga session.
The key to finding a good yoga studio in Canggu is to ask around. Each location utilizes different teachers who use different styles and you can never really know how they are until you try them out.
Odyssey MVMT, Pranava, and The Practice are all good places to start looking for classes. Prices usually hover around $10 per session.
Watch out for: Guesthouses and hotels that offer their own yoga classes.
Insider tip: Find the style of yoga that suits you best.
7. Get fit
As more expats move to Canggu, they bring with them their lifestyles. Good food, fun bars, fast internet, among other things, are all in Canggu now thanks in part to increased attention and investment.
One of the fastest growing and most surprising parts of Canggu at the moment is the fitness community. CrossFit junkies, climbers, meatheads, all of these people are moving to Canggu in droves and bringing with them their gyms and WODs.
There are a ton of places in Canggu now where you can exercise and work out. CrossFit Wanderlust is Will's personal favorite workout spot. The Canggu Studio offers a variety of fitness classes. Finally, the Bali Climbing and Bouldering Gym is one of the few of its kind on the island.
Know that when you visit Canggu, you don't necessarily have to party all the time or gorge on food. There are plenty of opportunities to be healthy here as well.
Watch out for: Bulletproof Coffee after CrossFit Wanderlust – they'll light you up.
Insider tip: Workout in the morning because you'll most likely lose your motivation later in the day.
8. Visit Tanah Lot – One of the Most Important Temples in Bali
Tanah Lot is one of the most popular places to visit in Bali. The temple, perched upon a small rock and accessible only at low tide, is a spectacle to behold. At sunset, the temple is painted by the orange glow of the sky and this arguably one of the most beautiful sights on the island.
Canggu is conveniently located less than 30 minutes away from Tanah Lot. Of all the tourist centers in Bali, Canggu is the closest to the temple. This makes driving to the temple much easier and, given the traffic that this island suffers from, you'll need all the help that you can get.
Let it be said that Tanah Lot is very touristy. It can get absolutely bonkers here sometimes, especially at sunset, so be prepared.
Watch out for: The tides – when they're low you can walk down to some tide pools and get some cool photos of the temple.
Insider tip: Visit Tanah Lot at sunrise because the crowds are way calmer at this time.
9. Attend one of the many Sunday markets
There are multiple local markets in Canggu that are open at different times of the month. Each one has a different theme. Refer below some of the most popular in Canggu.
Samadi Market: A small market that sells locally made products and produce. One part of the market is for food vendors and the other is crafts. All-in-all, this is a cool place. Held every Sunday.
Love Anchor Market: A large covered market that mostly sells souvenirs and kitschy products. In my opinion, most of the stuff here is gawdy, but every once in a while you find a hidden gem. Held every Saturday and Sunday.
Old Man's Market: This is probably the biggest and most diverse market in Canggu. Includes food stalls, second hand sellers, local start-ups, and more. Held on the last Saturday of every month.
If you needed to do some shopping in Canggu, I'd definitely suggest going to one of these markets if you have the opportunity. You can find some really quality products at these and more than just the usual Bintang paraphernalia.
Watch out for: The bakers at Samadi Market – their muffins and cookies are awwwesome.
Insider tip: Bring cash just in case the card reader is broken.
10. Go full lumberjack at Mother Huckers
Once upon a time, a young man from Toronto with a thick accent and a passion for photography decided to move to Bali and start a new business. His idea? The first ever ax-throwing range in Bali…wait what?
Yes, you read that correctly: ax-throwing. Mother Huckers is the place in Bali where you can throw deadly weapons without threat of getting into an Anchorman-style street fight. Even better, the staff will provide games and a free drink too!
So if you've ever wanted to feel like a thug from Gangs of New York or Gimli from Lord of the Rings WITHOUT putting anyone in danger, drop by Mother Huckers. It's one of the coolest things to do in Canggu and is a good way to spend an evening.
Watch out for: Other people throwing axes. Safety first!
Insider tip: Be loose and follow through with your toss. Throwing the ax too hard is not necessarily a good thing.
11. Party at a beach club
People like to party in Canggu. A lot. It goes without saying that Canggu is no slouch when it comes to beach clubs either. In fact, some of the clubs here are among my favorite on the island.
Unlike the mega-clubs in Seminyak and Kuta, I find the ones in Canggu to be a bit more chill. Dress codes are relaxed and the mood usually doesn't feel too hectic. Of course, the sunsets at these are as stunning as anywhere else in Bali, if not more.
There are several beach clubs in Canggu that you should drop by:
La Brisa: Without fail, the chicest and best looking club in the area. The design is Robinson Crusoe-esque with wooden structures and lots of nautical knick-knacks. The superlative sushi menu is a highlight as well.
Old Man's: A staple in Canggu's nightlife and usually the place where everyone ends up at the end of the night.
Finns Beach Club: Pretty standard Balinese beach club. Has several pools, bamboo architecture, lots of lounge chairs and umbrellas, a DJ booth, the usual stuff. Good for an afternoon of relaxation.
12. Join the skaters at Pretty Poison
There is (somewhat literally) a bar for every type of person in Canggu. If you're a cocktail connoisseur, Macan will titillate your curiosities. If you're an easy drinker that just wants to chill with a beer, Grass Terrace is for you. If you want to see and be seen, The Lawn is a good place to go.
These are the kind of bars that I'd normally expect when going out in a lively city. What I was not expecting, at least not from the nightlife in Canggu, was a full-on punk and skater bar like Pretty Poison.
Pretty Poison is completely out of place. This bar actually has a bowl dug out back, which is something I'd expect to see in Los Angeles or Barcelona, but not Canggu.
That's not to say Pretty Poison's inapposite existence is a bad thing; it's quite the reverse actually. I think that PP is a testament to how different Canggu really is and that makes it dope for me. I seriously feel like I'm back in the States when I'm here and there is no other bar in Canggu that comes close to having that effect on me.
Watch out for: Live music on a regular basis.
Insider tip: Don't show up before 9-10 pm – it's a ghost town before these hours.
13. Take some surf lessons in Canggu
Many people visit Bali just to surf. This island is one of the most legendary surf spots in the world and the waves here can be absolutely epic. We're talking 5 meters high and longer than a soccer field in some places!
It is possible to surf in Canggu. A lot people actually decide to try surfing for the first time ever here. The army of surf instructors chilling at Batu Bulong Beach is a testament to this. (Lessons are usually around $15/hour from these guys.)
But a word of caution: the surfing around Canggu can actually be quite hectic. The ocean here is a bit anxious; the waves come in fast and break almost as fast, the combination of which doesn't make for optimal conditions. On windy days, the sea can be downright violent.
If you've surfed before or are comfortable surfing, then Canggu could satiate your swell desires. Otherwise, maybe try somewhere like Uluwatu – the surfing here is arguably the best in Bali.
Watch out for: The mood of the ocean – you don't want to go in there if it's upset.
Insider tip: If Canggu is too rough and Uluwatu is too far away, try visiting Kuta. The surf here is much more accessible.
14. Collaborate with fellow digital nomads at Tribal Bali
It's a well-known fact that digital nomads love Canggu; it's affordable, fun, and has enough internet to get shit done. Canggu is regularly ranked among the best cities in the world for digital nomads and every day this town attracts more and more people wanting to escape their former monotonous life.
At the moment, Canggu has a pretty strong community of expats and remote workers. Many of these people collaborate with one another on a regular basis and are constantly cooking up new ideas and business ventures.
If you want to get in touch with other digital nomads in Canggu, you can either reach out online via a chatroom, like this one on Facebook, or by joining a local co-working space. Dojo, The Outpost and Tropical Nomad are all great, but one of the best ones is the coworking hostel Tribal.
Introducing Tribal Bali – Bali's first custom-designed, purpose-built co-working hostel. This is the place where backpacker babes, aspiring entrepreneurs, adventurous explorers and vagabond hustlers alike come together to work, eat, play and fall in love… well, at least with the absolutely fantastic coffee and beautiful views!
Mingle, share inspiration and find your tribe whilst working in the TREMENDOUSLY FUCKING HUGE co-working space and shooting a game of pool on Tribal's electric pink billiards table. There's a gigantic pool as well so it's always time for a refreshing dip to break up the day's hustle, brainstorming, work, and games… With epic food, legendary coffee, awesome cocktails (Tribal Tonics are the best signature cocktails you've ever had in a hostel – I guarantee you that!) and a dedicated co-working space, this is the place where you want to be when visiting Bali.
Watch out for: The weekend parties – digital nomads work hard and play harder.
Insider tip: Seriously consider if you actually need to join a co-working space. Most charge a lot of money for membership and are so busy with people that they are distracting.
15. Take part in "Tacos and Tattoos" at Deus Ex Machina
Just when you thought Canggu wasn't hipster enough, something like this comes on your radar. One part "Taco Tuesday" and one part "Tattoo Night," Deus Ex Machina's Tacos and Tattoo Nights are an unholy union between two of the greatest gifts that were ever blessed upon this earth.
On Tuesday evenings and for a meager 150,000 rupiah, you can get a beer, some tacos, and a brand new tattoo. If that sounds too good to be true, it isn't, but just know that only the first 16 people get to participate. Get to Deus Ex early and get your place in line!
Tacos and tattoos aside, Deus Ex Machina is already a legend in its own right. It is often cited as one of the best bars in Canggu and is well-known for its live music, chill vibes, and the small shops located in its backyard. Even if there were no tacos or tattoos, Deus Ex would still be a great place to visit in Canggu.
Watch out for: The tattoo artist's time – it's limited so you'll only get a small tattoo.
Insider tip: Come with an idea in mind – artists hate nothing more than someone who doesn't have a clue.
16. See the hipster side of Bali
So Canggu is full of coffee, craft bars, tattoos, and cafes; this much is certain. But now you're thinking to yourself: "man this all sounds very familiar. All of these things can be found in places like Brooklyn, Portland, and all of my other favorite towns. Don't worry; you wouldn't be the first to connect the dots and make the hipster comparisons while visiting Canggu.
Yes, Canggu is undoubtedly the hipster capital of Bali. It's abundance of young, anti-establishment residences have made it a haven for all things new and alternative. Where other locations in Bali try to be upscale and consequently snooty, Canggu enjoys the grit and authenticity that comes with doing its own thing. This is why Canggu is so cool these days.
So go ahead and pack that skateboard when planning your trip to Canggu. Bring that grimey beanie that you refuse to wash (even though you're going to the sweaty tropics). Embrace the counterculture of Canggu and it will surely embrace you.
Watch out for: Sunny Cafe – one of the most hipster places I've ever been.
Insider tip: Don't try too hard to be a hipster – this never works out well.
17. Go graffiti hunting
Sometimes, graffiti can be a crucial facet of a town's identity. Artists use the urban landscape itself to express themselves and their culture and in the process beautify the city through their expression.
Canggu has a thriving street art community, one that has painted nearly the entire area. Down every alleyway and behind every building, you'll usually find some sort of piece. These range from small tags to full on masterpieces. No matter what though, they are pretty to look at.
If you're looking for something easy to do in Canggu, then just for a walk and see what graffiti you'll discover. The next Banksy may be hiding behind some dumpster somewhere.
Watch out for: The wall next to Beach Garden – there's lots of street art here.
Insider tip: Check out this guide from Culture Trip to learn more about Bali's street artists.
18. Don't forget to try some local cooking
It's easy to get carried away with the Canggu's restaurant scene and to just focus on the big stuff. There are just so many glamorous joints around town and so many places that scream to get your attention. Most do end up delivering a quality meal and service.
But you don't have to go to a fancy place to get good food in Canggu. There are plenty of warungs (local diners) that serve Balinese food and for a great price!
One of my favorite places to eat in Canggu is called Warung Ramadhan. The food here is always top-notch and usually costs less than a few bucks. (Get the spicy chicken!) Ramadhan is always busy with people too, which is always a good sign.
Watch out for: Tiny hole-in-the-wall places with lots of people. This is a clear sign of good food.
Insider tip: Try and do a little research before diving into the street food. Bali belly is still an issue here.
Looking for some more detailed information when visiting Canggu or wondering about your travel budget for Bali? There lots more useful advice located just below!
How to Get to Canggu
Canggu is very accessible from the rest of Bali. It is located just north of Seminyak and Kuta, which makes it very close to the center of the action. Those who want to travel to Canggu should have no trouble doing so, save dealing with some bad traffic and maybe a crazy driver or two.
The best way to arrive in Canggu is by private car. Rideshare and taxi services are the best way to get around Bali and using one of these will often be your only option. Whilst both of these are somewhat reliable forms of transport, one is definitely better than the other.
Taxis in Canggu are notorious for being over-priced, shabby, and managed by shadowy figures. Drivers will often overcharge riders and seemingly use every trick in the book to get an extra rupiah.
Taxi drivers in Bali are also starting to harass rideshare users these days as well. The local taxi mafia, which is real shit, doesn't take kindly to new competitors and their wrath is often taken out on Grab and Gojek drivers. Although rare, the occasional tourist is sometimes caught in the crossfire.
I always prefer using rideshare services, like Grab and Gojek, even with the stories of violence circulating. The rides are cheaper, the drivers are more cordial, and the apps are safe and easy to use.
If you're staying in a resort or hotel in Canggu, you can also have them arrange a transfer for you ahead of time. They'll send you a car and pick you up wherever you are. The price will be higher but the transaction and ride should be as smooth as possible.
At the moment, there is limited to no public transport going to Canggu. Finding a perama here is wildly impractical.
How to Get Around Canggu
Like the rest of Bali, the scooter is king in Canggu. Everywhere you look, there is a motorbike. They dominate the urban landscape and crowd the streets like locust. Renting a scooter is really the only way to get around Canggu and any alternative is really not going to work.
Scootering is very popular in Bali for several reasons: they're cheap, convenient, offer maximum freedom, and are pretty fun to use. Just about everyone who visits rents a scooter. Using one is arguably one of the top things to do in Canggu as well.
Riding a scooter can be a great and inexpensive way of traveling around Canggu. Although you don't need a license to rent a scooter, most travel insurance companies will ask for a valid motorbike license to be able to claim if you crash! Always make sure that you have travel insurance with a motorcycle-riding coverage.
You can rent a scooter in Canggu either at your own accommodation or at a local rental agency. Both will get you a basic bike for about the same price: 50,000-70,000 rupiah per day.
If you want to organize a motorbike with your hotel, just ask reception and they'll make a call. They'll either have a couple on the property or know someone down the street.
If you want to go outside and organize your own bike, there are plenty of little shops around Canggu. If you rent from them for longer, they'll probably give you a better deal as well.
The flip-side of Canggu's obsession with scooters is that getting around in any other way is very difficult. Walking can be downright dangerous as sidewalks are often absent, which means you'll most often be walking among traffic. Regular-sized cars also have a very hard time navigating Canggu's narrow streets and the hordes of scooters zipping past don't give them much respite.
So if you want to know what to do in Canggu for transport, get a scooter. Just remember to drive safely and to always wear your helmet (seriously).
Be sure to check out our epic backpacking travel guide for Canggu before you visit! It's overflowing with useful insider information about Canggu and what to do there. You'll learn about where to stay, how to live, how to find about the coolest shit to do in town! Head over now!
Here are some quick answers to common questions about what to do and see in Canggu.
Don't forget your travel insurance for Canggu
ALWAYS sort out your backpacker insurance before your trip. There's plenty to choose from in that department, but a good place to start is Safety Wing.
They offer month-to-month payments, no lock-in contracts, and require absolutely no itineraries: that's the exact kind of insurance long-term travellers and digital nomads need.
SafetyWing is cheap, easy, and admin-free: just sign up lickety-split so you can get back to it!
Click the button below to learn more about SafetyWing's setup or read our insider review for the full tasty scoop.
Before I sign off here, I would like to remind everyone visiting Bali to be very careful when it comes to drinking. There is a lot of bootleg alcohol on the island – mixed sometimes with dangerous amounts of methanol – and you DO NOT want to drink the wrong batch.
Buy liquor from trusted vendors and don't accept drinks from random dudes. Go to legit bars in Bali and not to roadside shacks. Sticking to bottled Bintang beer is a sure way to avoid this shit as well.
---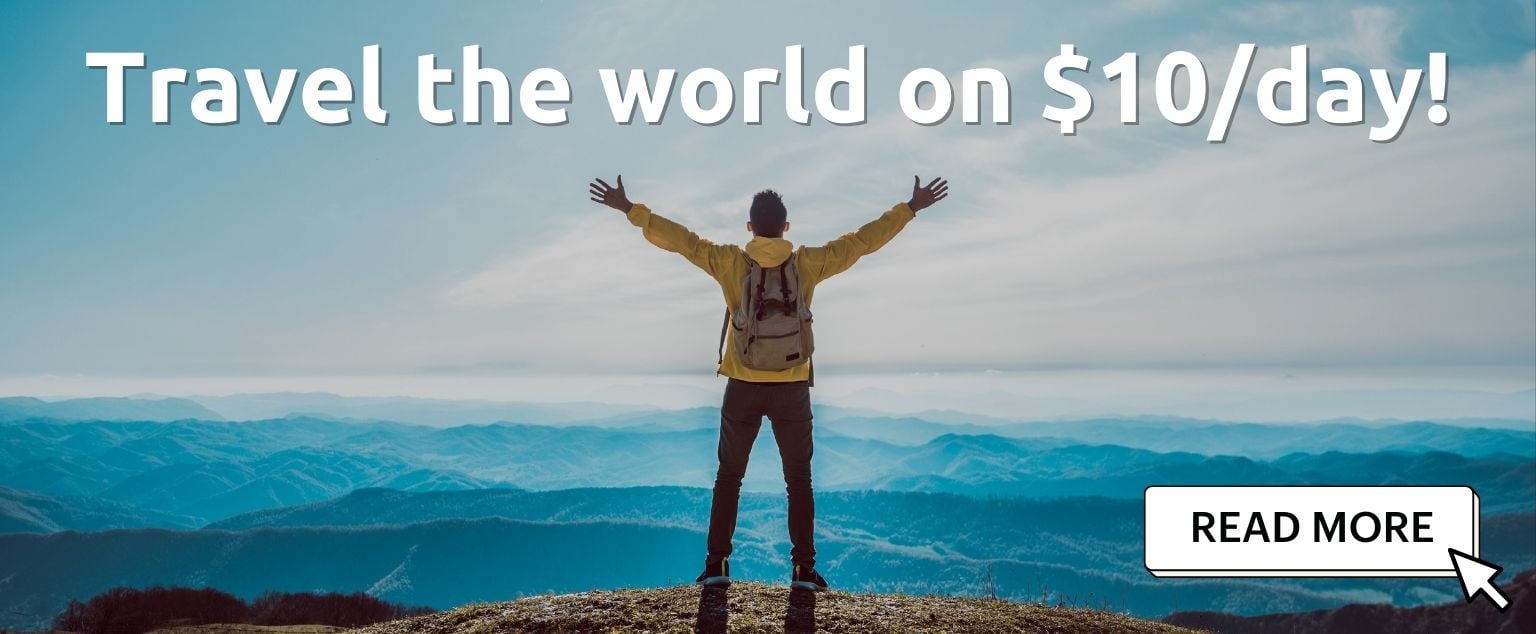 And for transparency's sake, please know that some of the links in our content are affiliate links. That means that if you book your accommodation, buy your gear, or sort your insurance through our link, we earn a small commission (at no extra cost to you). That said, we only link to the gear we trust and never recommend services we don't believe are up to scratch. Again, thank you!