Every once in a while, you just have to treat yourself. And where could you do that better than on Bali – one of the most diverse and exciting islands in Asia. Growing incredibly in popularity over the last couple of years, the island has become an escape from the stressful everyday life for all sorts of people.
Bali, also known as the island of gods, is a true gem, offering everything from white beaches to mountain top climbs or jungle adventures. However, the best part has to be its affordability. That's why travelers from all over the world come to see Bali and live in luxurious homes: Villas!
You can find absolutely everything on the island – amazing villas with pools, traditional Balinese style private villas to toes-in-the-sand beachfront villas, the options are endless. But since you've got so much to choose from, it can be a bit overwhelming when looking for the best villas in Bali.
From low budget to places that fit up to 20 people, you'll always find exactly what you need for your Bali vacation. To help you out a little bit, we've written down the best villas in Bali for 2021 in this guide.
So let's get started…
Quick Answer: The Best Villas in Seminyak, Bali
Backpacking Bali on a budget still allows you some affordable luxury. Amazing Bali villas can be found everywhere on the island, so you need to make sure you know which is the best area in Bali for your style of vacation. From Canggu to Ubud and Seminyak – all of these places offer unique and amazing Bali villas.
Seminyak is home to Bali's most luxurious accommodation, from 5-star resorts to boutique hotels that offer chic instead of lavish surroundings for a similar price tag.
That's Seminyak: lavish. This is where the moneyed in Southeast Asia come to be pampered in its many spas, chill on its beaches, and – most importantly – spend afternoons (and nights) in Seminyak's uber-cool cafes, bars, and restaurants that seem to pop up all the time, created by enterprising locals and expats alike.
A private villa in Bali, moreover a villa with a pool, is the most exclusive way to spend your time here; it'll feel like a (very luxurious) home away from home.
BEST VILLA FOR A GROUP OF FRIENDS IN SEMINYAK
BEST VILLA FOR A GROUP OF FRIENDS IN SEMINYAK
Rainbow Villa
> $
> Large Garden
> Butler service
BEST VILLA FOR COUPLES IN SEMINYAK
BEST VILLA FOR COUPLES IN SEMINYAK
My Villas in Bali
> $$
> Spa Bath
> Private pool
BEST VILLA FOR FAMILIES IN SEMINYAK
BEST VILLA FOR FAMILIES IN SEMINYAK
Taman Amertha Villas by Maha Bali
> $$$
> Car and bicycle hire
> Private pool
BEST CHEAP VILLA IN SEMINYAK
BEST CHEAP VILLA IN SEMINYAK
Seminyak Suites Private Villa by Astadala
> $
> Free breakfast
> Private pool
The Best Villas in Bali – Seminyak
Best Villa for a Group of Friends in Seminyak – Rainbow Villa
$
Large Garden
Private Pool
Great Central Location
Wondering where to stay in Seminyak? Then check out this fine villa in Bali! Multiple bedroom options from Rainbow Villa really make us pine for a time when all, or rather, a select few of our friends could be free all at the same time; but as you probably know, it's like herding cats getting everyone in one place for one date, let alone a holiday. This is the ideal option when you're on the look-out for the best villa for a group of friends in Seminyak.
The villa comes with a pretty large garden and a private pool. All bedrooms have a strong aircon and TV's – perfect for the rainy days. When you get a spare moment from exploring Bali's coolest places to visit, your amazing Balinese Villa will be waiting for you with cozy beds, sunbeds, and a lot of space to recharge.
Best Villa for Couples in Seminyak – My Villas in Bali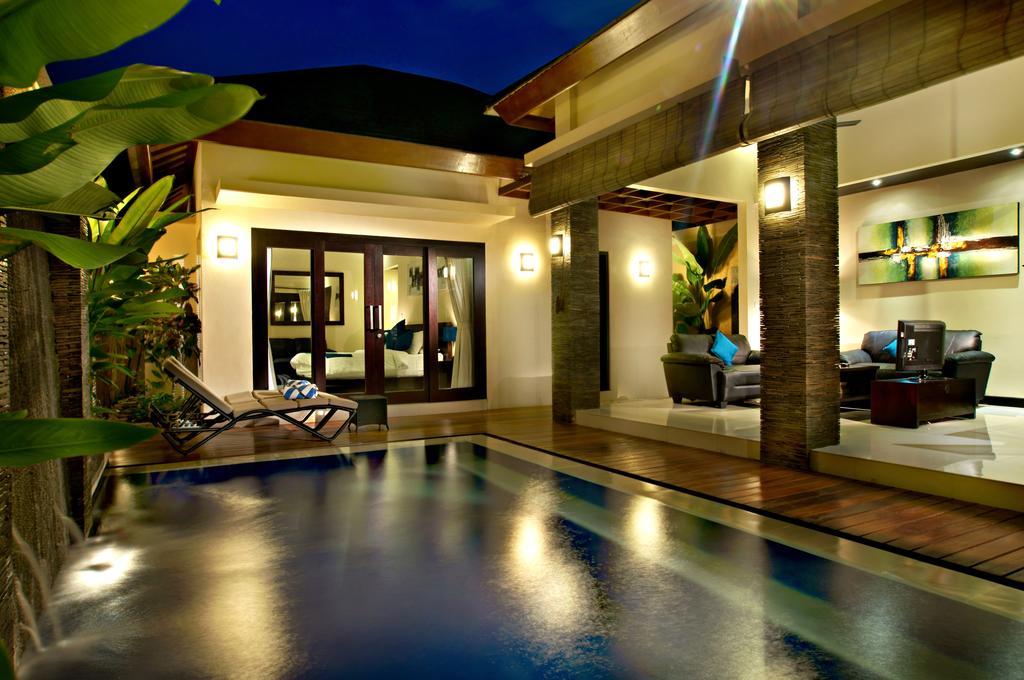 $$
Spa Bath
Private Pool
Butler Service
With an extra-large double bed, spa bath, balcony with lush garden view, this private villa in Bali is done in typical open-plan Balinese style with beautiful vaulted ceilings and rich wooden beams. Quite easily the best villa for couples in Seminyak, the level of luxury doesn't stop there: the aptly named My Villas in Bali's two-person villa offering comes complete with butler service, which you can call at any time of day for anything you may need.
You won't have to lift a finger, well, unless you're dialing for more decadent snacks and champagne, that is. All of this makes it ideal for a honeymoon or a romantic holiday in Bali, this surprisingly cheap villa offers a level of hidden-away tropical opulence – all with a superb breakfast included in the bargain, too.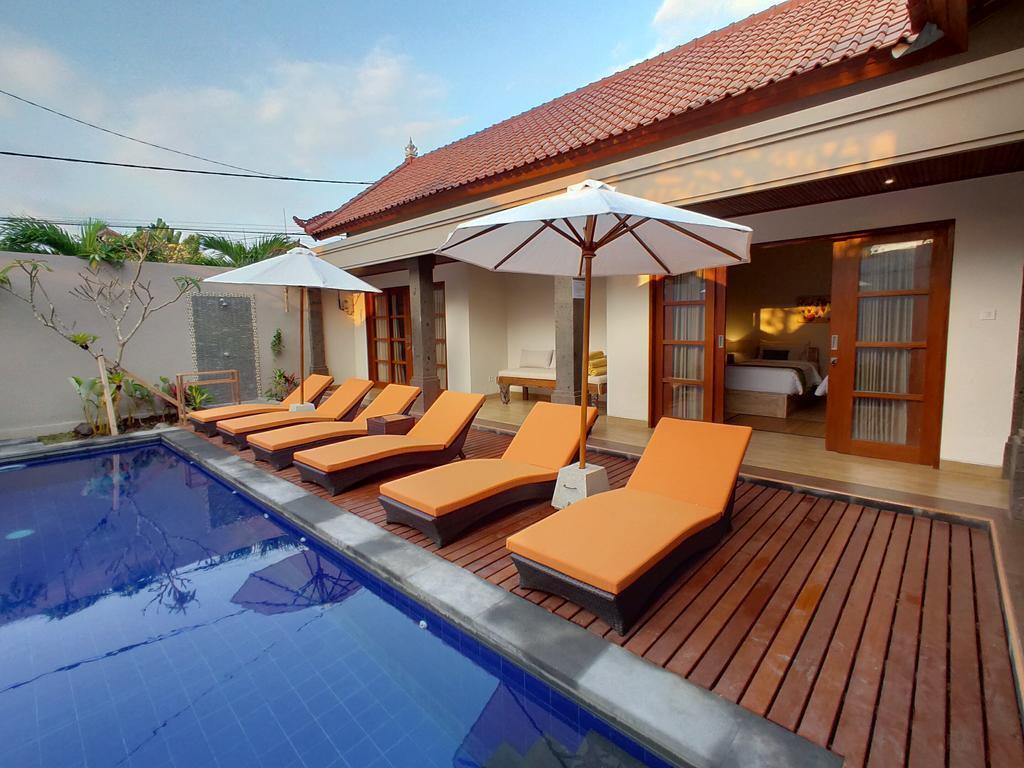 $$$
Car & Bicycle Hire
Private Pool
Free Continental Breakfast
Probably the best thing about this private villa in Bali – second to its amazing price, of course – is the decor. It's very homely. And whilst many people do come here for the complete and utter luxury of the place, a villa with a pool in Bali doesn't have to be all sleek and minimalist.
Well, the family-sized offering from Taman Aretha Villas is still modern, but it's the little touches – the cosy feeling of the kitchen, the warm wood decking at the pool (which, no doubt about it, kids will love), the welcoming, snuggly feeling of the living room; it's all this that truly makes these villas feel like an actual home away from home – the best villa for families in Seminyak. Plus for shopping opportunities, Seminyak Square Shopping Mall is less than a mile away.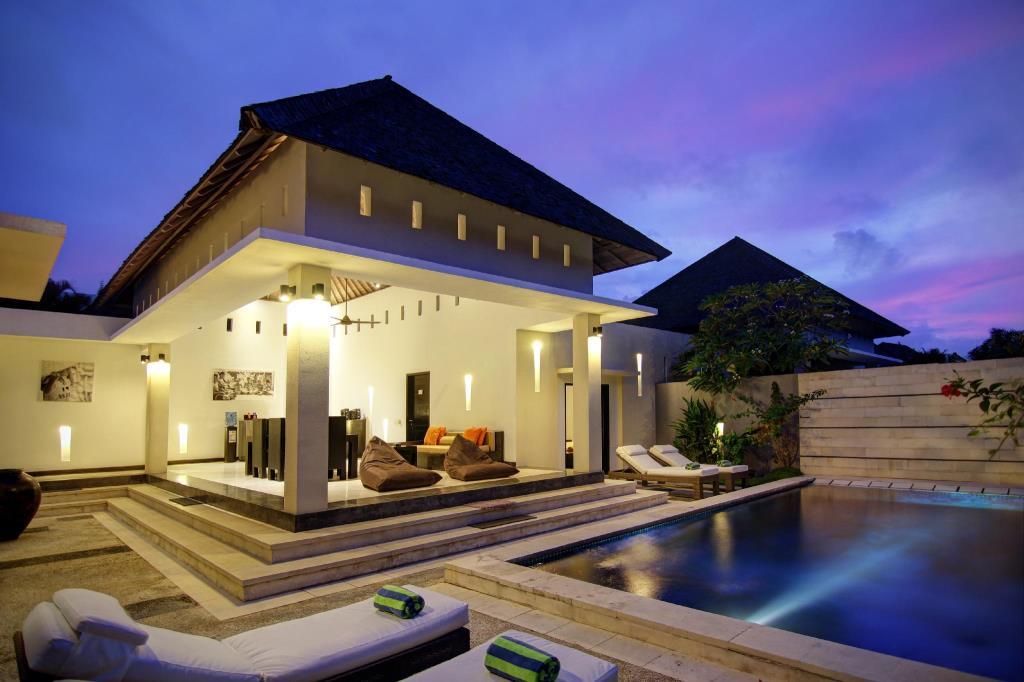 $
Free Breakfast
Air Conditioning
Private Pool
The price of this one-bedroom private villa in Seminyak isn't as reasonable as what you might find in neighboring Canggu – or even Ubud – for the same amount of money, but it is a good deal for the area. The space alone seems worth what you pay, making the one-bedroom option from Astadala's Seminyak Suites the best cheap villa in Seminyak.
The luxe bedroom opens straight out onto the outdoor terrace and the pool, meaning you can start yet another day in paradise by flinging those doors wide open and jumping right into the cool water. It sounds like a dream, doesn't it? Well, with a welcome drink included, free daily breakfast for two, plus a bed fit for a king, it's even more dreamy than you'd think. You can have affordable luxury – you shall go to the ball!
Quick Answer: The Best Villas in Canggu, Bali
Just a 15min drive from Seminyak (that's not counting the inevitable traffic, mind you) is a very different pace of life. You'll meet digital nomads in Canggu in pretty much every cafe you go to. Focused on fitness, health and lately veganism, you'll also come across the occasional laid-back hippie. Canggu has been getting so busy over the last years, that it's pretty much comparable with Seminyak, however, the green and eco-development is nowhere as strong as in Canggu.
Altogether a little bit less hectic, yet still with plenty of options for fine dining and drinking, as well as shopping, it's the more pristine nature of Canggu's beach and coastline that people come here for. Canggu has been growing and is pretty big by now, so you need to make sure you know where to stay in Canggu before you look for a nice Bali Villa.
The villa prices in Bali are shooting up since it's become such a popular spot in Bali. You'll find that the prices are comparable with the ones in Seminyak or Kuta, and may even be a bit higher depending on the area.
EPIC SPLURGE RETREAT-SIZED VILLATROPICAL CANGGU
EPIC SPLURGE RETREAT-SIZED VILLATROPICAL CANGGU
Tropical Canggu Villa
> $$$
> Super Helpful Staff
> Swimming Pool
BEST VILLA FOR A GROUP OF FRIENDS IN CANGGU
BEST VILLA FOR A GROUP OF FRIENDS IN CANGGU
Villa Kassiké
> $
> Garden
> Swimming pool
BEST VILLA FOR COUPLES IN CANGGU
BEST VILLA FOR COUPLES IN CANGGU
Manca Villa
> $
> Outdoor terrace
> Swmming pool
BEST VILLA FOR FAMILIES IN CANGGU
BEST VILLA FOR FAMILIES IN CANGGU
The Beach House
> $$
> Swimming pool
> Beach nearby
BEST VILLA FOR YOGIS IN CANGGU
BEST VILLA FOR YOGIS IN CANGGU
True Love Unity
> $$
> Yoga studio
> Swimming pool
BEST CHEAP VILLA IN CANGGU
BEST CHEAP VILLA IN CANGGU
La Loft Canggu
> $
> Nearby beach
> Cool design
The Best Villas in Bali – Canggu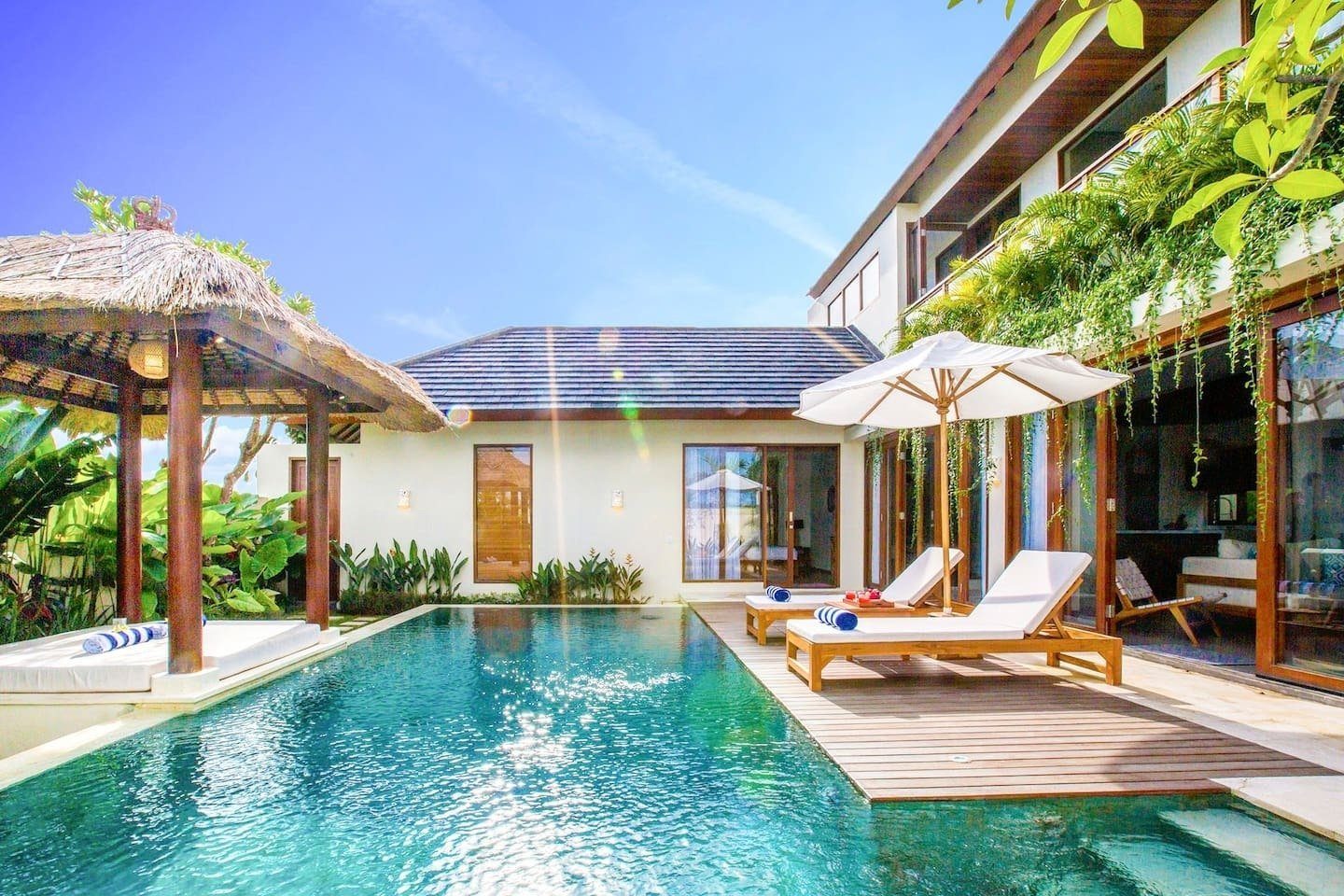 $$$
Incredibly Helpful Staff
Swimming Pool
Everything else you can imagine! (you only have to ask for it)
There's nothing you could possibly do wrong with booking this incredible villa in Bali. Accommodating up to 7 people at a time, this home is perfect for larger groups that travel together or small retreats. Enjoy the private pool, great view over rice paddies and one of the calmest neighborhoods in Canggu.
Umalas, the little district located between Seminyak and Canggu, is only 5 minutes by bike from the beach. Get all your friends together around the afternoon, drive down (or use Gojek) to the beach, grab a beer (or a coconut) and enjoy the amazing sunset. Whether you want to party in Canggu or Seminyak, everything is in short driving distance, but when you come home, you'll be greeted with peace and quiet.
Best Villa for a Group of Friends in Canggu – Villa Kassiké
$
Garden
Swimming Pool
Beach Nearby
Because you'll be sharing the three double rooms at Villa Kassiké with friends, this private villa in Bali works out to be almost ridiculously cheap – and the only reason for that we can imagine is: it's not Seminyak. So if famous place-names (and butler services) aren't your thing, Canggu will work out very nicely for you.
The villa truly epic, with a Balinese beachside chic vibe going on, lots of light, weathered wood, white, and rustic seaside-y touches. And, actually, it's more like a Bali beach villa, with private pool included, since that beautiful stretch of sand is a stone's throw from the property. Easily the best villa for a group of friends in Canggu; you won't be able to stop talking about how cool (or cheap) this place is for a while, that's for sure: it's a real slice of paradise.
Best Villa for Couples in Canggu – Manca Villa
$
Outdoor Terrace
Airport Shuttle Service
Swimming Pool
If you're traveling to Canggu as a couple, make sure you check out this top Balinese villa. The team that run this place really know how to make newlyweds feel like regular royalty, with decorative touches and lashings of flower petals that make you feel like you've been turned into superstars rather than just married. For couples who haven't taken the plunge (or who already have), it's quite easy to see why this is the best villa for couples in Canggu: rather than rattling around a huge space, it's the intimate surroundings of Manca Villa that give it a lovely, cosy feeling, like it truly is just you and your partner alone in a little bubble of secluded luxury. Plus the price is great, meaning even young couples can enjoy this villa in Bali without worrying about overspending.
Best Villa for Families in Canggu – The Beach House
$$
Beach Nearby
Very Spacious
Swimming Pool
The spacious layout of the aptly named The Beach House is just one of the reasons we say it's the best villa for families in Canggu. Another reason is its large pool. And, for family fun times, the beach is within a two-minute walking distance – where you could all take surfing lessons together (or not!) – as are a plethora of restaurants, cafes and other Canggu activities.
It's definitely the size of this private villa in Bali that gives it family status; but it's also the furniture, with a focus on homely couches and sofas, a big TV to chill in front of when things start to wind down in the evening, and big comfy beds so even the kids can have a luxurious stay in this stylish and well-thought-out Bali private villa. Top marks for family-friendly vibes here – as well as a focus on relaxation for parents!
Best Villa for Yogis in Canggu – True Love Unity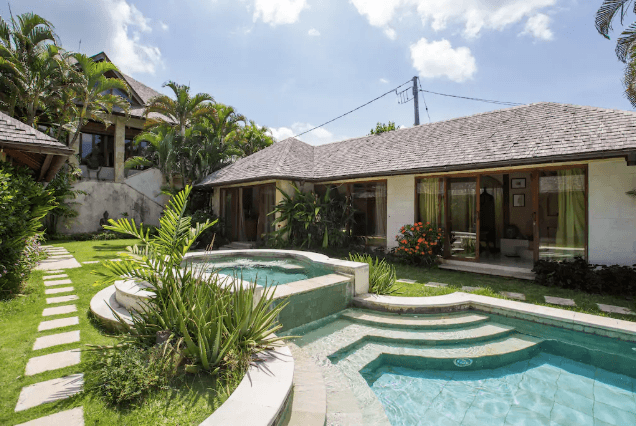 $$
Yoga Studio
Very Spacious
Swimming Pool and Garden
This place is a beautiful oasis of calm just a short drive from… well, everything! One of our top choices when it comes to great Balinese Villas. We stayed here for six weeks and absolutely loved this place… There is a huge pool on-site that is perfect for swimming lengths in the morning. You'll have friendly staff who clean the room daily and can deliver cold coconuts, a massive yoga studio that is free to practice in pretty much whenever, daily yoga classes, and a gorgeous garden. This was our favourite villa in the Canggu area!
Most Affordable Villa in Canggu – La Loft Canggu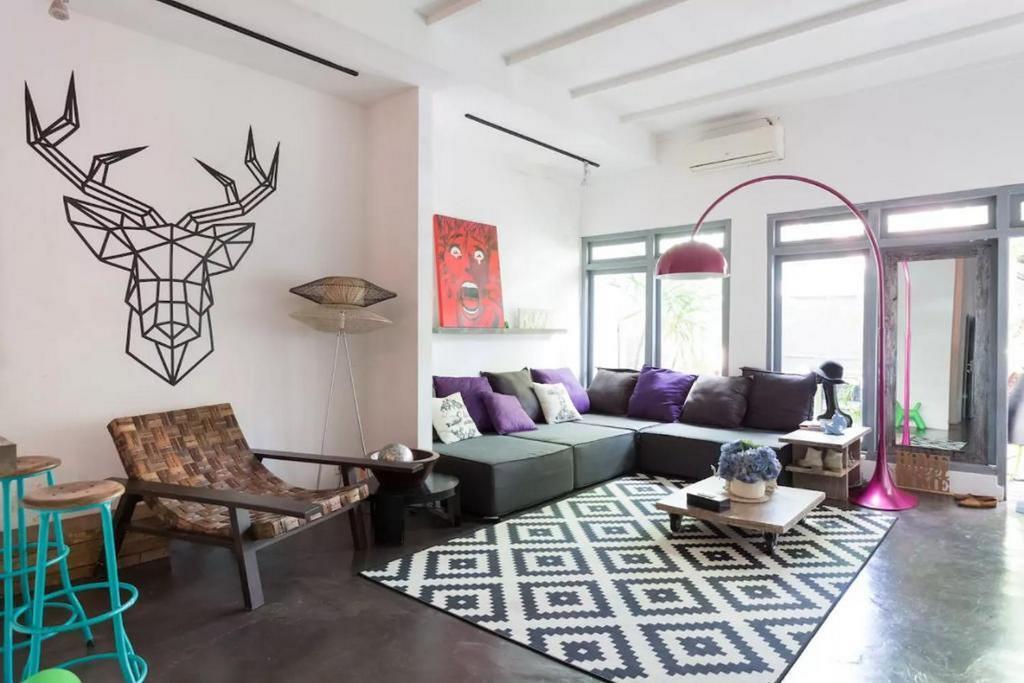 $
Living Room
Fantastic Design
Beach Nearby
Although many private villas in Bali come with a pool, it's not necessarily a prerequisite – and, in fact, you can save quite a bit of money by sacrificing that additional luxury. This is a Bali private villa with a difference because it's not the typical Balinese-style villa, but more of a 2- or 3-bed townhouse over three levels. And what a townhouse it is! Polished concrete on the floors, exposed brick in some rooms mixed with pure white paint, a chilled, secluded outdoors hang-out, and an overall style of northern European minimalism combined with views of a tropical garden – all of it makes for a unique stay. It's like something right out of a design magazine, and for the price, well, it's an absolute steal, even if you were to pay for this by yourself. So if you shared this with friends, it would be truly an amazing bargain. Top marks for interiors. Plus the beach is but an 8-minute wander away.
Quick Answer: The Best Villas in Ubud, Bali
Ah, Ubud. The central Balinese area famous for its stunning verdant rice terraces, out-of-this-world Hindu temples, ancient architecture, crafts, backpackers, and a cross between hippie and accountant trying to find themselves à la Eat, Pray, Love.
It's a place that sees its fair share of footfall on the Indonesian island, not least for its connection to said book (and film). Ubud is a beautiful area though, and what it's lacking in beaches and sea breezes it makes up for by the lush countryside and picturesque hills of Bali's interior.
More traditional than either bustling Seminyak or beachy Canggu, staying in Ubud is like bypassing the nevertheless beautiful superficial looks of the island and looking into the heart of Bali. Sound interesting? Then here are the best villas in Ubud.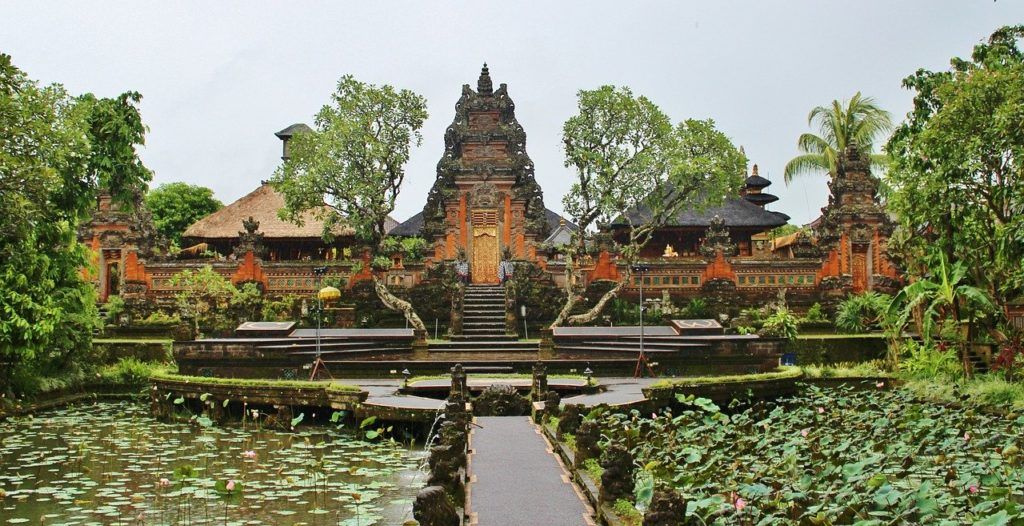 BEST VILLA FOR A GROUP OF FRIENDS IN UBUD
BEST VILLA FOR A GROUP OF FRIENDS IN UBUD
Wegi House 2
> $
> Onsite bar
> Beautiful nature view
BEST VILLA FOR COUPLES IN UBUD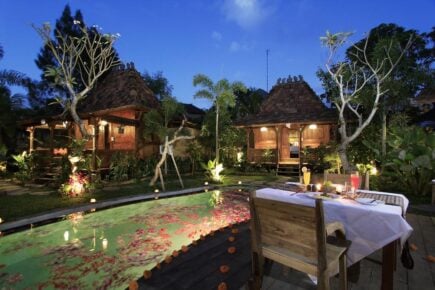 BEST VILLA FOR COUPLES IN UBUD
Madani Antique Villas
> $$$
> Breakfast included
> Private pool
BEST VILLA FOR FAMILIES IN UBUD
BEST VILLA FOR FAMILIES IN UBUD
Uma Padi Villa
> $$
> Rice paddy view
> Pivate pool
BEST CHEAP VILLA IN UBUD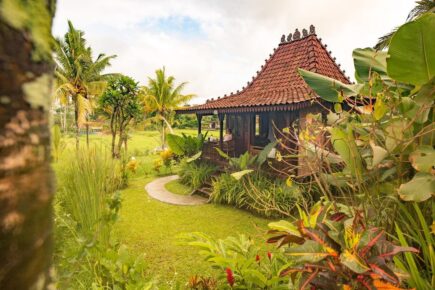 BEST CHEAP VILLA IN UBUD
Villa Neyang
> $
> Hottub
> Outdoor service
The Best Villas in Bali – Ubud
Best Villa for a Group of Friends in Ubud – Wegi House 2
$$-$$$
Brand new villa
Private pool
Top location in the center of Ubud
Bali is best explored with a group of friends. But staying together can be a bit tricky. Not with this amazing Bali Villa. Accommodating up to 12 guests, with 5 bedrooms and 6 bathrooms, you might have to make sure not to get lost in this spacious home. Bring all your friends together, split the bill at the end to make this Villa into a budget accommodation.
Wake up every morning to a freshly prepared breakfast from the villa staff, a clean and refreshing pool and an amazing view over nature and jungle. This Villa has everything you could wish for. And if there's still something missing or you want to have even more luxuries (like an in-house massage), just ask for it. This place is definitely one of the best villas in Bali.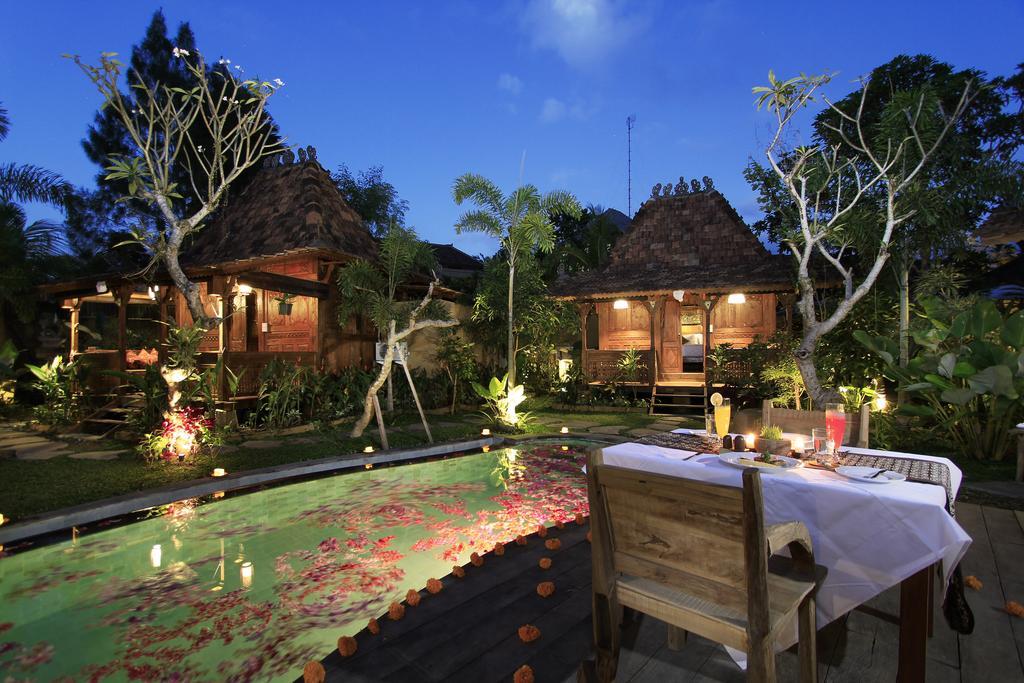 $$$
Breakfast & Dinner Included
Air Conditioning
Private Pool
Though expensive, opting for a jungle villa with a private pool, with breakfast and dinner cooked for you, is truly a unique way to spend a vacation as a couple. It makes for a perfect anniversary present, honeymoon, or a very, very memorable place to pop the question. You can have that idea for free.
But the jungle property here, made from beautifully varnished wood and sumptuously decorated, is an intimate way to experience Bali's not-often-explored nature – more likely, people will flock to its beaches, but here you can be literally at one with nature, secluded not by walls but by the jungle itself. For that reason, we think this is the best villa for couples in Ubud. And in terms of a great villa in Bali, you don't get a much more special – or impressively memorable – experience than staying at Madani Antique Villas.
Perfect Villa for Families in Ubud – Uma Padi Villa
$$
Rice Paddy View
Bike & Car Hire
Private Pool
With three bedrooms and a private pool, Uma Padi Villa has all the space a family would need to enjoy an unforgettable trip to Ubud. Arguably the best villa for families in Ubud, this place features room service so all you mums and dads out there can recline in peace without having to do anything. Children will love the pool, of course, since there's a lot of time in your very own Bali private villa to splash around and swim to your heart's content.
Bike and car hire is available here, making Bali's family-friendly hotspots even more accessible – we're thinking the action-movie-esque Monkey Village would be a particularly fun day out with all the family. And after a day exploring the magic that Bali has to offer, settling back into your top Bali villa, with its fully equipped kitchen, dining, and lounge area – as well as cooling off with a dip in the pool – sounds like a dream.
Most Affordable Villa in Ubud – Villa Nanyang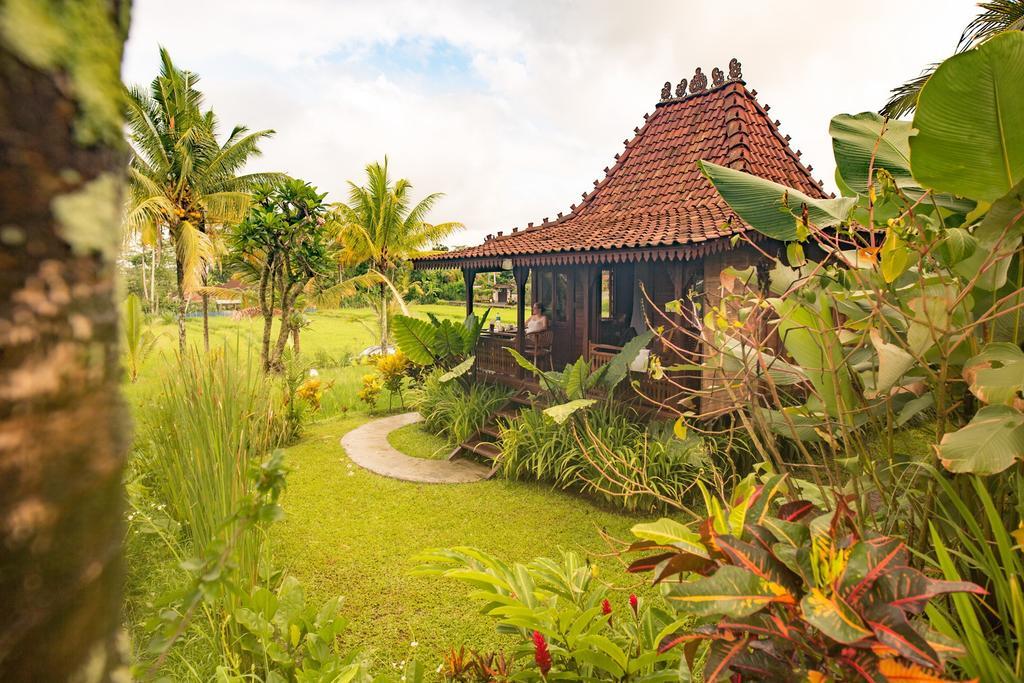 $
Hot Tub
Outdoor Terrace
Room Service
Quite incredibly, this secluded private villa in Bali, with a perfect vista that overlooks rice paddies, is cheaper than many other private villa options. So it's easily the best cheap villa in Ubud, hands down, no question. How can you argue with views of unreal greenery, staying in a traditional wooden Balinese private villa, with room service and meals cooked for you?
Sure, this isn't a villa with a pool or a beachfront villa, and it's not really located near anything – but how often do you get the chance to stay at a personalized property right in the middle of a rice field? Not very often, we're betting. So the landscape here combined with the elegant simplicity of the actual villa itself would be enough by itself – with the price on top, well, how could you say no to such a top villa in Bali?
Best Villa for a Peaceful Getaway – Villa Lush
$
4 guests
Lush tropical gardens
Shared swimming pool with rice paddy views
When you want to escape the crowds, spend some time alone – or with loved ones – and enjoy some peace and quiet, Villa Lush is a perfect private villa. Filled with cosy furnishings, traditional Balinese style, lush gardens and just a short drive from the heart of Ubud, it is an idyllic spot to disconnect from the real world and spend some time in nature.
Enjoy lounging around the shared swimming pool, basking in the cool breezes flowing off the endless surrounding rice paddies, and enjoying quality time with your friends and family.
Villa Lush features 2 bedrooms, as does the neighbouring Villa Luna which can be booked together for a totally private and blissful retreat.
What to Pack for your Bali Vacation
Pants, socks, underwear… Here are some other items you might not have thought to put on the list. Your trip to Bali starts with packing your bag properly!
1. Power Bank: Showing up to a new city, after a 14-hour bus ride, with a dead phone and no directions to your hostel is a half-awake, messy nightmare. Putting a good power bank in your pack is the best and easiest way to keep your important electronics charged up for those long travel and sightseeing days.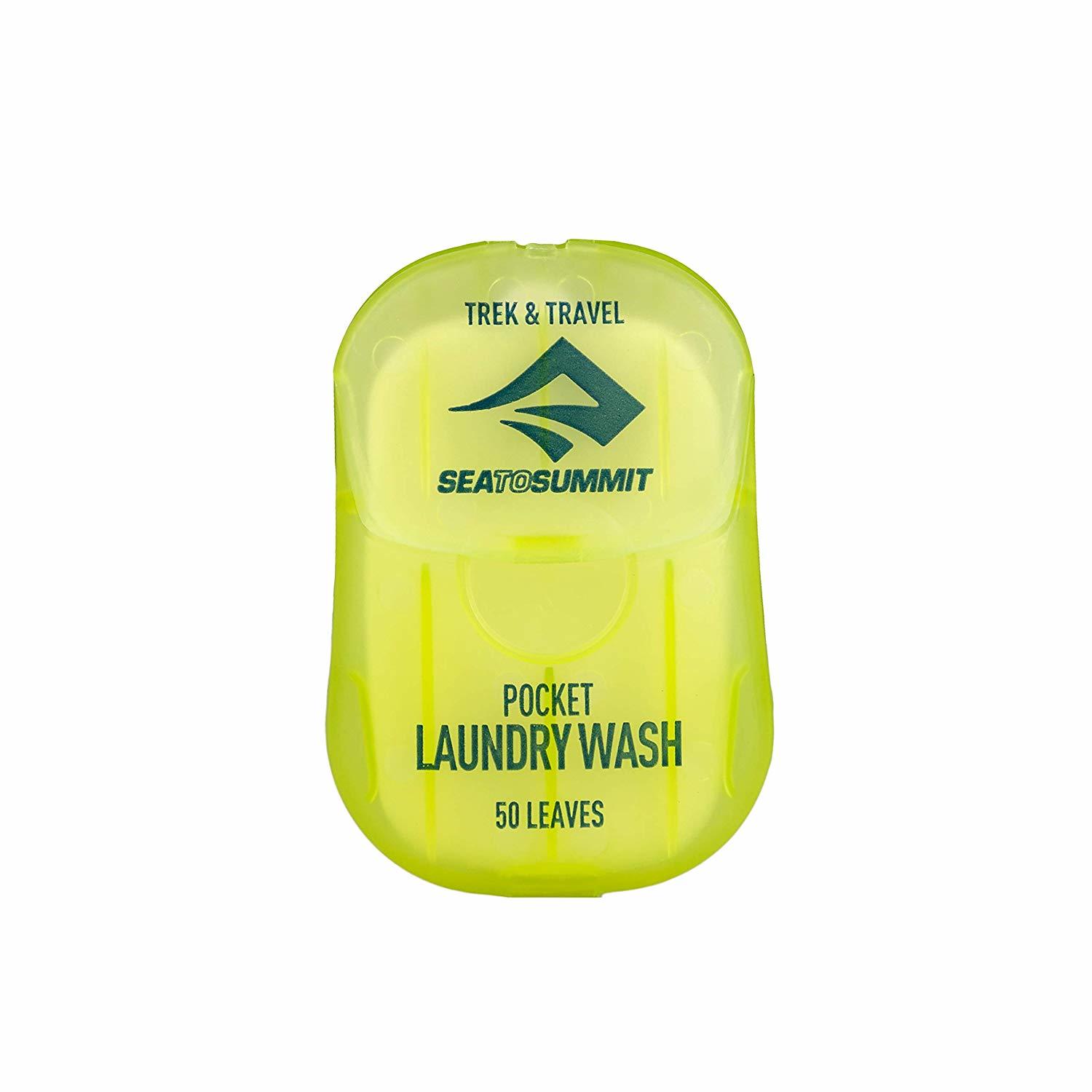 2. Sea to Summit Travel Soap: When dirtbagging around the globe, hygiene sometimes comes a bit short. This Sea to Summit Travel Soap can wash your hands, clothes or anything else, wherever you are. The soap strips are dry and super thin but dissolve in contact with water, so you can even take it easily through security in a carry-on.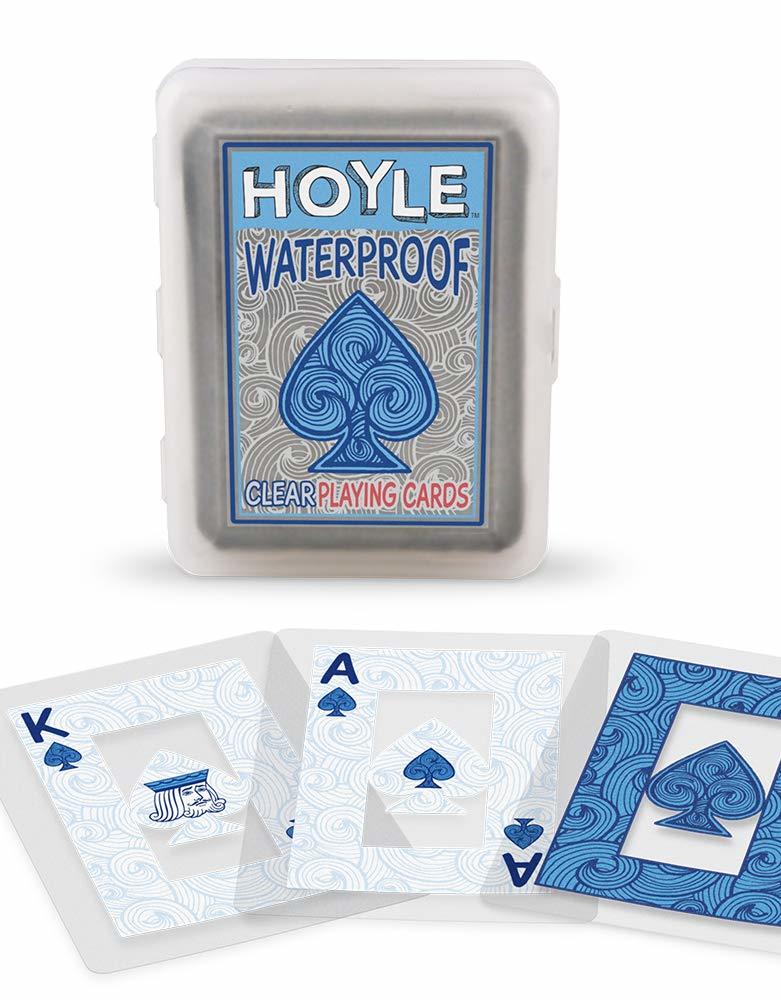 3. Playing Cards: These waterproof cards are essential kit for every backpacker. Play by the pool, beach or at your hostel after a long day with travel buds, without your cards breaking or getting soaked. And once you pull out those cards, the chance that you'll be the hero of the night is pretty high (no promises though).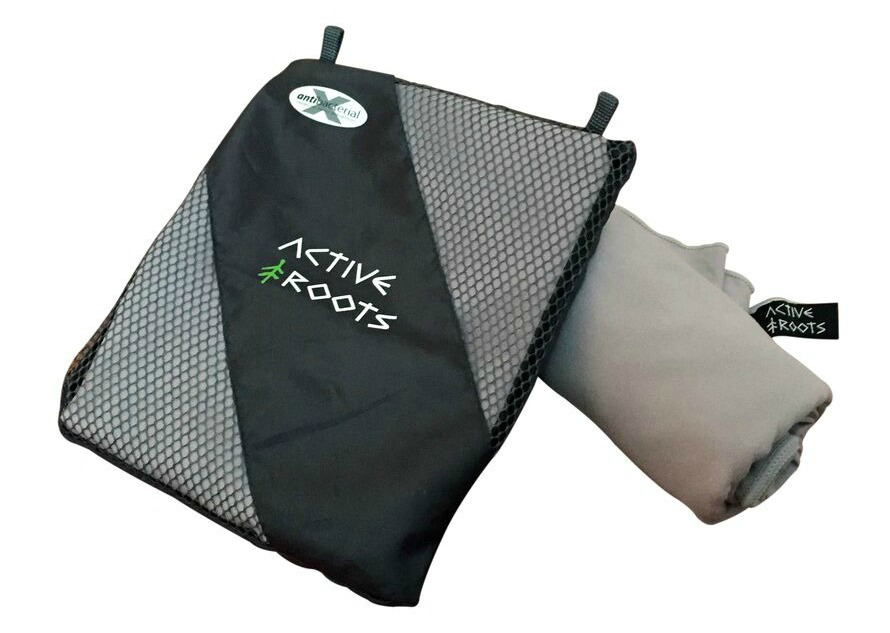 4. Active Roots Microfiber Towel: Having your own towel on your travels is a game changer. The Active Roots Microfiber Towel is perfect for travellers who are looking for a lightweight, quick-drying and extremely soft option. The antibacterial material is super water-absorbent and resists odor buildup because of its antimicrobial material. Ain't technology cool?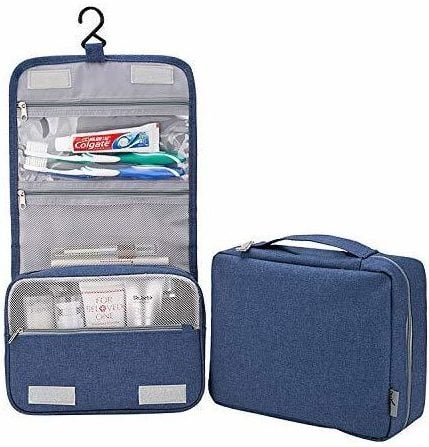 5. Active Roots Toiletry Bag: Your toothpaste is lost in the depths of your backpack again? You won't have this problem with the Active Roots Toiletry bag. The bag is made from a durable, water-resistant material, which can be a lifesaver on long travels. Super cool bonus: for every purchase, the company donates to an environmentally-friendly charity – it's a win-win situation for everyone.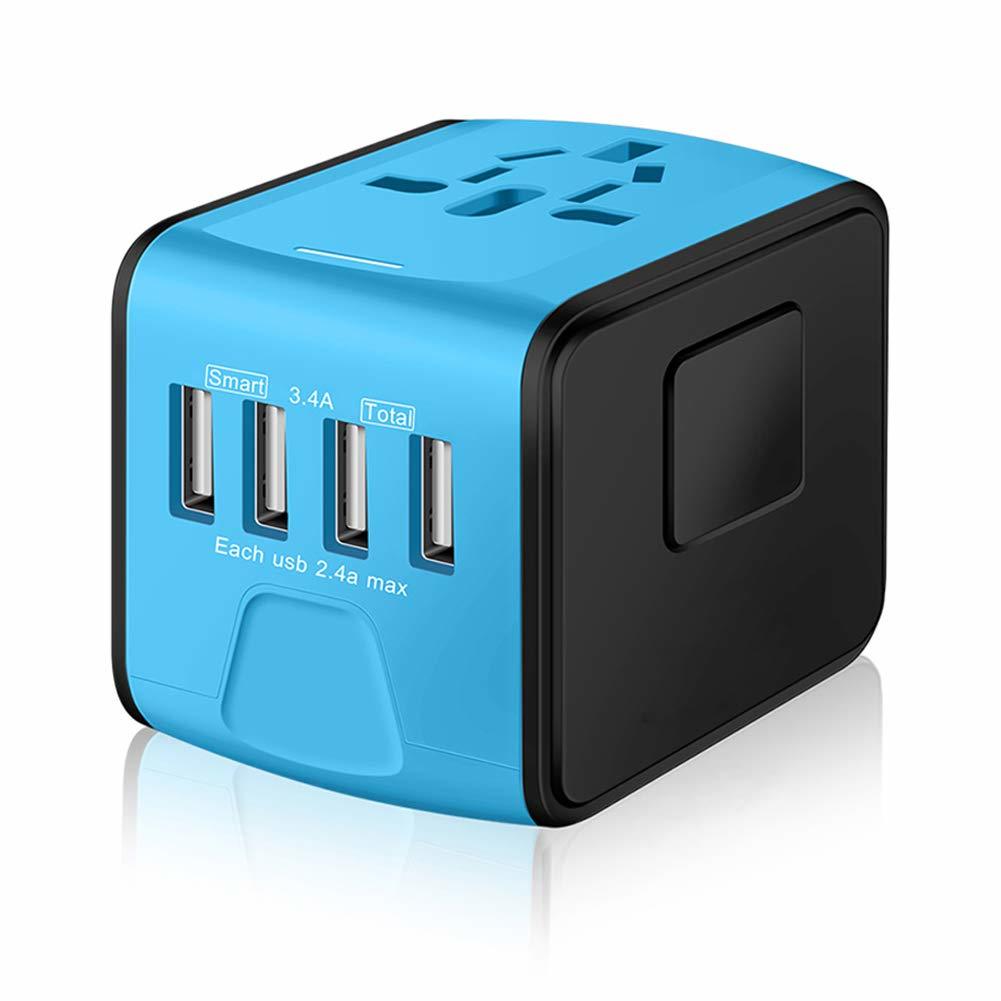 6. Universal Travel Adapter: This universal travel adapter charges your devices in (pretty much) every country – definitely a lifesaver when travelling around the world. The plug also regulates the power output depending on which device you're charging. No more fried hair dryers or electric razors!
Why You Should Travel to Bali
Well, my friends, the keys to the castle (I mean villa) are now in your hands: we have come to the end of the Best Villas in Bali for 2021 list. Visiting Bali give you so many insights into different cultures, amazing experiences in nature, sports, and food, and lets you relax fully at the same time (while your Bali travel budget stays low). So the real question is: why shouldn't you travel to Bali?
There are literally THOUSANDS of amazing villas in Bali, and each one of them is unique and special. No matter where you want to go, whether it's partying in Seminyak, doing Yoga in Ubud or just chill and watch people in Canggu, you'll always find the right place to fit your budget and needs.
Bali truly is a magical land filled with hidden gems… well at least now some of the gems (villas) aren't so hidden. Since so many people are visiting, the infrastructure is literally booming, making Bali into a tourist hot spot.
Travel Safety Tips for Bali
And have you thought about getting Travel Insurance for your trip? We've put together a roundup of Travel Insurance for backpackers – check it out here, or if you're low on time, get a quote from World Nomads, our favorite travel insurance provider.
Getting an estimate from World Nomads is simple – just click the button or image below, fill out the necessary info, and you're on your way!

You can even find insurances made for Bali specifically. If you're looking for an adventure and want to explore the whole island, being insured properly is an absolute no-brainer.
Final Thoughts on the Best Villas in Bali
Hopefully, this guide has given you a rough idea, or at least some inspiration for your stay in Bali; whichever villa you end up booking, you can be sure that it will be one hell of an experience. We'd even go as far and say that Bali's Villas are one of the best worldwide!
Just in case you still don't know which villa to choose cuz there are simply too many dreamy options? If you just need a nudge in the right direction, consider booking our personal favorite for the all-around best villa in Bali: Seminyak Suites Private Villa by Astadala.
So what are you waiting for? Pack your bags and get the next plane ticket, the island of gods is expecting you!
---
Find out how YOU can support the site.
We work hard to put out the best backpacker resources on the web for free! It's all about helping out our tribe of awesome backpacker readers (that's you!). Please visit the link to find out how you can help keep the site going 🙂
For the sake of transparency, some of the links in our content are affiliate links. This means that if you book your accommodation, buy a piece of gear, or sort your insurance through our link, we earn a small commission at no extra cost to you. We only link to stuff that members of the Broke Backpacker team has actually used and never endorse products or services that are not up to scratch. Thanks for your support!