Bali has gone from an off-the-grid surfer haven to an ever-popular backpacker island in just a few decades.
I personally love Bali, and am basing myself here for the next couple of years! Bali is one of the best places to work, relax, party and get fit in paradise.
There's more to do in Bali than just surf and party, however, so I've put together the epic list of 94 AMAZING things to do in Bali!  I've included some of the best clubs, temples, and beaches in this epic guide, as well as some of the most awesome places you simply have to eat…
I've done much of the legwork for you when it comes to finding off the beaten track things to do in Bali. This guide includes lesser-known urban exploration, little-visited villages, weird festivals, off the grid sites, and some of the sickest temples.
Note: some of the best stuff to do in Bali is actually not in Bali… but a short hop away by boat in Nusa Penida, Lembongan or the Gilis… 
If you are backpacking Bali then you are going to be spoilt for things to do. Try to work your way through as many of these as you can. From enjoying nature, visiting beautiful sites, and celebrating vibrant festivals, there's something for everyone!
Pro Tip: Wherever you are in Bali, sort out your transport with Eddie. He arranges cheap airport transfers, tours and bike rentals. I've used him for years now! Let him know Will sent you when you message him on WhatsApp: +62 812-3765-6124
You might recognise these gates from wanderlust accounts on Instagram. They've become a popular spot for posers to stop off and snap a selfie or two as they whimsically walk through the gates towards the mountains behind.
The gates are actually the entrance to a golf course, but still… it's a nice spot for a pic if you're way up in the north of the island.
2. Hit the Surf
Bali is a mecca for surfers! It's one of the top places in the world for surfing, with international pros prowling the sand for the best waves. South Bali is the must-go spot for any surfer worth his salt.
Why not join in and catch a wave, or take a class with local pro!
3. Watch a Sunset
Bali is the dream destination for honeymooners, backpackers, and holidaymakers, and that's because it's freaking beautiful! A trip to the idyllic Indonesian isle would not be complete without sitting and watching the sunset over the sea – one of the best things to do in Bali.
Simply catch the sunset from the beach in Canggu, picturesque Uluwatu, or even your rustic Ubud hostel… Pretty much any west-facing place on the island has stunning views EVERY NIGHT.
4. Head Out to Uluwatu Temple
All of the Balinese Hindu ancient temples dotting the island are pretty sick, but this one is my favourite. Dating all the way back to the 11th century, it is balanced on a cliff right out over the sea. Not only do you get to see the temple's cool architecture, but you also get a stunning panorama of the sea!
If you're a sucker for sundowners, you cannot beat this spot. Just keep an eye out for those pesky monkeys.
5. Learn about Bali's Hindu Heritage and Watch a Kecak dance
Unlike the rest of predominantly Muslim Indonesia, the island of Bali is Hindu. It has its own unique culture, which can be seen in pretty much all aspects on the island, including arts.
A great way to witness Balinese culture is to go and watch a Kecak dance. A music and dance bonanza based on the Ramayana, an ancient Hindu epic. This is a must see when it comes to things to do in Bali – catch it in Ubud or Uluwatu Temple.
You can tie in a Uluwatu Temple trip and Kecak dance together!
Ok, this temple may be an over-visited tourist spot, but it's not hard to see why so many people make the journey to visit. It is one of the most famous temples in the world!
Perched on a strange rock formation in the sea, and overflowing with greenery, the ancient temple of Tanah Lot temple is a mesmerising spectacle, especially at sunset.
Pura Tanah actually means 'Land in the Sea' and holds huge spiritual importance to Balinese people.
7. Catch Sunrise on Sanur Beach
Everyone goes on about the mystifying sunsets on the island's west-facing beaches. There are plenty of Bali beaches that boast incredible views!
Well, on the east side of the island you can catch a pretty nifty sunrise in the early morning. Sanur Beach is the best spot to do this. Just east of Denpasar, all you need to do is get up super early – or stay out all night.
We think the latter may actually be easier.
8. Eat Platefuls of Tasty Seafood in Jimbaran
Are you a seafood fan? Then get yourself over to Jimbaran!
It's sort of midway between Kuta and the Bukit Peninsula. It's literally famed for being a haven of seafood, with dozens and dozens of seafood places right on the sand along Jimbaran Bay.
Walk around, find a spot you like, pick your seafood, watch it grilled in front of you, and enjoy a beer or three. All as the sunsets into the horizon – tasty.
9. Marvel at the Holy Waters of Tirta Empul
Tirta Empul temple was built around a spring in 962 AD. The main draw to the temple, for locals, is the holy water of the spring itself. Bathing in the main bath was possible once upon a time, but the government has advised against that because of its E.coli. contamination…
There are still spots that are used for cleansing, healing and ceremony. You can dip your head under the holy water and join in the Hindu practice.
You can take part in a full spiritual cleansing with a local, famous Shaman.
10. Check Out the Ancient Cave of Goa Gajah
This cave is properly ancient! Built-in the 9th century, Goa Gajah is recognisable for the myriad monstrous faces carved into rock. When it was 'discovered,' one of the main faces looked like an elephant – or because of the statue of Ganesh inside – it's also known as Elephant Cave.
But there are no elephants here. It's thought to have once been a meditation sanctuary. Go inside to check out the serene fountains, and immerse in the interesting history of the island.
Yep, that's right; you can hike an active volcano in Bali! In the northeast of Bali is Kintamani, where you'll find the island's mountain range, including Mount Batur.
It's an 11km ascent that takes about two hours, and it's not too taxing if you're in moderate shape. You can hike alone, but going with a tour group is better for a hassle-free excursion. Expect lava rocks and actual steam coming out of the ground! I definitely recommend hiking in Bali at sunrise to really max out your wanderlust levels.
12. Gawk in Awe at Towering Rice Terraces
No trip to Bali is complete without a visit to the famous Tegallalang Rice Terraces. Sure, they're not exactly one of Bali's hidden secrets – it's a pretty touristy thing to do – but there's a good reason for that.
With hundreds of terraces stepping down the side of the mountains at Tegallalang, near Ubud, there is not a person in the world who would look and at this and not say 'wow'. Wow indeed.
Visit as part of an Ubud day tour, or simply stop-by and wander through the terraces.
Looking for the perfect place to live, work, play and stay in beautiful Bali? Introducing Tribal Bali – Bali's first custom-designed, purpose-built co-working hostel. This is the place where backpacker babes, aspiring entrepreneurs, adventurous explorers and vagabond hustlers alike come together to work, eat, play and fall in love… well, at least with the absolutely fantastic coffee and beautiful views!
Mingle, share inspiration and find your tribe whilst working in the TREMENDOUSLY FUCKING HUGE co-working space and shooting a game of pool on Tribal's electric pink billiards table. There's a gigantic pool as well so it's always time for a refreshing dip to break up the day's hustle, brainstorming, work, and games…
Located just minutes from the beach, Tribal is your ideal Bali base too… Enjoy the sleek, custom designed private and dorm rooms that ensure a good night's sleep. You're far enough from the main road, so there won't even be any traffic noises either – all you're going to hear is the birds chirping and water flowing through the surrounding rice paddies.
14. Get Inked
What's a better souvenir of your trip to Bali than a good ol' tattoo? The island is jam packed with a whole load of trendy tattoo parlours. The beachy backpacker town of Canggu, and Seminyak, are lined with studios specialising in every kind of tattoo you can imagine.
If you're in the market for some new ink, Bali is the place to do it. You can get a professional, incredibly talented artist in a sterile studio for a very reasonable price. Some enthusiasts visit Bali just to get tatted!
I recommend Koloni Tattoo in Canggu, and Artful Ink in Seminyak.
15. Marvel at Tukad Cepung Waterfall
Hidden waterfalls dot the landscapes of Bali and are well worth seeking out!
Towards east Bali, Tukad Cepung waterfall is still relatively off the regular tourist path but is one of the best things to do in Bali. Down 100 or so steps, it ain't an easy stroll, but your first glimpse of the falls will make it all worthwhile.
Inside a cave, the water appears to fall from the sky. It is truly a magnificent experience. Bask in the natural beauty and dip into the cool waters.
You can hit all the best waterfalls in Bali with an immersive and fun tour!
16. Lounge on the Beaches
Bali is lined with so many beautiful beaches it can be hard to know which one is the best.
A popular, yet still secluded, option is Virgin Beach in east Bali. Away from the heavy crowds of south Bali, it is tucked away between two dramatic hills and still has a touch of 'village life' about it.
Spend a day enjoying the clean white sand, dining at the beachside warungs and sipping ice cold coconuts. If you are looking for a backdrop for a 'gram pic, this is where to get it!
We have a whole guide of the best beaches in Bali to make sure you don't miss out on a paradise setting.
17. Tuck into Coffee and Cake, Bali Style
Bali has a strong cafe scene, and plenty of spots offering up impressive coffees and delectable slices of cake. One of the best cafes is Synkonah in Canggu, but Remix Juice is also a fave in Umalas. The digital nomads of Bali have endless options of places to get out the laptop and stay energised with decent caffeine.
18. Go Nuts with Go-Jek and Grab
Allow me to introduce you to the greatest fucking apps of all time… Go-Jek and Grab.
Those of the western world will compare this gem to Uber, but it's so much more than that. Need a lift? Order a motorbike taxi. Want groceries? Send an assistant to pick everything up. Hungry? Order a slap-up meal right to your door. And all for literal pennies! (Make sure you tip decently, these drivers aren't making big bucks).
What I'm trying to say is whatever you need can be delivered to your poolside. Be it a beer, phone charger, carton of eggs or pool floatie.
19. Sip cocktails at Woobar
Woobar is one of Bali's hip and super chic drinking holes. It is a super divine place to enjoy a well-mixed cocktail, or two
As if Bali didn't have enough places to enjoy its sumptuous sunsets, Woobar steps up to the plate with its amazing beachside terrace, pool, a load of loungers, and some tasty tapas. Sink into your seat with a drink in hand as the sun slips into the ocean, all soundtracked by the chill beats of poolside DJs.
20. Explore the Local Markets
It's very easy to get caught up in the tourist traps of Bali and forget all about the INCREDIBLE local life that is going on around you.
Forget the supermarkets and western restaurants, head straight into the local markets and mix among the locals to get a sense of the island. Buy super fresh local produce, try out some Balinese street food, and practice your Bahasa Indonesia.
Exploring Bali is so much more than natural sights and beaches, its about the outstandingly friendly locals, too!
21. Grab Sundowners at The Lawn
My favourite place for a cheeky drink in Canggu, the Lawn has epic happy hours over the weekends and is one of the best places in Bali to soak in some gorgeous sunset views…
22. Shop for Stylish Homeware
Stop off at homeware boutiques such as Bungalow Living Bali, or Gaya Ceramic & Design and you can take a piece of the Balinese beauty home with you and make your home an enclave of cool style too.
If you are open to more of an adventure, try out the lcoal markets that often sell the same thing for a quarter of the price!
23. Dine in Luxury at Merah Putih
Eating is one of the best things to do in Bali, that much we can establish. But when it comes high-class dining experiences, Merah Putih is the winner.
The interior is like a cathedral, with pillars that catch rainwater. Serving up modern takes on Indonesian food, this peng spot is somewhere you're going to want to spend all night indulging in tasty food.
Our beloved Merah Putih has been temporarily closed throughout the pandemic. Other lavish dining experiences include Jemme, Metis and Locavore.
24. Visit Lovely Lovina
Spend the day exploring Lovina's charming villages in the north of Bali, and get swept up in its romance.
Lovina is made up of several traditional fishing towns nestled among lush mountainsides far from the busy tourist crowds. Walk on the black sand beaches and hang out with locals at the beach bars.
You can even arrange for dolphin spotting tours as the sunrises!
25. Stay in a Luxury Villa
Bali has some of the BEST value accommodation in the world, and there are incredible villas for rent that suit pretty much EVERY budget.
Check out Bali Airbnbs for incredible options!
26. Swing Over the Treetops
Swings seem to be a thing when it comes to paradise locations, and Bali is no different. In fact, Bali has upped its swing game with a whole load of rustic looking swings hung in pretty, picturesque places.
Zen Hideaway boasts one of the best swings for an impromptu photo shoot, or you can choose to swing over Lake Buyan, or why not combine your new swing obsession with a trip a visit to Pod Chocolate Factory.
Bali swings have become a huge attraction, there's even specialised tours!
27. Pay your Respects at Pura Besakih
Near the flower village of Temukus, you'll find Bali's most important religious site: Pura Besakih. This holy temple dates back (officially) to the 13the century, and is pretty dang picturesque with Mount Agung in the background.
It's built on six levels and involves a lot of stairs, Balinese split gateways and marveling at the pagoda-like mera towers. This Hindu temple is known as the Mother temple, and is famous for being kept completely intact during a deadly volcano eruption many years ago.
I mean, when it comes to amazing architecture this has gotta be one of the best things to do in Bali. Full stop.
28. Witness a Hindu Beach Festival
The annual Kalibukbuk Beach festival is held every September in Lovina as a way of celebrating local life and promoting Balinese culture.
Spread across three days, the festival commences with a parade, music, and dancing, and continues with Balinese traditions like flower offerings, a bull race, and puppet shows.
It's a great chance to chat with the locals, try local food, drink, and enjoy a bit of live music. The festival closes with performances of traditional Northern Balinese dances.
29. Support the Written Word at Ubud Writers & Readers Festival
Calling itself "Southeast Asia's leading festival of words and ideas," the Ubud Writers & Readers Festival is a great shout if you're inclined to all things literary.
It's an event hosted by not-for-profit Yayasan Mudra Swari Saraswati, and was conceived as a healing response to the Bali bombing of 2004. The festival celebrates emerging writers, and puts on poetry readings, talks, and workshops, amongst other things. Takes place 24-28 October each year.
30. Admire the Art at Agung Rai Museum of Art
If you're an art fan (and even if you're not), you should take a little trip to the Agung Rai Museum of Art a.k.a. ARMA. Set up by Agung Rai, who made a lot of money in the 1970s selling Balinese art to foreign buyers, ARMA is dedicated to showing art from, and about, Bali.
There are works from the 19th century all the way up to pieces by contemporary artists – both homegrown and foreign. Interesting to say the least.
31. Wander around Ubud Palace
That's right, Ubud isn't all homestays and hippies. There's a stunner of a palace in Ubud, with a cool complex of architectural gems to wander around.
It was formerly the residence(s) for the Ubud royal family, and was destroyed in an earthquake in 1917. The buildings are mostly rebuilt… but you could've fooled us. Go in the late afternoon for peak golden light.
32. Eat Nasi Goreng
C'mon, you're in Indonesia, how could you not try some nasi goreng!?
If you're scratching your head, don't worry, it's basically fried rice with crunchy fried shallots, fresh salad slices on the side – usually cucumber and tomato – and a well-fried egg slapped on top. You literally MUST eat this. Find it everywhere, and enjoy.
33. Chow down on more local food!
Looking for MORE things to eat in Bali? Try bakso, these Chinese style meatballs made from meat paste; they're usually beef in China but since it's Hindu majority in Bali, they will be pork or chicken.
They're served in a broth with some other tasty bits – sometimes a fried wonton or rice vermicelli noodles. It's quintessential Indonesian street food ,and you'll find it pretty much everywhere (e.g. Kuta Beach food stalls or wandering past your villa).
34. Catch a Balinese Gamelan Performance
In case you didn't know, a gamelan is a traditional Indonesian music ensemble featuring a lot of bronze instruments for a super dreamy sound. Since Bali is known for its arts, you should catch a gamelan performance here.
The Cenik Wayah Children's Gamelan and Dance Group put on a good show – complete with a backdrop of Ubud Water Palace. Elsewhere you can catch the all-woman gamelan orchestra at Bale Banjar Kelod. There are more places to hear this, of course.
35. Participate in a Beach Cleanup
As beautiful as Bali is, the beaches can become washed up with trash and plastic. Thankfully, locals and expats are doing their part to clean up the beaches and keep Bali beautiful. There are weekly beach cleanups around Canggu.
Over the past 5 years, beach cleanups hosted by One Island One Voice have stopped 155 tons of plastic going back into the ocean. They are a great way to volunteer in Bali, meet other people, and do your part for the environment.
36. Adventure to a rice paddy
Wow, wow, wow. The rice paddies in Bali are literally immense! Like an actual picture from Natural Geographic but for your own eyes. You just have to make the effort to tear yourself away from the beachside towns and out to the terraced paddies in the countryside.
Ubud is prime territory for rice paddies, but you should also wander to east Bali and the heart of the island to find more incredible rice terraces. Talk about natural beauty!
Make sure to take your camera because you're not going to be able to stop snapping pics.
37. Check out Petitenget Temple
Visit this temple if you have no intention of traveling outside of Seminyak. This one's pretty eerie, and it is said it wards off evil forest spirits.
38. Watch some exploding water at Waterblow
Though there is not a whole lot going on in Nusa Dua – apart from 5-star resorts, a golf course, and a country club – there is the cool Waterblow. A place where conditions are just right for waves to properly smash into the cliffs and create a feeling that the water is 'blowing up' – hence 'Waterblow'.
It's pretty cool if you want some pictures of foamy waves rising up a few meters over the cliff edge.
39. Get Fishy at Jimbaran Fish Market
Peep into the everyday life of Balinese people with a trip to this beachside fish market. This is where you can pick up the freshest fish possible.
Get yourself up at the crack of dawn and get down to Jimbaran beach to see the local fishermen returning to shore with their outrigger boats filled with the day's catch.
If you can't get up in the morning, you can also snap up a whole colourful array of sea life from the market throughout the day and get it cooked over hot coals right then and there.
There's SO MUCH good food in Bali – you'll be craving it long after you have left the island. Take a little bit of the magic home with you by learning the tricks and tips in a Balinese cooking class.
Learn which spices make that indescribable flavour, which cuts of meat are most succulent, and how to expertly create that tasty nasi goreng. Your friends and love ones back home will be very impressed with your new found skills.
41. Flower Fun at Desa Temukus
Looking for something different to do in Bali? How about exploring a sea of flowers? Marigolds (or gemitir) and the amazing white katana flowers are important parts of Balinese religious ceremonies. They are easy to reach in the east Bali village of Temukus.
42. Go to the Goa Gala-Gala
Want to do something a little bit weird? How about navigating an underground labyrinth? (Well, it's not an actual labyrinth but it is pretty maze-like.)
Goa Gala-Gala is basically a subterranean home for travelers in Nusa Lembongan (for lack of a better word) that was carved right out of the limestone itself. It's pretty cramped and a bit stifling, but it's an… interesting experience. Not for the claustrophobic – nor the tall. Oh and bring a headlamp.
43. See a 500-year-old Banyan Tree
Banyan trees are considered to be sacred in Bali; in fact, they're thought to be inhabited by spirits. This big banyan tree in the village of Gesing is over 700 years old, an amazing sight to see.
The roots of the tree have created a maze that you can actually explore, so you can see why it was used as a hideout by Balinese fighters during the independence war against the Dutch. Super cool.
44. See some Weird Stone Carvings
Here's a strange, but intriguing sight. The side of the Pura Dalem Jagaraga temple is home to intricate stone carvings that depict a vintage car, an airplane crashing into the sea, bicycles, and somebody drinking beer.
The seemingly out of place 20th-century western objects are a reflection of the Dutch colonial power and its conflict with the Balinese kingdom.
45. Visit a Graveyard with a Difference
This might be one of the weirdest things to do in Bali, but bear with us. Trunyan is an isolated village set in the folds of a mountain on the shore of Lake Batur.
It's home to the Bali Aga (indigenous Austronesian people of Bali), who worship a volcano god called Bhatara Da Tonta. The dead are not buried, but dressed in cloth and set under bamboo cages in the shade of banyan trees, whose scent apparently stops the smell of decay.
46. Go and see a Really, Really Old Drum
It's more impressive than it sounds. The Moon of Pejeng is a huge single-cast bronze kettle drum. In fact, it's the largest drum in the world, made in 300 BC by the Dong Son people in Vietnam!
How did it get to Bali? Legend says it was the wheel of a chariot that pulled the moon, came loose, was urinated on by an angry thief (who then died because it was so hot), and then the wheel cooled down. Makes… sense. It's located in Pejeng, near Ubud.
47. Bat-watch at Goa Lawah
Do you like caves? If so, you'll love Goa Lawah. It's known as the 'Bat Cave' temple and that's for a good reason. Literally, hundreds and hundreds of bats call this place home, which is pretty freaky, but as dusk falls, the bats take to the air and fly around to catch tasty insects.
You'll want to time your visit to the bats making their rounds. The ancient temple itself dates back to 11th century, and is rumoured to have a link via a tunnel to Bali's holiest temple, Pura Besakih.
48. Witness a Makare-kare Fight
When it comes to weird things to do in Bali, witnessing the Usaba Sambah Festival at Tenganan (another Bali Aga village) is up there. Makare-kare fighting is a big part of this festival. Young men of the village wield razor-sharp bunches of pandan leaves and fight each other, with only small bamboo shields for defense. Ouch.
Yes, there's blood. It's all to impress the unmarried girls of the village, who are wheeled around on wooden swings. See this in May or June.
49. Go bananas at Monkey Forest
This is a temple that is overrun by monkeys, which is not an unusual sight in Southeast Asia, except this one is an actual monkey refuge.
When it comes to things to do in Bali, a visit to Ubud Monkey Forest is always a lot of fun: just make sure you don't rock up with your lunch because those cheeky monkeys will sniff it out and have it for themselves. Don't say we didn't warn you!
This is an easy addition to an Ubud day tour!
50. Lunch at a Beach Shack on Double Six Beach
Double Six Beach is a pretty popular spot for beachside action, and it's one of the best beaches in Bali. There's literally room for everyone on this huge beach; it's the sort of place where you can rent an umbrella and chill on a beanbag for a day of snoozing in the sun – so don't forget your sunglasses!
Of course, you're gonna get hungry. There are a ton of eateries lining the beach; you can't miss 'em. Choose one for a decent burger, a tall glass of juice and some chill music playing over the speakers.
Release your inner kid and cool off from the heat with a trip to a waterpark. WaterBom in Kuta is perfect for a day spent slipping down waterslides, zipping along in rubber rings, and flinging yourself down flumes.
It's a spread across a huge park and there are loads of places to chill out in the shade and eat.
52. Visit the real-life Jurassic Park
Up for more urban exploration in Bali? Visit the Taman Festival in Bali. This is an abandoned amusement park that closed when, apparently, the crocodile pit got out of hand. Ok, so it's not exactly Jurassic Park, but crocs knocked around with dinosaurs, so it's got the same kind of, um, nuance.
Amazing cathedral-like interiors here as well.
53. Snorkel through an underwater temple
What?! We know, it sounds super cool, right?
Get yourself over to Nusa Lembongan and book a snorkelling trip to the Ceningan Channel (between Nusa Lembongan and the smaller Nusa Ceningan).
Here, you'll be able to swim with views of a seated Buddha statue underneath you. Free dive down for a closer look; it's pretty dang magical. Sadly this statue isn't some eastern Atlantis. It's recent art. But still.
54. Get super fit at Crossfit Wanderlust
I'm a Crossfit fanatic… And I can say with some authority that Crossfit Wanderlust in Canggu is one of the best Crossfit gyms in the world. It's actually a major part of why I've now moved to Bali…
If you see me in there, come by and say hey!
If you're looking for something more, there are loads of fitness retreats in Bali.
55. Eat the Incredible food at Motion Cafe
By far my favorite restaurant in the WORLD. Motion Cafe serves up delicious and nutritious food. I usually order from here twice a day – it's the fucking tits.
56. Board your bike
Yes its true: Bali is bloody beautiful, but it's also pretty big and the main roads can get busy with traffic. Get yourself a bicycle for a day or two, or join a cycling tour and pedal away from the crowds to explore the tiny villages, lush mountainside, and crumbling temples.
A simple, easy and eco-friendly way to see some hidden gems that you might not stumble across otherwise.
57. Have a chuckle at laughing yoga
We all know about yoga right? Well, in Bali you can try out yoga with a twist. Yes, it's laughing yoga!
It might sound like you're going to be sitting on a mat, surrounded by strangers all twisting and stretching and laughing their heads off… And that's essentially what it is.
But having a laugh and saluting the sun is meant to be really uplifting and – who knows? – you might just end up soaking up all that positive energy and leaving a newer, better version of yourself.
58. Power up on a Poke Bowl
A favorite of Balinese clean eaters, the Poke Bowl (no, not a Pokeball) has been gaining popularity in recent years – my mate Mark is obsessed with them.
Pronounced poh-keh, the delicious dish is actually a Hawaiian specialty but trendy eateries in Bali have taken it and made it their own.
Tuck into a bowl filled with rice, vegetables, topped with tuna and finished with ginger, soy sauce, and a little spring onion. Try it out at Moana Fish Eatery or Pokeh Bali and feel the tasty goodness.
59. Work off your hangover at Milk & Madu
We all know what it's like: you've had one too many drinks the night before and you're in severe need of fried food and a big, cold refreshing drink.
Make your way to Milk & Madu, the perfect place for a massive helping of all-day breakfast. The chilled out vibe is soothing for a sore head and they serve big ol' burgers, overflowing wraps, and a load of other mouthwatering hangover cures.
60. Take a dip in healing pools
After your hiking adventures, late night drinking, and delicious Balinese dishes, you're probably going to want to relax and heal.
The Banjar Hot Springs is set in a serene spot in north Bali and close to a Buddhist monastery. Swimming in the sulphuric waters of the hot spring is said to be therapeutic and (supposedly) can cure all sorts of skin problems and rheumatic ailments.
61. Take a (cream) bath
Yep, that's right, one of the best things to do in Bali is to take a cream bath. It doesn't actually involve getting into a bath of cream, just getting your hair intensely massaged with creamy essences while your neck and shoulders are rubbed with oil.
Your hair is then put under a steamer for half an hour and washed off with a tonic. This heavenly process is a traditional Balinese treatment and will leave your locks amazingly silky, shiny, and bouncy.
62. Drink afternoon tea at Stonehenge
Yes, you read that right, and yes, you are still reading a list about the best things to do in Bali. Standing Stones Restaurant has, for some reason, recreated Stonehenge in their garden amongst their restaurant which serves up a mean afternoon tea, complete with fresh cakes and biscuits.
63. Grab a healthy lunch at the Shady Shack
This is one of the best vegetarian restaurants in Bali! The food is great (whether you are vegetarian or not), and the cafe overlooks the rice paddies of Canggu.
64. Get an IV drip hangover cure
Yes, you read that right. Maybe you've heard about this, but you can actually get a vitamin-filled IV drip for a hangover cure.
There are surprisingly a number of companies – with names like The Dose, Saline Bali and Hangover Lounge Bali – which can treat you 'in-clinic' or literally come to your villa to administer an IV drip. A lavish and odd way to cure a horrific hangover, doubling up as an unusual thing to do in Bali (though for Bali it's not that unusual).
65. Get silly at Mrs. Sippy's pool party
If spending a day surrounded by beautiful people, and sipping drinks to the sound of funky tunes at a pool party sounds good, this will definitely be at the top of your list of things to do in Bali.
Mrs. Sippy puts on poppin' parties every Sunday; there are free-flowing drinks, tasty bar snacks, and bumping beats to get the party going. Grab yourself a daybed and cocktail, and get vibey to the poolside DJ.
66. Feed your sugar cravings
Those of you who are chocolate addicts are going to love this place. The Big Tree Farms Bamboo Chocolate Factory is basically a farm for chocolate… and what a farm it is.
The whole place is run with eco-practices in mind and works with marginalized farmers to create a product where everyone gets a fair share of the profits. Of course, you get to try out a whole load of the good stuff when you visit too.
67. Get some amazing beachside satay
Satay fan? Food fan? We're both, so we definitely recommend grabbing some of the delicious – and cheap – satay at Petitenget beach, near the temple of the same name (more on that later).
This satay is delicious, and munching on these skewers of tender, peanut-sauce-drenched beauty is pretty lavish when you do so on the beach.
68. Get drunk on frozen margaritas and tacos at Motel Mexicola
At Motel Mexicola the tacos are bite-sized, meaning you'll feel like a literal lord as you order plate after plate of mighty morsels. The frozen margaritas here are also on point. And to top it all off, this place turns into a club at night.
When you feel like you can't dance anymore, order one of their espresso martinis served in a takeaway coffee cup.
69. Chase some waterfalls
What better way to have an adventure in Bali than to trek to a waterfall? The spectacular Sekumpul Waterfall in the North of Bali is surrounded by amazing views lush rice terraces and towering trees.
If you're in Bali during the rainy season you'll be treated by no less than five waterfalls. Five, we tell ya!
Check out Sekumpul and a couple of others in one fell swoop.
70. Make the pilgrimage to one of the best surf spots in Bali
Uluwatu isn't all clifftop temples, Kecak dancing, and whimsical sunsets. You'll find some of the best surf on the whole island in the rolling waves below.
Uluwatu's beaches and breaks are an amazing place to surf and owe their reputation to the classic surf film "Morning of the Earth" by Alby Falzon and David Elfick. When the film was made (in 1971), the only way down to the beach was a rocky path from the temple.
Today it's much easier to sample these tasty waves yourself, thanks to actual roads. Surf's best from May to October.
71. Escape the heat in Munduk
The mountain village of Munduk in Bali's central highlands has been a popular spot to take a break from the humid heat since the Dutch set up a hill station here in the 1890s.
Spend time in Munduk learn from locals about how the village was founded by a mountain tribe after they fled a volcanic eruption. Make sure to check out the crumbling colonial mansions and cocoa, coffee, and vanilla plantations left behind by the Dutch too.
72. Wander around an abandoned plane
Yep, there's an abandoned plane to explore in Bali, and yep, you can actually walk inside, step onto the wings and sit in the pilot's seat for mad selfies and such.
This is an adventurous thing to do in Bali for anyone with an interest in urban exploration, even though it's not actually urban at all. It's downright tropical! Just get yourself to South Kuta and search for a Boeing 737 near Pandawa Beach. It's one of several abandoned airplanes in Bali, which is a weird phenomenon.
Pump up those endorphins with a trip down the Ayung River, a great spot to try out white water rafting in Bali. Its meandering course through the pleasant, natural scenery takes about two hours to complete with some good drops and rough water to contend along the way.
If you want to test out your skills somewhere more extreme, visit in the wet season when water levels (and danger levels) rise. This is definitely one of the top adventurous things to do in Bali.
74. Set sail on the high seas
It would be more than rude to make it all the way to blissful Bali and not take a trip out to sea. There are numerous ways to set sail, from those lucky enough to have a luxury yacht at their disposal to boat tours or just a plain old fishing boat.
Explore the island's coastline from the water and see a different side of this already captivating isle.
75. Discover Uluwatu Cave
Everyone knows about Uluwatu Temple, and the cliffs and amazing surfing to be had here. But did you know about the cave system at the bottom of the cliffs? You'll find the caves by descending the concrete steps that go down to Suluban Beach – and therefore Suluban Cave, too.
Less cave and more overhangs and pinnacles, it's a cool place to capture through a lens, and fun to explore and walk around. It can get quite busy at times since it's a cool spot for surfing as well.
76. Go muck diving at Amed
Never heard of muck diving? Well, basically, not all offshore undersea spots are beautiful coral reefs. Some of them are downright dirty. Discarded equipment from local fisherman has left a load of places for fish to hide, so you can get to see some interesting species too.
Amed is ground zero for muck diving in Bali. You can see all kinds of different critters around here, like miniature seahorses, octopus, and much more. Visit Amed and see for yourself!
77. Release your inner Indiana Jones at Yeh Pulu
This archeological site is one of the most underrated things to do in Bali. Treat yourself to a bit of an adventure as you go in search of the Yeh Pulu archeological site, with carvings that date back the 14th century.
The only way to reach the Yeh Pulu is on foot from the village of Goa Gajah. After about an hour of walking through rice fields, you'll come across the carvings in a ravine alongside a sacred well. Pretty dang cool.
78. Discover the Secret Canyon of Sukawati
This secret canyon is one of the Bali's hidden gems. Get yourself over to Sukawati and discover the incredible world of Beji Guwang. Otherwise known as the 'Hidden Canyon,' this place isn't what we'd call a secret, but dang it's cool.
It's set on a stretch of the Oos River and is basically a gorge of twisting, intricate rocks, and blissful looking pools. Your socials will light up over this one.
79. Do some boutique shopping
Bali's chic, unique, and neat aesthetic is visible all over the island, with a focus on cool, simple silhouettes and laid-back living. In recent years there has been a spate of stylish shops opening up pretty much everywhere.
Take a break from the beach and step inside the super trendy boutiques in Seminyak to pick yourself up something hippy-dippy to wear.
80. Swim in an infinity pool
Affordable luxury is the name of the game in Bali, and nothing is more luxurious (for some reason) than an infinity pool.
The best place to find one of these babies is the 18-meter long beast boasted by Munduk Moding Plantation, cantilevered off the side of a hill. Serious luxe here. Check yourself in for a cheeky night of design heaven and Insta treats.
81. Take a drive through an actual tree
Yes, another banyan tree cracks our list of the best things to do in Bali, but this one you can actually drive through.
The awesome Bunut Bolong is an enormous tree with a tangle of equally massive roots that straddle the street. The sacred tree is revered by locals of the nearby Manggisari village, who tie yellow cloths around the roots and, given how sick this tree is, you can definitely see why.
Back to waterfalls, the views from the falls in Bedugul is the pretty sublime. You can view the Pura Ulun Danu Bratan temple on the shores of Lake Bratan!
This 17th-century temple is used to worship Dewi Danu (the Balinese Hindu water goddess) and boasts an 11-story Meru tower dedicated to Shiva.
The surrounding area is beautiful thanks to the glassy lake and Bali Botanic Gardens, Indonesia's largest botanic garden. The climate in Bedugul is cooler than the sometimes sweltering lowlands.
83. Check out the Garuda Wisnu Kencana Cultural Park
Although the idea of a slight commercial cultural park with a huge statue of Vishnu may feel a little bit tacky, this is definitely something worth seeing if you're into, well, huge statues.
To be exact, this 133-meter tall copper statue of Vishnu riding his trusty bird steed, Garuda, is one of the tallest statues in the world.
In the area that's literally carved out of limestone, they hold big festivals and gigs.
84. Visit a secret garden
Samanbagan village has been labeled the Secret Garden, and while it might have just been a way for local tour guides to cash in on the tourist dollar, the place is a slice of sheer beauty.
With a local guide, hike into the landscape surrounding Sambangan village immersed in the luminous green of the jungle as you trek to an Eden-like waterfall.
85. Treat yo' self to something custom made
If you want something made just for you then Bali is the place to get it. When it comes to made to order products, the options are endless. You can get yourself a spanking new suit or a shiny pair of shoes as well as custom-made furniture and ceramics.
Good luck getting those back home though… maybe just stick to a handbag or two.
86. Shop 'til you drop at Kumbasari Market
If you want to fill up your bag with handmade trinkets for your mates back home, or just browse for handmade textiles and local art, get yourself up early and head to Kumbasari Market in Denpasar. It is a fun place to shop for locally made goods. Make sure your barter game is strong as there are some great bargains to be had here.
87. See the huge stalactites at Goa Gong temple
For even more cave action, head over to Goa Gong temple. It's set back from the resort area of Jimbaran, making for a nice little trip. This cave temple is also known as the Stalactite Temple because there are huge stalactites that basically act like a huge gong inside the cave itself. It's still rung in ceremonies.
The atmosphere is serene and tranquil though. Oh, and you can't go in unless the priest is there. Fairs.
88. Go see Pura Kehen
Set in a wooded hilly area, Pura Kehen makes for a different temple experience in Bali if all you've seen are water temples.
Dating back to the 9th century AD (yep, it's proper old), this ancient temple is cool to visit. There are Chinese porcelains embedded into the walls and a huge banyan tree with a monk's house up in the trees. Pretty cool.
89. Get up early for Badung Market
If you're after some seriously fresh local produce or just some good old fashioned people watching, get yourself up nice and early and head to Badung Market.
One of Bali's many, many, many markets, Badung opens before the sun comes up and is packed full of locals selling brightly coloured fruits, various meats, and all sorts of other tasty traditional tidbits. You can even treat yourself to some freshly cut flowers grown on the farms in the central highlands.
90. Soak up the regal vibes at the Ujung Water Palace
Head to the less touristed eastside of Bali in the Karangasem regency for something pretty dang beautiful. Here, in the village of Seraya, you'll find Taman Soekasada Ujung, better known as Ujung Water Palace.
Visiting this palace is one of the coolest things to do in Bali thanks to its stone bridges over three pools (not for swimming), beautiful terraced gardens, and ornate buildings… Yep, this is one for the 'gram.
91. Take a trip to Deer Island
The barking deer that live on the little Menjangan island, just off of Bali's northwest coast, are seriously living their best life.
Take a trip to the tiny island to see the deer casually cooling off in the sea, catching some rays on the sand, and drinking cocktails at sunset…
Menjangan National Marine Park is also a hot spot for snorkelling!
Stay at Mangroove Bay Hostel to be close to the island. It's an incredible spot with loads of modern amenities.
Were you expecting unspoiled paradise in Bali? Well, yeah, though you CAN find it, the island itself is pretty built up now, and unless you want to spend hours circumnavigating the island on a scooter looking for secret beaches, most beautiful spots are populated and at least somewhat developed.
Enter the Gili Islands: three actual paradise islands with coral reefs just off-shore, palm-fringed, sugar white sand, and turquoise seas. You can even spot turtles swimming off Turtle Point on Gili Meno! TURTLES!
93. Hang out in a treehouse in Nusa Penida
The Batu Molenteng tree house is located high above the white sand of Atuh Beach. You have to climb up the wooden stairs to reach the treehouse but once at the top, the views are mesmerizing.
Spend some time enjoying this really chill spot, sit and soak up waves lapping the shore and the surrounding cliffs and hills. It's fairly easy to get from Bali to Nusa Penida as well.
There are many epic treehouses in Bali for a relaxing stay.
94. Visit a vehicle venerating temple
Do you think if you've seen one temple, you've seen 'em all? Dead wrong. Travel to Nusa Penida – the largest, less touristed of the three islands in this little group – and look for Pura Paluang on a 200m-tall outcrop near Bunga Mekar.
Locals call it 'Pura Mobil' and travelers call it the Car Temple. There are carvings of two cars venerated here on stone plinths. It's still a temple so show respect. There are even stories of the locals hearing car noises coming from the temple at night.
Looking for a specific place to stay? These are our highest recommendations for the best places to stay in Bali.
This boutique hostel almost feels like a luxury hotel. Sure it's a bit pricey but the free breakfast, free yoga classes every morning, and beautiful swimming pool make it worth the price. The staff is incredible. They make it a very welcoming place where it's easy to meet other travelers. They organize tours, have an all-you-can-eat dinner, and hold events such as BBQ's and other social activities. All of these elements make Puri Garden the best place to stay in Bali for backpackers.
Forget your worries and retreat with your loved ones to this idyllic exquisite villa on the outskirts of central Ubud. Ideal for a quiet weekend away, or romantic escape, you can spend your days lounging in the spacious breezy living areas, overlooking the endless lush rice paddies and dipping into the shared swimming pool. For your own piece of paradise, Villa Luna is the perfect setting.
This is a perfectly located hotel for beach hopping in Bukit Peninsula. It's located just a short distance from Padang-Padang beach, one of Bali's best surfing beaches. Other incredible beaches such as the ones listed about are a quick scooter or taxi ride away. Wind down from a day of exploring sitting beside the pool in one of their many comfortable pool loungers. We believe this is one of the best places to stay in Bali for surfers.
Located in Kerobokan, Taman Nauli Boutique Rooms offers a year round outdoor pool, and bed and breakfast. Guests can relax in the big and beautiful garden or hire a bike to go cycling. Canguu Club is less than 2 miles away! This is one of the best places to stay in Bali to relax and chill.
The rooms are clean, spacious, and amazingly decorated. Best of all, the staff are friendly, smiley, and always helpful.
Here are some extra things to know before visiting Bali!
Invest in travel insurance! You never know what may happen on the road.
Book a safe and comfortable accommodation. If you are wanting to be in among the action, find a place to stay in the heart of town. If you are planning to rent a motorbike you can venture further out!
Do some research beforehand to find out whether Bali is safe to visit or not.
Eat as much local food as possible! There is nothing else like it.
Bring a good water bottle with you and avoid buying single-use plastic ones!
Find cheap flights. Every once in a while, a killer deal pops up.
Here are some quick answers to common questions about what to do and see in Bali.
Don't forget your travel insurance for Bali
ALWAYS sort out your backpacker insurance before your trip. There's plenty to choose from in that department, but a good place to start is Safety Wing.
They offer month-to-month payments, no lock-in contracts, and require absolutely no itineraries: that's the exact kind of insurance long-term travellers and digital nomads need.
SafetyWing is cheap, easy, and admin-free: just sign up lickety-split so you can get back to it!
Click the button below to learn more about SafetyWing's setup or read our insider review for the full tasty scoop.
There you have it friends, some of my favourite things to do in Bali! Come say hey to me if you fancy a workout at Crossfit Wanderlust.
Between the temples, Balinese culture, surf, beaches, and unique things to do in Bali, you'll never get bored.
There are also tons of tasty local specialties to try, so make sure you head out and grab some of the best Balinese food from the boutique cafes and local warungs alike.
---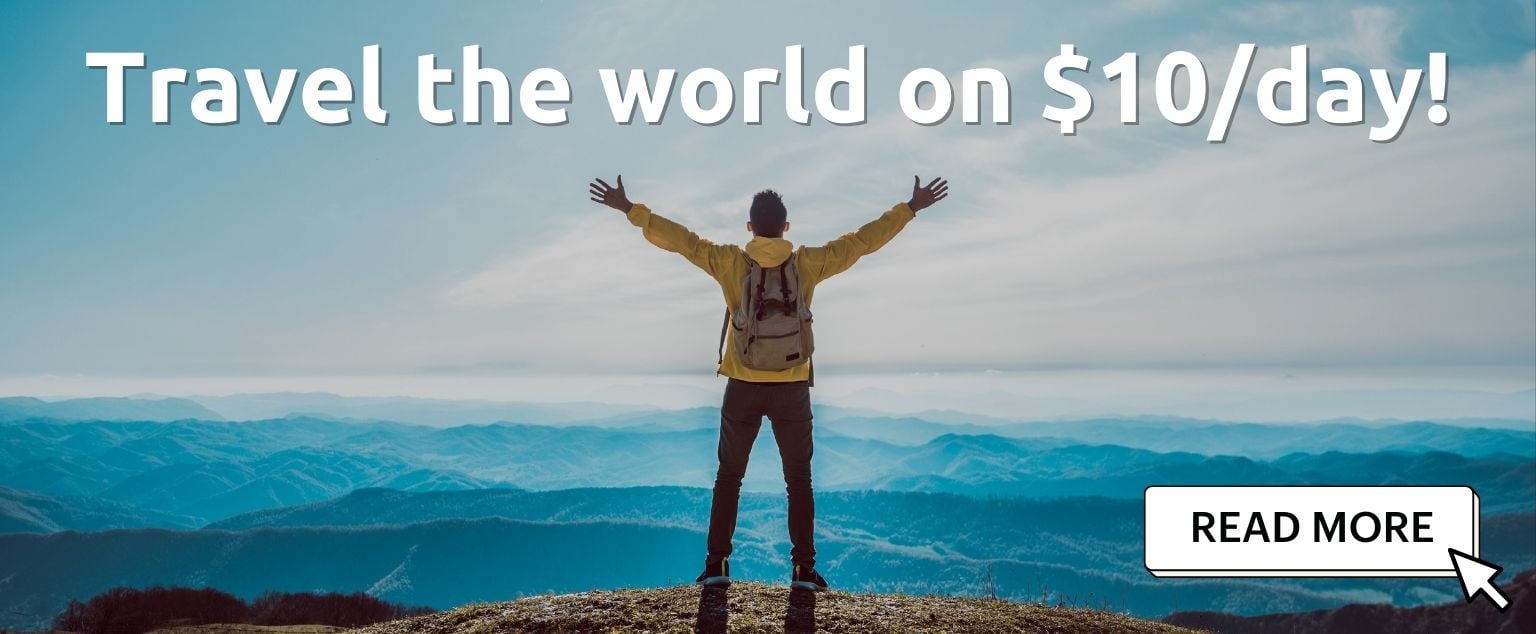 And for transparency's sake, please know that some of the links in our content are affiliate links. That means that if you book your accommodation, buy your gear, or sort your insurance through our link, we earn a small commission (at no extra cost to you). That said, we only link to the gear we trust and never recommend services we don't believe are up to scratch. Again, thank you!