It is a well-known fact that Uluwatu is the surfing capital of Bali. People flock from all over the world for the chance to catch some of the most epic waves they'll ever see and a chance to ride with the pros. For years, surfing was the one and only thing to do in Uluwatu but recently that's changed.
There are a ton of activities in Uluwatu that will appeal to all sorts of travelers. Wild beach clubs, a burgeoning restaurant scene, spas; all of these and more are becoming a part of Uluwatu's culture.
Those visiting Uluwatu will have plenty of options in front of them. To help give you an idea, we've created a list of our favorite things to do in Uluwatu. Yes, we will talk about surfing of course, but we'll also cover some hidden beaches, amazing bars, cultural landmarks, and much more.
So if you're wondering about to do in Uluwatu, look no further – it's all right here!
Accommodation in Bali is plentiful and varied. There are many types of hotels in Uluwatu; backpacker lodges, surf camps, homestays, all these, and more. Each is catered to a different type of traveler so you won't be lacking for options when visiting.
But for all the different types of accommodation in Uluwatu, you'll find, there is one type that is particularly desirable in: surf villas (cause this is the surf capital of Bali after all).
Some surf villas in Uluwatu offer fully inclusive surfing experiences including lessons, equipment, and trips. Others are a bit more basic and just offer surfboard rentals and a finger in the right direction. Prices obviously vary depending on how much you want to be included.
But there is more to Uluwatu than surfer lodges. Like we said before, you can find any kind of accommodation in Uluwatu from budget backpacker and party hostels to ritzy hotels and resorts. These can be booked pretty close to your arrival dates and will probably be among the best deals in town.
Here are some of our favorite places to stay in Uluwatu:
Located very close to its namesake beach, Padang Padang Inn offers great location and for a great price. The space itself is modern, stylish, and clean. The onsite pool is also a great respite after a long day of surfing, swimming, and climbing all those steps to and from the beach.
Alfiia and her husband own an amazing Airbnb in Uluwatu and are absolutely brilliant hosts. They have a large property with comfortable rooms and lots of great extras like a pool, BBQ, and workout area. The public outdoor kitchen and coffee area was a personal favorite of mine.
Best Hostel in Uluwatu – SR Hostel Uluwatu
SR Hostel Uluwatu is located relatively far away from the beaches, but I wouldn't count it out. SR provides more than enough to make your vacation in Uluwatu unforgettable! We're talking shuttles, bar crawls, club nights, scooter rentals, and a free buffet every night. Hard to beat that kind of deal.
Want to Stay in Canggu?
Come visit Tribal Bali – Bali's first specially designed, custom-built hostel…
Bali's most special backpacker hostel is finally open…. Tribal Bali is a custom-designed, purpose-built hostel – a place to work, rest, play and stay. A place to find your tribe and hands down the best place in Bali to hustle hard and make new friends…
These are the absolute must do activities and must see attractions in Uluwatu! If you want some more awesome activity inspiration, then be sure to check out epic guide on the best stuff to do in Bali as well!
1. Grab the best pizza in Uluwatu at Doppio Zero
I'm going to give full disclosure right now: my girlfriend, who was with me in Uluwatu, is a passionate Italian who can't resist the temptations of cheese and carbs. At every Italian restaurant in Uluwatu we passed, she would insist on going. For a moment there, I thought my trip in Uluwatu was about to become a dedicated pizza tour.
But in the end, my girlfriend and I ended up going to the same place over and over again: Doppio Zero. The tastefully designed space – a mix of sleek and rustic decor – initially caught our eye. The excellent food, full-bar, and amazing service kept us coming back.
Honestly, we loved this place so much that we went there every day, be it for a pizza or just to have a glass of wine with the owner, Luigi. Maybe it was the copious limoncello shots he fed us, but it was a very easy talking to him.
Doppio Zero is located on the right just before you'd normally turn off the main road to Blue Point from Jalan Pantai Padang-Padang.
Watch out for: Fresh ingredients, most of which are sourced locally.
Insider Tip: Go during happy hour (times vary) for buy one-get one free drink specials.
2. Run away to Nyang Nyang Beach
Without a doubt, Nyang Nyang is the absolute best beach in Uluwatu; NAY one of the best beaches in all of Bali. It's perfect white sands stretch on for almost 2 kilometers and are touched by some of the most beautiful turquoise water you'll see in Bali. This place is an absolute gem and should be on everyone's things to do in Uluwatu list.
Nyang Nyang Beach is located on the far southern edge of the Bukit Peninsula beyond Uluwatu Temple. You'll drive about 5 minutes east from the latter before reaching the Nyang Nyang turnoff on the right. You'll know you've arrived when you see a parking lot with a local warung and some construction on each side.
After a 10-minute or so walk down a dirt road (wear good shoes), you should arrive at the beach and be greeted by splendor. More surprisingly is that you won't be greeted by hordes of tourists either! Compared to Bali's usual attractions, Nyang Nyang is very quiet. Come here, and you'll have lots of space to lounge and just chill.
Watch out for: The makeshift huts on the beach. Perhaps a place to spend the night? (Maybe bring your backpacking tent just in case.)
Insider Tip: Don't stop in the parking lot – you can actually drive a bit more down the dirt road.
3. Go to some local restaurants outside Uluwatu
The neighborhoods surrounding Uluwatu usually don't get much attention. They're pretty raw compared to Uluwatu and usually the latter looks pampered in comparison to the former. Most people just make a b-line through these areas in search of surf and beach clubs.
But there are some very good reasons to actually make an excursion out into the nether-regions of Uluwatu. For one, the food you find outside of the touristy areas is actually very good and often very inexpensive. Gone are the boutique cafes and delis; say hello to the warung culture.
Warungs are local food stalls, usually run by a family. They're about as close to a mom n' pop diner as you're going to get and serve up some mean food. One of my favorites when I visit Uluwatu is a little place called Bakso Solo Baru. It's a literal hole in the wall but they make bomb spicy chicken.
So be adventurous and try some food outside your comfort zone. Some may be surprised to know there is more to Balinese cooking than smoothie bowls and satay.
Watch out for: The crowds – lots of people next to a stand usually means good food.
Insider Tip: Not all street food is necessarily safe. Go easy at first and pick your location wisely.
4. Surf everywhere
You can't visit Uluwatu and not consider surfing! The surf in Uluwatu is absolutely legendary and practically put the town on the map in the first place. Even if you've never surfed before, you should still consider a lesson or at least watching the pros from some lazy beach bar.
The surfing in Uluwatu is as diverse as it is epic. The waves come in all shapes and sizes here, from tubes that stretch on like highways to reasonable swells for beginners to behemoths that look like they could swallow the entire island. There's a wave for everyone in Uluwatu and no one, regardless of their skill level, should feel left out.
There are a ton of places to surf in Uluwatu but some do stand out. Suluban Beach gets some pretty gnarly waves and plenty of surfers looking to conquer them. Balangan is a more lowkey spot with some super long pipes. Nyang Nyang is a bit of a hidden gem that gets very few crowds and some excellent surfing conditions.
These are only a handful of the surfing locations in Uluwatu. Visit yourself and find your own favorite spot!
Watch out for: Coral reefs – they're everywhere around Bali and can hurt a lot.
Insider Tip: Get the latest Uluwatu surf reports at magicseaweed.com!
5. Drop (not literally) by Karang Boma Cliff
The Karang Boma Cliff is a fantastic viewpoint. It offers a similar vista to the one at Uluwatu Temple but receives nowhere near as many visitors. This means one can actually enjoy this place without having to push and shove (which isn't a good idea near cliffs anyways).
Karang Boma is located in-between Uluwatu Temple and Nyang Nyang Beach. The marker for the turnoff is pretty basic – pretty much a laminated sign that's way too faded – so keep your eyes open. Once you hit the turn off, it's about a 5 minute drive to the cliff.
Bare in mind that some entrepreneurial locals have set up a toll gate of sorts before the viewpoint. They'll ask you for 5,000 rupiah to continue down the road and there doesn't seem to be a way around. In my experience, the locals are only there later in the day though when it's busier. If you arrive at sunrise or early in the morning, you may get there before anyone sees you.
Watch out for: The edge because there's practically no fences or protection.
Insider Tip: There are some pretty cool photo opportunities here so bring that camera you've been traveling with as well.
6. Get a sundowner at my favorite bar in Uluwatu – Sunset Point
I love this place. It is my favorite bar in all of Bali. On an island where pretension, excess, and vanity can reel their ugly heads, this place feels authentic to me for some reason.
Sunset Point is simple on paper: a wooden bar, a handful of picnic tables, a large collection of beanbag chairs, and a great view. It follows a pretty common trend that you see elsewhere in Bali: that if you build a place somewhere beautiful and have Bintang, the people will come.
But there's something about this bar in Uluwatu that makes it special. Maybe it's the remote location; perhaps it's the strings of christmas lights that remind me of my backyard; or it could be the laidback crowds it attracts; but I just feel this place.
Oh and the sunset views are indeed some of the best in Uluwatu. That goes without saying.
Watch out for: The puppies; I hope they never grow up.
Insider Tip: Try and arrive early and get a seat at the front near the cliffs.
7. See a kecak fire dance at Uluwatu Temple
This is probably one of the most touristy things to do in Uluwatu. People travel from all over Bali to see the sunset at Uluwatu Temple and many stick afterwards to see the Kecak Fire Dance performance.
Though it can be pretty busy, the kecak fire dance is pretty damn cool to watch. The performance involves about eighty people and zero musical instruments. A large group of seated men use their own vocals to produce a sort of rhythmic melody to which a group of costumed dancers perform to. The effect is very hypnotic and you'll soon fall into a trance after listening long enough.
Tickets can be bought at the offices of Uluwatu Temple or ahead of time with an organized tour. If you choose the latter, you'll also get to see the temple itself as a part of the deal. Check out the deals for the fire dance here!
Watch out for: the monkeys – they're deft thieves around the temple.
Insider Tip: consider buying your tickets ahead of time – most of the seats are reserved for organized tours.
8. Have a drink at Blue Point
It may be touristy as hell but I can't resist going to the bars at Blue Point first thing when I arrive in Uluwatu. I grab a beer, find a good spot near the edge of the bar, and watch the surfers catch some waves as the sun sets. It's one of the most timeless things to do in Uluwatu, and I always recommend that everyone do it at least once on a backpacking trip to Bali.
Just to be clear: when I use the term "Blue Point," I am referring to the general area around Single Fin. Whilst Blue Point is the unofficial name for this place, Single Fin is probably the most well-known establishment around, not to mention one of the most famous beach clubs in Uluwatu.
That being said, I usually don't like hanging around Single Fin. It's overpriced and there are plenty more bars down the cliffs that offer better views and prices. Pick any one of them and you'll be sitting pretty.
If you're feeling up to it, you should consider walking all the way down the steps to Suluban Beach. Located on the other side of an epic sea cave, Suluban is super intimate and a popular place at sunset. When the water's low, you can also walk pretty far out into some tide pools!
Watch out for: The tides as Suluban Beach may not be accessible at when the water is high.
Insider Tip: Park back on Jalan Pantai Padang-Padang and walk to Blue Point to avoid paying for parking.
9. Make a road trip to Melasti Beach or Green Bowl
Visiting Uluwatu can sometimes be a bit hectic these days. No longer the remote, undiscovered corner of Bali, Uluwatu is becoming more developed and, as such, more crowded with people.
If you want to get away from the center of attention in Uluwatu, then consider driving to the far southern shores of the Bukit Peninsula. Aside from finding well-known oasi like Sundays Beach Club and Karma Beach Club, you'll find some very nice beaches to go with them.
Green Bowl is probably one of the quietest beaches near Uluwatu. Due to its remote location, hardly anyone visits here aside from a couple of surfers or beach bums. Green Bowl Beach is small but if you're looking for peace this is the place.
Melasti Beach is a relatively new development but is already grabbing people's attention. The water here is a magnificent blue and the white cliff behind the beach are something to behold. Unlike Green Bowl Beach, there are actually some beach bars and restaurants at Melasti so you won't have to worry about packing a lunch.
Watch out for: The lack of development at Green Bowl. There are no beach chairs, bean bags, bars, toilets, anything here.
Insider Tip: It's possible to visit Melasti, Green Bowl, and maybe a beach club all in one day. Make it an epic road trip!
10. Join the hordes at Suka Espresso
Suka Espresso is a local legend that usually tops the lists of "Best Cafes in Uluwatu." The hype is real too: the breakfast (served until 3pm!) is exceptionally good here. Suka uses very high quality ingredients and offers arguably some of the best food in Uluwatu and Bali.
Problem is the lines can be ridiculously long here. We're talking brunch lines at noon in Portland, Oregon long. (For those who have never visited Portland, people go absolutely nuts for brunch in this town; I don't make this comparison lightly.)
If you want to get a table at Suka, you absolutely need to arrive early in the morning; I mean early. If you're planning on arriving at 9am, then you're already too late. Get there at 7:30am the moment the doors open – it's the only way my friends.
Watch out for: The Banana Brulee Hotcakes, which look divine but are probably a major cause of diabetes.
Insider Tip: Suka Espresso also serves lunch/dinner and these aren't slouches either.
11. Or have a more peaceful breakfast at Land's End
If you want to have a nice, peaceful breakfast and don't want to deal with the madness at Suka Espresso, there are other places to eat in Uluwatu. One of my favorite breakfast cafes in town is Land's End. This small, unassuming cafe is easily overlooked but totally worth checking out.
Land's End Cafe is simple: a cashier's counter, a bathroom, a kitchen, and some wooden tables. The dishes on offer don't seem that interesting either at first: just the usual fair of smoothie bowls, breakfast burritos, and espresso drinks.
But what Land's End lacks in diversity they make up for in quality. The coffee is perfectly prepared, the food is made with 100% organic ingredients (and love), and the staff is very warm. To be honest, you couldn't ask for much more out of a restaurant in Uluwatu.
Watch out for: The homemade truffles that come with coffee.
Insider Tip: Glutards will enjoy this place as it has a respectable gluten-free menu.
12. Spend the afternoon (or all day) at an extravagant beach club
It just wouldn't be an epic Bali itinerary without visiting some sort of beach club, right? Luckily, Uluwatu has plenty of these and most of them are worth spending the day (and night) at.
There are some staples to Uluwatu's beach club scene. They are:
Ulu Cliffhouse: A hot-spot in Bali that is usually the center of conversations. Big, shiny, and often the first club in Uluwatu that everyone goes to.
Sundays Beach Club: A staple of the beach club scene with a long beach, elegant food, and languid vibes. A good place to run away to without leaving any luxuries behind.
OMNIA: A beach club that demands attention; not just because of its bold design but because of its "adults-only" policy. People come here to get wild and wild they get.
Karma Beach Club: A very secluded beach club hidden away below the cliffs and through the jungle. It actually requires a cable car to get to. It's a pretty small space too, which means you'll need to arrive early to get a chair.
13. Discover the secret Pantai Cemongkak
Pantai Cemongkak is one of my favorite beaches in Uluwatu for several reasons:
It's strikingly beautiful: The crystal-clear water and white cliffs make it look like a remote Greek cove.
It's close to Bingin Beach and Dreamland Beach: In fact, it's right in-between the two and both are 5-10 minutes walk away.
It's absolutely deserted: Seriously, I never see anyone here aside from a fisherman or two.
So next time you're visiting Pantai Bingin or Dreamland Beach, consider making a slight detour to Pantai Cemongkak. You'll be shocked at how empty it is and, at the same time, how pretty the beach is.
Watch out for: The sun – there's not much shelter here aside from some ruined beach shacks.
Insider Tip: Since there is no development at Cemongkak, be sure to eat in Dreamland or Bingin Beach before.
14. Spend the day at Balangan (and don't forget the cliff at sunset)
If you're looking for one beach in Uluwatu that has a little bit of everything, Pantai Balangan is an excellent choice. It has great restaurants, beach bars, not too many people, some great little walks, and, of course, is gorgeous. What more could you want from it?
There are plenty of things to do at Balangan Beach. Some of the best surfing in Uluwatu is here If you're not up for surfing, there are lounges and umbrellas around for beach bums and a Bintang is never hard to find either.
On a slightly odder note, one of my favorite things to do in Uluwatu is to visit the New Kuta Golf Course. This is not because I necessarily like to play golf (I really don't) but because I like to walk around the grounds. Located on the edges of the cliffs of Uluwatu, this course may have one of the prettiest views in the world. Plus, I like to yell "FOUR" and fuck with the golfers a little.
Watch out for: The cliff viewpoint to the north of Balangan – this is a great place to watch the sunset.
Insider Tip: There is a trail leading up to the New Kuta Golf course directly from the beach. Just look for the stairs.
15. See a cultural show at Garuda Vishnu Kencana Park
Garuda Visha Kencana is a cultural park that is mostly known for the gigantic statue that stands in the middle of it. The colossus, which stands 120 meters high, depicts the Hindu god Vishnu riding his trusty steed, the winged beast Garuda. (Fun fact: the Gardu-Vishnu is higher than the Statue of Liberty.)
The cultural park also holds daily cultural shows for visitors. These shows are careful recreations of traditional Balinese dances and performances, like the Barong Dance, and usually include 20 or more performers. For those who are interested in Balinese dance, which is pretty cool actually, attending one of these is a great opportunity.
Admittedly, there isn't a whole lot else to do in Garuda Vishnu Kencana. When I visited, I got the feeling that the park was only halfway done. There were times when I felt like the staff just didn't have their heart in it as well.
Watch out for: the parades – there's usually a couple of small ones per day.
Insider Tip: if you just want to see the statue, don't bother entering the park – you can see easily from outside.
16. Chill out at Padang Padang Beach
Pantai Padang Padang is one of the most beloved beaches in Uluwatu that attracts all kinds of travelers. Whilst hanging out here, I saw families playing with their kids, Brazilians playing fresco, and backpackers sharing beers; all in one place. Padang Padang is just an easy beach to visit, plain and simple.
Padang Padang Beach is easy to get for that matter as well. It's located right off the main road and you can actually see the beach itself from a bridge overhead. There's a dedicated parking lot across the street from the entrance that charges a reasonable 5,000 rupiah.
Note that you will have to pay another 10,000 rupiah to enter the beach itself.
Watch out for: The satay – make sure it's cooked thoroughly and correctly.
Insider Tip: Head to nearby Thomas Beach if you want a little space. It's larger and usually pretty calm.
17. Find the sea cave at Pantai Tegal Wangi
There is a pretty cool sea cave located at Pantai Tegal Wangi that makes for some great photos. At sunset, the cave is particularly beautiful as the westward-facing cave lights up wonderfully at this time. For Instagrammers in Bali, this is a great spot to drop by and a welcome break from the usual tree swings and temple settings (don't be these people please).
Pantai Tegal Wangi is located on the edge of Uluwatu and is actually quite close to Jimbaran. It's a bit out of the way and I suggest that trippers use some sort of navigation app like Maps.Me or Google Maps to get there.
Once you arrive at Pantai Tegal Wangi, go for a mission to find the sea cave! (I won't spoil it for you ;)) Feel free to take a break whenever and enjoy the scenery as well. Tegal Wangi is a very popular place to catch the sunset and having a Bintang here at the end of the day is just as rewarding as finding that cave.
Watch out for: The small temple complex that marks the entrance of the beach. It's called Pura Segara.
Insider Tip: bring beer with you if you want one because the vendors at Tegal Wangi usually run out fast.
18. Head to Jimbaran for fresh seafood
Uluwatu is technically right next to the ocean (no shit Ralph…) but that doesn't mean it has the best catches of the day. Whilst there is some fresh seafood caught around Uluwatu, most of it actually comes from neighboring Jimbaran.
Jimbaran, located north of Uluwatu, is famous for its seafood restaurants. A lot of people actually travel to Jimbaran from all over Bali just to eat fresh fish. The quality of the catch is that good and you can find just about anything here, from grilled mahi-mahi to sushi to bakar (fried).
So if you really want the best fish in Uluwatu, you shouldn't necessarily stay in town. Take the short trip north to Jimbaran and really treat yourself.
Watch out for: Fresh red snapper – the most delicious of fish in the ocean.
19. Join a CrossFit Class at Bambu Fitness
Even on vacation, you don't wanna miss out on getting your workout in. In Uluwatu, Bambu Fitness is a beautiful and tropical gym offering all types of classes, personal training sessions and body building options.
Filled with the high-quality equipment, and led by excellent, experienced trainers, it is one of the best places to get your pump on in Uluwatu.
Looking for some more detailed information for your next holiday in Uluwatu? There lots more useful advice located just below!
When to Travel to Uluwatu
Uluwatu has a wonderful climate – not too hot, not too cold, and rarely too wet. It is located on one of the most luxurious and beautiful islands in the world after all, one that is famous for its regularly amazing weather.
Winters in Uluwatu (May-October) are the dry season. Temperatures around this time are lower than usual but still very comfortable at around 28 Celsius or 82 Fahrenheit. Rain is very infrequent during these months, which means that there can be water shortages. Please be mindful of your water consumption in Uluwatu while visiting.
The surf in Uluwatu is also best during the dry winter months. During this time, the waves reach their legendary heights, which means the surfers will be out in droves.
Summers in Uluwatu (November-April) are hotter and more rainy than winter, but neither of these are ever extreme. Although Uluwatu gets a fair bit of rain (it is still tropical) it receives far less precipitation than the rest of the island. It's location on the arid Bukit Peninsula makes it drier than other places in Bali.
Honestly, one could visit Uluwatu at any time of the year. The weather is nice year round and there's always something going on.
If you wanted to avoid the crowds, you will have to stick to the (short) shoulder seasons. April and October are good months as there usually isn't too many people or high prices.
How to Travel to Uluwatu
Uluwatu and the Bukit Peninsula are located on the far southern tip of the island. Outside of the far north, traveling to Uluwatu from most of Bali's top destinations should be painless. Granted, you'll have to deal with Bali's torturous traffic but this comes with the territory.
Most people travel to Uluwatu by private car or taxi. By far, these are the most convenient form of transport in Bali because they are relatively quick and affordable.
You can arrange a private transfer to Uluwatu in many ways. You can either have your previous accommodation in Bali arrange one for you, use a ride-share app like Grab or Gojek or hail a taxi (the worst choice).
If you have your own form of transport i.e. a scooter or car than just remember to be careful when driving to Uluwatu. Traffic can be very bad near the Jimbaran area, especially around 5 pm when everyone is heading to Uluwatu Temple for the sunset.
To get a better idea of how long it takes and how much it costs to arrive in Uluwatu, refer below to the following estimates:
Kuta to Uluwatu: 30 minutes – 100,000 rupiah / $7
Ngurah Rai Airport to Uluwatu : 30 minutes – 100,000 rupiah / $7
Sanur to Uluwatu: 45 minutes – 150,000 rupiah / $10
Canggu to Uluwatu: 1 hour – 200,000 rupiah / $14
Ubud to Uluwatu: 1.5 hours – 250,000 rupiah / $18
Padang Bai to Uluwatu: 1.5 hours – 250,000 rupiah / $18
Amed to Uluwatu: 2.5 hours – 400,000 rupiah / $28
How to Get Around Uluwatu
There is really only one way to get around Uluwatu and that's by scooter. Having your own scooter will allow you the most freedom for the least amount of money. You will need to be mindful of the road as always, but with the usual precautions you'll get to experience Uluwatu to the fullest.
You can usually rent a scooter in Uluwatu at your hotel. The proprietors usually have some sort of contact – be it a business or just a local with a bike – and should be able to organize something for you.
If your hotel or villa in Uluwatu should strike out in arranging a scooter, then there are plenty of independent rental agencies around town. Just go for a walk and start looking. Don't pay anything over 60,000-70,000 rupiah per day.
It must be said though that riding a scooter in Uluwatu is just as dangerous as anywhere else in Bali. Please be smart and drive safely while you're visiting. This means:
ALWAYS wear your helmet.
Never drink and drive.
Don't take blind corners too fast.
Being mindful of road conditions and debris.
Driving aggressively or recklessly.
If you don't want to ride a scooter, there are some more options of getting around Uluwatu but they aren't as convenient. You could walk but the distances will be enormous. Or you could hire a private driver but I only recommend this if you're willing to spend the extra $25-$30 per day.
Also, be aware that whilst ride-shares are easy to organize to Uluwatu they are not easy to organize in Uluwatu. For one reason or another, the area is often devoid of Gojecks or Grabs, which makes them an unreliable form of transport.
The Best Bars and Restaurants in Uluwatu
When I first visited Uluwatu, the clubs were just being built; ramshackle beach shacks and bars were the overwhelming majority of "business."
Nowadays, there are all kinds of cafes and restaurants in Uluwatu. Fancy bistros, quaint cafes, international delicatessens, local warungs; all of these can be found in abundance in Uluwatu at the moment.
I find Uluwatu's restaurant scene to be more low key than those in Seminyak or Nusa Dua. Chalk it up to the chronically chilled-out surfer culture if you'd like but, for whatever reason, you shouldn't have to dress up or look the nines if you want a good meal.
That being said, there are definitely some classy joints here. The opulent beach clubs in Uluwatu, like Sunday's Beach Club, Ulu Cliffhouse, and OMNIA, are prime examples of how exclusive Uluwatu's nightlife can be. But getting into these just requires a little extra money and time in front of the mirror.
To give you an idea of where to eat and drink in Uluwatu here are some of our favorite establishments:
Land's End Cafe – best breakfast in Uluwatu
Suka Espresso – best coffee in Uluwatu
Doppio Zero – best Italian in Uluwatu
Sunset Point – chillest bar in Uluwatu
Ulu Cliffhouse – best nightlife in Uluwatu
Aunty Warung – best local food in Uluwatu
El Kabron – fanciest meal in Uluwatu
Bingin Bagus Seafood BBQ – best beach food in Uluwatu
Here are some quick answers to common questions about what to do and see in Uluwatu.
Get Insured Before Traveling to Uluwatu
ALWAYS sort out your backpacker insurance before your trip. There's plenty to choose from in that department, but a good place to start is Safety Wing.
They offer month-to-month payments, no lock-in contracts, and require absolutely no itineraries: that's the exact kind of insurance long-term travellers and digital nomads need.
SafetyWing is cheap, easy, and admin-free: just sign up lickety-split so you can get back to it!
Click the button below to learn more about SafetyWing's setup or read our insider review for the full tasty scoop.
Before I sign off here, I would like to remind everyone visiting Bali to be very careful when it comes to drinking. There is a lot of bootleg alcohol on the island – mixed sometimes with dangerous amounts of methanol – and you DO NOT want to drink the wrong batch.
Buy liquor from trusted vendors and don't accept drinks from random dudes. Go to legit bars in Bali and not to roadside shacks. Sticking to bottled Bintang beer is a sure way to avoid this shit as well.
---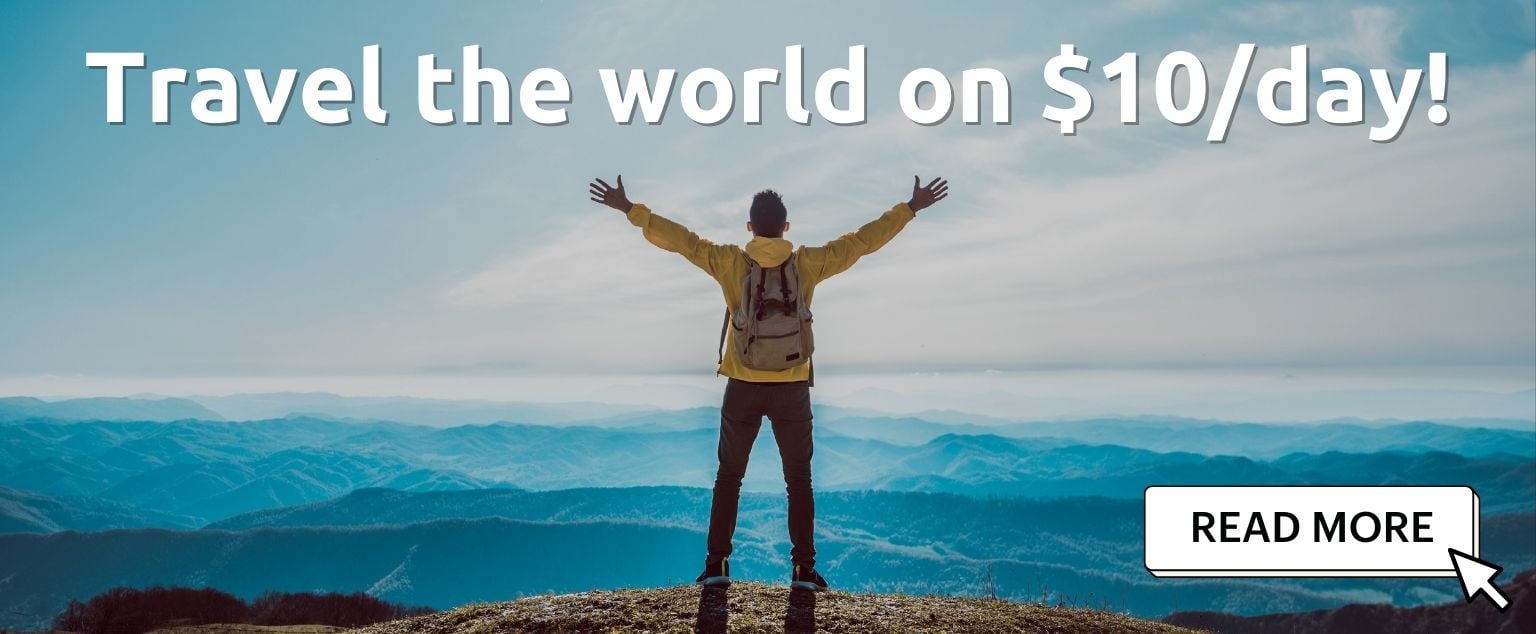 And for transparency's sake, please know that some of the links in our content are affiliate links. That means that if you book your accommodation, buy your gear, or sort your insurance through our link, we earn a small commission (at no extra cost to you). That said, we only link to the gear we trust and never recommend services we don't believe are up to scratch. Again, thank you!