Bali, you say? That island with bumper-to-bumper traffic and hectic crowds?
Sure, there are times when Bali is a heaving mess of tourists. There are also times when you can see the real beauty and magic of the spiritual island. When you can get away from other tourists to find the hidden gems of natural magnificence and splendour.
It's all in the planning, babe.
As someone who has lived in Bali for many-a year, I feel pretty qualified to let you know when the best time to visit Bali is, and when you might wanna avoid if you are looking for that serene, tropical paradise experience.
Keep on reading to discover when you should visit Bali, and whether you should pack a raincoat!
Best Time to Visit Bali – April to October
Best Time to Visit for Festivals and Parties – All year!
Best Time to Visit for Surfing – May to September
Cheapest Time to Visit Bali – November to March
Best Time to Visit for Sightseeing – March to June
Best Time to Visit for Scuba Diving – April or October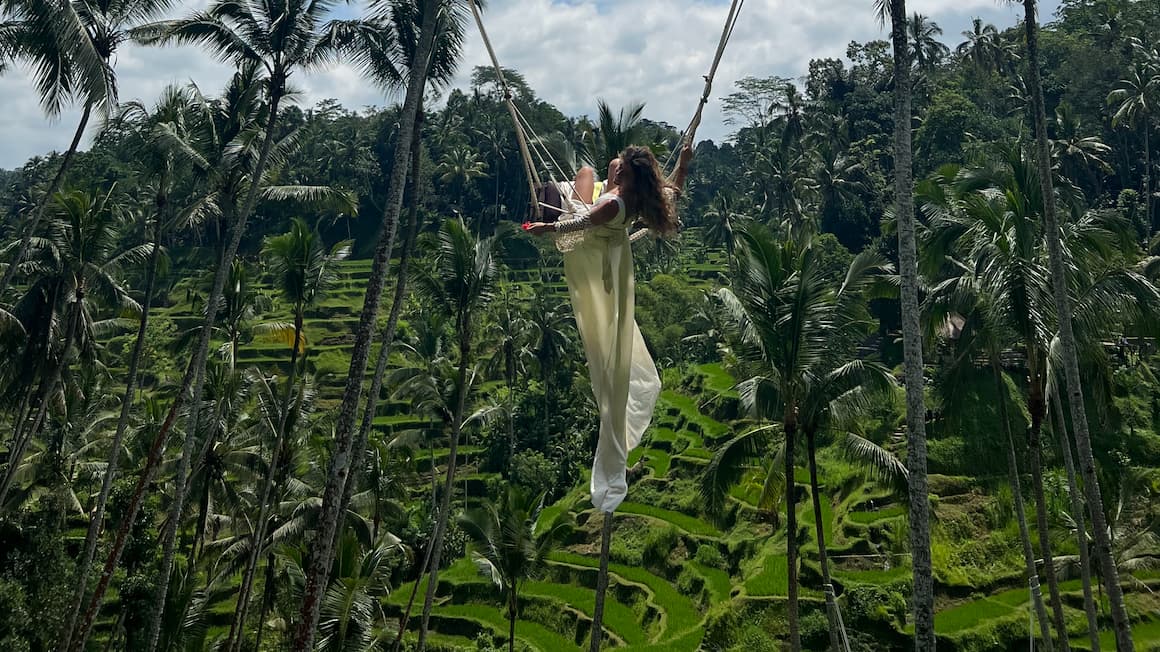 When is the Best Time to Visit Bali?
I may have a little bit of bias here, but there isn't ever a bad time to visit Bali. You can always seek out incredible moments on the small island. However, the BEST time to travel to Bali is during the dry season.
Usually running from April to October (I say usually as global warming is fucking everything up), the dry weather is perfect for being able to get out every day and explore all of the island's beauty. 'Dry' may be a little misleading as there will be super humid days – your skin will be GLOWING in the tropical climate!
If you don't need to worry about school holidays, I would definitely recommend May or June. It is not quite high season, and you'll have consistent good weather. It is also a brilliant time with some amazing festivals like the Bali Arts Festival taking place mid-June! You'll also see a lot of domestic tourists in Bali during these months as Indonesian schools are on holiday.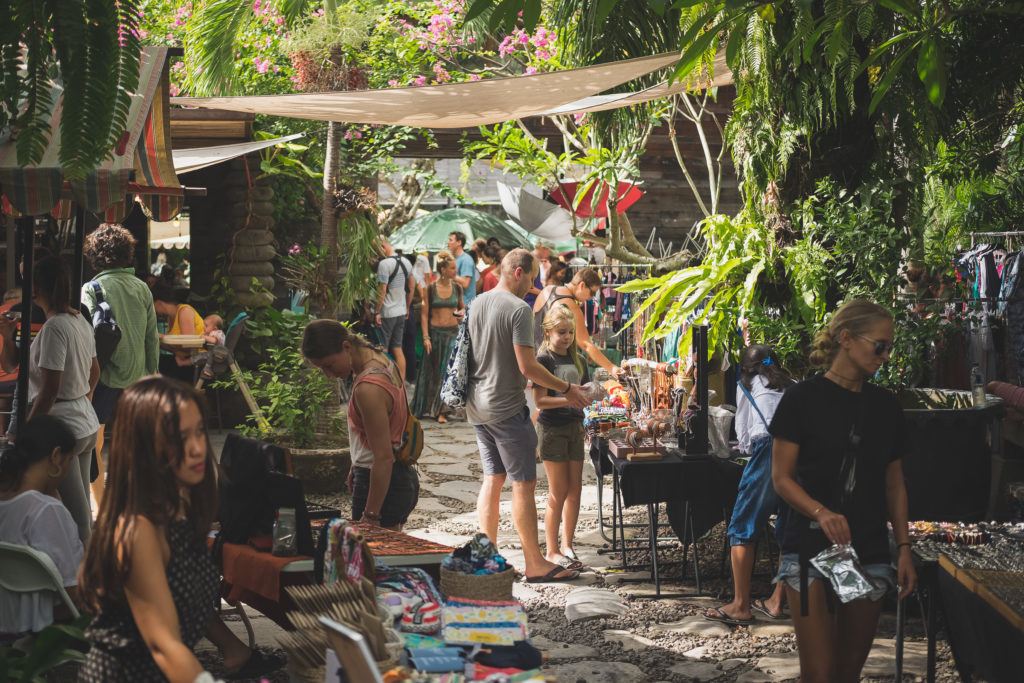 During dry season you'll want to be smothered in SPF all day long, even if it's a little grey. The UV index is HIGH and you don't want to ruin your trip with blistering sun burn and heat stroke.
There is no shortage of places to stay in Bali. Prices will vary throughout the year, with the wet season offering a little more bang for your buck. That being said, with a little research of areas and what's available, you'll be able to find your dream island accomm at the price you want to pay! Get on it and book your accommodation early for the best deals.
TLDR: Bali is ALWAYS amazing. But check out May or June for a more relaxed and sunny Bali trip.
Cheapest Time to Visit Bali
The CHEAPEST time to visit Bali comes with the rain. October-March (it isn't an exact science so don't come for me) is the wet season with moderate rainfall, storms and cooler temperatures.
Now, I spend the majority of my year in Bali, and to be honest don't find the rainy season to be too disabling. You can still get out and about, just need to be a little more prepared for setbacks and getting a lil (VERY) wet.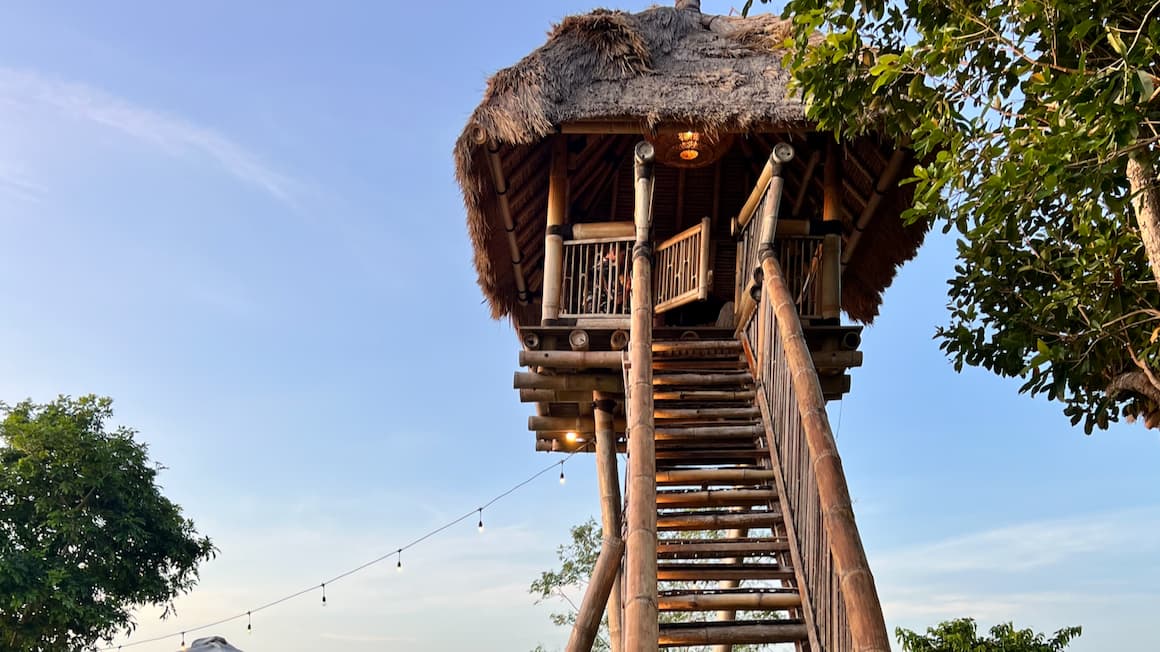 December, especially late December, is a mini high season as many visitors flock to the beautiful island for a tropical Christmas and New Year celebration. Other than those 2 weeks, it is off season throughout the rainy days and you'll find heavily discounted accommodations and hotels.
If you're searching for a laid-back, chill, no crazy plans kind of getaway, visiting Bali during the rainy season is ideal!
When to Visit Bali – Weather By Month
Ok, you want even MORE info? Here I present you with a DETAILED, fabulous, month by month guide of what is going on in Bali including weather, events, tourists and more! Don't say I don't treat you well.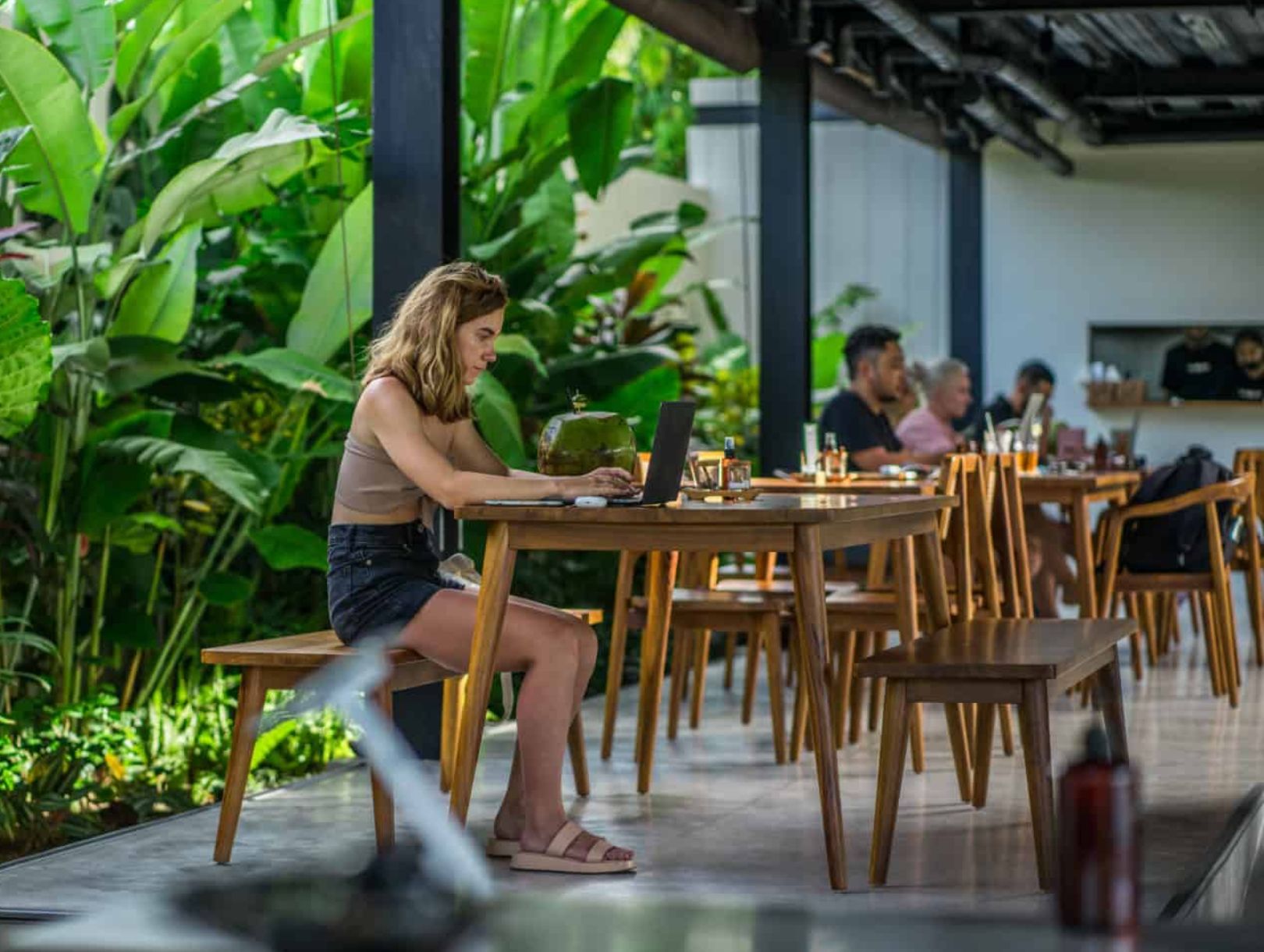 January in Bali
Average Max. Temperature: 26°C
Rainfall: 27 days, rainy season
January in Bali sees many of the Christmas and New Year tourists departing, ending the high season and leaving the island less crowded. It's the rainiest month of the year, and if you're heading inland to the highlands and mountains, things get torrential.
After the New Year buzz wears off there are much fewer tourists and cheaper hotel prices.
February in Bali
Average Max. Temperature: 26°C
Rainfall: 22 days, rainy season
It's still pretty wet in Bali over February with cooler temperatures and humidity – much like January. The showers don't last all day long, but can be unpredictable, always be ready to throw on a raincoat.
As things head towards the off season, tourist numbers dwindle and the island feels slow and quiet. This also means that you are likely to pick up some really good deals on where to stay.
If you are looking for some amazing surf conditions, head to Nusa Dua during February!
March in Bali
Average Max. Temperature: 26.5°C
Rainfall: 20 days, rainy season
During March, the rain is still around and the humidity comes down. The chances of rain are lower – but never zero.
This is the start of the low season, so you can enjoy blissfully relaxed and crowd-free conditions on the island. Flights and accommodation are much cheaper now so, if you're trying to keep costs low, this is your time.
It is pretty common that the Balinese celebration of Nyepi will take place during March. The date changes every year, dependent on the Balinese calendar. You'll want to read up on this one as not only is it an incredible show of culture, it can have an affect on your plans.
April in Bali
Average Max. Temperature: 27°C
Rainfall: 9 days, dry/shoulder season
April is a great month to visit Bali. Not only is it my birthday month (;)), the weather is a bit more predictable with a lesser chance of crazy rain. It ain't called April Showers for nothing! Temperatures are a little higher, but without the humidity it's so much more bearable.
Often around the Easter holidays, tourists will begin to trickle in but not at the high rates of July/August time.
There are some great things to see in Bali during April like the Ubud Food Festival, and the surf conditions are amazing!
May in Bali
Average Max. Temperature: 28°C
Rainfall: 8 days, dry season
If you LOVE the sun, May is when you will wanna visit Bali. It is the hottest month of the year! Dry season has officially hit and we love to see it.
During May, you won't wanna be doing anything too crazy. Beach lounging, retail therapy, poolside cocktails – fun in the sun! Be sure you are stocked up on SPF.
We still aren't quite at high season tourist wise so accommodations are still affordable, and the restaurants and cafes aren't super packed.
June in Bali
Average Max. Temperature: 26.5°C
Rainfall: 6 days, dry season
During June you will start to see the island getting a buzz about it. The airport is a little more busy, places to stay are getting a bit more expensive and tourist spots are getting crowded. We haven't yet hit high season, but it's in the air!
The weather during June is consistently dry, but the chance of a tropical storm is never far – usually at night.
If you are heading to Bali from mid-June onwards be sure you have everything booked in advance as prices are only going to rise from now!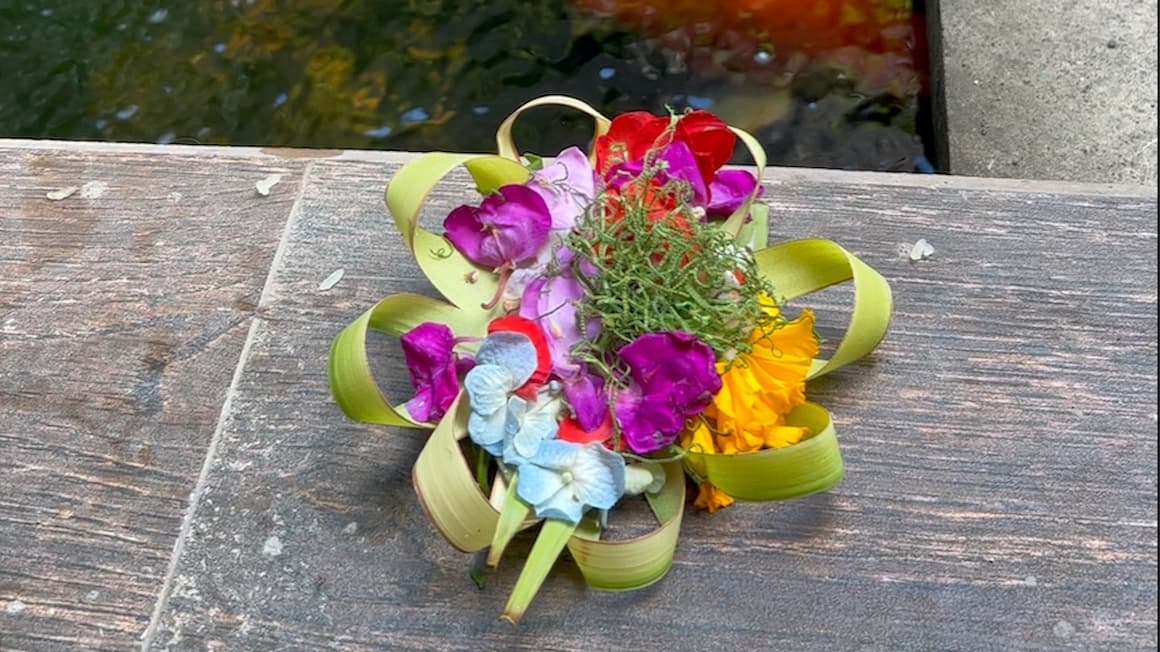 July in Bali
Average Max. Temperature: 26.5°C
Rainfall: 4 days, dry season
Here we are people, PEAK TOURISM SEASON in Bali. July is the month of crowds, traffic and shit getting hella expensive. That being said, don't knock it just yet. There are always some quiet spots to be found away from the masses.
It is prime beach weather during July, though you may be fighting for a good spot on the sand. You'll also see A LOT of kites soaring through the skies as Bali's Kite Festival kicks off and all the local kids get involved.
August in Bali
Average Max. Temperature: 26.5°C
Rainfall: 4 days, dry season
From mid July through August, high season is in full swing with a steady inflow of tourists and events on the island. The weather is top notch, with a super tiny chance of rain and guaranteed SUN.
August 17th is Indonesia's Independence Day which is celebrated with a public holiday, decorations, local events and parties. If you are lucky enough to have close Indonesian friends, this will be a big deal for them! Get ready to wave your Indo flags.
September in Bali
Average Max. Temperature: 26.5°C
Rainfall: 8 days, dry season
Goodbye tourists, hello awesome vibes. After a successful high season, the buzz in Bali is palpable with a few wise travellers coming in but most general tourists having left. September is a great time to get out and explore the island, taking tours of temples, scuba diving, doing mountain hikes and immersing in the beautiful island.
You'll have dry weather, and a slower atmosphere than August.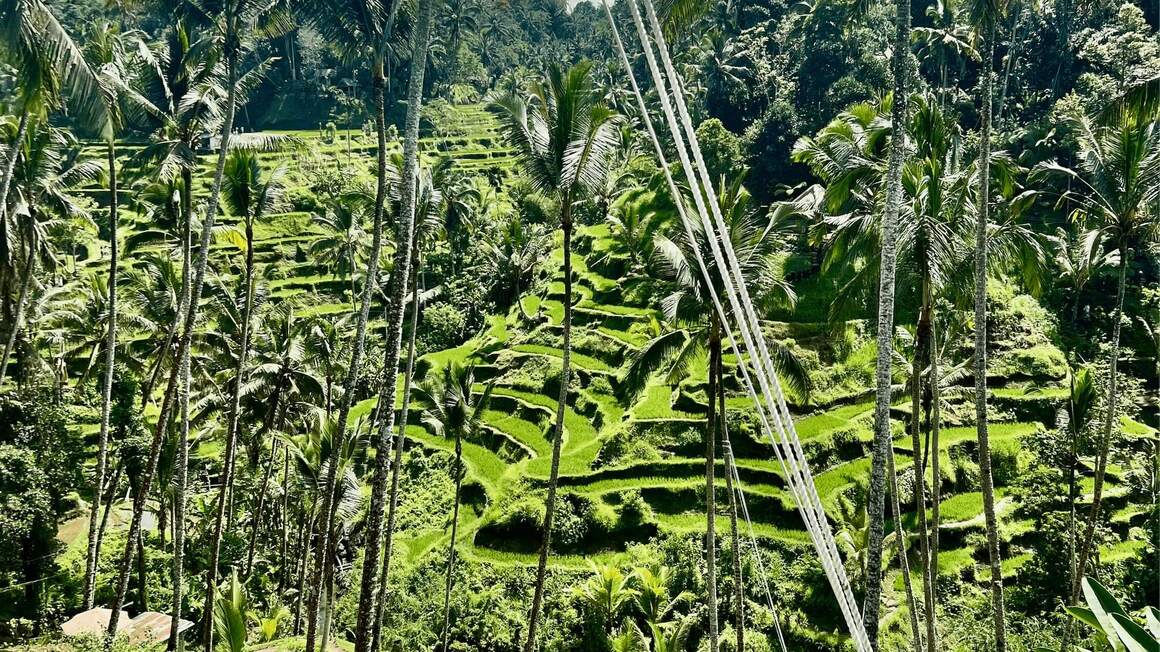 October in Bali
Average Max. Temperature: 27°C
Rainfall: 12 days, rainy season
Here we go, the rains a-coming. In October, we start to see some more moderate rainfall and the off season, slow tourist traffic. If you don't mind the risk of a down pour here and there, October can be an affordable time to visit Bali.
Rainy season is well and truly upon us, but so are some great events like the Ubud Writer's Festival and the Bali Vegan Festival.
November in Bali
Average Max. Temperature: 27°C
Rainfall: 17, rainy season
Bali has 2 distinct seasons, and November is when you can clearly see rainy season getting serious. Daily showers are more common, but don't last too long. Be warned, even if the day starts off clear, there's no promise it'll stay that way. Humidity is HIGH, making it a sticky time.
You'll find cheap places to stay during November, and the rice paddies look particularly pretty after a little drenching – so it ain't all bad.
December in Bali
Average Max. Temperature: 26.5°C
Rainfall: 22 days, rainy season
The start of December is a relatively quiet time in Bali with fewer tourists and guaranteed rain. The cooler temperatures make it a great time to visit tourist spots, but be ready to whack on a waterproof.
Late December sees an influx of visitors heading to the island for Christmas and New Year in a tropical climate. There won't be any outdoor celebrations, but you can definitely find yourself a knock-up Christmas dinner to feast on.
Best Time to Visit Bali by Place
You know WHEN to head to Bali, but now we are going to get into geographical specifics!
Best Time to Visit Canggu
If you know anything about modern Bali, Canggu is the hip and happening place to go. It's jam-packed with all kinds of trendy restaurants, cafes, bars, clubs, coworking spaces and some pretty epic hostels.
It's relatively easy to explore Canggu on a budget, but you will defo be spending more than you would in the less trendy areas. It's all about your preference!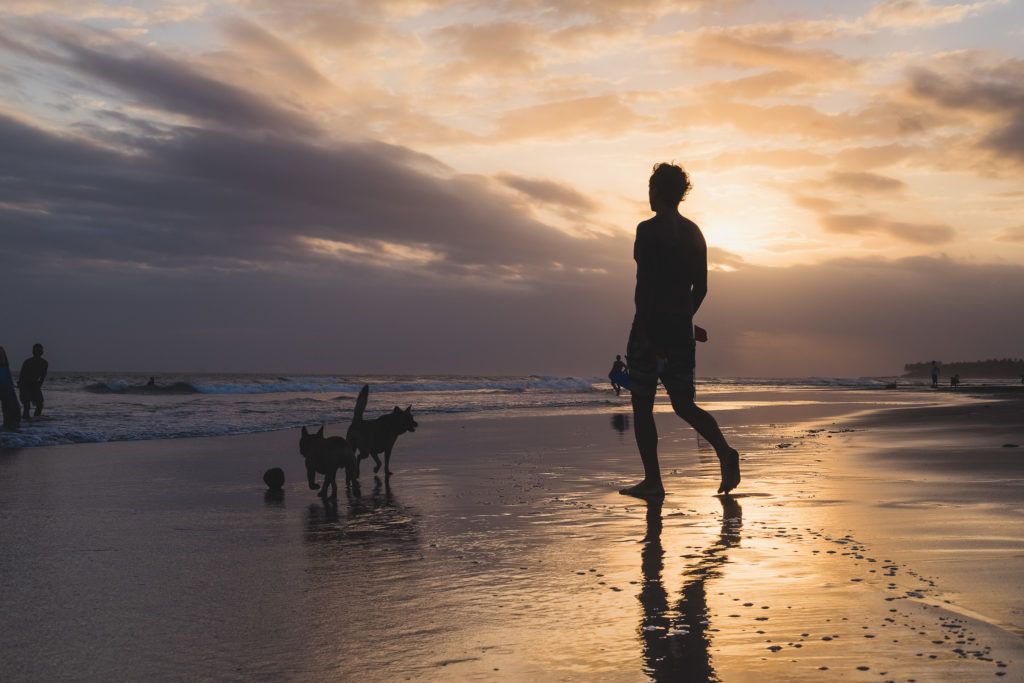 The weather in Canggu is consistent with the Bali averages as it is a coast side town. There's sun, there's humidity and there will be rain. The biggest impact the weather has on Canggu is the tide. If you are looking to get out and surf, you will wanna check on the tide reports and make sure you aren't throwing yourself into a challenging current.
To sum up, the best time to visit Canggu is: always.
Best Time to Visit Ubud
Ubud is the cultural heart of the island with some incredible temples, the Royal Palace, rice terraces and the famous Monkey Forest. It is also literally in the heart of the island, up in the highlands with tall hills, swooping ravines and thick jungles.
The best time to visit Ubud is during the dry season. When it rains in Ubud, it POURS and can cause some nasty flooding.
It is a lot cooler in the evenings in Ubud than it is on the coast, so you will wanna pack a light jumper. Also be prepared for some crazy insects and mosquitoes around your accommodation in Ubud as the jungles bring out all kinds of creatures.
A place for spiritual healing, great yoga and fabulous vegan food, Ubud is where you can have your own Eat, Pray, Love experience.
Best Time to Visit Uluwatu
If you are thinking for exploring Uluwatu, you are probably thinking beaches, surfing, good food – and that's probably it. What do you need for these activities? Good weather! It's best to visit Uluwatu during the dry season when the weather is more predictable and you don't find yourself stuck on a cliffside in a torrential downpour.
The surfing conditions are also heavily dependent on the weather, and will be a much easier ride during the dry season.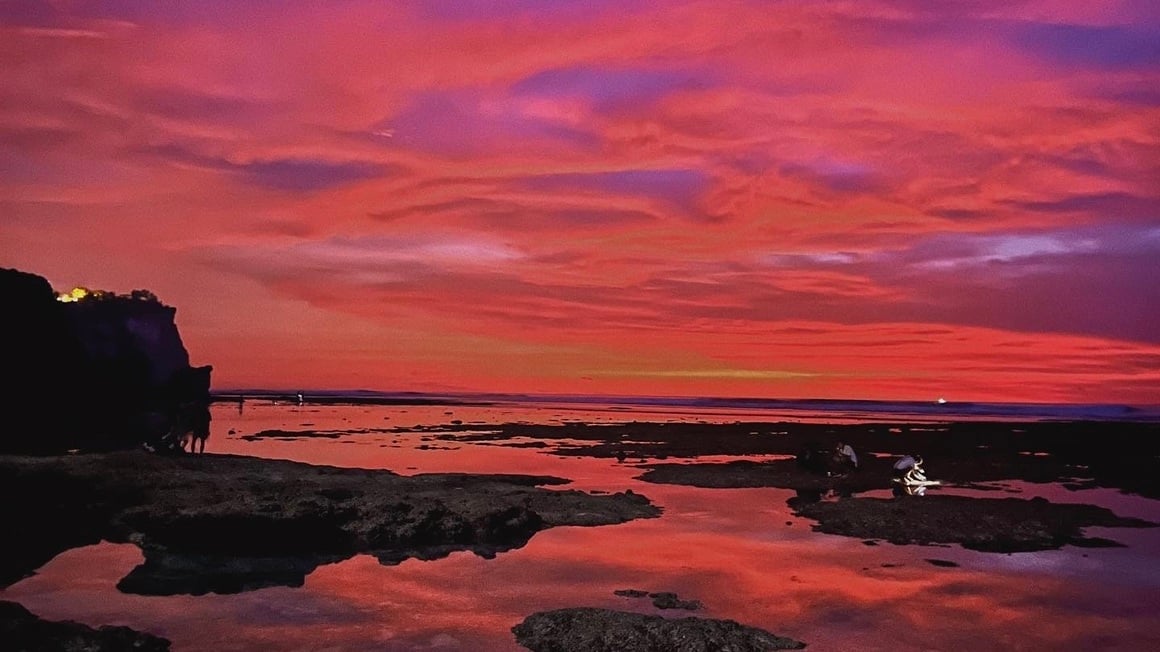 Sure it might be cheaper to visit Uluwatu when the rainy season deals strike, but is it worth it if you can't spend a full day on Bingin beach? That's your decision to make.
Many of the best places to stay in Uluwatu look out over the cliffside for magnificent views of the ocean and horizon – the sunsets NEVER disappoint.
Travel with peace of mind. Travel WITH a security belt.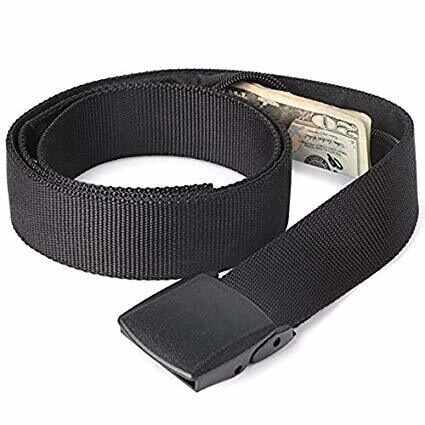 Stash your cash safely with this money belt. It will keep your valuables safely concealed, no matter where you go.
It looks exactly like a normal belt except for a SECRET interior pocket perfectly designed to hide a wad of cash, a passport photocopy or anything else you may wish to hide. Never get caught with your pants down again! (Unless you want to…)
Hide Yo' Money!
Best Time to Visit Bali for Parties and Festivals
There is a good mixture of cultural and party events throughout the year in Bali. From mandatory silent days to VIP, super celebrity performances, there's a lil bit of something for everyone.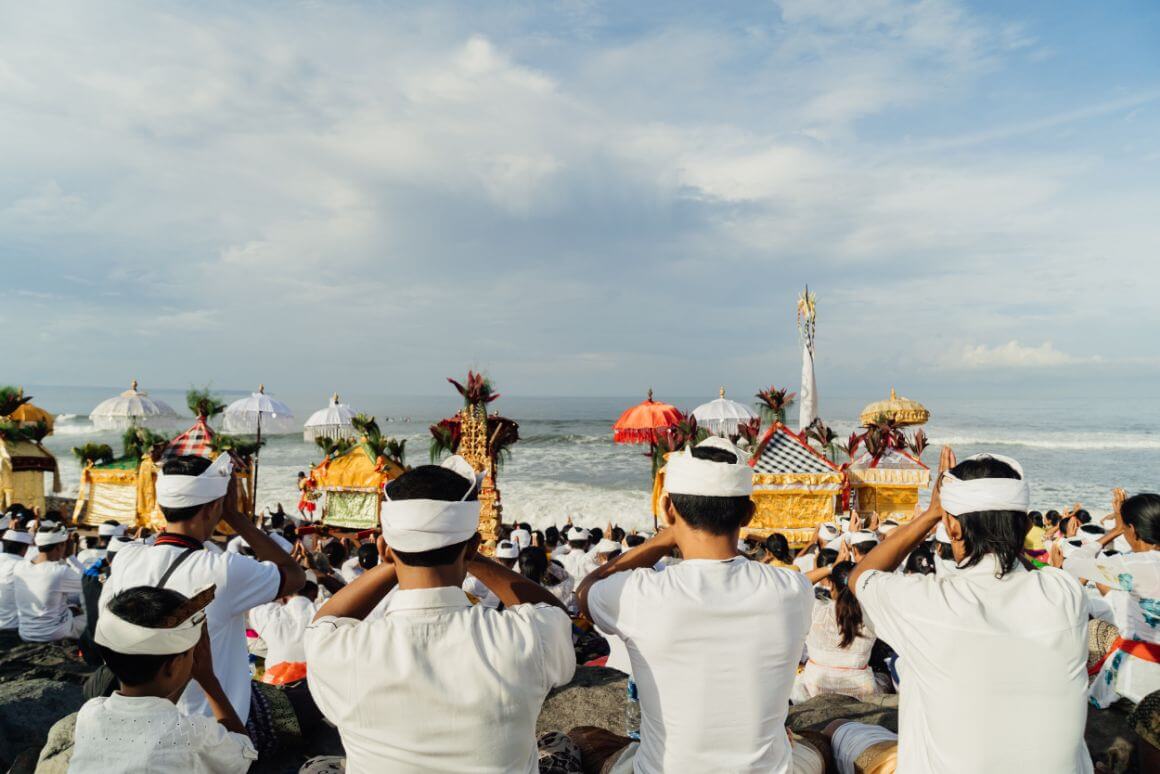 Here are all the must-know cultural events in Bali:
Nyepi: As previously mentioned, Nyepi is the Balinese New Year that happens most commonly in March (but is dependent on the Balinese calendar). There are many celebrations in the lead up to actual Nyepi day, including the Ogoh-Ogoh parade. Incredibly fierce and gruesome looking monsters are paraded on the streets to intense, hypnotic music. It's a breathtaking sight! The following day from 6am-6am the island closes – even the airport! You aren't allowed to step out of your accommodation and are required to avoid any loud noise or open flames. It is a totally unique and fascinating celebration.
Bali Spirit Festival: The Bali Spirit Festival is a seven-day wellness festival that hosts yoga lessons, dance and music performances, showcases arts, and offers holistic healing and spirituality workshops. If you are into wellness, this is the festival in Bali to try! It is most commonly held in May.
Galungan and Kuningan: Galungan and Kuningan are 2 super important celebrations in the Balinese calendar. They are a celebration of the triumph of good over evil, and take place every 210 days. When these holidays roll around many businesses close, kids get holidays from school and the streets are decorated with incredible penjor.
Ubud Food Festival: The amazing Ubud Food Festival is hosted during April showcasing the incredible food culture in Bali. From local businesses with traditional dishes to innovative, new concepts, the food festival has a whole range of things to try as well as classes, talks and workshops.
Bali Arts Festival: A beautiful showcase of Balinese culture, the Bali Arts Festival has performances, workshops and many chances to learn about the magnificent, unique culture of the island. Its a long festival that runs from mid June through July.
Don't Forget your Bali Travel Insurance
ALWAYS sort out your backpacker insurance before your trip. There's plenty to choose from in that department, but a good place to start is Safety Wing.
They offer month-to-month payments, no lock-in contracts, and require absolutely no itineraries: that's the exact kind of insurance long-term travellers and digital nomads need.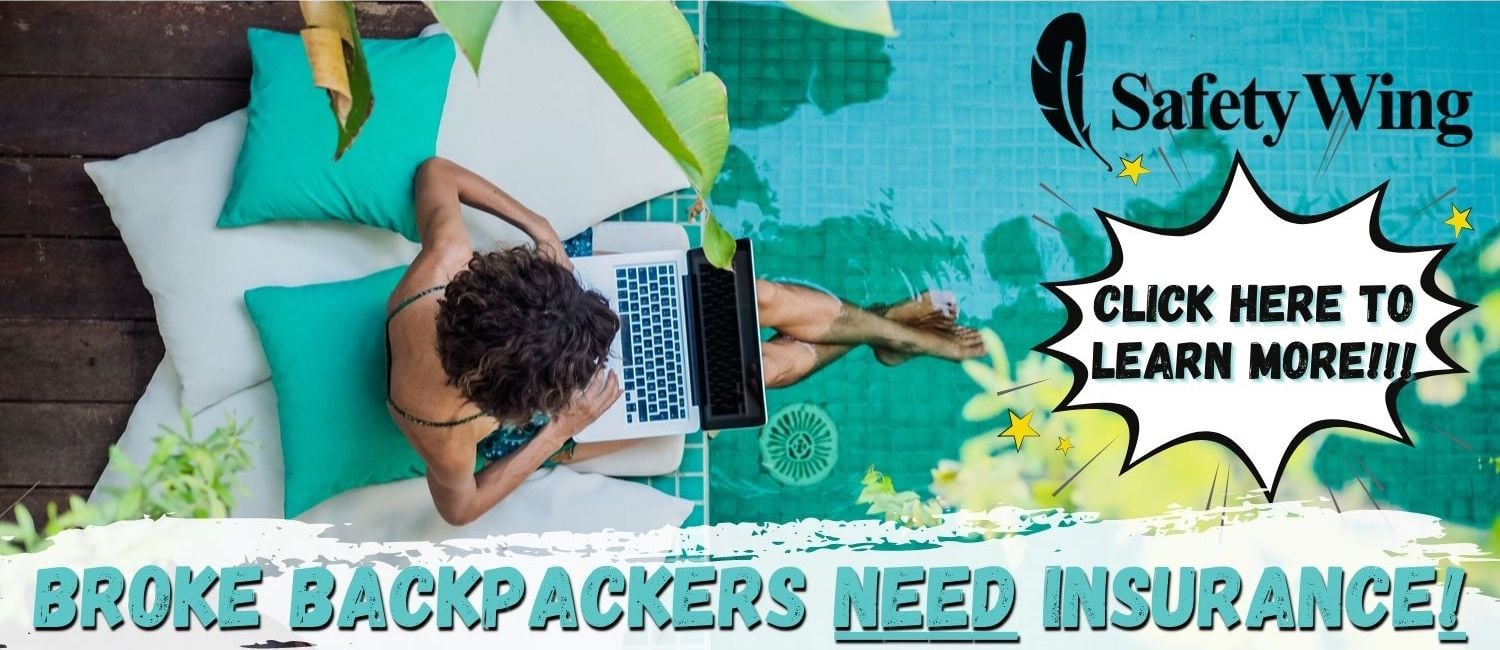 SafetyWing is cheap, easy, and admin-free: just sign up lickety-split so you can get back to it!
Click the button below to learn more about SafetyWing's setup or read our insider review for the full tasty scoop.
FAQs on the Best Time to Visit Bali
Here's what we're usually asked about the best times for visiting Bali.
Final Thoughts on the Best Time to Visit Bali
And there you have it folks, the best times to visit Bali laid out plain and simple for you. So, when are you coming?!
A magical holiday in the sun is a given, but are you happy to have the chance of a bit of rain to save some cash? No matter when you choose to come to Bali, I PROMISE you are going to have the most amazing time on the beautiful island.
Weather be damned, you can have the an unforgettable time immersing in the culture, seeing outstanding landscapes and just having a great fucking time!
Read more EXCITING Asia content!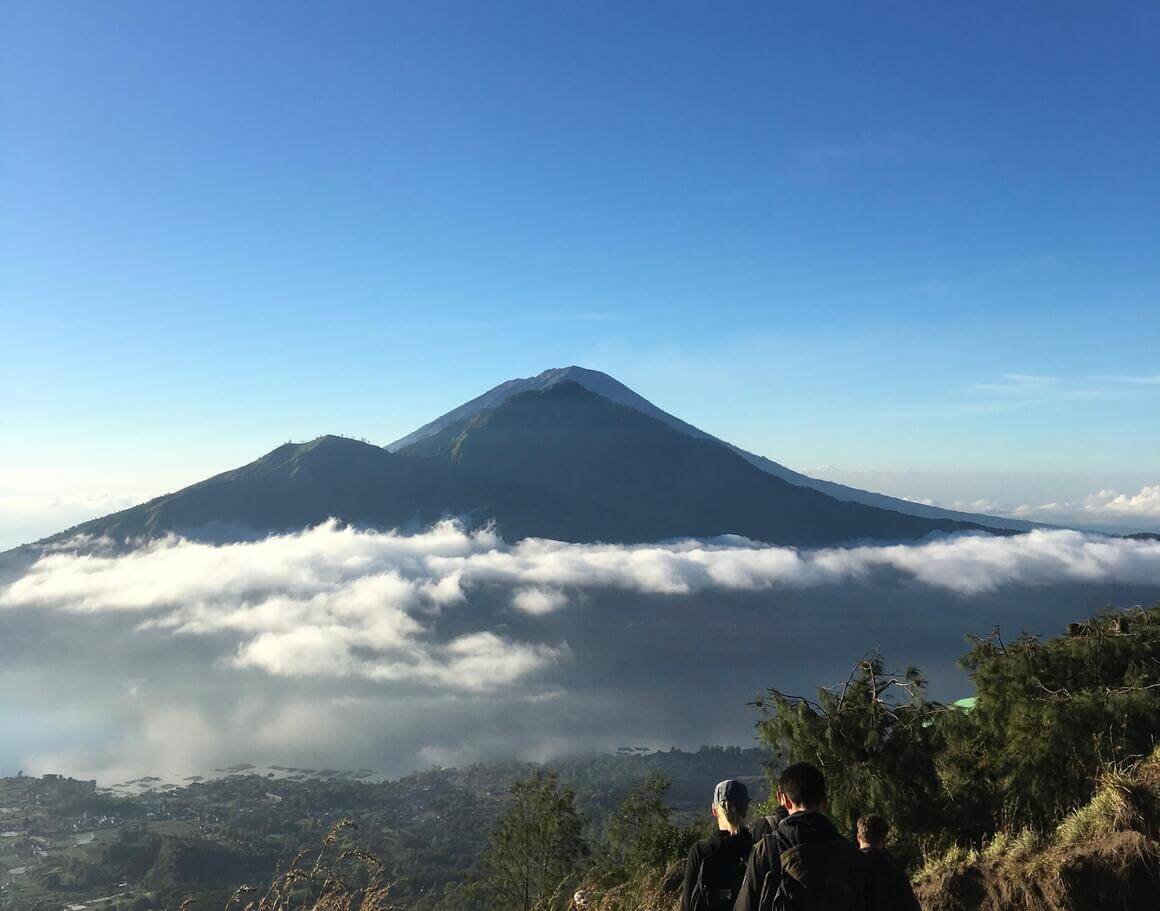 ---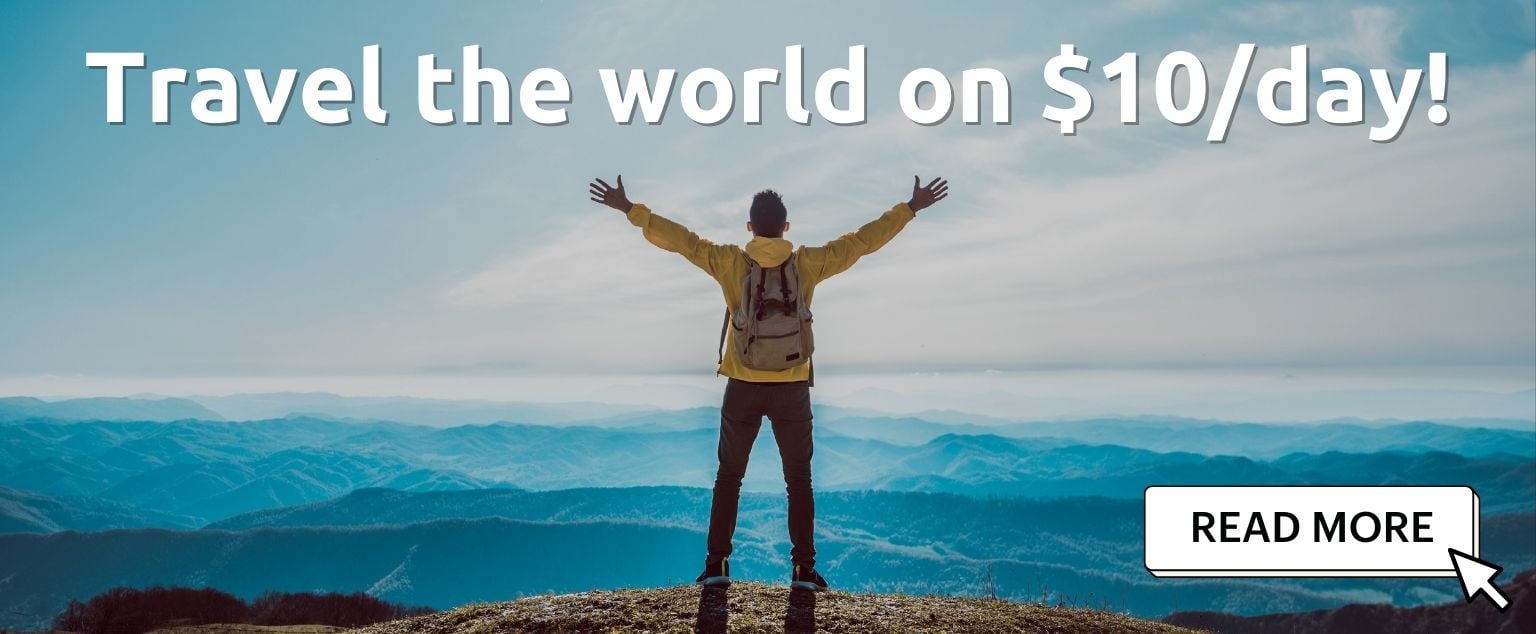 And for transparency's sake, please know that some of the links in our content are affiliate links. That means that if you book your accommodation, buy your gear, or sort your insurance through our link, we earn a small commission (at no extra cost to you). That said, we only link to the gear we trust and never recommend services we don't believe are up to scratch. Again, thank you!