Om swastiastu, and welcome to Bali!
This gorgeous tropical island continues to be a top destination for travelers with its stunning beaches and lush tropical forests. It's no wonder so many people visit and end up staying for months or even years — thank you, remote work!
Located in the Indonesian archipelago, Bali is home to over 4 million people. A stand-alone province of Indonesia, its populace is composed of citizens from all around the archipelago. This will give you an abundance of opportunities to gain new experiences and knowledge of different cultures and traditions while visiting this enchanting island!
Bali is the perfect destination for travelers seeking an exotic, vibrant, and culturally rich experience. It's no surprise, then, that the island's festivals are highly anticipated events. From celebrating Hindu deities to honoring the artistic heritage of its people, the beautiful Balinese culture is truly worth immersing oneself in. Let's dive in, shall we?
Festivals in Bali
Bali is renowned for seamlessly blending together spiritualism and hard partying. Its festivals, dances, sculptures, music, and ritualistic art activities reflect the vibrant diversity of its heritage and customs.
Whether you're leisurely backpacking through Bali or merely visiting for a few days, you will be able to experience an authentically colorful culture that will leave a lasting impression on your heart. With that said, here are the best festivals in Bali!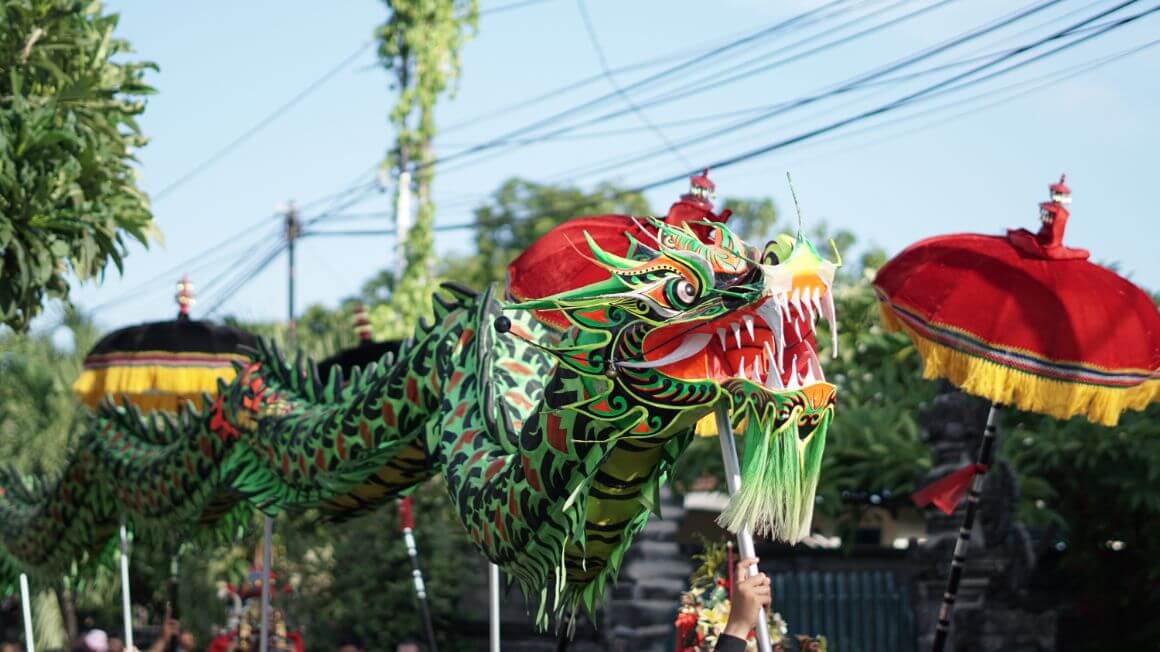 Indonesia is home to a staggering number of lovely traditional festivals. Starting the year off strong, the Chinese New Year is by far one of the most extraordinary Balinese attractions, as it joins together a profound Chinese history and creates an intense atmosphere of revelry throughout Bali.
During the Chinese New Year, there is a sense of exhilaration and joy that permeates throughout the island, drawing crowds of people from all around the world. You can wander the streets, looking at the exquisitely decorated temples that become beacons of positivity and enlightenment.
Don't miss out on the opportunity to witness breathtaking performances of Chinese Barongsai (lion dance) and dragon dance troops. You can also delight in the alluring rhythms of the drums, cymbals, and wushu (a collection of Chinese martial arts) performances.
Chomp down on an array of scrumptious traditional Chinese fare while feasting your eyes on this unique cultural show. It really is the perfect way to ring in the New Year!
Where to Stay:
There is a dizzying number of options to stay in Bali. Immerse yourself in the breathtaking scenery of Ubud's premier resort while taking part in this special event. Enjoy a lush garden, refreshing pool, and relaxing spa as you savor your morning at this stunning destination — it's the ideal place to spend a few days!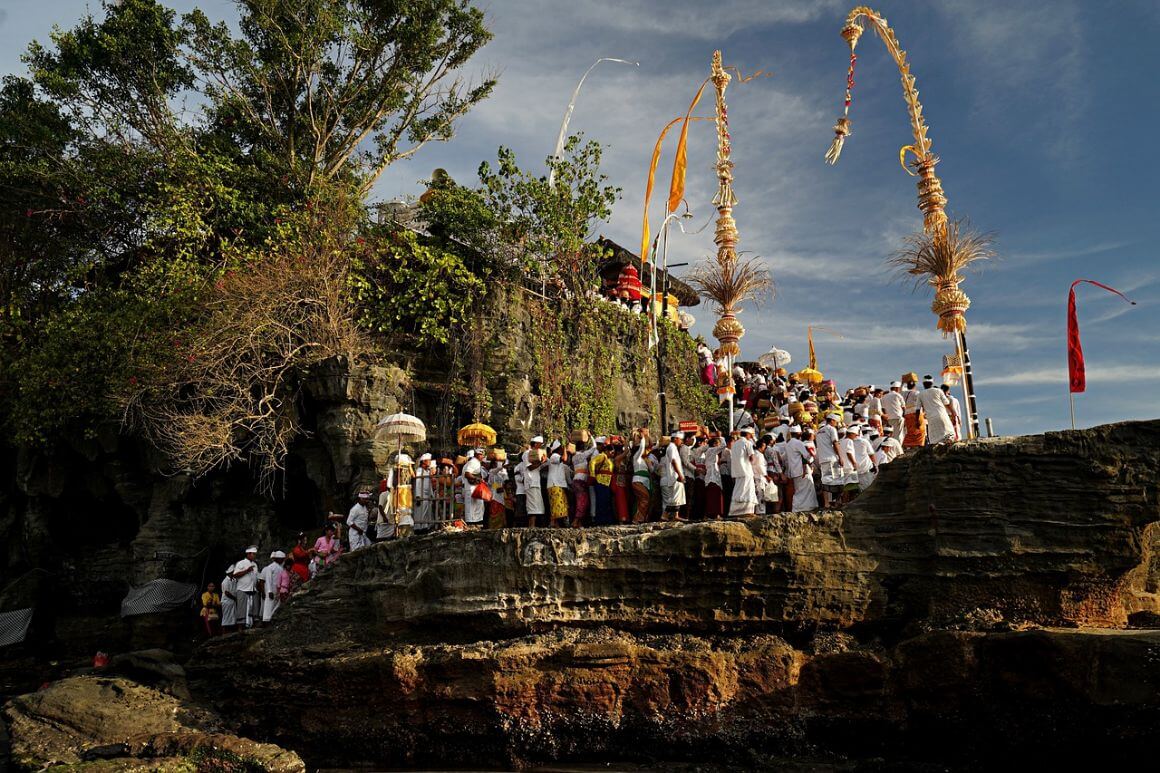 When: February
Where: Bali
There is so much to do and see in Bali! Each year, the Balinese people honor the victory of good over evil with a 10-day annual festival known as Galungan And Kuningan. The opening day is Galungan — a time to welcome deities to Earth. The closing day — Kuningan — marks their ascension back into Heaven. This joyous occasion, of immense spiritual significance, embraces the wonderful cultural heritage of Bali, which you must experience first-hand!
Throughout the festival, locals and travelers are treated to exquisite art displays and performances that showcase various traditional dances accompanied by a mesmerizing Gamelan (traditional Indonesian percussion) orchestra. The Balinese Hindu culture proudly celebrates and honors the universe's creator, as well as their ancestral spirits, through grandiose ritualistic offerings of prayer and dance. Stunning bamboo poles referred to as "penjor", are used for adornment in homes and temples — a bewitching sight!
Make sure to treat those taste buds to a taste of Balinese culture with the intriguing stalls of colorful foods that dot every street corner!
Come celebrate the spiritual festival of Galungan and Kuningan and leave with a sense of renewal and revival.
Where to Stay:
Participate in the traditional festivities of Galungan and Kuningan, and wind down at this breathtaking eco-friendly resort located in Ubud, Bali. You will have access to a huge pool set amidst lush tropical greenery, a restaurant offering local cuisine, and free WiFi.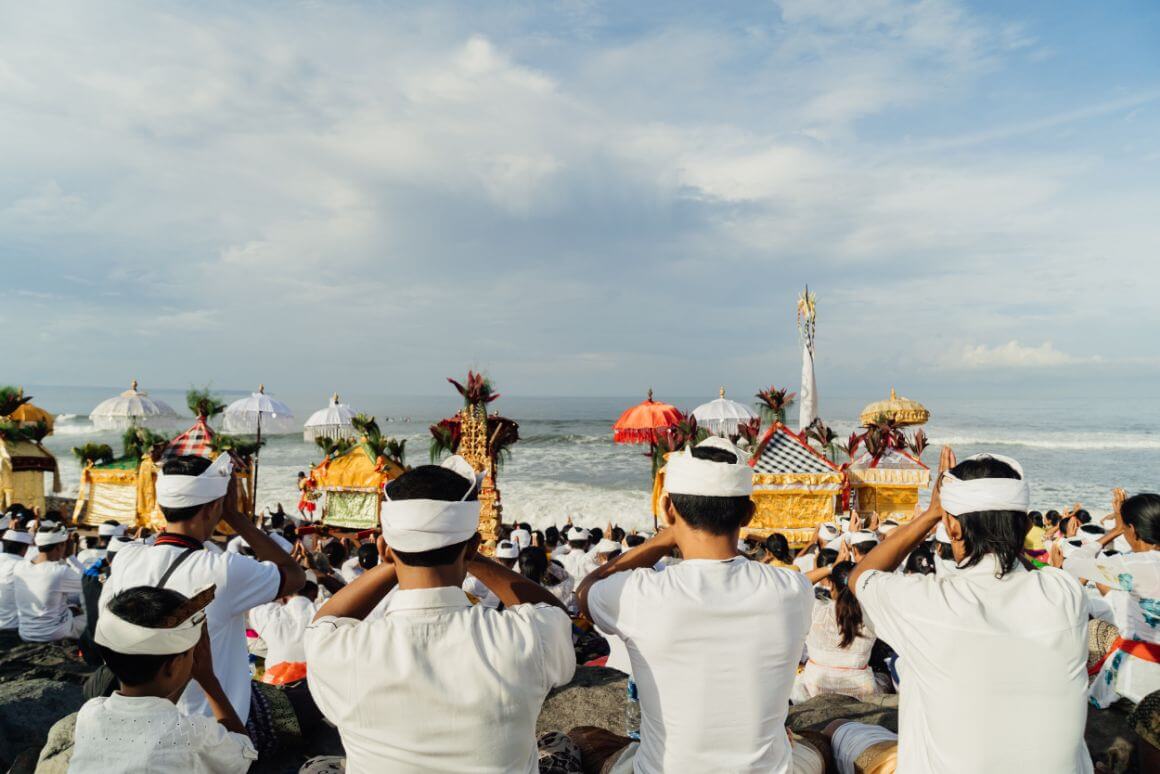 Counted as one of Bali's most important festivals, Nyepi is seen as a new-year celebration. Every March, in accordance with the Saka calendar, Hindus from all over come together to observe this holiday that symbolizes a period of introspection while ringing in another cycle of life.
Nyepi's defining characteristic is its day of absolute silence that allows you to reconnect with your innermost thoughts and reflect on the previous year while visualizing a successful future. As if pausing for a moment of reflection, the island completely halts all activity and devotes the whole day to peacefulness — there should be no talking, light, or sound — thus enabling an environment for centering oneself in total peace and quiet.
The festival presents an opportunity for spiritual enlightenment and reflection. By embracing silence and stillness, it is thought that the community can ward off negative spirits. The streets are abandoned, with no hustle or bustle in sight — with the exception of traditional music flowing out from some temples. During Nyepi, Bali embodies its epithet as the "Island of Gods" on an extraordinary level.
On the island, The day prior to Nyepi is a full-on celebration — from parades and processions to loads of music. People are decked out in colorful masks and traditional costumes and the streets overflow with rhythmic drums and melodic instruments! The joyous atmosphere creates an unforgettable experience that truly celebrates life.
Once the parade concludes for the day, everyone heads home for a peaceful Nyepi — the perfect chance to take some time out and reset with clarity and optimism.
Where to Stay:
Enjoy a tranquil stay in the comfortable bedrooms of this delightful villa, where you can enjoy a pleasurable dip in the pool in the backdrop of stunning rice fields. You'll be close enough to all the excitement but far away enough from the madding crowds to ensure complete serenity.

Do You Want to Travel FOREVER??
Pop your email in below to get a FREE copy of 'How to Travel the World on $10 a Day!'.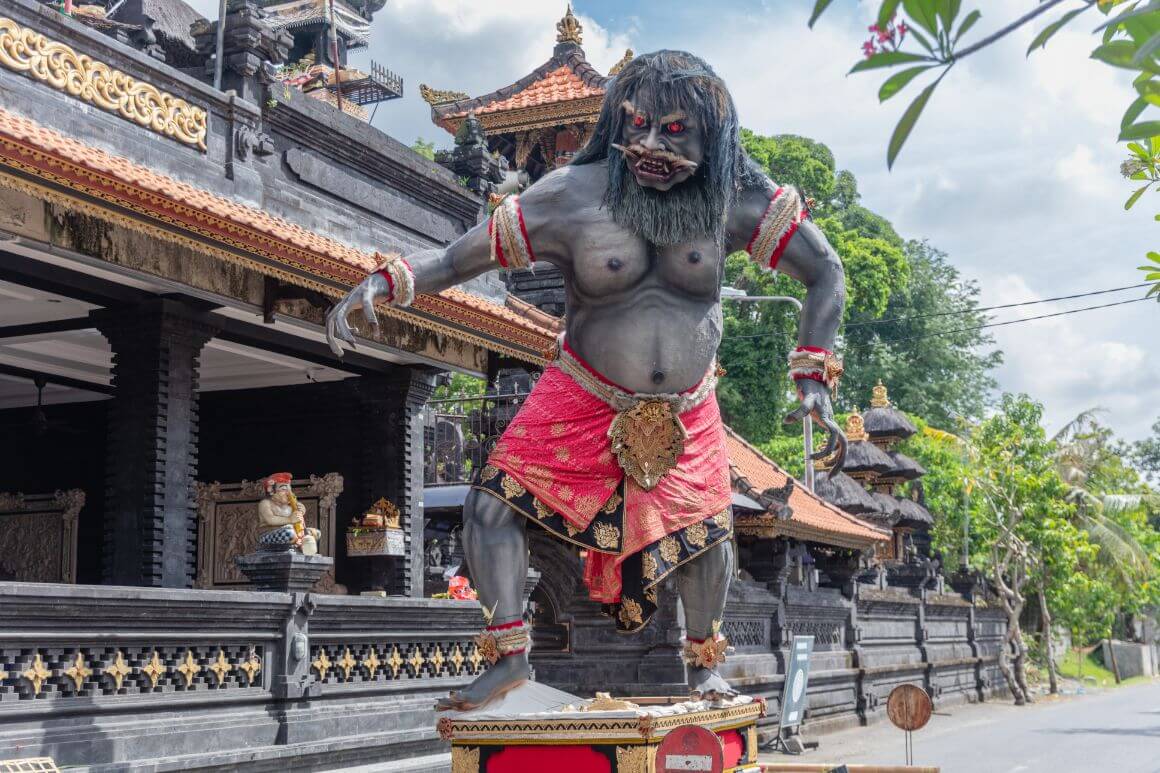 The Ogoh-Ogoh Parade, held on the eve of Nyepi day, is the largest Hindu festival in Bali that celebrates the Balinese Hindu New Year. Giving you a glimpse into Indonesia's intriguing local folklore, this tradition involves an epic procession of giant Ogoh-Ogoh — papier mâché demons, witches, and evil spirits — that fill the streets with music and cheers. These figures can be both startlingly horrific or amusing in nature, depending on their individual design.
The Ogoh-Ogoh figures were introduced in the 1980s as part of a ritual known as Ngrupuk, which was designed to ward off evil and negative energies. This belief stems from the idea that these negative forces accumulate at crossroads within villages, and that these can be warded off with the help of the terrifying — and noisy! — Ogoh-Ogoh
Witness this captivating display of traditional Balinese art and culture as the parade begins in the evening, with locals dressed up in elaborate costumes. As they wind through the streets, be sure to join in on their cheerful chant — and marvel at their majestic creations!
The locals burn the monster dolls after the celebrations, symbolically destroying any negativity and cleansing their environment before moving into their day of silence. The community concludes this spectacular night with a stunning display of fireworks that lights up the sky.
Where to Stay:
Located right outside of Denpasar, the capital city of Bali, the Ume is a tranquil place to stay during the Ogoh-Ogoh or Ngrupuk parade. This aparthotel boasts sea views from every unit balcony, and access to a swimming pool, bar, and private beach area.
Bali Kite Festival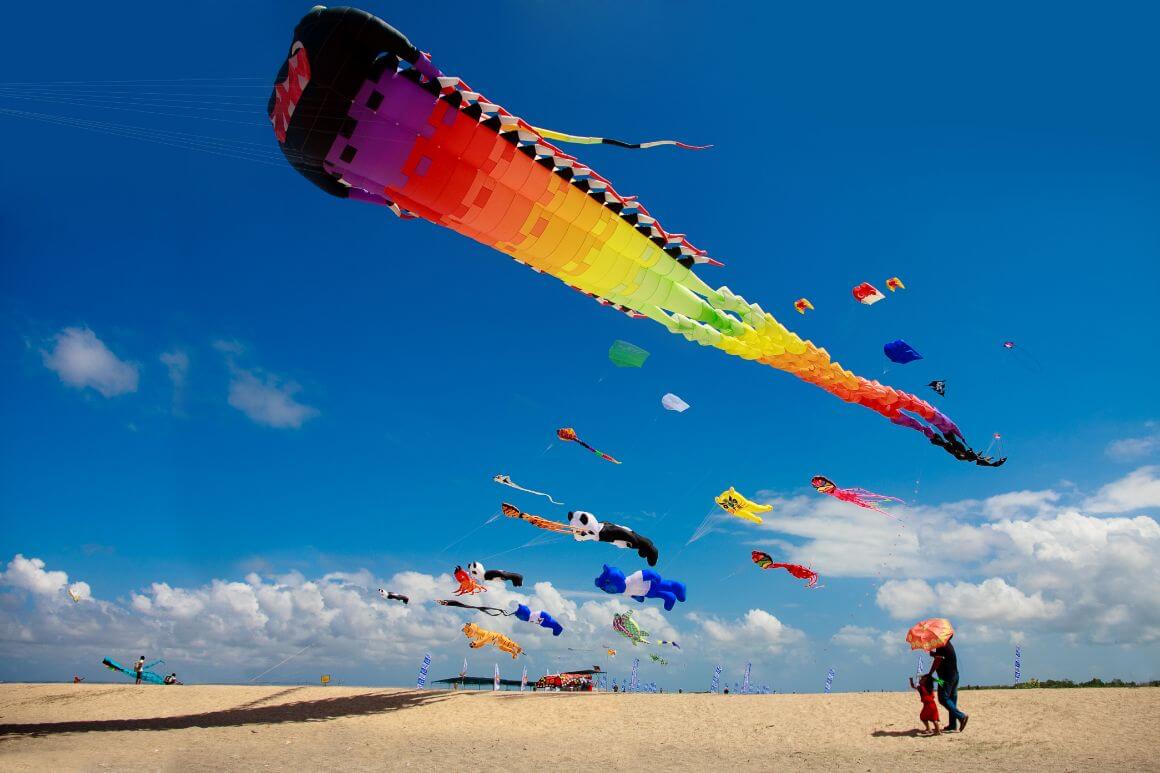 When: July
Where: Sanur, Bali
The Bali Kite Festival is a spectacular display of Balinese culture and tradition. Held in Sanur, this festival has been celebrated since the early 19th century. The traditional kites that are made and flown competitively at this international festival come in an array of colors and sizes, but all have the same purpose — to bring luck and prosperity to the people of Bali. The festival takes place in July, right at the beginning of the dry season. This is a perfect time for kite flying as there are usually strong winds that help keep them in the air longer.
The kites are judged in three separate categories: best traditional kite design, best modern kite design, and best free flight of a giant kite. The judges include experienced members of the community. It's a truly awe-inspiring experience to gather on the beach with the crowds and witness the colorful array of kites soar above.
At the Bali Kite Festival, you will also be able to take part in various cultural rituals throughout the day that are meant to pay homage to Dewi Sri, the Goddess of Rice.
Where to Stay:
Relax by the pool at this beautiful guest house located right in Sanur. The Kembali Lagi Guest House offers a peaceful retreat while still allowing you to be close to all the action at the Bali Kite Festival!
Bali Arts Festival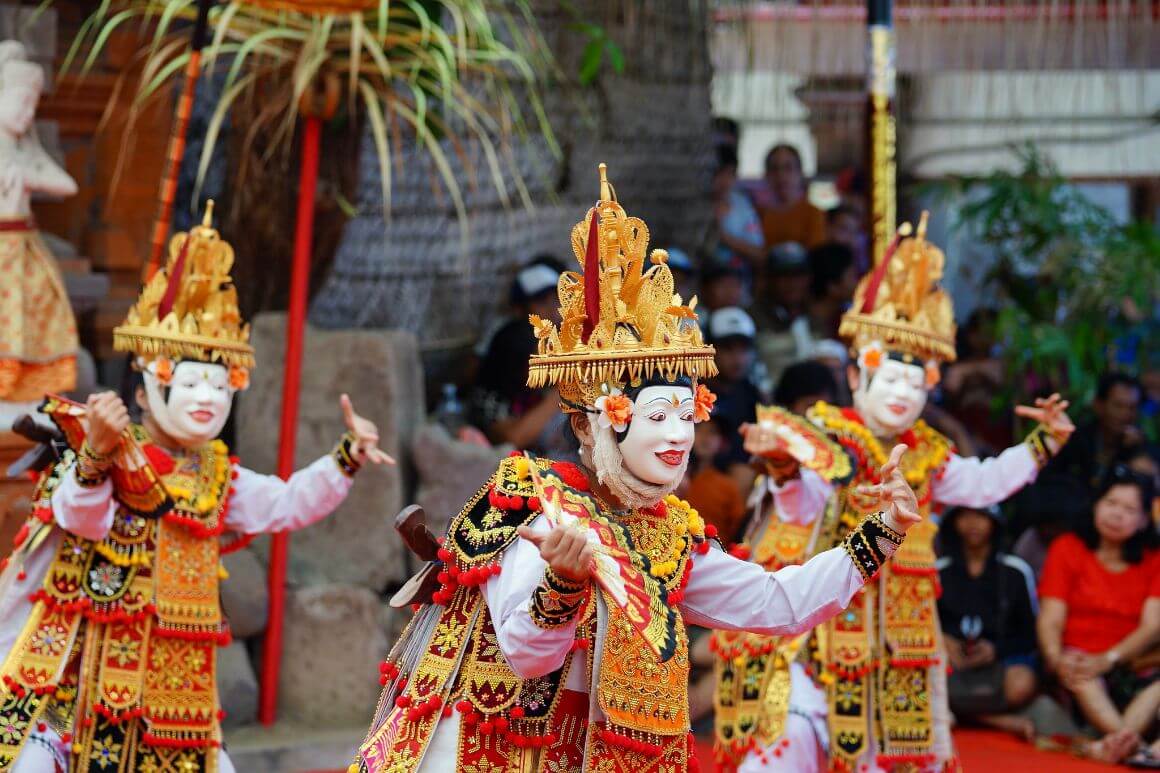 When: June/July
Where: Denspar, Bali
Experience the splendor of music, art, and culture that culminates with a dazzling opening parade at the Bali Arts Festival. Here, you will find a wide selection of Balinese talents from all regions across Indonesia showcased in unparalleled fashion.
For over four decades, the Bali Arts Festival has been delighting visitors from near and far with its diverse array of traditional art forms. Held annually at the Taman Werdhi Budaya Art Centre in south Denpasar, the festival was established by Ida Bagus Mantra in 1979 to showcase and revive Balinese culture that had previously gone unnoticed or forgotten.
For art and photography aficionados, culture lovers, and everyone who likes to experience something new, the Bali Arts Festival has it all. Just look at what's in store! The entire island comes alive with activities like literature competitions, fashion shows, handicraft displays, painting demonstrations, culinary showcases featuring mouthwatering local dishes — plus traditional dance performances and concerts.
For an entire month, the festival provides a vivid representation of Bali's deep cultural heritage and history. Experience the vibrant culture first-hand with locals from all over this stunning tropical paradise!
Where to Stay:
This charming beachside hotel is a summer holiday paradise situated only an 8-minute walk away from the sand and surf. Enjoy your stay in comfort with air conditioning to keep you cool on those hot, humid days!
Forget boring accommodation… book yourself an EPIC STAY!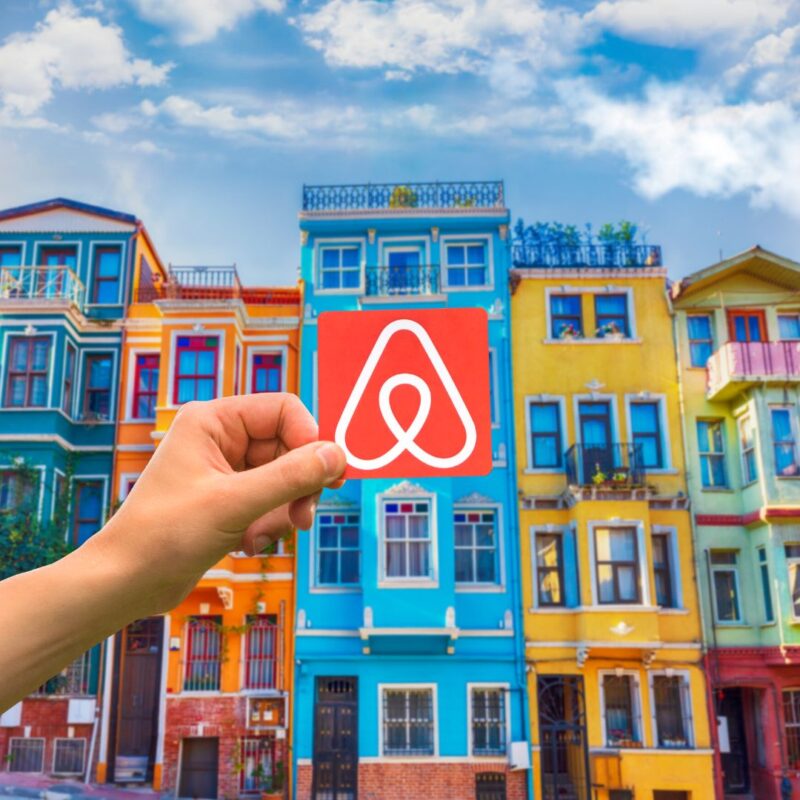 Why stay in a naff hotel when you can stay in a cosy, stylish local house instead? And for half the money too!
Stay somewhere EPIC and save your hard-earned dollars — from houses to barns to castles and caves, there is an Airbnb for every occasion!
Book an EPIC Stay
When: July
Where: Nusa Dua
Experience a stunning display of lights and colors that light up the night sky at the Nusa Dua Light Festival. held annually in July, this light show has become a popular fixture of Bali's cultural calendar.
Renowned as one of the biggest lantern festivals in the world, the event attracts thousands of visitors from around the globe. As the stars twinkle in the night sky, you will feel goosebumps as magic is created through a beautiful display of lanterns of various shapes, sizes, and colors — like the movie Tangled come to life!
Nusa Dua, a popular tourist district on the southern tip of Bali, is the venue for this festival. The spectacular event usually runs for about a month, making it the perfect festival in Bali to attend!
Live music performances add to the ambiance, while diverse cuisine from all around the world can be sampled at a food bazaar. You can really bring out your inner child by enjoying some face painting and partaking in some of the Balinese games. Let your worries melt away as you take in all the beauty of this magnificent light show!
Where to Stay:
Located right on the beach and just 2.7 km from the Bali Blues Festival, this modern beach resort offers a luxurious stay. Enjoy the crystal-clear waters and golden sand of Nusa Dua Beach while you relax in its spacious rooms and suites. You might even see some lanterns floating away in the night!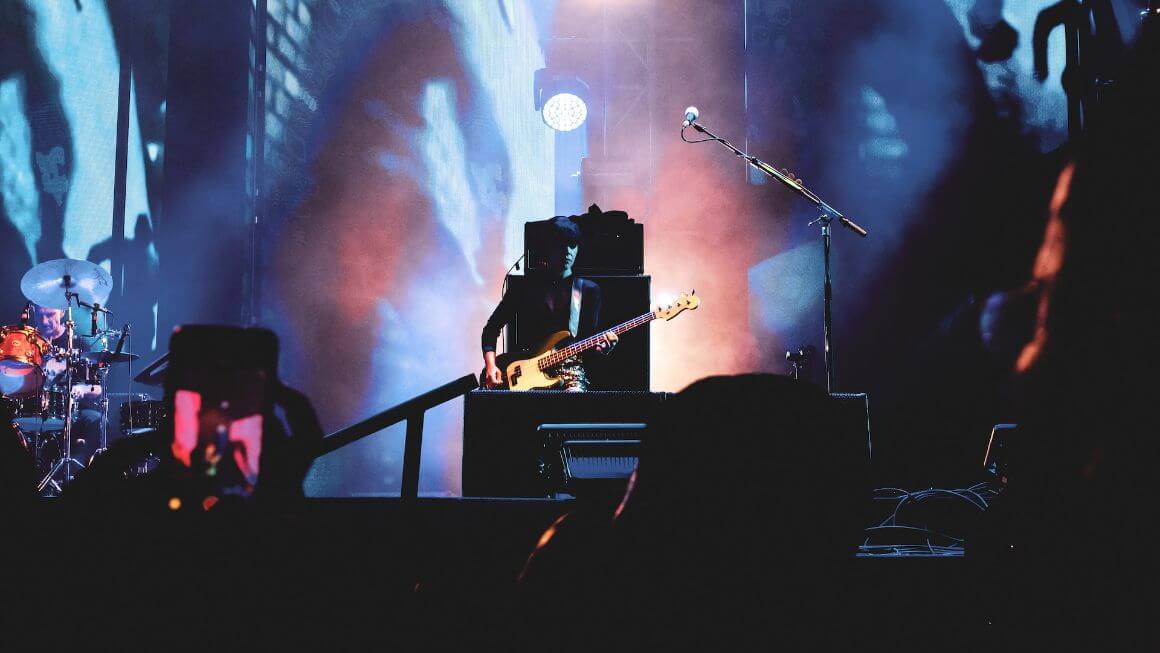 When: September
Where: Garuda Wisnu Kencana
Join the thousands of people that flock to the sprawling grounds of Garuda Wisnu Kencana (GWK), Bali's most popular cultural park, during September for Soundrenaline. This annual event features national and international bands from multiple genres — including rock, hip-hop, the blues, and more!
Soundrenaline, one of the grandest and longest-running Indonesian music festivals, catapulted rock and roll music in Indonesia to global prominence. It is a wholesome, family-friendly event offering a unique experience to festival goers. Music fans can camp out in tents and hammocks under the stars for 3 nights and 2 days, surrounded by stunning nature.
You can enjoy performances from the best international talents plus homegrown Indonesian acts while scarfing down delicious local dishes being offered at the many food stalls. The festival is the perfect way to end the summer in Bali and create incredible memories with friends and family.
Where to Stay:
Just a 10-minute walk from Soundrenaline, this luxurious hotel is the perfect choice for a romantic getaway. Enjoy the comfort and privacy of your own villa as you lounge in its outdoor hot-tub or take a dip in its private pool!
Is This the Best Daypack EVER???
Bali has emerged as a global hotspot for those on the journey of spiritual growth and self-discovery, with its epicenter being Ubud. Individuals from all walks of life arrive in this town to partake in a variety of yoga classes, meditation sessions, healing practices, and personal development activities — ultimately seeking enlightenment.
It is no surprise that Ubud has been chosen as the venue for the Bali Spirit Festival. Taking place in the exquisite verdant rice fields of Gianyar, this remarkable week-long event provides a platform that brings together celebration, spiritual ceremonies, workshops, music, and food, for all seekers of the spiritual path.
Festival attendees can explore over 300 activities and sessions, from yoga and dance classes to martial arts lessons. You can also try your hand at a wide range of healing practices such as sound healing and breathwork. You will have the opportunity to find expert spiritual guidance through seminars, self-development talks, and interactive workshops, all at your fingertips! This is a great way to meet inspiring people who will help guide you on your spiritual journey.
Where to Stay:
There are a myriad of Bali hostel options for the budget backpacker. We recommend staying in this lovely hostel for less than $13 a night. Enjoy the stunning Balinese architecture and lush vegetation as you relax in its comfortable shared dorms and double rooms!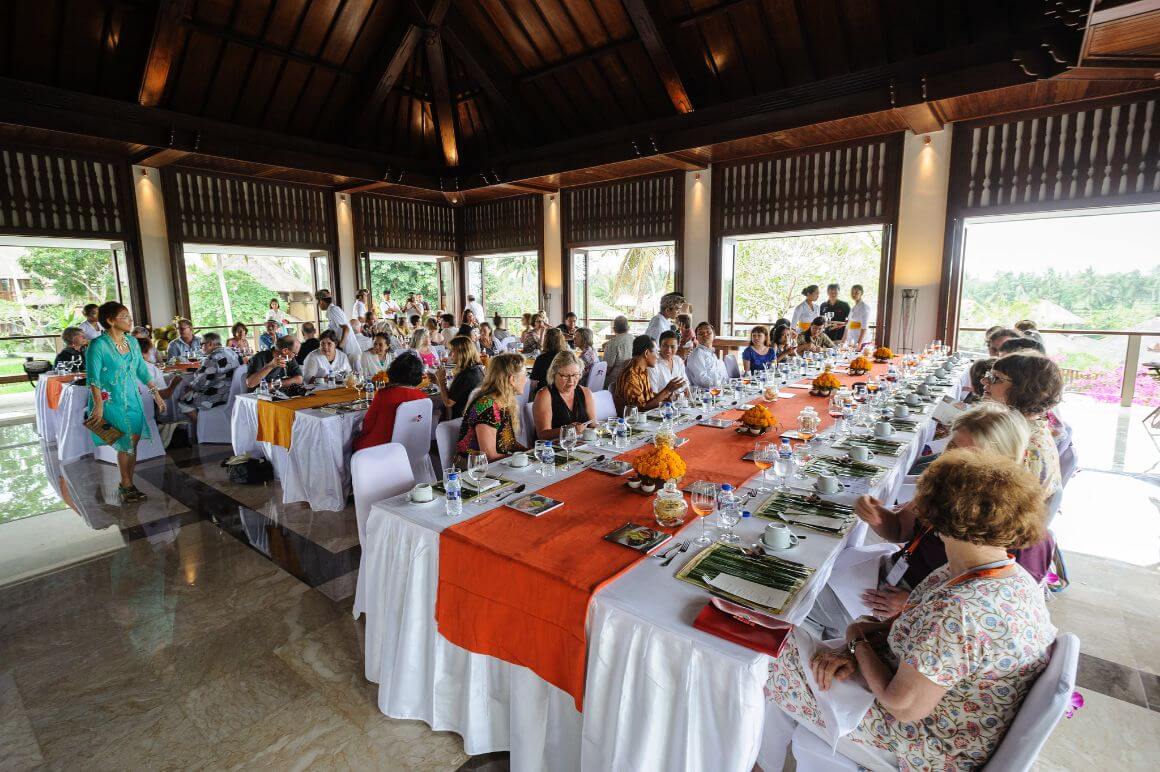 Ubud is already renowned for its literary and artistic traditions — but the Ubud Writers & Readers Festival elevates it to an entirely new level. The biggest thought leaders and intellectuals from all over the world come together over 5 days to present their works as well as knowledge — making the festival one of Ubud's most sought-after attractions!
Experience this one-of-a-kind Balinese event studded with talks, workshops, and seminars featuring amazing authors and speakers. You will have the unique opportunity to explore not only literature but also music performances, film screenings, art exhibitions, book signings, and marketplaces — all showcasing Ubud's magnificent literary heritage. Not only will you expand your knowledge of literature while uncovering fresh ideas and perspectives but also have a glimpse of the vibrant community in Indonesia that eagerly awaits this festival each year.
Where to Stay:
Indulge in an unforgettable experience at the fantastic Jati Cottage, nestled in the heart of Ubud. Savor five-star amenities while marveling at spectacular views of rural scenery and enjoy a peaceful atmosphere during your stay.
Tumpek Landep Day
When: December
Where: Denpasar
Tumpek Landep is one of the most sacred ceremonies celebrated in Bali. With its roots stretching back to pre-Hindu times, the day originally paid homage to items of ancestral heritage such as daggers and spears. However, over time, the ceremony has adapted to honor and bless all items made of metal including cars, motorcycles, computers, and even refrigerators! The day marks a time for Balinese people to honor their ancestors and thank the Almighty Creator for all that has been bestowed upon them.
Tumpek Landep takes place every 210 days as per the Pawukon calendar in Bali. This traditional Balinese event is celebrated by making offerings to Dewa Shiva, the God of Protection. Devotees visit temples and ancestral shrines throughout Denpasar in order to ask for protection against harm.
Immersing yourself in the special prayers and offerings of the locals at the village temple will fill your soul with joy and forge an emotional connection to Bali and its people that will stay with you for life!
Where to Stay:
This charming homestay is another great way to soak in some Balinese culture. Enjoy the peaceful atmosphere of a traditional thatched-roof Balinese home while basking in nature's beauty at this rustic mountain retreat.
Final Thoughts
Backpacking Indonesia can best be described as an absolute treat! It is a nation that cherishes its incredible culture and traditions, while also embracing modernity. From the exciting Bali Arts Festival to the acclaimed Ubud Writers & Readers Festival, there is an abundance of joyous festivals in Bali and events that celebrates life. Here you'll find people coming together for not only music, art, spirituality, and conversation but also spirituality, different kinds of fitness retreats, and volunteering activities. Bali truly welcomes everyone with open arms to participate in its unique customs.
If you have limited time on your hands, choosing between which places to visit in Bali can be daunting. But do not fear, as help is here! Just head to Nyepi, one of Bali's most memorable festivals. With all the unreal beauty and rich traditions on display, the festival will surely be an unforgettable experience for everyone who attends. The magical stillness of the night, with no sound or traffic to break the spell, is a true representation of the beauty and strength of Balinese traditional and cultural values. So what are you waiting for? Check your calendar for the best time to visit Bali and pack your suitcase for the experience of a lifetime!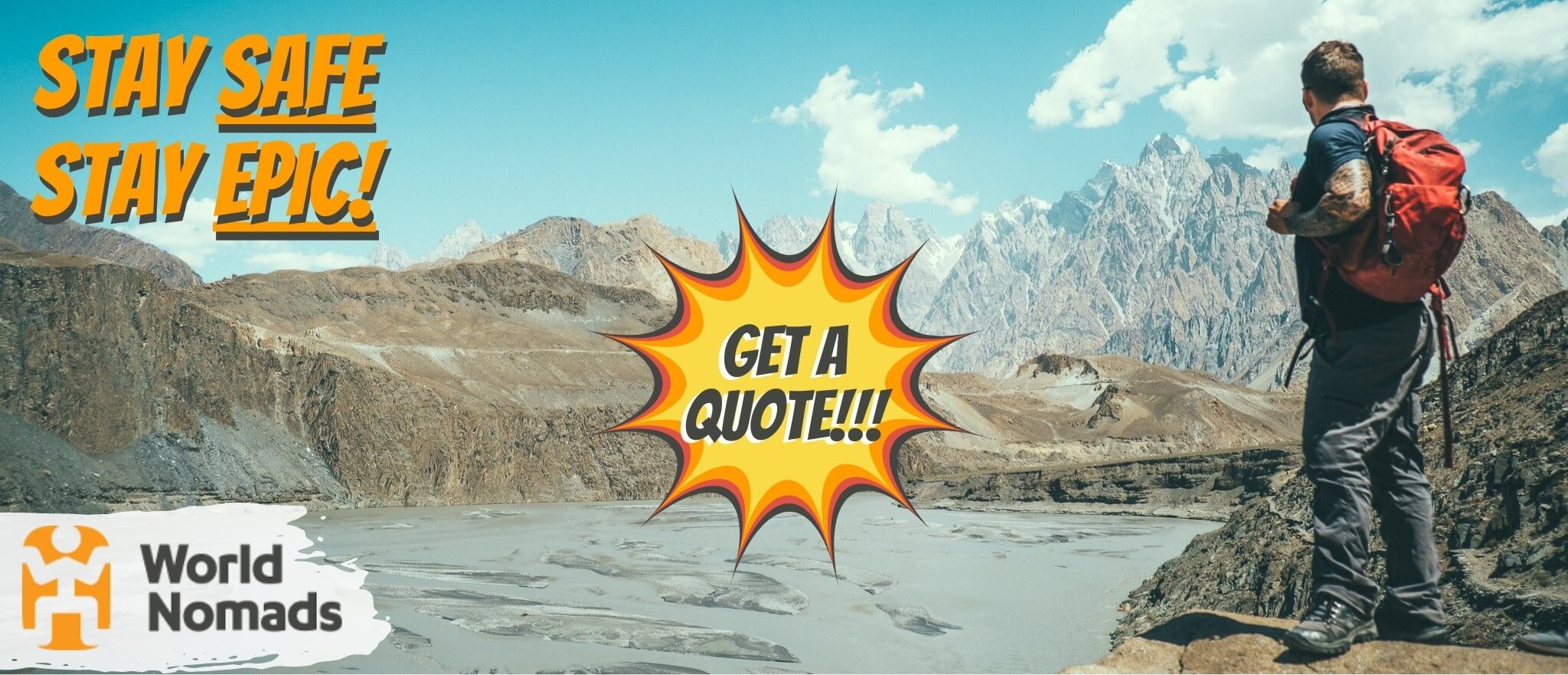 World Nomads' mission is to support and encourage travellers to explore their boundaries. They offer simple & flexible travel insurance, and safety advice to help you travel confidently.
They've been doing it since 2002 – protecting, connecting, and inspiring independent travellers just like you.
Get a quote below or read our in-depth review!
World Nomads provides travel insurance for travelers in over 100 countries. As an affiliate, we receive a fee when you get a quote from World Nomads using this link. We do not represent World Nomads. This is information only and not a recommendation to buy travel insurance.
---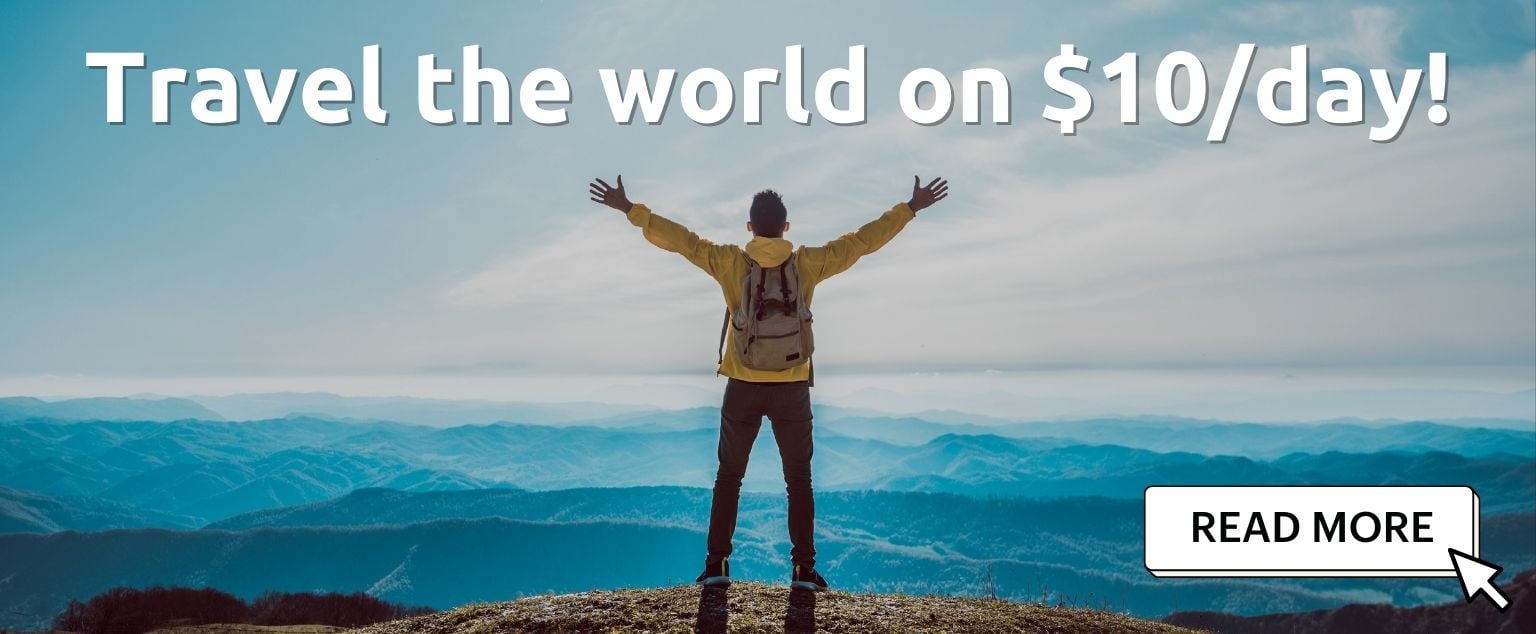 And for transparency's sake, please know that some of the links in our content are affiliate links. That means that if you book your accommodation, buy your gear, or sort your insurance through our link, we earn a small commission (at no extra cost to you). That said, we only link to the gear we trust and never recommend services we don't believe are up to scratch. Again, thank you!