Bali is home to some of the most beautiful beaches in the world, each one with its own distinct character that attracts tourists in their numbers. Some of them promise epic surfing, while others have spellbinding volcanic black sand, others have even played a part in Hollywood movies!
Canggu, Uluwatu and Seminyak are the top coastal spots in Bali. But we have some hidden gems, too! There are SO MANY options that you can easily visit a new beach every day of your holiday – if you wanted.
We're gonna take a look at a few of the best beaches in Bali. So, pack your sun-cream, swimsuit, and surfboard, and let's jump right in!
In a hurry? Here's Where to Stay in Bali for One Night
Who it's for: Backpackers, surfers and sun seekers love Echo beach for relaxing and catching some incredible waves.
Don't miss: Make sure you see at least one sunset with a coconut in hand from a sandy beach bar.
We all know that visiting Canggu is a top priority for backpackers and travellers of all kinds. With its dark sand, impressive surf and plethora of beach bars and beachside restaurants, it is an idyllic spot to spend a day soaking in the island rays and people watching.
A fave spot among locals and expats, you know its going to be great! Beginners can try out some surf lessons, and season pros can catch those challenging waves. Echo beach is an all-rounder and by far one of the best beaches in Bali.
Where to Stay:
Just metres from the beach, this villa is a private haven with a swimming pool, open-air living areas and cosy bedrooms. It is a perfect spot for surfers wanting to catch early morning waves, or sun lovers who will head to the sand every day.
This epic hostel has EVERYTHING! Dorm rooms of all kinds, a swimming pool, restaurant, kick boxing lessons and yoga session, you are seriously spoilt for the affordable rate. Only 5 a minute walk to the beach, this is great for those on a budget who want to be near the sandy bay.
Who it's for: Surfers, backpackers, loungers and drinkers. This beach has it all!
Don't miss: Sunset sips at Old Man's!
We can't have a list of Bali beaches without mentioning Canggu Beach, or Batu Bolong. It may have darker sand and rougher waves than other dream beaches on the island, but its a place to meet people and hang out.
Lined with beach bars, bean bags and surf schools, if you are new to Bali and want to make some friends, this is where to go. With a bustling sunset scene and bars close by for post-beach drinks, it is a backpackers must-go!
Where to Stay:
With a boho style just 300m from the beach, this apartment is a beautiful space to relax after a day in the sun. Featuring lots of space and comfortable furnishings, it will quickly feel like home.
Best Hostel Near Canggu Beach | Kos One Hostel
This hostel is STUNNING. With a Mediterranean style and plunge pools, you can cool off after a long day surfing the Canggu beach waves.
Who It's For: Groups of friends looking to party under the stars.
Don't Miss: Nearby beach club, Potato Head – dance the night away to epic DJ sets!
Bali beaches can be anything from totally secluded to thriving and busy, Seminyak beach is a perfect go-between. During the day you will find plenty of people lounging on sun beds, and as the sunset comes closer flocks of locals and tourists head to the beanbags.
La Plancha is probably the most famous beach bar, but the strip is lined with resorts and beach clubs where you can pitch up a spot for the magnificent views. If you are looking to party, it is a great way to start the night!
Where to Stay:
Best Airbnb Near Seminyak Beach: Blue Bali Loft
Not only will you have an awesome place to stay with this loft apartment, but you'll get a free scooter included to explore the island with. Not bad, huh?!
Best Hostel Near Seminyak Beach: Capsule Hotel
Arguably the best party hostel in Bali, the only downside of this superb accommodation is that you might not make it as far as the beach as there are exciting events happening every night!
Who It's For: Foodies, sunset chasers and families.
Don't Miss: A sunset fresh seafood meal!
A white sandy beach with calm waters, Jimbaran beach is ideal for families who's kids want to swim – while supervised, of course! You can rent a sun lounger for the day and order ice-cold drinks from local beach bars, or hang out at one of the resorts beachfront pools.
The real action happens just before sunset when the famous seafood restaurants set out their tables on the sand and begin to heat up their BBQ coals. You haven't tasted fresh fish until you've had a meal on Jimbaran beach. Choose from one of the restaurants, get a front row view of the colourful sunset, and dig into some of the most incredible seafood.
Where to Stay:
Best Airbnb Near Jimbaran Beach | Villa Camellia
In a villa complex, this Bali Airbnb is a secure and private space with friendly staff on hand. There are tropical gardens, a swimming pool and breezy balconies to enjoy when you aren't soaking in the sun on the beach.
Best Private Room Near Jimbaran Beach | Mimpi Villa
This private room is located in a large traditional villa with beautiful crystal bay views. Only walking distance from the beach, it's easy to spend your days on the sand before heading back to a cosy room.
On Bali's southern coast, Bingin beach easily one of the best beaches in Bali. With bright white sand, famous surf breaks, and beachside restaurants, it is an incredible spot for a day trip or long weekend. Be warned, you do need to walk down a fair amount of stairs to get the beach, but the beauty of the place makes it so worthwhile!
Surfers can tackle some of the best waves on the island, and sun lovers can lay out on the clean sand. It is a dream come true! If you hit up any of Uluwatu's beaches during your Bali trip, this should be it.
Where to Stay:
This simple and bright room really makes the ocean views its selling point. With a private balcony looking out over undisturbed views, you can enjoy a sea breeze from the comfort of your bed. It is just a few steps down to the beach from the modern space.
Only a short drive from Bingin beach, this hostel has lush gardens, private bedrooms and yoga bale. Enjoy quiet days around the tropical greenery or sprawl out beside the ocean. It is a cheap and cheerful option.
Who It's For: Groups of friends and families who want to have a wide selection of activities, as well as places to eat and drink on their doorstep.
Don't Miss: Upside Down World. If you're looking for something to do and the weather's not great, check out this cool and unusual attraction. You'll get some great photos for the gram!
Kuta Beach is one of the best-known beaches in Bali. It's perfect for those who want to enjoy the sun, sand, and sea without straying too far from amenities. BeachWalk is just over the road filled with shops, restaurants and bars for a tasty meal post beach day.
It's lost some of its popularity as Seminyak and Canggu take over as the most popular areas in Bali, but for some family fun or a classic Bali day on the beach it is great!
Where to Stay:
Best Airbnb Near Kuta Beach | Villa Olympia
Bright, modern and chic, this private villa is perfectly located just 10 minutes walk from the beach. You can wander past market stalls, restaurants and cafes on your way to the sand.
Right in the heart of Kuta, this hostel has easy access to the beach and nightclubs. We know you'll love the two swim-up bars here!
Who It's For: Families and travellers who want to get off the beaten track while enjoying Bali's warm turquoise waters. Scuba divers will love the underwater temples!
Don't Miss: The sunsets. They're absolutely stunning here!
Bali's northwest is often overlooked by tourists. However, getting off the beaten path reaps its rewards – one of which is the beach in Pemuteran! This stunning beach is one of the best for swimming and diving in Bali, and it's never crowded.
With calm waters and some epic snorkelling opportunities, just a boat ride away on Menjangan Island. If you are looking to dive in Bali this is the place to go.
Where to Stay:
If you want the best of both worlds – i.e. the beach and stunning mountain and paddy field views – look no further than these nature lodges near Pemuteran. On the days you're feeling too lazy to go to the beach, cool off in the pool!
Mangroove Bay Hostel is just 15 minutes drive from Pemuteran Beach with a tropical, modern style and loads of amenities to make your stay comfortable. When you aren't at the beach you can lounge around the pool and watch movies in the comfortable movie room.
Who It's For: Daydreamers looking for a hidden idyllic beach, and a lot of likes on their Instagram account!
Don't Miss: The Uluwatu Temple – just ten minutes away by car. One of the most beautiful temples in Bali.
Romcom lovers will recognise Padang Padang Beach from Eat, Pray, Love. It's here where Julia Roberts finds love with the man of her dreams.
If you don't find the one here, you will at least fall in love with the beach and its white sand paired with impressive rock formations. Stop by Uluwatu temple to catch a traditional Balinese kecak dance.
On the walk down to the beach, you'll be met by a number of monkeys who call Padang Padang home. Remember that they're wild animals so keep a respectful distance, if they let you!
It is a hot spot for surfers, sun-seekers and adventurers alike. Try out a beginners' surfing lesson – there will be fewer people to watch you fall off than in Kuta.
Where to Stay:
A private room with a bathroom and pantry, this place will help keep your costs down yet has plenty of character. And you're welcome to use that beautiful pool.
Just 450m from the beach – a short 6-minute walk – this guest house has private pavilion rooms with ensuite bathrooms. Spend a day around the pool before sunset on the beach.
Who It's For: Adventurous day-trippers who want to get off the beaten track and enjoy pristine soft sand.
Don't Miss: A spot of lunch at the line of BBQ stalls offering freshly-caught seafood.
For the cleanest beach in Bali, you'll have to head to the village of Candidasa – and then a bit further. It's well worth the trip, though; this is one of the few white sand beaches on the East coast (the rest are black).
Despite it's growing popularity, it can still be classed as a hidden gem and one of the best places to visit in Bali, and is also known as Pasir Putih beach or Hidden beach.
Stay the night nearby and explore other beautiful sights around the area such as the Ujung Water Palace.
Where to Stay:
Offering a little bit of luxury on the ocean front, this private villa has a traditional Balinese style and beautiful water gardens. There is also a shared swimming pool and facilities. All just a short drive from the beach.
Best Homestay Near Virgin Beach | Pondok Diana
Surrounded by rice paddies, this cheap and cheerful stay is close to the beach with friendly staff and spacious rooms.
Who It's For: Travellers who don't like sharing their beach… shhh, don't tell anyone who sent you!
Don't Miss: The eastern end of the reef where there are almost completely enclosed rock pools.
Another stop in Eastern Bali, Bias Tugel is one of Bali's hidden gems. It's a small secluded beach which is reached by a short trek from the village of Padangbai. Don't forget to bring your snorkel as the gentle waters here are perfect for exploring and seeing what colourful creatures call the coral reefs home.
Once you've finished in the water, walk out onto powder-soft sands and get yourself a fresh coconut or ice-cold drink.
Where to Stay:
Overlooking Padangbai and the ocean from a hilltop, this is one of the prettiest places to stay in all of Bali. You can enjoy yoga and outdoor dining.
Best Hostel Near Bias Tugel | Fat Barracuda
This small hostel is the best place to stay on a budget in Padang Bai. It's a great base for exploring Bias Tugel Beach and the surrounding hills.
Who It's For: Geger Beach in Nusa Dua is a quiet beach that's perfect for families. The waters are calm, and there's plenty to do nearby.
Don't Miss: Waterblow – a reef that sees massive splashes during high tide!
Not only is Nusa Dua a beautiful beach in Bali, but it's also huge. Besides that, there are loads of awesome family-friendly restaurants and attractions nearby. You'll have your pick of the top luxurious resorts so it can be a bit pricey, which is the only downside.
However, it costs nothing to enjoy the powder-fine sand and take a dip in the ocean. The sea here is calm enough for inexperienced swimmers to enjoy and you can spend hours lazing on the day beds!
Let the kids wander the floors of the ocean with the seawalker experience.
Where to Stay:
If you're looking for something spacious and traditional, this comfortable 2 bedroom apartment within a beach resort is the perfect spot. With a shared pool and beach access, it has everything you need.
For a cheap and cheerful spot close to the beach, this hostel has it all. With private rooms and common areas, when you aren't lounging in the sun there's plenty of places to relax.
Don't Forget Travel Insurance for Bali
Hey, I know paying for something that you hopefully won't need doesn't sound fun. But believe me, if things don't go to plan (and they don't always go to plan), having good travel insurance is invaluable.
ALWAYS sort out your backpacker insurance before your trip. There's plenty to choose from in that department, but a good place to start is Safety Wing.
They offer month-to-month payments, no lock-in contracts, and require absolutely no itineraries: that's the exact kind of insurance long-term travellers and digital nomads need.
SafetyWing is cheap, easy, and admin-free: just sign up lickety-split so you can get back to it!
Click the button below to learn more about SafetyWing's setup or read our insider review for the full tasty scoop.
The great thing about Bali is that it's a year-round destination. The temperature is never far from 30 degrees celsius, and the climate is blissfully hot and humid.
Of course, if you're planning to explore the island's beaches, you'll want sunny weather, so the best time to visit is between April and September; this is Bali's official dry season. Humidity is a little lower, too, so things are less sticky!
November to February is the rainy season, which brings with it high levels of humidity. But thankfully, you can expect daily rain showers to cool you down. Don't let this stop you from visiting during this time as these rainstorms don't last very long, and before you know it, you'll be back on the beach sipping on a Bintang.
The busy season peaks in July and August, as well as around Christmas and Easter. These are popular times to visit due to the school holidays. If you can plan your trip outside of these times, we highly recommend it. You're likely to have more space on the beach, and it'll be easier to get around the island. If the busy months are the only times you can go, don't worry; you're still going to have a great time!
You won't find anywhere quite like Bali when it comes to a beach break. In every single nook and cranny on the island, there's a hidden paradise, sheltered cove, surfer's beach, or somewhere that you can go for a swim with an incredible backdrop. White sand, black sand, turquoise waters, white foamy waves, it's all in Bali!
Luckily, the best beaches in Bali all have incredible places to stay nearby and fun things to do. So, even if you get tired of swimming, surfing, or sunbathing (we doubt that'll happen), there'll be something to keep you occupied. And since Bali is such a small island, you shouldn't have too much trouble visiting all the beaches on this list – especially if you're staying for two weeks or longer!
---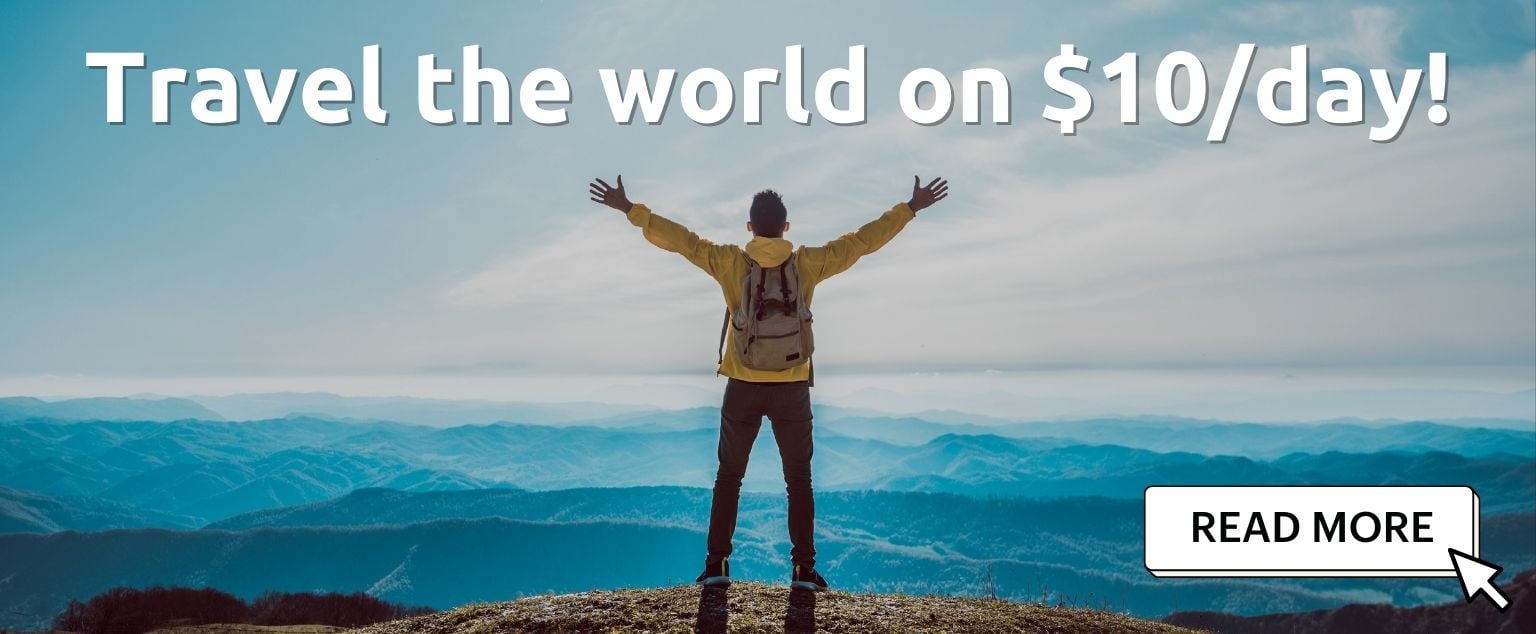 And for transparency's sake, please know that some of the links in our content are affiliate links. That means that if you book your accommodation, buy your gear, or sort your insurance through our link, we earn a small commission (at no extra cost to you). That said, we only link to the gear we trust and never recommend services we don't believe are up to scratch. Again, thank you!