Bali is one of the most diverse and breathtaking places on the planet. It is no wonder why tourists from around the world flock to the island's gorgeous beaches and journey up to the towering volcanoes. Ubud is Bali's emerald jewel in its crown with its cascading green rice terraces and dense jungles. A true adventure in Bali starts with a trip to Ubud!
Bali's Ubud is not short on hostels, but the sheer number of backpacker's dorms available will make your head spin. Looking for a party or just a place to chill? Finding that one hostel in Ubud that fits how you like to travel is no easy task.
That's exactly why we made this ultimate guide to all the top hostels in Ubud! Now you can book with confidence that you will be staying in a hostel that best suits your own style and taste!
Get ready to explore some mystical temples and hang out with the monkeys, your Ubud adventure starts now!
Quick answer: The best hostels in Ubud
The Best Hostels in Ubud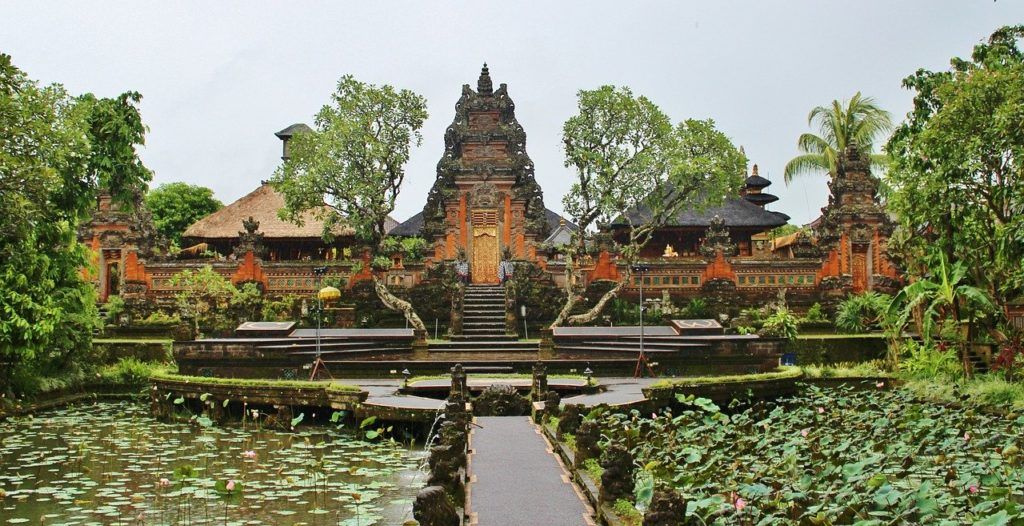 No backpacking Bali trip is complete without a stopover in Ubud. Before you know it you will be lounging by the pool, but first, take a look at all the best hostels in Ubud! With so many amazing areas and places to stay, you are sure to get a unique accommodation in Ubud to crash at!
Ubud isn't necessarily small, so make sure to figure out where to stay in Ubud before you start your scooter. Most of these hostels are located near the centre of Ubud, but if you want to see some of Bali's true gems, like the famous rice paddies, you have to choose the right location!
Psssst…. Searching for your Tribe?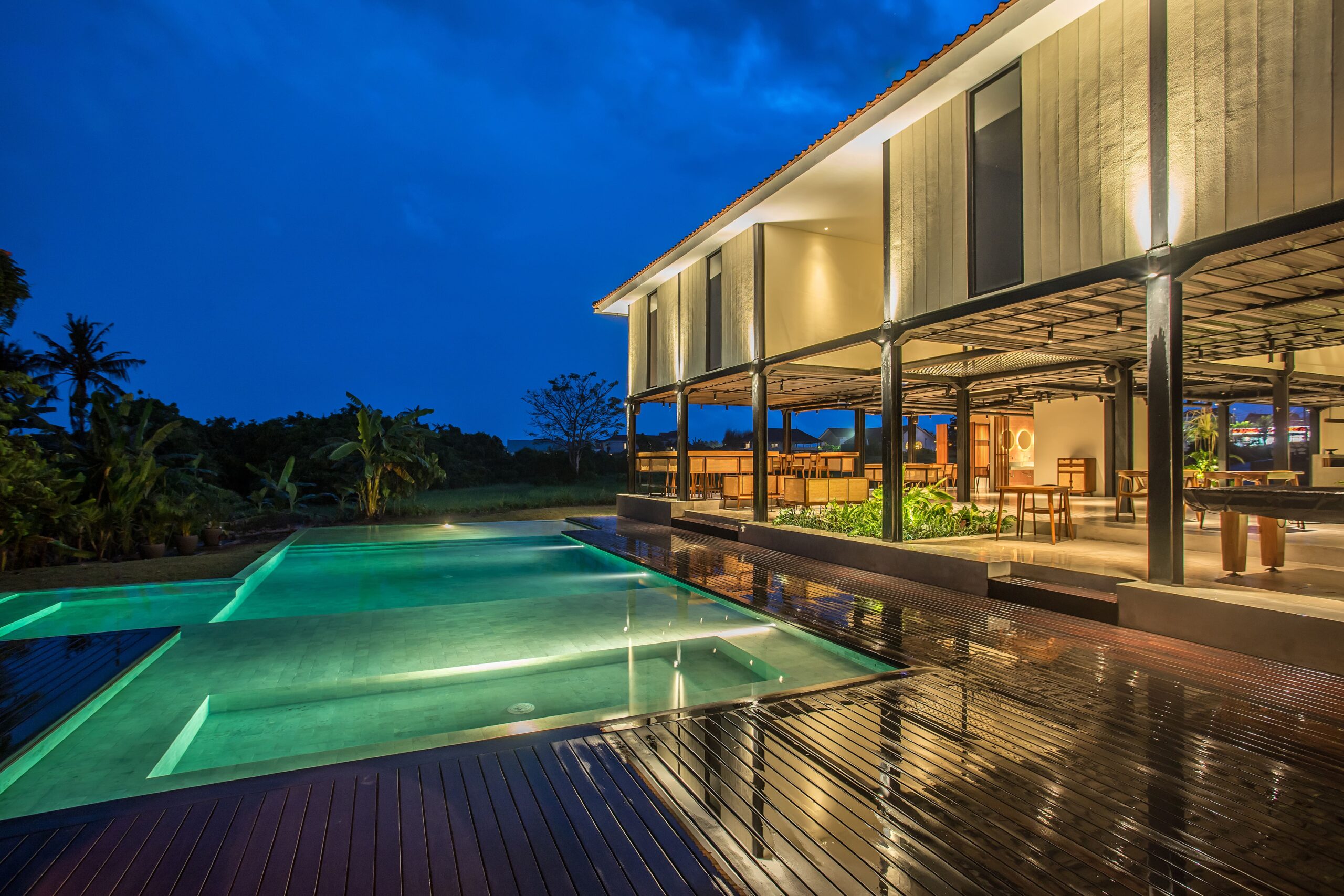 Tribal Hostel – Bali's first purpose-built co-working hostel and perhaps the greatest hostel in the world!
An ideal hub for Digital Nomads and backpackers, this very special hostel is now finally open…
Come on down and enjoy amazing coffee, high-speed wifi and a game of pool 😉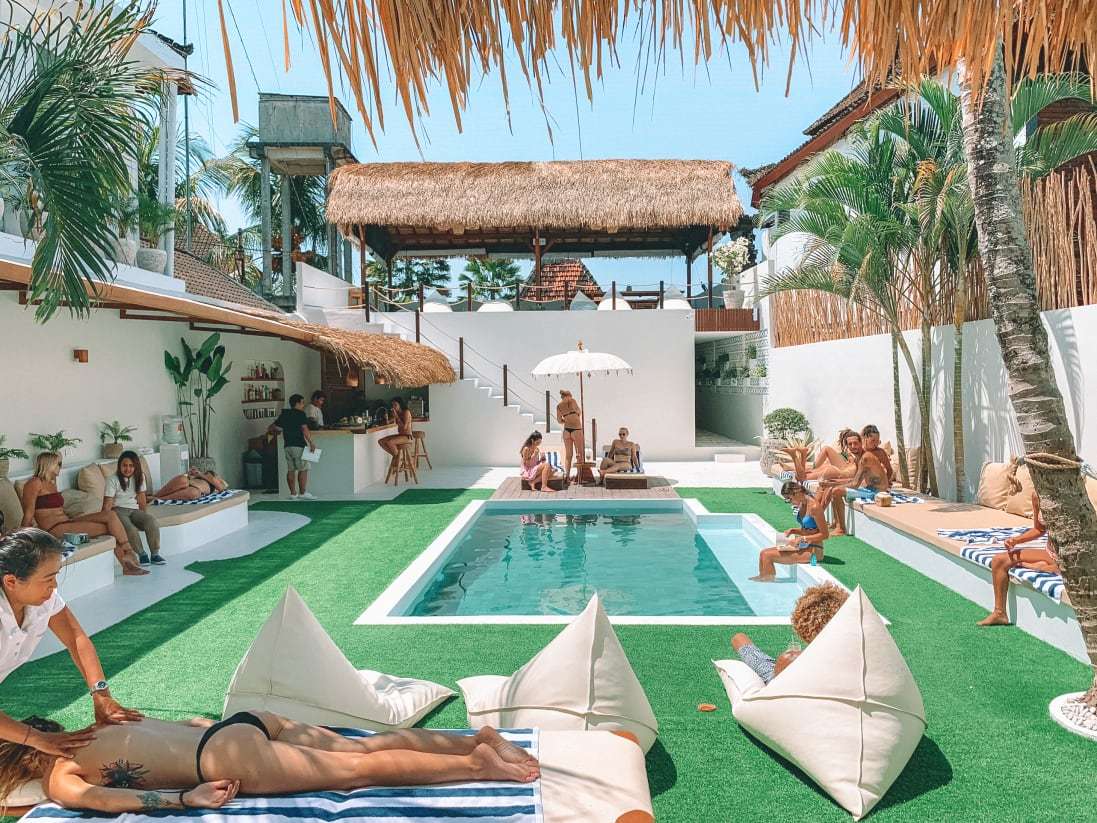 $-$$
Free Breakfast
Top Location
Free Massages and Yoga
Yup, you read right! This awesome Ubud hostel offers free massages. Perfect for all the stiff backs and sore feet from exploring the island. Kuna Bali Hostel is our pick for the overall best hostel in Ubud, not just because of the free things, but because the facility has so much to offer.
With a top location, you'll be right in the centre of Ubud and close to all the awesome attractions and restaurants. If you're a Yogi, you'll love this place even more – they offer classes every morning! We could list up so much more awesome facts about this hostel, but why talk when you can experience it yourself?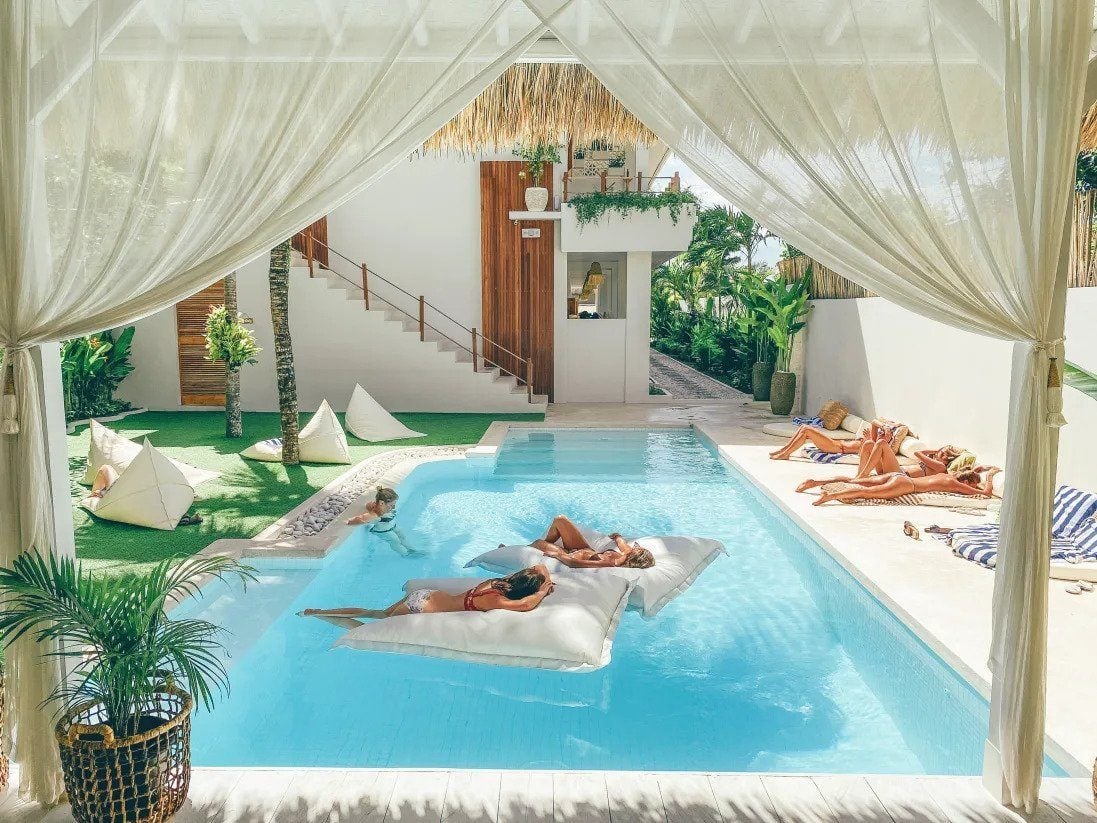 $-$$
Awesome Common Area
Rooftop Lounge
Lonely backpacker? Let's fix that! Arya Wellness Retreat is the perfect hostel in Ubud to meet like-minded travelers from all over the world. Chill on a beanbag and sip on a fresh coconut while listening to cool travel stories and make new friends.
Apart from the awesome outside area, the Ubud hostel has a lot to offer on the inside too. High-speed Wifi, super comfy beds, an epic location and staff that goes above and beyond to make your stay the absolute best. You seriously can't do anything wrong by booking this stunning hostel.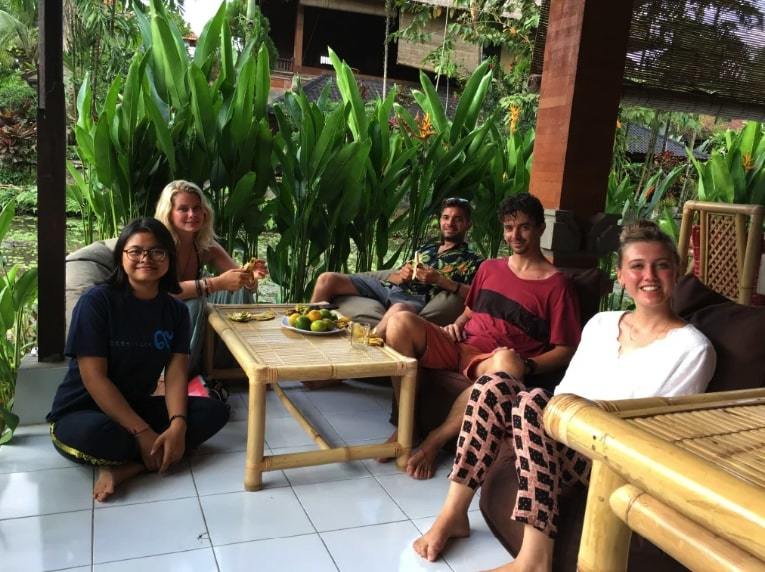 $
Bike / Scooter Rentals
Free Breakfast
Tours Available
You got loads of budget hostels in Ubud to choose from, but if you are extra strapped on cash Keladi House will have you saving money while not giving up that tropical experience – the cost of your trip to Bali doesn't have to be expensive! The amazing and helpful staff gives this accommodation even more value!
Other than the cheap dorm beds, you can also enjoy a free breakfast every morning while having a beautiful ricefield view! With more of a down to earth atmosphere than some of the other hostels in Ubud, you can enjoy a relaxed stay and recharge your backpacker batteries for the next adventures!
Is This the Best Backpack EVER???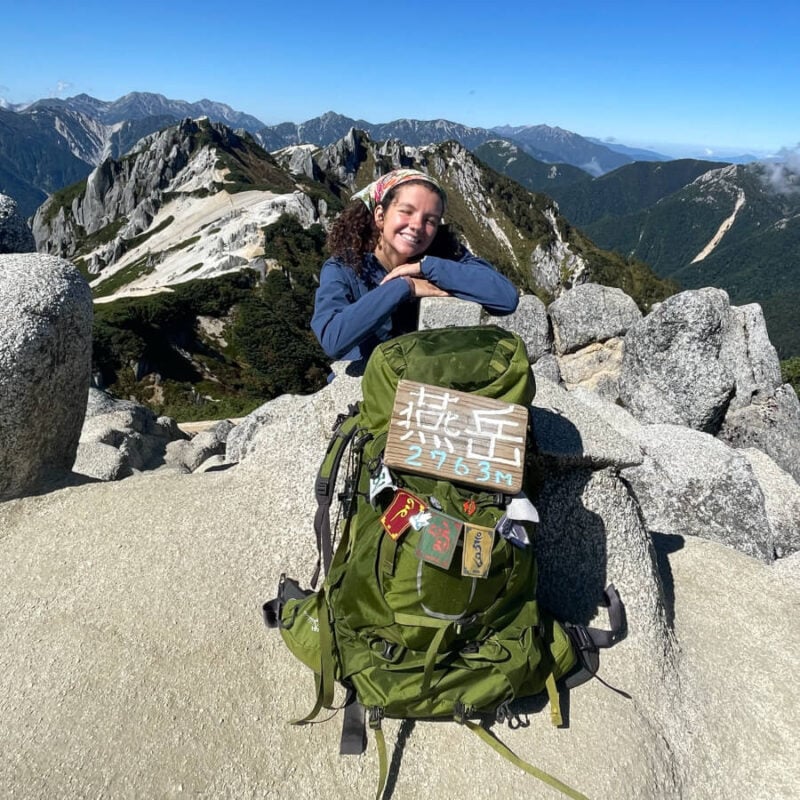 Best Hostel for Digital Nomads in Ubud – NamaStay at Ubud
$-$$
Highspeed Wifi
Cozy Rooftop
Bathtub Lounges
Needing to edit some videos or looking for a quiet place to catch up on some writing? NamaStay Hostel makes it possible. You can enjoy unique workspaces like the bathtubs outside and one of the fastest Wifis in Ubud.
If your head starts spinning from all the work you've done, just chill out and watch some Netflix in the common area or head to the rooftop to enjoy the peaceful nature. The hostel location is close to everything important and the staff is known for being incredibly helpful with planning trips, showing guests the traditional way of living in Bali and looking after everyone.
Best Hostel for Couples in Ubud – Griya Sugriwa Backpackers House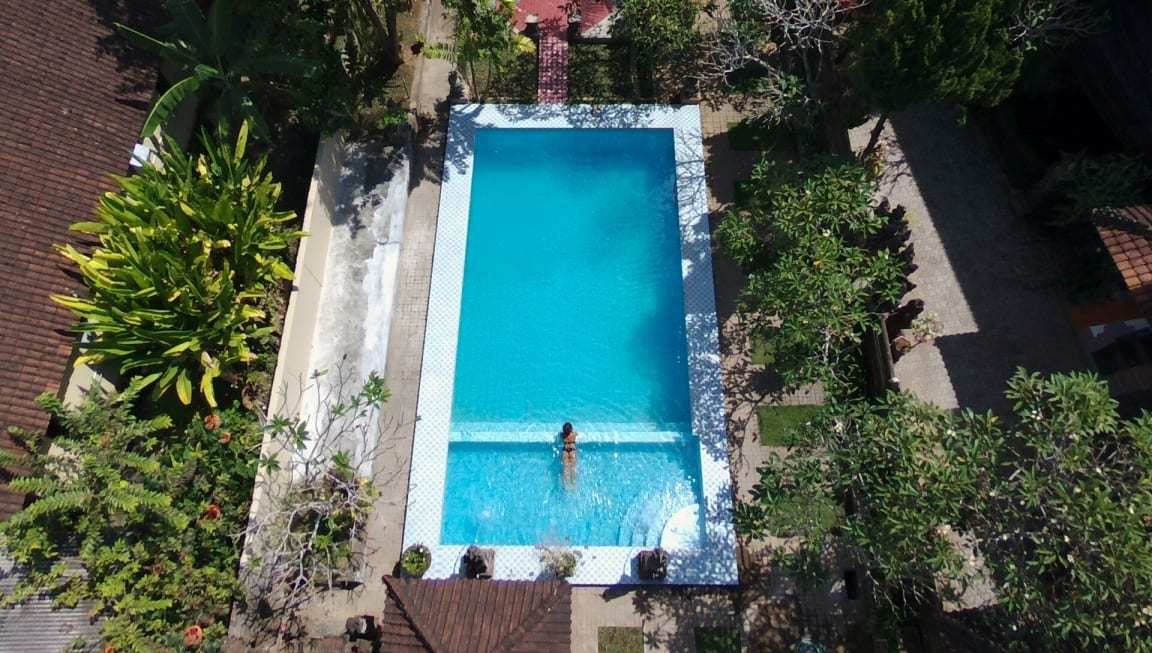 $
Free Breakfast
Big Balcony
Hostel beds are great, but eventually, you may want to cuddle up with your partner and enjoy the more romantic side of Ubud. Griya Sugriwa Backpackers House offers several accommodation options. Jumping into a cheap dorm bed or snuggle up into one of the private rooms in the Ubud hostel.
In case you don't feel like leaving your home for the day, you can simply enjoy the refreshing swimming pool, free breakfast, and stunning views of the surrounding jungle and rice fields! Mixing luxury and local charm together, you get Griya Sugriwa Backpackers House!
Griya Sugriwa Backpackers House is one of our favourites in Ubud but they're not taking guests right now. We're not sure if they're closed for good but we hope they'll come back soon.
Best Party Hostel in Ubud – RW Downtown Hostel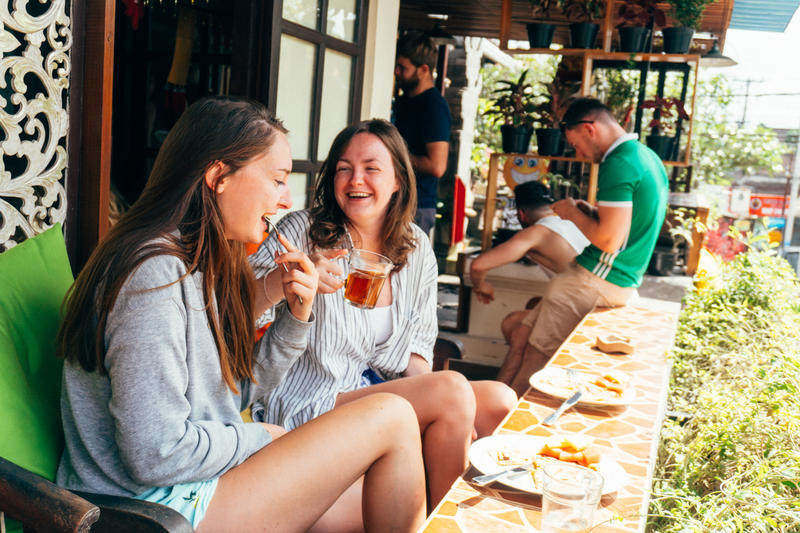 Putting you right in the heart of downtown Ubud, you will find just as much to do outside the hostel as inside! With the Yoga Barn, Monkey Forest, Ubud Temple, and all the best restaurants in town within walking distance, RW Downtown Hostel is one of the best hostels in Ubud to base yourself.
But the party really gets started within the hostel. With its lounges and cafe, this backpacker's paradise is perfect for just kicking back with a cold beer and chatting with other travelers. And if you thought it couldn't get any better – it's also one of the cheapest hostels in Ubud.
RW Downtown Hostel is one of our favourites in Ubud but they're not taking guests right now. We're not sure if they're closed for good but we hope they'll come back soon.
More of the Best Hostels in Ubud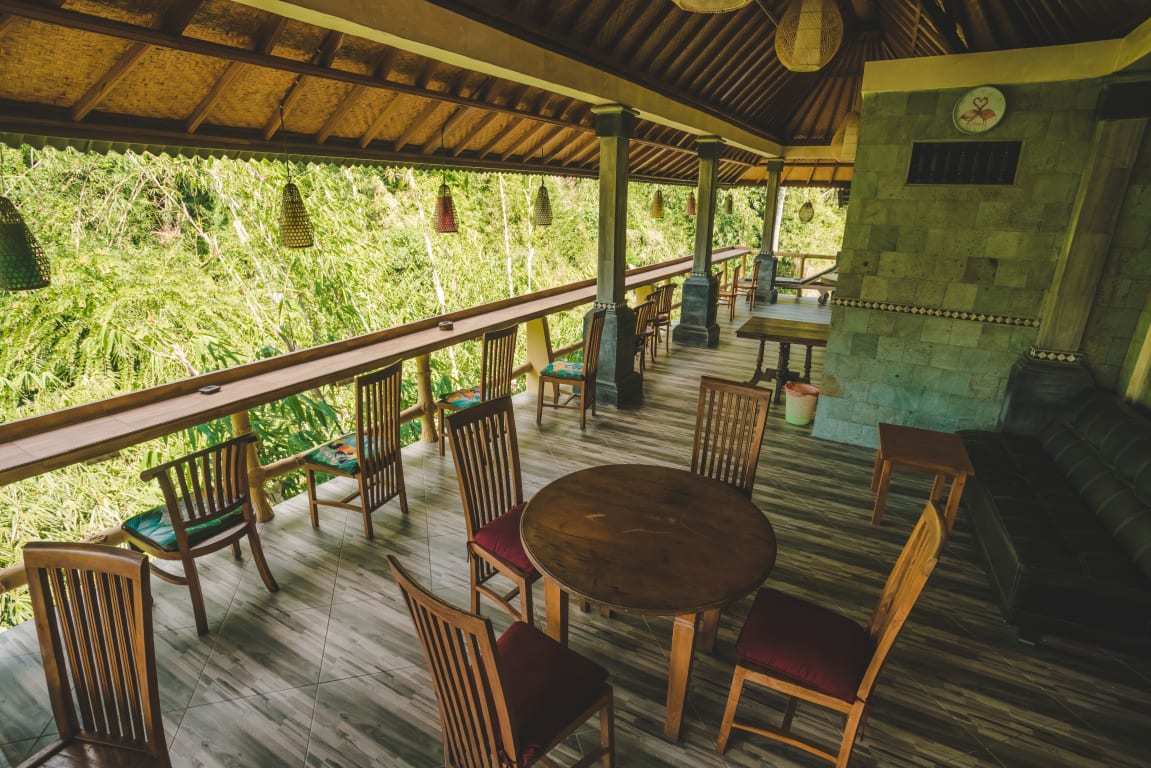 $
Motorbike Rentals
Swimming Pool
Free Breakfast
Putting you right off of Campuhan Main Street, you will be staying in the beating heart of Ubud. You'll have most of the amazing restaurants around you, as well as some cool attractions. Ask the staff of the hostel how to arrange a scooter if you want to head out further – they'll be happy to help.
After a day of exploring all the nearby sights of Ubud, WW Backpackers gives you a relaxing environment to lounge about and chat with other backpackers. With its pool and terrace, the hostel is perfect for having a lazy day or two.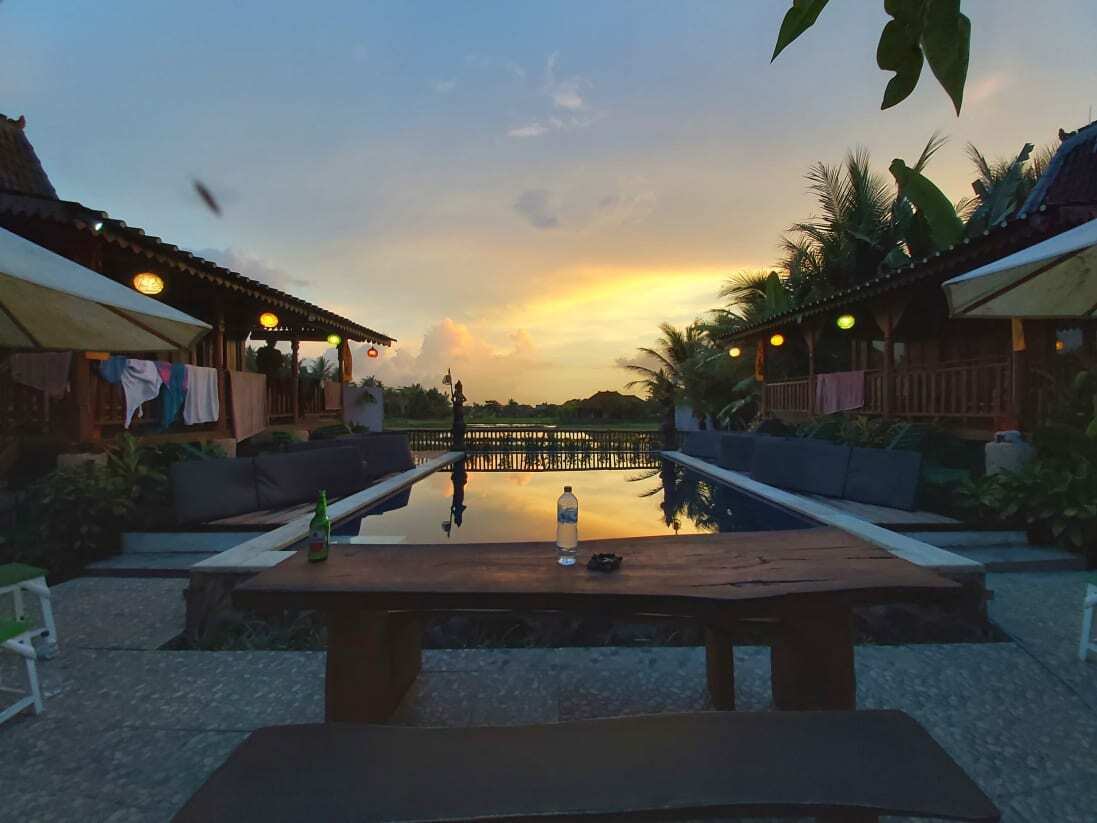 $
Swimming Pool
Free Breakfast
Terrace
When blending all of the elements of a chill backpackers hostel and a 5-star luxury stay, you will get Green Paddy Hostel & Villa On a backpacker's budget, you can still pamper yourself with a boutique-style hostel, complete with its very own infinity swimming pool, and breathtaking views of the surrounding rice paddies.
At this youth hostel, you will have more than one reason to be hopping out of bed every morning. If it is not the delicious free breakfast, it is the stunning sunrise that you be able to see right from the terrace of this unique Ubud hostel!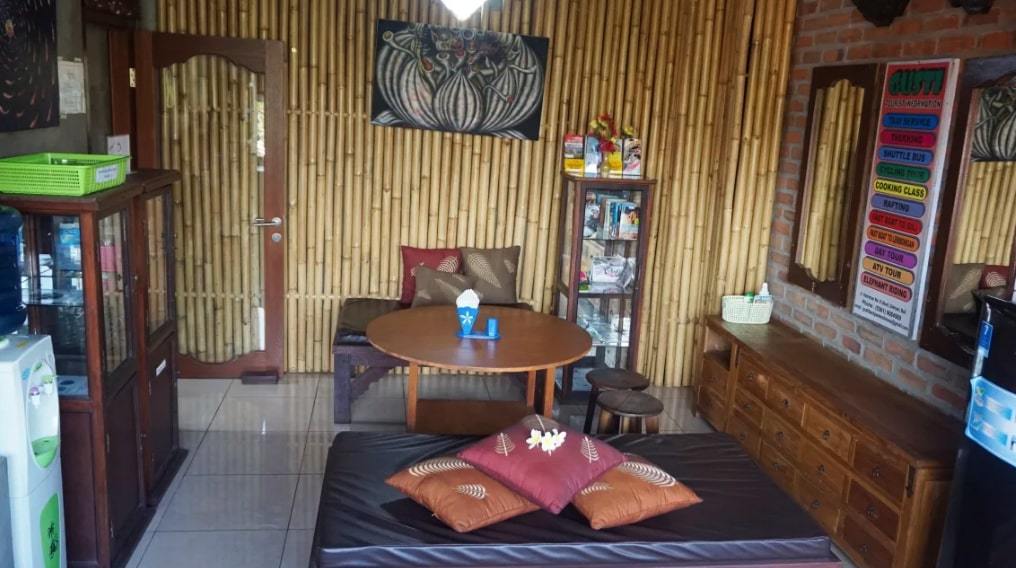 $
Free Breakfast
Cute Common Area
Cool Family Temples
With its traditional Balinese architecture and laid back hostel vibes, Gusti Backpackers House is one of the best places to base yourself out of when exploring Ubud. Located in the heart of Ubud, you'll be in walking distance to amazing cafes, coworking spots and lots of Ubud's famous attractions.
If you want to learn more about the traditional way of living as a Balinese local, the staff will be happy to show you around temples and explain everything would want to know. It's truly a unique experience that not a lot of backpackers get.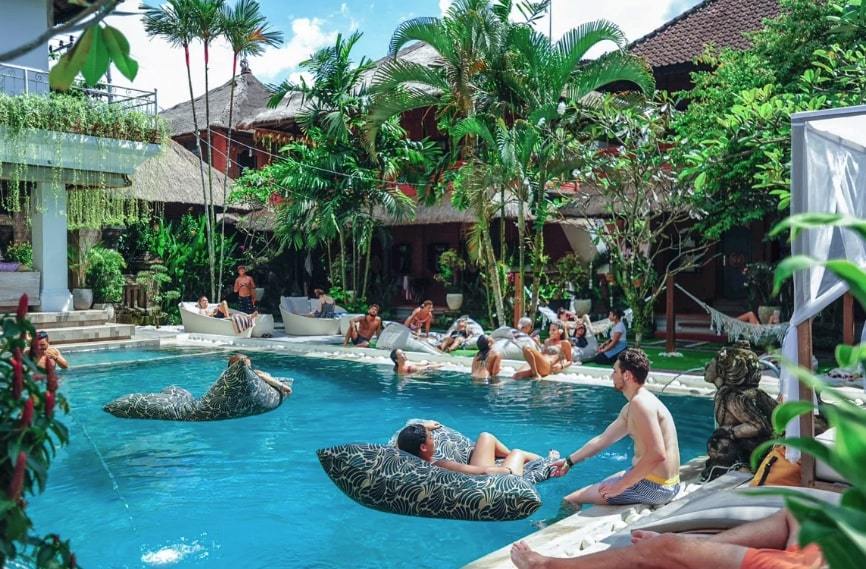 $$
Great Breakfast
Yoga Classes
If you want the most bang for your buck, look no further than this Ubud hostel. Considered one of the most luxurious hostels in Ubud, Puri Garden Hotel & Hostel will have your jaw hitting the floor with its charming atmosphere and relaxing lounges.
It isn't just the trendy terrace and living room that you can relax in, this hostel also comes with its very own swimming pool and cafe serving up a delicious free breakfast every morning. Top it all off with daily yoga classes and you have a hostel experience unlike any other!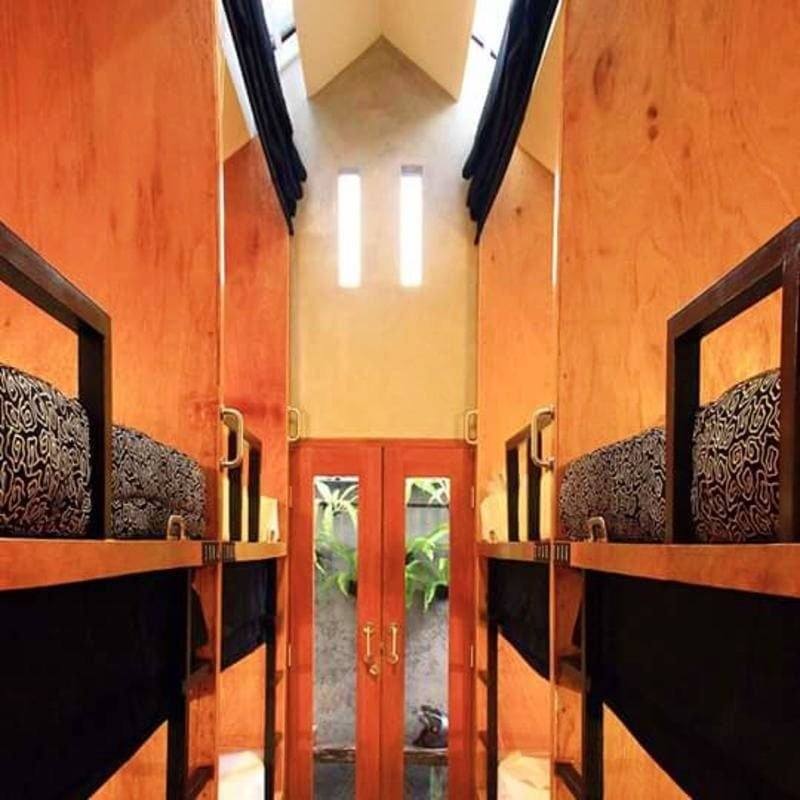 $
Free Breakfast
Super Comfy Beds
Bike Rentals and Tours
Keeping all the hustle and bustle of downtown at an arm's length distance, this BnB will give you one of the coziest and most peaceful night's sleep on the island! Although it is called the "Vintage Hostel" this charming place will have you staying in cozy private bunks with some brand new appliances!
The owners of the hostel are known to bend over backwards to makes sure you have the time of your life in Ubud. From free breakfast and arranging scooters within a day to tours and amazing hospitality, the start of any great adventure begins at Sunshine Vintage Hostel!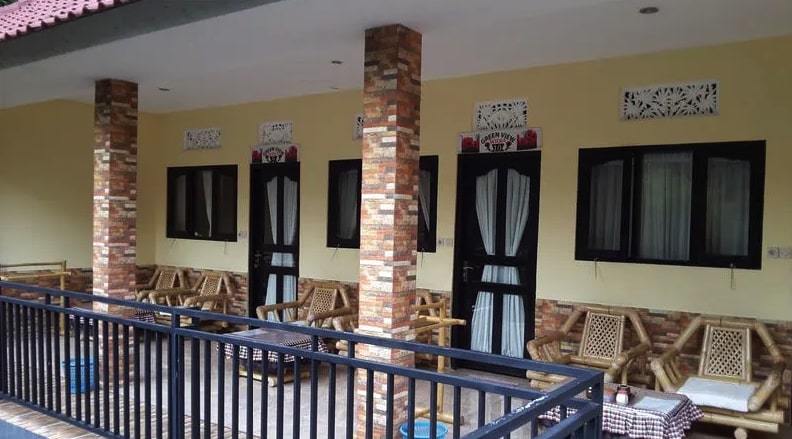 $
Free Breakfast
Shared Kitchen
Tours
With its large beds with privacy curtains, this unique backpacker's hostel will have you sleeping on a cloud each night after a long hard day of exploring. What will have you hopping out of bed, however, is the delicious breakfast served every morning. Oh, did we forget to mention it is also free?
When you aren't kicking back and relaxing at Green View Backpackers Inn, this Ubud hostel can also hook you up with some of the best tours of Bali. For an amazing stay and a great start to your adventure in Ubud, there is no better place to choose than Green View Backpackers!
Nani House 2 Hostel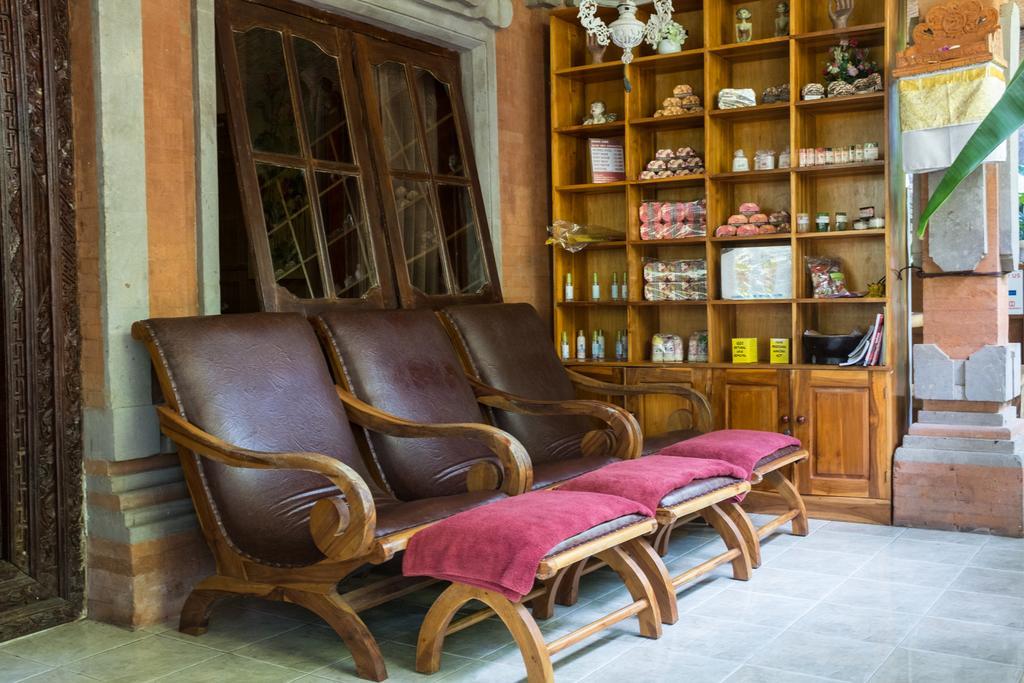 $
Motorbike Rentals
Free Breakfast
This budget backpackers hostel is so much more than just a cheap place to crash every night. You will be staying within walking distance of the Ubud Palace, Market, and Monkey Park. If you don't want to explore these hotspots by yourself, you can ask the hostel staff for recommendations on the best tour guides.
When you aren't out exploring, this youth hostel will make you feel right at home with its inviting terrace and free breakfast served every morning. And for all of the explorers, you can rent a motorbike right at the hostel too – but don't forget your helmet!
Nani House 2 Hostel is one of our favourites in Ubud but they're not taking guests right now. We're not sure if they're closed for good but we hope they'll come back soon.
Tunjung Hostel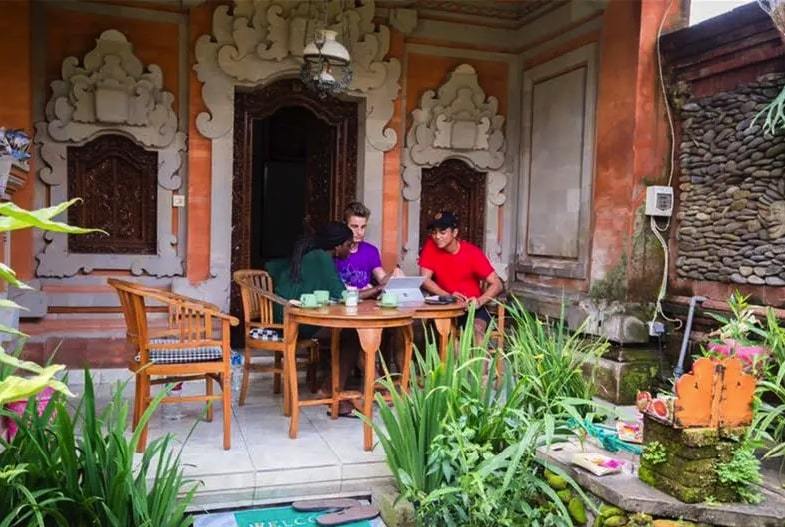 $
Free Breakfast
Cute Garden
Bike Rentals
What could be better than staying in a traditional Balinese home with elaborate intricate temples surrounding your dorm room? With its cheap beds and laid back homey atmosphere, you are getting an Ubud experience unlike any other!
Putting you in the heart of the city, all the noise from the streets will disappear as you lounge around in the garden. With its free breakfast and bike rentals, you will have everything you need to make this holiday one for the books. If you want to explore Ubud a bit more, ask the staff for recommendations on the best spots and tours – they're always there to help.
Tunjung Hostel is one of our favourites in Ubud but they're not taking guests right now. We're not sure if they're closed for good but we hope they'll come back soon.
Friendly House Bali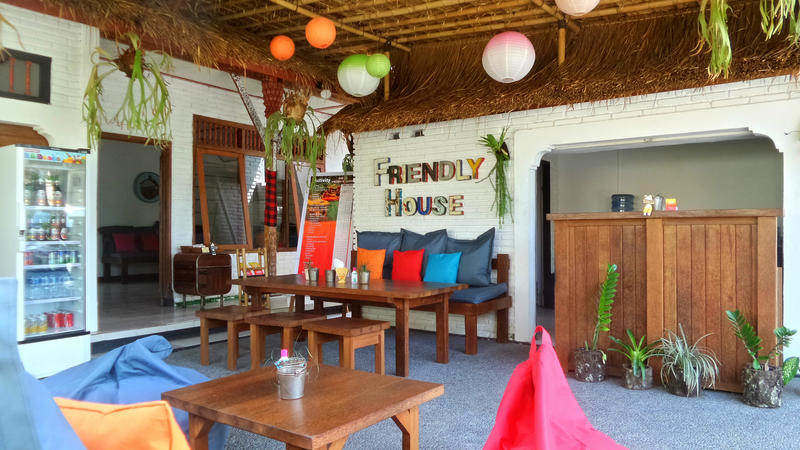 $
Swimming Pool
Bikes Rentals
Cafe
Friendly House Bali is one of those backpackers hostels in Ubud that takes your list and checks all the boxes! With its spacious and inviting lounges, a swimming pool, and even its very own cafe, this youth hostel has everything you need to feel right at home behind its doors! Looking to explore more of Bali?
This hostel even has its very own tours taking you to the furthest corners of the island and getting you up close to the local culture. With its laid back vibes and cheap beds, this is one hostel you will never want to check out of!
Friendly House Bali is one of our favourites in Ubud but they're not taking guests right now. We're not sure if they're closed for good but we hope they'll come back soon.

Our GREATEST Travel Secrets…
Pop your email here & get the original Broke Backpacker Bible for FREE.
What to Pack for your Ubud Hostel
Pants, socks, underwear, soap?! Take it from us, packing for a hostel stay is not always quite as straight forward as it seems. Working out what to bring and what to leave at home is an art we have perfected over many years.
Check out our definitive Hostel Packing list for our top packing tips!
Why you should travel to Ubud
Before you know it you will be swinging on vines with the monkeys and wading in the sacred waters with the locals. Ubud is an area of Bali teeming with life. From the nightlife to the ancient temples, there so much to explore in Ubud, no two days will ever be spent the same!
If you're visiting Bali, there's no way around the spiritual heart of the island. Ubud is known for its stunning rice paddies, beautiful views and a chill-yogi vibe. If this sounds appealing to you, well, what are you waiting for? We'd recommend staying for a couple of days to really get the vibe of this magical spot.
If you're sick and tired of all the partying, day clubs, half-naked tourists and way too noisy motorbikes, Ubud is the right place for you!
FAQ about Hostels in Ubud
Here are some questions backpackers ask about hostels in Ubud.
Travel Safety Tips for Ubud
ALWAYS sort out your backpacker insurance before your trip. There's plenty to choose from in that department, but a good place to start is Safety Wing.
They offer month-to-month payments, no lock-in contracts, and require absolutely no itineraries: that's the exact kind of insurance long-term travellers and digital nomads need.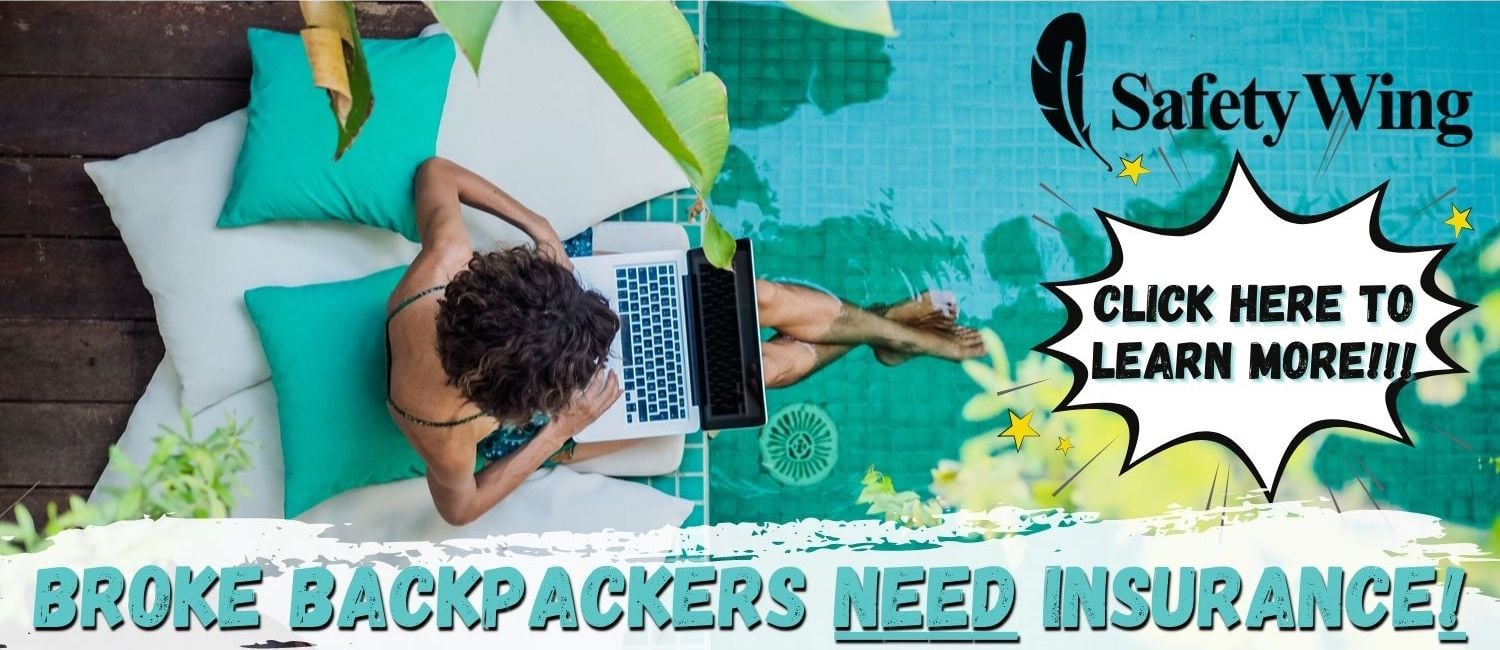 SafetyWing is cheap, easy, and admin-free: just sign up lickety-split so you can get back to it!
Click the button below to learn more about SafetyWing's setup or read our insider review for the full tasty scoop.
Over to you
Hopefully, you've been getting into the travel spirit after reading about these amazing hostels in Ubud. Ubud is definitely a special place, and your accommodation shouldn't be any less memorable. There are many other backpacker places, so yes, it's hard to choose, but we hope that our guide on the best hostels in Ubud made the decision a little bit easier.
If you're still not unsure, just go with the overall best hostel in Ubud, Kuna Hostel Bali. Trust us, it's a decision you definitely won't regret!
Have you ever been to Ubud and found a great youth hostel we may have missed? Let us know in the comments below!
Do you own or run a kick ass hostel? Want to be featured in this list? Get in touch at [email protected]
---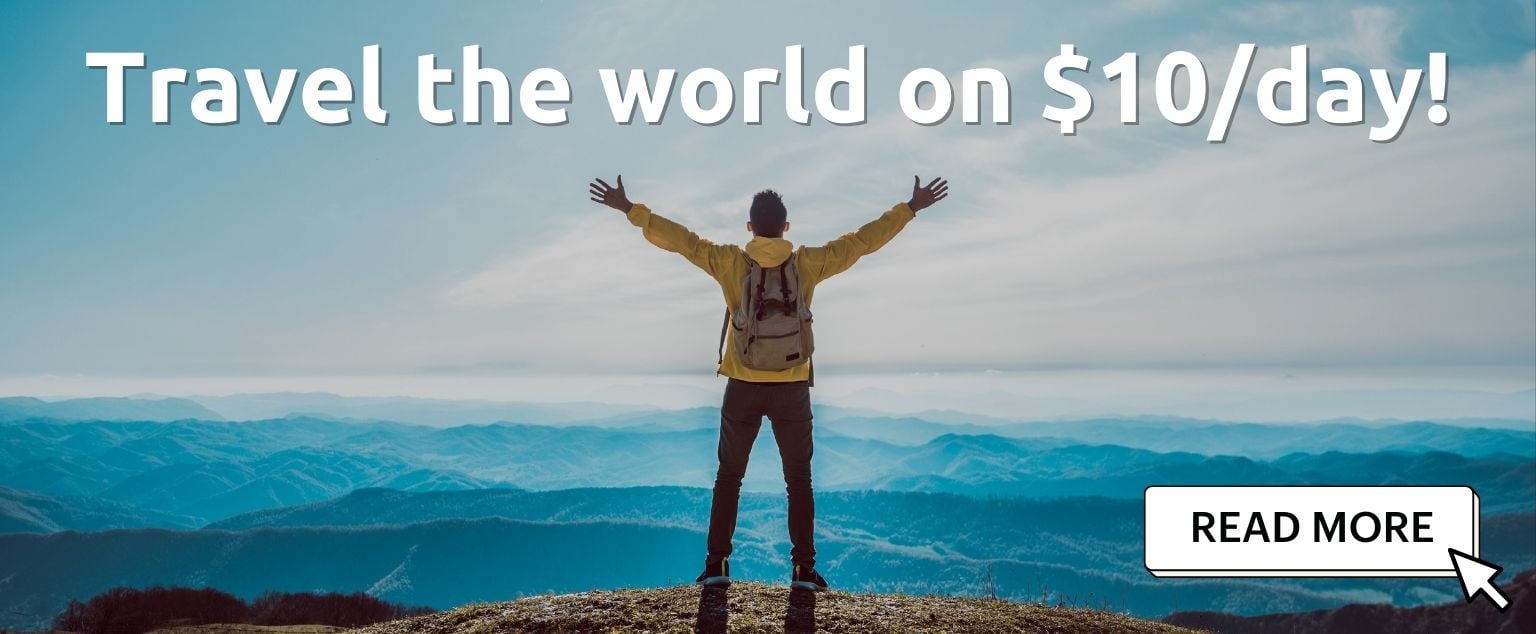 And for transparency's sake, please know that some of the links in our content are affiliate links. That means that if you book your accommodation, buy your gear, or sort your insurance through our link, we earn a small commission (at no extra cost to you). That said, we only link to the gear we trust and never recommend services we don't believe are up to scratch. Again, thank you!