Bali is one of the most popular tourist destinations in the world… This alone, for a long time, was enough to put me off from visiting! But I am oh so glad that I finally did visit Bali because this island is awesome.
I've been to Bali twice over the last year and the second time I spent four months exploring and living on the island – next year, I plan to spend another four months in Bali; I truly fell in love with this magical place.
Initially, I was really unsure I would EVER visiting Bali. My instincts told me that Bali was going to be an overrun island full of tourist traps. I was hesitant to go to Bali at first, but I ended up traveling there anyway and man! – Was I glad that I went backpacking in Bali!
There are still a lot of potential bumps in the road when you travel around Bali (like choosing the right area to stay – they are all VERY different).
Thankfully, we've provided you with this travel guide for Bali to help you sort through the good and bad! Here, we'll cover topics ranging from "dos and don'ts in Bali" to "backpacking Bali on a budget." Everything and then some is covered in this guide; with it, you'll be more than prepared for this amazing island.
Why Go Backpacking in Bali?
Bali has a lot more to do than most islands of its size. Here you can eat, drink, lounge, surf, explore, relax, hike, dive, and much, much more all within the course of a week or two.
There is so much to do and see on Bali that trying to take part in all of it may seem overwhelming at first. Luckily, this travel guide to Bali is here to help you sort through everything and get that dream itinerary going.
Prepare to rock out amigos, I'll show you my favourite places to chill, party, eat and explore in Bali 🙂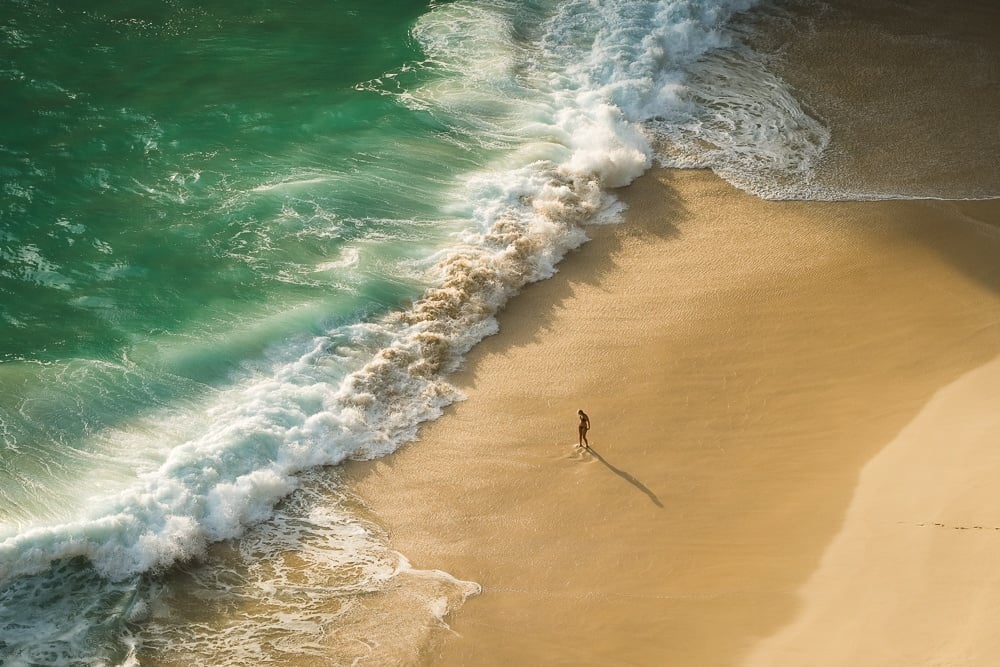 First, allow me to introduce you to our travel itineraries for Bali covering the best places to visit in Bali Each one is specially drafted to give you the best possible experience depending on what it is you're looking for.
Afterward, we're going jump into the meat of the article – the destinations – and then follow up with more specific information e.g. Costs, Food, Diving, etc.
By the end of this guide, you'll be equipped with all of the necessary tools to go backpacking around Bali on a budget!
Best Itineraries for Backpacking Bali
Below is a list of four travel itineraries for your backpacking trip to Bali. They cover the regions of The Big 3, The North, The East Coast, and a Grand Tour. the itineraries vary from 3 days to 1 month in length and cover the majority of the top attractions in Bali.
Backpacking Bali 3-Day Itinerary: The Big 3
Only have a few days to travel in Bali? No problem! With this 3-day itinerary for Bali, you'll sample the best of the island without having to travel too far from the airport.
A lot of backpackers end up in Kuta, but, frankly, I fucking hate Kuta. It's tacky, busy and basically just a 18-21 Aussie drinking area.
Seminyak is cool… if you just want endless rows of restaurants.
The best place to hang out is definitely Canggu and this is where I based myself on both my trips to Bali.
Lounge on the beach, drink bintangs at the shacks, and watch the waves roll up to the shore. If you need to get out, try visiting Tanah Lot to the north of Canggu.
Looking for a little more? The Bukit Peninsula is still very accessible from the Western beaches and makes for a great day trip. Visit Uluwatu Temple or one of the many surf spots for some killer waves.
Pro Tip: Wherever you are in Bali, sort out your transport with Made (MAH-day). He arranges cheap airport transfers, tours and bike rentals. I've used him for years now! Let him know Will sent you when you message him on WhatsApp: +62 813-3824-9193
Backpacking Bali 7-Day Itinerary: The Highlands and the North
Many travelers argue that backpacking Ubud and the lush mountains of the north requires its own separate itinerary and for good reason – there's so much to do here! Go rambling in the rice paddies; visit the many volcanoes; have a spa day in one of the many jungle retreats… there are a lot of options.
Ubud is often referred to as the spiritual capital of Bali and certainly, this is where many dreadlocked posers seem to end up 🙂
I spent time in Ubud recently and whilst the surrounding area is chill and beautiful, I found the town to be insanely crowded; then again, it was high season.
Ubud's days as a chill mecca are kind of over… Saying that, if you can find a place to stay just outside of Ubud town, it is a cool area to explore.
One thing I will note is that if you're not confident driving a scooter you may want to give Ubud a miss – the traffic is AWFUL and a taxi will take forever to get anywhere.
For this 7 day itinerary for Northern Bali, Ubud will be your primary base of operation. Ubud offers a lot of amenities in addition to attractions. The guesthouses here are out of this world and among some of the best places to stay in Bali – lots of them have chill rice paddy views.
If you want to get away from the tourists, try visiting one of the smaller mountain villages of Bedugul or Kintamani as both offer spectacular scenery.
Backpacking Bali 10-Day Itinerary: D(r)ive the East Coast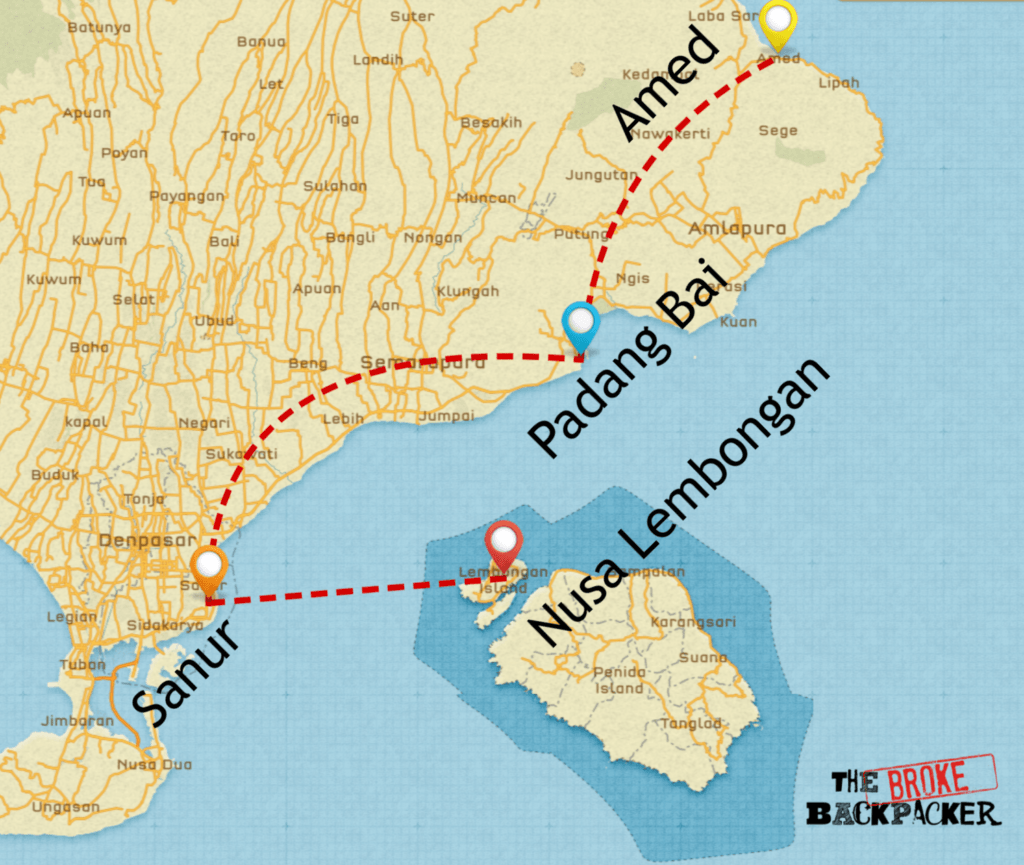 On this 10-day itinerary for Bali, make the journey all the way up the eastern coast for some of the best diving on Bali.
Start in Sanur – or the Bukit Peninsula if you want – and just follow the east coast as far north as you can. Be sure to visit Padang Bai along the way.
If you have time, definitely take a few days to visit Nusa Lembongan and Penida to see some of the most beautiful beaches in Bali, in addition to some gnarly coastline.
I spent a week driving around Penida and it was a real highlight of my trip… the roads range from gorgeous paved curves sliding through the jungle to some of the worst dirt roads I've ever come across – both are fun to tackle!
Once you hit Amed, you have two choices: 1) stay here for some more amazing diving or 2) keep going!
Rounding the northeastern corner of the island, you'll start heading west and eventually hit Lovina. You'll have more opportunities to go diving e.g. Menjangan Island on this backpacking Bali route but there is a lot more to see and do! See the previous itinerary for some ideas on what to do around Lovina.
Backpacking Bali 2-Week Itinerary: The Grand Tour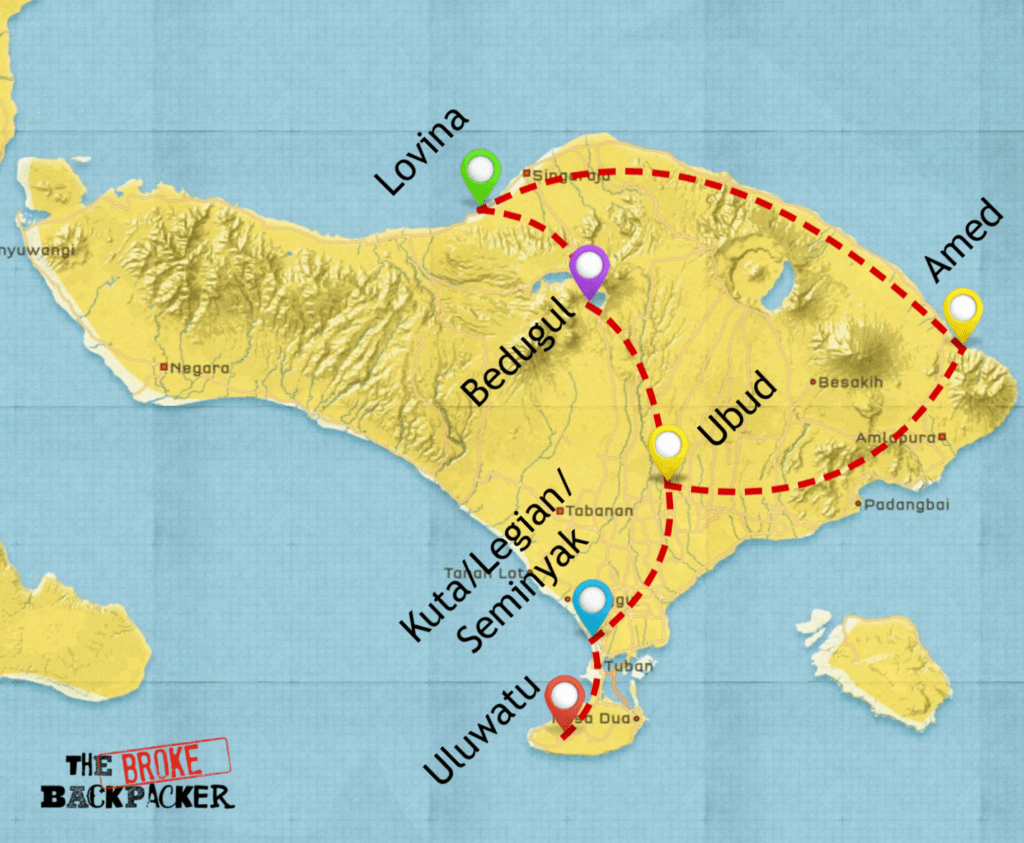 Go for an adventure and see as many of the best places that Bali has to offer! Over the course of this 2-week itinerary for backpacking Bali, very little is excluded; you'll see the jungles, volcanoes, temples, beaches, dive bars, everything you can imagine!
This itinerary is definitely the right way to travel in Bali and I personally recommend spending at least a couple of weeks (a month or more is better) in Bali – there is a LOT to see and if you're an online entrepreneur, it's a good place to base yourself for a bit. The work/life balance in Bali is sweet.
You can start your 2-week journey in many ways. Fly into Denpasar and then spend a few days exploring the surrounding coastal communities. Canggu, Sanur, Uluwatu; the choice is yours!
From there, escape north towards Ubud for some downtime. This part of Bali is traditionally much more relaxed and there are several ways to decompress here. Maybe some yoga? Or perhaps a ramble in the jungles? Just note you have to make the effort to get out of the main Ubud town.
From Ubud, head east towards Amed for some of the best diving in Bali. You'll have more opportunities to dive as you drive along the coast westward to the lovely black-sand beaches of Lovina. Be sure to get out and explore the waterfalls outside of Lovina as well.
After Lovina, you're heading back inland towards Ubud but making a quick stop in Bedugul first. Here you'll get to see the awesome Pura Ulun Danu Beratan temple and the many mountain lakes of Bedugul. Upon finishing Bedugul, you'll be returning to Ubud to wrap up your trip.
Is This the Best Daypack EVER???
Places to Visit in Bali
Now it's time to cover the best places to visit in Bali more in-depth, so you know exactly what to do during your trip. From the most popular destinations to some off the beaten track locales, this is where to go backpacking when exploring Bali.
Backpacking Denpasar
Denpasar is Bali's fast-paced and densely inhabited capital. Most who are backpacking around Bali just pass through here on their way to somewhere else and don't see much of the city.
Since these people only see the facade of Denpasar, which appears as a massive cluster of taxis and pedestrians, few express remorses for missing it. This is somewhat of a shame as Denpasar offers a lot in the way of attractions.
Denpasar is centrally located between the beaches of Kuta/Legian/etc and Sanur. As such, it doesn't offer anything in the way of beach activities. What it lacks in beaches, however, it more than makes for in cultural offerings. In Denpasar, there are many temples, museums, and cultural centers to visit.
Lapangan Puputan Margarana is probably the most prominent and important landmark in the area. At the center is a large monument that commemorates Balinese independence through the celebration of the puputans – the original Balinese fighters who committed suicide to combat the Dutch.
Near the Puputan is the Bali Museum, which has a great collection of Balinese artefacts. Though the Bali Museum is perhaps the largest, there are several others that one can visit in Denpasar, including the Sidik Jari Museum, the Wedhi Budaya Cultural Centre, and the Interactive Art Museum.
Also worth seeing is the Taman Budaya Art Center – this building has a large amphitheater that hosts many performances including dancing and music. This site is also the center of the Bali Arts Festival.
Finally, there are a few noteworthy temples around Denpasar. Pura Sakenan, Pura Agung Jagatnata, and Pura Maospahit are all charming little shrines. The old Palace of Satria, once a royal residence, now serves as a holy place as well.
Backpacking Kuta
Located west of Denpasar is one the longest and most developed areas on the entire island. Consisting of Kuta, Legian, and Seminyak (more on Seiminyak later), these buzzing neighborhoods offer not only lots to do but some of the best places to stay in Bali if you're young and wanna drink a lot. Here you'll find the bulk of shops and restaurants on the island as well as some of the most popular beaches.
Kuta definitely has a reputation for being pretty debaucherous and grimy. All of Kuta's neighbourhoods streets here are lined with countless dive bars, and by night wasted drinkers stumble around, vaguely trying to fend off predatory ladyboys. Some of Kuta's party hostels have a better vibe than others.
If you're looking for the best parties in Bali, you'll find many of them here in Kuta. Kuta isn't really my cup of coffee though so I don't have a huge amount to add.
It's hard to say which bars are the best bars in Kuta. The beach bars are numerous and somewhat generic, though Sam's Bar and the Capil Beach Bar do stand out. In the interior of the neighbourhood, you have classic establishments like Paddy's Pub, Deejay Club, VH Bali, and the Hard Rock that are generally the go-to spots.
As mentioned before, nearly all of Kuta's bars will have a certain seediness to them whether you like that kind of thing or not – there are a lot of working girls around, try not to be a dick and if you're going to interact, treat these ladies of the night kindly.
Kuta also has a number of spas and yoga studios in addition to an impressive beach. Visiting any one of these makes for a good way to weather the massive hangovers. The beach itself is long and actually very nice although crowded. Kuta Beach still remains one of the best places to surf in Bali so long as you don't mind sharing the beach.
Backpacking Seminyak and Legian
Seminyak is the most upscale area on the western beach stretch that includes Kuta and Legian. This neighborhood is by far the most orderly of the three and has the most luxurious accommodations and restaurants, however, you'll still find some cheaper backpacker accommodation in Seminyak. The beach here is still top quality but not so good for surfing. Prices here are consequently the highest of the three as well. Wherever you stay in Seminyak, accommodation standards are pretty good.
Seminyak's bars are well known for being very chique places where people like to go and be seen. Among the most famous establishments are Ku De Ta, Potato Head, Woo Bar, and La Favela, though there are many, many more worth mentioning (if we had more time!)
Be sure to dress nicely as it's a bit fancier here than Kuta – I was turned away from one place on account of a tank top.
If you're finding Seminyak a bit to bougie for your tastes, try heading a little south to the neighborhood of Legian. Legian is great because it has a little bit of everything: some shopping here, some bars there, and plenty of beach in between. The vibes are not too extreme and the energy here feels much more stable.
The beaches of Legian are well kept and somewhat laidback. They are definitely more like Kuta than Seminyak though, with lots of shacks and happy hour offerings.
The shopping in Legian is diverse and you can find just about anything here. There are plenty of boutiques that sell more than just the usual Bintang shirts and phallic souvenirs though you can still find plenty of those latter items in Legian. Overall, prices in Legian are only slightly higher than those Kuta but less than Seminyak.
Bar-wise, Legian almost blends seemingly into Kuta as they're very close to one another. Zanzibar Beach Front, Bounty Discotheque, Engine Room, and Sky Garden all worth visiting.
Backpacking Canggu
Canggu is my FAVOURITE place in Bali! It's a quieter, more chill part of Bali's western beaches. Located 20 mins north of Seminyak, it feels worlds away from the chaotic, congested streets of Kuta and Legian. Between yoga studios, vegan restaurants, a great surf beach, awesome nightlife, the famous Crossfit Wanderlust box… I fucking love it here. There's just so much to do in Canggu!
Canggu has many beaches that have become popular for their surf as well as sunsets. Echo Beach is the most famous of these, but Batu Bolong and Berawa Beach are good as well. Be sure to visit one of the many beach bars around for a beer at sunset!
My favourite bars in Canggu include The Lawn (best spot to catch a sunset cocktail), Old Mans (everybody ends up here), and Pretty Poison (A bar with a skate park inside it!). Many hostels in Canggu also have decent on site bars.
My favourite restaurants are the INCREDIBLE Motion Cafe, Bali Buda, Nude, Savage Kitchen, and Shady Shack – Bali is the easiest place in the world to eat healthy food that's actually tasty!
Of local infamy is a road called "The Shortcut." This elevated road, which connects Berawa to Batu Bolong, can be dangerous as it's narrow and there are no guardrails. Vehicles fall of this road all the time, so much so that the locals have started making a scrapbook of all the accidents!
The other benefit of visiting Canggu is its close proximity to the stunning Pura Tanah Lot, which is one of the best things to do in Bali! This site, located on small, rocky outcropping on the coast, is one of the most beautiful temples in Bali.
Be sure to check out our comprehensive Canggu travel guide to learn more about this amazing place!
Backpacking Sanur
Sanur is one of the oldest resort areas in Bali and maintains a pretty relaxed atmosphere. As such, Sanur is more popular with the middle-aged crowd and/or those with families who are just trying to avoid dealing with the madness of the western beaches.
Like any beachside resort worth two shits, Sanur has some great beaches to chill on. These beaches are notably devoid of the bars that litter the western shores, and are instead replaced by a well-maintained promenade.
This paved path is great for early morning jogs as well as bike rides with the family. Watersports – in particular, kitesurfing – are very popular activities in Sanur. Note that because it faces the east, sunrises are better than sunsets in Sanur.
There are a couple of non-beach related activities around Sanur worth checking out. The La Mayeur Museum is a lovely gallery (and former residence) that exhibits the works of Belgian impressionist Adrien Jean La Mayeur. There is a beautiful Orchid Garden in Sanur as well as the Pura Blanjong, which is home to the extremely important Prasati Blanjong stone pillar.
Thanks in part to its central location on the east coast, Sanur is a great place to organize dive trips. If you choose to organize dives in Sanur, you'll probably end up traveling a fair bit though as the diving around Sanur specifically isn't all that great. That said, many of the islands top dive instructors are in this area, so it still makes sense to organize dives here.
Sanur is also the gateway to Nusa Lembongan and Nusa Penida, both of which are among the best places in Bali! The dive sites around the islands are world class and the coastline is some of the most awe-inspiring that you'll see anywhere.
Backpacking Uluwatu & the Bukit Peninsula
Uluwatu is a surfer mecca! Located on the southern tip of the island, which is referred to as the Bukit Peninsula, Uluwatu has legendary surf, gorgeous temples, and some of the best beaches in Bali. Uluwatu is, for lack of better terms, simply stunning and just really fucking cool.
The landscape of the Bukit Peninsula is distinctly more rugged and arid than the rest of Bali. Here you will find epic coastal cliffs and hidden coves that are just waiting to be explored. Some of the best beaches in Uluwatu include Nyang Nyang Beach, Balangan Beach, Bingin, Padang-Padang, and Suluban Beach, among others.
The surf in Uluwatu is probably some of the best in not only Bali but the entire world. The waves here are mighty if not terrifying to behold and prove to be irresistible to big wave surfers. To make myself clear, waves are not at all for beginners and should only be attempted by pros.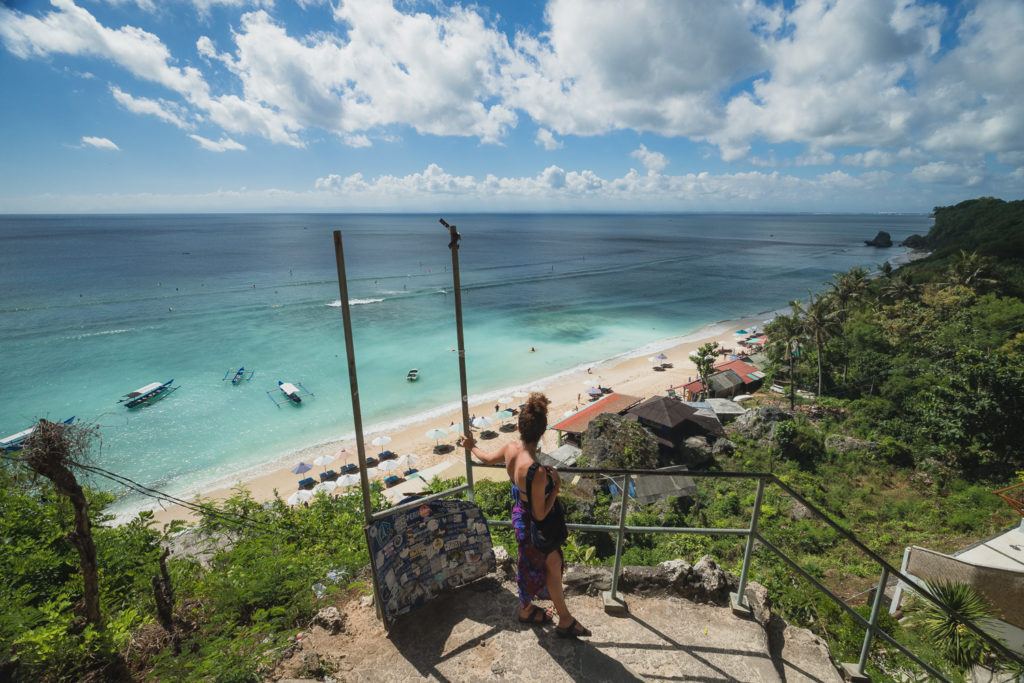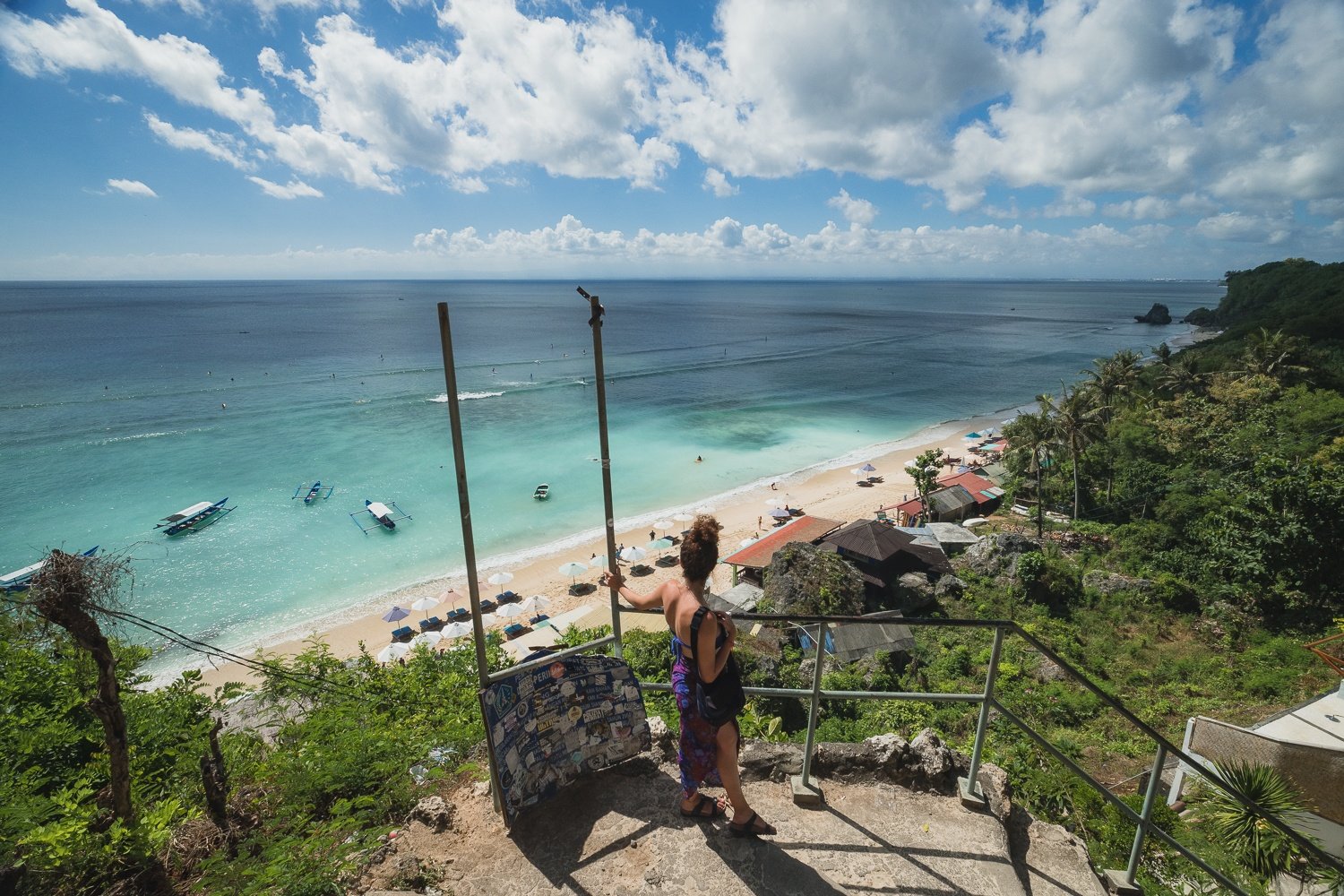 One of the best things to see in Uluwatu is definitely area of the villas on the western edge of the peninsula – an area that is referred to locally as "Blue Point." Built among the cliffs overlooking the sea, the hotels here are a pretty awesome sight. Grabbing a drink and watching the surfers catch waves as the sun sets is one of the best things to do in Bali as night approaches. If you can't afford to rent a villa, then there are plenty of cheaper backpacker hostels in Uluwatu.
Also, you can't miss Pura Uluwatu. This complex, perched precariously on the edge of a cliff, is one of the most impressive temples in Bali. Often times, kecak dance ceremonies will be held here and these are just wild to see.
On the eastern side of the Bukit Peninsula is the ultra-exclusive Nusa Dua area. It's a gated community and pretty much a fuckin' boring place to be honest. Skipping Nusa Dua wouldn't be a tragedy in the least.
Backpacking Ubud
Ubud is the primary base for backpackers to explore the highlands of Bali. It's a very lush and beautiful place, full of rice paddies, hidden temples, waterfalls, and mountains.
Ubud itself is a collection of a dozen or so villages and all of them come together to form a decent-sized community. Central Ubud is perhaps the closest thing to a downtown and packed full of shops, restaurants, and all of the usual urban amenities.
Be sure to visit the Neka Art Gallery, Setiadarma House, Ubud Palace, and the Agung Rai Museum for some prime culture.
Ubud is absolutely jam-packed with temples that come in all shapes and sizes. Nowhere else in Bali can you find so many religious sites and in such great propensity.
You have the epic Goa Gajah, Pura Kehen, the humble Yeh Pulu, and the Tirta Emplus, which has been the setting for many an Instagram snap. My real favorite is Gunung Kawi, mostly for its expansiveness but also for it's ambiance.
Ubud's Monkey Forest is very popular to visit for very obvious reasons – here, monkeys run freely among the wooded grounds and play with visitors. Be careful though: monkeys are fuckers – true story.
If your itinerary in Ubud is relatively humble, then you could get around just by walking and maybe taking the occasional Gojek. Indeed, many of the best hostels in Ubud are in walking distance of the central areas.
Wandering around the countryside, especially around Tegallalang and the Campuhan ridge, among the tropical groves, migrating herons, and rice paddies is a truly lovely experience. If your itinerary is a bit loftier though, consider renting a bike, either of the motorized or human-powered sorts, to get around Ubud.
Backpacking Padang Bai
Padang Bai is a pretty little beach town that is primarily visited for its port, which offers ferries to and from the Gili Islands in Lombok. Most people just end up passing through Padang Bai on their way to the Gilis or beyond – their loss though! Padang Bai is a really sweet town that has lots of hidden gems for those willing to go looking.
Padang Bai has several small beaches that are great for diving and sunbathing. The Blue Lagoon is noteworthy because there's a coral reef that comes very close to the shore. Due to its proximity, the reef of the Blue Lagoon is one of the best places in Bali to go snorkelling! Note that wading into this lagoon can be a bit painful as the reef will cut your feet and legs.
The main beach in Padang Bai is the eponymous Padangbai Beach. It's a long but overall unimpressive strip of sand that gets a bit of rubbish washed ashore from all of the ferries.
Much better is Bias Tugal (White Sand) Beach, located to the south of the port. The sand of this beach, as the name implies, is a brilliant white that looks gorgeous when set against the cerulean waters of the sea. Try to find this diamond in the rough yourself.
Other than the beaches, there are only a few other attractions in Padang Bai. Salt farming is one of the main industries here and watching the workers around Kusamba Beach can be a fascinating experience. Travelers can, otherwise, visit one of the many temples around Padang Bai, most impressive of which are Pura Silayukti and Pura Penataran Agung.
Backpacking Amed
Once one of the sleepiest, most impoverished fishing villages in Bali, Amed is now becoming one of the most popular diving destinations on the island! Set against the inspiring Mt. Agung, Amed has some of the best diving in Bali in addition to some stunning scenery.
Amed's main tourist attractions are all dive oriented. Between Amed and the local community of Tulambed, there are a plethora of dive sites to visit. There are several dive operators within either town that can organize trips out to the sites easily and affordably.
The USS Liberty wreck is one of the most desirable dive sites in the area as it has become a menagerie for aquatic life. There's another popular wreck in Lipah Bay and a contemporary "underwater gallery" in Jemeluk Bay among many, many more dive locations.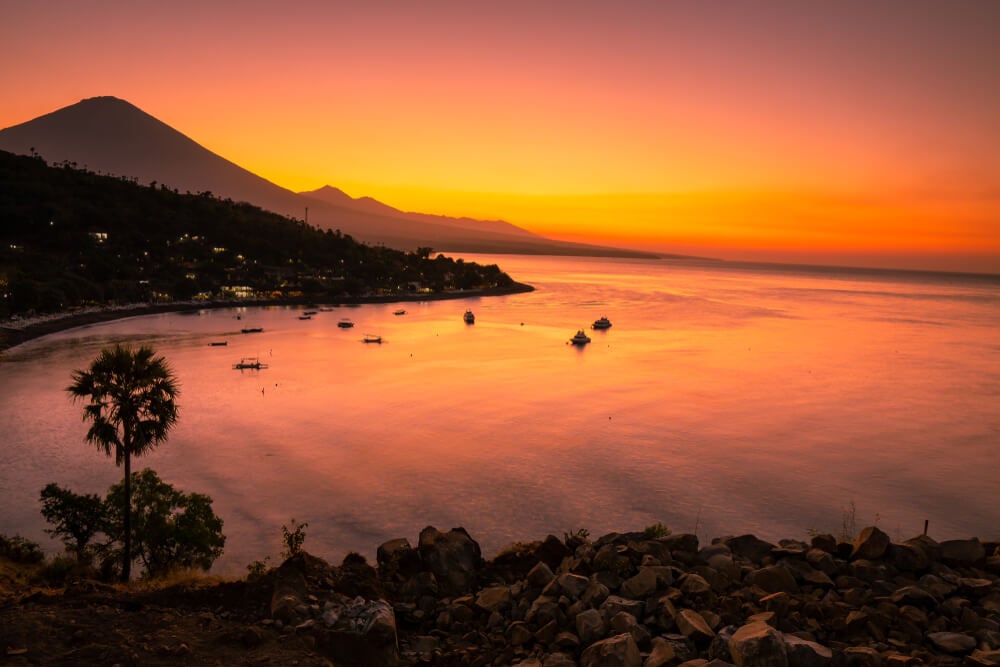 For more information on diving refer to the Diving in Bali section of this article. Be sure to also consider learning free diving in Amed as it is one of the best places in Southeast Asia to do so.
The scenery around Amed is some of the best in Bali. Views of Mt. Agung are plentiful especially around Jemeluk Bay. There's a place in Jemeluk that is particularly exposed to the mountain and it's become popular with locals for its great sunset views. It's name is (not surprisingly) Sunset Point. You can see the sunset from a stand-up paddleboard in the bay or sip on a Bintang at the local bar (seats fill up quick!).
If you're feeling invigorated by Mt. Agung, why not considered visiting or even climbing it?! Mt. Agung is only within an hour's drive of Amed. The holiest temple on the island, Pura Besakih, is also located at the base of the mighty mountain.
Backpacking Lovina
Located on the far northern shores of Bali, Lovina is perhaps the most laidback of all beach destinations on the island. Once a singular resort, named Lovina by a king, the term Lovina has come to refer to a greater collection of villages that have all become popular with travelers.
Here are some of the most peaceful beaches in Bali as well as some awesome natural attractions.
The black-sand beaches around Lovina are very calm, both in terms of crowds and tides, when compared to the more southern beaches. Because of the calm sea, diving and snorkeling are also popular activities.
Dolphin sightings are frequent in these waters as well, so much so that these animals have become a mascot of sorts in town. The famous Dolphin Statue crowns the central village of Lovina, which is officially called Kalibukbuk.
What really sets Lovina apart from the rest of Bali are the local waterfalls. These cascades are the best on the island and exploring them is one of the most fun things to do in Bali. Popular falls include Gitgit, Aling-Aling, Singsing, Sekumpul, and Blahmantung; that last one, in particular, is my favorite. Go for a dip or go canyoneering at one of these for an amazing time.
Some other attractions around Lovina are the Air Panas Banjar hot springs and Brahmavihara-Arama Buddhist temple.
Backpacking Kintamani
East of Bedugul is another mountainous destination that is great for adrenaline junkies: Kintamani. Tucked away at the shores of Mt. Batur and Lake Batur, there's no end to the number of outdoor activities here.
The most popular activity and perhaps Kintamani's claim to fame is climbing Mount Batur for sunrise. This 1700 meter peak is modest by many standards and makes for a relatively straightforward trek in Bali.
Be careful when climbing this mountain in the dark as many trails deviate to nowhere. Also be aware of the weather, which usually worsens later in the day. Mount Batur is still an active volcano – you can actually cook eggs near some of the lava vents.
The problem with climbing Mt Batur is how damned crowded it is. The ascent is NOT fun.
Then there is the joy of dealing with the local guides. You will be pressured to hire a guide from the get-go. They are neither necessary, nor particuarly good company. Should you choose to not enlist a guide, you will be harassed, aggressively, insistently, and perpetually until you may not even want to climb anymore.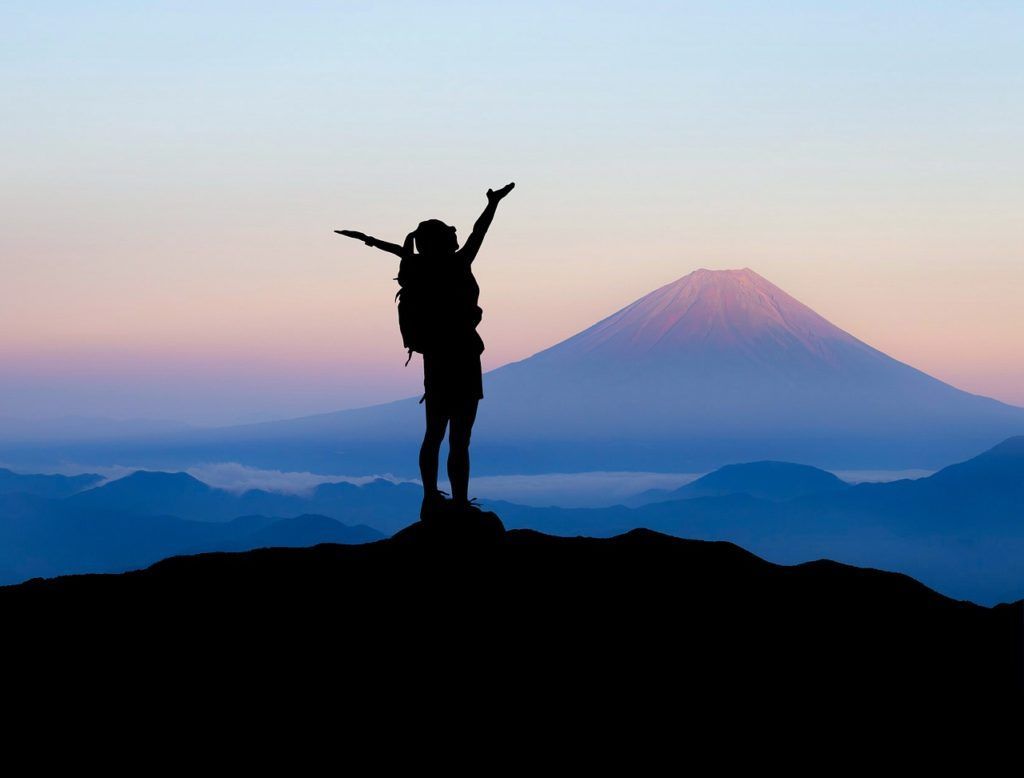 Many potential guides will claim that fees exist because it's a UNESCO site or that they are for the sake of religious offerings but really the local mafia just wants their cut. In the end, you can go up Mt. Batur on your own but you'd better be a damn sneaky hiker. The views from the top are worth it though, and the hike down is a lot more joyful.
Outside of Mt. Batur, there's plenty more to do and see in Kintamani. Various outdoor activities like mountain biking, ATVing, and kayaking are all possible around the village.
Be sure to visit the Pura Ulan Danu Batur, which is one of the most important temples in Bali as well as the Penulisan Temple.
Off the Beaten Path Travel in Bali
Between all of the traffic, resorts, and developments, there are definitely moments where Bali can feel less chilled than you expected. Thankfully, there are still parts of the island that are relatively untouched by mass tourism; places where you can really unwind and let your feet roam wherever they want. If you want to do something different in Bali, try visiting one of these off the beaten path destinations.
Backpacking Nusa Lembongan, Ceningan, and Penida
For those looking to get away from the madness of mainland Bali, to find an island escape from a bigger island escape if you will, the Nusa Islands make for an awesome respite.
The Nusa Archipelago is composed of three islands: Lembongan, Penida, and Ceningan. Each one has different sorts of attractions and varying levels of development – Lembongan has the most infrastructure while Penida has the least; Ceningan is connected to Lembongan by a bridge and is practically an extension of the island.
Each of the islands has a similar ultra-rugged topography; think Uluwatu but more rough and epic. Rising prominently from the sea, these islands are protected by sheer, sometimes crazy coastal cliffs that are awe-inspiring to see. What few beaches there are usually hidden away from sight and are totally pristine. Finally, the water surrounding the islands is probably the deepest cerulean that I've ever seen.
To reach the islands from Bali, catch a fast ferry at Sanur or Padang Bai, which will drop you off at either Lembongan or Penida. Upon arriving at the ports you can usually rent a motorbike, which I highly recommend for these islands.
There are a couple of settlements spread throughout the islands that are like more down-tempo versions of Bali's touristy areas. In these, you'll find the usual joints like beach bars, organic cafes, and yoga studios.
You can start exploring the islands and visiting popular locations like the Devil's Tear on Lembongan or the Blue Lagoon on Ceningan but be sure to blaze your own trail sometimes.
Being a much larger island, Nusa Penida has way more to see than its neighbours. There's too much to write about in this section but I will say that the entire southern coast of Penida is stunning and that the beaches of Atuh, Suwehan, Panadan, and Kelingking Beach are all worth seeing. My personal favourite was Diamond Beach.
Further Reading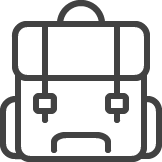 Get REALLY off the beaten path and visit Nusa Penida now!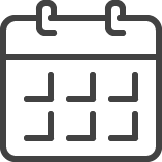 Use our Insider Nusa Lembongan Travel Guide to plan your trip.
Backpacking Bedugul
Back into the hills we go! From Amed, the mountainous commune of Bedugul is only a short drive away. In addition to being a convenient place to see the aforementioned waterfalls around Amed, Bedugul itself offers a lot in the way of scenery.
Much like Ubud, Bedugul is very pastoral and feels like an alternate of sorts to the former village. Those looking for something different in Bali will enjoy Bedugul very much.
The first thing that you must do while in Bedugul is visit the Pura Ulun Danu Beratan. Set against Lake Beratan, this temple is one of the most beautiful in Bali.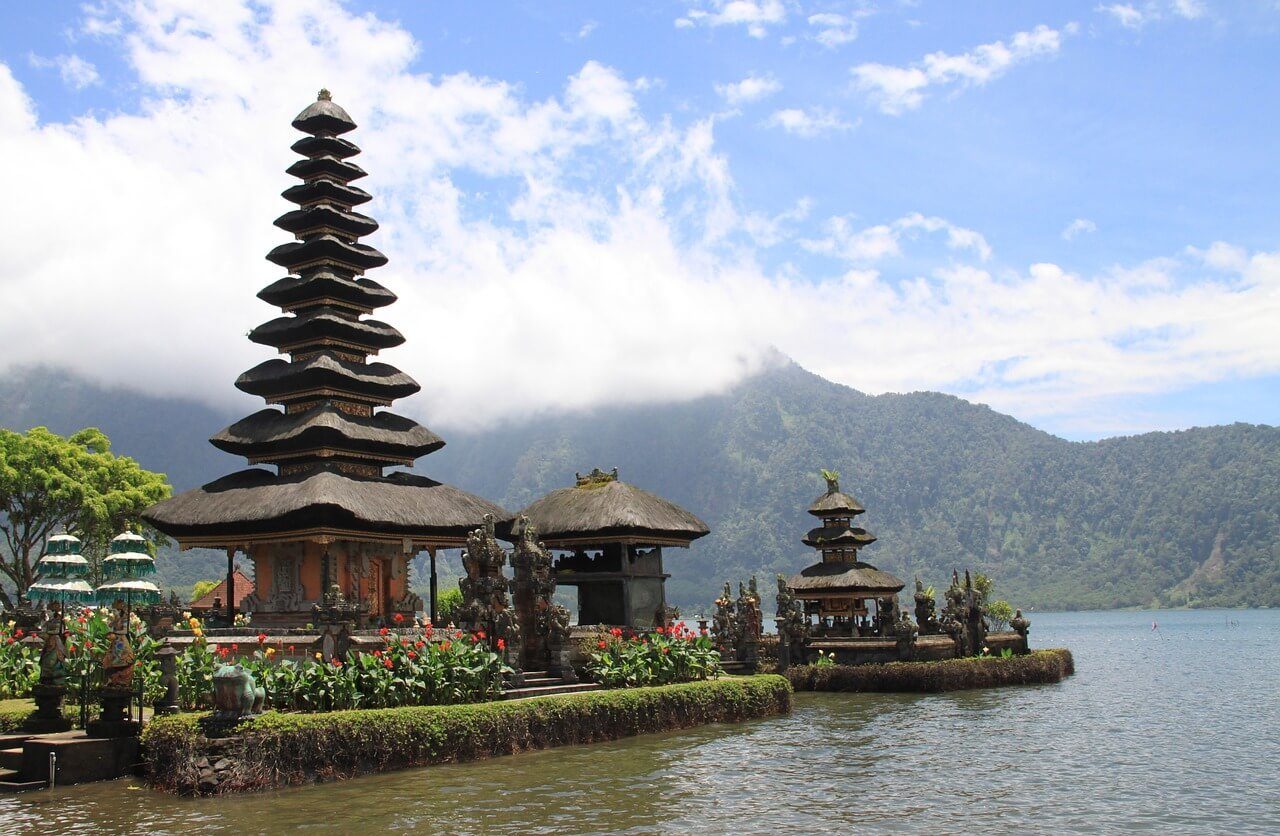 Bedugul, in fact, has 3 lakes altogether – the others being Tamblingan and Buyan, and all of them make for great photo ops. Each lake has several more temples to visit but none are as impressive as the Pura Ulun Danu Beratan.
For some pastoral majesty, visit the rice terraces of Jatiluwih. Lying in the shadow of Mt. Batukaru, this area appears very similar to the fields of Ubud but far less touristy. Stop by one of the many cafes while wandering for some local produce including the famous strawberries.
As mentioned before, you can still visit many waterfalls from Bedugul. Aside from the ones close to Amed, there's also Banyumala and Munduk waterfalls that are very close to the town. These receive far fewer tourists than most Balinese waterfalls. Trekking in and around the forests that hide these falls is a very enjoyable activity as well.
Top Things to Do in Bali
Below are 10 of the coolest things to do in Bali for tourists, backpackers, and adventurous travelers alike.
1. Find your happy place
Whether you find your inner zen at a beach bar or in a yoga studio, Bali has no shortage of ways to relax. Visit one of the aforementioned locations in addition to spas, hot springs, and more to unwind and just simply get away from it all. If you happen to make it to Nusa Lembongan, we highly recommend that you check out our favorite yoga studio in Bali at the Santosha Institute!
2. Go surfing or watch the pros
Bali has some of the best surf in the entire world and so attracts some of the greatest talent. Take a shot at riding some truly tubular waves or, if you're not feeling up to it, just kick back and watch the pros while you sip your cocktail.
3. Get Fit!
Without a doubt, Bali is one of the best places in the world to get fit. With plenty of tasty, healthy eating options, yoga centres, world class gyms and the best Crossfit Box in Asia – Crossfit Wanderlust – it's truly my favourite place in the world to settle down and get fit.
If fitness is high on your wish list consider visiting Bali with my amigo Will Henke – he organises epic fitness holidays in Bali.
4. Visit one of the many temples
Bali is home to dozens of temples and each one has something unique to offer. Be sure to visit at least a few while staying on the island. Many travelers have even taken it upon themselves to see them all (on a pilgrimage of sorts) while backpacking in Bali.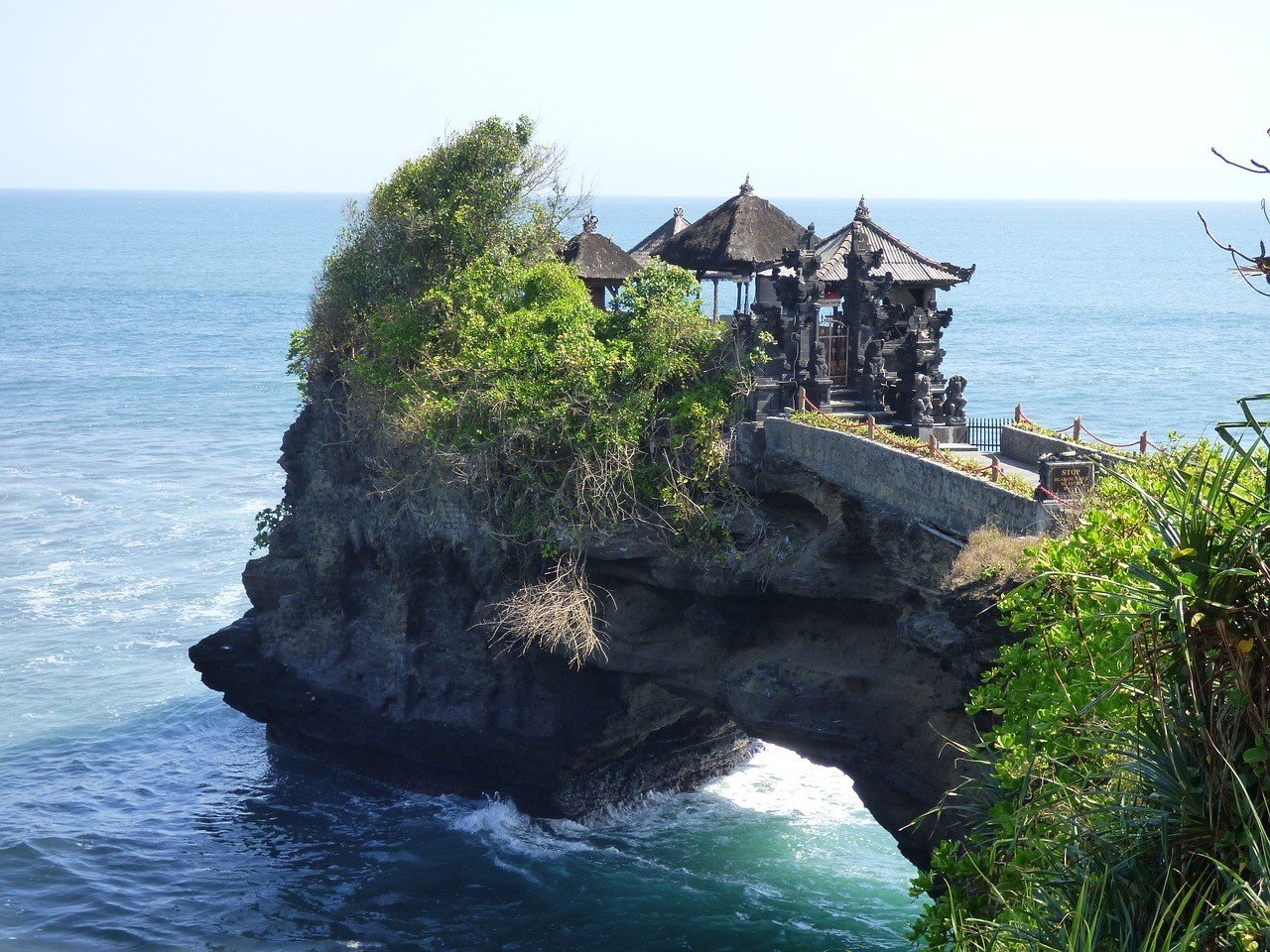 5. Go diving
There is no shortage of great dive sites around Bali! Wanna see manta rays? Check. Whale sharks? Check. Rare, funky-looking fish? Check, check. There's something for every diver in Bali.
6. Chase waterfalls near Lovina
The waterfalls near Lovina are some of the best places in Bali to go for an adventure! They are great for cooling off and, of course, you can join the millions of other people who have the same identical photo #getoffyourfuckingphone
7. Watch the sunset at Canggu or Uluwatu
The western beaches of Bali are renowned for offering some of the best sunset views in Southeast Asia. Whatever you may be doing, be it lounging at a beach bar or hanging out on a surfboard, be sure to stop what you're doing and tune into the setting sun.
8. Explore the Nusa Archipelago
The Nusa Islands are like a whole world away from Bali as they are far more wild and underdeveloped. Grab a ferry to one of them and go exploring on a scooter. You'll stumble upon many hidden coves and remote beaches along the way. Nusa Penida is one of my favourite islands to explore.
9. Walk through the hills and rice paddies
There's something enchanting about the highlands of Ubud. The way the morning light reflects in the rice paddies, the occasional mist that settles in the trees, the ethereal sounds that jungle emits; few places in the world can imitate these aspects of Bali. Just go for a walk around and feel the magic.
10. Immerse yourself in Balinese culture!
As a Hindu island in the middle of Muslim dominated Indonesia, Bali is a bit of a cultural microcosm. Its religion, stories and history are truly some of the most fascinating in the world.
Take part in a festival – there always seems to be one going on – or just start conversing with locals to get to grips with this unique island.
Small Pack Problems? 😉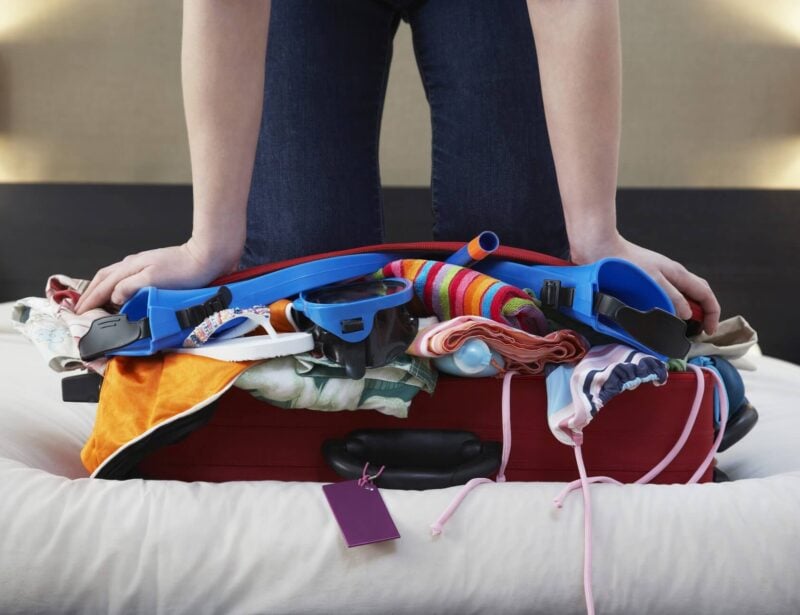 My missus travels with all her clothes in ziplock bags: don't be like my missus. UP YOUR PACKING GAME!
Packing cubes for the globetrotters and compression sacks for the real adventurers – these babies are a traveller's best kept secret. They organise yo' packing and minimise its volume too so you can pack MORE.
Or, y'know… you can stick to ziplock bags.
View Our Fave Cubes
Or Check Out the Sacks!
Backpacker Accommodation in Bali
Bali is expensive by Southeast Asia backpacking standards but still very affordable compared to Europe or the USA.
Private villas are the best places to stay in Bali as they are usually very well maintained, comfortable and well serviced. You can get private villas that share a pool, and include a decent garden and reception area etc.
You can also book a bungalow in the middle of the jungle that has next to nothing except for good views and vibes, or a Bali treehouse overlooking ocean views! Either way, whilst accommodation is not super cheap it IS super good value and you can stay somewhere amazing for a decent price. If you're not going to stay in a hostel, your best option is to stay at one of the epic Airbnbs in Bali. I stayed in True Love Yoga Villa for 3 months – absolutely loved it.
Hostels in Bali can be a very, very good time depending on what you want. The ones around Kuta will obviously be more party-centric while those in Ubud will be more laid-back, with plenty of epic surf hostels thrown in the mix. There are a couple of hostels located off the beaten track that will be very low-key and finding these are half the fun! My favourite hostels are all around Canggu… And my favourite one is actually my own hostel!
Looking for the perfect place to live, work, play and stay in beautiful Bali? Introducing Tribal Bali – Bali's first custom-designed, purpose-built co-working hostel and a long-awaited project by me – Will Hatton, the OG Broke Backpacker. This is the place where backpacker babes, aspiring entrepreneurs, adventurous explorers and vagabond hustlers alike come together to work, eat, play and fall in love… well, at least with the absolutely fantastic coffee and beautiful views!
Mingle, share inspiration and find your tribe whilst working in the TREMENDOUSLY FUCKING HUGE co-working space and shooting a game of pool on Tribal's electric pink billiards table. There's a gigantic pool as well so it's always time for a refreshing dip to break up the day's hustle, brainstorming, work, and games…
With epic food, legendary coffee, awesome cocktails (Tribal Tonics are the best signature cocktails you've ever had in a hostel – I guarantee you that!) and a dedicated co-working space, this is the place where you want to be when visiting Bali. If you love the site and want to support Will, swing on by next time you're in Bali 😉
In the table below, we've highlighted some more of the best backpacker hostels in Bali!
The Best Places to Stay in Bali
| Location | Accommodation | Why Stay Here?! |
| --- | --- | --- |
| Denpasar | Lokal Bali Hostel | Hostel w/ hotel-like amenities. Spa and pool onsite. |
| Kuta | Pudak Sari Unizou Hostel | Lots of different room varieties that all lead to central pool. Friendly staff as well. |
| Seminyak | Kosta Hostel | New hostel that is a little away from the main tourist areas. Very boutique feel. |
| Canggu | The Tipsy Gypsy | Small hostel w/ a lot of personality. Chilled out and very intimate here. |
| Sanur | Cafe Locca Homestay | Conveniently located near the beach. Has restaurant onsite that serves both Indonesian and Western fairs. |
| Uluwatu | Bookit Backpacker Hostel | Located a bit away from the beaches but still on the Bukit Peninsula. For visa runners: this hostel will help you with your extensions! |
| Ubud | Puri Garden Hotel and Hostel | Not only the best hostel in Ubud but the best hostel in Bali! Free breakfast. Free yoga. All-you-can-eat dinners. Lots of social events. Just awesome. |
| Padang Bai | Bamboo Paradise | A quiet hostel for a quiet town. Located very close to the White Sand Beach. |
| Amed | Ocean Prana | Beautiful hostel built w/ traditional Balinese architecture in mind. Located in Jemeluk Bay. |
| Lovina | FunkyPlace | Quirky hostel that features live music almost every night. Located very close to the beach and even has tree houses! |
| Bedugul | Pondok Nyoman | A guesthouse (not a hostel) that has lots of amenities. Continental breakfasts. Bit pricier. |
| Kintamani | Bunbulan Hill Hostel | The only hostel in the region. Convenient and comfortable base. |
| Nusa Lembongan | Nyuh Gading Home Stay | Very nice hostel that offers both shared and private rooms. Has a pool onsite and is, otherwise, very close to the beach. Located on the northwestern part of the island. |
Backpacking Bali Costs
Bali is one of the most affordable luxury destinations in the world, where even the most frugal of backpackers can find awesome lodges for a decent price.
How much does it cost to travel in Bali? For the average backpacker, a comfortable daily budget for backpacking Bali would be around $30-$50 per day. This will get you a dorm bed, food, transport, and plenty for beer and attractions.
Personally, though, I spent quite a lot more in Bali because I was eating in awesome healthy restaurants and well… partying.
Aside from couchsurfing or camping, backpacker hostels in Bali are the cheapest form of accommodation. For less than $10/day, you can stay at a good hostel in Bali; paying anything more than this could land you in some pretty spectacular digs.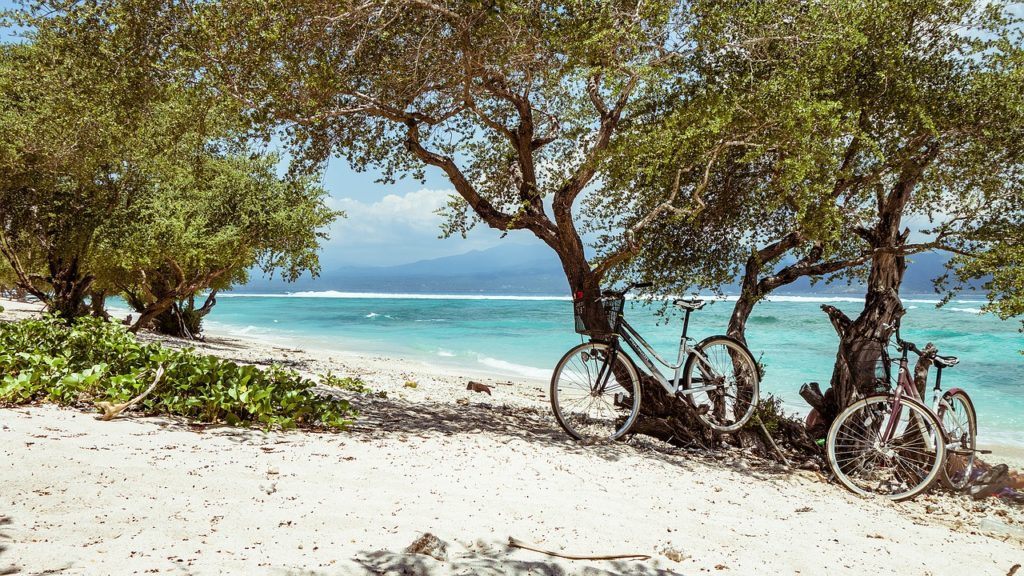 Local food is fairly inexpensive in Bali as well if you are eating in local restaurants or "Warungs". If you eat in Western restaurants, expect to pay a whole lot more.
I highly recommend eating out while backpacking in Bali. Good food at either a small cafe or food cart should cost no more than $3. Though more expensive than the cars, going out to a nice restaurant will be comparatively cheaper by western standards.
A beer in most restaurants will be around $1-$2 as well depending on where and when you go – happy hour is observed in Bali so hunt it down!
Price for transport can vary widely depending on how you want to travel. For more on transport in Bali, please review the How to Travel in Bali section.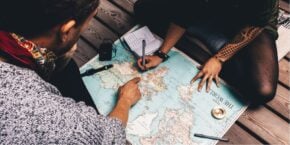 Heading Off-Grid? • Download This Guide as a PDF!
Sign up to The Broke Backpacker's EXCLUSIVE VIP AREA below and download our top backpacking guides as PDFs – go offline with peace of mind!
Bali Daily Budget
Daily budget in Bali

| Expense | Broke Backpacker | Frugal Traveler | Creature of Comfort |
| --- | --- | --- | --- |
| Accommodation | $10-$20 | $25-$35 | $50+ |
| Food | $5 | $10-$15 | $30+ |
| Transport | $5-$10 | $10-$15 | $20+ |
| Nightlife | $5-$10 | $10-$20 | $30+ |
| Activities | $5 | $10-$15 | $30+ |
| Total per day | $30-$50 | $65-$100 | $160+ |
Money in Bali
The official currency of Bali is the Indonesian Rupiah. As of September 2018, the exchange rate of the Rupiah is 1 USD=14,916 Rupiah; yes, for just a hundred USD, you could be an Indonesian millionaire!
Due to huge economic inflation in the past, the Indonesia Rupiah has lost value over the years and as such is now printed in the thousands. Most Indonesians completely disregard the last 3 zeroes anyway; often you'll just end up bartering as if those the last 3 didn't exist.
For example, if you offer someone 10 for a hotel room, they'll understand that you mean 10,000 and vice versa.
ATMs are widely available in Bali, especially in the busier areas. Many people have reported fraudulent charges though after using a random ATM. When withdrawing cash, it's usually best use the ATMs inside banks.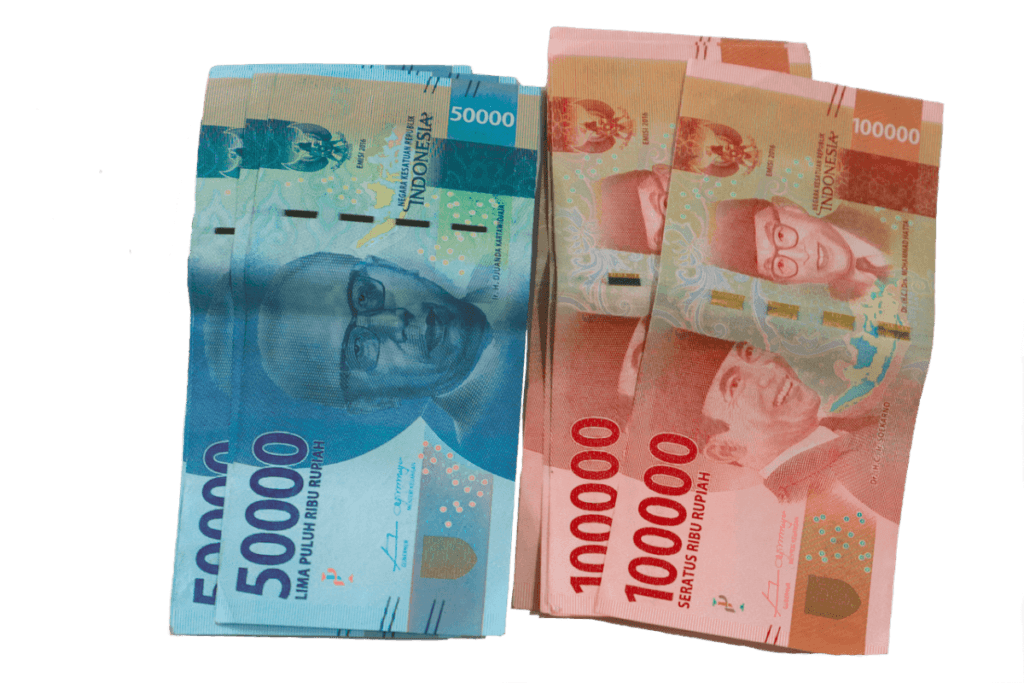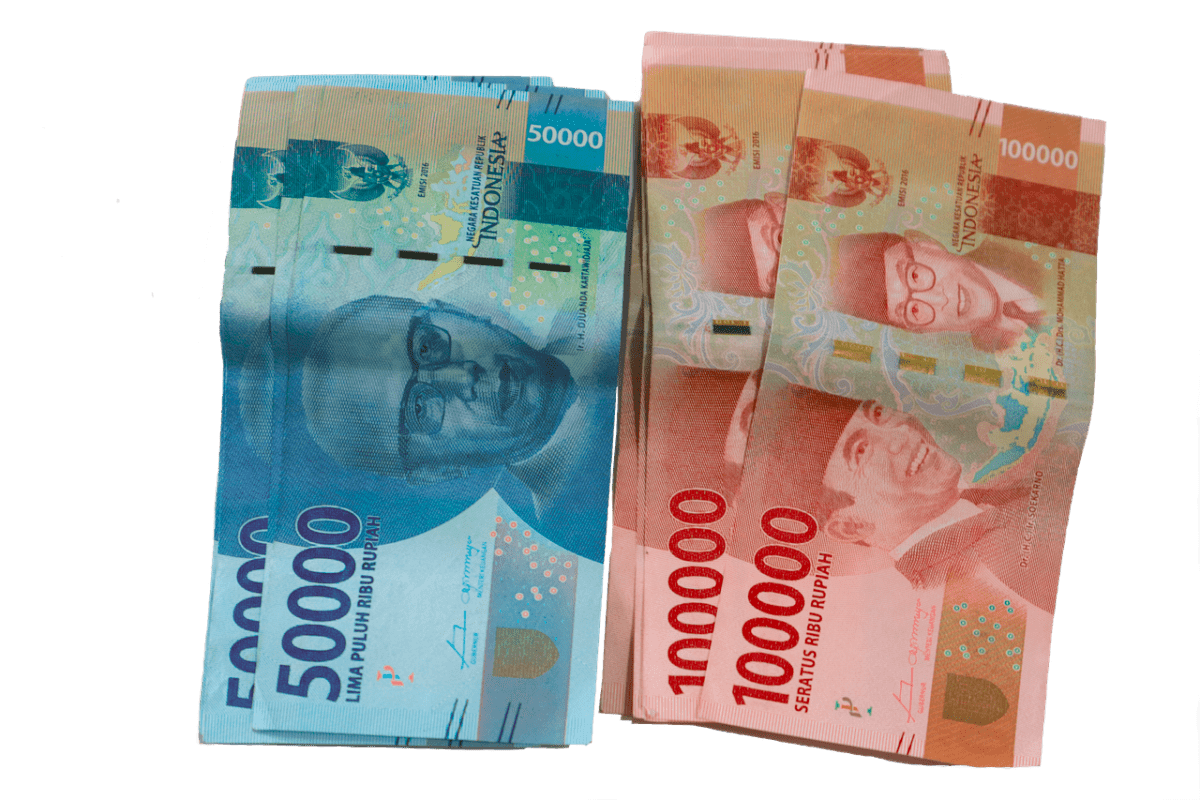 If you're traveling outside of urban areas to somewhere remote, like Nusa Penida, you may have trouble finding an ATM. If you think you're going somewhere pretty remote, it's definitely best to take out cash in the city beforehand.
Money changers are ubiquitous in the urban areas and offer different rates. Walk around and find the best rates for your particular currency. Be mindful of shady dealers who don't post their rates. Also, note that older USD bills are no longer accepted.
If you're in a pinch and can't get your hands on any Rupiahs, some vendors will accept US or Australian dollars. Most of the time these currencies are only accepted for large transactions, so don't try to buy a pack of smokes with a hundred dollar bill.
Travel Tips – Bali on a Budget
Camp: With plenty of gorgeous places, Bali can be a great place to camp in rural areas. Check out this post for a breakdown of the best tents to take backpacking. Or, if you're feeling really adventurous and want to save some cash, consider picking up a backpacking hammock.
Cook your own food: If you are on a tight budget, you can save money by cooking your own food. I recommend bringing a portable backpacking stove.
Book your transportation early: Both plane and bus tickets are much cheaper if you purchase them in advance.
Couchsurf: Balinese are awesome, and I am so grateful I was able to explore its cities with local friends. Check out couchsurfing to make some real friendships and see this country from the perspective of locals.
To learn how to travel the world on $10 a day, check out the backpacker's bible.
Pack a travel water bottle and save money every day!
What is the One Item Every Traveller NEEDS???
There is one item every traveller NEEDS. Some travellers don't even know they need it, but those travellers need it more than anyone.
What is this forgotten essential of the backpacker-life? SPOILERS! Guess you'll just have to click the button to find out. 😉
Find Out What It Is!
Why Should You Travel to Bali with a Water Bottle?
Whilst there's a lot that we can do when it comes to traveling responsibly, reducing your plastic consumption is one of the easiest and most impactful things you can do. Don't buy one-use water bottles, don't take plastic shopping bags, and forget straws. All of this just ends up in landfill or in the ocean.
If you'd like some more tips on how to save the world, be sure to watch the video below.
Best Time to Travel to Bali
Bali benefits from a very agreeable climate that remains pleasant year round. Temperatures vary very little from month to month and mean daily temps hover around 82 F year round. Substantial rain only occurs during 4 months of the year from December-March.
The island really has one of the best climates on the planet and, for this reason, can be visited at any time of the year.
Bali only has two distinct seasons: a drier one from April to November and a wetter one from December-March. During the rainy season, Bali is subject to the West Monsoon and rain and humidity can be plentiful. Being a tropical rain though, most of it builds up and falls in the afternoons, which leaves the mornings for sunbathing.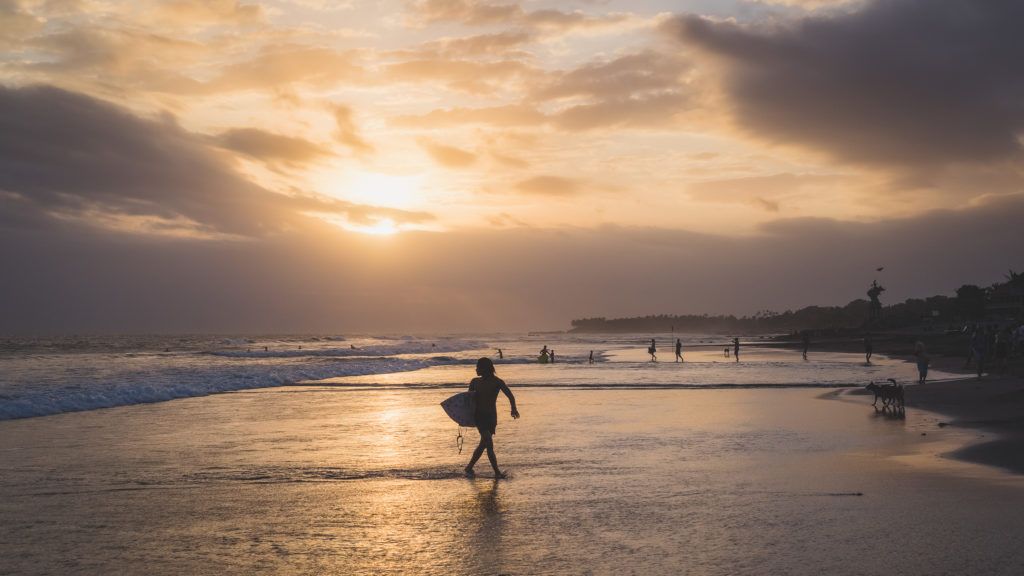 As mentioned before, temperatures barely fluctuate throughout the year but they can feel higher when it's more humid.
Bali's meteorological consistently is very apparent on a macro level e.g. the whole island is subject to the same lovely weather. On a micro level though there are some unique weather conditions in Bali.
The highlands of Bali (i.e. the regions around Ubud and Bedugul) can receive rain at any time of the year. Conversely, the southern reaches of the Bukit Peninsula receive markedly less rain than the rest of the island and can feel quite arid.
In conclusion, Bali is a world unto itself both culturally and meteorologically.
Festivals in Bali
Bali has all sorts of festivals ranging from musical to cultural. Below is a list of some of Bali's greatest and most entertaining celebrations!
Bali Spirit Festival (March) – Yoga-centric festival offering trainings, workshops, communal yoga sessions, and more.
Nyepi (March/April) – Celebrates the New Year and expulsion of evil spirits. On the eve of the festival, there is a parade of colorful, paper mache giants, an event referred to as the Ogoh-Ogoh. On the actual day of the new year, everyone is silent and remains in their home as a means of escaping the evil spirits. All businesses are closed everyone is asked to stay inside until the day's end.
Air Festival (March/April) – Alternative festival that offers music, workshops, and a space for higher consciousnesses. Think (a smaller) Burning Man. Actually held at Gili Air in Lombok.
Bali Kite Festival (June-August) – One of the most fun things to do in Bali! Watch the locals come out and compete for the best homemade kite. The sky is absolutely filled with the kites. Weather dependent. Centered around Padang Galak.
Ubud Village Jazz Festival (August) – International jazz festival. Brainchild of Yuri Mahatma. Run entirely by volunteers.
Ultra Bali (September) – The biggest music festival in Bali. Features famous EDM acts and DJs. Held at Potato Head Beach Club in Seminyak.
Galungan – Festival dedicated to the triumph of good over evil. Celebrated with locals installing elaborate bamboo flags on the streets. Follows Balinese calendar (Pawukon), which is 210 days long. As such, the dates of this festival change constantly.
What to Pack for Bali
Make sure you know what packing to take to Bali! On every adventure, there are six things I never go traveling without:
Somewhere to hide your cash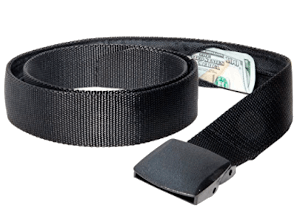 Somewhere to hide your cash
Active Roots Money Belt
This is a regular looking belt with a concealed pocket on the inside – you can hide up to twenty notes inside and wear it through airport scanners without it setting them off.
A travel water bottle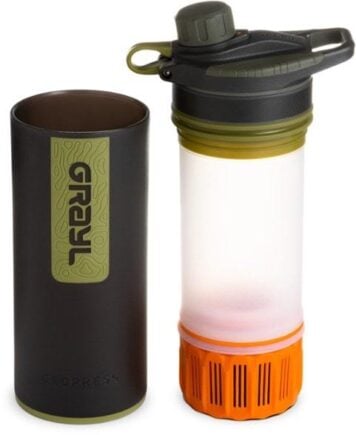 A travel water bottle
GRAYL Geopress Filtered Bottle
Having a filtered water bottle means you can drink from just about any source. The GRAYL Geopress is hands-down the most effective one we've ever used as well!
For those unexpected messes
For those unexpected messes
Active Roots Microfiber Towel
Hostel towels are scummy and take forever to dry. Microfibre towels dry quickly, are compact, lightweight, and can be used as a blanket or yoga mat if need be.
When the power goes out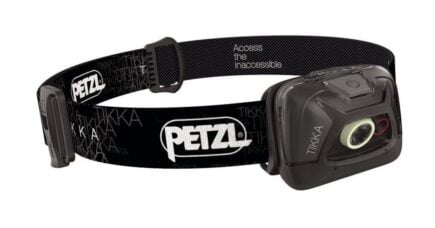 When the power goes out
Petzl Actik Core Headlamp
A decent head torch could save your life. If you want to explore caves, unlit temples, or simply find your way to the bathroom during a blackout, a headtorch is a must.
Sleep anywhere
Sleep anywhere
Active Roots Camping Hammock
Taking a tent backpacking is not always practical but hammocks are lightweight, cheap, strong, sexy (chicks dig hammocks), and allow you to pitch up for the night pretty much anywhere.
To stay a clean backpacker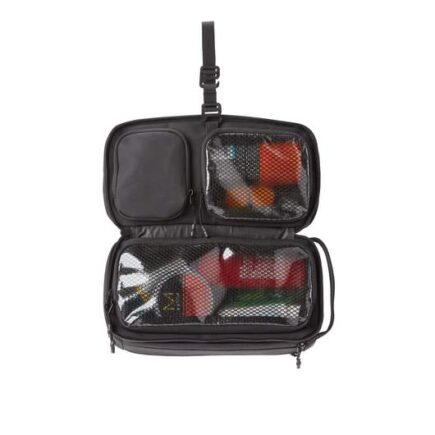 To stay a clean backpacker
Hanging Toiletry Bag
I always travel with a hanging toiletry bag as it's a super-efficient way to organize your bathroom stuff. Well worth having as it helps to have quick access to all your stuff.
Staying Safe in Bali
Bali is one of the most popular places in the world to travel to, and as such suffers from many of the blessings and sins that come from rampant tourism. Though it doesn't have the type or propensity of crime that some other Southeast Asian countries may have, some cautions should still be addressed. In the end, Bali is safe to travel, and the type of crimes around are the petty or illicit kind.
Scams and theft are the most common form of crime in Bali; both of these are avoidable with common sense. Be sure to keep your personal items close at hand and be alert in dangerous places e.g. dark alleyways and shady businesses.
Since Bali is a predominantly Hindu population, alcohol is not as culturally taboo as the rest of Indonesia. It's available in greater quantity here and so the risk of alcohol poisoning is more relevant. Refer to our Sex, Drugs, and Rock 'n' Roll section for more on where and how to safely party in Bali.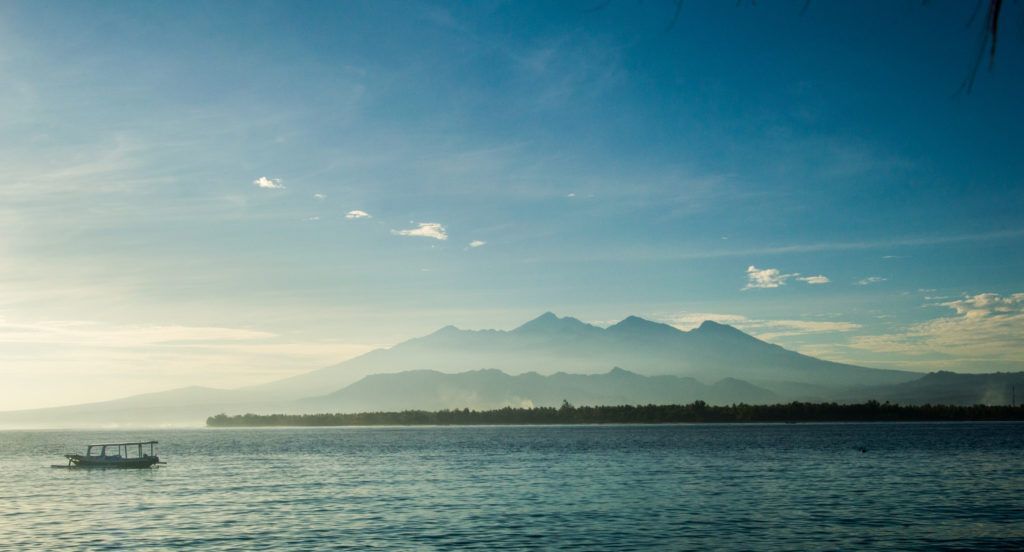 In terms of natural hazards, strong oceanic currents and the local monkey population are of special note. The seas around Bali are very strong and can carry you away very quickly – exercise greater caution and look out for warning signs when entering the water around Bali.
In regards to the monkeys, especially those at the famous Monkey Temple, watch out for aggressive primates. Some may become enamoured with a particular object that you are carrying and steal it for no reason other than they like it. Monkeys may bite as well. Thankfully, there's a first aid station on site at the Monkey Temple.
For more on how to backpack in Bali safely, refer to our dedicated safety guide here – it provides lots of useful tips and talks about things you should avoid. For a more general overview, check out our Backpacker 101 Safety guide.
Travel with peace of mind. Travel WITH a security belt.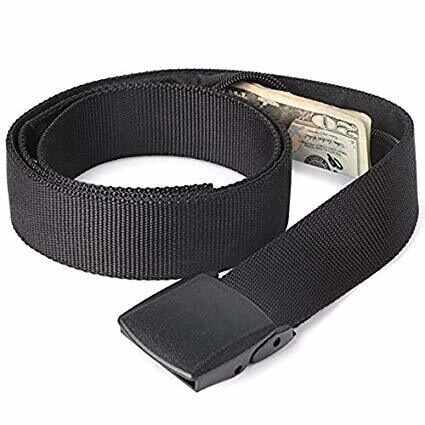 Custom-designed BY the Broke Backpacker FOR broke backpacking, the Active Roots Security Belt will keep your valuables safe no matter where you go.
It looks exactly like a normal belt except for a SECRET interior pocket perfectly designed to hide a wad of cash or a passport copy. Never get caught with your pants down again! (Unless you want to.)
View on Amazon!
Sex, Drugs and Rock 'n' Roll in Bali
Let's be frank: Bali is kind of a shitshow at times. Though what do you expect when you throw a bunch of backpackers, Australian holidayers, and overly-welcoming locals on the same island?!
Before you start to think that Bali is Hamsterdam and there are no rules, some things need to be said.
Indonesia, on a federal level, is very, very anti-drug. Do NOT get caught with drugs in Indonesia.
Many have probably already heard this, but there are cases where tourists are incarcerated or even sentenced to death for drug possession. People have been locked up just for having a joint on them, and unlike other Southeast Asian countries the police in Indonesia are not so easy to bribe.
I've been smoking marijuana for over ten years. I prefer smoking weed to drinking booze. Bali is a REALLY bad place to get caught with drugs… It's also very challenging to pick up here, and drugs in Bali are typically expensive and low quality.
I now no longer try to smoke in Bali; it's too much of a hassle and not worth the risk. If you want to smoke – take a boat to the Gili Islands or track down a reggae bar. Always party responsibly.
Even though drinking alcohol isn't necessarily culturally accepted in Indonesia – as it's a Muslim nation – drinking among foreigners is still totally fine. Domestic beer and imported spirits are readily available and safe to drink. Drinking is however pretty expensive in Bali if you want anything other than beer as the government charges insane taxes on spirits.
Special caution should be noted around local moonshine. As the government doesn't make alcohol production easy on an industrial scale, many local businesses have turned to making their own. These brews aren't made with the safest standards and may cause serious alcohol poisoning. Take caution if someone hands you something mysterious or if your mixed drink tastes funny.
Travel Insurance for Bali
Traveling without insurance would be risky so do consider getting good backpacker insurance sorted before you head off on an adventure.
I have been using World Nomads for some time now and made a few claims over the years. They're easy to use, professional and relatively affordable. They may also let you buy or extend a policy once you've started your trip and are already abroad which is super handy.
If there's one insurance company I trust, it's World Nomads.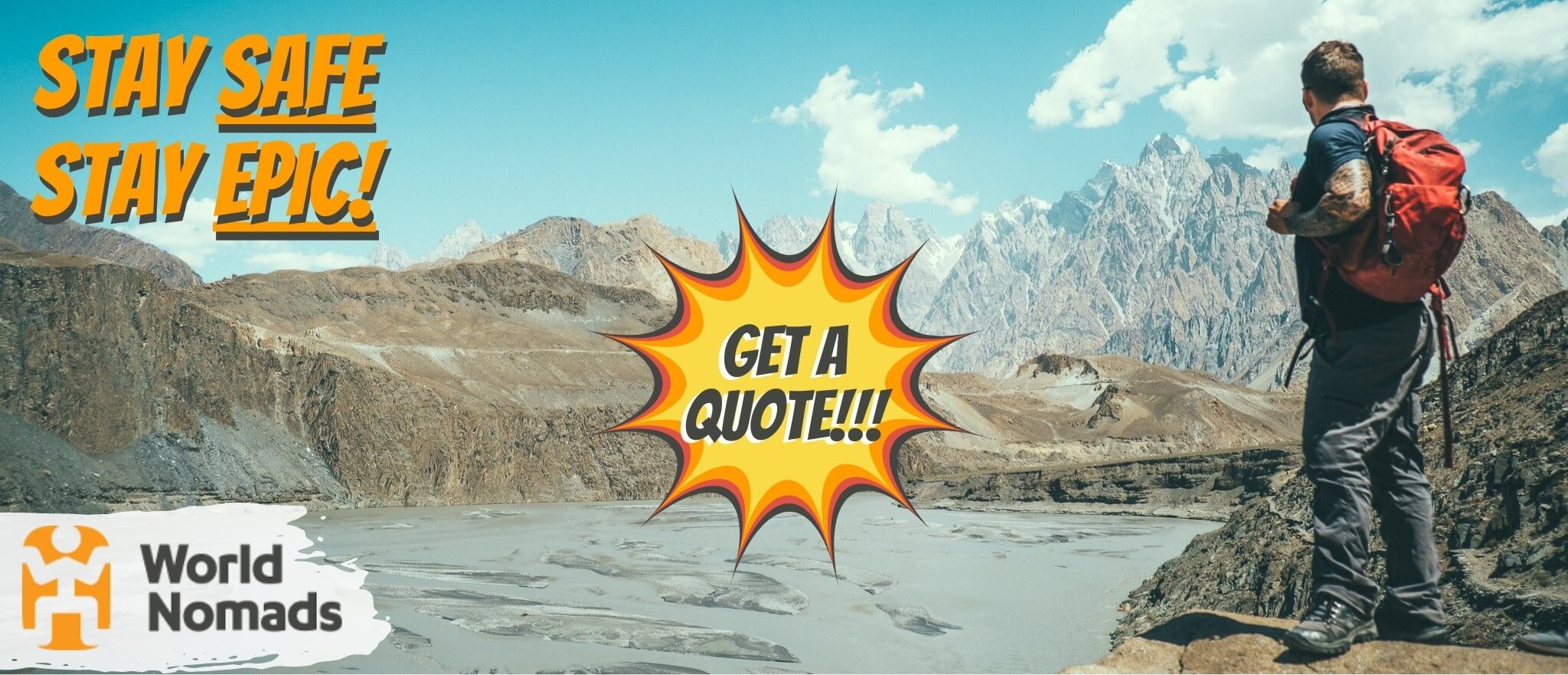 It's good to get lost sometimes, but it's also good not to get too lost. There are people that want you home in one piece.
There's one travel insurance provider The Broke Backpacker trusts for all his wildest shenanigans… World Nomads!
Click the button below to get a quote on your insurance or read our in-depth review of World Nomads' coverage. And then… let the shenanigans begin. 😉
How to Get into Bali
Those who wish to go backpacking in Bali have several means of reaching the island by air or sea. Those arriving internationally will have to arrive by plane, passing through customs in either Ngurah Rai International Airport or another Indonesian airport. Those arriving by sea will have slightly more options and flexibility.
Most people backpacking Bali will arrive directly at Ngurah Rai Airport in Denpasar via an international destination. Upon arriving, travelers will have to pass through customs and acquire an Indonesian visa if they haven't already done so. Visas on arrival are available for most nationalities.
Since Bali is only served by domestic maritime routes, you'll obviously already have a visa granted when getting on/off the ferry. Boats ply the waters between Java, Lombok, and Bali frequently via individual ports. Note that punctuality and to some extent safety are questionable standards on these boats.
See our Onwards Travel section for more on these destinations.
Use Bookaway to find the best deals on transport – buses, planes, trains, and ferries. It'll save you a load of time when organising transport and you'll probably nab an EPIC DISCOUNT too!
Book your transport on Bookaway NOW. Get the best price for the best ride… then use those savings to buy the best feed in town!
Book Your Transport Here!
Entry Requirements for Bali
Since 2016, Bali is now among one of the Indonesian ports of entry that dispenses free visas upon arrival for tourists. These visas are available to more than 100 nationalities and have certain requirements – the most important being that the traveler must only be visiting for tourism purposes and cannot stay longer than 30 days. Extensions are not possible with free VUAs.
Those who wish to go backpacking longer in Bali and Indonesia must apply for a standard visa in advance, which can then be extended. For more information on official visa regulations in Bali, please refer to this website here.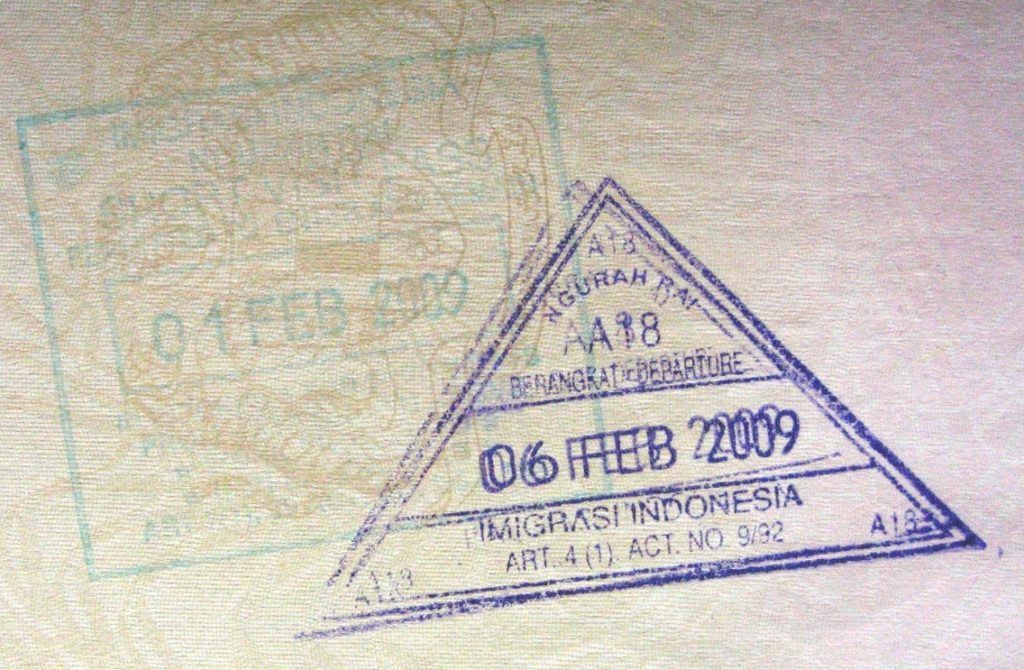 I found that I was able to convert my 2 month tourist visa to a social visa once in the country through a visa agent (cost about $30 for each month) and thus stay for up to six months.
Note, when traveling to Bali no vaccinations are required to enter the country. Check our greater backpacking Indonesia guide for more on this and research your prospective entry.
Traveling to Bali During COVID Times
It's been a rollercoaster of a year for Bali and COVID. First, there's the initial lockdown, then there's talk of international tourists returning in September 2020, then no tourists are allowed on the island – or anywhere in Indonesia – until AFTER 2021 starts.
As a wise group of men once said: "quit playing games with my heart (Bali)!"
Unfortunately, as of November 2020, Bali is still not open to international travelers. Everyone's just going to have to wait until the Indonesian government gives the green light again.
Those who have managed to remain in Bali are now dealing with some pretty eerie sights. Empty beaches, calm streets, boarded-up shops; it's a strange time to be living in Bali indeed. Luckily, everyone living in Bali is doing their part to keep the virus at bay and supporting the local community.
I honestly look forward to when the island is open again and I can enjoy a nice G&T at Old Man's with some mates. By that time, my very own Tribal Hostel should be open as well! Here's to 2021 not being such a bag of dicks.
Getting Around Bali
Bali can seem like an overly chaotic mess of scooters, taxis, and minibusses at times. Kuta, Denpassar and Ubud have the worst traffic issues in my opinion.
There is a certain method to this madness and I drove extensively around Bali on a scooter… some of the roads are crazy and if you're not experienced you may come off – so WEAR A HELMET AND PROPER SHOES – if you don't and then you do come off, don't bitch about it.
You'll see plenty of twats driving around without helmets and in flip flops or barefoot… You will also see plenty of people in bandages. Nobody thinks they are going to come off but if you do and you're not wearing shoes, it can be bad.
As part of a Southeastern Asian nation, the scooter is king when it comes to getting around in Bali. Be prepared for endless tidal waves of moped riders at every traffic light and around every corner.
Those that want to join in the hordes of scooters riders can easily rent their own. Most hotels will have a personal fleet of scooters available to rent; otherwise, there are several shops around. Be sure to negotiate a fair price – you can normally get a scooter for around 70,000 Rupiah a day.
The taxi mafia is in full force here… screw those guys, use Grab instead.
GoJek is the BEST way to get around if you're one person and don't want to drive – I absolutely love GoJek – scooter drivers can bring you, or your dinner, pretty much anywhere and usually for less than a dollar. Download the GoJek app – it'll change your life.
Hitchhiking in Bali
Hitchhiking in Bali and Indonesia uses a different method for hailing a car. No one uses their thumb in Indonesia but instead waves or maybe points there thumb to the ground.
Never use your left hand as, since this is a Muslim nation, it is considered the "unclean" one. Try to learn a bit of Bahasa Indonesia or Balinese as well; doing so will make your life much easier.
These cultural differences aside, hitchhiking is as straightforward in Bali as anywhere else.
As a refresher, remember to avoid finding a ride in the busier areas (for safety reasons) and always clarify that you're hitchhiking with the driver. Offer them a little cash if you can or make it clear that you have none to offer. For more on proper hitchhiking practices, check our article here.
Onwards Travel from Bali
The Gili Islands – A group of 3 islands off the coast of Lombok that could easily rival Bali in terms of beauty and good times. Direct ferries are available from Padang Bai, Bali.
Each island has a different vibe. The main island is Gili Trawangan, known as the party island; as such, it's the most popular among backpackers. Gili Meno is the laid-back island more popular with families and couples.
Gili Air is my personal favorite and I spent three weeks here; it is a chill island where you can snorkel, find shrooms and weed, and walk around the whole island with ease.
Lombok – This medium-sized island off the east coast of Bali that is more arid and undeveloped. Direct ferries are available but flights between Denpasar and Mataram are usually cheap enough to be worthwhile.
Mount Rinjani is a gorgeous volcano and makes for a great multi-day trek. Kuta (not to be confused with Kuta, Bali) is an awesome little surfer village in the south with amazing beaches. Finally, there are many waterfalls all around the base of Rinjani.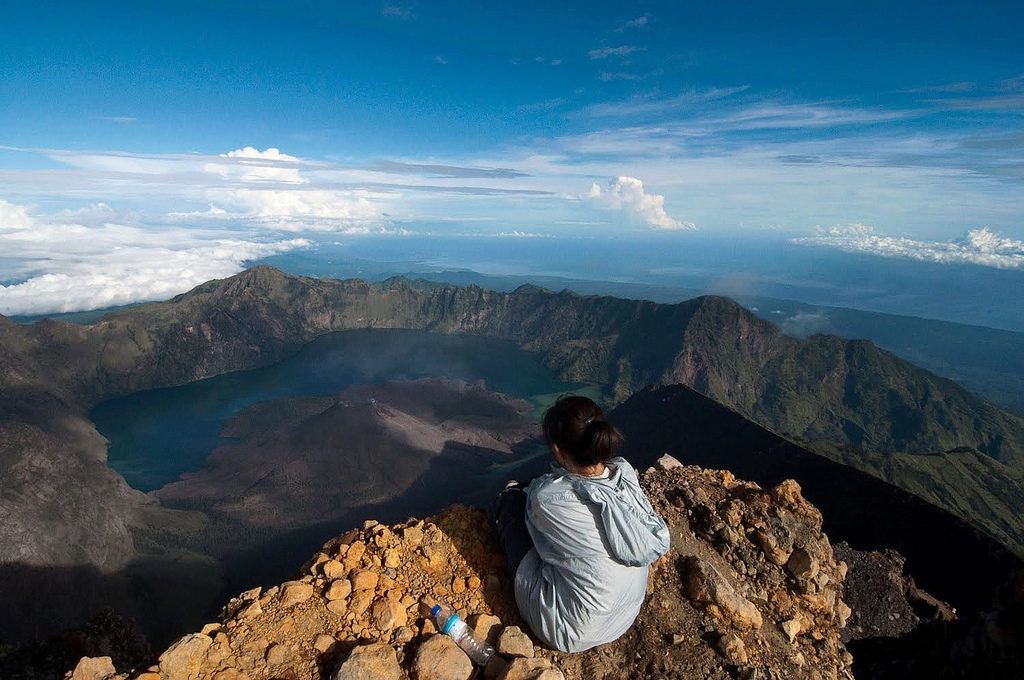 Flores – Beyond Lombok is the Flores, which is even wilder and more sparsely populated than Lombok. It contains some of the most beautiful places in Indonesia including Komodo Island, Kelimutu, and Bajawa.
Flores can be reached by plane or long-distance ferry. There are organized tours and, though they can be an amazing time, breakdowns and even sinkages are common. Be wary.
Java – The most populated island in Indonesia is Java, easily accessed from Bali. Backpackers can catch a direct bus at Ubung terminal in Denpasar, which includes the ferry across the narrow strait and arrives in Surabaya.
Travelers can also stop short in Gilimanuk to visit the West Bali National Park or Probolinggo for Bromo-Tengger-Semeru National Park; the latter is highly recommended.
Working in Bali
Bali is arguably THE hottest digital nomad hub in the world right now (according to recent digital nomad trends).
It's relatively easy to be a digital nomad in Bali: the community is vocal, there are copious co-working spaces, and regular events and conferences held around the island.
Luckily, the internet coverage in Bali is great. If you're looking for a place to try out the remote work lifestyle, Canggu and Ubud are some of your best bets. There are several co-working spaces in both towns and more cafes than you can count, giving you tons of options for places to be productive.
Dojo and Outpost are probably the two most popular co-working spaces in Bali. Tribal Hostel will also have a dedicated nomad productivity zone for those who want to get away from Bali's hotspots and work somewhere more laidback.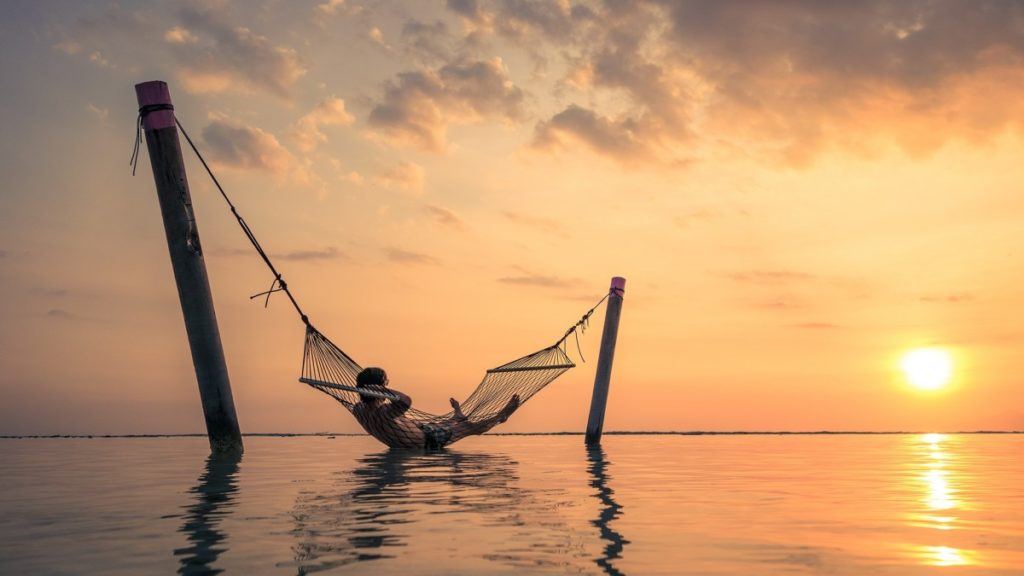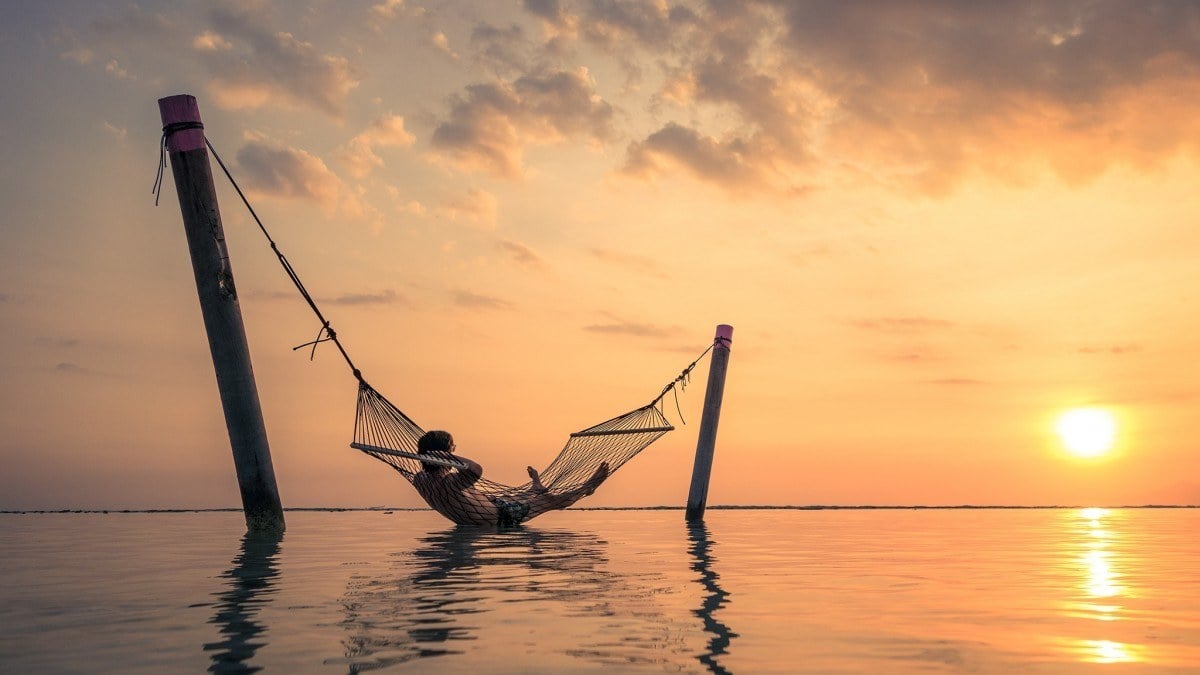 If you need a SIM card, Indosat and Telkomsel are two of the most common ones. You can find SIM cards and packages in many convenience stores or franchises around Bali.
It is possible to teach English in Bali. You'll need to be properly certified and come from a country where English is the official language but teaching here can be very rewarding. The Balinese are AMAZING people, the job isn't too demanding, and you'll have the opportunity to live on and explore one of the most beautiful islands in the world.
There are some drawbacks for English teachers here though. For one thing, the competition is FIERCE; remember everyone is trying to move to Bali and make it. Wages aren't the best either and you won't have a whole lot of extra spending cash, just enough to get by.
Volunteer in Bali
Volunteering overseas is a great way to experience a culture whilst doing some good in the world. There are lots of different volunteer projects in Bali which you can join ranging from teaching, to animal care, to agriculture to pretty much anything!
Volunteers are always appreciated in Bali. Cultural exchanges and language teaching are the main areas where volunteers can make a difference to local communities. Other opportunities include helping on eco-farms, as well as assisting in guesthouses and hospitality. Most nationalities won't need a visa to volunteer in Bali for less than 30 days, but you'll need a KITAS permit and a temporary stay visa to volunteer long-term.
Our go-to platform for finding volunteering gigs is Worldpackers who connect travellers with host projects. Have a look at the Worldpackers site and see if they have any exciting opportunities in Bali before signing up.
Alternatively, Workaway is another excellent common platform used by travellers searching for volunteering opportunities. You can read our review of Workaway for more info on using this terrific platform.
Volunteer programs run through reputable work exchange programs like Worldpackers and platforms like Workaway are usually very well-managed and reputable. However, whenever you are volunteering do stay vigilant, especially when working with animals or children.
What to Eat in Bali
With a liberal use of spices and ingredients, Balinese food is hugely varied and somewhat unique. The cuisine is similar to that found in the rest of Indonesia and, in some ways, Hindi cooking albeit with a few caveats.
In Bali, you'll see pork on the menu quite often, which is unheard of in the rest of Indonesia. Likewise, you'll see that Balinese cuisine is very meat-centric, which is somewhat converse to many Hindi culinary traditions.
In summation, like it's culture, Balinese cooking is a synthesis of many styles that forms its own culinary gestalt.
Most restaurants in Bali will have a diverse selection of dishes to choose from. When backpacking in Bali, we wholeheartedly suggest staying away from the touristy restaurants and eating at the local spots, which are referred to as warungs. The food will be more authentic and less expensive.
Rice (nasi) is the most ubiquitous ingredient in Balinese cooking and most dishes will include it.
Food carts base most of their dishes around rice and will serve them in paper cones. You'll easily recognize the food carts trolling around the beaches and streets by their appearance. Referred to as kaki lima, or "five legs," the food carts will have 3 legs/wheels in addition to the owner's own 2 legs.
Below is a list of some the best Balinese dishes:
Babi Guling – slow-roasted pig
Satay – grilled meat skewers
Betutu – stuffed duck or chicken
Nasi Ayam/Campur – fried rice
Lawar – minced meat and veggies w/ coconut
Urab – mixed vegetables
Tum – mixed ingredients prepared in banana leaves
Nasi Goreng – fried noodles
Tempe – fried tofu
Seafood – all of it!
Balinese Culture
Balinese culture is a very distinct demographic within Indonesia that places great emphasis on religion, community, and tradition.
Due in part to their sense of the collective whole and to the doctrines of their religion, Balinese people are an extremely friendly and modest people. Those backpacking through Bali will find locals are gentle and very helpful. I made some good Balinese friends during my time there.
There is a very strong sense of community in Bali, and the origins of which can be traced back to simpler times. In the early days of the island, Balinese communities ended up forming subaks – kind of like co-ops – in order to coordinate and regulate rice paddy yields, which in turn raised the quality of life for the local population. These days, this sense of cooperation manifests itself in other more contemporary ways.
Balinese people are very serious about their culture and go through great pains to make sure it's preserved. Festivals are regularly organized to excite locals and tourists alike. The arts are highly valued in Balinese society as well, mostly because of their historical significance but also because creativity is actually seen as pious in the eyes of the gods.
No other aspect of this unique culture is more valued than religion. The gods are still all-powerful in Bali and the people pray to them very frequently. You'll see little offerings on doors steps and at special altars every morning.
Religion plays a part even in agriculture as the temples are traditionally the center of the subak and ration the water, which is considered the holiest substance in Balinese religion.
In summation, Bali is a wonderful and fascinating place full of equally wonderful people. Balinese culture really is like no other; anyone interested in learning more will not be wasting their time.
Balinese Travel Phrases
Bahasa Indonesia is the official language of Indonesia and is universally understood throughout the country, including Bali. Those who have been traveling in Indonesia who already and know a word or two will be well off in Bali.
For a refresher on Bahasa Indonesia, refer to the Indonesian Travel Phrases section of our bacpacking Indonesia travel guide. Many Balinese speak good English.
Did you know that Bali has its own traditional language called Balinese? This fascinating language is very distinct from Bahasa Indonesia and the two are actually unintelligible to each other. Traditional Balinese isn't used as much these days as the standardized Bahasa Indonesia is the dominant language these. In fact, the script is becoming so uncommon in day-to-day life that most can only speak Balinese.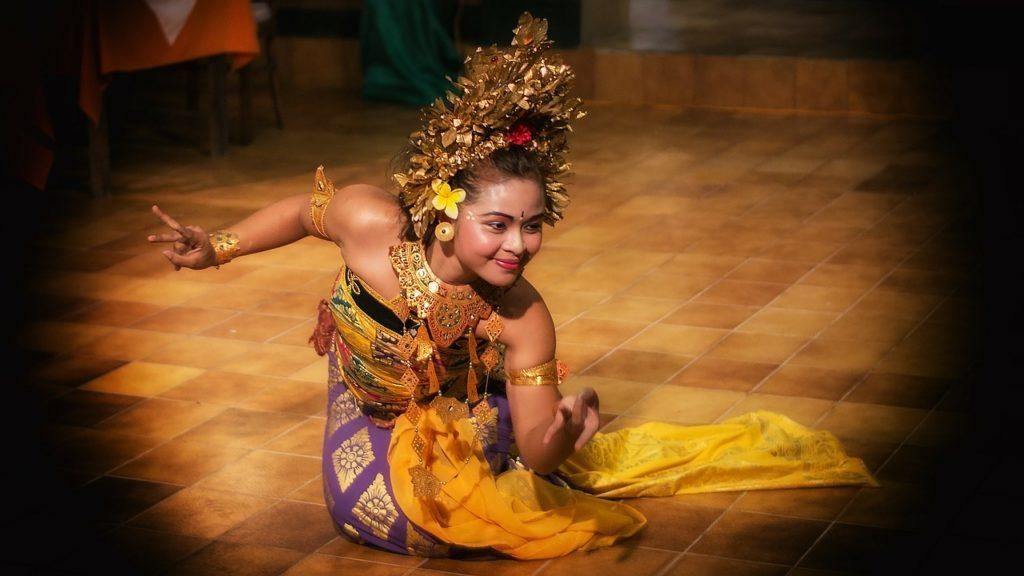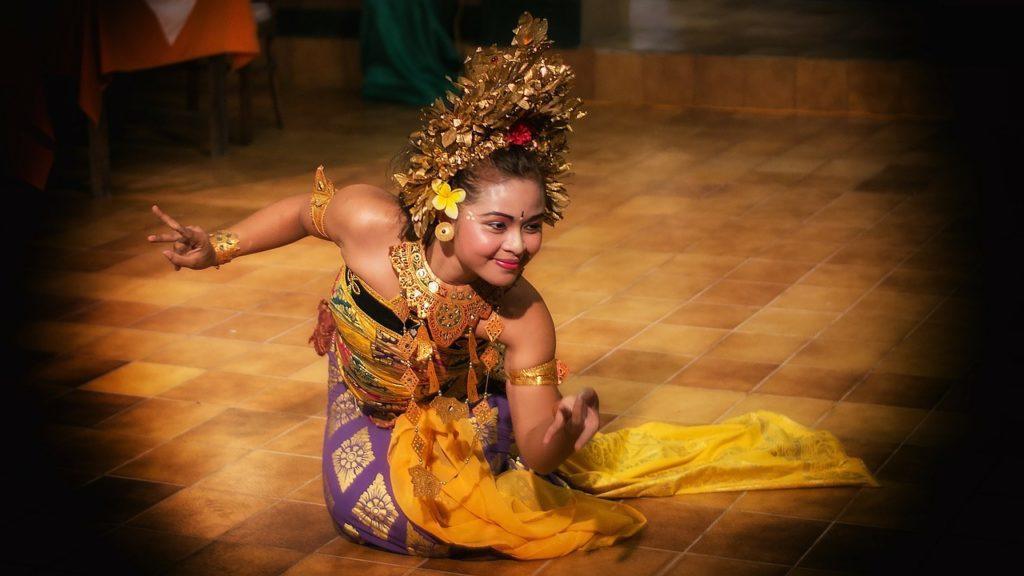 English is widely understood in Bali thanks in part to the hyper-developed tourism infrastructure and the inflated presence of Westerners. If you can't manage any Balinese or Bahasa Indonesia at all, you'll still get by while solely speaking English.
As always, it definitely helps to know a local phrase or two when traveling in a foreign country. Even if you know a basic amount, the locals will still receive your attempts very well and will open up much easier.
For your benefit, I've included a list of pronunciations for a few helpful Balinese phrases with English translations. Note that, for the sake of variety, these phrases are Balinese and not Bahasa Indonesia. Knowing either will be beneficial, but knowing more of the former will really impress the locals.
Inggih – Yes
Ten – No
Rahajeng Semeng – Good Morning
Rahajeng Wengi – Good Evening
Suksma – Thank you
Punapi gatra? – How are you?
Tiang becik-becik – I am fine
Tidak ada kantong plastik – No plastic bag
Tidak ada jerami silahkan – No straw please
Tolong, jangan gunakan sendok garpu plastik – No plastic cutlery please
Tiang uling… – I am from…
Aji kuda niki? – How much?
Angayu bagia kacunduk sareng ragane – Pleasure to meet you
Books to Read while Traveling in Bali
These are some of my favourite travel reads and books set in Bali, which you should consider picking up before you begin your backpacking adventure…
The Backpacker Bible – Get it for free! Learn how to ditch your desk and travel the world on just $10 a day whilst building a life of long-term travel with an online income. To inspire and help the next generation of Broke Backpackers, you can now grab 'How to Travel the World on $10 a Day' for free!
Snowing in Bali – A look into the drug trade and the empires it's created in Bali
A House in Bali – One of the great novels about Bali told through music and the obsession a composer has with an exotic land.
Love and Death in Bali – A fictional novel taking place during the puputan, an event defined by the mass suicides of Balinese royal families during the Dutch colonization.
Eat, Pray, Love – Love it or hate it, this travel novel, taking place over the course of several continents (including Bali, Indonesia), has become a worldwide sensation.
A Little Bit One O'Clock: Living with a Balinese Family – A whimsical account of one American's experience living with locals in Ubud. Easy to read and well written.
Brief History of Bali
The first mentions of the island of "Bali" date back to around the end of the first millennium AD when the name Bali Dwipa appeared in various inscriptions including the Blanjong pillar.
Archeological evidence places its origins at much early dates; all the way back to the Neolithic era when the various Austronesian peoples of the Pacific began to migrate in great numbers. Many nomads from now modern Taiwan, the Philippines, and South China settled in Bali at this time. Their tools, found in Bali, are a testament to this.
Following the Bronze Age, Bali developed into a respectable kingdom near the turn of the first millennia. It was during this time that it was introduced to the Buddhist and Hindu religions. The latter in particular was the after effect of Bali's relationship with the much larger Majapahit Empire, which, at the time, controlled Java and would establish a Hindu colony on Bali.
It was also during this time that many of the prevailing Balinese traditions that we know of today were established. Subaks were formed and Hinduism became the dominant religion.
When the Majapahit Empire collapsed at the end of the 15th century, much of the Javanese Hindu community fled to Bali, thus solidifying the religion.
During the mid-19th century, following the race to colonize the East Indies, the Dutch set their eyes on Bali. Using false pretenses, the Dutch harassed the Balinese and eventually laid siege to the island at the turn of century.
Facing their inevitable doom at the hands of the powerful Europeans, the Balinese royalty committed mass suicide in an act known as the puputan. To this day, the puputan is one of Bali's proudest moments.
In the following years, Bali's history echoed much of that of Indonesia. It came under occupation by the Japanese during WWII, thus ending Dutch colonialism, and following the war fought for its independence again.
This chapter of Indonesia is somewhat long and I suggest that interested parties refer to the History section of our backpacking Indonesia guide for greater detail.
Some Unique Experiences in Bali
Practicing Yoga in Bali
It's no secret that Bali is one of the most famous and romanticized places on the planet to study yoga. If you haven't already discovered this fact before visiting Bali, then you will quickly catch on once you see the myriad of yoga studios here.
Whilst there are yoga studios everywhere in Bali, there are places where they're more concentrated than average. Ubud is often considered ground-zero for everything yoga in Bali and there are sessions being held in every corner of the city, from high-end resorts to parks to cafes. If this sounds like a bit much, it is – Ubud is crawling with wannabes and can sometimes feel overrun.
All of the usual suspects in Bali i.e. Canggu, Uluwatu, Amed, Kuta, etc also have plenty of yoga studios where you can attend classes and maybe even find a YTT (Yoga Teaching Course). If you'd like to pursue a YTT License in Bali, inquire with Santosha Institute – they organize regular teacher courses on Nusa Lembongan.
But since this is Bali and since Bali's yoga retreats ought to be superlative, you need to be mindful of where you go training.
Surfing in Bali
Bali is a mecca for surfers. The seas around Bali offer some of the longest, largest, and most consistent waves in the world, and these prove to be irresistible to most. Whether you're a pro or a beginner, surfing is one of the most fun things to do in Bali, and a must try activity.
Most of the best surf is in the south of the island around the Bukit Peninsula. Many of Bali's most popular and famous surfing beaches are located here. The waves of the Bukit Peninsula can also be some of the most dangerous – the swells here are mighty and not for the inexperienced.
If you're a novice at surfing, there are still plenty of easy surfing beaches to visit in Bali. Many of these beaches are conveniently located along the developed central-western coastline as well.
If you want to learn how to surf, Bali would be a great place to start because there are plenty of great schools around, both formal and relaxed (there are a lot of surfers offering informal lessons on the beach).
Below is a list Bali's best surfing spots. They range in difficulty from novice to professional.
Best Surf Spots in Bali
Kuta – The original "surfer's paradise" on Bali. Relatively gentle waves. Busy as fuck.
Canggu – Offers waves for all skill levels. Barrels can be intense.
Padang Padang – Located between Bingin and Uluwatu. Famous for its long, consistent barrels. More for experienced surfers but there are some gentle breaks.
Uluwatu – Not only some of the greatest waves in Bali but some of the best scenery as well!
Dreamland – Long stretches of sand that are great for surfers and bathers. Usually large waves, but gentle conditions can be good for beginners.
Bingin – Some hazardous surfing conditions – reefs, big waves – and inaccessibility make this surf spot one of the quietest ones in Bali.
Impossibles – Like Bingin but even more difficult to access. A thrill for pro surfers and pro surfers only.
Suluban – Near Uluwatu with Uluwatu-like conditions. More inaccessible as you have to navigate a narrow sea cave to reach the beach.
Medewi – Some of the longest waves in Bali and a great spot for beginners.
Nusa Lembongan – A bit of a trek but some truly epics waves!
Diving in Bali
Bali, in addition to much of Indonesia, is a part of the greater Coral Triangle of the East Indies, which is one of the most ecologically diverse places on the entire planet. For this reason, the diving in Bali is world-class and will stun even the most seasoned of divemasters.
For divers, the waters around Bali are popular for their warmth and plethora of marine biology. Common sightings while diving in Bali include parrotfish, several varieties of shark, turtle, stingrays, moray eels, and the elusive mola-mola.
Many of the island's most popular dive sites are on the eastern part of the island around Amed. Nusa Lembongan, Nusa Penida, and Menjangan Island also offer great diving opportunities.
The sea currents around Bali can be very strong. If you're thinking about going diving in Bali, be sure to check ocean conditions. Snorkeling is still an option around many places in Bali.
If you're thinking about learning to dive, Bali is a great place to start. There are lots of affordable, world-class dive schools around the island that offer lots of introductory courses.
Below is a list of some of Bali's best dive sites. For more information though, be sure to visit our comprehensive scuba diving guide for Bali as well!
Best Dive Spots in Bali
Amed – Ground Zero for Bali's diving culture. Offers a wide range of marine biology, conditions, and topography. Appropriate for all skill levels.
Tulamben – Famous for the many shipwrecks that have now become marine menageries. Lots of coral. Good for snorkelers as well.
Nusa Penida – A layover for several species of migrating marine life. Schools of manta rays and mola-mola are seen here. Careful: there are strong currents here.
Menjangan Island – Renown for crystal clear water and ease of access. Lots of beautiful reefs and marine life.
Padang Bai – Calm dive site with good visibility and marine diversity. Great snorkeling at the Blue Lagoon.
Final Advice Before Visiting Bali
There are a couple of customs that should be respected while backpacking in Bali. Some are subtle and others are just plain common sense. Adhering to a few broad rules in Bali will ensure that locals are more cooperative with you, which in turn will make your trip more enjoyable.
If you're planning to visit any temple in Bali, it is important to avoid revealing clothing e.g. Skimpy swimsuits or bare chests.
Instead, wear modest clothing when visiting religious sites. Sarongs in particular are viewed as respectful garb in temples and are often handed out to visitors (which will have to be returned). Try to have your own sarong on you just in case.
If you plan on partying in Bali, please remember to be somewhat in control and respectful of the locals. Bules (westerners) already have a bit of reputation, and it'd be a shame if a few wankers made the rest of us look even worse.
There are many working girls in Bali, something I came across several times when out partying. Don't be a wanker, respect all humans.
A few other important things to remember: never use your left (unclean) hand when interacting with Indonesians, avoid PDA or immodest behavior, and to try to remain calm and respectful in all situations – the Balinese don't respect anger, ever.
No matter where your backpacking route through Bali goes, it'll be an epic journey. With this travel guide for Bali in hand, you'll have everything that you could possibly need to craft the perfect trip. Study it well and have a great time, amigos!
---
Thanks for reading – that was fun! 😀
We bring you epic FREE content!
Find out how YOU can help support us.
We're a big site with a big team and this job isn't always easy. But we do it because we love it – we love providing epic and free content. We love the knowledge that our content keeps you adventuring. We don't ask for money, but if you'd like to find out how you can help the site in more organic ways, click the button below.
Thank you for your support 🙂
---
Bye for now, but not forever!
If you want MORE top-tier Broke Backpacker content like this, then sign up for our weekly newsletter below to get the latest and greatest!
And for transparency's sake, please know that some of the links in our content are affiliate links. That means that if you book your accommodation, buy your gear, or sort your insurance through our link, we earn a small commission (at no extra cost to you). That said, we only link to the gear we trust and never recommend services we don't believe are up to scratch. Again, thank you!