Many who go backpacking in Southeast Asia end up overlooking Singapore due to several misconceptions. Many believe that Singapore is over-priced and overly-strict – a suffocating nation that offers little in the way of thrills or financial practicalities (for broke backpackers, that is)…
I say to hell with these falsities about Singapore! Singapore is one of the best cities that I've ever visited. The architecture is cutting-edge, the food is absolutely out-of-this-world, and its citizens are some of the most interesting that you'll meet.
Backpacking Singapore can be just as enjoyable as backpacking Malaysia or Thailand so long as travelers know where to go and look. So to truly unlock Singapore, one just needs a little guidance.
Choosing to go backpacking in Singapore is an excellent idea as there is a lot to see and do. With this travel guide, you'll have everything that you could possibly need to start your adventure.
We'll cover topics ranging from "cheapest hostels in Singapore" to "best things to do in Singapore on a budget." Everything and then some is covered in this guide; with it, you'll be more than prepared to go backpacking in this amazing country.
Why Go Backpacking in Singapore?
Singapore is a super-dense country with a surprising amount of things to do and see! From exploring Singapore's many eclectic neighborhoods to walking through forest canopies to catching a happy hour on the 55th floor, there's a lot to offer.
It's the goal of this Singapore travel guide to help travelers get the most out of their backpacking trip by giving them plenty of ideas and tips on what to do and where to go.
Before jumping in head-first though, we're going to outline the best itineraries for how to go backpacking in Singapore. Each one is specially drafted to give you the best possible experience.
Afterward, we're going jump into the meat of the article – the destinations – and then follow with some more specific information e.g. Food, Festivals, Sex, Meeting the People, etc. By the end of this guide, you'll be equipped with all of the necessary tools to go backpacking in Singapore!
Best Itineraries for Backpacking Singapore
Below is a list of three travel itineraries for Singapore. They vary from 2 to 4 days in length and cover the majority of the best places to visit in Singapore.
Singapore 2-Day Itinerary: Layover Highlights
A weekend trip to Singapore is all you need to see the top attractions! On this brief itinerary for backpacking Singapore, you'll visit the likes of Marina Bay, Chinatown, Arab Street, the Botanic Gardens, and more.
Spend your day walking around the CBD and its tertiary neighborhoods. Chinatown, Kampong Glam, and the Gardens by the Bay are all within walking distance.
On the second day, take a bus or train up to the Botanic Gardens and spend a few hours relaxing in this artificial Arcadia. From there, proceed to Orchard Road and do a little shopping if you like.
There are plenty of consumer options on this road – you'll be able to spend as little or as much as want here.
Singapore 3-Day Itinerary: Highlights + Sentosa
3 days is the perfect amount of time to experience Singapore! With this itinerary for backpacking Singapore, you'll not only get to see all of the best locations in the city but be able to lounge on the beach as well.
Spend your first days exploring Singapore in a manner that is similar to the previous itinerary. You should definitely spend at least one day on the island getaway of Sentosa though.
Here, you'll be able to ride roller coasters or, if you please, just hang on the beach. Be sure to take a walk along the Southern Ridges as well – this trail is very close to Sentosa and offers great views of the city.
Singapore 4-Day Itinerary: Extra Sweet Stuff
A little extra time in Singapore means that you can take the road less-traveled! Spend an extra day exploring the outskirts of the island nation.
Visit the jungles of Bukit Timah or chill on the shores of the East Coast Park. No matter which direction you go, you're sure to see a part of Singapore that few tourists end up visiting.
Those who plan on using this itinerary for backpacking Singapore should refer to our Off the Beaten Path section for more information.
Places to Visit in Singapore
Singapore is bursting with cool things to see from the expected tourist attractions to more secreted away places that you'll have to hunt for. Here are the places I recommend you should visit when backpacking in Singapore.
Backpacking Marina Bay and CBD
At the mouth of Kaling and Singapore Rivers lies Singapore's crown jewel: the elegant and hyper-modern Marina Bay. Backed in the distance by the many skyscrapers of the CBD, this district is home to some of the most recognizable tourist attractions in Singapore.
The most prominent landmark of the area is the Marina Bay Sands – a grandiose hotel composed of three towers and topped by the world's longest cantilevered platform. On top is a heavenly infinity pool, the likes of which has captured the hearts and minds of many an Instagrammer. Unfortunately, the Marina Bay Sands infinity pool is only available to guests so you'll either have to make friends with someone staying there or maybe even sneak in.
On the edges of Marina Bay are several more of Singapore's top points of interest. Moving counterclockwise around the bay, the Singapore Flyer, ArtScience Museum, and Esplanade are all within walking distance of the Marina Bay Sands.
Upon crossing the Esplanade Bridge, you'll end up in the Downtown Core of Singapore. Here is the country's iconic Merlion statue and Raffles Place, which officially marks the nexus of the CBD.
While exploring the CBD, one has to visit one of the many observation decks for the best view of the city. Most will charge either an entry fee or require you to have a drink – both usually cost less during the afternoon hours.
Returning to Marina Bay Sands, you'll next visit one of the most beautiful places in Singapore: the Gardens by the Bay. This nature park is most well-known for its massive artificial trees, which light up at night in wondrous ways. There are plenty of natural gardens in this park as well, creating a truly hybridized and harmonious space between man and nature.
Backpacking Chinatown
Very near to the CBD is Singapore's own Chinatown, which is the historic quarter for the city's largest demographic.
Though threatened by new developments and the ever-increasing influx of tourists, Chinatown is still full of traditional Chinese buildings and some of the most culturally significant tourist attractions in Singapore. Historical sites aside, Chinatown is also a great place to just wander around and go shopping in.
The area between Pagoda Street and Smith Street is generally considered the touristy part. The Street Markets dominate this part of Chinatown and you can find just about any bobble and knick-knack that you could possibly imagine. Venture a little outside of this marketplace though and you'll find lots of little secrets in Chinatown.
Pay special attention to the old houses and renovated buildings in Chinatown; some have very interesting histories, serving as opium dens, brothels, and "death houses" in the past. Several guilds and even a version of the Chinese Mafia once used this neighborhood as their headquarters. Inquire with the locals to learn more.
Other points of interest in Chinatown include Buddha Tooth Relic Temple, Jamae Mosque, and Sri Mariamman Temple. Many of these are some of the oldest of their kind in Singapore and are definitely worth checking out.
No trip to Chinatown would be complete without sampling some traditional Chinese food as well. You can visit one of the many restaurants, grab a quick bite at a market stall or step inside one of the hawker centers. Maxwell Centre and Chinatown Complex are two of Singapore's largest hawker centers and both offer copious culinary options.
In addition, Chinatown has a thriving nightlife with lots of karaoke bars and nightclubs. Reportedly, Chinatown has the largest gay community in Singapore too.
Backpacking Arab Street
Arab Street is one of the coolest places in Singapore! Officially a part of the Bugis/Kampong Glam districts, Arab Street is full of exciting little shops in addition to some really fascinating sites. Wandering around this part of town is one of the best things to do in Singapore when you're bored as you're sure to stumble upon something stimulating.
The Bugis and Kampong Glam neighborhoods have very fascinating histories. Kampong Glam was the original home to Singapore's Malay aristocracy and, for this reason, is full of awesome Muslim architecture. Arab Street, which once served as the trading hub for Arab merchants, is technically in Kampong Glam.
Bugis' history is a little more diverse as this quarter served as a refuge for all sorts of abject folk. POWs, prostitutes, pirates, and transvestites sought haven in Bugis and for a tim, this district was considered very "racey."
Nowadays, both neighborhoods are very developed. Bugis has become one of the largest open-air shopping areas in Singapore while Kampong Glam has been the subject of much preservation.
The most noticeable sight in the area is the Sultan Mosque, the largest in Singapore, which looks like something out of Aladdin.
Also worth seeing is the Malay Heritage Center and the Hajjah Fatimah Mosque. In between these landmarks, you'll find countless little stalls and shops that sell everything from food to clothing to souvenirs. Also keep an eye out for the many hidden galleries and cafes, which host some of the coolest local art in Singapore.
Because of its Muslim heritage, you won't find many bars in this area and, if you do, they'll probably be very expensive. Much better to go to a local hookah bar and relax with a smoke as many Muslims like to do.
Backpacking Little India
As the name implies, Little India is Singapore's own little pocket of Indian culture. This district is where the grand majority of the Singapore's Indian population once lived though they can be found all over the city now.
It's a colorful neighborhood, full of Hindu temples and little incense stands. During the many Hindu festivals, Little India absolutely goes berserk, as all the locals crowd into the street and celebrate (see Festivals section).
The main sites in Little India are its temples. Sri Veeramakaliamman Temple and Sri Srinivasa Temple are the grandest and most visited Hindu temples in the district. The Buddhist Sakya Muni Gaya Temple is also worth visiting, though this one is more Thai than Indian. Other points of interest include the Indian Heritage Center and the House of Tan Teng Niah.
For the best shopping in Little India, head to the bustling Tekka Market, Mustafa Center or Little India Arcade. These are among the best places in Singapore to find a good deal for everything consumer-related, as well as a good spot to find some cheap eats.
Generally speaking, Little India will be the cheapest neighborhood to stay in if you're backpacking Singapore on a budget. Some of the best prices for food and cheapest lodging can be found here. Of great infamy, the Prince of Wales Backpacker Pub is probably the cheapest place in town for drinks.
Backpacking Orchard Road
Orchard Road is the main shopping area of Singapore. Here, you'll find everything from ultra-expensive boutiques to ruddy arcades. This area is certainly worthy of a day trip, if only to experience the extravagance of it all, or as a detour, as some of Singapore's top tourist attractions are close by.
There are so many shopping malls and plazas along Orchard Road that it would be a drag to mention them all. Literally everywhere – in the corners, underground, towering above – there is some monolithic building housing dozens of stores.
ION Orchard, The Paragon, and Ngee Ann City are the most imposing and upscale malls in the area. Far East Plaza and 313@Somerset are best for the bargain seekers.
Aside from shopping, there are a couple of more things to do around Orchard Street, though you'll have to walk a bit. Further east, where Orchard Road turns into Bras Basah Road, you'll find notable attractions like National Museum of Singapore, The Istana, the Singapore Art Museum, and Fort Canning Park.
North of Orchard, past the point where it splits into Tanglin Road and Orange Grove, is where you'll find the Botanic Gardens, which are one of the most beautiful places in Singapore. This massive green space has been ranked as Asia's #1 tourist destination by Tripadvisor since 2013 and has been declared a heritage site by UNESCO.
It is one of the most impressive gardens in the world and is partly responsible for Singapore's "garden city" movement, which has lead to the development of Gardens by the Bay and several other eco-projects.
Backpacking Sentosa and Islands of Singapore
Sentosa is Singapore's own island getaway, complete with amusement parks, beach resorts, and casinos. There's something, quite literally, for every age here.
The best way to arrive at Sentosa is to take the Sentosa Express monorail across the straight, which costs $2/ticket. Once on Sentosa, transportation is free. You can walk or take one of the many shuttles that patrol the island.
Inside Sentosa are series of attractions ranging from kitschy and roadside-like to grandiose and overbearing. There's a Madame Tussaud wax museum and the Luge & Skyride, which is an odd attempt at creating a ski-like experience in the middle of the tropics. The Sentosa aquarium might be the most interesting paid-activity apart from eating on the island.
Most glaring is probably the Universal Studios Singapore, which has the usual movie themed zones and roller coasters. Other big-name attractions in the area include Fort Siloso, Tiger Sky Tower, and Wings of Time.
If theme parks aren't your thing (they certainly aren't mine), then simply laying on the beach is a good option. Given the theme parks' exorbitant prices, most of the locals visit Sentosa for the beaches anyway. Tanjong, Palawan, and Siloso are the only three beaches on the island though none of them are really inspiring.
If you really want to get away, try catching a ferry to St. John's Island, Pulau Hantu or the Sisters' Islands. Though not completely uninhabited, all of these are much more quiet than Sentosa and offer more natural settings. Camping, snorkeling, and fishing are the most popular activities on these islands.
Be sure to grab a permit from the Sentosa Development Corporation if you want to camp. Also, know that the ferry only goes to St. John's Island – if you want to visit the Sisters' or Hantu, you'll have to charter a private boat.
Off the Beaten Path in Singapore
Most who go backpacking in Singapore stick to the dense urban core around the CBD. Few actually make it to the outskirts of the island, which is where some of Singapore's most exciting points of interest are. Here you will find the last bits of the island's virgin rainforest as well as the best beaches.
Being Singapore, nothing is too far away or too hard to get to. The MRT and/or buses still service most if not all of the locations listed below. Even if it's located at the farthest reaches of the island, a bus stop is almost always nearby.
Spend a day or two exploring these lesser visited places and see a side Singapore that few still remember.
Backpacking the East of Singapore
The East of Singapore is a bit of local secret. Where most tourists see boring suburbs and a noisy airport, Singaporeans see some of the finest beaches and best food on the whole island.
Geylang Serai is where the majority of Singapore's Malay community now resides. From this community, some of Singapore's greatest culinary icons have risen. Long praised for its authentic and traditional offerings, the Geylang Serai Market has been one of the staples of the region for many years.
The East Coast Park, one of Singapore's many national parks, is where the best beaches in Singapore are found. This is the largest park in Singapore and features over 10 miles of lovely beach, complete with barbecue pits and picnic tables.
The East Coast Park is a favorite outdoor destination among Singaporeans and many like to camp here, which does require a permit. Come here for a lovely day trip and be sure to bring a bike or a pair of rollerblades with you.
Further north is Pulau Ubin, famed for being one of last truly rural places in Singapore. Though an important mining and agricultural commune in former years, Ubin is now somewhat abandoned and resembles more a remote Cambodian village than a part of a busy metropolis. Booking a kayaking tour is a great way of experiencing the island.
There are some wonderful trails in the area, fit for walking and biking, as well as Chek Jawa, a beautiful cape that hosts some of the most important wildlife and scenery in Singapore.
Backpacking the North and West of Singapore
The far northern and western portions of Singapore is where you'll find the last remnants of country's original jungle landscape. Here is a mix of both wild and domesticated forest, coming in the form of zoos, reservoirs, and nature reserves.
The most popular of attractions in this region are the Singapore Zoo, the Night Safari, and the Jurong Bird Park.
Tucked away into the jungle itself, all of these are quite spacious and have received numerous approvals from wildlife experts. The Singapore Zoo has often been praised as the best zoo in the world, while the Night Safari receives nearly equal recognition for its creativity, being the world's first nocturnal zoo. The Jurong Bird Park has the largest number of birds in the world.
Should zoos not be your thing, there's still plenty of unrestrained nature to see in this part of Singapore.
Bukit Timah Nature Reserve and Sungei Buloh Wetland Reserve are the two most important protected ecosystems in Singapore. Though neither are terribly large, they are very well managed and worthy examples of how Singapore used to look.
In terms of productivity, both parks are key habitats and provide shelter for many of the country's most important species. You have plenty of options to go hiking in Singapore, but these are good places to start.
Also worth mentioning is the MacRitchie Reservoir and the Southern Ridges. Both offer nice opportunities for an afternoon stroll. The MacRitchie Reservoir is surrounded by primary rainforest and features a suspension bridge that navigates through the tops of the trees.
The Southern Ridges has a similar canopy-like experience though it should be mentioned that this walk is actually closer to the city center.
Top Things to Do in Singapore
1. Visit one of the hawker centers
The hawker centres offer some of the best food in Singapore and at a great price! Sit down with the locals and try as many dishes as you can, all the while discussing the flavors.
2. Take a ride up to a rooftop view
The Singapore skyline is one of the most magical in the world and the best way to see it is from high-up in a bar or at an observation deck. Seeing the city from such heights is one of the best things to do in Singapore at night as well, as everything glitters and glows in front of you.
3. Walk around Marina Bay
The Marina Bay and nearby Gardens by the Bay are some of the best places to visit in Singapore for free! Grab a beer from a local market and roam around this expansive area for however long you want.
4. Explore Arab Street
Arab Street is one of the best places in Singapore! Go hunting for hidden galleries and cafes, which house all sorts of local art installations ranging from contemporary to modern to avant-garden.
5. Wander around Chinatown
Chinatown is the historic residence for one Singapore's largest communities. Much of the original spirit is still preserved here though Chinatown still manages to be super dynamic and full of excitement.
6. Dive into Little India
Little India is a vivid neighborhood full of colorful Hindu temples and quaint little shops. The hostels in Little India are some of the cheapest in Singapore as well!
7. Walk around the Green Outskirts
Few realize that Singapore still has some of its original jungle. By visiting one of the many nature reserves found on the edges of the city, you'll get the chance to experience a more primal version of the island. Entry is usually free as well, which makes this one of best things to do in Singapore on a budget!
8. Getaway to Sentosa
Sentosa is one of the premier locations in Singapore and home to the island's largest amusement parks. Scream your head off on one of the roller coasters or just chill on one of the many beaches.
9. Go shopping
Singapore is a paradise for shopaholics! Between the countless department stores and annual sales, shoppers should be foaming at the mouth. Careful though: shop therapy is one of the worst things that you can do in Singapore when bored as the costs quickly add up.
10. Visit a museum
Singapore is a nation of immigrants hailing from all over the world. Consequently, it has some amazingly diverse collections of relics and artifacts. Visit one of the many museums for a taste of the old and the new.
Backpacker Accommodation in Singapore
Singapore has lots of lodging options that will appeal to all kinds of travelers! Whether you're a broke backpacker, a holidayer, or a big spender, there's something for everyone in Singapore.
There are lots of backpacker hostels in Singapore. Most are located near the city center and around the major neighborhoods of Chinatown, Kampong Glam, and Little India. A dormitory in Singapore can be a little expensive, but find the right one and the price will be justifiable.
If you're looking for something a little more luxurious, Singapore is full of wonderful Airbnbs. Renting one could really make your time backpacking in Singapore extra enchanting as these are some of the best in Southeast Asia. The city also packed with amazing VRBOs that give a more homey and local experience.
Couchsurfing in Singapore would be an excellent idea as it is a very good way both to save cash and to meet some locals. There are so many hidden treasures in this city and knowing some Singaporeans will unlock a hidden side to the city that you never knew existed.
The thought may sound intimidating at first, staying at a stranger's house, but give it a try! You may be surprised at how enjoyable the experience turns out.
If money isn't an object for you, then you could consider a rooftop pool hotel in Singapore. Before you laugh it off, remember that Singapore has a very hot and humid climate, and splashing into a pool will be an amenity worth paying a bit extra for. Believe me!
The Best Places to Stay in Singapore
Singapore Backpacking Costs
Singapore is famous for being one of the most expensive countries in Southeast Asia. Even so, Singapore is still relatively affordable on a global scale. Backpackers can certainly have a good time for a reasonable amount and may even get by on $10/day (with the proper habits).
A comfortable backpacker budget in Singapore will be around $45-60/day. This will get you a dorm bed, some groceries, a meal or two at the hawkers and some spending money.
A dormitory in Singapore will cost around $20-$30/night. Aside from partying, lodging is the biggest expense in this city. The quality of hostels is usually up-to-par though there were times where I felt like $20+ was a bit much.
If you really want to go backpacking in Singapore on a budget, then I highly recommend couchsurfing. The locals are friendly with foreigners and would love to host a backpacker like yourself.
Contrary to Singapore's pricey reputation, the food here can be an amazing bang for your buck. Singapore is home to the world's cheapest Michelin-star meal! Those backpacking Singapore have to visit one of the many famous hawker stalls (think more like a food court rather than street food) for the best food of your life!
If you're still feeling a little budget conscious, try eating out once maybe twice a day and then cook your remaining meals at the lodge. Groceries can be cheap at the local markets, but be wary of the convenience stores and supermarkets, which are usually more expensive.
Side note: if you're thinking about moving to Singapore, be sure to check out our Cost of living in Singapore guide for even more insider information.
Partying will kill your bank account very quickly. The price for drinks is absolutely bonkers ($10-$20) and nearly every bar and club charge an additional cover fee. For more on how to party smartly (and cheaply), please refer to this guide's Sex, Drugs, and Rock 'n' Roll section.
A Daily Budget in Singapore
Money in Singapore
The official currency of Singapore is the Singapore dollar. As of June 2018, the exchange rate for the Singapore dollar is 1 SGD=0.75 USD.
The best exchange rates can be found at the private currency changers, which are usually located in shopping areas and the malls. Banks do not offer the best deals in Singapore.
ATMs are widely available throughout Singapore. Some may charge a withdrawal fee on top of whatever your bank charges for foreign transactions.
Note that the Brunei dollar is interchangeable with the Singapore dollar and that both have the same value. When paying with Singapore dollars, you may receive change in the form of Brunei dollars, which is totally acceptable.
Malaysian ringgits are not interchangeable with Singapore dollars and most businesses will not accept this form of payment.
Travel Tips – Singapore on a Budget
For a cheap trip to Singapore, follow the basic tips of budget backpackers worldwide:
Camp: Even though the island is mostly urbanized, there are still plenty of ways to camp in Singapore. Check out this post for a breakdown of the best gear to take backpacking and for sleeping out.
Cook your own food: If you are on a tight budget, you can save money by cooking your own food – I recommend bringing a good-quality portable backpacking stove.
Book your transportation early: Both plane and train tickets are much cheaper if you purchase them in advance. This rule does not apply to buses, which you can often book within the day or even hour.
Couchsurf: Singaporeans are awesome, but I would be cautious if you are a woman travelling alone. Check for reviews. That being said, being hosted through Couchsurfing is a fantastic way make some real friendships and see this country from the perspective of locals.
Pack a travel water bottle: Save money – and the planet – every day!
Why You Should Travel to Singapore with a Water Bottle
Plastic washes up on even the most pristine beaches… so do your part and keep the Big Blue beautiful
You aren't going to save the world overnight, but you might as well be part of the solution and not the problem. When you travel to some of the world's most remote places, you come to realise the full extent of the plastic problem. And I hope you become more inspired to continue being a responsible traveller.
Plus, now you won't be buying overpriced bottles of water from the supermarkets either! Travel with a filtered water bottle instead and never waste a cent nor a turtle's life again.
When to Travel to Singapore
Due to its close proximity to the equator, Singapore is subject to a tropical climate. The weather conditions are pretty uniform and, aside from a brief monsoon period in November-January, there isn't much seasonal difference throughout the year.
Daily temperatures stay consistent at around 80 F year-round and rain can happen at any time. For these reasons, you can go backpacking in Singapore at any time of the year!
Visiting Singapore during the time of one of its many festivals could be either be a grand or perhaps poor idea depending on what you're looking for. Though the city will be alive with festivities and celebrations, the most epic of which happens around Chinese New Year (February), many stores will be closed for long periods of time and so shopping may be inconvenient.
Prices for lodging during these events will predictably be much higher as well as the city swells with visitors. For more information on Singapore's holidays and when the city will be most jammed, check our Festivals section.
A city of a hundred cultures means just as many festivals! In my opinion, Singapore may have the most diverse selection of cultural festivals in the world and not a single one of them is boring.
From Hindu to Buddhist to Muslim to nationalism, there's hardly a tradition left out. Singaporeans really spare nothing when it comes to organizing a festival and they ensure that each one is grander than the next.
Below is a list of some of Singapore's biggest holidays:
Chinese New Year (January-February) – Perhaps the largest festival in Singapore. 2 weeks of gifting, partying, feasting, and decorating as the Chinese community goes all out for this one.
Thaipusam (February) – Hindu devotees carry ornate alters and participate in spiritual skin piercing. Not for the faint of heart.
Vesak Day (May) – "Buddha's Birthday." Though there are many organized events, many choose to celebrate by doing good deeds, like donating or volunteering.
Dragon Boat Festival (June) – A great boat race that attracts rowers from all over the world. Held in Bedok Reservoir. Special rice dumplings are made just for this race.
Hari Raya Puasa (June-July) – The end of Ramadan! Muslims dress in new, elegant clothing and feast with one another.
Singapore Food Festival (July) – Celebration of all things culinary in Singapore!
National Day (August 9th) – The yearly anniversary of Singapore's independence from Malaysia. Features a giant parade, speeches from politicians, and a huge firework show.
Deepavali (October/November) – The most revered festival of lights celebrated by Hindus worldwide. Includes feasting, fireworks, and overall merriment.
What to Pack for Singapore
Make sure you know what to bring to Singapore. A few forgotten travel essentials will be costly to replace once you arrive. On every adventure, there are six things I never go traveling without:
For plenty more inspiration on what to pack, check out my full backpacking packing list.
Staying Safe in Singapore
Singapore is one of, if not THE safest country in the world to visit! This is a nation that suffers very, very rarely from any serious sort of crime. Murder, theft, and trafficking are practically unheard-of here.
Though there is still some petty crime for which you need to be prepared for, those backpacking in Singapore should feel very safe at any time of the day.
The reason for Singapore's lack of crime is because of an extremely strict judicial system and some laws that are just plain weird. Petty crimes, even those as innocent as jaywalking, littering, and spitting, are met with substantial punishment. If caught, many perpetrators are forced to do mandatory clean-up duty.
Even caning, which is more painful than you think, is a common sentence for more serious offences though the odds of you being subject to this are still rare.
Drug possession and use are extremely illegal in Singapore. Should someone be caught with any sort of narcotic in Singapore, then they will be subject to either a very long prison sentence or even death. Do yourself a favor and avoid drug use in Singapore; it's probably not worth it. Entering the country while high is still considered an offence as well so be sure to detoxify before crossing the border.
Singapore can sometimes be made out to be totalitarian-like at times, which is a bit of an exaggeration. Most of the petty crimes that visitors can be subject to are kind of silly and most sentences are not carried out.
Many stories that come out of Singapore are sensationalized and, in turn, become fodder for jokes. You can relax when you travel to Singapore – it's perfectly safe to visit.
Sex, Drugs, and Rock 'n' Roll in Singapore
I'll be the first to admit that I was very unimpressed by Singapore's nightlife. In my opinion, the bars were hugely overpriced and somewhat dull. Hell, I was in Singapore on its day of independence, a day which is usually the drunkest of the year (in the USA and Australia, at least) and I could barely find a party worth mentioning.
To be fair, I'm a broke backpacker and my idea partying is a little different. Singapore does, honestly, have some great parties but just not the kind that an average traveler may enjoy.
Partying is usually a very upscale and extravagant affair in Singapore. "Going out" means dressing very well and paying huge amounts for a drink or table service.
So it's certainly not the case that Singapore has no nightlife; it's just very exclusive. If you're ready to pay the cost, then, by all means, live it up in Singapore. Some of the city's most famous clubs include Zouk, Attica, KU DE TA, and Lantern. Otherwise, here are some great ways to save money on boozing in Singapore.
Buy drinks from the local shops and drink on your own terms. You can drink in public in Singapore but only between 7 am and 10:30 pm. Definitely grab a beer and take a walk around Marina Bay, which is one of my favorite things to do in Singapore at night.
There are lots of awesome bars that have happy hour specials in Singapore. These joints should be your go-to spots and many are actually pretty cool in their own right.
Some well-known backpacker bars in Singapore are Insomnia, Crazy Elephant, Five Izakaya, and Prince of Wales. The ubiquitous Chinese restaurants are also known for their cheap beers as well.
Travel Insurance for Singapore
Traveling without insurance would be risky so do consider getting good backpacker insurance sorted before you head off on an adventure.
I have been using World Nomads for some time now and made a few claims over the years. They're easy to use, professional and relatively affordable. They may also let you buy or extend a policy once you've started your trip and are already abroad which is super handy.
If there's one insurance company I trust, it's World Nomads.
ALWAYS sort out your backpacker insurance before your trip. There's plenty to choose from in that department, but a good place to start is Safety Wing.
They offer month-to-month payments, no lock-in contracts, and require absolutely no itineraries: that's the exact kind of insurance long-term travellers and digital nomads need.
SafetyWing is cheap, easy, and admin-free: just sign up lickety-split so you can get back to it!
Click the button below to learn more about SafetyWing's setup or read our insider review for the full tasty scoop.
Getting into Singapore
Unless you're arriving by land or sea, you'll probably end up entering Singapore via its major airport: Changi. This is an extremely impressive airport, ranked consistently as one of the best and busiest in the world.
Inside you'll find a plethora of things that you never thought belonged in an airport like pools, cinemas, gardens, and even a butterfly sanctuary. Changi is definitely a nice way to enter, exit, or just get stuck in on a layover.
Those used to backpacking in Southeast Asia will have little difficulty navigating Singapore!
Entry Requirements for Singapore
Singapore has a very easy – though strict – customs process that allows the majority of nations to enter. Most nationalities qualify upon arrival for a tourist visa that ranges from 30-90 days in length.
Some foreigners will have to apply for a visa beforehand either online or at the nearest Singaporean embassy. Be sure to check the official Singapore website for more on each individual nation's entry process.
Note that Singapore has a long list of what's considered contraband. Make sure to cross-reference your packed items with Singapore's list of banned objects before entering the country.
How to Get Around Singapore
Singapore benefits from a very effective and easy-to-use public transport system. Between the many bus and train options, you can get just about anywhere in Singapore.
In some cases, you can actually make reservations online for transport in and out of Singapore. By using an online resource, like Bookaway, you can save yourself a whole lot of stress and maybe even some cash. Check it out!
Onwards Travel from Singapore
Singapore is the southernmost tip of continental Southeast Asia and one of the primary international hubs for backpackers in the region. From Singapore, you can go just about anywhere in this part of the world! Though not as cheap as AirAsia, there are many low-cost carriers that depart from Singapore. Jetstar Asia and Tiger Air are two such airlines that offer good deals for destinations like India, Australia, and Japan.
If you want to travel to Malaysia by land, there are several Singaporean bus companies that cross the border. Confusingly, each company has different pick-up points spread throughout the city.
Upon arriving at the Malaysian-Singaporean border, you'll have to exit and re-enter the bus twice at both the Singaporean and Malaysian border controls. Upon passing through customs, which should be relatively easy, you'll arrive in Johor Bahru, Malaysia. From here, you can take another bus to just about anywhere on the mainland, including the rest of Malaysia, Thailand, Cambodia, wherever.
In Johor Bahru, most long-distance buses depart from Larkin Station. Know that not all Singaporean bus companies go to Larkin so be sure to check this before buying a ticket.
Taking a train to Malaysia is a similar experience to taking the bus though slightly more comfortable and expensive. If you take the train, you won't have to exit it for customs. To catch the train, you'll have to arrive at the Woodlands Station in Northern Singapore.
By boat, you can travel to Indonesia via the Riau Islands. There are several beach resorts on these islands though they have their fair share of grimy factories as well. From the Riau Islands, you can take a (long) ferry onwards to Sumatra, Borneo, or Java.
Working in Singapore
Singapore is not the place for casual digital nomads nor people just passing through looking for a desk job at a hostel. This is one of the most competitive, professional, and vibrant economies in Southeast Asia, and is just not backpacker-work-friendly.
For one thing, jobs can be VERY hard to come by in Singapore. Most people receive offers to work in Singapore whilst they're living in their home countries. These people are usually very qualified and working full-time as well.
If you're an English teacher looking for work in Singapore, good luck. Qualifications are absolutely crucial; that means having a TEFL certificate at the very least.
By all means, take advantage of the generous visa-free scheme if you want to work from your laptop in Singapore. Spend those 90 days shacked up in a short-term apartment, reaping all that amazing WiFi (it is some of the best in the world), all the while gorging on incredible street food. Just be aware that the cost of living will be high and breaking into the local job market will be difficult.
If you need a SIM card, they're easy enough to come by as most convenience stores sell them. Data plans will not be cheap.
Many businesses will have WiFi available to paying customers. Singapore also launched Wireless@SG, which is an app that enables free internet access nationwide.
What to Eat in Singapore
Singapore's cuisine is the #1 reason why many decide to visit the country! Like it's people, Singaporean food is a melting pot of culinary styles.
Singaporean food draws inspiration from its many immigrant populations. The most recognizable style of cooking in Singapore is referred to as Peranakan or Nonya, which is a blend of Chinese and Malay cooking.
Purer forms of cooking, like strictly Chinese, Malay, or Indian food, are also very easy to find in Singapore. Regardless of their origin though, nearly every type of cooking in Singapore is lauded and painstakingly delicious.
Singaporeans are very proud of their culinary prowess. Here are a people that love to eat; so much so that the act of eating has actually been declared a national pastime. Should you find yourself at a table filled with locals, most will spend their time talking about food rather than politics, personal affairs, or any other subject for that matter.
You may also notice that most Singaporeans prefer to eat in the hawker centres as well. These large, communal eating spaces are found throughout the city and offer some of the city's cheapest and most delicious food.
Eating where the locals eat is always a good idea as they usually know what's best.
For your enjoyment, I've included a list of the must-try dishes in Singapore. Try a few or try them all!
Must-Try Singaporean Dishes
For Singaporean cooking classes, check out this site for awesome deals.
Singaporean Culture
Singaporeans are an extremely fascinating people. On one hand, they are bound to uncountable traditions from uncountable cultures. On the other, they are a part of one of the most advanced and forward-thinking nations in the world. Reconcile these two aspects in a person, and what you have is a truly multifaceted and, at times, somewhat screwy identity.
Singaporeans are a real amalgamation – they're not quite British and not quite Chinese; not quite Western, and not quite Asian either.
Singaporeans have the uncanny ability to bridge just about any cultural gap. This is a population that regularly interacts with people from all over the globe so don't be surprised to hear a Singaporean speak to an Aussie as if they were mates or an American as if they were bros.
Because it's such a crucial economic center and as such so exposed to the outside world, Singaporeans are truly masters at welcoming foreigners into their nation.
I quite enjoyed all of my interactions with the people of Singapore, though it took me a second to catch on. Bare with the Singaporeans when having a conversation with them; once you get to understand them, they really are a wonderful people.
Because Singapore is such a diverse nation, there are various cultural taboos, ingrained in each community, that must be recognized. Gifting certain items to a person of a certain culture can result in disaster if not properly thought-out.
For example, never give sharp objects to someone Chinese as this may represent cutting ties. Never give anything pork related to a Malay either as the population is mostly Muslim. The list of proper gifting is fairly extensive – those concerned should check out this helpful guide on cultural etiquette in Singapore.
Useful Travel Phrases for Singapore
Singapore has four official languages: English, Mandarin, Malay, and Tamil. Luckily, English is the most used language in Singapore and is spoken by nearly every citizen.
Most official writings are in English as well; those backpacking around Singapore should have little trouble reading and listening to conversations. Note that Singaporeans learn British English in school so the dialect here sounds very "proper."
The grand majority of Singaporeans are bilingual, knowing both English and whichever language comes from their ancestral homeland. Most Singaporeans are of Chinese descent and so Mandarin is the second most common speech in the country. Malays, who were among the first settlers of Singapore, and Tamil Indians are the next largest demographics.
Interestingly, there are several archaic and/or creole languages also present in Singapore. Kristang is a fascinating – and nearly extinct – language spoken by older Portuguese settlers and has been receiving some attention lately. More common is Singlish though, a creole that is used by many modern-day Singaporeans.
Singlish is a very colloquial version of English that borrows heavily from Chinese and Malay. The structure appears extremely rudimentary at times – lots of grammar is abandoned and articles are dropped often.
While backpacking in Singapore, you're going to hear a lot of different expressions. It'll be a little overwhelming at first but, for your sake, I've included a list of some popular Singlish slang.
Books to Read while Backpacking Singapore
These are some of my favorite travel reads and books set in Singapore, which you should consider picking up before you begin your backpacking adventure…
A Brief History of Singapore
Prior to European settlement, Singapore's history is vague. The Greeks surmised its existence, and ancient Javanese poets referred to it as Tumasik, which roughly translates to "Sea Town". When Englishman Sir Thomas Raffles arrived in 1819, he saw Singapore as a seaport with huge potential. Straddling the trade routes between Asia, India, and Europe, Singapore could be a huge boon.
Under English rule and much to the gripes of the competing Dutch, Singapore became an economic powerhouse in the area, thanks in part to its lack of taxation. Over the next few generations, Britain invested heavily in the city – its location was just too valuable.
When World War II commenced, Singapore was taken by the Japanese Empire following an unorthodox land invasion. The British had lost their Asian pearl and would, in a way, never get it back.
When WWII eventually ended and the Japanese defeated, Britain attempted to subdue Singapore again but its citizens were upset with their former rulers. Singapore was in shambles and the people wanted a new leadership.
In a landslide election, Singapore became a self-governing entity within the Commonwealth. At that point, the idea of merging with Malaysia was batted around and, in 1962, unification occurred. What followed though was not what anyone expected.
Race wars broke out. Unforgivable schisms formed within the government. Terrorist attacks and bombing became frequent. By 1965, Malaysia and Singapore were completely sick of each other and both opted to break up.
Since splitting off from Malaysia and gaining independence in 1965, Singapore has been the master of its own fate. Still, one of the leading Asian economies, Singapore developed quite quickly under its own rule and has since joined the world stage. Sky's the limit for Singapore, though that may even be setting the bar too low.
Closing Thoughts – Be Good to Singapore
Don't let Singapore's costly reputation dissuade you – this city-state is totally worth checking out. Here are some of the coolest and most impressive sights that you'll see while backpacking Southeast Asia. Between it's lofty artificial gardens and even loftier skyscrapers, you're sure to be awestruck by at least a thing or two when visiting Singapore.
Those backpacking in Southeast Asia simply have to include Singapore on their itinerary. Backpacking Singapore can be an intimidating endeavor- mostly because of the prices – but doing so can be a very enriching experience.
You'll eat some of the best food on your trip, see some amazing architecture, and witness firsthand what a modern city can aspire to be.
With this Singapore backpacking guide in hand, you'll have everything that you need to begin your adventure. You'll know where the cheapest hostels are, where to find the best deals, and how to get the most out of your trip.
Follow the travel tips for Singapore that have been outlined in this guide, my fellow broke backpackers, and you'll no doubt have a good time in this interesting country.
---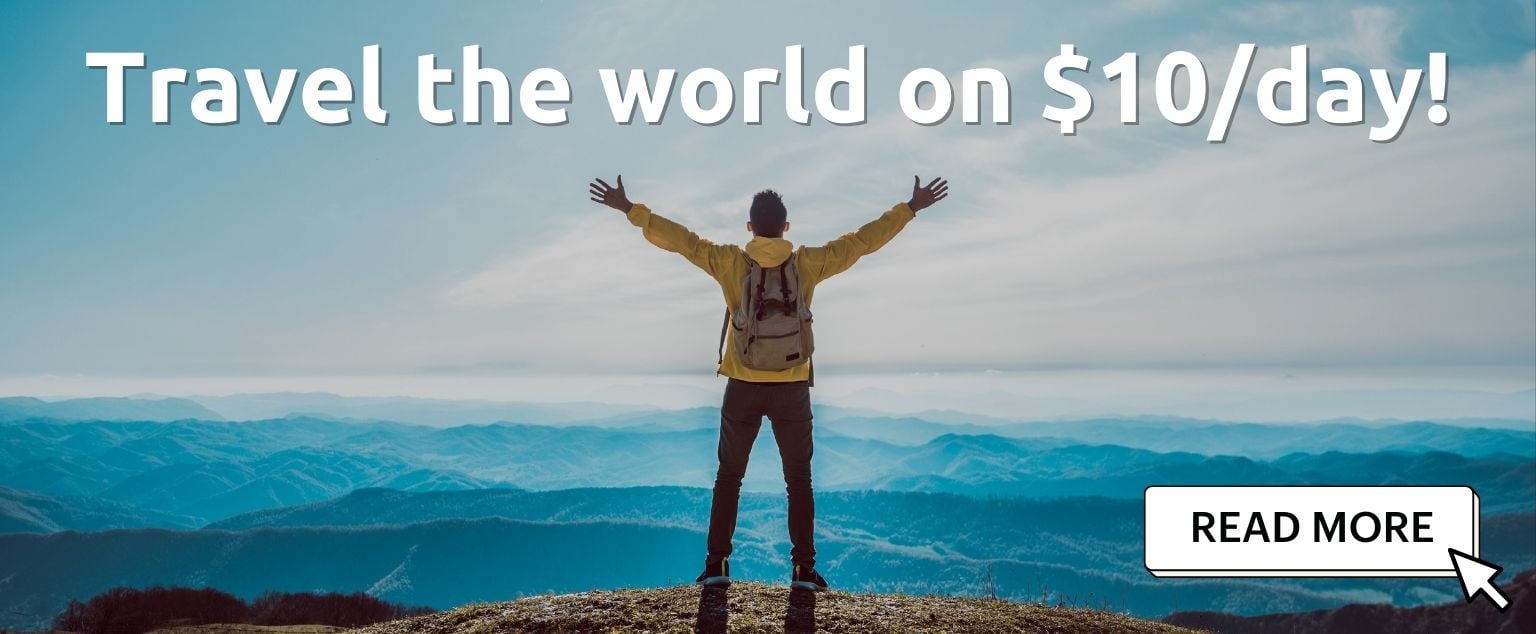 And for transparency's sake, please know that some of the links in our content are affiliate links. That means that if you book your accommodation, buy your gear, or sort your insurance through our link, we earn a small commission (at no extra cost to you). That said, we only link to the gear we trust and never recommend services we don't believe are up to scratch. Again, thank you!