Singapore is an urban jungle, a multicultural island nation where skyscrapers and traditional values meet. One minute you'll be admiring heritage shophouses, and marveling at the cityscape from one of its high-rise hangouts the next.
Singapore is often portrayed as an expensive destination. Backpackers in South East Asia tend to skip over it as a result, but there are so many ways to get around the high expenses if you travel smartly.
Booking yourself into a cheap hostel in Singapore is a good place to start. And with its surprising selection of budget accommodation, you'll find it's actually a completely affordable destination!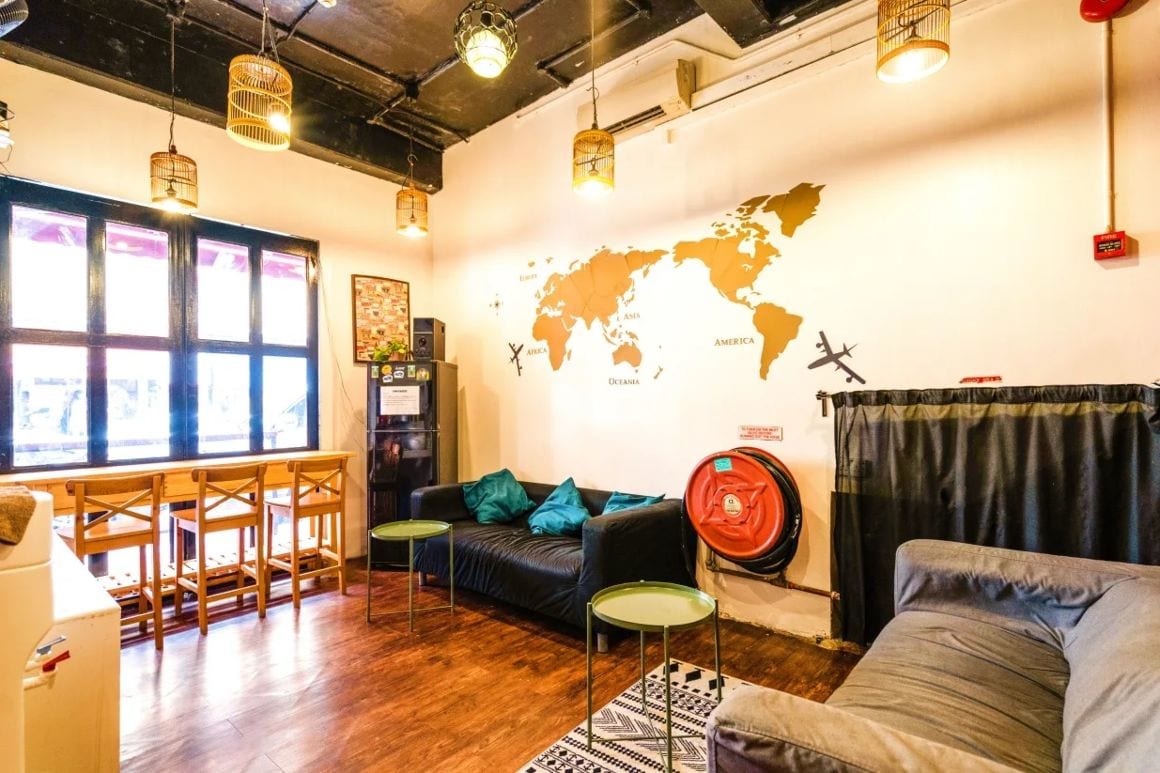 Situated across two floors of a traditional Singaporean shophouse, S Inn Chinatown provides great budget accommodation in Singapore. It offers great value for money, with rooms that are spacious, simple, and smart. The hostel also comes complete with that all-important AC, that you're definitely going to need here.
The decor is themed to reflect Singapore's Chinese heritage, with contemporary street art-style illustrations mingling throughout. It's not so much about the social vibe here, making it ideal for any digital nomads. There are plenty of spaces to get work done, and cosy corners to kick back in.
It's not overflowing with swish features, but it's a safe, cheap option in an amazing location.
Where is S Inn Chinatown?
This budget hostel is situated in Singapore's Chinatown district. This means you'll be close to a whole host of good places to eat, including the sprawling Chinatown Hawker Centre. It's also a short walk from here to the more international dining scene and bars of Clarke Quay. The Marina Bay Sands landmark is about a 25-minute walk away.
The hostel has capacity for 90 guests at one time, and has the classic room options. Your dorm choices are:
There are private rooms on offer, too:
Prices here are from $16 per night.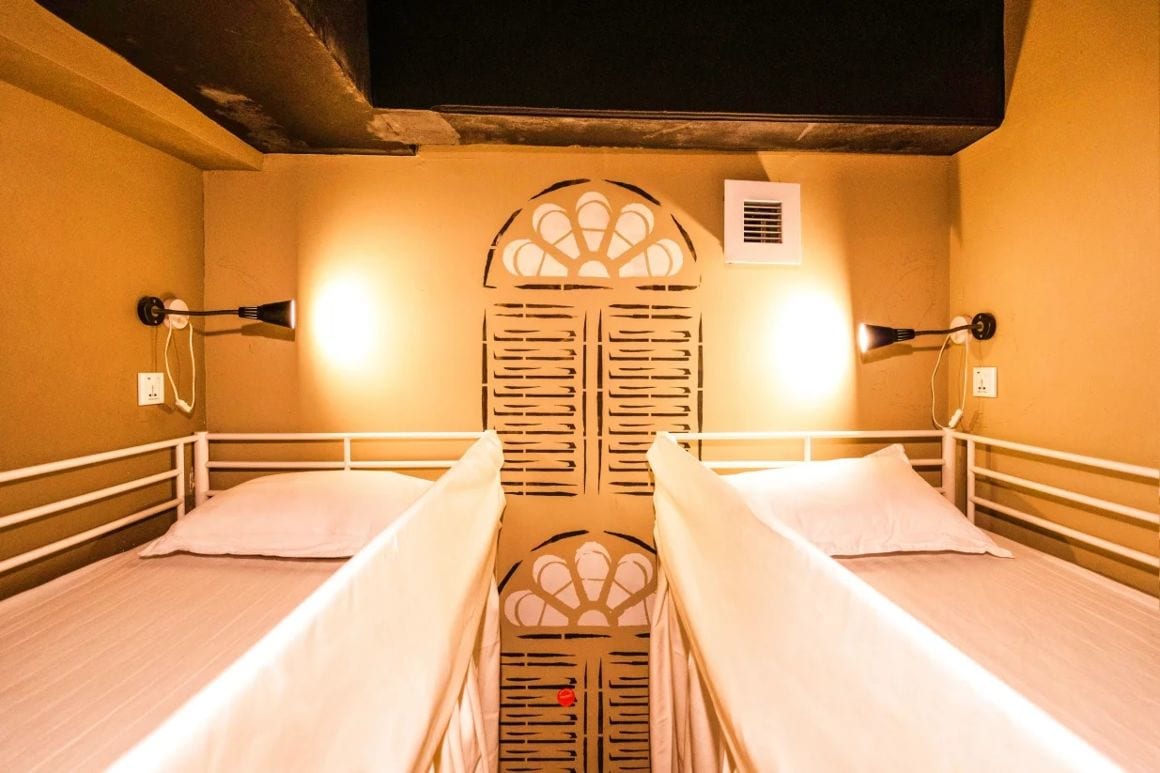 Any extras?
Though this is one of the cheapest hostels in Singapore, you still get more than just a place to rest your head for the night. Amenities include the following:
Free breakfast
Air-con
Outdoor terrace
Security lockers
Hairdryers
Workspace (complete with iMacs)
Laundry facilities
Housekeeping
It's by no means a party hostel, but S Inn Chinatown pretty good value for money. With such a great location and a free breakfast, you really can't go wrong.
The BEST Travel Backpack?!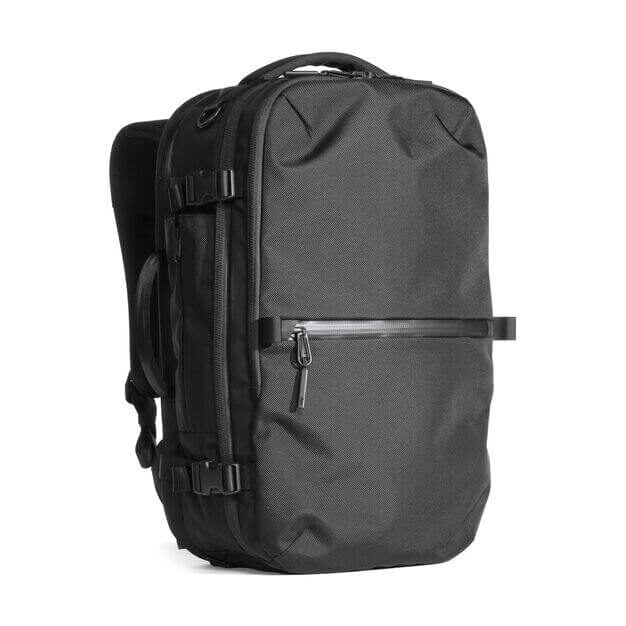 Pssssst! Not picked the perfect travel backpack yet? The Broke Backpacker team has tried out over thirty backpacks this year! Our favourite travel backpack is the Aer Travel Pack 2.
View on AER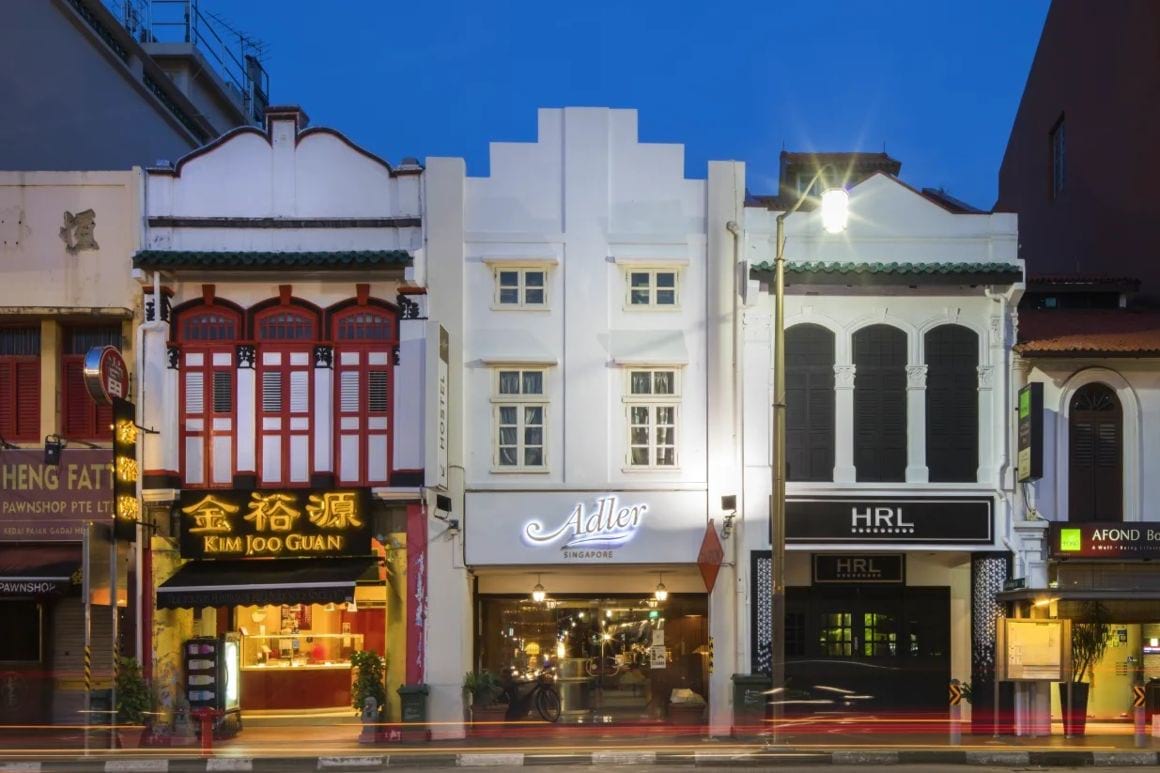 Adler Hostel is a luxury-looking hostel situated in a historic building. In fact, it was chosen as a top "poshtel" by a few different companies, and you can see why.
The hostel is located inside a restored heritage Art Deco-style shophouse, and interiors are pretty high-satandard. Even in the dorms, beds are custom-built pod-style affairs made for comfort and convenience. You even get two pillow – which is pretty rare for a hostel!
Throughout the hostel, comfy furniture and houseplants blend a minimalist meets luxe aesthetic. It's also family-run, so you'll be supporting a small local business throughout your stay.
Where is Adler Hostel?
Situated in the Chinatown district, the CBD is an easy walk away. There are plenty of places to eat nearby as well as some of Singapore's best sights, including the Buddha Tooth Relic Temple. Handily, the Chinatown MRT station is just a five-minute walk away, so you can easily explore the rest of the city-state.
If you're wondering what the sleeping arrangements are, here are your choices in terms of rooms:
Mixed dorm
Female dorm
Single room
Prices start at $30 USD per night.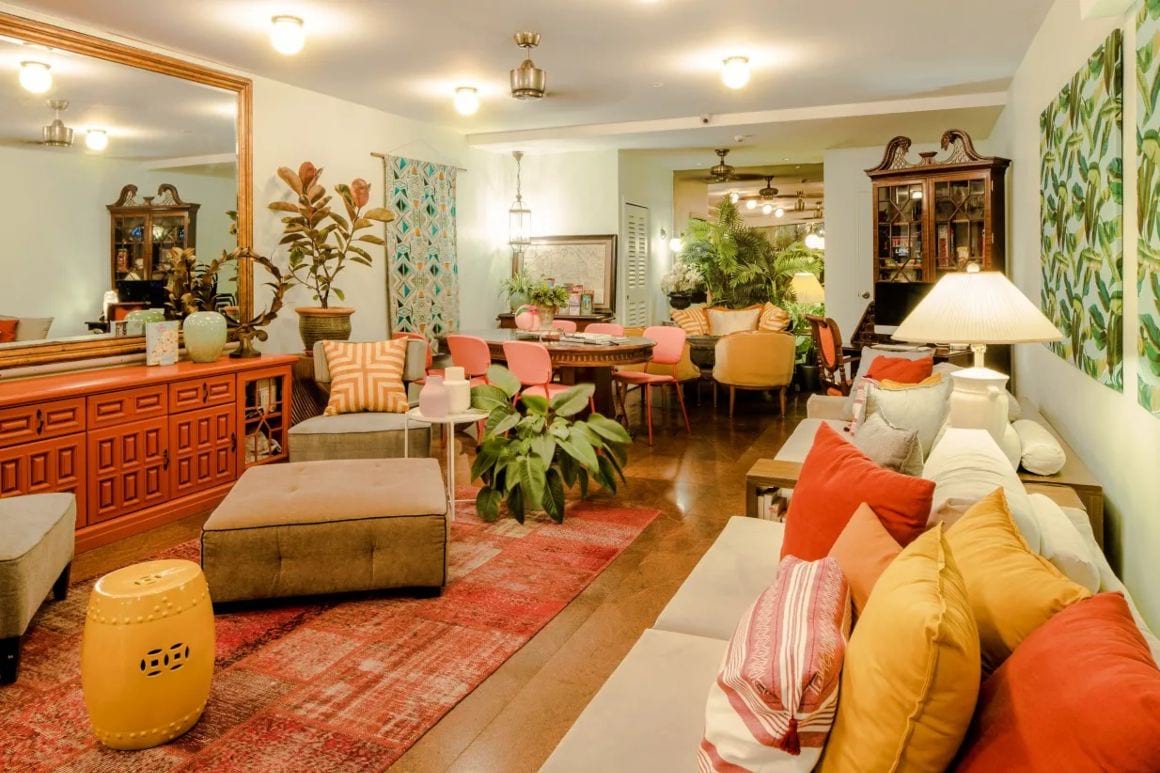 Any extras?
Other than looking pretty chic, the hostel offers a few added amenities to make it a more well-rounded experience. These include:
Laundry facilities
Down duvets
Privacy blackout curtains
Tours/travel desk
24-hour security
Postal service
Key card access
Free Wi-Fi
If you're traveling on a budget but want the comforts of home, this is one cheap Singapore hostel that won't disappoint. It's stylish, it's affordable, and it's full of amenities.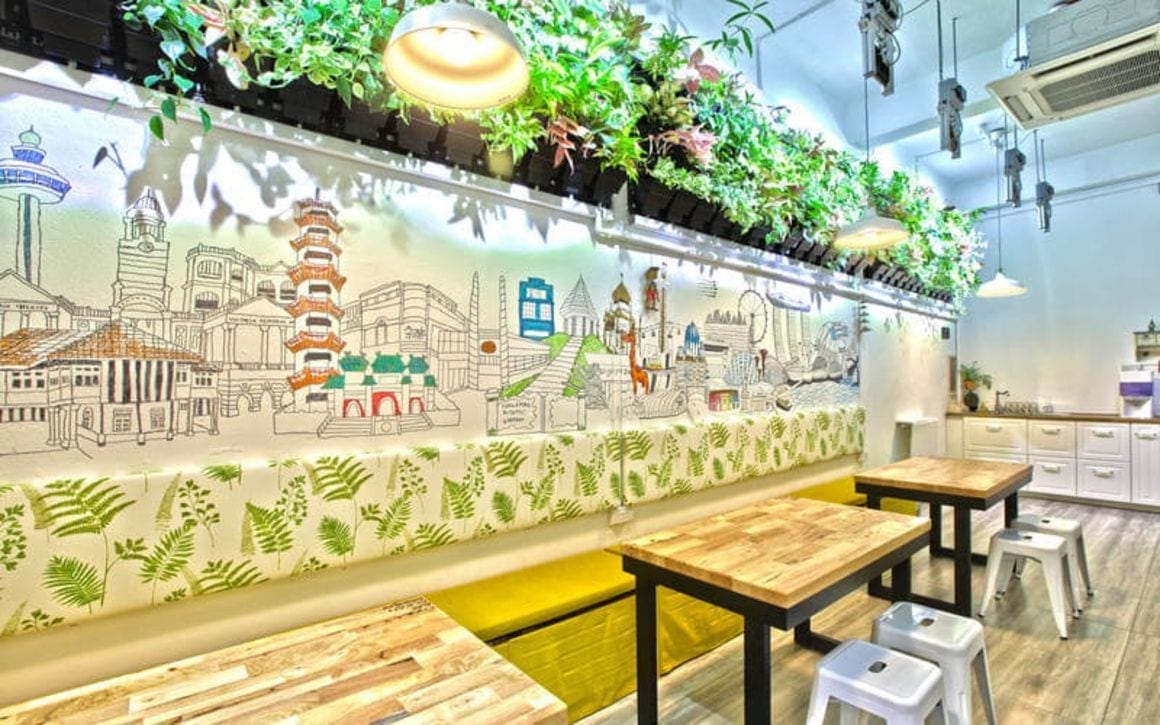 Dream Lodge is incredible value for money, making it easily one of the best cheap hostels in Singapore. The experience adds up to a solid, all-round great place to stay.
Don't come expecting a party hostel: Dream Lodge is a quiet space. You'll get a good night's sleep here, and friendly staff will make sure your stay runs smoothly. Cleanliness is guaranteed here, and the free breakfast is hard to beat.
Beds come with a dedicated luggage area and privacy curtains, so you can enjoy your own space in the dorm.
Where is Dream Lodge?
This hostel is located in Lavender, just outside the CBD. This puts you close to a number of attractions including Little India, and loads of trendy cafes. The Bendemeer MRT station is a five-minute stroll from the hostel, which makes exploring further afield pretty easy as well.
The room options at this hostel aren't extensive, and include just a couple of choices:
Prices start from $23 per person per night. Note that some of the bunks are doubles and come with two mattresses, intended for couples.
Any extras?
The fact that Dream Lodge won an award at the 2020 Hoscars says a lot about its quality. There are some great amenities and perks on offer, including…
Free breakfast
Free Wi-Fi
Security lockers
Air-con
24-hour security
Bicycle hire
Hairdryers
Tours/travel desk
Overall, Dream Lodge is a high-quality, low-priced hostel in Singapore that speaks for itself. With a great location and a number of perks, it's a great base for your travels in Singapore.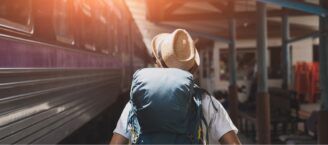 Unlock the The Broke Backpacker's GREATEST Travel Secrets
Sign up for The Broke Backpacker Newsletter to receive weekly tips on how to travel on a budget + a FREE copy of The Backpacker Bible!
This hostel is run by New Zealand staff, and is a laid-back place for backpackers to hang out. It's a cosy place to kick back in, and the rooftop terrace is a great place to socialise with other travelers.
Set in a historic building and making use of period features alongside modern fixtures and fittings, it's a pretty cool place to be. It's also sparkling clean, so bad hygiene won't be an issue!
The staff are welcoming and approachable. They'll provide some great insider knowledge, helping you create an awesome Singapore itinerary.
Where is Rucksack Inn?
You'll find this cheap Singapore hostel very close to Bendemeer MRT station, so getting out and about is pretty easy from here. It's also great if you're planning on arriving or departing via the Singapore-Malaysia bus, as the drop-off/pick-up point isn't far from the hostel either. For awesome food, Lavender Street Hawker Centre is just across the road.
What rooms are on offer at Rucksack Inn? Dorm options include:
There are some private rooms, too:
Twin room
Double room
4+ bed family rooms
Prices start from $20 USD per night.
Any extras?
Rucksack Inn isn't just a cheap place to stay. They also have some pretty good perks on offer here for guests to use. These include:
Free breakfast
Air-con
Amazing rooftop
Hairdryers
Laundry facilities
Bar
Multilingual staff
Board games
Staying at the Rucksack Inn, you'll meet some like-minded travelers passionate about the area. With so many amenities and a free breakfast saving you even more money, this hostel is another great choice.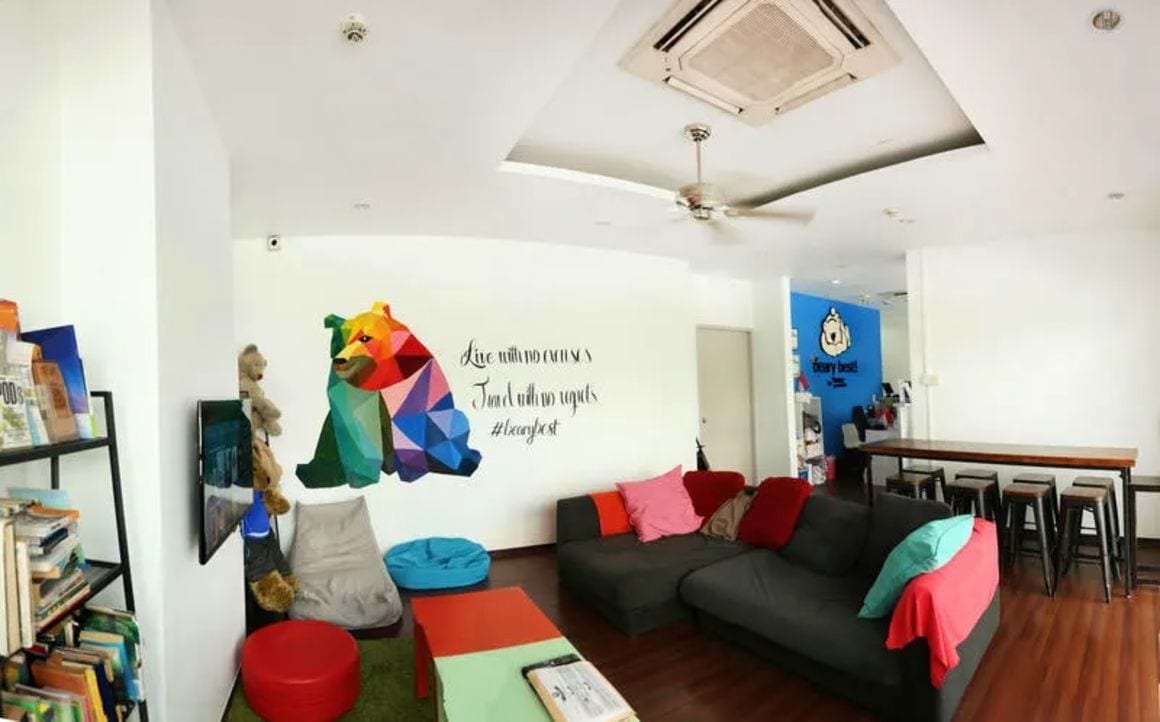 Located in one of the coolest neighborhoods in Singapore, this slightly bear-themed hostel is a laid-back, carefree place to stay. It's the sort of place that can provide comfortable accommodation and good value for money.
The hostel is situated within a lovingly restored Art Deco heritage house. It has a chilled environment with large common areas to hang out in. Rooms are clean, comfortable and colourful.
So while it may not be the poshest hostel you'll ever set foot in, it ticks all the boxes for comfortable budget accommodation in Singapore.
Where is Beary Best?
This hostel is situated in Singapore's Chinatown. It's right next to Chinatown MRT station, plus there's a bus stop out front that'll whisk you to hot-spots such as Marina Bay Sands, Orchard Road, and Suntec City. With these transport options, it's also convenient for getting to and from Changi Airport. Plus you'll have all the gastronomic wonders that Chinatown can afford at your fingertips. What more do you want?
There aren't as many room options here as at other hostels, but it's ideal if you're only staying in Singapore for a couple of days. Your options are:
Prices start from $18 per night.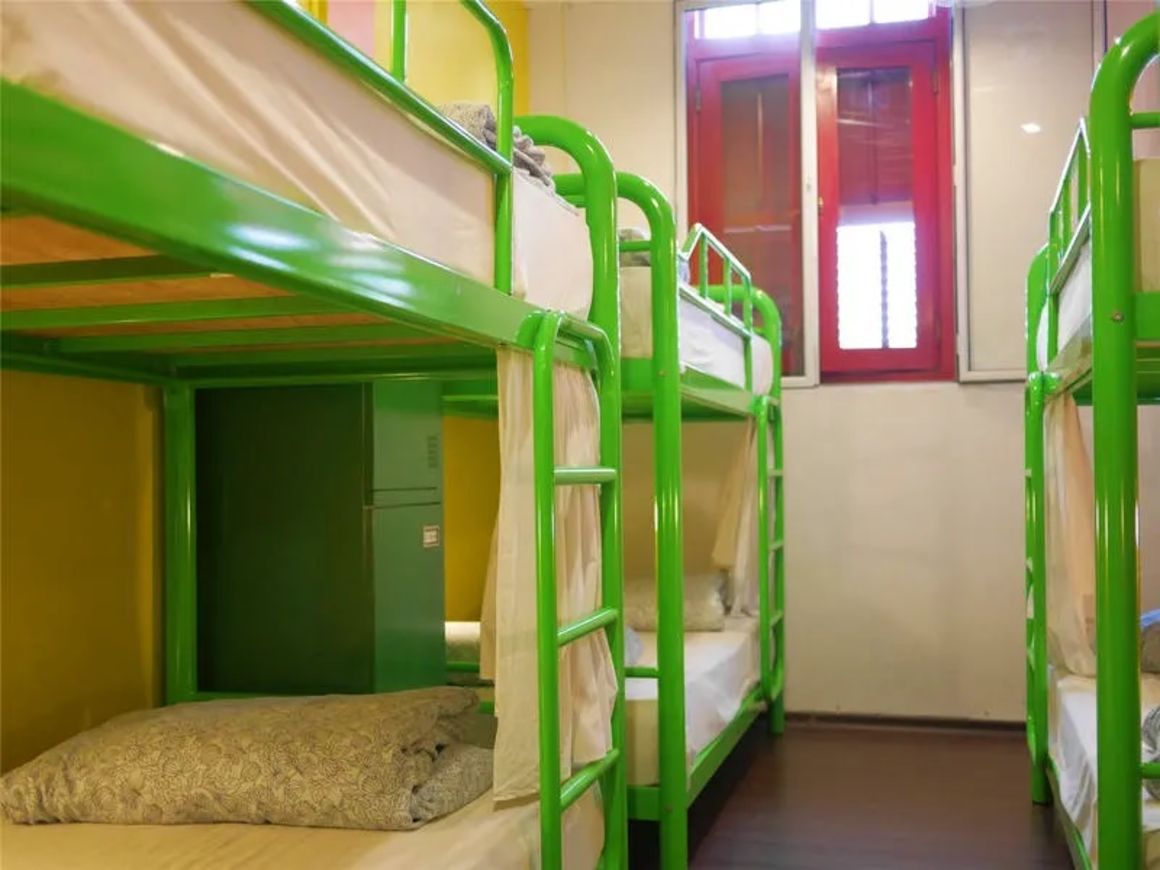 Any extras?
There are also some convenient features that go along with the comfy beds (and excellent location) of this cheap Singapore hostel. These include:
Outdoor patio
Luggage storage
Laundry facilities
Key card access
Lounge with Netflix
Drinks and snacks on sale
24-hour reception
Hairdryers
This is a welcoming place to be, with plenty of room to chill out when you're not exploring the city. It may not be the stylish, most boutique hostel in Singapore, but it'll help you have an affordable stay in Singapore.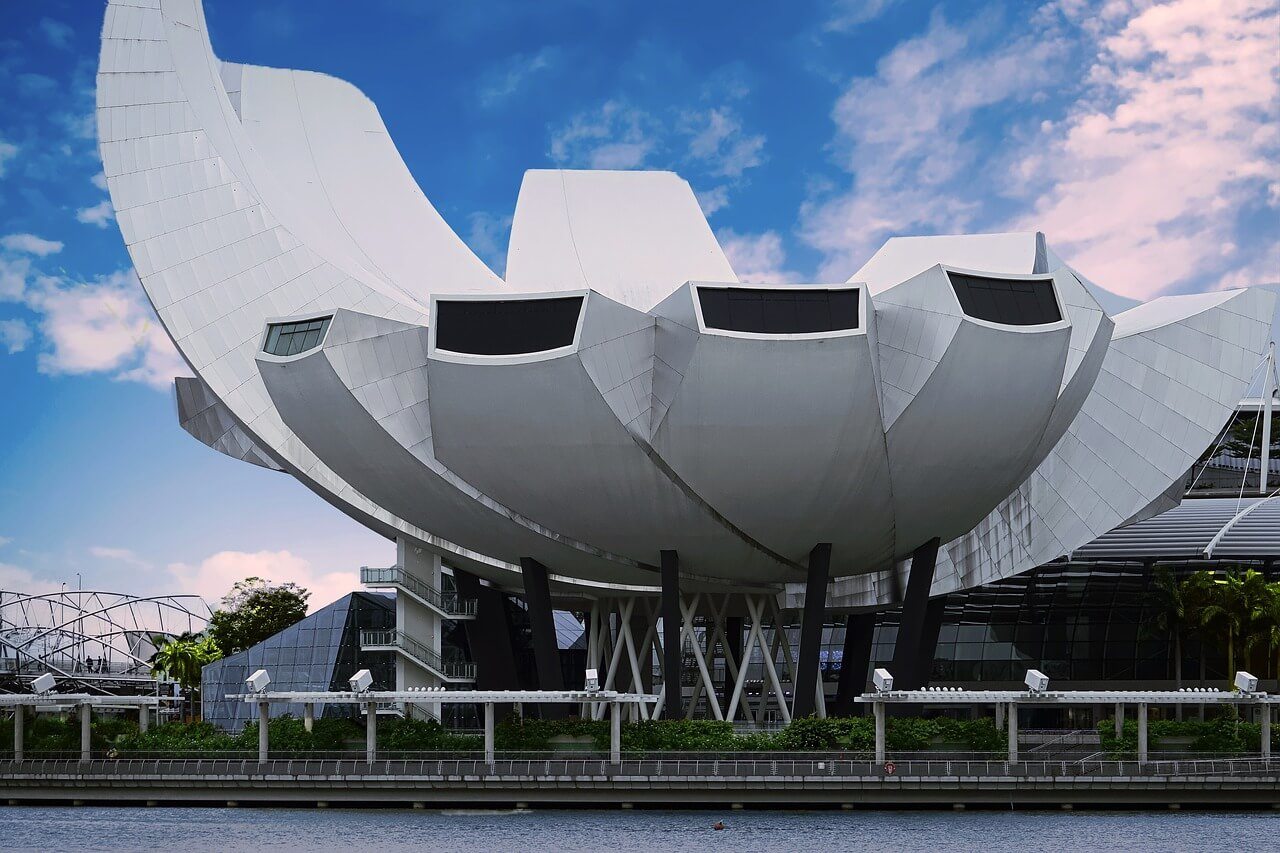 Cheap Hostels in Singapore FAQ
How cheap are hostels in Singapore?
The lowest price you can pay for a hostel in Singapore is around $15 USD per night. The average price is around $20, while more "high-end" budget options start at $30. For a private room, you can expect to pay an extra $10-20 (FYI private rooms are often pretty small here).
Breakfast is often included in the nightly charge, which helps to keep costs low and is a great perk.
In terms of the cheapest area in Singapore, we'd say that Chinatown or the Little India districts are where to look. Both are so well connected by the nation's MRT and bus service that staying in a more central location can seem pointless.
Are hostels in Singapore safe?
Singapore is renowned the world over for being one of the safest places going. Crime rates are super low, and you shouldn't have any worries stepping out of your hostel to hit the streets.
Saying that, a favorite motto of the Singapore police is "low crime doesn't mean no crime," and accordingly each hostel is usually bundled with security measures.
You can expect to find CCTV, security lockers, 24-hour front desks and key card or key pad entry, meaning staff and guests are the only people who can gain access to the building.
Are there any more cheap hostels in Singapore?
Yes. Backpacker's Hostel @ The Little Red Dot (from $24 per night) is one example. A very backpacker-friendly place, it's got a social atmosphere, events, and tours, which attract a good mix of people to meet.
Gap Year Hostel (from $18.50 per night) is anither classic backpackers. The location, close to Little India and MRT stations, means travel is easy. What's more, they offer a free breakfast.
G4 Station (from $14 per night) aims to provide quality accommodation for people who like to travel the world. Rooms here are bright and colourful. Added extras include city tours and a complimentary brekkie.
Final Thoughts on Cheap Hostels in Singapore
With all of these great hostels, we hope we've helped you find a budget-friendly way of exploring Singapore. Plus, if you look in the right places, you can get some pretty affordable street food too.
Architectural marvels intertwined with jungle, you don't need a lot in your wallet to simply soak up what Singapore is all about. It's a true melting pot of cultures and eras, and one that's not to be missed.