The small Southeast nation of Singapore sure packs a punch! A fabulous destination for foodies and shopping lovers, the country also has a wealth of cultural, religious, and historical sites, fun theme parks and family-friendly attractions, and an exciting night scene. There's never a dull moment in the Lion City!
Compared to neighbouring countries, Singapore has a reputation for being on the pricey side. Many people are put off visiting because of the higher travel costs.
There's no need to worry, though! Our expert team of travel writers have compiled this list of the best places to visit in Singapore, including both pocket-friendly places and attractions where you'll definitely want to splurge. It's not that difficult to balance your budget while still making the most of Singapore.
With popular tourist destinations and attractions that are off the beaten track, some of these best places to visit in Singapore are sure to amaze you!
Need a place quick? Here's the best neighbourhood in Singapore:
BEST AREA IN SINGAPORE
Marina Bay
Marina Bay is one of Singapore's prettiest and most desirable neighbourhoods. Located in the centre of the city, Marina Bay overlaps with the Central Business District, the Civic Quarter, and trendy Clarke Quay, so you're never far from the action.
Places to visit:
Take in the stunning views from the Sands Skypark, a platform perched 55 stories above the ground.
Sip on a pint of artisanal beer at LeVel 33, the world's highest microbrewery.
Visit Merlion Park and see the famous Merlion (half-fish, half-lion) statue, a symbol of Singapore.
These are the BEST Places to Visit in Singapore!
Singapore is simply delectable and we know you can't wait to get started, but before you do, be sure to check out where to stay in Singapore! Choose your favourite area and book yourself a great stay. Then, on to the good stuff…
Unlock the The Broke Backpacker's GREATEST Travel Secrets!
Sign up for The Broke Backpacker Newsletter below to receive weekly tips on the travel-life + a FREE copy of The Backpacker Bible!
#1 – Singapore Food Trail – A must-see for foodies!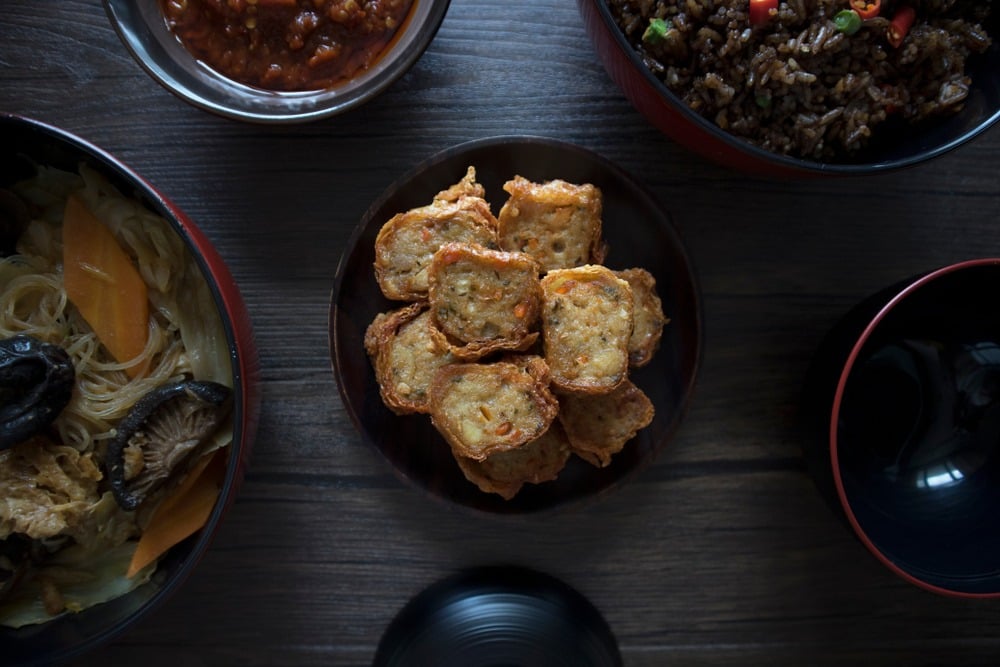 Travel back to the Singapore of old
Unusual and rare dishes
Great place to sample an array of local cuisine
Energetic atmosphere
Why it's awesome: The Singapore Food Trail is a modern food centre with a retro vibe. With a sixties air, you can travel back in time through your taste buds and sample dishes made from recipes that have been passed down through the generations. Some of the specialities served at the Singapore Food Trail can be difficult to find in other hawker centres around the country. Dishes combine Chinese, Malay, and Indian influences, and you'll find Peranakan delicacies and meals with European influences too. The centre is often busy, showing its popularity. The décor is attractive and there are plenty of photo opportunities, from the dishes themselves to the olde-world features and an old rickshaw.
What to do there: Be sure to come hungry to the Singapore Food Trail and let your senses guide you! Order a variety of dishes to share with your friends so that you can all sample a range of tasty treats. Sink your teeth into things like chilli crab, oyster omelette, satay skewers, steaming bowls of noodles, Hainanese rice, BBQ fish, and rojak. The prices are reasonable so there's little excuse not to indulge! Chat over delicious fare and soak up the retro ambience. Hop into the vintage rickshaw for some cool photos and browse antiques and other curios in the small onsite shop.
#2 – Raffles Hotel – One of the most romantic places to visit in Singapore!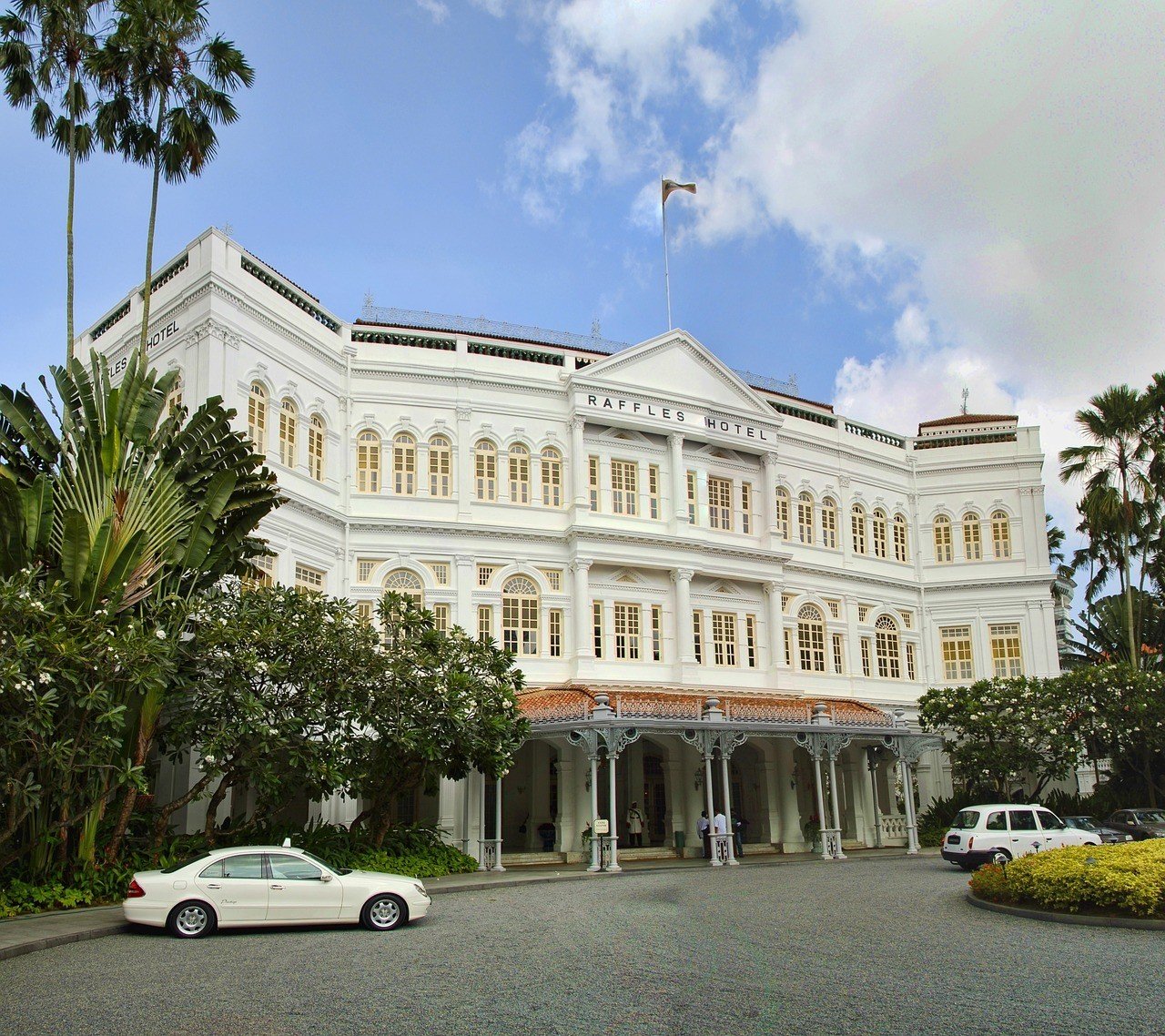 Colonial vibes
Olde-world and elegant atmosphere
Home of the Singapore Sling cocktail
Iconic building
Why it's awesome: The luxury Raffles Hotel is a grand colonial-style building that can trace its roots back to the 1880s. What started as a fairly modest property grew over the years into the iconic establishment that it is today. Interestingly, it was the first hotel in Singapore to have electric lights! A favourite haunt of people like Somerset Maugham and Rudyard Kipling back in the day, the hotel has opulent rooms, an elegant ballroom, a shopping arcade with boutique stores, and several places onsite to enjoy fine cuisine and a refined drink. The hotel's famous Long Bar gave birth to the fruity Singapore Sling, a delicious cocktail. The property has been featured in several movies and TV shows.
What to do there: Admire the grand lobby before making your way to the Long Bar to bask in the olde-worlde atmosphere and enjoy a laid-back drink in a sophisticated setting. The Singapore Sling is a must-try, though you'll also find a wide range of imported spirits and beers to satisfy your thirst too. Admire the elegant artwork, which includes a gorgeous portrait if Shanghai Lilly and drop monkey nut shells on the floor as patrons of old used to do. Enjoy the feelings of splendour surrounded by wicker furnishings, a gleaming teak wood bar, and old-fashioned reed fans. If you really want to splurge on your holiday in Singapore, you can book a weekend trip to the iconic hotel to really feel fancy.
#3 – Night Safari – One of the more unique places to visit in Singapore!
First nocturnal zoo in the world
Excellent family-friendly attraction
Home to more than 2,500 animals
Alternative night time activity
Why it's awesome: Singapore's award-winning Night Safari was the first nocturnal zoo in the world. Unlike other zoos that try to encourage nocturnal creatures to be active during the daytime, the Night Safari operates in darkness, letting people see animals in their natural nocturnal state. The lighting is marginally brighter than moonlight, with enough light to allow visitors to spot creatures but not too bright that it interferes with the creatures' natural rhythms. Many creatures call the large open-air zoo home, including tigers, elephants, deer, rhinos, leopards, tapirs, and squirrels. The open zoo concept emulates natural habitats as much as possible and there are seven different zones to explore. It's a fantastic activity for old and young alike.
What to do there: See a range of creatures, including rare species, at night time as you explore the seven zones of Singapore's Night Safari. Follow exciting walking trails, such as the Leopard Trail, Wallaby Trail, and Fishing Cat Trail, and take a tram ride through the different areas to cover diverse terrain from around the world. Journey through the foothills of the Himalayas, across Equatorial Africa, through Asia, around Australia, and more. The aviaries bring you up close and personal with various birds and other flying creatures like the Malayan flying fox. Don't miss the exciting Creatures of the Night cultural show and other entertaining tribal demonstrations such as fire eating and blowpipe shows. Have dinner at the Night Safari for a delicious gastronomic experience.
#4 – National Museum of Singapore – A fascinating educational place to visit in Singapore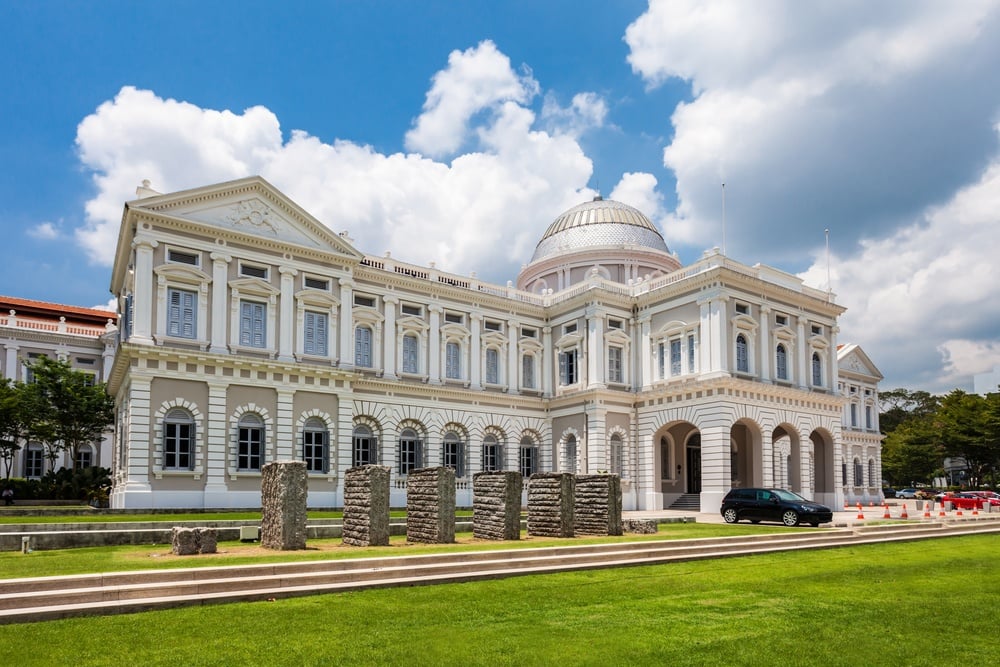 Singapore's oldest museum
Top place to learn more about Singapore's history and culture
Huge collections and displays
Home to most of Singapore's National Treasures
Why it's awesome: Originally named the Raffles Library and Museum, the National Museum of Singapore dates back to the late 1840s. Today, the diverse collections tell the story of Singapore's history. The museum's aim is to preserve and revive the nation's cultural heritage. Most of the country's National Treasures can be found in the large museum. The building itself is impressive both inside and out, with stained glass, a sweeping spiral staircase, wooden details, a glorious dome, glass rotundas, beautiful tiling, and stucco motifs. It's an essential place to visit for anyone interested in hitting ip some historical sites while on a touring Singapore on a highlight itinerary.
What to do there: Admire the Neo-Palladian and Renaissance building from the outside before stepping inside to enjoy the impressive interiors and collections. See the eleven National Treasures housed in the museum, including a Peranakan coffin cover, drawings by William Farquhar, the Singapore Stone, Munshi Abdullah's will, and the Gold Ornaments of the Sacred Hill. Other artefacts include glass pieces from the Victorian era, artworks, costumes used in Chinese opera, photographs, and old containers. The Singapore History Gallery really helps to bring the past to life, with an array of early items and household objects. Check the events calendar to see if there are any special lectures or workshops being held during your visit to Singapore.
What is the One Item Every Traveller NEEDS???
There is one item every traveller NEEDS. Some travellers don't even know they need it, but those travellers need it more than anyone.
What is this forgotten essential of the backpacker-life? SPOILERS! Guess you'll just have to click the button to find out. 😉
Find Out What It Is!
#5 – Bukit Batok Nature Park – A nice non-touristy place to visit in Singapore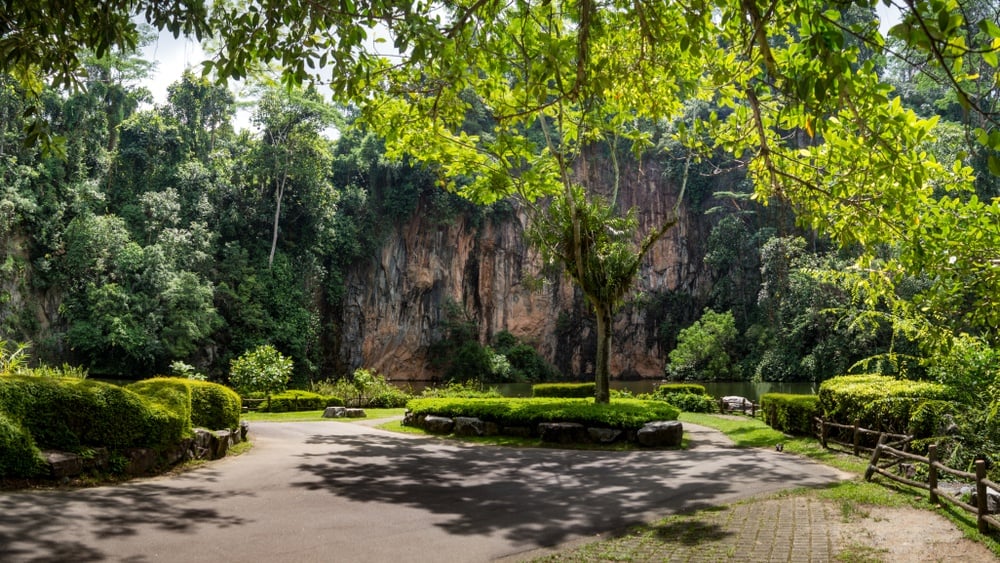 Peaceful outdoor attraction
Large urban park
Off the beaten track
Historical significance
Why it's awesome: Bukit Batok Nature Park covers 89 acres (36 hectares). The large urban park was developed in an old disused quarry. The quarry is now filled with water, and the surrounding lush parkland is home to various flora and fauna. There are beautiful views and plenty of leisure and recreation opportunities. The picturesque setting and limestone rocks has led to the area being called the Little Guillin of Singapore. There are historic sites in the park too, including the remains of an old Japanese memorial.
What to do there: Follow the verdant forested nature trails around the park and look out for diverse bird species and creatures like the green crested lizard and other reptiles. If you're feeling active, it's a great place for an early morning jog. You'll also find various fitness equipment if you want to work up more of a sweat. Additionally, you can climb Bukit Batok Hill and visit viewpoints for stunning vistas. See the 100-plus concrete steps and pillars that remain from the Japanese memorial that honoured soldiers who lost their lives during World War II.
#6 – Universal Studios Singapore – Cool place to see in Singapore with friends!
Fun theme park
Enter the world of movies
Diverse rides and shows
First Universal Studios theme park in Southeast Asia
Why it's awesome: Located in Sentosa Island (often referred to as Singapore's island of fun), Universal Studios Singapore is a large theme park spread across seven cool-themed areas. Areas include Hollywood, New York, The Lost World, Ancient Egypt, Sci-Fi City, Madagascar, and Far Far Away. There are rides and shows to suit people of all ages, with adrenaline-inducing rides for thrill-seekers and tamer rides for the kids. Attractions are based around popular films, and you can learn more about the movie-making process. The first Universal Studios theme park in Southeast Asia, it has been providing fun to visitors since 2011.
What to do there: Spend a fun-filled day enjoying the diverse rides, shows, and other film-based attractions in Universal Studios Singapore. Step back in time at Hollywood, designed to replicate Hollywood Boulevard in the 1970s, and see the Hollywood Walk of Fame and the Broadway-style theatre. See the bright neon lights and skyscrapers in New York, complete with the Lights! Camera! Action! show and characters from Sesame Street. Visit the Lost World to step right into Jurassic Park and Waterworld and ride the Revenge of the Mummy: The Ride and Treasure Hunters in the Lost World. Explore Shrek's World in Far Far Away, peek into the future at Sci-Fi City, and soak up the tropical jungle vibes of Madagascar. There are numerous places to eat and drink and you can also pick up some themed merchandise to take home with you.
#7 – Gardens by the Bay – Great place to visit in Singapore for couples!
Unusual and photogenic attraction
Diverse beautiful gardens
Home to the famous Supertrees
Romantic vibes
Why it's awesome: One of the most popular attractions for tourists, locals, and backpackers exploring Singapore alike, Gardens by the Bay is a picturesque nature park with various gardens and features to enjoy. Each individual garden and conservatory has its own appearance and ambience, and the site is a wonderfully romantic place to enjoy with your sweetheart. As well as being able to see a wide range of different plants and flowers the gardens offer different ways to relax and a number of leisure options. Helping to cement Singapore's reputation as a Garden City, the Gardens by the Bay are one of the country's must-see attractions.
What to do there: Lap up the views of the spectacular Singapore skyline from the Bay East Garden, designed like tropical leaves with various botanic and water-inspired themes. Take a scenic walk alongside the waterfront in the Bay Central Garden and take kids to the specially designed Children's Garden, complete with an adventure trail with hanging bridges, swings, trampolines, and more ways for young visitors to let off steam. Explore Singapore's main ethnic groups in the Heritage Gardens, with gardens dedicated to the Malay, Indian, and Chinese groups, and see the significance of plants in Singapore's history in the Colonial Garden. You'll find even more to appreciate in the Flower Dome (the world's biggest glasshouse without columns) and the Cloud Forest, which even features a tropical-like waterfall. Don't miss the stunning and futuristic Supertree Grove, and try to see the gorgeous trees lit up in the evenings too.
#8 – Clarke Quay – A great place to visit in Singapore at night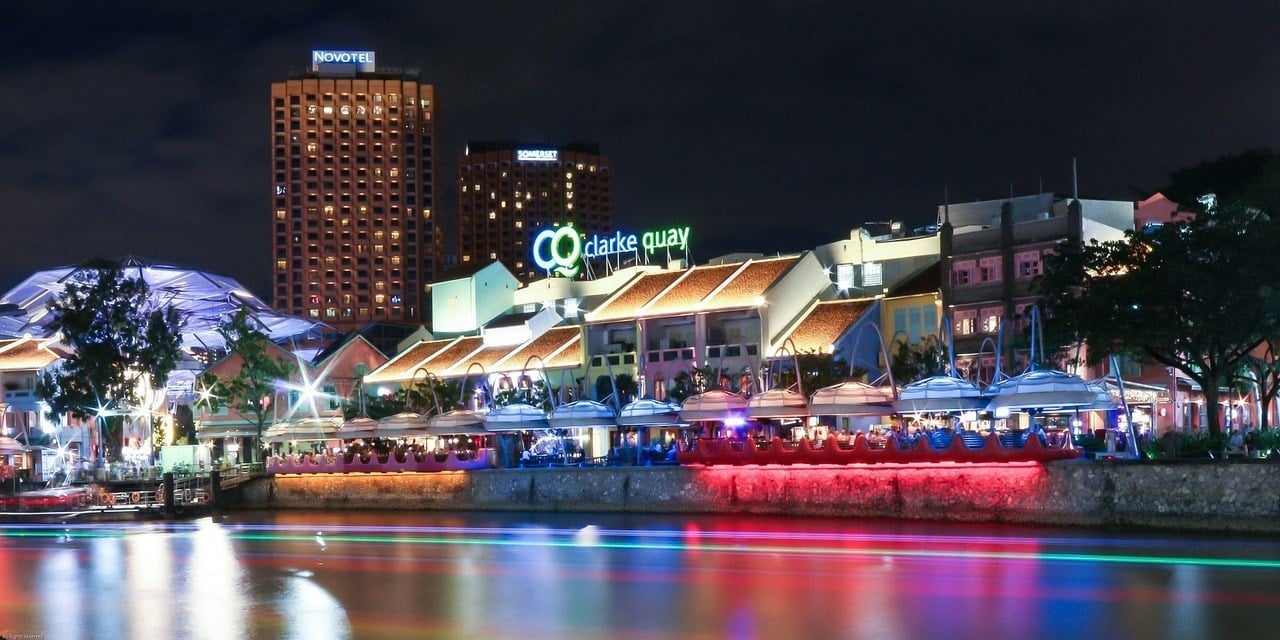 Riverside key with a strong sense of history
Restaurants and bars in converted warehouses
Popular place for a night out
Have a go on the rush-inducing reverse bungee
Why it's awesome: Clarke Quay is located next to the Singapore River and it was a major trade hub in times gone by. An important commercial area during the colonial period, Clarke Quay has been redeveloped to create a lively centre for leisure and entertainment. The area really comes into its own at night with five blocks of warehouses that now house top-class restaurants and nightclubs. Floating bars and eateries are contained in traditional Chinese junks (sailing vessels) and there are awesome views. Many of Singapore's top-name nightclubs can be found at Clarke Quay and it's popular with locals and visitors alike looking for a lively night on the tiles.
What to do there: Savour a tasty meal in one of the beautiful riverside restaurants, with establishments serving Singaporean favourites and international menus. Walk along the riverside, seeing restored warehouses, moored boats, and old shophouses. There's plenty of colonial-period architecture too. Brave the G-Max Reverse Bungee and see the structure magnificently illuminated at night. Other attractions at Clarke Quay include the Art-2 Gallery, the escape game of Lockdown Singapore, and the 100-year-old Hong San See Temple. Don your best clothes and comfortable dancing shoes for a night of revelry in one of the many swanky bars and clubs—this is a place to see and be seen! DJs spin the latest hits and there's a wide range of drinks to loosen you up and get you well and truly in the party mood. Beer lovers are sure to be pleased at Pump Room Microbrewery.
#9 – Merlion Park – One of the most incredible free places to go to in Singapore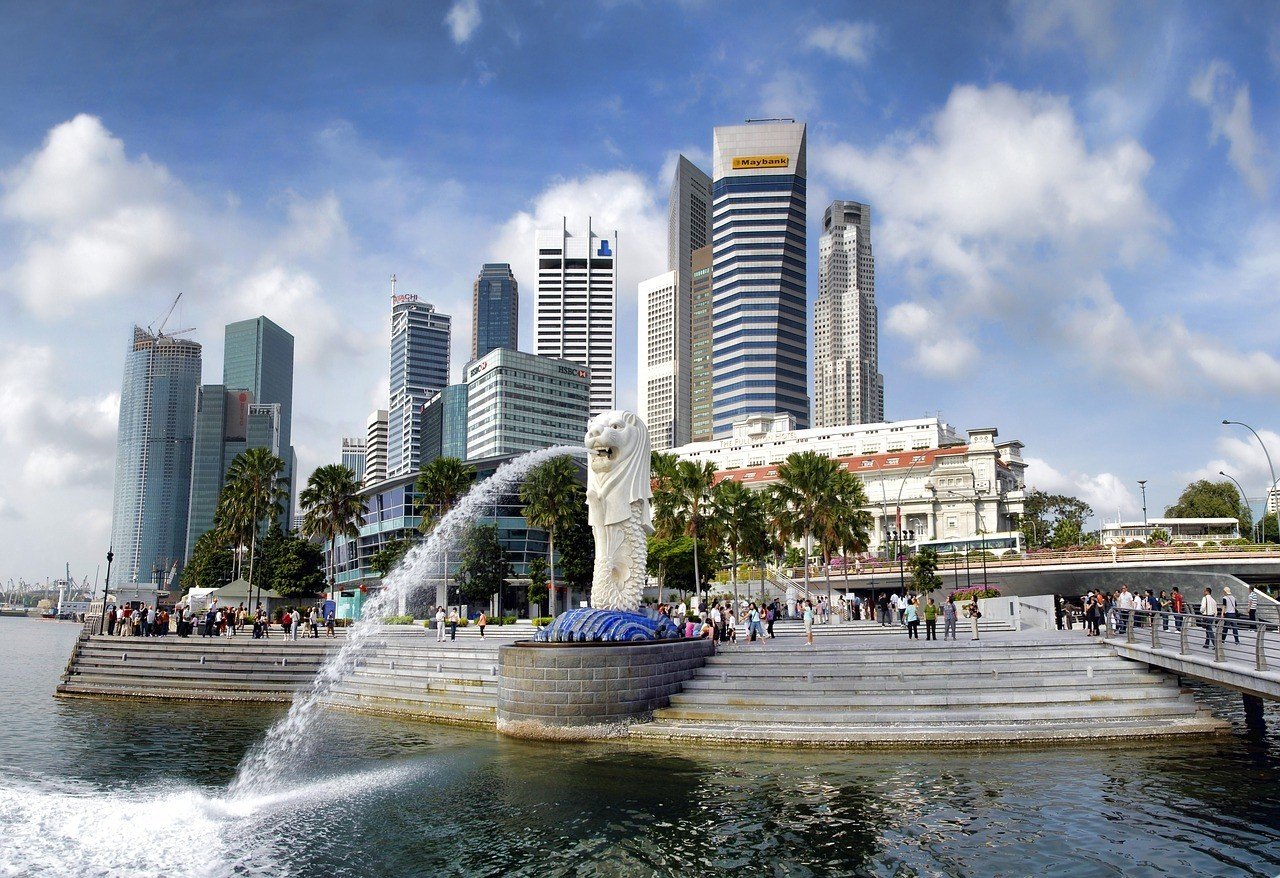 Symbol of Singapore
Rich mythology
Lovely river views and pleasant park
Close to interesting architecture
Why it's awesome: Merlion Park is a major landmark in Singapore. Opened in 1964, it contains the original Merlion statue. The Merlion is a symbol of Singapore, designed with the head of a lion and the body of a fish. It represents Singapore's early beginnings as a fishing village and the original name of Singapora (Lion City). The tall statue sprays water from its mouth, taking pride of place in the leafy park. There's also a smaller Merlion statue within the park, known as the Merlion Cub. There's no charge to visit the park and see the famous statues which is perfect for travellers worried about the expenses in Singapore.
What to do there: Take lots of pictures of the statuesque Merlion and smaller Merlion Cub and admire the views of the river, the nearby skyscrapers towering over the park, and the even closer colonial architectural gem of One Fullerton Hotel. Cross the Esplanade Bridge for even more great views and find a quiet spot in the park to sit for a while in peaceful contemplation. While you'll spot the Merlion symbol on many things, from promotional materials to souvenirs, there are a further six official Merlion statues around the country if you want to spot even more depictions of the emblematic mythical creatures.
Is This the Best Daypack EVER???
#10 – Marine Life Park – Awesome place to visit in Singapore with kids!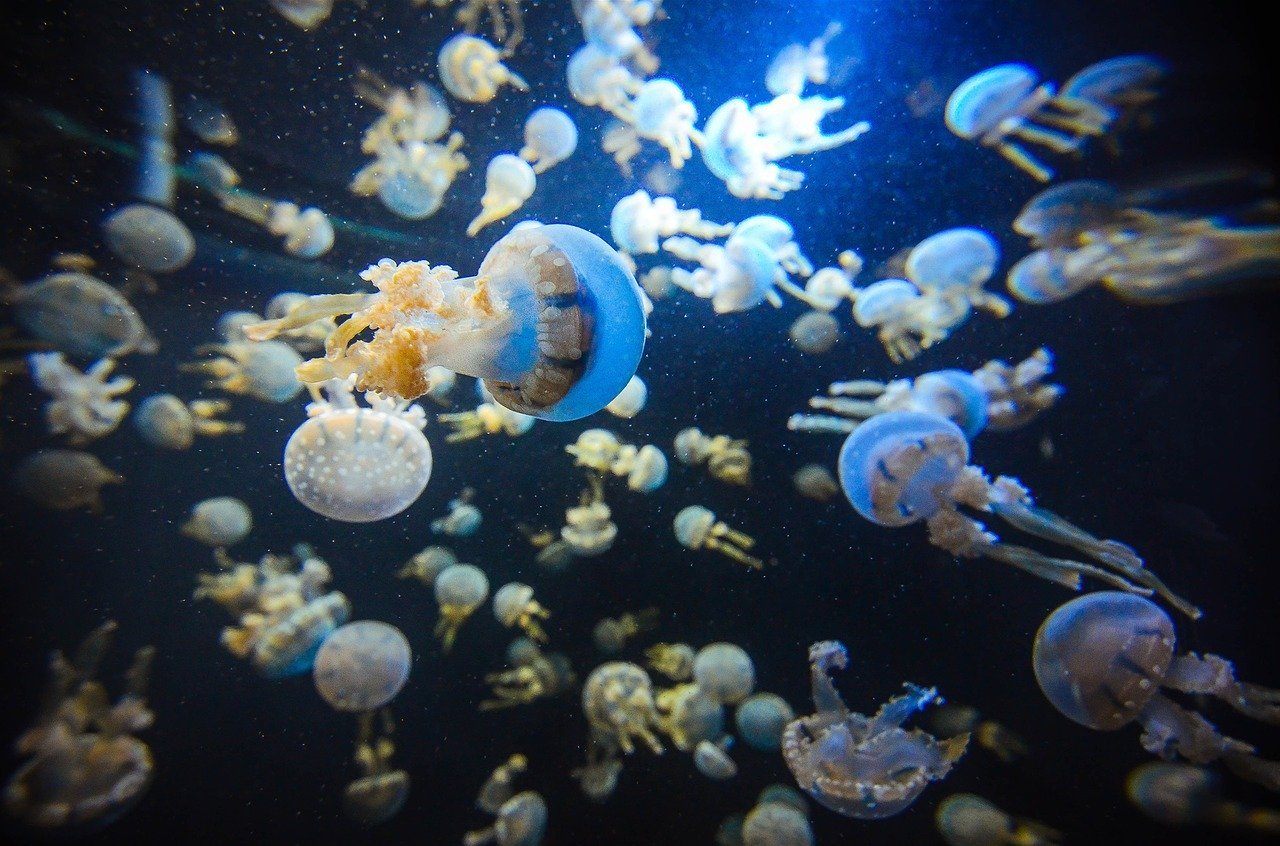 Boasts two different water-based attractions
Cool down at the water park
Discover the ocean deep
Perfect for a family day out
Why it's awesome: Located within Resorts World Sentosa, Marine Life Park has two fantastic and varied water-based attractions. The large S.E.A. Aquarium (previously the biggest oceanarium in the world!) brings visitors face to face with a fascinating array of aquatic life. It contains the biggest collection of manta rays in the world and has many more amazing creatures across its 10 zones and diverse habitats. It's a terrific place for discovery! Adventure Cover Waterpark, on the other hand, is a great place for fun and to beat the heat. There are pools, slides, chutes, and other water-focused attractions for people of all ages, and a day out here promises to be tons of fun.
What to do there: Ogle at more than 800 species of water creatures at S.E.A Aquarium, including manta rays, dolphins, jellyfish, crabs, and sharks. Fish species include scorpionfish, batfish, stingrays, butterflyfish, and stonefish. Be wowed as you stand at the huge viewing window and travel through almost 50 different habitats. The touch pool is often popular with kids, and few children cat resist the shark tank. Other highlights include a shipwreck and a coral reef. Shoot down the slides of Adventure Cove Waterpark, including the racer slide of Dueling racer, the two-person Pipeline Plunge, and the thrilling hydro-magnetic Riptide Rocket. Float along the lazy river, bob in the wave pool, relax in lush tropical settings, swim in the pools, go snorkelling in a reef, come face to face with a large collection of rays, and let kids enjoy things like the Big Bucket Treehouse, and the wading pool of Seahorse Hideaway. Both S.E.A. Aquarium and Adventure Cover Waterpark have a good selection of places to eat and drink.
#11 – Pulau Ubin – A must visit place to visit in Singapore on the weekend!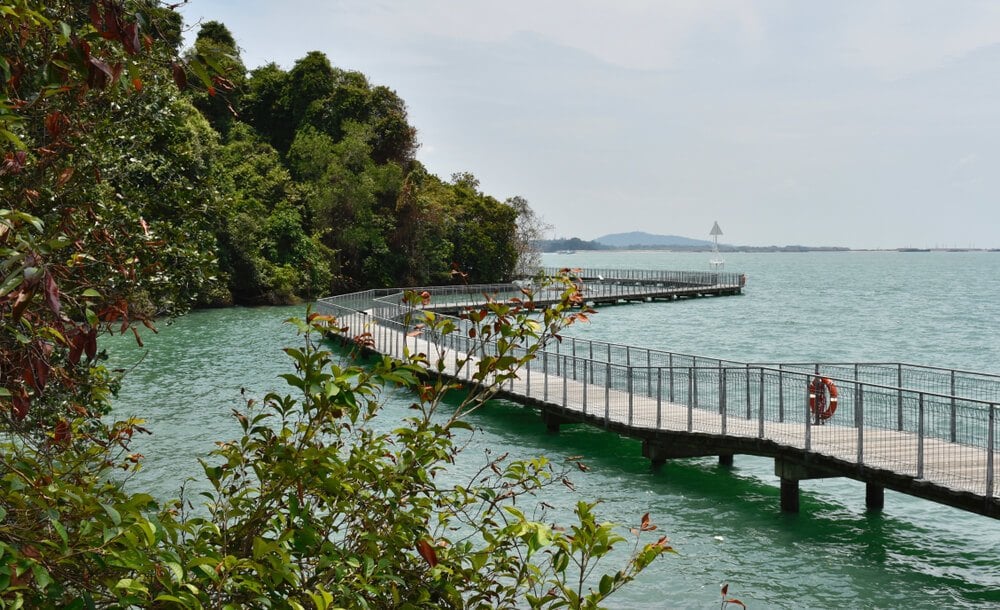 One of Singapore's last places to immerse yourself in rural life
Laid-back vibe
Lots of native flora and fauna
Interesting local legends
Why it's awesome: The island of Pulau Ubin, which means Granite Island, is said to have been created when an elephant, pig, and frog challenged each other to a race across the water. Those that failed the challenge would turn to stone. All met with difficulties and were thus turned into stone. In the past, the island had several major quarries. Today, just a few residents remain on the island, living a way of life much different to that on the main island. Indeed, Pulau Ubin is often said to be one of the few places in Singapore where kampong life still truly prevails. Free from urban development, homes are fairly simple. The island is also known for its array of flora and fauna and is an especially great place for bird watching.
What to do there: Cross to island by bumboat and rent a bicycle to leisurely explore Pulau Ubin, cycling past traditional wooden homes and jetties, an area that is rich with wildlife, mangroves, green plantations, and abandoned quarries. Feeling more active? Follow the diverse terrain along the mountain biking trail in Ketam Mountain Bike Park. Soak up the relaxed atmosphere and look out for creatures like majestic hornbills, wild boars, and various other birds, small mammals, and small reptiles. Walk along the boardwalk at Chek Jawa, a place known for its rich eco-diversity. The waters are home to things like seahorses, starfish, octopus, fish, and sand dollars. You can also inject some culture into your trip with a visit to the Fo Shan Ting Da Bo Gong Temple.
#12 – Haw Par Villa – Quite the quirky place in Singapore!
Unusual religious-themed attraction park
Fascinating peek into Chinese mythology
Discover the Courts of Hell
Created by the inventors of Tiger Balm!
Why it's awesome: Haw Par Villa is one of Singapore's more unusual attractions and yet it's a place that sees relatively few tourists. There are large dioramas and hundreds of statues that show scenes from local lore and legends, history, and Chinese mythology. One of the most fascinating (and gruesome!) parts of the park is often the Courts of Hell where you can gain insights into what awaits people in hell for a range of misdeeds during their life. The religious-themed park was created by Aw Boon Haw and Aw Boon Par, two Burmese brothers who also created Tiger Balm. It aimed to teach traditional Chinese values and was opened to the public in the mid-1950s.
What to do there: Learn more about Chinese beliefs and local legends as you gaze at some 1,000 statues in all sizes and colours. Brave the grisly, eerie, and monstrous Ten Courts of Hell to find out what punishments are given for various earthly sins. An ox and a horse guard the entrance. Warning: the graphic scenes aren't so family-friendly! See the memorial dedicated to the brothers' parents and learn more about local beliefs and history from the large dioramas. Scenes include the Legend of the White Snake, Journey to the West, and the Romance of the Three Kingdoms.
Small Pack Problems? 😉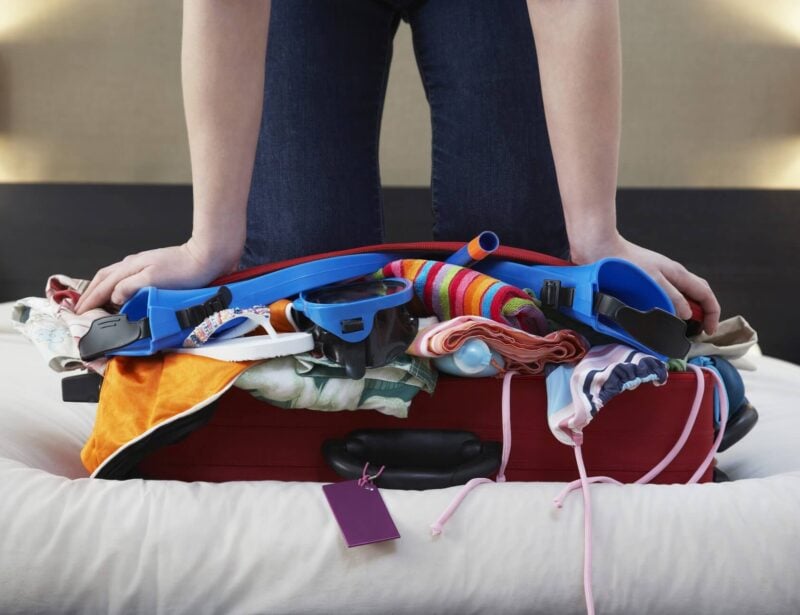 My missus travels with all her clothes in ziplock bags: don't be like my missus. UP YOUR PACKING GAME!
Packing cubes for the globetrotters and compression sacks for the real adventurers – these babies are a traveller's best kept secret. They organise yo' packing and minimise its volume too so you can pack MORE.
Or, y'know… you can stick to ziplock bags.
View Our Fave Cubes
Or Check Out the Sacks!
#13 – Sri Mariamman Temple – One of the most religious places to see in Singapore
Oldest Hindu temple in Singapore
Active place of worship
Colourful and attractive
National Monument
Why it's awesome: Singapore's eye-catching Sri Mariamman Temple is the country's oldest Hindu temple. A National Monument, the temple was established in 1827 by an Indian businessman and community leader. Initially a fairly simple wooden temple with a statue of the Mother Goddess, the temple grew and became more ornate over the years. Many of the striking details that you can see today were created by master craftspeople from India's Tamil Nadu. The temple has an ornate and colourful entrance tower, known as a gopuram, many statues, and several shrines. It is an active place of worship and there is a serene spiritual air. The temple is also a major hub for the local community.
What to do there: Marvel at the colourful six-tier tower, complete with intricate carvings of Hindu Gods and Goddesses, animals, flowers, and other figures. Statues of Lords Krishna and Murugan flank the towering beauty. Pass through the main door and ring the small bells as you enter the temple complex. Stroll around the inner walls and admire the rich decorative details and see lovely statues atop the walls. Allow plenty of time to fully appreciate the site, paying your respects to the Goddess Mariamman at the main shrine before visiting the smaller shrines to Murugan, Rama, Ganesh, Shiva, and Durga. You can enjoy great views of the complex from the viewing platform.
#14 – Fort Canning Park – One of Singapore's coolest historical sites!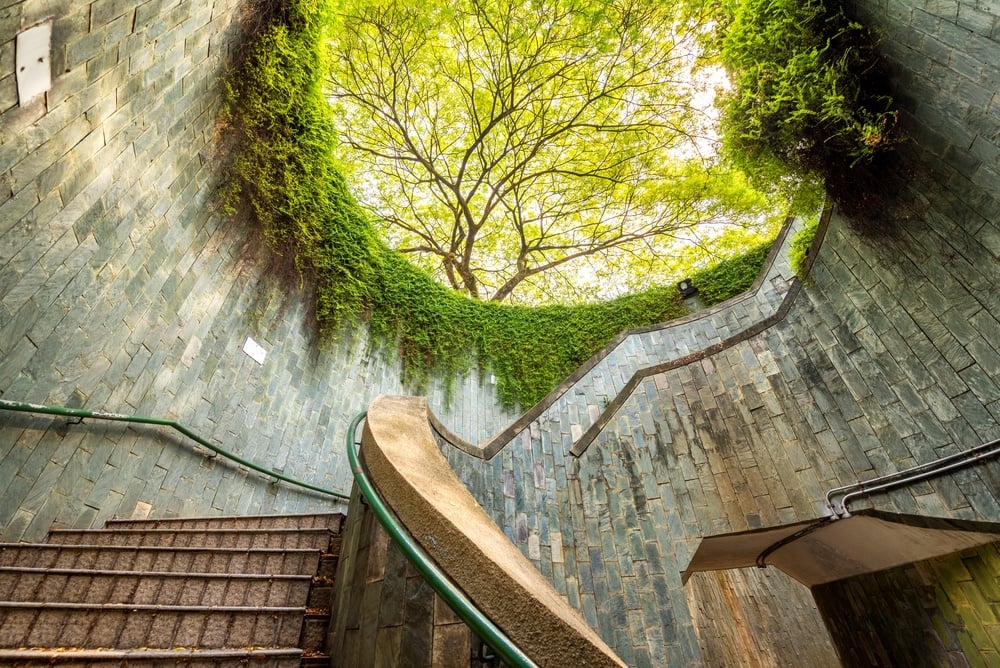 Long history
Thought to be haunted
Believed to have been the centre of ancient Singapura
Diverse attractions and recreational activities
Why it's awesome: Fort Canning Park sits on Fort Canning Hill, one of the highest points near the city centre. Known as the Forbidden Hill in Malay, many people believe that the area was once at the heart of ancient Singapura and was the place where kings of old were buried. There have been settlements on the hill for a long time. In 1819, when the Singapore Treaty was signed, the hill was where the British flag was first raised. Sir Stamford Raffles had a home on the hill and he initiated the nation's first botanical garden there too (though plans were later abandoned). A fortress was built on the hill in the 1860s, although little remains of the fort today. There are various attractions and activities around the hill, as well as the reservoir and park.
What to do there: See the remains of an old cemetery, complete with a Gothic archway and a number of old gravestones and monuments. The walls surrounding the site contain several tombstones too. You can also see what remains of the old fort, namely the gateway and two large cannons. An old bunker was used as a strategic military base by the British during World War II, later used by the Japanese after the British surrendered. Today you can explore the large underground network of passageways and rooms at the Battle Box. The Sally Port is a secret door and the Spice Garden is a pleasant place to relax. You can also unwind at Canning Green. Architectural highlights include pretty cupolas, Raffles House, and the sacred Keramat Iskandar Shah. Art lovers should add the Fort Canning Arts Centre to their travel list.
#15 – Jurong Bird Park – Certainly one of the most exotic places to see in Singapore!
On the slopes of Jurong Hill
Home to many bird species from across the world
Perfect place for families and couples
Diverse habitats
Why it's awesome: Jurong Bird Park was established as a place for people to unwind and enjoy nature. Opened in the early 1970s, the bird park is one of the biggest in the world. It has feathered and winged creatures from all four corners of the world, with some 400 species (some of which are rare or endangered) calling the park home. Flamingos, starlings, cranes, emus, toucans, doves, parakeets, and hornbills are just a few birds in the park. There are several other animals too, including tamarins, lemurs, marmosets, tortoises, mouse deer, and lizards. The park is arranged over several areas, each pretty to look at and comfortable for the birds. There's also an onsite bird hospital. A nice place to spend a few hours (or longer!), the park has places to get refreshments and souvenirs.
What to do there: Observe birds of all colours and sizes from different parts of the globe and enjoy the scenic settings within Jurong Bird Park. Check out birds from Africa at the beautiful Waterfall Aviary and take a stroll across the suspended walkway for a bird's eye view of the large indoor waterfall and the many birds. Experience a simulated thunderstorm in Wings of Asia and admire the colourful occupants of Parrot Paradise. Come face to face with aquatic birds and fish at Riverine, see creatures with ancient ancestors at Dinosaur Descendants, watch cute penguins, marvel at the flock of pink flamingos, be wowed by birds of prey, walk through wetlands, and more. Learn more about bird breeding and bird care at the Breeding and Research Centre, watch fun shows, and discover the art of falconry.
#16 – Singapore Flyer – One of the most amazing places in Singapore!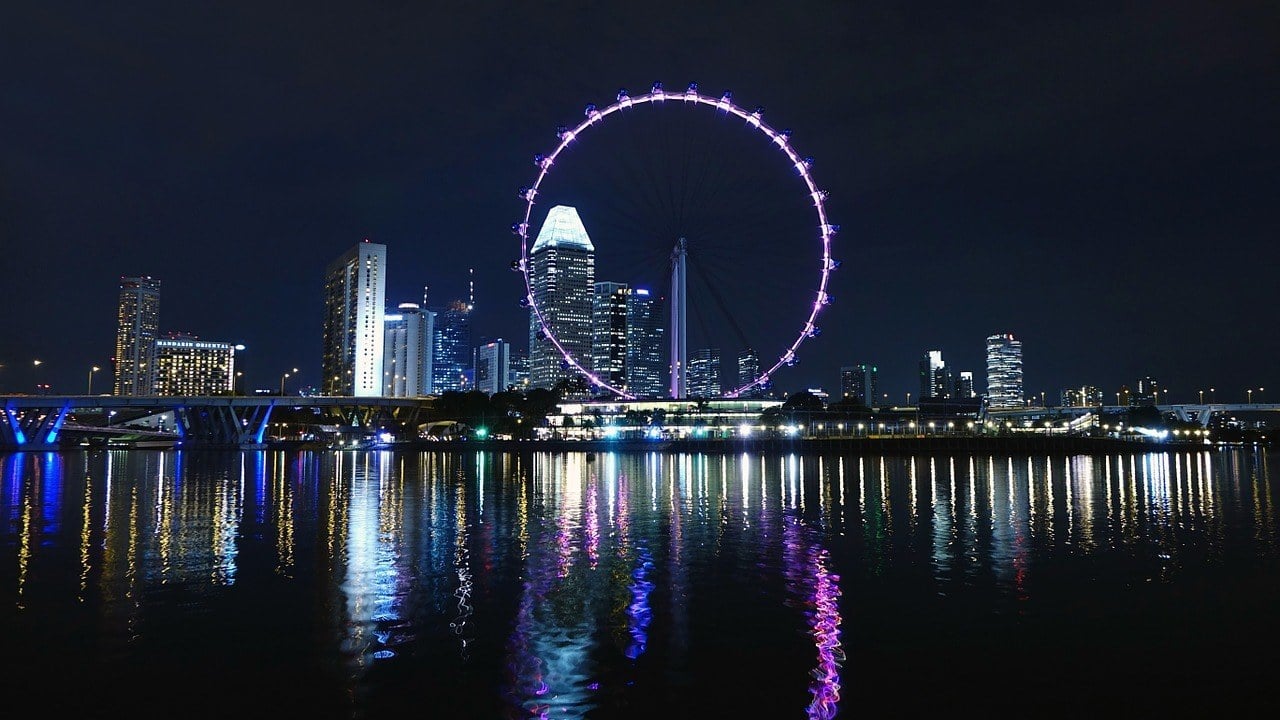 One of the world's biggest Ferris wheels
Terrific views
Photogenic landmark
Waterside location
Why it's awesome: Among the biggest observation wheels in the world, a ride on the Singapore Flyer offers spectacular views across the water and city. Rides are available by both day and night, letting you see the city from different perspectives. The wheel is 165 metres (541 feet) tall. The large capsules can hold up to 28 people and a revolution takes around 30 minutes. It is also possible to book private rides and a variety of cool experiences.
What to do there: See the iconic structure next to the water before hopping into an air-conditioned glass capsule to see famous Singaporean sights from above. Views include Raffles Place, the Singapore River, Marina Bay, and Padang. If you're feeling flush or want to go all out to impress that special someone you can book a private flight with champagne and / or dinner add-ons. The wheel is well worth seeing at night time too when it's illuminated. There are displays that tell you about the design, history, and construction and you can try your hand at being a pilot with a go on the flight simulator. Browse in the shops and enjoy a delicious meal in a nearby restaurant. Want to relax? How about a fish spa or foot massage?
Get Your Copy of the Backpacker Bible Totally FREE!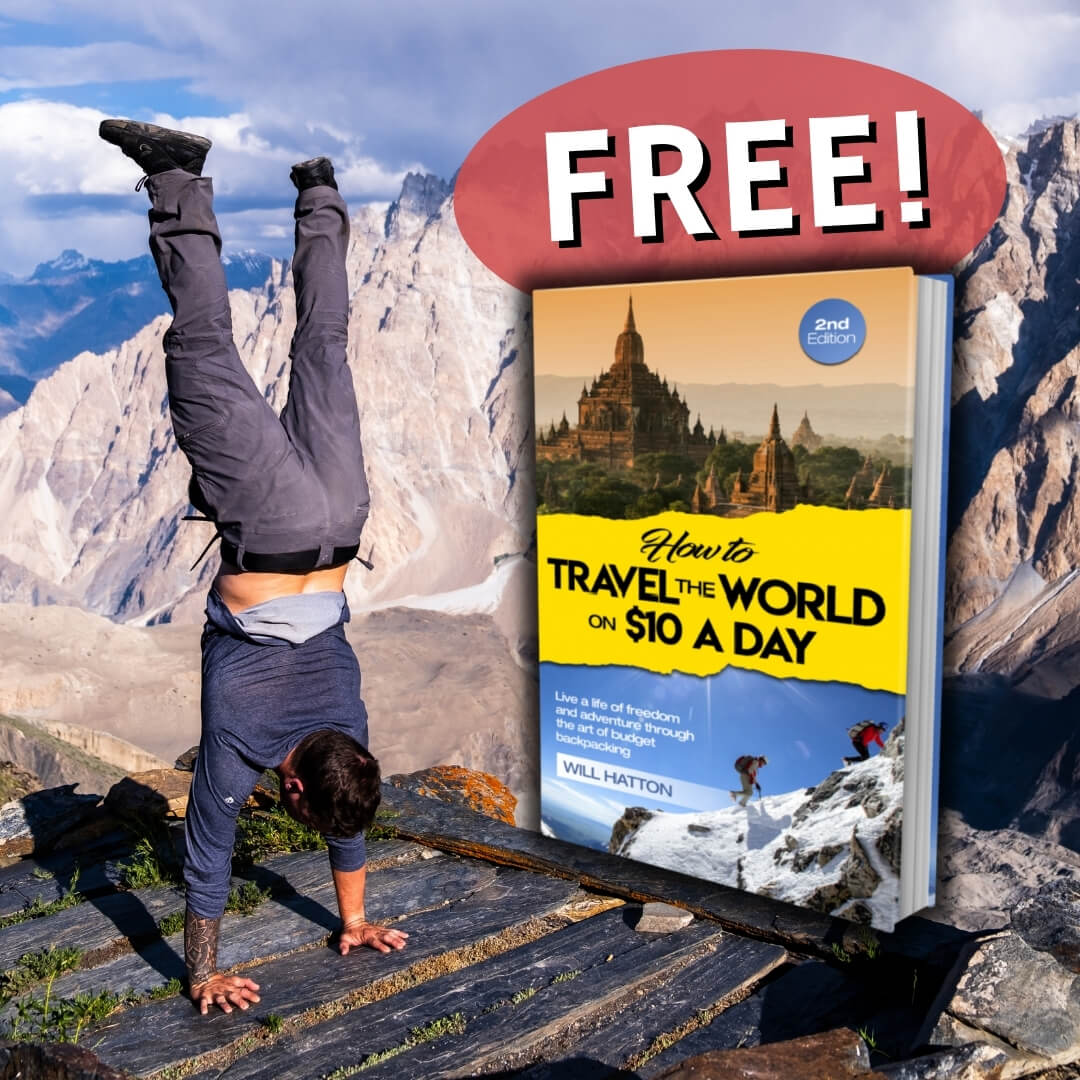 Learn how to travel the world on just $10/day with the Backpacker Bible – Will Hatton's own personal guide to the life of a budget traveller!
This book is the ULTIMATE culmination of more than 10 years of travel experience. It's full of valuable insider hacks and secrets that will help you unlock your full potential as a traveller.
AND… it's also FREE at the moment! All you need to do is click this link (or the sexy image of Will flexing his handstand skillz), provide your email, and we'll email you the ebook lickety-split!
#17 – Buddha Tooth Relic Temple – A perfect place to visit in Singapore if you are on a budget!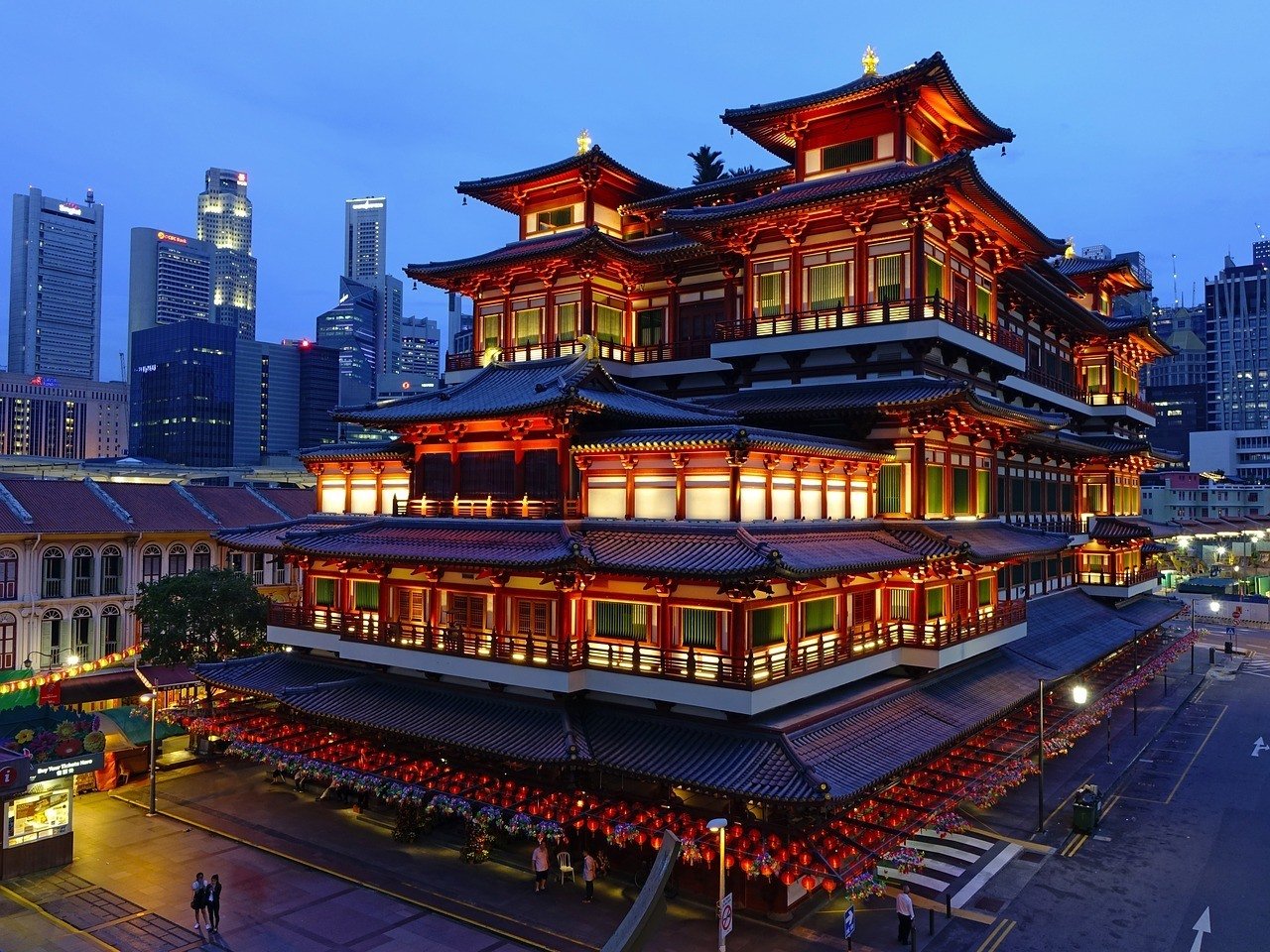 No admission charge
Impressive religious building
Houses sacred Buddhist relics
Free tours
Why it's awesome: A fairly recent addition to Singapore's diverse religious buildings, the Buddha Tooth Relic Temple was built in 2007. An impressive vision of red tiers from the outside, the interiors boast lavish designs, stunning spiritual artwork, and interesting artefacts. The temple also contains one of Buddha's teeth, said to have been recovered from his cremation site. The revered tooth is housed within a gigantic gleaming golden stupa. There are peaceful spots where you can escape the crowds and enjoy a quiet moment and there's no charge to enter the temple or join a free tour.
What to do there: Be dazzled by the colourful details and intricate designs of the beautiful place of worship, see the sacred tooth from the viewing platform, and watch as devotees make merit and pay their respects through various rituals and prayers. Learn more about the life of the Lord Buddha and admire lots of religious art and statues. Visit the Buddhist Culture Museum to see religious artefacts and attend a cultural show or talk in the Eminent Sangha Museum. For some peace and quiet, head up to the tranquil roof garden. Take a volunteer-led temple tour for greater insights into the various parts of the temple, relics, and exhibits.
#18 – ArtScience Museum – An awesome place to visit in Singapore for half a day!
Unusual architecture
Educational experience
Sustainable eco-friendly practices
Great for people of all ages
Why it's awesome: ArtScience Museum is a terrific blend of the arts and the sciences, hosting many temporary displays and collections from globally renowned museums. The permanent collection, Future World, has many interactive art exhibits that cover themes like town, park, nature, and science. The actual building looks a lot like a pale lotus flower. The design is meant to represent ten fingers and symbolise Singapore extending a warm welcome to all. The building has several sustainable features too, such as the collection of rainwater to use in the bathrooms.
What to do there: Appreciate the unusual building from the outside before discovering the 20-plus galleries inside, each with something new to educate, enthral, and excite you. The hands-on displays are especially great for younger visitors and curious minds. Learn how Nobel Prize inventions have helped to change the world, discover more about the oceans and their lifeforms, see huge accomplishments in the fields of the sciences and the arts, admire treasures from the Tang Dynasty, and see cargo from the Belitung shipwreck.
#19 – Sisters' Islands – An unknown (but awesome!) place to see in Singapore!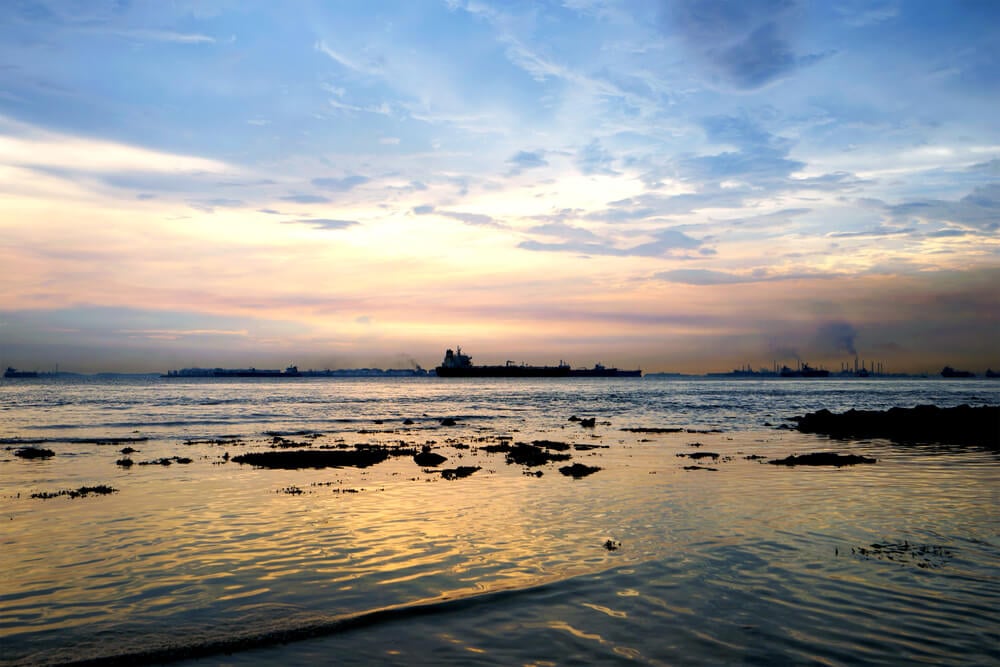 Lesser-visited islands
Away from the typical tourist trail
Surrounded in local legends
Great spot for swimming and snorkelling
Why it's awesome: Singapore may not be known for its beaches and water sports, but there are, nonetheless, several places around the country that will keep water-lovers happy. The twin Sisters' Islands are among those spots. The sandy beaches offer prime relaxation in the sun and the waters are home to an array of aquatic life. The atmosphere is tranquil and there are great views. Accessible by ferry, the islands are easy to reach from the main island. Legends surround the islands, with several variations that include a story of two ill-fated sisters.
What to do there: Walk along the sandy stores and laze in the sunshine with a good book as you top up your tan. Take a dip in the sea and spot creatures like corals, octopus, fish, and nudibranchs in the water with a few hours' of snorkelling. Diving is also possible for deeper explorations. (Do note that there can be strong and dangerous currents in the narrow channel between the islands.) Pack a picnic for a delightful al fresco lunch, though do be wary of the cheeky macaques that live on the larger of the two islands. Take a guided walk to learn more about the biodiversity on the islands.
#20 – Ethnic enclaves (Chinatown / Little India / Kampong Glam) – Possibly one of the most important places to visit in Singapore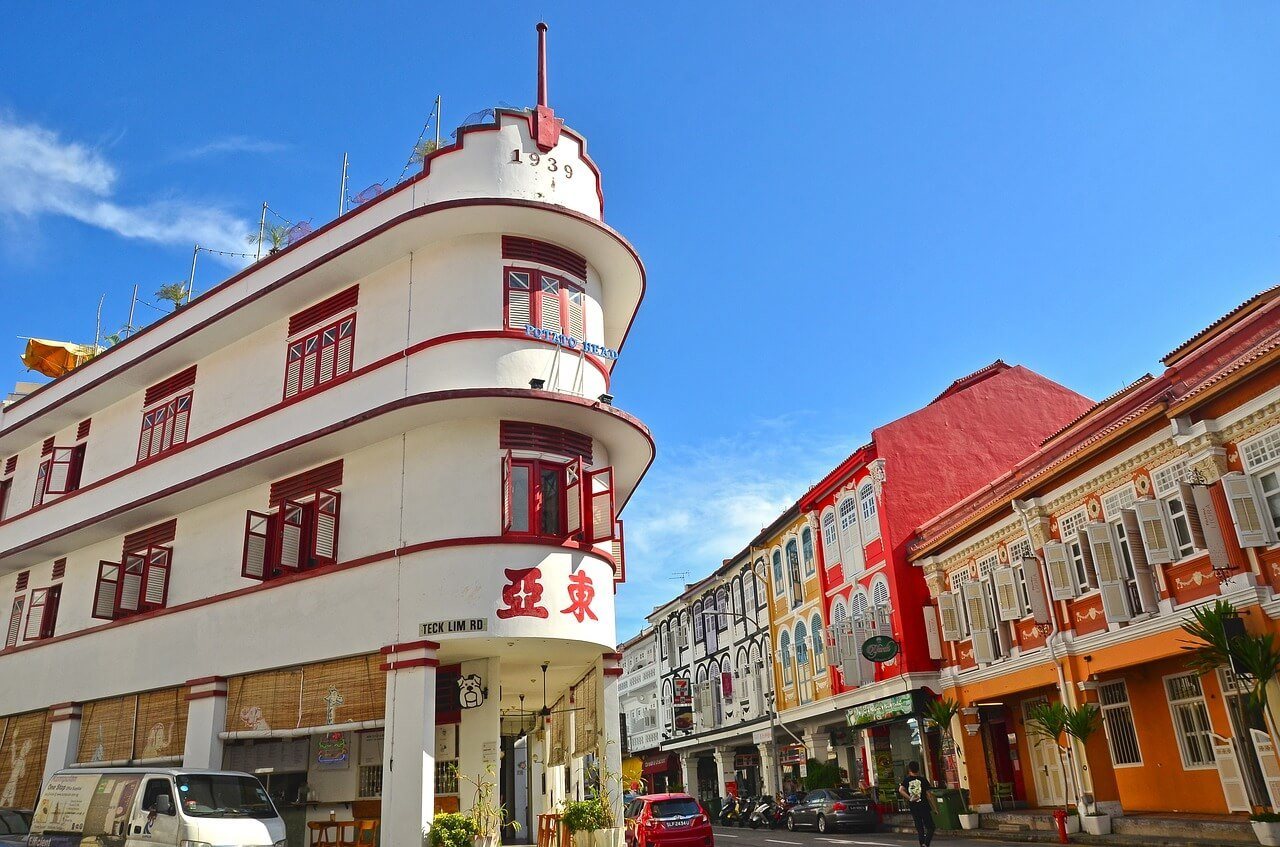 Discover Malay, Chinese, and Indian heritage
See noteworthy architecture
Experience old and new side by side
Enjoy varied cuisine
Why it's awesome: Singapore has three major ethnic enclaves: Chinatown, Little India, and Kampong Glam. These areas offer fascinating insights into Singapore's three main ethnic groups: the Chinese, Indians, and Malays. Chinatown has historic religious buildings dedicated to various faiths and old shophouses alongside more modern attractions.
There are streets where time seems to stand still, with flower sellers, herbal stores, and shops selling spiritual trinkets and amulets. In Little India, there's a strong sense of history and a bohemian air. There are many colourful market stalls and a variety of religious buildings. In Kampong Glam there's still a feeling of Malay royalty from yesteryear. One of Singapore's oldest areas, it boasts the stunning Sultan Mosque—a must-see during your time in Singapore. Each area has lots of tempting cuisine too.
What to do there: You'll find some of Singapore's best hostels in these areas so why not stay a while! Step back in time at Chinatown's historic temples like Kreta Ayer and Telok Ayer and the Islamic Jamae Mosque. Satisfy your appetite along the bustling Chinatown Food Street and enjoy drinks and a movie at The Screening Room. There are plenty of cool bars at Duxton to enjoy too. In Little India, you can call into mosques, churches, Buddhist temples, and Hindu temples to really experience the area's cultural diversity and tolerance.
The Mustafa Centre is open 24 hours, selling a huge range of items, and you can shop like a local at the Tekka Centre. Peek inside art galleries and sample delectable South Indian fare. Experience the trendiness and Malay heritage of Kampong Glam and snap lots of photos of the majestic Sultan Mosque. Learn more about the area's past at the Malay Heritage centre (housed in a former palace) and practice your bargaining skills along the thriving Haji Lane. The night markets offer even more appeal for shopaholics.
Save $$$ • Save the Planet • Save Your Stomach!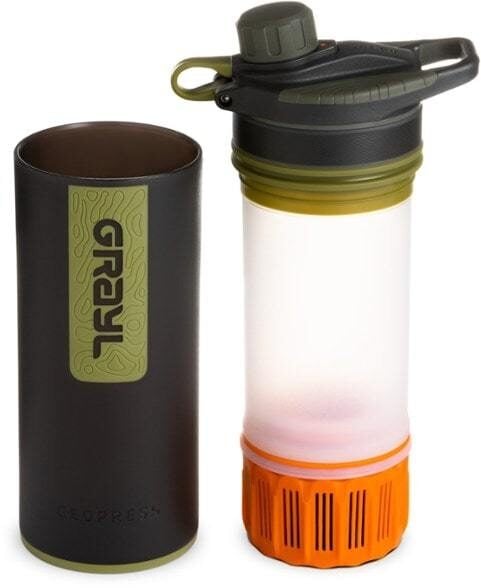 Drink water from ANYWHERE. The Grayl Geopress is the market's leading filtered water bottle protecting your tum from all the waterborne nasties. PLUS, you save money and the environment!
Single-use plastic bottles are a MASSIVE threat to marine life. Be a part of the solution and travel with a filter water bottle.
We've tested the Geopress rigorously from the icy heights of Pakistan to the tropical jungles of Cuba, and the results are in: it WORKS. Buy a Geopress: it's the last water bottle you'll ever buy.
Buy a Geopress!
Read the Review
#21 – Peranakan Museum – A great place to visit in Singapore if you are alone/traveling solo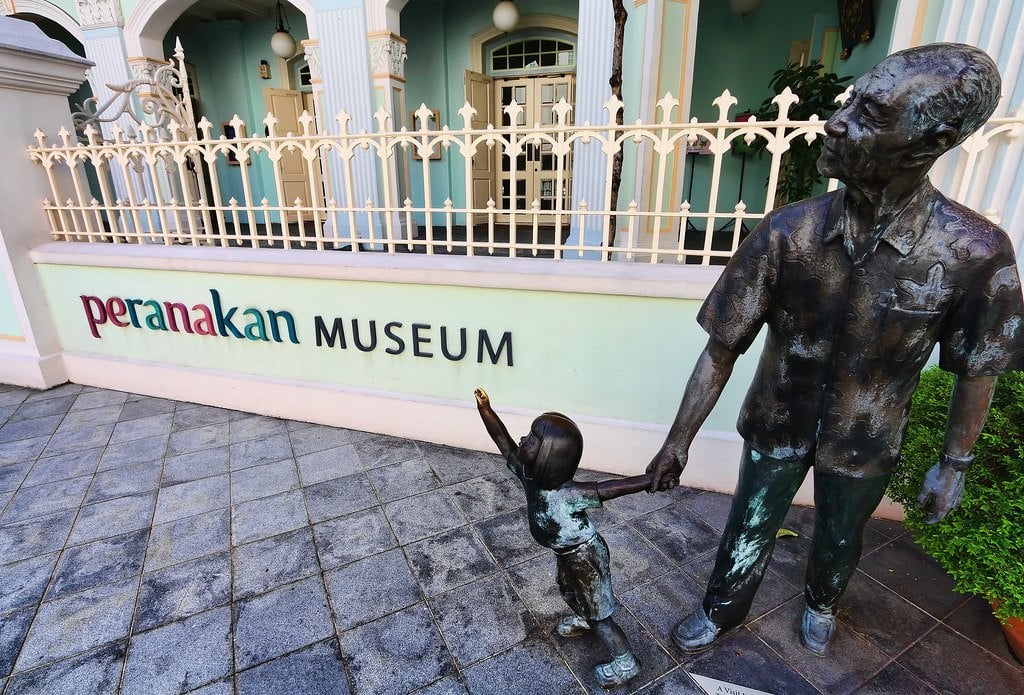 A fabulous place to learn more about Singapore's Peranakan heritage
Designed like bungalows from Straits Settlements
Contains many interesting items
Housed in an old school
Why it's awesome: The Peranakan Museum is the perfect place for anyone interesting in knowing more about the Peranakan people of Singapore. Peranakan is the name given to people born in the Straits with mixed parentage. The fine museum takes an in-depth look at Straits Chinese and it has a large collection of Peranakan items, many of which feature dazzling designs. There's everything from clothing, jewellery, and textiles to ceramics, household furnishings, and ornaments. The three-level museum is in an old school, and the layout was designed to be like a traditional Straits home.
What to do there: Travel back in time to the days of wealthy traders who married local women and see how they lived their lives in the Singaporean Straights in the 19th century. The blend of cultures and traditions resulted in some fine items and customs. As well as being able to see many items from Peranakan homes the museum also has splendid interactive displays and multimedia exhibitions. See how Peranakans have evolved over time and be wowed by elaborate wedding rituals. Don't miss the charming Father and Kid statue outside.
#22 – Orchard Road – A great place in Singapore if you love to shop!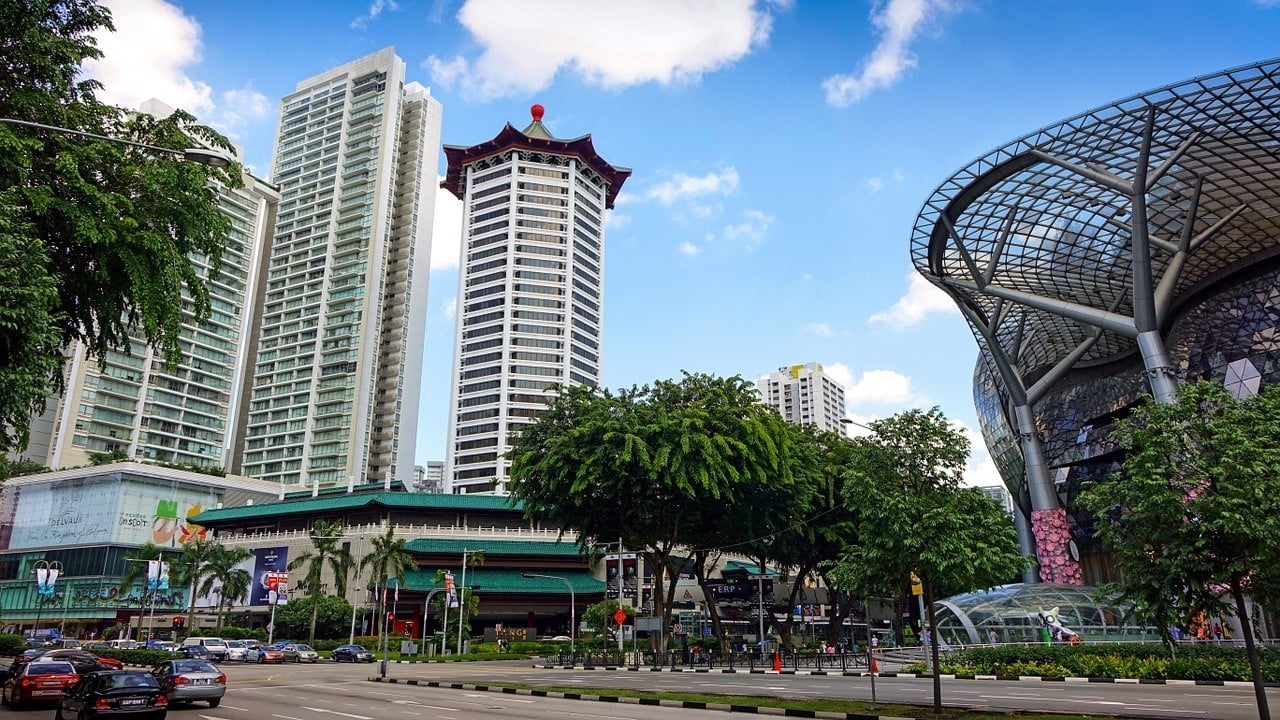 Singapore's premier place for shopping
More than 5,000 shops and restaurants
Once a quiet pastoral area of orchards, farms, and plantations
Interesting street art and installations
Why it's awesome: With simple beginnings as an agricultural area, Orchard Road has grown to be one of the best places in Singapore to indulge in some retail therapy. There are shops selling almost everything you could imagine from a broad array of brands, and the abundance of restaurants and cafes help you to keep your strength up on shopping outings. Establishments serve dishes from all over the world. There's also a fabulous art gallery along Orchard Road and many interesting statues and sculptures.
What to do there: Prepare for a long day of exciting shopping and make your way around Orchard Road's many retail establishments. Be sure to check out the area's first shopping centre—Tangs, which has been keeping customers happy since 1958. The futuristic ION Mall is a great place for fashion and luxury items and the Far East Plaza offers a wealth of affordable items. Follow the Orchard Art Trail to see spectacular works like the Dragon-Riding Bodhisattva, Mother and Child, Eulogy to Singapore, Vitality, Harmony Fountain, Love, and Dancer. Stop for a bite to eat at any time of the day or evening in one of the numerous restaurants and rest over a drink in one of the street's cool and classy bars.
#23 – Singapore Botanic Gardens – A beautiful and scenic place to check out in Singapore
Gorgeous tropical garden
More than 150 years old
Relax in nature
Heritage attractions
Why it's awesome: Singapore's Botanic Gardens was the country's first UNESCO-listed World Heritage Site. It can trace its roots back to the late 1850s, when an old plantation was turned into a pleasant garden. Home to myriad plants from various parts of the globe, the different gardens cover various themes. There's even a garden dedicated to children. Furthermore, the Botanic Gardens has the biggest collection of orchids in the world, with displays that include the country's national flower. Galleries and museums present more learning and cultural opportunities and there are great places to eat and drink.
What to do there: Enjoy the romantic vibes and pretty plants as you follow one of the walking trails around the picturesque Botanic Gardens. It's also a popular place for jogging enthusiasts. See a wide variety of orchid species, including the Vanda 'Miss Joaquim'. Visit the SBG Heritage Museum to discover all about the site's heritage and delve deeper into the world of botany at the CDL Green Gallery. Kids can run and play as they learn about plant life at the Jacob Ballas Children's Garden.
#24 – Marina Bay Sands – A great place to see in Singapore if you love architecture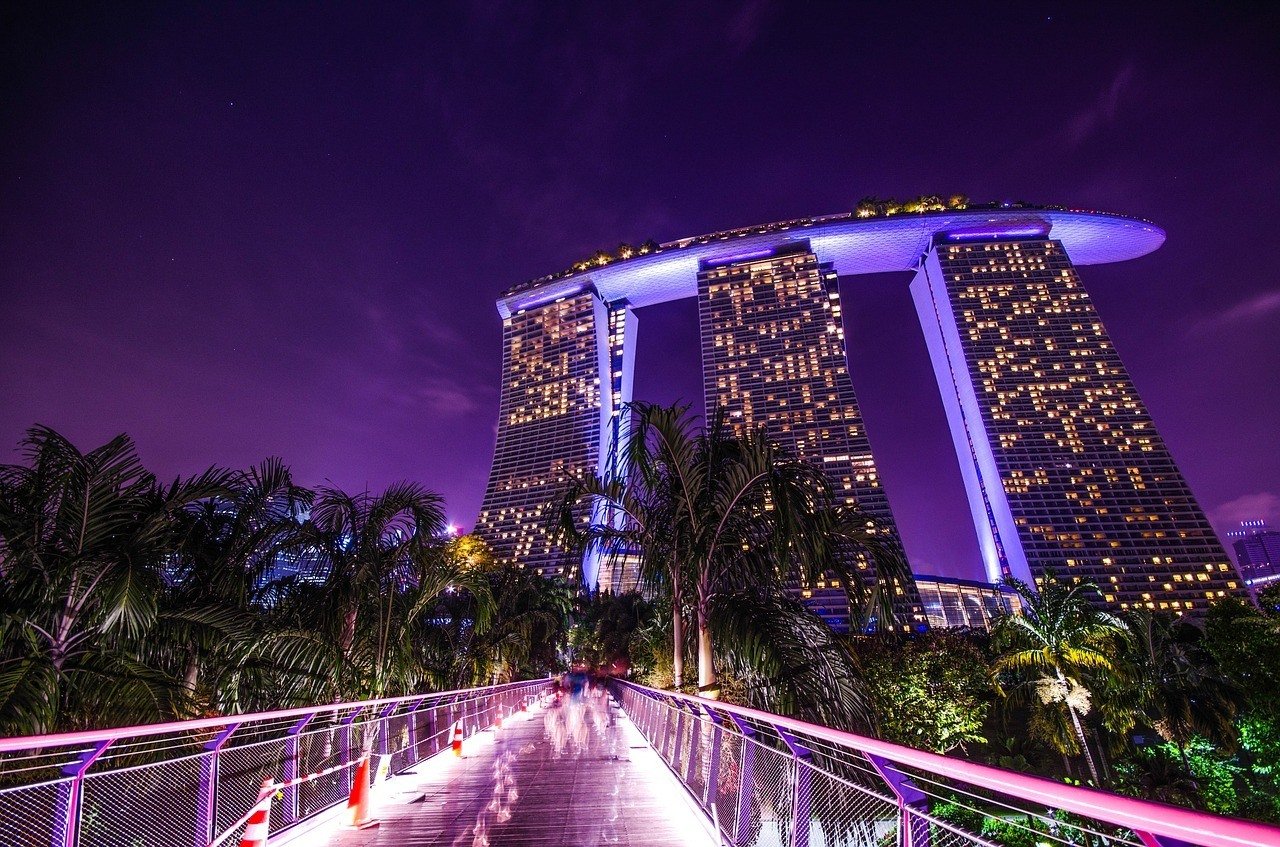 Amazing city views
Luxury place to stay
Boutique shopping
Action-packed casino
Why it's awesome: Open since 2010, the remarkable and distinctive Marina Bay Sands is set next to the water and designed to look like a boat atop a stack of cards. With three soaring towers and a stunning sky deck, the complex has a luxury hotel, a casino, a shopping arcade, restaurants and bars, an exhibition centre, a museum, theatres, an observation deck, and an indoor ice skating rink, among other features. Although you can't miss the building from the outside, it's well worth visiting even if you don't plan on staying here. If you are looking for a luxurious accommodation in Singapore, however, you can book here experience the glamour and grandeur of exceptional services as well as being able to relax in the high infinity-edge pool.
What to do there: Give your credit cards a workout at The Shoppes at Marina Bay Sands, a boutique shopping centre with designer brands and excellent restaurants. Wander alongside the indoor canal and add some romance with a ride on a Venetian-style gondola. Buy tickets for a theatre show, observe incredible vistas from the high observation point, and test Lady Luck in the casino. Don't worry if your poker and roulette game isn't up to scratch—there are some 1,400 slot machines that you can chance your hand at. Catch a boxing match, watch the impressive Wonder Full light and water show at the Event Plaza, follow the fine-looking Art Path, and spend your nights partying in the resort's trendy nightclubs.
Get insured for your trip to Singapore!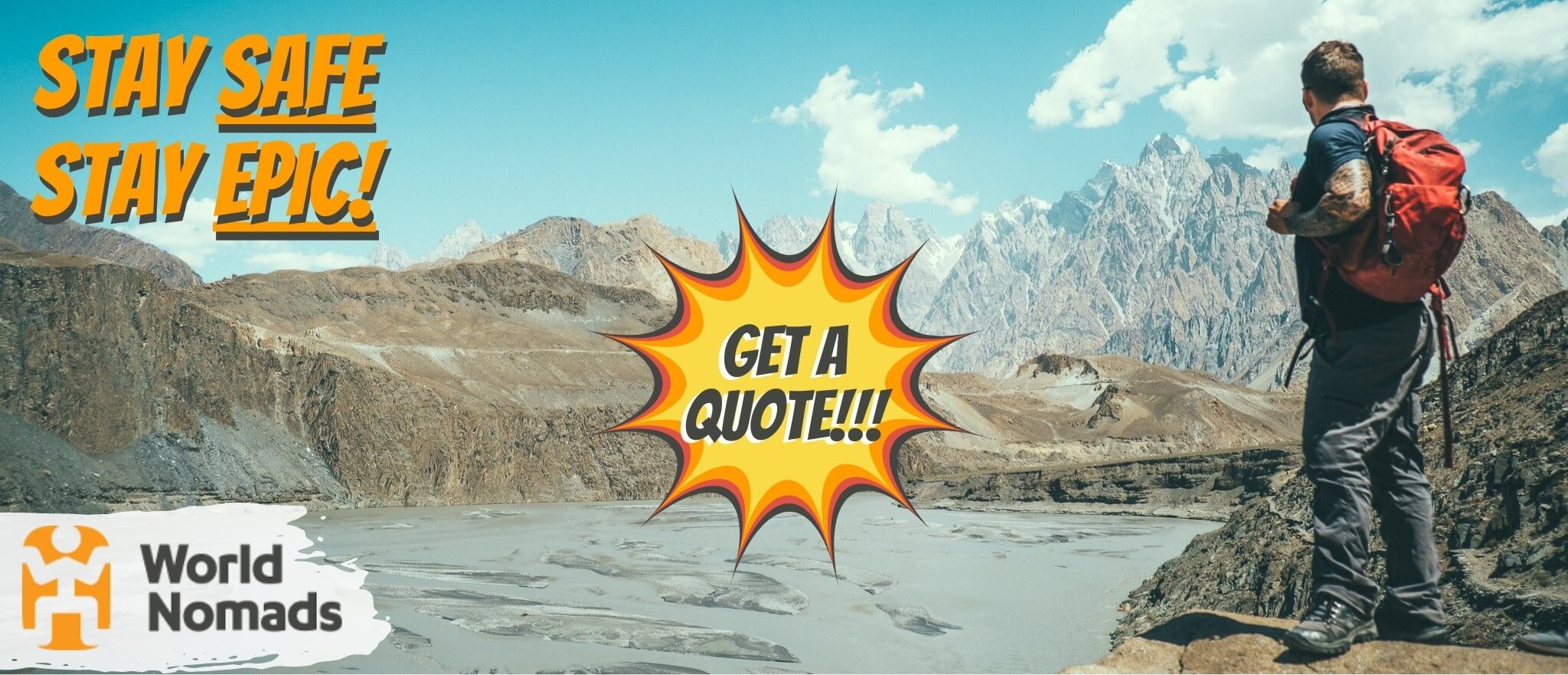 It's good to get lost sometimes, but it's also good not to get too lost. There are people that want you home in one piece.
There's one travel insurance provider The Broke Backpacker trusts for all his wildest shenanigans… World Nomads!
Click the button below to get a quote on your insurance or read our in-depth review of World Nomads' coverage. And then… let the shenanigans begin. 😉
FAQ on the Best Places to Visit in Singapore
Find out what people want to know about the best places to visit in Singapore
Even more sensational places to go in Singapore
There really is so much to see and do in Singapore; a safe city full of delights for the senses that certainly won't disapoint. Visit Haji Lane for a spot of bargain hunting in the vibrant market, chill with the locals in East Coast Park, and learn more about the country and wider region in the world-class Asian Civilisations Museum. Outlying islands like St. John's Island and Pulau Hantu offer respite from the busy city life and places like MacRitchie Reservoir let you enjoy nature and the great outdoors. Sentosa Island has a well-deserved reputation for fun, with things like the luge, a gigantic Merlion statue, a casino, the Tiger Sky Tower, Imbiah Lookout, the cable car, KidZania, the TrickEye Museum, stunning shows, MegaZip Adventure Park, Madame Tussauds, and much more.
From shopping, dining, and partying, to cultural experiences and travelling back through Singapore's history, there are many awesome places to visit in Singapore. With something for all ages and interests and a captivating blend of old and new, Singapore is a fantastic all-round destination. You might even want to consider moving here. If that's the case, check out our Cost of living in Singapore guide – it's filled will all of the insider knowledge you need!
---
Thanks for reading – that was fun! 😀
We bring you epic FREE content!
Find out how YOU can help support us.
We're a big site with a big team and this job isn't always easy. But we do it because we love it – we love providing epic and free content. We love the knowledge that our content keeps you adventuring. We don't ask for money, but if you'd like to find out how you can help the site in more organic ways, click the button below.
Thank you for your support 🙂
---
Bye for now, but not forever!
If you want MORE top-tier Broke Backpacker content like this, then sign up for our weekly newsletter below to get the latest and greatest!
And for transparency's sake, please know that some of the links in our content are affiliate links. That means that if you book your accommodation, buy your gear, or sort your insurance through our link, we earn a small commission (at no extra cost to you). That said, we only link to the gear we trust and never recommend services we don't believe are up to scratch. Again, thank you!