With tropical gardens nestled between gleaming skyscrapers, Singapore is a city of harmonious contrasts. Apart from stunning views, tourists are entranced by the rich history that has made the city a cultural melting pot. Exploring Hindu temples, mosques, and traditional Chinese and Indian districts are some of the best experiences!
The city is routinely listed as one of the world's priciest destinations. Why is Singapore so expensive? Well, the way "priceyness" is measured is via an index of goods that most ex-pats make use of.
Remember that as a tourist, your costs are very different from those of ex-pats (no private schooling, for instance). If you travel with your budget in mind, you can still enjoy a great holiday. So, is Singapore expensive? No.
This guide is your comprehensive A-Z for having the time of your life while sticking to a budget. Affordable accommodation, cheap flights, free attractions…you'll find it all here!
When you're working out your Singapore travel costs, there are multiple expenses to keep in mind. This guide looks at the costs associated with flights, on the ground transport, accommodation, and food, as well as admission to attractions and miscellaneous expenses.
All the costs in this post are estimates and are subject to change. They're helpful in establishing a benchmark but you should also leave money in your budget for "just in case". Remember that all costs are listed in US Dollars.
The Singapore Dollar (SGD) is the country's currency. At the time of writing, the exchange rate was 1 SGD = 0.70 USD.
3 Days in Singapore Travel Costs
ESTIMATED EXPENSE: US $388 for a round trip ticket.
Flight prices fluctuate throughout the year. Some seasons are cheaper to travel in than others. If you're wanting to travel Singapore on a budget, it's a good idea to try and book flights during cheaper times.
Here are the estimated airfares for return flights from four major cities:
New York to Changi International Airport: $503 USD
London to Changi International Airport: £383 GBP
Sydney to Changi International Airport: $405 AUD
Vancouver to Changi International Airport: $757 CAD
Fortunately, you can keep the cost of a trip to Singapore low with a few expert tricks! Always use the incognito browser when you're booking your own flights. This helps you avoid cookies which, basically, ensure that the price goes up every time you search. Using a flight comparison website and watch for error fares will also help you bag a cheap flight.
There are two major airports in Singapore: Changi International Airport (SIN) and Seletar Airport (XSP). With its stunning architecture and indoor garden, Changi is a tourist attraction in its own right. It's also been named the world's top airport a number of times! Although Changi is the city's major airport, Seletar has cheaper airport fees so you'll generally find affordable flights arriving here.
ESTIMATED EXPENSE: US $20-$70/day
Is Singapore expensive to visit when it comes to accommodation? That really depends on what you're looking for from your accommodation and what area of Singapore you stay in! Hotels and hostels operate on the same price range you'll find in Western Europe so you'll have to make compromises to keep costs low.
If budget is your priority, then book a bed in a dormitory. For those who crave privacy and a little luxury, it's hard to beat a hotel. Traveling in a group? Want to live like a local? An Airbnb is for you. Looking to live in Singapore for longer? You'll probably have to get a long-term accommodation.
Hostels and Homestays in Singapore
Hostels and Homestays offer the lowest Singapore prices for accommodation. Not only is the actual rate per night lower than that of a hotel but you can save in other ways, too. Most budget hostels in Singapore have a communal kitchen where you can cook your own meals, instead of eating out at pricey restaurants. The trade-off is that you have to share a room and a bathroom.
Looking on the bright side, however, this sharing-is-caring environment lends a social atmosphere to hostels and you can easily meet new people! Some hostels can even be quite fancy, with curtains around the dorm beds and plenty of modern appliances. Expect to pay around $20-$30 per bed per night.
Singapore's homestays offer a bit more privacy, however, they're slightly more expensive. If you prefer to have your own room but shared common spaces and living in a local's home, then homestays are your go-to.
Dream Lodge: A lovely hipster neighborhood, pod-style dorm beds, and homey touches like reading lamps make this place a favorite. Dream is one of the cheapest hostels in Singapore.
Happy Snail Hostel: Free walking tours and all-day air con are the highlights here. Is Singapore expensive? Not here.
Wink Capsule Hostel: If you like your hostels with a bit of style, then this is for you. It's rather like a boutique hotel on a budget.
Airbnbs in Singapore
It's hard to estimate the cost of a short-term apartment. It depends on how many bedrooms, the area and the kinds of amenities on offer. On Airbnb, you'll pay upwards of $30 for an entire apartment and around $25 for a private room.
Staying in an apartment is the best way to avoid the generic atmosphere of a hotel and offers a sneak-peek into local lives. While an apartment is pricier than a hostel, you still save money by being able to cook your own food.
Airbnb is the best place to find short-term rentals, and there are heaps of amazing apartments in Singapore. Using Airbnb to find a place in Singapore is easy: has a number of helpful filters (for instance, the ability to choose between a private room and an entire apartment) to assist in your search.
Homey One-Bed Apartment: There's no shortage of space in this apartment. A full modern kitchen and the views are the highlights.
Bright Loft Room: There's character galore in this loft room that can sleep three. A shared kitchen and convenient location round off the package.
Central, Sleek Studio: For convenience and comfort, this is a smart choice. The complex offers a pool and a rooftop terrace.
Hotels in Singapore
Is Singapore expensive when you're staying in the best hotels? Most of the time, definitely yes. Expect to pay upwards of $60 for a basic but comfortable hotel room with a private bathroom.
Hotels do have their advantages, though. The private rooms and bathrooms mean you don't need to worry about loud dormmates or about leaving your belongings when you're out.
They offer the kind of luxury and convenience that most people associate with going on holiday (you'll never have to wash up, for instance). In fact, there are some incredible rooftop pool hotels that offer world-class service, if you have the money for it.
Hotels, especially the larger ones, offer plenty of amenities and can organize activities for you.
Hotel Mono: With a sleek monochrome design, there's nothing out of place at Hotel Mono. The rooms are spacious and the location in Chinatown is very central.
ST Signature Jalan Besar: This hotel is spotless and super comfy. The central location in Little India offers easy access to Singapore's cultural charms.
Arcadia Hotel: Friendly staff and comfortable rooms make for a delightful stay. Three railway stations in the vicinity make getting around a breeze.
ESTIMATED EXPENSE: US $2-$7/day
Is Singapore cheap? When it comes to transport, the city actually offers very affordable options. This is thanks to the city's small size and a very efficient network which makes scooting around Singapore on a quick itinerary a breeze!
To get around the city you can take the metro, MRT, or the bus. There's also the option of taking a taxi or hiring a car or scooter.
Train Travel in Singapore
MRT is the most convenient and time-effective way of getting around the city. Trains run from 05:30 am to midnight and you'll seldom wait more than seven minutes for a train. All in all, it's a great way of getting around.
Train fares are pretty cheap, especially considering their efficiency. You'll pay $1-$2 per ride.
To save money on train travel, there are some great hacks. Remember that using these discounts is only worth it if you plan on using public transport a lot!
An EZ-Link card offers you up to 30% off train fares. There's a small deposit but this is refundable when you're done with the card. It's also a lot more convenient to use this card rather than to keep buying individual tickets. It's $8 for the card, including the $3.5 deposit.
A Singapore Tourist Pass is an even better option to keep your Singapore trip costs low. It offers unlimited travel on buses and trains for a select period.
One-day pass: $7
Two-day pass: $11
Three-day pass $14
Bus Travel in Singapore
With the low cost and superior convenience of MRT, buses are less popular in Singapore. The only time the bus is more convenient is in the hours after midnight (only on weekends and public holidays) when the trains don't run.
If you take the bus, you'll generally have a good experience as the vehicles are clean and run on a regular schedule. There's an app, SG Bus, that helps to track real-time bus arrivals.
The bus is cheaper than MRT but only by a narrow margin. You can pay between $1 and $1.50 per journey.
You can use both the EZ-Card and the Singapore Tourist Pass to travel by bus. It's $8 for the card, including the $3.5 deposit. There are a number of options for the Singapore Tourist Pass:
One-day pass: $7
Two-day pass: $11
Three-day pass $14
Renting a Scooter or Bicycle in Singapore
Although renting a scooter or a bicycle is possible, it's not the best way to get around in Singapore. The roads are hot and congested, and drivers are impatient. If you want to take a bicycle ride, you're better off doing so in one of the lovely public parks. E-scooters are also not allowed on roads or pavements, and only on designated cycling paths.
Bike-sharing used to be popular but it has declined in popularity recently. The only company still operational is SG Bike. If you want a scooter or bicycle, try JoyScoot which hires them out from $7 per hour.
With a cost of $7 per hour, hiring a bicycle is not the best way to travel in Singapore for cheap. SG Bike offers free 30-minute rides, although you do have to pay a flat $4 to access the service for seven days.
ESTIMATED EXPENSE: US $10-$80/day
Food is a major expense to consider when calculating your Singapore trip costs. If you're planning on eating out in restaurants, be prepared for high prices. But if you're willing to try the hawker stands, which serve fabulous dishes, then your budget will be just fine!
Singapore's rich culture means you're in for a real treat when eating out. The epic combination of Indian, Chinese, Malay and Indonesian influences means there are quite a few dishes that you have to try!
Chilli crab is the top dish on every tourist's bucket list. Hawker stalls serve it but if you have money to spare, try Mellben Seafood where the dish costs about $40.
Laksa is another delicious meal. With noodles and lots of spice, it has both Malay and Chinese influences. It costs around $3 at hawker centers.
To keep your Singapore cost of travel low, avoid eating out in restaurants. You can still get yummy meals from informal stalls. Keep an eye out for meal specials while you're sightseeing and come back for dinner.
Where to Eat Cheaply in Singapore
In any city around the world, some eateries are cheaper than others. Singapore is no different and there are plenty of top-class options for those who want to travel on a budget.
Hawker centers: These are the backpacker's go-to come mealtime. It's kind of like a food court but the authenticity is much better. Chinatown Complex Food Center is the largest one in Singapore. Liao Fan Hong Kong Soya Sauce Chicken Rice & Noodle is one of a number of hawker stalls to be awarded a Michelin star! The average dish costs just $2-$3.50!
Affordable restaurants: Most restaurants are expensive but there is a handful where you can grab a main course for under $20. Try The Green Ducklings where you can get a Shabu Pork Rice Bowl for $13. If you're in the city center, head to Hans im Glück where you'll get a burger for $15.
Grocery stores: Cooking your own meals in the hostel or Airbnb kitchen is the cheapest way to eat in Singapore. Even if you're staying in a hotel, you can pick up bread for $2 and a few apples for under $3. Sheng Siong outlets offer the lowest prices, while Fair Price stores have lots of variety.
ESTIMATED EXPENSE: US $2-$21/day
Remember that in Singapore, drinking in public places is illegal (this excludes restaurants and bars but includes spaces like parks). Some areas, such as Little India, have stricter restrictions. Be sure to heed these rules as the penalties are stiff (a fine can cost up to $705).
How expensive is Singapore when it comes to drinking? Thanks largely to steep taxes, alcohol can get pricey. You'll save money by drinking beer as opposed to wine and cocktails.
Thanks to the pricing, beer is the most popular drink in town. Try the local brand, Tiger Beer. Singapore Sling, a fruity, gin-based cocktail, is another favorite.
The cost of Tiger Beer depends on where you get it: pay around $1.70 for a small can at the supermarket and $10 for a pint at a bar.
Singapore Sling costs around $21 per glass at a swanky bar.
To get the best deals on alcohol, you need to be creative and think ahead:
For a 0.63L bottle of beer, you're better off drinking in Chinese restaurants. This will cost $3-$6, whereas bars can charge double that.
If you really want that bottle of wine, buy it in the duty-free section at the airport when you arrive.
ESTIMATED EXPENSE: US $14 – $44/day
Singapore is a modern metropolis that's bounding with culture and natural beauty. In the Gardens by the Bay, you'll be in awe of the 114-foot waterfall. The National Gallery, meanwhile, boasts an epic 8000 pieces of art!
Is it expensive to go sightseeing in Singapore? Well, as with most things, that depends. If you pick a few attractions to see and stick to free or low-cost landmarks for the rest, then you'll manage just fine.
Despite Singapore's reputation for priceyness, there is a number of ways you can stay on budget or even explore for free!
The Singapore City Pass is a lifesaver when it comes to sightseeing Singapore on a budget. There are options for 2, 3 and 5 days. It includes unlimited hop-on, hop-off sightseeing, and entrance to two attractions over the course of the ticket.
Some of the city's top attractions are actually free. This includes Sentosa Island and Singapore Botanic Gardens.
You can enjoy great views without paying a dime. Check out the view of Gardens by the Bay lit-up from the free part of the garden. There's also a free laser light show in the evening at Marina Bay Sands Boardwalk.
There are some expenses that you just can't factor into your budget ahead of time. Things like souvenir shopping, tipping, storage fees and buying medicine can all wreak havoc on your budget.
Plan ahead for Sinapore, write a list of what to pack, and set aside a miscellaneous amount. Around 10% of your total trip to Singapore's cost should be sufficient.
Tipping in Singapore
Since tipping isn't customary in the city, this is another area where you can keep your Singapore vacation cost down.
Bear in mind that most restaurants automatically add a 10% service charge. If you wish to tip for good service, then hand the cash directly to your waiter. While taxi drivers generally return any extra money, bellhops will be happy with $1-$2 per bag.
Get Travel Insurance for Singapore
World Nomads' mission is to support and encourage travellers to explore their boundaries. They offer simple & flexible travel insurance, and safety advice to help you travel confidently.
They've been doing it since 2002 – protecting, connecting, and inspiring independent travellers just like you.
Get a quote below or read our in-depth review!
World Nomads provides travel insurance for travelers in over 100 countries. As an affiliate, we receive a fee when you get a quote from World Nomads using this link. We do not represent World Nomads. This is information only and not a recommendation to buy travel insurance.
Still looking for ways to travel Singapore on a budget? We've got a few more tricks for you to try.
Try Couchsurfing: Signing up on the site is free and you'll be able to connect with locals who have a spare bed or a couch for you to crash on for free. It's a great way to experience authentic Singapore. Just choose hosts who have good reviews!
Share meals with other travelers: This is especially useful if you're staying in a hostel. It's much cheaper to cook in bulk (so long as everyone pays their share) and if you take turns cooking each night, you'll also spend less time in the kitchen. Not to mention, this is a cool way to make friends.
Save on foreign exchange: Using your normal bank card overseas means you can rack up a lot of foreign exchange fees. Ask your bank if they have a card with no foreign transaction fees. Limit the number of times you draw cash as each withdrawal might have a flat fee.
Use free WiFi: Make sure that your hotel offers free WiFi. Google all the places you're visiting the next day and take screenshots of important information. This way you won't need to put your phone on roaming, which costs a lot, while you're out!
Pack a travel water bottle: Don't waste money on plastic, bottled waters; carry your own and refill it in the fountains and the tap. If you're worried about potable water, get a filtered bottle, like the GRAYL, which filters out 99% of viruses and bacteria.
Earn money while you travel: Teaching English while traveling is a great way to make ends meet! If you find a sweet gig, you may even end up living in Singapore.
Become a volunteer with Worldpackers: Give back to the local community and, in exchange, you're room and board will often be covered. It's not always free, but it's still a cheap way to travel in Singapore.
Knowing how much a trip to Singapore costs is the first step to staying on budget, no matter how much money you're prepared to spend. Although it has a dizzying reputation for being expensive, there are so many ways that you can travel Singapore on a backpacker's budget
By staying in a hostel or Airbnb, you not only save on accommodation but also on food expenses, since you'll be able to cook your own meals. For just a few dollars, you can get Michelin-starred meals to supplement your diet. Transport costs are almost negligible. As for sightseeing, there are so many free attractions in Singapore that you'll scarcely have time to see all of them!
In short, Singapore needn't be an expensive destination. So long as you plan ahead and make smart choices with your money, you'll be able to both explore the city and stick to your budget!
What we think an average daily budget for Singapore should be: $60-$100.
---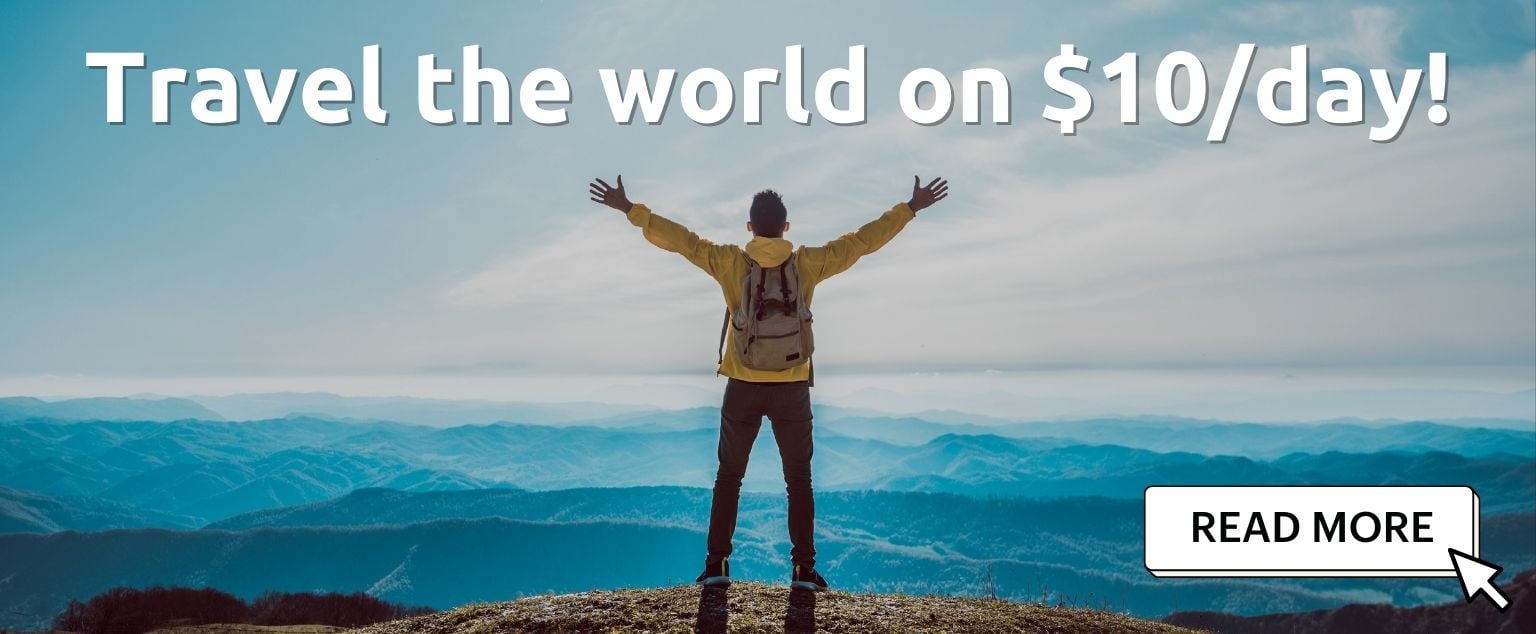 And for transparency's sake, please know that some of the links in our content are affiliate links. That means that if you book your accommodation, buy your gear, or sort your insurance through our link, we earn a small commission (at no extra cost to you). That said, we only link to the gear we trust and never recommend services we don't believe are up to scratch. Again, thank you!