When you think of Southeast Asia – traditional and old school ways, polluted big cities, beaches, and off-the-beaten-track locations – are some of the images that come to mind. That's what makes Singapore so unique. It's like Southeast Asia's modern, cosmopolitan gem.
But with its hip vibe mixed with traditional Asian appeal – and its year-round hot and humid weather that's often unpredictable – knowing what to pack for Singapore requires thoughtful planning and consideration. Narrowing down the right clothing, plus the essential travel and safety accessories, can be stressful.
That's why we're here! We've taken all the guesswork out of what to pack for Singapore with our comprehensive Singapore survival guide – where we'll walk you through your packing process step by step! You'll find our top 22-needs packing list, tips on how to dress and what to wear in Singapore, and a detailed look at weather conditions by season and how to pack accordingly. You'll also find packing advice specifically for men and women, and what not to pack for Singapore.
So, get comfortable, read through the guide and gear up for the city that never ceases to amaze. You're in for some unforgettable sights and experiences, so if you're already feeling excited about it – we don't blame you!
Ok then, let's get started!
Top 22 NEEDS for Singapore – Singapore Packing List
#1 – Nomatic Travel Bag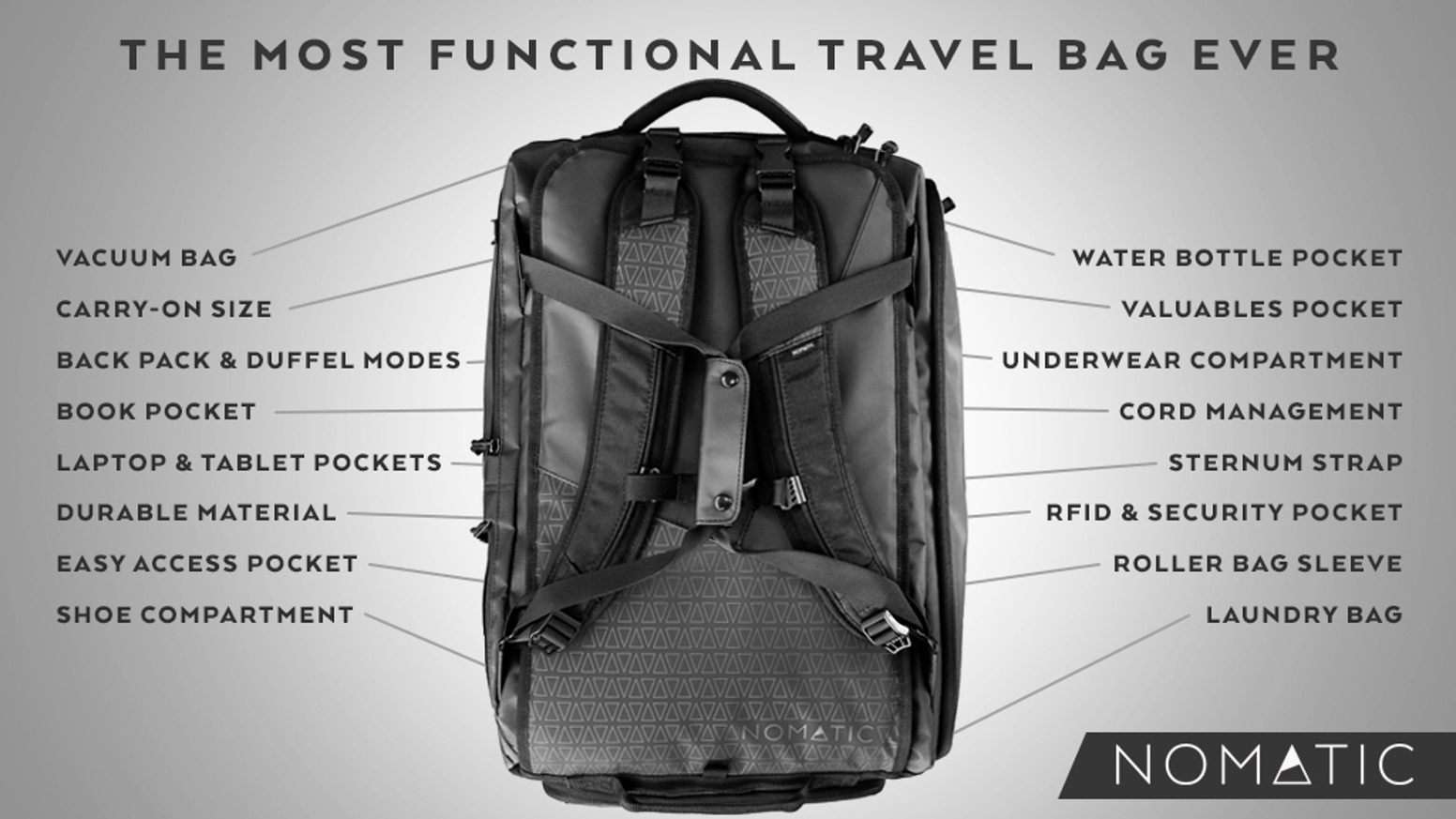 We've searched far and wide for the best all-around backpack out there, and we've found it: the Nomatic Travel Bag. For being a 40-liter carry-on size bag – due to loads of built-in pockets and compartments – it'll pack in a lot more than you think. No need to worry about not being able to fit everything on your what to pack for Singapore list! It's made of durable, waterproof material, and is the sleekest looking travel bag we've seen to date. Check out our in-depth review of the Nomatic Travel Bag.
#2 – Active Roots Security Belt
Even in the safest place on the planet, petty theft and pickpocketing are always a possibility in touristy hot spots. You'll greatly benefit from a clever accessory like Active Roots Security Belt because it looks like a normal best from the outside – but on the inside – there's a hidden zipper pocket that discreetly stashes away your cash and other small valuables. It's the best way to hide your valuables while traveling, that's for sure.
Need a little more storage?
When moving from place to place, you should keep your travel documents and other valuables on your body. Your carry on isn't safe, even when it's under your seat or overhead.
A full-sized money belt that stays tucked under your clothes keeps your documents and cash organized during your travels and assures nothing critical gets left behind or stolen.
#3 – World Nomads Insurance
Things can always go wrong, no matter where you travel. You must prepare for the unexpected by getting travelers insurance. Designed by travelers for travelers, World Nomads Insurance knows how to cover all the essential situations – from emergency evacuations to medical aid, to unforeseen travel cancellations, and to replacing stolen items. If you have to pay out of pocket for any of these, it'll cost you a whole lot more in the end. World Nomads is World Nomads is worth buying just for the peace of mind!
#4 – Active Roots Water Bottle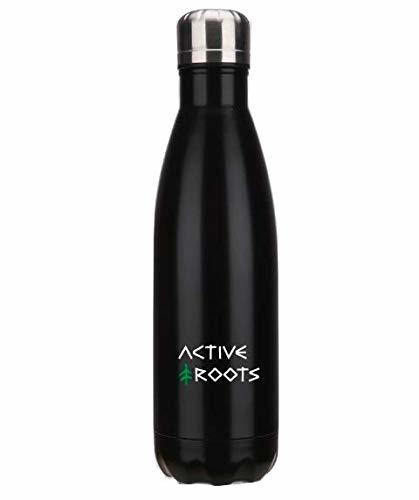 In Singapore's hot and very humid climate, it's very important to stay hydrated – heat exhaustion isn't unheard of Singapore weather. You need to make sure a first-rate water bottle, like the Active Roots Water Bottle, is in your what to pack for Singapore arsenal. It's bigger than most bottles, providing 25 ounces of hydration. Even better, it's stainless steel and will keep your water cool and refreshing for 24 hours.
#5 – Combination Lock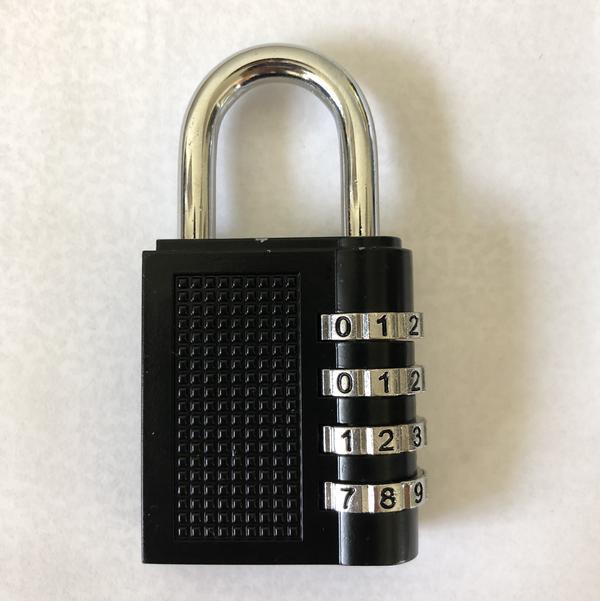 Even though Singapore is a safe place, a smart safety precaution is to always lock your travel bag. When traveling on public transportation where your bag isn't within reach, and when it's left in your hostel room unattended – you leave all your belongings susceptible to petty theft. The Active Roots Combination Padlock is a simple, travel-friendly lock that will give you that added layer of security. The combination is resettable at any time, and there's no small key to worry about.
#6 – Skeletool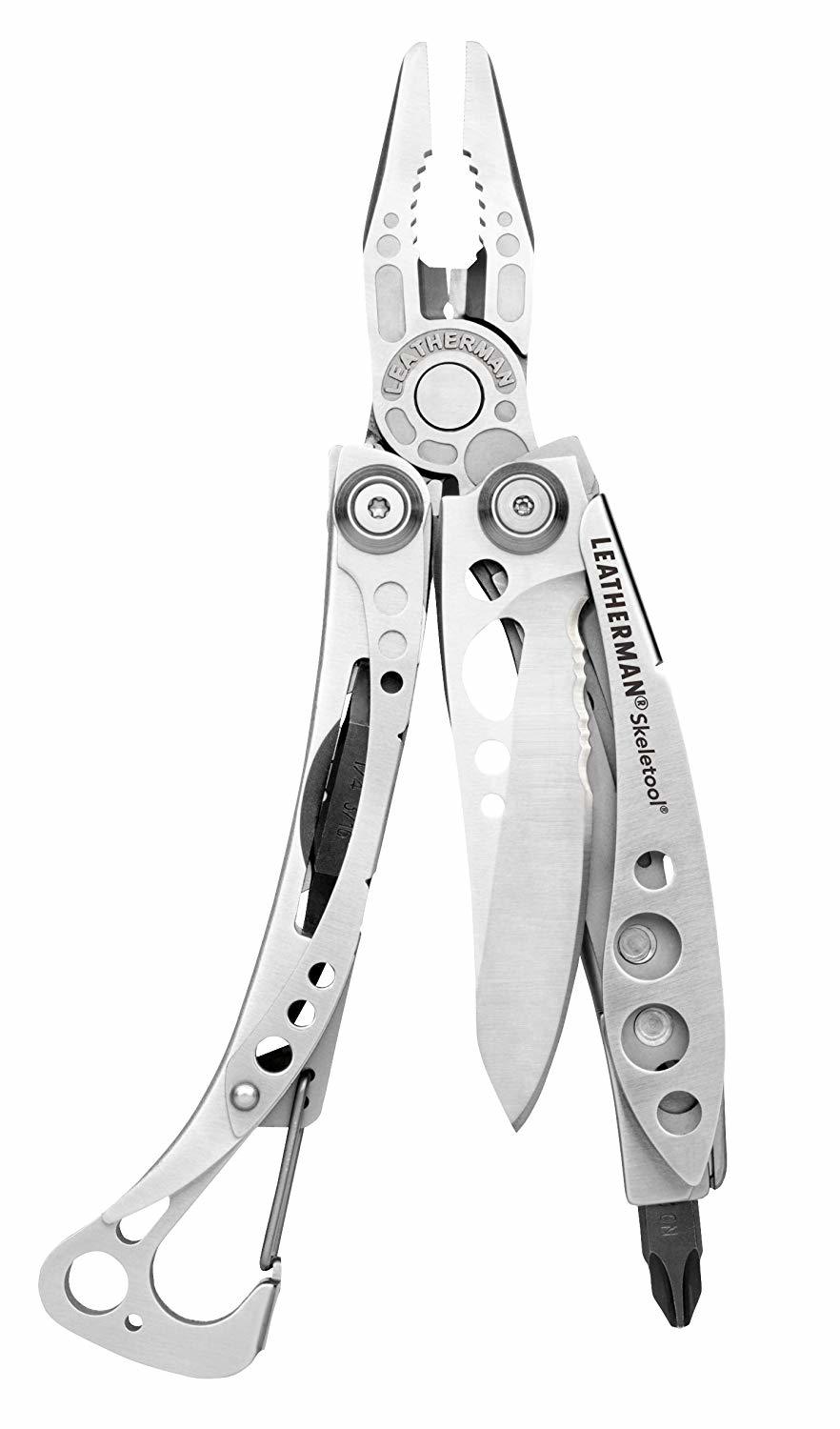 Perhaps a not-so-obvious what to pack for Singapore item is a compact multi-tool, like the Skeletool; but we highly recommend it. There are convenient pocket-size and keychain-size choices with lots of different tool options. You'd be surprised how often a nail file, a corkscrew or a small knife can come in handy. Even if it's just to cut the tag off of a cool new shirt you bought on Orchard Road, you'll appreciate having a small pair of scissors!
#7 – Active Roots Microfiber Travel Towel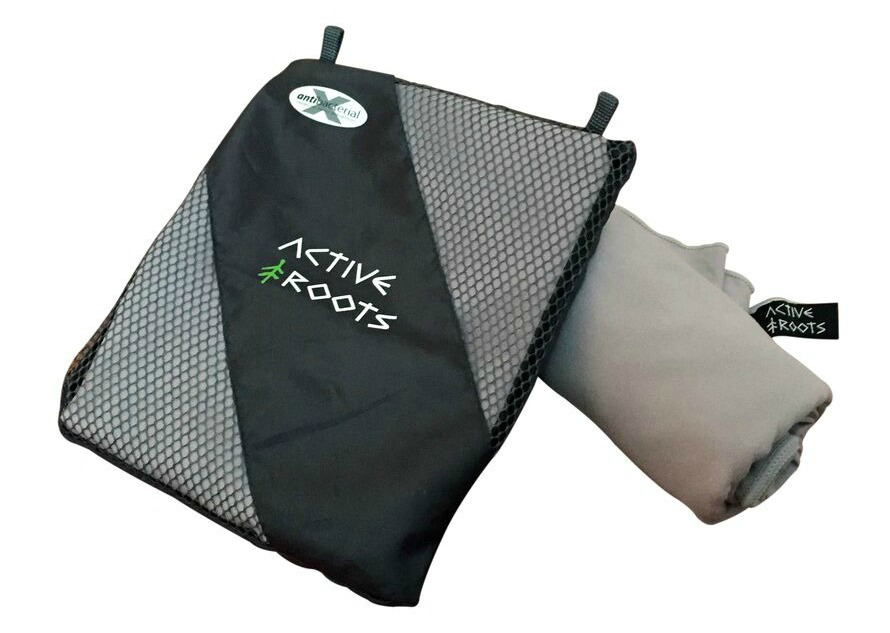 Every budget backpacker in Singapore should have a travel towel. You can't guarantee the standard of cleanliness and quality of the towels provided at hostels or economic lodging, so it's smart to bring your own as back up – just in case. The Active Roots Microfiber Travel Towel is perfect because it's super lightweight, quick-drying and folds down into a compact, packable size – which makes it totally worth packing.
#8 – Active Roots DayPack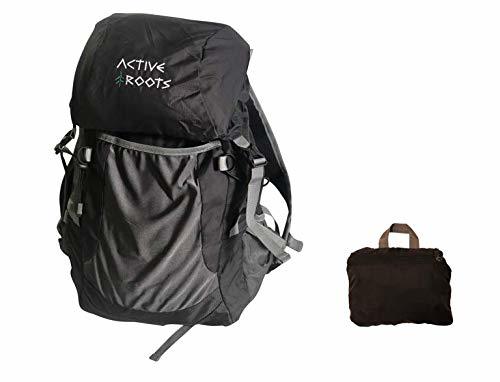 It's always worth having a daypack with you whenever you travel but often NOT worth carrying something bulky around. The Active Roots adventure daypack is hands down the best foldable day pack around. It comes with a water bottle holder, is tough and sturdy, and folds down super small yet provides plenty of space for your day-ventures exploring Singapore's sights.
#9 – Fairywill Electric Toothbrush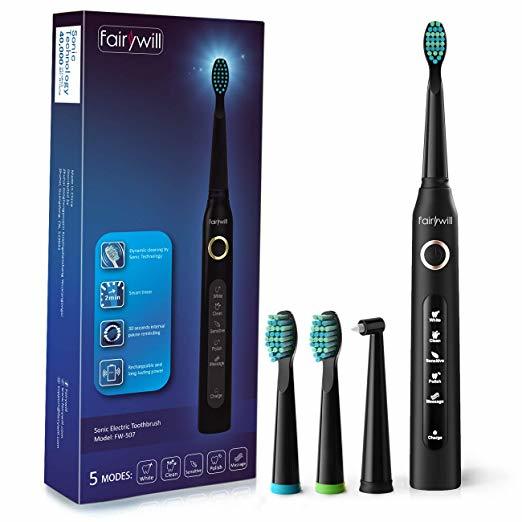 If you're used to using regular store-bought toothbrushes for your travels, we'd like to suggest considering an electric toothbrush. Hear us out: the Fairywill Electric Toothbrush has several modes available that not only give your teeth a super cleaning for a healthy smile – but also feels incredible! It's travel-friendly and light – weighing only 55 grams – and gets through 30 days of use with one 4-hour charge. Try it; you'll love it!
#10 – SunGod Sunglasses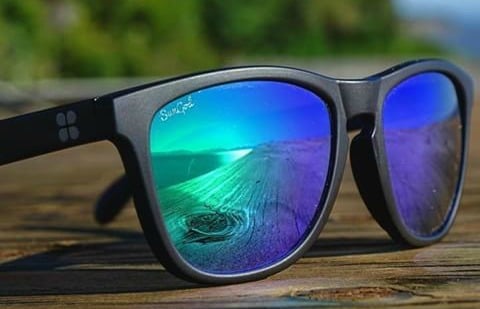 A key accessory to blend into Singapore fashion is a stylish pair of sunglasses. Plus, the Singapore sun is strong, and your eyes will need protection. We love SunGod Sunglasses because they're durably made for performance without forgoing style. The triple-layer scratch-resistant lenses and SunGod's trademarked Adventureproof? frames are customizable – with plenty of cool colors and patterns to choose from to design your perfect pair. They're also covered with SunGod's lifetime guarantee for free repair! Read more on why the SunGod Sunglasses are awesome before purchasing.
#11 – Travel Umbrella
It's safe to say that you're more than likely to encounter rain in some form during your travels – Singapore is known for its spontaneous storms and unexpected showers. You'll want to add a compact travel umbrella to your what to pack for the Singapore list, so it's readily available when needed. A regular umbrella is impractical to pack, so your best bet is a small foldable one that fits easily in your day bag.
#12 – Sunscreen
Protect your skin from Singapore's harsh sun by regularly applying sunscreen while out and about. In the hot and humid weather, you'll be more comfortable in short-sleeve and sleeveless shirts – which easily leads to badly sunburnt arms and shoulders. If you want to cut down on your liquid carry-ons, you can opt for a sunscreen stick that's also lighter to pack. Or buy both and have plenty for your body and one to carry around with you.
Check Price on Amazon Check Price on Amazon
#13 – Travel Jungle Gym Set
Whether you're traveling Singapore for a weekend or for a year, it's difficult to keep your usual workout routine on the road. There are loads of workouts online to print and follow, but there's nothing like being in a gym with proper exercise equipment. Enter: Monkii Bars. You can set up your workout station anywhere – hotel rooms, mountainsides, your backyard – and the pocket gym comes with its own app so you can learn the ropes (cough, cough) of staying fit on the road!
#14 – Sun hat
Your face is the most sensitive – and most exposed – to sun damage if it's not adequately protected. You can add some protection – and some flair – by packing a stylish sun hat. A wide-brimmed hat for women looks chic with a sundress – or both men and women can go for a fedora-style hat that shields and pairs well with any outfit. A foldable style will make for easier packing and for avoiding the squashed-hat look!
Check Price on Amazon Check Price on Amazon
#15 – Digital Camera
You don't want to miss the opportunity to capture the true essence of a destination as picturesque as Singapore with just any camera – or with just your camera phone. You'll be remorseful to not add a digital SLR (single-lens reflex) camera to your what to pack for the Singapore checklist. If you don't already have one, there are plenty of starter camera options at varying price points to accommodate your budget. You'll be happy with the investment!
#16 – Packing Cube Set
You can never have too much organization when living out of a backpack. In addition to keeping you organized, packing cubes help pack down your clothing – allowing for more overall space – which is always a plus! Not only that, you'll avoid the hassle of emptying out your entire backpack when trying to find that one white t-shirt that's gone rogue at the bottom of your bag. Talk about a frustration saver!
#17 – AR Toiletry Bag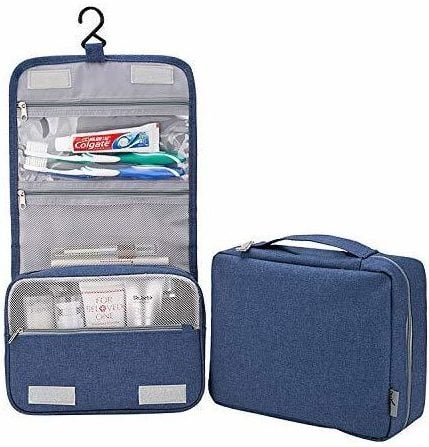 Another backpacker favorite for staying organized is a hanging toiletry bag. It's extremely helpful to have all of your accessories neatly gathered in one bag that you can hang for easy accessibility, especially when counter space isn't plentiful or even available. A well-organized bag is worth having whether you pin it to a tree whilst camping or a hook in the bathroom wall of your hostel in Singapore – it helps to have quick access to all your stuff.
#18 – Travel Pillow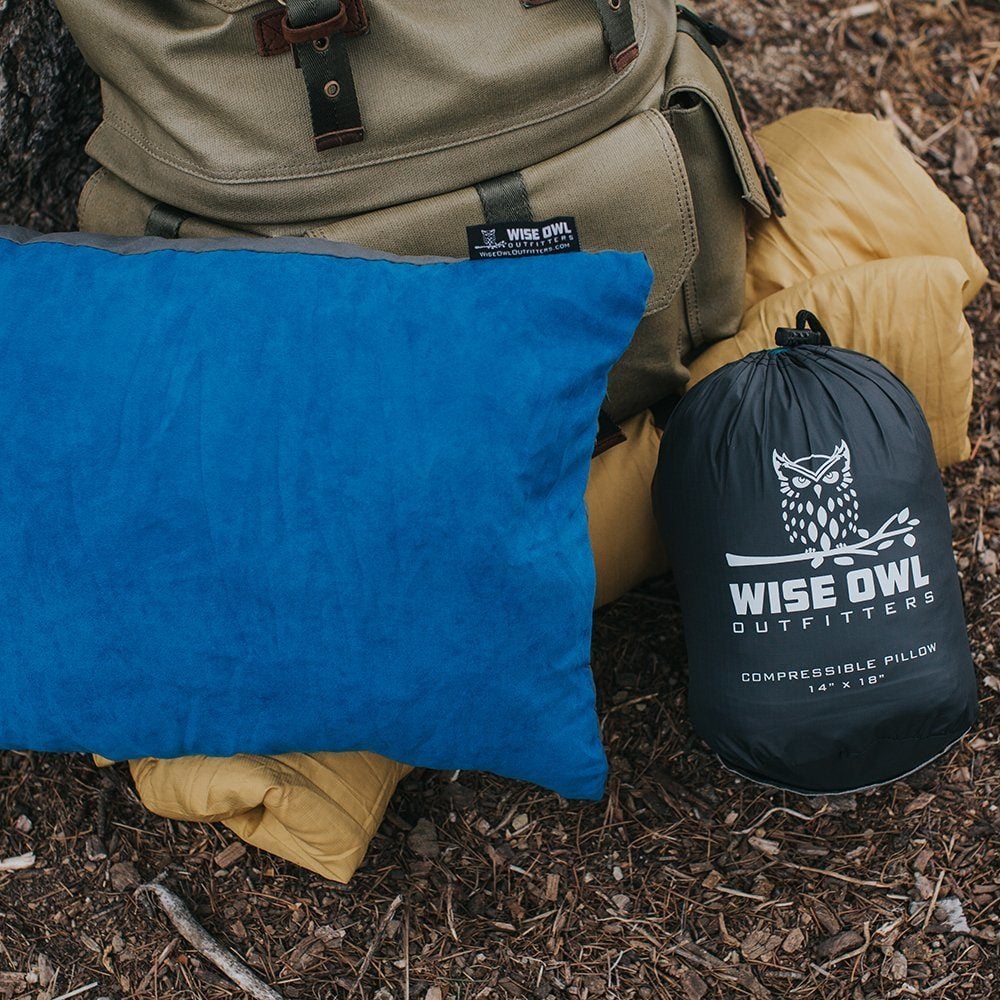 A useful piece of backpacking gear is a travel pillow, and we recommend having it on your list for what to pack for Singapore. A cozy personal pillow is comforting to have for long flights, and for using in hostels if you're not exactly happy about the pillow that's provided for you. It's worth having – especially when you have a compact one that folds down and is easy to pack.
#19 – Travel Adapter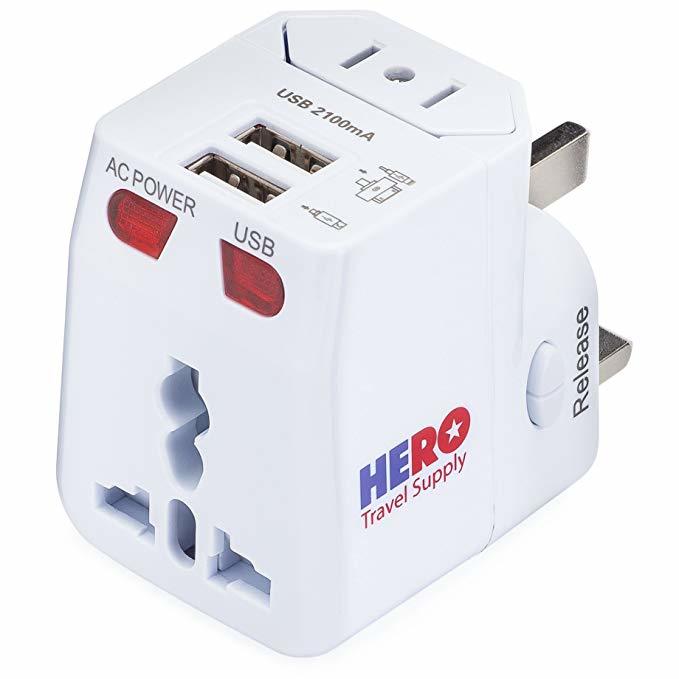 Unless you have electronics that use power type G, you'll need an adapter to keep your devices charged in Singapore. You don't want to rush to recharge a dead phone only to find that the plug doesn't work in the outlet, or that you have the wrong adapter. An easy way to avoid this problem is to pack a universal travel adapter that works practically anywhere in the world, regardless of power configuration.
#20 – Portable Charger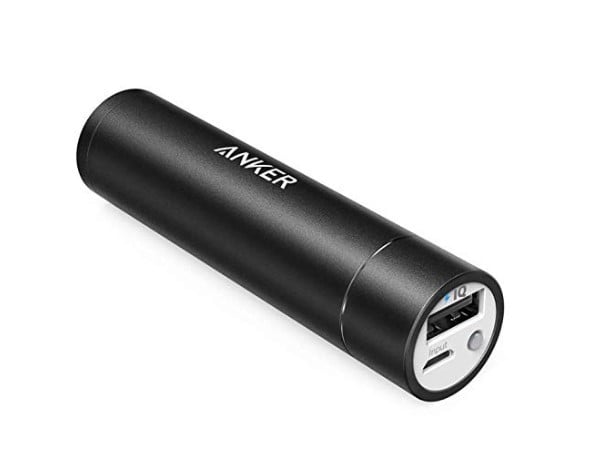 It's smart to add a portable charger to your Singapore packing essentials as a backup charging source – especially if you plan on getting an inexpensive 4G Singapore SIM card. You'll likely be using your phone a lot – as your navigator, restaurant guide and social media selfie uploader – and can quickly run out of juice. If you need your phone to navigate through Singapore's bustling neighborhoods, you don't want it dying without a way to charge it back up!
#21 – Travel First Aid Kit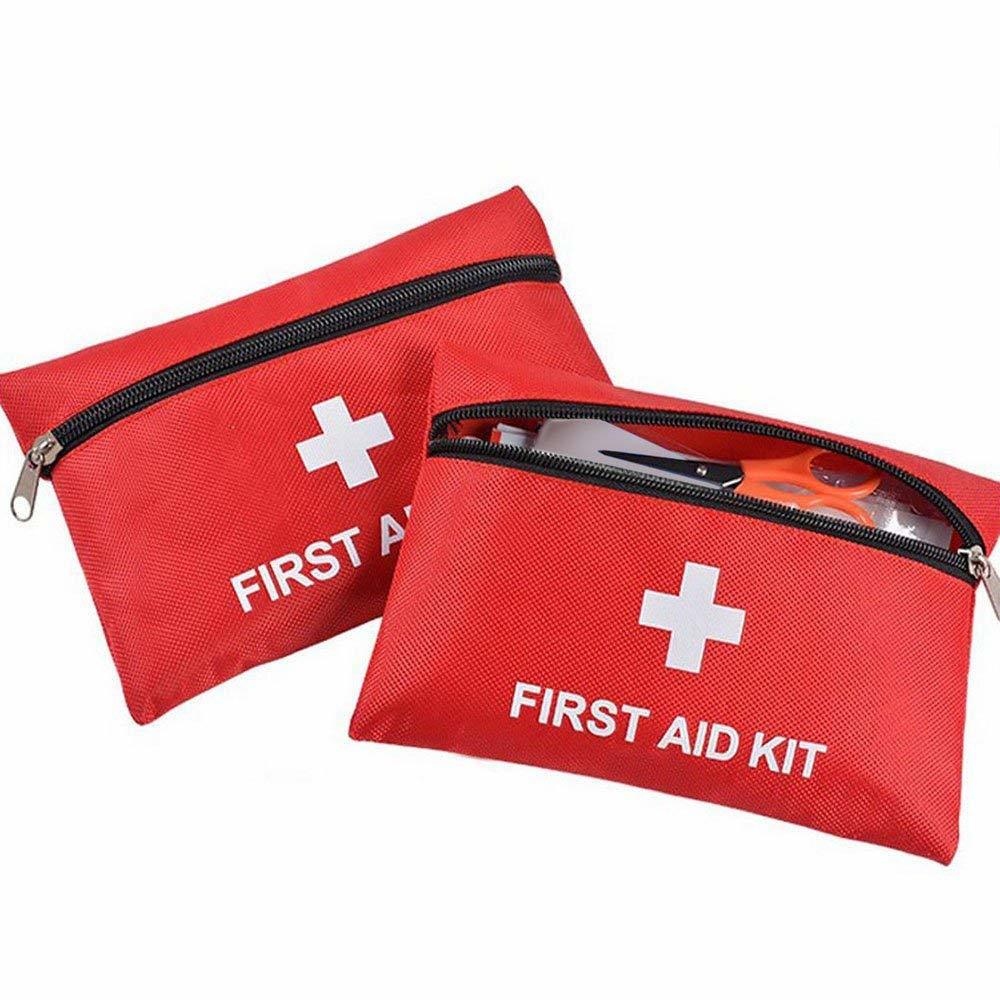 Even in the cleanest and most cosmopolitan destinations – we recommend always traveling equipped with a travel first aid kit. You'll want your basics supplies – like bandages, band-aids, disinfecting pads, and topical antiseptic. Be sure to include over-the-counter medications like a headache and fever reducer, anti-diarrhea pills and antacids. All of these items are easily available, but they're expensive in Singapore and it's handy to have them stocked already so they're ready in an emergency.
#22 – Sanitizing Wipes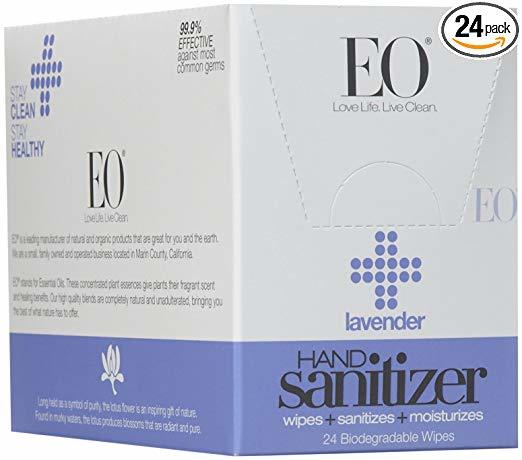 Always have a travel pack of sanitizing wipes available when you're traveling. The best safeguard against getting sick or catching a bug – and potentially ruining your trip – is keeping your hands clean before eating and as often as possible. To keep unwelcome germs at bay, have plenty of packs available to restock as needed. They're perfect for carrying around in your daypack and having readily on hand.
What to Wear in Singapore
When thinking about what to wear in Singapore, keep in mind that it's the most modern and cosmopolitan city in all of Southeast Asia. Street fashion is hip and mainstream. Think of clothing that fits in the classic, smart casual category – without being too casual or over-the-top as to attract negative attention. There's still a modest nature to their sense of dress, so be culturally respectful and stick to classy styling.
Singapore weather is hot and humid, so clothing that's as lightweight and breathable as possible will keep you the most comfortable – the best fabric choices are linen, cotton blends, and silk. Think shorts, t-shirts, summer pants, and loose-fitting tops. For monsoon season, it will still be hot but rainy, so you'll want to add a light rain jacket or shell to your what to pack for Singapore ensemble.
For women, versatile Singapore outfit ideas are a pair of capris with a loose tunic top; or a pair of jean shorts (not too short!) with a boho-style shirt; or a pair of linen pants with a halter tank top. For what to wear in Singapore at night, you can spice up a daytime outfit or a simple sundress with accessory items – like a layered necklace, a pair of dangly earrings or a set of bangle bracelets.
Men should wear smart casual attire as well, and choose items that look fashionable but also weather appropriate. Moisture-wicking material for daytime wear is recommended to minimize sweat-laden clothing! Shorts will be the main staple, along with t-shirts, a polo shirt or two and a long-sleeve button-down shirt as an option for a dressier, going-out look.
Visiting Singapore in Summer
June, July, and August are Singapore's hottest months and fall in the Southwest monsoon season, which is fairly dry – June and July have the least rain you'll get in Singapore all year, with maybe about 5 or 6 rainy days per month. Rainy conditions increase starting in August. The sun will be strong, so you'll need to load up with sun protection. Average temperatures range between 86 to 94° F.
If you want to explore some local beaches while kicking through you're travel itinerary in Singapore – though there aren't that many to choose from – this is a good time. Ladies will want to pack a modest swimsuit – preferably a one-piece over a bikini. Men should pack a pair of swim trunks of a decent length versus short or speedo-style beachwear.
For what to wear in Singapore in summer, focus on clothing that's suitable for sunny weather and will keep you cool. Pack shorts, dresses, short-sleeve shirts, t-shirts and summer pants – which are all fitting for modern Singapore fashion. Wear your sun hat for added sun protection and to jazz up your summer look.
Visiting Singapore in Fall
Singapore weather becomes rainier in September, October, and November. Air temperatures remain high, so expect muggy conditions. It rains for about half of the month, and thunderstorms often accompany the rainfall. Average fall temperatures are between 75 to 87° F with typical daily highs in the upper 80s.
You should consider Autumn for your travels if you want to avoid the high tourist season, and you come prepared for rain. There are always plenty of indoor activities to enjoy, like shopping at the famous malls along Orchard Road.
Because it's still hot, you need to pack breathable clothing and some waterproof items. A top-quality rain jacket and umbrella will be your Singapore packing essentials. Also have summer-type clothing packed – cargo shorts, t-shirts, blouses, and lightweight shirts. You should add a cardigan or lightweight sweater for what to wear in Singapore at night if temps drop – and is also nice to have in highly air-conditioned indoor spaces.
Visiting Singapore in Winter
December, January, and February mark Singapore's northeast monsoon season. This is a hot, very wet time – you can expect consecutive days of rain coupled with thunder. Strong, extreme wind is known to peak in January and February. Humidity in February is 82% on average and overall winter temperatures average between 72 and 87°F.
Be aware that peak tourist season takes place starting in December, and particularly between the middle of December and Chinese Lunar New Year – which happens in January of February. You can enjoy a plethora of festivals and festivities during this time of year – including a spectacular Lantern Festival that's a must-see for winter travelers. You'll want to book travel arrangements and accommodations ahead of time for holiday travel.
As for what to pack for Singapore for winter, you'll want a couple of layering options and as much waterproof gear as possible. With temperatures still being so high, your focus should remain on lightweight, quick-drying clothing. Shorts, pants, and t-shirts still apply, and you'll want to add a light sweater and cardigan to layer on if temperatures drop or nights bring chillier conditions.
And of course, you'll need a rain jacket, umbrella and a pair of waterproof travel shoes that allow for easy walking through some big puddles!
Visiting Singapore in Spring
The conditions in March, April, and May become much more temperate with less – or at least shorter lasting – bouts of rain. The days are warm but not suffocatingly hot. March and April have fairly consistent rain but with some breaks and fog, but the wind is not as prevalent. Spring temperatures average temperatures between 74 and 86° F.
May could the perfect shoulder month to consider if you want to take advantage of relatively mild weather. The heat persists but there's less rain – plus the added bonus of not too many tourists! Outdoor activities and beach time all return as viable options.
As for what to pack for Singapore during these months, stick to your lightweight options to stay as comfortable as possible in the warm humidity. You'll want a combination of shorts and light pants, loose-fitting short and long-sleeve options for some breathability and definitely your rain jacket.
Singapore outfit ideas for spring include pair of wide-leg summer pants topped with a lightweight t-shirt with an open cardigan sweater to add on as needed. For men, a pair of dark hybrid shorts with a v-neck cotton t-shirt and a denim button-down shirt for optional layering makes for a smart, classic look.
What Shoes to Pack for Singapore
You'll be doing most of your exploring on foot – so you'll want to focus on comfort when planning out what shoes to pack for Singapore. Remember that rain is prevalent, so you want more water-resistant material, like leather or faux-leather versus fabric.
For women, a pair of comfortable sandals are perfect for what to wear in Singapore in summer and for almost everyday use. For dressing up for a nice dinner or for trendy bar hopping, a pair of dark ballet flats is a good choice.
Men will want a pair of comfortable, fashionable walking shoes. Running shoes aren't an appropriate look for Singapore street fashion, so opt for something less gym-looking – like a pair of sneakers. A versatile second pair of shoes are loafers that transition easily from daytime to nighttime mode.
If traveling during the monsoon season, it's smart to have a pair of waterproof boots. A pair of leather booties for women are perfect for keeping feet dry and compliment nighttime outfits just as well as daytime ones. For men, leather lace-up ankle boots are classy and functional and work with any ensemble.
If you plan to do any beach trips, you'll need a pair of flip flops. They're light and easy to pack, so it doesn't hurt to have them – even if just for using in hostel showers.
Females – What to Pack for Singapore
Hey ladies, check out these specific recommendations for your what to pack for Singapore list!
For fashion
When you're in a climate of 80+ degrees with 75% humidity, shimmying into a pair of skinny jeans doesn't sound very appealing. For a more practical – yet still stylish – choice, we recommend packing a least one or two rompers. Even better, pack one shorts jumpsuit and one pants romper to vary your look. They're so comfortable and dress up so easily for what to wear in Singapore at night – just add some jewelry, and you're good to go!
Another great fashion piece to dress up a daytime outfit – or for jazzing up your romper – is a chiffon kimono cardigan. The material is so lightweight that it won't make you hot in Singapore's muggy weather – and layered over a tank, the sleeves also provide some pleasant sun protection for your shoulders.
Pack accessories that keep you safe!
Infinity scarves are chic and classy, but some even provide a hidden pocket to keep your valuables.
The Active Roots Zipper Scarf is your run-of-the-mill infinity scarf but with a hidden pocket that's big and sturdy enough for a night's cash, your phone, a passport and (hell with it) some snacks too!
For comfort
Regular wire bras often feel confining and uncomfortable in hot, sticky weather. Consider packing a couple of neutral-colored comfort bras that are breathable and seamless. They have mesh cooling panes in the front and back for better airflow and will keep you feeling cooler. They work well for everyday wear but are also appropriate for more active days – like if you choose to go hiking in surrounding areas.
Males – What to Pack for Singapore
Ok fellas – now for you – here are our tips as you're planning your what to pack for Singapore list:
For Fashion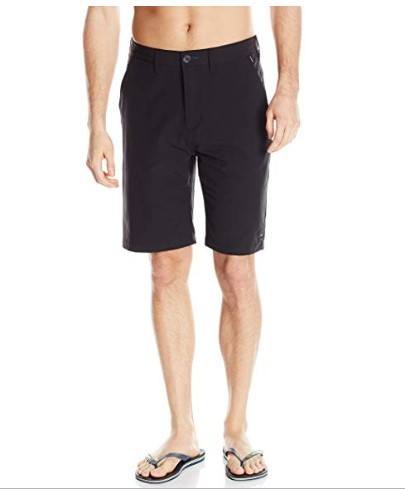 You'll be relying a lot on shorts as your everyday wear in Singapore. It's just too hot and humid not to! You may want to consider adding a pair or two of hybrid shorts – cargo-type shorts that are light and quick-drying. They serve like moisture-wicking performance shorts when working up a sweat, but are dressier looking than activewear. They pair perfectly with a polo shirt for a dressier night out on the town.
For comfort
If you don't have any quick-dry breathable boxer briefs, you may want to add them to your what to take to Singapore checklist. Regular boxers or briefs won't keep you cool and dry – and will feel uncomfortable with excessive sweating. Your best bet for Singapore's humid, sweat-inducing conditions is to pack boxers like these for a more comfortable, fresh feeling.
Along these lines, you should also pack some moisture-wicking socks. If you're not the sandal wearing type, then you'll probably be wearing closed shoes that require socks a lot of the time. Keep your feet dry and comfortable by investing in some breathable performance socks. They'll make a big difference!
What NOT to Pack for Singapore
Now that we've covered what to pack for Singapore, check out some tips on what NOT to pack for Singapore!
Don't pack too much clothing. You definitely need your basics, but Singapore is hot and humid, so stick to a few lightweight items you can easily mix and match. You'll want to take advantage of Singapore's awesome shopping deals, so leave yourself some space!
Don't pack heavy stuff. If you're an avid reader, replace heavy books with a lightweight e-reader. And leave behind extra appliances, like hairdryers, that you'll hardly use in Singapore's humid climate anyway.
Don't bring too much cash. Most places in Singapore accept credit cards, and you can find ATMs easily. No need to risk losing wads of cash – stick to a small amount at a time that will suffice for small daily purchases.
The Best Backpack to Pack for Singapore
There are a lot of good bags out there – but when you're traveling and relying on your backpack to carry your livelihood – you need the best bag. And we know just the bag to recommend as the best backpack to pack for Singapore: the Nomatic Travel Bag. Here are a few reasons why:
The Nomatic can't be beaten when talking about smart and efficient design. Its compact 40-liter size qualifies as a carry-on, but with all of its cool pockets and compartments – it fits a whole lot! As for what to pack for Singapore, there's space galore. You won't have any issues fitting in your shoes, water bottle, electronics, underwear, and socks – because there are built-in compartments for all of these.
You'll appreciate the available sternum and waist straps that you can attach for extra comfort when lugging around your heavy load – your back will definitely appreciate it! Also, the Nomatic travel bag can be carried either backpack or duffel-bag style thanks to its innovative strap design that lets you configure it to your liking.
And lastly, we love the Nomatic's durable and waterproof material that can withstand the heaviest of Singapore monsoons or any environment it's exposed to. You can count on this travel bag to stand by you through this adventure, and many more to come.
Final Thoughts on What to Pack for Singapore
There you have it, friends! Your handy Singapore survival guide to get you through what to pack for Singapore easily and stress-free. As you continue your pre-travel preparation, refer to our top-22 needs packing list, tips on what to wear in stylish Singapore, a breakdown of the weather by seasons and the recommendations on what to pack for each. Plus, you have our special bonus tips for women and men for their packing lists – plus, what NOT to pack for Singapore.
Be ready to experience the best of Southeast Asia in this wonderful gem of an island nation! Rest assured that anything you need along the way is easily attainable in this modern, metro destination – so there's really no need to worry. Just pack smart, be safe and – most importantly – eat lots of good food, take some epic photos and have an incredible time!
Also – don't forget to sort your travel insurance! We've put together a roundup of the best insurance for backpackers in Singapore, or if you're low on time, get a quote from World Nomads now, our favourite travel insurance provider.
Yay for transparency! Some of the links in this post are affiliate links. This means that if you book your accommodation through the site, The Broke Backpacker will earn a small commission at no extra cost to you. Your support helps me keep the site going.
---
Need More Inspiration?
Like this post? PIN ME!!!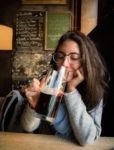 Writer and Editor, Ana Pereira is a California native, inspired by Earth exploration and introspection. Recently, she spent several months exploring Africa and South Asia. She spends most of her "down-time" out in the wilderness, climbing, hiking, and beyond, and is feverishly passionate about travel and health.