What is eSim?
For most of us, travelling with a phone or tablet has become as important as packing a passport. Not only do they serve as excellent tour guides, but our phones have also become a saving grace to get out of sticky situations. Whether it's finding your accommodation after that horrendous 12 am flight, or emailing the bank to urgently cancel a stolen card, it's hard to imagine a time before the internet.
While you can choose to move from one cafe to another using the Wi-Fi or pay exorbitant international roaming fees in order to stay connected, most travellers prefer to buy a SIM (subscriber identity module) card.
Previously, acquiring a SIM card meant an excursion to the closest carrier centre with your passport and awkwardly playing charades with the poor employee as you try to overcome the language barrier. Nowadays, embedded SIMs or eSims are sweeping the market, proving a game changer for travellers. What was once considered futuristic technology is quickly becoming mainstream… and we're here for it!
Unlike physical SIM cards, eSims can be downloaded digitally onto your phone or tablet from the comfort of your home, saving you a trip to a store once you land in a foreign country or wait for a physical SIM in the mail. As you move from country to country, simply download a new local eSim or buy a regional package (read on to know more!) and activate it as soon as you land.
The beauty of eSims is that you can have multiple carriers on your phone ready to be activated. Not only will you be saving on the plastic packaging and transportation involved with buying a physical SIM, but you will also have your local eSim ready to activate on your phone as soon as you land. ESims allow you to have two SIMs active at once, meaning you can keep using your original SIM from home without having to juggle between two tiny plastic SIM cards, with a risk of them getting lost or stolen.
However, before you go any further it is important to check if your phone is compatible with an eSim. Being still relatively new to the scene, eSims require a dual-SIM handset. While most new phones offer this function, you should check whether your phone is compatible before considering an eSim for your travels. Check out the list of compatible devices here.
If your phone is compatible with an eSim it is time to decide which eSim is the best for you.
How To Choose The Best Travel eSim
As eSims become more and more popular within the travel community, eSim providers are flooding the market with a range of packages and services for you to choose from. These plans differ in price, duration, data limits, and destinations.
Just like physical SIM cards, it is therefore important to do your research before finding the best eSim for your globetrotting needs. Some providers like Yesim, offer eSIM packages for over 120 countries and a virtual phone numbers. So, make sure that this Yesim eSIM review informs your final decision!
ESim providers service hundreds of countries around the world, meaning you will have several plans available for your destination of choice. The duration of eSim plans often ranges from 1 to 30 days, offering different data amounts and prices. This flexibility allows you to pick a plan which suits you and your travel itinerary. Remember, the best eSIM is the one which works best for your trip.
For the adventurous travellers planning to explore outside the larger cities, it is also important to note the carrier of your eSim and ensure they provide good coverage. Coverage differs depending on the carrier and your location. Limited coverage will impact your ability to send messages using data, and internet speeds may also be impacted. If you're going to be spending heaps of time in the backcountry, a satellite phone might be a better option to check out.
ESim providers will indicate which carriers they use for each plan on their websites. If you are concerned about the coverage of your plan, research the repute of the carrier your package will be using to ensure they are a major service provider.
Another thing to consider while you travel is whether you will need to make calls. Many eSim providers offer data only packages, therefore read the provider plans carefully to ensure your chosen eSim will include a local number.
In order to stay competitive, many eSim providers will offer deals and additional benefits such as global packages, data sharing, and hot-spotting services. These extras are worth keeping an eye out for when comparing different plans.
If you still need a bit more info, have a good at our guide to eSIMs here.
Introducing Regional eSim Packages
If you're planning on visiting just one country, the local eSims are a great option. However, if you have a serious case of the travel bug and wish to explore several countries on your travels, a regional eSim package might be just the thing for you. Regional eSim packages mean your one eSim plan will work in multiple regions, such as Europe or South-East Asia.
Like local eSim options, regional packages vary in data amounts and validity periods. Most eSim providers offer both regional and global packages. These deals allow you to tailor your package to your individual travel itinerary. For example, Airalo's Global eSim covers 87 countries across different continents, offering 7-180 days of validity and up to 20GB of data.
With the increase in locations covered under a regional or global eSim, the price for these services tends to be a little higher than a local eSim. However, regional packages save you the need to buy a separate eSim for each country and may end up being a better fit for your travel needs. They are also great eco-friendly travel products to keep single-use plastic down.
Regional and global eSim packages provide another option worth considering when choosing the best travel eSim for you. Weigh up the pros and cons of local and regional packages to help you decide which is most worthwhile to you.
Note: When considering a regional or global eSim, ensure the countries you are travelling to are included within the package. If a provider is offering a European regional eSim, this does not guarantee all countries in Europe will be covered by the package.
The Best Travel eSim Providers
As it becomes clear eSims are the way of the future, an ever-increasing number of providers are entering the market. Traditionally eSims have been too expensive to be worth their convenience. However, as the technology improves, the market is becoming more and more competitive. This means you can get better value for your plans at a cheaper price.
With so many to choose from, it is important to be informed on the different plans offered by eSim companies. Key factors to consider are data use, internet speed, price, and coverage offered by each eSim provider.
Trying to find the perfect plan can be overwhelming, especially as you try to juggle a million admin tasks before your flight. Luckily we've done the hard work for you, digging into the pros and cons of six eSim providers. While this list will provide you an overview of the key services offered by each company, it is important to do your own research to ensure you find the best eSim for you.
What if my phone is incompatible? Check out the best traditional SIM cards for travel instead.

Do You Want to Travel FOREVER??
Pop your email in below to get a FREE copy of 'How to Travel the World on $10 a Day!'.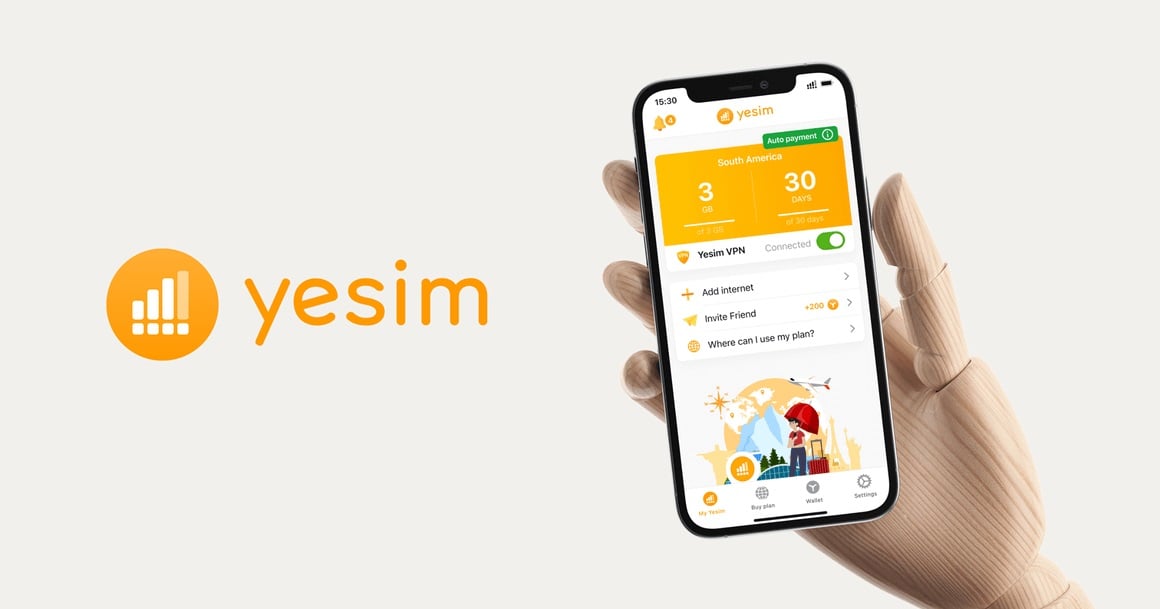 YeSim is an excellent app that connects travelers with eSim packages. YeSim do not provide network or data themselves but act as kind of a broker helping travellers to find the best and cheapest possible eSim for their trip.
They provides eSIM packages for over 120 countries and for each country they cover, they offer a variety of different packages to suit all needs and budgets. Somewhat uniquely, they also offer virtual phone numbers in many countries which makes them our top pick.
The price of a Yesim eSIM package does of course vary depending on how much data you want, how long you want the package for, and the destination country you are visiting. There is also an additional charge for a Yesim virtual phone number. However, our readers can get €3 off any package by using the promo code "Backpacker" at check-out.
Pros
Wide number of packages and the possibility of getting a virtual phone number.
Cons
New company and kind of untested. Virtual phone numbers are not cheap.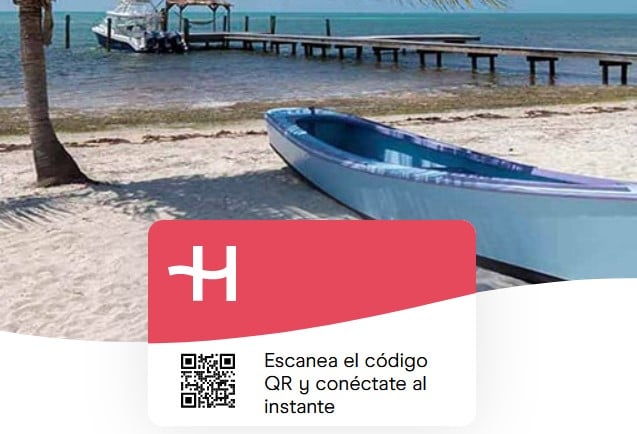 HolaFly is one of the major eSim shops, providing a 4G connection to more than 160 destinations. Their website is very user-friendly and comes with 24/7 WhatsApp customer service, enabling you to receive assistance with questions or troubleshooting issues quicker. HolaFly offers plans that range from 5-90 days and is widely known for its unlimited data packages. This is a pro for those who chew through large quantities of data during their travels.
The downside to this is there are limited set data plans available. This means those who do not need so much data will be paying a higher premium for a service they might not necessarily use to its full extent. For example, plans for the U.S. all include unlimited data with no option to opt for less.
A 30-day eSim plan with unlimited data in the U.S. will cost $64 USD. On the contrary, other countries such as Columbia have just one plan on offer at 6GB for 15 days costing $44 USD. If you don't want to worry about keeping an eye on your data usage, HolaFly is a good option. However, if you want a range of different eSim packages to choose from HolaFly will have limited options.
HolaFly is perfect for travellers needing to entertain themselves on long bus rides or upload daily Instagram shots to ensure loved ones at home are sufficiently jealous.
Regional packages are available for: Europe (32 countries), North America (3 countries), South America (15 countries), the United Kingdom (3 countries), and the Caribbean (16 countries).
Want to find out more? Check out their website here!
Pros
Unlimited internet packages available for a wide range of countries, data share available on some eSim plans
Cons
Some reviews mention slow internet speeds, limited plans for data packages that are not unlimited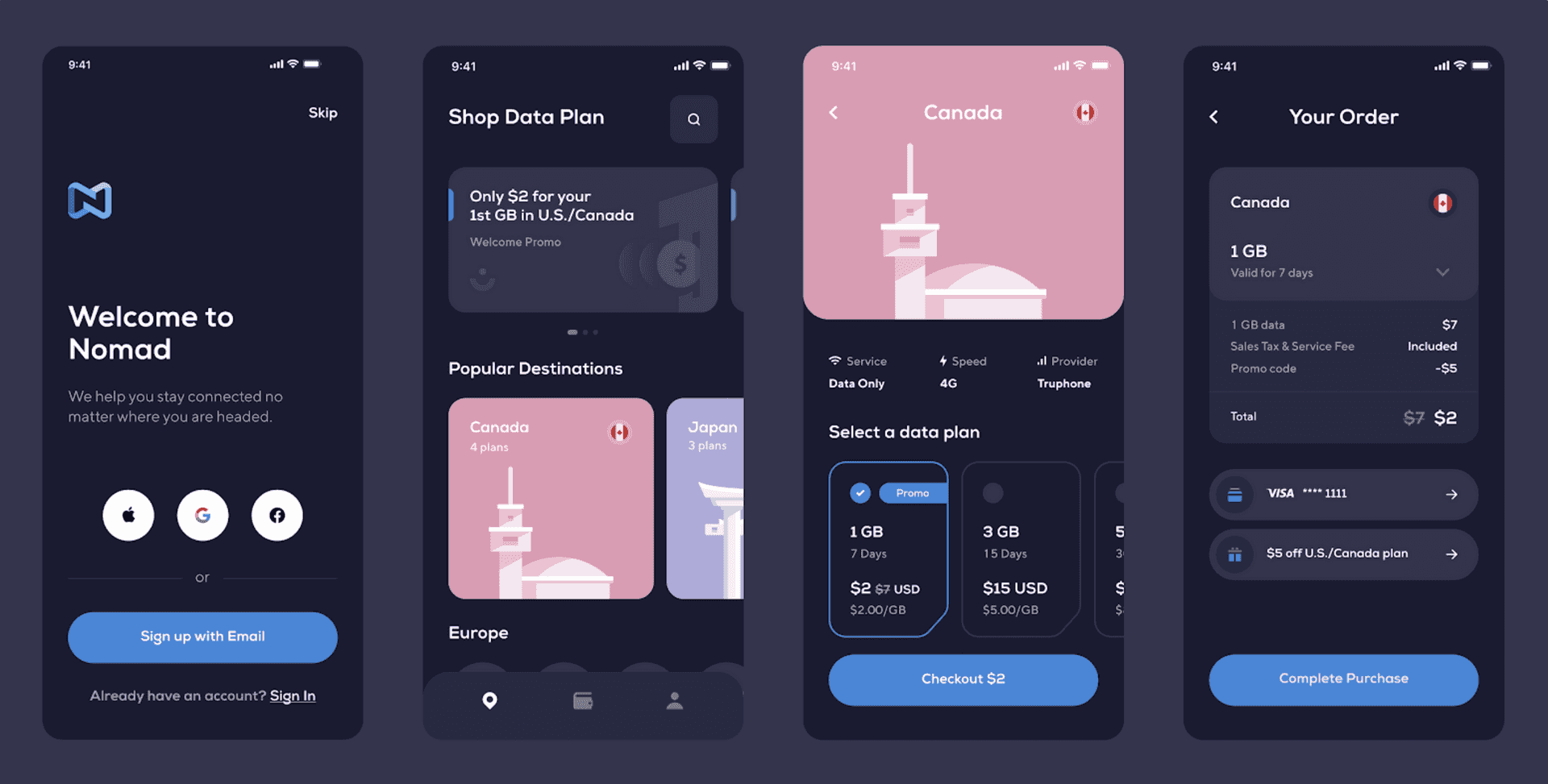 Nomad is another major eSim provider, providing both data and SMS eSim packages. Nomad covers 100+ countries and offers a variety of flexible data packages ranging from 7-60 day periods. What sets Nomad apart from other providers is the ability for clients to choose which mobile carrier their eSim uses.
Different mobile carriers will provide more reliable coverage and internet speeds than others. If coverage is important to you, Nomad is worth considering. For example, Nomad has several 30-day plans for the U.S., depending on how much data and which mobile carrier you wish to use.
Faster networks and larger data packages will cost you more ($80 USD for 50GB), while you can also choose a 30-day plan with a different carrier for $39 USD for 10 GB. Nomad is also trialling unlimited data packages in certain countries.
Additionally, the app for Nomads is also very easy to navigate and you can message the company through the app with any questions you have.
Nomad is perfect for backpackers new to eSims, providing a range of options on data and SMS options.
Regional packages available for: Europe (35 countries), Nordic (4 countries), South-East Asia/Oceania (8 countries), Pacific Asia (16 countries)
Global package: (110 countries) – 5GB, 30 days $45USD
Want to find out more? Check out their website here!
Pros
More flexibility on how much data you wish to buy, positive reviews about internet speeds (particularly in Europe)
Cons
SMS packages only work in the UK, Canada, and the U.S. Only offers short term plans (most plans are 30 days)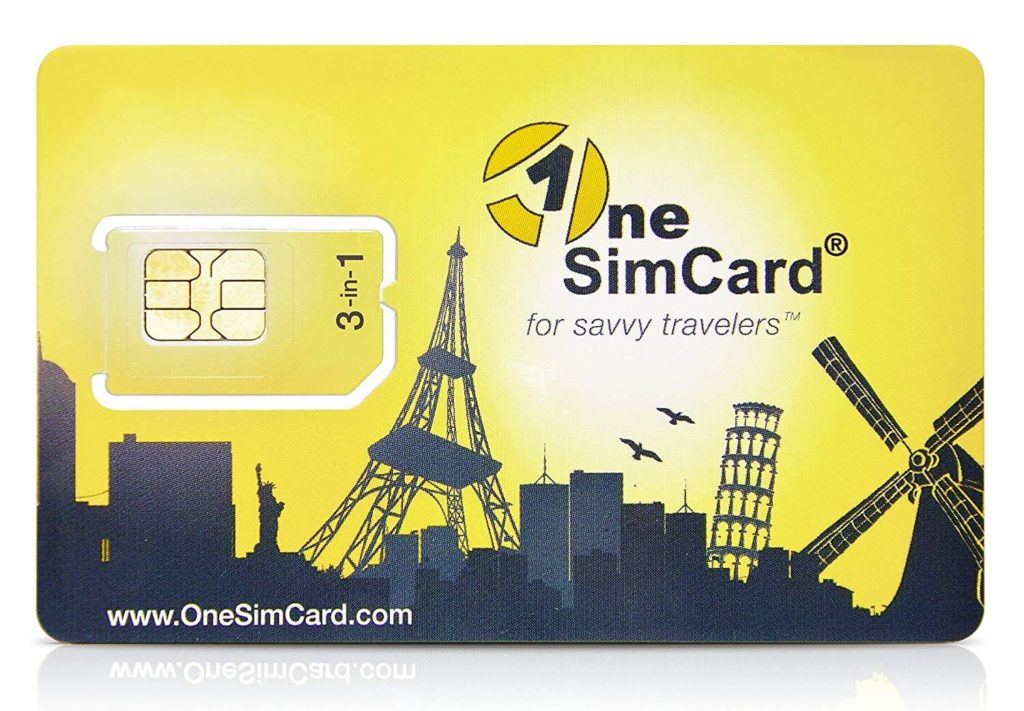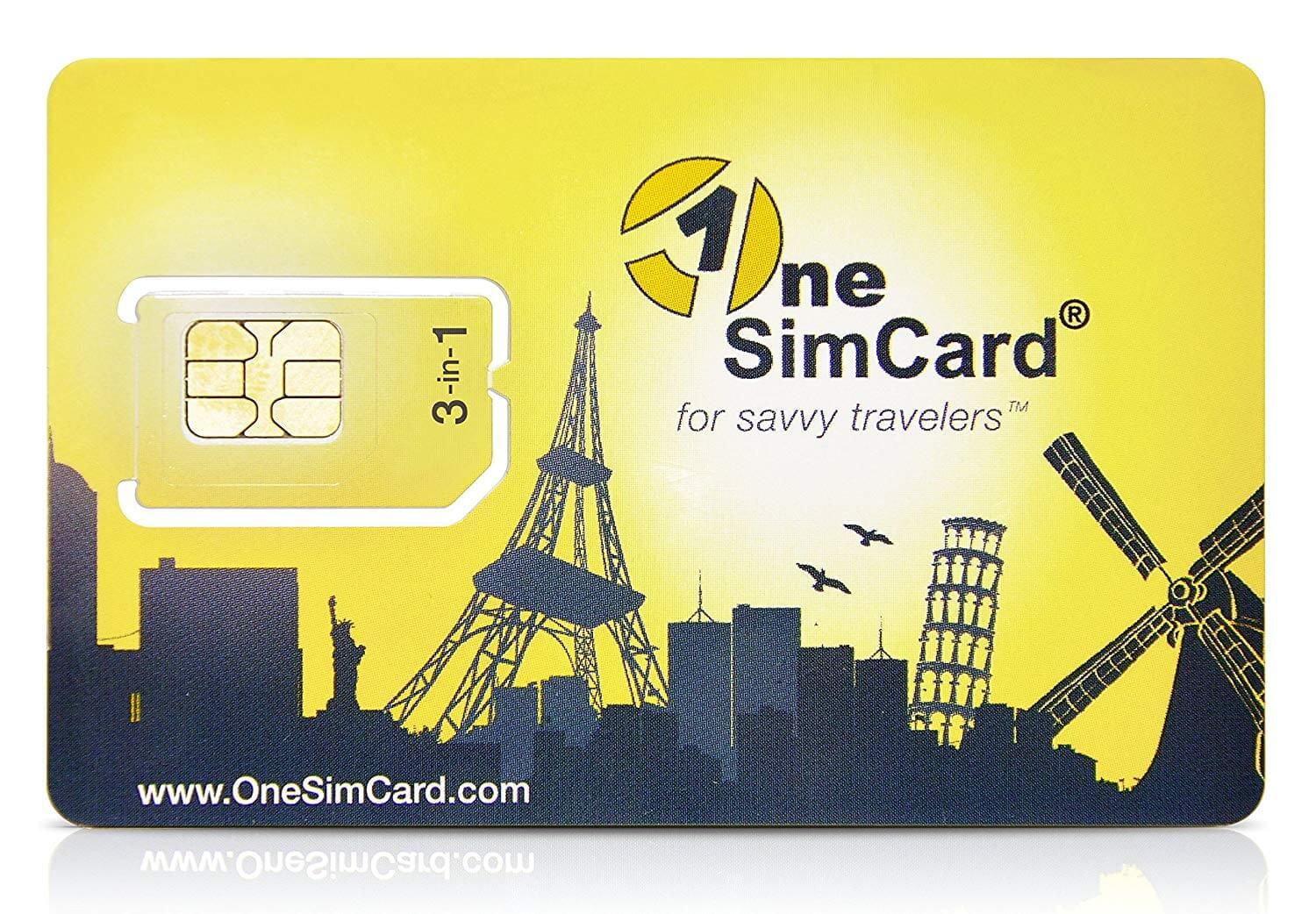 OneSim provides both physical and eSim cards, giving you more options when choosing which is best for you. However, if you opt for an eSim, you will only have two options of packages, the World or Oceana. However, an advantage of OneSim is that packages include data, voice, and text services.
There is a range of different plans available for their eSims. As well as offering daily, weekly, and monthly packages, customers also have the option to pay per MB for data. For example, for a 4G service in the US, rates start at $0.05/MB. This is a useful option for customers who only wish to use data in emergencies.
While OneSim has many advantages, two themes across multiple review websites were clients being caught out with unexpected plan costs and problems with connectivity in different countries. These are common issues within both physical and eSim markets and are a good reminder to make sure you read the fine print when comparing which provider is best for you.
OneSim is ideal for travellers who do not want to use too much data and are visiting multiple countries.
Regional packages available for: World (150 countries), Asiana (35 countries)
Want to find out more? Check out their website here!
Pros
Bi-monthly and monthly data discounts available. Customers also get free calls on EU numbers
Cons
Unlike most eSim providers who offer eSims free of charge, OneSim eSims cost $9.95. OneSim also only have two regional options available for eSim products
The best present of all… is CONVENIENCE!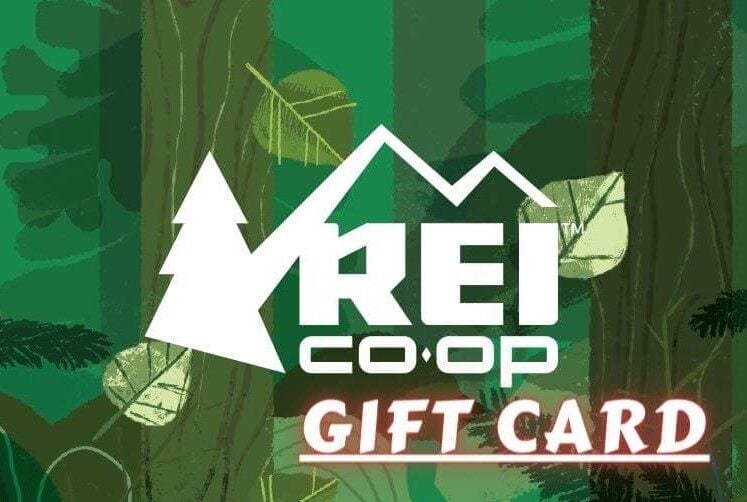 Now, you could spend a fat chunk of $$$ on the WRONG present for someone. Wrong size hiking boots, wrong fit backpack, wrong shape sleeping bag… As any adventurer will tell you, gear is a personal choice.
So give the adventurer in your life the gift of convenience: buy them an REI Co-op gift card! REI is The Broke Backpacker's retailer of choice for ALL things outdoors, and an REI gift card is the perfect present you can buy from them. And then you won't have to keep the receipt. 😉
Buy on REI!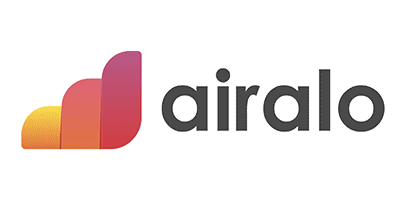 Airalo is one of the biggest eSim companies on the market, available in over 200 countries. While most packages are data-only plans, Airalo also offers some combination plans which include calls and a local number. Airalo is competitive with major companies such as Nomad and offers different data deals for 30-day plans in a range of countries.
For example, a 30-day U.S eSim with 10GB of data will set you back $26 USD. Alternatively, for those needing less data, a 3GB eSim with the same validation period will cost a reasonable $11 USD.
Airalo eSim plans range from 7-30 days for most local eSims, while regional packages are available up to 180 days.
Airalo also offers an in-app reward currency called Airmoney. This feature allows you to earn credits when you buy eSims, top-up products, or refer friends.
Airalo is perfect for travellers wanting to try out an eSim without committing to expensive long-term plans, due to their providing relatively cheap short-term data packages.
Regional packages are available for: Africa (27 countries), Asia (13 countries), Caribbean Islands (24 countries), Europe (39 countries), Latin America (19 countries), Middle East and North Africa (15 countries).
Want to find out more? Check out their website here or have a look at our complete Airalo eSim review.
Pros
Provide several data package options. 180 day validation periods on regional packages means less need topping up expired eSim plans
Cons
Can be difficult to keep track of how much data you have used and does not offer unlimited data packages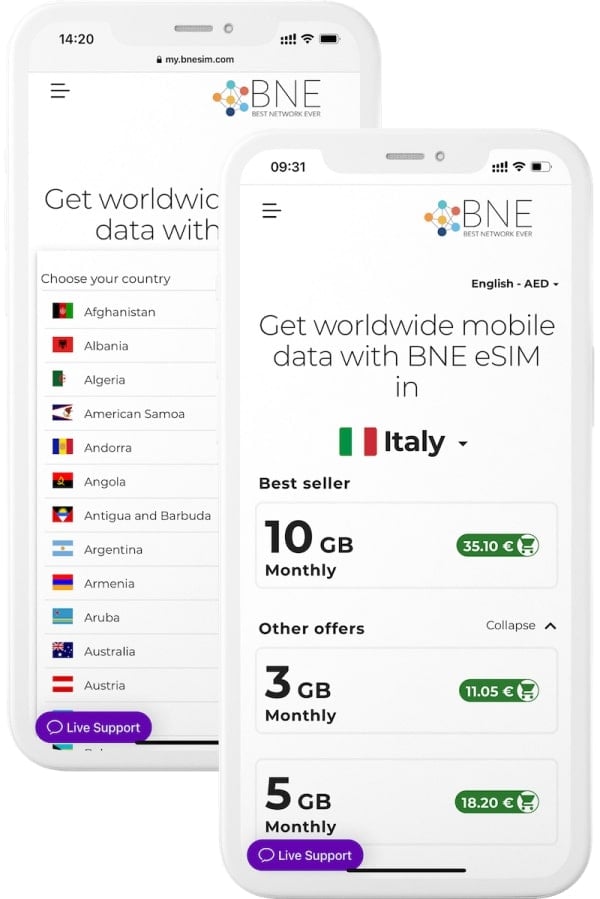 BneSim distinguishes itself from other competitors by specialising in monthly subscriptions, with services available in over 200 countries. BneSim offers once-off, weekly, or monthly plans, enticing you with discounts for daily and monthly subscriptions.
While these options allow you to save money in the long run, be careful of auto-renew defaults on subscriptions. Ensure you read the terms and conditions and be sure you've opted out of the subscription when terminating your plan to avoid any unwanted bills!
One of the best things about BneSim is that their once-off eSim plan has no expiration, meaning you don't need to worry about expiry dates. For those wanting voice services, BneSim also offers international numbers on certain plans, with no charge for incoming calls.
BneSim is perfect for travellers who are staying in countries for long periods of time.
Regional packages available for: Europe (30 countries), Asia (28 countries)
Want to find out more? Check out their website here!
Pros
Discounts for daily and monthly subscriptions
Cons
Website is quite overwhelming with a lot of information and not unclear descriptions, limited regional packages available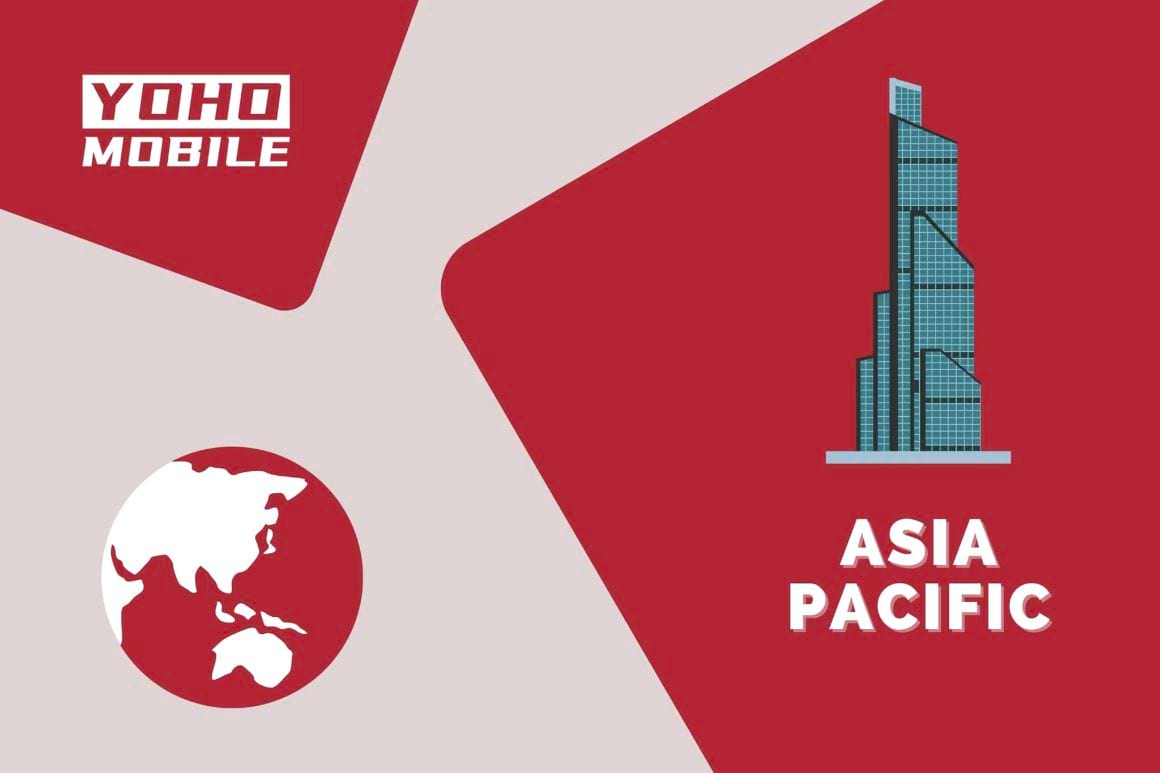 YoHo Mobile is a new provider to the scene with services available in 190 countries around the world. They offer both fixed and unlimited plans, specialising in services to Europe and Asia. Online reviews show that YoHo Mobile still has a few kinks to iron out in terms of customer service efficiency and product processing.
Nevertheless, YoHo Mobile has competitive pricing and has partnered up with major cellular providers such as Vodafone and Movistar, meaning their internet speeds are decent value for money. A 10GB eSim to the U.S. for 30 days will cost you $31.63, giving major competitors such as Nomad and Airalo a good run for their money.
YoHo Mobile is certainly worth looking into, particularly if you are going to countries in Asia. YoHo Mobile is also ideal for backpackers travelling through multiple countries on a budget.
Regional packages are available for: Asia 21 (21 countries), Asia Pacific (14 countries), Asia Pacific + (19 countries), South East Asia (8 countries/nations), China-Mac- Hong Kong, Europe (26 countries), Europe+(37 countries), North America (2 countries), Latin America (19 countries), Africa (1 country), Oceana (2 countries), Nordic (5 countries).
Want to find out more? Check out their website here!
Pros
Offers a wide range of regional packages, particularly for Asia
Cons
YoHo Mobile offers short term contracts only. There is also no app available for YoHo Mobile

Our GREATEST Travel Secrets…
Pop your email here & get the original Broke Backpacker Bible for FREE.
Final Thoughts on Finding The Best Travel eSim
eSIMs are the ideal travelling companion and a must on any travel packing list. They take up no space, require very little attention, and provide you with endless entertainment on those long travel days. Of course, just like when choosing any travel partner, it is important to ensure you and your eSim are on the same page.
There are a number of companies providing international connectivity at the click of a button, offering an overwhelming choice of data, voice, and text packages for you to choose from. It is therefore up to you to do your research and ensure you find the perfect match for your pending adventures.
When finding the best travel eSim for you, consider what you will need from your phone while travelling and what you value from your mobile carrier. There is no perfect eSim provider, each performing in some categories better than others.
Whichever one you choose, you'll at least be safe in the knowledge that you're reducing single-use plastic whilst staying connected on your trip.
The growing popularity of instant messaging apps such as Whatsapp and Signal means that text and voice plans are less prioritised when choosing an eSim provider. This is reflected in the limited text and voice options available by eSim providers. Ultimately you will need to decide how important data, internet speed, cost and coverage are to you.
While costing a little more than a physical local SIM, eSims provide you with more ownership over your phone connectivity. The flexibility to choose the best plan for you at the touch of a button before you even jet off on your adventures provides peace of mind that many backpackers are starting to prioritise.
eSIMs are a great example of how technology has revolutionised how we travel, removing barriers to our ability to connect with other cultures and countries. Find the best travel eSim for you and tick another thing off your to-do list as you prepare for the trip of your life!
Looking for more data for your laptop? Have a look at our guide to travel internet routers instead.
---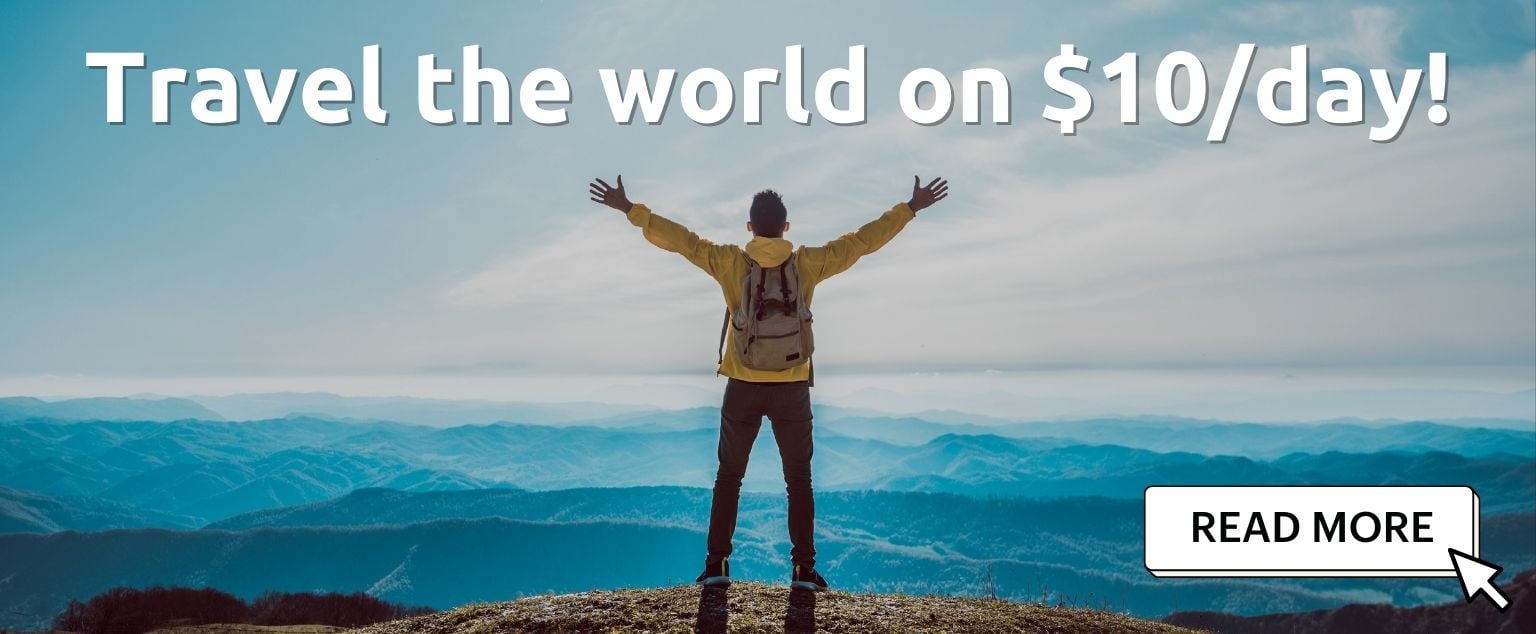 And for transparency's sake, please know that some of the links in our content are affiliate links. That means that if you book your accommodation, buy your gear, or sort your insurance through our link, we earn a small commission (at no extra cost to you). That said, we only link to the gear we trust and never recommend services we don't believe are up to scratch. Again, thank you!