When the skies open up in the mountains, you want to be prepared.
Are you are looking for a great rain jacket that is going to stand the test of time? Do you want a rain jacket that is going to be perfect for any hiking or travel trip you choose to embark on?
Well, you've come to the right place: Welcome to our guide to the best rain jackets for hiking ever.
Maybe you've already got a rain jacket but it's just… not THAT waterproof! Or maybe it's a cheap and cheerful rain jacket that makes a ton of noise when you make the slightest movement in it, and you've just had enough of it.
Either way, it's a great time to be looking for a new rain jacket for hiking. There are a ton of great products out there, from the lightweight to the budget-friendly, from the ultra-durable to the specialist – all of which will provide ample coverage in drizzle and downpours alike.
We've drawn on years of experience and thru-hiking miles when carefully choosing the best rain jackets for hiking. To make things even easier, we have thrown in a guide on how to choose the best jacket based on your own needs.
There is an awesome rain jacket for every type of hiker or traveler on my list, so settle in…
Quick Answer: These are the Best Rain Jackets for Hiking of 2023
BEST OVERALL RAIN JACKET FOR HIKING
BEST RAIN JACKET FOR HIKING FOR MEN
BEST RAIN JACKET FOR HIKING FOR MEN
Macai Shell Jacket
Price: > $$
> Bi-component Gore-Tex membrane system
> Storm hood
BEST RAIN JACKET FOR HIKING FOR WOMEN
BEST RAIN JACKET FOR HIKING FOR WOMEN
Arcteryx Womens Beta LT Jacket
Price: > $$
> Fully protective environmental shelter
> Fits comfortably under a harness
BEST LIGHTWEIGHT RAIN JACKET FOR HIKING
BEST BUDGET RAIN JACKET FOR HIKING
BEST RAIN JACKET FOR DAILY USE
BEST HEATED HIKING JACKET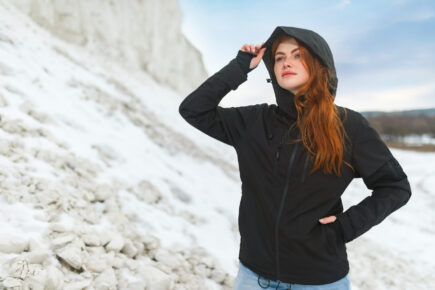 BEST HEATED HIKING JACKET
The Gamma By Wear Graphene
Price: > $$
> Made from Graphene – the fabric of the future
> Heated to keep you warm
Best Rain Jackets for Hiking of 2023
Winter is coming… WARM UP!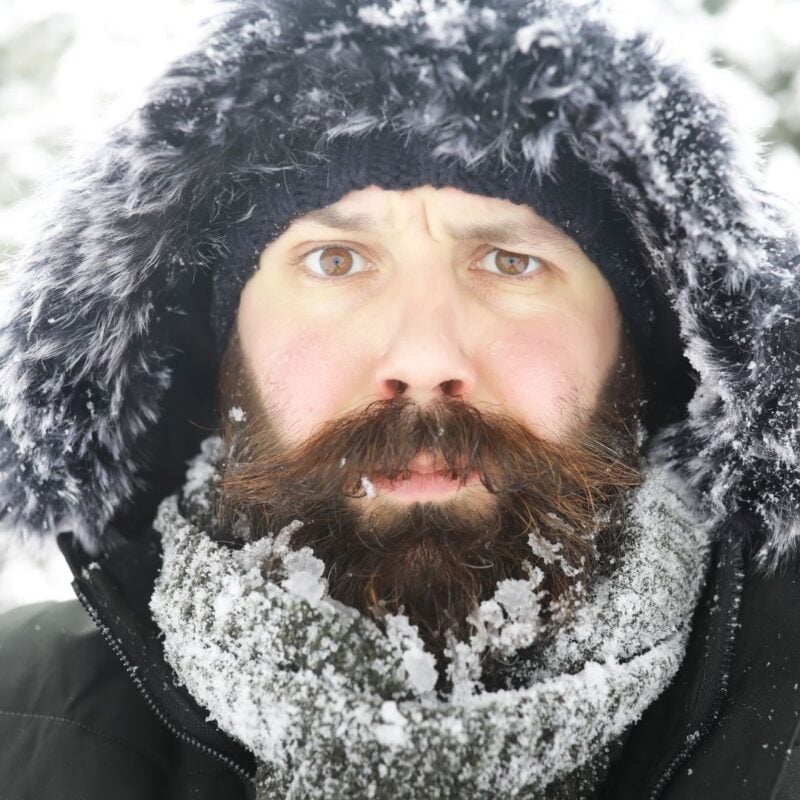 Get up to 50% OFF when shopping gear for the winter on REI.
Warm up for the holidays and SAVE on outdoor gifts all the way through Dec 18!
View on REI
#1 – Best Overall Rain Jacket for Hiking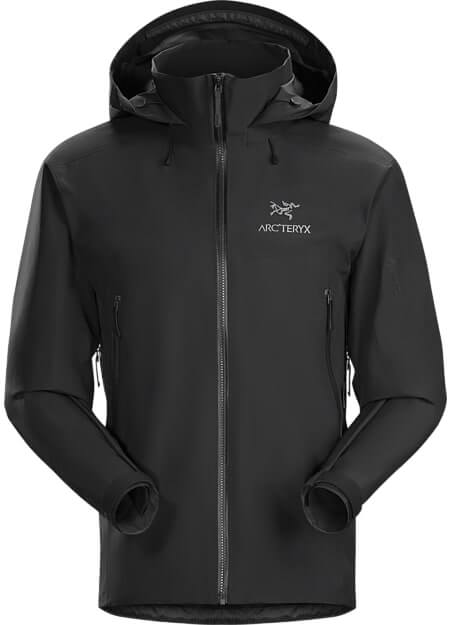 A lightweight jacket that's designed to be waterproof AND breathable, so you don't get that horrible sweaty stickiness if it happens to be raining and humid at the same time, this has got to be the best overall rain jacket for hiking and our favourite anorak for travel.
It's made from three layer Gore-Tex Pro, which gives you protection from those heavy storms without being too bulky. The last thing you want out of a rain jacket, especially for hiking, is for it to be more like a duvet or tarpaulin than… you know, a jacket. With this in mind, a notable property is being able to squeeze to a tiny size.
A versatile jacket that's good for mountain climbing, the packable format really is decent on this Arcteryx offering. It's one of the reasons Arcteryx are up there with the best jacket brands on the market.
It's hip length, meaning it's not too short, not too long, and can be layered nicely. It also comes with an Arcteryx DropHood, which is helmet compatible; there's even a separate collar which gives you protection from draughts.
The Beta AR is far from the cheapest jacket on my list. However, having had this jacket for the last three years, I can tell you that it well worth the investment. I have used it from the mountains of Pakistan to the jungles of Bali and it is hands down the best rain jacket I have ever tested.
Check out our full-length Beta AR review. Or why not look over the womens Zeta LT? Want a different brand, have a look at the Patagonia Calcite instead.
#2 – Best Rain Jacket for Hiking for Men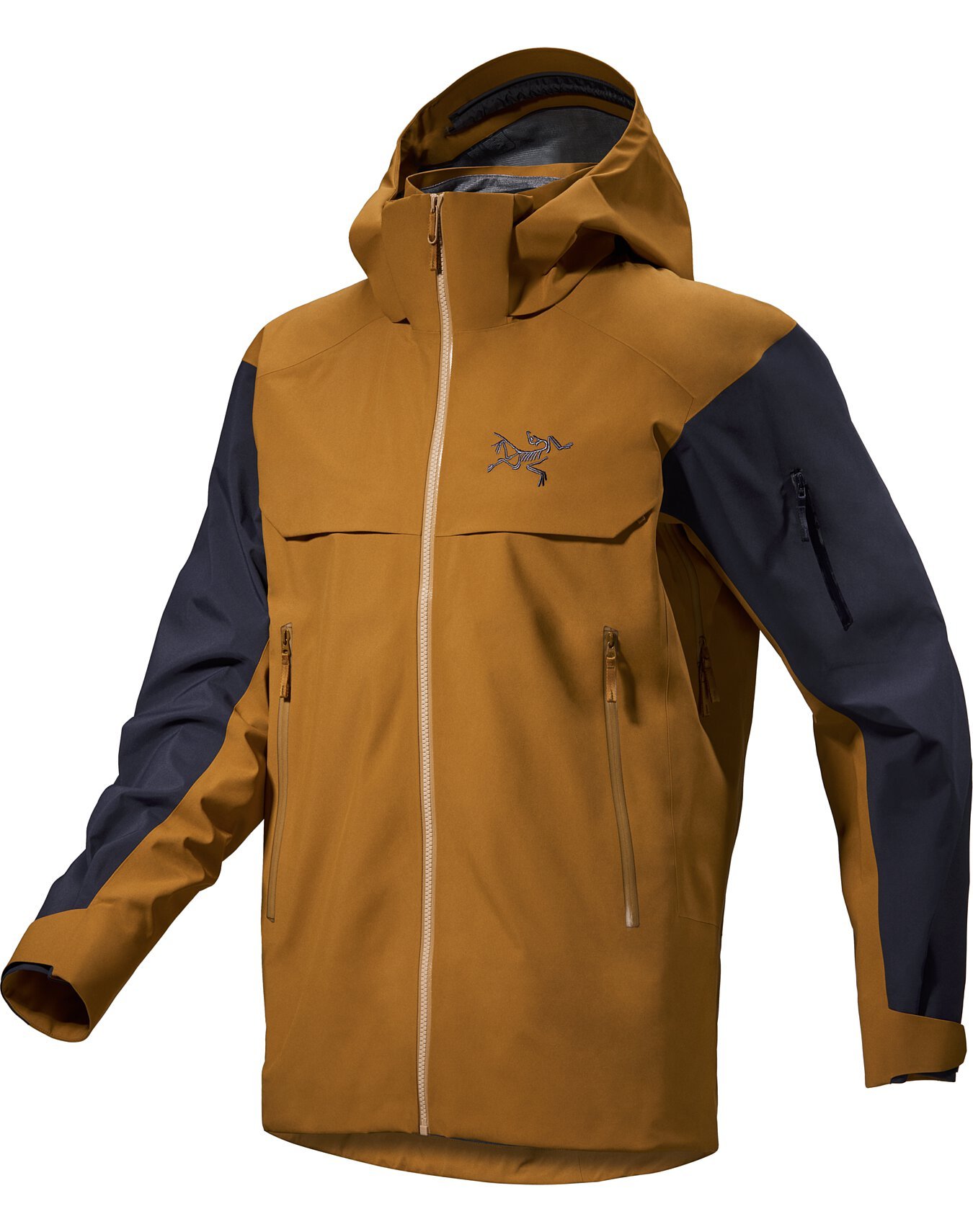 The Arcteryx Mens Macai Shell Jacket looks high quality (and let's face it, so does the price tag), but that's because it IS high quality. This is an investment piece, the sort of rain jacket that will last you for years. So you want it to look good, right!?
One of the best things about the jacket is how lightweight it is (just 1 lb 11.3 oz) – it makes a difference, especially when you're just carrying it around and not wearing it. Packing it down into a small size won't affect your day pack too much and you'll be glad you brought it on the hike with you.
It FEELS quality, too. It has a supple feeling, and doesn't feel irritating next to your skin; the company actually worked hard to make this more than just a rain cover and it's why it constantly rates highly on our list of best outdoor jackets year after year.
Constructed out of Ripstop Gore-Tex, the Arcteryx Mens Macai Shell Jacket is both waterproof and windproof. If you're unlucky enough to get caught out in persistent rain on a really long hike, this bad boy will keep you completely dry.
It's not made to keep you warm – so you have to use layers, and tighten up those cuffs and waistband – but it is definitely a formidable waterproof item that you won't regret buying.
Coming in eight colors, from earthy tones to vibrant popping shades, you can choose one to choose one that will suit your personal hiking style.
#3 – Best Rain Jacket for Hiking for Women
If you are looking for the best rain jacket for hiking for women, then the Arcteryx Women's Beta LT jacket may just suit you. Rather than settling for an ill-fitting mens or "unisex" jacket, this one is specifically designed to fit a female figure, providing full coverage without having to skimp on comfort.
Its simple cut means that this Arcteryx jacket is streamlined and appropriate for a range of different activities – from long distance hiking to scrambling over rocks – providing you protection from the wind and rain along the way.
Constructed from versatile Gore-Tex Pro shell, the company actually tout this jacket as a "fully protective environmental shelter." This sounds pretty cozy to us!
The specific cut of the women's jacket means that the Gore-Tex fits close to your body, which means that there is more breathability. The length of the Women's Beta LT Jacket is slightly longer in the body than the mens version, for better coverage, and fits comfortably under a harness.
All of these good points, added to the fact that it is lightweight – so you won't feel like you're carrying around something bulky – easily make up the best rain jacket for hiking for women. It may just become your go-to jacket for everyday use!
#4 – Best Lightweight Rain Jacket for Hiking
If you are looking for storm protection when you are out hiking, running, or whatever it is you do to keep fit outside, then this lightweight rain jacket is for you.
The perfect add-on to your outdoor gear, the Outdoor Research Helium Rain Jacket is ultralight. Weighing in at just 6.4 oz – and packing down to a tiny size (we're talking apple-sized, people!) – you may even forget you've got it with you… until that sudden downpour, that is!
Made from Ripstop nylon and with 2.5-layer Pertex waterproof breathable laminate, this top rain jacket for hiking offers amazing protection from wind and rain, while remaining breathable.
Other perks of this jacket include its adjustable hood, sealed seams for extra waterproofing, and a draw-cord hem and elastic cuffs to keep all the elements out. It even comes in a variety of colors so you can pick one that suits your style and personality; there's also a reflective hood trim to keep you safe when on the road in the dark.
I also like that Outdoor Research prices their products far lower than other brands – because not all of us have $500 to spend on a jacket.
You can see why it's our top choice for the best lightweight rain jacket for hiking. Note though, its great for rain but is not a good winter jacket.
#5 – Best Budget Rain Jacket for Hiking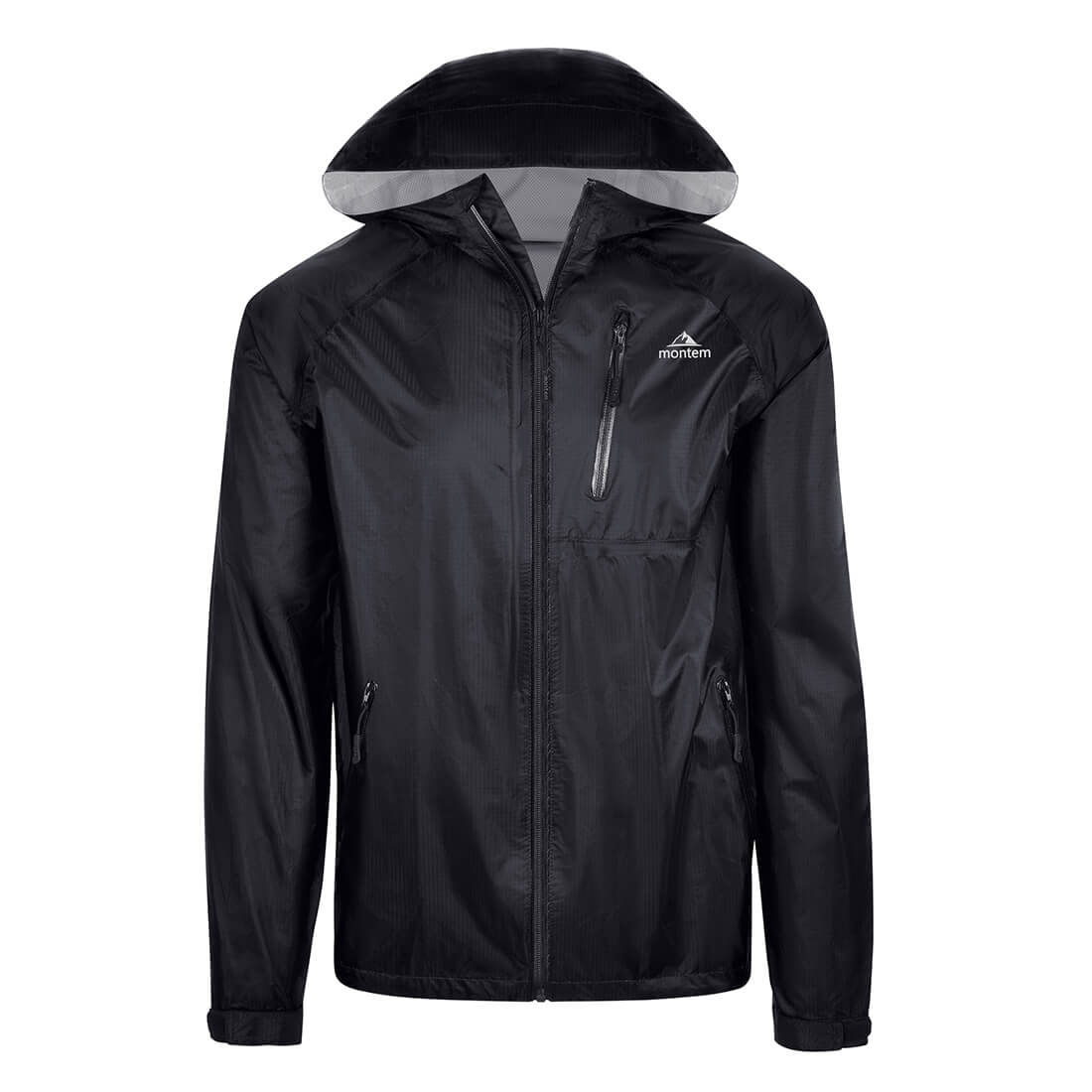 Finally – a solid budget option on this list. Montem make good quality but totally affordable gear and this rain jacket is one prime example.
The stylish aspect of this rain jacket means you can go outside in all weather and enjoy nature, while still looking the part – and all at a snip of the price of other rain jackets for hiking. So if you're hiking, and you stumble across civilization, you won't suddenly feel out of place and I regularly wear this to go out and about.
It is made from incredibly light and soft Montem Drac-Tech Performance fabric, this execution provides outstanding protection, breathability, and packability.
The jacket is windproof and is fully waterproof. There are also zips in the armpits which give you ventilation; once you've worked up a sweat, you'll be thankful for these!
This packable rain jacket rolls up and packs down so it will fit easily in even a small daypack.
#6 – Best Rain Jacket for Daily Use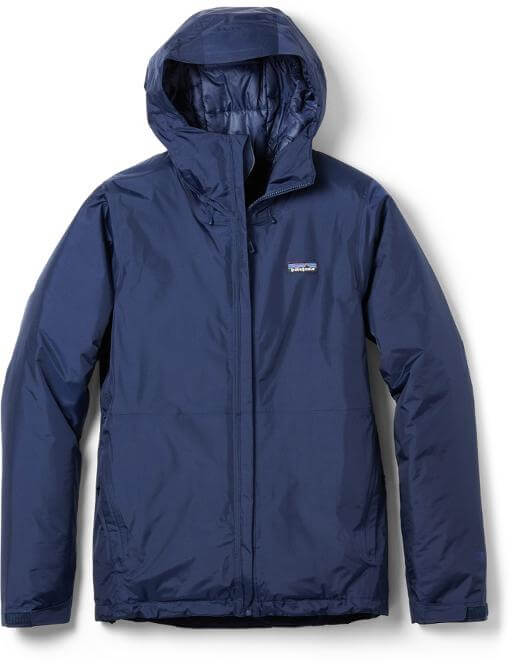 Coming from a well known and trusted brand, the Patagonia Insulated Torrentshell Jacket is an insulated offering that's good for all sorts of weathers and occasions. It's the kind of jacket you can keep to throw on just if you're heading out to the grocery store – or on a day hike.
It's pretty versatile, which is why we've chosen it as our top best rain jacket for daily use.
This Patagonia jacket has been designed to truly protect you from the elements. Its waterproof and breathable shell is made from two-layer recycled nylon; not only is it good for the world, it's good for those pesky downpours!
The synthetic insulation of this rain jacket also has eco credentials – it's made from 92% recycled polyester fibers. Even so, it's surprisingly soft and warm, making for a comfy jacket to wear.
It is a great jacket if you are looking for something warm but don't want too much weight. There's even an insulated hood that fits over a helmet, as well as two hand-warmer pockets, which will really keep you warm if you head outside on a particularly chilly day.
Want more options? Check out our list of the best Patagonia rain jackets if you're on the lookout for a Patagonia jacket to keep you dry.
# 7 Best Heated Hiking Jacket
Hiking in itself can certainly be sweaty work and you'll usually warm up soon enough after hitting the trails but sometimes, the elements just seem to be against you! If you are headed out on a winters hike or maybe doing some serious cold-zone altitude, them perhaps you need to think about grabbing yourself a god, properly heated jacket. This jacket is Waterproof, windproof, thermoregulating, UV Proof and altogether ready for hiking up hills on cool days.
And our top pick of heated jackets is this one by Wear Graphene. Following a barn storming kick stater campaign, they have now launched an online store to showcase their innovative and pioneering new Heated Jacket. This next generation jacket is fashioned from Graphene, the strongest, thinnest and most flexible material known to man which is scratch resistant and hard as diamonds.
So, the jackets heating insulation pads are powered by a power bank which should keep the jacket heated for 10 hours or so. The jacket offers uniform heated throughout the jacket so its not a case of hot and cold spots.
The outer material is Ultralight and thin, made from antimicrobial and anti-odor graphene, is properly breathable and even features moisture wicking.
More of the Best Rain Jackets for Hiking (Mens)
If our top choices for the best water resistant jackets out there weren't enough for you, we have got together a collection of the top mens rain jackets for hiking. These have, of course, been designed for men and make for a much better option if you are looking for something that has been specifically designed, rather than settling for a unisex option.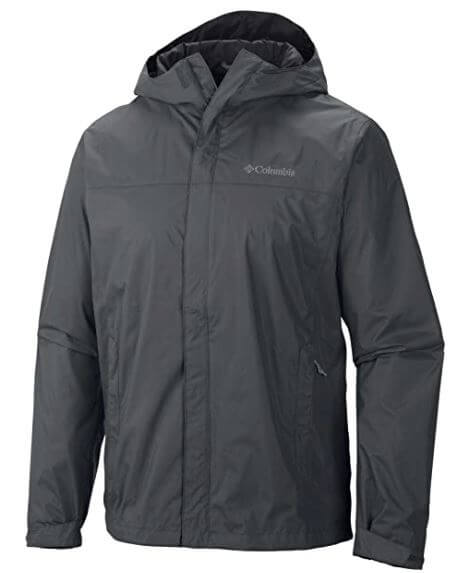 Another top rain jacket for hiking for men that comes from a well known brand – Columbia, of course – this one won't disappoint.
If you have been looking for something to keep you dry on your daily commute, or on hikes at the weekend, then this could easily be the jacket for you.
This jacket will keep you dry on a rainy day, plus if it's chilly, there's enough room underneath it all for layering. Equally, on warmer rainy days (like in the topics), you won't have to worry about getting sweaty, as its fine mesh polyester is breathable, meaning heat can escape to a degree.
Coming in three colors – nuclear (green), golden yellow (more orangey), and black cherry (purple) – you also have the choice of picking a color that suits you, rather than opting for the standard regular black or khaki colors so prevelant in the outdoor clothing space.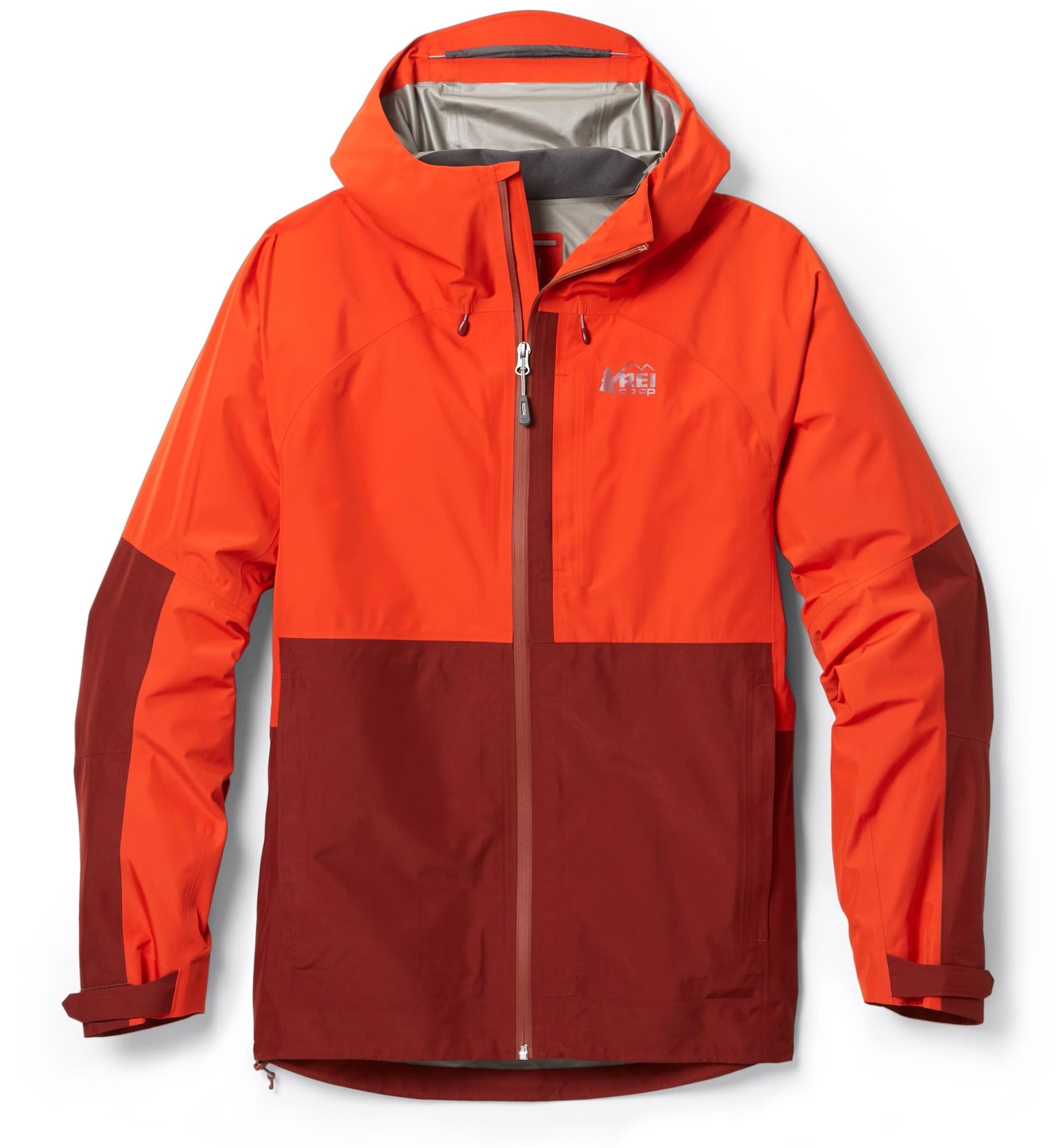 This waterproof jacket may look like straight up and down, outdoor adventure-type clothing – which it is – but there has been a lot of thought – and technology – that has gone into making this product.
Arriving from REI, the Co-op XeroDry GTX Jacket is another great option for a men's budget hiking jacket.
The minimalist shell is made out of three-layer Gore-Tex Active laminate, which might sound technical (and it is) but put simply it means that the jacket is breathable and lightweight, whilst remaining waterproof.
There are also mesh lined pockets, which work as vents, further adding to the breathability of the jacket; there's also an adjustable hood with built in visor for extra rainproofing credentials.
We're into the simplistic design of this REI jacket, streamlining the jacket into everything you need out of a rain jacket for hiking without skimping on quality.
Bonus: It's lightweight, weighing in at just 10.5 oz.

Do You Want to Travel FOREVER??
Pop your email in below to get a FREE copy of 'How to Travel the World on $10 a Day!'.
A top choice for a men's rain jacket for hiking if you are looking something that holds up, as Black Diamond themselves put it, in either "urban downpours or alpine squalls," we are into this one.
And actually, it's not a flashy jacket, but it offers the protection you need to keep you dry. Simple as that.
With a slimline fit, this jacket is as equally suited to a commute as it is to a spur of the moment day hike. The material it is constructed out of is 88% nylon and 12% elastine, with waterproof breathable laminate.
It also packs down pretty nicely, folding down into its own right pocket, and comes with a clip that can attach to a belt for easy access.
There is also a hood, which is (obviously) helpful when it's raining, but the hood itself is adjustable and is compatible with a climbing helmet for when you're scrambling or climbing in a drizzle.
One feature that often in jackets are those armpit zippers, which this Black Diamond offering features – great for cooling down if you've worked up a sweat en route.
For when you need affordable protection from wet weather, the Mountain Hardwear Exposure 2 Gore-Tex Paclite Plus Jacket steps in, steps up, and saves your bacon (or soyrizo).
This little number packs into your backpack very nicely – so much so that you may even forget that it's there. It unfolds into a waterproof, windproof, breathable concoction of delight when you need it the most.
Its lightweight fabric offers freedom of movement whilst you are getting your hike on – making especially good for tough terrain – and the standard fit across the board means that it is neither too tight, nor too loose for most people.
The fit also means that there's enough room for an insulating base underneath without worrying about compromising your comfort or mobility.
Design details such as the droptail hem, waterproof YKK zippers, the brimmed hood and the cinched bottom hem, all add to the water resistant elements of this top rain jacket for hiking for men.
As a little bonus, it also comes in a three colors, so you can choose one that suits you.
More of the Best Rain Jackets for Hiking (Women's)
For all of you female adventurers out there, here are some other badass rain jacket options to keep you dry.
Finding a specialist rain jacket for hiking for women can be tricky compared to finding a mens jacket, but never fear: REI has you sorted with their Xerodry GTX Jacket.
It's lightweight, it's breathable and it's easy to pack, meaning you can take it along to any easy hike or hardcore slog that you may fancy.
The jacket fits very well, and – unlike many rain jackets – there is no rustling, annoying loud noise as you move in it, which makes it acceptable for a more urban (or quiet) situation. And we're all for that!
This rain jacket will keep you dry, of course, with its two-layer Gore-Tex waterproof breathable laminate. It is also windproof, which means there will be little to no draft in blustery conditions.
What we really like about this top women's rain jacket is its breathability. Its breathable shell means that, even if you wear it in a rainy Pacific or Southeast Asian situation, you won't get too much of that sweaty discomfort that comes with some waterproof jackets.
There is also a two-point adjustable hood for achieving the perfect fit.
100% waterproof and ultra light (we're talking 5.5 oz), this top women's rain jacket is going to keep you dry whether you're out running, or taking it with you on a backpacking adventure.
For starters, being so light, the Outdoor Research Helium Rain Jacket works well as a shell layer, with room enough underneath for light layering. A tip would be to get a size up, so that you can wear a thicker mid layer.
Another thing about it being so light is that it rolls up into a very portable size.
But being so thin, you may think it then skimps on durability – not so. It is made from Pertex Shield 2.5-layer waterproof breathable laminate, with YKK zippers to boot, so you know that you're getting something truly quality when you purchase this item.
This Outdoor Research women's jacket really differs from the mens version of the same series, because of a variety of size differences, including cuffs and hems, being much larger in the mens Helium rain jacket.
All in all, this is an easy to use, packable, just-in-case sort of rain jacket that will be a welcome addition to your hiking inventory.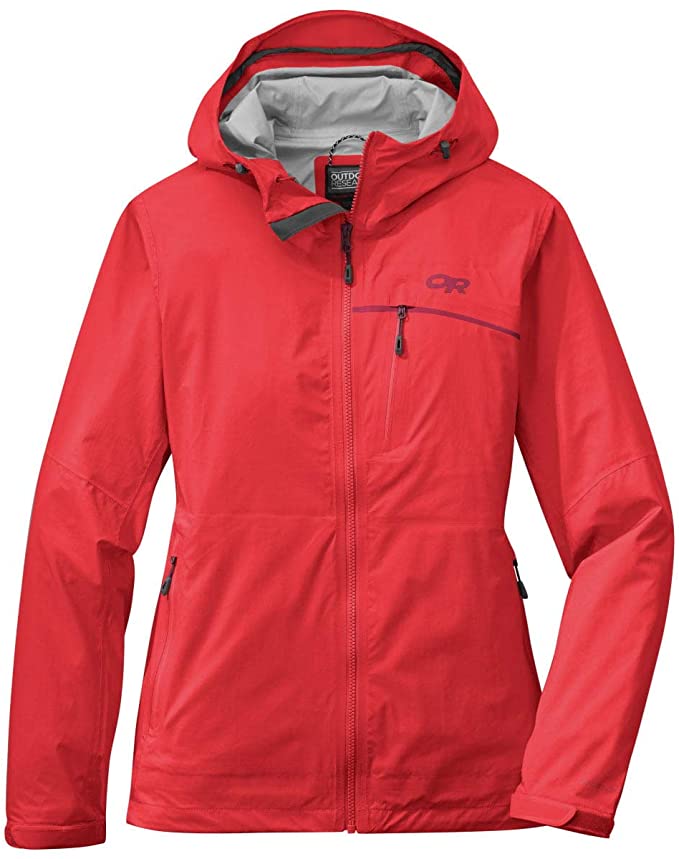 Another offering from Outdoor Research, the Apollo is another great option for a women's rain jacket for hiking that is built to withstand harsh conditions.
As opposed to the light Helium II, this offering weighs in at 11.6 oz, making it heavier but also thicker for more warmth, whilst still being relatively lightweight.
This top rain jacket also offers up some great mobility when you are hiking or climbing, with specially designed underarm panels for freedom of movement. The AscentShell technology engineered by Outdoor Research means that this rain jacket for women is both breathable and waterproof, providing protection from the elements as well as freedom of movement.
There is a handy pocket placed above where the harness would be, so that you can still get access to it when you're out climbing. In fact, this is a good option for not only a hiking jacket, but one dedicated to rock-climbing, too.
Its bright orange color means that you will be easily spotted when out on trails among rocks and trees, and there is also a reflective strip on the front for added visibility (and safety) as well.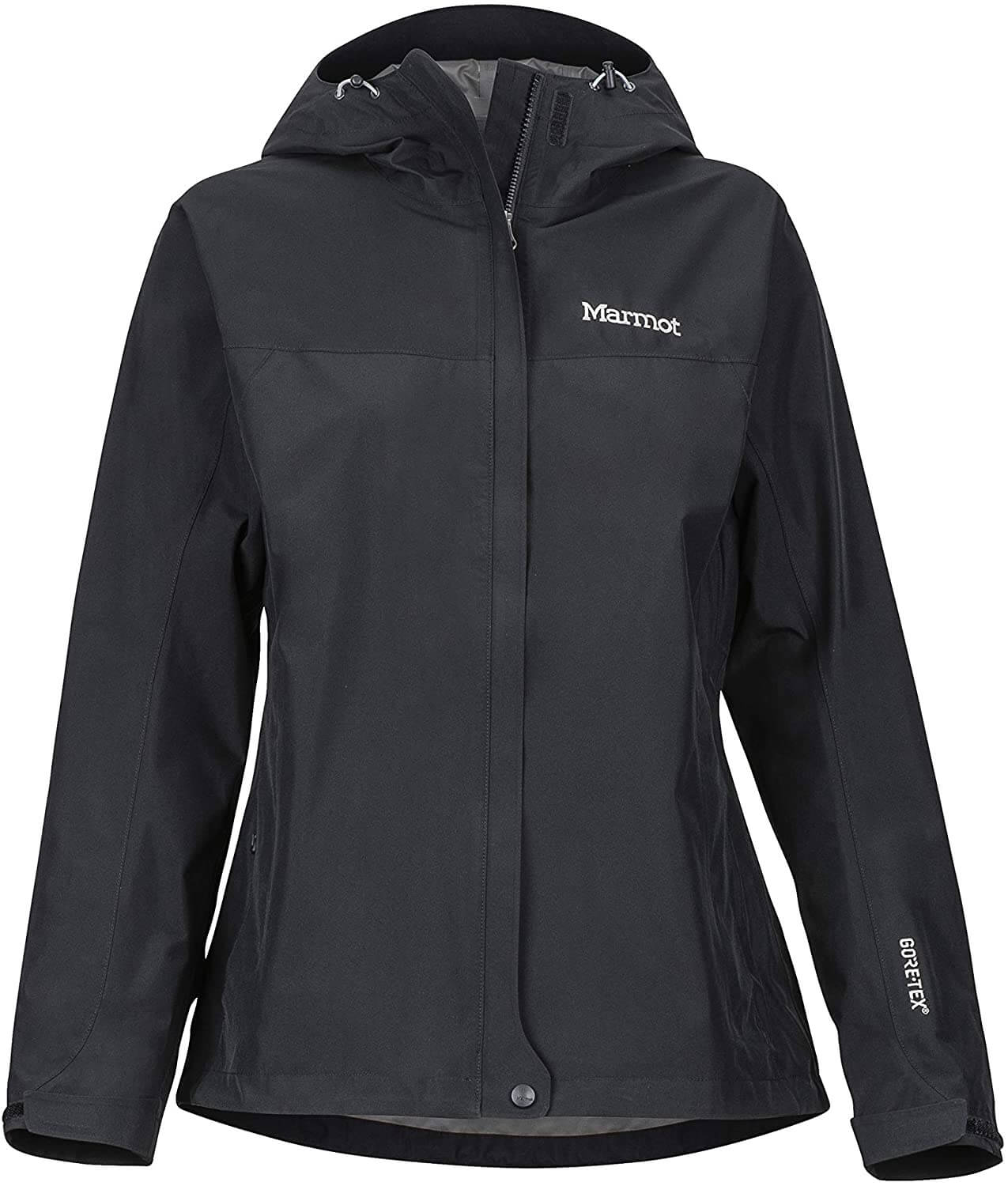 The Marmot Minimalist Rain Jacket is, as the name implies, a simple rain jacket from a well reputed company that gives you most of the bells and whistles without looking too complicated. It's a great choice if you are looking for a basic women's rain jacket for hiking, or for everyday use equally.
This lightweight and reliable jacket is also a great choice if you are just going to be using it for casual, city or town-based operations. The simplistic cut means that it's suitable for all sorts of occasions.
When it comes to the specs of this rain jacket, it is made out of 2.5-layer Gore-Tex which means it is breathable (and durable) while also being light and compact. Of course, it is also waterproof and windproof, with sealed seams for complete protection from the elements.
There are zipper pockets to keep your things from falling out of them, and can keep your hands warm if you need to. The armpits also have zippers so you can open them to let out some extra heat when you need to.
The hood of this jacket is adjustable, with an elastic draw cord hem and a chinguard, so it not only keeps your dry but also warm when the weather turns bad.
Not the lightest item on our list,but it is still fairly light at only 13.5 oz.
We're finishing up with a great rain jacket: the Arcteryx Alpha SV Jacket. This high specification rain jacket is a treat for alpine-minded folks and tea-trekking adventurers alike.
Meant for extreme cold, wind, rain and snow, this top rain jacket for women for hiking has been well constructed to be both strong and light at the same time, making sure you are well looked after in harsh conditions.
It has been constructed out of breathable N100p-X 3L Gore-Tex Pro, a three-layered fabric that has been designed for abrasion resistance. This basically means that this Arcteryx offering is tough and durable – perfect for mountainous conditions and backcountry hiking.
It has also been treated with water repellent Arcteryx Nu for additional weather protection.
Thankfully, this rain jacket has been specifically designed with women in mind; you can, therefore, expect the fit to be optimal for everything from wrist to bust.
There are a whole selection of pockets going on here, too. They each have watertight zips. There are also two internal, laminated pockets – you know things won't get wet here (tickets and smartphones go here, basically).
All in all, this is a top choice for a hiking jacket – it's even great for skiing, too. It may not be cheap, but it's certainly an investment option.
The best present of all… is CONVENIENCE!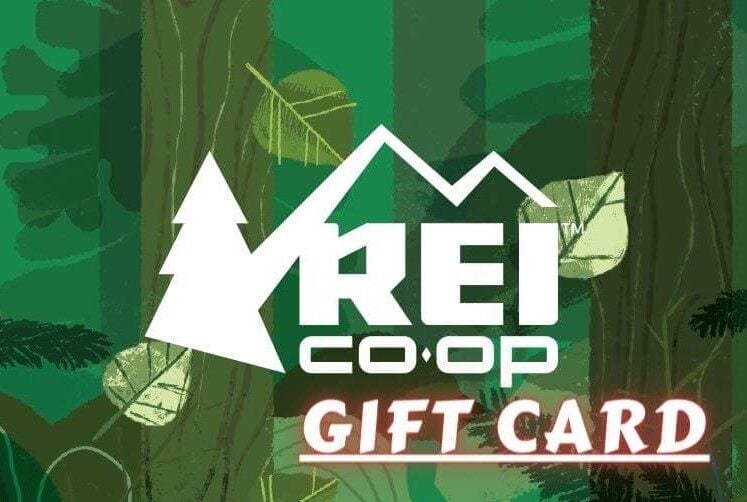 Now, you could spend a fat chunk of $$$ on the WRONG present for someone. Wrong size hiking boots, wrong fit backpack, wrong shape sleeping bag… As any adventurer will tell you, gear is a personal choice.
So give the adventurer in your life the gift of convenience: buy them an REI Co-op gift card! REI is The Broke Backpacker's retailer of choice for ALL things outdoors, and an REI gift card is the perfect present you can buy from them. And then you won't have to keep the receipt. 😉
Buy on REI!
Buyers Guide – How to Choose the Best Rain Jacket for Hiking
As you may be able to tell from our rad list of rain jackets for hiking, there are a lot of different choices you could make. You could choose something from a tried and true brand like Patagonia or Columbia, or go a bit more under the radar and opt for something from REI or Outdoor Research.
Either way, it can actually be pretty tricky deciding for yourself what rain jacket is going to be the best for you… So to help you decide, we have come up with a handy mini guide to figure out just how to choose the right rain jacket for hiking to best suit your own needs.
We want to help make that purchase decision easy… because it can super hard when you are on the fence.
1. Waterproofing
First and foremost, when you are thinking about rain jacket, you've just got to think about the waterproof or water resistant credentials of the jacket. Knowing that your jacket can withstand certain types of weather, and conditions – as well as for how long – will totally make a difference in your buying choices.
For example, some wet weather jackets out there have only been designed to repel water, whilst others have specific technology to keep you dry in the biggest of downpours.
Other elements to consider are design details such as the waterproofing (or lack or thereof) on the zips, the level of coverage and adjustability of the hood – and whether or not it has a chinguard and cap; there's also the hem and cuffs to think about, and whether or not they can be tightened to keep the water out.
Seams can often be overlooked, but how waterproof the jacket really is will depend on how well engineered the seams have been; if they are not covered and can let in even the smallest amount of water, in a downpour this will still mean that you get wet.
Even the length of the jacket can make a difference, as shorter will almost definitely mean you get wetter when it starts raining. A droptail design, for instance, is something that will keep you covered too.
The level of waterproofing you want actually may vary, too. If you're not likely to be going anywhere that gets horrific storms and heavy downpours, or you're not going on long distance hikes where waterproofing is essential, and you just want something for country strolls or walking the dog, then stringent, pro-grade waterproofing may not be for you.
2. Materials
There is a lot to think about in the materials of a rain jacket for hiking. There are many different materials that we mentioned in our list that make up some of the best rain jackets out there.
Some of it all sounds pretty technical, and it can be pretty hard to get your head around what all them ACTUALLY do…
But a lot of engineering has gone into the best rain jackets out there, to make sure that the technology that goes behind the material actually works.
Gore-Tex, for example, offers not just breathability, but also windproofing and waterproofing. This provides an all round protective environmental shelter in the more high performance designs; this is good for a diverse amount of activities and conditions.
There's also things like nylon Ripstop, which is known for being tough and durable, while remaining lightweight. Zippers even come into play, with brands like YKK offering top end function and durability.
One thing that often gets overlooked in terms of rain jackets for hiking especially, is the feel and comfort of the material.
It is all too easy to opt for a simple rain jacket that is loud and noisy when you wear it, and – when worn with a simple t-shirt or button-down shirt – just feels irritating and itchy against bare skin.
Many of the better rain jackets out there have taken comfort into consideration with the materials they use, and end up being much softer and a lot quieter than the run of the mill waterproof jackets out there.
When hiking out in nature, it's easy to get muddy and mucky – and, let's face it, sweaty and maybe smelly. Your rain jacket will suffer as a result, so you may also want to think about how easy it is to WASH the jacket. Is the material machine washable, for example? Or do you have to hand scrub it?
These things are easy to overlook, but understanding the care and cleaning conditions of the rain jacket you're interested in could mean the difference between convenience and a headache.
3. Breathability
This is a huge element when thinking about the right rain jacket for hiking. Historically, waterproof coats have not been all that in the breathability department. We've all worn jackets that have left us sticky, hot and gross; that's not what you want in a downpour – to be wet INSIDE the jacket because of your own sweat!
Yuck.
So leaving behind the old school rain jackets of the past, technology and design innovations have come on leaps and bounds in recent years to result is some seriously breathable products.
And while you may just be thinking "that's just fabric" – you'd be wrong in thinking that. There are a whole lot of genius little design details that add up to you being the lord of hiking with your high performance, breathable, versatile rain jacket.
One of the most prominent aspects of breathability in many jackets is the presence of under arm zippers. These underrated zippers really come into play if you've worked up a sweat slogging up hill or running; unzip them and a cool breeze will refresh.
Another thing is the length of the jacket; the shorter it is, the more it can breathe. Having an adjustable hem is better than one that doesn't, as you'll be able to untighten it if you need to cool down.
A company Arcteryx, for example, specializes in making its high performance hiking jackets work for you. Gore-Tex, employed in many of their (and other company's) jackets, maximize the breathability of any given jacket.
4. Packability
Being a rain jacket, this sort of thing is not what you are going to need to be wearing the whole time you are hiking. Unless you happen to be hiking in 100% rainfall, you won't be wearing it the whole time.
With this in mind, you'll need to be able to stash it somewhere. Some of the bulkier waterproof jackets out there don't exactly have the ability to pack down into a small cube, but some of the lightweight, thin rainshells out there can be folded down into a very neat – and very packable – package.
Knowing just how small and non-bulky your potential choice jacket will pack down to is important, especially if you plan to use it on a backpacking trip, for example.
Many of the lightweight options pack down to a very small size indeed – like, apple-sized little packages. You can easily then clip them onto a belt, or harness, or shove them into a daypack without noticing they're there at all. Perfect.
5. Weight
Much like the packability of a rain jacket for hiking, the weight of it will greatly affect your choice. Whilst most of the jackets aren't huge, heavy options anyway, those that are designed for more rugged outdoors activities like skiing – or other Alpine pursuits – will be on the heavier side.
Our advice is that, if you don't need the extra weight, don't pay for it!
If you are going somewhere that is going to be hot and sweaty – like Vietnam or Thailand in rainy season, for example – there is no point buying something that is going to be over 10 oz, for argument's sake.
For hotter places, the more lightweight – the better. Most of the time, it is going to be something you carry as an extra until you need to use it, so where possible, it is probably best not to go for something that adds all that much to your daypack.
6. Style
Style is, of course, a personal choice. However, when it comes to buying something for outdoors, the type of activities you want to do will greatly affect what sort of rain jacket for hiking you end up purchasing.
For example, some styles of rain jackets come up as shorter in the body; these can be good if you are planning on wearing a harness. For women, however, a longer length may be comfortable for you.
The style of a droptail rain jacket may be for practical reasons, as it stops you from getting splashed from behind, but it can also look pretty cool. Looking good can make a difference!
The styles of hoods can vary wildly, too. They can come with chinguards, peaks, caps, be adjustable, removable, or non-removable. It is good to think about how you will using your rain jacket before you opt for something with a hood that you can't take off, for instance.
Color plays a big part too.
If you are going backcountry hiking, then a rainjacket that is brightly colored is much safer in the long run than something unmemorable, or easily invisible, like black or something earthy. Likewise, when out after dark – or even using your rain jacket when cycling in the evening – reflective panels can be a good safety boost, too.
7. Durability
Investing and paying out your hard earned cash on any item that just isn't going to last doesn't make any sense. When it comes to rain jackets for hiking, especially, you are going to want something that LASTS. Honestly, speaking from experience, you do not want a rain jacket ripping or tearing at the seams on you during a downpour!
It might seem like a good idea to opt for a lower price jacket, but actually these sometimes don't offer quite as high end materials and in the long run may not be as durable as an investment piece.
Take into consideration the types of the materials that are being used in the construction of the rain jacket you are interested in, and do some research into whether those materials will stand up to the types of activities you plan on doing.
Nylon Ripstop is a fabric that has become widely used for its durability. It is something to consider, for sure; look for the denier of the fabric being used – the higher it is, the thicker it is, and the more durable it is going to be.
In most instances, a product is only as strong as the seams that bind it together, so opting for something with covered seams is a good idea if you want something that will stand the test of time. You should also consider other things, such as high durability buckles, poppers and buttons, as well as opting for YKK zippers over something no-brand.
8. Price
Obviously, something you will want to consider if you are looking for a new rain jacket is the price of it. There are a number of factors which go into how expensive (or cheap) any given jacket will be.
It is not always the case that the most expensive jacket will be the best one out there for you, so if you're already thinking that some of the choices on this list are no good for you (because they're out of your price range) – think again! There are some great rain jackets out there that are certainly easy on the wallet that are also great quality.
Another thing to consider: Do you actually NEED to fork out all that cash for the best, top of the range, most expensive rain jacket out there?
If you go on the occasional hike, but not that often, then you probably don't need a top of the range hiking jacket with all the bells and whistles anyway.
Likewise, if you just want a jacket for your commute, or something to wear around town when it's raining, again: you won't need an Alpine level, ski-ready rain jacket.
Sometimes it really is more important, however, to invest in something that lasts. To be honest, though budget items can be good, we would choose to invest in something that you will be using for a while. For some people, that may not matter all that much, but it depends on how you like to spend your money at the end of the day!
Best Rain Jackets for Hiking

| Name | Weight (KG) | Main Material | Warmth Rating | Price (USD) |
| --- | --- | --- | --- | --- |
| Arcteryx Mens Beta AR Jacket | 0.46 | 40-denier (N40p-X) 3L GORE-TEX Pro | | 600 |
| Arcteryx Mens Macai Shell Jacket | 0.31 | 40-denier ripstop (N40r) GORE-TEX PACLITE Plus | | 700 |
| Arcteryx Women's Beta LT Jacket | 0.35 | Nylon | | 450 |
| Outdoor Research Helium Rain Jacket | 0.18 | Ripstop nylon | | 159 |
| Montem Hydro Packable Jacket | 0.26 | Drac-Tech™ | | 79.99 |
| Patagonia Insulated Torrentshell Jacket | 0.39 | Recycled nylon | | 103.99 |
| The Gamma By Wear Graphene | 0.60 | Graphene-Infused Polyester | | 395 |
| Columbia Hikebound Jacket | – | 100% Nylon 2L Full Dull plain weave | | 80.00 |
| REI Co-op Drypoint GTX Jacket | 0.30 | 20-denier ripstop nylon | | 249 |
| Black Diamond Stormline Stretch Rain Shell | 0.32 | 88% nylon/12% elastane | | 170 |
| Mountain Hardwear Exposure 2 Gore-Tex Paclite Plus Jacket | 0.26 | 2.5-layer GORE-TEX PACLITE, nylon | | 224.73 |
| REI Co-op Xerodry GTX Jacket | 0.30 | Polyester | | 118.29 |
| Outdoor Research Helium Rain Jacket Women's | 0.16 | Nylon | | 159 |
| Outdoor Research Interstellar Rain Jacket | 0.33 | 3L AscentShell 20-denier nylon ripstop | | 299 |
| Marmot Minimalist Rain Jacket | 0.38 | – | | 199 |
| Arteryx Alpha SV Jacket | 0.51 | N100d 3L GORE-TEX Pro | | 800 |
FAQ about the Best Rain Jackets for Hiking
Still have some questions? No problem! We've listed and answered the most commonly asked questions below. Here's what people usually want to know:

Our GREATEST Travel Secrets…
Pop your email here & get the original Broke Backpacker Bible for FREE.
Final Thoughts on the Best Rain Jackets for Hiking
If now is the time that you have chosen to invest in a new rain jacket for hiking, then we think you are probably now more than amply equipped for the task!
Our guide threw in a load of great choices, from the best rain jackets right now, to top tailored choices for men and women alike, specifically designed for different fits and body shapes. You're bound to find something that suits you!
As you saw, our top choice for the best overall rain jacket for hiking is the Arcteryx Mens Beta AR Jacket – there's just no way you can go wrong with this one. I have had this jacket with me on more than 4,000 miles of train and in 20+ countries. Point being – my full weight of support is behind the Beta AR jacket.
However, for something more cool and casual, we recommend the Patagonia Insulated Torrentshell Jacket. Patagonia is not only a top quality company, but probably the most environmentally conscious outdoor company out there and we love their products.
If you are currently in possession of an awesome rain jacket, and it's not on our list – tell us in the comments! We want to hear all about it. Stay dry guys!
---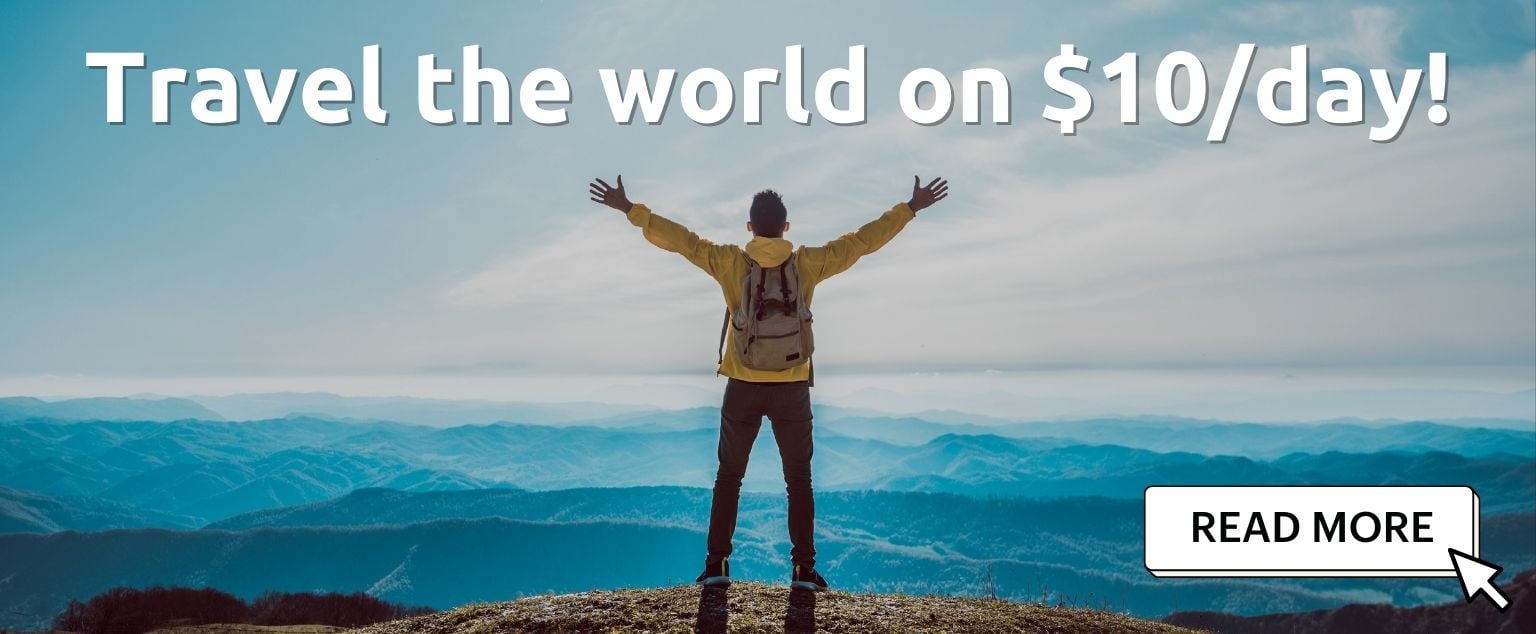 And for transparency's sake, please know that some of the links in our content are affiliate links. That means that if you book your accommodation, buy your gear, or sort your insurance through our link, we earn a small commission (at no extra cost to you). That said, we only link to the gear we trust and never recommend services we don't believe are up to scratch. Again, thank you!