Patagonia didn't name themselves after some of the Earth's most technical ascents for nothing. The rock climbing technician turned global icon has jackets for all sorts of adventures. Today, we'll meet one of their most protective hard-shell raincoat options.
With the Patagonia name behind the Calcite's production, you know you're going to get a comfortable, stylish, and sustainable option, but that's not always good enough. As one of their more high-alpine options, the Patagonia Calcite makes its living above the tree-line. Anything made for the summit has to be held to an incredibly high standard.
The difference between water-resistant and waterproof may not be a deal-breaker at sea level, but can be the difference between forging onward and turning back early on the mountaintop.
Patagonia can't just rest on its laurels at 8,000 feet. We've got to make sure this expensive rain jacket provides the lightweight comfort and protection necessary to justify its place in bags for all sorts of adventures.
So, let's take a closer look.
We put these fine fibres underneath the microscope and analyzed every inch of this industry leader. Stick around and find out with us whether or not the Patagonia Calcite further amplifies it's creators' storied reputation.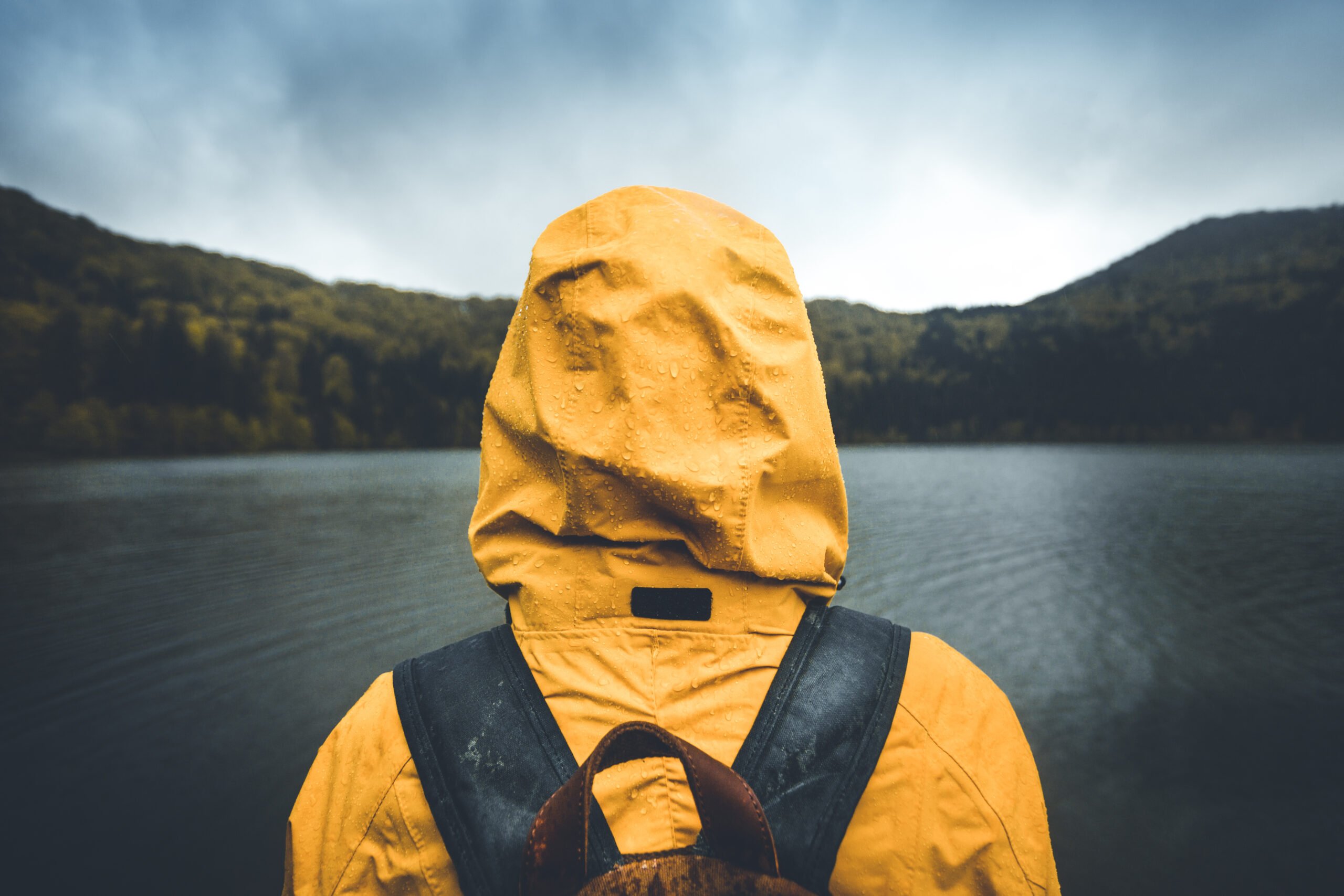 Quick Answers in the Patagonia Calcite
This coat is for shoppers looking for serious protection. With reinforcements in all the right places, the Calcite can hang with summer showers, winter storms, and can well-manage the changing weather that comes with higher altitudes to serve as a great Patagonia rain jacket for adventures deep in the outback.
Looking for something more hardcore? Check out the Patagonia Triolet jacket.
The Calcite is not a super lightweight summertime raincoat. Although Patagonia went through painstaking lengths to increase breathability, this coat is slightly on the heavier end of the spectrum and would be a bit much for many spring, summer, and early autumn hikes at sea level.
For that, have a look at the Patagonia Houdini instead.
Ladies & Gents, It's Time to Step Your GEAR Game Up. 😉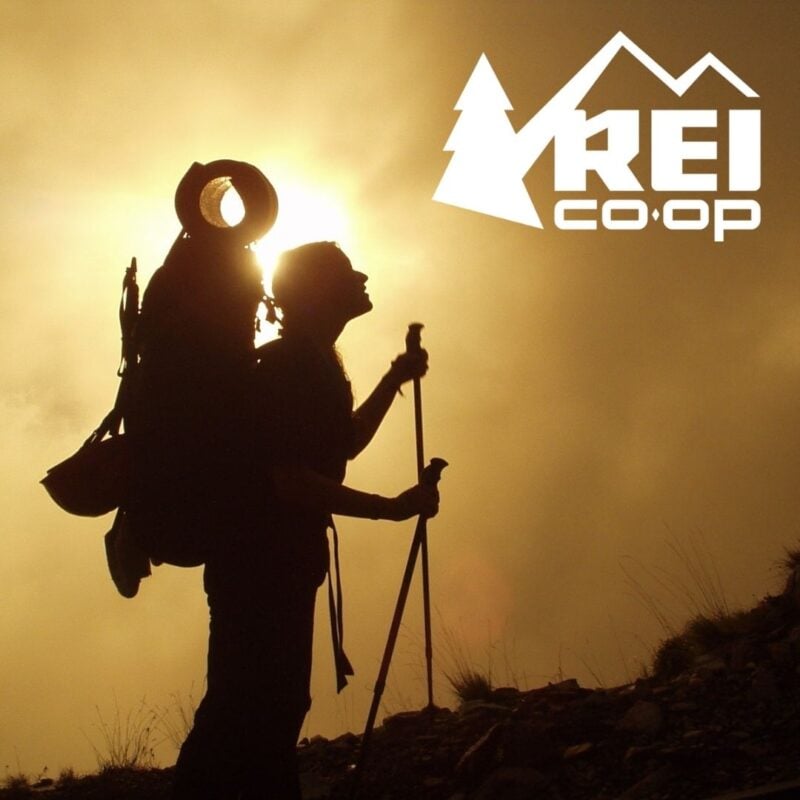 REI is one of America's biggest and most-loved outdoor gear retailers.
Now, for just $30, get a lifetime membership that entitles you to 10% OFF on most items, access to their trade-in scheme and discount rentals.
Join REI Today!
The Patagonia Calcite At A Glance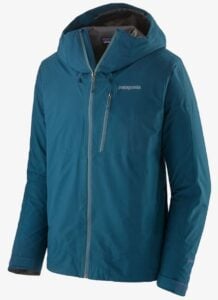 Specs
Price: $299
Weight: 411 G
Materials: Recycled Polyester & 2.5 layer Gore-Tex Paclite
The Calcite took durability seriously to solidify its hardcore niche within the industry. This coat isn't the lightest rain jacket on the market, but every single ounce goes to good use. Hopefully, your mission won't be accompanied by too many bumps and bruises, but this extremely waterproof raincoat will bounce off scratches and crashes so you can, too!
On our first read of the spec sheet, we were blown away by the 75-D denier rating and two separate layers of Gore-Tex. This makes the jacket more durable than many tent floors! Miraculously, all these heavy-duty protections didn't result in an extremely heavy coat.
Still, it's slightly on the heavier end of the raincoat scale, but this coat will be just as comfortable in all four seasons on the mountain. Rain, sleet, snow, or shine, nothing permeates this recycled waterproof membrane.
+Pros
Optimised at every corner to function in an alpine environment
Proves you can have a high-performance jacket without sacrificing sustainability
-Cons
Fits slightly bulky underneath a large backpack
Patagonia added two pit zips to help out, but this isn't the most breathable raincoat on the market
The best present of all… is CONVENIENCE!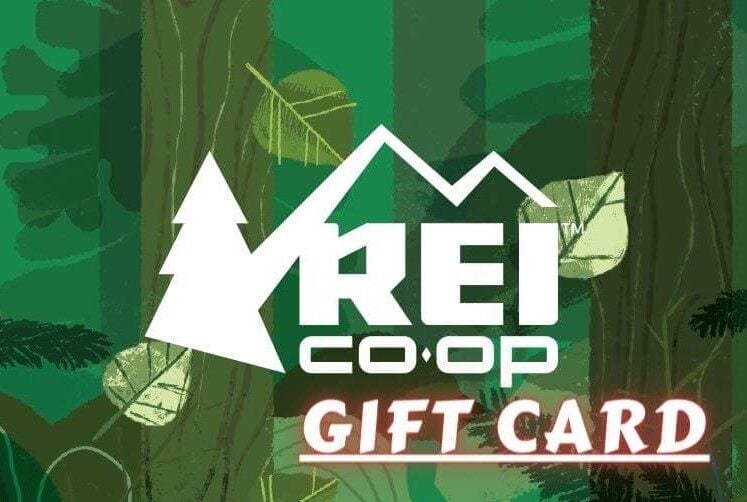 Now, you could spend a fat chunk of $$$ on the WRONG present for someone. Wrong size hiking boots, wrong fit backpack, wrong shape sleeping bag… As any adventurer will tell you, gear is a personal choice.
So give the adventurer in your life the gift of convenience: buy them an REI Co-op gift card! REI is The Broke Backpacker's retailer of choice for ALL things outdoors, and an REI gift card is the perfect present you can buy from them. And then you won't have to keep the receipt. 😉
Buy on REI!
Patagonia Calcite Jacket Performance and Specs
Weighing in at 411 Grams and coated with 2.5 layers of heavy-duty Gore-Tex, weight and packability aren't the Calcite's biggest strength. You're bound to find lighter raincoats and smaller packers.
That said, this is Patagonia we're talking about, so you can still confidently fit this oversized raincoat into carry-on luggage or tuck it inside of lightweight backpacks. Plus, every ounce of this raincoat has a purpose.
The Gore-Tex layers may be many, but that's precisely what makes this coat great. Most of Patagonia's raincoats feature only two layers of Gore-Tex security. The Calcite takes things a step further by adding on a third layer born from the Paclite plus line, which serves as some of Gore-Tex's best water-resistant fabrics.
Embrace the oversized look and feel of this coat and you'll be well on your way. While the Calcite is on the heavy side of the rain jacket scale, its protections are well worth a few extra grams.
These two factors are Calcite's biggest strengths. We already covered the extra layers of Gore-Tex resistance, and here is where that layer pays dividends. This coat is as water-resistant as any raincoat on the market, and the protections don't stop if the water starts to freeze. It's one of the top rain jackets for hiking or just generally keeping dry!
The key is in the Paclite Plus membrane. In this case, the Plus stands for double, as in an additional lining that really boosts performance. For most coat makers, the Paclite Plus is more than enough to get the job done, but Patagonia didn't leave anything up to chance.
Just like all of their raincoats, they finished things off with a durable water repellent coating. This layer alone is enough to keep a surprise downpour from seeping in. Combine it with this Gore-Tex and you can stay out in the rain all day long.
The hardshell exterior takes care of the rest to fully create a wind and waterproof coat. You'll find sealed zippers and dedicated details All the way through the helmet-compatible hood that prove this coat is tough enough.
High quality recycled polyester round out the edges and fill out the outer layer of this coat. Everything works together to beat the wind and rain and help the Calcite serve for four seasons of protection alongside the right kit.
Being an all-season coat isn't easy. This rain jacket is chock full of heavy-duty wind and rain protection while trying to keep enough warmth in to survive in alpine environments. That means that this coat may be a bit much for April showers, and doesn't pack the breathability required to avoid overheating at sea level.
It's not completely useless in warm weather. Long pit zips and adjustable wrist straps allow you to open up a bit of airflow, and the Paclite Plus' speciality is allowing sweat to seep out without allowing rain in.
You should know going in that this jacket is a bit heavy for the beachfront. Fall hikers and winter campers don't seem to mind, and the coat is easy enough to stash in your backpack or across your waistband when the weather's dry and warm.
Calcite leaves room for a fleece underneath or a few lightweight layers ready to take over on warmer days. This extra sizing can slightly help breathability as you won't feel squeezed inside your rain gear.
It's a powerful wind and rain breaker, so you should expect a bit of stale air to stick around underneath the ultra repellent outer layers.
The biggest indicator of the Calcites Jacket's incredibly Durability is the 75-D recycled polyester. No, the D doesn't stand for durability, but the statistic provides a great sign that this coat is built to last.
The D actually stands for Denier, and the fabric's denier rating points to how thick and strong the fabric is. One strand of silk has 1 Denier, and the scale slowly increases from there. Most raincoats hover around 40D, but adventures facing a few rocks along the way may need a bit more support in each thread.
75-D solidifies this jacket squarely in the climber's category and certifies this jacket as more durable than some tent flooring. This is a hardcore jacket that can handle quite a few bumps and bruises on your way outside which is why it's one of the best Patagonia jackets on the market.
+Pros
Packs enough waterproofing to stay dry through a storm that lasts all afternoon
Great attention to detail all the way down to the sealed zippers and hooded visor
More durable than some tent floorings
-Cons
We'd love to see this jacket shave off a few hundred grams of the total weight
Heavy-duty protections block out the rain, but can keep in a bit too much body heat on warm days
If you're not engaging in physical activity, this jacket is slightly too light to serve as a true winter outer layer
Patagonia & The Environment
Hopefully, you've heard a thing or two about Patagonia's legendary approach to sustainability. Each stitching in their high-quality raincoats is fair trade certified and constructed out of recycled materials.
The Calcite Jacket is no different. While some of the Gore-Tex protections are not second hand, the outer polyester is 100% recycled and incredibly durable. That's good enough for most companies, but these guys have gone out of their way to pick up some trash on their way to the mountaintop.
Patagonia's relationship with the environment goes far beyond sustainably sourcing its materials. They imposed a 1% tax on themselves to provide support to environmental causes they believe in.
One percent is not enough, but it's a great start. When you have as much gear changing hands as Patagonia, 1% of each sale quickly adds up to a whole lot of goodness coming to the natural world.
Patagonia Calcite Jacket Comparison

Our GREATEST Travel Secrets…
Pop your email here & get the original Broke Backpacker Bible for FREE.
Equipped with the Patagonia Calcite, you could have read this entire article in the pouring rain and stayed dry. This raincoat stops at nothing to provide wind and waterproofing at all altitudes, and the end result is a thing of beauty.
After everything we've covered today, I can say with confidence that this jacket is absolutely worth it – for the right adventure.
The Calcite is too heavy for the heat of summer and is slightly more raincoat than some adventures might need. If you are prepping to head deep into the backcountry or want to keep moving forward no matter the weather, zip up this rain jacket and get on your feet.
Looking for something heavier weight? Check out the best Patagonia winter jackets instead.
---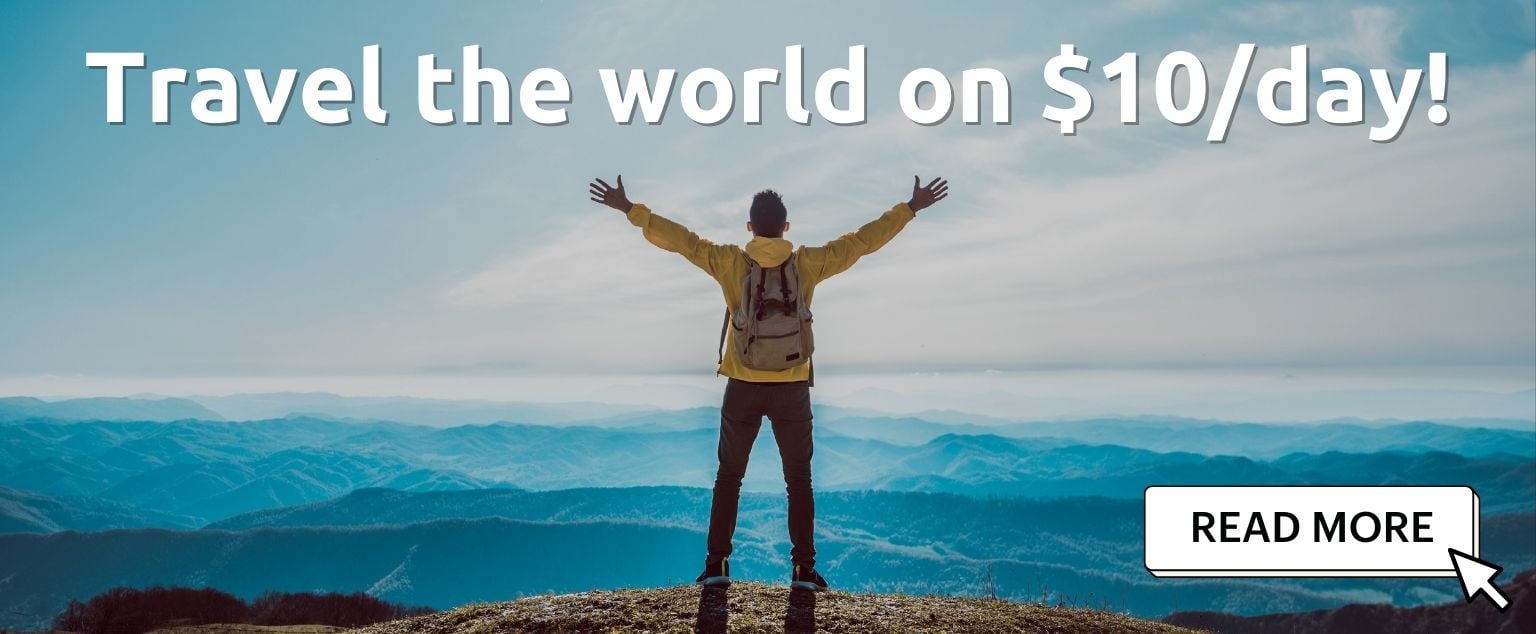 And for transparency's sake, please know that some of the links in our content are affiliate links. That means that if you book your accommodation, buy your gear, or sort your insurance through our link, we earn a small commission (at no extra cost to you). That said, we only link to the gear we trust and never recommend services we don't believe are up to scratch. Again, thank you!