From 180 Degrees south through the arctic refuge, a few passionate mountain climbers and an iconic mountaintop vista have built an outdoor clothing empire that has somehow managed to stay ethical through success.
Against all odds, Patagonia has proven you can create a dynasty without a few bodies in the sewers. Their products are ethically sourced and fair trade certified, and a significant portion of their income goes towards protecting the natural world that inspired their gear.
Their sustainable commitment is worth spending a few extra bucks over, but their high-quality products make the choice even easier. No other outdoor company on the planet is more synonymous with an outdoor lifestyle than Patagonia.
What I'm saying is, they make loads of really, really good jackets.
With the right coat, there will never be a day not worth venturing outside. To properly prep for all seasons and all kinds of weather, upgrade your arsenal with the newest in comfort and performance technology packed into a Patagonia jacket.
These Patagonia jackets are great for men, women, and adventurers of all shapes and sizes. From lightweight jackets with a durable water repellent finish to super-insulated down jackets perfect for the mountains, Patagonia's jackets cover all eventualities.
Broke Backpackers worldwide agree that even when you're living on pennies a day, it's worth investing in the right weather protection. Years of hiking, camping, and travelling through all sorts of foul weather and cold temperatures have resulted in this guide.
Jackets are cast to many roles. Even if you already have a high-quality raincoat, a full-time life outside requires several different options.
The best Patagonia jacket for activities and lifestyles of all shapes and sizes are somewhere on this list. Take a look at your schedule and your closet and find where you could use some help.
Quick Answers: These Are The Best Patagonia Jackets
Best Patagonia Jacket For Backpackers
Best Patagonia Jacket For Backpackers
Men's Houdini® Jacket
> $$$
> Weather-resistant
> Lightweight windbreaker
Best Patagonia Rain Jacket
Best Patagonia Hiking Jacket
Best Patagonia Hiking Jacket
Men's DAS® Light Hoody
> $$$$
> Lightweight insulation
> Warming layer combines with a weather-resistant exterior
Most Stylish Patagonia Jacket
Best Patagonia Winter Jacket
Best Patagonia Vest Jacket
Best Patagonia Summer Jacket
Best Patagonia Summer Jacket
Men's Houdini Snap-T
> $$
> Affordable, all-encompassing, and lightweight
> Several pockets and protections
Best Patagonia Down Jacket
Best Patagonia Down Jacket
Men's Micro Puff® Hoody
> $$$
> Best-in-class insulation and waterproofing technology
> Plenty of pockets
Best Patagonia Jackets Review and Round Up
Any one of the Patagonia jackets on our list will have you a step closer to the adventure of your dreams and if you look hard enough there's the perfect jacket for you out there! I mean, Patagonia are one of the best jacket brands, so you'll surely find the right one for you.
We combed through factors like fit, price, best use, materials, warmth, weight, water resistance, and every stitch and pocket on these suckers to come up with our nine favourites.
Every single jacket on this list is suitable for men and women, and all of them excel in different niches while providing quality performance across the board. Patagonia is one of the best outdoor brands out there so you know with any of these jackets you're getting value for money.
Whether you're hoping to climb Kilimanjaro and need a super-insulated jacket or just need some help to get through a rainy commute with a lightweight jacket, let one of these Patagonia jackets make your day.
Ladies & Gents, It's Time to Step Your GEAR Game Up. 😉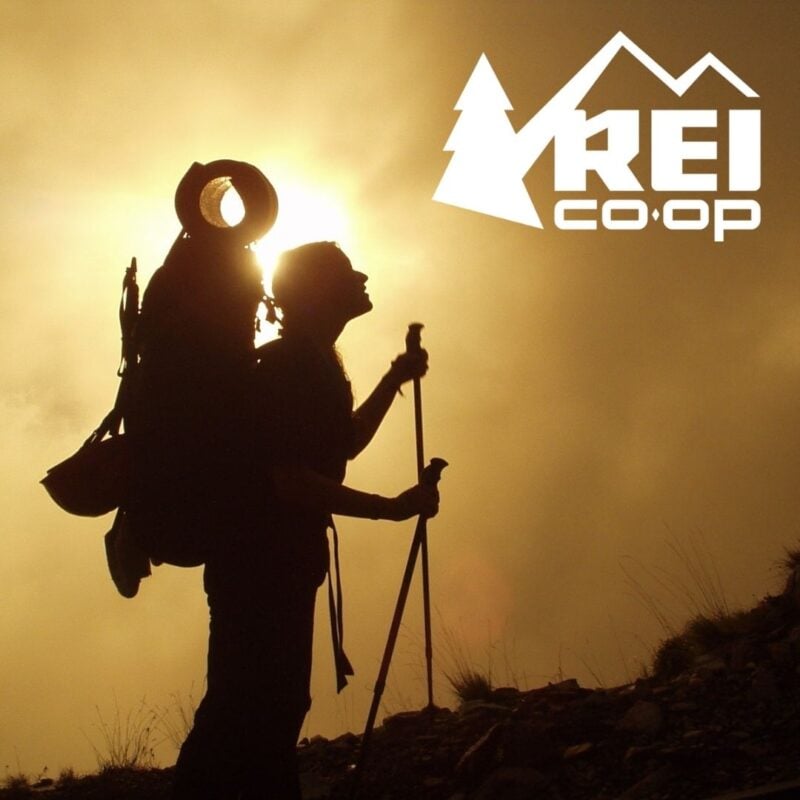 REI is one of America's biggest and most-loved outdoor gear retailers.
Now, for just $30, get a lifetime membership that entitles you to 10% OFF on most items, access to their trade-in scheme and discount rentals.
Join REI Today!
#1 – Best Patagonia Jacket For Backpackers – Men's Houdini® Jacket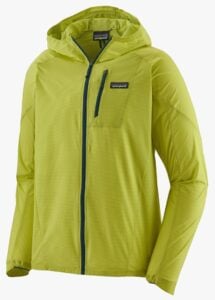 Men's Houdini® Air Jacket is our top pick for best patagonia jacket for backpackers
Specs
Best Uses: All-weather hiking
Waterproof? Yes
Weight: 3.7 oz
Price: $$
What We Like
Very stylish
Lightweight and packable
What We Don't Like
Only useful in warm seasons
Houdini isn't the only one with a few tricks up their sleeve. You'll be prepared for whatever nature throws at you in this water resistant, lightweight windbreaker. The Patagonia Houdini jacket is made out of over 60% recycled material built with a durable water repellent that is made to last.
The best part is, all the protection offered by this powerful shell still weighs practically nothing, meaning you can pack your rain gear everywhere the journey takes you. It's possibly the most impressive lightweight Patagonia jacket on the market.
An integrated stuff sack means you can easily stow this jacket away inside itself and clip it onto your waistband or bag. It'll be on call for any surprise rain clouds on the way and it's essential on any travel packing list, wherever you're headed!
Patagonia took care of the details to finish off this product with a mono-colour look that fits any outfit. While this jacket isn't warm enough to work on its own in colder weather (look elsewhere on the list for cold weather jackets), it excels at all sorts of protections to earn its place in your gear bag. It's not a jacket to wear in the mountains in wild weather for hours on end, though the water-resistant material will offer protection against a lot more than just a light drizzle with its durable water repellent shell.
How The Houdini Tested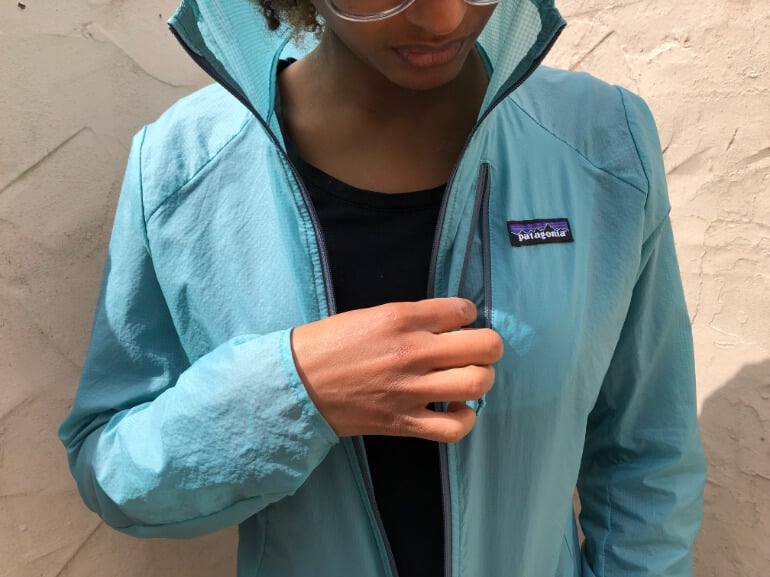 Broke Backpackers gear editor Aiden here – I got this jacket for my girlfriend about a year ago so it has now been put well and truly through its paces. She loves it a summer jacket and as a light, packable layer for spring/autumn. It feels really fricking light to carry and pack nicely into backpacks so its a great one to bring along as a "just in case" type jacket.
However because of the fabric it does feel kind of clammy if it gets too warm. For example, when she wore it during the Indian monsoon she was suffering quite a bit! And yet, at the same time, it doesn't offer enough chill-proofing on days when the wind gets cold. As such the Houdini is not exactly the most versatile jacket, having said that, it's still a great travel anorak for those wanting to keep things light.
The fabric also feels very light and thin like it could tear if caught on a vengeful branch, and it would definitely burn holes if you sat round a camp fire and got hit by some stay sparks. Still, for the price it is a really good and properly stylish jacket.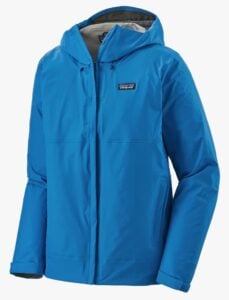 Our pick for best patagonia rain jacket is Men's Torrentshell 3L Jacket
Specs
Best Uses: Raincoat
Waterproof? Yes
Weight: 14 oz
Price: $$
What We Like
Excellent water proofing
Well priced
What We Don't Like
Ventilation could be better
Heavy-duty raincoats can often get sweaty, but Patagonia has looked to the Torrentshell to set a new standard for what a raincoat can do.
These tortoiseshell jackets get sweaty, but this one offers some breathability that simply doesn't exist in most options on the market. The jacket uses three layers (3L!) to keep air circulation going inside the shell and keep the rain outside.
There are water-resistant jackets, and then there's this jacket. That extra layer will get you through gales and serious downpours with a dry midsection. You can practically wear this thing kayaking, as the waterproofing goes all the way down to the coated zippered pockets. This extra water resistance and breathability combine with all the other perks you can expect out of a Patagonia jacket to offer up the best raincoat on the planet.
Want something similar? Check out our list of the best Patagonia rain jackets and see what other waterproof jackets this awesome brand has to offer.
How The Torrentshell Tested
We took the Torrentshell out a camping trip in the Drakensberg in Spring. The weather was a mix of warm sunny intervals and some pretty serious rain. The Torrentshell proved its water resistant credentials superbly and kept us dry during a wet hike. However, our tester did feel kind of warm and clammy and had to unzip the coat at one point to let some cool air circulate. That is however simply a reality of these kind of rain jackets and I have never encountered one that doesn't get at least a bit sticky during use.
The Torrentshell also performs well for urban use making it a pretty versatile. It is quite pricy but when you wear it for yourself, you will know where the cash is going.
Meet the best patagonia hiking jacket: Men's DAS® Light Hoody
Specs
Best Uses: A cold day in the mountains
Waterproof? Yes
Weight: 11 oz
Price: $$$$
What We Like
Feels lovely to wear – very comfortatble
Very versatile and adaptable
What We Don't Like
At nearly $300 its expensive
Patagonia started off from early rock climbers noticing a lack of gear made for the mountains, so it should be no surprise that 60 years later their climbing and hiking coats provide one of a kind performance.
This Light hoody may carry on an old banner, but it's full of new technologies. The jacket's main fill is lightweight insulation similar to down material known as PlumaFill. Patagonia researchers swear this insulation offers up the best warmth to weight ratio of any jacket in their arsenal.
That warming layer combines with a weather-resistant exterior to perform as a comfortable outer layer in temperatures all the way down to freezing and as a robust middle layer in anything colder. If you're looking through insulated jackets that work well for active sports, this is a superb option given its versatility.
All of these benefits squeeze down into a stuff sack you can fit in one hand to create a wonderfully packable jacket that is ultralight and fully functional in colder weather.
How The DAS Hoody Tested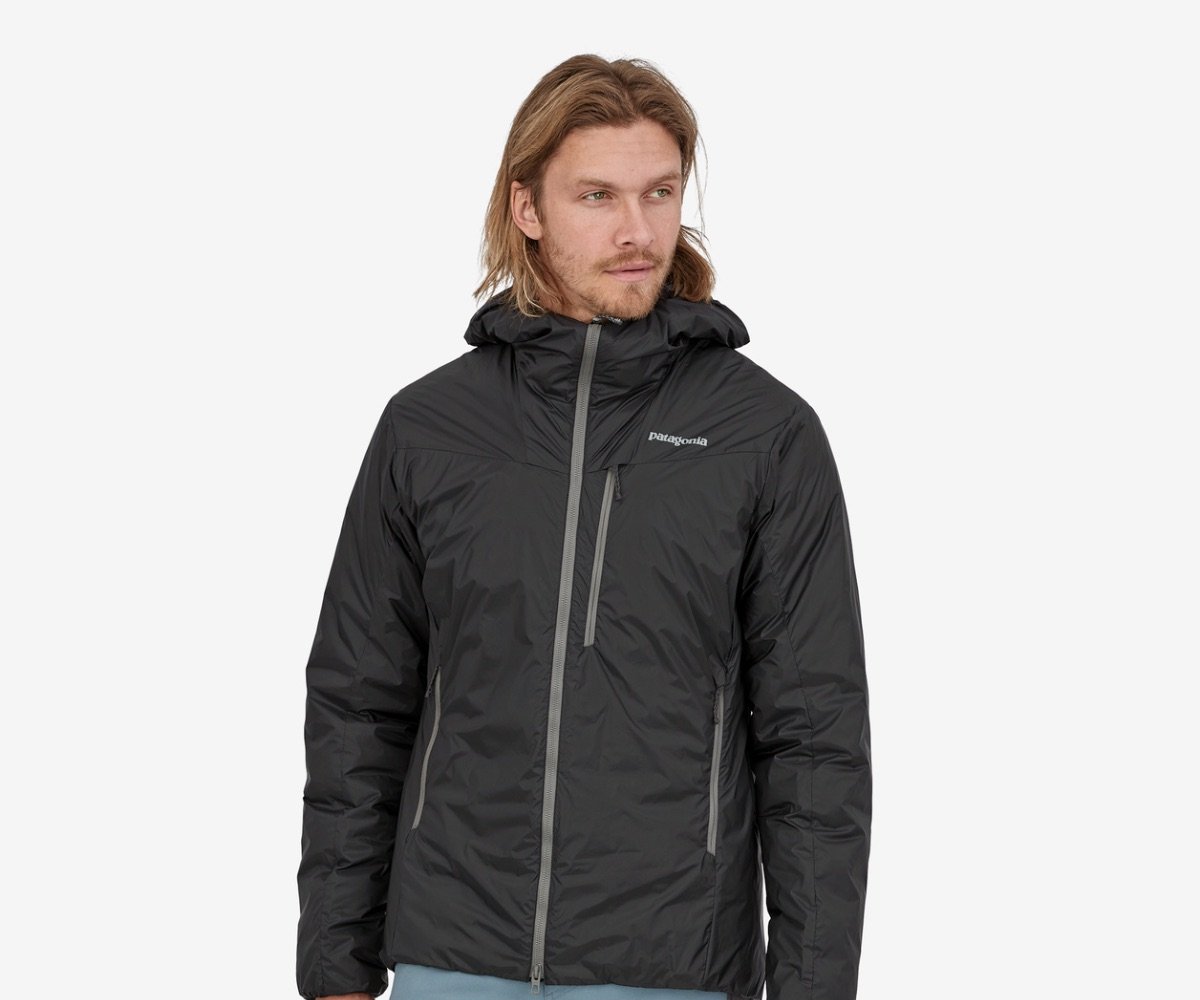 When I saw this jacket pictured online I expected it be quite thick and heavy like a parka. However, in reality its actually quite light and packs away into backpacks nicely. The exterior material and lining both feel quite divine to the touch, and the jacket offers a deceptive degree of insulation. Our tester initially used this jacket for springtime alpine treks but found it so versatile that it ended up as there go-to jacket for all cold, dry weather use – hiking, skiing, or urban.
That said, while the jacket is a marketed as hoody, it is way too warm to wear in fair weather – our tester was not comfortable wearing the jacket during even the warmer days during spring.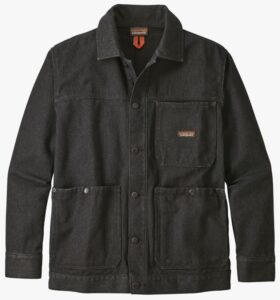 Men's Iron Forge Hemp® Canvas Chore Coat is one of the most stylish patagonia jacket
Specs
Best Uses: Everyday
Waterproof? No
Weight: 38 oz
Price: $$
What We Like
Stylish and rugged look
Very warm
What We Don't Like
Quite heavy
Not water proof
This stylish jacket takes a break from the mountain-top and gets industrial. The hemp combines with recycled polyester and canvas to create a workhorse coat more than prepared for the rigours of daily wear or working outside.
Winter gardeners and four-season DIY'ers can feel comfortable on long days spent outdoors, and the four large frontal pockets warm your hands while making it easy to pack a snack.
This jacket is part of Patagonia's workwear series, designed to get dirty without taking damage. No matter where you're headed that day, throwing this jacket on as an outer layer will get you there, ready to roll.
While the Hemp doesn't provide the water resistance that many other Patagonia's coats offer, this stylish jacket takes on a different role as a champion of the day-to-day, it's one of the top outdoor jackets if you're wanting something stylish and hardwearing.
How The Mens's Iron Forget Tested
We so wanted to test this jacket by going out for a spot of logging or at least dock work but had to make do with a weekend break. It is fairly heavy jacket and reminded me of wearing denim or an old surplus military style coat. While it didn't offer much in the way of water proofing, it was plenty warm during cold evenings.
Ultimately this is not a technical, outdoor jacket so our tester did not attempt to take out into the mountains. It is made for urban use and work wear and fulfils this sections very nicely.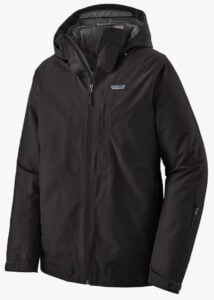 Our top pick for best patagonia winter jacket is Men's Insulated Powder Bowl Jacket
Specs
Best Uses: Winter sports
Waterproof? Yes
Weight: 38 oz
Price: $$$$$
What We Like
Good level of weather proofing
Coll and stylish
Perfect jacket for Spring and Autumn
What We Don't Like
Nothing. This jacket is great.
Patagonia has its hands in every extreme sport on the market, this Powder Bowl Jacket is its top skiing and snowboarding option. The coat comes with regular and insulated options which will keep you warm in sub-zero snowstorms.
This jacket isn't just ready for ski mountains; it's built for powder days. The exterior is 100% recycled Polyester and GORE-TEX material that stops flurries from penetrating your session. It's got the warmth to get you on top of the mountain for first tracks and the durability to keep you dry until the last run of the afternoon.
All pockets and the hood come with insulation materials that help keep your extremities warm, and the jacket features a pit-zippered layer that opens up if you get too toasty.
Anyone dealing with snow on a regular basis should never leave the house without this Powder Bowl Jacket in the car.
Looking for a winter jacket specifically? Check out the best Patagonia winter jackets for more options. If you need something a bit more heavyweight, have a look at the Patagonia Triolet jacket instead.
How The Powder Bowl Tested
How The Patagonia Powederbowl Tested
I have owned this jacket for over a year now and wore it in all 4 seasons in the UK. That said I tend to mostly wear this jacket in Spring and Autumn as it's too warm for summer and not always warm enough for the bitterest parts of winter.
Because of its style, its a great jacket for urban use but it can can also handle some rain and wind making it useful for day hikes. So far the jacket is in great condition and I expect to get many more years out of it – I genuinely love this jacket and personally vouch for its value.

Do You Want to Travel FOREVER??
Pop your email in below to get a FREE copy of 'How to Travel the World on $10 a Day!'.
Men's Micro Puff® Vest is one of the best patagonia vest jacket
Specs
Best Uses: Watching the leaves fall
Waterproof? No
Weight: 5 oz
Price: $$$
What We Like
High quality materials
Warm and well insulated
Light weight
What We Don't Like
Only useful as a layer
No arms or hood – it is a vest
To properly engage your core, you've got first to protect it from the elements. This Micro Puff provides PlumaFill synthetic insulation seen in Patagonia's most winterproof coats and uses them to create a vest style lightweight jacket that stays warm where it counts.
Whether as an underlayer on particularly brutal days or as an outer attache for fall days, you'll be sure to find several uses for your Micro Puff Vest. The iconic colour scheme works with every outfit, and the featherlight down weighs next to nothing.
These features make the vest a perfect mid-layer. You can store it in your day bag until you get above the treeline and whip it out in a heartbeat when it's time to bulk up.
It's no rain layer, but it has moisture-wicking abilities that will help prevent sweat build-up. The zipper runs through your chest up to a turtleneck enclosure that really makes a difference when you meet a blustery day. Its cruelty-free padding offers a great alternative to down jackets filled with feathers. Instead insulated jackets filled with synthetic materials are often more water-resistant.
Best as part of a larger ensemble, there aren't many cold-weather days that this protective vest isn't suitable for, especially when combined with other layers.
How The Micro Puff Vest Tested
The first thing our tester said about the Micro Puff vest was that wearing it, they felt like a hedge fund manager on a corporate retreat which translated means that vest style jackets are not exactly sexy. Still aesthetics aside our tester confirmed that it felt very comfortable and packed in a lot of insulation. It makes an excellent under-layer for winter use and also makes a fine jacket to take on camping trips to wear in the evening.
The material feels lovely and soft to touch and the vest is very light to carry. This is a high quality product although personally we do prefer the hooded jacket incarnation of the micro puff.
Men's R1® Air Full-Zip Hoody is our top pick for best patagonia hoody
Specs
Best Uses: Outdoor Winter Workouts
Waterproof? No
Weight: 13 oz
Price: $$
What We Like
Well insulated but breathable
Light enough to carry in a backpack
What We Don't Like
Doesn't really work as a standalone jacket
If you don't want any slack part of your closet, you can invest in this high-performance jacket that redefines what an everyday hoodie can do. Most modern hoodies are 100% cotton layers that crumble at the first gust of wind, but not this beast!
Patagonia is bucking the trend by revealing this R1 Air hoody in winter 2022. It was the first upgrade to their flagship fleece hoodies in decades, and it has delivered a new era of possibilities for four-season outdoor recreation.
This hoodie is built differently. Recycled polyester and fleece materials and layers allow a zigzag texture that wicks moisture and stops sweat in its tracks. The fleece type jacket is built for comfort while moving, making it a favourite outer layer for winter runners, climbers, and outdoor sports.
While it's not quite warm enough for winter weather, lightweight pockets, wind protection, and the zip hoody design make it a great everyday jacket that will keep you warm on your commute or during your exercise.
Looking for something similar but a bit different, check out the Patagonia R1 Air Zip out as well. We have also done a Patagonia better sweater review that you may like.
How The R1 Air Zip Tested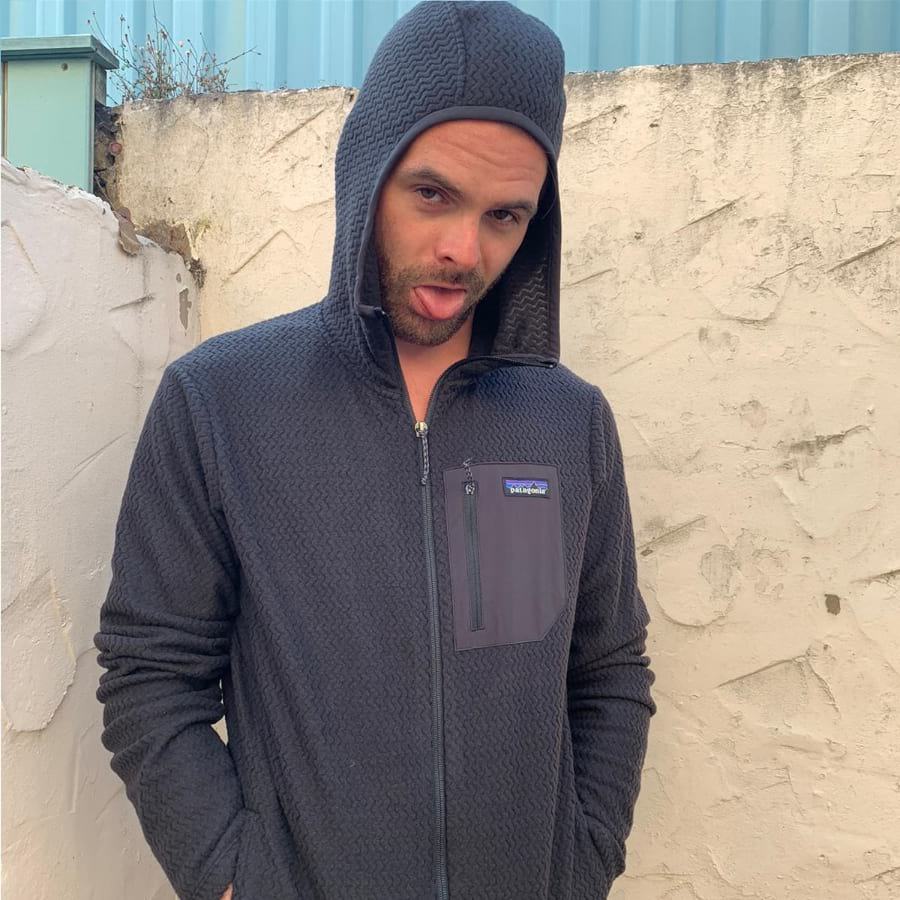 Our tester (me) used the R1 Air Zip both as an under-layer, and as a 'jacket'. As a layer it performs well – it is not as warm as a fleece but does offer better breathability and feels a lot nicer against the skin. Its also very light and easily packed into our backpack when not in use.
As a jacket, it worked well on summer evenings but our tester did felt it lacked the warmth for standalone use on autumnal days.
Meet the best patagonia summer jacket: Men's Houdini Snap-T
Specs
Best Uses: Daily
Waterproof? Yes
Weight: 4 oz
Price: $$
What We Like
Very light
Good mix of water resistance and insulation
What We Don't Like
Not fully water proof
Does get sticky during hot weather
Affordable, all-encompassing, and lightweight, this jacket is all you'll need for cool summer nights spent on top of mountains. The jacket slides right into any outfit and gives you instant wind and drizzle protection.
Several pockets and protections make it a favourite for summer hikes that start early and end high. The completely recycled material stays light, and the chest pocket doubles as a stuff sack that allows the entire coat to fit inside a day bag easily.
The coat takes a similar look to Patagonia's signature fleece line, but it feels completely different. Designers stripped out the warmth of the fleece and added on nylon's water-resistant coating to give a whole new life to the Snap-T.
How The Houdini Snap T Tested
I tested this jacket by using as a layer for running from winter into spring! Note that the Houdini is not designed for winter use but I have a high tolerable of cold. Basically, I got going and began generating heat, the Houdini Snap-T performed really well even in winter (with the exceptions of a few really bitter evenings). That said, when I stopped moving I really did feel the cold. The water resistance was enough was enough to withstand 20 – 30 minutes of driving rain before it started to bother me.
I am not huge fan of pull over type jacket and prefer zip up ones but thats subjective.
Our pick for best patagonia down jacket is Men's Micro Puff® Hoody
Specs
Best Uses: Hiking
Waterproof? Yes
Weight: 9 oz
Price: $$$
What We Like
Really comfortable
Lightweight and packable
What We Don't Like
Quite pricy
Not water proof
If you're looking for one coat that combines a bit of everything Patagonia has to offer, allow me to introduce you to the Micro Puff Hoody. This jacket features technologies used in winter coats, lightweight designs offered up by ultralight models and adds a bit of its own flavour to function as a middle layer ready for all sorts of occasions. This insulated jacket is a rare find that covers almost every base.
This hoodie is covered in synthetic insulation from the cuffs to the hood to warm well above its incredibly lightweight design. It uses best-in-class insulation and waterproofing technology to justify its higher price time and time again.
Plenty of pockets fill out the coat, as well as Patagonia's signature logo and colour schemes. It may look a bit puffy to the casual eye, but the technology packed inside will make you look and feel like a cosy marshmallow in cold weather!
Whether you face extreme elements once a winter or deal with them every other week, this Micro Puff hoody will make your next excursion warmer.
Looking for a good insulated jacket? Check out our rundown of the best down jackets for travelling.
How The Micro Puff Hoody Tested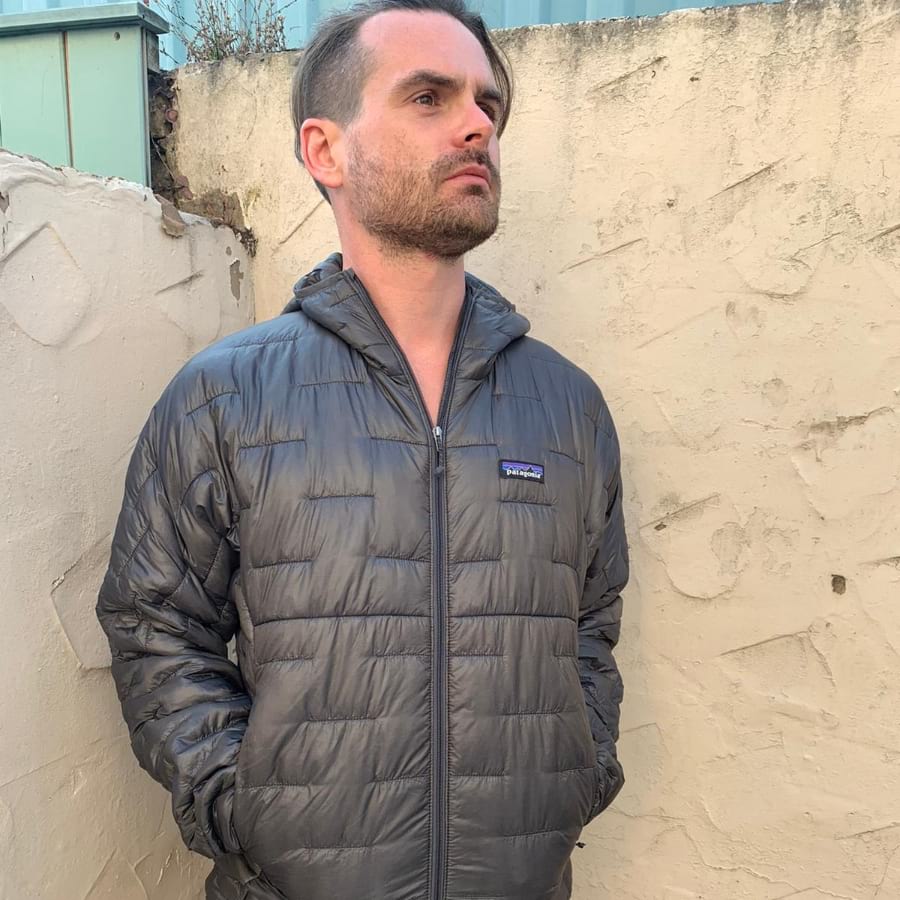 The images don't really capture just how lightweight this jacket it and how impressively it packs up. On the screen, it looks like a chunky 90's style puffer jacket but in reality it can be packed to fit in even a small backpack. The material is also very nice and soft to the touch (if you leave it lying around, your cat will make a bed out of it) so you can feel where you money is going.
In terms of testing, I took it out on a spring evening hike along the sea front and it kept me nicely protected against the cold breeze – the insulation really is impressive. This jacket is perfect for camping trips, urban, 3 season use and bringing as a backpacking jacket. However, it does not feel warm or heavy enough for wintry use and to be fair, Patagonia don't intend for this kind of use.
The best present of all… is CONVENIENCE!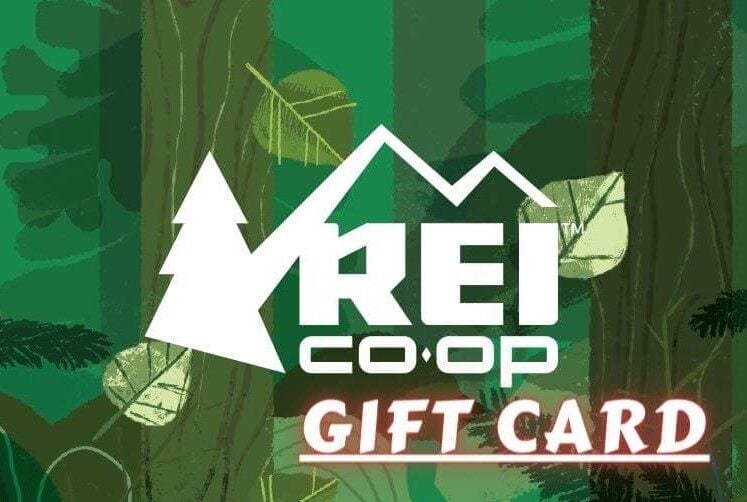 Now, you could spend a fat chunk of $$$ on the WRONG present for someone. Wrong size hiking boots, wrong fit backpack, wrong shape sleeping bag… As any adventurer will tell you, gear is a personal choice.
So give the adventurer in your life the gift of convenience: buy them an REI Co-op gift card! REI is The Broke Backpacker's retailer of choice for ALL things outdoors, and an REI gift card is the perfect present you can buy from them. And then you won't have to keep the receipt. 😉
Buy on REI!
How We Tested These Patagonia Jackets
To compile this best Patagonia jacket round up, we got our hands on each and every product we wanted to feature and took them for a test spin. I personally tested a few myself, gave one to my girlfriend and then used our team to test the rest.
As such, this is not an exact science and there is a degree of subjectivity at play. Still, we stand by our testing as we briefed all of our people to pay close attention to the exact same metrics being the quality of the materials, warmths, ventilation, weather proofing and how well the jacket fulfils its primary purpose. Oh, and we also added bonus points for aesthetics.
How The Best Patagonia Jackets Compare To One Another
best patagonia jackets

| Name | Weight | Best Use | Waterproof? | Price |
| --- | --- | --- | --- | --- |
| Men's Houdini® Jacket | 3.7 oz | Fitness Running | Yes | $109 |
| Men's Torrentshell 3L Jacket | 13.9 oz | Multisport | Yes | $149 |
| Men's DAS® Light Hoody | 11.3 oz | Multisport | Yes | $329 |
| Men's Iron Forge Hemp® Canvas Chore Coat | 38.4 oz | Casual | No | $149 |
| Men's Insulated Powder Bowl Jacket | 38.2 oz | Winter sports | Yes | $479 |
| Men's Micro Puff® Vest | 5.7 oz | Casual, hiking | No | $199 |
| Men's R1® Air Full-Zip Hoody | 12.9 oz | Multisport | No | $159 |
| Men's Houdini Snap-T | 4 oz | Multisport | Yes | $99 |
| Men's Micro Puff® Hoody | 9.3 oz | Hiking | Yes | $299 |

Our GREATEST Travel Secrets…
Pop your email here & get the original Broke Backpacker Bible for FREE.
Final Thoughts on Choosing The Best Patagonia Jackets
There you have it. From winter wonders to lightweight options ready to keep you dry year-round, we've laid out the best Patagonia has to offer.
If your next jacket comes from this list, you can expect high-quality protection from the elements for decades, no matter where the road takes you. Patagonia is universally accepted as one of the best brands for the outdoor lifestyle, so to be considered one of the best jackets Patagonia has to offer is an extreme honour.
These coats have no equals (except maybe the Arc'teryx Jacket range)
Broke Backpackers on all sorts of paths agree that the Men's Houdini® Jacket makes any trip better. We love it because of its extreme weather protection and incredibly lightweight. 
If you plan on spending severe time outside no matter what the weather report says, this Insulated Powder Bowl Jacket has got your back.
And finally, not every jacket has to change the world. For a little bit of everything, this Micro Puff® Hoody does a great job as a daily jacket in a variety of conditions.
There are very few itineraries that wouldn't benefit from packing a Patagonia jacket. Take one of these with you on your next adventure, and let us know how you fared in the comments below.
Need something even warmer? Check out the range of Ororo heated jackets for something even cosier!
---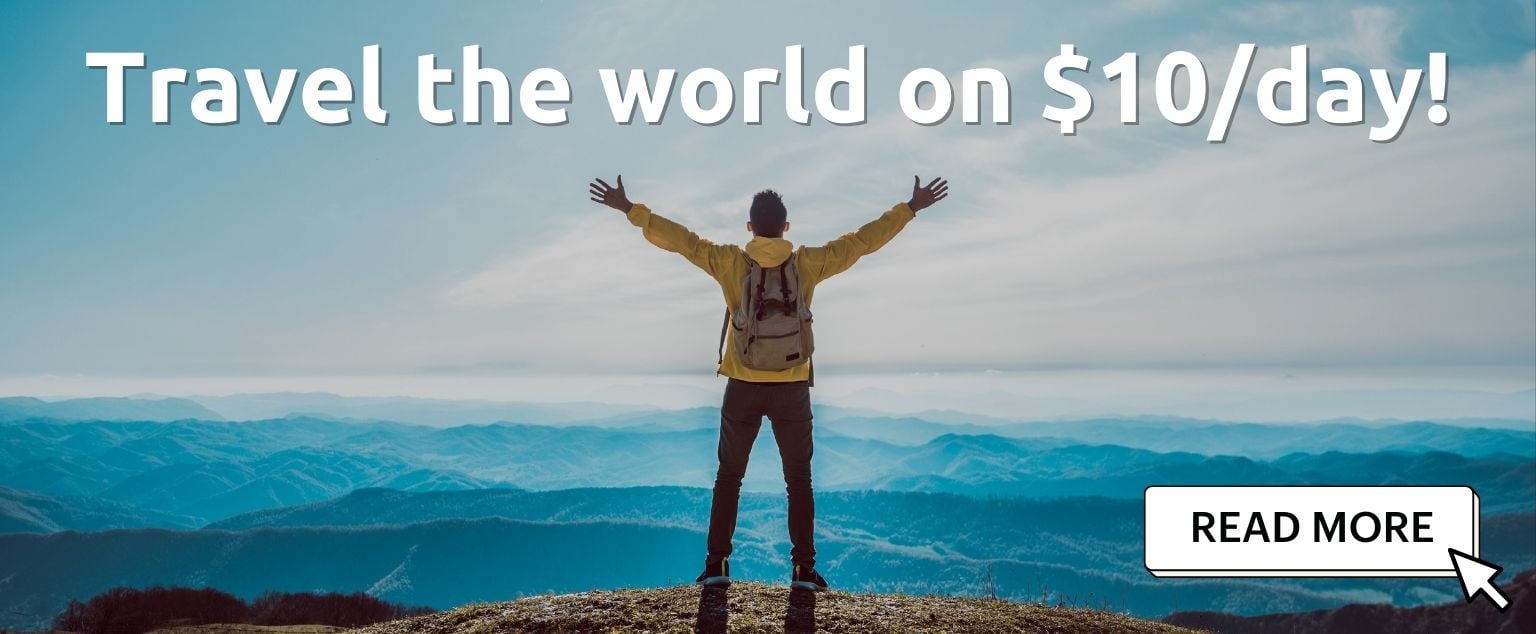 And for transparency's sake, please know that some of the links in our content are affiliate links. That means that if you book your accommodation, buy your gear, or sort your insurance through our link, we earn a small commission (at no extra cost to you). That said, we only link to the gear we trust and never recommend services we don't believe are up to scratch. Again, thank you!