From 180 Degrees south through the arctic refuge, a few passionate mountain climbers and an iconic mountaintop vista have built an outdoor clothing empire that has somehow managed to stay ethical through success.
Against all odds, Patagonia has proven you can create a dynasty without a few bodies in the sewers. Their products are ethically sourced and fair trade certified, and a significant portion of their income goes towards protecting the natural world that inspired their gear.
Their sustainable commitment is worth spending a few extra bucks over, but their high-quality products make the choice even easier. No other outdoor company on the planet is more synonymous with an outdoor lifestyle than Patagonia.
What I'm saying is, they make loads of really, really good jackets.
With the right coat, there will never be a day not worth venturing outside. To properly prep for all seasons and all kinds of weather, upgrade your arsenal with the newest in comfort and performance technology packed into a Patagonia jacket.
These coats are great for men, women, and adventurers of all shapes and sizes.
Broke Backpackers worldwide agree that even when you're living on pennies a day, it's worth investing in the right weather protection. Years of hiking, camping, and traveling through all sorts of foul weather and cold temperatures have resulted in this guide.
Jackets are cast to many roles. Even if you already have a high-quality raincoat, a full-time life outside requires several different options.
The best Patagonia jacket for activities and lifestyles of all shapes and sizes are somewhere on this list. Take a look at your schedule and your closet and find where you could use some help.
Quick Answers:
Best Patagonia Jacket For Backpackers
Best Patagonia Rain Jacket
Best Patagonia Hiking Jacket
Best Patagonia Hiking Jacket
Men's DAS® Light Hoody
> $$$$
> Lightweight insulation
> Warming layer combines with a weather-resistant exterior
Most Stylish Patagonia Jacket
Best Patagonia Winter Jacket
Best Patagonia Vest Jacket
Best Patagonia Summer Jacket
Best Patagonia Summer Jacket
Men's Houdini Snap-T
> $$
> Affordable, all-encompassing, and lightweight
> Several pockets and protections
Best Patagonia Down Jacket
Best Patagonia Down Jacket
Men's Micro Puff® Hoody
> $$$
> Best-in-class insulation and waterproofing technology
> Plenty of pockets
Best Patagonia Jackets Review and Round Up
Any one of the jackets on our list will have you a step closer to the adventure of your dreams.
We combed through factors like fit, price, best use, materials, warmth, weight, water resistance, and every stitch and pocket on these suckers to come up with our nine favorites.
Every single jacket on this list is suitable for men and women, and all of them excel in different niches while providing quality performance across the board.
Whether you're hoping to climb Kilimanjaro or just need some help to get through a rainy commute, let one of these jackets make your day.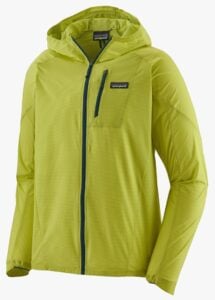 Men's Houdini® Air Jacket is our top pick for best patagonia jacket for backpackers
Specs
Best Uses: All-weather hiking
Waterproof? Yes
Weight: 4 oz
Price: $$$
Houdini isn't the only one with a few tricks up their sleeve. You'll be prepared for whatever nature throws at you in this weather-resistant, lightweight windbreaker. The Patagonia Houdini jacket is made out of over 60% recycled material built with a durable water repellent that is made to last.
The best part is, all the protection offered by this powerful shell still weighs practically nothing, meaning you can pack your rain gear everywhere the journey takes you.
An integrated stuff sack means you can easily stow this jacket away inside itself and clip it onto your waistband or bag. It'll be on call for the summit or any surprise rain clouds on the way.
Patagonia took care of the details to finish off this product with a monocolor look that fits any outfit. While this jacket isn't warm enough to work on its own in colder weather (look elsewhere on the list for cold weather jackets), it excels at all sorts of protections to earn its place in your gear bag.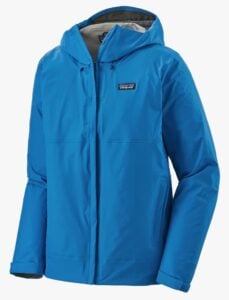 Our pick for best patagonia rain jacket is Men's Torrentshell 3L Jacket
Specs
Best Uses: Raincoat
Waterproof? Yes
Weight: 14 oz
Price: $$
Heavy-duty raincoats can often get sweaty, but Patagonia has looked to the Torrentshell to set a new standard for what a raincoat can do.
These tortoiseshell jackets get sweaty, but this one offers some breathability that simply doesn't exist in most options on the market. The jacket uses three layers (3L!) to keep air circulation going inside the shell and keep the rain outside.
There's water-resistant jackets, and then there's this jacket. That extra layer will get you through gales and serious downpours with a dry midsection. You can practically wear this thing kayaking, as the waterproofing goes all the way down to the coated zippers.
This extra water resistance and breathability combine with all the other perks you can expect out of a Patagonia jacket to offer up the best raincoat on the planet.
Meet the best patagonia hiking jacket: Men's DAS® Light Hoody
Specs
Best Uses: A cold day in the mountains
Waterproof? Yes
Weight: 11 oz
Price: $$$$
Patagonia started off from early rock climbers noticing a lack of gear made for the mountain, so it should be no surprise that 60 years later their climbing and hiking coats provide one of a kind performance.
This Light hoody may carry on an old banner, but it's full of new technologies. The jacket's main fill is lightweight insulation similar to down material known as PlumaFill. Patagonia researchers swear this insulation offers up the best warmth to weight ratio of any jacket in their arsenal.
That warming layer combines with a weather-resistant exterior to perform as a comfortable outer layer in temperatures all the way down to freezing and as a robust middle layer in anything colder.
All of these benefits squeeze down into a stuff sack you can fit in one hand to create a wonderfully packable jacket that is ultralight and fully functional in colder weather.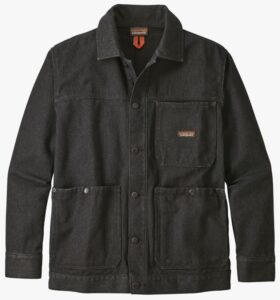 Men's Iron Forge Hemp® Canvas Chore Coat is one of the most stylish patagonia jacket
Specs
Best Uses: Everyday
Waterproof? No
Weight: 38 oz
Price: $$
This stylish jacket takes a break from the mountain-top and gets industrial. The hemp combines with recycled polyester and canvas to create a workhorse coat more than prepared for the rigors of daily wear or working outside.
Winter gardeners and four-season DIY'ers can feel comfortable on long days spent outdoors, and the four large frontal pockets warm your hands while making it easy to pack a snack.
This jacket is part of Patagonia's workwear series, designed to get dirty without taking damage. No matter where you're headed that day, throwing this jacket on as an outer layer will get you there, ready to roll.
While the Hemp doesn't provide the water-resistance that many other Patagonia's coats offer, this stylish jacket takes on a different role as a champion of the day-to-day.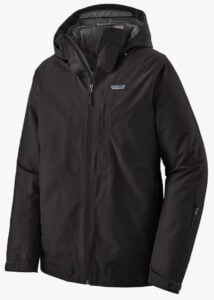 Our top pick for best patagonia winter jacket is Men's Insulated Powder Bowl Jacket
Specs
Best Uses: Winter sports
Waterproof? Yes
Weight: 38 oz
Price: $$$$$
Patagonia has its hands in every extreme sport on the market, this Powder Bowl Jacket is its top skiing and snowboarding option. The coat comes with regular and insulated options which will keep you warm in sub-zero snowstorms.
This jacket isn't just ready for ski mountains; it's built for powder days. The exterior is 100% recycled Polyester and GORE-TEX material that stops flurries from penetrating your session. It's got the warmth to get you on top of the mountain for first tracks and the durability to keep you dry until the last run of the afternoon.
All pockets and the hood come with insulation materials that help keep your extremities warm, and a pit-zippered layer opens up if you get too toasty.
Anyone dealing with snow on a regular basis should never leave the house without this Powder Bowl Jacket in the car.
Men's Micro Puff® Vest is one of the best patagonia vest jacket
Specs
Best Uses: Watching the leaves fall
Waterproof? No
Weight: 5 oz
Price: $$$
To properly engage your core, you've got first to protect it from the elements. This Micro Puff provides PlumaFill insulation seen in Patagonia's most winterproof coats and uses them to create a lighter vest that stays warm where it counts.
Whether as an underlayer on particularly brutal days or as an outer attache for fall days, you'll be sure to find several uses for your Micro Puff Vest. The iconic color scheme works with every outfit, and the featherlight down weighs next to nothing.
These features make the vest a perfect mid-layer. You can store it in your day bag until you get above the treeline and whip it out in a heartbeat when it's time to bulk up.
It's no rain layer, but it has moisture-wicking abilities that will help prevent sweat build-up. The zipper runs through your chest up to a turtleneck enclosure that really makes a difference when you meet a blustery day.
Best as part of a larger ensemble, there aren't many winter days not suitable for the protection of this vest.
Men's R1® Air Full-Zip Hoody is our top pick for best patagonia hoody
Specs
Best Uses: Outdoor Winter Workouts
Waterproof? No
Weight: 13 oz
Price: $$
If you don't want any slack part of your closet, you can invest in this high-performance jacket that redefines what an everyday hoodie can do. Most modern hoodies are 100% cotton layers that crumble at the first gust of wind, but not this beast!
Patagonia is bucking the trend by revealing this R1 Air hoody in winter 2022. It was the first upgrade to their flagship fleece hoodies in decades, and it has delivered a new era of possibilities for four-season outdoor recreation. 
This hoodie is built differently. Recycled polyester and fleece materials and layers allow a zigzag texture that wicks moisture and stops sweat in its tracks. The fleece type jacket is built for comfort while moving, making it a favorite outer layer for winter runners, climbers, and outdoor sports.
While it's not quite warm enough for winter weather, lightweight pockets, wind protection, and the zip hoody design make it a great everyday jacket that will keep you warm on your commute or during your exercise.
Meet the best patagonia summer jacket: Men's Houdini Snap-T
Specs
Best Uses: Daily
Waterproof? Yes
Weight: 4 oz
Price: $$
Affordable, all-encompassing, and lightweight, this jacket is all you'll need for cool summer nights spent on top of mountains. The jacket slides right into any outfit and gives you instant wind and drizzle protection.
Several pockets and protections make it a favorite for summer hikes that start early and end high. The completely recycled material stays light, and the chest pocket doubles as a stuff sack that allows the entire coat to fit inside a day bag easily.
The coat takes a similar look to Patagonia's signature fleece line, but it feels completely different. Designers stripped out the warmth of the fleece and added on nylon's weather resistance to give a whole new life to the Snap-T.
Our pick for best patagonia down jacket is Men's Micro Puff® Hoody
Specs
Best Uses: Hiking
Waterproof? Yes
Weight: 9 oz
Price: $$$
If you're looking for one coat that combines a bit of everything Patagonia has to offer, allow me to introduce you to the Micro Puff Hoody. It takes technologies used in winter coats, lightweight designs offered up by ultralight models and adds a bit of its own flavor to function as a middle layer ready for all sorts of occasions.

This hoodie is covered in down materials from the cuffs to the hood to warm well above its incredibly lightweight. It uses best-in-class insulation and waterproofing technology to justify its higher price time and time again.
Plenty of pockets fill out the coat, as well as Patagonia's signature logo and color schemes. It may look a bit puffy to the casual eye, but the technology packed inside will make you look and feel like a marshmallow.
Whether you face extreme elements once a winter or deal with them every other week, this Micro Puff hoody will make your next excursion warmer.
best patagonia jackets

| Name | Weight | Best Use | Waterproof? | Price |
| --- | --- | --- | --- | --- |
| Men's Houdini® Air Jacket | 4.1 oz | Fitness Running | Yes | $169 |
| Men's Torrentshell 3L Jacket | 13.9 oz | Multisport | Yes | $149 |
| Men's DAS® Light Hoody | 11.3 oz | Multisport | Yes | $329 |
| Men's Iron Forge Hemp® Canvas Chore Coat | 38.4 oz | Casual | No | $149 |
| Men's Insulated Powder Bowl Jacket | 38.2 oz | Winter sports | Yes | $479 |
| Men's Micro Puff® Vest | 5.7 oz | Casual, hiking | No | $199 |
| Men's R1® Air Full-Zip Hoody | 12.9 oz | Multisport | No | $159 |
| Men's Houdini Snap-T | 4 oz | Multisport | Yes | $99 |
| Men's Micro Puff® Hoody | 9.3 oz | Hiking | Yes | $299 |
Final Thoughts
There you have it. From winter wonders to lightweight options ready to keep you dry year-round, we've laid out the best Patagonia has to offer.
If your next jacket comes from this list, you can expect high-quality protection from the elements for decades, no matter where the road takes you. Patagonia is universally accepted as one of the best brands for the outdoor lifestyle, so to be considered one of the best jackets Patagonia has to offer is an extreme honor.
These coats have no equals.
Broke Backpackers on all sorts of paths agree that the Men's Houdini® Air Jacket makes any trip better. We love it because of its extreme weather protection and incredibly lightweight.
If you plan on spending severe time outside no matter what the weather report says, this Insulated Powder Bowl Jacket has got your back.
And finally, not every jacket has to change the world. For a little bit of everything, this Micro Puff® Hoody does a great job as a daily jacket in a variety of conditions.
There are very few itineraries that wouldn't benefit from packing a Patagonia jacket. Take one of these with you on your next adventure, and let us know how you fared in the comments below.
---
Find out how YOU can support the site.
We work hard to put out the best backpacker resources on the web for free! It's all about helping out our tribe of awesome backpacker readers (that's you!). Please visit the link to find out how you can help keep the site going 🙂
For the sake of transparency, some of the links in our content are affiliate links. This means that if you book your accommodation, buy a piece of gear, or sort your insurance through our link, we earn a small commission at no extra cost to you. We only link to stuff that members of the Broke Backpacker team has actually used and never endorse products or services that are not up to scratch. Thanks for your support!