There's a chance for anyone to find their path in this world, as long as they wear the right jacket for the occasion. The Anorak category has historical significance and technically advanced feature sets that help wearers reach new heights with a timeless style.
The anorak's loose-fitting tightness kept the Inuit warm, and the concept has slowly developed into a pullover style, ready to step out of the Arctic and into your closet. The key to cagoules and anoraks is the oversized hang that keeps up in the worst conditions, making them feel fabulous and keeping you dry.
The new world of alpine jackets doesn't take advantage of blubbery animal skins like original models, instead banking on choice synthetics. Mid-level anoraks are more like wind and rain breakers than anything else, while supreme models sneak in a high-tech filler for insulation inside a lightweight, weather-impervious shell.
All styles add creative ways to tighten out the edges and batten down the hatches. Form-fitting hoods often included in these models take extra steps to mitigate arctic winds, like wrapping around the cheekbones and blocking out the nose & lips.
Anorak's and kagools exist in both extremes. From minimalist windbreakers that pack up to mere ounces to stormproof jackets that can tackle Everest, there's bound to be an anorak ready for the job. Plenty of cagoules also line up somewhere in the middle, capable of day trips and all-season commutes.
The jacket's oversized fit, weatherproofing, and breathability help you get to school, work, and the Synagogue dry just as well as they help you reach the mountaintop – looking good while getting the job done right. When storage space is at a premium, versatile Anoraks are great choices. Their tight look and compact qualities make them the only jacket you'll need on most treks.
The anorak's divergent front pocket system and colorway quirks help these jackets stand out while fitting into any outfit. You can opt for bright-colored patterns or a solid black shell to get you there in one piece.
The lines that make up these different jackets look fresher than ever, so let's break down what makes an Anorak and check out some of the world's best.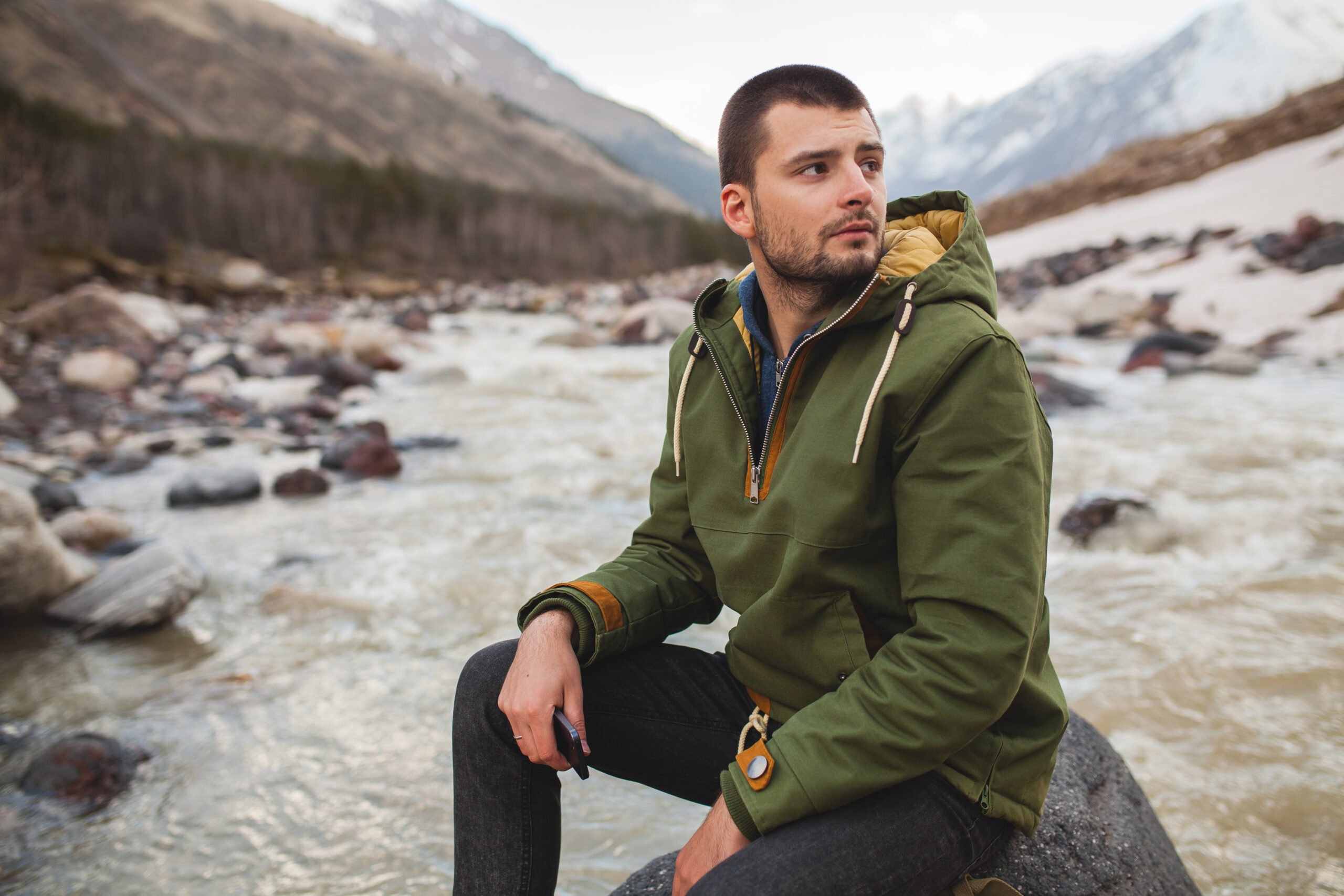 What Is An Anorak or Kagool Jacket?
Anorak or Kagool Jackets have two main goals in life: keeping you warm and dry. Those two prerogatives make the jackets best suited on the outer rim, serving as the last line of defence against the wind and rain. When it comes to picking out a good outdoor jacket, an anorak is hard to beat.
The coat typically features a hood and ¼ length zipper, although many modern options have taken the zipper down to the hips. Some purists argue that a full zipper disqualifies a jacket from anorak status, but we would politely counter that the only true Anoraks are ones made out of seal skin.
Kagool and Anorak jackets have evolved in many ways, using modern elastane and velcro to cuff at the wrists and hips. Most of the time, they Start with a hood, consider adding a front pocket, and round things out with the lightest possible materials still capable of keeping you warm in a cold front. It's because of this we rate them as some of the best travel jackets for packing light in changeable conditions.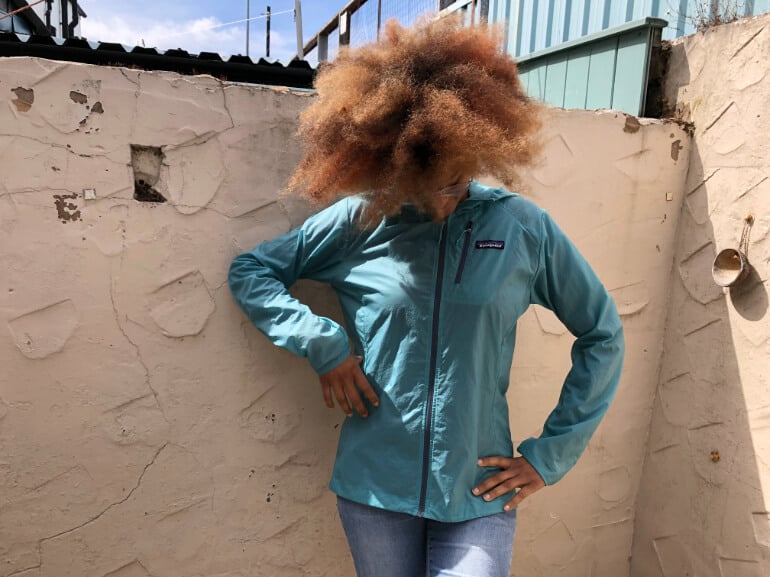 Such a lightweight combination of wind and rain protection makes Anorak's great for winter workouts. The jackets keep your core warm and dry while it heats up and then spread the fire evenly, helping out everywhere from ski touring to sightseeing. These anoraks take the best features of a top ski jacket and out it into a super light and packable package!
Best of all, Every mainstream model has divested from animal products, some taking it as far in the other direction as using recycled products to create a waterproof membrane. Investing in gear that helps you see the world without chopping it down is always nice, and there are some great sustainable options within the Anorak jacket category.
Stormproof, stylish and sustainable is only the beginning. The best anoraks for travel bring a lot to the table and we've got all the top travel jacket brands covered here.
Are These The Best Anoraks That Money Can Buy?
Until the original Inuit model hits the shelves at REI, you won't find Anoraks more capable than the ones on our list. As the best examples of a jacket style built for extreme conditions, these jackets are some of the most intense layers of protection on the market. Unfortunately, that won't always come cheaply.
Some of the jackets we'll look at cost more than your mother would ever approve of paying for a raincoat, but the longevity and versatility of these coats justify the high price tag. If you make the right choice, your Anorak could last you for life, so pay extra now for the right feature set.
We'll also round out our list with some great budget Anoraks that capture the key style elements of the jacket class while saving you hundreds. Let's meet our wide-ranging candidates.

Do You Want to Travel FOREVER??
Pop your email in below to get a FREE copy of 'How to Travel the World on $10 a Day!'.
Specs
Waterproof rating – 5
Warmth rating – 5
Ventilation rating – 5
Price ($) – 700
The Arcteryx Sabre Anorak is the best jacket for lacing up your alpine boots and marching into the heart of winter. Every inch of this jacket is optimized to beat cold weather, from the helmet-compatible hood to the extra-long bib bottom zipper. You could stay dry buried in an avalanche wearing this jacket.
Sabre sits loose but stays form-fitting around your body, shaping your core with 3 layers of robust gore-tex waterproofing. When the clouds clear, full-length side zippers help you breathe on uphill sections, and the large front pocket is a great spot to store your gloves on a snack break. It's one of the best Arcteryx jackets on the market right now for sure.
Specs
Waterproof rating – 2
Warmth rating – 1
Ventilation rating – 5
Price ($) – 99
A stalwart example of a soft shell, REI's Anorak is your daily wear during the shoulder seasons. This jacket is a breathable windbreaker first, but it also packs a splash of water resistance to get you through a surprise early spring shower. A visored hood up top brings that little something extra to keep the rain out of your eyes.
From the top down, the jacket protects well, breathes, and stays light. The REI Trailmade is one of the few options so legit it's locked behind a paywall. You've got to be an REI member to even have the privilege of purchasing this resolute coat that comes at a shockingly low price.
Want to know more, we've written a detailed review of the REI Trailmade for your reading pleasure.
Best Windproof Anorak – Jack Wolfskin Highest Peak Jacket
Specs
Waterproof rating – 4
Warmth rating – 2
Ventilation rating – 3
Price ($) – 200
Jack Wolfskin is a well-loved German fashion and outdoor brand that produces outdoor clothing, footwear, and equipment. Their products often combine functionality, comfort, and durability, suitable for hiking, camping, and other outdoor activities.
The Jack Wolfskin "highest peak jacket" is a premier weatherproof shell designed specifically for hiking enthusiasts. Prioritizing both protection and comfort, this jacket boasts impressive waterproof and windproof capabilities. One of its standout features is the use of stretch fabric, ensuring flexibility and ease of movement. For added ventilation, the jacket comes equipped with venting zips, especially useful during strenuous activities.
Environmentally conscious consumers will appreciate that it's crafted from recycled main fabrics, adheres to a PFC-free policy, and holds the esteemed bluesign® certification. Furthermore, it ensures extra protection against moisture with true waterproof zips. All these features are impressively packed into a lightweight design, weighing in at just 430g for a size M.
Specs
Waterproof rating – 4
Warmth rating – 5
Ventilation rating – 3
Price ($) – 349
The Patagonia Das Light Hoodie came to get down. Plumafill's feather-soft synthetic fill mimics down without the geese-plucking, pumping the Das Light with a best-in-class warmth-to-weight ratio. D.A.S. stands for putting Dead Air Space to work to heat up your coat and create a minimalist packing legend.
Das hoody takes Patagonia's Iconic Micro-puff jacket and adds an extremely waterproof exterior. This extra shell hides away almost all the stitching, blocking cheeky gusts of winds from sneaking through the cracks. The coat is one hip cinch cord away from fully locking down the castle, but it still makes an incredibly formidable stand against wind and rain, it's just one of the reasons we've rated is as one of the best Patagonia jackets.
Specs
Waterproof rating – 5
Warmth rating – 5
Ventilation rating – 3
Price ($) – 800
There are many different ways to say 'waterproof,' but only two words truly mean it: Gore-Tex. The worldwide leader in water resistance brings a three-layered line of resistance to the Arc'teryx SV that no storm can penetrate. Water-tight zippers do their part to further finish an Anorak made for extreme weather conditions. If you're looking for the best rain jacket for hiking, this is it!
SV is best worn as the outer layer of an ensemble. The fit feels slightly bulky and rustle-y if you were to wear it with just a T-shirt underneath, but that's all you'll need on most days. On the wettest and coldest days of winter, the right three-prong layering system with the SV in front is all you need.
Specs
Waterproof rating – 3
Warmth rating – 2
Ventilation rating – 5
Price ($) – 220
Arc'teryx stepped down from the mountain top for this one, creating a wind-breaking, breathable jacket that helps beat the heat. This jacket doesn't worry about winter as much as other Arc'teryx Anoraks we've looked at, instead supporting breathability and keeping the dust on the prairie.
It's a great choice for getting your heart rate up, providing the warmth and wind blocking that keeps motivated on chilly mornings, and keeping the heat out once your motor is running. The coat isn't as impervious as other Arc'teryx's, but it's also several hundred dollars cheaper, and it still brings a durable water-repellent shell with you on your next day's hike.
The best present of all… is CONVENIENCE!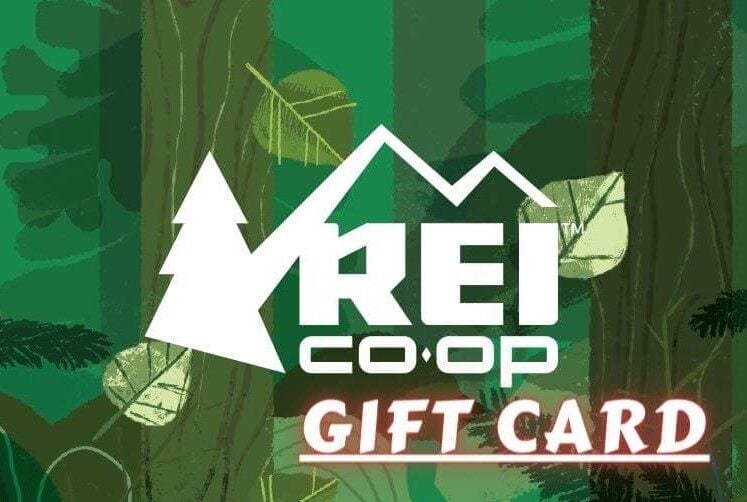 Now, you could spend a fat chunk of $$$ on the WRONG present for someone. Wrong size hiking boots, wrong fit backpack, wrong shape sleeping bag… As any adventurer will tell you, gear is a personal choice.
So give the adventurer in your life the gift of convenience: buy them an REI Co-op gift card! REI is The Broke Backpacker's retailer of choice for ALL things outdoors, and an REI gift card is the perfect present you can buy from them. And then you won't have to keep the receipt. 😉
Buy on REI!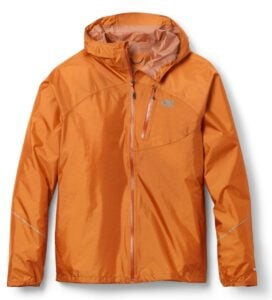 Specs
Waterproof rating – 3
Warmth rating – 1
Ventilation rating – 5
Price ($) – 170
This minimalist extraordinaire is a great 3-season anorak that firmly plants its flag at a reasonable price point. A Pertex Shield exterior tapes the seams and locks down the Helium Rain Jacket without taking up an ounce of excess space. You can compress this jacket down to a minute size and sneak it into your daypack until the first signs of rain.
Since its release in 2010, Helium has shifted, changed, and grown throughout the seasons. The current iteration is the most durable option yet, with an extra layer of diamond shield pattern that brings 5X more tear resistance than its predecessor. A certain fragility had been holding back the helium line for a long time, but now the jacket is tougher than ever.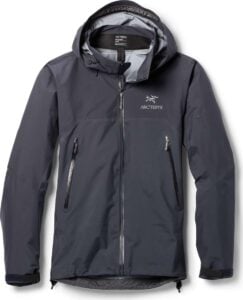 Specs
Waterproof rating – 5
Warmth rating – 4
Ventilation rating – 5
Price ($) – 575
The reviews are in the Beta Jacket is the best waterproof jacket for backpackers in history. The jacket packs signature Arc'teryx selling points like 3 layers of Gore-Text waterproofing and enhanced breathability and lightens things up a notch from the winter storm-ready Sabre. While still ready for powder days, this coat won't feel out of place in any situation.
All the Beta wants is to get outside. Whether you're facing rain, snow, sleet, or suburbia, this coat has tricks up its sleeves to keep you fresh and dry while you spend the entire day outside. Slip it on and face the rain, and you'll feel what it's like to finally meet your soulmate.
Wanna know more? Check out our comprehensive review of the Arc'teryx Beta AR.
Specs
Waterproof rating – 4
Warmth rating – 1
Ventilation rating – 4
Price ($) – 79
Montem makes sure your jacket can breathe out without taking water in. If you look around our list of the greatest Anoraks, you'll notice a lot of big names. Montem isn't one of them. This upstart company isn't gaining access to the club thanks to the name on the front of the jacket, it's here because it protects.
The company's own Drac-Tech fabric is the captain of the water defence mechanisms, commanding the jacket to provide one of the best waterproof exteriors for any raincoat under triple digits. The fabric checks its corners with adjustable cuffs along the wrists, waist, and hood to further lock down your next commute.
Specs
Waterproof rating – 2
Warmth rating – 1
Ventilation rating – 4
Price ($) – 155
Cotopaxi's fun color scheme looks great on an Anorak. You can shop across four different colorways, each featuring a front pocket that does double duty. It's easy to slip your hands through the sides and reach for extra warmth while still keeping the odds & ends away from wet hands in a zippered top pocket.
The kangaroo pouch picks a third color to tie together the two-tone recycled polyester. 100% recycled and guaranteed for life, you won't find many more sustainable methods of rain protection. The 2.5-layered waterproof shell folds faster than others on our list, but the Cielo keeps your head in the clouds even when caught in a drizzle.
Specs
Waterproof rating – 3
Warmth rating – 1
Ventilation rating – 5
Price ($) – 109
Now you see it, now you don't. The Houdini jacket folds inside a chest pocket that doubles as a stuff sack and condenses the coat down to the size and weight of a tube sock. This jacket took minimalism to an extreme to rank as the lightest cagoule on our list and one of the slimmest raincoats in the business and one of Patagonia's best rain jackets for travelling light.
Patagonia's magical jacket is here to block the wind and fit small spaces. The coat weighs a paltry 3.6 ounces, and that's including a durable water-repellent exterior that'll keep you dry, depending on how fast you can ride. Shove this entire coat in your cycling jersey back pocket, and you'll forget it's there until you feel a few drops.
Like what you see? We've written a comprehensive Patagonia Houdini jacket review if you want to take a deeper dive.
Best Anorak

| Name | Waterproof rating | Warmth rating | Ventilation rating | Price ($) |
| --- | --- | --- | --- | --- |
| Arc'teryx Sabre | 5 | 5 | 5 | 700 |
| REI Trailmade | 2 | 1 | 5 | 99 |
| Patagonia DAS Hoody | 4 | 5 | 3 | 349 |
| Arc'teryx SV Jacket | 5 | 5 | 3 | 800 |
| Arc'teryx Gamma Lightweight | 3 | 2 | 5 | 220 |
| Outdoor Research Helium Rain Jacket | 3 | 1 | 5 | 170 |
| Arc'teryx Beta | 5 | 4 | 5 | 575 |
| Montem Packable Rain Jacket | 4 | 1 | 4 | 79 |
| Cotopaxi Celio Rain jacket | 2 | 1 | 4 | 155 |
| Patagonia Houdini | 3 | 1 | 5 | 109 |

Our GREATEST Travel Secrets…
Pop your email here & get the original Broke Backpacker Bible for FREE.
Final Thoughts on The Best Anorak Jackets
Anoraks come in a wide range of warmth and weather ratings, fitted consciously in every color in the rainbow. You're bound to find one that suits your style and keeps you outside in rough weather.
Kagoul and Anorak's versatile features can be daily wear, traveling companions, or alpine specialists, sometimes all in the same jacket. There's no one jacket that can do it all, but a high-tech anorak is getting closer each year.
They help you keep essentials close, keep everything dry, and regulate your core temperature – and they look darn good doing it. None of the jackets on our list will outlast the mountaintop, but most of the coats on our list will keep you moving for decades.
Along the way, these ultra-protective coats help you get out of bed earlier, stay outside longer, and get more done on the coldest days of the year.
---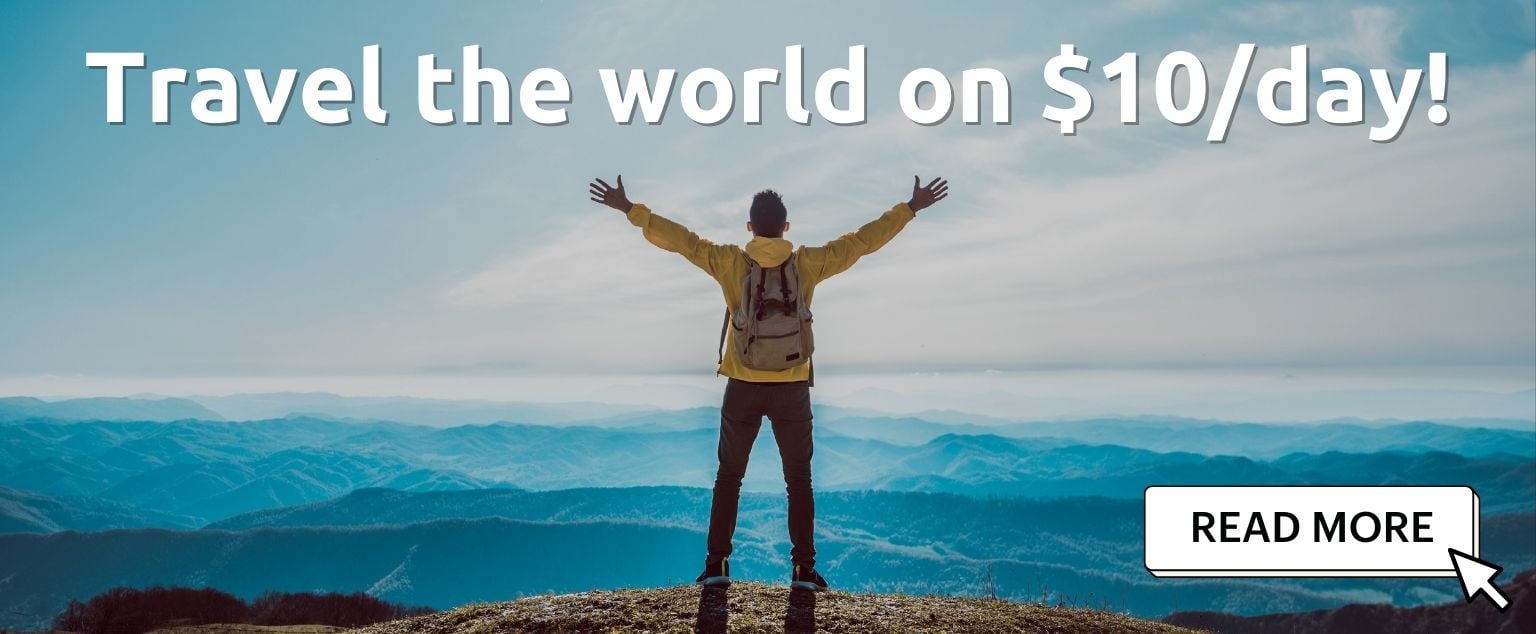 And for transparency's sake, please know that some of the links in our content are affiliate links. That means that if you book your accommodation, buy your gear, or sort your insurance through our link, we earn a small commission (at no extra cost to you). That said, we only link to the gear we trust and never recommend services we don't believe are up to scratch. Again, thank you!