One of the most essential clothing items for winter activities is a decent jacket. Humans are undeniably susceptible to cold weather (well, this one is!), and if you live in a cool region, you'll know how important it is to have a few solid jackets to help you get out on some epic adventures whatever the weather. The weather can always surprise you, and once you've learned this the hard way, you'll never leave home without your jacket again.
The best jacket brands design garments that are suitable for travel, backpacking, and outdoor adventures. These jackets need to be practical for their purpose, functional for the weather conditions, and of course, trendy. What's the point in doing something if you don't look good doing it, am I right?
Although they can be expensive, a good quality jacket is one of the best investments you can make. You must pick the correct type of jacket for what you plan to use it for. That being said, there are a bunch of jackets that are multifunctional and can serve more than one type of purpose.
There are tons of jacket options on the market and finding the perfect jacket for your winter needs can be overwhelming and confusing. In this post, were going to take a look at the six best jacket brands on the market in 2022. To make your life a bit easier, we'll detail what each brand specialises in and pick out a few of our favourite products from their recent lines.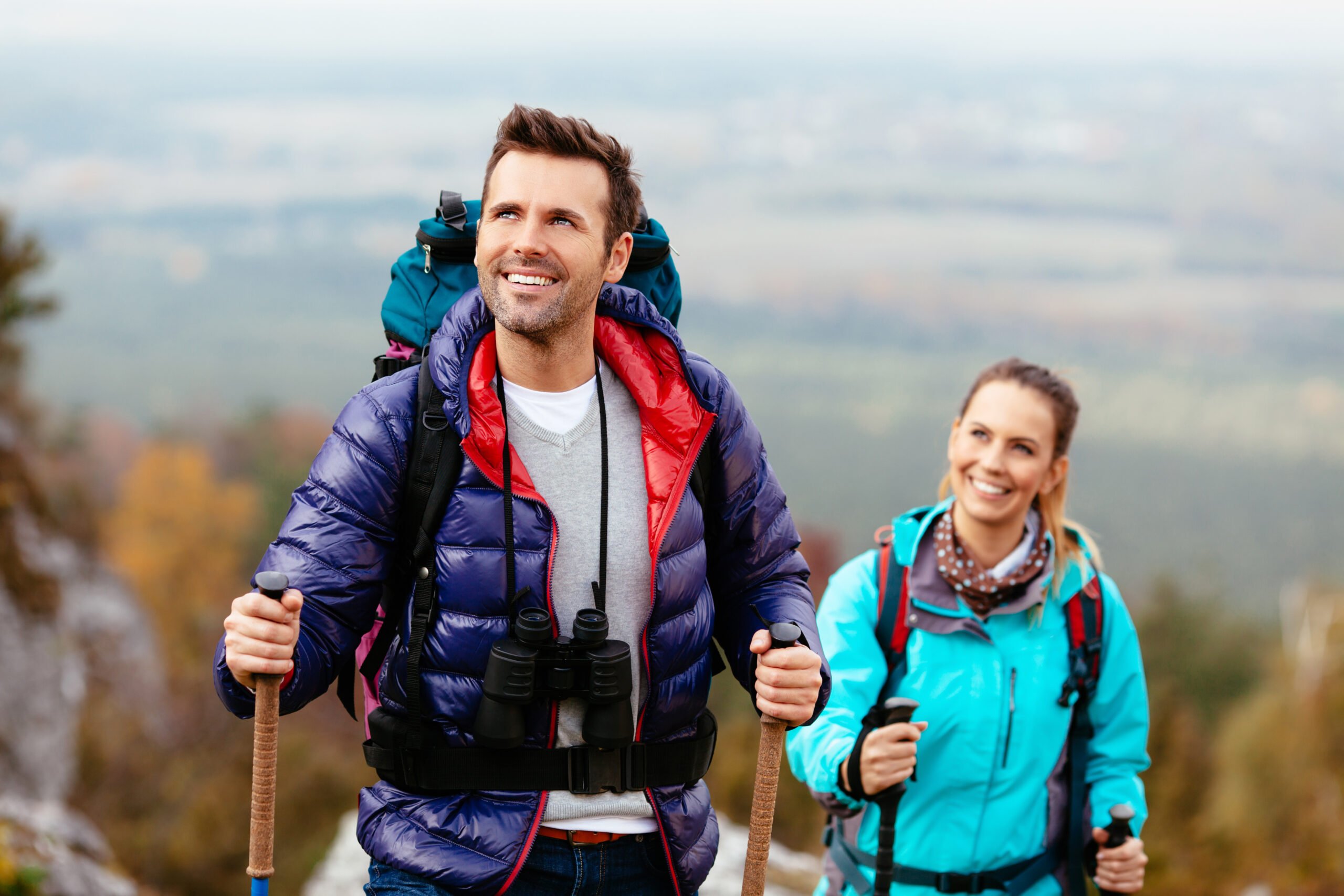 The Top Six Jacket Brands On The Market Today

Do You Want to Travel FOREVER??
Pop your email in below to get a FREE copy of 'How to Travel the World on $10 a Day!'.
The Best Jacket Brands For All Occasions 
There are tons of different brands that offer an array of options for winter jackets. A word of advice: make sure your jacket is made from high-quality materials, is comfortable and breathable, and is warm enough for the specific occasion you're buying for.
When it comes to practicality, a decent insulated jacket is designed to keep your body temperature stable and warm during the harshest conditions. When temperatures drop, our blood flow slows down, making it harder for our bodies to warm up. Not to mention, it's just downright uncomfortable and unpleasant being cold, and a warm jacket can also help prevent us from getting sick.
If you're planning to travel with your jacket, you'll want to look for something lightweight and insulated. This way, you won't have to lug around too many inner layers as your outer should be able to keep you warm enough. That being said, it can be tricky to find a jacket that meets all these requirements.
#1 Overall Best Jacket Brand – Patagonia
There's no doubt about it; Patagonia is the best overall jacket brand out there and one of the best outdoor brands. The brand produces a range of jackets from insulated ski jackets to raincoats to city-slick parkers. 
Suitable for all occasions, Patagonia designs the most stylish and trendy jackets with high specs while still keeping their prices relatively affordable. Patagonia follows the H2NO Performance standard – the brand's benchmark for waterproofing, durability, and breathability. They use highly controlled tests to test their garments in the real elements, ensuring they hold up well in all weather conditions. I have tried and tested several Patagonia jackets in all kinds of situations and I also find them comfortable, reliable and stylish.
The brand prides itself on its commitment to the environment. Everything they create has a positive impact on the planet and the people who make them. They develop environmental and animal welfare programs that guide what materials they create and use. As the overall best jacket brand on the market, Patagonia also has a transparent supply chain network, so you'll always be able to see the social and environmental impact your garment has on the planet.
Featured Garment: Triolet ($399)
If you're looking for a great all-rounder jacket with top-of-the-range waterproofing, Patagonia's Triolet is the garment for you. The jacket is made with three layers of Gore-Tex fabric, offering the perfect balance between waterproofing and breathability. Not to mention, these materials are 100% recycled, so you can rest assured you're doing your part for the planet.
The Triolet is designed with a range of practical add-ons and features designed to offer versatile performance in the most intense snow and wind conditions. Features include a helmet-compatible hood with an adjustable visor, underarm zips for ventilation, wrist gaiters and an efficient powder skirt to keep out any snow, and practical pockets to stash your goodies.
As one of the best overall jackets in the business, it also weighs a low 19.4 oz, making it lightweight and easy to stash in your bag on your travels. It's one of the best Patagonia waterproof jackets.
Want more ideas? Check out the best Patagonia jackets for some other options. If you need something warmer then there's the range of winter jackets from Patagonia too.
#2 Best Technical Jacket Brand – Arc'teryx
Arc'teryx might be one of the most expensive jacket brands out there, but it's not without good reason. The brand creates top-quality, high-performing jackets for various activities from running to skiing and everything in between. The brand is super innovative with its technical aspects, producing some of the most waterproof, breathable, and durable jackets on the market.
They pride themselves on creating impenetrable products for snow adventures that are designed to protect you from the harshest winter conditions while remaining ultra-comfortable to wear.  I personally love their gear so much I bought their Atom Lt hoody twice and have taken it around the world with me trying and testing it in English spring and Indian monsoon amongst other conditions.
Of course, you can expect only the trendiest designs and styles from the best jacket brand for technical wear, who create timeless pieces that are meant to last a lifetime. With all the optimal pockets, air vents, and technical features you could wish for, you could wear Arc'teryx jackets from the highest mountains to the busiest city streets.
Featured Garment: Beta ($599)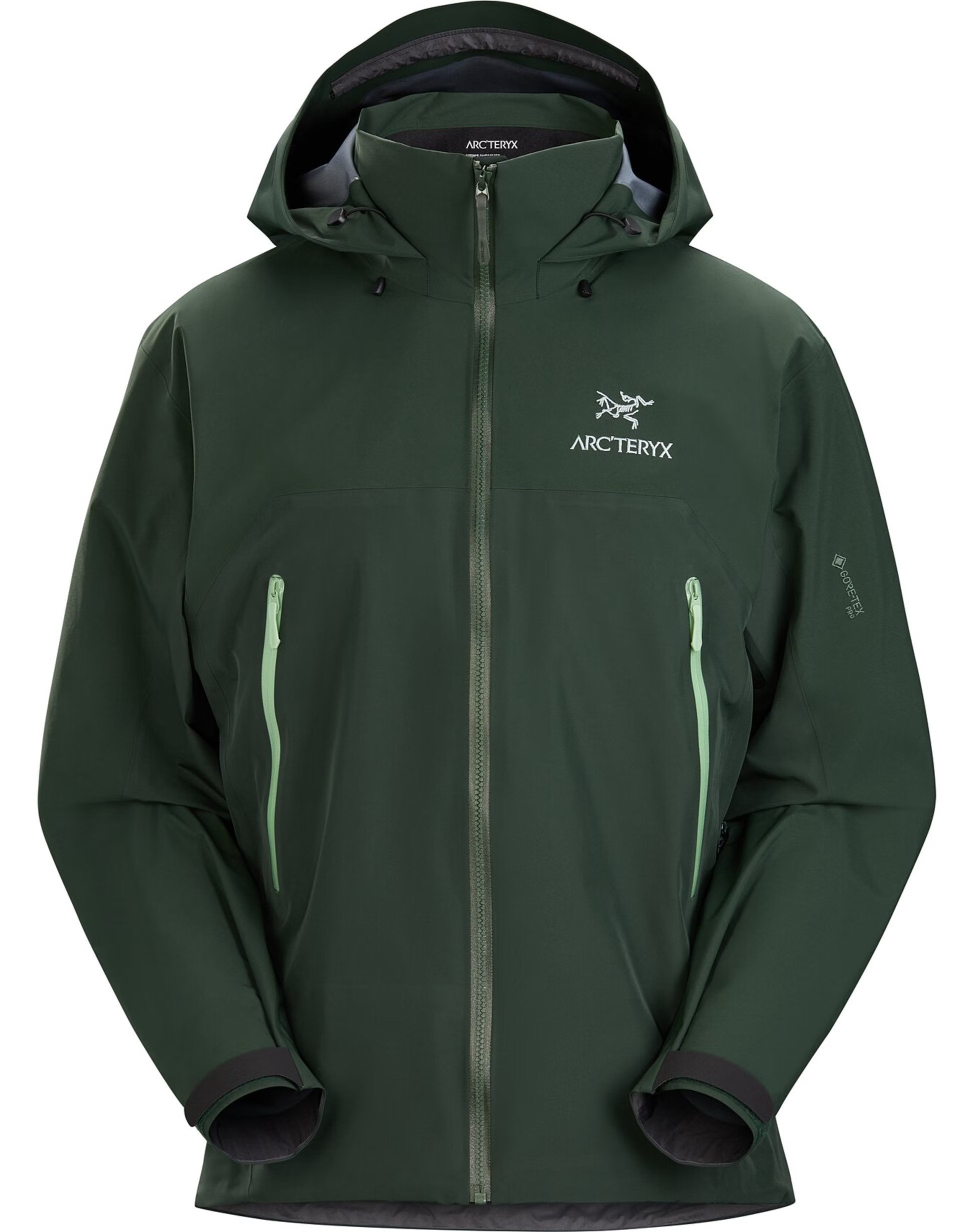 The Beta Jacket is designed to perform across a multitude of activities and conditions. Its sleek design makes it wearable for a bunch of occasions, from summiting alpine peaks to lunch in the city.
It's created with waterproof, windproof, and breathable Gore-Tex fabrics that provide maximum protection and warmth from harsh weather conditions. In fact, this jacket is made using Gore-Tex PRO, which is a next-generation material that Arc'teryx developed together with Gore-Tex for maximum durability.
Other technical features on this jacket include a helmet-compatible DropHood with an internal collar to protect your neck from the cold, as well as RECCO reflectors to make sure you can be found in any emergency scenarios.
Want to know more? Check out our in-depth review of the Arc'teryx Beta AR, as well as the Arc'teryx Beta AR Woman's version.
#3 Best Jacket Brand For Backpackers – The North Face
Sometimes all you need is a practical, trendy and affordable jacket for a range of activities. This makes The North Face one of the best brands for backpackers. Although it's seen as a high-end brand with top-quality products, they offer an affordable line of garments too. 
The North Face is a well-known outdoor recreation wear brand that produces outdoor clothing ranging from highly technical alpine equipment to trendy streetwear. Many of their products use waterproof Gore-Tex materials that are ideal for rain and snow adventures. They also incorporate DryVent fabrics, which are engineered for absolute waterproofness while allowing sweat to exit the fabric.
As one of the best jacket brands for trendy outdoor recreation wear, The North Face collaborates with different fashion brands, designers, and well-known athletes to curate fashionable and practical clothing to appeal to a range of buyers.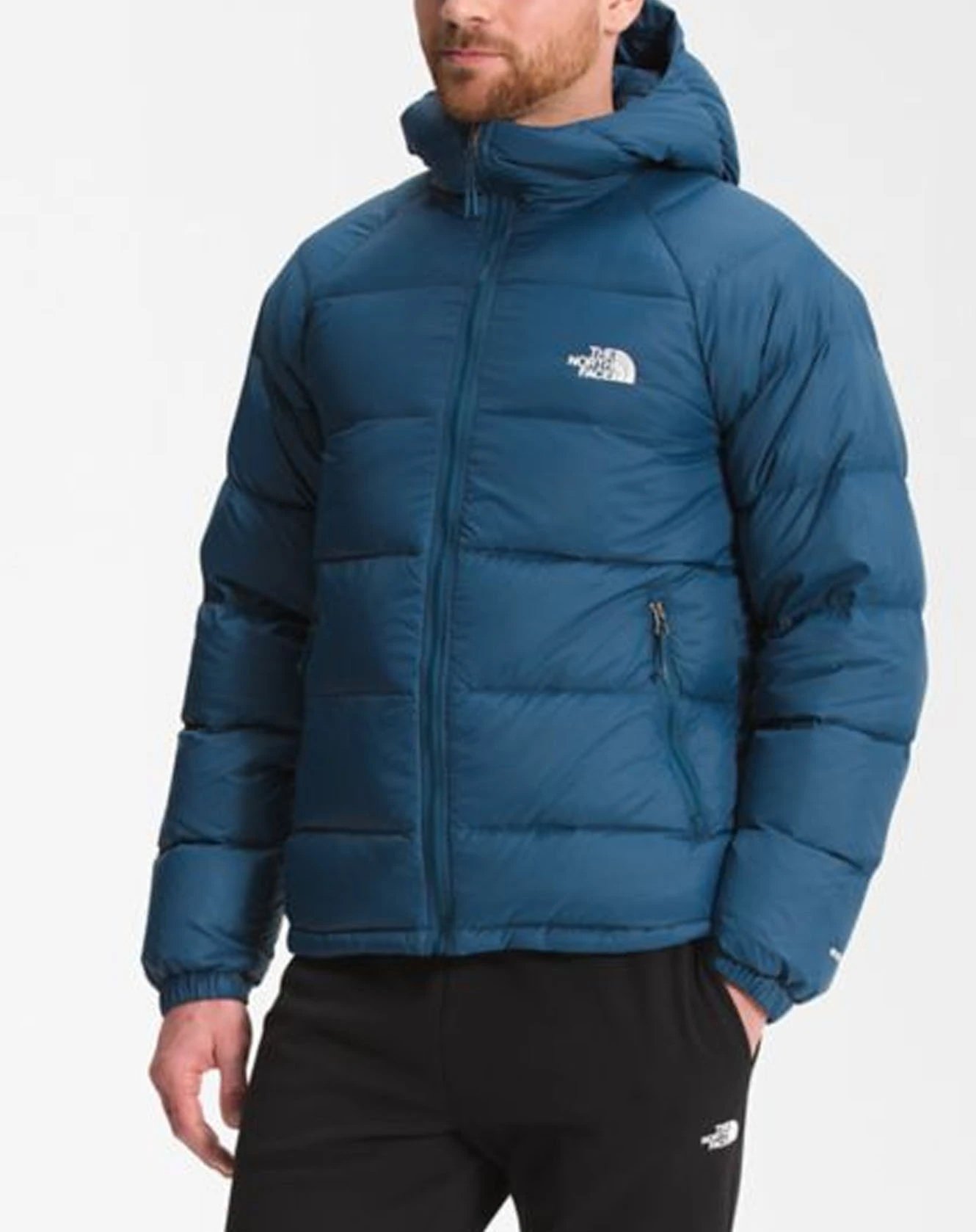 The North Face's Hydrenalite Down Hoody is an all-around favourite for backpackers and frankly, for anyone travelling light. This trendy jacket is simple, designed with a water-repellent fabric that perfectly combines city chic with outdoor adventure. 
The jacket is insulated with 550-fill goose down which keeps the icy wind out. On top of this, the wrists are elasticated, and the hood has a high collar to prevent any unwanted cold air from entering. 
Made from 100% nylon taffeta and natural down feathers, this jacket can contract down to a manageable size and easily fit into your backpack. It's also super lightweight, making it the perfect jacket for a backpacker with limited space and weight to spare.
Looking for a down jacket? Check out our guide to the best down jackets for some more ideas and options.
#4 Best Budget Jacket Brand – REI
REI is a super affordable go-to brand that makes apparel for camping, hiking, cycling, running, and snowsports. While REI.com advertises and sells a range of different outdoor recreation brands, they have their own in-house brand called REI Co-op, which has been making affordable and quality apparel since 1938.
While the brand isn't quite at the same level as The North Face, REI Co-op designs garments using Gore-Tex, Polartec, PrimaLoft, and HydroWall technology. Racking up a wardrobe of outdoor clothing can get pricey quickly. Luckily, affordability is one of REI Co-ops' best selling points, and the brand prides itself on providing reasonably priced gear. As one of the best jacket brands for budget apparel, REI seems to fly under the radar compared to some of its brand-name competitors.
REIs Ranier Rain Jacket is a sleek hip-length shell jacket made using Peak 2.5 layer waterproof breathable laminate fabrics designed to shield you from heavy wind and rain. The jacket has sealed seams and durable water repellent finishes to shed light rain like the back of a duck's coat to keep the water out. 
While it's practical as an everyday raincoat, it's also great as a shell for outdoor activities. With underarm zippers, you'll be able to cool yourself down in harsh rain conditions without compromising on keeping dry. The jacket also has a three-piece hood and drawcord hem with dual adjustments to make sure it fits snug around your body.
One of the best parts of this jacket is how compact it is. When you're not wearing it, it can stash away into its own zipped-up pocket, making it easy to pack and bring along with you wherever you go!
Looking for something waterproof? Check out our guide to the best rain jackets for hiking.
Graphene is a new brand with a super unique product to share. Simply put, graphene-coated textiles are tight-knit membranes or carbon atoms that insulate your body warmth while letting the humidity and sweat from your body out. Graphene-infused outerwear is also super durable and resistant to abrasion and tearing. 
The graphene-infused fabrics conduct the heat from your own body and redistribute it throughout the jacket through built-in heaters. It's basically a smart textile paving the way for future fabrics and garments. Their jackets are super well made, durable, and have special anti-odour and hypoallergenic properties.
Featured Garment: Gamma Jacket ($500)
At the moment, Graphene has put all its attention into a single exceptional product – the Gamma Heated Jacket. The jacket is 100% graphene infused, making it one of the most insulating, waterproof, and durable jackets on the market in 2022. 
If that isn't enough, the jacket also has built-in smart and customizable heating with a uniform heat distribution system. As mentioned, it works with the help of your body heat to channel heat across the jacket panels. Simply press the switch and wait to be warmed up from the inside out. 
As one of the best jacket brands out there, the Gamma Jacket has even more tech features to show off. It includes ten multifunctional pockets and is coated with an antimicrobial and anti-odour graphene powder layer, which makes it super breathable and moisture-wicking for heavy use in harsh conditions. 
Thinking about a heated jacket? Check out our guide to the best-heated jackets for women.
#6 Best Jacket Brand For Camping – Berghaus
One of the most loved jacket brands by school teachers leading camping trips, Berghaus is a classic outdoor apparel distributor that provides adequate gear for non-extreme outdoor adventures. While their products are not cheap, they are very affordable for what they offer.
The brand was founded in England and makes men's, women's, and children's outdoor clothing from base layers to legwear to fleeces to jackets.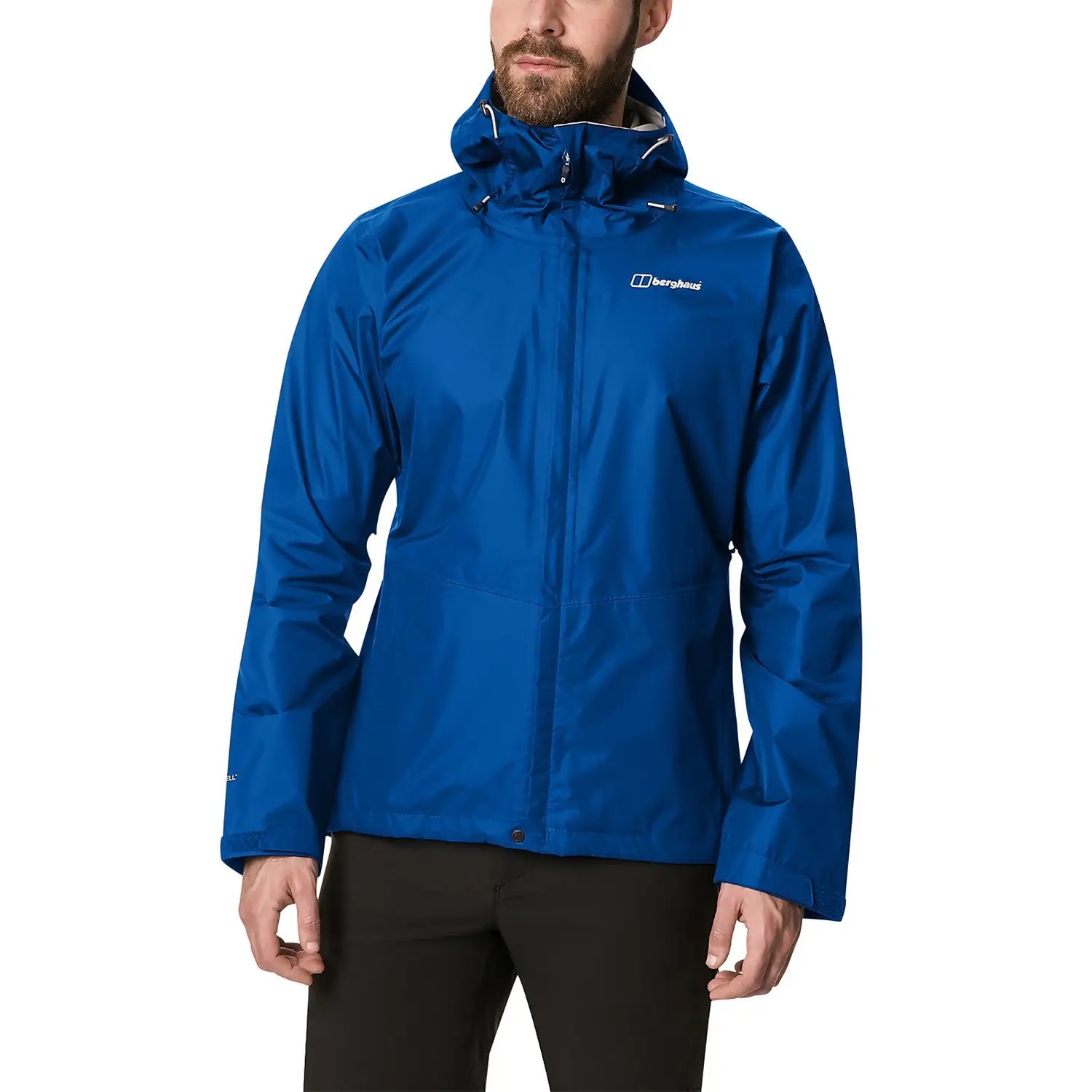 Berghaus's Deluge Vented Waterproof Jacket is a great all-rounder for anyone who spends a bunch of time outdoors. It is equipped with a waterproof 2.5 layer Hydroshell fabric and is designed with many adjustable pull strings and straps to ensure it fits snug around your body.
The jacket has a protective hood with a stiff peak to help shelter your face and eyes from rainy or snowy conditions. For breathability and ventilation, unzip the underarm zips for some fresh air when you need a quick cool down.
The best part about this jacket is how lightweight it is. Weighing only 13.3 oz, you'll easily be able to stash this in your backpack without it weighing you down too much. This makes it a great product to keep on hand all the time, in case the weather turns on you.
Take note that this is the entry-level jacket of its type. Berghaus has also developed the Deluge Pro 2.0 Jacket, which is made from Bluesign approved materials and environmentally friendly fabrics.

Unlock the The Broke Backpacker's GREATEST Travel Secrets!
You pop your email here, and we promise to send you only travel content that's actually relevant — sounds like a pretty good deal to us!
Final Thoughts on The Best Jacket Brands
Winter jackets are essential for anyone who lives or plans to travel to a cold region. Aside from being simply unpleasant, cold weather can have a negative effect on the way our bodies work, and keeping our upper bodies toasty warm is the best way to avoid getting sick during the winter months. 
When buying from one of the best jacket brands, it's important you pick a product that is well made using high-quality materials and fabrics. You should also focus on finding a jacket designed for precisely what you intend to use it for. A basic puffer will serve you well as a general travel companion, however, it won't do as well to keep you dry as a snowboarding jacket. That being said, there are a bunch of multifunctional jackets if you can't splurge on options.
Practicality is also a factor to consider. If you're planning a backpacking trip, a lightweight insulated jacket would be a great call, while a heavy jacket might weigh you down too much. Of course, looking good is important too, and luckily enough, most brands produce super trendy jackets for all occasions. 
If you live in a cold country or make regular visits to the snow, it's a good idea to have a range of jackets for different uses. This way, you'll always be prepared for any adventure, anywhere, anytime. Whatever jacket brand you choose to go with, we hope this list has helped narrow down your search!
---
Bye for now, but not forever!
If you want MORE top-tier Broke Backpacker content like this, then sign up for our weekly newsletter below to get the latest and greatest!
And for transparency's sake, please know that some of the links in our content are affiliate links. That means that if you book your accommodation, buy your gear, or sort your insurance through our link, we earn a small commission (at no extra cost to you). That said, we only link to the gear we trust and never recommend services we don't believe are up to scratch. Again, thank you!