Arc'teryx is the best thing that has happened to climbing since pressure made diamonds. The company began on a mission to make high alpine and low-temperature expeditions more accessible. It sparked a minimalist look that favoured visually simple jackets with a whole lot going on underneath the hood.
Their goal was to create a jacket that promotes movement without thought. To encourage exploration sans hesitation, Arc'teryx pushed their jackets to consider every detail and protect from all sorts of weather without hampering movement.
These coats excel at keeping your body's natural furnace lit without overheating, providing full coverage all the way down to your pockets and the edges of the jacket, and bouncing off rain, snow, sleet, mud, dirt and anything else mother nature might throw at you.
Over 20 years later, the company has steadily expanded while maintaining a hyper-focus on creating the most high-performance rain jackets in the industry. They continue to field test their jacket models in the real world on the back of professional athletes and designers alike.
It sounds like a tough gig – when debating changes on their signature jackets, the only way to settle the score is to go out on a fresh powder day and try on a few different models.
This ideology and the now infamous fossilised logo has since expanded from climbing equipment to covering up all sorts of activities, with the best weather resistant and temperature regulating technology in the business.
If you've spent time shopping for an Arcteryx jacket, you've probably noticed the large swath of available options. The company has 45 different models of shell jackets alone, which doesn't even count the fleece, base layer, or insulated models.
We're here to highlight the best of the best when it comes to Arcteryx coats. The jackets on our list are some of the highlights of this company's several decades run as the number one name in high-performance alpine equipment.
As you're about to find out, you don't need to be plotting an Everest expedition to find value in these coats. They'll also help you spend more time outside no matter the weather, provide lightweight yet heavily protective equipment that's perfect for living out of a bag, and encourage a state of play. So, let's see what Arc'teryx is all about.
Quick Answers – These Are The Best Arc'teryx Jackets
Best Arc'teryx Rain Jacket – Arc'teryx Beta
Best Arc'teryx Hooded Jacket – Gamma Hoody
Best Arc'teryx Men's Jacket – Thorium AR
Best Arc'teryx Women's Jacket – Alpha Parka
Best Arc'teryx Goretex Jacket – Sabre
Ladies & Gents, It's Time to Step Your GEAR Game Up. 😉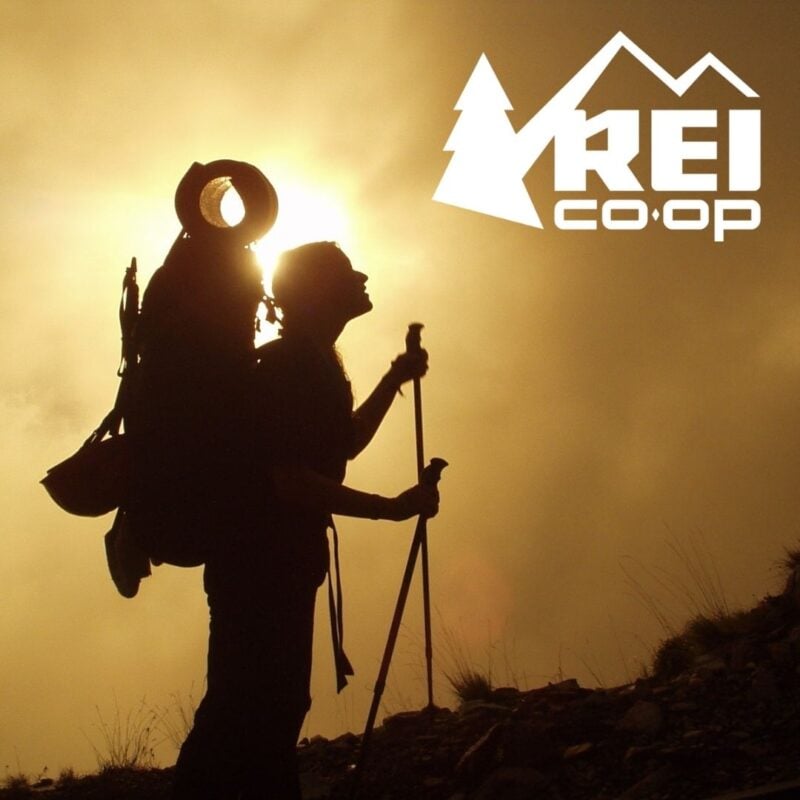 REI is one of America's biggest and most-loved outdoor gear retailers.
Now, for just $30, get a lifetime membership that entitles you to 10% OFF on most items, access to their trade-in scheme and discount rentals.
Join REI Today!
Who The Hell Are Arc'teryx?
Before we get into which Arcteryx jacket to buy, let's take a look at the company first.
Arc'teryx is a Canadian Rockies-born company dedicated to helping adventurers reach new heights on peaks across the globe. Inspired by the great white north, the company is the brainchild of avid climbers who wanted gear they wouldn't have to worry about while reaching the mountaintop.
That mentality resulted in a minimalist-driven outdoor and jacket brand that has spent decades obsessing over minute jacket features and striving for excellence. They don't care about trends and don't spend much time looking at fashion, instead keeping things solely focused on performance.
Now the company has wide-ranging lines of jackets, bags, climbing equipment, footwear, and outer layers that can compete with anything else on the market. You could randomly select any 10 Arc'teryx products and have trouble finding something better than any of them elsewhere.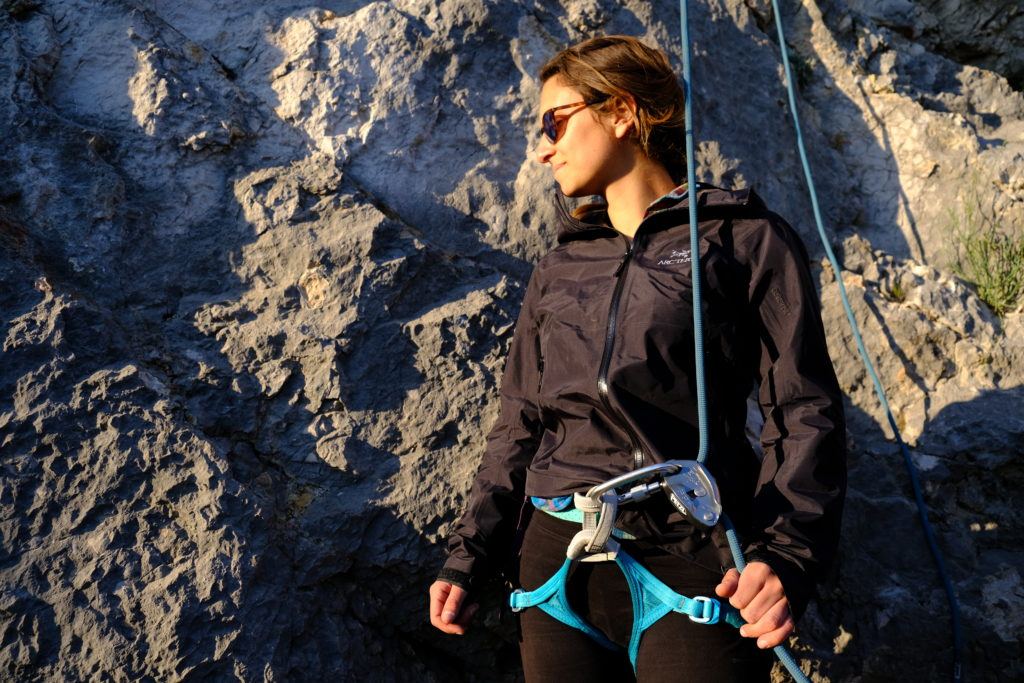 Perfection doesn't come cheap. These jackets are not messing around, and neither are their price tags. They probably are a touch overkill for most winter errands or a two-week January trip to Disneyland. Still, unlike other outdoor company mainstays, Arc'teryx isn't trying to deck out every college student in America.
The products from this company are here for one reason: performance. Anyone looking to take their outdoor adventures to the next level, get outside no matter the forecast, or simplify their closets with a less is more approach will find no better partner for their lifestyle than the jackets we'll have on display today. If you're on the lookout for some of the highest-quality outdoor jackets on the market, then you've come to the right place.
Anything with the signature fossil subtly adorned has been subjected to rigorous testing and field research, resulting in products that more than justify the price tag. These same products also ship with a reasonable lifetime warranty policy that promises to repair or replace imperfections.
An Arc'teryx jacket will be as weatherproof a decade from now as it is today. They come with a staggering upfront investment, but this unparalleled quality will pay dividends in the long run.
Epic Arc'teryx Jackets Round-Up
We've split Arc'teryx's styles and lines into their respective niches to highlight the company's best efforts in all categories. Arc'teryx has branched out from its climbing roots to make jackets perfect for all kinds of alpine missions, getting errands done, and spending the whole day outside, no matter the weather. So, without further delay let's have a look at the best Arcteryx jacket in several different categories.
Beyond excelling at particular roles, these jackets generally kick ass. None of them will leave you stranded in a rainstorm, and most of these are just short of bulletproof while still weighing less than a kilogram.
Let's be real; the only flaw in these coats are the price and Arc'teryx's shocking decision to shift a majority of manufacturing from Canada to China. Each one of the jackets can do something that nothing else on the market can, so listen sharply to our beta so you can grab the inside info on the industry's best jackets.
Best Arc'teryx Rain Jacket – Arc'teryx Beta
Specs
Price (USD): 450
Best Use: Redefining the meaning of waterproof
Material: 3L Gore-Tex with Gore C-knit
Weight (KG)- 0.3
Arc'teryx signature Beta jacket has many special editions and lines, but any jacket bearing the Beta name is the most waterproof rain jacket on the planet or at least the best Arcteryx rain jacket at the moment! The only better way to stay dry than this beast is to stay home, but where's the fun in that?
Between taped seams, ultra-water-resistant resistant membranes, and waterproof zippers, you will stay dry in this coat no matter what. Not only will you stay dry, but everything worthy of pocket space, be it your phone, passport, noise-cancelling headphones, or Dracula 1931 original movie poster, will survive a monsoon crisp and dry with the Beta jacket. It's the best Arc'teryx shell at the moment for sure and one of the best anoraks for travel.
Specs
Price (USD): 900
Best Use: Hiking
Material: N100D Most Rugged 3-layer GORE-TEX Pro
Weight: 1 lb. 1.1 oz.
If the most waterproof rain jacket on the planet just doesn't quite cut it for you, Arc'teryx slapped on two more layers of high-tech Gore-Tex in this unit to further seal the deal. This jacket uses liquid crystals that provide double waterproofing at half the weight of the competition. All the way through the oversized hood, this hiking extremist is the safest bet in the business.
The hiking jacket even comes with a RECCO reflector that helps stand out in an avalanche. If there were any jacket that would keep you warm and dry long enough for help to show up, it'd be this one. The flashy reflector is just the cherry on top.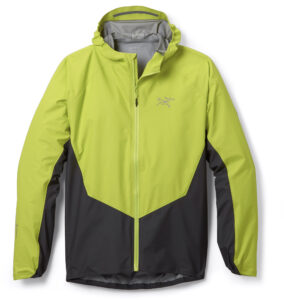 Specs
Price (USD): 400
Best Use: All-rounder
Material: 3-layer GORE-TEX C-KNIT with 13-denier nylon face
Weight (KG): 6.7 ounces
When Arc'teryx built this trail running specialist, they accidentally shaped a minimalist traveller's new best friend. Weighing 50% less than travel-sized toothpaste, this extremely protective jacket is also lighter than air. You can wear the air shell in all sorts of conditions, thanks to breathable underarm panels and a fitted hood that stabilises temperatures in all climates.
Once you're done hiking for the day, the air shell collapses inside itself and stores in an attached bag that fits inside your pocket. You can slip this jacket into your carry-on bag and stay warm and cosy through a long flight while adding on bupkus. We highly recommend never, ever, leaving the house without the Incendo again.
Specs
Price (USD): 300
Best Use: Cool mornings and sunny afternoons
Material: Tyono 20
Weight (KG): 0.375
Arc'teryx geared their most versatile jacket option towards adventurists who don't want to wait for the heat of the day. It's lightweight enough to wear as sun and wind protection without overheating. While there aren't layers and layers of Gore-Tex like we've seen out of Arc'teryx's dedicated rain jackets, there is still plenty of water resistance underneath the stormproof hood.
A splash of insulation built into the jacket will keep you warm if the weather turns south, and excellent breathability ensures things don't get too hot while scouting out the beta. That makes for a great daily wear jacket that serves as a rugged and durable outer layer for all sorts of technical activities.
Best Arc'teryx Hooded Jacket – Gamma Hoody
Specs
Price (USD): 220
Best Use: A day on the mountains
Material: 87% nylon 13% elastane
Weight (KG): 0.310
This four-way stretching ski touring specialist is here to make the most of your body heat. Arc'teryx Gamma hoody is uniquely suitable for changing weather and stays comfortable in falling snow and sunny skies. The jacket is ultra windproof while still letting body heat exit through the gift shop, resulting in a particular freshness just like a clear mountain morning.
You can slip this outer shell on for cool summer nights spent outside or pair it up with a nice base layer and a thick fleece to get you through some of the coldest days of winter. Thanks to the myriad adjustability, no matter what you're wearing underneath this coat will fit like a glove and keep the elements out while the stoke stays lit.
The best present of all… is CONVENIENCE!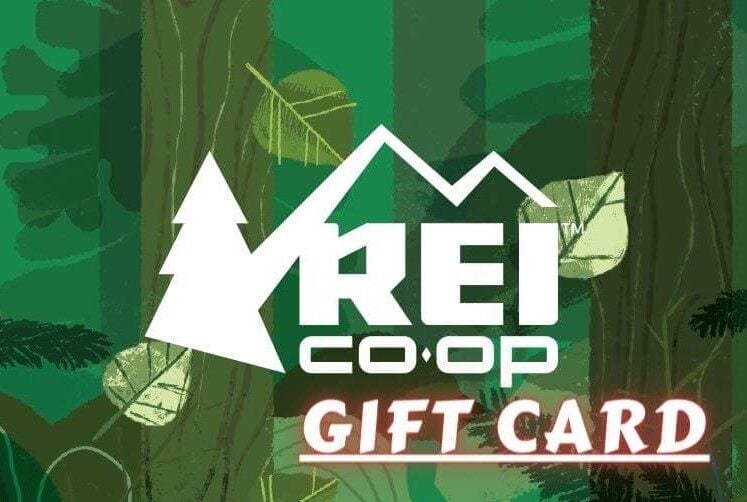 Now, you could spend a fat chunk of $$$ on the WRONG present for someone. Wrong size hiking boots, wrong fit backpack, wrong shape sleeping bag… As any adventurer will tell you, gear is a personal choice.
So give the adventurer in your life the gift of convenience: buy them an REI Co-op gift card! REI is The Broke Backpacker's retailer of choice for ALL things outdoors, and an REI gift card is the perfect present you can buy from them. And then you won't have to keep the receipt. 😉
Buy on REI!
Specs
Price (USD): 400
Best Use: Winter Wonder
Material: Arato Nylon
Weight (KG): 0.313
A down jacket belongs in every closet. The iconic snuggly warmth doesn't get more technically advanced than the Cerium model, which boasts one of the best warmth-to-weight ratios in the business. Arc'teryx went for a minimalist design for this popular winter jacket and focused on nailing down high performance across all conditions.
This down jacket isn't like the other guys, that's what makes it the best Arcteryx winter jacket on the market right now. With only Durable water repellant coating and no gore-text, this jacket won't quite keep you dry through a thunderstorm, but it does a surprisingly great job repelling moisture. Plus, it's one of the few down jackets on the market that can condense to such a small size and still pump out serious heat.
Best Arc'teryx Men's Jacket – Thorium AR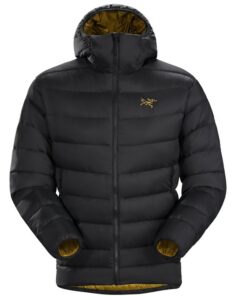 Specs
Price (USD): 500
Best Use: Everyday winter wear
Material: Arato Nylon
Weight: 1 lb. 2.2 oz.
When the leaves turn brown, and it's time to bundle up, this thick hoody packs in an extra splash of down to stay warm through winter. This heavy-duty down jacket won't have the same packability as the Cerium down because it adds an extra layer of Coreloft Insulation that makes this thermally efficient coat super warm.
This insulation wraps around the entire body of the jacket through the storm hood to provide cushy alpine protection and might just be the warmest Arcteryx jacket on the market. Worn under a hard shell outer layer, this beast will keep you warm on the mountain's coldest days of the year. On its own, the Down thickness and DWR finish will be a suitable partner for everyday strike missions and winter's tougher errands.
Best Arc'teryx Women's Jacket – Alpha Parka
Specs
Price (USD): 1200
Best Use: The depths of winter
Material: 2L Gore-Tex with 850 fill down
Weight (KG): 0.710
This parka checks off all the boxes to serve as a daily wear, no matter the weather. The Gore-Tex exterior layer pushes this jacket from down comfort to a bonafide outer shell capable of protecting you from some of winter's harshest conditions. The parka is an ice climber specifically designed to comfortably fit over winter climbing gear without impacting sightlines.
You don't have to sink your ice picks into hard rock to feel the full benefits of this beast. It's essentially two jackets in one; a thick down fill plus two layers of gore-tex protection makes a windproof, waterproof, and cold weather killer while still somehow weighing less than a kilo. This is undoubtedly one of the most technically advanced parkas on the market.
Best Arc'teryx Gore Tex Jacket – Sabre
Specs
Price (USD): 850
Best Use: Standing in a hurricane
Material: 2L Gore-Tex
Weight: 1 lb. 12.4 oz.
Arc'teryx and Gore-Tex are a match made in heaven. We've shown you through a few of the two's collaborations, but the Sabre takes the cake. This snowsports enthusiast is waterproof, windproof, powder-proof, and lined with flannel, just for the hell of it. 
If you've already got Arc'teryx weatherproof pants, a Slide and lock attachment in this jacket will create a weatherproof union ready for the backcountry. Heavy-duty zippers block any sneaky snow from dribbling into your pockets or down your armpits, while the storm hood and powder skirt block off the edges.
Specs
Price (USD): 289
Best Use: Every day of winter
Material: Recycled ripstop nylon
Weight (KG): 0.255
Not often will you see Patagonia in second place, (Patagonia's jackets are awesome) but Arc'teryx is one of the few manufacturers on the market who can compete with the industry-leading Patagonia technology. While Patagonia's Micro Puff isn't quite as extreme as Arc'teryx, their down jacket shaves off a few hundred bucks and still provides top-class warmth, style, and comfort.
This down fill doesn't quite back the insane credentials as Arc'teryx, but there is literally no jacket on the market that will. Patagonia has its way of doing things, and decades of success have shown that the recycled fishnets they converted into this jacket will keep you warm.

Our GREATEST Travel Secrets…
Pop your email here & get the original Broke Backpacker Bible for FREE.
Final Thoughts on Choosing The Best Arc'teryx Jacket
With performance in mind and sustainability at heart, these coats have justified their high price tag again and again by providing unparalleled access to new heights. We hope you've found our Arcteryx jacket comparison to be useful.
Arc'teryx jackets tend to fit true to size and stay form-fitting, reducing bells and whistles in favour of free movement. These jackets also come with a signature colour, thanks to the Arc'teryx colour committee that subtly shifts the hues each season.
Choosing between the best Arcteryx jackets can be difficult because every single one of their damn jackets is better than most other brands' best sellers. Primarily because of the company's commitment to minimalism, Most of their wide-ranging models won't look much different from each other, and they'll all perform at an incredibly high level.
The best Arc'teryx jacket is more like the jacket that suits your particular adventure style, as the brand has many technically advanced options that check off all the traditional boxes.
Their passion for every detail of a jacket will be palpable in the grocery store and on the mountaintop, so decide where you want the next decade to take you and find the Arc'teryx option to make it happen.
So, we hope you've managed to find the best Arc teryx jacket for your needs.
---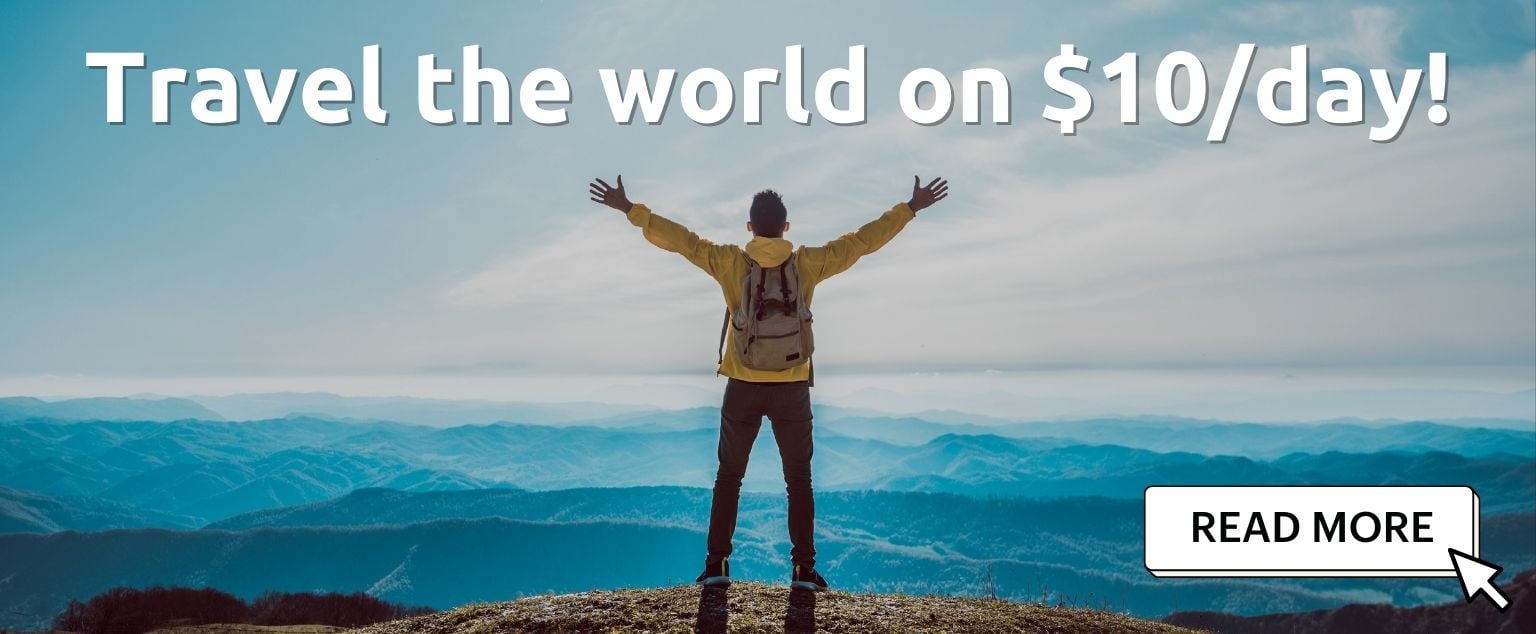 And for transparency's sake, please know that some of the links in our content are affiliate links. That means that if you book your accommodation, buy your gear, or sort your insurance through our link, we earn a small commission (at no extra cost to you). That said, we only link to the gear we trust and never recommend services we don't believe are up to scratch. Again, thank you!