Welcome to my ARC'TERYX ZETA SL REVIEW!
For years now, I have been a huge fan of Arc'teryx women's jackets. They fit well, they are durable, and most importantly, they keep me dry when the bad weather rolls in.
Traveler and hiker ladies, listen up! Of the many fine Arc'teryx women's jackets out there, my new personal favorite all-arounder is the Arc'teryx Zetal SL ultralight rain jacket.
It doesn't matter if you are an aspiring thru-hiker, a casual South East Asia backpacker gal, or an adventure-seeking city dweller, the fact remains that the Zeta SL jacket covers all of your bases in terms of weather protection. There are lots of other rain jackets out there, but nobody does rain gear as well as Arc'teryx.
This Arc'teryx Zeta SL review breaks down everything you need to know about this versatile, lightweight, and 100% waterproof Arc'teryx women's jacket. By the end of this review, you will be saying, "dang, I didn't know there was so much to learn about a rain jacket."
This review covers all of the important information you need including key features, waterproof performance, weight, price, best uses, competitor comparison, and much more.
Let's dive right in to our Arcteryx Zeta SL review …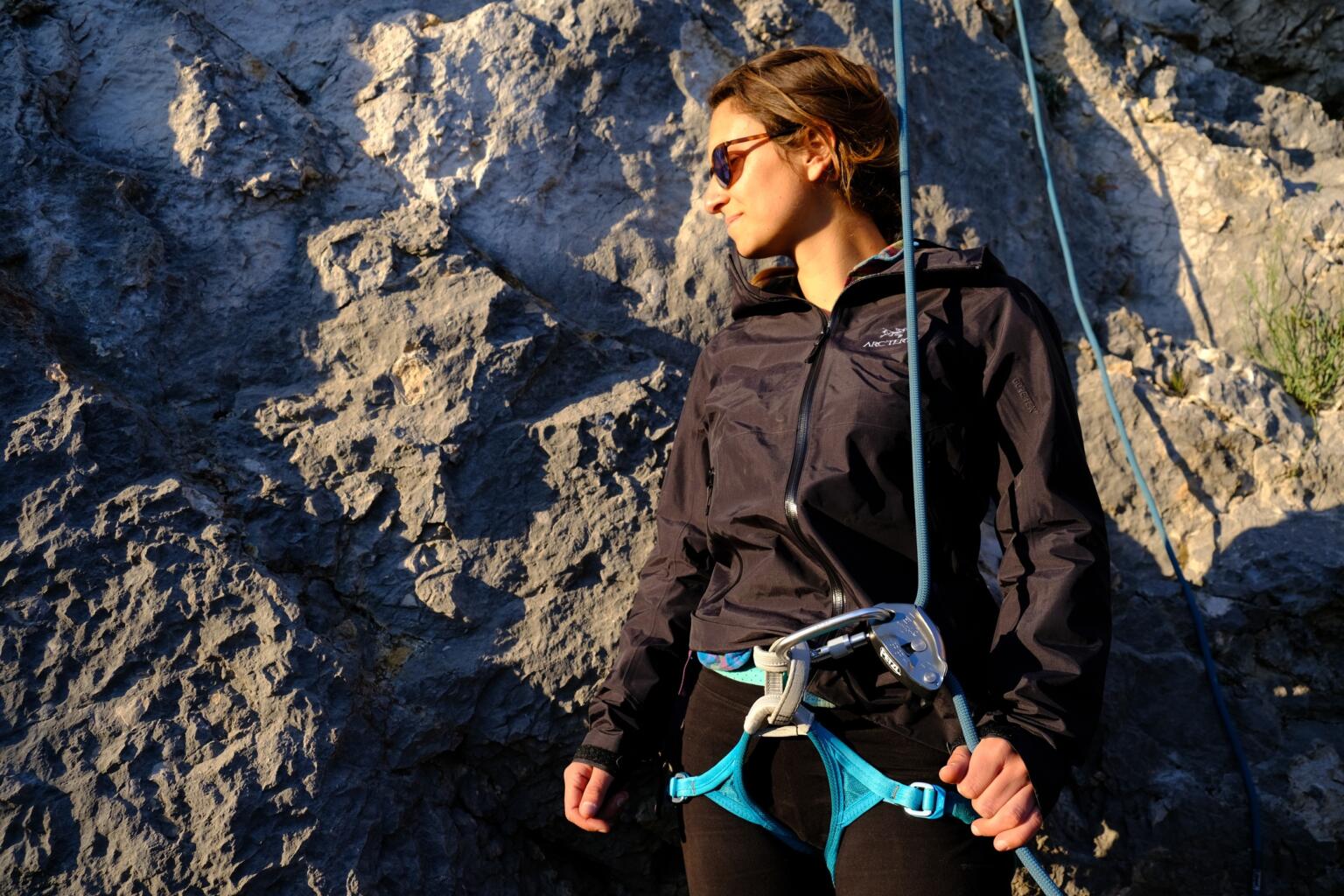 Quick Answer: Arc'teryx Zeta SL Review: Complete Jacket Breakdown
Here are some of the big questions/important topics I cover in this Arc'teryx Zeta SL Review
Arc'teryx Zeta SL design features
How much does the Arc'teryx Zeta SL jacket cost?
Does the Arc'teryx Zeta SL have Gore-Tex material?
Arc'teryx Zeta SL ventilation and breathability
Is the Arc'teryx Zeta SL ultralight?
What are the best applications for the Arc'teryx Zeta SL jacket?
What is the Arc'teryx Zeta SL jacket's closest competition?
What is so good about Arc'teryx women's jackets anyway?
Ladies & Gents, It's Time to Step Your GEAR Game Up. 😉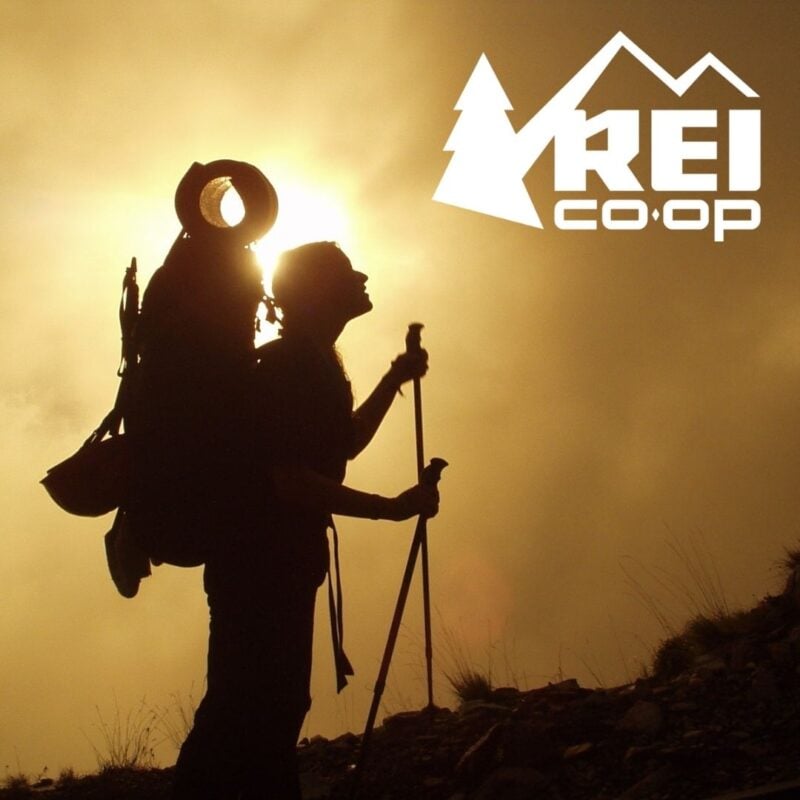 REI is one of America's biggest and most-loved outdoor gear retailers.
Now, for just $30, get a lifetime membership that entitles you to 10% OFF on most items, access to their trade-in scheme and discount rentals.
Join REI Today!
Arc'teryx Zeta SL Review: Key Features and Performance Breakdown
Arc'teryx has refined the art of outdoor jacket design to such a degree that each product line they engineer is done so for a specific purpose (or a set of purposes). The Zeta SL is part of the Arc'teryx Traverse series. Traverse series jackets focus on ultralight, minimalist performance. No frills, bells or whistles to be found here, which is refreshing to see in a world of outdoor gimmicks.
The Zeta SL is a no-BS rain jacket that delivers top tier performance in a simple, practical, and durable package. Arc'teryx women's jackets are designed with active women in mind.
The Zeta SL fit, design, and rain fighting capabilities all come together to make this jacket the perfect companion for all female trekkers and travelers wanting a minimalist approach to a hard-working jacket. This Arcteryx women's rain jacket really is one of the best on the market right now.
Check out the video below for a quick visual rundown of the Zeta SL's key features…
Arc'teryx Zeta SL Weight: Minimalist Hikers Unite!
One of the biggest selling points for me regarding the Zeta SL is the jacket's weight.
Weighing in at just 9.5 oz, this is one of the lightest women's rain jackets of all time. The concept behind such a lightweight jacket is simple.
The Zeta SL is the jacket you cannot make an excuse for leaving at home. For quick trips to the supermarket, or five-month-long adventures around South America, the ultralight nature of the Zeta SL means that it is very easy to pack and to have with you all the time.
Bulky, heavy duty rain jackets certainly have their place in the backpacker gear hierarchy. But they are not intended for everyday use either. Moreover, they can occupy lots of room inside of your backpack. Unless you are looking for winter-use-only, proper mountaineering shell, or a ski jacket, the Arc'teryx Zeta SL women's jacket makes for the perfect go-to option for most outdoor adventures.
As any experienced long distance hiker should know, every, single gram counts. You don't need me to tell you the benefits of having a lightweight rain jacket, but hell, I will anyway.
So unless you live in Seattle, the UK, or some other waterlogged place, you don't always need a rain jacket. If you have ever been caught in a heavy downpour while traveling or hiking, you know that when you need a rain jacket, you need it.
For those times you want to be prepared, but you don't want that preparation to be weighing you down the rest of the time either. This is where the Zeta SL jacket women's jacket pays for itself (well, almost, you still have to pay for the actual jacket, sorry).
You will never find a better ultralight rainjacket for women that is at once 100% waterproof and weighs next to nothing.
Arc'teryx Zeta SL Waterproof Performance: Viva la Gore-Tex!
So… the big question: how waterproof is the Arc'teryx Zeta SL really? The quick answer is that this jacket goes above and beyond my expectations of what an ultralight rain jacket can and should do.
The Arcteryx Zeta SL women's jacket offers tried and true Gore-Tex performance capabilities matched with quick-drying fabrics and abrasion resistant material. A fact of outdoor life is that nicks and scuffs do happen. The Zeta SL is reinforced in the areas particularly susceptible to abuse and environmental damage making it one of the most durable Arcteryx women's waterproof jackets available.
The specific fabric in question is N40r Gore-Tex fabric (40-denier ripstop nylon) with PACLITE Plus mapping for the sensitive areas.
This futuristic-sounding fabric terminology translates into powerful weather-fighting material, capable of keeping you dry even in truly grim weather circumstances.
To complete the waterproof package, the Zeta SL features a watertight front zipper, a badass adjustable storm hood (not helmet compatible), and Velcro cuff adjustments to keep water from beading off of your hands and entering the jacket. The cuffs are crucial to keeping sneaky raindrops at bay.
Much like your tent, the Zeta SL features taped seams, which make it impossible for leaks to penetrate through.
Arc'teryx Zeta SL Zippers and Pockets
As I mentioned before, the front zipper of the Zeta SL women's jacket is indeed watertight. The same can't be said for the hand pockets, though I must say they are pretty damn water-resistant. I kept stuff inside the pockets during a storm and the things did not get wet, or even damp.
That said, I would NOT try to protect your passport or other important bits inside the pocket during heavy rain. For the record, Arc'teryx does not claim that the hand pocket zippers are waterproof. Here is the exact word from Arc'teryx: "We do not recommend keeping items in your pockets that may be damaged by moisture."
Perhaps the two major (and only) cons I found with the Arcteryx Zeta SL jacket are 1. lack of pitzips and 2. lack of interior chest pocket. One must remember also that the Zeta SL is a minimalist jacket, thus these features were not included.
This Arc'teryx women's jacket, in particular, does not have pitzips and the like but plenty of their other jacket lines do. It isn't that Arc'teryx is anti-pitzips at all, it is just that they don't include them in their bare-bones minimalist jackets. Ho-hum.
Arc'teryx Zeta SL Ventilation and Breathability
Since the Zeta SL does not feature pitzips, the ventilation and breathability of the jacket do suffer, albeit not much. Thankfully, due to the thinness and design of the material, the jacket does breathe remarkably well.
Breathability is an important feature of any rain jacket. Without it, the unpleasant clamming-up effect can be all too real. When hiking, you are bound to sweat. Gore-Tex fabric is designed to keep moisture out whilst allowing for body heat to escape. Without breathability, the air stagnates and the lining of the jacket becomes damp from your sweat.
If you are struggling up a steep mountain wearing your rain jacket, you will be warm. No rain jacket has a built-in air conditioner. Keeping that in mind, I rarely hike in a rain jacket unless it is absolutely pissing rain.
When you must full-on hike wearing your Zeta SL, you will find that it breathes as well or better than some of its competitors.
If you have realistic expectations of how the Zeta SL is meant to breathe, you won't be disappointed. Short of running marathons in summer heat wearing this jacket, the overall comfort experience is very high indeed.
Arc'teryx Zeta SL Best Uses: The Most Practical Arc'teryx Women's Jacket Ever
Though the Zeta SL definitely has a bent towards being a hiking/trekking jacket, it also an ideal jacket to take traveling as well. Officially, the Zeta SL is a multi-sport jacket designed as an emergency shell for unpredictable mountain weather.
Like I said before, if you are heading for a walk in the mountains or in the city, there is no reason not to bring the Zeta SL along for the ride.
The Zeta SL is particularly interesting for thru-hikers. If you plan on hiking for thousands of miles through the mountains, you don't want to carry a single bit of extra weight. That said, when the skies open up you need an emergency jacket to protect you, especially if you still have five hours of hiking ahead until you hit the day's target mileage.
For traveling, the Zeta SL is a blessing. That little bit of extra weight that was hardly noticed in the depths of your backpack before can be whipped out at a moments notice and keep you dry when you are waiting for the bus, hitching a ride, or just going on a walk through the streets of Medellin.
Point being, from the crag, to the trail, to the coast, to the city…the Zeta SL is the ultimate multi-use rain jacket that is practical and functional enough to keep you dry throughout the year.
If you own an awesome rain jacket shell like the Zeta SL, you'll need an awesome down jacket underneath. Check out this article for our complete list of the best down jackets.
For even more inspiration, check out our list of the 8 best travel jackets.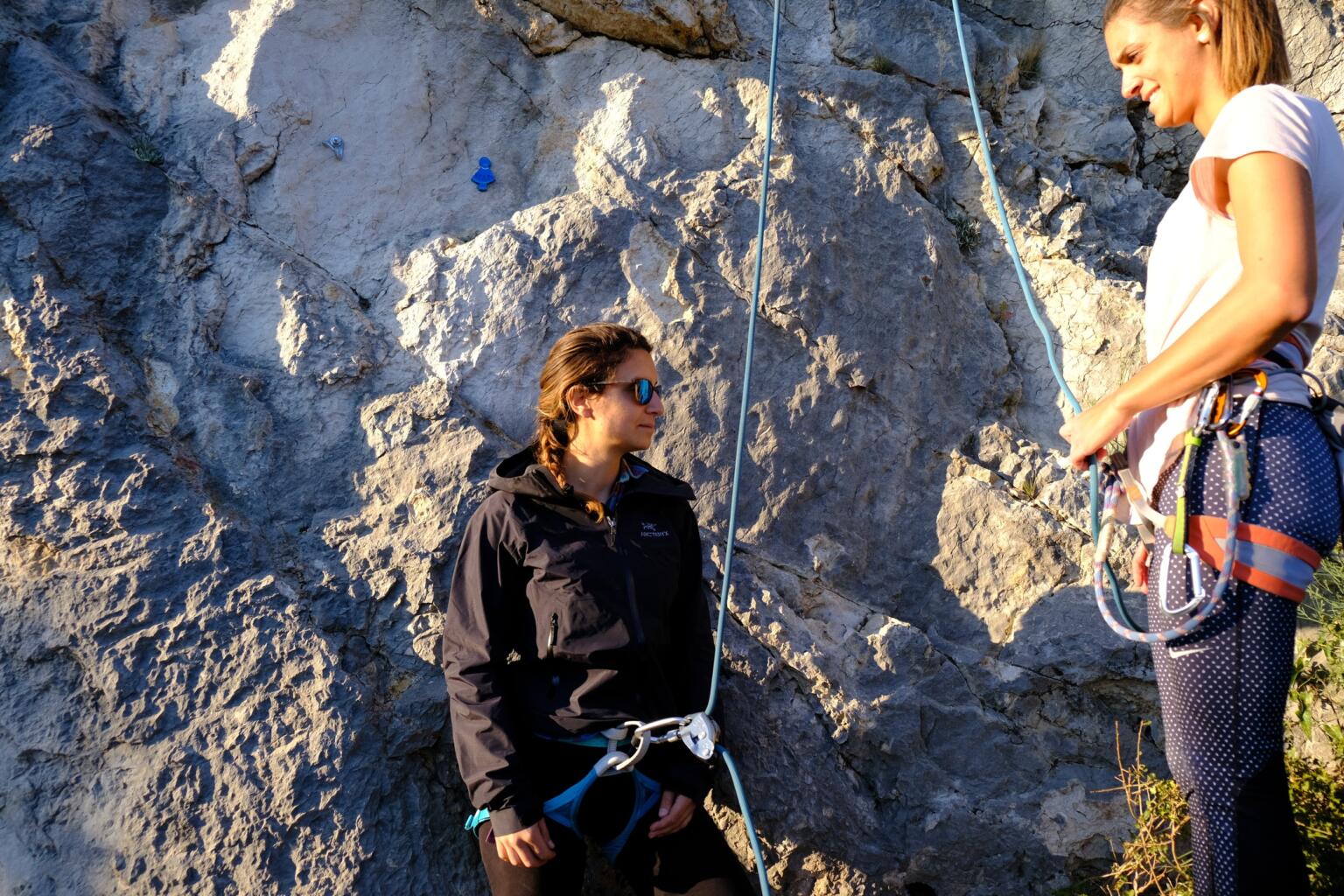 Arc'teryx Zeta SL Fit and Sizing
The last thing you want in a rain jacket is for it to fit like a balloon. Balloons aren't sexy and human bodies are not shaped like circus tents.
The Arc'teryx Zeta SL features a trim fit, that actually hugs the shape of your body. The trim fit looks good and feels even better. What I really appreciate about the sizing cut is that I do not feel restricted within the jacket. Nobody wants to feel like they are hiking in a medieval corset either.
Arc'teryx women's jackets are designed to keep active women mobile, compact, and efficient.
Once you have the jacket on and zipped, you can dial it in a step further using the adjustable hem drawcord. Using the drawcord allows the hem of the jacket to stay taught instead of billowing in the wind like a wet flag of defeat.
If you wear a size small for other jackets, then you should go with a Zeta SL size small too. I am 5'5, 130 pounds and the size small fits me perfectly. If you are a lady with muscular, broad shoulders (heyo rock climbers!) or a lady on the larger side, I recommend going a size up as the trim fit can feel tight on certain body shapes.
Arc'teryx Zeta SL Price: Will I have to Sell my Soul to Afford this Jacket?
Quick Answer: Price: $299.00
Arc'teryx is known for two things: 1. Making the best outdoor jackets in the world and 2. Having crazy high prices.
While it is true that Arc'teryx gear was out of reach for me personally for years, once I made the leap, I only wished I would have splashed out the money sooner.
Like anything in life, you get what you pay for. Rain jackets of lesser quality will cost you less initially, sure. Sometimes they will cost you a lot less. That said, a rain jacket that you pay $100 for now, may not keep you 100% dry and if it does it will need to be replaced within a year or two.
When it comes to outdoor gear you can skimp out on certain items. You don't need the best backpacking stove or the fanciest water filter. You can get by with a decent pair of socks and cheap generic polarized sunglasses. Seriously, rain gear is NOT something you should skimp on.
If you have had the bad luck of being stuck with a less-than satisfactory rain jacket, then you know exactly what I am talking about. When it starts raining and you are wet within minutes because your rain jacket sucks, it's an awful feeling.
You wonder how your friends are still smiling and actually enjoying themselves. You quietly curse your poor judgment and look on with envy at their shiny Arc'teryx jackets… All jokes aside, that unhappy hiker has been me and I don't want that to be you in the future.
My advice: spend the money now and avoid having to buy a replacement rain jackets every few years until the world ends!
The best present of all… is CONVENIENCE!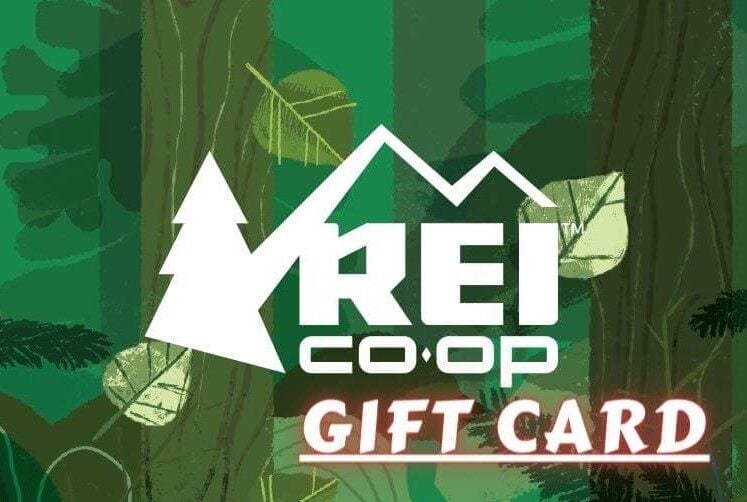 Now, you could spend a fat chunk of $$$ on the WRONG present for someone. Wrong size hiking boots, wrong fit backpack, wrong shape sleeping bag… As any adventurer will tell you, gear is a personal choice.
So give the adventurer in your life the gift of convenience: buy them an REI Co-op gift card! REI is The Broke Backpacker's retailer of choice for ALL things outdoors, and an REI gift card is the perfect present you can buy from them. And then you won't have to keep the receipt. 😉
Buy on REI!
Arc'teryx Women's Jacket vs the World: Competitor Comparison
You have probably have gathered by now that I am a huge fan of the Zeta. The Zeta SL may be awesome, but it is certainly not the only rain jacket on the market.
I'll be the first to say that very few jackets can give an Arc'teryx women's jacket a run for its money.
Below is a list of the Zeta SL's closest competition… Afterall, it wouldn't be a fair Zeta SL review without it!
Pros: Good value, tough, lightweight, Gore-Tex membrane. On this list, the Aspire is probably the second best to the Zeta SL.
Cons: Many users have experienced leaks, making us think that it is not actually waterproof. Weird fit for some people.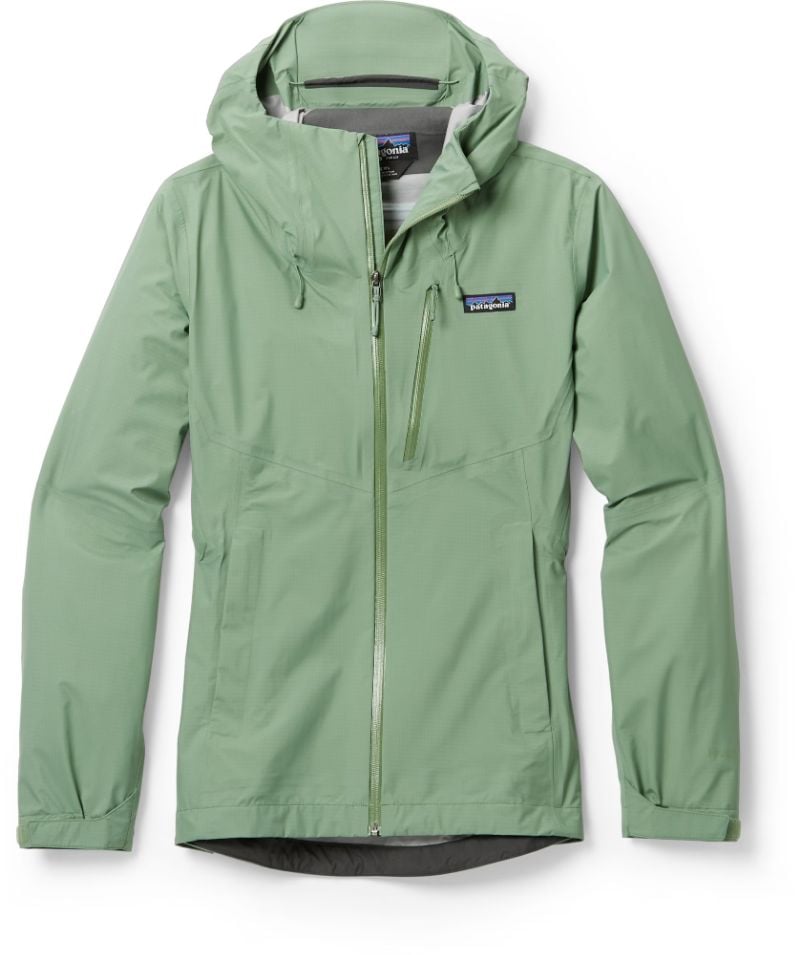 Pros: Cheap, ultralight, stylish, plenty of pockets and cool features.
Cons: Not fully waterproof. Cheaply made, which is surprising considering how great Pataganoia stuff is normally.
Pros: Cheap, well-made, very packable, good hood, nice colors, perfect for travel and light hiking.
Cons: Poor pocket design, some users have reported leaks and water penetration after minimal use.
Pros: Entry level jacket, dirt cheap, nice colors, lightweight, wind proof.
Cons: Not totally waterproof, weird, boxy fit. Poor quality material.
Marmot PreCip
Price > $$
Gore-Tex? > No
Weight > 11.4 oz.
Pitzips? > No

Our GREATEST Travel Secrets…
Pop your email here & get the original Broke Backpacker Bible for FREE.
Arc'teryx Zeta SL Review: Final Thoughts
We have reached the end of my Arc'teryx Zeta SL review.
When it comes down to rain protection I have full faith this Arc'teryx women's jacket. After years of trial and error with other brands, I don't think I will be walking away from the Zeta SL any time soon. The ultralight Zeta SL coupled with such a high level of rain protection has made me a believer in the power of a solid rain jacket.
For your next travel or hiking adventure, you will never regret packing a Arc'teryx Zeta SL jacket into your backpack.
If you are willing to throw down the cash, you will be reaping the rewards for many adventures to come.
Cheers gals!
Not quite for you? Then why not check out our review of the Arc'teryx Beta LT instead?
What is our final score for the Arc'teryx Zeta SL? We give it a rating of 4.7 out 5 stars!

Note: This article was a guest post contribution written by adventurer, trekker, and avid rock climber Marlène Massouh.
---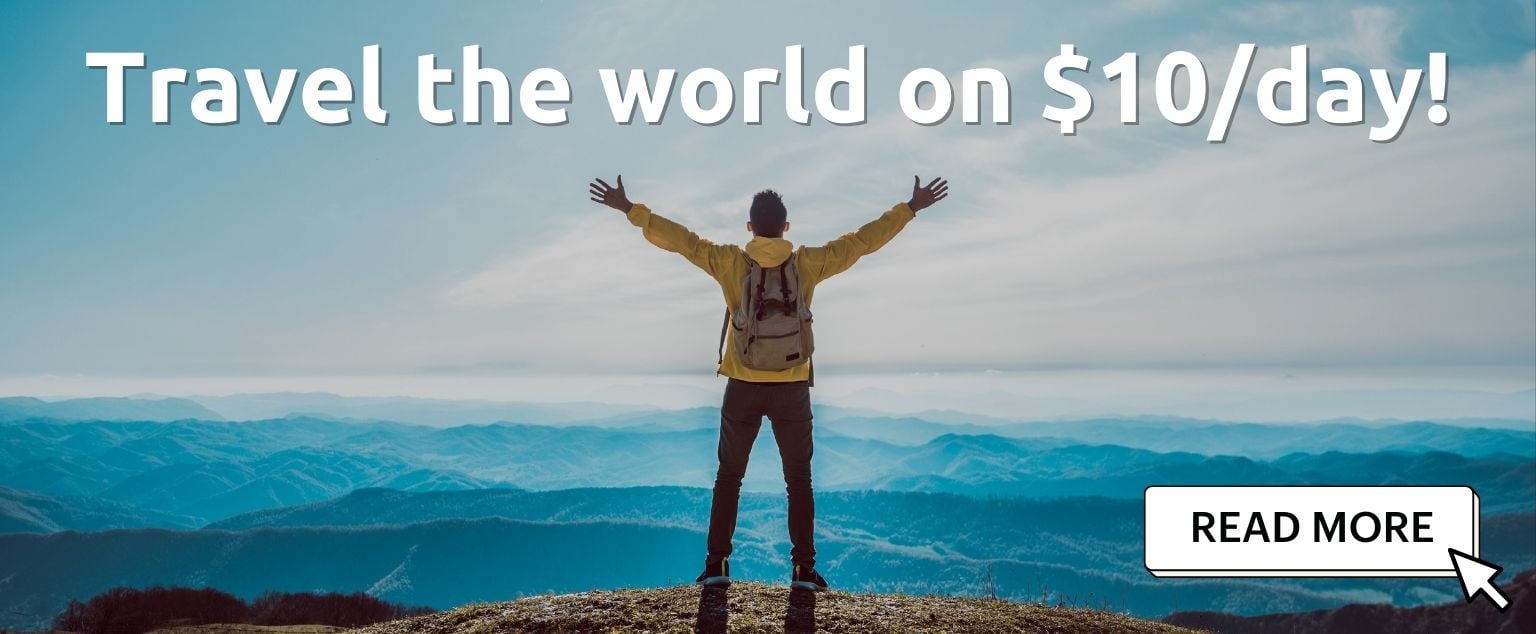 And for transparency's sake, please know that some of the links in our content are affiliate links. That means that if you book your accommodation, buy your gear, or sort your insurance through our link, we earn a small commission (at no extra cost to you). That said, we only link to the gear we trust and never recommend services we don't believe are up to scratch. Again, thank you!