Arc'teryx is the leading dog in the pack of rain jackets for hiking and backpacking. It's now that time of year again where we get to put another one of their famous rain jackets to the test and this time we are doing an Arc'teryx Zeta LT Jacket review.
As far as rain jackets go Arc'teryx jackets tend to fall into a category all their own, both in terms of price and performance.
We have spent the last few months putting the Zeta LT through its paces to see how it performed through a few months of travel, hiking in Pakistan, and city use in Paris.
Below I will cover all of the important stuff: key performance breakdown, sizing and fit, best use, packability, and all of the rest…
If you are reading this review then I am assuming you are considering buying yourself an Arc'teryx train…and I don't blame you. It is a great jacket. But, the question is, is it worth the hefty price tag?
By the end of this Arc'teryx Zeta LT review, you'll know whether the Zeta LT is the right rain jacket for your own outdoor adventures.
Is The Zeta LT a Unisex Jacket?
For purposes of this review, I am specifically covering the women's model of the Arc'teryx Zeta LT, but with the exception of sizing the men's version is identical. Point being, 99% of what I am about to say below carries over to both male and female versions of the Zeta Arc'teryx jacket.
At first glance, the Zeta LT feels and looks like just another softshell rain jacket (with an emphasis on soft). When you start to touch the fabric though, you know something is different.
The most important aspect of the weather-resistant performance of any rain jacket involves an obvious component: the materials used for the shell. Let's take a closer look:
Ladies & Gents, It's Time to Step Your GEAR Game Up. 😉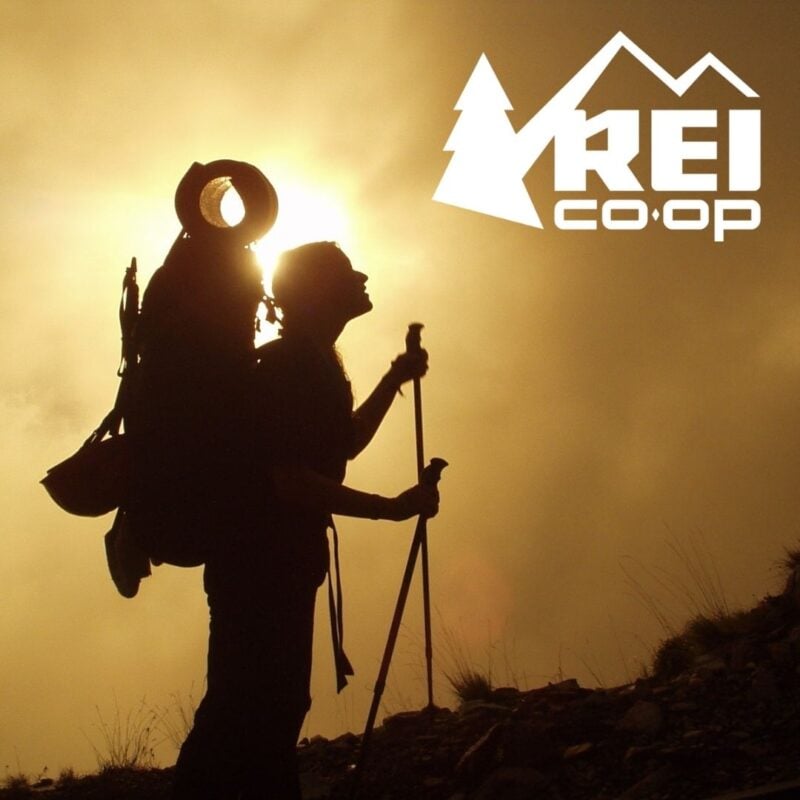 REI is one of America's biggest and most-loved outdoor gear retailers.
Now, for just $30, get a lifetime membership that entitles you to 10% OFF on most items, access to their trade-in scheme and discount rentals.
Join REI Today!
The Fabric Nitty Gritty
Over the last few decades, Arc'teryx has been honing in their engineering methods as better fabrics and materials have become available.
The Zeta LT uses a 3-layer GORE-TEX fabric with something they call GORE C-KNIT technology. The goal (which they achieved) provides legit rain protection while also remaining exceptionally comfortable and breathable.
This 3-layer system is designed to keep the rain out whilst letting body heat escape. Having 3 layers of GORE-TEX technology coupled with the C-Knit fabric is really what sets the Zeta LT line apart from other rain jackets working off of 2-layer membranes.
The end result is a smooth finish both inside and outside of the shell that crucially does not get all clammy inside when you sweat which is what happens with most rain jackets, especially if they are on the cheaper side.
With Arc'teryx it is a you get what you pay for sort of situation.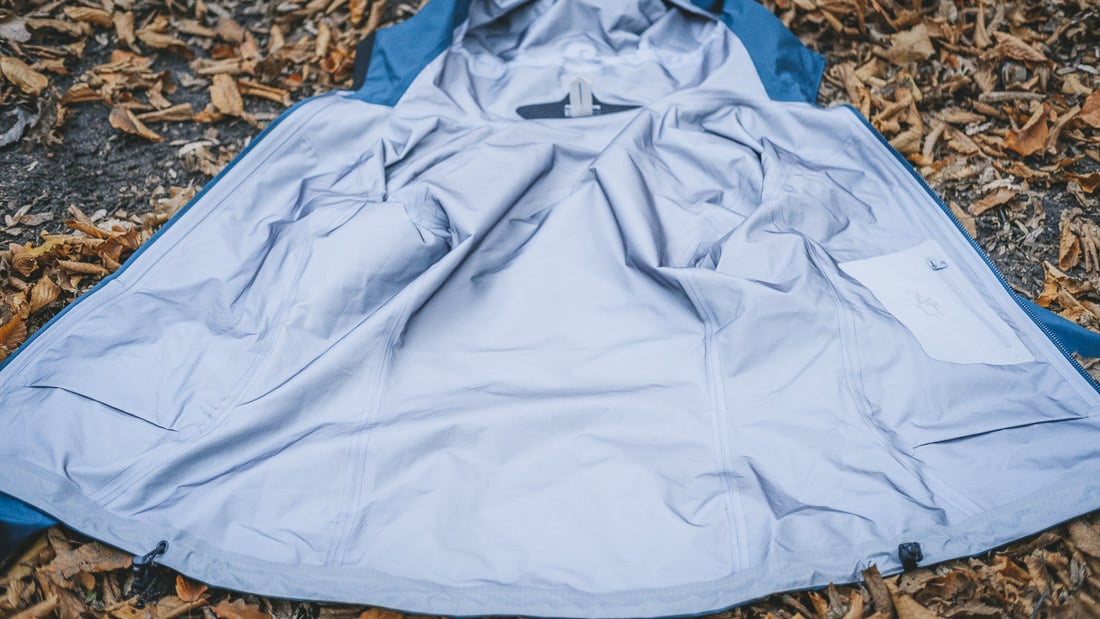 Weight and Packability
So what makes the Arc'teryx Zeta LT a really interesting rain jacket for hiking and travel?
Two big reasons: it packs down to the size of a large grapefruit and definitely weighs less than one.
At just 300 g / 10.6 oz, the Zeta LT is likely to be one of the lightest pieces of performance clothing in your backpack. My first impression after noticing the sleek feel of the fabric was regarding the weight and lack of bulk – both of which are minimal.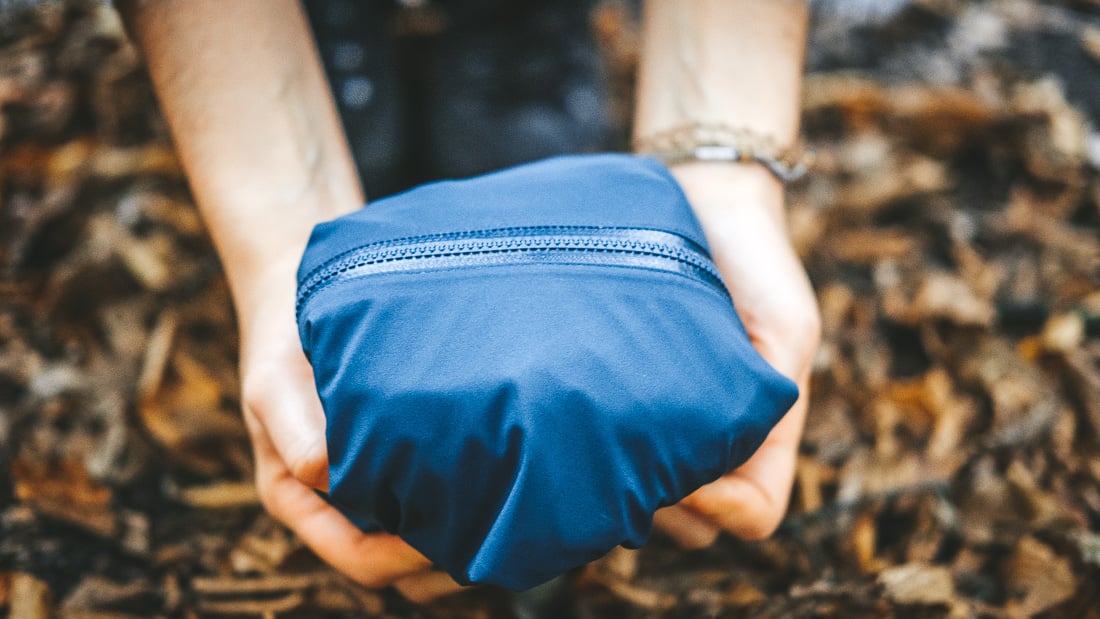 It's worth noting a few things:
Despite the very light nature of the Zeta LT, one can definitely find lighter rain jackets out there if managing your carry weight is a top priority. It is also worth noting that if you go with a true ultralight rain jacket that weighs under 7 oz. – they do exist and can perform well in emergency scenarios.
Although you can roll the Zeta LT up into a very manageable size for stashing – if you want to get all technical – the jacket is not in the packable category because it was not designed to pack into itself and there is no stuff sack that accompanies it.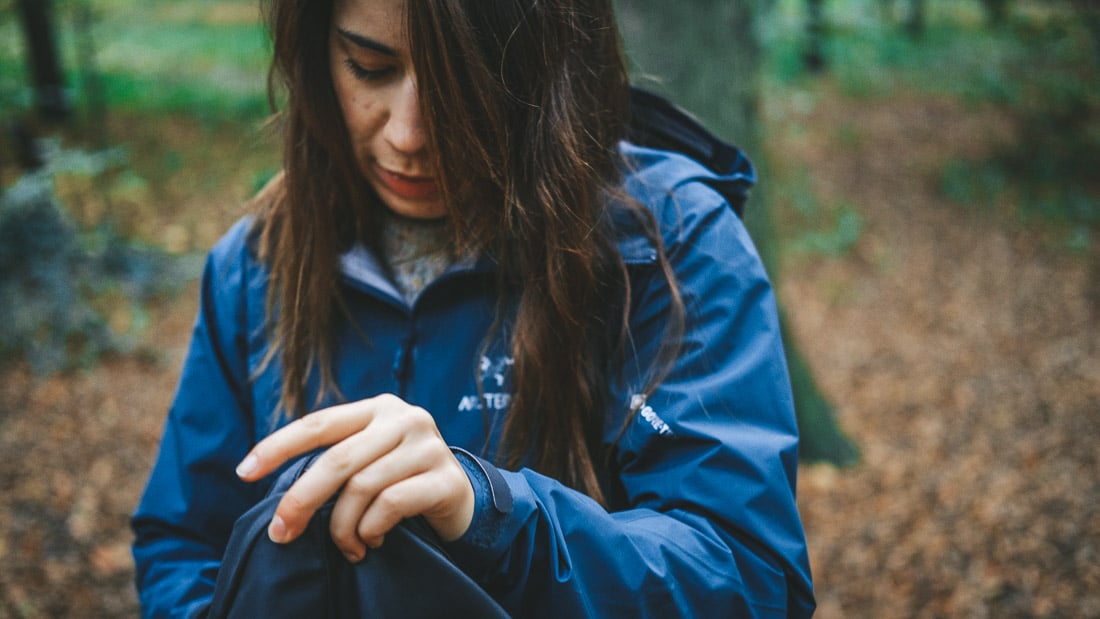 Arc'teryx Zeta LT Review: Weather Performance
We all want a nice rain jacket for the same reason: to keep us dry and warm when it rains and/or to offer protection from the wind.
We had the Zeta LT out on several wet hikes and city strolls this season and overall the performance was what you would expect from a rain shell costing nearly $500: under the jacket, everything was bone dry, even in fairly fierce downpours.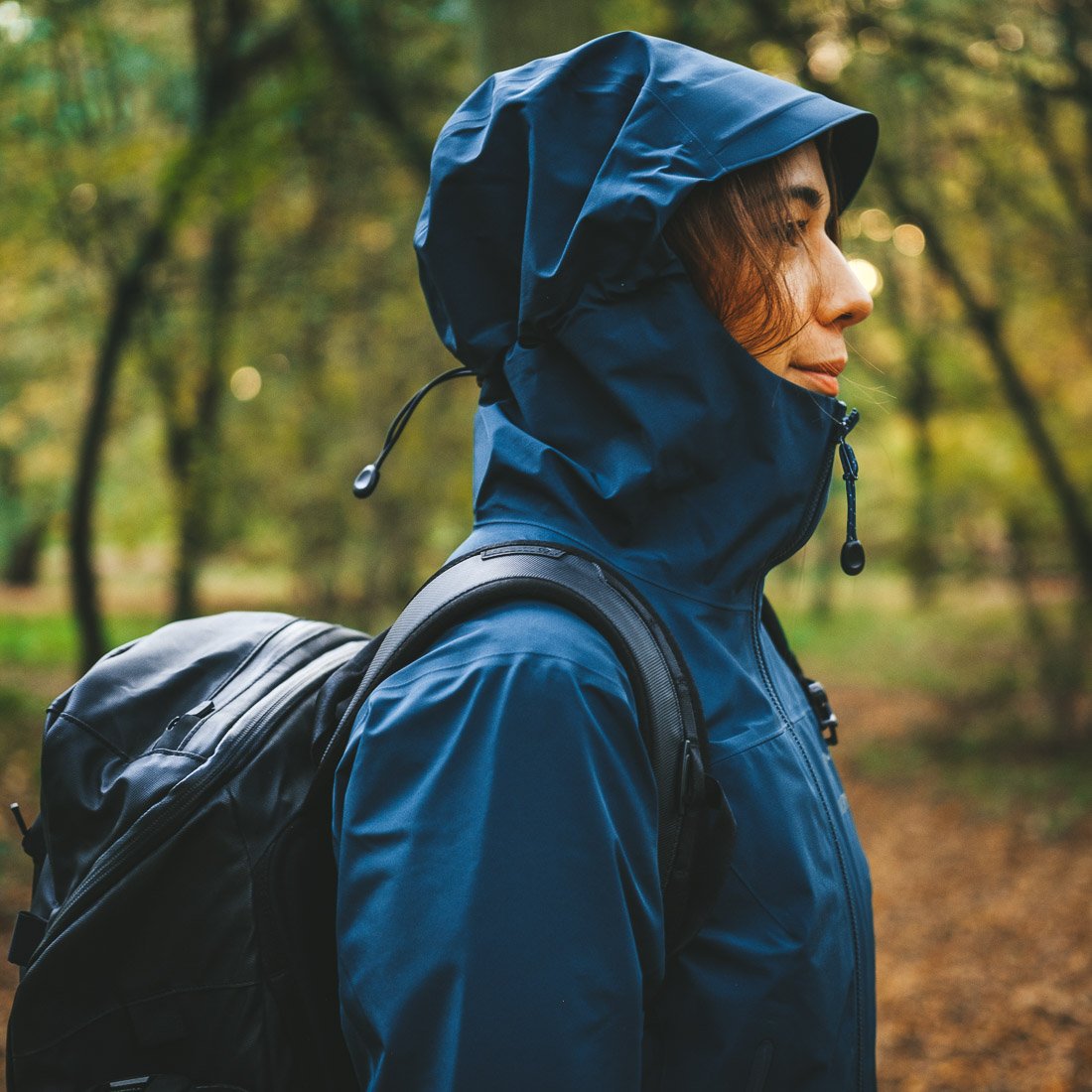 Not only do the water tight zipper keep water out – crucially – they also keep the wind out. When I am out hiking I find myself battling wind more often than I am dealing with rain – so wind protection is important and the Zeta LT delivers top-notch protection against both.
Since the average budget rain jacket uses a 2-2.5 layer system, wind and heavy rain are not always kept at bay. Typically, what one can gain in weight and pack down size with a 2.5 jacket – the compromise will be that the weather performance will leave a few things to be desired: namely a 100% dry base layer underneath.
The Water Test
As a test, we poured a full 32-oz. bottle's worth of water out onto the sleeve to see if we got any leaking or dampness. Nothing. The water beaded off as it should, so full marks.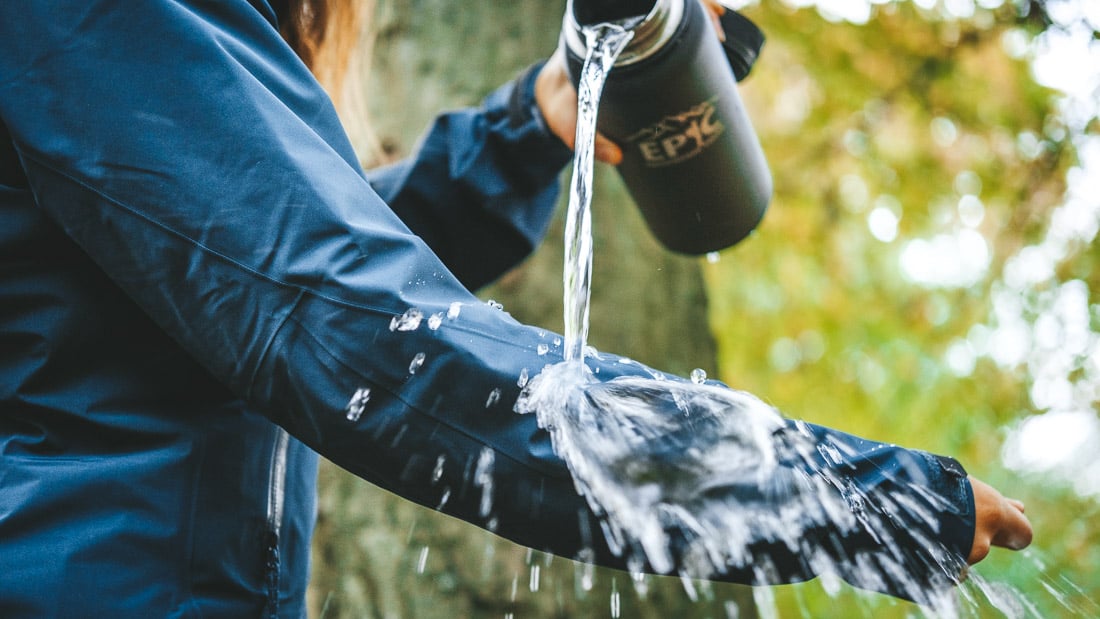 If you take the time to cinch down the draws (don't forget the wrists!) and hood and get the jacket fully zipped up, water won't easily penetrate the water resistant membrane. To clarify, the Zeta LT coms with watertight zippers so there should be no seepage!
Directly from the "box", the Zeta LT is good to get out in the rain, though after a few years of use, I recommend using a third-party GORE-TEX waterproofing product to keep the waterproof membrane going strong. Both Art'eryx and Goretex advise that you clean your jacket every 7 – 10 days of heavy use and both state that it is safe to machine wash.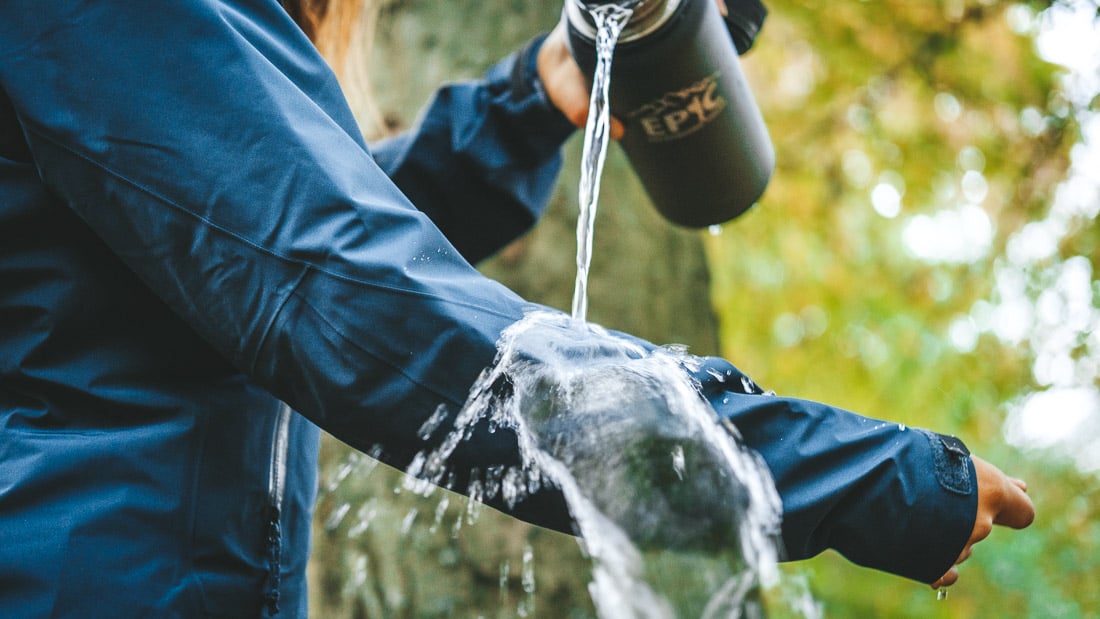 Breathability and Ventilation
For casual hikes with limited incline, city strolls, or moderate hikes in cold weather, we noticed the Zeta LT was not causing sweat or moisture accumulation to build up.
Pit-zips usually make for an easy exit point for sweat vapors when you start to work hard on the trail. They notably aid the ventilation process and I tend to use them often, so it was a bit disappointing for Arc'teryx to leave them out on the Zeta LT
Like any jacket though, if you are going hard up a steep incline, jogging, or generally exerting yourself, a bit of moisture is bound to build up inside. When this done happen though, the smooth internal material limits the amount one actually feels uncomfortable.
The Pockets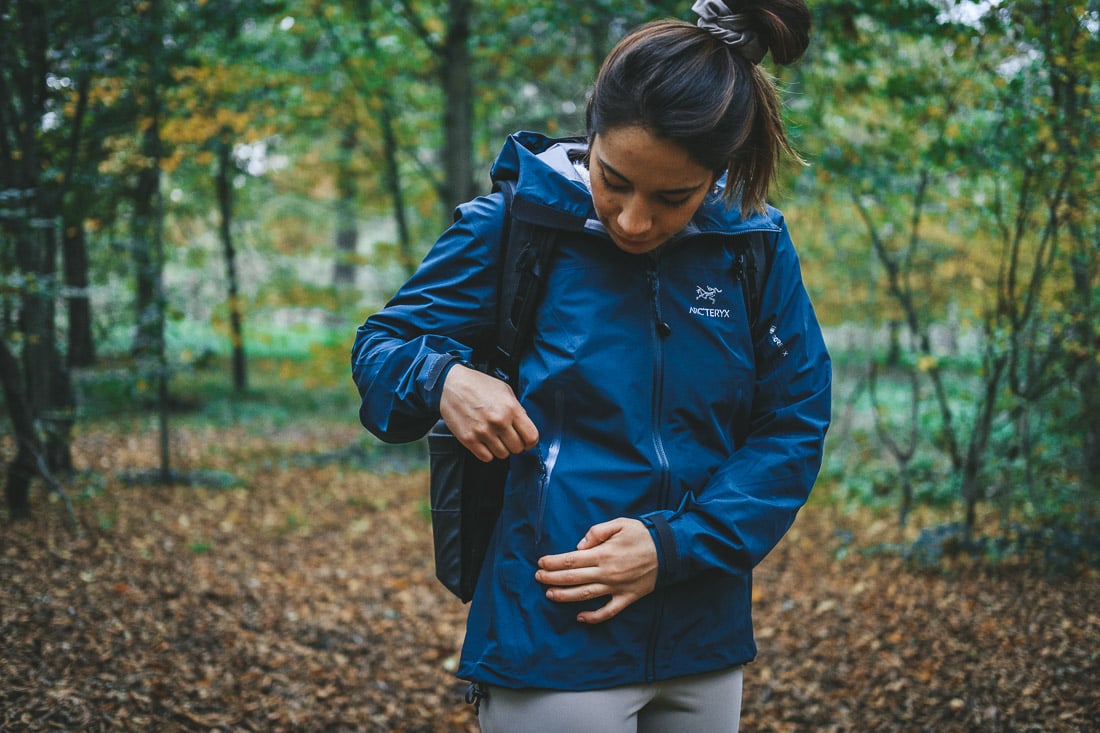 Arc'teryx is also pretty famous for their funky high pocket positions. The first time I bought an Arc'teryx jacket I thought it felt un-natural and strange to have my elbows cocked out at such an angle.
I don't love the Arc'teryx pocket design but it is something one get's use to and it certainly is not a deal-breaker for me personally.
I will say that when you have a backpack on the higher pockets can be an advantage (I suspect that this is also Arc'teryx's reason for the design). Sometimes a backpack hip belt can sit right atop the pockets of say my down jacket and I must maneuver a bit to access anything inside.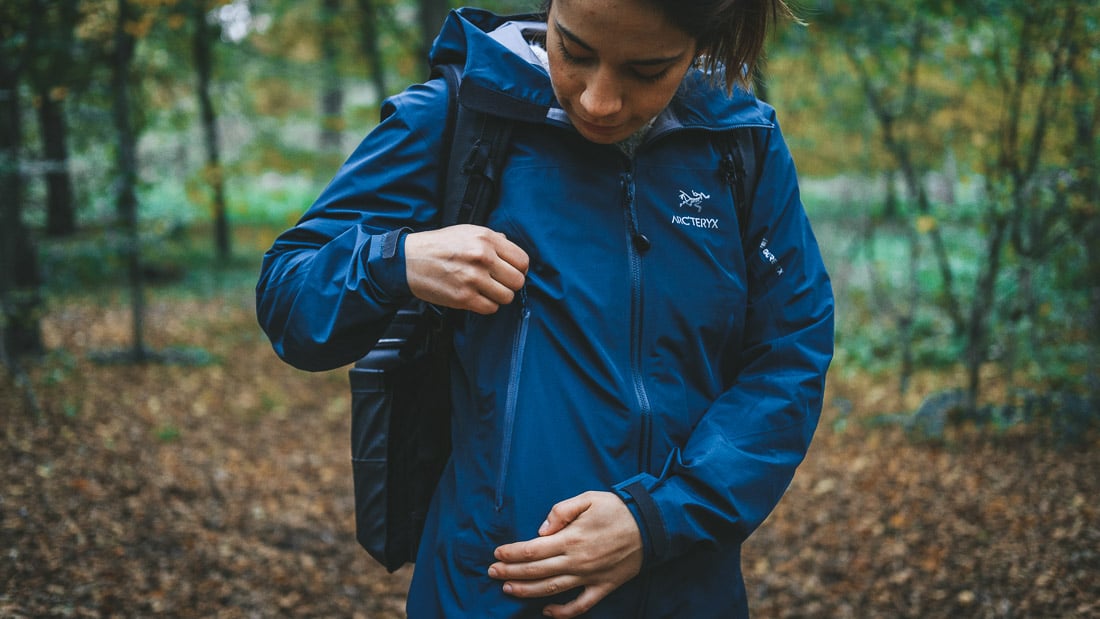 The inner chest pocket is useful for storing small stuff like a debit card or a bit of cash, but it is too small to fit my iPhone 11 Pro (and most other smart phones).
I think Arc'teryx got lazy here as the inner pocket on my other Arc'teryx jackets – like the Beta AR as an example – is roughly doubly the size. Still though, it is convenient to have an additional dry spot to stash odds and ends.
Sizing and Fit
The general fit of the Zeta LT can be described as a slim, athletic fit. That does not mean at all that you need to be a slim or athletically built person to wear it, but it is important to keep in mind when you are sizing yourself for this jacket. Also, it's important to consider what layers you will be using underneath it.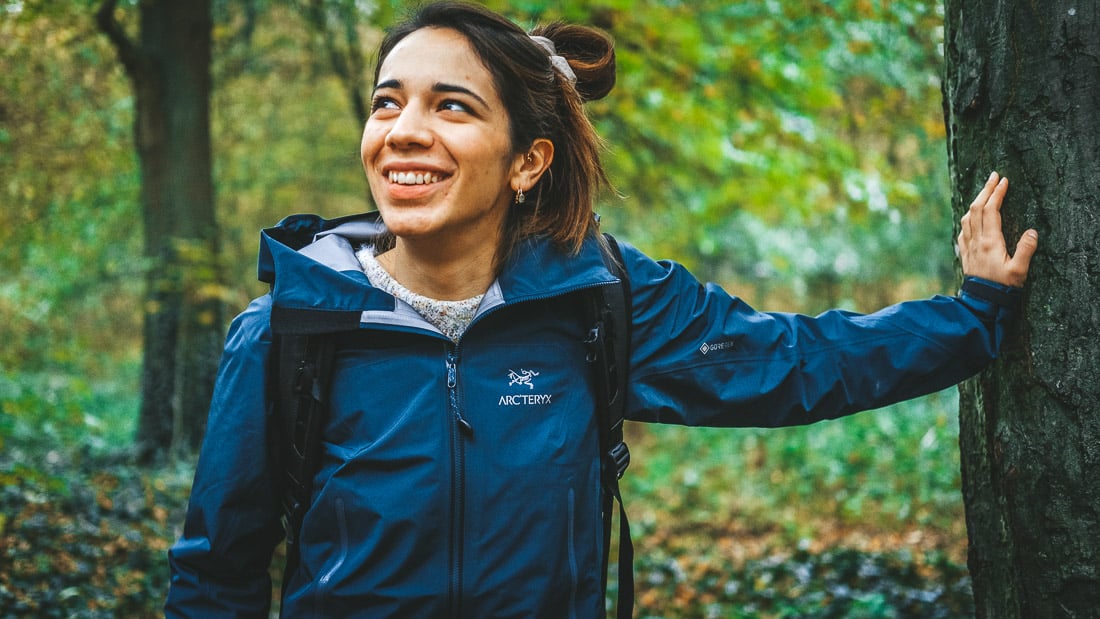 My girlfriend owns the women's small – she is 161 cm / 5 ft 2 inches with a slim upper body for reference. She comfortably wore it as a stand-alone jacket with a small layer underneath as well as with multiple layers including a down jacket over the course of this review period.
Thanks to the various pull-cord adjustment points one can really dial in a custom fit. Without the adjustable cinch-cords (found on either side of the jacket and on the hood) pulled tight the jacket has an airy, loose fit – which is useful when wearing multiple layers underneath or depending on the weather conditions.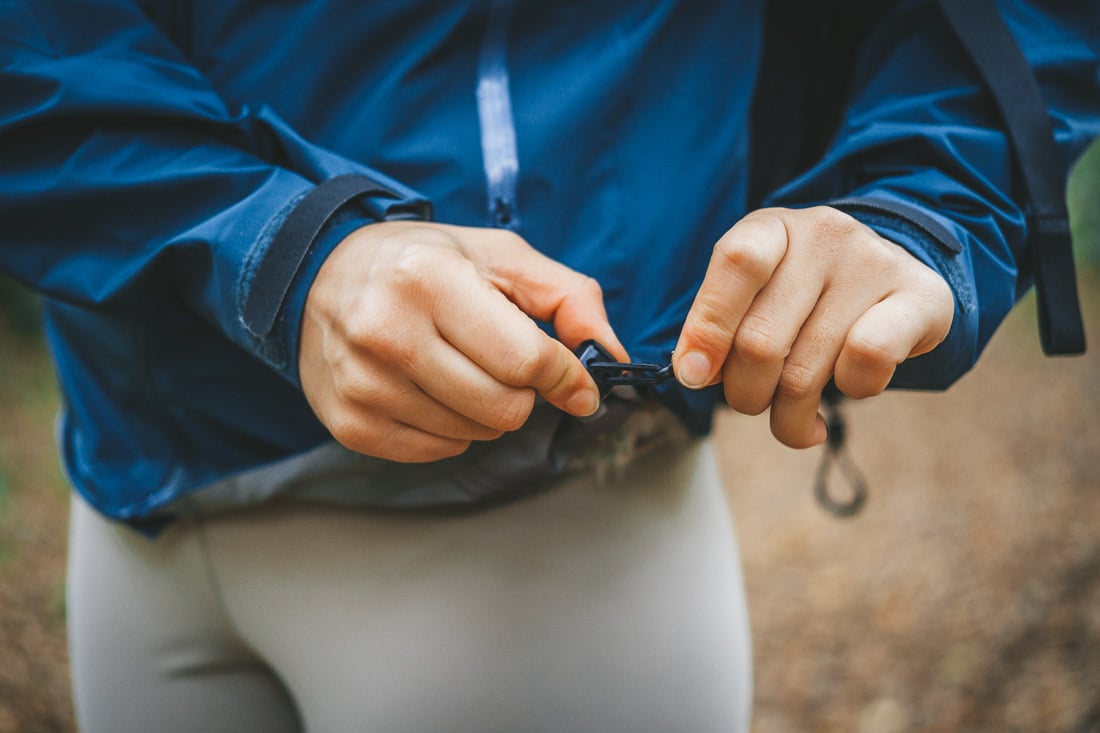 When the bad weather comes, you can essentially "lock the jacket down" (and who doesn't love a good lockdown?) by pulling on a few cords.
As a man, I would not recommend going above your usual top size unless you happen to be very broad-chested. I have worn my Zeta LT over 5 layers at high altitudes and though it felt tight, I wasn't overly constricted.
The Hood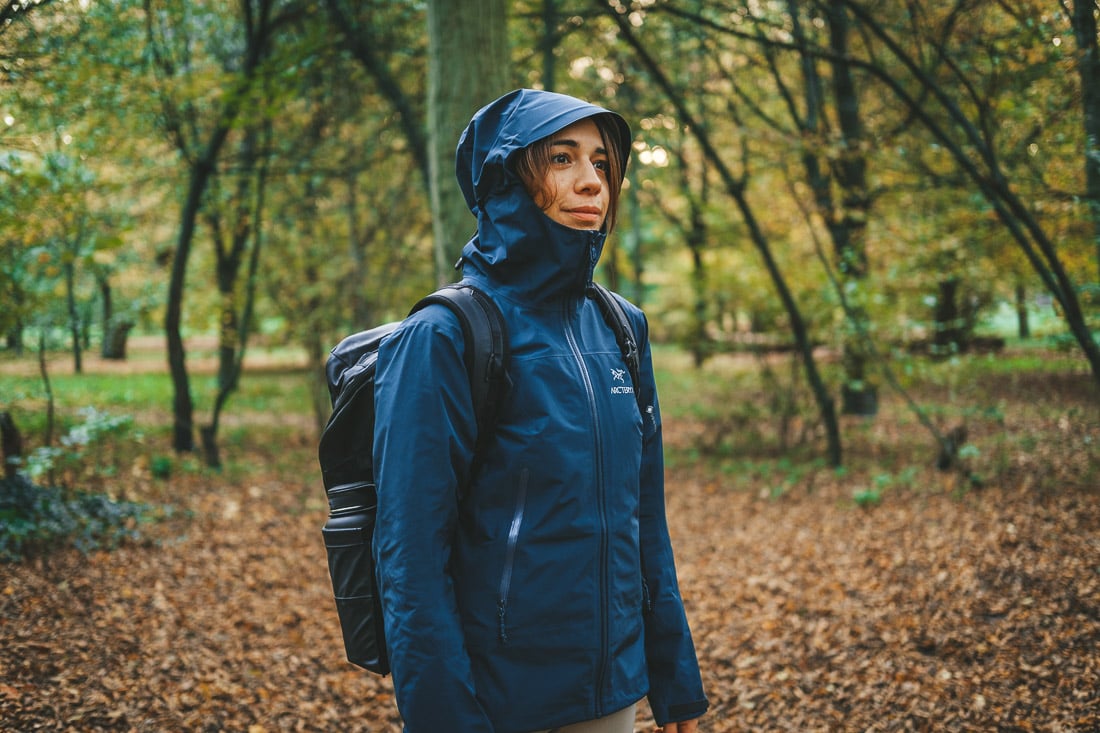 A big difference between the Zeta LT and other Arc'teryx "pro-grade" shells like the Arc'teryx Beta AR lies in the hood design. The Zeta LT is not compatible with a helmet while the opposite is true for most of the AR line of Arc'teryx jackets.
If you are a serious climber or skier who needs hood protection over a helmet, then I suggest looking at the pro-grade Arc'teryx line.
Honestly in 5 years, I have used my Beta AR jacket with a hood/helmet combo maybe 1 time. So not having helmet compatibility is fine by me.
The larger hood (found on the Beta AR) can be annoying sometimes as I found my visibility to be obscured on occasion with a Beta AR model. All said, I appreciate the practical low profile of the Zeta LT.
As noted above, the hood can be tightened down using the cinch-cord located on the back of the hood. In high winds, this feature proved to be enough to keep the hood in place a majority of the time.
Learn More: Arc'teryx Beta AR review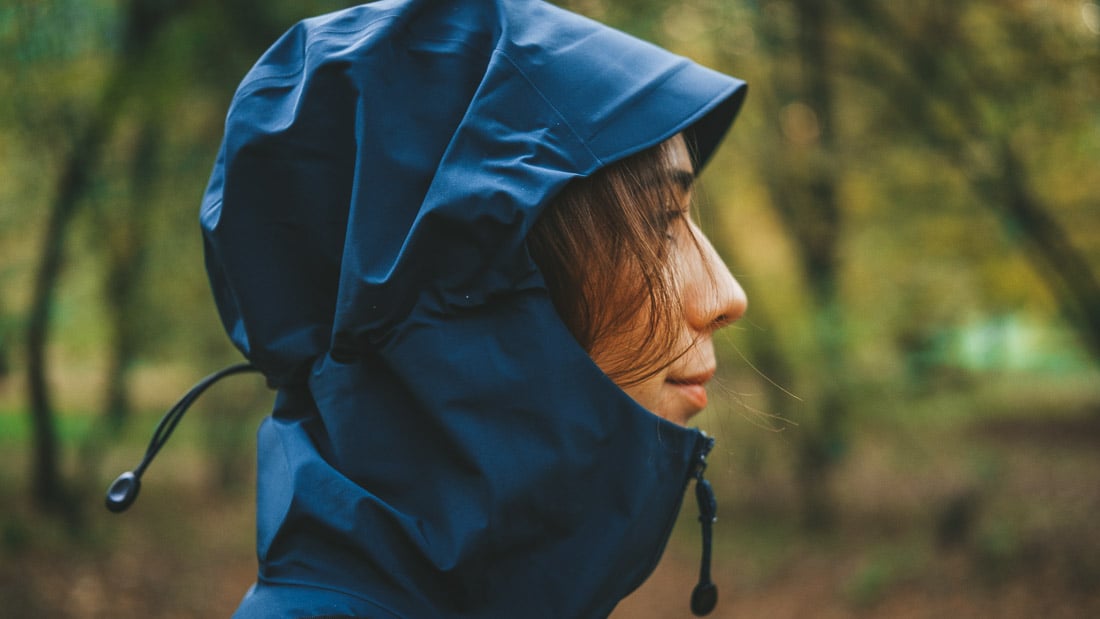 Arc'teryx Zeta LT vs The Competition
Arc'teryx Zeta LT
Weight > 300 g / 10.6 oz
GORE-TEX > Yes
Membrane Layers > 3
Price > $475
Arc'teryx Beta AR
Weight > 14.4 oz.
GORE-TEX > Yes
Membrane Layers > N80p-X 3L
Price > $599
As mentioned previously, Arc'teryx jackets are sort of in a class of their own. That said, there are some other rain jackets that come close to hitting the mark in terms of performance.
Within the Arc'teryx brand, the Zeta SL is a (much) cheaper option that delivers on weight and price but does not come close to matching the weather performance of the Zeta LT. The Zeta SL uses a 2-layer membrane instead of 3 and is more meant for use in the ultralight/ casual day hiker/traveler crowd.
We at The Broke Backpacker love the Zeta SL for its price tag and packability for travel, but for hardcore hikers the Zeta LT is clearly the superior model.
Learn More: Arc'teryx Zeta SL review
More Competitors
REI Co-Op keeps coming out with better and better budget rain jackets. One of our favorites is the REI Co-op XeroDry GTX Jacket. Key differences to note: the XeroDry GTX Jacket has a 2-layer GORE-TEX Paclite membrane – and as you should know by now – 2 layers will never perform as well as a 3-layer system.
For weight, value, and general performance, the XeroDry FTX is a great budget buy.
But one needs to have realistic expectations regarding the limitations of such a jacket from a true waterproof aspect.
On paper, the Patagonia Torrentshell 3L Jacket seems like a good match for the Arc'teryx Zeta LT in terms of specs. Both are light, offer 3-layer membranes, and features nice ventilation systems. This can be a hard choice since the Torrentshell 3L is so much cheaper than the Zeta LT ($149 vs $475). That amount of money is not insignificant.
A Worthy Competitor…But…
My verdict? This version of the Patagonia Torrentshell is relatively new and it uses a different waterproof membrane technology than Arc'teryx. The Arc'teryx design is tested and reliable. If I had to choose one to take out on a real adventure my confidence would still be with the Zeta LT.
Patagonia is known for their quality products (I own several of their down jackets), though over the years I have personally been a bit disappointed with their rain jackets, especially from a ventilation point of view (they tended to clam up a lot).
Both options mentioned above are fine budget choices if you just need a rain shell and can't be bothered to splash out big money. If you have the cash and are serious about hiking, the Arc'teryx Zeta LT is the obvious choice.

Our GREATEST Travel Secrets…
Pop your email here & get the original Broke Backpacker Bible for FREE.
Final Thoughts: Arc'teryx Zeta LT Review
An all-around badass rain protective piece, the Arc'teryx Zeta LT is a top choice for serious hikers and travelers who want all the great protection of a 3-layer GORE-TEX membrane in a light, durable package.
Arc'teryx products may be expensive, and that fact is probably my least favorite thing about this jacket: the price. However, after testing many other rain jackets these last few years – one thing is clear: Arc'teryx jackets are reliable, fail-safe products that are meant to do battle in severe weather.
If comfort and weather protection are your top priorities, going with a more budget-friendly option will certainly come with some compromises and shortcomings.
The Arc'teryx Zeta LT is the jacket for you if you want something high-performing just above the ultralight category (and the performance that entails) and just below the all-out pro-grade price tag.
What is our final score for the Arc'teryx Zeta LT? We give it a rating of 4.7 out 5 stars!

---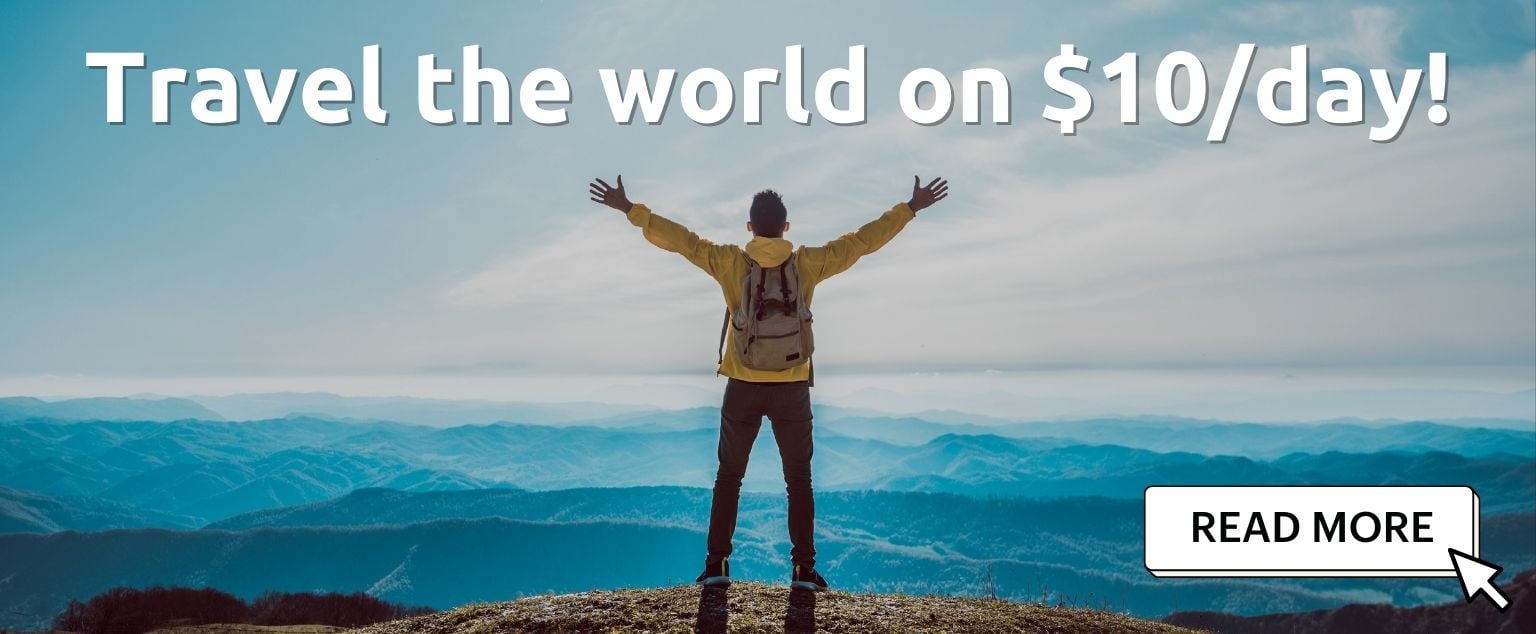 And for transparency's sake, please know that some of the links in our content are affiliate links. That means that if you book your accommodation, buy your gear, or sort your insurance through our link, we earn a small commission (at no extra cost to you). That said, we only link to the gear we trust and never recommend services we don't believe are up to scratch. Again, thank you!