Singapore is one of the most fascinating, gorgeous, and cleanest cities on the planet. Expect a city with some of the world's most interesting architecture and incredible foods… but don't expect to have it to yourself.
Singapore was the 5th most visited city in the world in 2017, and with hundreds of accommodation choices, it can be difficult choosing where to stay. Which is exactly why I wrote this guide of the best hostels in Singapore.
Whether you are spending some time in the city or moving on to backpacking Malaysia, I've taken into consideration various traveler needs and organized this list so you can identify what you need, and book your hostel confidently.
Then you can focus on what matters, adventuring in Singapore (and eating as much Laksa as you can).

Do You Want to Travel FOREVER??
Pop your email in below to get a FREE copy of 'How to Travel the World on $10 a Day!'.
Quick Answer: Best Hostels in Singapore
What to expect from Hostels in Singapore
Booking a hostel instead of a hotel comes with loads of perks. One of them is obviously the way more affordable price (which is great since the city is not the cheapest), but there's even more waiting for you. The one thing that makes hostels really stand out is the incredible social vibe. You can meet travellers from all over the world by sharing common spaces and staying in dorms – it's a great way to make new friends.
When backpacking Singapore, you'll find all sorts of different hostels. From extreme-party to chilled modern hostels, there are endless options. The main types you'll find in Singapore are sleek modern hostels, digital nomad hostels and cheap trash hostels!
Luckily, most hostels are focused on being very affordable while still offering a high value. The general rule is: the bigger the dorm, the cheaper the nightly rate. If you go for a private hostel room, you'll end up paying a bit more, but it's still more affordable than Singapore's hotels. We did some research and listed the average price that you can expect for a hostel in Singapore.
Private Rooms: 45-55€
Dorms (mixed or female only): 15-28€
When looking for a hostel, you'll find most Singapore hostels on HOSTELWORLD. There you can check out photos, detailed information about the place and even reviews from previous guests. Just like other booking platforms, each hostel will have a rating, so you can easily pick out the hidden gems! In general, most hostels can be found near the city centre, in the heart and soul of all the cool attractions like The Marina Bay and Gardens by The Bay. To find the best hostels in Singapore, check out these three neighbourhoods:
Marina Bay – Perhaps best area to stay in Singapore for tourists. Located in the centre of the city, you're never far from the action.
Little India – With a distinct identity and cultural flare, Little India is one of the most vibrant and attractive areas of the city.
Clarke Quay – If you're looking to enjoy a few drinks and dance the night away look no further than Clarke Quay.
Chinatown – Home to rustic eateries, traditional shophouses, and religious attractions, Chinatown is a neighbourhood where new and old seamlessly meet.
Sentosa –  With a myriad of attractions, activities and adventure, this island playground is action-packed and lots of fun for kids of all ages.
You see that it's important to find out where to stay in Singapore before you book your hostel. Do your research beforehand and have an even better trip!
The 5 Best Hostels in Singapore
Looking for the right hostel and actually finding one are two very different things. To make it easier for you, we've listed our absolute favourite hostels in Singapore down below.
Different travellers require different things, so I did my best by organising these Singapore hostels into different categories.
What matters to you? Privacy? Low price? Partying? Getting work done as a Digital Nomad? Whatever you need, this list of the 5 best hostels in Singapore has got you. Some other determinants…

1. Overall Best Hostel in Singapore – Dream Lodge
Self Catering Facilities
Free Lockers
The overall best hostel in Singapore is Dream Lodge for it is super chilled, friendly and ideally placed between 3 MRT stations connecting you to all of Singapore, including the Chinatown MRT Station. Easily the best and one of the cheapest hostels in Singapore.
Dream Lodge's beds are super comfy and they spoil backpackers with not one, but TWO pillows. Extra points for the bunk beds being pod-style for a little extra privacy in the dorm room. The mattresses are also anti-dust mites Orthopaedic meaning you've got a guaranteed great nights sleep which is rare for a hostel.
Why you'll love this hostel:
2 pillows
Close to 3 MRT stations
Anti-Dust mites Orthopaedic mattresses
Dream Lodge offers guests free breakfast and is right next door to an awesome selection of hipster cafes and classic Singaporean food halls. Situated in a restored 1950's era shophouse it doesn't just rate as our best Singapore hostel, the many reviews agree too!
Dream Lodge is literally in a dream location, there's a reason this area is considered a backpacker hub for the city and with good reason. There's everything a budget traveller could ever want. Around here you can indulge in local street food whilst also popping into a shopping centre, or how about exploring many of the cultural and historical delights the city has to offer before heading to a trendy cafe!
2. Best Hostel for Solo Travelers in Singapore – Wink Capsule Hostel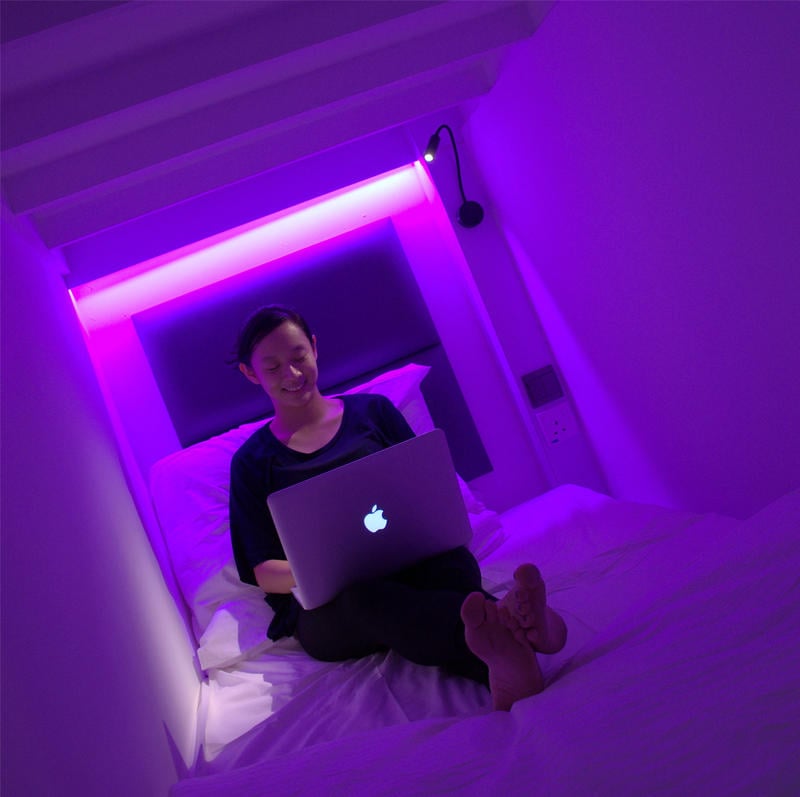 Self Catering Facilities
Bar & Cafe Onsite
The best hostel for travellers backpacking Singapore solo is Wink Capsule Hostel; with a bar and cafe onsite there are plenty of opportunities for solo nomads to meet new friends. Of an evening be sure to head to the guest kitchen as this is where you'll find most people hanging out before they start exploring Singapore's nightlife scene.
Wink is a top hostel in Singapore for backpackers of all kinds and they've teamed boutique style with a cool hostel vibe for a decent price in an expensive city. We absolutely loved our stay in Wink Capsule Hostel, it might not be the cheapest hostel in South East Asia but it's one of the most epic especially for solo travellers.
Why you'll love this hostel:
Generous locker space
Close to 3 MRT stations
Anti-Dust mites Orthopaedic mattresses
One of the best things about this hostel is the amazing and super secure large lockers that require keycard access, great if you've got expensive cameras and a laptop. Modern conveniences such as a washing machine, dryer and fully functional kitchen is great for saving money.
We stayed here back in 2019 on one of our many visits to the city and we just loved the combination of sleek design with functional but comfortable features around the hostel. The beds offered us a great nights sleep after a red eye flight and the common areas were great for working off our laptops. We also loved the location right in the CBD and close to a 7/11 too which as any backpacker knows, is the holy grail!
Is This the Best Backpack EVER???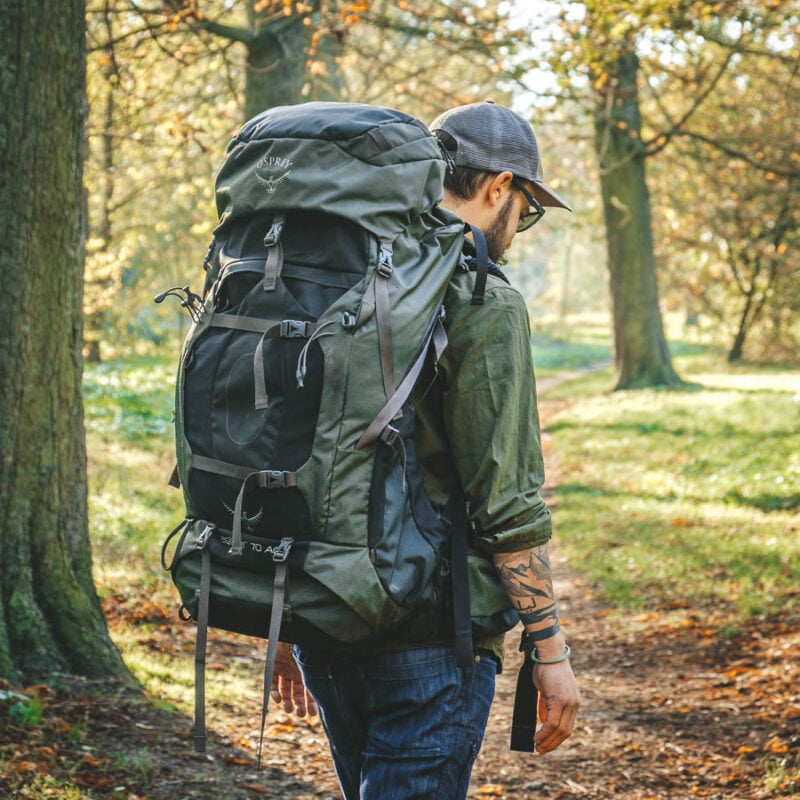 3. Best Hostel for Couples in Singapore – Cube Hostel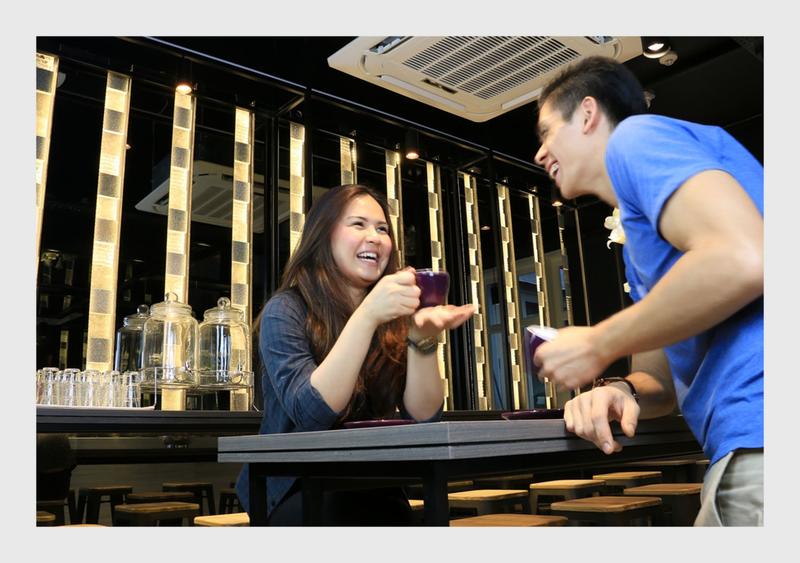 Bar & Cafe Onsite
Tours & Travel Desk
The best hostel for couples in Singapore is, without a doubt, Cube Hostel. Staying in a capsule hostel is a total novelty for lots of travellers and Cube make it easier for couples to experience this together. Cube Hostel is also one of the coolest hostels in Singapore, some would even say luxurious.
The building is super smart both in terms of design and tech! Each room or pod has its own key card access system. If you're looking missing the hostel life though, then just head to the uber-cool cafe and bar for a classic Singapore Sling! The location is top-notch too being within walking distance of the Chinatown MRT station.
Why you'll love this hostel:
Super Thick Mattresses
Great Location
USB Charger Ports
Take advantage of the complimentary breakfast buffet to save some extra dollars and set you up for the day exploring. Even better you've got free bottled water so you'll never get dehydrated in the harsh Singapore environment. Digital nomads will also love the dedicated workspace too. This Singapore hostel combines hotel features and amenities in a bohemian chic hostel setting that isn't too harsh on the wallet.
If you're on the lookout for somewhere budget-friendly to stay whilst still having a chic and sleek modern vibe, then this is the ideal spot. Each capsule offers a good amount of privacy whilst retaining that community feel of a hostel. Hey, there's even a Michelin star chicken and rice spot on the ground floor of the building, so with the cash, you save on accommodation you can experience some of the best food in the city.
Self Catering Facilities
24 Hour Snack Bar
MET A Space Pod is easily the coolest hostel in Singapore, its futuristic design will blow your mind. This ultra-modern hostel houses guests in individual capsules each with a TV, mirror, charging ports and crazy comfy mattress. With individual and lockable space style pods this has to be the most unique Singapore hostel where you feel like you're floating in a spaceship rather than staying in a hostel!
If you're looking for a party in Singapore you'll be chuffed to hear that MET A Space Pod overlooks the popular party zone of Marina Sands Bay. If you're looking for a different kind of youth hostel in Singapore be sure to book a bed at MET A Space Pod.
Why you'll love this hostel:
Lockable Pods
Electronic safe
Free Walking Tours
With the rooftop terrace, it's an ideal place for solo travellers who want to meet people but keep some privacy too. Unfortunately with all these extra features, it's not the cheapest hostels in town.
We stayed here on one of our many visits to Singapore and honestly, it's one of the most fun and unique accommodation experiences we've ever had. Ok, so it's maybe not the spot for a two-week vacay, but it's a fun spot to come back to after exploring the city for a few days. We also enjoyed staying in the Kampong Glam area of the city which offers an insight into the Arab community of the city with some wonderful architecture and great restaurants.
5. Best Cheap Hostel in Singapore – Happy Snail Hostel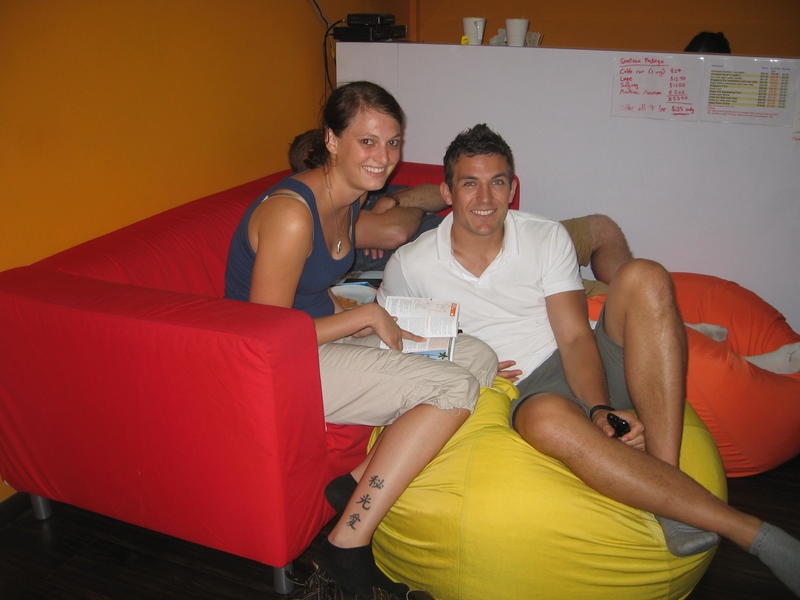 $
Free Breakfast
Microwave for Self Catering
Laundry Facilities
Happy Snail Hostel is the best cheap hostel in Singapore as they offer not only the cheapest dorm rooms in the city but a complimentary breakfast too, giving guests the best value for money. Happy Snail is a proper backpacker hostel with super-fast WiFi, 100 Mbps so you can keep in touch with folks at home.
If you're heading to Singapore on a visa run and need to get online to sort flights or travel plans for South-East Asia, Happy Snail is the best Singapore hostel for cost. The team are incredibly helpful and can hook you up with free walking tours of Singapore. Happy Snail is a great budget hostel if you're watching your travel costs in Singapore very closely.
Why you'll love this hostel:
Air Conditioned
Free walking Tours
Comfortable Beds
The hostel might be cheap but it's cheerful and has great vibes for solo travellers. There are also both mixed dorms and ladies only dorms. It's also a short 5-minute bus ride away from Sentosa Island and Chinatown.
I'll level with you here, this hostel is pretty basic but it offers an alternative to the overpriced fancy outfits around town. In Singapore you've got to be somewhat sceptical when it comes to cheap hostels, many are not frequented by backpackers but by migrant workers living in the dorms. So here we've picked out a great example of a spot where you can save a heap of money if you're ok with pretty old school hostel facilities in a safe and clean environment.
Happy Snail Hostel is one of our favourites in Singapore but they're not taking guests right now. We're not sure if they're closed for good but we hope they'll come back soon.
More Epic Hostels in Singapore
If you'll be backpacking around Singapore on more than a 3-day holiday itinerary, then check out these other sweet hostels! Maybe you'll just find a new temporary home…
$$
Free Breakfast
Free Airport Shuttle (twice daily)
Cafe Onsite
If you're heading to Singapore for a wild time be sure to book the best party hostel in Singapore, The Bohemian Chic hostel. Although there's no bar onsite The Bohemian Chic is the closest hostel to Singapore's best clubs and music venues. The Bohemian Chic hostel is within a very short walking distance of Clarke Quay, Boat Quay and Marina Sands Bay so you don't have too far to stumble home! Even better, there's no curfew and no lockout. If you're looking for a Singapore backpackers hostel in the heart of the party district be sure to book The Bohemian Chic hostel.
Two Olympic sized swimming pools!
Table tennis and basketball machine
Great location for foodies
A lot of the hostels in Singapore are similar – except for BEAT. Sports Hostel! This one of a kind hostel has a sports theme, made obvious by its arcade games, table tennis, basketball machine and access to two Olympic sized swimming pools! This sort of hostel is a rarity and is a great opportunity for anyone looking for something fun and something different from their hostels.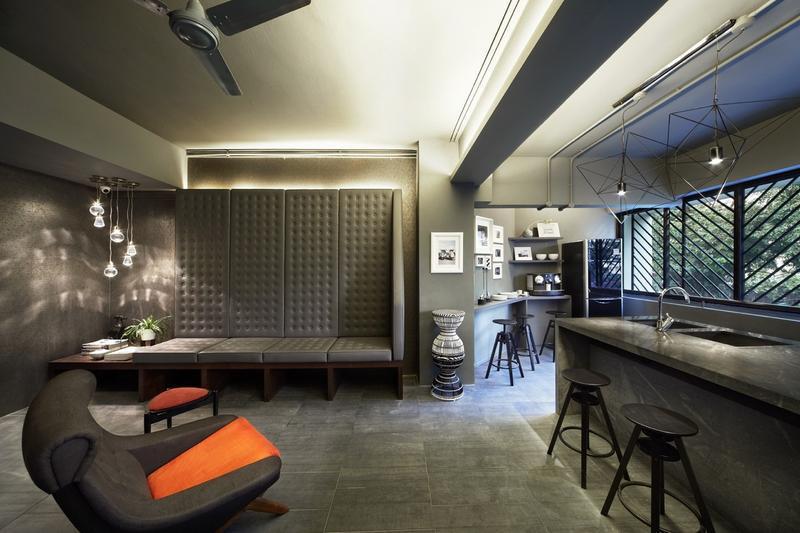 $$$
Free Breakfast
Laundry Facilities
Towels Included
The Pod is another of Singapore's innovative capsule hostels and is incredibly popular with flashpackers in particular. Each pod comes with its own power socket and reading lamp, as well as a foldaway laptop desk and clothes, rack with hangers. Everyone who stays here raves about how comfy the mattresses are, you may just have to come and see for yourself though! Far from a budget backpackers in Singapore, The Pod is the perfect place to go if you want a treat weekend vacation in Singapore complete with the flashpacker experience.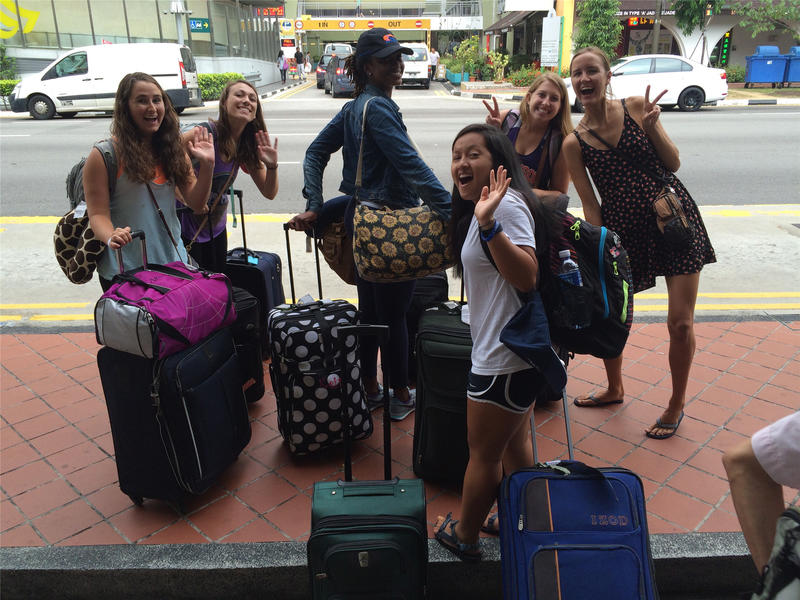 $
Free Breakfast
Air Conditioning
Laundry Facilities
The Beary Best is a classic youth hostel in Singapore and is more in keeping with the backpacker vibe found in many hostels across Southeast Asia. Laid back, spacious and super friendly, the Beary Best hostel has everything the modern backpacker could need; free WiFi, hot showers, air-con and cheap drinks in the fridge. If you're having a chilled out hostel day make the most of the free unlimited films in the common room and if you're feeling a little more active perhaps have a play on the Wii with your new hostel buddies.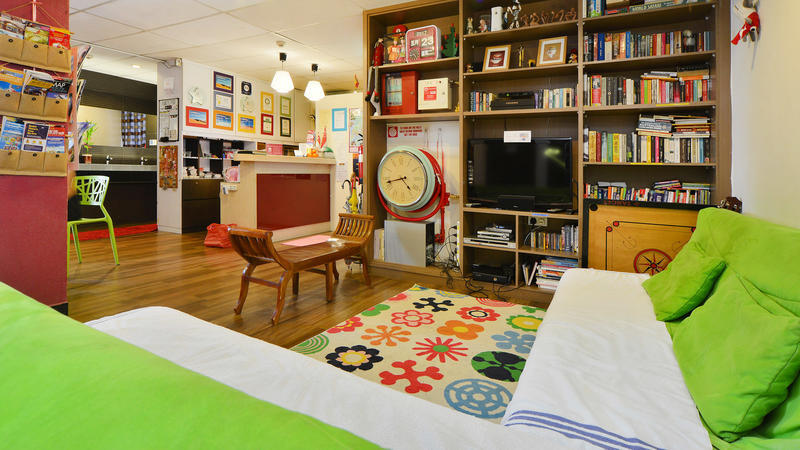 $$
Free Breakfast
Luggage Storage
Security Lockers
River City Inn is a super popular youth hostel in Singapore right in the heart of the city, just a few minutes walk from the river. If you want to explore the older, more authentic sides of Singapore River City Inn makes a great base, for they are located in China Town. Offering a free breakfast for guests each morning of their stay River City Inn is a simple but clean and modern hostel in Singapore. Smaller than some other youth hostels in Singapore, River City Inn is a good shout for travellers who want a more intimate kinda place to stay.
$
Free Breakfast
Bar Onsite
Fitness Centre
For all you budget backpackers and gym-bods out there you've hit the jackpot with Betel Box Backpacker. Quite possibly the best budget hostel in Singapore in terms of facilities Betel Box has its own gym, bar, and games room. Located on the bustling and exciting Joo Chiat Road Betel Box offers great value for money and a good night's sleep. In one of the most pricey cities in the world, what more could you ask for? A free breakfast perhaps? Already included man! Make sure you give hostel cat Whiskey some smooches!
Another Great Hostel for Private Rooms in Singapore  – ST Signature
$$
Private Rooms
Rooftop Terrace
Morning Yoga
This is another one of the many Singapore hostels that offer private rooms. Set in an Art Deco heritage building right in the CBD it's within walking distance to the Marina Bay Sands. It features a rooftop terrace where you can take in the city and take part in the yoga lessons run by the hostel. It's one of the cheapest hostels for the quality of the private rooms and location.
Another Great Hostel for Private Rooms in Singapore  – Rucksack Inn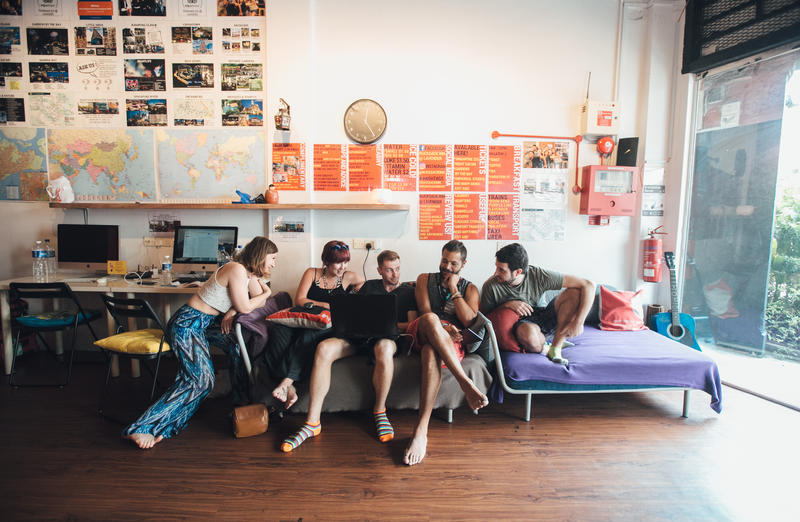 $
Free Breakfast
Bar Onsite
Tours & Travel Desk
Bringing hearty Kiwi hospitality to Singapore is the Rucksack Inn. These guys certainly deserve their place on the shortlist for the best hostel in Singapore in 2021 for their on-point hostel vibe, friendly feel, and super helpful staff. Breakfast is served until midday so if you have a big night out in Singapore there's no need to set an early alarm to make sure you don't miss out on your morning feed! The rooftop garden is super cool and certainly makes Rucksack Inn one of the coolest hostels in Singapore.
Rucksack Inn also has great private rooms for reasonable prices!
Rucksack Inn is one of our favourites in Singapore but they're not taking guests right now. We're not sure if they're closed for good but we hope they'll come back soon.
7 Wonders Capsule Hostel
$$
Free breakfast
Washers/dryers on site
Secured digital locks
If you are looking for a Japanese-style capsule bed but at a more affordable price – then 7 Wonders Hostel is for you! Well-located, this hostel also comes well-compensated as you get TONS of freebies included in the price. This includes luggage storage space, workspace, soap and shampoo, a personal locker and (our favourite) free breakfast!
7 Wonders Capsule Hostel is one of our favourites in Singapore but they're not taking guests right now. We're not sure if they're closed for good but we hope they'll come back soon.
Lodge 41
$
Free Breakfast
Cafe Onsite
Late Check-Out
Lodge 41 is a super clean, super friendly home from home for backpackers in Singapore. This simple hostel has 4, 6 and 12-bed dorms and female only rooms too. Lodge 41 has everything the budget backpacker needs; a microwave for cooking, laundry facilities and free WiFi too. No curfew and no lockout means that you can stay out exploring Singapore 'til the early hours without a worry. Lodge 41 is a top hostel in Singapore and comes highly recommended by your fellow travellers.
Lodge 41 is one of our favourites in Singapore but they're not taking guests right now. We're not sure if they're closed for good but we hope they'll come back soon.
The Hive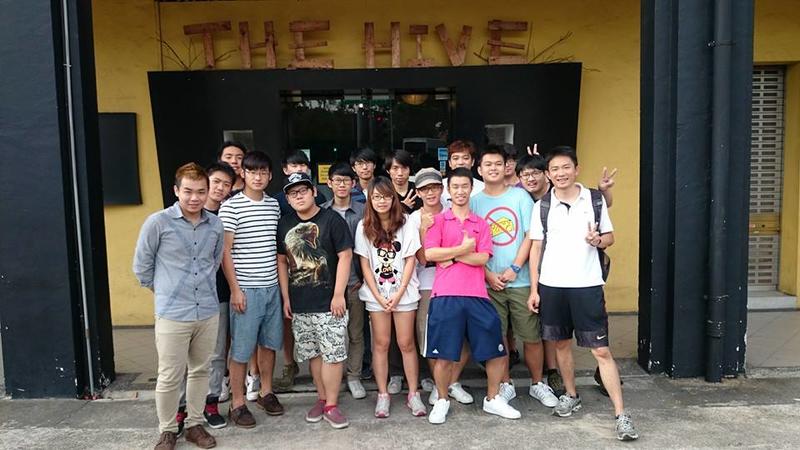 $
Free Breakfast
Laundry Facilities
Free Tea & Coffee
The Hive is a highly recommended hostel in Singapore, on top of the free breakfast included in your room rate you also have access to free tea and coffee all day long. The dorm rooms are bright and spacious so there's plenty of room for everyone to spread out. The staff are always around and happy to help backpackers find their feet in Singapore; whether you're looking for directions to the MRT or a restaurant recommendation the team at The Hive are the ones to ask. If you're into sports you can watch all the major matches and events on cable TV in the common room.
The Hive is one of our favourites in Singapore but they're not taking guests right now. We're not sure if they're closed for good but we hope they'll come back soon.
Gap Year Hostel
$
Free Breakfast
Free Lockers
Free Tea & Coffee
Gap Year is a top hostel in Singapore for budget backpackers. Bright and spacious there is a really chilled hostel vibe at Gap Year. If you're looking to make your money go further be sure to book your tickets and tours through the staff at reception to get heavily discounted rates. This includes super popular tourist hotspots like Singapore Zoo. The WiFi at Gap Year Hostel is super fast and is available in the dorm rooms. They even have a backup WiFi network, unheard of for a hostel!
Gap Year Hostel is one of our favourites in Singapore but they're not taking guests right now. We're not sure if they're closed for good but we hope they'll come back soon.

Unlock the The Broke Backpacker's GREATEST Travel Secrets!
You pop your email here, and we promise to send you only travel content that's actually relevant — sounds like a pretty good deal to us!
What to Pack for your Singapore Hostel
Pants, socks, underwear, soap?! Take it from us, packing for a hostel stay is not always quite as straightforward as it seems. Working out what to bring and what to leave at home is an art we have perfected over many years.
Check out our definitive Hostel Packing list for our top packing tips!
Why you should travel to Singapore
Singapore is like taking a trip into the future! With so much to do and see, don't waste any more time than needed booking a hostel. Find the one that suits you, book it, and start exploring this fascinating, delicious city.
Even if it's just for the Changi Airport, the city is definitely worth having a look at. Being one of the more expensive locations in Asia, you should plan your Singapore travel budget accordingly so you're properly prepared and able to fully enjoy your trip.
FAQ about Hostels in Singapore
Here are some questions backpackers ask about hostels in Singapore.
Travel Safety Tips for Singapore
Well, Singapore is very safe, but there are some odd concerns with travelling here. Furthermore, things can happen at any time, in any place. So…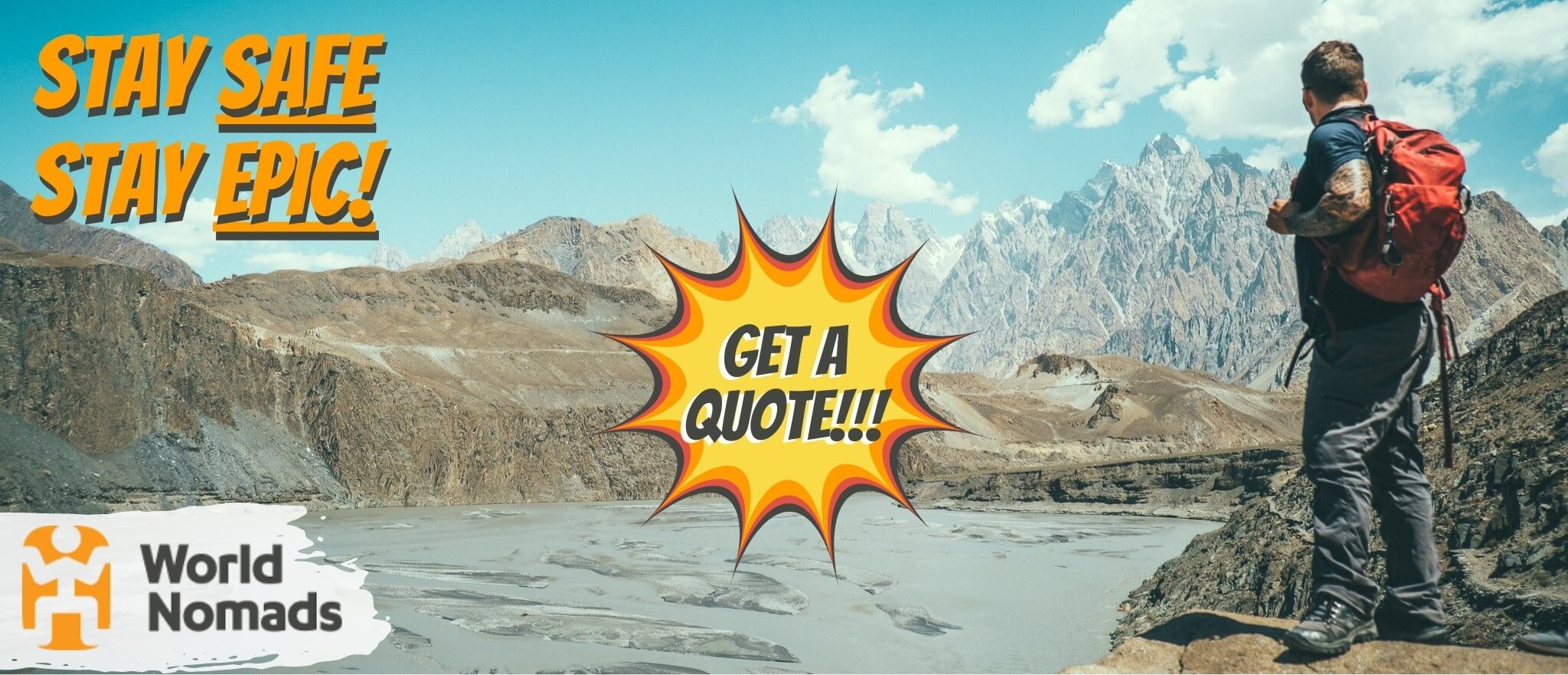 It's good to get lost sometimes, but it's also good not to get too lost. There are people that want you home in one piece.
There's one travel insurance provider The Broke Backpacker trusts for all his wildest shenanigans… World Nomads!
Click the button below to get a quote on your insurance or read our in-depth review of World Nomads' coverage. And then… let the shenanigans begin. 😉
Final Thoughts on the Best Hostels in Singapore
By now I hope our epic guide to the best Singapore hostels has helped you choose the perfect place for your adventure!
If you think we've missed anything or have any further thoughts, hit us up in the comments!
---
Bye for now, but not forever!
If you want MORE top-tier Broke Backpacker content like this, then sign up for our weekly newsletter below to get the latest and greatest!
And for transparency's sake, please know that some of the links in our content are affiliate links. That means that if you book your accommodation, buy your gear, or sort your insurance through our link, we earn a small commission (at no extra cost to you). That said, we only link to the gear we trust and never recommend services we don't believe are up to scratch. Again, thank you!