The number of travelers visiting Singapore has boomed over recent years, making the vibrant Asian city an incredibly popular travel destination. A true melting pot of culture and breathtaking views, it is no wonder that those with itchy feet find themselves putting a weekend in Singapore high up on their bucket list!
As Singapore Airport is one of the busiest in the world, you may even find yourself there without planning a trip! Any opportunity to explore the city should be taken and we highly recommend making the most of your layover and booking a weekend in Singapore.
So, whether you are exploring the stunning city by default or by choice, here are our top tips on how to best experience your time.
Let's dive straight into how you can make the most of your weekend in Singapore with some epic insider tips on where to stay, food to try and places to visit!
Know Where to Stay in Singapore
The key to the perfect weekend in Singapore is to pick your accommodation carefully and make sure that you are centrally located! Although an island, Singapore is also a very large city! The key then is staying in a central area of Singapore; that way, you can be close to all of the action!
If you are traveling to Singapore to discover the history and culture of the area, you may want to stay in the colonial district.
Are you a big fan of shopping? Then the Orchard Road area is for you, where the roads are lined with enormous modern shopping malls.
Other popular areas include Marina Bay, the Quays, and the chic area of Bugis and Kampong Glam.
For backpackers, there are lots of budget hostels in Singapore! They are quite varied in terms of style and location, so make sure you do some research before booking one.
Be aware that accommodation in Singapore can be a bit more expensive than the rest of Southeast Asia as well. Some of the cheapest hostels in Singapore can be found in the Chinatown area.
Walking distance to Singapore's hottest neighbourhoods and attractions, this clean and contemporary attic hideaway is the best Airbnb in Singapore.
With modern amenities and a full kitchen, this one-bedroom condo comfortably sleeps up four people and is perfect for anyone looking for a place to stay in the heart of the city.
It is conveniently located a two-minute walk from Little India MRT station
The rooftop swimming pool offers epic views of Singapore's city skyline!
Centrally located and modern in design, the Singapore Selegie is the ultimate budget hotel for travelers wanting to be in the thick of things. As an added bonus – they have a rooftop swimming pool to cool down after a hot day of exploring!
The hotel is surrounded by hidden gems such as the Singapore Art Museum and Suntec City
Their in-house spa offers a range of traditional Indonesian beauty and body treatments
Priding themselves in "celebrating people", PARKROYAL on Beach Road is the perfect hotel with a pool if you have a little bit of extra money to spend! With an award-winning Chinese restaurant, you may find it difficult to leave!
Our Favorite Hostel – Quarters Capsule Hostel
It is located in the heart of one of Singapore's central historic districts
The hostel offers capsule beds, touch screen lockers and ergonomic ladders
The fun, cozy hostel gives guests a chance to sleep in groovy capsule beds! Just a stone's throw from vibrant nightlife, the hostel in Boat Quay prides themselves on offering comfy beds and friendly staff.
Know How to Get Around in Singapore
Regardless of how central you choose to stay during your weekend in Singapore, chances are that you are going to need to get around the large city!
The fastest and most effective mode of transport is the subway system – locally known as the Mass Rapid Transport (MRT). Named that way for a reason, the MRT offers an easy, quick and comfortable commute around Singapore.
The first train sets off at 5:30 am with the last train's final journey varying from station to station. There are several different lines that overlap and bypass one another so we suggest that you familiarise yourself with the MRT map!
If you are only in Singapore for the weekend, you can buy single trip tickets for as little as $0.60-$1.50ish (USD)! If you plan on staying longer than a day or two, and EZ-Link card or a Singapore Tourist Pass reduces the hassle and allows for unlimited train and bus travel. Prices vary by card so follow the link to find the one that best suits your Singapore weekend itinerary.
The MRT trains are also a handy way of getting to and from the airport but if public transport is not your thing, there are alternative transportation options, such as the traditional airport shuttle.
While Uber does not operate in Singapore, the local equivalent, Grab, is readily available – so make sure to download the app!
As is the case with most big cities – they never sleep! That means that you are in for a treat if you enjoy exploring the nightlife. These are our top picks for the best nightlife in Singapore.
Little Saigon Singapore
Located in Clarke Quay, the hub of Singapore's nightlife.
Encapsulates the Vietnamese style in both food and decor with hanging lanterns and bright colors.
The live band transforms the restaurant into a fun party place for a mixed crowd!
Living up to its name, Little Saigon Singapore tastefully encapsulates a Vietnamese dining experience by serving an unrivaled authentic menu! Perfectly located in the center of Singapore's nightlife, the venue converts into a party spot for both young and old!
Some of their signature cocktails that you have to try are the 'Mekong' – which blends the exotic flavors of various fruits with Malibu – and the 'Saigon Kick' for the more daring.
Zouk nightclub
The largest club complex in Singapore, Zouk buildings offer the best of Techno, House, R&B, Hip-Hop… get your boogie on!
The venue boasts seven resident DJs with regular famed international guest artists.
The decor is innovative, progressive and nothing short of world-class!
Zouk is one of Singapore's most popular nightclubs, and for good reason! As a pioneering club in Singapore, Zouk was the first to introduce House music into a typically pop culture scene.
You can be a part of propelling Asia's dance music scene forward when visiting the club on any of their event days! Their normal opening hours are from Sunday to Tuesday and Thursdays from 6 pm to 11 pm, Wednesdays and Fridays from 7 pm to 3 am, and Saturdays from 7 pm to 4 am.
Visit Gardens by the Bay
The famed garden contains nearly 1,500,000 plants!
The rain forest of metal trees light up at night in a spectacular performance.
Gardens by the Bay is accessible by car, bus and train – there is no excuse not to visit!
Are you looking for more of a tranquil night experience? Then the Gardens by the Bay are a total must-visit place in Singapore.
The garden boasts a mesmerizing forest of giant metal trees – known as 'Supertrees' – that light up spectacularly and change to the sound of music. The trees tower as high as 165 feet – making the performance that much more incredible! In addition to these shows, the avatar-like trees also house up to 200 species of birds!
Try to head to one of Singapore's many festivals; being a city made up of so many cultures, there's guaranteed to be one that's right up your street!
Enjoying the fine art of Asian cuisine is a worldwide favorite pastime. There are countless delicious places to visit and experience culinary delight, but these are our top three!
Fine dining experience at Akira Back
The fine dining restaurant mirrors the style and cuisine of celebrity Michelin-starred chef, Akira Back.
The innovative dishes fuse Japanese cuisine with Korean flair.
Akira Back Singapore is one of the chef's sixteen restaurants in his global portfolio!
Akira Back is a chef loved for his sense of adventure and creativity that he introduces into every dish as he blends Asian and Ameican influences and tastes to create a unique experience. The Singapore restaurant features its own signature menu of contemporary Japanese cuisine blended with a Korean flair.
The restaurant is open for lunch bookings from 12:00 pm to 2:30 pm daily, and for dinner bookings from 6:00 pm to 10:00 pm from Sunday to Thursday, and 6:00 pm to 10:30 pm on Friday and Saturdays.
Deliciously comfortable Longtail Asian Brasserie & Bar
The chic and contemporary restaurant is conveniently located in the popular area of Marina Bay.
Longtail was named as such because of the iconic longtail boats found in Asian countries such as Vietnam and Thailand!
The venue offers a more casual and relaxed encounter with a variety of Southeast Asian cuisines.
Longtail Asian Brasserie & Bar is popular for reflecting the same cuisine that the traditional Longtail boat offers – fusing Asian tastes from across the Southeast areas of the continent. Asian street favorites are served in an artistic and modern setting with a buzzing atmosphere.
Signature dishes at the contemporary location include steamed green curry, Vietnamese beef noodle, chicken bao, grilled pork shoulder and sticky rice and Luang Prabang Salad – good luck making your choice of dish!
Singapore hawker experience at Newton Food Centre
Newton Food Centre is promoted by the Singapore Tourism Board for promoting Singaporean cuisine!
Over 50 species of flowers have been planted in the food area!
The lively market has numerous stalls selling seafood and local specialities.
Within walking distance of Newton MRT station, Newton Food Centre is a hub for food stalls, hawkers and different tastes. Travelers can taste a variety of different flavors such as Kwee Heng, Hup Kee fried oyster omelet and Bee Heng.
If Newton Food Centre is your first hawker experience – take care not to be pressured by the vendors. If a stall doesn't tickle your fancy, simply politely decline, try to haggle the price down, or follow your nose to the stall that best suits your taste buds!
Did you know that Singapore is considered the best sports city in Asia? If you are a sports lover and find yourself in Singapore for the weekend, here are a few tips on what to do!
Watch the golf at Singapore's best golf bar – Urban Fairways
Golf simulators are used to create the ultimate indoor golf game experience.
The staff at Urban Fairway have been described as nothing short of spectacular!
There is the option of organizing tournaments for larger groups of people!
Urban Fairways Bar and cafe stays open until 11 P.M. and is the perfect spot for golf fans to watch the golf while enjoying a few drinks and games!
The air-conditioned bar offers exciting indoor golf games using simulators and the latest equipment for your enjoyment. The epic sporting experience gives golfers the opportunity to play at varying difficulty levels on more than 50 world-class golf courses!
Experience the ASEAN Basketball League
ASEAN Basketball League (ABL) is a professional basketball league in Asia!
The league typically runs from November to the end of March – this is when things get really exciting!
The OCBC Arena is the home stadium for the local team, Singapore Slingers.
Basketball is without a doubt one of the most popular sports in Singapore – to both watch and take part in!
The local Singapore Slingers are one of the best teams in the ABL and watching one of their games live will leave you sitting on the edge of your seat.
Tickets are affordably priced at roughly $13 and you can easily get your ticket online. If watching a basketball game is right up your alley – then watching the Singapore Slingers in action is an opportunity not to be missed!
Reach new heights rock climbing at Clip 'n Climb
Rock climbing has been gaining popularity in Singapore, with numerous different facilities opening across the city!
Rock climbing is a great sports activity for the whole family to get involved in!
Clip 'n climb was voted the best indoor climbing theme park and promises a great day out!
Indoor rock climbing has skyrocketed in popularity in Singapore, with adults and children alike learning to love the sport!
Clip 'n Climb is a rock climbing facility that adds a quirky and fun edge to the sport by adding a theme to the entire experience. As an action-packed climbing theme park, you can be sure that your body will get a proper workout while enjoying the colorful climbing challenges of various difficulty levels!
It should come as no surprise that a country as rich in culture and heritage also has a strong pull for those that love music and theatre.
Visit Esplanade Theatres on the Bay
The Esplanade has hosted over 41,000 shows and 28 million guests over 16 years!
The Theatre's stage area is so big that you could park a Concorde aircraft on it – and still have room to spare!
Their mission is to entertain, engage, educate and inspire through the arts
Esplanade is a charity organization with the aim of bringing the joy and inspiration of the arts to various communities. As Singapore's national arts center, time and care is invested in hosting the best music, theatre, dance, visual arts and film productions.
In addition to showcasing world-class performances, the Esplanade also offers in-depth workshops on various art forms.
Society meets art at Capitol Theatre
Capitol Theatre is a historical cinema and theatre
The theatre was first built in 1929 but has recently undergone redevelopment
The theatre can accommodate an impressive 977 guests!
The Capitol Theatre was one of Singapore's finest theatres in the 1930s. Today, visiting the Capitol Theatre will also put you in the middle of a vibrant Piazza with retail stores and several food and beverage outlets to enjoy.
Steeped in history, the Capitol Theatre is now considered an exciting lifestyle destination for theatre lovers and show-goers! The Theatre's event calendar is full of captivating musical shows, concerts and performances.
Visit Timbre at The Substation to discover local live music
Timbre at The Substation features great live performances of local bands every night!
The venue is an open-air venue to keep both your mood and your body cool!
There is no cover charge for the venue! You only need to pay for your food and drinks!
If you love music and performance but are looking for something a little bit more low-key, then Timbre at The Substation is the place to be! With a daily live performance schedule and no cover charge to enter, Timbre promises a great night out on a budget!
A four-minute walk from the closest MRT station, Timbre can get very full and popular over the weekend – so make sure to get there earlier if you want to grab a seat!
10 Other Awesome Things to do in Singapore This Weekend
These suggestions are only the tip of the iceberg on what travelling to Singapore offers. There are loads of other cool things to do in Singapore over the weekend.
#1 – Jump on board a night safari
Night safaris are an incredibly popular activity for people to take part in when visiting Singapore! These give you a chance to get close and personal with wild animals of the night. Adjacent to the Singapore Zoo, the wildlife park is open from 7:30 pm until midnight and affords a fantastically eerie experience.
As you wander the footpaths and bridges, you will be afforded the chance of seeing up to 120 species of nocturnal animals such as tigers, fishing cats and alligators!
#2 – Hop over to Sentosa
Are you visiting Singapore for a slightly longer period of time and looking for a great day trip activity? Then a trip to Sentosa, the purpose-built island slightly south of Singapore, comes highly recommended!
Sentosa boasts a collection of beaches, theme parks, shopping and dining experiences all the while enjoying the luxury of a resort getaway. You can easily access the island by the MRT!
#3 – Relax in Singapore's Botanic Gardens
Singapore's Botanic Gardens is one of the city's largest areas of lush green space, and one of Singapore's National Park. Visitors can stroll along the boardwalk through the dense patches of ancient rainforests, relax by one of the three beautiful lakes or join one of the free themed tours of the Gardens which happen on Saturdays.
#4 – See the city from Singapore Flyer
The Singapore Flyer gives travelers an incredible bird's eye view of the expansive city! A ride on the Singapore Flyer will take you almost 550 feet into the air, allowing riders to absorb the breathtaking vista over Marina Bay for a duration of 30 minutes.
An iconic part of Singapore's skyline, the Singapore Flyer happens to be one of the world's largest observation wheels!
#5 – Visit the National Museum of Singapore
If you only visit one Museum in Singapore – make sure that it is the National Museum of Singapore! The beautifully designed museum brings Singapore's history to light through living galleries, multimedia elements and contemporary art installations.
#6 – Stroll through Marina Bay Sands
The Marina Bay is the home to some of Singapore's most spectacular activities. Marina Bay Sands is the epicenter of the bay and offers a wide variety of wonderful things to do including visit the Science Museum, Casino and mesmerizing light show in the evenings.
#7 – Hike the Southern Ridges
Hiking the Southern Ridges is a popular activity for those that enjoy the outdoors! The Southern Ridges trail is an avant-garde bridge that meanders through the treetops, offering an unreal experience in and amongst the lush greenery, while offering outstanding views of the city's skyline!
#8 – Pop in at Universal Studios
Divided into seven 'worlds', a visit to Universal Studios theme park will give you the opportunity to feel the rush of exhilarating roller coaster rides that are sure to leave your adrenaline pumping and your heart beating hard in your chest!
#9 – Explore Chinatown
The bustling area of Chinatown is one of the most authentic areas in Singapore! Rich in history and buzzing with activity, a visit to Chinatown will present you with some of the tastiest Chinese food, shops with antique trinkets and traditional remedies. Chinatown is a wonderful area to visit for a great day (or night) out in Singapore!
#10 – Shop 'til you drop on Orchard Road
Orchard Road has a popular reputation as the shopping district in Singapore. If shopping is your thing – then you do not want to miss out on the shopping experience provided by Orchard Road! If your feet need a break, you can always pop into one of the many cafes for a refreshment before continuing your shopping!
Singapore is such a unique and culturally rich city, that you most likely have a million questions before visiting – right? Hopefully, we can answer a few of your more common questions here!
Don't Forget Your Singapore Travel Insurance
ALWAYS sort out your backpacker insurance before your trip. There's plenty to choose from in that department, but a good place to start is Safety Wing.
They offer month-to-month payments, no lock-in contracts, and require absolutely no itineraries: that's the exact kind of insurance long-term travellers and digital nomads need.
SafetyWing is cheap, easy, and admin-free: just sign up lickety-split so you can get back to it!
Click the button below to learn more about SafetyWing's setup or read our insider review for the full tasty scoop.
Final Thoughts on a Great Weekend in Singapore
As you can see, Singapore is an incredible choice for a weekend destination – whether it is part of a larger tour or you are simply using the opportunity of a layover. There are countless things to do, experiences to enjoy and places to visit – not to mention the food available to taste! This list truly only gives a glimpse into the many adventures to be had in Singapore. You might even consider moving to the city – in that case, check out or cost of living in Singapore guide!
We hope that this breakdown on where to stay, things to do, and foods to try has whet your appetite for the adventure of a lifetime in the cosmopolitan Asian city of Singapore!
---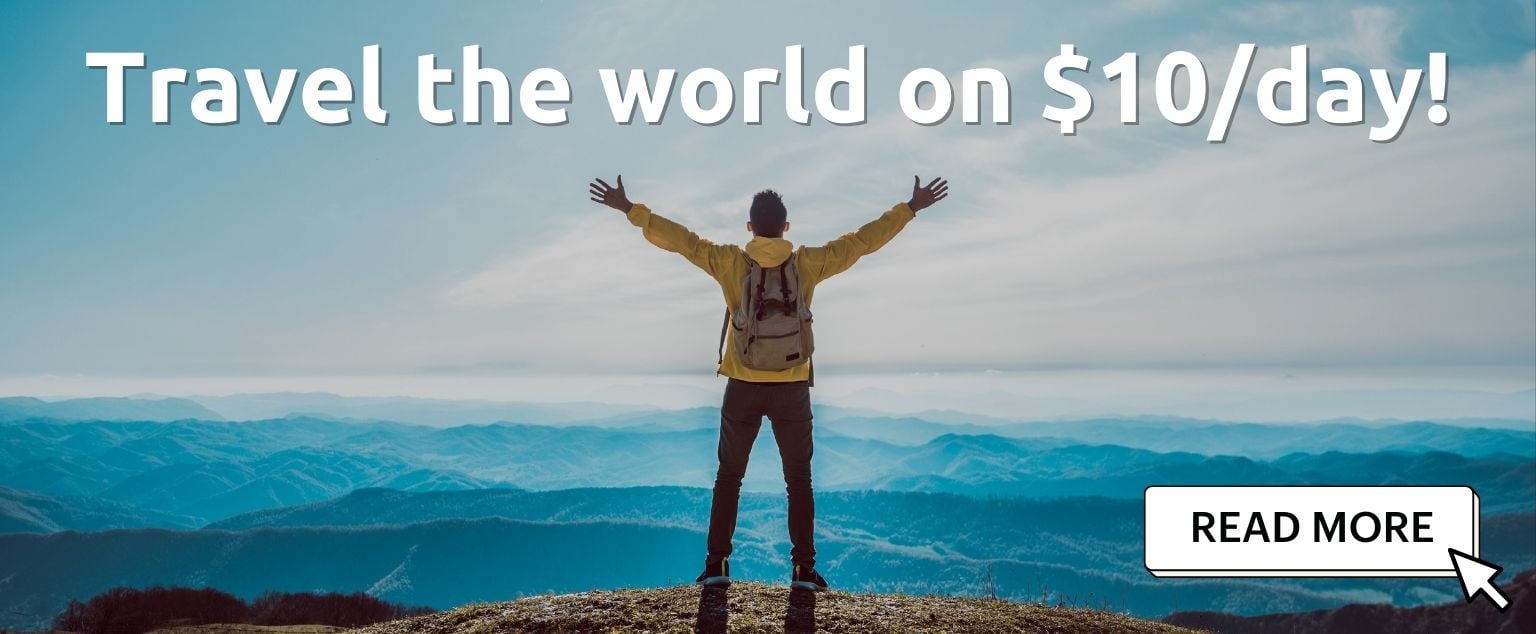 And for transparency's sake, please know that some of the links in our content are affiliate links. That means that if you book your accommodation, buy your gear, or sort your insurance through our link, we earn a small commission (at no extra cost to you). That said, we only link to the gear we trust and never recommend services we don't believe are up to scratch. Again, thank you!