Finding Singapore apartments to rent has never been easier! From the vibrant historic districts to luxurious parts of the city like Orchard Road, Airbnb has made finding holiday rentals in Singapore a bliss!
Staying in an Airbnb in Singapore's unique neighborhoods not only gives travellers a chance to live like a local and experience the island on a more intimate level. It's also a great opportunity to mingle with locals or if you want some privacy, you can have an entire rental unit like a studio apartment!
Whether you're on a budget or visiting the country for the first time, the island city-state of Singapore has an Airbnb for all your needs.
We'll share our 15 favorite short term rentals and also get into whether Airbnb is legal in Singapore.
Singapore is an incredible city to explore. Highly developed, with a booming population and growing tourism, the city deserves a spot on the "must-see list". But finding the right accommodation can be a bit tricky. To make sure that you know exactly what Airbnb is and what to expect, we've listed up different property types and given a small explanation.
You can generally find any type of Airbnb in Singapore, however, if you want an entire rental unit, they are usually above the normal travellers budget for holiday rentals. If you're travelling on a strict budget, it's better to choose a cheaper area of Singapore to stay in where you can opt for a studio apartment or a Singapore private homestay instead. Business travellers however might opt to stay in the CBD or close to a train station.
Small insider tip: it doesn't matter what kind of Airbnb you book, you should always ask your host if an airport shuttle is available to book. This might save you a bit of money, and you can be sure you'll get picked up and dropped off safely! Or you can ask about the nearest MRT station if you need to take public transport.
Private Rooms – affordable and pretty much everywhere
Now, this is going to be the main type of Airbnb you find in Singapore. Whether you're looking for something close to the centre or further away, booking a private room is always an option with comparable pricing to many of Singapore's best hostels.
For those of you that don't want to spend too much for the night, but still want to enjoy some privacy and peace, a Singapore private homestay is perfect. Common areas are usually shared, but you'll usually have access to things like a washing machine. If you're lucky, you'll get a private bathroom. Just make sure to check the description box before you book, so there won't be unpleasant surprises.
Staying at a locals place also means that you'll be provided with great recommendations, city life hacks and maybe one or two sneaky tricks to get the most out of Singapore. Some locals even rent their rooms out for long-term travellers or those who actually want to live in Singapore.
Hostels/Homestays – great option near city centre
Hostels or homestays in Singapore are great! But if you have a look at the wealthy, tidy and stylish city, this shouldn't surprise you. Most Singapore hostels are offering dorms for 4-8 people while homestays normally have private rooms. They are usually very clean, and most of them are either new or in very good condition.
The closer you get to the city centre, the more hostels you'll find. It's a great option for travellers that want to save some money. Since you're more likely to have a private room in a homestay, you'll be paying a little bit more than for a shared room.
Remember to always check out the pictures and details about the hostel or homestay first (lots of them have their own websites too for more information).
Condominiums – great value for your money
This accommodation sounds like a spell from Harry Potter, but it's actually a great option for families, groups and travellers who prefer an entire rental unit to themselves,
Condos are usually found near the city centre, in the big skyscrapers that you can see around every corner. They're usually a bit more expensive than other rentals in Singapore(given the travel costs in Singapore) but still affordable for a group, and you get a good value for your money. You can get anything from a studio apartment to a designer loft with cool features.
Generally speaking, the newer the building looks, the better the condo will be. Since these buildings have up to 30 floors, you might even get an amazing view of the city. They are great for business travellers who need a convenient location in the city centre close to a train station.
When booking a condo, reach out to your host and ask about the building's facilities. Some offer pools, sauna and gym on the top floor that are pretty much open all day and available for all residents.
Local Experience: While many Singapore Airbnbs are managed by companies, they're still locally based holiday rentals. Get the best recommendations for your Singapore itinerary that you won't find in the guidebooks to make your trip truly special and more than just a place to stay.
Unique Properties: A vacation is a break from the norm, so why not stay in a property that reflects that? Airbnb is where to find the coolest and most unusual places to stay like a converted heritage shop house!
Privacy: Whether you're travelling with the whole family or your other half, it's nice to have your very own space. You won't be disturbed if you select an entire rental unit!
Affordability: When it comes to value for money, Airbnb rentals in Singapore offer so much more than hotels at the same price as you get additional benefits like use of a washing machine.
Safety: It might seem a little weird staying in someone's house; however, both hosts and guests are vetted by Airbnb reviews to ensure the safety of both. SINGAPORE is overall safe, and the Airbnb booking security just adds a little extra to it.
Let's dive right into the best rentals in Singapore! We've done our best to put apartments and homestays for every type of traveller visiting Singapore. Happy travel-planning!
This studio unit on the 3-floor of a historic Shophouse was designed by an experienced hospitality architect. With one bedroom and a maximum occupancy of 2 guests, the apartment has modern amenities including a doorman, rain shower and shared sky terrace for relaxation.
You're trying to make the most of your money while in Singapore? Of course, you are! You want to save some of that cash for the hawker centres. This apartment is a little further from the city in a quiet residential area close to public transport and shops. You've got access to a kitchen and a shared bathroom too as well as an outdoor pool!
---
Psst…
---
Ideal for someone who's travelling alone and wants to meet other like-minded travellers. This mixed dorm in the heart of Little India has 8 beds in a shared room and two bathrooms. The property doesn't have a kitchen facility, but breakfast is included. It is conveniently located close to the Tekka centre, and a 13-minute walk to the shopping junction of Bugis Street as well as having a closeby subway location and great food nearby.
Perfect Short-Term Rental for Digital Nomads | Cool downtown studio
There is no other neighbourhood to stay in like the CBD if you want to experience what the city has to offer. This area is expensive, but here's your short-term rental if you're not rolling in cash. The apartment comes with a cosy living area, dining area, open concept kitchen with washing machine, 1 bedroom with a comfortable queen-size bed, en-suite bathroom, and a wardrobe all with air conditioning. The area is ideal for business travellers and is close to an MRT train station and heaps of great food nearby too.
As a digital nomad, you want to be close to Singapore's top attractions but have a place to pull back to so you can slam through work. This affordable room gives you that chance. Get out and see the sites during the morning, disappear to your little desk for the afternoon and hop over to the nearby night market each evening. It's basic but economical. (Pro tip: In Asia, windows cost extra.)
You know the struggle of paying the price after a big night out. Nothing is worse than having to share a room with noisy travellers when you're hungover: Luckily, this Airbnb will be all yours! The very welcoming studio offers a fully equipped kitchen, super chic interior design, and, most importantly, a super comfy bed with air conditioning! It's located near CBD, meaning you'll be close to lots of nightlife options and public transport, there's also lots of food nearby too. It officially sleeps 4 people, however, it's more likely to be suited for 3 guests, since there's only one bedroom and a sofa bed.
This 8 sqm studio is best for partnered-up travelers seeking short-to-medium stays in Singapore and is located in a converted heritage shophouse. It doesn't have a full kitchen, which really would've pushed it over the edge of awesome for rentals in Singapore. It's a modern yet cosy home away from home for travellers and not just a place to stay for the night. It's close to a train station and also features air conditioning for those warm nights.
It might not be your typical homestay, since these are hard to find in the city, but it's the closest it can get from the rentals in Singapore. You'll have a spacious bedroom to yourself, while the flat is shared with three other people, including the host. All common spaces are free to use and there's even a washing machine if you need it. The host is known to be super friendly and helpful if you have any questions. It's close to a train station as well as the City Square mall and also has air conditioning.
Located in the heart of the city near Fort Canning Park, this homestay is a great place to meet new people. There's access to a kitchen, TV room with PlayStation and a washing machine and dryer. It's the perfect location to walk anywhere in the city making it easy pickings for a quick 3 or 4-day itinerary in Singapore.
Spacious, luxurious and with the best reviews – this amazing Airbnb has it all. The two-bedroom condominium offers a brand new home and a welcoming and comfy space to relax. It couldn't be any cleaner according to previous guests and all amenities are high in quality, giving you an amazing value for your money. Once you moved in, you never want to leave again! The building also offers a pool, which is available for all residents.
Experience the eclectic charm of living in a refashioned and reloved colonial-era walk-up shophouse! This Suite is located in the back wing on the second floor of the Shophouse up a short flight of stairs. This house is filled with unique, one-of-a-kind vintage furniture from all over the world. With high lofty ceilings, soft and modern amenities, this space can be occupied by 2 – 4 guests and is perfect for the ultimate luxury weekend trip to Singapore.
This little studio is a hidden gem in Singapore. Advertised as a private room, you'll get a small studio all to yourself. The Airbnb is spacious, designed with an eye for detail and offers great amenities. There's an outdoor kitchen ready to be used. Afterwards, you can enjoy your homemade meal on your terrace. Located in Singapore's CBD, you'll be close to all hotspots, public transport options, and great shopping/dining opportunities.
This stunning two bedroom loft might not be for everyone's budget, but it does come with a lot of bang for your buck! Situated in the heart of Singapore's CBD, you'll be in walking distance to almost all points of interest, with great shopping options like the City Square Mall and the public transport network. The loft is super modern and designed with an eye for detail. The massive livingroom is the perfect place to socialize with some friends, have dinner together or simply watch Netflix on your Flatscreen TV.
If you're looking for a home that's stylish but at the same time comfortable, then you don't have to look any further. This Airbnb offers you total privacy, beautiful interior design and everything that you might need. From the kitchen to the modern bathroom, this home has it all. There are plenty of great dining options around, offering all sorts of different cuisines. And for all couch-potato travellers: there is free Netflix and the comfiest bed you could wish for.
Honestly, this is the most well-thought-out Airbnb in Singapore. It's perfectly set up for a family of 3 to 6. You can even squeeze 8 bodies in here by converting the couch and doubling up on a bed. Here's the shortlist of why we like this place: parents get their own room, it's fully stocked with little-kid toys, the Xbox can keep older kids entertained, and it's a 5-minute walk from LEGOLAND! For anyone travelling with children – take a look!
This top located Airbnb is the dream for solo travellers or couples that want to explore the centre of Singapore. In walking distance to Downtown City, public transport and other hot spots, your days will be filled with new experiences and entertainment. The home itself is a spacious room in a beautifully restored Townhouse. Bright, clean and with great amenities, such as a Smart TV, you won't mind having a lazy day and staying inside.
This private room in a charming monochrome house is located on Sophia Road, offers a unique experience on this island of glass and concrete skyscrapers. With 24HR check-in availability using a digital lock. Discover the speciality shops and supermarkets in this nostalgic and intimate estate which is 10 mins walk down to Plaza Singapura, Bugis, and markets in Little India.
If you want to make the most out of your Singapore stay, you should opt to stay close to Orchard Road. This stunning apartment is located just around the corner from the famous shopping area. That means that you might have to pay a slightly higher price, but you'll get incredible value for your money. Guests can also use the building's gym and pool for free, and ask for recommendations or help at the reception, which is open 24 hours of the day.
If you're travelling with friends, you can get a nice place all to yourself that won't cost you more per person than some dorm beds without air conditioning! Don't sacrifice privacy. Get a private apartment in the middle ofLittle India so you've got lots to explore nearby. You'll also be minutes away from the MRT, your link to exploring all of Singapore! This apartment is cosy, equipped with all the necessities, and across the street from a 24-hour convenience store.
You're trying to make the most of your money while in Singapore? Of course, you are! You want to save some of that cash for the hawker centres. This apartment is centrally located, and cheaper than everything short of a hostel bed in the area. If you're travelling with a group or a family, this is a perfect crash pad. Note: you'll be sharing bathrooms with other rooms. The savings have to come from somewhere!
Although Singapore is a safe place, travel there is encumbered by a number of draconian laws carrying strict penalties. However, Airbnb in Singapore is legal – mostly. There are no laws preventing guests from staying in properties listed as Airbnbs in Singapore.
Singapore's government states that short term rentals are required to be a maximum of 3 months long in private residential properties or hotels ONLY. Housing Development Board (HDB) also known as flats cannot be rented to tourists.
Flats can only be rented out to non-Singapore nationals who have a student or long-term social visit visa.
For private residential property rentals, there is a strict maximum occupancy of 6 unrelated guests who are allowed to stay in a private residential property at any one time.
Have you booked an Airbnb experience yet? Lots of travellers still aren't taking advantage of all the high-quality, easy-to-book and fun local tours, classes and activities available on the very same platform where they book accommodations.
Even better, lots of Airbnb experiences aren't run by huge tour companies, but by locals – that means smaller and more intimate groups, passionate guides, and out-of-the-box experiences that are rooted in local knowledge. Explore Singapore with someone that really knows the city by heart!
Plus, you can manage everything right from the Airbnb app – no annoying text chains, emails, and saving tickets to your camera roll. Sweet!
Sounds good? Then check out our top 3 Airbnb experiences in Singapore:
Ever wanted to experience Singapore's Chinatown with the eyes of a local? No tourist traps are a guarantee with this Airbnb experience. Walk around Chinatown, explore the neighbourhood, culture, and traditions with your local guide.
Singapore is all about food. But it's hard to find the best places, especially if you're visiting for the first time. Your local guide will take you to the most amazing and unique street food places, offering you a great insight into the different cuisines and dishes. Make sure to come with an empty stomach!
Explore the hidden gems in small alleys, behind corners and places where tourists are a rare sight. This is a one-of-a-time adventure!
$45
up to 4 people
2.5 hours
You might've seen the game Mahjong in one or the other movie (Crazy Rich Asians, anyone?), but never knew how to play? This Airbnb experience will turn into a Mahjong master in less than three hours.
Your guide Sabrina will invite you into her home, where she teaches you the rules and tricks of the game. But that's not all if you're lucky, some of your host's friends and family might join in (if you're a worthy opponent), giving you the opportunity to look into a typical Singaporean life.
Great chats, leaving with a little Chinese knowledge and a stomach full of snacks and drinks are guaranteed!
$104
up to 10 people (work in pairs)
3 hours
This amazing Airbnb experience gives you the opportunity to learn completely new culinary skills. The Asian cuisine cooking class will teach you all of the local's tips and tricks, while also filling your stomach and giving you great memories to take back home.
You will be cooking in your host Ruqxana's outdoor kitchen, which is a cool experience itself. All ingredients are provided and you'll work in pairs (bring a friend!). Ruqxana will keep an eye on everyone, explaining different techniques and introducing traditional spices.
At the end of the class, everyone will sit down together and enjoy their freshly prepared and (hopefully) tasty dinner. It's a great way to look into a local's life, a part of their culture and their home. Feel free to reach out to the host to ask about other available cuisines too – she's an amazing cook with great culinary skills!
Don't Forget Your Singapore Travel Insurance
ALWAYS sort out your backpacker insurance before your trip. There's plenty to choose from in that department, but a good place to start is Safety Wing.
They offer month-to-month payments, no lock-in contracts, and require absolutely no itineraries: that's the exact kind of insurance long-term travellers and digital nomads need.
SafetyWing is cheap, easy, and admin-free: just sign up lickety-split so you can get back to it!
Click the button below to learn more about SafetyWing's setup or read our insider review for the full tasty scoop.
With the national anthem in micro-text on the back of their $1,000 note and more species of trees than the entire North American continent, Singapore is a diverse melting pot of cultures and races waiting to be explored. Highly developed, extremely clean and as one of the most popular cities nowadays, Singapore has become a must-see spot on our travel lists!
Whether you just want to book a home for a couple of days or stay a bit longer, there will be the right Airbnb for you! And if you get bored, just check out the Airbnb experiences. A home far away from home and great entertainment is guaranteed.
---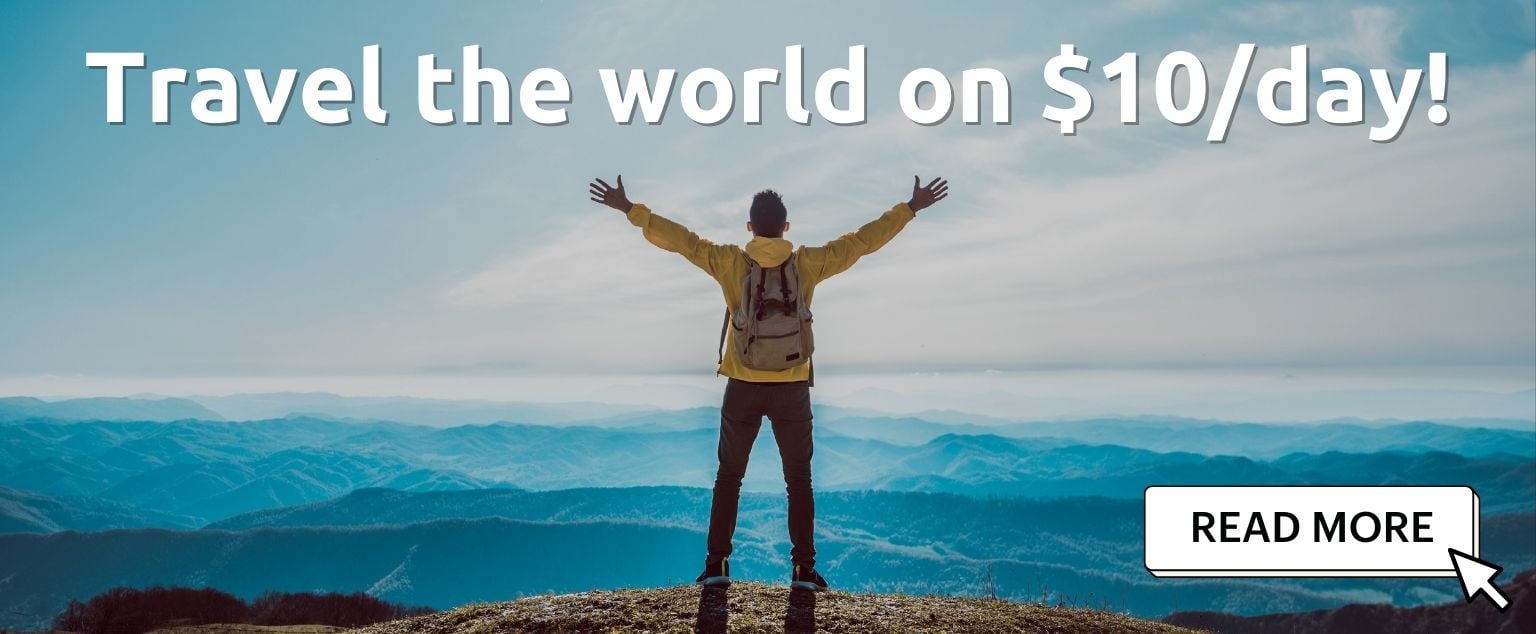 And for transparency's sake, please know that some of the links in our content are affiliate links. That means that if you book your accommodation, buy your gear, or sort your insurance through our link, we earn a small commission (at no extra cost to you). That said, we only link to the gear we trust and never recommend services we don't believe are up to scratch. Again, thank you!