Welcome to Singapore! After landing at the awesome Changi Airport (where yours truly once spent 24 hours playing video games during a layover) it is time to explore the Lion City.
Singapore is not just one island but a mini-archipelago of 64. One of those islands is the rainforest paradise of Sentosa, which brings to you the exotic white sands famous in South East Asia.
Singapore's other nickname is the Garden City, after the lush landscape that permeates the concrete jungle. You will find towering skyscrapers mixed in with sprawling greens. Almost half of Singapore is under some sort of natural scenery, including buildings with vertical gardens that climb the walls.
At the Bukit Timah Nature Reserve, there are more tree species in a single hectare than anywhere in North America.
Aside from Singapore's famed cleanliness, the city has a diverse restaurant scene representing so much of the world, but its Little India and Arab Street that are the real highlights.
As for VRBOs in Singapore, you will find plenty of options that particularly favor those on a budget, and almost all will be close to the city's MRT (underground train system). Staying in rentals in Singapore will provide a great insight into the local culture, while keeping you close to all the fun tourist activities.
Quick Answer: These are the Top 5 VRBOs in Singapore
Overall Best Value VRBO in Singapore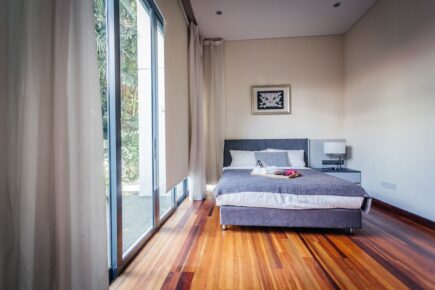 Overall Best Value VRBO in Singapore
En-Suite Room with Pool
> $$
> 2 guests
> Shared pool
> Housekeeping
Best Budget VRBO in Singapore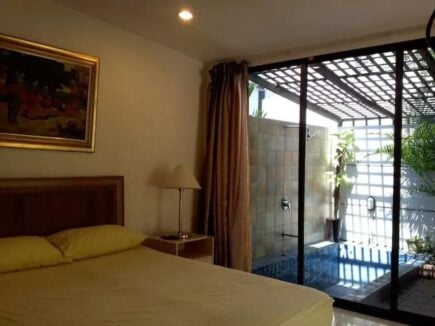 Best Budget VRBO in Singapore
Studio Villa
> $
> 2 guests
> Patio
> Close to trains
Best VRBO for Couples in Singapore
Best VRBO for Couples in Singapore
Bali Style Apartment
> $$
> 2 guests
> Romantic outdoor space
Best VRBO for Families in Singapore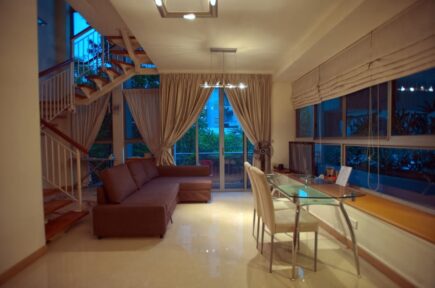 Best VRBO for Families in Singapore
Two Story Family Home
> $$$
> 5 guests
> Central location
> Private pool
Over-the-Top Luxury VRBO in Singapore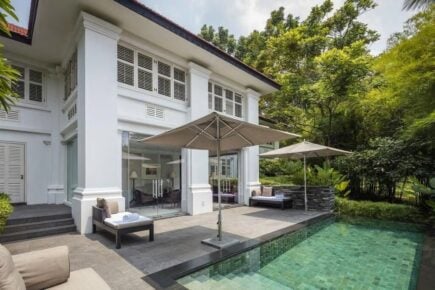 Over-the-Top Luxury VRBO in Singapore
Terrace Apartment on Santosa Island
> $$$$$+
> 6 guests
> Paradise
> Complimentary shuttles

Unlock Our GREATEST Travel Secrets!
Sign up for our newsletter and get the best travel tips delivered right to your inbox.
What to Expect from VRBOs in Singapore
When it comes to where to stay in Singapore, it pays off to take a look around. Skip out on crowded hostels or dated hotels, and grab a place all to yourself without the extra cost.
Many of Singapore's VRBOs have a strong price point, allowing for even the stingiest backpacker to make his or her stay in the city epic.
Such a dense urban environment (aside from the plethora of plants and trees) has lent itself to having an abundance of short-term rentals available for travelers. These tend to be apartments and studios in a residential setting, where you can be among local Singaporeans and other travelers.
Be close by to the restaurants and bars that tourists normally miss out on, while still having access (via the city's awesome transport) to Singapore's hotspots.
Here are the three most common types of VRBOs in Singapore.
Studio
Studios on VRBO are a great option for solo adventures or couples looking for budget accomodation.
Studios in Singapore are often in a larger house broken down into private sections. The best ones come with private entrances and en-suite bathrooms which allow for a personal escape without paying extra.
The communal kitchen spaces can be a hive of activity with other travelers who carry a bevy of local information along with your host. Often cheaper than a private room at a hostel, you can enjoy an easy place to rest with better amenities and more privacy.
Some of the better studios in Singapore also come with their own pools to relax in after a big day – think outdoor patios for reading, eating, and hanging out with new friends.
Studios are placed all throughout the city but almost always within walking distance of public transport. Without a doubt, you'll be nearby to plenty of restaurants and local hangouts.
For more budget tips, check out our Singapore Budget Travel Guide!
House
For families or groups of friends, it'll be hard to pass up on the option of having your own home while in Singapore. These can be harder to find, particularly in a city that is almost 100% high rise buildings. However, there are options out there, and VRBO will help you find them.
On arrival, you can enjoy the quieter parts of the city among residential streets teeming with other families and hidden gems.
A house in Singapore will provide all the best aspects you may be missing from back home. A large kitchen for making family meals and a comfortable living space to hang out, play games, and talk about the day – plus, individual rooms for the kids.
Outside your front door will be hidden gems and highlights that won't show up on the 'to-do' lists online. Lean on your host for some in-the-know information.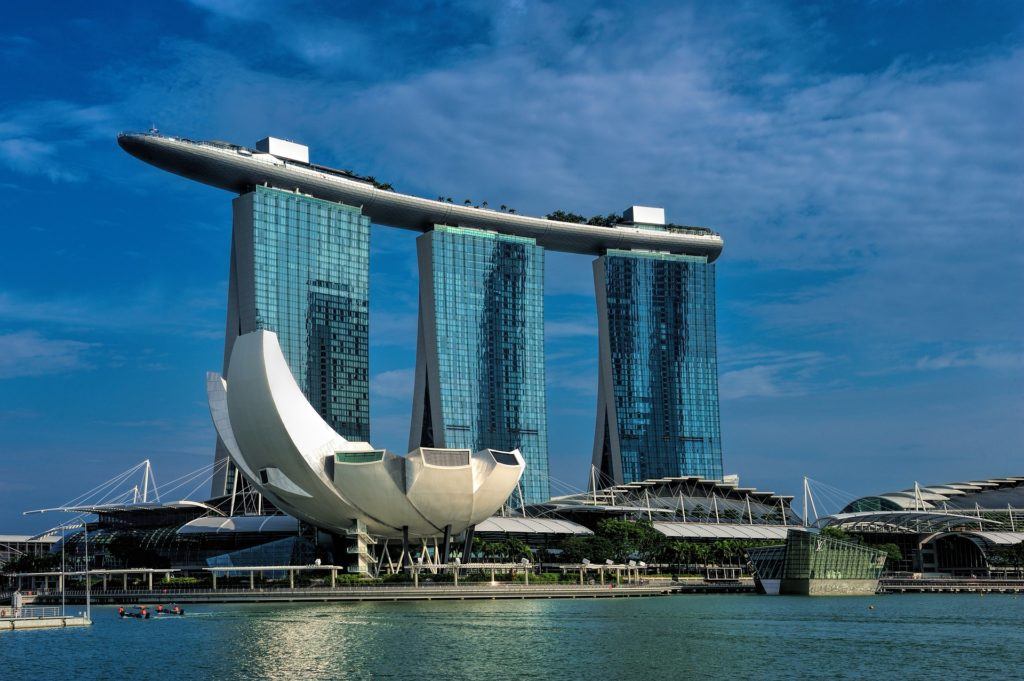 Apartment
The most common and popular choice of VRBO accommodation in Singapore is an apartment.
Your best bet for staying in the heart of the city is by locking down one of these before you arrive. Whether you want to stay in Tiong Bahru, or Joo Chiat, along the Singapore River, or near Orchard Road, there is sure to be an available apartment close by.
Rather than stay in a hotel with a kettle, an empty mini-fridge, and maybe a toaster, grab yourself a full kitchen without sacrificing location.
You don't need to book multiple hotel rooms or dorm beds – instead, why not share one of VRBO's many multi-room apartments in Singapore with friends? You can split the costs and have your own space – enjoy your own bathroom along with living space for hanging before the adventures begin.
Enjoy some of the best views in the city and see the bright lights of downtown every evening while being just steps from Singapore's amazing nightlife.
Why Stay in a VRBO
There are a bunch of reasons to stay in a VRBO. If we haven't convinced you yet, here are our top five:
Local experience: VRBO provides you with the opportunity to get away from the hotel and hostel scenes. Stay with locals and experience your destination through their eyes.
Privacy & Safety: Having your own space to come home to every night is a luxury that all travelers can now experience. No more waking up at 4:00 in the morning because someone else is off to the airport! Our Is Singapore Safe? post is packed with safety information for your adventure.
Affordability: For the same price – and often cheaper than a hotel – you can have the same amenities you love back home while on the road.
Last-minute bookings: Picture this – you have just landed at Changi Aiport with no accommodation. Well, lucky for you, VRBO will fix that ASAP!
Staying long-term: As anyone whose fallen in love with a city would know, sometimes you just can't leave. Luckily, VRBO offers discounts for both weekly and monthly stays.
The 20 Top VRBOs in Singapore
Now check out our top 20 VRBOs in Singapore:
For those wanting to get in and amongst the wonders of the city, why not check out this VRBO in Singapore?
Here you will find yourself just minutes from a variety of public transport and downtown itself.
The private studio room comes with its own ensuite, so you will have your own space away from other travelers. Not to mention the cozy queen bed!
Once you are ready to explore, head down to the local train station just seven minutes' walk away. After you have explored the sights, go for a swim in the shared pool or head up to the rooftop patio and relax.
3 Places to visit
Orchard road
Marina Bay Sands
Best Budget VRBO in Singapore | Studio Villa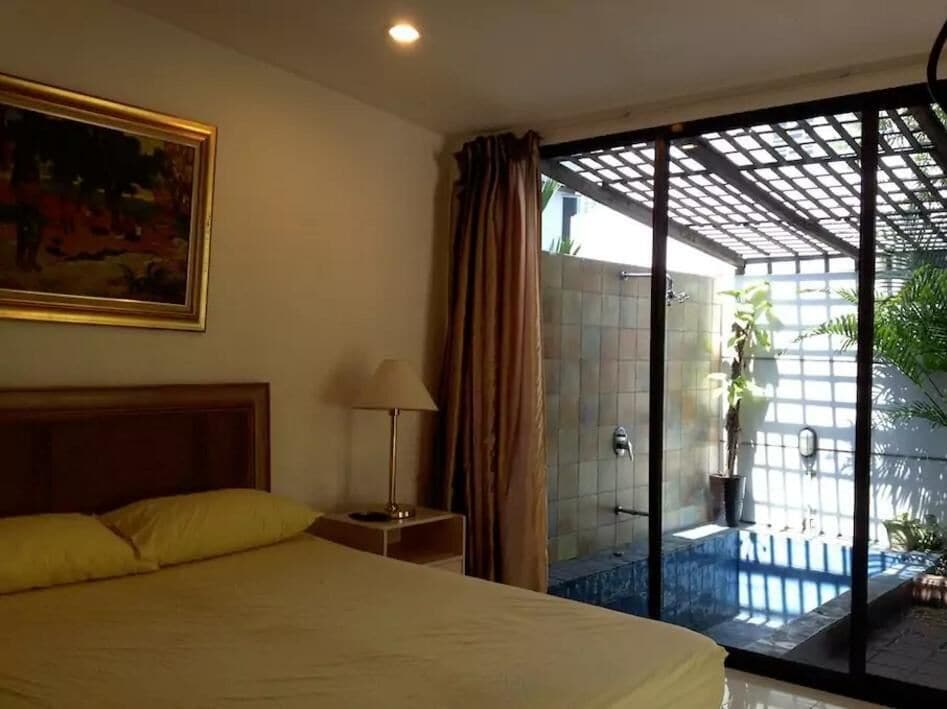 Without breaking the bank, you can stay in your own private studio villa. This VRBO in Singapore is just a short stroll from the city's impeccable rail system and a single stop away from Gardens by The Bay, a UNESCO World Heritage site.
The villa, while basic, will provide an excellent base to explore from, and a quiet retreat at the end of a big day. The outdoor space is perfect for kicking back and relaxing with your traveling partner and enjoying a nice dinner.
Speaking of food, the villa is surrounded by some of the best local restaurants in the city which will give you an even closer look into Singapore's famed cuisine.
Take a look at our Is Singapore Expensive? article for some more budget tips!
3 Places to visit:
Les Amis Restaurant
Candlenut Restaurant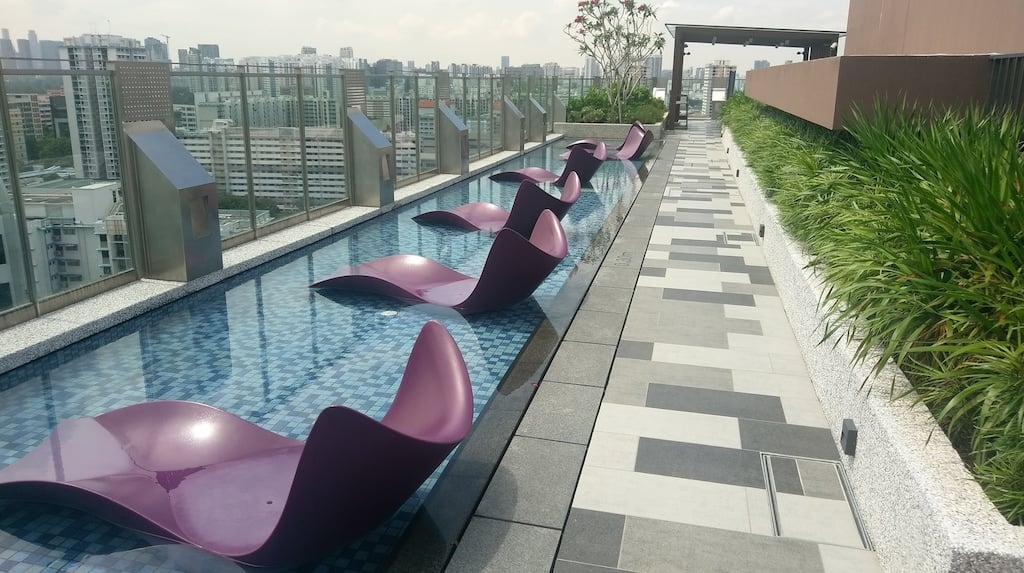 In this three-bedroom shared condo you will enjoy a great balance between a hostel environment and a resort stay, making this the best VRBO in Singapore for solo travellers and budget backpackers.
With your own private spot in this modern condo, you have a great place to crash at the end of each day. When it's time to eat, make use of the full kitchen without the crowded chaos of a hostel communal area. But with other guests, you will still have the chance to meet fellow travelers who are also exploring Singapore.
If you just feel like hanging out for the day, check out the condo's balcony for excellent views of the city, or head to the rooftop pool for panoramic views of Singapore's famous skyline.
3 Places to visit:
Bugis Street
East Coast Park
Is This the Best Backpack EVER???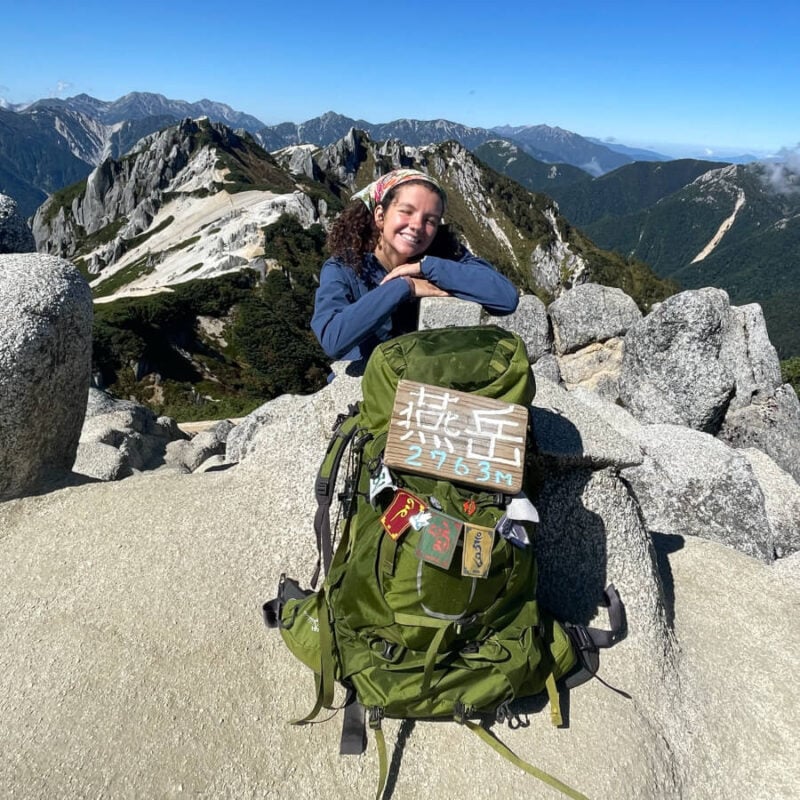 2 guests
Relaxed tropical style
The beautiful interior and breezy outdoor space of this VRBO in Singapore makes it a great place for an adventuring couple. Come home each day and feel like you have been thrown across to Indonesia.
Start the day with a coffee on the wonderful outdoor patio, and cuddle up with a blanket at night to watch the Singapore lights paint the sky.
Just minutes from the Farrer Park MRT for transport, Orchard Park is just a hop, skip, and jump away. Little India, Clarke Quay and the Harbour Front are just a few stops away for the perfect date night.
3 Places to visit:
Les Amis Restaurant
Orchard Road
Raffles Place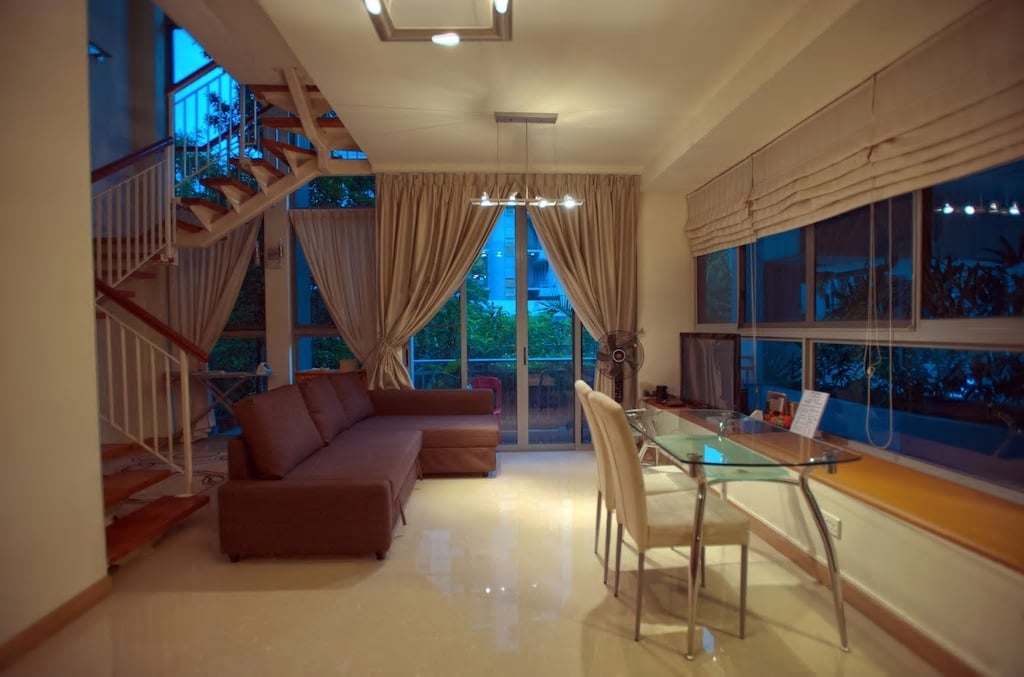 For families heading to Singapore, this is the VRBO for you.
Away from the noisy, busy roads of downtown Singapore, this spot promises plenty of precious family time.
The two-story house features a living space on the lower floor and all bedrooms on the second. This gives you even more space to kick back, play games, and chat about the day.
The spacious kitchen area is great for making larger meals. There is also an outdoor BBQ for an alfresco feast.
The kids will love having their own pool, while the parents can enjoy their private balcony once the little ones are asleep.
If that wasn't enough, it's only five minutes from the MRT and close by to Singapore's entertainment and shopping districts.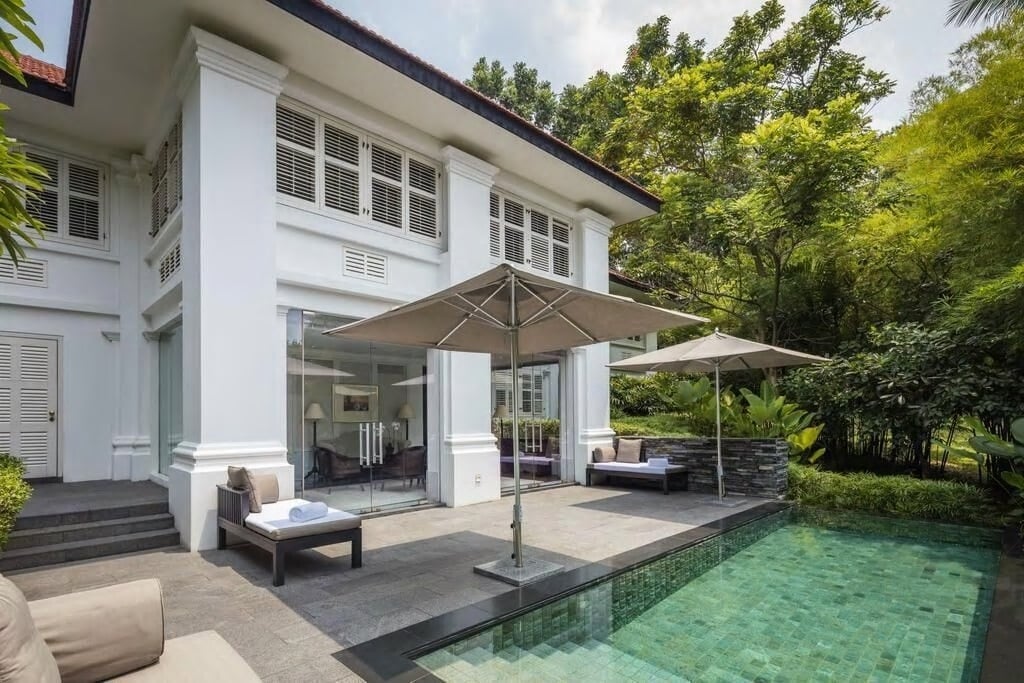 6 guests
Complimentary shuttles
When it comes to over-the-top extravagance, it doesn't get any better than at this VRBO in Singapore.
A resort-style, three-bedroom apartment-slash-mansion, this home is located within the Santosa rainforests.
Within your own private suite, there are endless views out to the South China Sea.
Around the resort, you will be able to use the exclusive clubhouse with its infinity pool, lounge, and tennis courts, as well as enjoy direct access to Palawan Beach – a white sand, palm tree paradise.
The first-class interior will keep you comfortable, and there are beautiful cool balconies for watching the sunset.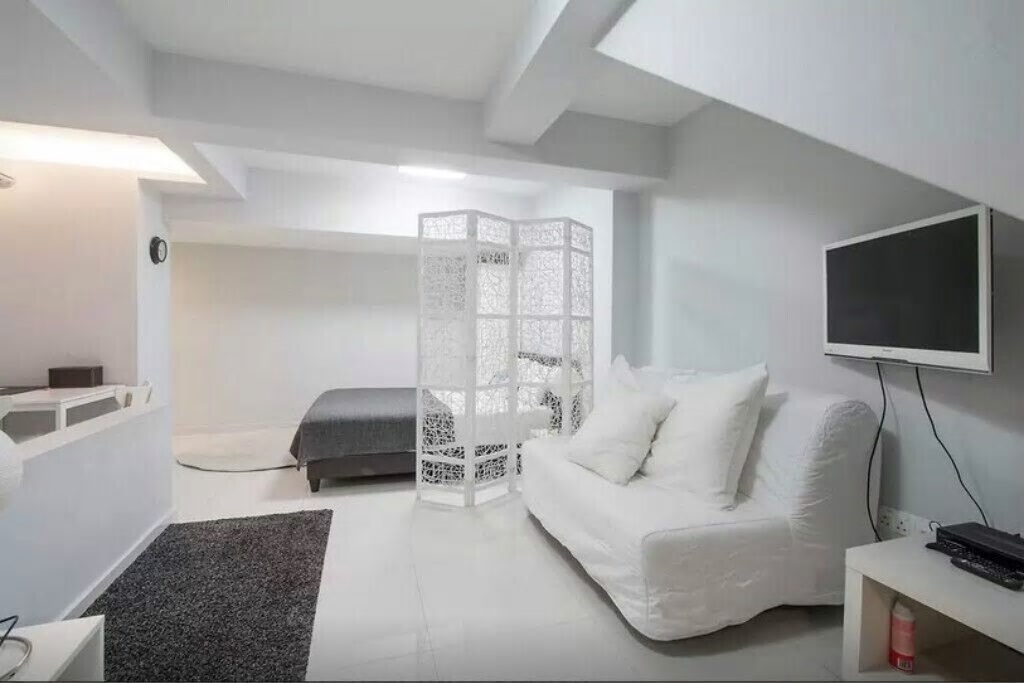 2 guests
Laundry & housekeeping
With its clean and sleak interior, this studio will be a welcome change for those who need a quiet place to stay.
Three minutes from the local MRT station, it places you so close to the action without ruining the home's peace and solitude. Just a few stops from shopping on Bugis and Singapore's famous Arab Street, you can easily explore all the best places in Singapore.
In this private space, you can come home, crash on the couch, and make use of the studio's large kitchen.
There is a shared outdoor patio located in the building's gardens – great for relaxing and meeting other people.
The home is cleaned weekly, keeping it in tip-top shape throughout your stay.
Best House on VRBO in Singapore | Terrace House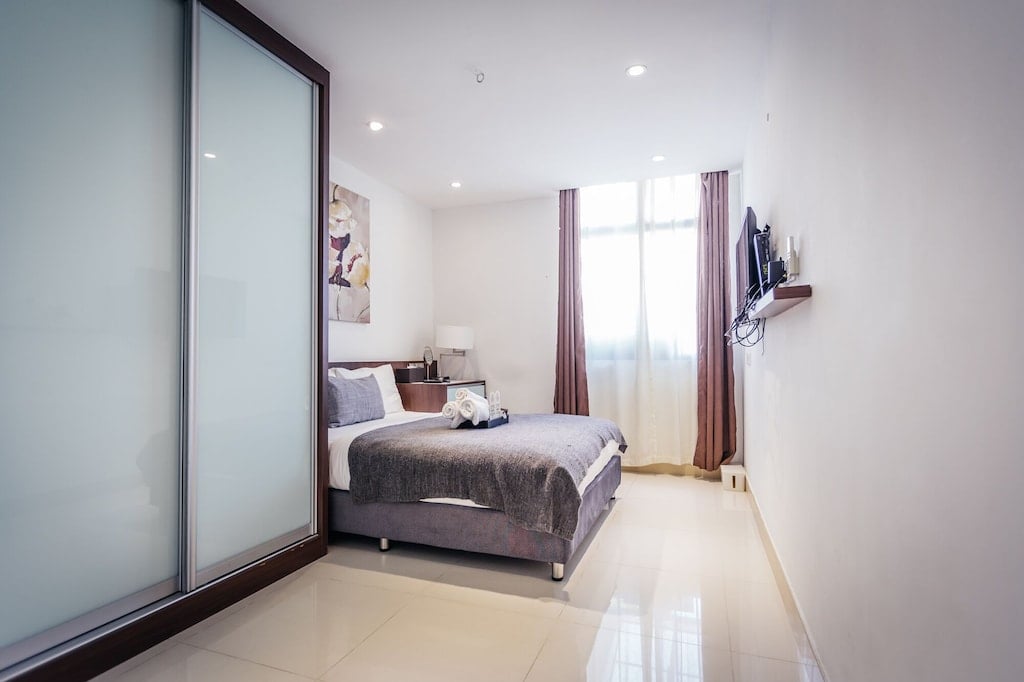 With the apartment crunch spreading throughout Singapore it can be harder to find home-style accommodation – but they are out there and this is our favorite.
The apartment's spacious bedroom will be a lovely place to rest your head each evening and features its own private en-suite bathroom.
As the sun rises, sip a morning coffee on the patio and begin to plan your adventure for the day.
Like so many of the best VRBOs in Singapore, you won't need a car to get around since you'll be so close to the city's public transport.
After shopping till you drop, rest up at East Coast Park, the biggest beach in Singapore.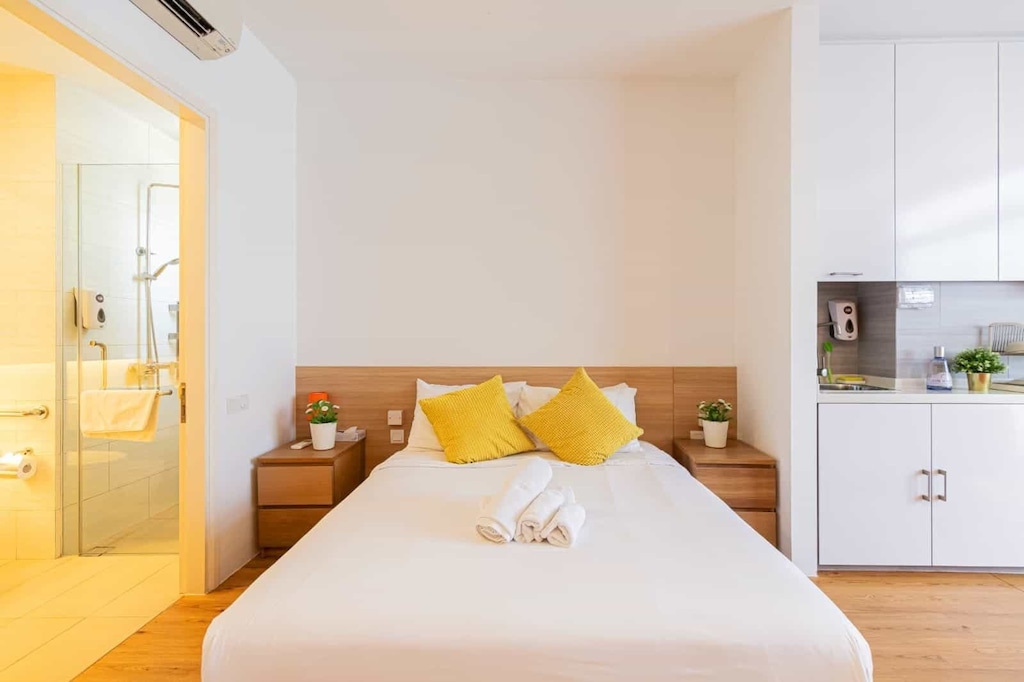 This bright and colorful VRBO in Singapore will keep you happy and cozy during your stay. The living space is inviting and will make you feel right at home as you drop your bags, while the exterior of the apartment building is covered in vines adding a natural touch to the space.
A huge shared pool is available that will make you feel a world away from the bustling city of Singapore.
It is just a two-minute train ride from the famous Orchard Road, 10 minutes from Bugis Street, and 20 minutes from paradise in Sentosa.
This two-story penthouse apartment has direct access to Singapore Changi Airport, and is just minutes from the city's downtown. That is, if you decide to leave the rooftop pool. It is a perfect place to enjoy the city's warm days and relax under the sun, or in the water. You can take in the sights and sounds of the city, and plan your adventures from your own private spot in the clouds.
The space also comes with BBQ pits and a gym!
When you have your Singapore itinerary ready, drive into the city in 10 minutes or walk over to the nearby MRT.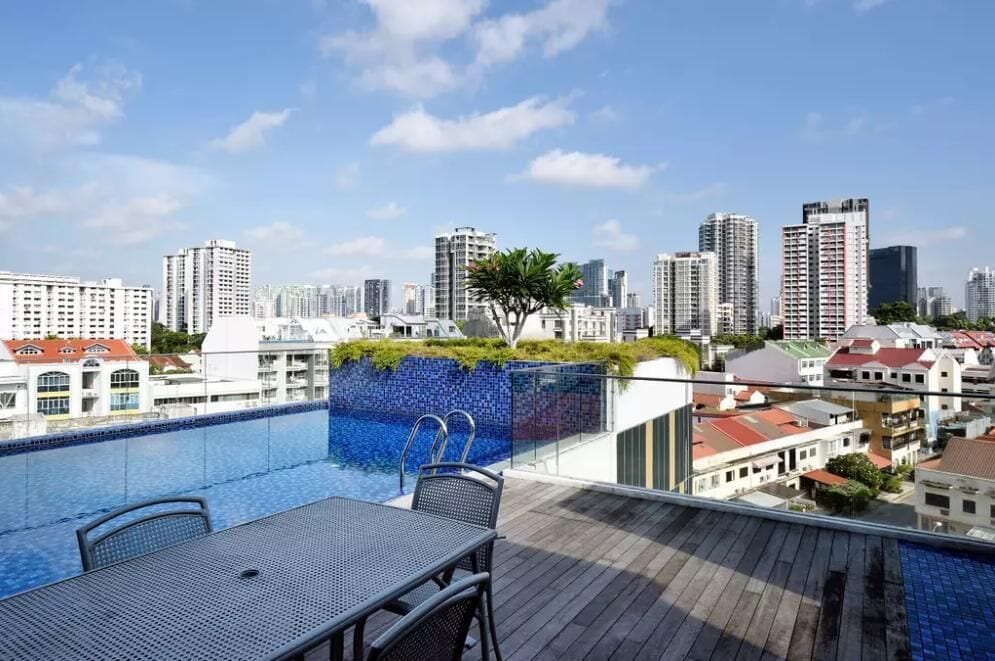 This well-located penthouse will allow you to live out your rooftop dreams.
One of the best VRBOs in Singapore with a rooftop, it is just a 30-second walk to the Farrer MRT for access to the city.
The rooftop is the biggest highlight with panoramic views of the surrounding skyline all from the comfort of the sprawling deck, a perfect spot for romantic evening meals. When the sun gets a little too strong, simply dive into the pool to refresh.
With two queen-size beds, this will be a great spot a few couples or a spacious adventure for two.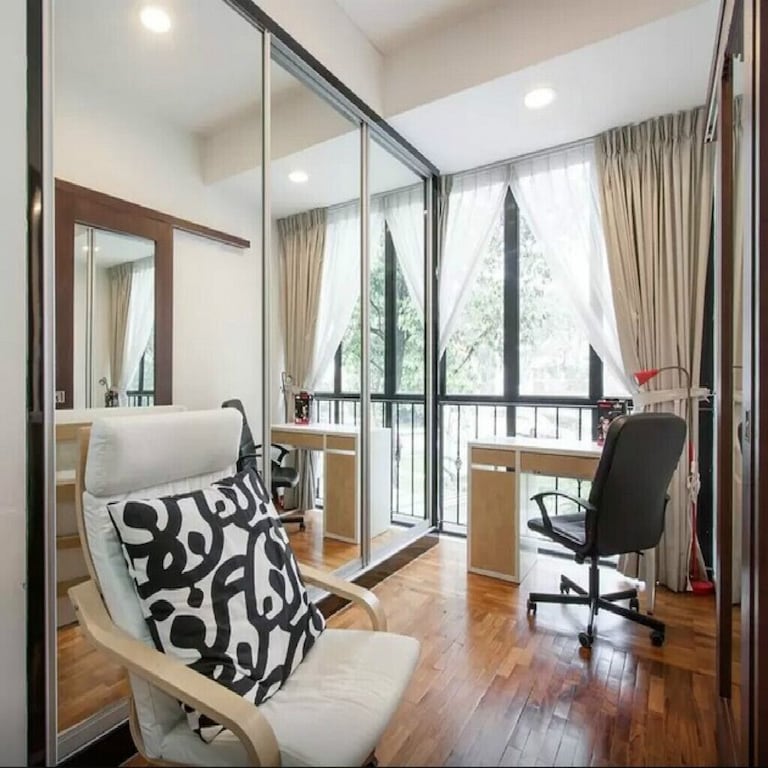 This master suite studio is located within a larger private house, and is a great place to set up shop and get your laptop whirring.
As the best VRBO for digital nomads in Singapore, the studio also has strong and free Wi-Fi as well as tea, coffee, and fruits to keep you well energized throughout the day.
The desk space and lovely garden views are quiet and peaceful, and this serene setting allows you to get your tasks done with minimal distractions.
Once the day's work is done, you are just five minutes from local transport along with plenty of tasty local restaurants.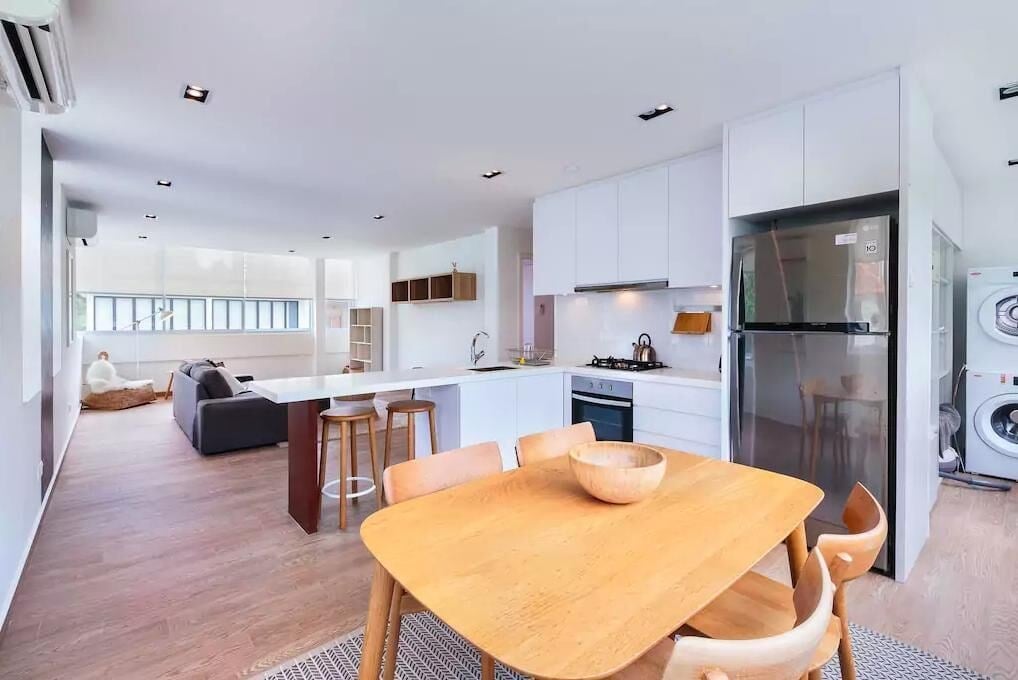 Have an apartment all to yourself as you venture through Tiong Bahru, one of Singapore's best neighborhoods.
Newly renovated, spacious, and welcoming, this is a great place to have a relaxing home away from home on your journey.
The big living area will be great for hanging out after exploring the district, while the warm bedroom awaits you every night!
At this apartment VRBO in Singapore, you will have access to all the trappings of home along with the luxuries of a resort vacation.
If you are thinking of a short-term adventure to Singapore of a month or more, this is the place to go. You can wake up each morning to wonderful city views, and check out the sparkling skyline each evening from the high-up level.
The sprawling on-site pool will be the perfect tonic after days exploring the busy downtown.
Within walking distance of shopping areas, famous food like boon tong kee, chicken rice, and Zhongshan Park, you can enjoy everything that the city has to offer.
But most importantly, this apartment offers a discounted monthly rate!
6 guests
Heart of Singapore
This gorgeous upscale apartment has three bedrooms, right on Robertson Quay.
A VRBO in Singapore located in the cultural heart of the city, it is within the most vibrant and colorful neighborhood, with wonderful views that look down onto the Singapore River.
Featuring a fully-equipped kitchen, a huge living space, and a built-in stereo system, the world is your oyster.
Outside of the apartment itself, you will have complimentary access to the Legends Golf Course, pools, and gyms as well as a shuttle service.
Luckily for you, some of Singapore's best bars and restaurants are on your doorstep.
Stunning VRBO for Honeymooners in Singapore | Superior Suite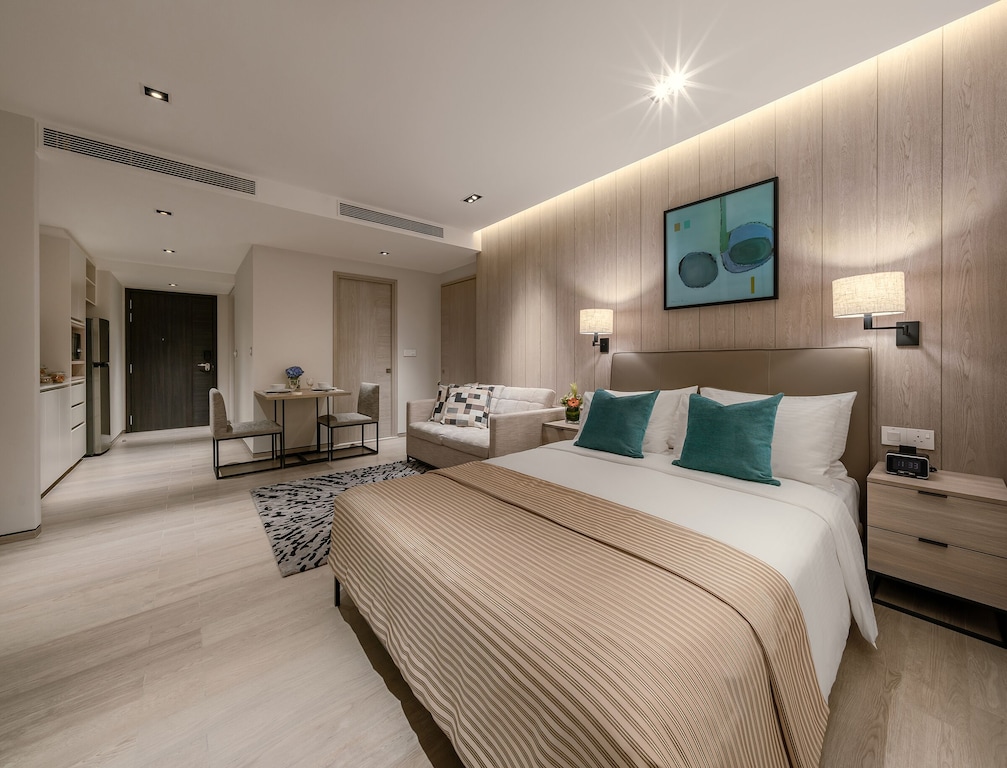 2 guests
Chic modern style
For honeymooners continuing their romantic adventure, why not check in to this apartment?
The roomy king-sized bed is super plush making getting out of bed even harder in the morning. Luckily, you can order all the groceries you need right to your front door, you don't even need to change from your PJs.
Make use of the kitchen, and enjoy delicious homemade meals in this cozy space with your partner.
When you feel like adventuring beyond home, you are just steps from the famed Orchard Street. With plenty of shopping, bars, and restaurants, you can be right in the middle of the action without ever having to venture too far from your honeymoon suite.
Best VRBO in Singapore for a Group of Friends | Extravagant Apartment
6 guests
Close to Orchard Road
For larger groups of friends traveling to the Lion City, this is the best place for you.
Featuring a modern and trendy living space, there is plenty of room for you and your pals without feeling like you're in someone's way. You can kick back each night in the living room to watch movies and tell the tales of the day.
In the morning, skip making cereal and head down to the lobby for complimentary continental breakfasts before heading out for the day. Some of Singapore's best entertainment and dining experiences are right on your doorstep.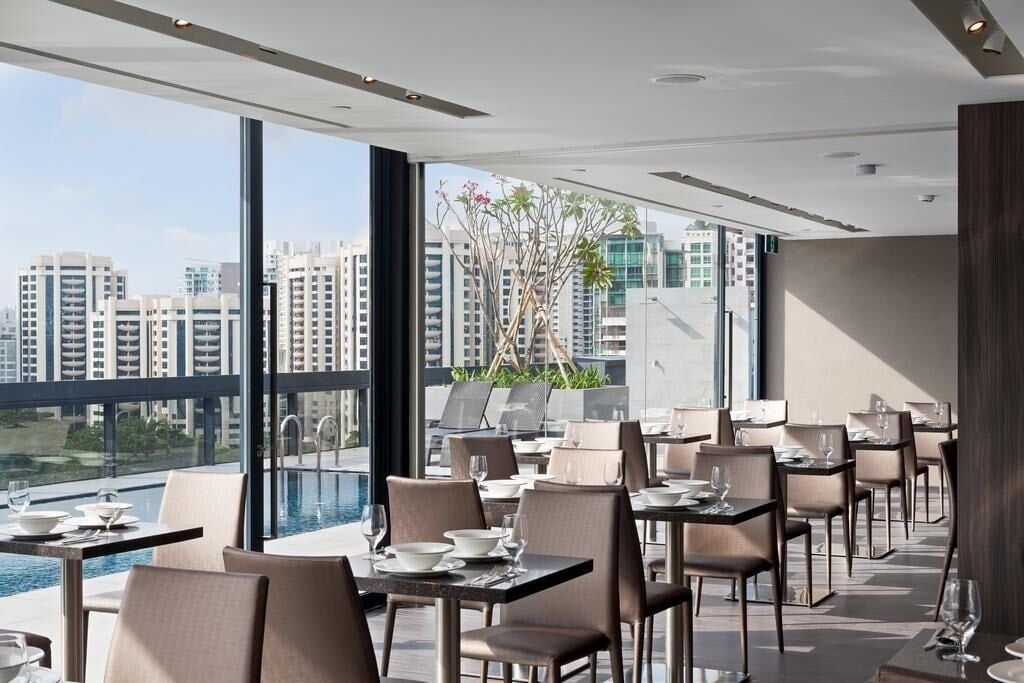 Looking to throw a special event while in Singapore? Check out this huge apartment close to all of the city's best spots with a rentable event space.
The three bedroom four bathroom apartment has plenty of room for you and your group to prepare for your event, and you don't even need to go outside to reach it.
Nurse your hangover in the fully-equipped kitchen, or head down to the pool and put your head at ease.
Orchard Street is nearby along with public transport and the city's biggest malls for some retail therapy and delicious food.
Inside a modern building you will find this cozy studio VRBO in Singapore. For those looking to have easy access to public transport, this is a great option.
The MRT system in Singapore is super easy to navigate, and many VRBOs have direct links to a station.
With a combination of easy studio living, social space, and a shared pool, it is a perfect place to relax during your travels in Singapore.
Grab the MRT to the international airport, downtown shops, and nightlife as well as with Sentosa and Universal Studios.
The best part? You can do this all without having to hire four wheels to get your around!
Most Unique VRBO in Singapore | Stay on a Boat!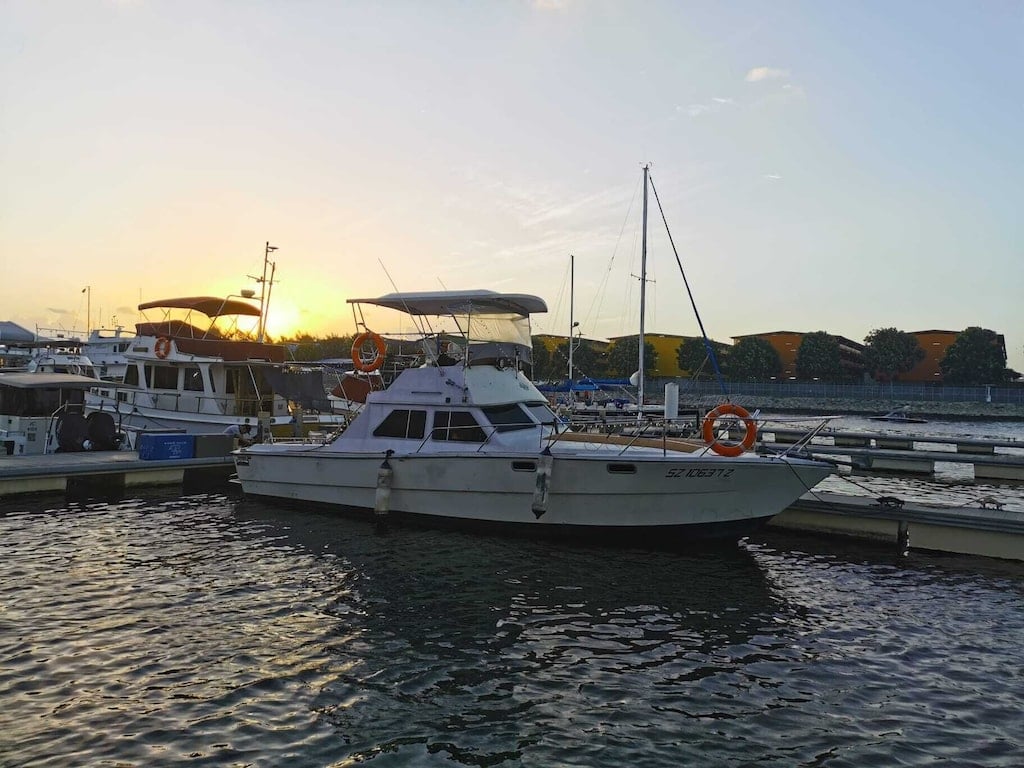 When it comes to unique accommodation, this is the best VRBO in Singapore. On a 34-foot motor cruiser, you can live it up by the dockside.
Prepare your sea legs for a stay on the Marina Waterfront, one of the coolest parts of Singapore, with an accommodation like no other. The cruiser has 1 bedroom and all the homey amenities you could need. Your views out to the water won't be obscured by towering high rises and you don't need to worry about the noises of the city.
If you are feeling adventurous, your hosts can arrange for a banana-boat ride, kayaking, and even a cruise out into the South China Sea!
Don't Forget Your Singapore Travel Insurance
ALWAYS sort out your backpacker insurance before your trip. There's plenty to choose from in that department, but a good place to start is Safety Wing.
They offer month-to-month payments, no lock-in contracts, and require absolutely no itineraries: that's the exact kind of insurance long-term travellers and digital nomads need.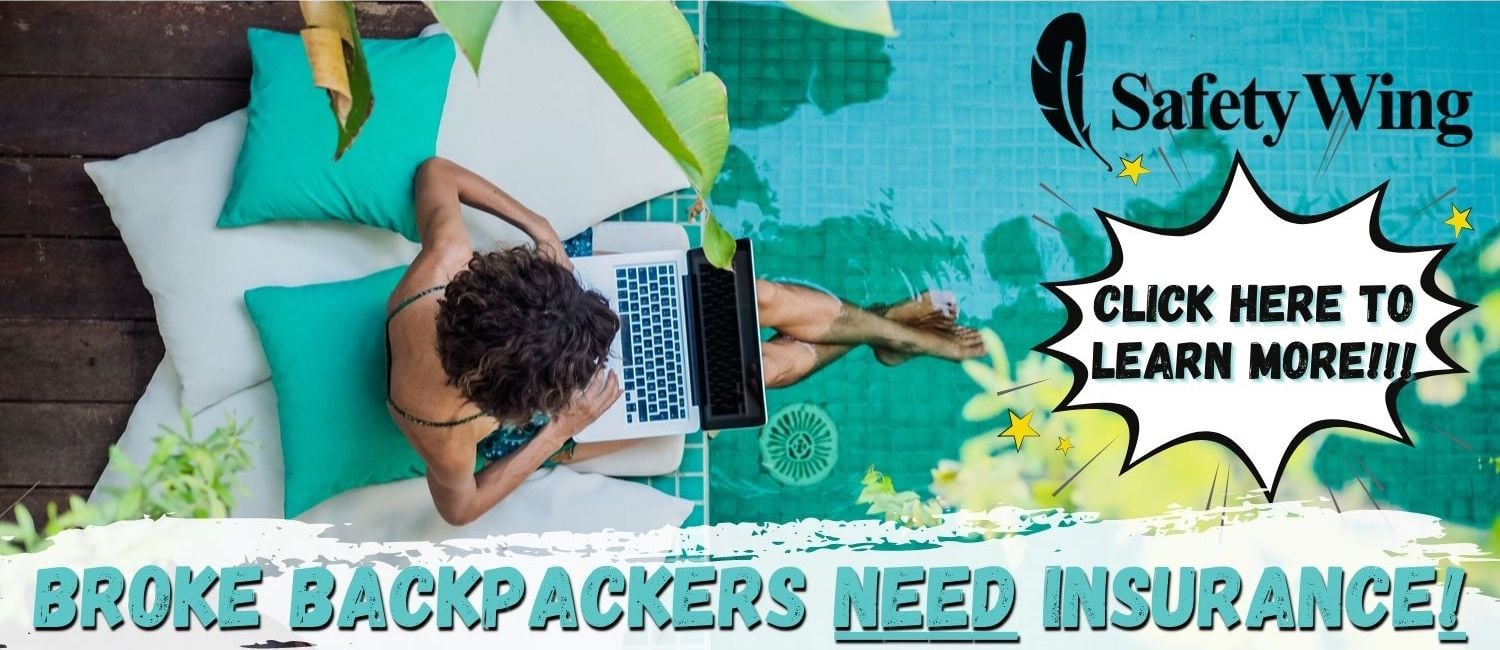 SafetyWing is cheap, easy, and admin-free: just sign up lickety-split so you can get back to it!
Click the button below to learn more about SafetyWing's setup or read our insider review for the full tasty scoop.
Final Thoughts on Singapore VRBOs
As you can see, VRBOs in Singapore are an excellent option when deciding on your accommodation.
Often in other major cityies, even VRBOs can be a pricey option. But here, budget travelers will be able to get their foot in the door and experience Singapore as the locals do.
From studios to homes, villas, and apartments, there are so many options to choose from. Regardless of the size of your touring party, rest assured that you will find a place that works for you.
The majority of VRBOs are close to public transport for easy access to the most happening parts of the city, while offering a nice, quiet spot to retreat to at the end of every day.
Your hosts can help you see Lion City in a different way. At the best VRBOs in Singapore, you will leave the well-worn path, and experience small hole-in-the-wall restaurants and bars where Singlish floats through the air.
---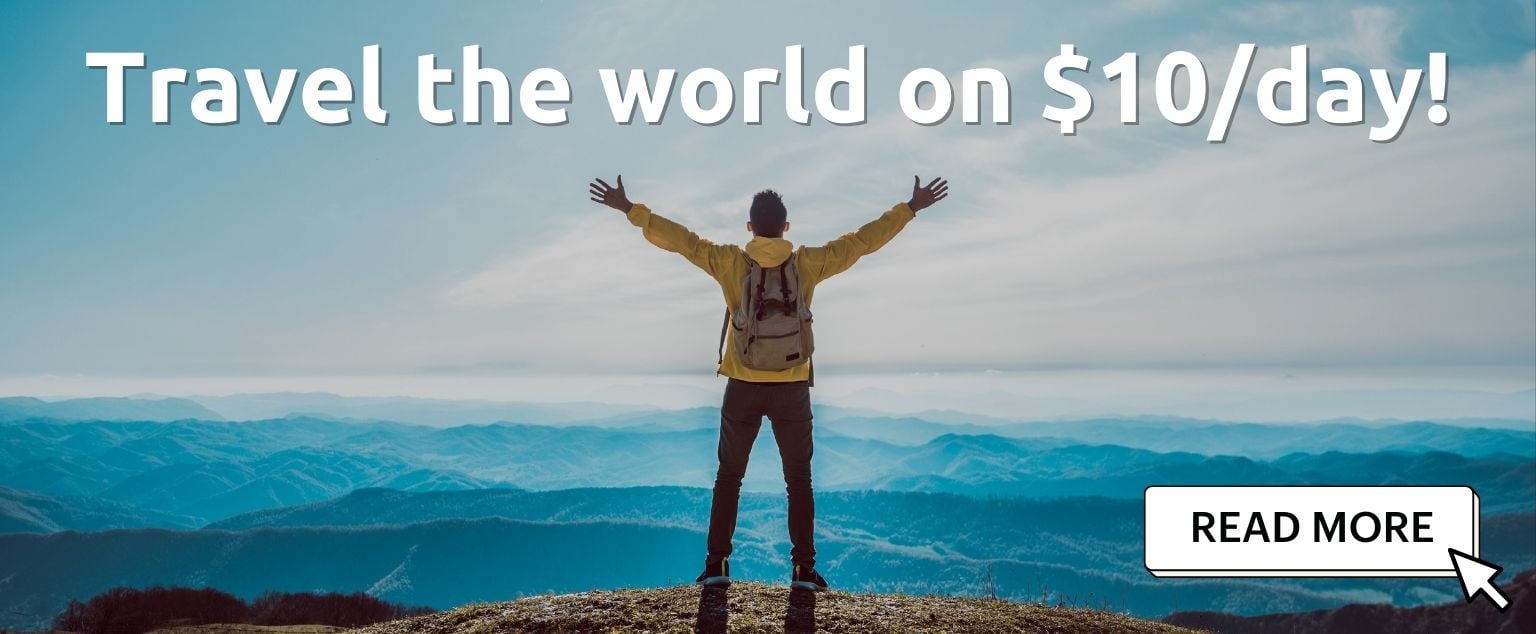 And for transparency's sake, please know that some of the links in our content are affiliate links. That means that if you book your accommodation, buy your gear, or sort your insurance through our link, we earn a small commission (at no extra cost to you). That said, we only link to the gear we trust and never recommend services we don't believe are up to scratch. Again, thank you!