Backpacking Malaysia anytime soon? Because you should! I made the decision to hit Malaysia from Thailand and (like most of my decisions) it was made out of curiosity. I'd often heard about it, but nothing beyond the city limits of Kuala Lumpur and the luxury resorts off the coast of Penang. I knew there had to be more to be discovered.

Curiosity killed the cat, right? Well, maybe the cat was onto something! I spent a couple of weeks backpacking Malaysia and the country totally blew me away. Backpackers rejoice!

Visa entry to Malaysia is super easy – combine that with a rich local culture, stunning religious sites, backpacker friendly prices, and plenty of adventure antics and you're onto an absolute winner!

I spent a few weeks backpacking Malaysia, eating a lot of weird and wonderful foods, exploring steaming jungles and peaceful tea plantations. I met with many amazing people, hiked to one of the largest flowers in the world and got to grips with Malaysian history. And now, amigos, I am proud to unveil the broke backpacker guide to backpacking Malaysia on a budget…
Where to go Backpacking in Malaysia
Malaysia is a country full of variation and surprises, and after a couple of weeks travelling around the numerous regions and areas of Malaysia, it truly left me wanting more. You can explore beautiful beaches, jungle, eat amazing street food, and of course check out some beautiful temples (this is Asia).
Whether you want to get off the beaten path in Malaysian Borneo, view orangutans and trek through remote jungles, or you just want to chill on a beach all day, there is a destination in Malaysia for you.
Visiting Malaysia? Don't risk having to sit on the floor or change your itinerary because you missed the last ticket at the station! Find the best transport, best time and the best fare with Bookaway. And why not use what you've saved to treat yourself to a nice Milo upon arrival?
It only takes 2 minutes! Book your transport on Bookaway now and guarantee your seat easily.
Best Travel Itineraries for Backpacking Malaysia
Below are a few of my favourite spots that I recommend checking out on your own adventure backpacking across Malaysia.
Backpacking Malaysia 2 Week Itinerary #1: Malaysia's Highlights
2 Weeks: Malaysia's Highlights
This itinerary is perfect if you have 2-3 weeks to backpack Malaysia. With three weeks you could take your time, and spend more time on the islands.
Start your trip staying in Kuala Lumpur, also known as KL. Take a side trip to visit the Batu Caves, full of Hindu shrines. Climbers, you can hang out here for a couple days since there are over 160 rock climbing routes!
Next, we head to the Cameron Highlands, a "highlight" of your trip. These hill stations grow tea, coffee, and fresh fruit. Make sure to go on a local tour. One of the world's oldest rainforests, Taman Negara, isn't far. Adventurers can go on jungle treks lasting a week or more.
Afterwards, head to Penang and get lost in the beautiful colonial streets, venture through vibrant Little India and follow the street art around the city. Afterwards, find a chill place to stay in Langkawi for some quality beach time.
If you have an extra week, head to the Perhentian islands on the other side of Malaysia for some epic diving!
Read More on Penang and Langkawi:
Backpacking Malaysia 3 Week Itinerary: Jungle and National Parks
3 Weeks: Malaysia Jungle and National Parks
I haven't been to this part of Malaysia, but I created this itinerary for your inspiration. This is the perfect itinerary for outdoor lovers and adventurers who want to get far off the beaten path in Malaysia's most undeveloped regions: Borneo, an island Malaysia that shares borders with Indonesia, and one of the last places on earth you can see endangered orangutans.
First, travel to Kuching, Sarawak's small capital. Don't miss the Semenggoh orang-utan sanctuary to see endangered orangutans. This is a rewarding day-trip. Next head to Bako, Sarawak's oldest national park. Here you will come across monkeys, fauna, and waterfalls!
Afterward, take a boat through the rives and forests of Batang Ai. Gunung Mulu National Park offers wonderful jungle scenery and a three-day trek through a network of limestone karsts and caverns.
Next head to Miri and Niah National Park. If you like to hike, get to Bario for some multi-trekking through remote longhouses and up mountains. End your trip staying in Kota Kinabalu, Sabah's capital. Visit the district with traditional over water houses and spend your evenings at the markets.
If you have the time (and money), you can summit Malaysia's toughest climb, Mount Kinabalu. Last I heard a permit was over $100 and you have to hire a guide.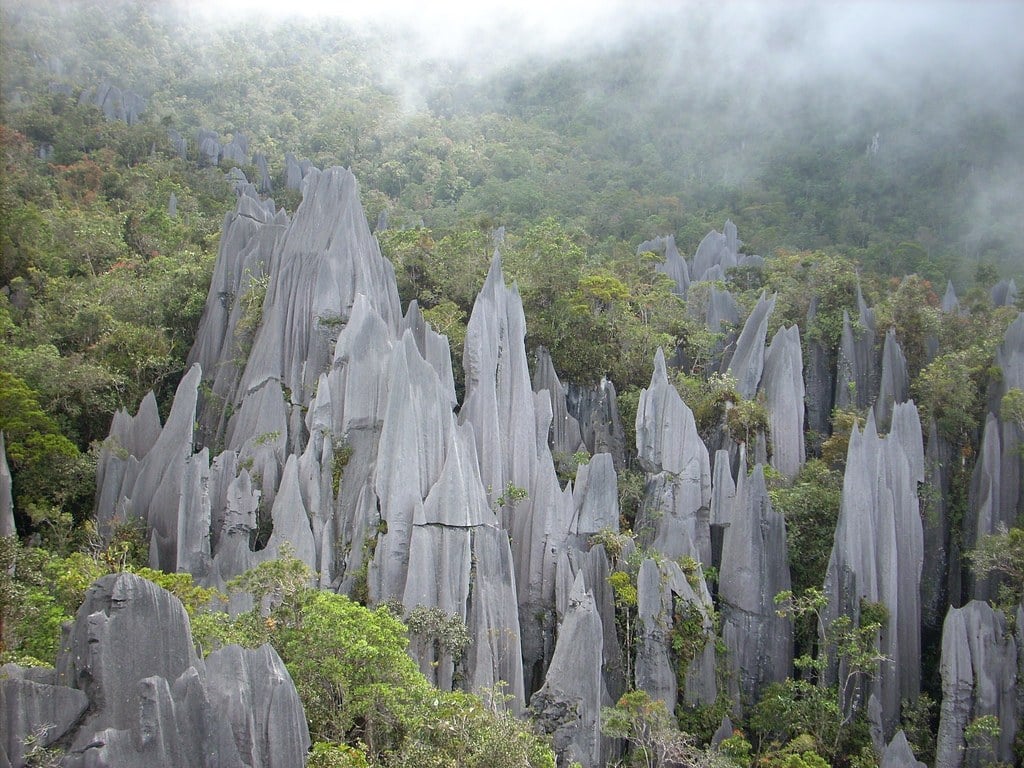 Places to Visit in Malaysia
Backpacking Kuala Lumpur
This is the capital of Malaysia and arguably the most westernised place you'll visit while here in Malaysia. This is often where most backpackers in Malaysia will start, as it is the main hub for international flights in Malaysia. I only spent a short time in Kuala Lumpur, as it was a lot more expensive than the other areas I visited.
The Batu Caves are a short and cheap KTM metro ride from central Kuala Lumpur. The incredible Hindu Temple and Shrine attracts both worshippers and visitors alike. It isn't one for the unfit; to get inside the temple you have a great stair workout ahead of you and the humidity will make sure even the fittest person ends with beautiful sweat stains. At the top explore the inside of the cave and meet the locals (monkeys!) – during 2016 there is major renovation work happening inside the cave, but still worth a visit.
On the way down from the Batu Caves stop at the Bat Cave and take the 45-minute tour inside – around 35MYR – wandering into complete darkness and meet the animals that live down here. You may see spiders, bats, snakes, scorpions and plenty of cave dwelling bugs. The guides are extremely knowledgeable and it's an experience that a lot of travellers miss on the way down!
If you haven't spent all your money before you leave KUL, head up the KUL tower. It's around 105MYR for both decks. Here you will get a pretty awesome view of the city, even better in the evening! Make sure you take a good cheesy picture with the Petronas Towers!
Book Your Kuala Lumpur Hostel Here!
Plan your backpacking trip to Kuala Lumpur!
Backpacking Kedah
Entering Malaysia from Thailand you will most likely pass through the beautiful state of Kedah. While most travellers will just pass through, Kedah has plenty to offer and it's worth stopping to explore. Explore some of the first European Colonial Streets and experience the beauty of Gunung Jerai (Mount Jerai).
The ancient Malays proclaimed Gunung Jerai sacred and some stunning temples were built throughout the mountain; many of them are still standing today. If you want to know more, the cheeky Malays have placed a great information board at the top of the mountain - all you have to do is climb 1175 meters to reach it!
Backpacking Langkawi
A popular spot for Thai visa-runs and a great place to chill out for a few days, the peaceful island of Langkawi sits upon an ancient Limestone shelf and is home to one of South East Asia's largest eagle populations. This is a great place to head off on an adventure and if you head away from the party beaches you will find some great treks, snorkelling, and scuba diving.
Cenang Beach is where most of the action is - plenty of jet skiing and other watersports but the beach itself is not that great and is usually pretty crowded, to see the real Langkawi hire a motorbike and take to the open road for a day of exploring.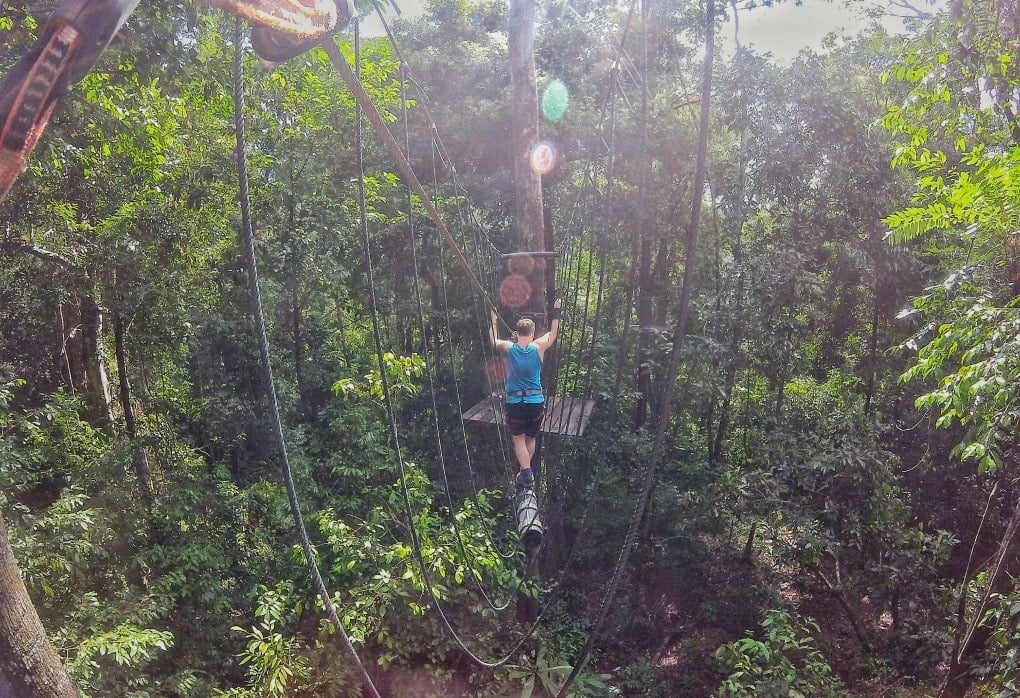 Whilst in Langkawi, I took to the trees with Skytrex Adventure for an action-packed afternoon of high ropes (don't look down!) and zip-lining through the Forest Canopy. I've done a few high ropes and zip-lining courses around the world and this was one of the more challenging ones. It's definitely worth a go if you want to kick-start your day.
There are a lot of great accommodation options in Langkawi. There are some awesome homestays in Langkawi as well as everything from chilled backpacker dorms and quiet Airbnbs to super posh resorts if you plan on splashing out.
If you want to stay somewhere really decent that is also affordable, I recommend Yacht club Hotel. This hotel has a cool bar offering a great view over the attached Marina where you can boat-watch as people bring their yachts (lucky bastards) in for the night. This hotel also has some of the best WiFi I found on Langkawi so if you need to work, it's a good place to stay. Otherwise, I'd recommend checking out this breakdown on the best places to stay in Langkawi from my mate Bren.
Book Your Langkawi Hostel Here!
Backpacking Penang
One of the first major areas in Malaysia occupied by the Europeans and once a major trading hub for ships around the world, Penang's beautiful neighbourhoods keeps much of its colonial heritage intact and is an incredible place to chill for a couple of days. 'Old Penang' is one of the best places to go for a stroll and is filled with UNESCO sites. It's a bit like stepping back in time…
Hire a bike for cheap – only around $5 for the day – and explore Georgetown and its legendary street art. Get lost in the beautiful colonial streets, venture through vibrant Little India and follow the street art around the city. There is so many things to do in Penang; it's a beautiful city!
You can't go to Penang and not visit Kek Lok Si Temple or 'Temple of Ultimate Happiness'. This Buddhist temple faces the sea and overlooks the ever-growing city of new and old Penang. You can hire a guide at the car park relatively cheap, which I highly recommend. The guide will immerse you in the incredibly beautiful and sometimes, gory history behind each of the 10,000 carved symbols.
If this doesn't convince you, this temple also has one of the biggest statues you will ever see – standing at 99ft (seven stories) Kuan Yin, the Goddess of Mercy is pretty awe-inspiring. Get to this temple around Chinese New Year. Why? Well for 30 days the temple is decorated with thousands of lanterns. This sight is so beautiful that it will give you Goosebumps.
Ever wondered what a Burmese Temple looked like?
Dharmikarma Temple is a favourite of mine due to its quirkiness! Explore the gardens of the temple and you will come across a Giant Globe. It is said if you focus on your hearts desires, close your eyes, and point, you will be directed to where you need to go – while also taking a cheesy picture of yourself.
You'll also find a wishing well of fortune? Throw a coin and land it in one of the moving, engraved cups; each with a different future trait – I got Bon Voyage; I think it was pretty accurate.
Book Your Accommodation in Penang!
Backpacking Cameron Highlands
A relatively new backpacker area, the Cameron Highlands are breathtakingly beautiful and should not be missed when travelling in Malaysia. Moving away from the cities and hitting the dirt roads, you will see some truly gorgeous mountainous scenery, cascading tea plantations, and mysterious cloud forest, making it one of the best places to stay in Malaysia.
Hire a car (or a man with a van) and navigate the dirt track roads leading you into the incredible tea plantations. Learn about the tea making process – which is actually a lot more interesting than I first thought it would be – sample the leaves, take a walk through the plantations and even befriend the pickers who will laugh at your attempt at picking the correct leaves at a good enough pace... It's harder then it looks!
I hired a local guide and we went into the cloud forest in search for the rare and beautiful Rafflesia (one of the world's largest flowers). It kind of looks like a giant upside down mushroom, but more red, and, according to my guide depending on the time of year, it smells like a dead elephant – thankfully it did not when we found it.
Hacking my way through the cloud forest was incredible. The trails are not well trodden, the views are incredible (when the trees break) and the knowledge the locals have on the plants and conservation in the area is extraordinary. If you're after a real adventure whilst backpacking Malaysia, this is it.
Book Your Cameron Highlands Hostel
Backpacking Melaka
A three hour bus ride from Kuala Lumpur, this beautiful small town has an incredibly strange obsession with Hello Kitty, and the city itself resembles a small town in Europe. Once the 'must see' place in Malaysia before Kuala Lumpur developed, it is now a more sleepy backpacker city and mass tourism has moved to the other ever growing cities within Malaysia. Melaka is a cheap place to hang out, making it a perfect rest stop for broke backpackers travelling in Malaysia.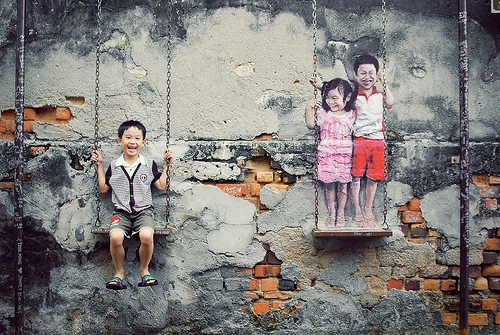 UNESCO protected, Melaka is filled with an incredible history and many of the old colonial buildings are still in great condition. Melaka is easy to navigate by bicycle or foot. Wander the streets and enjoy the bright colours, colonial buildings, and reflective water canals.
Head down Jonker Street where the city's heritage meets some crazy museums, awesome market shopping and some epic food. It's a little quirky and a great place to find things you will never need but want anyway. A stop you shouldn't miss when backpacking Malaysia.
Book Your Melaka Hostel Here!
Backpacker Accommodation in Malaysia
Hostels are only just beginning to pop up throughout Malaysia and during my time there I chose to stay at Guesthouses rather than the hostels, as they were cheaper!
Throughout Malaysia, guesthouses, hotels, Airbnb, or being hosted with CouchSurfing will be your main options for accommodation. Guesthouses are fantastically priced for us broke backpackers and you can can score a bed for as little as $5 - $15 a night!
If you are backpacking Malaysia in peak season use Airbnb as an alternative. Often just as cheap, the added bonus is you may get a whole apartment! If not, you'll make some awesome local friends! Or pack your camping hammock and sleep for free! Some hostels will charge you for amenities & some restaurants won't even charge you a dime.
Unmarried couples generally won't have a problem travelling and staying together when in Malaysia. You may have to request a double bed in some places (if necessary) but otherwise you will be met with friendliness and the beautiful hospitality that Malaysian people are famous for.
Book Your Malaysian Hostel Here!
Where to Stay in Malaysia
Top Things to Do in Malaysia
1. Climb around the Batu Caves
Head outside of Kuala Lumpur to explore these limestone cliffs and caves, which represent Hindu shrines and a site for pilgimage. Climbers rejoice! There are over 160 routes in the area.
2. Hit the Beach in Langkawi
Langkawi is an inhabited island in an archipelago of over a hundred islands in the Andaman Sea. Langkawi Island is popular with both backpackers and honeymooners and has something to suit all budgets.
3. Visit Tunku Abdul Rahman National Park
This park is a collection of five islands found off the coast of Kota Kinabalu in Sabah, East Malaysia. This is a popular place to hike, trek, swim, and dive.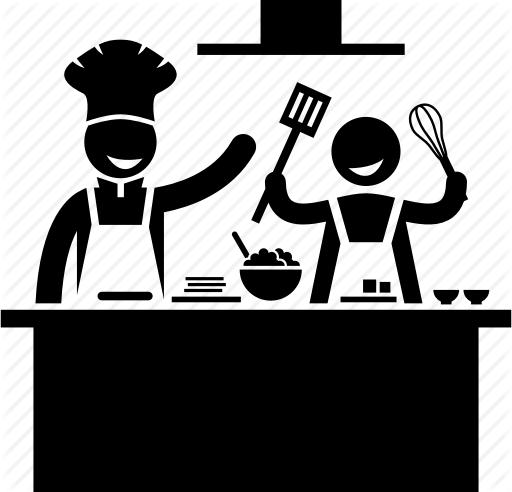 One of the best ways to get to grips with a new culture is through the food! Cookly partners with local cooking schools and restaurants in countries all around the world and is an awesome way to go on your very own culinary adventure.
Book an Malaysian cooking class here
.
4. Eat the Street Food
Try the authentic food, which in my opinion is not as spicy as Thai food and is, in fact, more flavorful. You will get a HUGE portion for such a tiny price!
5. Get your Culture on in Malacca
Malacca or Melaka has interesting architecture and a high concentration of museums, galleries, and historical sites to explore.
6. Island Hop the Perhentian Islands
Come here for fresh seafood and scuba diving - it's where you'll find some of the best beaches in Malaysia. The islands can be visited by ferry and water taxis operate between the various islands giving visitors the chance to island hop at their leisure.
7. Hang out in the Cameron Highlands
These hill stations provide visitors with cool water and fun tea and coffee plantation tours! You can also fruit pick at one of the many fruit farms.
8. Hang out with Endangered Orangutans
Sepilok Rehabilitation Centre is one of the biggest and most well known orangutan sanctuaries in Malaysia. The sanctuary is located nearby Sandakan.
9. Haggle for Souvenirs
This is super common in Malaysia and also great fun. The only way to get a good deal is to bargain. Make sure you read up on how to haggle before you go so you're ready to negotiate like a pro!
10. Explore Gunung Mulu National Park
Located in East Malaysia, this park is known for its caves and karst formations. There are ample hiking opportunities around the caves and rainforest!
Malaysia Travel Tips
The following information is advice and travel tips for Malaysia I wish I knew before backpacking there, like what to wear, how much to budget, and lots lots more.
The Best Travel Backpack?!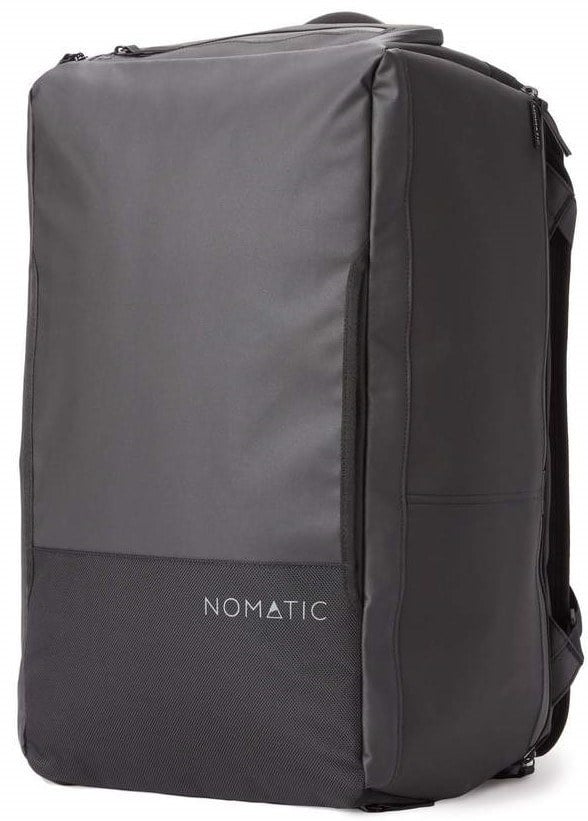 Pssssst! Not picked the perfect travel backpack yet? The Broke Backpacker team has tried out over thirty backpacks this year! Our favourite carry on backpack is the Nomatic Travel Bag.
Read our full review!
Best Time to Travel to Malaysia
Malaysian seasons range from wet, comfortable, hot and humid. The West and East Coast can experience completely different weather from one another so it really depends on where you want to go in Malaysia.
Overall, the west coast is best between October to March, and the East coast is best from March to October.
The east coast gets quite a bit more rain than the west and if travelling to Malaysia in the wet season you may find a lot of stores, hotels and guesthouses closed. I traveled Malaysia from December to the end of January and the weather was spot on.
What to Pack for Malaysia
Malaysia has to be one of my favourite places in Asia for shopping and you will find that most people – especially in the busier areas – take a lot of pride in what they wear. The more modern areas of Malaysia such as Kuala Lumpur will be a lot more westernised in their dress sense and you can pretty much wear what you would at home on a day-to-day basis, with some exceptions.
In the more rural areas it is a wise to be respectful and dress a little more conservatively, especially if you are a woman. Although Malaysia is a melting pot with a mixture of religions, the most prominent practice is that of Islam (and the Islamic dress sense).
Showing a lot of flesh for men or women will attract a lot of attention or worst-case scenario, cause offence. Jeans and a t-shirt, covering shoulders and cleavage is perfectly fine. Try to keep shorts/skirts/dresses at or just below the knee. Tight and fitted clothing will attract attention such as harmless stares.
On every adventure, there are six things I never go traveling without:
1. Security Belt with Hidden Pocket: I never hit the road without my security belt. This is a regular looking belt with a concealed pocket on the inside – you can hide up to twenty notes inside and wear it through airport scanners without it setting them off. This is hands down the best way to hide your cash.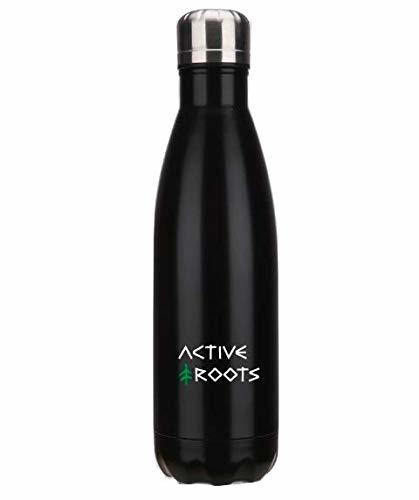 2.Travel Water Bottle: Always travel with a water bottle – it'll save you money and reduce your plastic footprint on our planet. AR bottle are tough, lightweight and maintain the temperature of your beverage – so you can enjoy a cold red bull, or a hot coffee, no matter where you are. For every AR bottle sold, we donate 10% to PlasticOceans.org – an initiative to reduce plastic in our oceans!
3. Microfibre Towel: It's always worth packing a proper towel. Hostel towels are scummy and take forever to dry. Microfibre towels dry quickly, are compact, lightweight and can be used as a blanket or yoga mat if need be.

4. Headtorch: Every backpacker should have a head torch! A decent head torch could save your life. If you want to explore caves, unlit temples, or simply find your way to the bathroom during a blackout, a headtorch is a must. Currently, I'm using the Petzl Actik Core rechargeable headlamp - an awesome piece of kit! Because it's USB chargeable I never have to buy earth polluting batteries.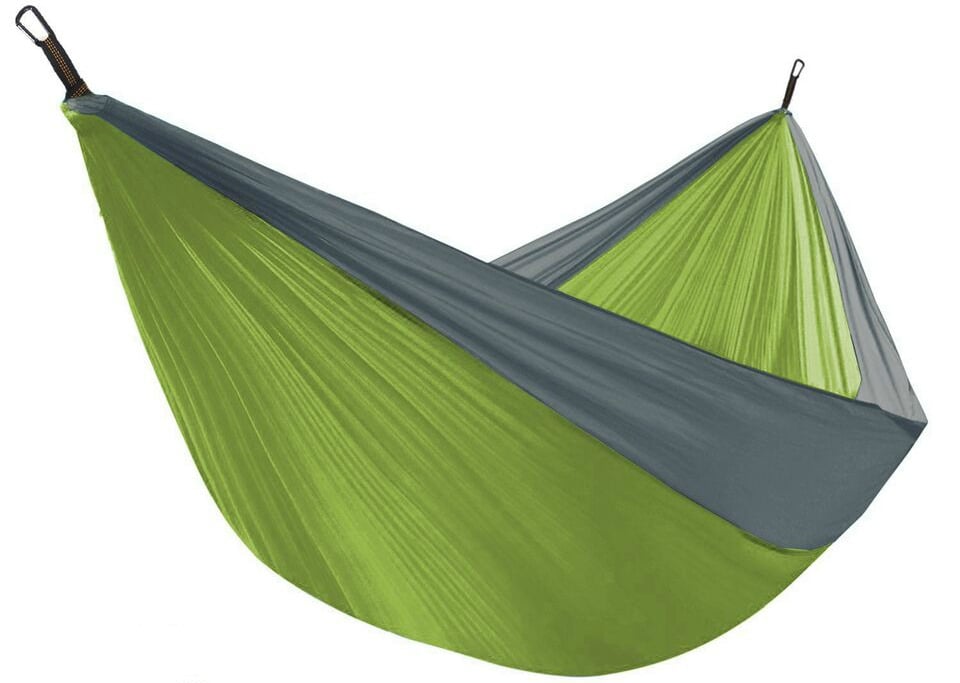 5.Hammock: Taking a tent backpacking is not always practical but hammocks are lightweight, cheap, strong, sexy (chicks dig hammocks) and allow you to pitch up for the night pretty much anywhere. Right now, I'm rocking an Active Roots parachute hammock – it's light, colourful and tough.
6. Toiletry Bag: I always travel with a hanging toiletry bag as it's a super efficient way to organise your bathroom stuff. Well worth having, whether you are hanging it from a tree whilst camping, or a hook in a wall, it helps to have quick access to all your stuff.
For plenty more inspiration on what to pack, check out my full backpacking packing list.
Look Awesome, Do Awesome!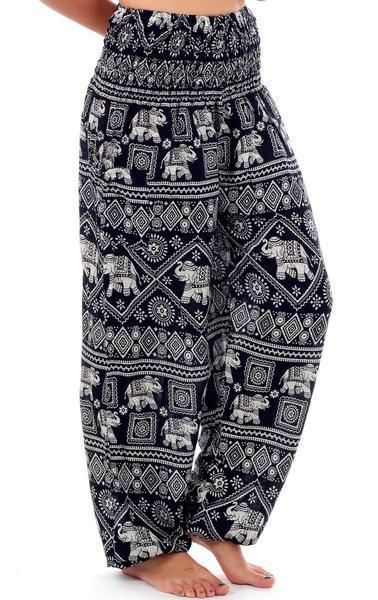 Want to embrace the hippy backpacker style and look?
Active Roots hippy trousers
are chic, comfortable and perfect for yogis, backpackers and adventurers alike. Help us
support the elephant conservation centre in Laos!
10% of your purchase goes towards saving the Asian elephant population so you can look awesome, feel awesome and do awesome - all at once. Pretty fucking awesome right?
Use the code ' TBB10 ' for 10% off your order.
Books to Read about Malaysia
Backpacking Malaysia will be made even more incredible with background knowledge. To truly get an idea of the incredible range of cultures, religions, and traditions in Malaysia I highly recommend reading some of these books set in Malaysia before your travels.
The Backpacker Bible – Get it for free! Learn how to ditch your desk and travel the world on just $10 a day whilst building a life of long-term travel with an online income. To inspire and help the next generation of Broke Backpackers, you can now grab 'How to Travel the World on $10 a Day' for free! Get your copy here.
Floating on a Malayan Breeze: Travels in Malaysia and Singapore - A great insight into how Malaysian culture developed and grew after splitting with Singapore and how different the two places are.
A Town Like Alice - The story of Jean Paget, a young Englishwoman who becomes romantically interested in a fellow prisoner of World War II in Malaya, and after liberation emigrates to Australia to be with him, where she attempts to generate economic prosperity in a small community — to turn it into "a town like Alice".
Stranger in the Forest: On Foot Across Borneo - If this doesn't convince you to go and explore the wild side of Borneo I don't know what will.
Malaysia - Culture Smart!: The Essential Guide to Customs & Culture - I don't normally take guide books with me, but this was a good read before I left.
The Harmony Silk Factory - A fantastic read comparing different cultures and how they lived and worked together. One of my favourites!
Sweet Offerings - A tale of Malaysia's historical political and cultural changes during its transition from colonial rule to independence.
I love reading before taking my next trip, actually, I just love to read in general. Check out more of my favourite books to read on the road here.
Useful Travel Phrases for Malaysia
It always helps to know the local language when you are travelling in a foreign country! Below are my favorite Malaysia travel phrases:
Hi Friend!
– Hi!
Kwan Apa Khabar – How are you?
Sangat Bagus – Very Good
Siapa nama anda? – What's your name?
Nama saya … – My Name Is….
Selamat malam – Goodnight
Selamat tinggal – Goodbye
Berapa harganya ini? – How much Is This?
Di mana tandas? – Where's the toilet?
No plastic bag - Tiada beg plastik
No straw please - Tidak ada jerami sila
No plastic cutlery please - Tidak plastik alat makan sila
Terima kasih - Thank you
Tolong - Please
Saya dari ... - I'm From ....
Makan makan! - Eat! Eat!
Saya tidak faham - I don't understand
Apps to Download before Backpacking Malaysia
Be warned, free WiFi in Malaysia is hard to find and will probably be painfully slow. Don't use your precious moments downloading apps while backpacking Malaysia, prepare before you go!
Staying Safe in Malaysia
Malaysia is completely safe for travel. The majority of people you will meet when travelling in Malaysia are incredibly friendly and genuine people. Malaysia is a peaceful country and incredibly accepting and respectful of other cultures; be respectful back and don't break the rules. If you do, you may find yourself in a bit of a tough spot.
For more tips on staying safe in Malaysia:
Want to save the world? Single-use plastic bottles are a huge threat to Marine Life - Be a part of the solution and travel with a
filter water bottle
.
The GRAYL GEOPRESS water bottle is the ONLY all-in-one filter water bottle setup you'll need. Whether you need to purify the water from a hostel sink in Kathmandu or a stream trickle in the Andes, the Geopress has got you covered.
Sex, Drugs, and Rock 'n' Roll in Malaysia
Malaysia is one if the worlds toughest countries when it comes to drugs. If you get caught with drugs you'll most likely get a mandatory prison sentence or even worse, the death penalty. I'd recommend avoiding drugs altogether when travelling Malaysia, but if you're going to dabble in these illicit substances check out the Blazed Backpacker 101 for tips on how to stay safe.
Alcohol in Malaysia is pretty pricey because it is forbidden for Muslims to drink; however, those who are not Muslim are free to drink if they wish. Many restaurants won't serve alcohol, but will turn a blind eye to those bringing in their own to have with their meal.
House parties are pretty common in Malaysia and are heaps of fun! You'll find modern clubs in the main cities such as Penang and Kuala Lumpur; be prepared to pay a pretty penny to get in!
Travel Insurance for Malaysia
A wise man once said that if you can't afford travel insurance, you can't really afford to travel – so do consider backpacker insurance sorted before you head off on an adventure! Traveling without insurance would be risky. I highly recommend World Nomads.
I have been using World Nomads for some time now and made a few claims over the years. They're easy to use, offer the widest coverage, and are affordable. Also, this is the only company I know of that lets you buy travel insurance after leaving on a trip.
If there's one insurance company I trust, it's World Nomads. Find out why I recommend World Nomads, check out my World Nomads Insurance review.
Getting an estimate from World Nomads is simple - just click the button or image below, fill out the necessary info, and you're on your way!

Malaysia Travel Guide - Getting In and Around
Arriving in Malaysia
I arrived into Malaysia by travelling from Thailand across the Thai/Malay border. We hired a local man and his van to drive us to the border in Thailand and then walked through and caught another man in a van on the other side.
There are long distance bus services that will take you from Thailand to Malaysia as well but this costs a little more and takes a little longer as well. If you're short on time or simply a baller, flights from Thailand to Kuala Lumpur are very cheap.
If you're coming from outside of Asia, the International flights hub is Kuala Lumpur, you can get great deals with an array of different airlines. I have found Malaysian Airlines and Emirates (via Dubai) offer some of the best prices into Malaysia.
Flying to other airports in Malaysia is easily done but will often cost more and you will stopover in Kuala Lumpur anyway, so you may as well hop off and explore!
Entry Requirements for Malaysia
As of 2016 the majority of nationalities will be able to get a visa on arrival for Malaysia for no cost at all, which is fantastic! For the UK, you will be permitted to stay for a maximum of 3 months on arrival, be careful not to overstay this. Malaysia, unlike many other Asian countries, is having a big crack down on illegal immigration and overstaying your visa may be a tricky (and expensive) situation to get out of.
If you know you will be staying longer than 3 months in Malaysia. it is recommended you visit the Malaysian Diplomatic Mission in your own country to obtain the correct visa. If you are in country head to your local embassy or otherwise just hop out of the country and come back in again.
Once through immigration, Malaysia is a relatively safe and welcoming place to travel. A couple of months is heaps of time to explore this beautiful country. Entering overland into the country you will have your fingerprints taken, passport scanned and you may be asked about your exit plans, especially if you don't have a flight out of the country booked.
Malaysian immigration are not new to backpackers so as long as you have an idea of how you will leave, you should be fine. It's a good idea to have a rough idea of when/how you will be leaving and someone you can call who will vouch for you, just in case. If you need help organising your visa, check out iVisa.
How to Travel in Malaysia
Malaysian roads are top notch in tourist areas, but will quickly turn to gravel and dirt tracks as you venture further away from backpacker hubs and out of the cities. All the same, your options for public transport in Malaysia are plentiful! It's easy to get around.
One of the best ways to get around when backpacking in Malaysia is by bus. Buses are a comfortable and affordable way to travel around Malaysia, however, they're not the fastest option. Most buses have English translations and super helpful drivers.
It may take longer than flying but buses tend to be air-conditioned and the scenery is pretty beautiful. I wouldn't recommend using buses in the cities though; they are slow, more expensive and due to congestion are not able to stop exactly where you need to be.
Malaysia is revamping its train service and if you are looking to get from the top to the bottom pretty quickly it's a comfortable ride. I didn't use the long distance train service whilst backpacking Malaysia, but it is perfect for those short on time. It is pricier than the bus service and most train services run on a one-line system that will restrict the stopping options you have on the way through the country.
I did not take any domestic flights within Asia but you can pick these up relatively cheap in country through the likes of Malaysian Airlines and Air Asia for as little as $10 - $30 one way to most destinations in Malaysia. If you only have a short time in Malaysia this is a great way to travel.
Driving in Malaysia, once out of major cities, is relatively straightforward, and I would dare to say, one of the sanest places to drive in South East Asia. With good road infrastructure in the cities, traffic lights and well marked signs your biggest pest will be tailgating and the lack of signal use.
Venture into the countryside expect gravel and dirt roads but beautiful and plentiful view stops. If you are exploring by car in monsoon season I would recommend hiring a 4x4 car if possible, getting stuck in the mud is never too much fun!
Kuala Lumpur's metro is the best if not the only way to travel inner city. The metro will connect to all the must-see places in town as well as the shopping district, nightlife, and areas such as Little India. They even have air-con.
Running every few minutes, why waste your time and money hailing a taxi when the metro will beat the traffic and even take you as far out as the Batu Caves?! Ladies, there is even female-only carriages if you are travelling alone and/or feeling slightly anxious about mixed carriages and local customs.
In Malaysia you'll get the best deal on a metered taxi. Don't jump in a non-metered taxi without agreeing the price first, you will definitely pay A LOT more than you need to. Always haggle the price with a non-metered taxi. If they won't budge move on, and always check if there's someone with a much better deal.
To travel around Malaysia quickly would involve a lot of flights, but you'd be missing out on some epic overland scenery and road-trips. Travelling in Malaysia is, after all, a part of the appeal. There is so much to be seen from the road...
Rather than just rocking up at the bus stop in the hope they will have space to fit you on, you can now book tickets in advance for most of South East Asia using Bookaway - I love Bookaway and use it myself pretty often when backpacking around Malaysia.
Hitchhiking in Malaysia
Hitchhiking in Malaysia is uncommon but not at all difficult; for broke backpackers on a tight budget hitchhiking offers one of the most cost effective ways to get around whilst backpacking Malaysia.
The busier roads in Malaysia are often highway, which can make scoring a ride a little tricky. The best tip I was given was put yourself in a spot that if you score a ride and they come in at speed, you can get out the way. Malaysians are curious and ridiculously friendly, so on a good day it shouldn't take you longer than 5 minutes to hitch a ride.
Expect short distance riding, especially in rural areas where not many people are driving by. It's far more likely you will catch lots of short rides rather than one long one. Make friends with other tourists at gas stations and café stops. You never know who has a spare seat in their car.
Before hopping in the car it's a good idea to clear the air and make sure the driver is aware you are hitchhiking, not hailing a taxi. That would make for an awkward exit…
Top Tips for Hitchhiking in Malaysia
Take a road map of Malaysia: It isn't exactly necessary, but it may help you out in a pinch. Plus, doing it old-school is just a blast!
Look like a tourist: People know what hitchhiking is and they are interested in foreign visitors, so make sure you look like a tourist. On busy roads, sometimes the wait time is less than 5 mins.
Don't hitch right on the motorway: Unlike in other countries in Asia, it's not advisable to hitchhike right on the motorway. Police won't bother, but cars are much less likely to stop if they are too fast or there is no safe place to stop.
Have a sign with 'Tumpang' written on it: This can help especially if you choose to walk on the Expressway.
Learn some useful phrases: Drivers usually speak English, so a few local phrases like the ones below will help!
Read our Hitchhiking 101 Guide: It helps!
Where are you going?
– Di Mana anda akan pergi?
I am going to.. – Saya mahu pergi ke….
Please stop here – Sila berhenti di sini
I have no money - Saya Tidak Ada Duit
Thank You - Terima Kasih (Treema- Kahseh)
I am Hitchhiking - Saya sedang hitchhiking
Onwards Travel from Malaysia
The main peninsula of Malaysia shares borders with Singapore and Thailand, both of which are relatively easy to cross. To cross the overland from Malaysia and travel to Singapore requires A LOT of time and patience. Malaysia also borders with Indonesia if you are over in Borneo.
Thinking about backpacking in The Philippines or Indonesia after Malaysia? Why not follow in the footsteps of the explorers of old and hop on a boat? With some journeys taking just eight hours to reach the Philippines, and ferry prices being relatively cheap, catching a boat out of Malaysia can be an adventurous alternative to flying...
Onwards travel to Indonesia via ferry is not as common as it once was and these days it can be hard to find a boat heading in the right direction. Melaka is the best place to find a ferry onwards to Malaysia. From here, it is likely your arrival port will be Padang (sumatra) in Indonesia.
Onwards travel to the Philippines via ferry is recommended from Sandakan using either Aleson Lines or SRN Fastcraft. Neither of these companies offer comprehensive websites, so check the latest information when in country and haggle for the best price. Aleson Lines takes around 16hrs while SRN Fastcraft is only 8hrs to reach the Philippines.
For a more adventurous and unique way to sail to Indonesia or the Philippines (or really anywhere else) check out findacrew.net. Basically, this is couchsurfing for sailors. You will find locals, travellers, expats with their own boats looking for crew to help them adventure over sea to their next destination. Perfect if you have a lot of time on your hands and a limited (or non existent) budget. Many captains don't require you to have any previous experience and you may even get paid a little for helping out!
Personally, I can't think of a better way to begin a new adventure after backpacking Malaysia, I will definitely be trying this on my next trip.
Malaysia Backpacking Costs
You can backpack Malaysia for as little as $15 a day. Sometimes more if you want a fancy cocktail rather than a beer for a change. Stick to cheap guesthouses, good street food and buses rather than flights and trains and you shouldn't spend more than forty dollars a day.
A Daily Budget in Malaysia
| Expense | Broke Backpacker | Frugal Traveller | Creature of Comfort |
| --- | --- | --- | --- |
| Accommodation | $5-$10 | $10-$15 | $20+ |
| Food | $4-$9 | $9-$14 | $15+ |
| Transport | $2-$8 | $10-$18 | $20+ |
| Nightlife Delights | $2-$7 | $8-$14 | $15+ |
| Activities | $0-$10 | $10-$20 | $25+ |
| Total per day | $13-$44 | $47-$81 | $95+ |
Money in Malaysia
DO NOT buy Malaysian Ringgit before travelling to Malaysia. Why? You will get a crappy exchange rate. Money is easily exchanged upon arrival in Malaysia and you'll get a much better exchange rate in the country.
Malaysia accepts the majority of international cards so long as they are Visa or MasterCard, but many of these charge pretty insane withdrawal fees so it's advisable to avoid small ATM transactions and get out a bunch of cash at once - just make sure you hide it well (pack a travel money belt).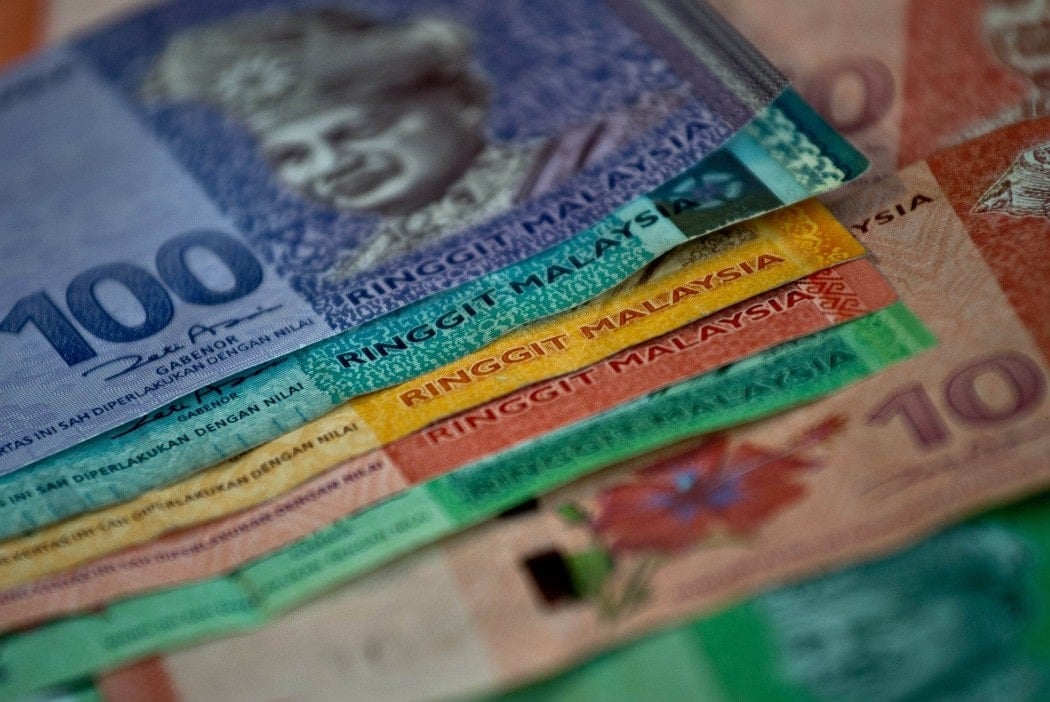 If travelling to rural areas cash is always best because ATMs will become scarce fast. If arriving by land, exchange only what you absolutely need before entering Malaysia. Some drivers will accept US dollars as payment if you have nothing else, but don't count on it.
Once you head into the rural areas don't expect ATMs anywhere. Carry cash with you, just enough for what you will be doing and a hidden backup stash in case of delays.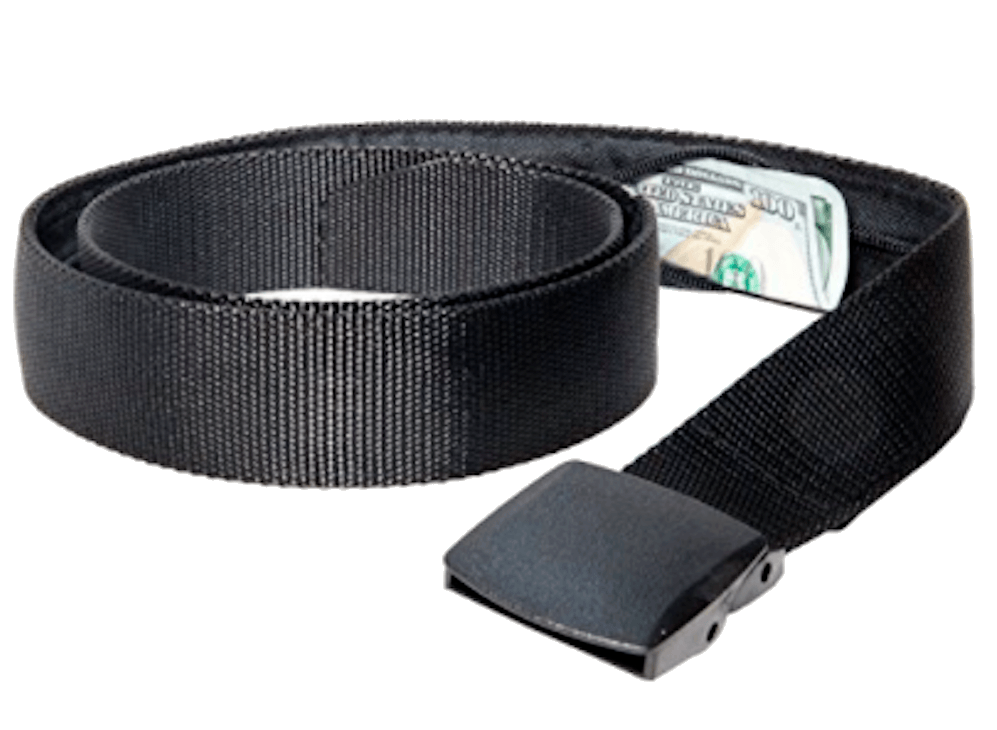 You should always have emergency cash hidden on you - pick up this awesome security belt with its hidden pocket before you travel, it's perfect for hiding money, a passport photocopy.
Top Tips for Visiting Malaysia on a Budget
Sometimes things are country specific, sometimes they're just the golden rules of budget backpacking. Either way, if you're backpacking Malaysia on a shoestring budget, here are some tips to stretch your money further.
Eat the Street Food: Put your stomach to the test! Nah! Just kidding the street food in Malaysia is awesome and I didn't encounter any stomach or bathroom problems while here. The trick, as with anywhere serving street food, is to go for the one that already has a queue. No one queues for bad food. This will be the cheapest way to eat, and if you're not convinced then head to the food courts (which are basically the same thing).
Haggle: It is commonplace while market shopping to haggle for your goods. Even if you think it is cheap for you without haggling you are not getting a local's price or a good deal. It's heaps of fun as well, so get your game face on and snag some random goodies!
Guesthouses: Cheaper than most hostels and way cheaper than hotels, this is the best way to save money while travelling through Malaysia. They're often family run too so you will meet some awesome locals. If you want to book something online, Hostelworld offers some of the best deals in Asia.
Pack your bible: Learn how to travel the world on $10 a day whilst you get your shit sorted; discover the secrets to longterm travel and build an online income. It's mandatory course material for every aspiring broke backpacker.
Hitchhike: Hitchhiking is a great way to meet the locals, and it may even score you a free bed for the night as well – two for one is always good right? If you're not comfortable hitchhiking, take the bus: super cheap and relatively comfortable.
Pack a travel water bottle: Save money - and the planet - every day!
Volunteering in Malaysia
Long term travel is awesome. Giving back is awesome too. For backpackers looking to travel long-term on a budget in Malaysia whilst making a real impact on local communities, look no further than Worldpackers. Worldpackers is an excellent platform connecting travelers with meaningful volunteer positions throughout the world.
In exchange for a few hours of work each day, your room and board are covered.
Backpackers can spend long periods of time volunteering in an awesome place without spending any money. Meaningful life and travel experiences are rooted in stepping out of your comfort zone and into the world of a purposeful project.
Worldpackers opens the doors for work opportunities in hostels, homestays, NGOs, and eco-projects around the world. We've tried and approved them ourselves - check out our Worldpackers in-depth review here.
If you're ready to create a life-changing travel experience and give back to the community, join the Worldpacker community now. As a Broke Backpacker reader, you'll get a special discount of $20. Just use the discount code BROKEBACKPACKER and your membership is discounted from $49 a year to only $29.
Teaching English in Malaysia
Speaking English is a highly-valued skill all over the world. For locals, it opens up whole new worlds of employment opportunities and travel.
Perhaps one of the best options for backpackers wanting to explore the Malay Archipelago long-term and experience living in this truly incredible country is to teach English in Malaysia. Lots of travellers do this, though it's got an unfortunate lower-age limit of 27 for the visa. But you can just travel around Malaysia while you teach online, can't you? You can. 😉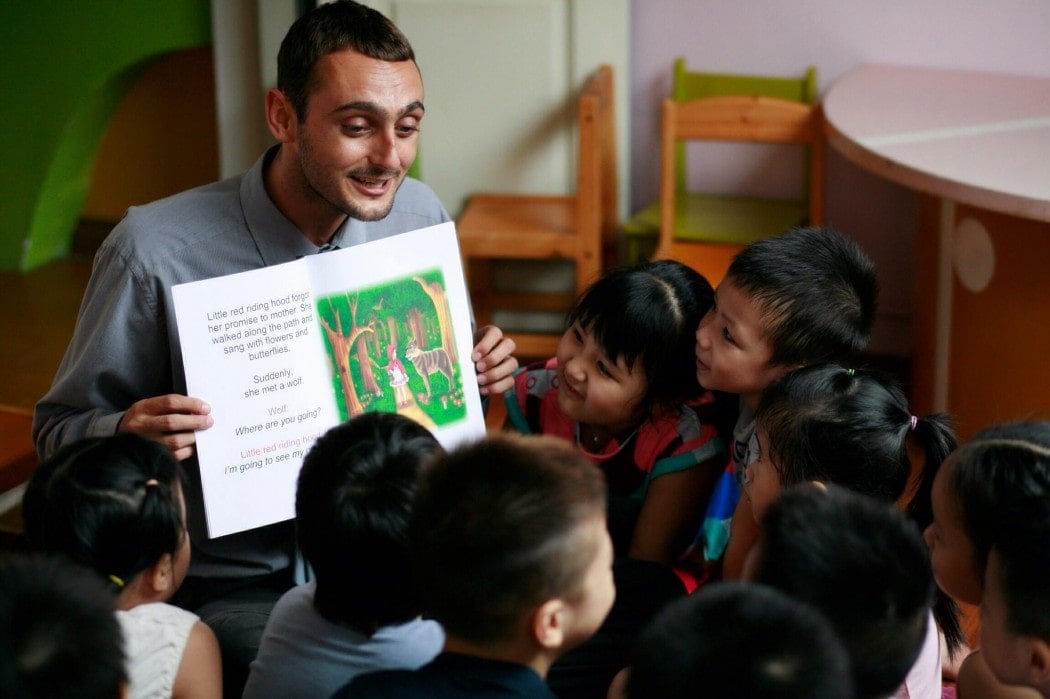 TEFL courses open up a huge range of opportunities and you can find teaching work all over the world. Broke Backpacker readers get a 35% discount on TEFL courses with MyTEFL (simply enter the code BACKPKR).
To find out more about TEFL courses and how you can teach English around the world, read our in-depth report on teaching English abroad.
Make Money Online Whilst Backpacking Malaysia
Keen to live the digital nomad dream while travelling the world? Damn right you are!
Teaching English online is a great way to earn a consistent income from anywhere in the world with a good internet connection. Depending on your qualifications (or your motivation to obtain qualifications like a TEFL certificate), you can teach English remotely from your laptop, save some cash for your next adventure, and make a positive impact on the world by improving another person's language skills! It's a win-win!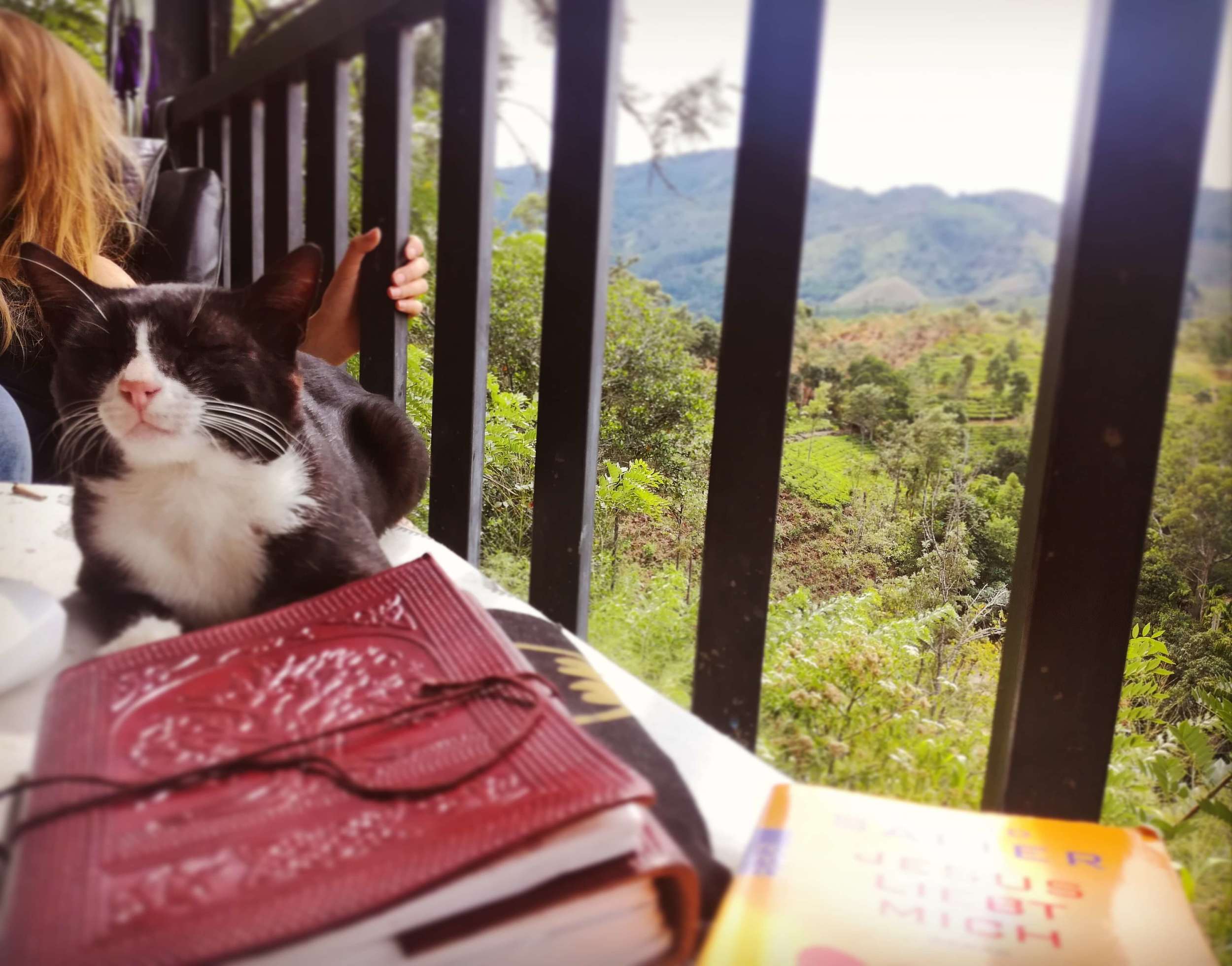 Check out this detailed article for everything you need to know to start teaching English online.
Whether you are keen to teach English online or in a foreign country, a TEFL certificate is absolutely a step in the right direction.
Internet in Malaysia
While wi-fi is available in the major cities and tourist destinations, Malaysia is known for having painfully slow internet. If you go to Sarawak, don't except to have reliable internet either!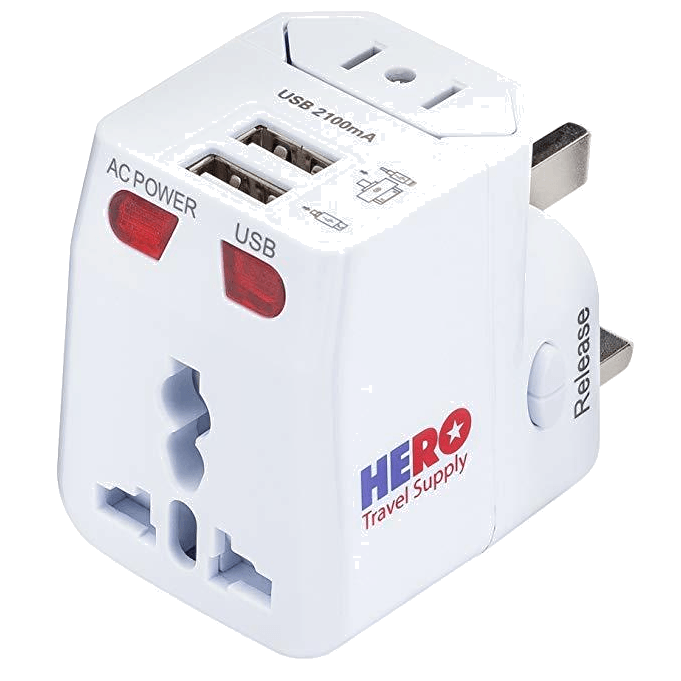 One of the best investments you can make is a
worldwide travel adapter
that will work anywhere! The one featured here is tough, reliable and a solid buy - Don't leave home without one.
GET IT HERE
Must try Experiences in Malaysia
There are a lot of incredible reasons to travel Malaysia. It's a beautiful country filled with many beautiful people. Enjoy it!
People in Malaysia
Malaysians are incredibly friendly people; they have grown up in one of the biggest melting pots of cultures I have come across. They are so interested in your story and will often ask you a lot of questions. They love to take pictures with the people they meet, this even happened to me at the border crossing.
If you don't want you picture taken just politely decline, they may take a sneaky one anyway. It is not uncommon for Malaysians to invite you for tea or for dinner, it is up to you if you want to accept this offer, but I mean, why wouldn't you? I have yet to meet an unfriendly Malaysian and found everyone to be extremely respectful. You will not be without friends when backpacking in Malaysia.
Food in Malaysia
There are some amazing options for street food in Malaysia. Here are some must try foods in Malaysia:
Banana Leaf Rice: This is white rice served on a banana leaf with an assortment of vegetables, curried meat or fish, pickles, and the super addictive papadum ( look like giant, round, flat crisps)!
Nasi dagang: Rice steamed in coconut milk, fish curry and extra ingredients such as fried shaved coconut, solok lada, hard-boiled eggs and vegetable pickles.
Hokkien mee: Thick yellow noodles braised in thick dark soy sauce with pork, squid, fish-cake and cabbage as the main ingredients.
Satay: Meats on sticks over a BBQ
If you're interested in learning the cuisine, then check out this site for awesome deals on Malaysian cooking classes.
Scuba Diving in Malaysia
Malaysia has plenty of great scuba diving options. The most famous sites, however, are located on Sipadan Island and Mabul Island. Sipadan is by far the best place to enjoy scuba diving; it is also not that easy to actually dive at because of the restricting rules that are in place (daily permit). Mabul is known worldwide for its amazing muck diving conditions.
Scuba Dive Malaysia on a Liveaboard Trip
So you have some diving under your belt and you want to get to know some of Malaysia's best dive sites intimately?
Consider joining a liveaboard scuba diving trip in Malaysia!
There is no better way to experience remote, super interesting dive sites than on a Liveaboard trip.
You get what you pay for: excellent food, days of diving, and comfortable accommodation.
If you have the burning desire to do heaps of scuba diving in awesome locations, than a liveaboard diving trip somewhere amazing may be just the thing for you.
Trekking in Malaysia
Adventurists and avid trekkers will want to head to Borneo. There are several beautiful national parks, and ample opportunities to hike through jungles, over mountains, and through remote villages. Take a look at our second itinerary in the travel itinerary section for more inspiration.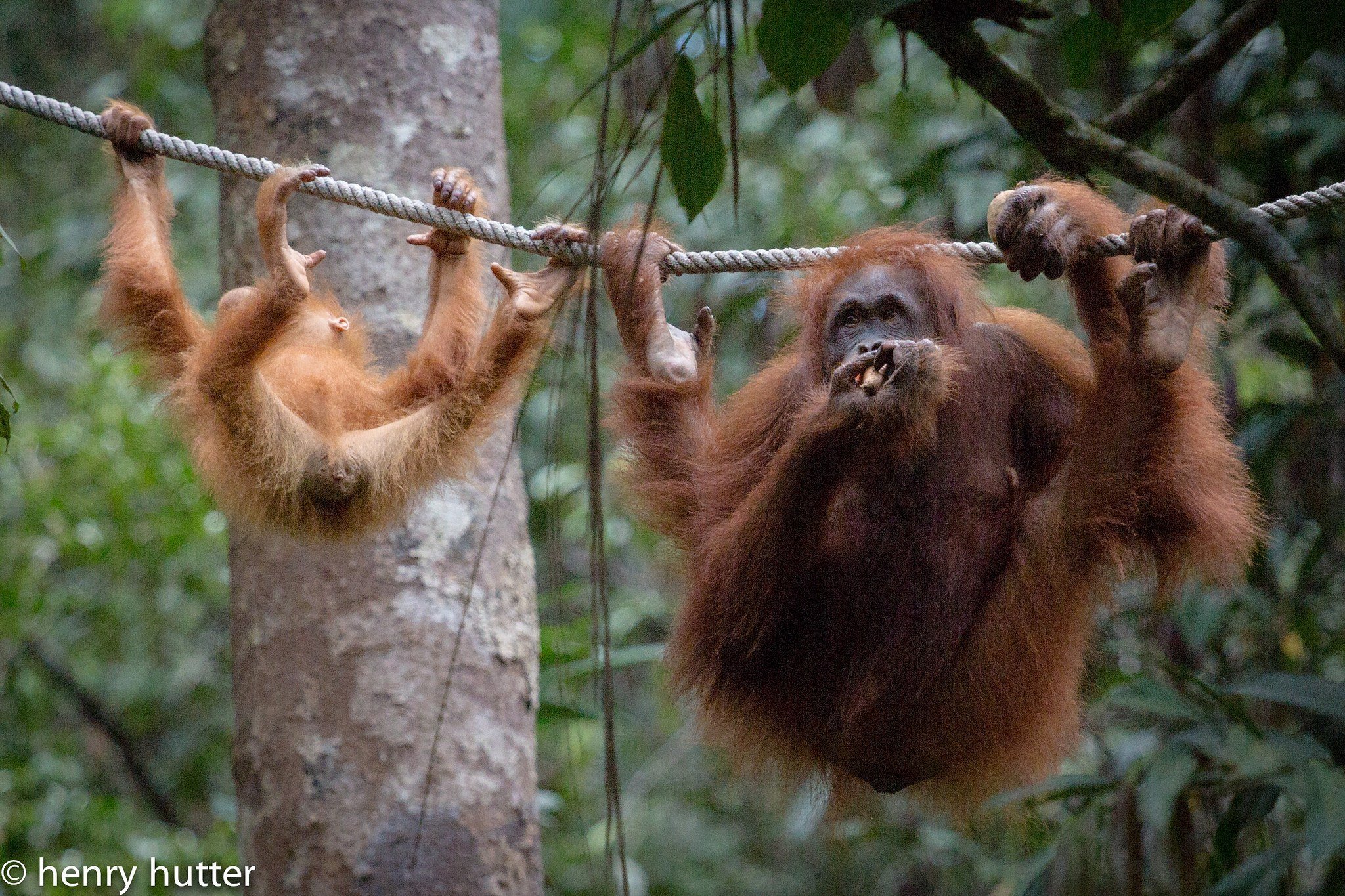 A Brief History of Malaysia
For many centuries, the British colonized Malaysia.
On December 8 1941 the Japanese invaded Malay Peninsula and they quickly overran it, but after WWII the Japanese were overrun.
As they were gaining independence, there was tension between Malays and non-Malays. It culminated in violence after an election in May 1969. The two sides came to violence and the government declared a state of emergency and parliament was suspended.
The Malaysian government then adopted a new, successful economic policy. It was remarkably successful. From the 1970s on, Malaysia changed from being a poor, agricultural country to a rich, industrial one. The standard of living of the Malaysian people rose dramatically and Malaysia remains more prosperous than most South East Asian countries today.
Closing Thoughts
Being a Responsible Backpacker in Malaysia
Reduce your plastic footprint: Perhaps the best thing you can do for our planet is to make sure you do NOT add to the plastic problem all over the world. Don't buy one-use water bottles, the plastic ends up in landfill or in the ocean. Instead, pack a tough travel water bottle.
Go and watch A Plastic Ocean on Netflix – it'll change how you view the plastic problem in the world; you need to understand what we are up against. If you think it doesn't matter, get off my fucking site.
Don't pick up single use plastic bags, you're a backpacker – take your daypack if you need to go to the shop or run errands.
Bear in mind, that many animal products in countries you travel through will not be ethically farmed and won't be of the highest quality. I'm a carnivore but when I'm on the road, I only eat chicken. Mass-farming of cows etc leads to the rainforest being cut down – which is obviously a huge problem.
Recently, my gear-venture, Active Roots has started to sell water bottles. For every Active Roots water bottle sold, we donate 10% to PlasticOceans.org – an awesome initiative aimed at educating people on the risk of single use plastic and helping to clean up our oceans. Help save the planet, whether you take an Active Roots bottle or not – TAKE RESPONSIBILITY for your plastic footprint, don't be a dick.
Need more guidance? – Check out our post on how to be a responsible backpacker.
Be Good to Malaysia
Writing your name in black marker on temples, chugging beer while shirtless, swearing loudly and visiting unethical animal attractions? You Sir, are a twat. Luckily, most backpackers don't fall into this category but, when you're out and about and have had a few too many drinks, it can be easy to embarrass yourself. It's easy to get carried away in South East Asia, everything is so damn cheap and so much fun.
Look up ethical animal sanctuaries, and learn more about the Palm Oil Plantation/deforestation crisis.
If you're not into seeing the temples, no worries but don't be disrespectful, inappropriate or deface them – certainly, do not try to wander in shirtless.
Malaysia is predominantly Muslim, so dress conservatively when you are not on a beach.
Wear a helmet when you hop on a motorbike in Asia. Despite being an experienced driver, I've had a total of three crashes in South East Asia over the last ten years. On the one occasion, I wasn't wearing a helmet, I split my head open and had to go to the hospital. It was an expensive mistake. The local people are sick of scraping foreigners off the road and, trust me, you don't look cool for not wearing a helmet.
Humans are humans; treat people you meet along the way with the same respect you would show your friends and family back home. You are not superior to anyone including the girls/guys walking the streets.
Go to Asia and have the time of your life, do the things you've dreamed of, but be respectful along the way. Travelling the world makes you an ambassador for your country, which is awesome. We can make a positive impact on people when we travel and get rid of any ugly stereotypes that may be associated with your country…
So there you have it amigos, everything you need to know to hit the road and begin backpacking Malaysia. So get out there already.
Got more to add to the guide? Let me know in the comments below!
Yay for transparency! Some of the links in this post are affiliate links. This means that if you book your accommodation, buy a book or sort your insurance, I'll earn a small commission at no extra cost to you. I only link to stuff I've actually used and never endorse crap. Your support helps me keep the site going.
---
Need More Inspiration?
Like this post? PIN ME!!