Malaysia is Southeast Asia's melting pot. A place where different cultures come together for an explosion of colorful tradition, a smorgasbord of cuisine, and a variety of different languages.
Away from its hectic cities, however, hides our favorite kind of wealth: nature. With remote rainforests in the far-flung Borneo, stunning peaks, and beautiful countryside treks, Malaysia is truly a hiking paradise.
Picture next-level jungle adventures, jaunts to beautiful beaches, and tea plantation explorations — with colonial leftovers some crazy wildlife in the mix!
But if the possibility of hiking in this Southeast Asian gem is news to you, sit tight.
We've crafted this helpful guide to hiking in Malaysia, stacked full of all the info you need: where to stay, all the best hikes, and everything you need to know to be safe on your trip.
Ready? Let's do this!

Do You Want to Travel FOREVER??
Pop your email in below to get a FREE copy of 'How to Travel the World on $10 a Day!'.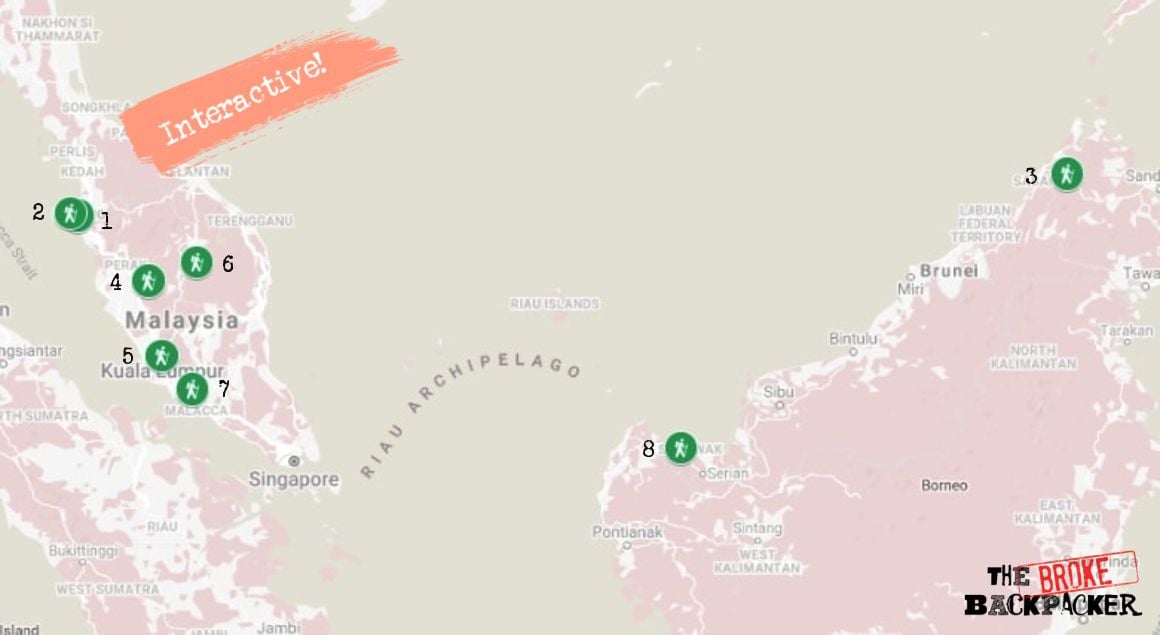 Backpacking Malaysia is a real treat, and it's surprisingly well suited for hiking. For the most part, it's the varied tropical and sub-tropical landscapes that make this country a dream to explore on foot.
The coastline is one of the most attractive ecosystems here. With over 2,000 miles of beach, craggy rocks, and islands, the secluded sandy slices that draw many of its travelers end up being the end goal of some rather paradisiacal trails — talk about a win-win!
Malaysia is spread over two distinct areas: Peninsular Malaysia and Malaysian Borneo (part of the island that it "shares" with Indonesia).
The peninsula tends towards the mountainous side, while the island side is famous for its dense rainforests. Sarawak and Sabah, the two states that make up this part of Malaysia, have a great reputation due to its dense and deliciously tropical landscapes.
If you haven't guessed by now, Malaysia is mainly a hot and humid country. Temperatures in most low-lying areas hover around 30ºC year-round, while highland areas average out around the low 20s. Layers are important, but nothing too thick: it never really gets "cold" out there.
But you also have the rain: the rainy season runs from April to October on the west and from November to February on the east coast. During these times, you should expect downpours and a few thunderstorms as well.
We're gonna run you through the weather concerns, among other things, in our safety section coming right up…
Malaysia Trail Safety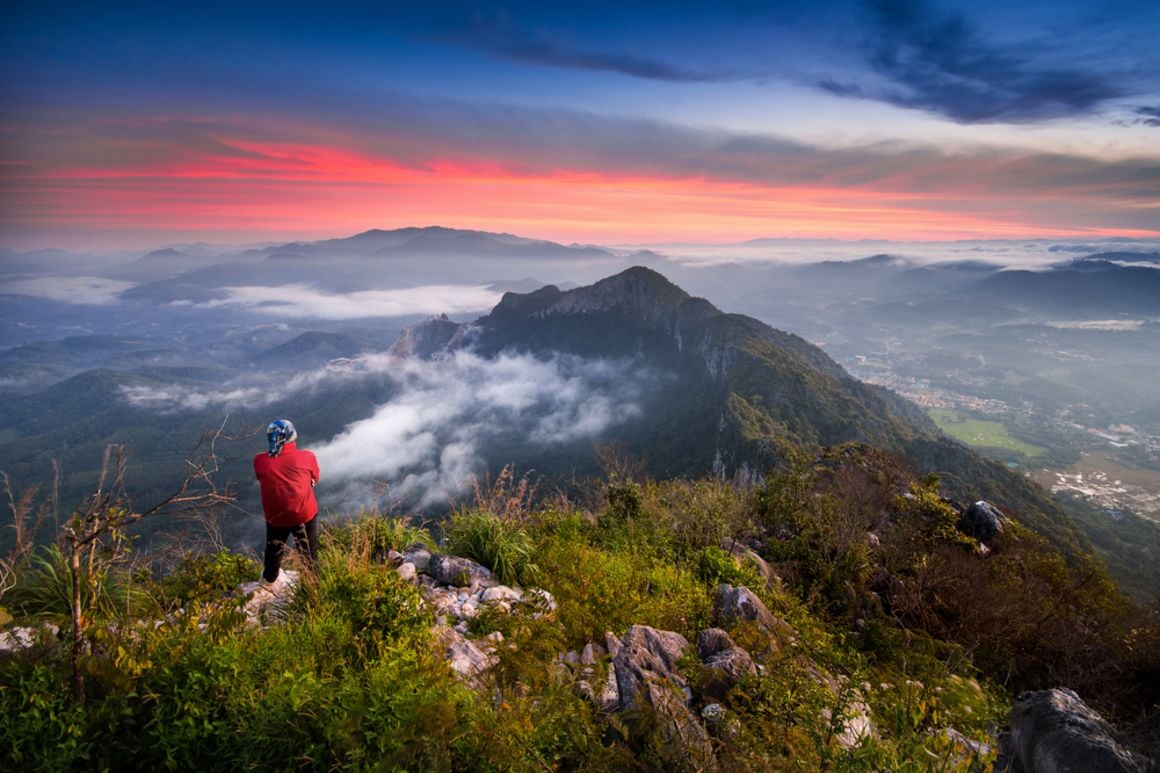 If you're thinking about embarking on one of Malaysia's amazing hikes, you're in for a real treat. With numerous mountains, awesome city views, and laid-back beaches to stroll along, there's a hike for every ability here.
But like any other place in the world, the abundance of stunning wild scenery requires you to pay special attention to a few things.
First on the list are your surroundings. There are some seriously epic hikes here, and you don't want to get lost halfway up a mountain. Know what you're getting into beforehand and prepare for the conditions of each hike.
Oh, and the heat and humidity are very real too — Malaysia is hot and sticky, and extreme weather conditions might affect how strenuous a hike will be.
Let's run you through the rest really quickly:
Plan ahead – Going with the flow is cool, but a last-minute hiking decision can be risky. Spend time studying the route so you know what to expect.
Choose a hike that suits you – Everybody likes a little challenge, but pushing yourself way past your fitness level never works out. Know your limits, peeps! And ask locals you meet for some insider knowledge.
Share your location – We recommend hiking with a buddy, but if you really wish to go solo, let somebody know where you're headed. At the parks, you can also let the staff know of your whereabouts.
Pack the right gear – Education is important, but packing the right gear is importanter. Seriously though, pick appropriate clothing and bring a map in case you lose signal — we'll run you through the rest later.
Check the weather – Backpacking a tropical country is all fun and games until things get dangerous. Heavy downpours are a thing in Malaysia, and clouds gather quickly in the mountains, possibly making routes slippy or impassable. Postpone a hike if you need to!
Check the time – Hiking in the dark is not a wise choice, especially when you're unfamiliar with your environment. Leave as early as possible and try to return before or right after sunset — a headtorch can be a lifesaver here.
Respect nature – Malaysia is home to all sorts of beautiful wildlife. Its vast swathes of rainforest and mountain fields host everything from creepy crawlies, crocodiles, and even thorny and poisonous plants. We'd say leave it alone — for your safety as much as nature's preservation.
Think about travel insurance – You never know what's going to happen, and 2020 was enough of a lesson on that matter. Look into travel insurance that covers everything you plan to do — if you're out of time, go with World Nomads, our ultimate favorite provider.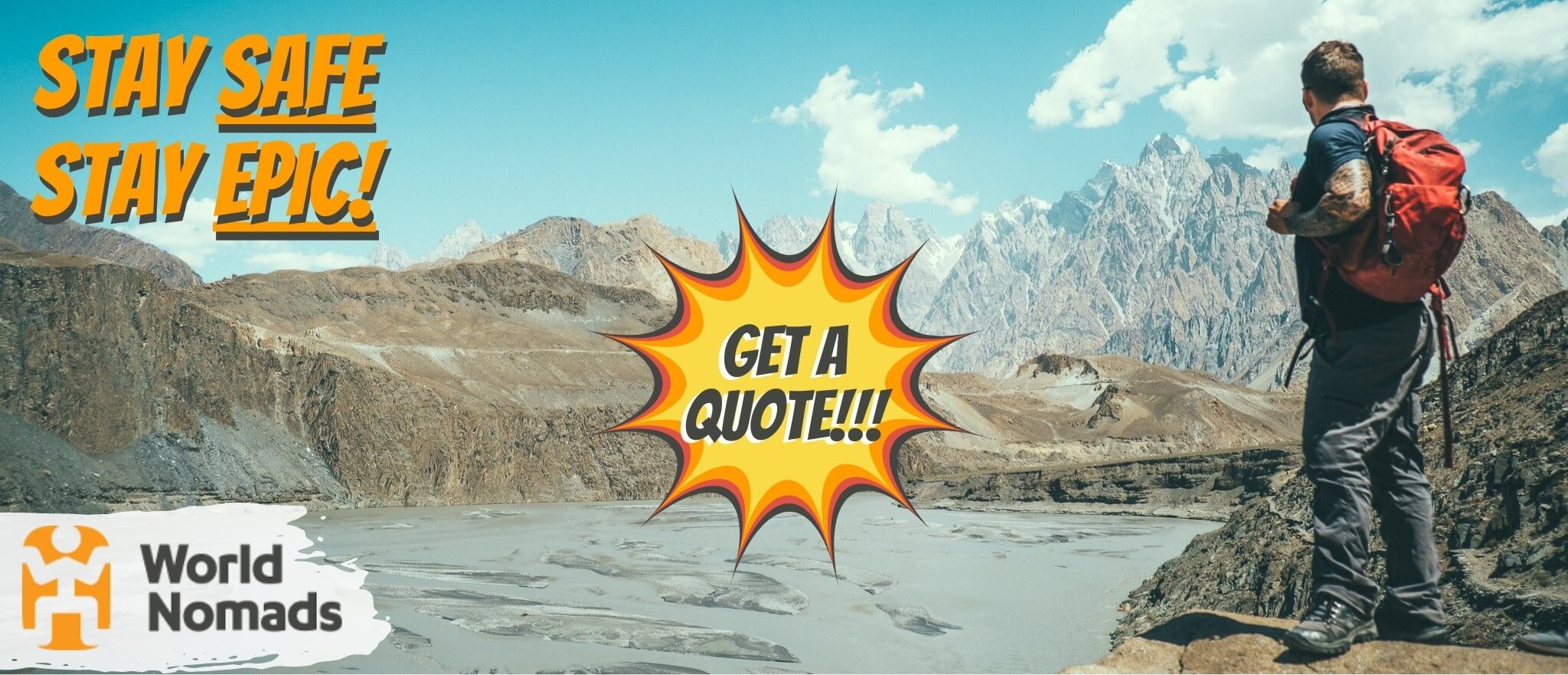 World Nomads' mission is to support and encourage travellers to explore their boundaries. They offer simple & flexible travel insurance, and safety advice to help you travel confidently.
They've been doing it since 2002 – protecting, connecting, and inspiring independent travellers just like you.
Get a quote below or read our in-depth review!
Now that you know what to expect and how to stay safe when hiking in Malaysia, it's about time we take a deep dive into the best trails on offer.
So here's our carefully curated list of the best hiking trails in Malaysia to get you started. We've organized them in different categories to make it easier for you to choose — pick something that suits your style and ability, put on some proper shoes, and let's go!
1. Penang Hill Hike – The Best Day Hike in Malaysia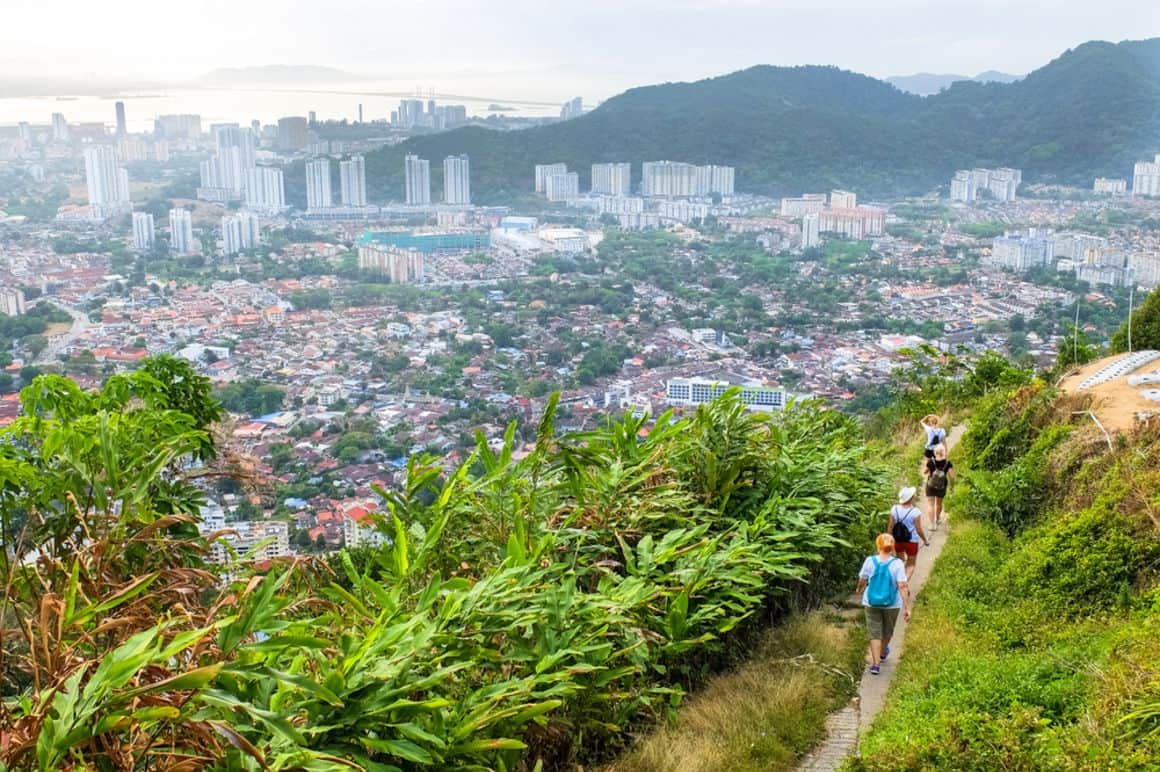 Penang Hill is located around nine kilometers outside of George Town, the capital of Penang island. It's also known by its Malay name, Bukit Bendera, and it's a popular spot for visitors and locals alike.
Many people choose to ride the funicular railway to the top, and we don't blame them: the Penang Hill Railway is the steepest and longest of its kind in the world. But we're hiking, of course! You can cruise down the funicular after that.
For this one, you'll be taking the Penang Hill Heritage Trail from the Lower Station all the way to the Upper Station. For the most part, it's a pretty straightforward, easy to follow and not overly challenging hike.
It's all uphill, of course, but you'll be walking on solid ground the whole way — no scrambling required. All you have to do is follow the weaving path that takes you past big boulders, under tropical canopies, all the way to the hilltop itself.
There are quite a few forks and different paths leading off the main route, so make sure you keep an eye on the signs (they're bright yellow with red writing). Around halfway, the views open up and reveal George Town, hopefully under the gleaming sun.
This hike is a must on any Penang itinerary, so be sure to give it a go if you're travelling in the area!
Length: 3.3km
Duration: 1.5 hours
Difficulty: Average
Trailhead: Penang Hill Hike Trail Head (5°24'29.3″N 100°16'38.6″E)
2. Kerachut Beach Trail – Most Beautiful Hike in Malaysia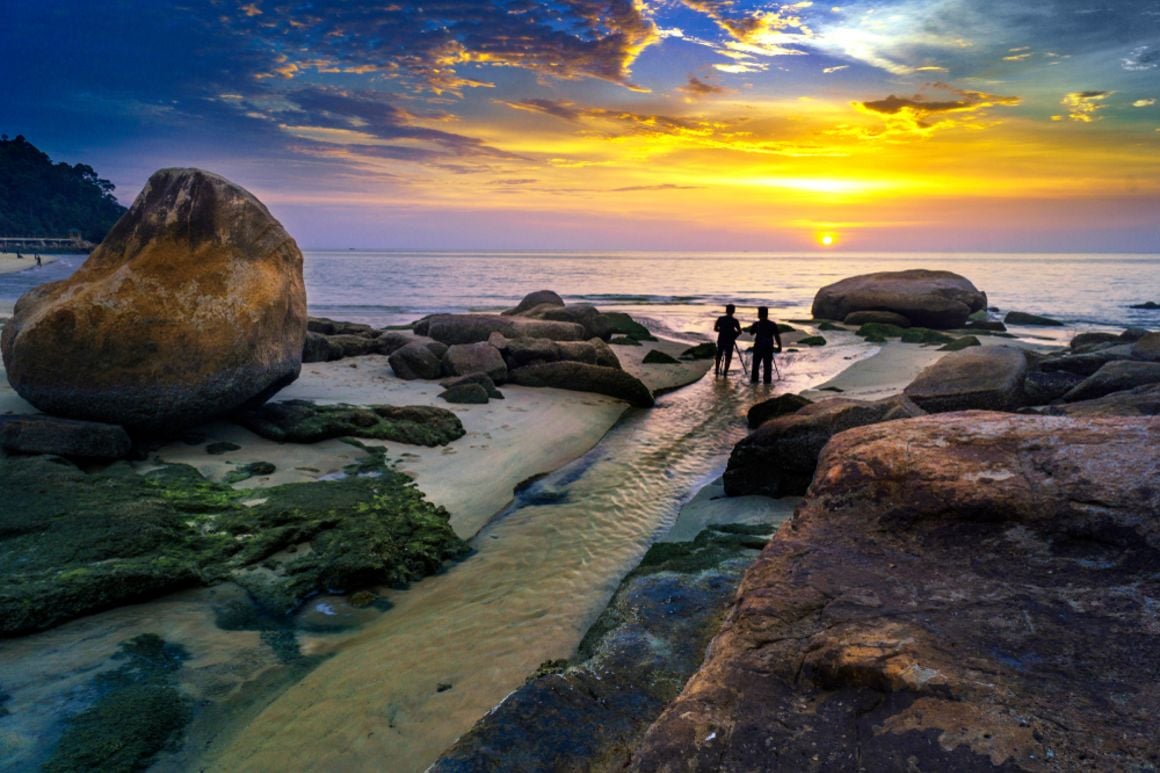 This is your chance to spend a day exploring the remote beaches in Penang. Situated on the northwest coast of the island, this place couldn't feel further away from city life.
You'll be paying a visit to Pantai Kerachut, just a quick bus ride from the state capital, where you'll find a sandy shoreline that is home to a mesmerizing meromictic lake, a turtle sanctuary, and plenty of jungle trails.
The hike begins at the entrance to Penang National Park and starts with a steep ascent up a stone stairway and into the rainforest. It's a pretty straightforward path to follow, with plenty of signs to keep you on the route.
After a while, you'll cross a picturesque suspension bridge that will fulfill all your Indiana Jones adventuring needs and then arrive at the beach itself. Once you're here, it's all about chilling out and enjoying a nice meal with a backdrop of beautiful scenery — consider visiting the turtle sanctuary too.
Rather than hiking back, you can take a speedboat from the pier on the beach, which zips you back to the park entrance.
Length: 7.2 km
Duration: 2 hours
Difficulty: Moderate
Trailhead: Penang National Park Entrance (5°27'34.8″N 100°12'21.5″E)
Small Pack Problems? 😉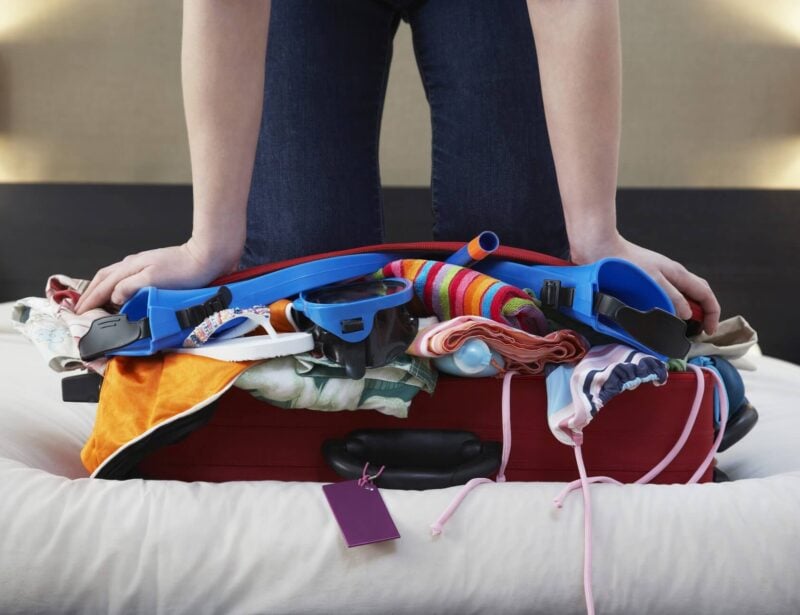 My missus travels with all her clothes in ziplock bags: don't be like my missus. UP YOUR PACKING GAME!
Packing cubes for the globetrotters and compression sacks for the real adventurers – these babies are a traveller's best kept secret. They organise yo' packing and minimise its volume too so you can pack MORE.
Or, y'know… you can stick to ziplock bags.
View Our Fave Cubes
Or Check Out the Sacks!
3. Mount Kinabalu Hike – The Best Multi-Day Hike in Malaysia
This is the highest peak in the whole country, towering at a whopping 4,095 metres above sea level. This giant is so iconic it gave its name to Kota Kinabalu, the capital of Sabah on Malaysian Borneo, to the east of which it is located.
If you're looking for an epic multi-day hike in Malaysia, Mount Kinabalu is where it's at.
Note, however, that summiting this UNESCO World Heritage Site is not an easy task. In fact, all hikers tackling the mountain must be accompanied by an accredited guide at all times and be in possession of a permit (only 185 of these are issued daily).
You have two options here, both leaving from the Panalaban area: the Ranau Trail and the Kota Belud Trail. On either one of them, it will take you two days and one night to complete the climb.
There is the option to lengthen this to three days and two nights if you need to spend time acclimatising at Kinabalu Park at the foot of the mountain; altitude sickness on this Malaysian hike is a real risk.
This is the sort of hike you could choose to tackle for your first "serious" mountain climb. No doubt you'll be exhausted when you reach the camp near the summit, but by the time the sun rises the next morning… oh boy, the effort will be more than worth it.
Length: 22 km
Duration: 2 Days
Difficulty: Difficult
Trailhead: Timpohon Gate, Kundasang, Sabah (6°01'43.4″N 116°32'48.2″E)
4. Gunung Berembun – Must-Visit Hike in Malaysia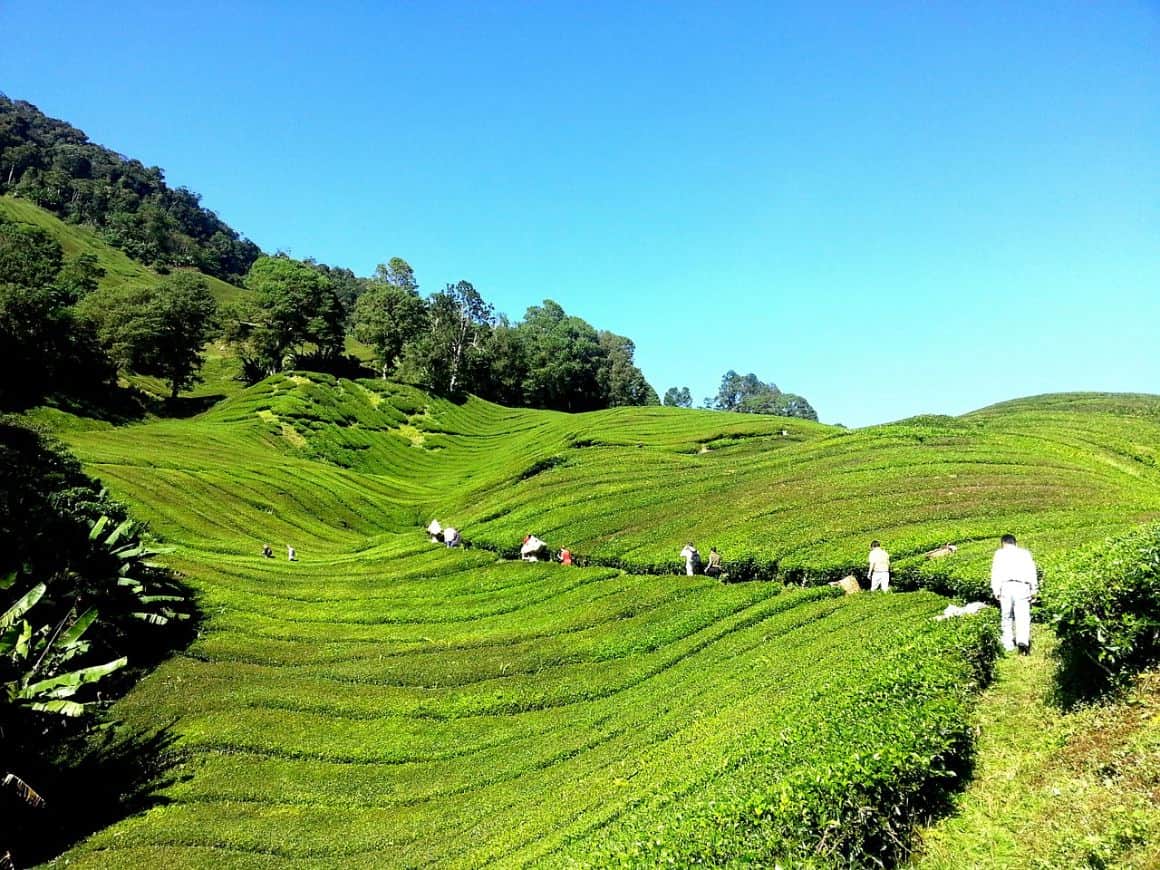 If you only get the chance to embark on one hiking adventure in Malaysia, make sure you do it in the Cameron Highlands.
This tableland was first developed in the 1930s by the British and has remained popular since then — with tea estates, farmlands, and cute villas in the mix, the verdant beauty that encompasses it all makes it a great place for hiking. The weather is also cooler than in the sweltering lowlands.
For this one, we'll be walking you through the hike up Gunung Berembun, the third-highest mountain in the Cameron Highlands. The trail takes you up through thick rainforest, past a Hindu temple, and reveals beautiful vistas and scenery as you trek.
There are two starting points: Arcadia Cottage, for a 2.5-hour (steep) climb, or Mardi, which is longer but with a more gradual ascent. Both are moderately challenging, especially if you're not used to hiking up mountains.
Hiking in Malaysia doesn't get much more quiet and serene than this. Thanks to the highland location, the temperature isn't too taxing as it can be on other hikes, but you can still expect to be scrambling over tree roots, and watching out for big bugs.
Length: 6 km
Duration: 2.5 hours
Difficulty: Average/Difficult
Trailhead: Arcadia Cottage (44°40'24.7″S 169°04'18.7″E)
5. Gasing Hill Hike – A Fun, Easy Hike in Malaysia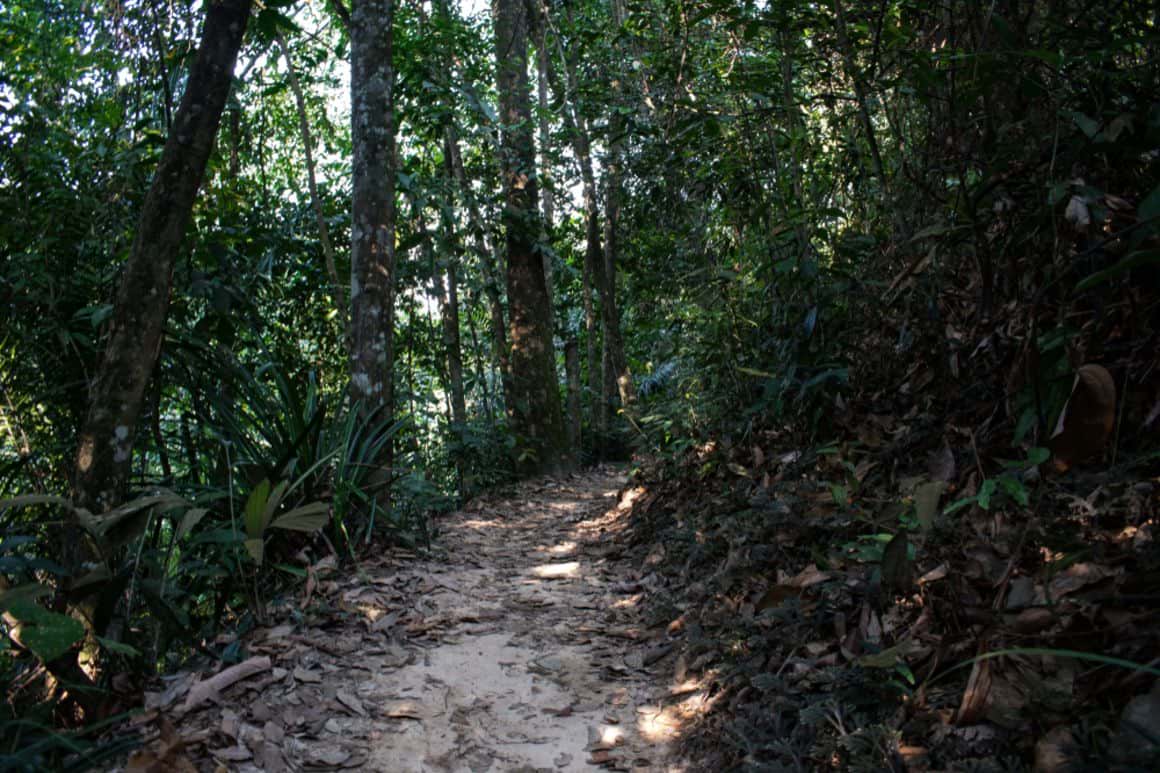 You'll find this Malaysian trail in Bukit Gasing Forest Reserve, which is situated between Petaling Jaya and the sprawling capital of Kuala Lumpur.
This 100-hectare park is a secondary forest; once leveled for a rubber estate, tree growth has since then been allowed to return to its lush and wild origins.
Bukit Gasing is a fantastic way to get out into nature, being one of the most easily accessible hikes in Malaysia. Something of an oasis, it is surrounded by urban development, but that also makes it easy to reach.
On arrival — either from Kuala Lumpur or Petaling Jaya — you'll be greeted with a network of hiking trails, which you can choose to suit your fitness levels. None of them are too strenuous, as the highest peak here is only 160 meters tall.
There are plenty of places where you can stop for views, rest on benches or eat a picnic lunch. There's no shortage of highlights, either, with a Hindu temple to visit and a cool suspension bridge to cross.
It's a good hike to tackle if you're not into huge treks. Or if you're bringing the whole family. It's popular among city dwellers, so opt for the early morning and avoid weekends to achieve maximum peace.
And the mosquito situation here is gnarly, be sure to cover up and slather that sexy body with repellent.
Length: 4.6 km
Duration: 1-2 hours
Difficulty: Easy
Trailhead: Bukit Gasing Forest Park Entrance (3°05'43.3″N 101°39'32.2″E)
Save $$$ • Save the Planet • Save Your Stomach!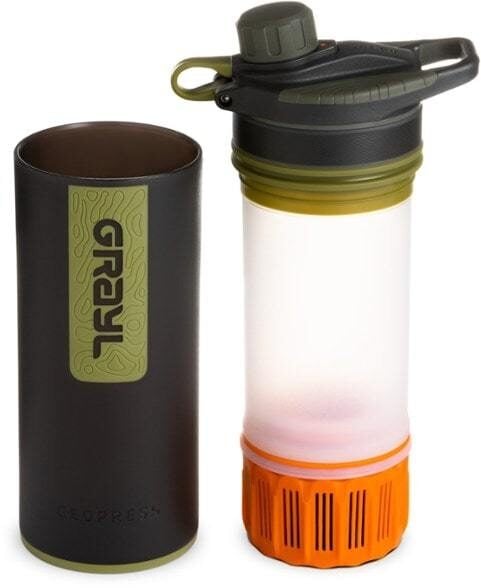 Drink water from ANYWHERE. The Grayl Geopress is the market's leading filtered water bottle protecting your tum from all the waterborne nasties. PLUS, you save money and the environment!
Single-use plastic bottles are a MASSIVE threat to marine life. Be a part of the solution and travel with a filter water bottle.
We've tested the Geopress rigorously from the icy heights of Pakistan to the tropical jungles of Cuba, and the results are in: it WORKS. Buy a Geopress: it's the last water bottle you'll ever buy.
Buy a Geopress!
Read the Review
6. Gunung Tahan Climb – The Toughest Trek in Malaysia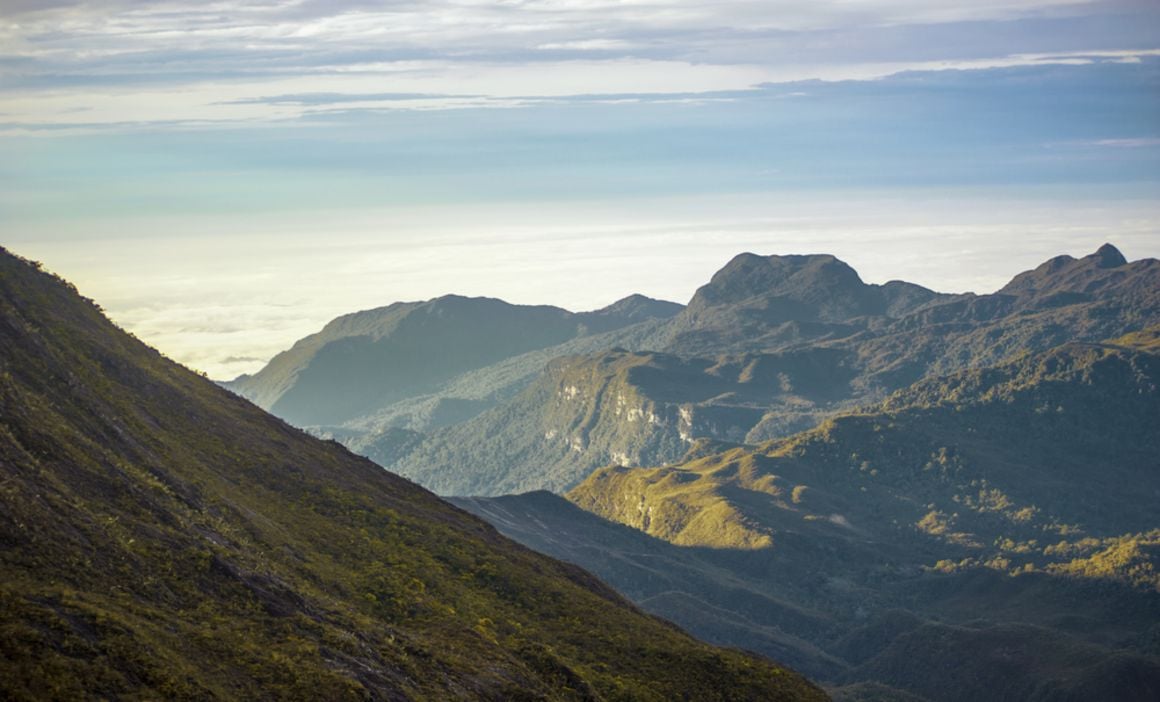 If the last hike was a bit too pedestrian for you and you're looking for a real challenge, let us introduce you to Mount Tahan.
Situated in the Taman Negara National Park, this is the highest point in Peninsular Malaysia, standing at an imposing 2,187 metres above sea level. You'll be facing one of the toughest treks in the country!
Getting to the summit isn't easy, but you do have options. The Kuala Tahan Classic Trail is the oldest and most scenic trail, but it takes seven days to complete; the Relau River Trail, on the other hand, takes only four days and it's the most popular among hikers — this is the one we suggest.
Starting at Kuala Jaram Village, you'll first pass over a suspension bridge and then head into the depths of the forest itself. Expect steep ascents along jagged pathways, tumultuous river crossings, and spectacular views.
Like the Mount Kinabalu Trek, you'll need both a guide and a permit for this adventure, and you have to notify the local police before entering the park. It's an arduous trek through dense jungle and sometimes through waist-deep water… safety is always first!
There are designated campsites along the way, so you won't have to pitch up in the middle of nowhere.
Length: 32 km
Duration: 4 Days
Difficulty: Difficult
Trailhead: Sungai Relau Trail (6°01'43.4″N 116°32'48.2″E)
7. Gunung Datuk Hike – Best Hike for Views in Malaysia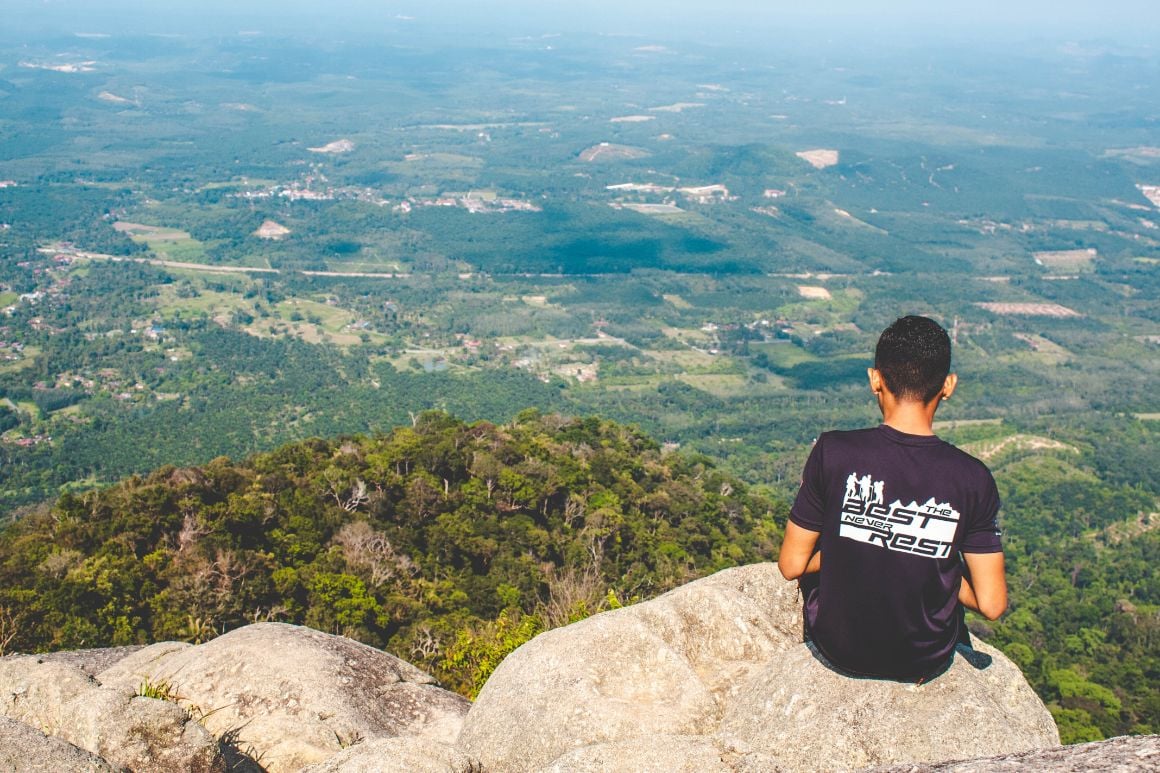 Here comes another mountain peak. Gunung Datuk is yet another fairly challenging hike in Malaysia, but the rewards are incredible. The highest point is "only" 885 meters above sea level, so it's relatively easy compared to other mountain climbs in the peninsula.
You'll find this particular hike just south of Kuala Lumpur, in Rembau, and it's the kind of trail that's gonna have you work up a little sweat before you get to the top.
There is a well-defined path that takes you through thick jungle, with rocky uphill stretches and wildflowers to snap up along the way. Expect lots of insects and wildlife along the way!
Eventually, you'll reach an area just below the summit with steel ladders leading up. It can be a bit hair-raising, but follow your fellow climbers up over the huge rock face…
And let the cool breeze come. In front of you, a splendorous view of Malaysia's natural and urban landscapes awaits. On a clear day, you might see all the way out to the Strait of Malacca.
Length: 3.8 km
Duration: 3 hours
Difficulty: Moderate
Trailhead: Gunung Datuk Recreational Forest (2°32'34.5″N 102°10'08.4″E)
8. Mount Serapi Hike – Best Off the Beaten Path Trek in Malaysia
Ok guys, these hikes seem cool, but I want to go where no one else is going!
Read carefully on this one, amigos, because we're taking you for a walk where only a few brave souls have trodded before.
This hike takes place in the state of Sarawak, on Malaysian Borneo, a land known for its dense rainforests, orangutans, and for having a VERY different culture from Peninsular Malaysia.
You'll be making your way to a viewpoint on Gunung Serapi, one of the peaks of Mount Matang in Kubah National Park. It may not be the most famous peak in the area, but it sure is where you'll feel further away from everything in the whole country.
Venturing along the trails, you'll discover paths crossed by mountain trees, surrounded by dense forests erupting with greenery. Boardwalks hang over wildlife havens and magical ponds — the park is known for hosting a wide diversity of frog species.
After some hiking, you hit the jackpot: views out over the Matang Mountain Range, as far as the eye can see and all the way into Indonesian Borneo.
Don't expect to see many people on the way up or down, as it's not a popular spot at all, but the landscapes are beautifully wild and well worth your attention.
Length: 10 km
Duration: 4-5 hours
Difficulty: Moderate
Trailhead: Kubah National Park Entrance (1°36'44.2″N 110°11'47.8″E)
DON'T DIE OUT THERE! …Please 🙂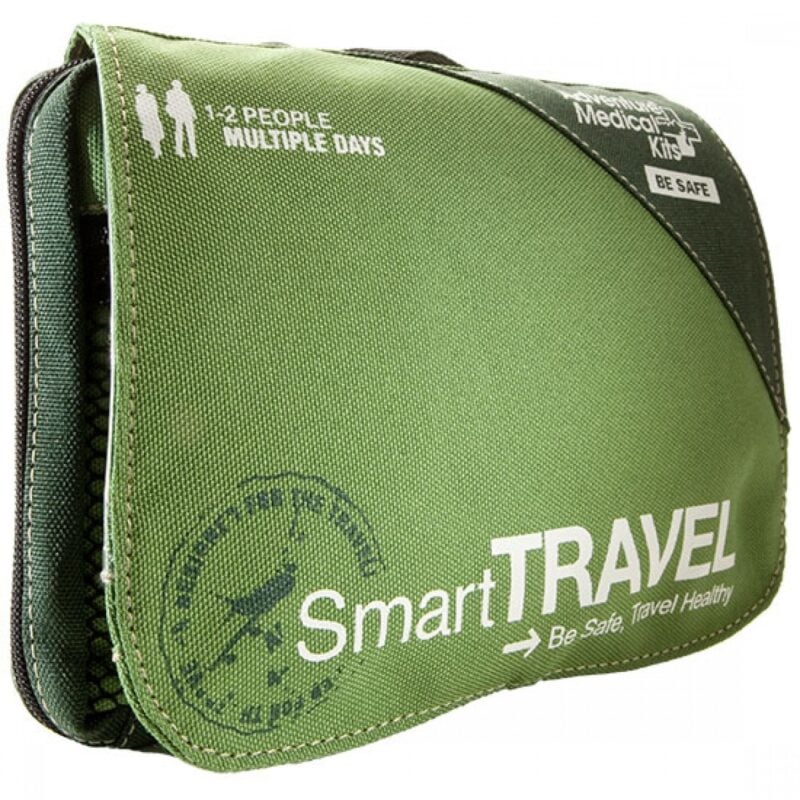 Things go wrong on the road ALL THE TIME. Be prepared for what life throws at you.
Buy an AMK Travel Medical Kit before you head out on your next adventure – don't be daft!
Buy on REI
Now that we've walked you through all the hikes, it's a good time for you to figure out where to stay in Malaysia.
There's a lot to see in this megadiverse country, from rolling mountains to cool plateaus and far-flung islands. No matter where you choose to base yourself, there will always be an opportunity to get out and hike.
The first place that most people think of is the capital. There are plenty of cool neighborhoods in Kuala Lumpur, and it's a major hub with great connections to the rest of the country. Flights, buses, trains, you name it…
Plus, it's an absolute bargain. Budget accommodation abounds and there is a wide variety of delicious food to fill your belly on the cheap. It's very urban, but a very solid option nonetheless.
Now, we are personal fans of Kuching, over in Malaysian Borneo. If you want to go off the beaten track in Malaysia, this is the ideal spot. You can use it as a base to explore the nearby parks and wildlife reserves.
If you're looking for something a little different, head over to George Town in Penang. The place is filled with colorful street art, stylish accommodation, and food that will never leave your memory. It's a traveler hotspot, so it's perfect to meet other backpackers.
Staying in more remote areas is also possible, of course. There is accommodation within Bako National Park, for example, and the Cameron Highlands are also a good bet.
Camping in Malaysia can be done, but the rules are not 100% clear; our advice is to opt for designated campgrounds such as those on Mount Kinabalu and Gunung Tahan. If you'd prefer that balance between enjoying nature within four walls, there are a number of eco-resorts to choose from!
Best Airbnb in Malaysia – Satrisna Home – Penang
Satrisna Home comes with a beautiful private terrace area where you can lounge on a hammock and enjoy views across Penang. The host also has excellent reviews, many of which commend their service standards and attention to detail.
Best Hostel in Malaysia – Faloe Hostel – Kota Kinabalu
Kota Kinabalu is a great location for backpackers that want to veer from the main tourist routes, and Faloe Hostel is a true hidden gem! With a social focus, they provide plenty of events, as well as some freebies to tide you over: complimentary breakfast, streaming services, and lockers.
With hotels this beautiful, it's no wonder citizenM is making moves in the hotel world. It prides itself on clean lines, modern furnishings, and perfect (but not stuffy) service. With greenery in all of the reception and dining rooms, this hotel is a breath of fresh air in the heart of KL.
Is This the Best Backpack EVER???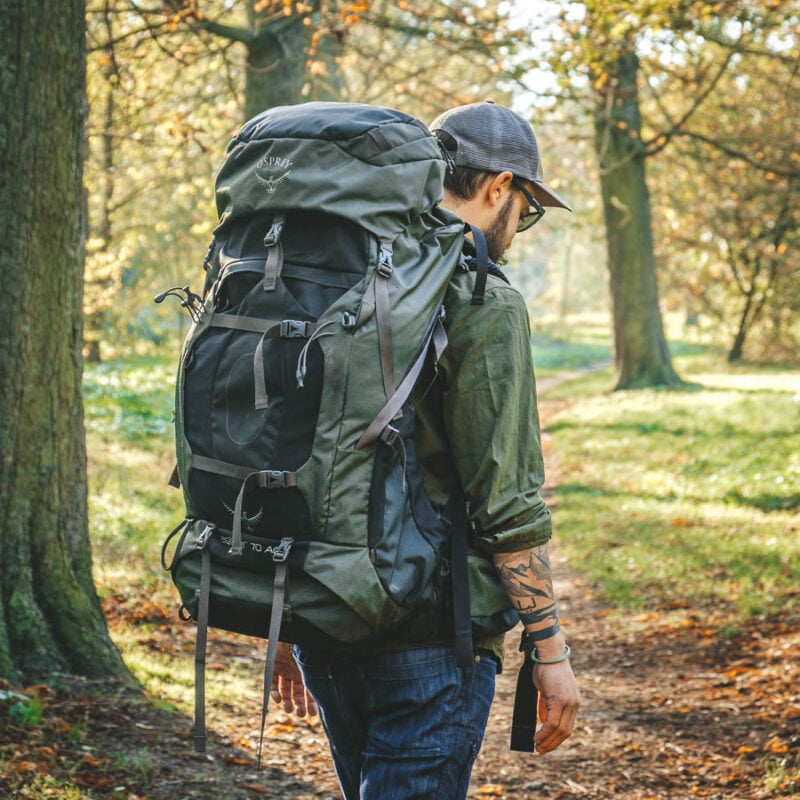 Taking a trip to Malaysia is a whole lot of fun. This multicultural nation is crammed full of culture, exciting cities, and super friendly people. On top of that, it hides a ton of epic hikes up its sleeve!
But a lot of the hikes in Malaysia involve steep climbs and adventurous mountain trails, which means you should be prepared with the right gear.
First off, spend some time thinking about clothing. We recommend reliable clothes that can cover you up from insects and the elements, but also keep you cool when you're sweating your way up a summit.
If you're only going after the easiest trails, there's not much you need to worry about. But if you want to push the limits on some of the most epic hikes in the country, the kit you pack can make or break your trip…
Make sure your shoes have a decent grip, are waterproof, and don't rub — it's a good idea to take them out on a stroll before a hike. And we mean shoes, not boots; boots are not fun in hot, humid countries like Malaysia.
Having access to drinking water is also very important, no matter where you're hiking. This is an essential part of staying safe in Malaysia, dehydration is a real danger in such humid countries.
A good way to make sure you have access to drinking water is by packing a filter water bottle. That way, you can stay hydrated on the trail and help reduce plastic waste while you're at it!
Here's all the essentials you shouldn't miss:
Trekking Poles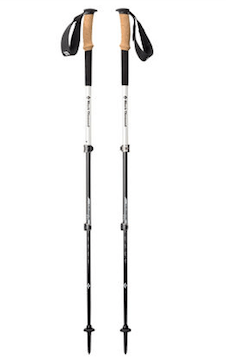 Trekking Poles
Black Diamond Alpine Carbon Cork
Price > $$$
Weight > 17 oz.
Grip > Cork
Headlamp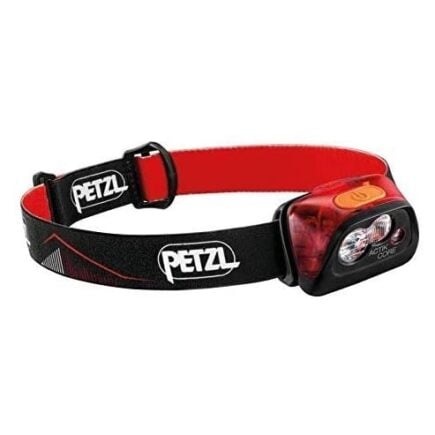 Headlamp
Petzl Actik Core Headlamp
Price > $$
Weight > 1.9 oz
Lumens > 160
Hiking Boots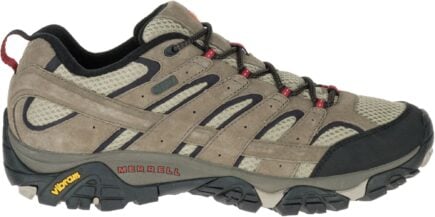 Hiking Boots
Merrell Moab 2 WP Low
Price > $$
Weight > 2 lbs 1 oz
Waterproof > Yes
Daypack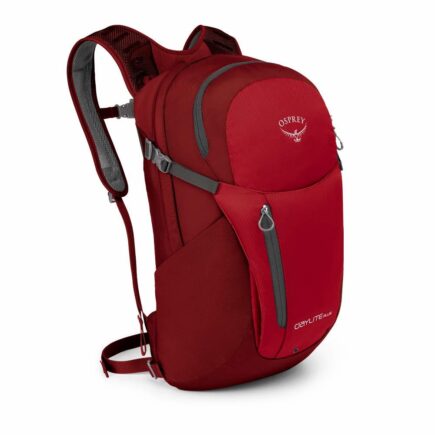 Daypack
Osprey Daylite Plus
Price > $$$
Weight > 20 oz
Capacity > 20L
Water bottle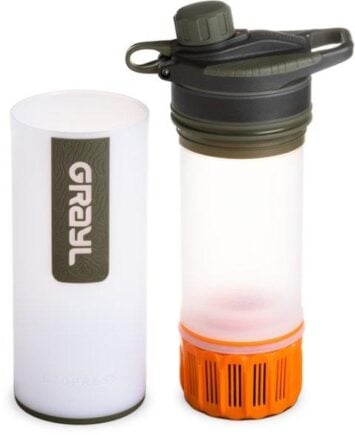 Water bottle
GRAYL Geopress
Price > $$$
Weight > 16 oz
Size > 24 oz
Backpack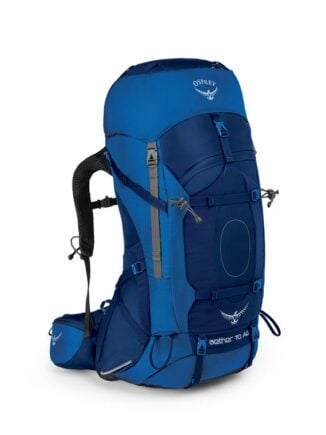 Backpack
Osprey Aether AG70
Price > $$$
Weight > 5 lbs 3 oz
Capacity > 70L
Backpacking Tent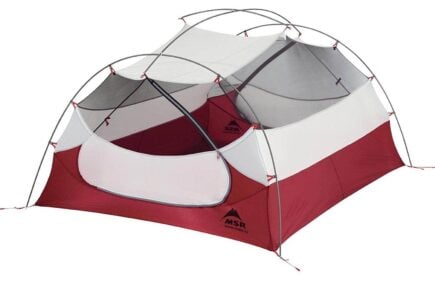 Backpacking Tent
MSR Hubba Hubba NX 2P
Price > $$$$
Weight > 3.7 lbs
Capacity > 2 person
GPS Device
GPS Device
Garmin GPSMAP 64sx Handheld GPS
Price > $$
Weight > 8.1 oz
Battery Life > 16 hours
Don't Forget Your Malaysia Travel Insurance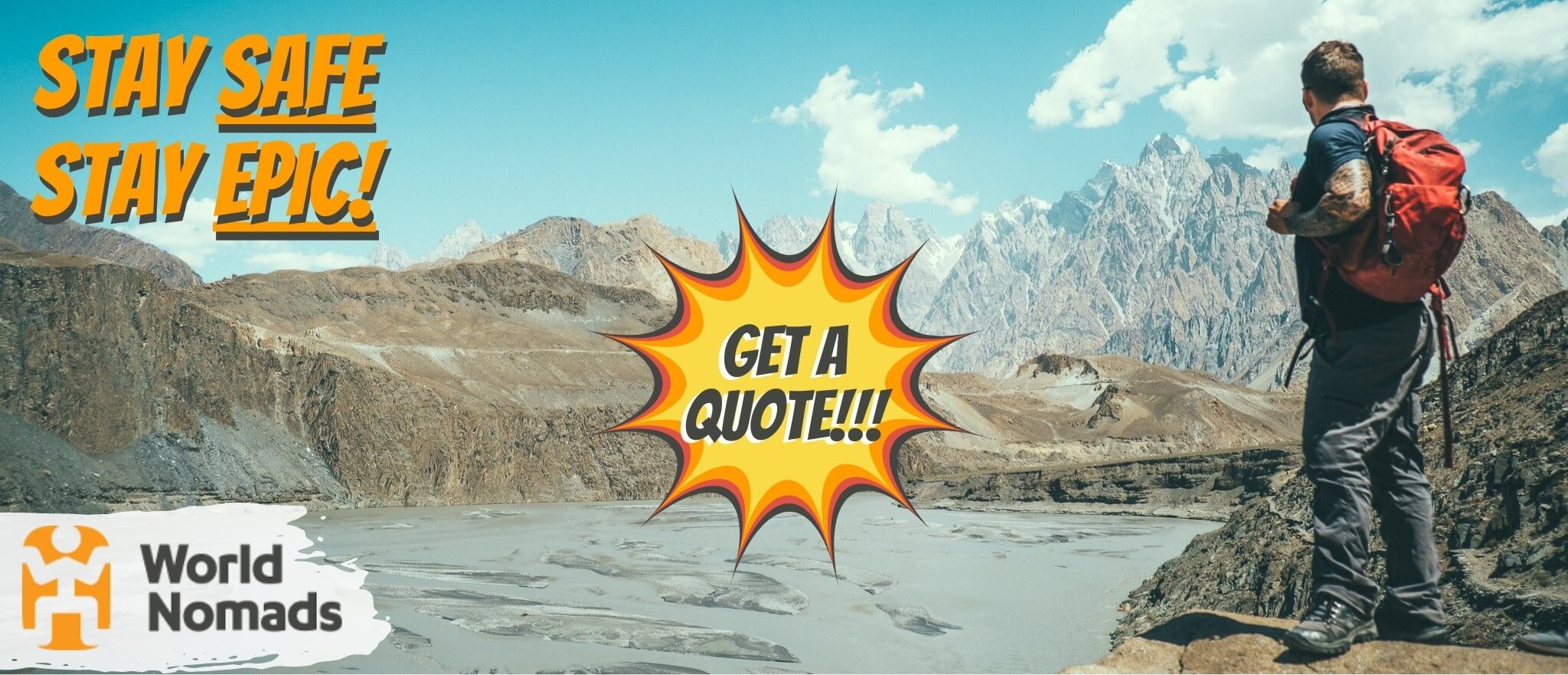 World Nomads' mission is to support and encourage travellers to explore their boundaries. They offer simple & flexible travel insurance, and safety advice to help you travel confidently.
They've been doing it since 2002 – protecting, connecting, and inspiring independent travellers just like you.
Get a quote below or read our in-depth review!
World Nomads provides travel insurance for travelers in over 100 countries. As an affiliate, we receive a fee when you get a quote from World Nomads using this link. We do not represent World Nomads. This is information only and not a recommendation to buy travel insurance.
---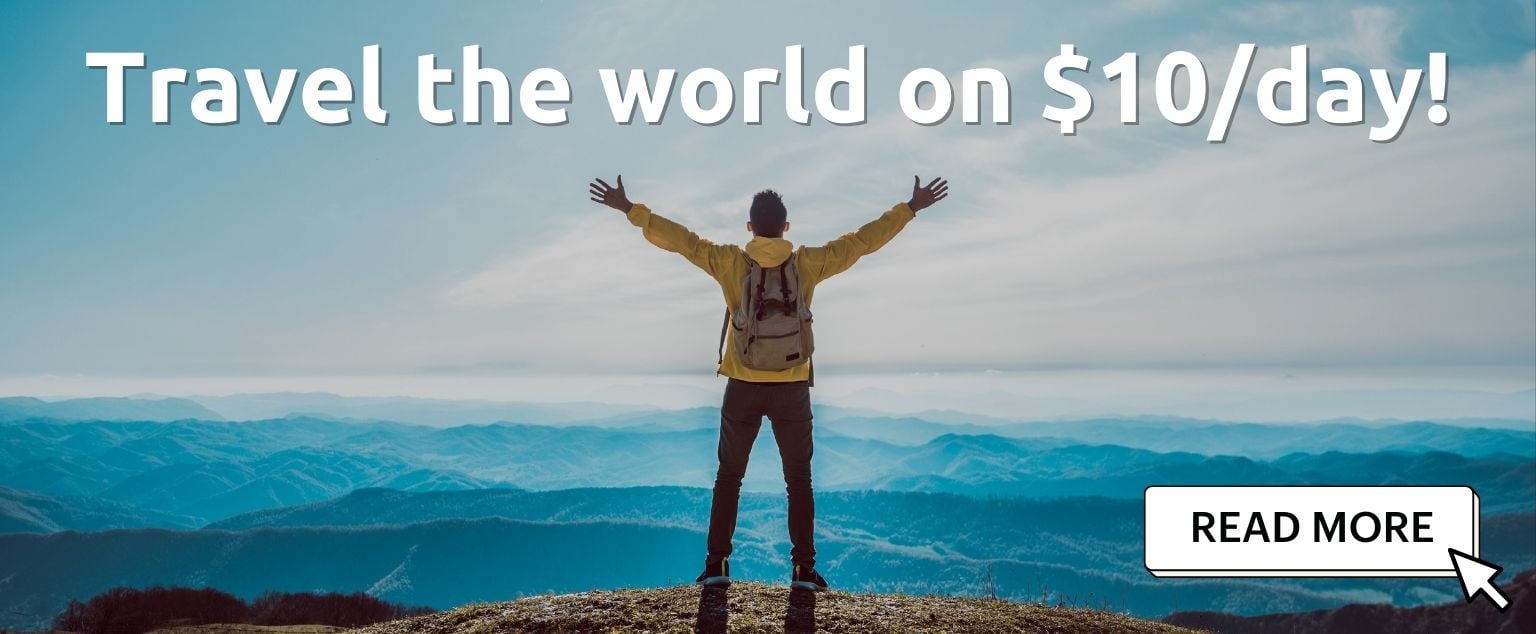 And for transparency's sake, please know that some of the links in our content are affiliate links. That means that if you book your accommodation, buy your gear, or sort your insurance through our link, we earn a small commission (at no extra cost to you). That said, we only link to the gear we trust and never recommend services we don't believe are up to scratch. Again, thank you!