Malaysia is definitely a place that should be on your radar. Cool highlands, steamy rainforests, beaches, tropical islands, and a huge array of cultures, both colonial and native, make Malaysia very alluring. You're in for a pretty awesome time, we have to say.
But you may be wondering, "Is Malaysia safe?" There are dense jungles to get lost in, petty crime, the threat of terrorist attacks and actual no-go areas in certain parts. So we totally get why it would seem like a scary prospect, honestly.
So that's why we've come up with this epic insider's guide on how to stay safe in Malaysia. Visiting this culturally diverse country doesn't mean having to be on high alert at all times. It just means travelling smart, and we're here to help you do exactly that.
In our guide, we will be covering a whole host of topics that range from the safety of the roads in Malaysia to whether it's safe for a solo female traveller in Malaysia – and just about everything in between. We're covering A LOT.
You may be a solo traveller who's worried about getting kidnapped by extremists and the prospect of travelling alone in Malaysia, or you may be simply wondering if Malaysia is family-friendly. Whatever it is, our guide will have you sorted.
COVID-19 UPDATE
As a group of adventurers, enthusiasts and fearless travellers, it pains us to tell you this, but the fact is that most travel is currently not safe, and in many countries, not possible because of the COVID-19 outbreak.
Nations across the world are fighting to contain the outbreak and flatten the infection curve – an effort that every citizen and responsible traveller should be part of.
For the most up-to-date safety information and what you should be doing to help, please consult the WHO and your local government.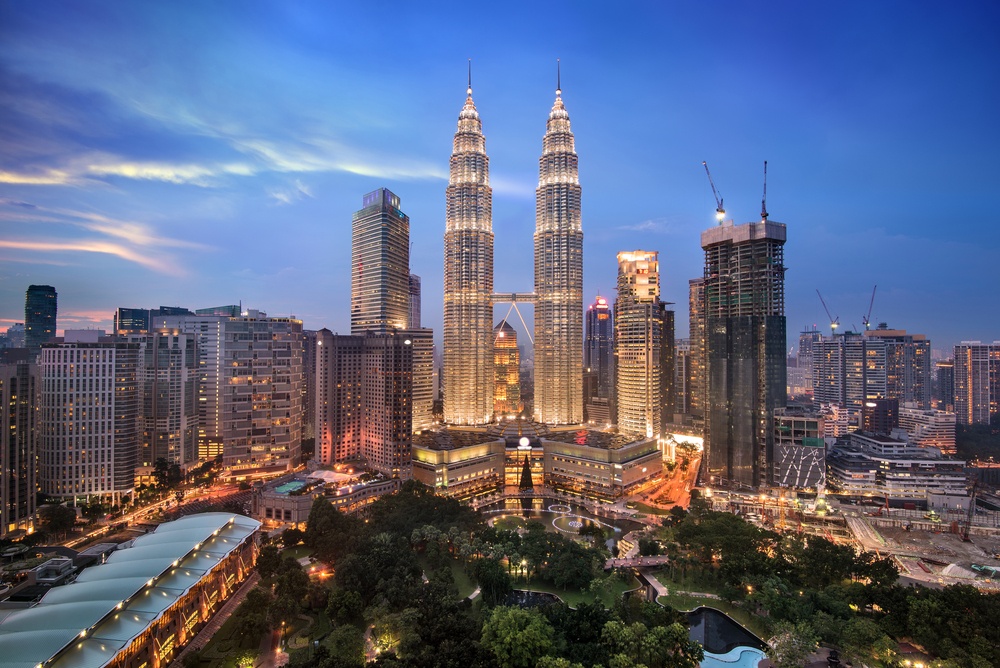 How Safe is Malaysia? (Our take)
There are so many reasons to visit Malaysia! A lot of people might write it off because 'it's not as beautiful as Thailand' or whatever, but we're all for Malaysia. We love the mix of cultures, mix of landscapes, and mix of cuisine (obviously) in this overlooked country.
Malaysia is well worth your time and it might even surprise you. People here are super friendly and are more than ready to show you their amazing country!
And whilst it's almost always safe in Malaysia, exactly where it's safe is another question.
Petty theft, like anywhere else in the world, exists here. The jungles can be full of dangerous creepy crawlies. There are areas with rabies. Earthquakes happen.
Though it's an extreme example, there are even kidnappings by militant Filipino groups in remote areas of northern and eastern Sabah.
BUT…
Malaysia is safe. Especially for tourists.
Is Malaysia Safe to Visit? (The facts.)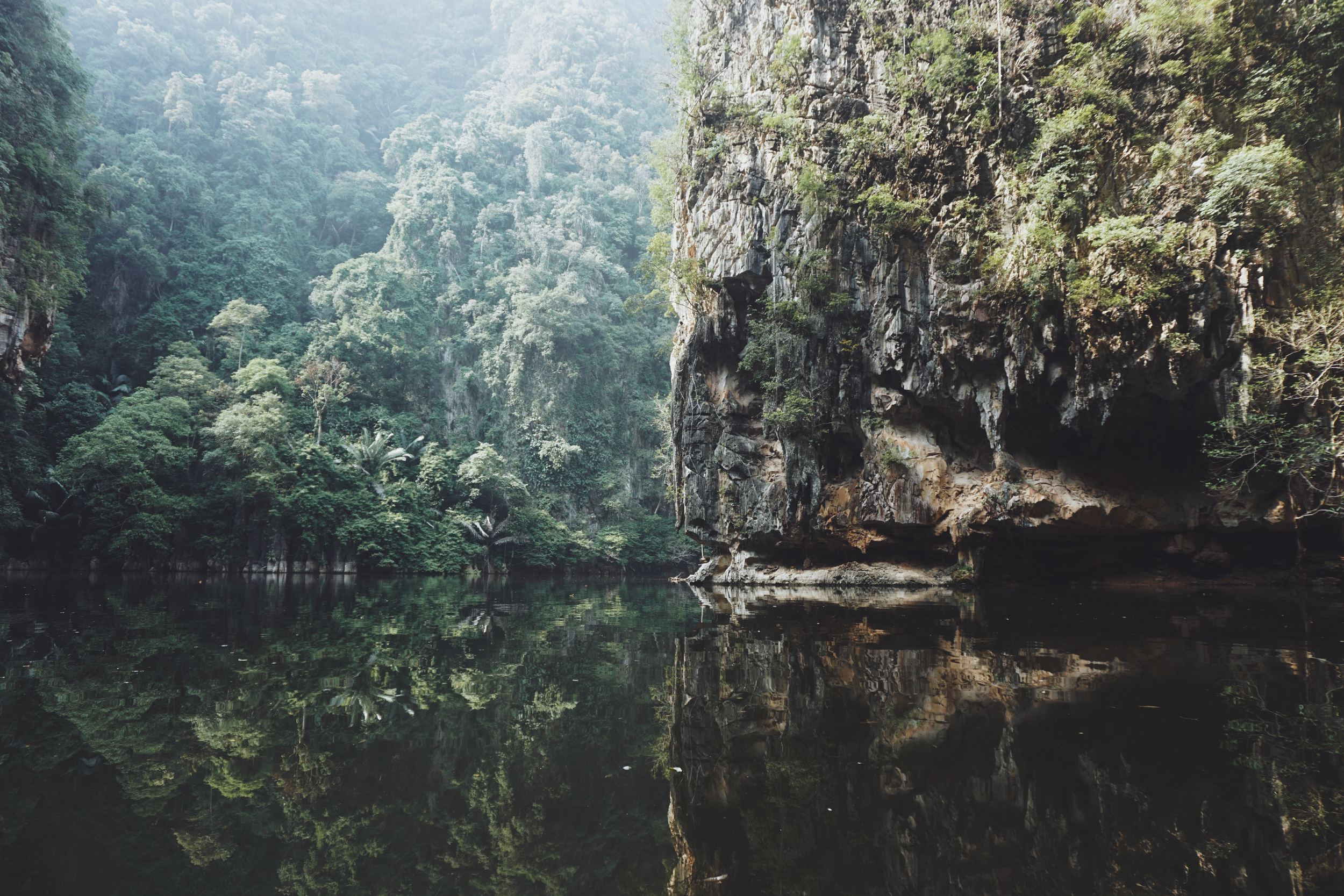 Malaysia is safe to visit. Absolutely.
26 million tourists (2016) can't be wrong. In fact, it's the 5th most visited country in Asia.
Aside from the odd petty theft, crime against tourists is actually pretty low. Most visitors have a trouble-free time soaking up all the sights and scenery of Malaysia. However, there are some areas and locations in Malaysia where it's better to take extra care.
There IS a bit of a problem with the Malaysian Borneo state of Sabah. This is due to militant activity by Islamic group Abu Sayyaf, who operate from the southern Philippines. In fact, the UK government warns against "all but essential travel" to anywhere between Kudat in the north and Tawau in the southeast.
However, there's A LOT of Malaysia to see and most of it is totally ok to visit!
Is it Safe to Visit Malaysia Right Now?
As of right now, you're all good to visit Malaysia.
In regards to the so-called "security zone" in Sabah, this has been an ongoing issue since 2013 and it's showing no signs of stopping anytime soon.
Granted, you CAN visit Sabah still, but you'll need the proper guidance and security to do so. Try reaching out to a local tour company or lodge to make sure you can book a trip here. With some local support, you can be successful in Sabah and can enjoy the spectacular diving opportunities it offers.
In terms of timing, haze is a problem. From June to October, smoke blows over from Indonesia due to forest fires. It's a little bit of a health concern, especially if you've got asthma or any other respiratory problem.
In general, there's NOTHING right now stopping you from taking a trip to Malaysia.
Do you need Travel Insurance for your trip? Even if you're only going for a few days, that's more than enough time to get smote by wrathful angels. Have fun in Malaysia, but take it from us, overseas medical care and canceled flights can be seriously expensive – insurance can, therefore, be a life-saver.
Travel mishaps can and do happen and it is well worth thinking about insurance before you leave home.
We have used World Nomads for years now and I have personally made several claims. Why not get a quote from them yourself?
Do be sure to read the terms and conditions to make sure that the policy covers your needs.
Getting an estimate from World Nomads is simple – just click the button or image below, fill out the necessary info, and you're on your way!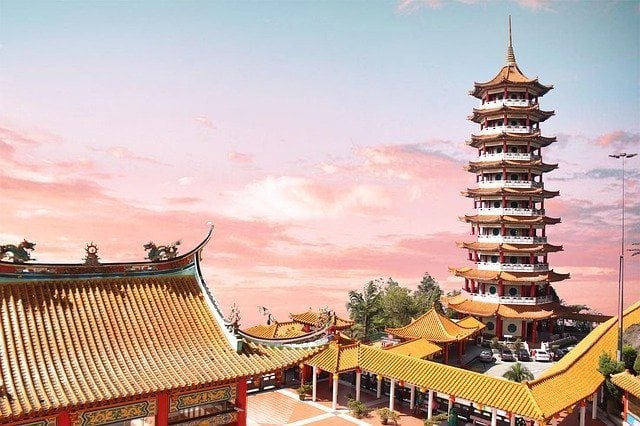 While there's not a lot for you to worry about in terms of safety in Malaysia, there are some minor things to be aware of. Petty theft is still a risk and it pays to be aware of your surroundings at all times. Since it's a Muslim country, Malaysia comes with a few different cultural practices that you should know about, too…
Don't walk around dripping in valuables – SLR, smartphone, expensive earrings, gold chains, silver rings. It invites thieves.
Keep your bag close to you – bag snatchings, usually by motorbike thieves, happen. Keep your money very close to you by wearing a money belt.
Use reputable companies – especially when it comes to water sports. And make sure your insurance covers you.
Keep away from protests – though mostly peaceful, police have been known to use tear gas. That and it's ILLEGAL for a foreigner to take part in ANY protest, anyways.
Be aware of Malaysia's multicultural nature – Islam, Hinduism, Buddhism, Taoism; there's a lot going on here.
Visiting a place of worship? Be respectful – make sure you COVER UP.
Kelantan has been described as a "laboratory for sharia law" – you might want to research what you can and can't do in the northern state.
Forget drugs – you can get the death sentence for trafficking. Possession can get you corporal punishment. Not worth an actual whipping.
Homosexual acts are illegal – that is the state of affairs here. Same-sex PDA is NOT advised.
Storms happen – between October and February. Sometimes these can cause flooding.
Protect yourself against mosquitoes – they carry dengue fever here. Not nice.
Watch out for stray dogs – because of rabies. Known to be a problem in Sabah, Sarawak, and Penang.
Scams happen – everything from asking for money for fake charities to lottery ticket scams and credit card duplication. Be aware of anything that seems too good to be true, or anyone that doesn't SEEM right.
Tsunamis happen – and can hit almost ANY of Malaysia's coastlines. Knowing what to do in the event of a tsunami is a good idea.
Travelling on boats between islands? – check the company's credentials. Boats have been known to be dangerously overcrowded or just SINK entirely.
If you're hiring a motorbike WEAR A HELMET – don't be stupid. Also, hire from a reputable company.
Hire a guide or stick to the trails if you go out trekking – jungles can be horrible if you don't know where you are. In fact…
… Jungles can be dangerous – leeches, snakes, macaques, spiky trees, boars, getting lost; none of these things are particularly fun to deal with.
Speaking of which, don't feed monkeys – they might be cute but, honestly, it just encourages them to be little shits.
Vaccines, vaccines, vaccines – ask your doctor what they recommend. Rabies is a start.
Head to the tourist police – if you have a crime to report.
It won't just be the potential thieves you have to watch out for in Malaysia – the natural world can be pretty dangerous too, if not MORE so. Being aware not only in an urban environment but also when you're in trekking mode, will help you stay safe. Be respectful of local customs, follow these basic travel tips for Malaysia, and everything should be dreamy.
Some General Safety Tips from the OG Broke Backpacker
Keeping your money safe in Malaysia
Like most places in the world, petty crime, like pickpocketing and bag snatching, is not unheard of in Malaysia. Though it's not an epidemic or anything, at the same time it isn't a totally rare occurrence. More than anything, it can be very annoying if it happens.
It's more likely to happen in an urban area (particularly Kuala Lumpur), or a tourist hotspot (beaches). You can be vigilant, but sometimes thieves are SUPER savvy. The best prevention method? Wearing a travelmoney belt.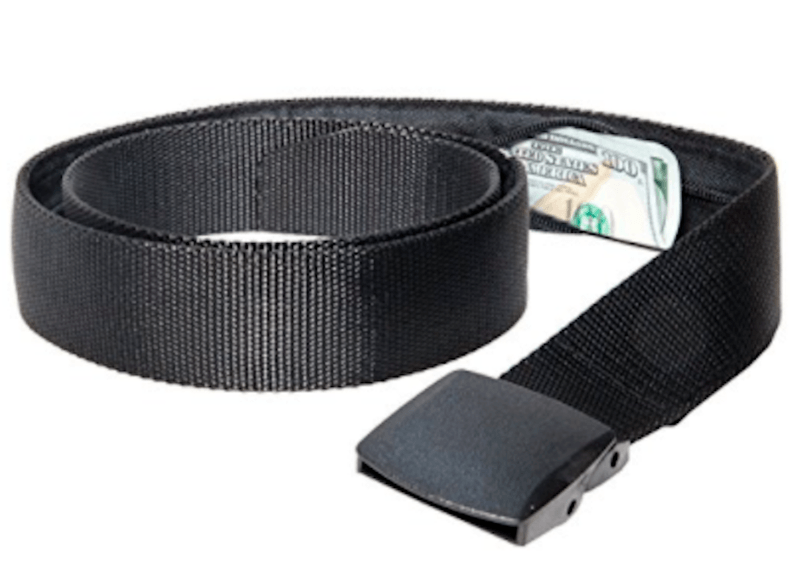 There is a whole load of different money belts out there. Over here at The Broke Backpacker, our firm #1 choice is the Active Roots Security Belts.
We like the Active Roots for so many reasons; but mainly three: it's pretty easy on the wallet, it's sturdy, and it LOOKS (and works) like an actual belt. Win-win-win.
So if you're wondering what money belt to get, this is one we definitely recommend.
If you're wondering if you should even get a money belt in the first place – YES you should. You don't necessarily have to get pickpocketed to lose your money. You could forget a wallet, leave a card in an ATM, among many other mishaps.
With a money belt, you'll have an emergency stash on you, just in case the shit hits the fan. That's traveling smart.
If you need a little more room for your passport and other travel valuables, have a look at a full-size money belt that tucks under your clothes instead.
If neither of those options appeals to your refined fashion sense, don't compromise! Opt for an infinity scarf with a hidden zipper pocket.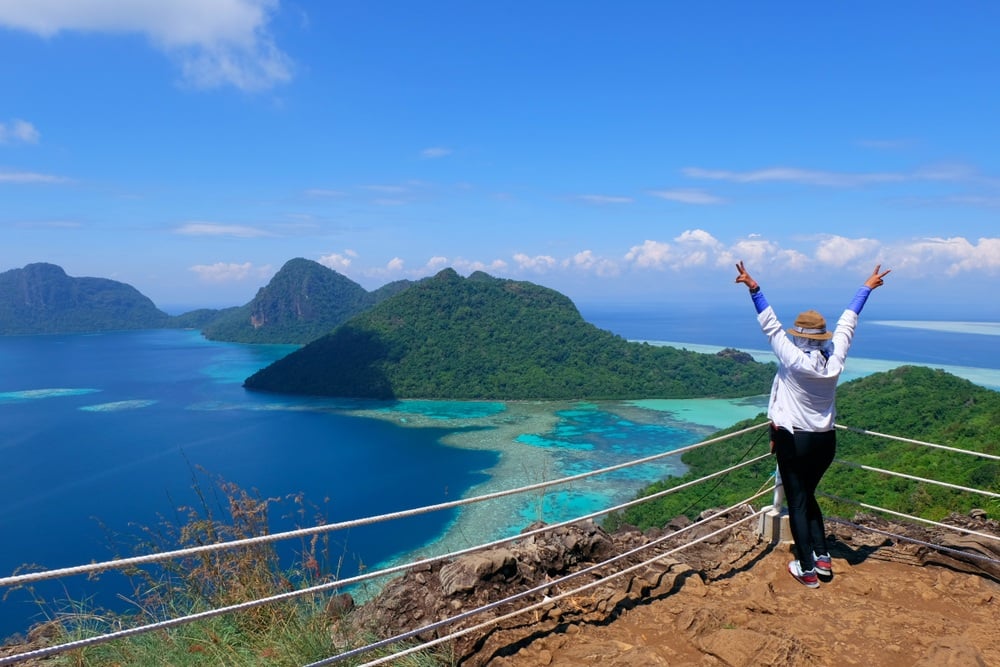 Travelling by yourself is always going to have its ups and downs. It's super cool to just be by yourself doing something for yourself. No one to answer to, no one else to worry about; just you, your backpack, and your itinerary.
But, it can get lonely. And being alone, you'll be more of a target for thieves and scammers. Malaysia is an amazing backpacking destination for solo travellers, arguably one of the safest in Southeast Asia. But just to make sure, we've still got a few words to the wise…
Booking yourself into a hostel where you can meet other travellers is a good idea. Meeting people is not only great for some sanity, but it can make your trip genuinely safer by getting yourself a travel buddy or two.
When you're looking for a hostel, do your research. Read reviews to get a feel for the place. Check to see if it's a party hostel, a chilled-out one, or something more authentic. Book somewhere that suits you.
Head out on a tour. Heading out on a tour is a good way to get acquainted with fellow travellers as well as the local area. This helps you not look lost when you're navigating your way around, which in turn helps you become LESS of a target for thieves.
A lot of people speak English but knowing a little Bahasa Malaysia still pays. Doing so will help you read menus in local restaurants and order street food. It also looks good to the locals if you at least TRY to learn their language.
Get yourself a maps app. Maps.me is an offline service, which is pretty handy if you don't have data roaming or a local sim card. Some of the points of interest you'll find on Maps.me are also pretty interesting, off-the-beaten-track kinda things.
At the beach, careful with your stuff. This mainly goes for resort towns. Leaving your bags unattended whilst you go off for a swim is a no-no. Go with some hostel buddies and take turns guarding bags.
Don't overdo it. It can be tempting to tick off every destination the guidebook tells you about, and that you MUST do it in X amount of days… Have a day off – it doesn't have to be full-on travelling all of the time. Not only will you possibly get fed-up but, worse than that, you could totally get burnt-out. And nobody wants that.
Join in with the local culture. Chat to people at the beer stands in Georgetown, ask questions when you visit the National Mosque and other cultural sites in Kuala Lumpur. People are open, welcoming, and super chatty. Be involved and you'll get a lot more out of your trip.
Solo travel is a GREAT idea. It's the perfect opportunity to challenge yourself and, at the risk of sounding mushy, it's a totally rewarding experience. You might not realise it at the time, but you'll learn valuable lessons about the world AND yourself.
Currently, we definitely recommend solo travel to Malaysia. It's safe, it's interesting, it's fun, it's beautiful. You'll have an awesome time!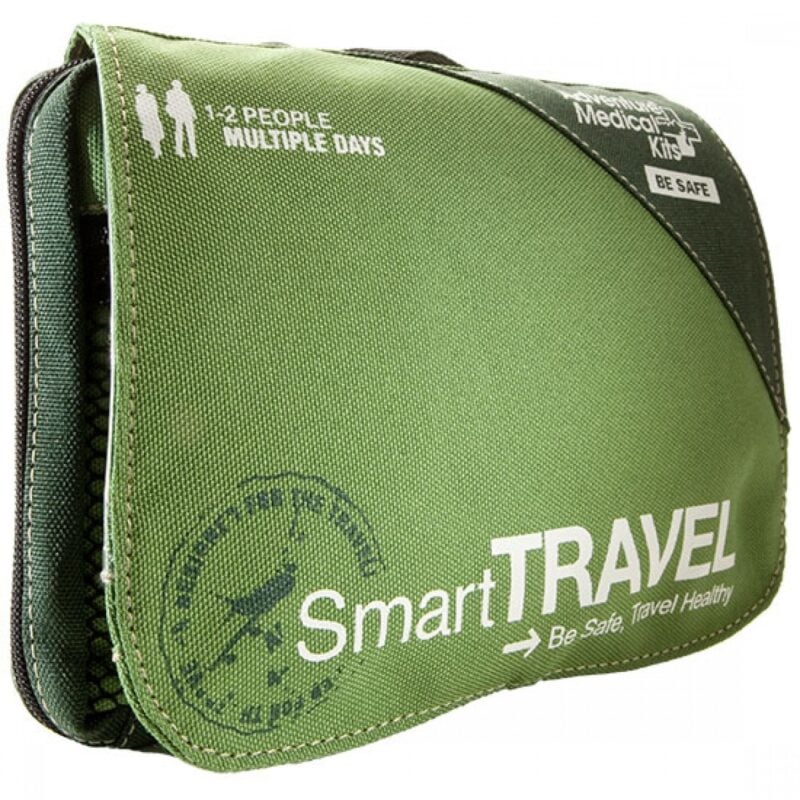 Be prepared for what life throws at you on the road. Pick up an AMK Travel Medical Kit before you head out on your next adventure.
View on REI
View on Amazon
Is Malaysia safe for solo female travelers?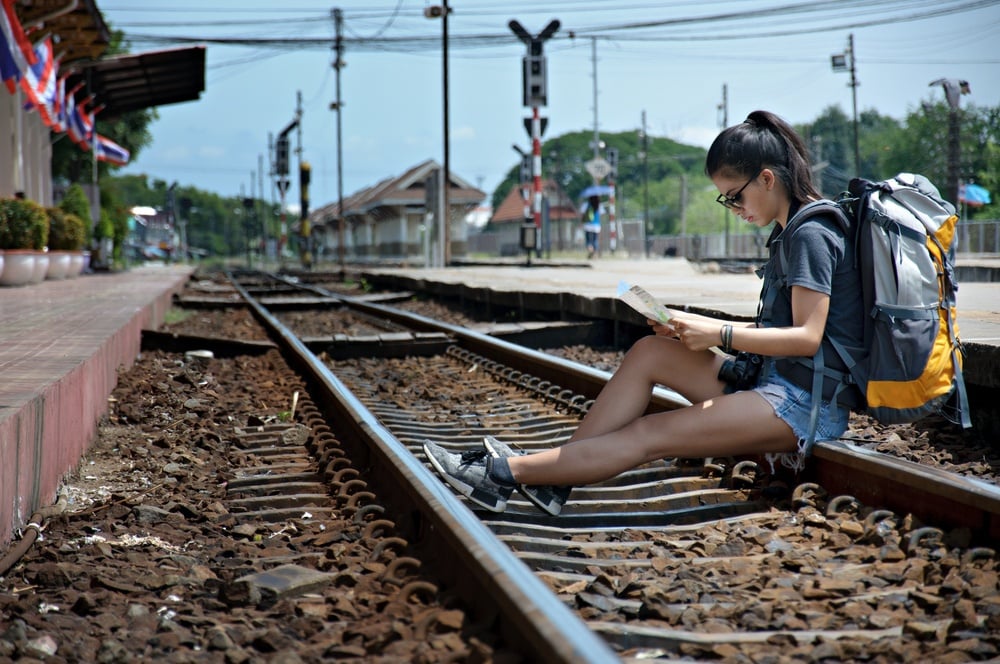 Unfortunately, solo travel as a female comes with its own set of caveats. Solo travel in any given place might be ok, but add "female" into the equation and suddenly stuff gets a lot riskier. Annoying, unfortunate, sad, but ultimately, true.
We're pretty happy to say that Malaysia is safe for solo female travellers. That's right, this wonderful culture has it right when it comes to female tourists.
However, travelling as a solo female can often mean you have to pay a lot more attention to your surroundings in order to make sure that you have a stress-free, enjoyable time no matter where you stay in Malaysia. Nowhere is 100% safe and there will always be some shadiness to watch out for, but that shouldn't put your off living your best life. So, with that in mind, here are some safety tips for solo female travellers in Malaysia.
Make sure you lock your door at night and don't open your door to strangers, especially at night time. Be wary of people knocking on your door. Ignore them, unless you can see, or otherwise confirm, who it is.
Even if you're in a chic bar or nightclub, no matter how high or low-end it is, don't accept drinks from people other than the bartender or your friends. These have been known to be spiked and it isn't all too uncommon either.
Try to blend in. Take a look at how the other women around you are dressed and take cues from them. If they have covered their arms and shoulders, the best way to not get unwanted attention is to follow suit.
Many Malaysian women cover-up at swimming pools and at the beach – it's probably BEST to wear a little bit more to swim in than you might usually. Even a t-shirt over your swimming stuff is a good idea just so you don't get too much attention.
Men DO hassle women – even if you're in a group. Try not to make a fuss. A firm no and ignoring will usually work – the guys will hopefully get the message and jog on.
Cover your head and dress modestly at mosques – usually, mosques hand out clothing for women (AND men) to wear.
Make friends with other women. If you want some travel buddies, find yourself some female mates by staying at a sociable hostel or guesthouse.
And while we're at it, make sure to stay in safe hostels, i.e. at a well-reviewed place with good security. If it feels dodgy and not like a place you want to stay when you turn up, leave and find somewhere else.
Don't go wandering around in deserted areas at night, especially in cities and around beaches. It's just NOT a good idea.
Join a tour. It doesn't have to be for days – even a simple walking tour of a city organised by your accommodation can be an awesome way to explore without hassle or stress. It's a good way to meet interesting people too
Let people know your plans. Whether you're taking an impromptu trip to Langkawi or just out for dinner, let somebody know where you are and what you are getting up to. Keeping in touch with people is ALWAYS a good idea.
Women's rights in Malaysia are still antiquated. Get to know more about local women from different backgrounds and learn about their lives. A good way to meet people is through Facebook groups, in cafes, local hangouts, or NGOs.
Don't lose your money to a pickpocket! 
There are tons of ways to store valuables and goods while traveling but a travel scarf has to be the least obtrusive and the most classy.
The Active Roots Zipper Scarf is your run-of-the-mill infinity scarf but with a hidden pocket that's big and sturdy enough for a night's cash, your phone, a passport and (hell with it) some snacks too!
There are some extra things to think about when you travel to Malaysia. For the most part, Malaysia is safe if you're planning on travelling alone as a woman. It's a COOL place to explore!
But, like pretty much everywhere in the world, a solo female traveller is always going to have more to think about than their male counterparts. That's just how it is. So trust your gut and avoiding sketchy situations will be KEY.
Is Malaysia safe to travel for families?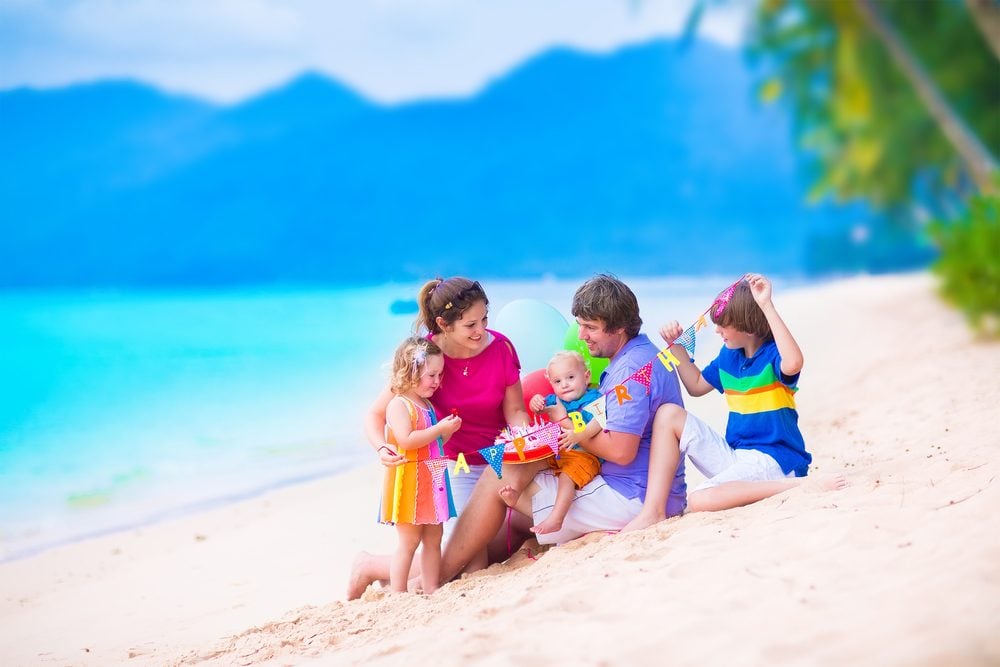 Of course, it is!
There are PLENTY of family-friendly resorts you can stay at, all the way from the East Coast to the high-end island of Langkawi.
And there are TONS of activities for children.
Treetop walks through the rainforests, seeing orangutans, exploring old mines, tucking into some tasty food or simply kicking back on a beach in Malaysia. There's even a Legoland here. Yep, Malaysia's got a lot on offer.
Malaysian society is very family-orientated so your kids will be very welcome as well.
Obviously, there are things to watch out for.
Nature and wild animals are two MAJOR things. Dogs here definitely can be aggressive because of rabies. Don't let your kids NEAR them.
Certain insect and mosquitoes that could really harm your children. So cover 'em up with suitable clothing and mosquito repellent. Definitely brief them on the dangers of going off-piste in a jungle.
Talk about the dangers of the OCEAN while you're at it. Rip-tides are super dangerous. Usually, there are lifeguards on duty in resort areas but you should still keep your eyes peeled.
If you're worried about taking your family to Malaysia because of the terrorist threat… DON'T WORRY. In fact, some European nations are more likely to be victims of terrorist attacks than Malaysia.
In conclusion? Malaysia is safe to travel for families. Case closed.
Is it safe to drive in Malaysia?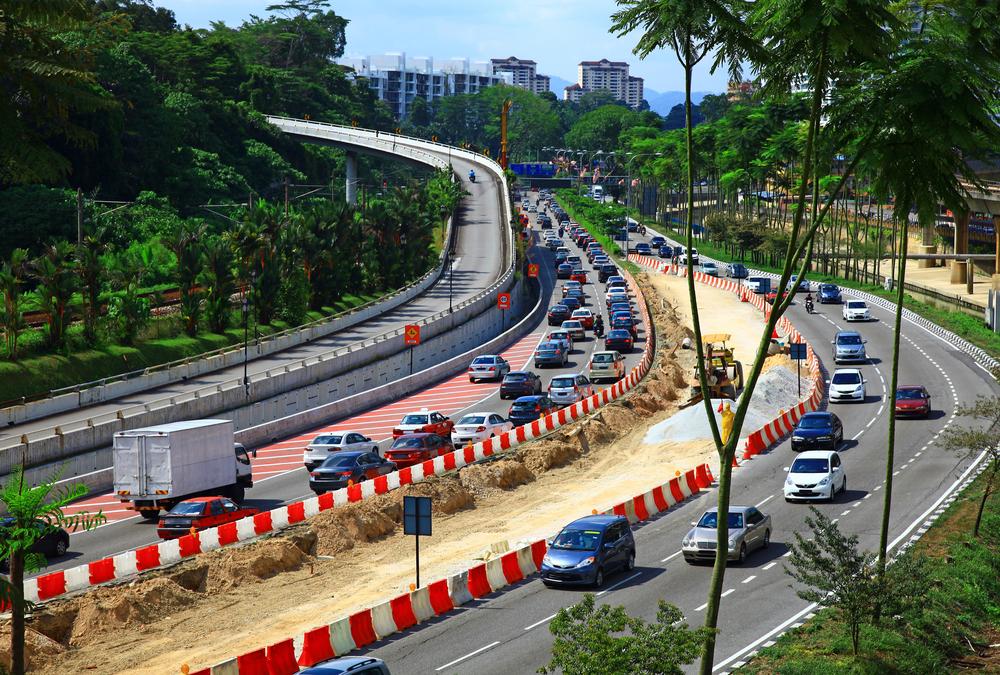 It is actually quite safe to drive in Malaysia.
The roads are really good – honestly – especially if you compare them with neighbouring countries like Thailand. And the Malaysian government has been working towards improving the roads even more.
So if you were thinking of a road trip in this tropical melting pot, we say go for it.
First things first: you'll want to find yourself a reputable rental company. Do your research, shop around, and find somewhere with good reviews. When you get your car, check it for damage and take photos (or a video) of existing dinks, dents and scratches.
It's worth noting that cars aren't ALWAYS in the best condition especially around resort areas.
Cities can be a BIT hectic to drive around and not really worth it. Heavy traffic and general city mayhem make them not fun.
The highways are good but the drivers may NOT so good. Watch out for speeding and random overtaking. As always in SE Asia, there are motorbikes weaving in and out of traffic to think about. In these situations, confidence and a cool head pay off.
You can also hire a motorbike. These can be fun to explore more remote areas. Again – watch out for other drivers taking risks. Just make sure you WEAR A HELMET. No point being an idiot.
But on that note, Malaysia's safe to drive in.
Riding a motorbike in Malaysia
For years, Malaysia's roads have been calling bike enthusiasts from all over the world. And that's for a good reason. Unlike other Asian countries, Malaysia offers beautiful and scenic road trip options on quality asphalt. But does that mean riding a motorbike in Malaysia is safe?
First of all, there are a couple of rules, which are quite unusual for an Asian country. In Malaysia, you can't just rent a motorbike around every corner. You actually need to present a valid driving license in order to get your hands on a bike.
Your license has to be at the appropriate level for the cubic capacity of the bike you want to rent. If you've got enough time, it's possible for tourists to do their bike license in Malaysia too.
Once you've got your motorbike, there is an incredible amount of great bike tours in Malaysia. You can spend anything from 3 days to 4 weeks on these tours.
Riding our motorbike is generally pretty safe in Malaysia, however, there are a couple of exceptions. Especially in the West, bikes are not seen very often, and cars can be quite reckless.
Unlike other Asian countries, people usually follow basic traffic rules. It's definitely less chaotic than Thailand or Vietnam. But you should always keep your eyes open, wear your helmet and stay focused while driving.
Is Uber safe in Malaysia?
There is no Uber in Malaysia anymore – it's all about Grab here. It was founded in Kuala Lumpur, after all.
It's safe! It's easy! The app also has an in-built emergency button.
Sometimes you may have to wait around because of traffic, but other than that Grab is safe in Malaysia. Just make sure you check the details of the driver and that you're getting into the RIGHT car with the CORRECT numberplate.
Worried? Then share your ride with a friend.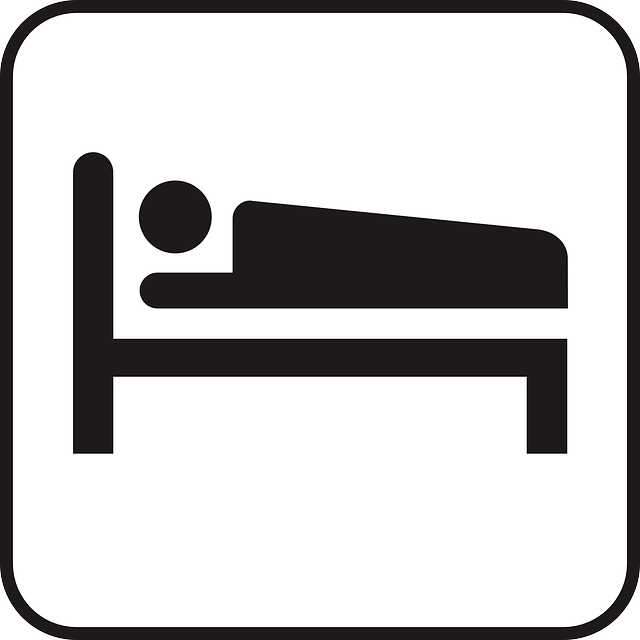 Sleep safe! Choose your hotel, hostel or Airbnb ahead of time so you're not last-minute booking a less-secure place.
You'll find our favorite accommodation sorted by neighborhood in the following guides:
Kuala Lumpur | Penang | Langkawi | Kuching | Kota Kinabalu | George Town | Johor Bahru
Are taxis safe in Malaysia?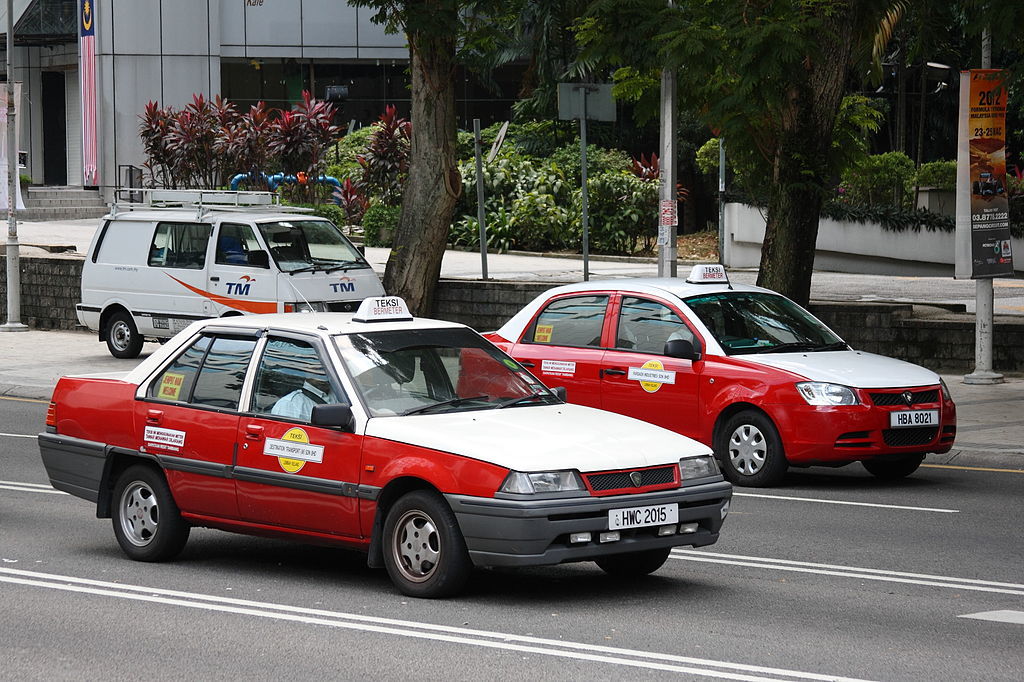 For the most part, yes, taxis ARE safe in Malaysia.
There are two types in Kuala Lumpur:
Executive (white and red) are the safest kinds and are the ones you'll find at ranks, train stations and airports. These have a very NEAT system. Pay at the counter for set areas, get a receipt, wait for your driver. Simple.
Otherwise, there are budget taxis (yellow). These need to have a meter.
Elsewhere, taxis vary.
For example, there's Langkawi Ferry Terminal which is pretty, pretty chaotic. Taxi drivers here are almost LITERALLY fighting for your business and can feel quite overwhelming.
When taxis might NOT be safe in Malaysia is when the driver tries to get you to share with somebody, or they try to pick someone up whilst you're in the car. If this happens, refuse.
And if a driver doesn't want to turn the meter on, just get out. There will be plenty of other drivers who WILL turn the meter on.
If you need to get somewhere specific, the airport or a certain place in town, the best way is to get your accommodation to book you a taxi.
Otherwise, an app like Easy Taxi can help. It works like Uber (or Grab) in that you order in-app and track your journey. It's also safer than hailing a cab of the street.
Is public transportation in Malaysia safe?
Yep, the public transport in Malaysia is safe and there's a load of different options in the cities.
Especially Kuala Lumpur. There's the LRT, the KLIA Express (for the airport), the MRT, the Komuter line; and those are just the TRAINS.
The trains are clean, cheap and efficient and as safe as any other place in the world. As ever, keep an eye out for pickpockets.
Kuala Lumpur actually has a FREE bus system – the GO KL City bus – which connects tourists hot-spots. The thing about that free service is that you CAN get some weirdos lingering and riding the bus all day. We've seen it firsthand. They're unsettling but totally harmless.
There's also the RapidKL Bus which is pretty confusing, to be honest. Ride it or not, it's up to you.
Then there are national transport systems. A railway travels across the border from Thailand to Malaysia and all the way through the country to Johor Bharu in the south. In the border area, before you enter Malaysia, armed guards patrol the carriages. But don't worry: it's safe.
There's also the East Line, which is more well known as the Jungle Train.
On either of these lines, express trains are obviously going to be much quicker than local trains.
Night trains are pretty comprehensive. These have dinner carts and everything. They're clean and boast privacy curtains on the bunks.
You might want to know about the long distance bus services too. These aren't as safe as the trains. In recent years there have been some pretty major accidents, which have been blamed on underpaid, overworked drivers. But bus travel is safe enough – if a little speedy. Bus drivers get paid a commission per trip, so many try to finish multiple trips in one day. Keep this in mind.
In Sarawak, getting around on the public bus system is pretty simple. They're not what we'd call PUNCTUAL, but ask a local about times and where they're going and you should be fine. The buses are cheap and come in all shapes and sizes: most resemble typical coaches.
Local boat services connect various islands, travel along rivers, and onwards to National Parks. Make sure these aren't overcrowded when you get on.
Malaysia's public transport isn't ALWAYS 100% safe but, most of the time, things go off without trouble. Often it's down to WHAT mode of transport you're getting.
Keep everything on you in transit!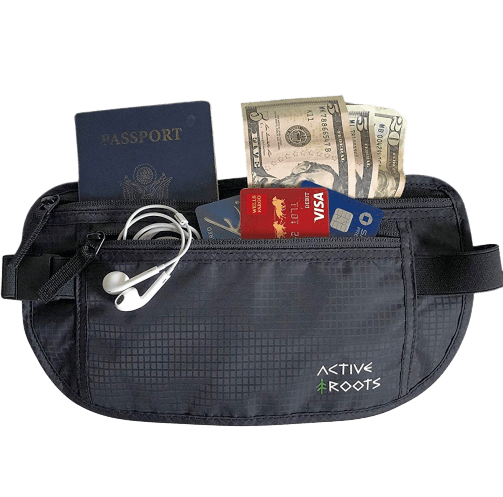 When moving from place to place, you shouldn't store travel documents in a bag, even if it's under your seat or overhead.
A full-sized money belt that stays tucked under your clothes keeps your documents and cash organized during your travels and assures nothing critical gets left behind or stolen.
Is the food in Malaysia safe?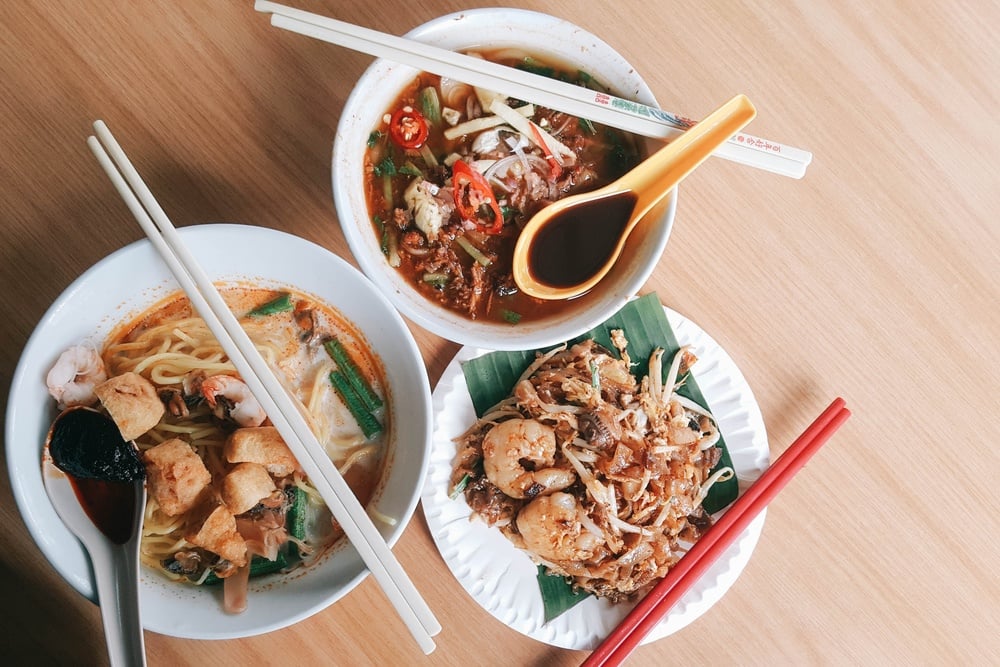 Safe?!! Malaysian food is AMAZING, not to mention safe to eat. Chinese dishes like lor mee (thick noodles in starchy gravy) and bao (steamed bun) shops are everywhere. There's also amazing Indian tandoori, Malay nasi lemak (fragrant rice), and the all-important satay… It's all INCREDIBLE.
You'll get to take your pick of food courts, chill with some kaya toast and jet fuel coffee at a kopitiam, and eat at a whole load of different food stalls that are basically everywhere. Obviously, not everywhere's gonna be up to scratch so here are some tips on how to avoid a bad tummy in Malaysia…
Popular places are usually popular because they're amazingly tasty. This usually means that you won't get ill eating there either. People wouldn't keep going back if the food played havoc with their stomachs, let's be honest. Look for queues, crowds, lines, and places with barely any tables free. This will be good'uns.
If you want to choose with precision, look online. Check travel/food blogs for favourable write-ups, have a look on the map to see if somewhere has a gazillion good reviews, and then plan your food odyssey accordingly.
Eat HOT things. When stuff is cooked at high temperatures, most bacteria gets fried too. By which we mean, it's alright. If you see food being cooked in front of you at a stall, it's probably safe.
Satay is good; very good. It's standard practice to have the sticks already cooked and then give them a good grilling before they get given to you. Don't be scared!
Another good dish is kaya toast, which is served with a soft-boiled egg. If you're afraid of eggs being undercooked, or if you crack said egg open and it IS undercooked, feel free to avoid. Don't freak out either – this is how the locals eat one of the tastiest breakfast foods known to humankind.
That said, don't go crazy. It can be easy to eat everything in Malaysia. Trust us – we've tried. But if you're prone to an upset tummy when you're travelling, ease yourself in. Some food can overly spicy, some can be super rich, so just go easy on it, ok?
If you're not feeling street food, head to a mall. These usually have a very comprehensive food court filled with little places that serve local dishes. It's basically a clean, more hygienic way to get your fill of Malaysian cuisine.
Oh and, whatever you do, wash your hands. Did you ever consider it might be your own grubby little mitts making you ill and NOT the local food?
Traveling with an allergy? Research ahead of time how to explain your allergy. Keep in mind that store owners and restaurant staff might not know all the foods that contain allergens, so it's helpful to know the names of some of these too. If you're gluten-free, pick up a handy Gluten-Free Translation Card with descriptions of Celiac disease, cross-contamination risk, and local Malaysian ingredients in Bahasa Malaysian.
If there's one cuisine that makes us giddy more than any other, it's Malaysian. The mix of traditions, the regional treats, the Malay sweets, the kopi sweetened with condensed milk, the endless noodles, and rice. There's nothing that can stop us from loving it. Not one bit.
Malaysian food is pretty much safe. Most of the stuff you're going to come across will be cooked before your very eyes anyway. And if it isn't, you'll probably be trying it in a restaurant. Just make sure where you choose to eat has some good credentials and looks clean. Mostly though you'll be fine.
Can you drink the water in Malaysia?
Nope. We wouldn't advise it.
Stick to bottled water. It's CHEAP, for one thing.
If you must drink the water, boil it first. One minute should do the trick. Bring your own reusable travel bottle and/or some form of water purification if you feel like it. If you're planning on doing some hefty jungle trekking in Sarawak, a Grayl Geopress will serve you very well when dealing with the natural water supplies.
Want to save the world?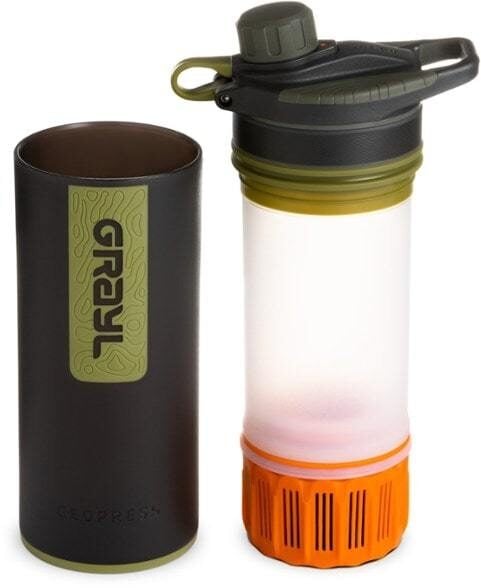 Single-use plastic bottles are a huge threat to Marine Life – Be a part of the solution and travel with a filter water bottle.
The GRAYL GEOPRESS water bottle is the ONLY all-in-one filter water bottle setup you'll need. Whether you need to purify the water from a hostel sink in Kathmandu or a stream trickle in the Andes, the Geopress has got you covered.
Read our full review of the GRAYL GEOPRESS!
Is Malaysia safe to live in?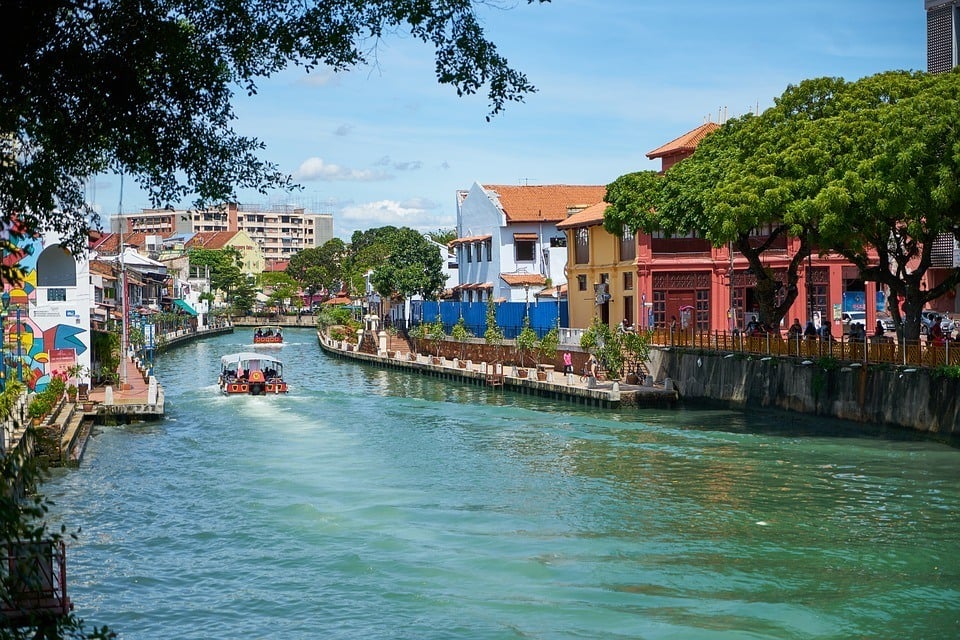 Malaysia is absolutely safe to live in. Where you live will influence how safe you are though as there are different rates of crime throughout the country. Doing your research is going to tell you what parts of the country are safest as well as which parts aren't safe, too.
Kuala Lumpur is where it's AT in terms of jobs and good living. There are plenty of areas to choose from and lots of short-term rentals in Kuala Lumpur as well as other accommodation options. Klang Valley is a decent suburb of the capital.
Kuching is the interesting capital of Sarawak. You'll also have the orangutans on your doorstep (figuratively speaking, that is).
Johor Bharu and Petaling Jaya are options, but they also tend to be hefty on the crime. The latter is particularly known for gangs.
Or else you could choose somewhere like Georgetown for a less city-like experience. Or Langkawi.
BASICALLY, your options are open.
And the general rule is, the more URBAN a city is, the higher its crime rate will be.
It's best to have either a job lined up for yourself already (in which case you won't be able to pick your city so much) or to have complete freedom and already work a travel job.
Living in Malaysia, however, is cheap. Maybe not AS cheap as Thailand, but, then again, Malaysia is a lot more developed.
Language-wise, you'll be fine with English. Consider learning some Tamil, Malay or even some Chinese. The local Chinese dialect is Hokkien and knowing some local phrases will definitely open up your time in Malaysia.
But at the end of the day, Malaysia is safe to live in. Case closed.
How is healthcare in Malaysia?
Healthcare in Malaysia is pretty good actually. All over the country, you can get a pretty good standard of healthcare. We're talking on par with Western Europe.
Kuala Lumpur and other major cities all have well-equipped hospitals and other facilities for dealing with major problems.
In rural, remote locations there are fewer options. Most rural areas of the world don't have much in the way of medical aid anyways so Malaysia's lack is not out of the ordinary.
Malaysia has a two-tier system going on with private and public.
Though the public system is UNIVERSAL for citizens, it won't be universal for you. Make sure you purchase excellent insurance for travelling or expatting! Most insurances are cheap enough.
Private facilities are great. They're not as busy and you get a higher priority, like ANY private healthcare system. No complaints there.
If you're suffering from a minor ailment, a pharmacy will be able to help you out. Tell them your symptoms and they should be able to help you out with some over the counter medication. Easy.
And as a bonus: everybody speaks English.
Helpful Malaysia Travel Phrases
It always helps to know the local language when you are travelling in a foreign country! Below are my favorite Malaysia travel phrases:
Hi Friend! – Hi!
Kwan Apa Khabar – How are you?
Sangat Bagus – Very Good
Siapa nama anda? – What's your name?
Nama saya … – My Name Is….
Selamat malam – Goodnight
Selamat tinggal – Goodbye
Berapa harganya ini? – How much Is This?
Di mana tandas? – Where's the toilet?
No plastic bag – Tidak mahu beg plastik
No straw please – Tidak mahu straw
No plastic cutlery please – Tidak  mahu alat makhan plastik
Terima kasih – Thank you
Tolong – Please
Saya dari … – I'm From ….
Makan makan! – Eat! Eat!
Saya tidak faham – I don't understand
Final thoughts on the safety of Malaysia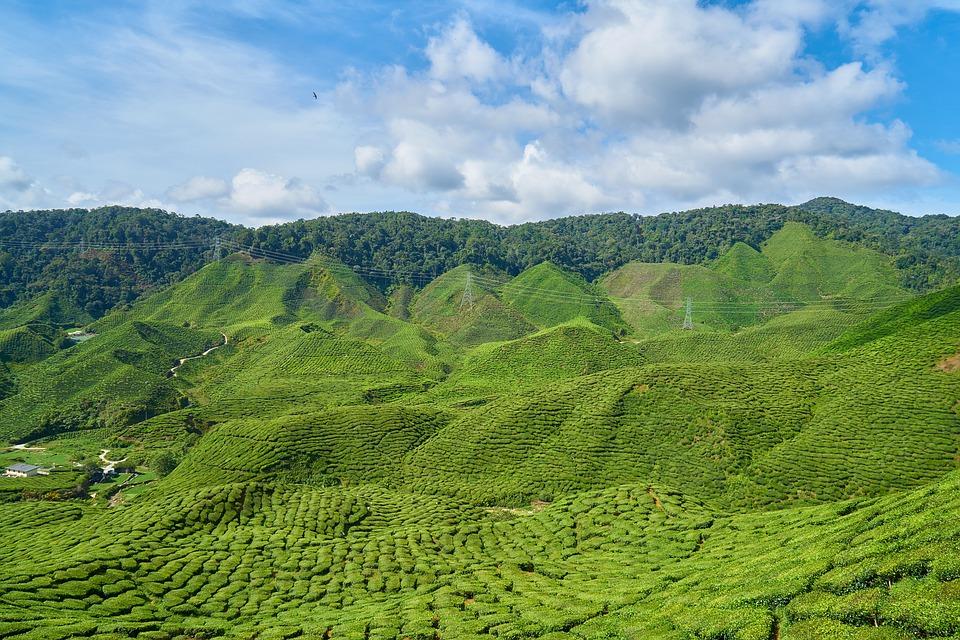 Malaysia is a seriously cool country to travel around. All of that tropical scenery, friendly people, sprawling cities, rainforests, rare wildlife, and gastronomic delights – it's a unique place. Even though the government often tries to appeal to hardline Islamic sensibilities, Malaysia is still one of the most lenient Muslim countries in the world.
For the foreseeable future, Malaysia is safe. It's an excellent jumping-off point for the great Southeast Asia backpacking journey because it's accessible and interesting in itself. It doesn't need to be a stop-off, a visa-run, or anything like that.
Malaysia is the best of many worlds. It might have some problems, there may be occasional terrorist threats, but what country doesn't?
So travel to Malaysia, we say! Bear in mind that you might have to do some things differently. At the same time, don't go doing stupid stuff that you wouldn't do in your own country, like walking through a sketchy part of town because it 'looks cool.'
Keep your senses intact and your safety will stay intact too. Trust your gut and follow the common-sense rules of safe travel.
And have you thought about getting Travel Insurance for your trip? You can get a quote from World Nomads by clicking on the link below.
Disclaimer: Safety conditions change all over the world on a daily basis. We do our best to advise but this info may already be out of date. Do your own research. Enjoy your travels!
"Find out how YOU can support the site. We work hard to put out the best backpacker resources on the web, for free! It's all about helping out our tribe of awesome backpacker readers [that's you!]. Please visit the link to find out how you can help keep the site going 🙂
For the sake of transparency, some of the links in our content are affiliate links. This means that if you book your accommodation, buy a book or sort your insurance, we earn a small commission at no extra cost to you. I only link to stuff I've actually used and never endorse products or services that are not up to scratch. Thanks for your support.