Kuala Lumpur is the sprawling and dynamic capital of Malaysia. A modern city that is home to various cultural historic highlights, Kuala Lumpur is especially known for its excellent shopping, fantastic food scene, iconic buildings, and fun things to do. You'll find awesome natural attractions nearby too.
Kuala Lumpur is a large city, discovering places of interest after the well-known tourist highlights can be tricky. The city boasts many hidden gems.
We've compiled this extensive list of the best places to visit in Kuala Lumpur to help you make the most all of your time in the city and discover secret treasures as well as the most famous attractions. There is certainly no need to have any dull moments in the Malaysian capital.
With places to suit all kinds of traveller and all budgets, these best places to visit in Kuala Lumpur are sure to excite you.
Need a place quick? Here's the best neighbourhood in Kuala Lumpur:
BEST AREA IN KUALA LUMPUR
Bukit Bintang
A great place for those who love fancy malls and endless days of shopping, Bukit Bintang also has plenty of bars, street food, restaurants, and entertainment options to suit diverse tastes.
Places to visit:
Snap some pictures of the quaint St. Anthony's Church.
Visit Bukit Nanas Forest Reserve to escape the concrete jungle and enjoy some time in nature.
Put your dancing shoes and smart clothes on and head to Changkat Bukit Bintang for a night of drinking, dancing, and fun.
And, with all the useful advice completed, here are the best places to visit in Kuala Lumpur …
These are the BEST Places to Visit in Kuala Lumpur!
Kuala Lumpur is one of the most visited cities in the world and for this reason, it can be overwhelming when trying to decide where to stay. Be sure to check out where to stay in Kuala Lumpur for a full low-down on the best areas of this vibrant metropolis and get ready to dive into the adventure awaiting you below!

Unlock Our GREATEST Travel Secrets!
Sign up for our newsletter and get the best travel tips delivered right to your inbox.
#1 – Petronas Twin Towers – One of the most amazing places in Kuala Lumpur!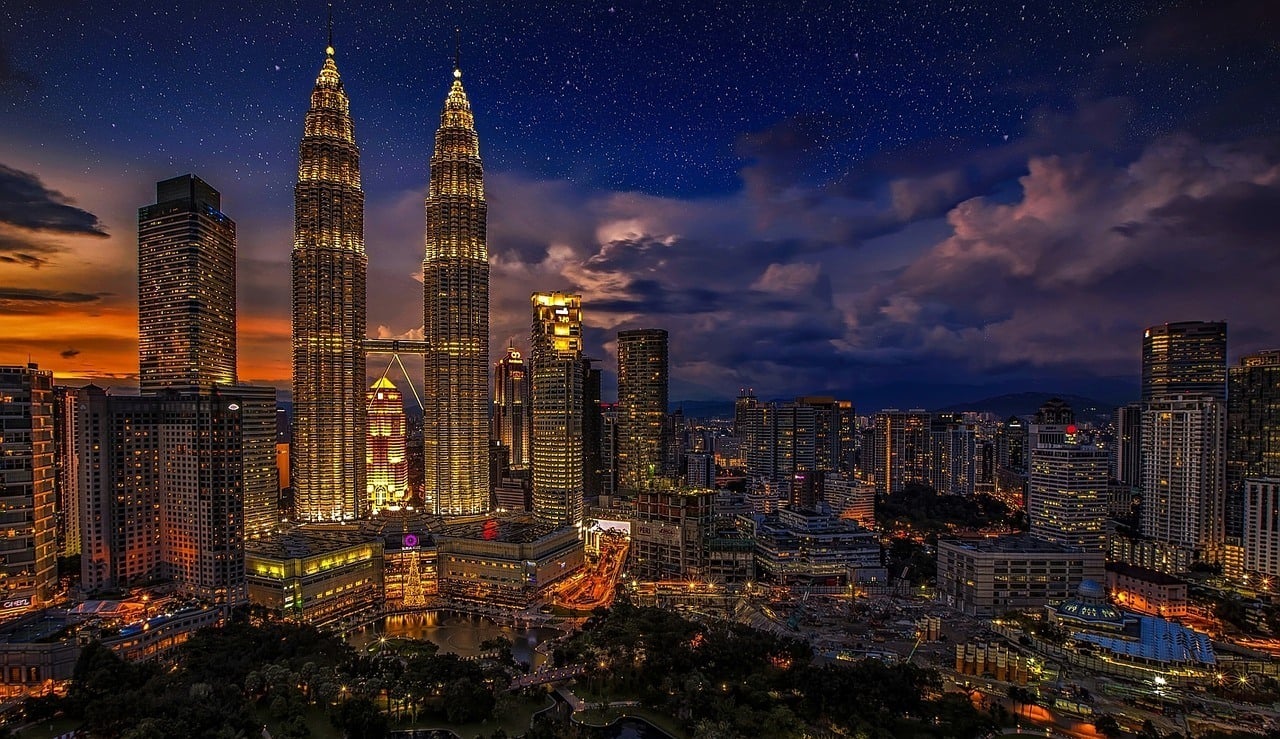 World's tallest twin towers
Amazing shopping centre
Fabulous views
Interesting displays
Why it's awesome: The gleaming Petronas Twin Towers are a major landmark on the city skyline. Previously the tallest buildings in the world, they remain the tallest twin towers across the globe. Open since 1999. The towers were built on the site of the city's racetrack. The steel and glass exteriors shimmer in the sunlight and the designs reflect those found in Islamic art. The 88-floor towers are connected by a skybridge walkway. Various companies have offices within the towers, with Tower One home only to Petronas, the large oil company. There's a large shopping centre, Suria KLCC, at the bottom, and Petronas Philharmonic Hall is also within the buildings. Outside, KLCC Park is an attractive open space that offers various activities.
What to do there: Take a walk through KLCC Park and gaze up at the splendid towers that dominate the surroundings. You can follow the walking trails, relax next to the large pond, and get some exercise along the jogging tracks. Take kids to the play area to let off steam. Browse the luxury shops within Suria KLCC and perhaps treat yourself to some high-end goods. You can also visit the underwater aquarium, art gallery, and various places to eat and drink. Book tickets to watch the Malaysia Philharmonic Orchestra perform in the spectacular Petronas Philharmonic Hall.
Snap a picture of the suspended racing cars in the main lobby and take a trip up the towers for incredible views. Do note that you should buy your tickets in advance to secure your preferred time slot. Ride the fast elevators up to the skybridge (on the 41st floor) and see the city spread out below you. Continue to the 86th floor for more incredible vistas and to see the displays relating to the tower's construction, use, design, and significance. There are some great Airbnb's located nearby with views of the towers too!
#2 – Batu Caves – One of the more unique places to visit in Kuala Lumpur!
Hindu spiritual site
Lots of monkeys
Various caves to explore
Religious artwork
Why it's awesome: The Batu Caves are easy to reach from the city centre, located in nearby Selangor. The limestone hill has several interesting caves and the complex is one of the most-visited and scared Tamil shrines outside of India. Dedicated to the Hindu deity Lord Murugan, a gigantic golden likeness of the god stands at the bottom of the biggest cave. Believed to have been formed some 400 million years ago, the caves have been used as shelters and as places of worship over the years. The caves have been especially sacred to local Hindus since the late 1800s. Each cave houses something different, with temple caves and one dedicated to nature. Macaque monkeys live around the hill.
What to do there: Admire the impressive limestone hills and buy a bag of food to feed the marauding macaques that scamper around the site. Do secure loose items and keep any other food and drink hidden to prevent the monkeys from snatching your items and running away with them. Be in awe of the gigantic statue of Lord Murugan; at almost 43 metres (140 feet) tall, it's the biggest statue of this deity in the world.
Climb the 272 steps to visit the ornate Temple Cave and see an abundance of religious statues and artworks spread throughout the interesting natural rock formations. Watch as people come here to pray and perform religious rituals. In Cave Villa you can see more shrines and statues, many of which tell religious stories. Visit the Ramayana Cave to learn the story of Rama and see the large green-blue statue of Hanuman (the Monkey God) outside. Take a tour of the vast undeveloped Dark Cave to spot an array of cave-dwelling creatures, some of which aren't found anywhere else.
#3 – Sunway Lagoon – Easily one of the most fun places to check out in Kuala Lumpur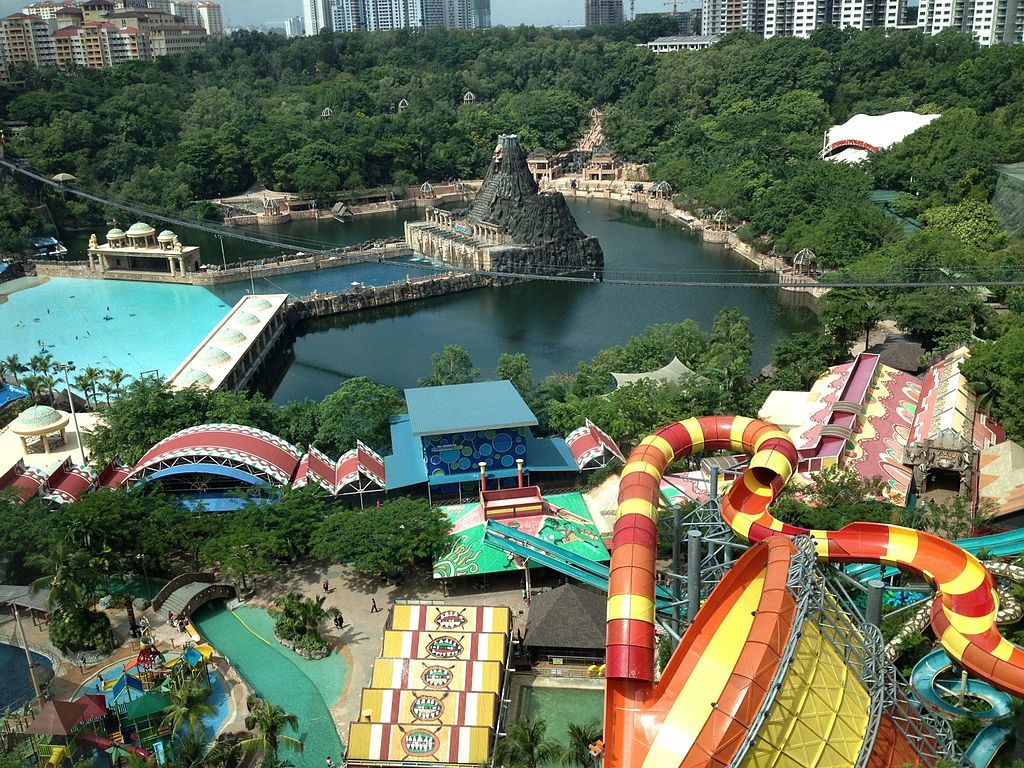 Family-friendly attraction
Wide assortment of rides and attractions
Home to the first surfing simulator in Malaysia
Built on former wasteland
Why it's awesome: The award-winning Sunway Lagoon, located in Selangor, has six excellent parks to please various interests and ages. Built on wasteland created by a former tin mine, the park has been open since 1992. Today, it's a premier attraction for families, groups of friends, and couples, attracting locals and visitors alike. The Water Park is a top place to cool down in the hot and humid temperatures. The Scream Park (suitable for anyone over the age of seven years old) is sure to send a shiver down your spine!
Thrill-seekers are sure to love the diverse activities in the Extreme Park, while the Amusement Park has cool rides for both adults and kids. The Wildlife Park is home to creatures from across the globe and Nickelodeon Lost Lagoon not only has cool themed attractions and rides for people of all ages but it was the first Nickelodeon theme park in Asia. There are numerous places to eat and drink throughout the huge park and there's even a hotel if you want the fun to last for longer!
What to do there: Come face to face with more than 150 species of animals from around the world in the Wildlife Park. White tigers, lions, snakes, otters, prairie dogs, and birds are just a few creatures you'll find throughout the various habitats. Have thrills and spills in the Extreme Park as you try activities like go-karting, kayaking, archery, bungee jumping, paintballing, and soar through the skies on the flying fox zipline. Meet all your favourite Nickelodeon characters in Nickelodeon Lost Lagoon, including Sponge Bob Square Pants, Dora the Explorer, and the Teenage Mutant Ninja Turtles.
Dodge the famous green sludge at the Great Slime Deluge and have fun on the diverse rides. Get wet and wild in the Water Park, with attractions like Surf Beach where you can try to ride the waves, kids' water play areas, slides, and the cool Waterplexx 5D. Feel your pulse quicken in the Scream Park as you make your way round the frightening interactive experiences, and enjoy the various rides of the fun Amusement Park.
#4 – Alor Street Food Night Market – A must-see for foodies!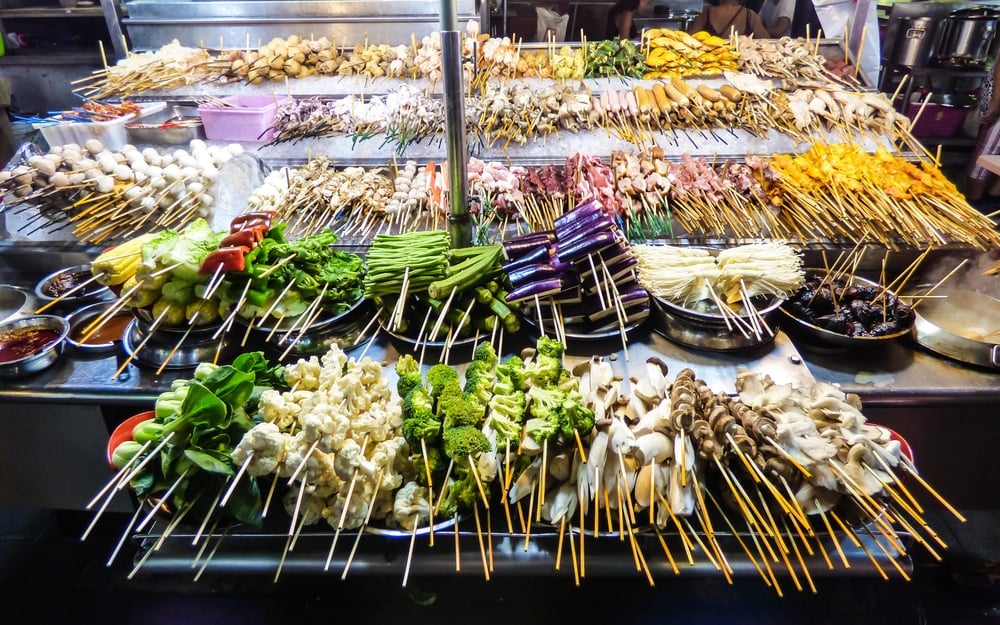 Packed with diners in the evening
Relaxed ambience
Diverse cuisine
Affordable prices
Why it's awesome: Alor Street may not look all that exciting during the daytime, but come late afternoon / evening the area transforms into one of the hottest dining spots in Kuala Lumpur. Numerous vendors cook up fresh and tasty meals along Alor Street Food Night Market, with plenty of treats to tempt you. Munching on street food is an excellent way to travel cheap in Malaysia, and you can try a huge selection of local cuisine in a cool relaxed setting. There's plenty of outdoor seating, and some eateries have indoor seating areas too.
What to do there: Feast on a wide selection of goodies at the fabulous Alor Street Food Night Market. Be sure to come hungry as there are bound to be many things that tickle your nostrils and taste buds! Stroll along the bustling street and watch as vendors cook an assortment of dishes. Peruse the menus and see what grabs your attention, then take a seat and wait for your delicacies to arrive!
Sink your teeth into dishes like the popular satay, oyster omelettes, fried chicken wings, dim sum, stir-fried noodles, soups, grilled fish, curries, and much, much more. Leave some space for desserts and drinks—the sweet coconut ice cream is very popular. Chill with a beer or fruit juice and listen to the music coming from buskers, and see different street performers looking to impress the crowds.
#5 – Lorong Panggung – An unknown (but awesome!) place to see in Kuala Lumpur!
Tiny tucked-away alley
Nostalgic ambience
Surrounded in local tales
Traditional foods
Why it's awesome: Sometimes referred to by locals as Little Ghosts Alley, the narrow L-shaped alley of Lorong Panggung may be close to the vibrant Chinatown but the atmosphere is definitely worlds apart. Offering a peek into yesteryear, traditional shop houses line the street, some displaying peeled and cracked street art, and Chinese lanterns hang from strings overhead. Tiny shrines sit outside some establishments and old billboards have been used to provide cover and shade. It's somehow simultaneously sleepy and yet busy with hungry customers at certain times of the day. There's a good selection of places to sit down for a nostalgic meal and experience the Kuala Lumpa yesterday in an unhurried and tucked-away back alley away from the crowds.
What to do there: Absorb the laid-back vibe as you stroll along the small alleyway, noticing the brightly painted doorways, lanterns, shrines, and artwork. Take pictures of the old shop houses and soak up the olde-worlde charm. Come for a typical breakfast of boiled eggs, kaya toast, and tea and savour simple pleasures as you watch the street start to come to life. Alternatively, grab typical snacks or sit down to a lunch of fried noodles.
#6 – National Mosque of Malaysia – One of the most religious places to see in Kuala Lumpur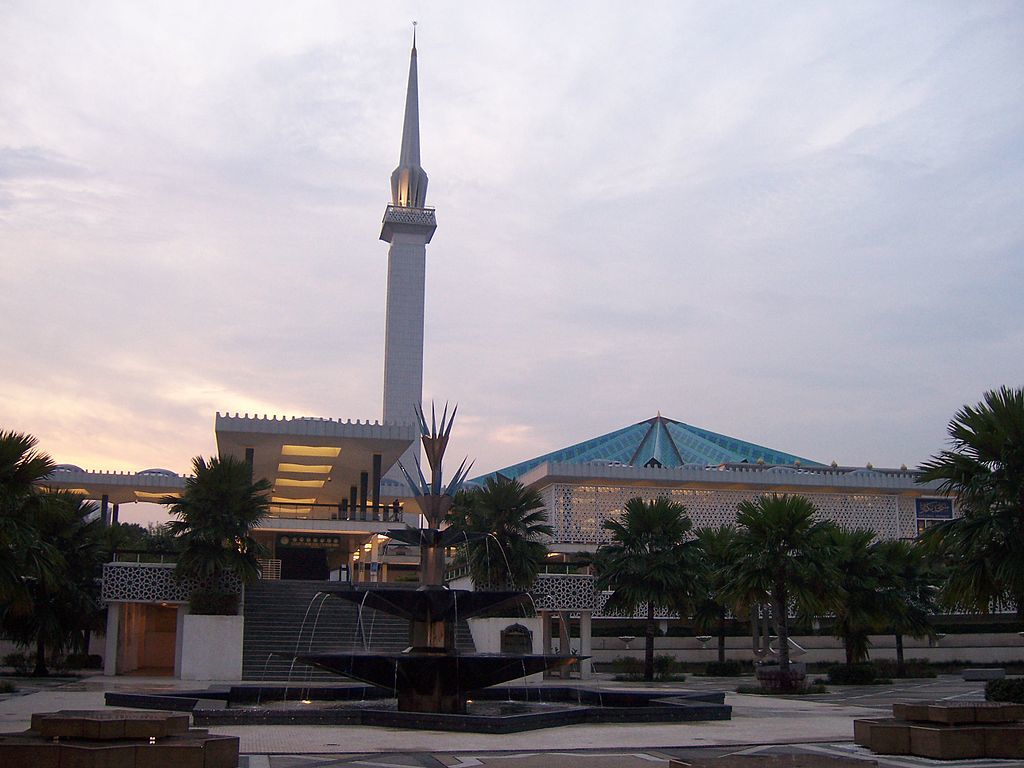 Modern mosque
Accessible to non-Muslims
Symbol of a newly independent nation
Interesting architecture
Why it's awesome: The National Mosque of Malaysia is a huge Islamic place of worship set in extensive and attractive gardens. It can hold some 15,000 people at any given time. Standing on the site of an old church, the mosque was built in the 1960s and renovated in the 1980s. Sleek and modern, the mosque's roof is especially interesting—covered in blue and green tiles, it is both star shaped and also looks like an open umbrella (a symbol of the tropics). The mosque is a striking symbol of Malaysia's independence from British rule. Non-Muslims are welcome to visit the mosque and members of staff are happy to provide information about the building and about Islam.
What to do there: Remember to dress conservatively to visit the mosque. Outer garments and head coverings are provided for females. Stroll through the pretty gardens and admire the fountains, greenery, and reflecting pools. Gaze up at the minaret, which is 73 metres (240 feet) tall, and hear the call to prayer being sounded five times each day. Notice the unusual roof design and look inside the main hall, complete with an elegant chandelier, stylish calligraphy, traditional Islamic art, and plush carpet. You can also visit the nearby mausoleum, an attractive building in its own right, to see the final resting place of several eminent Muslim leaders.
#7 – Central Market – A great place in Kuala Lumpur if you love to shop!
Housed in a historical building
Centre for arts, crafts, and traditional Malaysian goods
Set out to resemble a traditional Malaysian market
Great food court
Why it's awesome: Kuala Lumpur's Central Market is housed within a handsome Art Deco building that was constructed in 1937. It was built on the site of an old wet market, which was constructed in the 1880s during colonial rule. The original building was saved from demolition and went through expansions and alterations to become what it is today. Listed as a national Heritage Site, the interiors are set out like a traditional market, complete with colourful stalls brimming with an array of goods. It's an especially great place to pick up arts and crafts. Goods represent the nation's cultural and ethnic diversity.
What to do there: Admire the Art Deco façade from the outside before stepping into the lovely market to browse the diverse selection of goods. You'll find traditional clothing, textiles, souvenirs, crafts, artworks, ceramics, collectibles, and more. Have a look in the Annexe, where you'll find a number of top-class art galleries and pieces by local artists, and stop for a bite to eat in the second-floor food court. Outside, take a stroll along the lively Kasturi Walk, where you'll find food vendors, souvenir stalls, and street entertainers.
#8 – Sultan Abdul Samad Building – A great place to see in Kuala Lumpur if you love architecture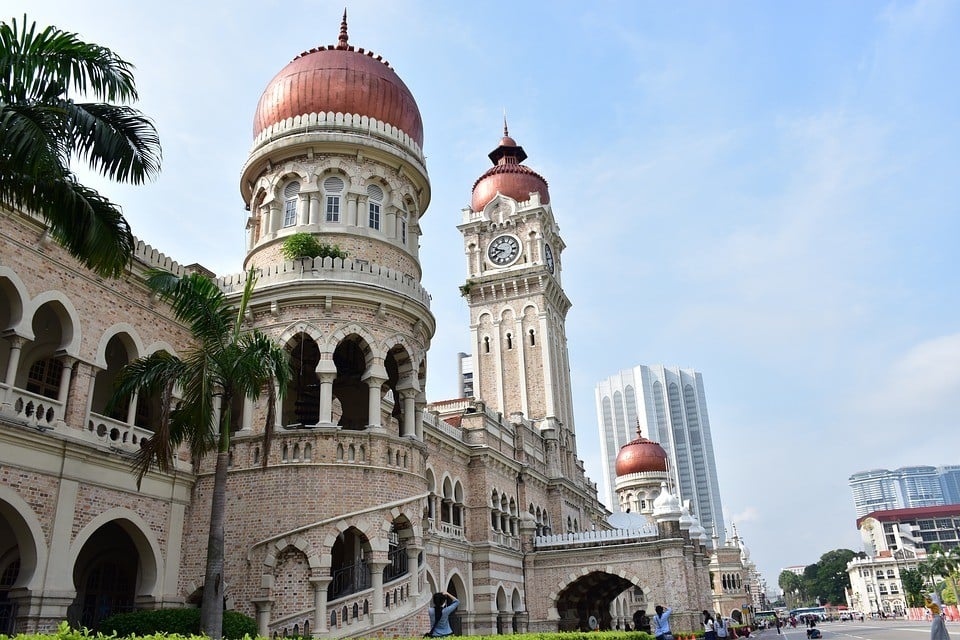 Colonial-period building with an important history
Stunning architecture
Earliest Moorish-style building in Kuala Lumpur
Beautiful clock tower
Why it's awesome: Situated close to Merdeka Square, the striking red and white Sultan Abdul Samad Building dates back to the 1890. Originally built to house the British colonial administrative offices, it later housed the country's major courts and is today home to two government ministries. Initially known as simply Government House, it was later named after a Malay sultan. Designed in a Moorish style, it is the oldest such building in the city.
The two-level building is made from red bricks with white plaster details. The bells in the clock tower first rang out to celebrate the 1897 parade in hour of Queen Victoria's Jubilee, and they are still working today. The beautiful building is one of the city's most photographed buildings and is a magnet for tourists.
What to do there: Gaze up at the 41-metre-high (134-foot-high) clock tower and listen for the enormous bell sounding the time every hour and half hour. At the base of the tower you can read a declaration of independence, in situ since 2007. Soak up the building's overall splendour and notice the blend of Moorish, Gothic, and European styles. Be impressed by the elegant arches, grand porch, and glimmering onion domes atop the curvy colonnades. Visit the building at night time too to see it beautifully lit up.
#9 – National Museum of Malaysia – A fascinating educational place to visit in Kuala Lumpur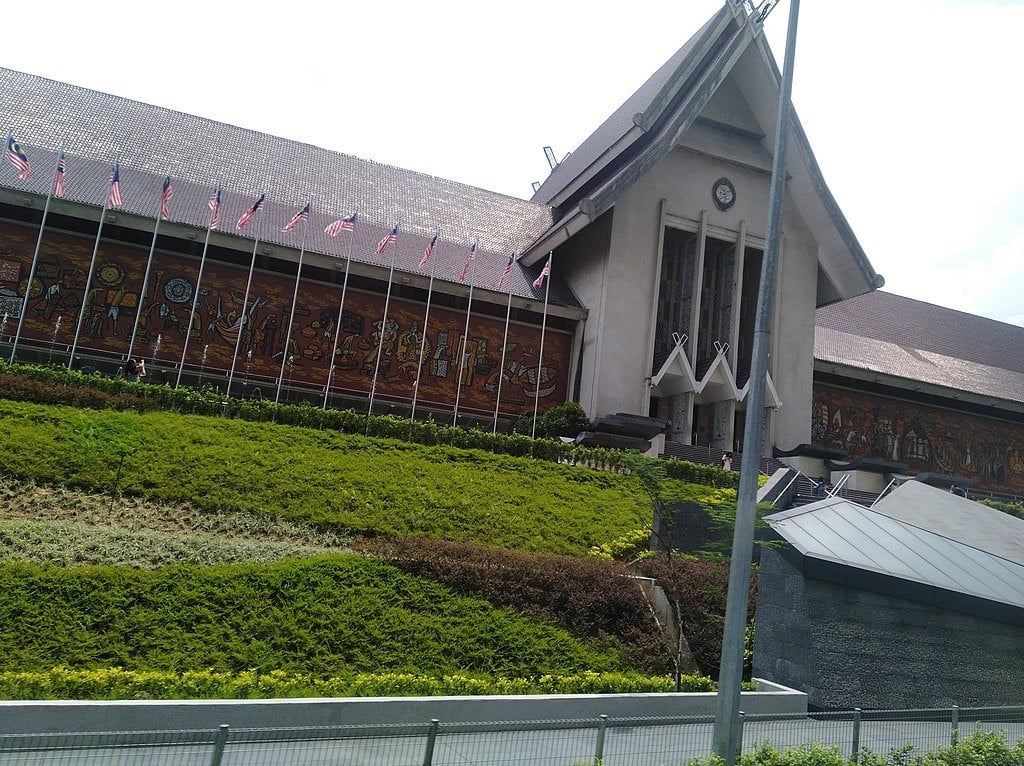 Interesting architecture
Free tours
Diverse collections
Great place to learn more about the country's past
Why it's awesome: Open since 1963, the National Museum of Malaysia is the best place to learn more about the nation's rich history, cultural diversity, heritage, and traditions. The large main building combines traditional Malay designs with modern elements, and there are a number of other interesting buildings scattered throughout the site too. The main building has four primary galleries dedicated to natural history and ethnology, with exhibits that range from ceramics, weaponry, and clothing, to musical instruments, everyday objects from yesteryear, and crafts. The museum also often hosts displays relating to world culture. Free tours are available on set days of the week, so plan ahead if you're only on a 2 or 3-day itinerary in Kuala Lumpur.
What to do there: Explore the grounds of the National Museum of Malaysia, where you can see old-fashioned transportation methods like old carts, cars, and a steam train. Don't miss the Proton Saga, the country's first national car. Tour the different galleries, seeing the wide range of artefacts as you learn more about Malaysian life and history. Keen sportspeople shouldn't miss looking in the National Sports Gallery. Travel back in time at Istana Satu, an ornate wood-built palace that was built in the 1880s and later moved to the museum grounds. Pop into the Orang Asli Crafts Museum to discover more about Malaysia's earliest people and view interesting handicrafts.
Is This the Best Daypack EVER???
#10 – KL Forest Eco Park – A beautiful outdoor place to visit in Kuala Lumpur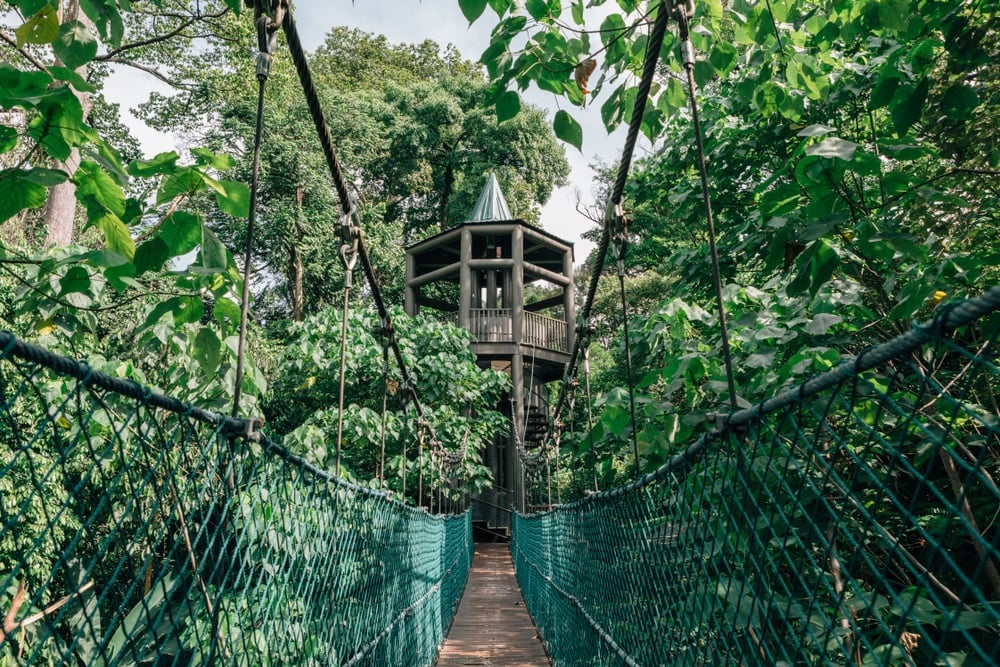 The only patch of tropical rainforest in the city
Outdoor activities
Site of one of the city's first Malay settlements
Major landmarks
Why it's awesome: Previously known as Bukit Nanas (Pineapple Hill), KL Forest Eco Park contains a small hill and the only surviving tropical rainforest in the built-up city. The area was also home to one of the city's earliest Malay settlements. Several interesting buildings are located on the hill, including the soaring Kuala Lumpur Tower and two colonial-period schools, yet it's still a great place to escape the busy city streets and spend some time in nature. Visitors can enjoy several outdoor activities and there's a small but interesting museum. The forest covers 22 acres (nine hectares) of land.
What to do there: Take a walk through the virgin rainforest along the jungle trails, looking out for diverse flora and fauna. There are plentiful birds and monkeys within the greenery. Test your head for heights on the cool canopy walk, stroll through the herb garden, and enjoy an al fresco lunch with a picnic surrounded by nature. Pop into the visitors centre and visit the forestry museum. You can also see the two colonial-built schools of Convent Bukit Nanas and the 1904 National Heritage Site St. John's Institution.
#11 – Merdeka Square – Possibly one of the most important places to visit in Kuala Lumpur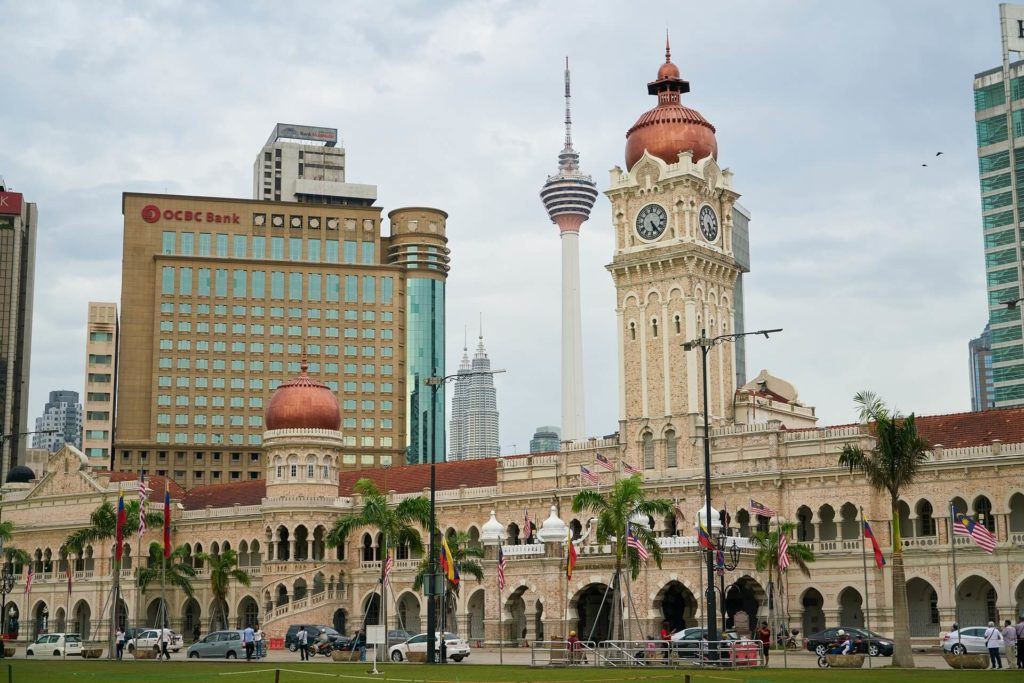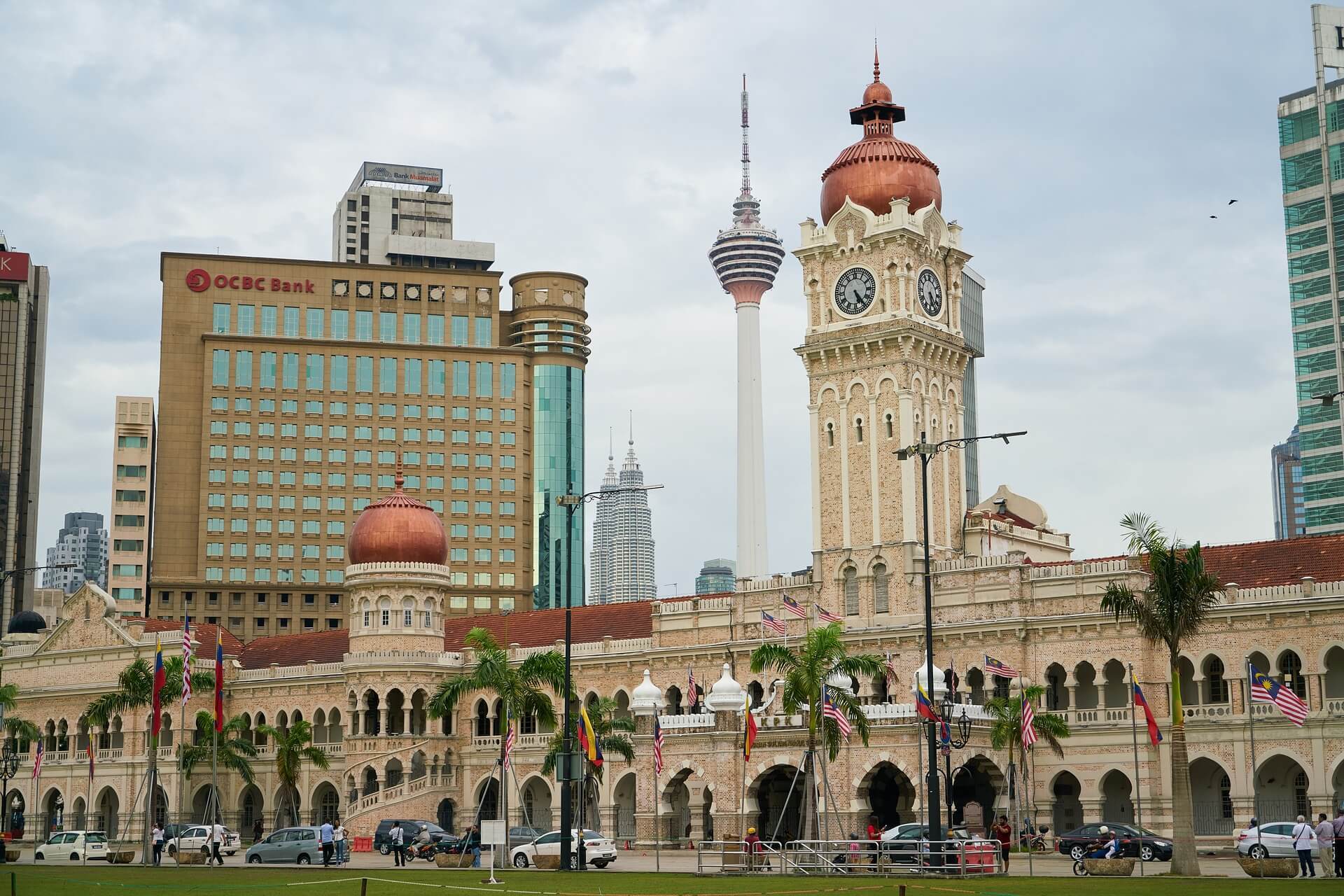 Scene of the yearly National Day Parade
First place where the Malaysian flag was lifted after the nation's independence
Surrounded by interesting architecture
Historical significance
Why it's awesome: Known locally as Dataran Merdeka, Mardeka Square is a large lawn at the heart of colonial Kuala Lumpur. The name translates as Independence Square and it was here that the British flag was lowered, replaced by the Malaysian flag for the first time when the country gained independence. The soaring flagpole is one of the tallest in the world and the national flag still flutters proudly in the breeze. There are several striking buildings around the square and today it's a popular place for leisure and relaxation.
What to do there: While there isn't actually an awful lot to do at Merdeka Square itself, it's a must-visit for any travellers visiting Malaysia for its historical and cultural significance. See the gigantic flagpole and sit relaxing for a while in the sunshine on the grass. It's a great place for kids to run and play too. You can also see the Cop's Fountain, which was built in honour of a beloved police officer. Admire nearby fine buildings, such as the Sultan Abdul Samad Building, St. Mary's Church, the old Kuala Lumpur Railway Station, and the Royal Selangor Club.
#12 – Kuala Lumpur Bird Park – Certainly one of the most exotic places to see in Kuala Lumpur!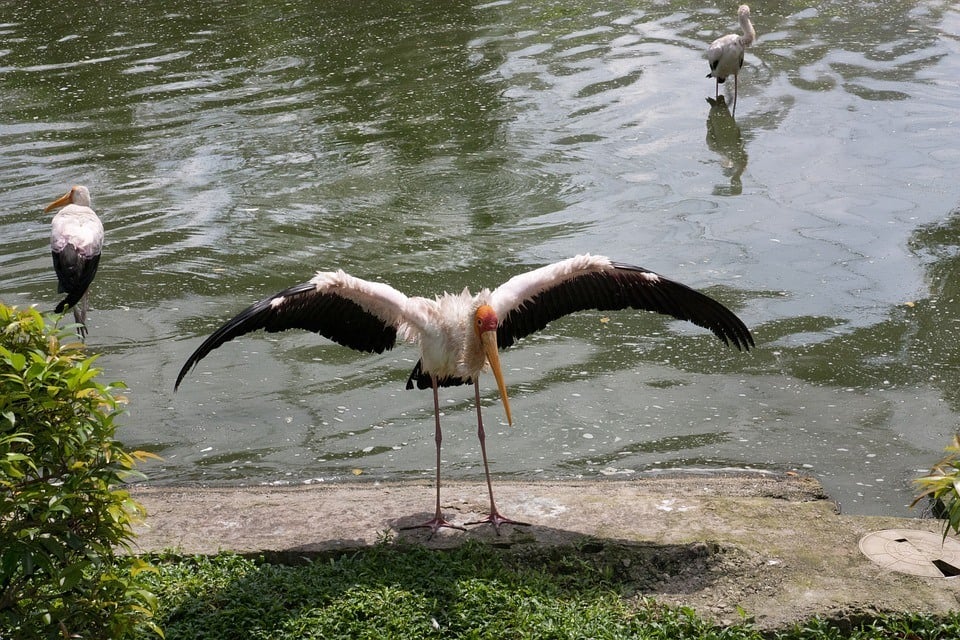 Tropical paradise
Home to more than 200 species of birds
Opportunity to hand feed birds
Great place to take kids
Why it's awesome: The family-friendly Kuala Lumpur Bird Park is among the biggest covered bird parks in the world. It houses some 3,000 birds from more than 200 species. Most of the birds are those that live in Malaysia, though there are also species brought from other places around the world, including Thailand, New Guinea, Australia, and Tanzania. Covering almost 21 acres (8.5 hectares), it's a great place to spend a few hours with your kids or that special someone. The park has gift shops and places to stop for refreshments too.
What to do there: Plan to spend a few hours exploring the large bird park to fully appreciate the four terrific zones and the many types of birds. Walk through the net-covered aviary of Zone 1 and see avian species like pheasants, peacocks, flamingos, pelicans, kites, parakeets, and cockatiels. Cross the bridges into Zone 2 where you'll come across birds like the ostrich, Nicobar pigeon, and Baya weaver. In Zone 3 you can try to spot the unusual and colourful hornbills in the towering treetops.
If you're a fan of big birds and colourful avian species, head to Zone 4; inhabitants include a diverse selection of parrots, cassowaries, emus, and ostriches. Call into the Bird Gallery to learn more about taxidermy processes, stop at the feeding stations to watch birds being hand fed (and maybe have a go yourself), and see various bird shows throughout the day at the amphitheatre.
Small Pack Problems? 😉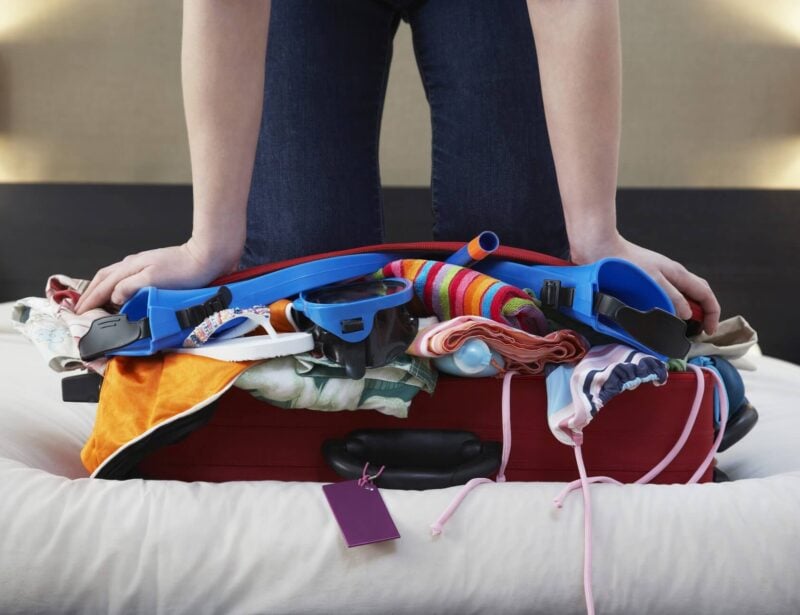 My missus travels with all her clothes in ziplock bags: don't be like my missus. UP YOUR PACKING GAME!
Packing cubes for the globetrotters and compression sacks for the real adventurers – these babies are a traveller's best kept secret. They organise yo' packing and minimise its volume too so you can pack MORE.
Or, y'know… you can stick to ziplock bags.
View Our Fave Cubes
Or Check Out the Sacks!
#13 – Royal Museum – A great place to visit in Kuala Lumpur if you are alone/traveling solo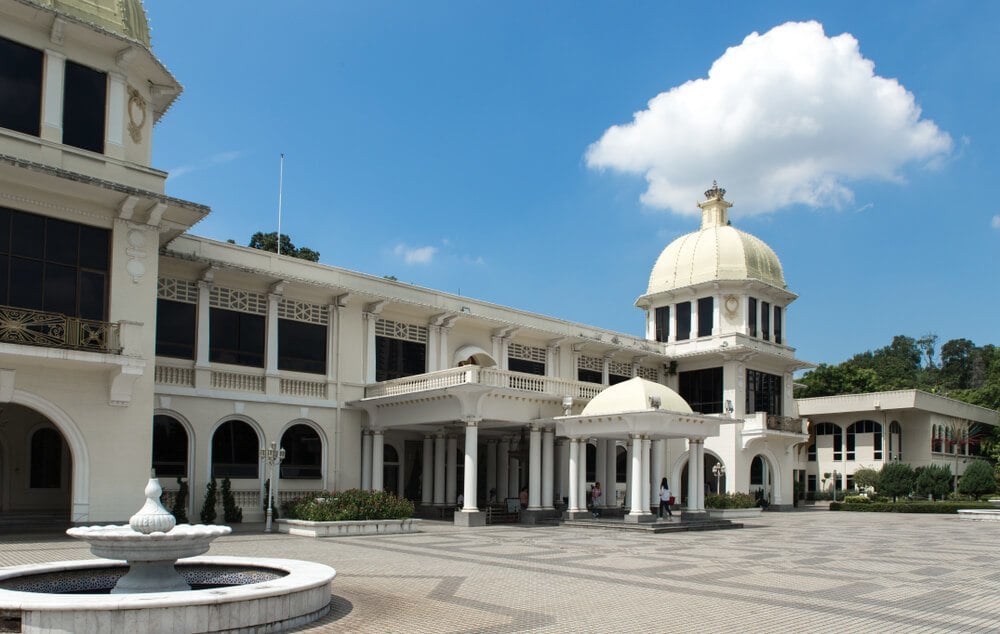 Former royal palace
Rooms are almost as they were when the royals lived there
Great views
Beautiful architecture
Why it's awesome: The Royal Museum is housed inside the old Istana Negara (royal palace). The building was still used as the royal residence up until 2011, having been the royal palace since the 1950s. The elegant building was initially constructed as a private home by an affluent Chinese tin trader. During wartime the building was used by the Japanese to house their officers and then, after surrender, the British RAF occupied the building. Later, it became the Malay National Palace. It's now open to visitors, letting members of the public see how royalty lived until fairly recent times.
What to do there: Imagine that you're a king or queen as you enter the opulent building and see lavish rooms furnished as they would have been when they were used by the Malaysian royal family. Feast your eyes on the splendour of the reception rooms, noting the heavy use of the royal colours of yellow and gold. The bedrooms are somewhat more basic in their furnishings, but it's still interesting to see where royals once slept. Admire the sweeping views from the hillside location across the Klang River.
#14 – Jamek Mosque – One of the most incredible free places to go to in Kuala Lumpur
Gorgeous religious building
Open to non-Muslims
No admission charges
Great photo opportunities
Why it's awesome: Kuala Lumpur's stunning Jamek Mosque (also sometimes called the Friday Mosque) is one of the oldest Islamic mosques in the city. Built in the early 1900s, it was designed by the same architect responsible for the attractive Sultan Abdul Samad Building. It stands on the site of an old burial ground. The photogenic mosque was the main city mosque until the National Park was constructed. It was built in a typical Indian Mughal style and has many attractive details and features. It is free to look around the beautiful mosque.
What to do there: Be wowed by the glorious architecture of the red and white Jamek Mosque, complete with different sized minarets, and three large domes. Call into the Islamic Experience Centre to learn more about the faith and its traditions, history, and rituals. Walk through the pretty grounds, admiring the fountains and reflecting pools. Remember to dress modestly when visiting the mosques. Ladies can borrow headscarves and gowns to look around the religious building.
#15 – Thean Hou Temple – One of the nicer places in Kuala Lumpur to sightsee!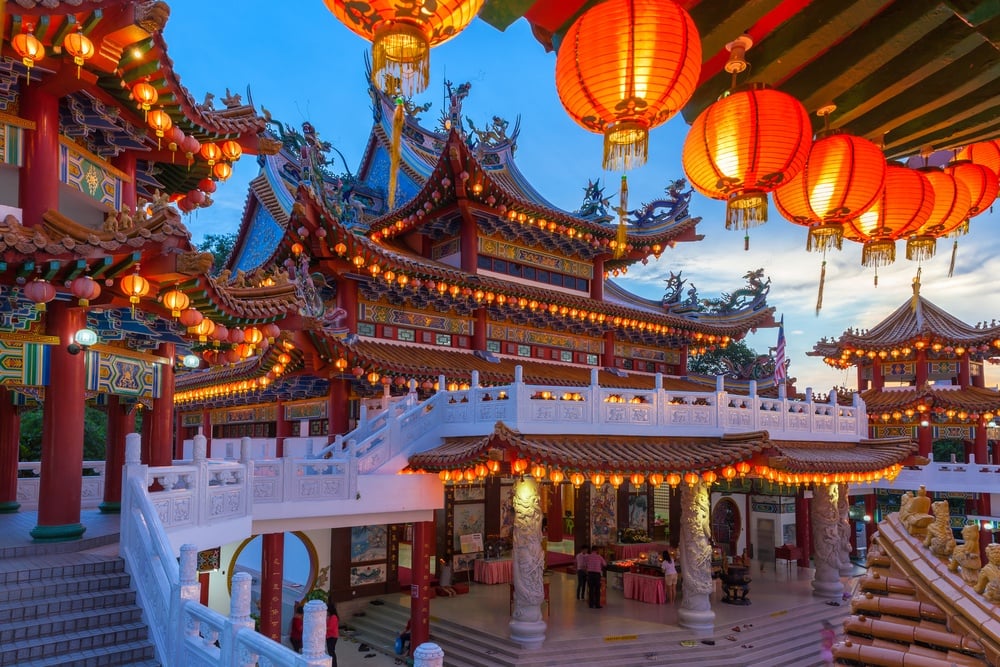 Popular wedding venue
Ornate and colourful Chinese temple
One of the biggest Chinese temples in Southeast Asia
Fairly new temple
Why it's awesome: The large and beautiful Thean Hou Temple was built in the late 1980s by members of Malaysia's Hainanese community. Among the largest temples in Southeast Asia, the six-tiered religious building fuses elements from Buddhism, Taoism, and Confucianism and has modern features alongside traditional elements. There are many ornate details, vibrant colours, and interesting statues. Dedicated to Thean Hou, a Chinese goddess who looks over fishermen, there are several other deities honoured throughout the temple too.
Various events and celebrations are held at the temple throughout the year, with Chinese New Year and significant Buddhist holidays especially busy. Other celebrations include those in honour of the temple's three main deities, and it's a popular place for wedding ceremonies. Within the grounds there are also fortune tellers and classes in activities like tai-chi and qigong.
What to do there: Pass through the large red archway at the entrance to the temple and wander through the picturesque grounds. Find your birth animal according to Chinese astrology, with large statues set near the tortoise-filled pond. Make a wish at the Wishing Well, walk through the herb garden, stand beneath the sacred Boddhi tree, and pray to the Goddess of Mercy, Guan Yin, at the small ornamental waterfall. Admire the multi-level pagoda-like building from the outside before going inside to see various statues and religious art. See locals praying and seeking blessings at the major shrines, dedicated to Thean Hou, Guan Yin, and Wei Sheng Niang.
#16 – Aquaria KLCC – Awesome place to visit in Kuala Lumpur with kids!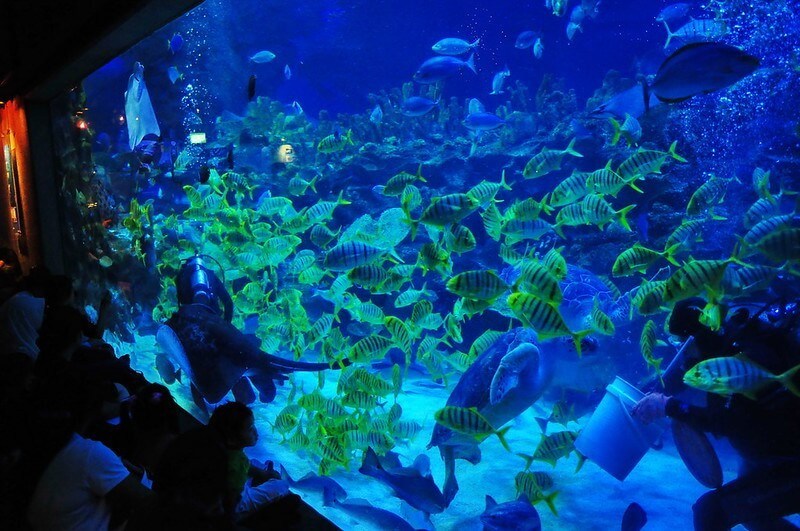 One of the biggest aquariums in Southeast Asia
Opportunity to dive with sharks!
Home to a vast array of aquatic creatures
Fun and informative
Why it's awesome: Open since 2005, Aquaria KLCC can be found within the Kuala Lumpur Convention Centre. The huge aquarium is home to around 250 different species of aquatic and land-based creatures from around Malaysia and beyond. There are several themed areas, including those modelled after the highlands, rivers, rainforests, mangroves, reefs, and the sea, taking visitors along water's journey from land to the ocean. Educational and informative, visitors are sure to learn lots of new interesting facts as they explore the gigantic aquarium. There's also a large water-based gift shop.
What to do there: Learn more about the underwater world and chart water's course across land until it meets the ocean. Marvel at a huge array of creatures, including corals, sea snakes, tiger sharks, groupers, seahorses, rays, eels, crabs, and catfish. Reptiles, spiders, otters, water rats, and frogs are among the land creatures you'll find in the aquarium. Walk through the stretching underwater tunnel, watching as things like enormous stingrays and sharks swim all around you.
Observe fearsome piranhas devouring their food, discover more about conservation efforts, see the realistic shipwreck, watch unusual creatures, see various animals being fed, and get up close and personal with diverse creatures at the touch pools. If you're feeling brave you can even go diving with sharks!

Our GREATEST Travel Secrets…
Pop your email here & get the original Broke Backpacker Bible for FREE.
#17 – Menara Kuala Lumpur – Great place to visit in Kuala Lumpur for couples!
Incredible panoramic vistas
Major city landmark
Great revolving restaurant
Among the world's tallest communications towers
Why it's awesome: In operation since 1995, the Menara Kuala Lumpur (also known as the KL Tower) is a prominent feature on the city's skyline. It is 421 metres (1,381 feet) tall when the antenna is included. It is home to the city's highest observation point accessible to the general public. The upper lobby has many exquisite and sparkling features, while the large shopping mall boasts beautiful fountains. There are many traditional Islamic decorative details Used as a communications tower, the tower also plays an important role during the Islamic month of Ramadan when it is used to spot the crescent moon.
What to do there: Ride in the super-fast elevators to reach the observation deck from where you can enjoy splendid sweeping views across the city; see if you can spot your Kuala Lumpur hostel! Impress your sweetheart with a delicious meal in the stylish revolving restaurant and watch as the views change before your eyes. You can go up the tower both during the day and at night for different perspectives of the capital. Admire the large glass-covered domes in the upper lobby, floral patterns, beautiful tile work, and Quranic calligraphy. Shop for souvenirs, gifts, and lavish treats in the long mall. Outside, see the 100-year-old tree that was preserved during the construction of the tower.
#18 – Sri Mahamariamman Temple – A perfect place to visit in Kuala Lumpur if you are on a budget!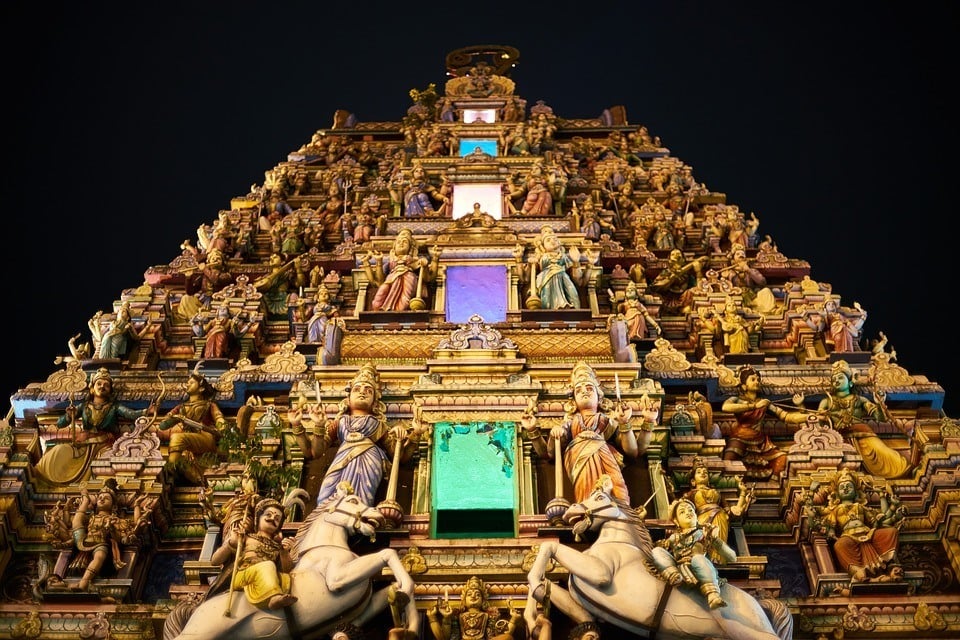 Oldest Hindu temple in Kuala Lumpur
Colourful and detailed
Spiritual ambience
No admission charge
Why it's awesome: The Sri Mahamariamman Temple was built in the 1870s and it's one of the oldest Hindu places of worship in Kuala Lumpur. Constructed as a serene spot where Tamil workers could take a break and get in touch with their spiritual side, the temple is still used as an important place of worship today. It has striking details, not least the large and colourful gopurum (tower) at the entrance.
There are numerous statues and lots of religious artwork inside too. It honours Goddess Mariamman, often viewed as a protector of Southern Indians overseas. The temple really bursts to life on holy days, particularly at Thaipusam, when a silver chariot departs from outside. There is no charge to enter the temple, though donations are appreciated.
What to do there: You should remember to dress respectfully and remove your shoes before entering the religious complex. Marvel at the multi-level gopurum, believed to act as the gateway between the material and spiritual worlds. The colourful tower has many intricate carvings of Hindu gods and goddesses, flowers, animals, and symbols. Inside, watch people pray and make offerings in the main temple building, inhale the sweet scents of burning incense, and soak up the peaceful air. Admire the rich surroundings, complete with scenes from the Ramayana, gorgeous tilework, hand-painted artwork, domed ceiling, and shrines.
#19 – Kampung Baru – One of the most underrated places to see in Kuala Lumpur
Traditional street foods
One of the city's oldest residential areas
Olde-world atmosphere and way of life
Charming Malay enclave
Why it's awesome: Kampung Baru is a delightful Malay enclave in the heart of the bustling city. It was founded at the end of the 19th century. One of Kuala Lumpur's oldest residential areas, it still feels like a traditional Malay community today. People live as they have done for many decades and the pace of life is unhurried and relaxed. There are many heritage buildings throughout the area and it's a great place to see a way of life long since forgotten in most other parts of the rapidly changing city. It's also a top destination for foodies!
What to do there: Spend some time leisurely strolling around Kampung Baru, smiling back at friendly locals, seeing the traditional buildings, and enjoying the peaceful vibe. See the politically important Kelab Sultan Sulaiman, the traditional dwelling of Rumah Limas, and the little blue house that's known as Master Mat's House. Call by Jamek Kampung Baru Mosque and Gurdwara Tatt Khalsa Temple, two of the area's main religious buildings. Let your senses guide you along Jalan Raja Muda Musa, a fabulous place for street food, and sample a tasty array of local fare. If you're still in Kampung Baru come evening time, visit the thriving fruit and veg market along Jalan Raja Alang.
#20 – Guan Di Temple – One of Kuala Lumpur's coolest historical sites!
Lesser-visited temple
Links to martial arts
Long history
Interesting statues
Why it's awesome: Guan Di Temple (also sometimes referred to as Kwong Siew Free School) is among the most impressive Taoist temples in Kuala Lumpur. Built in 1888, it hours the Chinese god of war and literature. Many believers come here to pray and seek help from the deity. The ornate temple is home to a mighty traditional Chinese weapon, known as Guan Dao. Weighing in at a whopping 59 kilograms (130 pounds), it is said that touching or lifting the weapon will bring good luck to people. The complex has many interesting statues and shrines too.
What to do there: Pass the fearsome temple guards and lions to enter the complex and go to the back of the temple for a closer peek at the formidable wooden statue of Guan Di. Two other statues stand near the golden-faced God of War: Guan Ping (Guan Di's godson) and Zhou Cang (Guan Di's standard bearer). You can also see various other statues depicting Chinese gods and goddesses, including Guan Yin, Wen Chong, and Choy Sun. Try and lift the Guan Dao, thought to have magical powers, and take lots of photos of the glorious building, with its embellished roof and dragon pillars.
Save $$$ • Save the Planet • Save Your Stomach!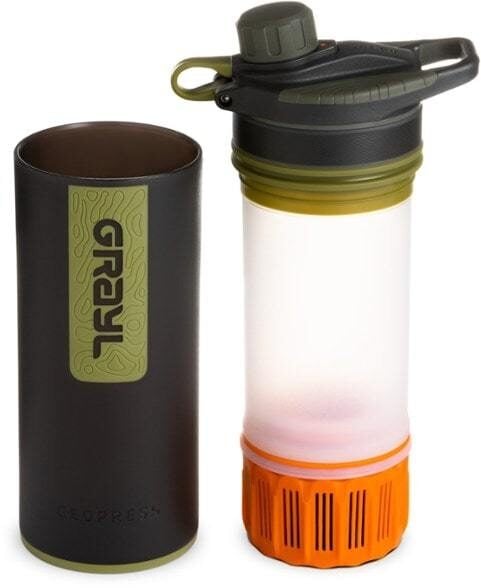 Drink water from ANYWHERE. The Grayl Geopress is the market's leading filtered water bottle protecting your tum from all the waterborne nasties. PLUS, you save money and the environment!
Single-use plastic bottles are a MASSIVE threat to marine life. Be a part of the solution and travel with a filter water bottle.
We've tested the Geopress rigorously from the icy heights of Pakistan to the tropical jungles of Cuba, and the results are in: it WORKS. Buy a Geopress: it's the last water bottle you'll ever buy.
Buy a Geopress!
Read the Review
#21 – Putrajaya – A very cool place in Kuala Lumpur to go for a day
Striking mosque
Lovely lake
Lesser-visited destination
Wildlife-filled wetlands
Why it's awesome: Although technically a different area of Malaysia to Kuala Lumpur, the nearby city of Putrajaya is well worth visiting for a day from the Malaysian capital. It is home to a wealth of attractions and activities and sees relatively few foreign tourists. There are beautiful natural areas to discover, unusual architectural gems, historical sights, great shopping spots, and more. Putrajaya is the federal administrative centre of Malaysia and it is easy to reach from KL by bus or car.
What to do there: Visit the impressive Putra Mosque, open to non-Muslims, and admire the dusky-pink dome and interiors as well as the towering minarets. If you're into unusual architecture, head to the Moroccan Pavilion. Showing the strong relationship between the two nations, the stunning pavilion showcases beautiful North African designs, with the finishing details completed by Moroccan artisans. Other interesting landmarks in Putrajaya include the prime minister's official home of Seri Perdana, the Millennium Monument, the resort-style royal retreat of Istana Melawati, the Palace of Justice, and Perdana Putra.
Stand in Putra Square and National Heroes Square, learn more about the country's natural treasures at the Natural History Museum, and shop till you drop in Alamanda Putrajaya. Nature lovers shouldn't miss Putrajaya Lake, China-Malaysia Friendship Garden, Putrajaya Wetlands Park, and the Botanical Gardens, while attractions like Putrajaya Equestrian Park and Putrajaya Water Sports Complex add an extra thrill to your trip.
#22 – Brickfields – Cool place to see in Kuala Lumpur with friends!
Kuala Lumpur's colourful Little India
Many religious buildings
Great places to eat
Fantastic shopping opportunities
Why it's awesome: Brickfields is Kuala Lumpur's Little India, home to people from India, Bangladesh, Sri Lanka, and other nearby countries. Many residents are descendants of workers brought to Malaysia by the British. Vibrant and lively, visitors would be forgiven for thinking that they had somehow been transported to the large and diverse India when wandering around Brickfields. Shops sell traditional Indian items and there's an abundance of tasty Indian dishes. There are numerous interesting places of worship too.
What to do there: Hear modern Bollywood tunes coming from shops and take a peek inside to shop for saris, bangles, amulets, spices, and other Indian goods. Head into the large bazaar for even more fantastic shopping. Stop into a local restaurant for a banana leaf curry or other spicy speciality. Snap a picture or two of the pretty Vivekananda Ashram and visit serene places of worship like the Tamil Methodist Church and the Evangelical Lutheran Church. Absorb the enticing Indian spirit without leaving the Malaysian capital.
#23 – Titiwangsa Lake Gardens – A beautiful and scenic place to check out in Kuala Lumpur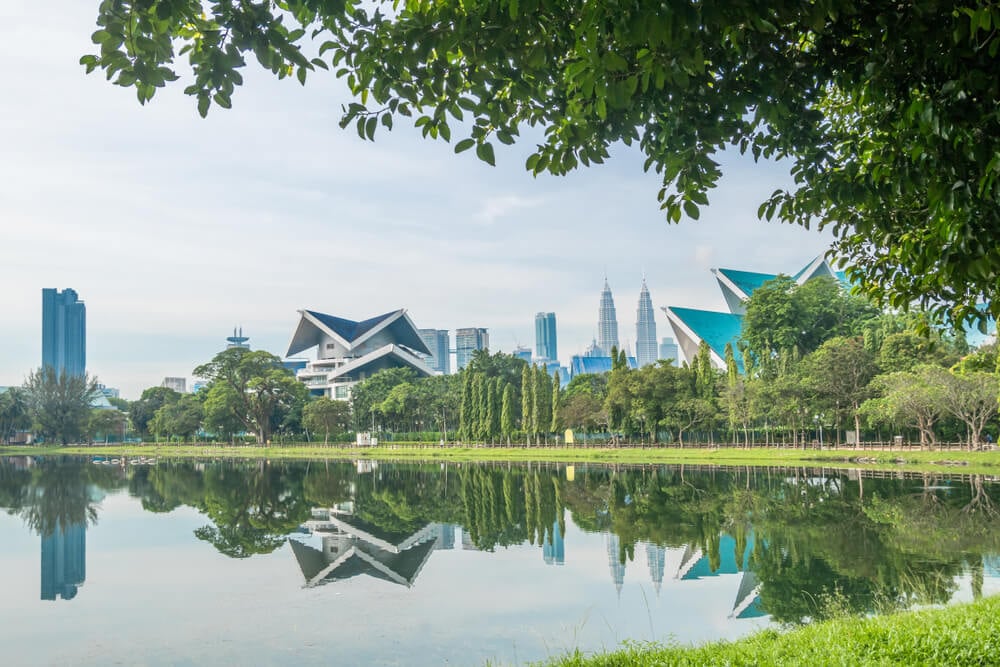 Great place for leisure
Large lake
Varied activities
Peaceful and quiet
Why it's awesome: Titiwangsa Lake Gardens is a large public park with a number of shimmering lakes. Covering 235 acres (95 hectares), more than 50% of the park is lakes. The large lake was created during tin mining activities in the colonial days, and the area was later turned into a pleasant park. There are various activities, both on the water and on dry land, and it's a nice place to relax and unwind for a couple of hours.
What to do there: Appreciate the pretty lake views and take to the waters for canoeing, kayaking, aqua biking, and rowing. Stroll around the water's edge and get active with horse riding and jogging. You can also have heaps of fun at the radio controlled car track, which is especially popular with kids and teens. There are places to buy refreshments and great spots throughout the park for a picnic.
Get insured for your trip to Kuala Lumpur!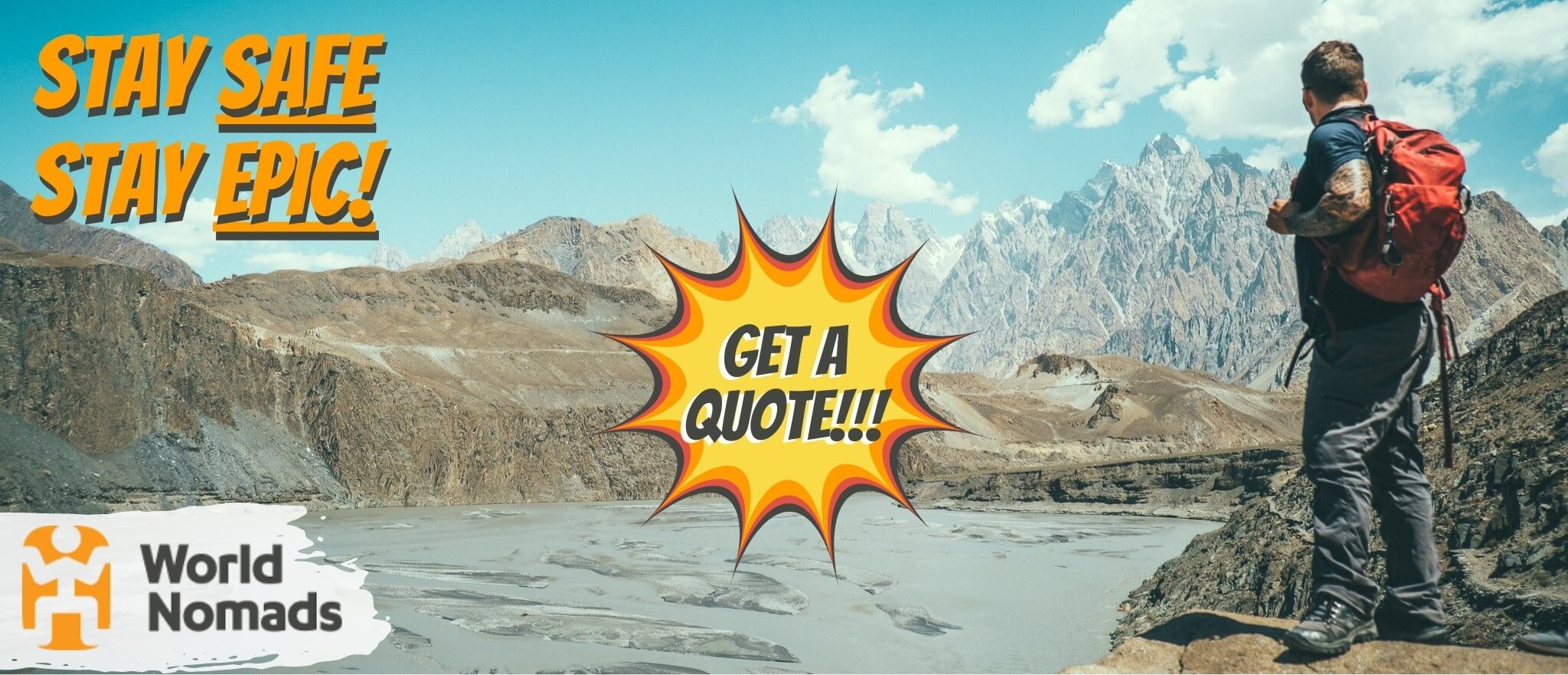 World Nomads' mission is to support and encourage travellers to explore their boundaries. They offer simple & flexible travel insurance, and safety advice to help you travel confidently.
They've been doing it since 2002 – protecting, connecting, and inspiring independent travellers just like you.
Get a quote below or read our in-depth review!
World Nomads provides travel insurance for travelers in over 100 countries. As an affiliate, we receive a fee when you get a quote from World Nomads using this link. We do not represent World Nomads. This is information only and not a recommendation to buy travel insurance.
FAQ on the Best Places to Visit in Kuala Lumpur
Find out what people want to know about the best places to visit in Kuala Lumpur
Make many magical memories in Kuala Lumpur
Kuala Lumpur is an absolute gem and also one of the safest cities in Malaysia that you now know is a travelers wonderland just waiting for you to explore it. Enjoy high-end and high-street shopping in the city's many malls, which include The Gardens Mall, Suria KLCC, Nu Sentral Shopping Centre, Quill City Mall, Sungei Wang Plaza, and Pavilion Kuala Lumpur, and upgrade your electronics at the huge Plaza Low Yat.
Take day trips to places like Kuala Selangor, the Genting Highlands, and Port Dickson, take kids to the Kuala Lumpur Butterfly Park and National Science Centre, and cast your gaze skywards at the Planetarium Negara.
From beautiful religious buildings, theme parks, and colonial architecture to pretty parks, quaint hidden alleyways, street art, and bustling markets, there are plenty of reasons to go to Malaysia, and it all starts in KL Add these best places to visit in Kuala Lumpur for a fantastic time in the Malaysian capital city.
---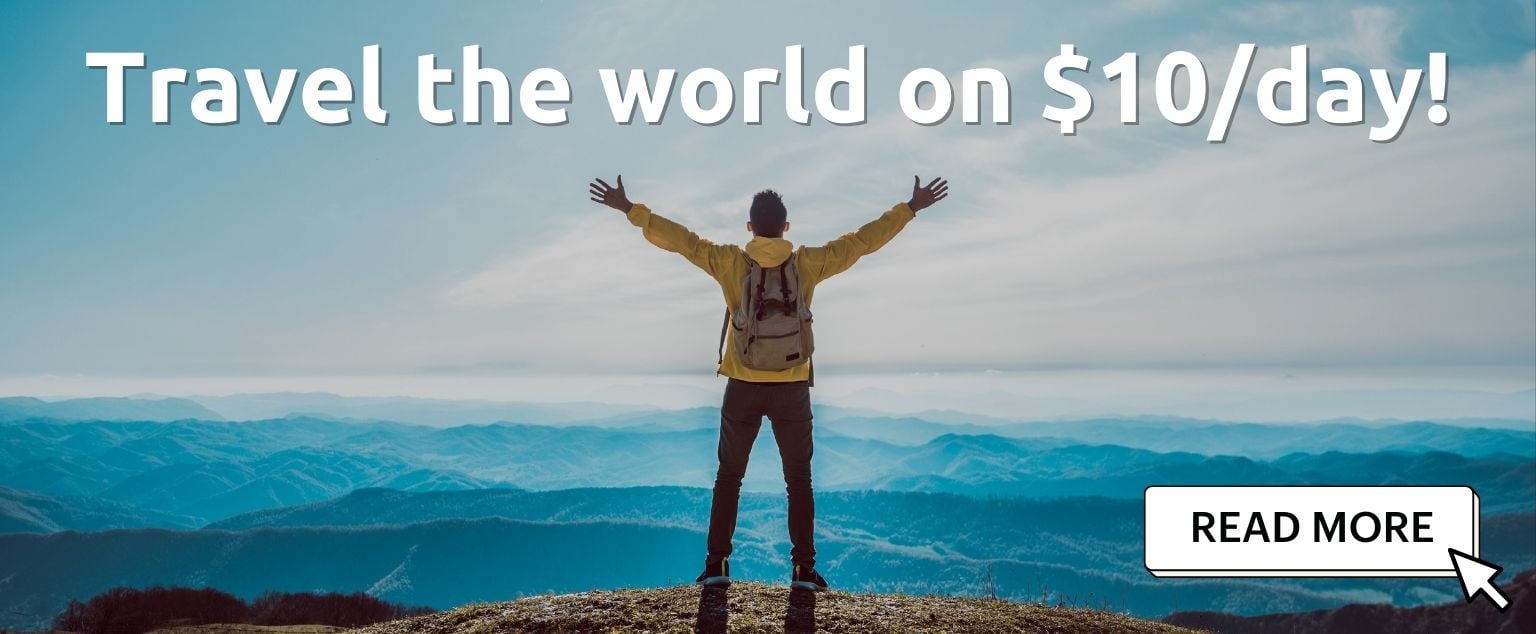 And for transparency's sake, please know that some of the links in our content are affiliate links. That means that if you book your accommodation, buy your gear, or sort your insurance through our link, we earn a small commission (at no extra cost to you). That said, we only link to the gear we trust and never recommend services we don't believe are up to scratch. Again, thank you!