Malaysia is one of the most budget-friendly destinations in Southeast Asia – and has plenty of great cultural, culinary and historic attractions to match! With many five star hotels in the capital going for less than budget lodging in Europe and North America, Kuala Lumpur has long been a firm favourite with backpackers in the area. There is so much more on offer, with forested highlands, breathtaking beaches and bustling night markets available elsewhere in the country.
Most visitors tend to stick to the capital, but Malaysia is actually an excellent country worth taking an extended trip through. As it is split between the Southeast Asian peninsula and the northern half of Borneo, many visitors are overwhelmed with choices when it comes to deciding where exactly to visit in Malaysia.
That's where we come in! We've compiled this guide of the eight best places to stay in Malaysia, with some additional information about what makes them so great and where the best accommodation is.
So let's jump right into it!

Unlock Our GREATEST Travel Secrets!
Sign up for our newsletter and get the best travel tips delivered right to your inbox.
Quick Answers: Where is the Best Place to Stay in Malaysia?
Kuala Lumpur – Overall Best Place to Stay in Malaysia
Malacca – Best Place to Stay in Malaysia For Families
Langkawi – Most Romantic Place to Stay in Malaysia for Couples
Kota Kinabalu – Coolest Place to Stay in Malaysia
Johor Bahru – Where to Stay in Malaysia on a Budget
Miri – One of the Most Unique Places to Stay in Malaysia
Cameron Highlands – Where to Stay in Malaysia for Adventure
Penang – Foodie capital of Malaysia
Map of Where to Stay in Malaysia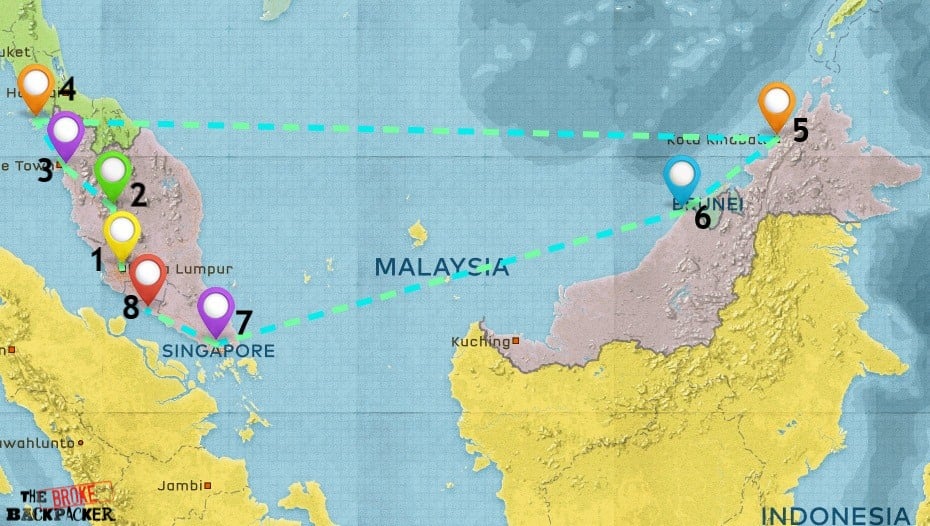 Kuala Lumpur – Overall Best Place to Stay in Malaysia
Kuala Lumpur is the capital and largest city in Malaysia and by far the most visited destination as there are just so many amazing places to see in Kuala Lumpur. This city truly has it all – with bustling night markets offering delectable cuisine, budget-friendly shopping streets in almost every precinct and, of course, the world-famous Petronas Towers – the tallest twin towers in the world!
If you are only in Malaysia for a few days, Kuala Lumpur is a great introduction to the country and the many cultures that inhabit it! Whilst the city is more integrated nowadays, there are still a few neighborhoods in Kuala Lumpur – such as Little India and Chinatown – that showcase the multicultural nature of the country as a whole.
Kuala Lumpur is relatively central within peninsular Malaysia – making it a great starting point for those that want to explore further in the country! For first time visitors and backpackers, Kuala Lumpur is easily the most convenient city.
Best Places to Stay in Kuala Lumpur
As with many large cities in Southeast Asia, precaution should be taken – but Kuala Lumpur is actually one of the safer metropolises in the region! The city centre is home to the bulk of accommodation options, and with bargain rates, this is a great place to treat yourself to a luxury hotel.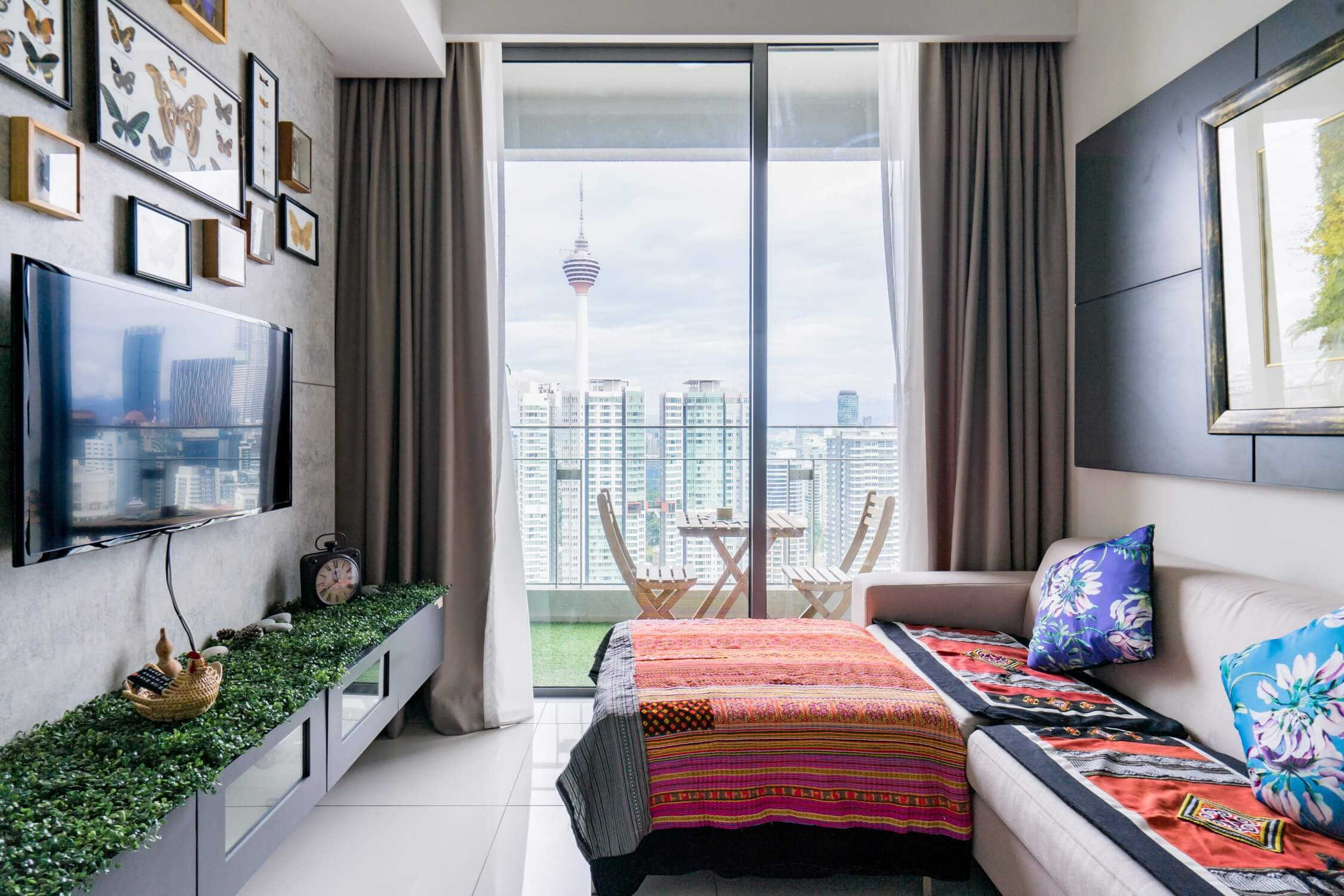 Best Airbnb in Kuala Lumpur: Skyline Views
This gorgeous city centre apartment is part of the Airbnb Plus range – meaning it has been handpicked for its excellent interior design and levels of service! The apartment comes with gorgeous views of the Kuala Lumpur skyline, and relaxing décor inside. This one-bedroom apartment is great for couples, and there is a sofa bed for larger groups.
Regarded as the "highest hostel in Kuala Lumpur", Penthouse on 34 is truly unique as far as backpacker accommodation goes! It has an infinity pool with views towards the city skyline – including undisrupted views of the Petronas Towers. Some of the rooms and dorms also have a balcony with the same view, and there are smart TVs in the communal spaces.
citizenM are still a relatively new hotel chain, but they are already making big impressions across the world! Known for their budget-friendly comfort with a contemporary twist, their Kuala Lumpur hotel offers some of the best value for money. Despite being affordable, it is actually a four-star hotel with plenty of great extras that justify the rating – including a free breakfast.
Choices, choices… Plan out where you're staying in Kuala Lumpur before arriving!
Malacca – Best Place to Stay in Malaysia for Families
Also known as Melaka, Malacca is an increasingly popular destination on the west coast of Peninsular Malaysia with a fascinating history! Its colonial past has left it a melting pot of Portuguese, Dutch, British and Malaysian culture – with one of the most eclectic culinary scenes in the country. It also has a creative soul, with plenty of fantastic art galleries.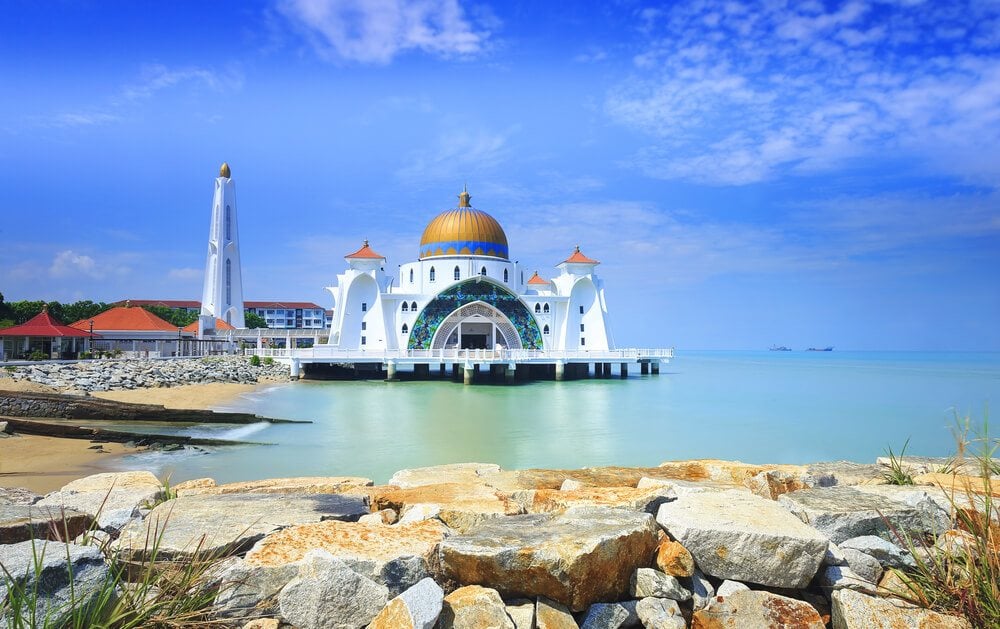 For families, Malacca is one of the safest places in Malaysia! Bar the odd pickpocketing issue, it has one of the lowest crime rates of urban areas in the country. The city centre is a UNESCO World Heritage Site thanks to the historic architecture – making this a fun learning opportunity for kids and adults alike.
Even for solo travellers and couples, Malacca offers a calm respite away from the more bustling metropolises! It is roughly halfway between Singapore and Kuala Lumpur, making it a great stopover point for a few days between the two massive cities.
Best Places to Stay In Malacca
Malacca is a deceptively large city – but most of the main attractions are concentrated within the historic centre. It has a great public transport system – and if you are feeling a bit more adventurous, bicycle hire is popular in the city!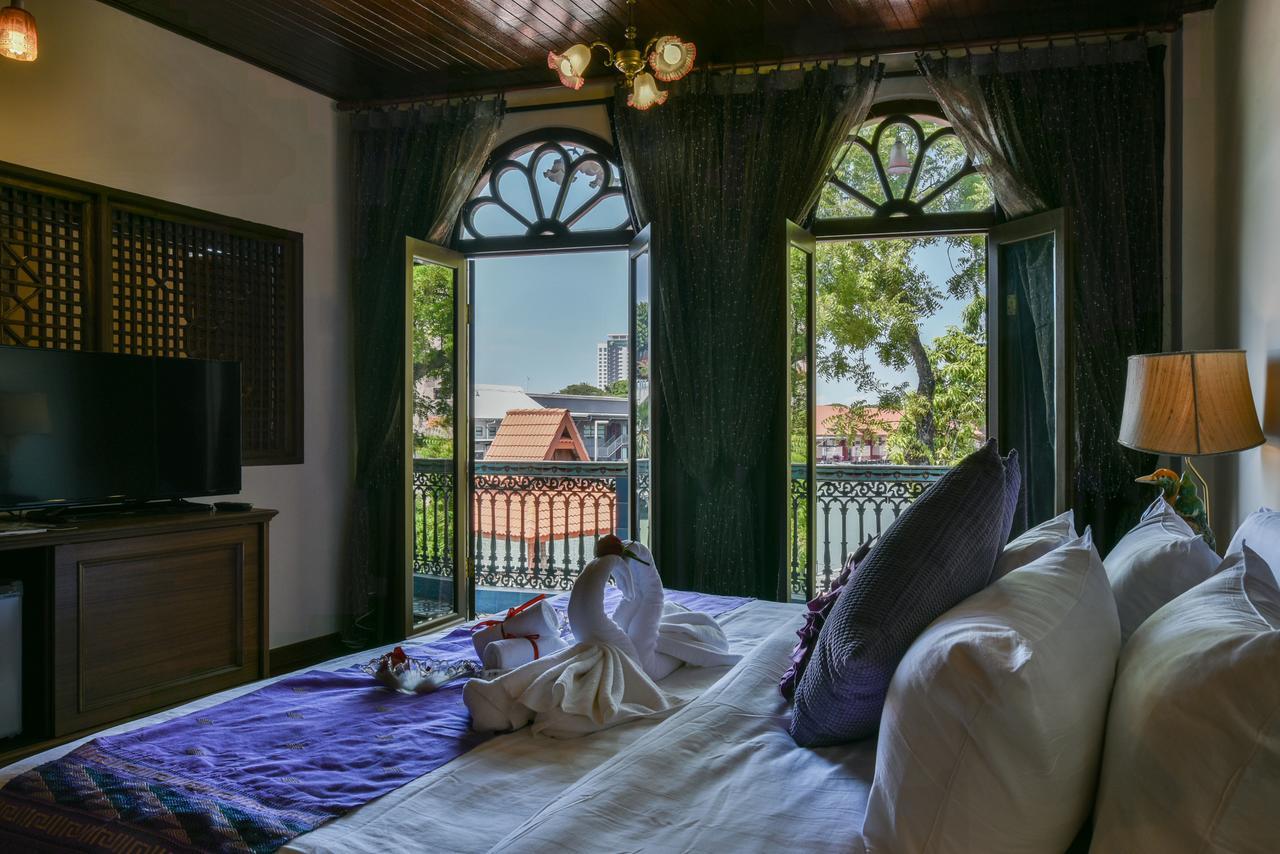 Located within a large apartment complex, this accommodation benefits from security staff and a large fitness suite within the building! It also has unbeatable views across Malacca and the sea – with a beautiful balcony area where you can take in the view and sip on a cup of coffee every morning. There is also a waterfront infinity pool for guest use.
As the name suggests, this ornate hotel is not just an accommodation option, but also acts as a museum! It is packed with traditional furnishings and historic artifacts that make it an attraction in its own right. Though only a three-star hotel, it comes with excellent customer reviews and great levels of service. They also offer larger suites for families and groups.
Best Hostel in Malacca: Tripod Hotel
If you want a little bit more privacy than you would usually expect from a hostel, the Tripod Hotel follows the pod hotel concept that has been popular across Asia for years now! Each bed is its own contained unit with lighting, power sockets and ventilation. This makes it a great option for having your own private space without breaking the bank.
Tripod Hotel is one of our favourites in Malaysia but they're not taking guests right now. We're not sure if they're closed for good but we hope they'll come back soon.
Langkawi – Most Romantic Place to Stay in Malaysia for Couples
Langkawi is a collection of islands just off the coast of Peninsular Malaysia. It's a popular destination for travellers to enjoy sun, sand and sea and we recommend that you spend 3 days in Langkawi at least! Officially a duty-free zone, the shops, bars and restaurants here offer cheaper prices than those elsewhere in the country – making it a great place for shopping and dining.
For couples, Langkawi offers plenty of romantic retreats – as well as some fun adventure activities if the thought of spending your entire trip on the beach isn't exciting enough! The main island is packed with some of the best beaches in Malaysia – with many of them being quieter and more peaceful than the more famous spots in neighboring Thailand.
Langkawi is in the far north of Peninsular Malaysia – and as an island, transport can take time so we recommend planning at least a week here before exploring elsewhere! It is also great as a stopover on the way to Thailand, with plenty of ferries taking you to the Kingdom.
Best Places to Stay in Langkawi
Pulau Langkawi is the main island, and where you will find most of the tourist attractions! The island is fairly small and easy to get around, so which area of Langkawi you end up isn't as big an issue in this part of the country.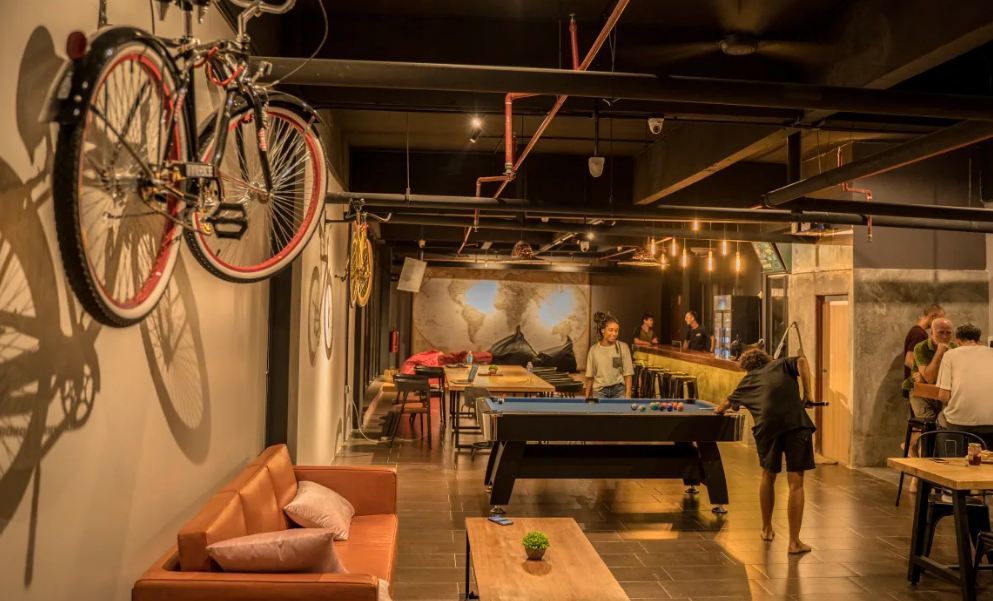 This gorgeous rural villa is not only sat on top of a hill – it also comes with sunset views every evening! There is a small infinity pool within the grounds, as well as a verdant garden surrounding the property. It is only a short walk from the nearest village, which has a calm and welcoming atmosphere. The host also has super host status, meaning they have excellent reviews.
This ultra-hip hostel has capsule-style dorms – giving you a little extra privacy during your stay! They also have private rooms that young couples can enjoy if you are looking to save a little cash whilst still enjoying a peaceful getaway. There is a spacious communal lounge area where you can mingle with other guests and enjoy nightly activities.
If you're wanting the ultimate romantic getaway in Malaysia, it is well worth splashing out on this exquisite five-star hotel! With three restaurants and an infinity pool, this hotel comes with everything you would expect from luxury accommodation and more. Many of the rooms come with dual vanity areas in the bathrooms, giving you each your own space to get ready in the morning. Breakfast is, of course, included with many options on offer.
Is This the Best Travel Pack EVER???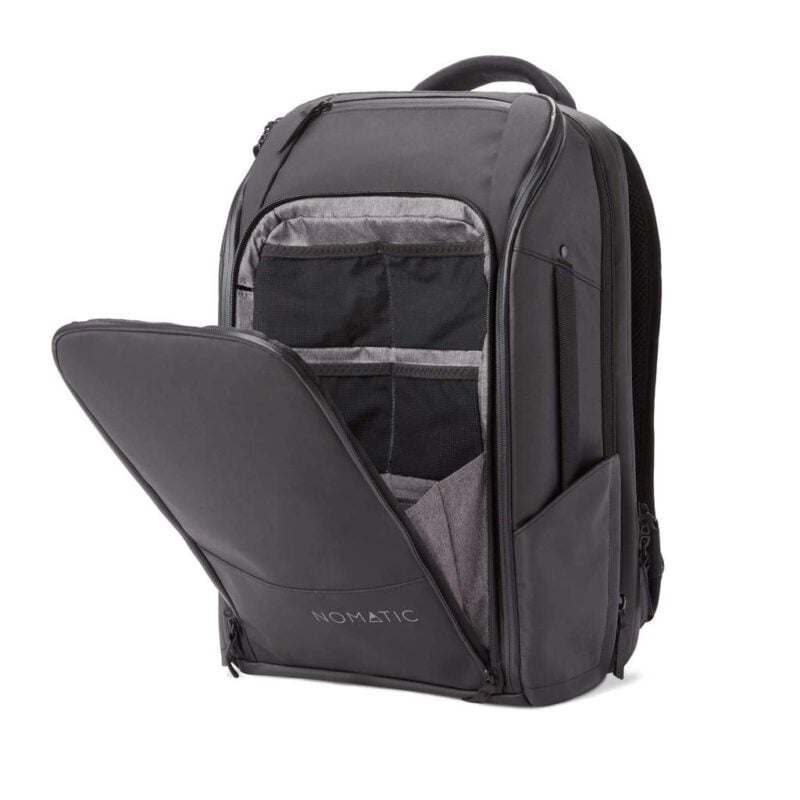 Kota Kinabalu – Coolest Place to Stay in Malaysia
Most visitors to Malaysia stick to the Peninsula – but the towns and cities in Borneo have grown in popularity over recent years for those looking for something a bit different! Kota Kinabalu is the capital of Sabah, one of the two states on the island, and is considered the main gateway to Malaysian Borneo.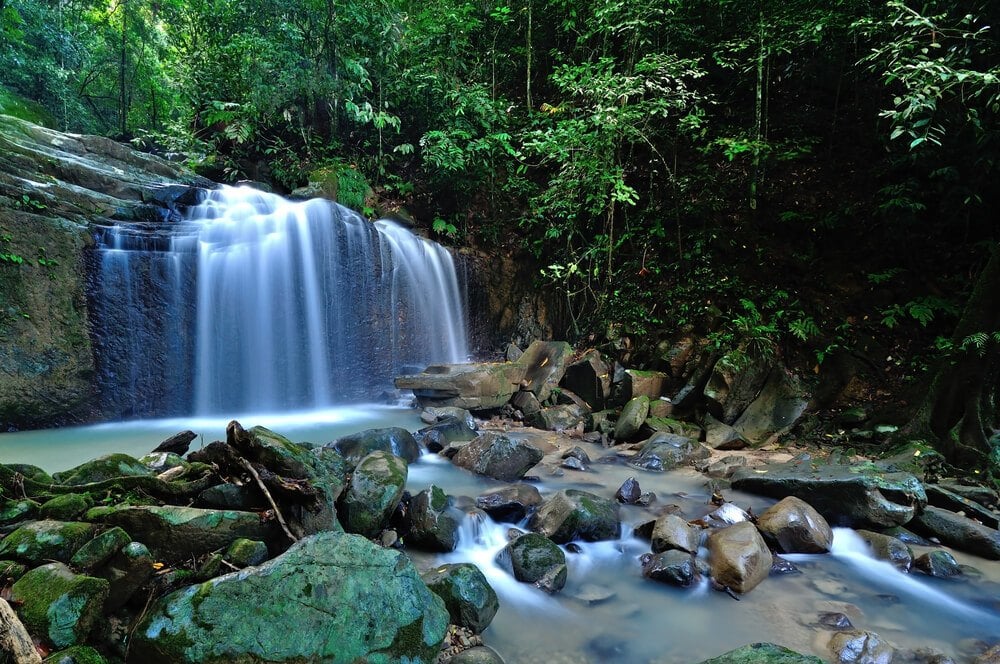 Kota Kinabalu is a truly buzzing city with plenty to offer backpackers in Malaysia that want to head away from the main tourist strips! There are some gorgeous tropical islands nearby with regular cruises from the city, whilst verdant rainforests surround the city on land – giving way to some of Malaysia's unspoiled natural beauty.
Best Places to Stay in Kota Kinabalu
The main urban core is located along the coast, and this is the area of Kota Kinabalu where we recommend all tourists should find a place to stay in! Kota Kinabalu is still relatively new on the tourism scene, so most tours and attractions are concentrated in this area.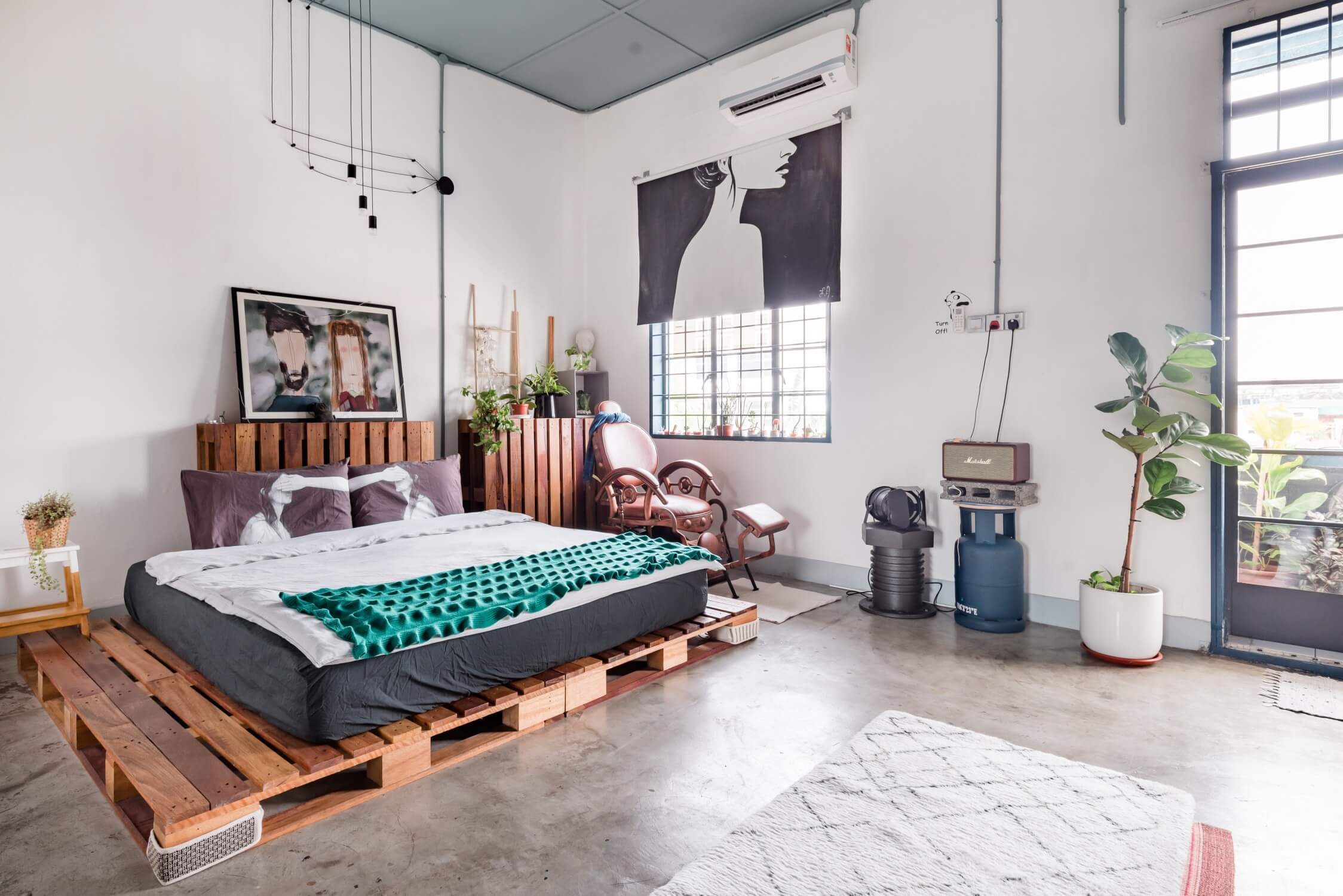 Another great Airbnb Plus property, this designer apartment is inspired by modern art gallery décor – with minimal, yet elegant furnishings and art adorning every wall! It has plants spaced throughout the apartment, giving the entire area a fresh atmosphere. There is also a private reading corner if you just need some time alone. With a balcony overlooking the city and comfortable bedroom, this is a popular choice with solo travellers and digital nomads in Malaysia.
Best Hostel in Kota Kinabalu: Faloe Hostel
This Kota Kinabalu hostel prides itself on having a social atmosphere – with regular events held throughout the week and even a few guided tours! With only three dorms on offer, it has a cosy atmosphere and the communal areas are spacious and welcoming. They offer a complimentary breakfast that you can enjoy any time of day, as well as full streaming services and high-speed internet in the lounge area.
Best Hotel in Kota Kinabalu: Horizon Hotel
This gorgeous four-star hotel boasts four restaurants offering a variety of different cuisines, a swimming pool with a terrace and an on-site fitness suite! They also have a small kids pool and babysitting service for families opting to stay in the area. The ferry terminal is only a short walk away – perfect if you want to explore a bit further afield or enjoy a day trip.
Johor Bahru – Where to Stay in Malaysia on a Budget
Malaysia as a whole is a very budget-friendly country – so wherever you stay is sure to keep your bank happy! That being said, Johor Bahru has become a popular choice with those backpacking Malaysia on a budget due to its proximity to Singapore. The city-state is known for being expensive, but Johor Bahru gives you an affordable base to explore both Malaysia and Singapore.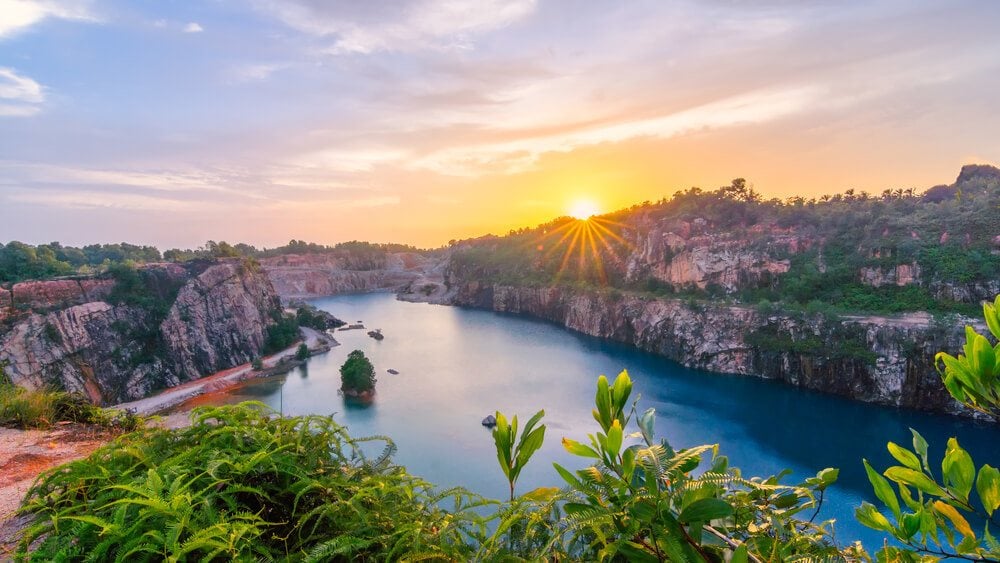 Johor Bahru is also home to multiple theme parks, and a number of watersports activities based along the coast! Restaurants and bars in this area are about the same price as everywhere else in Malaysia, but shopping is surprisingly cheap and is often visited by locals from Singapore looking for a bargain.
Best Places to Stay in Johor Bahru
Since it's used as a gateway between Malaysia and Singapore, choosing a place to stay in Johor Bahru that's close to the main transport areas – the bus, train and ferry terminals – would be your best bet. The theme parks also offer some great accommodation for families.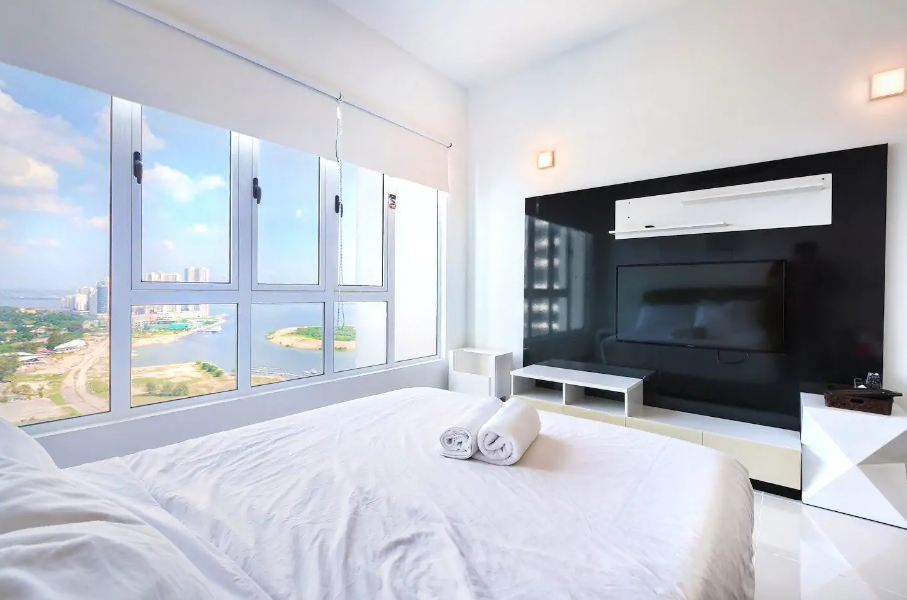 Whilst this a somewhat basic hostel, it is a great choice for anyone looking to save some cash whilst staying in Southern Malaysia! Locally owned, it has a welcoming atmosphere and cosy feel that will ensure you enjoy a comfortable stay. It is only a short walk from the city centre, and a train ride from Central Singapore.
This gorgeous four-star hotel is located within a skyscraper that towers above the city – giving guests unbeatable views not just of Johor Bahru but also as far as Singapore! It is only ten minutes from the Angry Birds Activity Park, and the main train station is within walking distance. There is a large pool on-site, and breakfast is included.
Best Airbnb in Johor Bahru: Seaview by Jane
This beautiful, minimalist apartment is only ten minutes away from Legoland – perfect if you are visiting as a family! It can sleep up to ten guests across three bedrooms, making it a great choice for larger groups. All bedrooms come with sea views as well as memory foam mattresses to ensure a comfortable night of sleep. They also offer a self-check-in system for late arrivals.
Seaview by Jane is one of our favourites in Malaysia but they're not taking guests right now. We're not sure if they're closed for good but we hope they'll come back soon.
The Future of the SIM Card is HERE!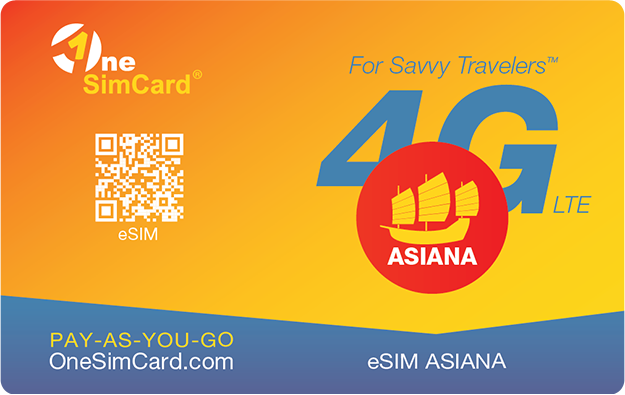 A new country, a new contract, a new piece of plastic – booooring. Instead, buy an eSIM!
An eSIM works just like an app: you buy it, you download it, and BOOM! You're connected. It's just that easy.
Is your phone eSIM ready? Read about how e-Sims work or click below to see one of the top eSIM providers on the market and ditch the plastic.
Buy an eSIM!
Miri – One of the Most Unique Places to Stay in Malaysia
Sarawak is the other state in the Malaysian section of Borneo, and the largest state in Malaysia. Miri was the first resort town in the state, and is now one of the most popular destinations in Sarawak! Home to the nation's oil industry, Miri hosts workers from across the world – resulting in a cosmopolitan atmosphere and plenty of attractions and nightlife venues.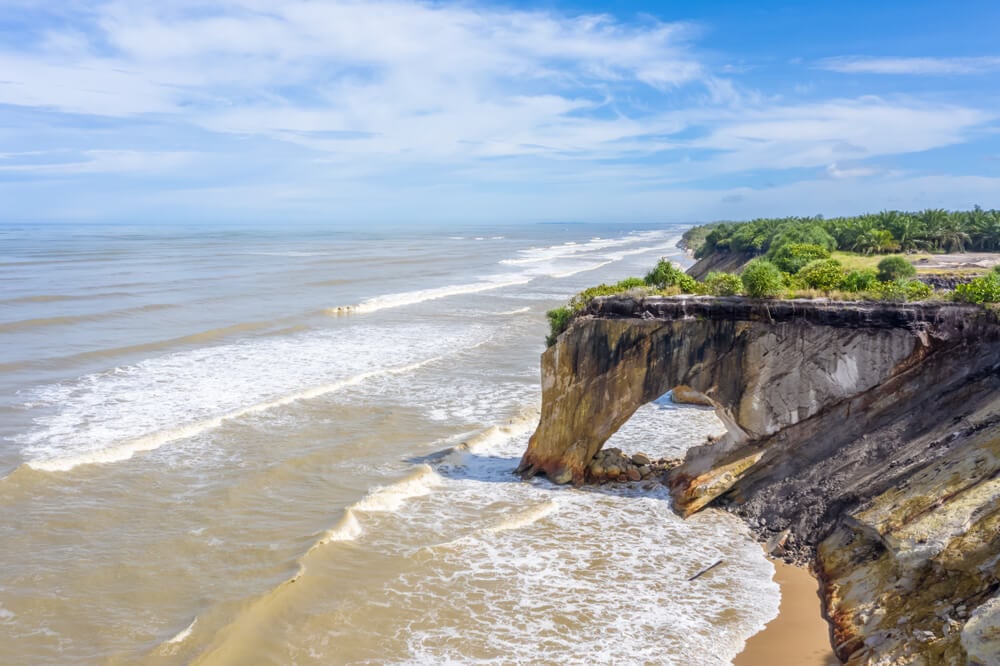 Miri is close to the border with Brunei – and also has excellent links to the Indonesian part of Borneo! This makes it a popular gateway for backpackers hoping to travel between the three countries – as well as enjoy the off-the-beaten-path nature of Malaysian Borneo. If you want something a bit different from every other traveler's itinerary in Malaysia, Miri should be your first port of call.
Best Places to Stay in Miri
Miri is significantly smaller than other cities in Malaysia – so almost all accommodation options are in the city centre! This is also where you'll find most of the attractions, as well as transport services to other destinations.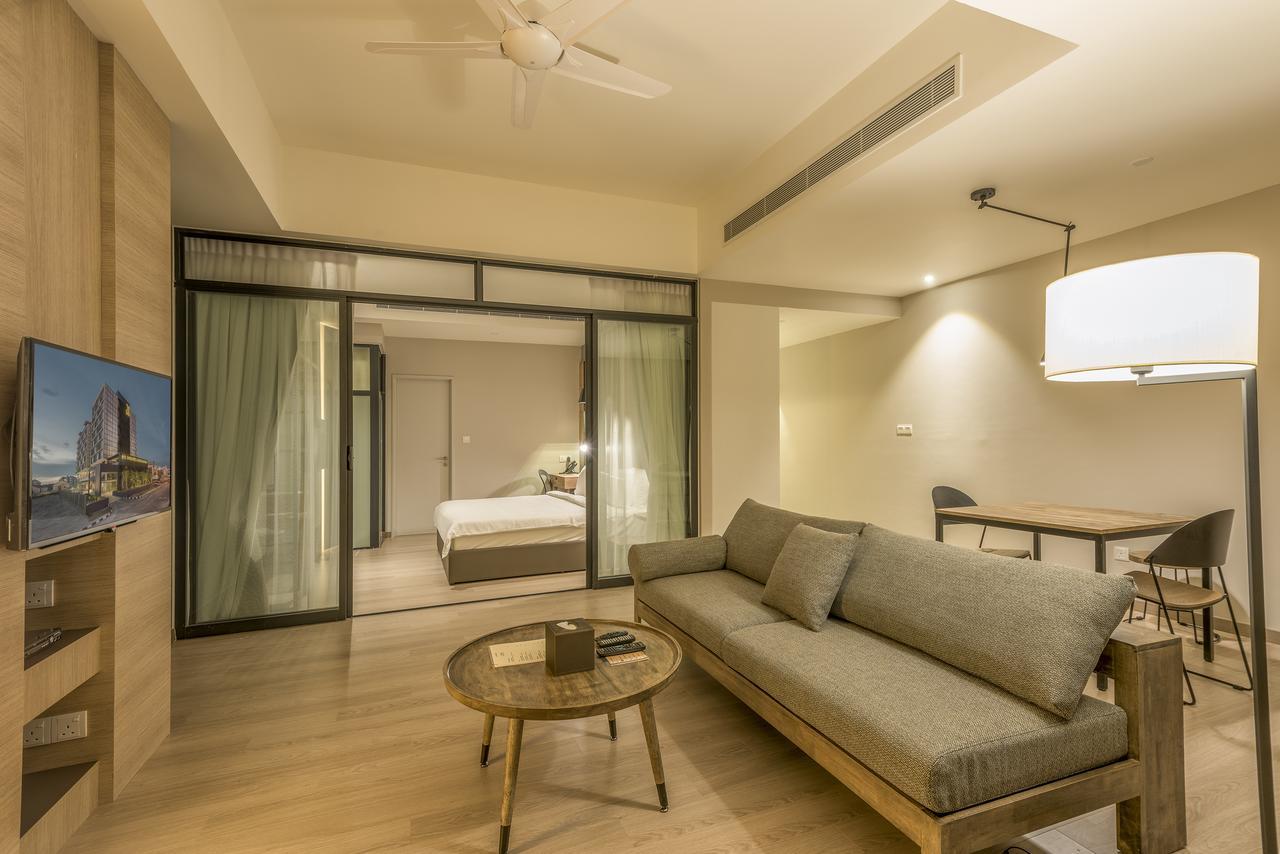 This apartment is located in Marina Bay – the most popular part of the city with visitors! It comes with everything you could possibly need for a short stay in the city – and can accommodate up to five guests across two bedrooms. There is a small balcony facing the sunset so you can enjoy stunning views of the city every evening.
Most of the accommodation in Miri is somewhat basic due to the lower tourism numbers, but Jinhold Hotel is a great four-star pick for those that want the typical hotel experience! They offer both regular rooms and serviced apartments – all at very affordable rates. The on-site restaurant offers Malaysian fusion cuisine throughout the day and a complimentary breakfast in the morning.
Though officially a hostel, Shuang Ling Inn only offers private rooms. Despite this, it is one of the best-priced hotels in the area and is our top pick for backpackers heading to Miri! Rooms are basic, but well equipped for a short stay in the city. The front reception can help you plan tours of the area, and there is free parking on-site.
Save $$$ • Save the Planet • Save Your Stomach!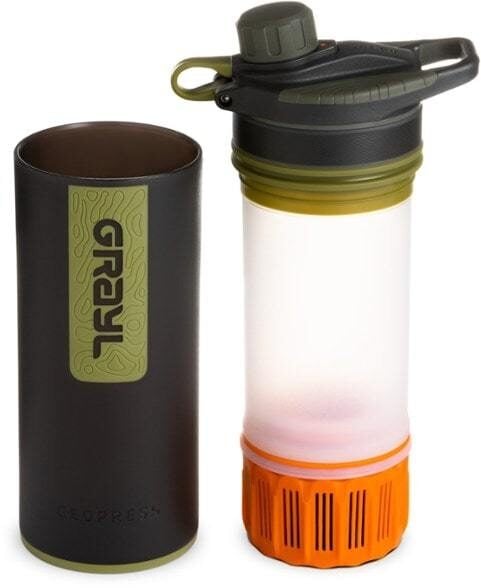 Drink water from ANYWHERE. The Grayl Geopress is the market's leading filtered water bottle protecting your tum from all the waterborne nasties. PLUS, you save money and the environment!
Single-use plastic bottles are a MASSIVE threat to marine life. Be a part of the solution and travel with a filter water bottle.
We've tested the Geopress rigorously from the icy heights of Pakistan to the tropical jungles of Cuba, and the results are in: it WORKS. Buy a Geopress: it's the last water bottle you'll ever buy.
Buy a Geopress!
Read the Review
Cameron Highlands – Where to Stay in Malaysia for Adventure
The Cameron Highlands have long been a popular getaway for locals from Kuala Lumpur – and tourists flock to the area during the peak season to take in the gorgeous views and laid-back atmosphere! As the name suggests, the area is full of mountains that are covered in luscious forest – perfect for grabbing that perfect Instagram shot.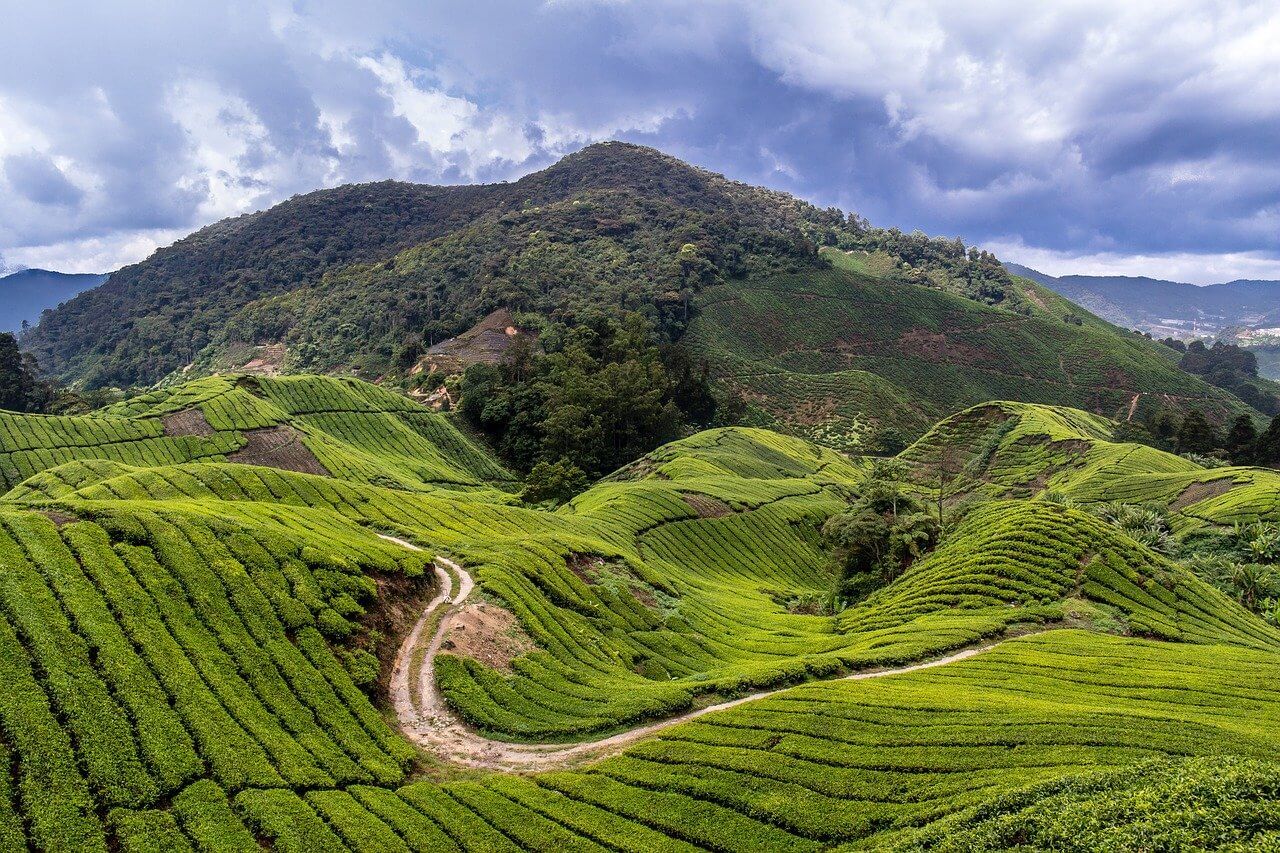 For adventure travellers, the Cameron Highlands has a great range of activities on offer! Hiking is popular in the area, as well as mountain climbing. If you want to try out camping in Malaysia, the Cameron Highlands is by far one of the best places to do it.
The Cameron Highlands are also known for their tea plantations – giving you an up-close and personal insight into Malaysian culture and the local economy! The area can be easily accessed from Kuala Lumpur, with increasing transport links heading further afield in Peninsular Malaysia and Thailand.
Best Places To Stay in Cameron Highlands
There are eight different settlements in the Cameron Highlands – with Ringlet, Tanah Rata and Brinchang being the largest towns! The other settlements are smaller and don't have as many accommodation options. If you choose to stay here, Tanah Rata is our personal favourite.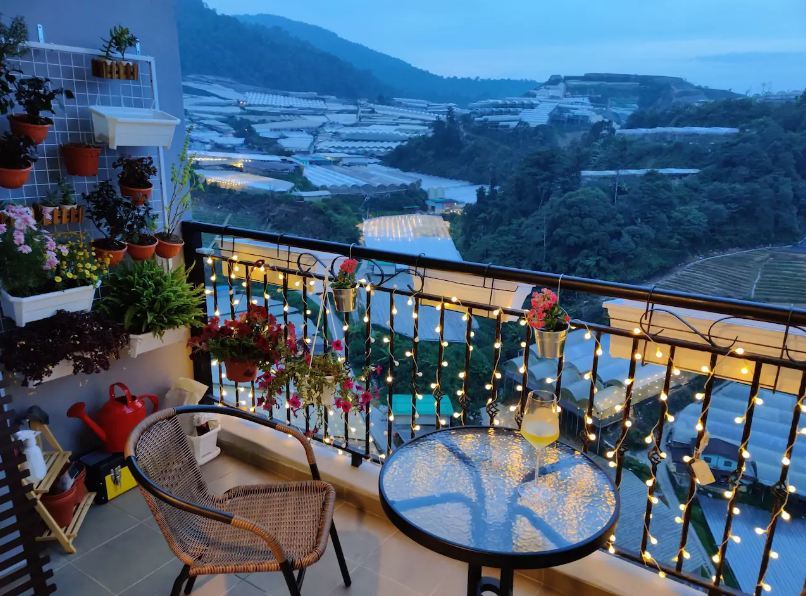 Best Airbnb in Cameron Highlands: Highland Getaway
This beautiful two-bedroom apartment has a romantic balcony space – perfect for couples looking for a more adventurous getaway! Guests can enjoy views of the surrounding mountains, and the kitchen is spacious and well equipped. This apartment is a little further out from the main tourist strips, giving you a more peaceful atmosphere throughout your stay.
Housed within a colonial-era building that is over a century old, De'Native Guest House is a great way to experience the Cameron Highlands whilst sticking to a tight budget! It has some of the cheapest dorm beds in the country, and the rural setting gives it a serene atmosphere. There are also some great social spaces inside for mingling with other guests.
This gorgeous four-star hotel is nestled right in the heart of the mountains – giving guests unbeatable views across the Cameron Highlands! Built like a Tudor manor, this elegant hotel adds a touch of glass without charging excessive rates. All rooms come with their own private balconies, and there is a landscaped garden and a library on-site.
Penang – Foodie Capital of Malaysia
Located on the West Coast of Peninsular Malaysia, Penang consists of a small mainland portion as well as the island of Penang. Penang is best known for its cuisine – which not only draws visitors from across Malaysia but even attracts residents of Singapore!
With bustling night markets and locally owned restaurants around every corner, this is a must-visit for those wanting to sample the best of Malaysian cuisine. So, when planning your trip to Penang, you're going to want to include plenty of local restaurants and markets.
Penang's attractions are also a great pick for those interested in the country's history – with some of the best-preserved colonial-era architecture in Malaysia! There is a UNESCO World Heritage Site in the main town, giving you the chance to live and breathe the region's past.
Alongside Kuala Lumpur, Penang is one of the most-visited parts of the country – so there is plenty of tourism infrastructure to ensure a smooth visit! The mainland segment is connected to most major towns and cities in Peninsular Malaysia, with a bridge and ferry connecting to the island.
Best Places To Stay in Penang
George Town is the beating heart of Penang and where you will find the best night markets – but if you want quick access to other parts of Malaysia, Butterworth is also a great area to stay in Penang. There aren't many attractions in the rural parts of the island, though the scenery is awesome.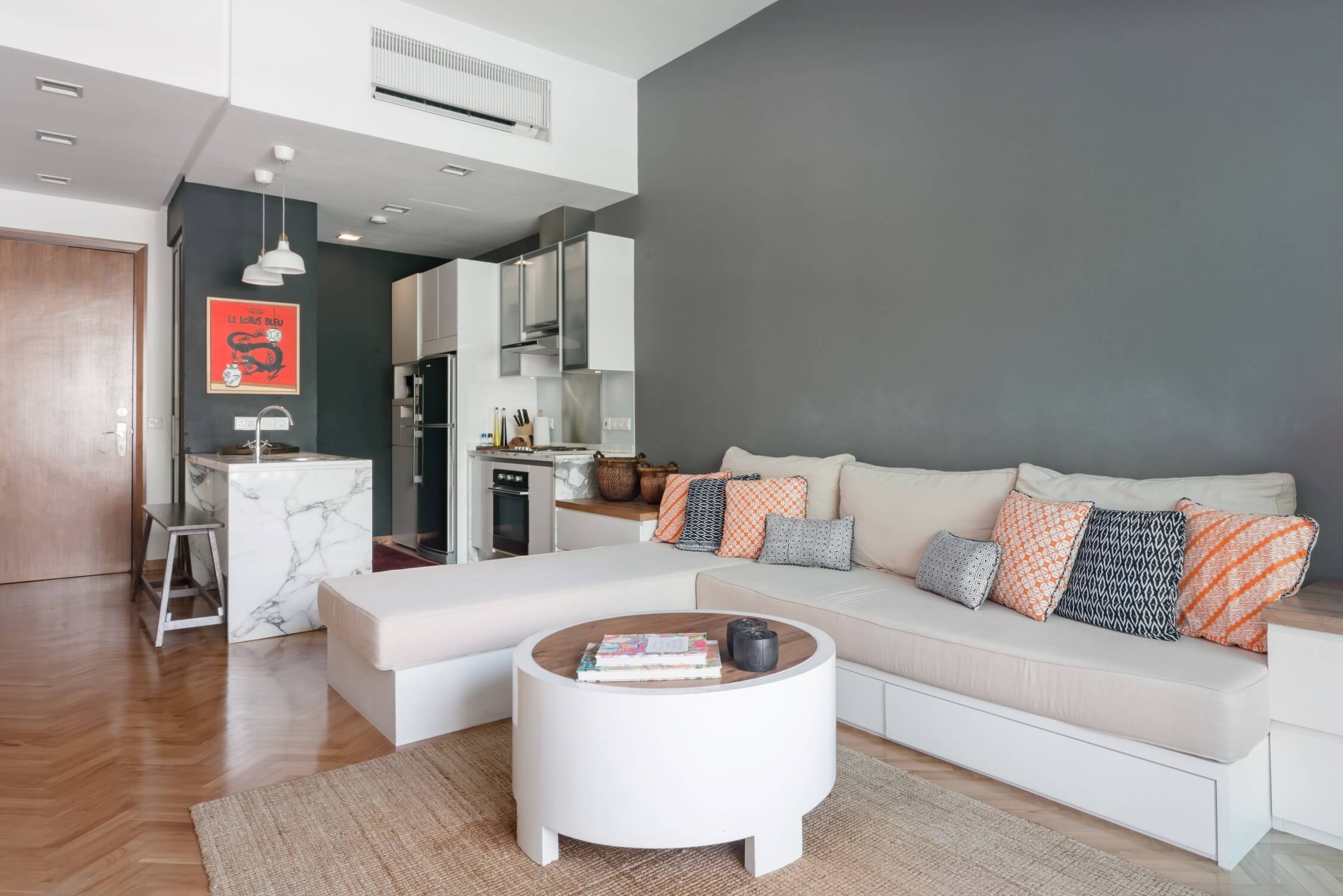 Another gorgeous Airbnb Plus home, this minimalist dream is nestled right in the heart of George Town – giving you some of the best culinary attractions in the country within easy walking distance! It is housed within a colonial-era building that has since been converted into serviced apartments, and there is a pool within the complex, as well as a large fitness suite.
Right in the middle of the UNESCO World Heritage area, this hostel is only a short walk from Chulia Street Night Market! Despite being an old building, the interior of the hostel enjoys some modern comforts that you wouldn't usually expect from backpacker accommodation such as rainfall showers and fast computers. They also include a free breakfast in the rate.
This gorgeous four-star hotel is one of the most unique places to stay in Malaysia! It is housed within a Chinese style mansion, complete with landscaped gardens making great use of native plant life – plus some imports from China. The bedrooms have antique fixtures and fittings, and the sturdy wood furniture gives the décor a sense of both class and durability.
More choices! What kind of accommodation in Penang were you after?
Top Places To Stay in Malaysia
Malaysia is one of the cheapest places to stay in the world, so we recommend splurging on four and five-star accommodations where you can! The hostels have plenty of competition, keeping them vibrant – and many of the Airbnb apartments are within fully serviced buildings.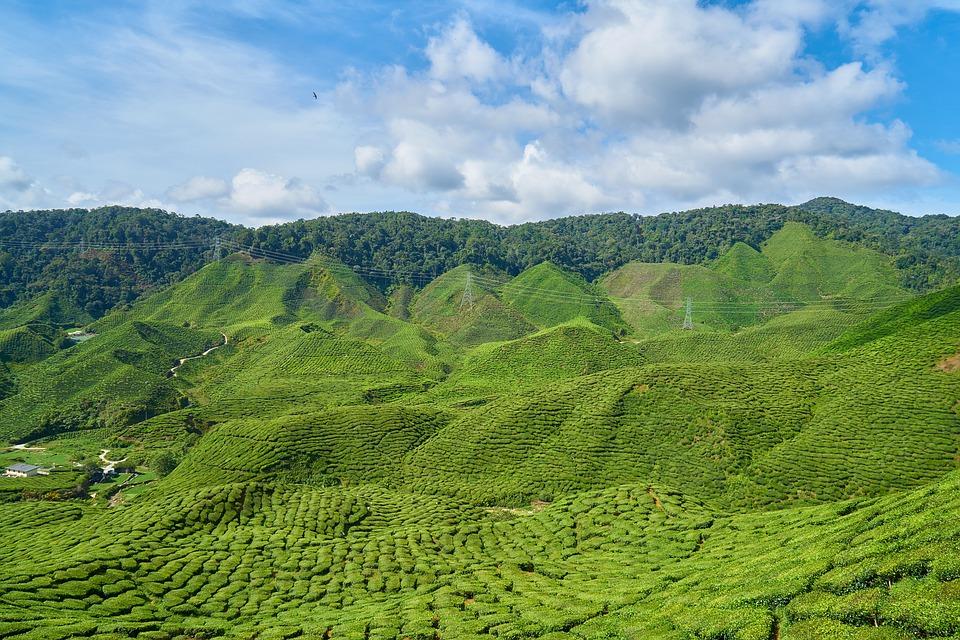 Best Airbnb in Malaysia – Satrisna Home – Penang
Of the Airbnb Plus properties featured in this article, we believe Satrisna Home most perfectly encapsulates the stylish ethos behind the selection! It comes with a beautiful private terrace area where you can lounge on a hammock and enjoy views across Penang. The host also has excellent reviews, many of which commend their service standards and attention to detail.
Best Hostel in Malaysia – Faloe Hostel – Kota Kinabalu
Kota Kinabalu is a great location for backpackers that want to veer from the main tourist routes – and Faloe Hostel is a true hidden gem when it comes to communal living in Malaysia! With a social focus, they provide plenty of events – as well as some freebies to tide you over. They offer a complimentary breakfast, as well as streaming services and lockers.
With hotels this beautiful, it's no wonder citizenM are making waves in the hotel market across the world! The hotel chain prides itself on clean lines, modern furnishings and perfect (but not stuffy) service. With greenery in all of the reception areas and spacious dining rooms, this hotel is truly a breath of fresh air right in the heart of the Malaysian capital.
Books to Read While Visiting Malaysia
Backpacking Malaysia will be made even more incredible with background knowledge. To truly get an idea of the incredible range of cultures, religions, and traditions in Malaysia I highly recommend reading some of these books set in Malaysia before your travels.
Floating on a Malayan Breeze: Travels in Malaysia and Singapore – A great insight into how Malaysian culture developed and grew after splitting with Singapore and how different the two places are.
A Town Like Alice – The story of Jean Paget, a young Englishwoman who becomes romantically interested in a fellow prisoner of World War II in Malaya, and after liberation emigrates to Australia to be with him, where she attempts to generate economic prosperity in a small community — to turn it into "a town like Alice".
Stranger in the Forest: On Foot Across Borneo – If this doesn't convince you to go and explore the wild side of Borneo I don't know what will.
The Harmony Silk Factory – A fantastic read comparing different cultures and how they lived and worked together. One of my favourites!

Our GREATEST Travel Secrets…
Pop your email here & get the original Broke Backpacker Bible for FREE.
Don't Forget Travel Insurance for Malaysia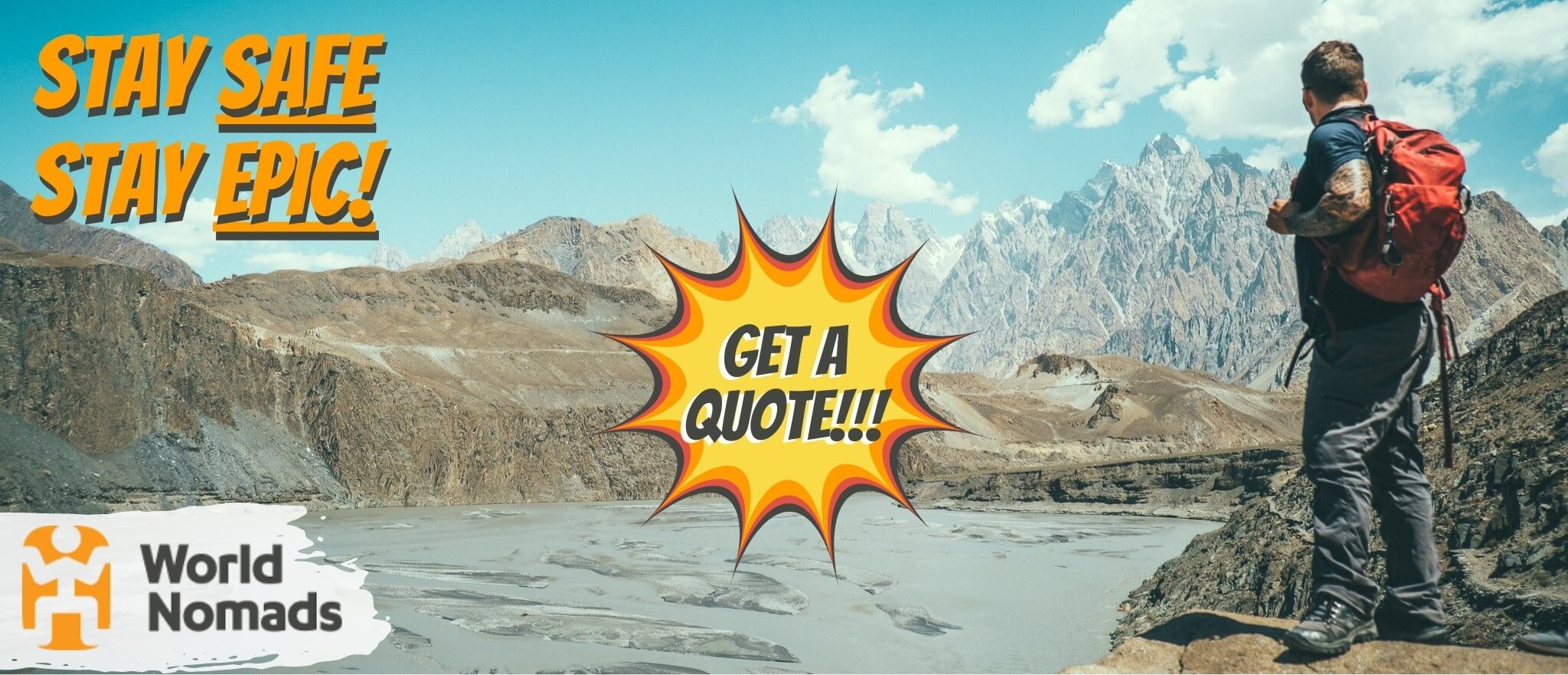 World Nomads' mission is to support and encourage travellers to explore their boundaries. They offer simple & flexible travel insurance, and safety advice to help you travel confidently.
They've been doing it since 2002 – protecting, connecting, and inspiring independent travellers just like you.
Get a quote below or read our in-depth review!
World Nomads provides travel insurance for travelers in over 100 countries. As an affiliate, we receive a fee when you get a quote from World Nomads using this link. We do not represent World Nomads. This is information only and not a recommendation to buy travel insurance.
Final Thoughts on Where To Stay in Malaysia
This beautiful and diverse country has plenty to offer – there are so many good reasons to visit Malaysia. Whether you want sweeping vistas, bustling city centres or unique cuisine! Whilst we love Kuala Lumpur, Malaysia has so much to offer and if you have the time we recommend checking out more than one of the places mentioned in this guide.
If we had to pick one place as our favourite, we really love Kota Kinabalu! This vibrant coastal city is truly a hidden gem in Malaysia's section of Borneo – and for backpackers it offers one of the most unique experiences in the country.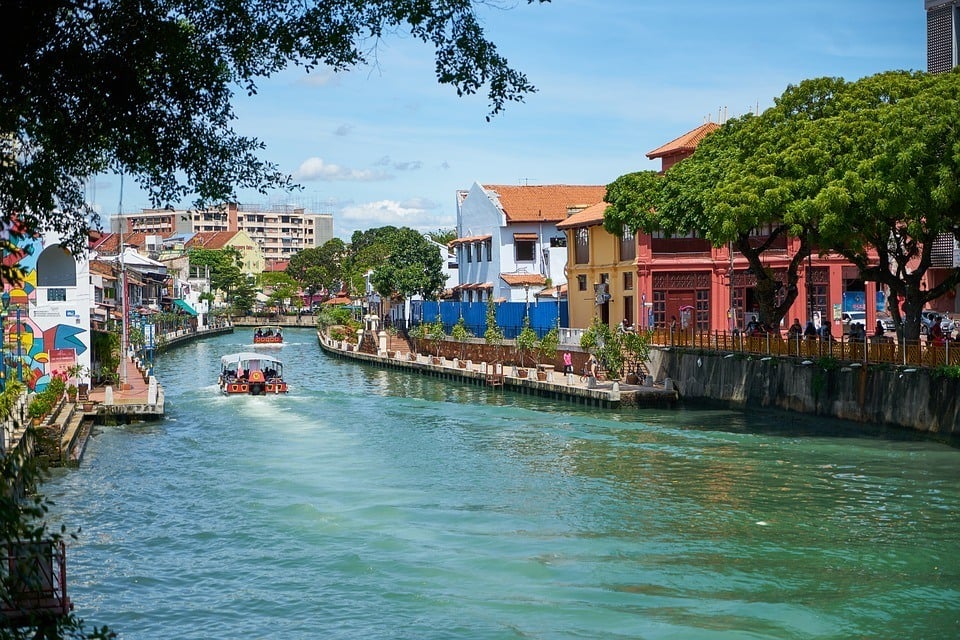 That being said, all of the places mentioned in this guide have their own benefits – and which are best for you will depend largely on your own wants and needs! We hope this guide has helped you narrow down your options for your upcoming trip to Malaysia.
Did we miss anything? Let us know in the comments below!
Do you own or run a kick-ass hostel? Want to be featured on this list? Get in touch at [email protected]
---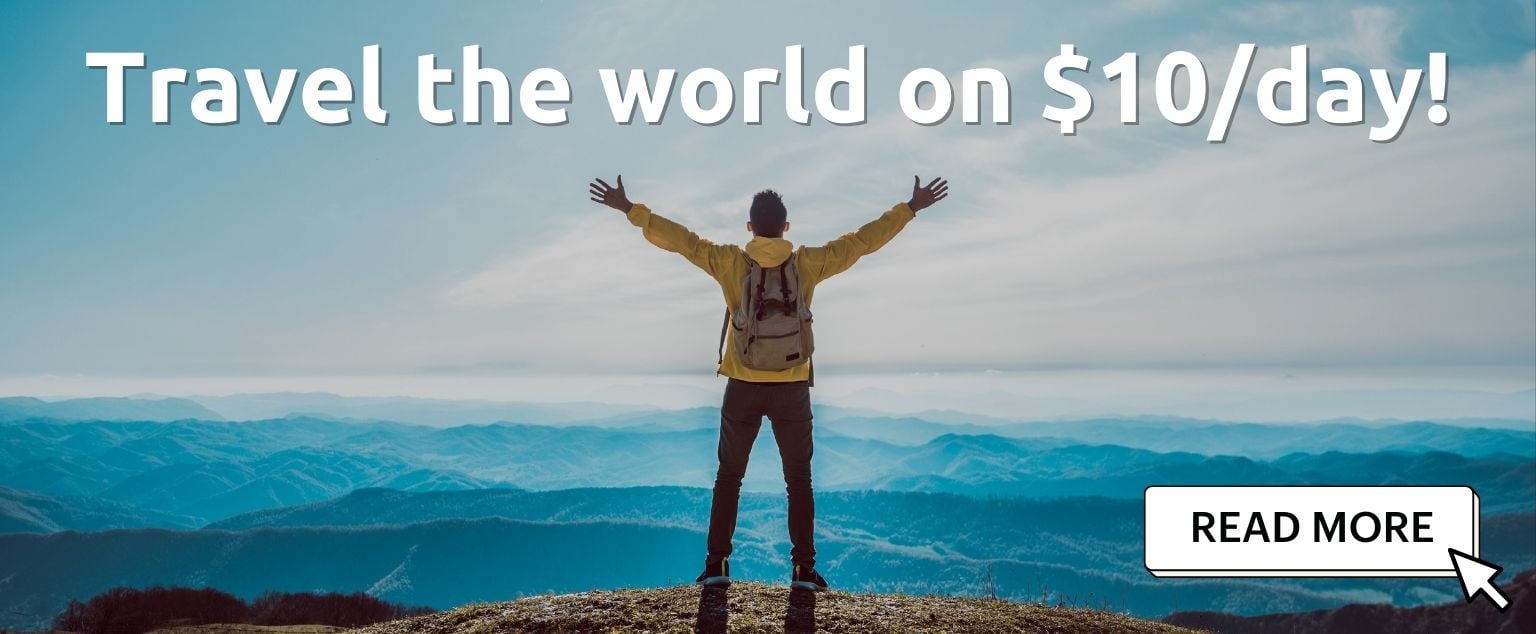 And for transparency's sake, please know that some of the links in our content are affiliate links. That means that if you book your accommodation, buy your gear, or sort your insurance through our link, we earn a small commission (at no extra cost to you). That said, we only link to the gear we trust and never recommend services we don't believe are up to scratch. Again, thank you!