Penang is the second smallest state in Malaysia and consists of two main parts. The Penang mainland, and Penang Island. The island is connected to the mainland by two road bridges, one of which is the longest oversea road bridge in Southeast Asia.
The province boasts great diversity in culture, ethnicity, language, and religion- which makes it a very interesting destination for travel. It also has an incredibly beautiful coastline and cities that seem to rise up along the ocean.
The area is perfect for sunset chasers, adventure lovers, nature enthusiasts and anyone fascinated by culture and diversity. It's time to start planning your very own Penang itinerary for one incredible holiday!
While planning your itinerary, you need to know when to visit Penang.
Penang has a very stable climate with temperatures varying very little throughout the course of the year. This means planning your Penang trip will be an absolute breeze.
The only thing you really need to consider is the rain, humidity, and whether or not you're willing to visit during monsoon season. These monsoons are not particularly dangerous most of the time, however, they certainly will interfere with your planned outdoor activities.
Monsoon season takes place in April and May, and should probably be avoided if you don't enjoy a good deal of rain.
Penang's busy season takes place between mid-November and February. The weather is warm (just like the rest of the year), but the lack of rain makes Penang travel a whole lot easier!
Every traveler has a different preference for their travel, so here's what you can expect from Penang all year round!
Penang is a world-renowned exotic holiday destination, which means there's an overwhelming amount of places and areas to stay in. Whether you're into the hustle and bustle of city living or prefer to rough it in a small fishing village, Penang is sure to have something to suit your taste.
George Town is the capital city and our first recommendation for where to stay in Penang. It has been named one of the most interesting and colorful cities in all of Malaysia, it's no wonder it made the top of our list.
The city has a charm like no other. Walking down the streets you'll see an eclectic mix of colonial buildings, Chinese storefronts, and ornate mosques. You can indulge in top-class street food and delicious coffee while exploring its many landmarks.
Bayan Lepas is situated on Penang island, just an express route away from George Town. It's a highly affordable option that still gives you easy access to Penang attractions. The area was started as an agricultural village and has now become the industrial hub of Penang.
However, it is more than just a charming village and is now home to some incredible Penang points of interest. So if you're spending more than two days in Penang, consider adding this area to your Penang itinerary.
House of Journey is located in the heart of George Town's historical zone, making it easy to access many of the best Penang landmarks. The cozy interior makes you feel right at home, and the buffet breakfast provided every morning doesn't hurt either! They also offer free city maps and guidance for those planning on touring Penang.
Situated yourself right in the cultural heart of Penang ith this George Town apartment. This affordable and well-maintained place is the perfect jumping-off point to explore the eclectic mix of sights, sounds and aromas that abound in Penangs city centre.
Best Budget Hotel in Penang – Tune Hotel
Tune hotel, located in George Town, has a colorful exterior that hides the modern, stylish interior. The hotel offers free WiFi in all it's rooms and is just a five-minute walk away from Penang's famous skyscraper. The air-conditioned rooms also offer a much-needed break from the warm climate.
The Eastern & Oriental Hotel offers absolute luxury accommodation for travelers looking for just that little bit extra from their trip to Penang. An outdoor swimming pool is perfect to cool off from the heat, and their on-site restaurant and bar come in handy when spending a relaxing afternoon sunbathing by the pool.
While you're planning a trip to Penang, you're going to need to find out the best ways to get around the province. If you're traveling from Penang Island to the mainland, taking a bus or ferry is your best option.
If you're traveling long distances across the province, or from town to town, taking a bus is a great option. Unfortunately, Penang's public transport system is severely lacking, so buses are the main form of public transport.
Hailing a taxi is also an option, however, transport costs become exponentially more expensive when traveling via taxi.
Hiring a scooter is a great way to get around Penang. It gives you a great amount of freedom and means you won't have to plan your Penang itinerary around bus routes and times. You can also travel anywhere in the province on your scooter, which allows you to take a trip a little off-the-beaten-track.
Most of the cities and towns in Penang are easily walkable, in fact, we actually recommend that you walk. This allows you to find hidden gems apart from the main landmarks during your vacation in Penang.
Now that you know how to get around Penang, you can start putting together your very own Penang itinerary with the activities below!
Tropical Spice Gardens | Fort Cornwallis | Suffolk House | Khoo Kongsi | Little India | Batu Ferringhi Night Market
Spend the first day of your Penang trip itinerary exploring the many interesting cultural sites and landmarks that make up the wonderful Penang district. Take a Penang walking tour, or explore on your own, either way, you're sure to stay well entertained!
Day 1 / Stop 1 – Stroll Through the Tropical Spice Gardens
Why it's awesome: The tropical spice gardens were created to pay homage to all the beautiful herbs and spices found in this part of the world.
Cost: Entry – USD $4, Guided Tour – USD $6
Food nearby: Tree Monkey is a fantastic restaurant with outdoor seating in a beautiful and green setting. They serve absolutely delicious Thai food, and the presentation is exquisite. Be sure to order one of their many famous vegetable dishes, they're sure to keep you coming back for more!
There's no better way to spend your morning than walking around the aromatic and beautifully scented garden. The incredible Penang Tropical Spice Gardens cover an impressive six acres of land and are home to over 500 different plant species. As you walk through the gardens, you'll be blown away by the myriad of smells and tastes that you encounter.
The Tropical Spice Gardens are ranked as one of the top attractions in Malaysia and are an absolute Penang must-do!
The tour is perfect for anyone interested in Malay flora and fauna, as your knowledgeable guide will teach you about the plant-life during the tour. You can even take a cooking class on the premises that will teach you how to use herbs and spices in your cooking to create fantastic Malay style dishes.
There are also plenty of audio tours that allow you to explore the gardens on your own, and experience the wonderful power of these aromatic plants.
Day 1 / Stop 2 – Visit Fort Cornwallis
Why it's awesome: Fort Cornwallis was built in the 18th century, but never actually engaged in any combat.
Cost: USD $5
Food nearby: Hameediyah Restaurant doesn't look like much from the outside, but is an absolute gem! They serve a variety of really great seafood and meat dishes, as well as a variety of wonderful vegetarian meals. This restaurant truly has something for everyone's taste.
Fort Cornwallis is the largest standing fort in Malaysia and was built by the British East India Company three centuries ago! The fort was named after the governing general of Bengal at the time, Charles Cornwallis.
The main building in the fort is the oldest roofed building still standing from the colonial times. This gives it a great history, which you will certainly learn about during your time at the fort.
There is also a small chapel on the premises, which has become a very popular place for weddings to take place in Penang.
You'll discover a range of old canons that decorate the fort, the largest of which has been named Seri Rambai and was cast all the way back in 1603!
There is also a lighthouse at the fort that looks like a ship's mast and serves absolutely no navigational purposes, but it makes the fort all the more interesting. Spending the mid-afternoon exploring the fort gives you great insight into the history of Malaysia, especially during the colonial period.
Day 1 / Stop 3 – Have Tea at Suffolk House
Why it's awesome: Suffolk House is a prime example of colonial architecture in Malaysia and is located on a very scenic part of Penang Island, called Air Itam (meaning Black Water).
Cost: Entrance is free!
Food nearby: China House is a mixture between a bar, cafe, gallery and shop, and it serves all of these purposes so well! They serve a wonderful assortment of patisseries and cakes, as well as making delicious meals for their guests.
Just a 15-minute drive from Fort Cornwallis, Suffolk House is a colonial-style building in a very beautiful part of Penang Island. The house is also known to be the only surviving Georgian Mansion in Penang, making it all the more special!
Suffolk House was home to a few of the British Governors that governed Penang, giving the place a great history to discover! The house has been wonderfully restored to its former glory, and is now a UNESCO World Heritage Site, and one of the things to see in Penang that you simply must visit!
The house is furnished with original Anglo-Indian antiques giving it a very vintage feel and adding to the romantic atmosphere.
Be sure to stop by for high-tea or lunch at the Suffolk House Restaurant on the premises that offer an assortment of great meals. However, if you're already full, then amble around the grounds while enjoying the many beautiful sights along the way!
Day 1 / Stop 4 – Explore Khoo Kongsi
Why it's awesome: Khoo Kongsi is an iconic Penang attraction that was once a clan-house.
Cost: Free to enter!
Food nearby: Kebaya Dining Room is just a six-minute drive from Khoo Kongsi and serves an exquisite array of dishes. A fine-dining atmosphere paves the way perfectly for their well-presented meals! You'll be able to order from their Chinese-style menu before tucking into a wonderful dessert.
If you're wondering what to do in Penang, then visiting Khoo Kongsi simply must be on your Penang Itinerary. It was once a clan-house, but has now been turned into a museum that features many interesting stone carvings with heavy Chinese influences!
The temple was built in the 19th century and has a few astounding features that are likely to blow you away! The architecture in itself is amazing, and shows off a myriad of different colors! One of the temples' signature features is it's alter. It has been decorated with gold leaf, and inlaid with ancestral tablets!
Ornate decorations also hang from the ceilings, making this museum a whole lot of fun to explore! Be sure to take your camera along for this epic adventure into the interesting history of Malaysia's past.
The ancient clan-house has managed to retain its historic setting, which can be seen in the association building, a traditional theater and the row-houses that were built for clan members in the 19th century.
Day 1 / Stop 5 – Wonder Around Little India
Why it's awesome: Small but vibrant area in Penang that makes you feel as if you've stepped into a different country.
Cost: Free to explore!
Food nearby: There are plenty of street food options in Little India, but if you feel you want to sit and have a meal, then Indigo Restaurant is a great option! Here, you'll be able to indulge in a delicious three-course meal and even enjoy their late-night dining option. They serve some of the most Instagrammable dishes in Penang, so be sure to snap a pic before you tuck into your meal!
Take the evening to stroll through the streets of Little India, a small area just outside of George Town that has a completely different feel to the rest of Penang. You may even think you took a wrong turn and landed up in the wrong country! (But that isn't the case.)
Little India is where you'll find a large collection of Tamil people who add a cultural vibrancy to the area. You'll notice a wide selection of shops, selling everything from Sari's to perfume and incense at great prices! Take this opportunity to do a little bargain hunting during your trip; brush up on your haggling skills, and you're sure to buy some souvenirs at a steal.
Many of the shops blast Bollywood music into the streets, making the whole area come alive in the evenings. It's also one of the best places to visit in Penang to sample Malaysian street food, so save your stomach for a taster or two.
Day 1 / Stop 6 – Go Shopping at Batu Ferringhi Night Market
Why it's awesome: The fun doesn't have to stop when the sun sets! Spend the night shopping for bargains at one of the best things to do in Penang at night.
Cost: Free to browse!
Food nearby: After all the eating you'll be doing during your first day in Penang, you're sure to be stuffed. However, if you're still feeling peckish, there are plenty of snacking options at Batu Ferringhi Night Market.
Stroll around the Batu Ferringhi Night Market and browse the many interesting stores. You'll find handmade jewelry, knock-off designer goods, and many other inexpensive souvenirs. Clothes, bags, watches, and DVDs are all things you can expect to find.
Soak up the lively atmosphere as you walk around the market, and don't forget to try some of the tasty treats on display. It really doesn't get better than freshly prepared Malaysian meals on the go!
Insider Tip: Keep in mind that it's important to haggle with the stall owners, as you'll more than likely end up paying more than you should!
Tanjung Bungah Floating Mosque | Batu Ferringhi Beach | Peranakan Museum | Snake Temple | Penang Hill
If you're spending a second day in Penang before traveling elsewhere in Malaysia, you'll need a two-day itinerary. Here are a few of our favorite activities that are a must-do during your travels.
Day 2 / Stop 1 – Explore Tanjung Bungah Floating Mosque
Why it's awesome: This interesting architectural feature of the Penang skyline accommodates 1,500 worshippers at a time.
Cost: Entrance to the mosque is free, but if you'd like to take a guided tour then additional fees will apply.
Food nearby: The Hillside is just a few minutes' drive from the floating mosque. They have various indoor and outdoor seating options that provide wonderful views. The restaurant is stylish and makes for the perfect breakfast spot for the second morning of your weekend in Penang! Their breakfast options are absolutely delicious and range from healthy fruit salads to breakfast pizzas.
Waking up early in the morning to take a stroll through the floating mosque is arguably one of the best ways to start your morning in Penang. The mosque was built on stilts over the water, which is why it's referred to as 'floating'.
The mosque is placed in a beautiful part of Penang. You'll get the chance to appreciate the stunning views of serene beaches while you amble through the ornate building on the water.
The mosque has many Middle-Eastern elements that are sure to leave you awe-inspired. The essence of this building is sure to stay with you throughout your visit to Penang! The mosque is the first and only mosque to have the 'floating' element to it, so you're guaranteed a unique experience.
Day 2 / Stop 2 – Bask in the Sun at Batu Ferringhi Beach
Why it's awesome: Batu Ferringhi is known as one of the best beach areas on Penang Island!
Cost: Free!
Food nearby: The Ferringhi Garden Restaurant is a great place to stop for a bite to eat. Eat surrounded by lush greenery. It includes options for every diet, including gluten-free.
If you're on sole reason for a vacation in Malaysia is to dip your toes in the sand and bask in the glorious sun, then spending the mid-morning on Batu Ferringhi beach is the best way to catch a killer tan!
This long strip of golden sands stretches as far as the eye can see, and gives you plenty of space to escape the crowds if you're looking for a relaxing holiday! Part of the beach is lined with resorts that look over private sections of the beach. Spending the day at one of the resorts is sure to be a treat, and will see you sipping on cocktails as the hours pass you by.
Take a picnic along with you for the adventure, or simply try some of the incredible street food that the vendors have to offer.
Insider Tip: You simply must try Malaysian curry and a variety of noodle dishes while you visit Penang! They are completely unique from the Asian and Indian dishes that you'll find in other parts of the world, and use a comprehensive blend of flavors that bring each dish to life.
Day 2 / Stop 3 – Visit the Peranakan Museum
Why it's awesome: The Penang Peranakan Museum is dedicated to telling the story of the Peranakan people that moved to Malaysia.
Cost: Adults – USD $5, Children under 6 – Free!
Food nearby: Tek Sen Restaurant is a simple eatery that isn't much to look at, but the food is absolutely delicious and it has become a local favorite. Choose between a range of Thai and Malay fusion dishes, or indulge in a buffet-style meal that allows you to try a little bit of everything!
If one thing is for certain, it's that Malaysia and Penang in particular is a very diverse area. It contains cultures from all over the world, making it a very interesting place to explore!
The Peranakan Museum in Penang is dedicated to telling the story of the Peranakan people that moved to Malaysia many years ago. These people are also often referred to as Straits Chinese. The Peranakans are descendants of Chinese settlers that moved to Malaysia between the 15th and 17th centuries.
Within Malaysia, they developed a unique culture that was a blend of Malay and Chinese customs. The Peranakan Museum will teach you about the customs and traditions of these people, as well as showcasing some of their traditional art and antiques found in many of their homes.
On display, you'll also see a recreation of a 19th-century traditional Peranakan house to get a better feel for their culture.
Day 2 / Stop 4 – Take a Walk Through Snake Temple
Why it's awesome: The snake temple is also known as the temple of Azure Cloud and Pure Cloud Temple.
Cost: Free!
Food nearby: Uncle Lim's Recipe serves a variety of unique Malay dishes with a twist. The food is absolutely delicious and served in generous portions. Many of the locals that work nearby stop at Uncle Lim's Recipe for lunch before heading off to finish their workday.
The snake temple is located in the southwest region of Penang Island, and was built in honor of Chor Soo Kong, who was a Buddhist priest and healer. The legend tells the story of the monk who provided the shelter for snakes in the temple, and after his death they welcomed themselves in on their own.
It was then thought that all these snakes were disciples of the monk, so they were allowed to stay. You'll now find a variety of venomous Wagler's pit vipers and green tree snakes that have taken up residence in the temple.
The temple was completed in 1850, and ever since then, it has been the home of many snakes.
If you're looking for a heart-pumping and thrill-seeking adventure, then taking a trip to the snake temple is enough to get your adrenaline pumping. The snakes are fed, and so a little less dangerous than you might imagine, but it still makes for a very interesting activity!
Day 2 / Stop 5 – Stop Off at Penang Hill
Why it's awesome: After a full day of exploring, we recommend you take a tram ride to Penang hill and kill two birds with one stone!
Cost: Free to visit Penang Hill!
Food nearby: David Brown's Restaurant and Tea Terrace offers a delightful ambiance, and is the perfect place to have a romantic dinner after visiting Penang Hill! Enjoy a glass of wine with your delicious meal under sparkling fairy lights that add a bit of magic to the beautiful garden setting! Be sure to order one of their wonderful desserts to share after your meal.
Penang Hill is one of the main attractions in Penang, and it rises an impressive 812 meters above sea level. Penang Hill actually covers a number of hills but the most prominent being Western Hill, which is exactly where you should visit!
The hill is a beautiful forested area and the best way to get to the top is via Penang Hill Railway, which has a funicular that transports guests to the top. The trip to the top is all part of the fun, and is completely unique to Penang Hill as there are no other funicular railways in Malaysia!
Once you're at the top, you'll get the chance to see stunning views of Penang City below! The reason we suggest this activity as the last one of the day, is because being on top of Penang Hill while the sun sets is absolutely spectacular.
Because it's so warm all year round, you can stay on the hill for hours enjoying the twinkling lights of the city below you. Be sure to bring your travel camera so you'll never forget these picturesque views! This is an activity you simply must add to your itinerary for Penang!
Butterworth | Upper Penang Road | Penang National Park | Batu Ferringhi | Butterfly Farm
If you're staying a little longer in this wonderful district of Malaysia, you're going to need a few more Penang things to do! You need to know where to go in Penang to find the most interesting activities and tourist destinations that this area has to offer.
Visit Butterworth on a Ferry
Take a ferry from Penang Island to Butterworth.
Experience part of the Malaysian mainland.
Take in unique views of George Town from the mainland!
Butterworth is well worth a visit while you're in the area, and could be considered the best place to stay in Penang in three days. It has easy access to Penang Island and George Town, as well as being a part of the mainland, which gives you easy access to other parts of Malaysia.
Just a short ferry ride from George Town will land you in the wonderful town of Butterworth. While you're there you should spend some time relaxing on the magnificent beaches and enjoying views of the crystal clear water, as well as of George Town just across the water.
You should then visit Apollo Market, which is a huge marketplace that consists of over 500 hawkers. You can really pick up a great bargain at this market, or simply indulge in some delicious street food and browse the other stalls!
For a cultural experience of note, catch a movie at the Lotus Five Star Movie Theater. Here you can watch the latest Hollywood reruns, or try something completely different and catch some of the best Bollywood films on the circuit! Many of them are in Hindu, but subtitles are provided, so you're sure to understand what's going on!
Before you head back to Penang Island, be sure to check out a temple or two and go on a little exploration of the town. This will help you get a little familiar with the other side of Penang!
Explore Upper Penang Road at Night
Penang has a thriving nightlife scene, especially when compared to other parts of Malaysia.
Boogie the night away with locals and tourists alike.
Variety of bars and nightclubs.
Penang has a thriving nightlife scene and has more to offer than anywhere else in Malaysia! The center of this hub is in Upper Penang Road where you'll find a great variety of bars and nightclubs to dance the night away!
Many of the nightclubs and bars have happy hour specials or nightly deals, so be sure to walk along the length of the road to find the best deals, as well as the atmosphere that best suits your taste! Whether you're down for a night of partying and tequila shots, or chilled drinks at a bar, Upper Penang Road will have something to suit your fancy!
Some of the most famous and popular joints on the block are Slippery Senoritas and Soho Free House, which are both must-visits while you explore the wonderful nightlife of Penang!
When you're done with all the partying you can handle, sit down at one of the many 24-hour restaurants on the block to regain your energy before heading back to the hotel.
Visit Penang National Park
Experience nature at its best while visiting Penang National Park!
The park is used by scientists, conservationists as well as nature lovers.
See an array of fascinating wildlife.
The Penang National Park consists of overgrown jungle with winding footpaths that will lead you through the immense natural thickets. This national park is the smallest in Malaysia but by far one of the most beautiful!
It is located just an hour outside of George Town, making it easily accessible to locals and tourists alike. Walking through the National Park is an absolute delight. You'll experience nature at its best and even spot fascinating birds and other wildlife.
You'll eventually reach a beach where you can spend a good portion of the day sunbathing, or get one of the locals to take you on a boat trip to see a little more than the island.
If you're an adventurer at heart, spending a night in the National Park is an option, just be sure to rent a tent and camping gear before you head off Bear Grylls-style into the bush!
Indulge in Water Sports at Batu Ferringhi
Get your heart pumping as you glide over the water
Try a variety of thrilling water sports provided at Batu Ferringhi Beach
Be a thrill-seeker or simply take a relaxing day to fish
Batu Ferringhi is known for its great variety of activities on offer at the seashore. Locals have set up many businesses catering to the adventurous needs of the tourists that visit the quaint island.
If you're in the mood to get your heart pumping, then rent a jet ski and go gliding through the water at great speeds! Parasailing is also an option for those who want to try something a little different.
If you're looking for a good few laughs with your travel buddies, be sure to take a banana boat ride to see who can hold on the longest.
If you're in the mood for a relaxing afternoon, then going fishing is a great way to spend a few hours. There are boats in the bay that are even willing to take you deep sea fishing. This is highly recommended for those who have a decent amount of experience.
Spend a Day at Butterfly Farm
Plenty of beautiful flora and fauna to be seen
You'll find over 4000 butterflies
120 different species of butterflies call this farm their home!
Butterfly farm was opened in 1986, and has been working to preserve the natural environment of these lovely creatures. They also breed butterflies at the farm before releasing them into the wild.
The colorful gardens are home to a colorful variety of flora and fauna, which is perfect for anyone that loves plants. But the main attraction is the beautiful fluttering creatures that spread their wings and flutter about the gardens.
Butterfly Farm is known for the unique and rare species of butterflies that it contains, these include the Yellow Bird Wing Butterflies as well as Indian Leaf Butterflies.
There are narrow stone pathways that lead you through the garden, giving you the opportunity to explore the lush premises. Within the farm, there is also a 25-acre organic orchard, where you'll be given the opportunity to sample incredibly delicious fruits!
If you love nature and all the magic it has to offer, then a visit to Butterfly Farm is highly recommended. They do so much good for conservation, as well as provide wonderful sightseeing opportunities for travelers and local guests!
If you're going to travel to Penang, you'll need a few useful tips about how to stay safe in the area. While Penang is generally a safe place in Malaysia to visit, there are still safety precautions that every traveler should take or know about before visiting Penang Malaysia.
The first thing you should watch out for is the wild monkeys that live in the cities and towns. While many of them are used to humans and are fairly tame, all monkeys are unpredictable and should be left well alone.
Even the nicest monkeys attack if they feel intimidated or scared. They're also known to steal food from locals and foreigners, so it's best to keep your snacks hidden!
There have been a few reports of pickpockets on buses. They often use disguises or scams to distract you while they pinch your belongings. Be aware of this and always keep your valuables in a security or travel money belt that you can see and feel around you.
The weather in Penang is another thing you should watch out for. When it rains, it tends to rain for a long time, so it's best not to visit during their rainy season. Many of the best Penang attractions are outdoors and won't be any fun during a downpour.
Don't Forget Your Travel Insurance for Penang
World Nomads' mission is to support and encourage travellers to explore their boundaries. They offer simple & flexible travel insurance, and safety advice to help you travel confidently.
They've been doing it since 2002 – protecting, connecting, and inspiring independent travellers just like you.
Get a quote below or read our in-depth review!
World Nomads provides travel insurance for travelers in over 100 countries. As an affiliate, we receive a fee when you get a quote from World Nomads using this link. We do not represent World Nomads. This is information only and not a recommendation to buy travel insurance.
If you're spending three days in Penang or more, you're going to need a few more activities to add to your Penang itinerary. Here are a few of our favorite day trips from Penang that are sure to spice up your trip!
Self-Guided Audio Day Trip From Penang Island
During this day-trip from Penang island, you'll be able to take your sightseeing experience at your own pace, and see the many highlights that the island has to offer.
You'll learn about the island's rich cultural history and see the melting pot of cultures and influences that make Penang the diverse place that it is.
You'll meet many merchants and traders along the way from countries like India, the Middle East, China, and Europe. If you're looking to spend one day in Penang, this is surely the best way to spend it, immersed in the culture and meeting the interesting people that make up Penang Island.
Penang Street & Local Food Tour
On this four-hour tour, you'll be lead around George Town's neighborhoods and the surrounding area, by an expat that's passionate about Penang and all it has to offer. You'll be taken to a minimum of four different foodie destinations, tasting a variety of delicious Penang food.
This will range from small tasters and street food to full sit-down-meals at some of the best restaurants in the city. You'll also explore markets that are known for their incredible and delectable variety of food choices!
If you're looking for the perfect Penang tour that will help you understand the area and it's people all the better, this is the perfect one for you!
Kuala Lumpur City Day Trip From Penang
During this wonderful sightseeing tour, you'll be lead to the mystical city of Kuala Lumpur. You'll explore Kuala Lumpur's many iconic landmarks and historic sights. You'll visit the sky-high Petronas towers, and see the country's national mosque, which has become a prized treasure to the people of Penang.
You'll explore the magnificent architecture of the Kuala Lumpur railway station before visiting a range of other wonderful Penang sights. You'll be picked up from your hotel at the start of the tour and dropped-off safely afterward, saving your money on transport costs. This Penang trip itinerary will leave you with a hunger to see more of this incredible area!
Cameron Highlands Tour
If you're looking for an escape from the hustle and bustle of busy city life, the Cameron Highlands tour is the one for you. You'll head to Malaysia's gorgeous countryside to experience absolute tranquility!
Your Penang travel guide will lead you to the Highlands and tell you about the great history of the area. You'll explore many Buddhist temples that are nestled amongst the lavender and rose gardens before stopping to admire views over the tea plantations that stretch on for miles.
If you're looking for a little peace and quiet during your Penang day tour, this is the perfect one for you!
Batu Caves, Waterfalls and Hot Springs – Penang Day Trip
If you're looking for a day of excitement and adventure, as well as getting opportunities to take stunning photos, this is the right day trip for you!
You'll start the day by heading to Batu Caves with their decorative and picturesque entranceway, before witnessing the cascading Kanching Falls. You'll even get a chance to take a dip in the waterfall catchment area before continuing on your tour!
You'll then visit the Selayang Hot Springs where you can dive into the water yet again. This is often considered one of the most Instagrammable tours in Malaysia, so don't miss out on this picturesque experience!
Find out what people want to know when planning their Penang itinerary.
Conclusion
The wonderful state of Penang has so much beauty, culture and exciting experiences to offer. Now that you know all the best places to visit in Penang, you can start planning your very own Penang itinerary!
Whether you enjoy a holiday filled with lazy days by the pool or beach, or you prefer an adventurous fun-filled vacation of exploring small fishing towns, Penang is the place to be.
In recent years it has grown exponentially in popularity among tourists, as it offers an authentic eastern experience while still providing all the western luxuries we've come to love in a holiday destination.
Now that you've decided on what to do in Penang, put together your own ultimate itinerary to suit your personal taste! Don't hesitate any longer, the wonderful state of Penang awaits your arrival!
---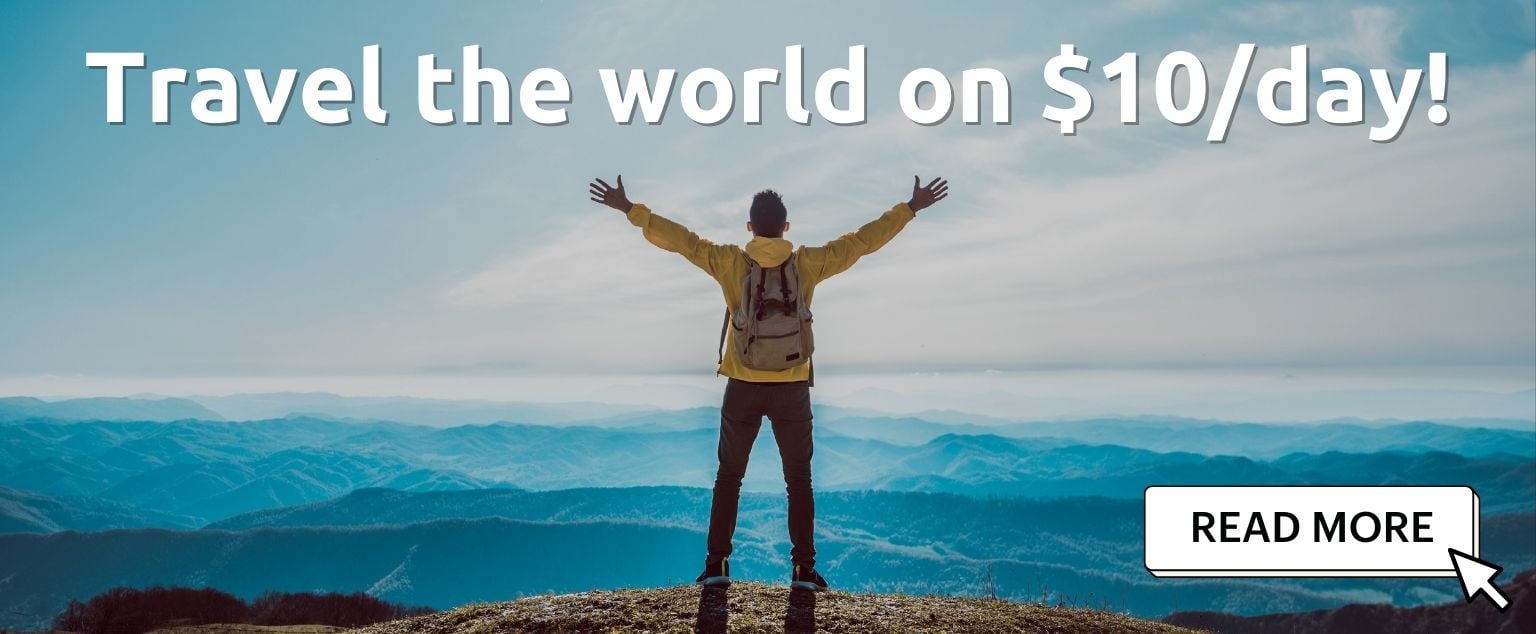 And for transparency's sake, please know that some of the links in our content are affiliate links. That means that if you book your accommodation, buy your gear, or sort your insurance through our link, we earn a small commission (at no extra cost to you). That said, we only link to the gear we trust and never recommend services we don't believe are up to scratch. Again, thank you!