Malaysia is an expansive country with so much to explore. From the urban metropolis of Kuala Lumper to the dense rainforests of Borneo, you'll find diversity in not just its landscapes, but its cuisine.
The country has adopted communities from all over the world, from India to Indonesia to China, and as such, it's had a great impact on its food culture.
Malaysian food is a blend of tradition and innovation. It's as diverse as it is delicious, so when you're visiting Malaysia, you'll be amazed by the amount of options you can try — whether you're looking for street food or something more substantial.
If you're not sure what food in Malaysia you need to try while visiting, you've come to the right place. This is a guide to the best cuisine in the country. Let's take a look…

Unlock Our GREATEST Travel Secrets!
Sign up for our newsletter and get the best travel tips delivered right to your inbox.
What is Food in Malaysia like?
It's fair to say that one of the top reasons to visit Malaysia is its food. Because it's home to a fair few ethnicities, the history and culture of the country are intertwined with its neighboring countries, as well as a few Asian and Arabic nations from further afield.
What does this mean for its food? It's a combination of all the best of the best from all these countries!
The largest proportion of the population in Malaysia is Malay, followed by Malaysian Chinese and Malaysian Indian. Each has a unique set of traditions, distinguishing them from one another in subtle ways.
As each community emigrated to Malaysia they didn't just bring with them their own dishes, but their eating habits, etiquette, and spices used for flavoring.
Today Malaysian food can best be described as a diverse fusion of different ethnic groups. You'll find no two dishes taste the same in Malaysia, and there's something to tantalize every palate.
When it comes to flavor, the dishes tend to be spicy and aromatic. Meals are seasoned with Southeast Asian herbs and spices such as lemongrass, chili paste, tamarind, and curry leaves.
The most essential staple in Malaysian cuisine is rice! For the locals, it's common to eat meat, vegetables, and rice with mouth-watering sauces and rich curries. The most common meat is chicken, beef, and mutton. It's also important to note that Malaysia is a dominantly Muslim country, so the meat is often Halal.
Malaysians also love seafood, and they were once a greatly successful seafaring nation that dominated vast territories in Southeast Asia. If you're visiting coastal towns in Malaysia, you'll find plenty of variety of seafood dishes to choose from.
Malaysian Food Culture Across the Country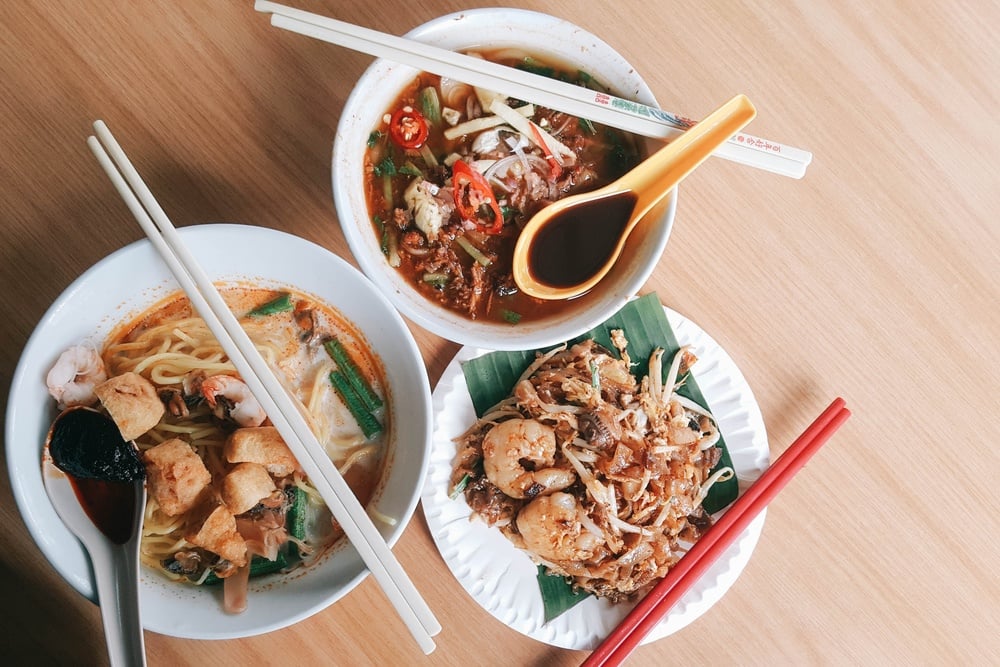 When outside communities emigrated to Malaysia, they set up residence in a particular area.
In Ipoh, Chinese ex-pats came to mine tin, and as such, the cuisine there is similar to what you might find in China. In Penang, you'll find a large Indian community, and it's the best place to go for spicy curries (and $1 samosas).
Malaysian Indians avoid eating beef as cows are considered sacred in India and their ancestors brought this custom with them when they immigrated to Malaysia.
Across the country, you'll find traditional Malay dishes, which all tend to be halal, rich in spices and herbs, a little spicy, and seasoned with turmeric (especially fish and seafood dishes). Coconut milk is often a staple ingredient.
There's also a different eating etiquette that any traveler to Malaysia should be aware of. It's common in Malaysia for people to eat with their hands, but that doesn't mean you have to. You can easily get your hands on some cutlery in restaurants. There's also a real emphasis on sharing and preparing food together in Malaysia.
Some restaurants will provide a pitcher of hot water in the center of the table and a bowl. This is so you can wash your dishes and your hands before eating.
Leaving a little bit of food on your plate instead of finishing the meal entirely indicates that you are full and the meal was satisfying. If you're eating at someone's house and you finish everything, expect more food to be offered to you! Of course, in a restaurant, you get what you're given.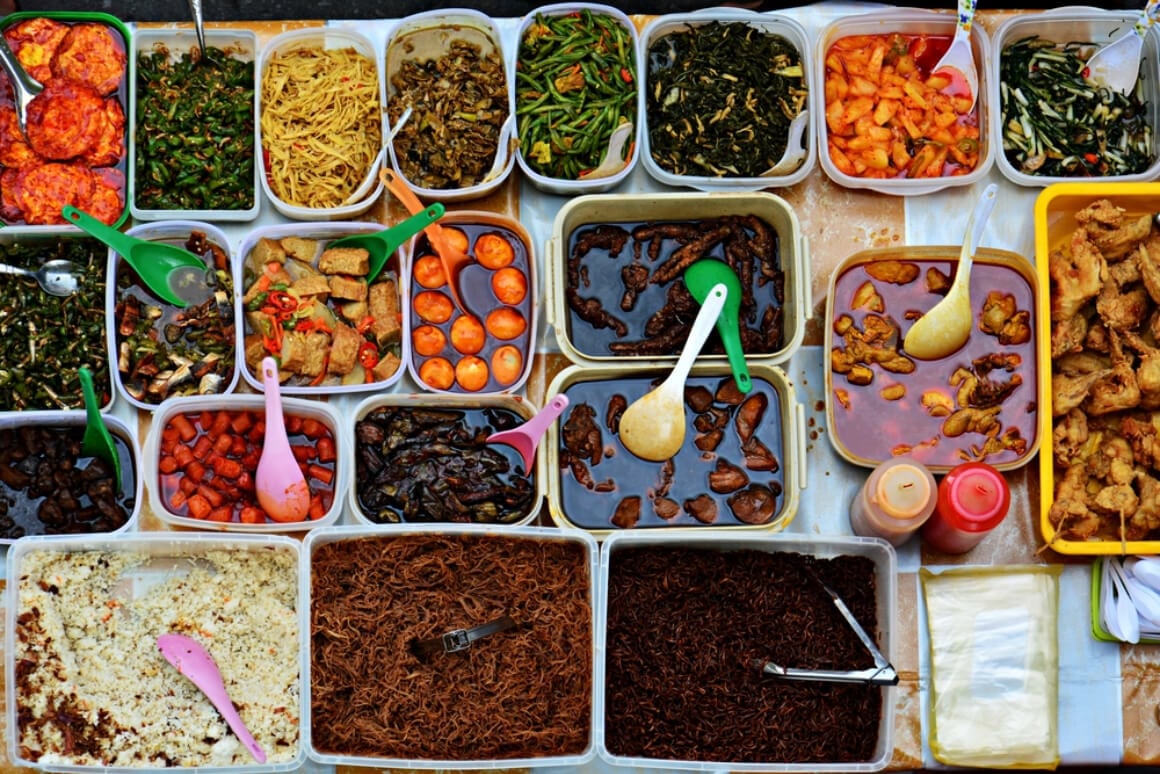 A celebration isn't complete without food, so what better thing to celebrate than the food itself?
The Pesta Nukenen festival is an extraordinary food festival that takes place in Bario, Malaysia. It lasts for three days at the end of July.
The Bario Highlands is an exceptional region of Malaysia, and its community is one of the last inhabitants of the highland watersheds in Sarawak and East Malaysia who still use traditional farming methods. The festival celebrates the Kelabit cuisine with food, dancing, and a lot of joy!
Another aspect of Malaysian culture that you have to explore is the street food. Often found in vibrant markets, it's the best way to try the most authentic Malaysian food — in all its colors and flavors!
Street food is also incredibly cheap. It's worth mentioning some of the best spots in Kuala Lumpur, since the capital is a hub for street food markets and culture. The mouthwatering smells, rows of steaming pans, and friendly locals will give you a real taste of Malaysia.
The Jalan Alor street market is the best place to try street food for the first time in Malaysia. It's a little less luxurious than fine dining, but the food is far better. The busy atmosphere and stalls invade all your senses at once!
The Taman Connaught Market is another great market for street food. It's the second longest street market in the country, spanning over 1.2 miles of road and boasting over 700 food stalls. It is the place to be if you want to try every Malaysian dish under the sun! It's also the best place to get Thai food.
The Best Malaysian Food
Now you know what to expect from food in Malaysia, it's time to take a look at the best meals in the country! From street food to vegetarian meals to desserts, these are the best dishes…
1. Mee goreng mamak
Brought over by Indian Muslims, this dish is a mix of yellow egg noodles, beef or chicken, shrimp, a handful of vegetables (usually potato, choy sum, and bean sprouts), eggs, and a dash of soya sauce for seasoning. It's a great dish to eat when you're out and about, and many street food vendors have it on their menu.
There is some chili in the dish, giving it a spicy kick, but it's not as hot as other Malaysian dishes! The name of the dish is actually pretty self-explanatory, with "mee" meaning noodles in Malay and "goreng" translating to fried. Everything is tossed into a wok and fried up together, the smell is mouthwatering!
If you're vegetarian or vegan, see if you can find a tofu mee goreng mamak instead of the chicken or beef variants.
2. Nasi lemak
Nasi lemak is amongst the most popular Malaysian foods, and is considered the country's unofficial national dish; you have to try it if you want to get an insight into what the locals like!
Traditionally a breakfast food, the dish is built around a mound of rice cooked in coconut milk. Sweet, starchy, and creamy, it's the perfect staple for a hearty breakfast, lunch, or dinner.
The rice comes with an array of sides that vary from vendor to vendor and across different regions of Malaysia.
Some of the most popular accompaniments are hard-boiled eggs, meat curries (lamb, chicken, or beef does the job), seafood, and vegetables. Add a sprinkle of peanuts on top and some sambal chili sauce on the side and voila!
3. Keropok lekor
This slightly wacky dish originated in the Terengganu region of Malaysia. It's essentially a fish cracker or fish stick which is made with a combination of sago flour and fish and seasoned with salt and a little sugar. It's got a distinct seafood smell and a slightly gray coloration.
It might not sound very enticing, but it's absolutely delicious! Keropok lekor is a little longer and chewier than other fish crackers like keropok rebus (which is steamed instead of fried), and keropok keping (which is thinner and crunchier).
Keropok lekor is tastiest when it's dipped in chili sauce and fresh out of the fryer!
4. Nasi kandar
Spicy and hearty, this is one of the most popular dishes in Penang. It's easy to find, and many street vendors sell it! Originally from southern India, the dish was brought over by Indian Muslim traders and used to be sold out of baskets balanced across street vendors' shoulders on a long pole.
The dish is essentially a bed of rice served with meat and vegetables cooked in a spicy curry sauce. It has a mouth-watering aroma and can be vegetarian or not – you can get okra and bitter gourd variations though it's more common to find nasi kandar served with beef spleen, lamb, fried chicken, or fried prawns.
5. Murtabak
Murtabak is what you'd get if you created an omelet-pancake hybrid. The dough on the outside of the dish is made of ghee, flour, water, and oil, then pan-fried before being stuffed with filling and delicious ingredients that stock it out.
Eggs are whisked with ingredients like chicken, beef, garlic, and onion. Once cooked, murtabak is chopped into pizza slices — making it the perfect on-the-go lunch or late-night snack!
The dish originated from Arabia, where it's called mutabbaq, and it's as spicy as it is delicious — if you're not great with spice give this dish a miss.
6. Goreng pisang
How do deep-fried and battered bananas sound to you? Absolutely delicious is the right answer!
The batter is made from cornstarch and water and then coated over the chunky strips of banana before being cooked to a golden crisp in a frying pan (with a lot of oil!). Chefs use pisang raja bananas as they have a much richer taste than regular bananas.
Greasy, sweet, and hot — this is the perfect afternoon snack or midnight feast, you could also have it for breakfast!
7. Nasi goreng pattaya
Nasi goreng pattaya is essentially chicken fried rice wrapped in an omelet parcel or served with a fried egg. To top it off, chopped cucumbers, shallots, and keropok (basically fried crackers) are served on the side.
It's a popular Malaysian food that is eaten with chili sauce or ketchup (yes, ketchup). It's one of those feel-good dishes you'll keep coming back to. As ever, it's tastiest when it's prepared and bought from a Malay hawker stall.
8. Satay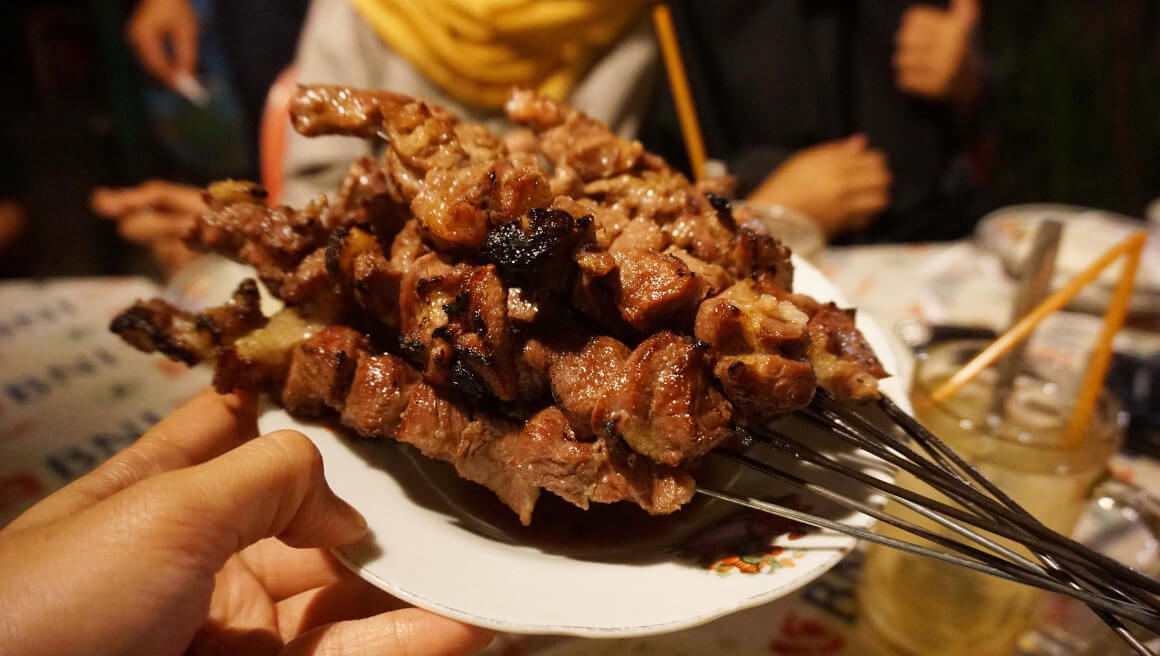 There's some debate over where satay originally came from, but it's thought it likely originated in Indonesia in the 19th century. Wherever it came from, it's definitely a favorite amongst locals and travelers alike in Malaysia!
Chunky cubes of meat are seasoned with herbs and spices before being added to a thin skewer and grilled to perfection over a hot charcoal fire. You can get chicken, beef, or pork satay — whatever meat you opt for it'll be cooked till it's golden brown and looks finger-liking good!
Vegetarian Dishes in Malaysia
Now let's talk about being vegan and vegetarian in Malaysia. There's actually a surprising array of vegan and vegetarian dishes in the country, and food wise it's one of the best destinations for vegans and vegetarians because of how delicious the food is and how accessible meat and dairy-free food is.
Here are some of the top vegan and vegetarian Malaysian dishes to get your tummy rumbling and your mouth watering!
9. Mee rebus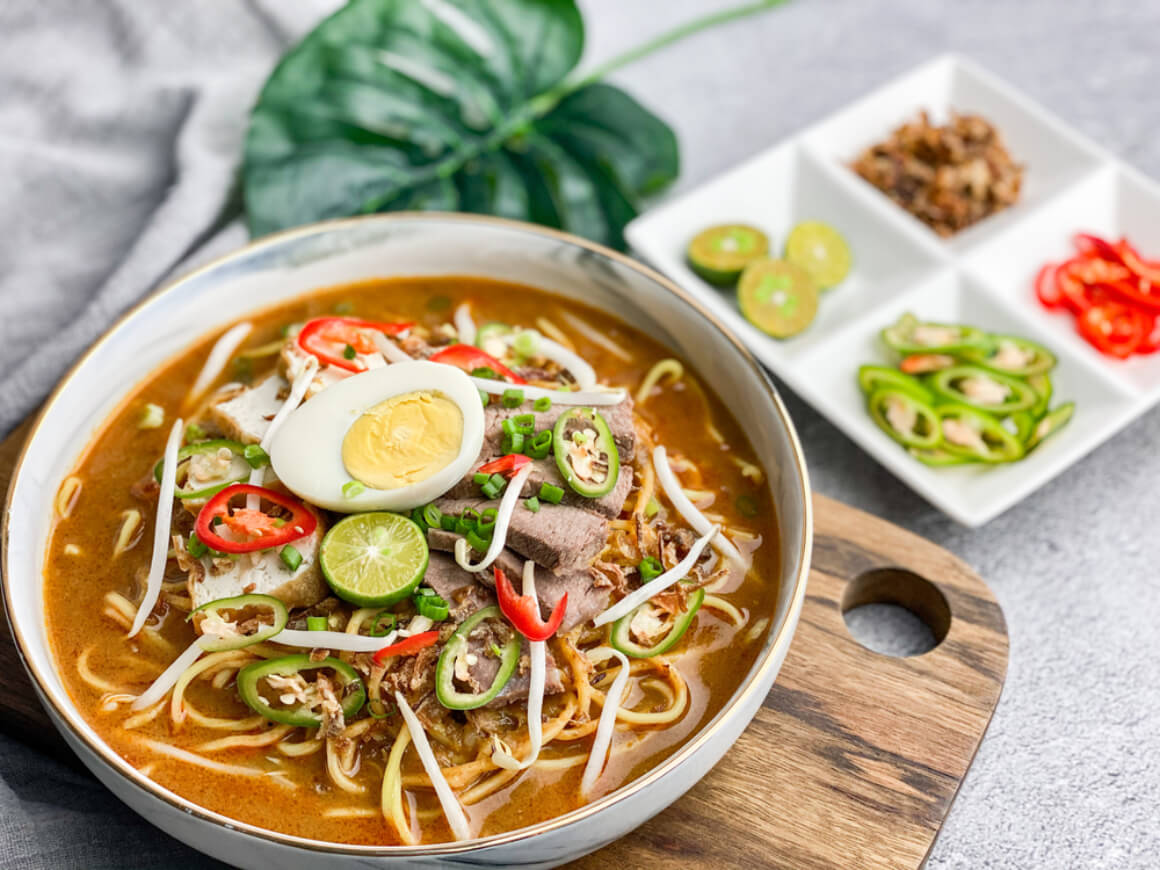 This cheap and filling dish of egg noodles with curry sauce is an easy, delicious, and filling lunch or dinner choice. Your plate will come topped with crispy onions, tofu, a sprinkle of chilly, slices of lime you can drizzle over the top, and boiled eggs (if you're vegan just ask them to skip that one)!
The dish translates to boiled noodles, though it's much more than that so the name doesn't really do it justice. If you're vegan you should also ask them to use rice or wheat noodles rather than the usual egg noodles. Tasty and hearty, mee rebus will warm you from the inside out.
Is This the Best Backpack EVER???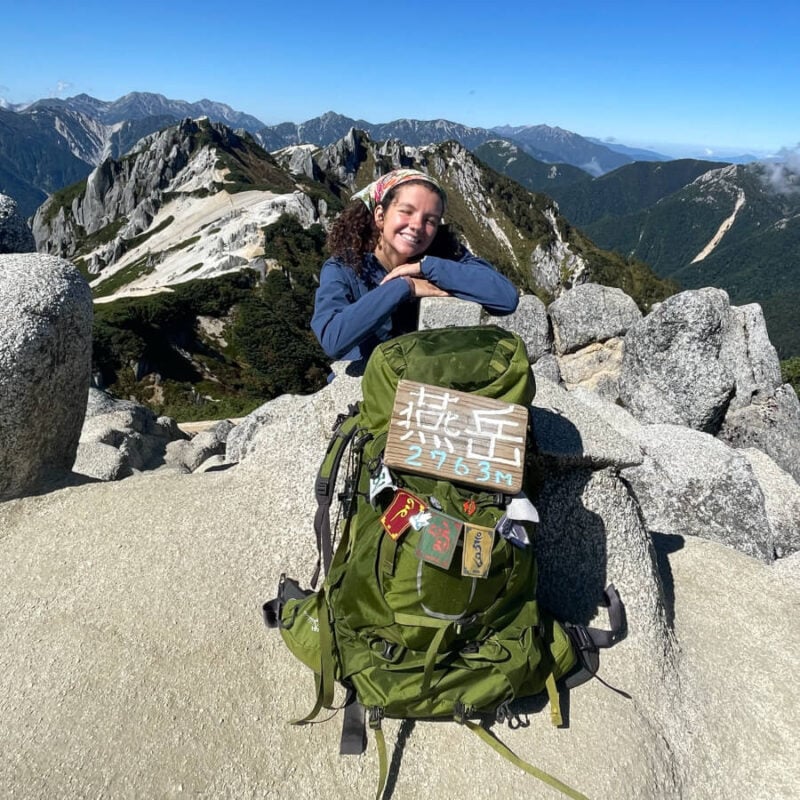 10. Tauhu sumbat
It's no secret that tofu becomes a staple when you're vegan and vegetarian and lucky for you Malaysians love the stuff! Tauhu sumbat is typically served as a side, snack, or appetizer, but eat enough of it and you'll be full before you know it!
Thick chunks of tofu are fried until they're golden brown, and then an opening is cut in the center, and vegetables are stuffed inside. It's like a tofu sandwich – yum! It's easy to find at night markets and being sold by street vendors, especially during the Ramadan season.
Tauhu sumbat is served with a sweet and spicy peanut sambal sauce for dipping.
11. Char kway teow
This dish is especially famous in Penang where it's sold everywhere by hawkers! Flat rice noodles are stir-fried with bean sprouts, thinly chopped veggies, chives, and soy sauce.
Vendors typically add seafood and sauce to the dish so make sure you specify you want it without or stop at a vegan or vegetarian-friendly restaurant to try chaw kway teow. The ingredients are cooked together in a Chinese wok.
Brightly colored, with a charred aroma, and a mouthwatering taste, char kway teow will seduce all your senses. This light and flavorsome dish is a great on-the-go lunch or dinner, though it's so delicious you might start craving it for breakfast too!
Malaysian Desserts
Next up, dessert! Make sure you leave enough room to sample some of Malaysia's desserts, they're just as elaborate and appetizing as their mains!
12. Kuih
Kuih is a dessert with a long history. It was first introduced to Malaysia by pre-colonial Chinese settlers, the Peranakan people, who arrived during the reign of the Malay Sultanates.
As more ethnic groups and customs came into Malaysia, the dish was adapted and re-invented over and over again — making it a form of culinary art.
The word kuih can describe anything from a pastry to a cookie, cake, or dumpling! It's the country's favorite sweet treat and a great snack to accompany with a cup of tea.
One of the variants, kuih bahulu, is a small sponge-cake-like dessert that is made from flour, sugar, eggs, and baking powder. But more exotic versions include creamy kuih tahi itik that is made from the white of duck eggs, sugar, pandan leaves, rice flour, and a few other ingredients.

Our GREATEST Travel Secrets…
Pop your email here & get the original Broke Backpacker Bible for FREE.
13. Ais kacang
This cold and refreshing dessert started off as a two-ingredient dish of shaved ice and sweet red beans. Over time more ingredients, like grass jelly or different fruit jellies and creamed corn have been added.
The shaved ice is made up of a mix of condensed milk, colored syrup, and a native palm sugar called Gula Melaka. It's the perfect dessert for a hot summer's day — think of it as a Malaysian take on ice cream!
14. Putu mayam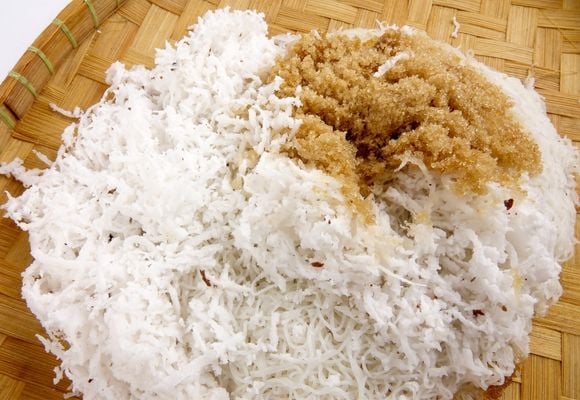 Putu mayam is the Malaysian adaptation of a popular Southeast Asian dessert known as iddiyappam, which is originally from South India. The dish essentially consists of rice noodles made from rice flour and coconut milk, but you can add some toppings if you want to jazz it up a bit!
The noodles are wrapped in cloth and then steamed, giving them their thin and string-like shape. It's already fairly sweet thanks to the coconut milk, but if you want to make it sweeter you can sprinkle some palm sugar (Gula Melaka) on top.
Sometimes the noodles are steamed alongside pandan leaves to make them aromatic and add to their flavor. Putu mayam is best chilled!
15. Cendol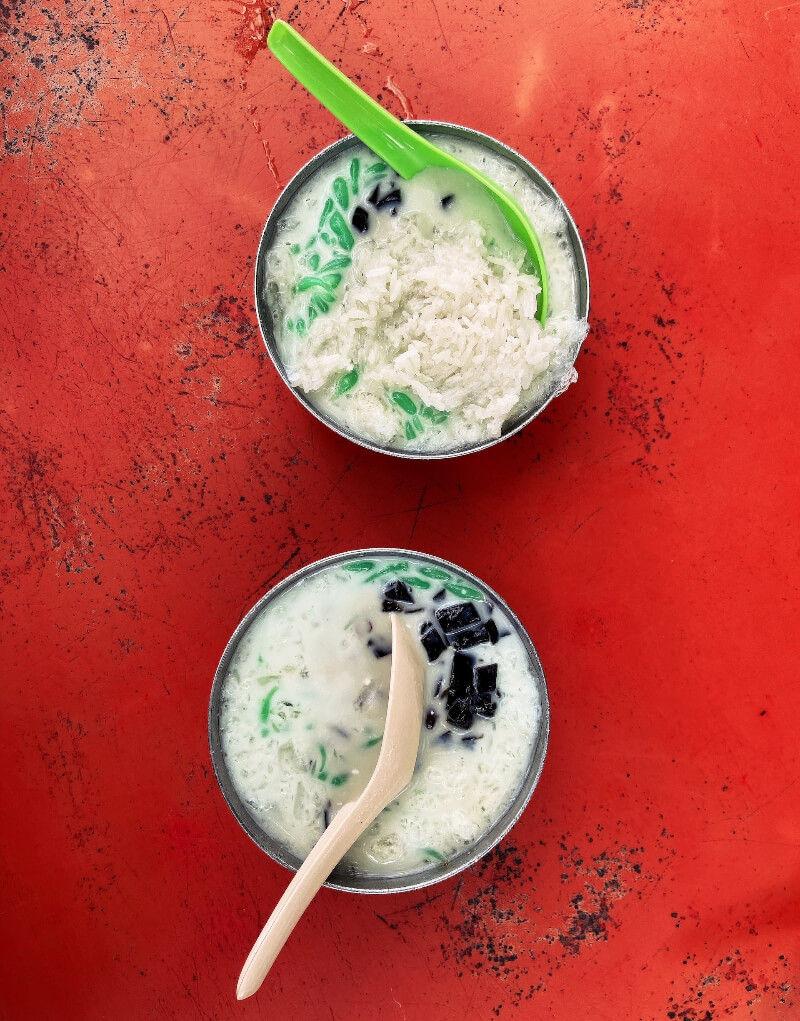 This colorful and slightly strange-looking dessert could be described as Malaysia's ice-cream sundae. There are lots of variants of cendol, like cendol pulut, cendol campur, and cendol bandung amongst others! If you want to try some unique food in Malaysia, start with a cendol.
The basic ingredients in a cendol are green rice flour jelly, palm sugar (Gula Melaka), coconut milk, and shaved ice. Different states add different toppings, sometimes (especially in Johor) there are red beans dotted across the top like sprinkles — strange but tasty!
Slurp it through a straw or eat it with a spoon, there's no wrong way to enjoy a cendol!
Final Thoughts on Malaysian Foods
As you have probably discovered by now, Malaysian food is a seamless blend of multicultural Asian cuisines.
Whether you like the sound of a simple nasi lemak or a satay skewer dipped in delicious sauce, or a colorful and sweet kuih, Malaysia will satisfy every palate.
Each dish has something bold, refreshing, and unique about it. And that's what makes Malaysia a top destination for foodies!
Did one of these dishes make your stomach rumble? Let us know in the comments.
---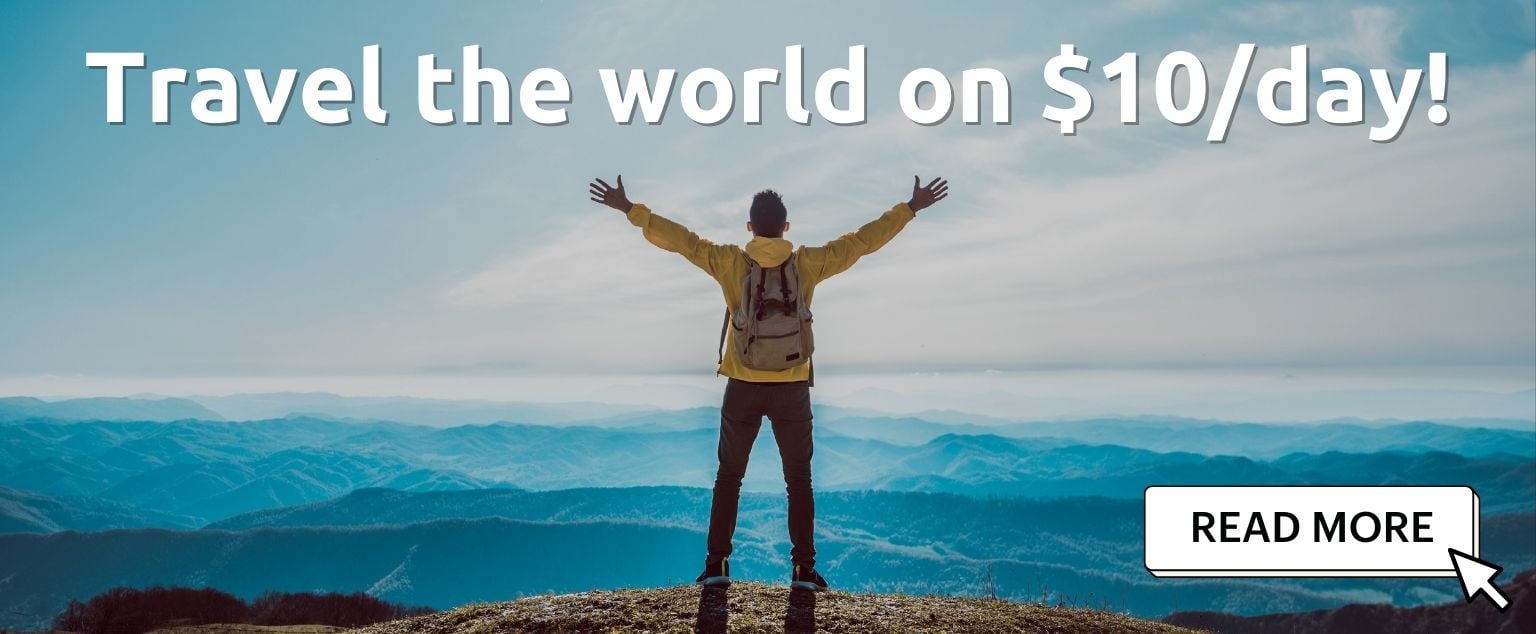 And for transparency's sake, please know that some of the links in our content are affiliate links. That means that if you book your accommodation, buy your gear, or sort your insurance through our link, we earn a small commission (at no extra cost to you). That said, we only link to the gear we trust and never recommend services we don't believe are up to scratch. Again, thank you!